Just picked up a Sigma 105mm macro and have been playing around with it. My camera body is a Canon 60D. Has anybody else who shoots with macro found that the preset macro option on the camera body is worthless, and that unless you're shooting in the day, the aperture priority mode is also worthless?
I normally would shoot on P mode, and adjust as needed, but it seems like P mode with this macro is almost worthless. All it wants to do is crank the aperture to 2.8 which really screws with my DOF. And even on aperture priority, for night photography, when I bump the f-stop to something like f/8 or f/11 it wants a 0.5" shutter speed (with the flash on!). When in macro mode, it puts the f-stop at f/4, forces the flash, but then won't let me pick the focus point.
Here are some other questions I have:
What is the typical f-stop value when you use a macro lens at night with a flash?
How far away are you from your subject when shooting?
What's a good amount of DOF for most smaller herp subjects? Anything bigger than a sheet of paper, you're going to need to be so far back to fit it in the frame on my 105/crop-body the DOF problem no longer becomes an issue.
Here are some sample photos. The corn was at dusk with flash, the rest were at night, with flash. (just on-board pop-up flash for now)
I had trouble getting the DOF to my liking, with enough of the snake in focus (head, eye, good chunk of the body).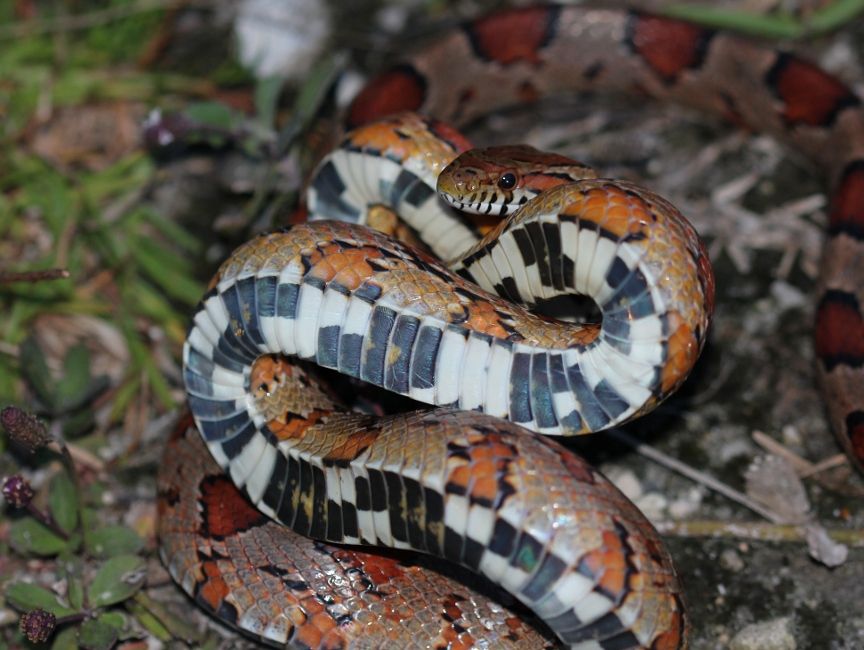 I would probably fix this one next time by just turning a bit to get more of a profile.
Finally something alright, but still not great IMO.