My friend Matt called me up and told me he had a couple days off of work. It was suggested that I should head west for a little bit of fishing. I did a mental checklist. School? Graduated. Job? Don't have one. Well everything seemed to be in order so I threw some clothes and my tackle into the car and headed west.
We woke up early on Wednesday and put the ghenoo in and started fishing. We spent from about 6:30 AM to 2:30 PM fishing and it was not so good. The freeze seems to really have affected the fishing. Spots that were all but guaranteed to hold snook a year ago yeilded nothing. We tried both artificial and live bait but got 0 snook and not much else. A few mangrove snapper, some jacks, and this ladyfish.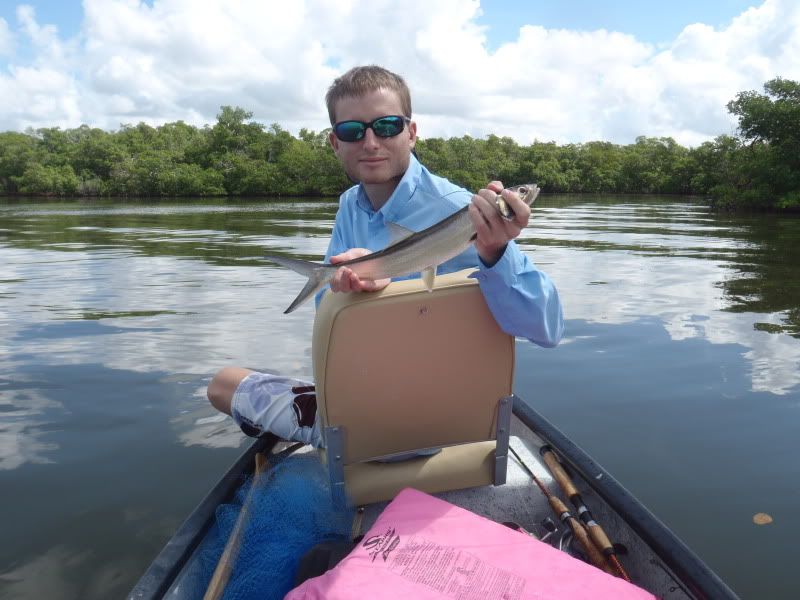 Scenery
We get off the water pretty discouraged. Luckily I thought of a way to redeem the day. Matt is the person who has taught me all about inshore saltwater fishing and I've actually converted him to a herper. So we decided to use the dry evening to do some herping. The first snake we saw was a racer in the in between color stage but it got off the road before I could get pics. The next snake we found was a healthy yellow rat.
Shy at first
But then he became more animated.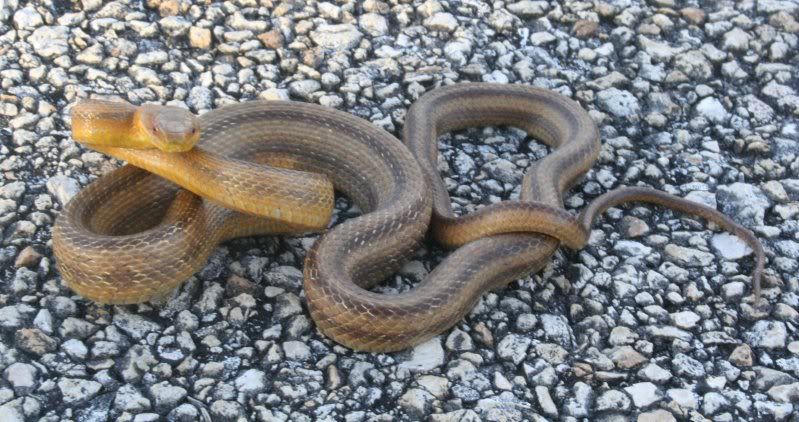 We drove on and at "prime time" found this nice little corn.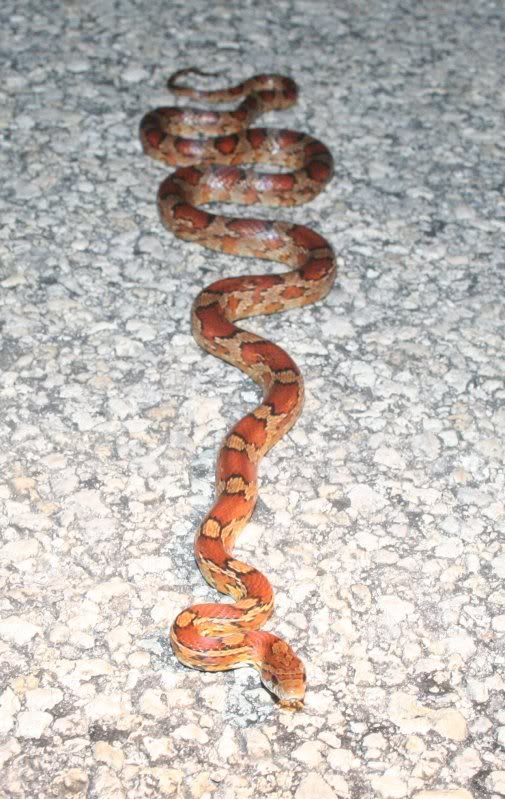 The last snake seen was some sort of water snake cross that also got away unpictured. We went to bed hopeful for Thursday.
Thursday morning came and we were optimistic. We were fishing with a friend of Matt's who is a local guide, Randy Small. We set out in Randy's boat and started fishing. We tried artificials for a while and moved to mullet. I got a nice strike and the fight was on. I managed to work a massive snook near the boat, then bam. He slices my leader with his gill plate. We fish a little while longer and my friend Matt loses a monster snook in the mangroves. It's Randy's turn now and experience pays off. He boats this 42"/43" behemoth.
There were some catfish and sharks caught intermittently between the big snook. Here is one of the little sharks.
We also saw some 100+ lb tarpon rolling but they were uninterested in our offerings. We got back to shore hot, but happy that we had found some snook (even if I lost mine) in a only a few hours. Overall it was a good trip but I really hope my next visit yields more snook. Feel free to PM me if you are going to be in Naples and are interested in fishing with Randy.
Tight lines!
Jason T