[/quote][/img]
High tide is at 12:43A, so I'm gonna need some help on this one...
The family and I decide we want to bullynet lobsters in the Florida Keys. Jill, my wife
likes to eat them, myself and our two boys are indifferent but normally up for a good hunt
so we decide to go. The opening day of "preseason" is called Mini season and lasts two
consecutive days before closing a week, then opening for real.
Well, it opens tonight and I'm of course elected to put some semblance of uniformity into the
night. At 3:05P I hook up the skiff, pull out of my driveway and head south. I have a few stops
along the way for the invariables. Drinks, munchies, a new nav light (mine has ceased to
work) and caffeine. It will be a late start in what promises to be an even later night. As I
head down the overseas highway, I have time to think ahead to tonight and reflect a bit on
the past; a period in my life that was much less complicated. At the time, my biggest
hurdles were: A) About every 2 years, drop a "yanked" engine into my old Chevy truck and B) buy
new power for whatever skiff I was drivin' at the time. I felt just like I was born with a
silver spoon, only a lot different.
I arrive at the ramp. It is private, behind a locked gate and deserted...just the way I
lik'em.
The official start doesn't happen until 12:01AM but I am here because I know that high tide is at
12:43 and the big moon is going to deliver big water. I want to pole around the crown
(shallowest part) of the flat I've chosen to begin. My plan is straight forward. encircle
the shallowest area and make a series of waypoints so that tonight, when all is dark, I'll
simply refer to my gps and know that as long as I'm inside the marks, I'll be in shallow
enough water to find "bugs". (The local term for Lobster.) I am hoping to stay in less than 30 inches
of water and preferably half that, or less. After the tide begins to fall a bit, my life
will become easier.
Here's the flat I've chosen...
And this is what the bottom looks like.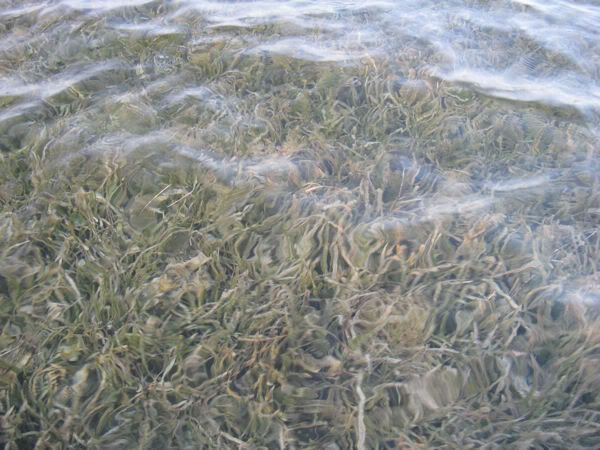 Here's my waypoints to keep me "in bounds."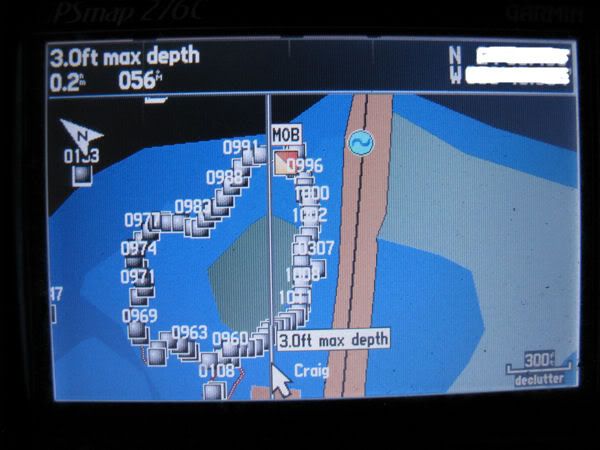 With that taken care of I run out to a nearby area in Florida Bay, shut down and drift with
the incoming water. My skiff is an old friend of mine and she is informally named the
"Whipoorwill." Together we watch another sunset.
Kicking back...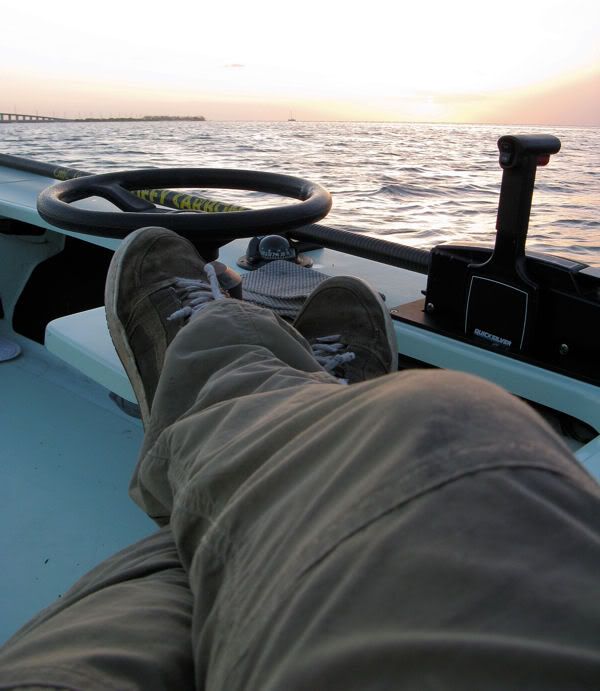 The sunset.
As we drift, I look around and see remnants of days gone. In the carpet on her gunnels I
find a couple of flies that have been stuck there to dry on some other outing. This is always a good barometer
of the skiffs owner's fishing preference...never pass up a chance to check the carpet of an unfamiliar vessel for clues
to what's been happening on the water. You can learn more than you should here if you are observant.
(Whenever I'm talking to someone alongside their skiff, a quick, discreet scan of the carpet
often reveals stuff they've forgotten about and probably don't want you to see.0 Most times
it will only reveal the type of fishing they prefer to pursue. Other times it
may reveal a unique lure or fly. (Or much more.) Skiffs with assorted jigs and rubber grubs hanging from the
sides reveal the least. It gets better from there...
Worn fly.
I also spot a surface lure that looks like it should be retired soon.
The boat ramp I use tonight is on a private Island I lived on, (mostly) alone for 12 or 15
years. The island itself brings a flood of mostly fond memories and has changed since the
days I mowed the grass in the front circle wearing my boxer trunks and big, foam
cowboy hat. It (the hat) was a gift/joke from a girlfriend and I took a liking to it. The 'friend, along with the hat, are both long since gone.
The house with the long terrazo hallway I used as a firing range at times of drunkeness is
gone too. It has been torn down, leaving a smooth, gravel area of a few thousand square
feet.
Even the pool that saw so much traffic during so many "Spring breaks" has been filled and
flattened.
This is an island that once caught fire under my watch (not my doings) and burned for weeks,
flaring up in random fits from scattered fissures and crevises. At the time, I remember
having people at various times of day and night, banging on my door and blurting out "your
island is on fire!" I'd say "I know, it's been burning for weeks", close the door and go
back to whatever I happened to be doing at the time.
After sunset, I'm back at the dock and tie off the skiff. I'm going to spend some time
looking for snakes in the gathering eve with my Q beam. During all my time here, I can only
remember seeing 2 snakes ever. Both were Ringnecks and both were happened upon while walking
to or from the gate after dark to let someone in or out. At the time, I was interested in
Fish, girls and beer...in that order. Now, I am intruiged with the pursuit of herps and have
given much thought to this island in terms of diversity and can't help but wonder what I
missed. The 5 acre piece of property looks perfect for Corn snakes and I'm going to check
it out... I have nothing better to do for a couple hours while I wait for the others to show
up.
Perfect habitat...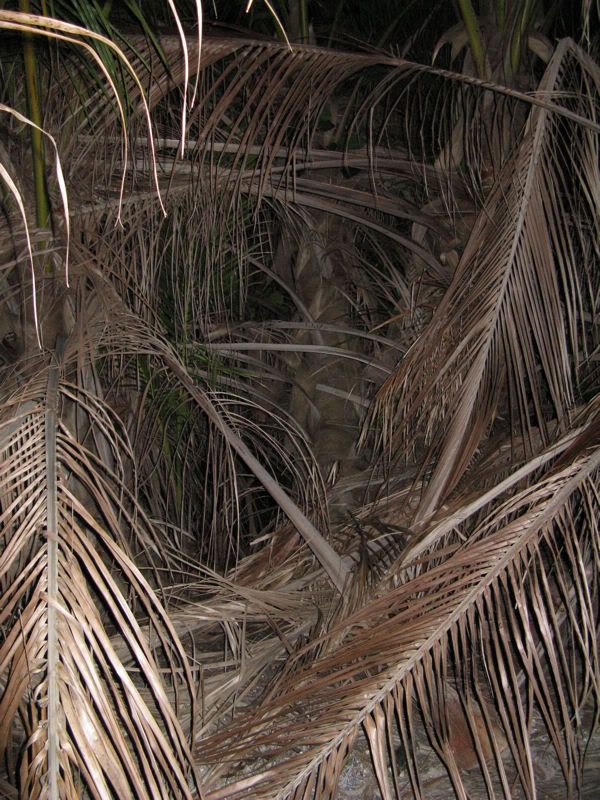 I search during the prime time from dusk until the big moon comes up and find nothing. The
habitat and forage base is second to none and I feel if they (Corns) were present, I would've found
at least one. It feels odd to pick apart such great edges and borders anywhere here in the
Keys and come up empty. If I were a younger man, I'd catch a bunch from local, outlying
islands and introduce them here to see how (if) they "change" to suit the isolation of such
a drastically fragmented piece of real estate.
On the east, the island is seperated from the upper Keys by a fairly roiling channel of salt
water that is better than a half mile wide. To the west is a larger, more formidable one.
I'm told, it is the one responsible for most of the water exchange between Florida Bay to
the north and the Atlantic ocean to the south. I finish and think. It's probable, the
ringers I found were inadvertantly introduced with potted plants and ornamental shrubs over
the years. I see none of them tonight. This is an island filled with forage and habitat
waiting to happen...
Along with the dozens of Brown and Green anoles, and Greenhouse frogs, I find several sleeping
Iguanas; they are newcomers and have arrived since I left.
9:30. Still waiting on the company that will join me later for lobstering.
In the truck, I roll down the windows. It is warm but breezy. I push the seat back and close
my eyes. A friend wakes me and we are soon joined by Jill and our two sons.
We load up and are off. Earlier, when I was "boinking" the perimeter of our target flat, I hit MOB (man
overbard) at the point we'd stake out to watch the minutes tick by until 12:01A.
At 11:10, my youngest son, Gus, is absentmindedly scanning the water around the boat with a
light and turns up a bug on the move. It is the forbidden fruit and we let it pass with the
tide. Sometimes, the lobsters give themselves away with glowing eyes as the light passes
over them...
'Eyes have it...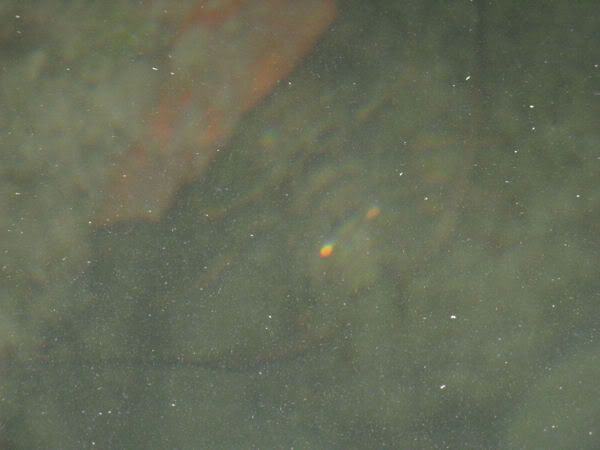 Mostly tho, they appear as "something different" from the surroundings and only vaguely
Lobster-esque" in appearance so it is important not to become too casual in your scanning.
Typical look...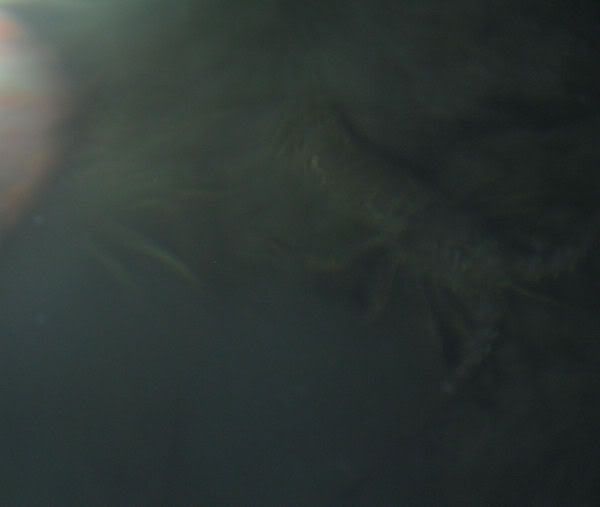 Once we begin, it takes us almost 30 minutes to turn up our first one in the light. It is a
keeper and into the livewell it goes. Yes!
First of the night...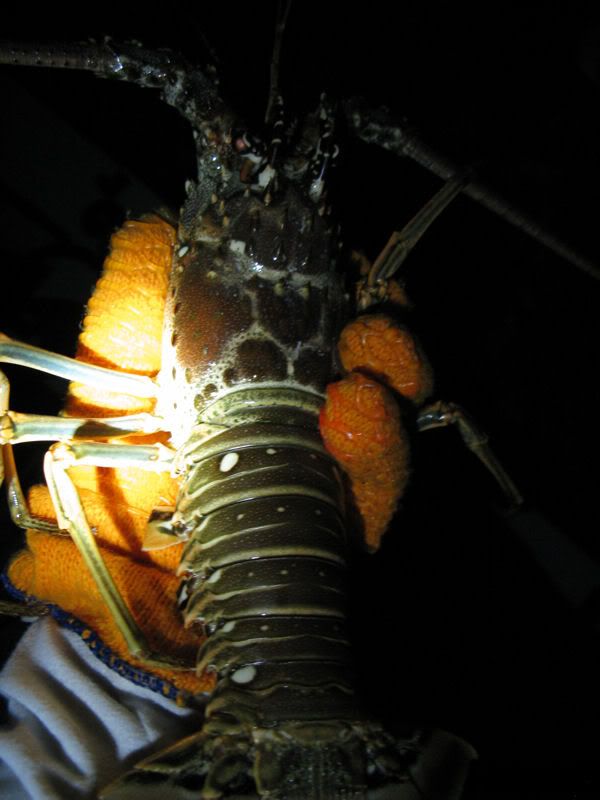 In another 30 minutes, we are dialed in to the depth most of them are during this particular
stage of the tide and they come to net in short spaced intervals. After which, our tide tops
out and goes slack before beginning to drop. Movement ceases for about 45 minutes and Gus
takes advantage of the down time and falls fast asleep where he normally does during
after dark forays.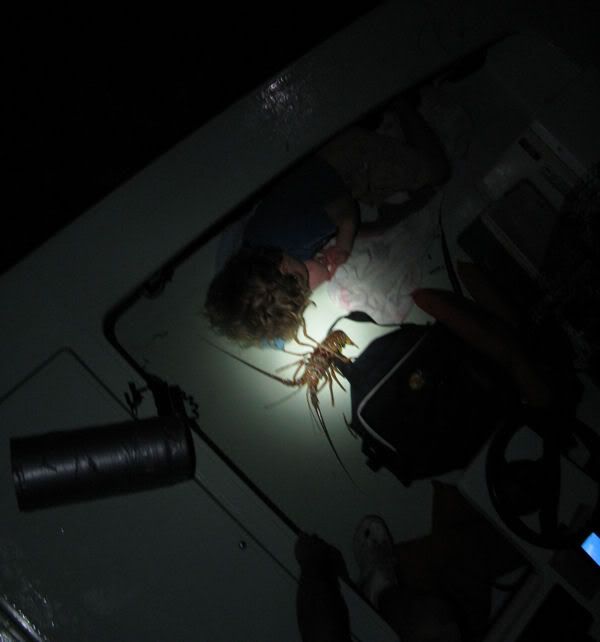 At some point I take some random pics from my postion on the poling platform.
Jill and Josef "on point."
The gang...excluding me.
Asst pics of bugs on deck...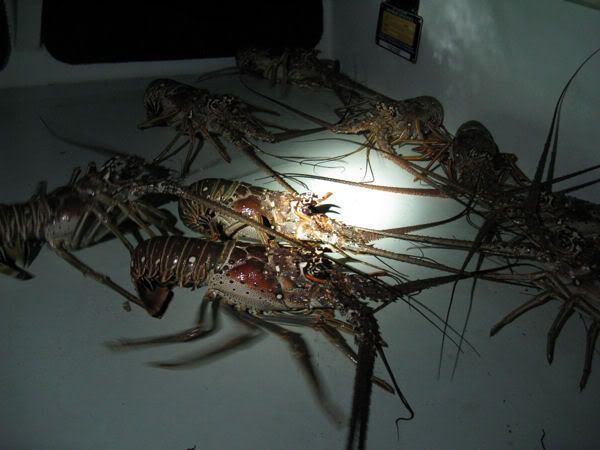 It is a fine night which of course slides by too quickly. Before long, it is 4:55A and even
tho none of us "feels" tired, we decide to finish up. Back at the dock, I say good night to my friend and send my family home. I then run the the whipoorwill back towards the ramp on the other side.
Florida Bay is smooth as glass and I open her up. She is healthy, responds well to the touch,
and together we go for a ride. It is already light when we return. Put skiff on trailer. Stow gear. Hit the road.
I see people driving to work as I drive home...with tonights dinner.
Tim