Rumor had it this week, that the speckled trout here in Louisiana had finally begun their annual post-spawn migration back inshore. Excited at the prospect of not having to drive 2.5 hours for quality salt marsh fishing (and interested in scouting out some new fishing holes), I loaded up the kayak and set my alarm for 4:00 AM.
With projected winds of 15-20 mph, I selected a stretch of marsh along the southeastern shore of Lake Pontchartrain that would leave me relatively protected from the strong winds. Unfortunately, the nearest combat launch left me with a 1/2 mile paddle through open water.
Rigged up and on the water shortly after first light, I was greeted by two-foot seas, but managed to navigate the 1/2 mile without incident. In the marsh, I began methodically working every point, bend, and dropoff I could locate in hopes of finding some specks. 30 minutes in, I slipped into a protected pocket at the intersection of two canals and finally found what I was looking for. Alternating between live shrimp under a cork and soft plastics, I began bringing in speckled trout hand over fist. With the exception two occasions where a rat redfish and overzealous pinfish beat them to the bait, I was literally catching a speckled trout every cast.
The bite slowed as the sun rose higher in the sky, but bouncing soft plastics across the oyster beds lining the bottom of the canal still elicited the occasional strike. All the while, I began to lose track of the shrimp I had left floating below a popping cork off to my left. That is until I watched the cork disappear below the surface.
Whatever had taken my bait did not run. My line remained slack, and the neon orange cork was still visible inches below the surface. Thinking perhaps I had lucked into a flounder, I quickly tossed my other rod in its holder and gave the cork a solid jerk. Much to my surprise, a thick green form erupted from the water below my cork. Needless to say, it was definitely not a flounder.
A few acrobatic jumps later, and I had my first Louisiana "Green Trout" in hand.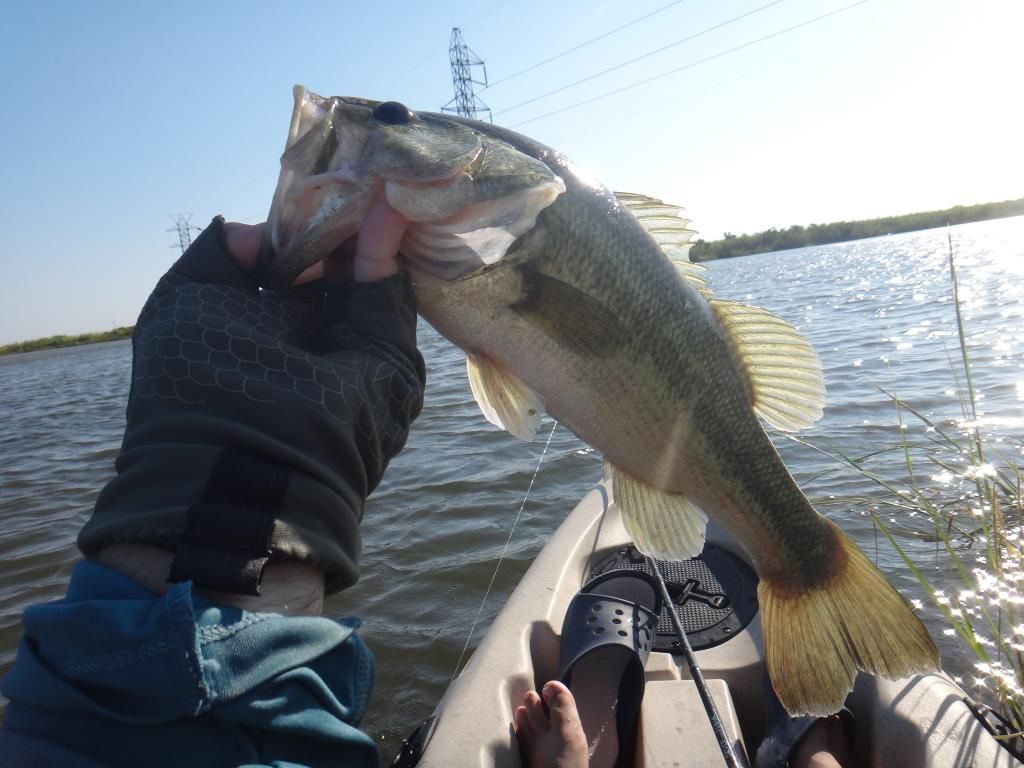 Though not an uncommon catch in the marshes south and east of New Orleans, there's just something I've always found odd about the idea of these fish being here. Pontchartrain is not a freshwater lake. It is an estuary, and this is a brackish marsh inhabited by speckled trout, oyster beds, and shrimp. While there is freshwater influx into the system, it just doesn't seem like the type of habitat that comes to mind when I think of largemouth bass.
But just in case there was any doubt in my mind as to what I had just caught, the next five casts with that shrimp & cork produced the same result. Cork down, no run, set hook, explosion of green.
The largest (only 15") posed for a quick CPR tourney pic before being released.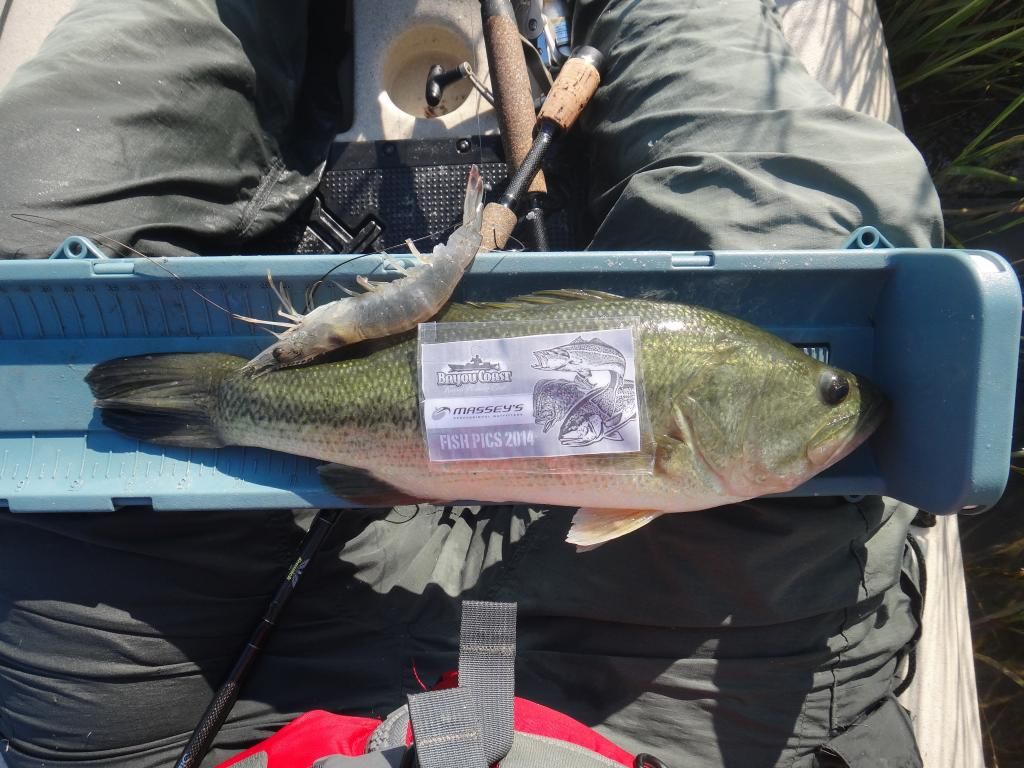 The bass bite eventually gave way to another speck bite which lasted until I was ready to call it quits. In the end, it was one of my better days in a kayak. In total, I spent 5 hours on the water and landed ~50 speckled trout, 6 or 7 bass, and a pair of undersized redfish. Even wrapping up the day with a half mile paddle directly into 20 mph winds and 2-3 foot seas couldn't ruin the experience (sure made my arms sore though).
Chris