This is a reconstruction of a post I did involving an overnight sortie and Snook. Since the time I originally put this up (pre crash), all the Snook are gone. Last winter was just too much for them. I've been back to these areas several times recently and have found nothing besides plentiful forage awaiting a predator.
On a somewhat positive note, it'll be interesting to see just how long it takes the Snook to negotiate all the Islands, creeks, and seasonally dry areas involved in their return. I have an accurate time line of disapearance and will continue to follow up on their status. I initially thought "at least a few years" but readjusted to "I think the high water of our summer will allow them to swim over islands and flooded forests." I was wrong. The big water brought nothing and is now trending down for the winter.
December, 2009
I'll lead with a pic of most of my tackle bags contents for this area...if you go, don't
forget either.
On 12/7/2009 we leave the Keys early in the aft to shoot across Florida Bay. Even though it's only a little over 20 miles, it takes a tad over two hours due to the zigging and zagging necessary to negotiate the 'Bays islands and banks.
We encounter a squall 25 minutes out but were able to skirt it; no harm no foul.
Later on we were rewarded with an unusual and pretty sunset.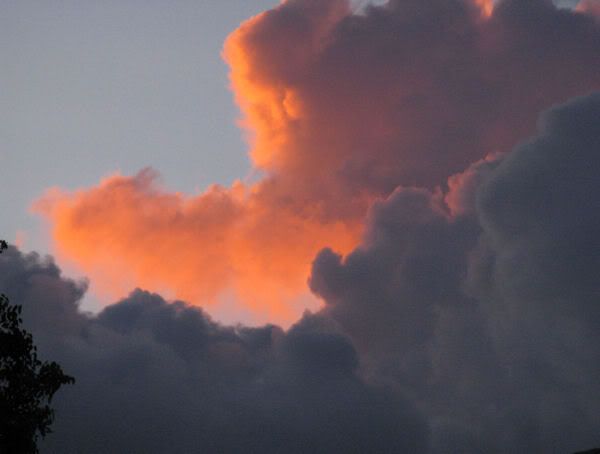 Having gone out of our way to dodge precipitation, we arrive too late to tie off my skiff and lug our gear the couple miles through Mangroves/ mosquitos and swamp where an old friend (canoe) is patiently waiting. We could've handily made it to our transportation in time, but once there I'd have had to pole the canoe a couple more circuitious miles in the gathering dark, to the only piece of high ground I've ever found back here. So we opt to spend the night on a nice beach. It's open to the Gulf of Mexico and is a great place to wander, looking for old bottles and other debris washed ashore from years past. I find this old axe on the berm seperating the bay from a seasonally wet salt pan. I bet it's got a story...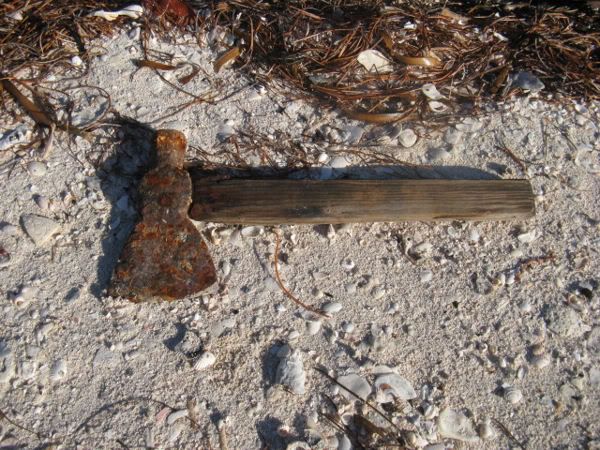 I'm concerned about the tide tomorrow morning and walk my skiff out a couple hundred yards from shore to stake it out for the night. My friend assures me the tide will be adequate tomorrow. I've got my doubts and they are confirmed bright and early in the AM.
We are stuck until our water comes back in so spend the time eating a liesurely breakfast and walking the beach in search of more "treasures." At 11:30 A, we are off. We make good time and are at camp around 3:00 P. On the way, we pass a little hydro station I use as a navigational aide. this little structure is an old friend and is seen by few. (A couple friends of mine probably see it from the air on occasion while conducting surveys, but are probably not aware of the signifigance it plays in my world.) I tie off and ease up on the little sunken step ladder the tender (also a friend) has placed there and read/jot down water level, date and time of day. I will relay this to him upon my return. Today the gauge is at "11". Perfect! Over the years I've found when it reads 19 or above, there is too much water in the system and the snook spread out back in the surrounding, flooded forests. If it reads much below 5, there is difficulty getting to many places on account of all the exposed areas. I lift the the top and place a small, tricolored rubber snake in the box, on the off chance the guy checking it needs a little excitement in his day. I close the lid and get on my way.
Getting him the numbers serves a few purposes:
1) it shows my friend if his gauge is callibrated correctly when he downloads the data,
2) saves him a few long, wet, skeeter ridden trips and most importantly,
3) helps those involved with the project to ignore the silly notion that I probably shouldn't be back here.
We set up, rig tackle, cook dinner, knock back a few cold ones and take a little "drive around." Nothing has changed since my last visit. Nice. After a quick dinner the fire flies wake up.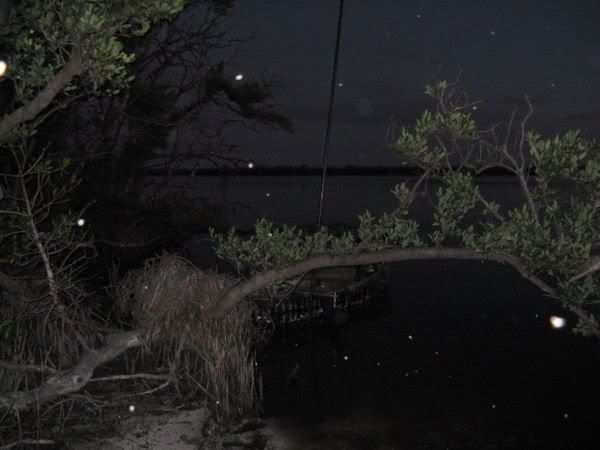 Most nights I've spent here begin with the Screech owls trilling. The Barred owls then turn on and the Screechers turn silent. This is followed by the resident Horned owl. He in turn shuts up the Barreds and the process is repeated in reverse the following morning.
Here's the king on a dead snag...
At daybreak, we take off for the area I want to spend the day. It is several miles away and before doing so, I take a couple of pics of our "back yard." It's comprised of a series of small, shallow ponds which are mostly interconnected by Crocodile slides.
Here's the homestead...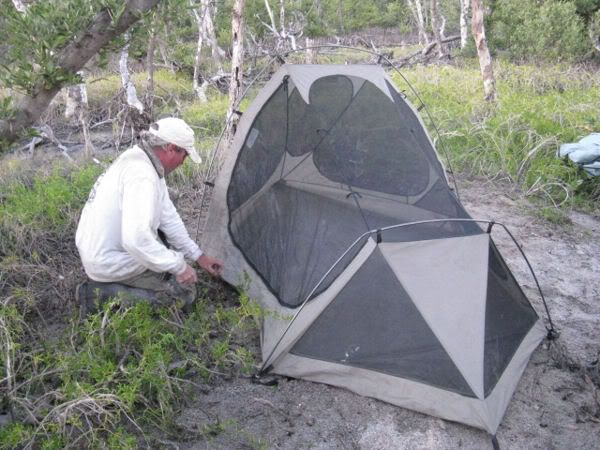 ...and here's the back yard.
The ponds themselves are all uniformly shallow with an average depth of around 8 inches. even tho the water is most times dirty, the fish show well.
If the Snook are not readily visable, the best way to come in contact with them is to listen for the pops they make when feeding on baitfish. (Sailfin Mollies in this circumstance.) When you hear one, or a series of pops, the standard procedure is to go looking for the culprit. Most often it is hidden behind a tree line seperating ponds and takes some doing but the steric affect at this time of the year gives plenty of time. Simply poke around until you find the correct "puddle". You'll know this because the bubbles from a disturbance, even 20 minutes old, will still be trapped in the surface film. From there it's just a matter of slowing down and finding your target. They don't go far. See bubbles/ see fish is generally how it happens.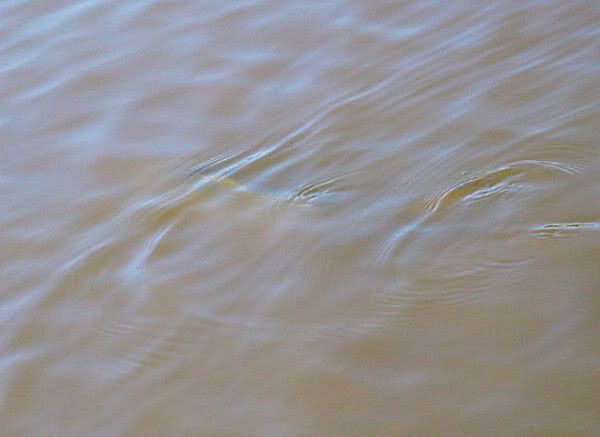 Today, while traveling to our destination we see that the water levels are correct for the Spooners and we see many.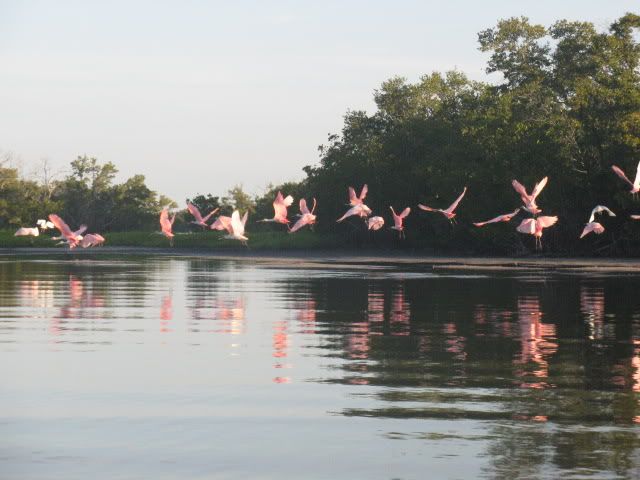 Further on, we even find a group of Flamingos...always a good sign you're about as far back as you can get. This is a good thing.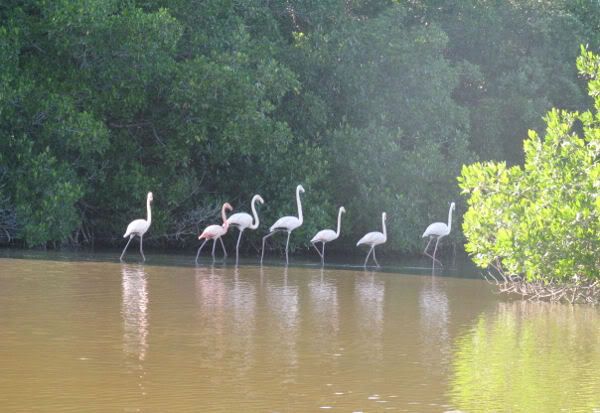 Here are a couple of hab shots from the area they choose to live...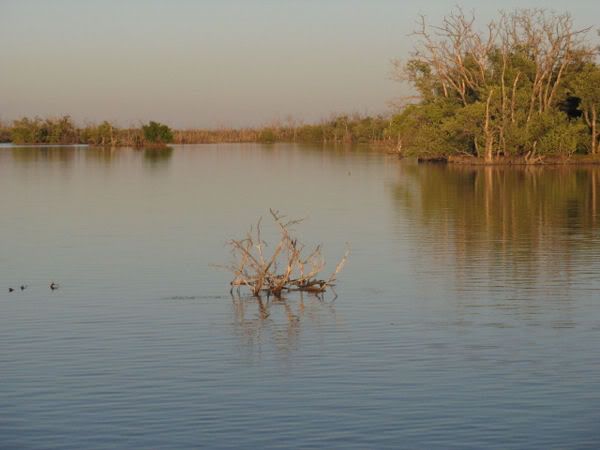 And of course, the Snook are there doing what Snook do. These are fish that have probably not seen a human and respond to our presentations like I would assume they did 150 years ago. In most situations here, a cast equals a bite. We catch almost as many as we want and go looking at new areas. This is big country and offers almost limitless options. Find the correct water depth that has bait and you'll probably find the fish too.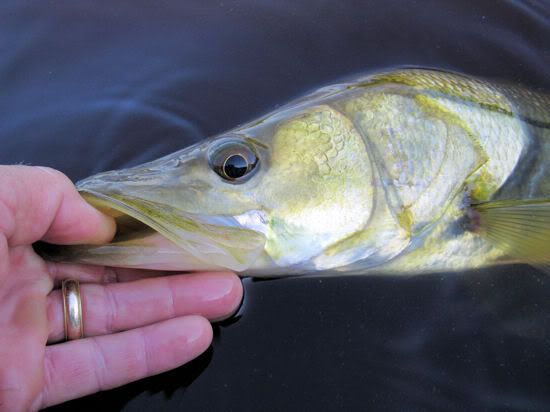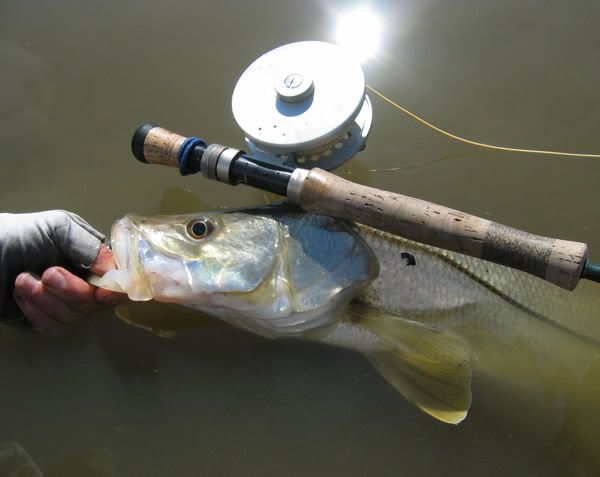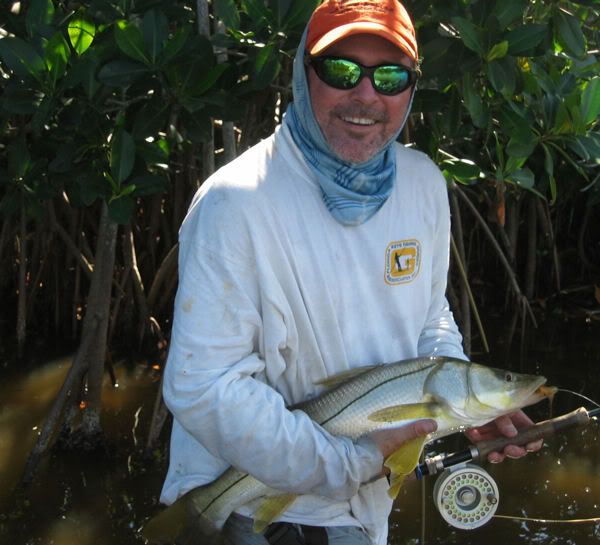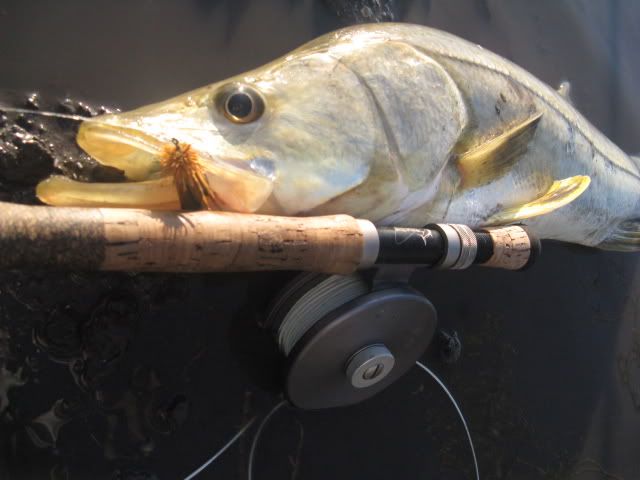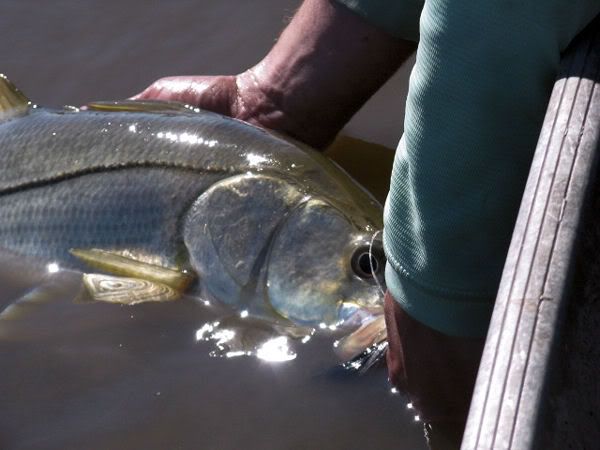 We move to another area that looks promising but tricky in respect that all the water is grown over and/or littered with trees knocked down by one of the hurricanes we had a couple or three years back.
So we ditch the fly stuff and grab the spinners. It's great fun stepping out of the canoe and prowling the margins looking for "sleeping" fish. They are there in goodly numbers and we play with them until most of the ponds within reasonable walking distance have been turned off by our's and fish's activity.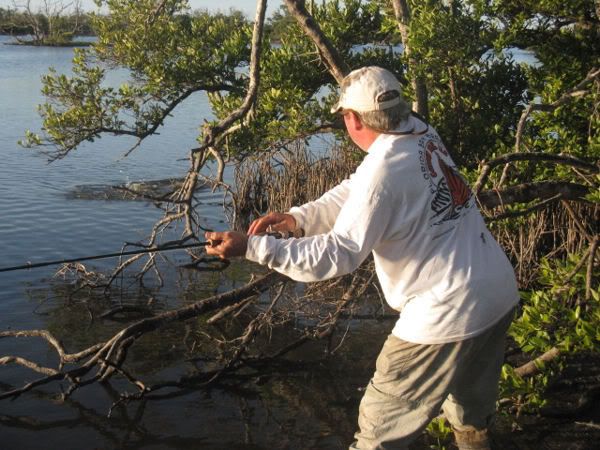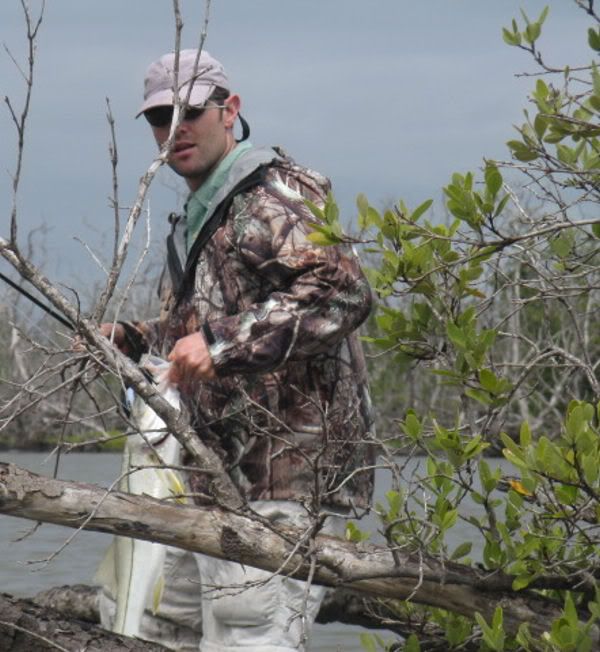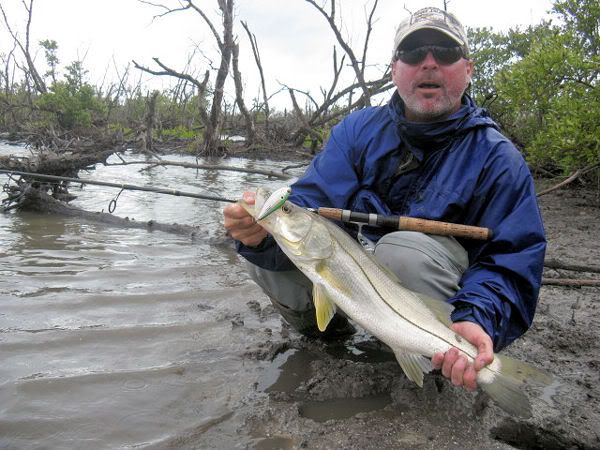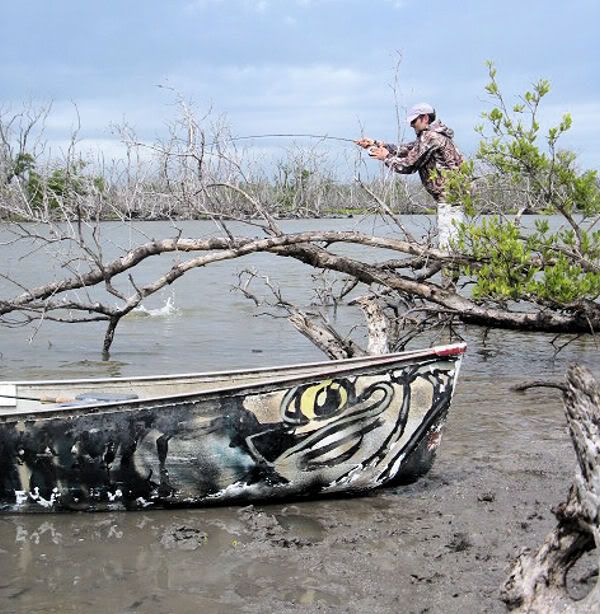 As day one ends, the sun is setting when we round the last point that leads to our tent.
We are tired and more than a little happy to see it. As I pull the canoe up to shore, I see we've had a vistor near camp at some point during the day and another that is still visiting...a pretty little Mangrove Salt Marsh snake. I take a quick pic and leave it to go about its evening hunt.
The following two days are carbon copies of the first with the exception of water levels dropping quickly and thus limiting our access to some areas, but in return, concentrating the body of fish when they are found. It's seems like a fair trade.
In three short days we are running low on drinking water. This is most times, the reason for leaving. We pack up what we brought in and fish a large, shallow finger of water to the west. Through the years I've learned that to circumnavigate its three sides and numerous offset ponds generally takes most of one full day. With a bit of urgency, you can reasonably expect to be finished with it by 3PM or so...just enough time to hike out and be mostly across FL bay before full dark sets in on the way home.
On the way back out, I checked my favorite hydro station again. The bogus snake is still there and the gauge is hovering at between 6 and 7.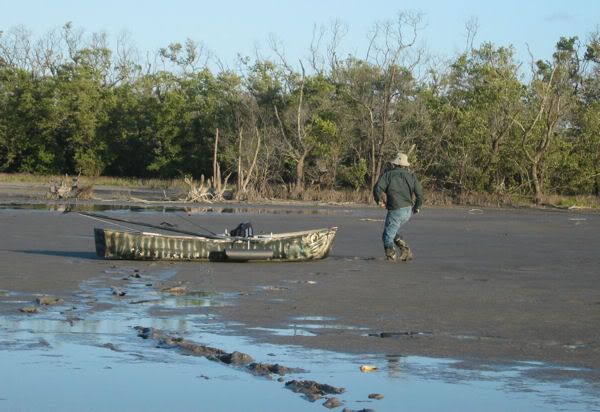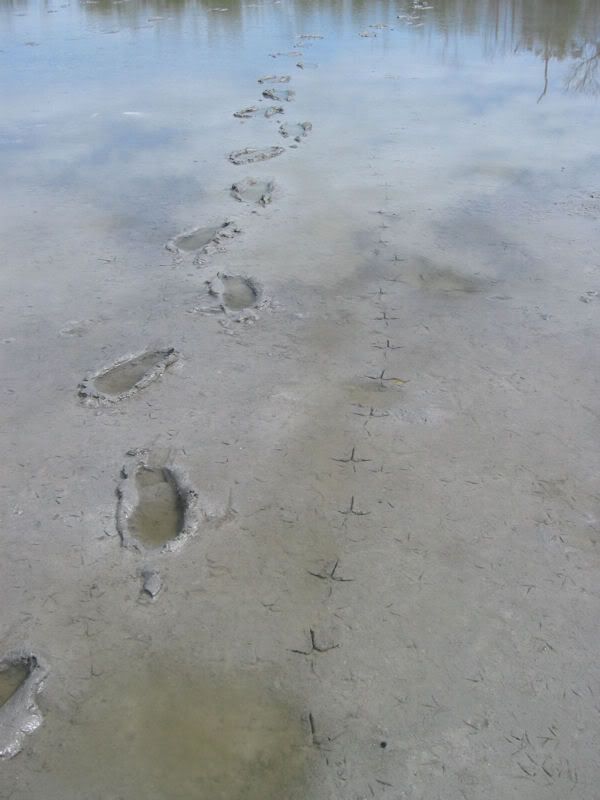 Back at home, I clean gear. There is always gear to be cleaned. As I finish up, I look over the trip's note and realize it was a great time...again.
Whew,
Tim