So I was dragging all day. I'd spent the last several afternoons and long into the AM's chasing critters. This time of the year has always found me burning the candle from both ends for 90 straight days or so. Between fishing, herping, work load and being family guy, I'm lucky to manage an average of 4 hours sleep per night.
This day was as tough as the night before was good. I was taking care of business and looking forward to doing something more normal for a change when the phone rang around 2. It was a long time friend of mine and he wanted to know if I felt like "losing some money." "Ok, I'm in."
Years ago, when we first met, all was centered around fishing. ('Mostly still is.) He was already a competent angler where he lives in Seattle and I helped him along in the Tarpon arena. For the past decade or so he's spent 6 or 8 weeks each spring down here chasing them every single day and he's gotten pretty good. Tarpon get under your skin and are a tuff tattoo to wash off.
And he's a gambler. (mostly Craps and Horses) At some point this inevitably entered our fishing world. Our mutual game is "5 bucks a shot". This means, if it's your turn to fish, and you feel you've got a good shot, you "call 5 bucks." If the fish eats and you get "a bend" in your rod (they don't all jump so you can't do that) you get 5. If you whiff or go bend-less, you owe five. Simple.
Today, as in most days we do this, we are at our favorite falling water/afternoon place.
Here it is...complete with an approaching group of fish while we set up.
Here's a wider angle. (with another small group) One of the reasons this is such a desirable spot is that fish traveling down the contour of a long, shallow flat, "bump" off a point and cross a light area, which provides great vis and forewarning. This , among other things (which I may touch on later) make this place magic.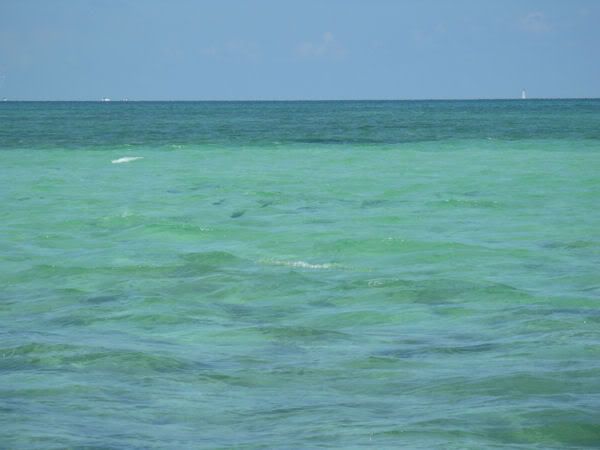 We get set up and I win first oppurtunity simply by calling tails. Today I have a built in excuse in case I lose money to him. Three days ago, while flipping some shingles down here I made a hurried grab at a critter that was the roughly the same size and color of one I really want. bad call. It turned out to be a surprised, 9" Centipede which quickly swung around, clamped on, sinking it's mandibles into the heel of my hand. I shook my arm 4 or 5 times hard before it was finally thrown off but not before it probably unloaded most of what was in it's ugly little cheeks. It hurt like hell but after a few hours was reduced to just an annoying throb. (I think it grossed me out more than anything else.) Anyway, the next morning when I woke up, the hand was a balloon and inoperable. Today however, most of the swelling has gone away, leaving saggy, stretched out skin. It no longer hurts or itches and I was able to put my watch back on (but I didn't tell my friend that.)
3 days later...
Despite my prefab "handicap", I'm fishing well. My first 3 shots result in 3 solid grabs. My friend whiffs 2 and blows and easy cast... just like that, I'm up 30 bucks. Hmmm...
Here he is on the poling platform. It's where we stand when "we're up."
Almost everyone down here uses a stripping basket of one sort or another to keep gear (rod, line, fly) in order between shots. Here's mine. I've had it for several years and the very first day I bought it, I slapped an "Aluminum cans only" sticker on it. The guy that manufactures them saw it and got pissed. "Get that sticker off of there! It's a tool not a toy..." That was all it took to get me scrambling for more bumper stickers and such. Today, nearly everyone puts stickers on theirs...
And as long as I'm at it, here's my tech gear and fish food...
An hour or so after we arrive, another skiff pulls up behind me. He's a friend and he's working with a couple clients. He asks if he could "slide in somewhere" and I tell him to "jump up front." He's working; I'm playing. But more importantly, I'm EXACTLY where I want to be. You see, just to the west of me is a large channel and as the tide drops, the water pours past loud enough to make some noise and "smokes up" a little. Just as importantly, the current allows me to "swing" my flies right across the Tarpon's eating end, giving this place, the highest percentage cast to eat ratio of any single 100 square foot piece of bottom I've ever known. (Sometimes what is widely regarded as the number 1 position isn't necessarily the best.
) He's grateful and I happily bankroll brownie points. Did I mention I'm up 30?
Here he is with a group of fish swinging wide...right into our lap.
Money continues to change hands and I'm up only 20 when movement comes to a screeching halt. The fish are parked somewhere...hmmm. Up until now, I'm thinking, No prob, my friend is good, it's only a matter of time before he puts one in the air for me to shoot pic of for closure in a post I feel like making. I dutifully pull out the camera every time he is about to get a shot, but to no avail.
Now, with the absence of targets I'm beginning to think differently. I could easily of asked him to take pics while I was up (he even offered a couple times) but thought it unecessary.
Here's some fish close that for one reason or another, he lost another fiver on...
While sitting there thinking, I make the executive decision to move. Incredulty comes from my friend's end of the skiff.
Each year around the big moon in May, an event happens and is called the "Worm hatch." Palolo worms are the subject and they live in the hard cap, coral bottoms. When weather/tides/moon is correct, the adults "peek" out. They then break into little "fingers" which in turn break off into seperate entities that shoot down current with the tide towards the ocean. (A biologist explained this to me once and I have no reason to doubt her, or interest in pursuing further for that matter.) the Tarpon love eating these enmasse and there's some (include me here) that believe one entire "body" of fish visits the Keys each spring almost solely for this reason.
But mostly, I think people get into it for the "chase." 'Probably not unlike the way people chase the Salmon Fly out west. Anyway, the hatch is a big event on a small scale down here in and it's not unusual at all this time of the year to overhear someone whisper "The worms went off at Bahia Honda last night" or I'm approached by a stranger in my local Wynn Dixie and asked "do you think the worms will come off tonight?" Stuff like that. I've been involved in a couple dozen full blown events over the years and have long since ceased to see it as anything more than a gala I want to attend, if reasonably convenient. the fish involved are no longer the main player they once were; it's become mostly about the worms.
We left and took a ride. Here's what we found at the second place I shut down...
And this...
...then there were more. The last several years I've been involved in, I've spent most of my time scooping them in a shrimp net, putting them in a container to watch, and then letting them go to continue there journey. It is "enough to simply be there."
Here's a large one in my hand for size reference.
The place we found the palolos had very few tarpon involved so we left the fish alone. Of course this only meant that somewhere, possibly close, there was a monster body of fish beating up on a different, simultaneous "hatch." We didn't feel like looking so we stayed put.
And after awhile, we wandered west under one of the bridges on the overseas highway. We talked worms, drank an old Scotch and watched someone else fish as the sun set. I was in bed by 10 and fell asleep quickly, content with the fact I was 20 bucks in the black and had done something normal for a change.
And for anyone who had the patience to make it all the way through this...here's closure.

Tim
Edit: How the do I prevent a post from running way off the page?! SOO annoying!