So, over this holiday break for the kids, I decided to take the whole gang down to Costa Rica for some beach and jungle time. Getting out and in the deep bush was kept to a minimum with this being a family trip. However, I think we did ok. Places we hit were Puerto Viejo on the Caribbean, San Gerardo de dota in the mountains, and Uvita on the Pacific side.
We started on the Caribbean.
These guys were everywhere. Boat-billed flycatcher (Megarhynchus pitangua)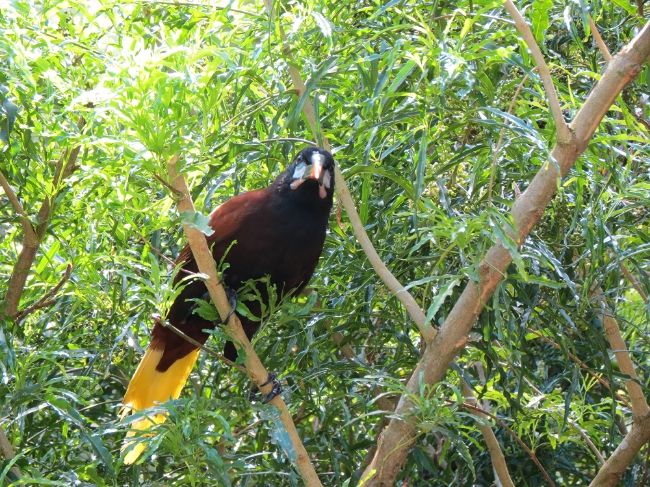 Saw a few of these. Montezuma Oropendola (Psarocolius montezuma)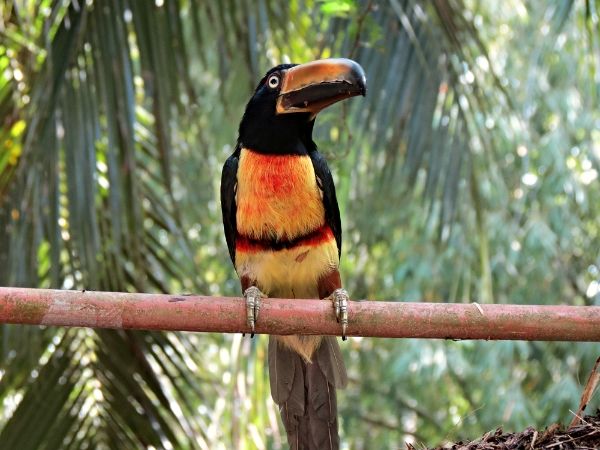 Saw only one of these, but it was so worth the effort. One of my personal target species. Collared Aracari (Pteroglossus torquatus)
One of the kid's must sees for the trip. Chestnut-mandabled Toucan (Ramphastos swainsonii)
Magnificent frigate bird (Fregata magnificens), royal tern (Thalasseus maximus) seen while hiking in Cahuita NP.
Se did see many other birds, but we not able to get any decent photographs of them. After the Caribbean we drove up to the wonderful little hamlet of San Gerardo de dota. Famous for being a good place to see quetzals. I had also hoped to find an emerald toucanet, but was not counting on finding one.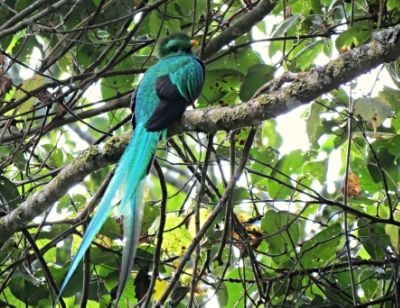 Well ten minutes after dropping my bags in the room I headed off down the trail and found this guy waiting. I was stoked. Another target species of the trip the Resplendent Quetzal (Pharomachrus mocinno)
The next morning my girlfriend and I got up early to go find quetzals and we sure found them.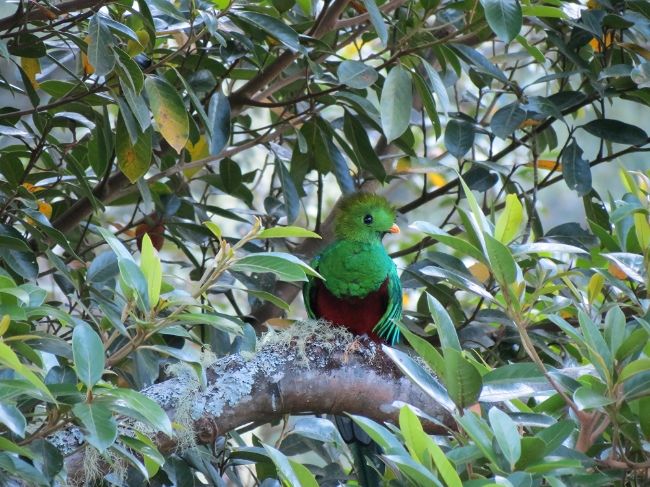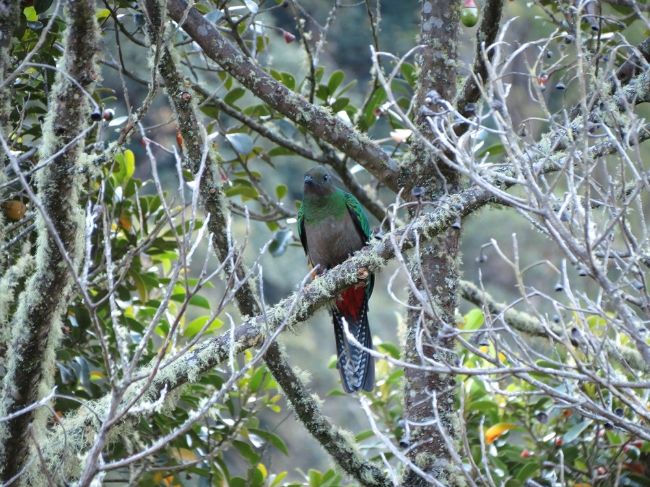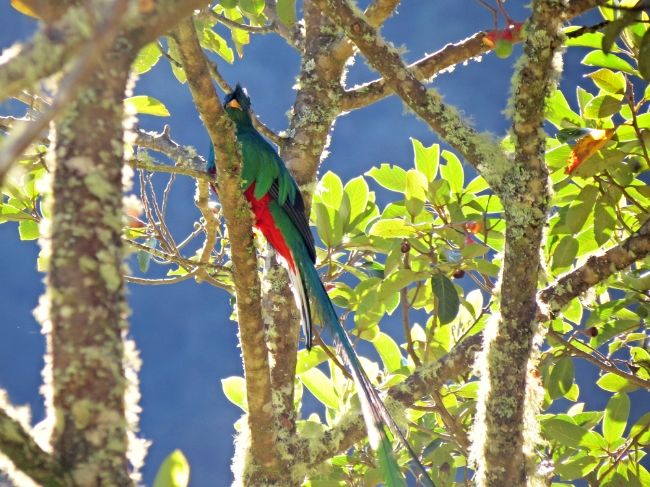 Maxing out my zoom to get this one.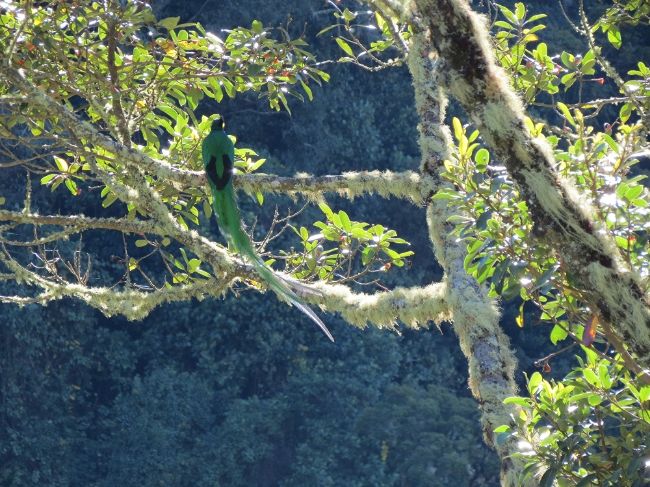 We also saw some Golden brown chlorophonias (Chlorophonia callophrys). I spent forever trying to get a decent picture of them hiding and crawling around the undergrowth.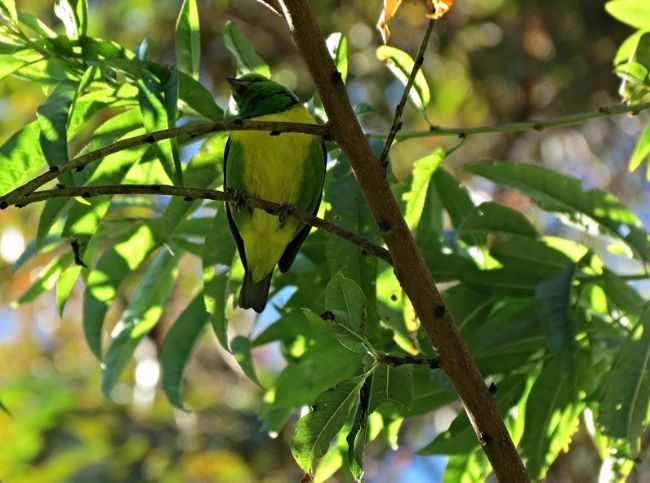 Habitat shots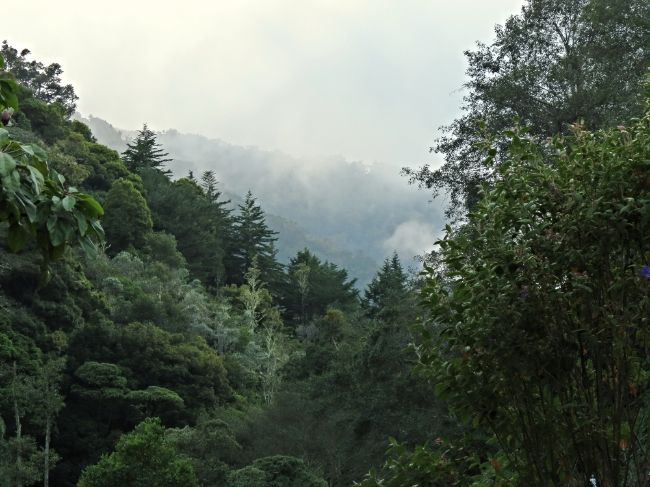 We then tried and failed to rouse the kids to come out, but they didn't so we continued up the valley into some smaller clearing and had some amazing luck findings more quetzals and even an emerald toucanet (Aulacorhynchus prasinus).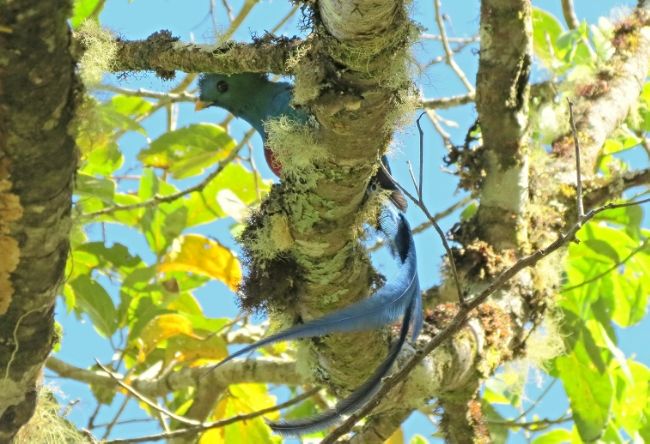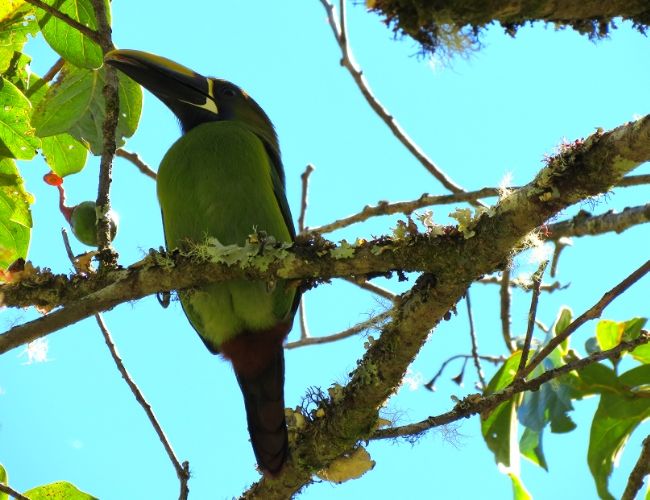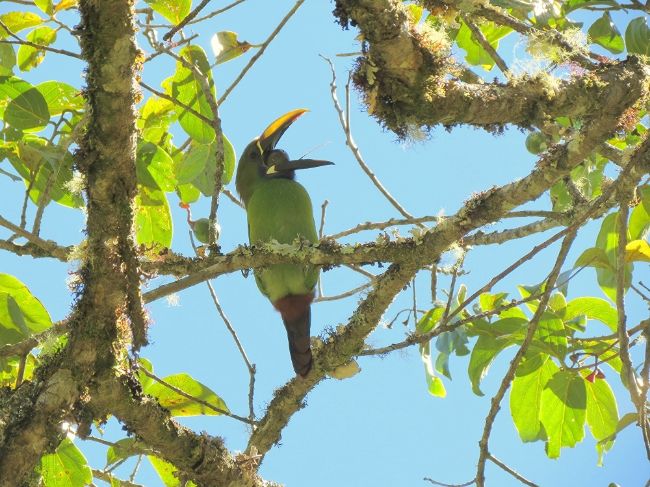 Later in the day we found a flame colored tanager down by the stream and then a acorn woodpecker.
(Piranga bidentata)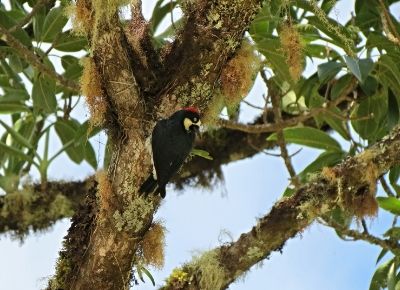 (Melanerpes formicivorus)
At the lodge we were greeted each morning with loads of hummingbirds.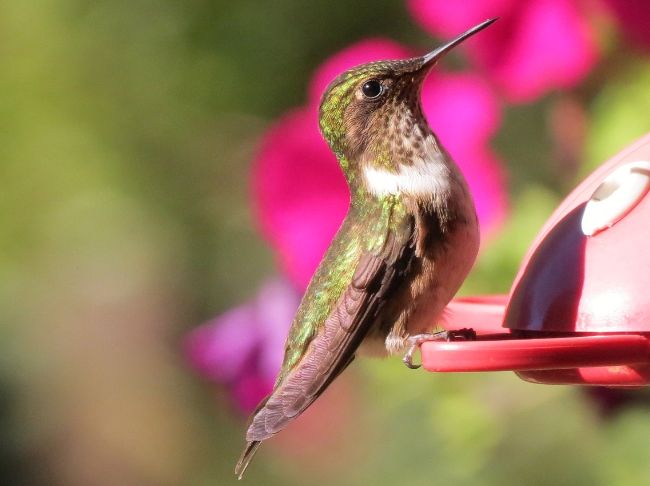 Female purple-throated mountain gem (Lampornis calolaemus)
In this photo are tow mountain gems at the feeder and I believe a Veraguan mango or a green-breated mango trying to get in. It is possible I am incorrect on the id though if anyone knows better.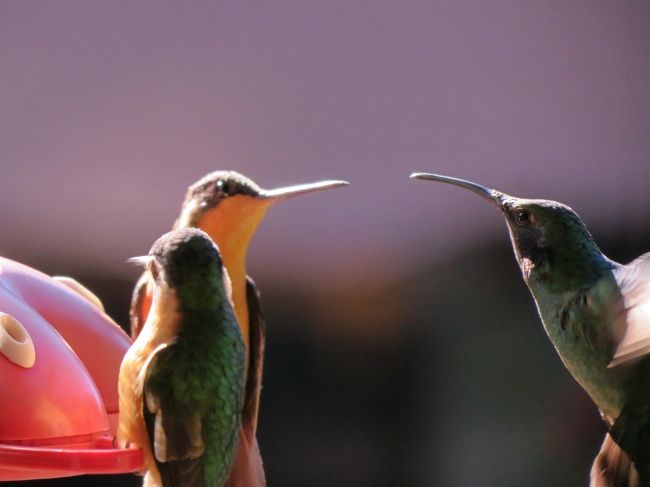 (Anthracothorax veraguenis)?
Green violet-ear (Colibri thalassinus)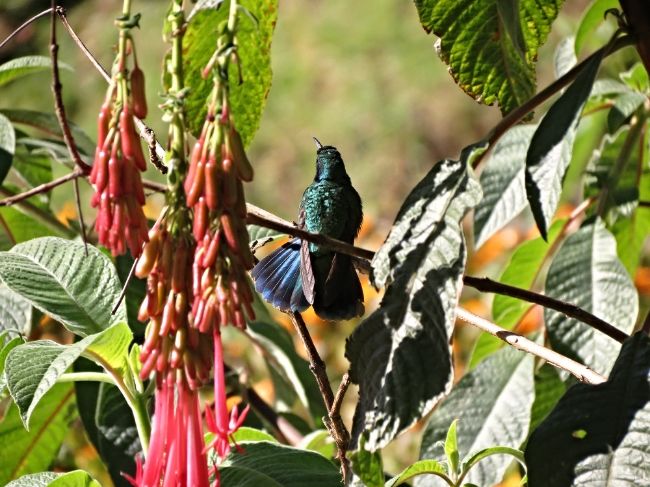 After the wonderful time in the mountains we headed on down to the Pacific. The drive down through the mountains was nice and the temps warmed right up as we lowered in elevation. Along the way I saved a sloth from becoming a pancake.
While we were down here I found the primary rainforest right next to our rental was good for day hiking. We also ventured out and looked around Hacienda Baru up the road from us. They had some nice wetlands that offered up a few finds.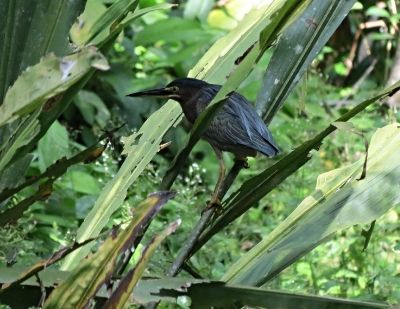 Green heron (Butorides virescens)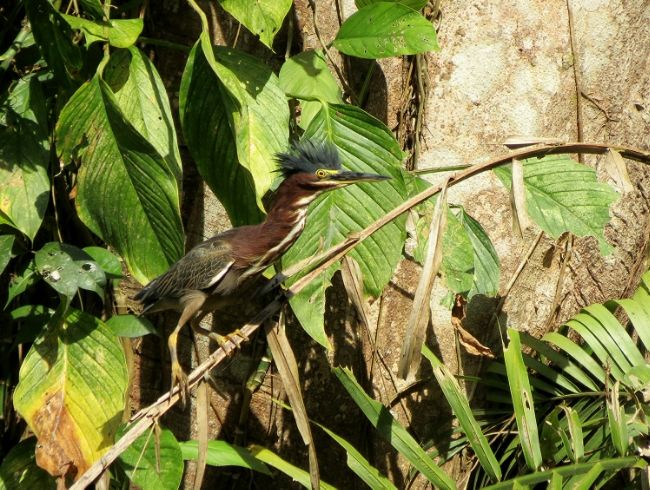 I also found a wood rail that I wasn't ready for at all.
Gray-necked wood-rail (Aramides cajanea)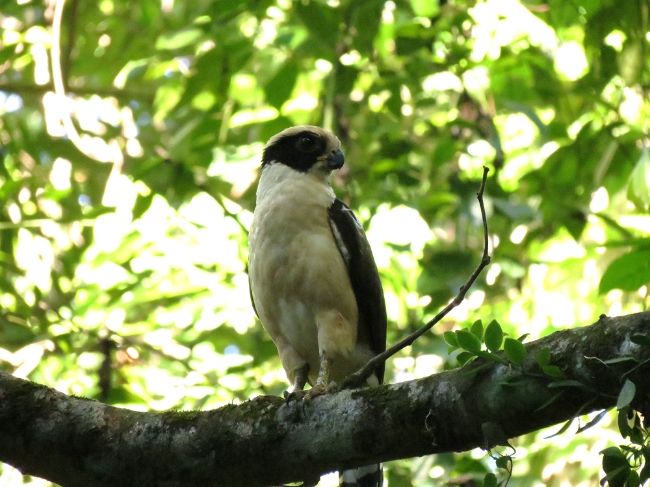 Laughing falcon (Herpetotheres cachinnans)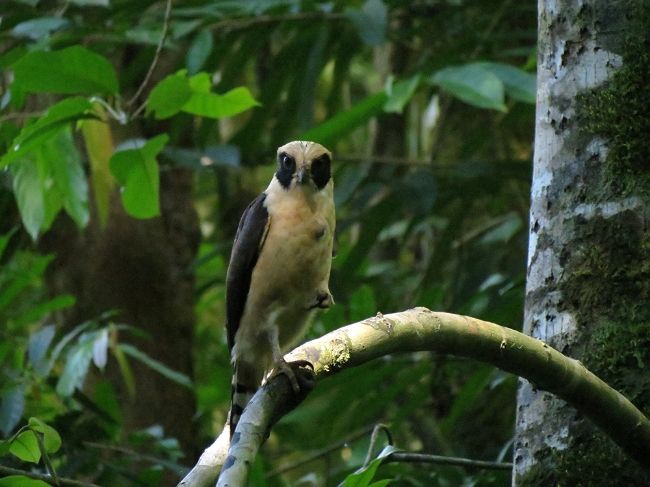 I also found a female black-throated trogon in the same stretch of forest.
(trogon rufus)
We also found a hummingbird nest. Not sure on the species.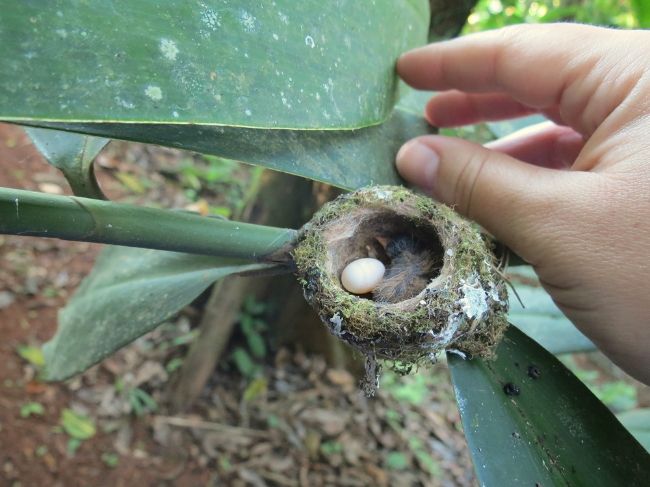 These guys would gather near our rental every afternoon.
As well as Mealy parrots (Amazona farinosa)
The last noteworthy sighting I had was while we were hiking in the foothills above Uvita and I spotted a white-necked puffbird (Northarchus macrorhynchos)
I hope everyone enjoyed the post. I felt for a family outing that we got to see quite a bit. Fun was had by us all ranging in ages from 74 to 8. We also saw quite a few herps along the way as well as mammals. Those I will post in the regular forum.
Cheers,
Roki