Hey guys, hope everyone has had a great year. After an amazing summer playing with rattlesnakes out in CA, and graduating from Ithaca College this past December, I'm now back on the east coast for a while.
From April-October I'll be interning for
U.S. Fish & Wildlife Service (USFWS)
at the
Eastern Massachusetts National Wildlife Refuge Complex (EMNWRC)
, headquartered in Sudbury, MA.
The EMNWRC is comprised of eight NWRs:
Assabet River
,
Great Meadows
(divided into Sudbury and Concord units;),
Mashpee
,
Massasoit
,
Monomoy
,
Nantucket
,
Nomans Land Island
, and
Oxbow
.
Here is a map showing all of the refuges: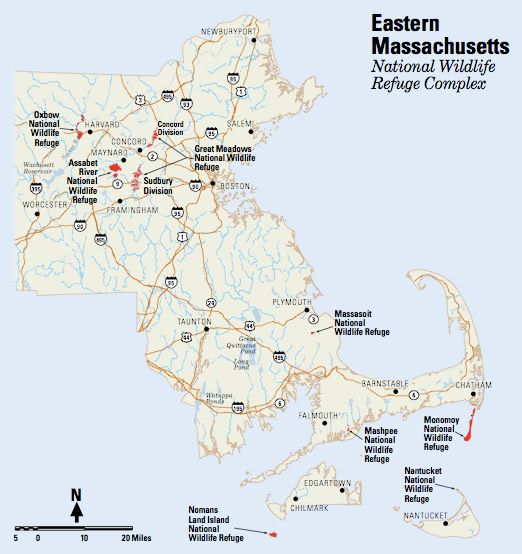 Technically, I was hired as the herpetology intern, and the majority of my responsibilities will be herp-related. However, I'll also be helping out as needed with various other activities that some of you may find interesting, so I plan to include these non-herp experiences here as well.
For the duration of this position, most of my work will focus on Blanding's turtles (
Emydoidea blangdingii
), and I will be involved with a few different projects relating to this species that I will discuss in more detail below. I will also be helping to monitor a population of the disjunct "Plymouth County Northern Red-bellied Cooter" (
Pseudemys rubriventris
).
For these first couple weeks, though, we've been busy surveying several vernal pools at one of our refuges for amphibian egg masses.
Here are some photos (with additional info) from my first two weeks here:
The route from Bala Cynwyd, PA to Sudbury, MA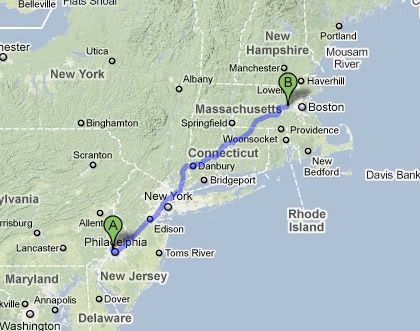 My home for the next seven months
Not bad for (free) "dormitory style" housing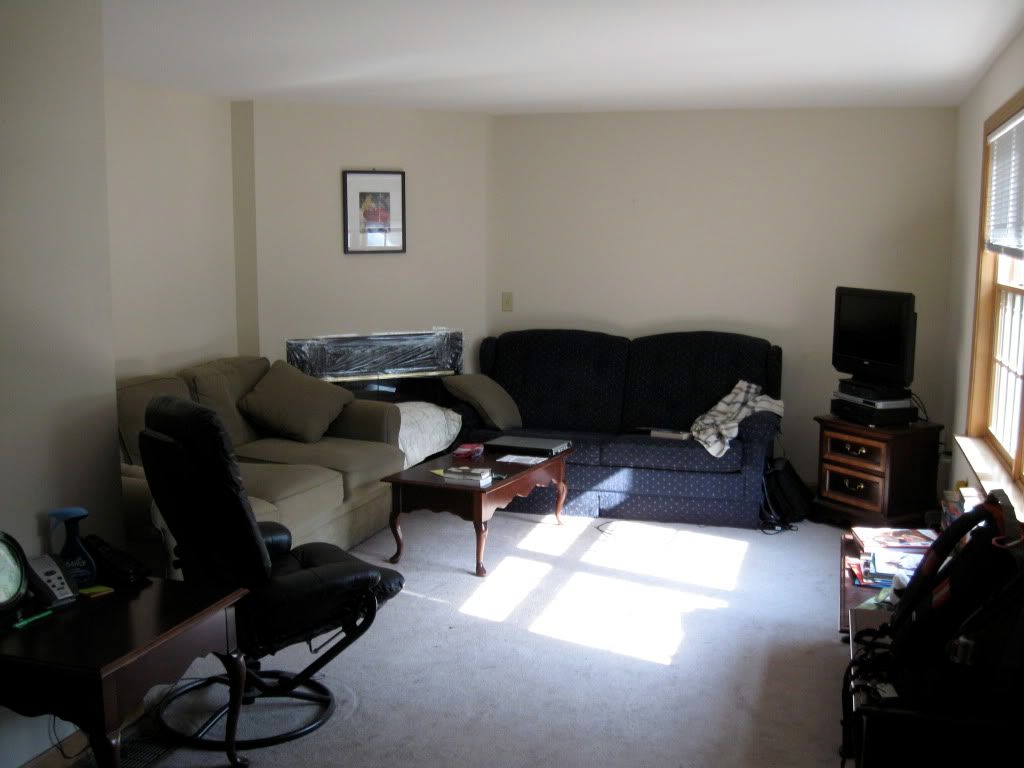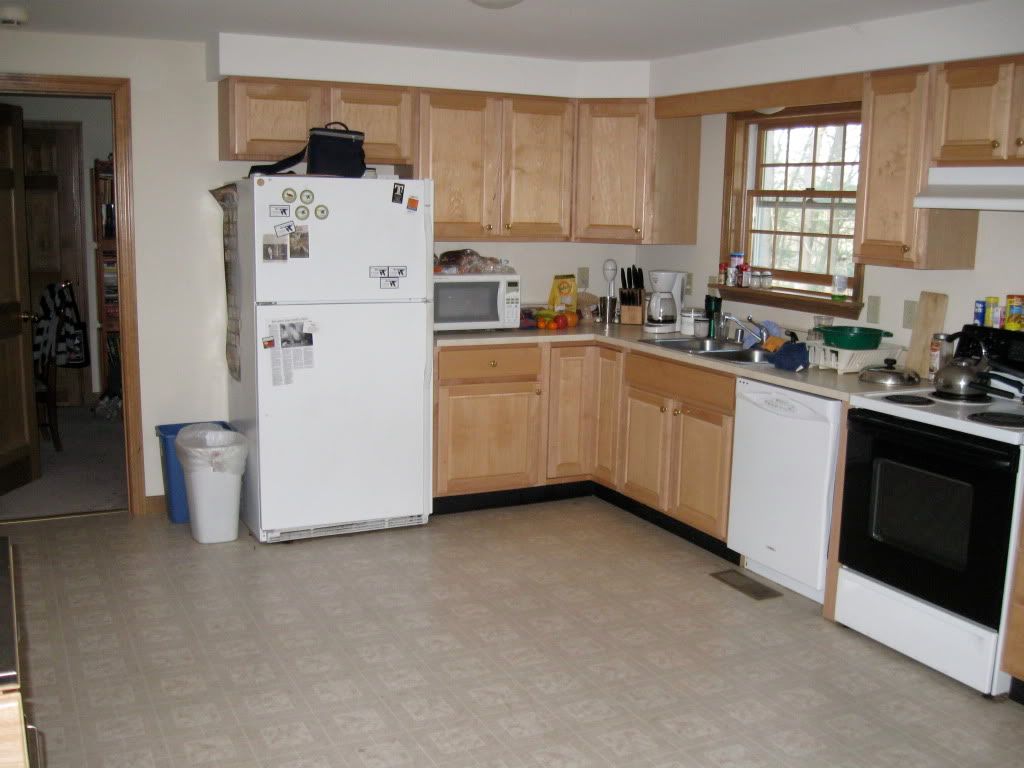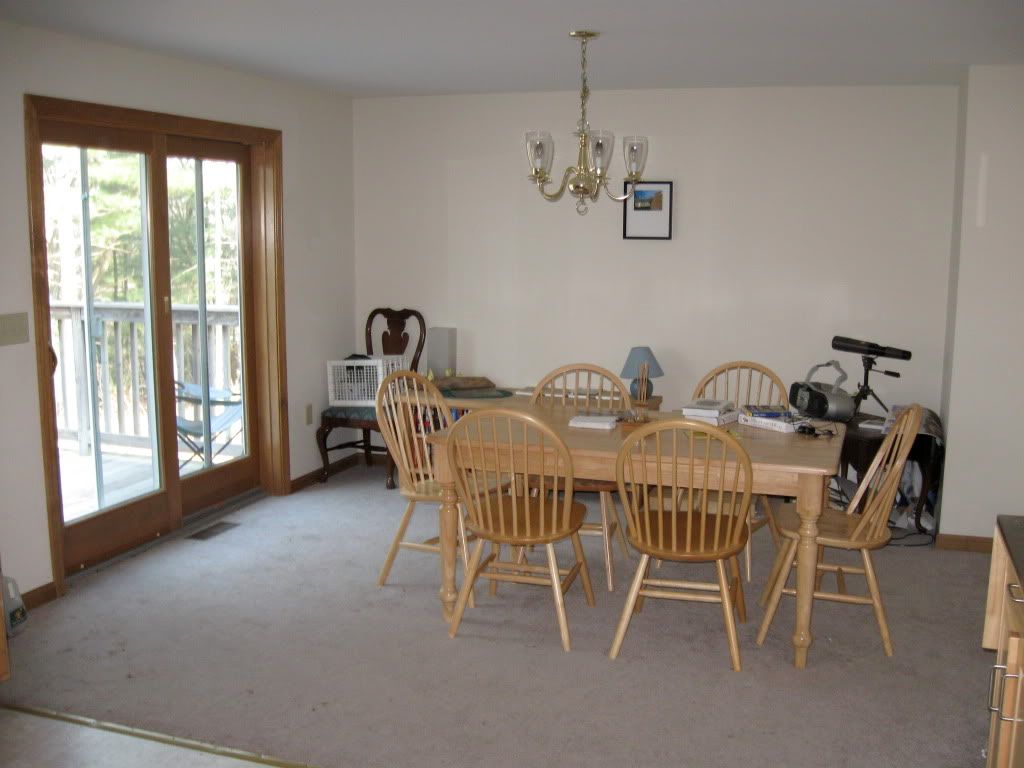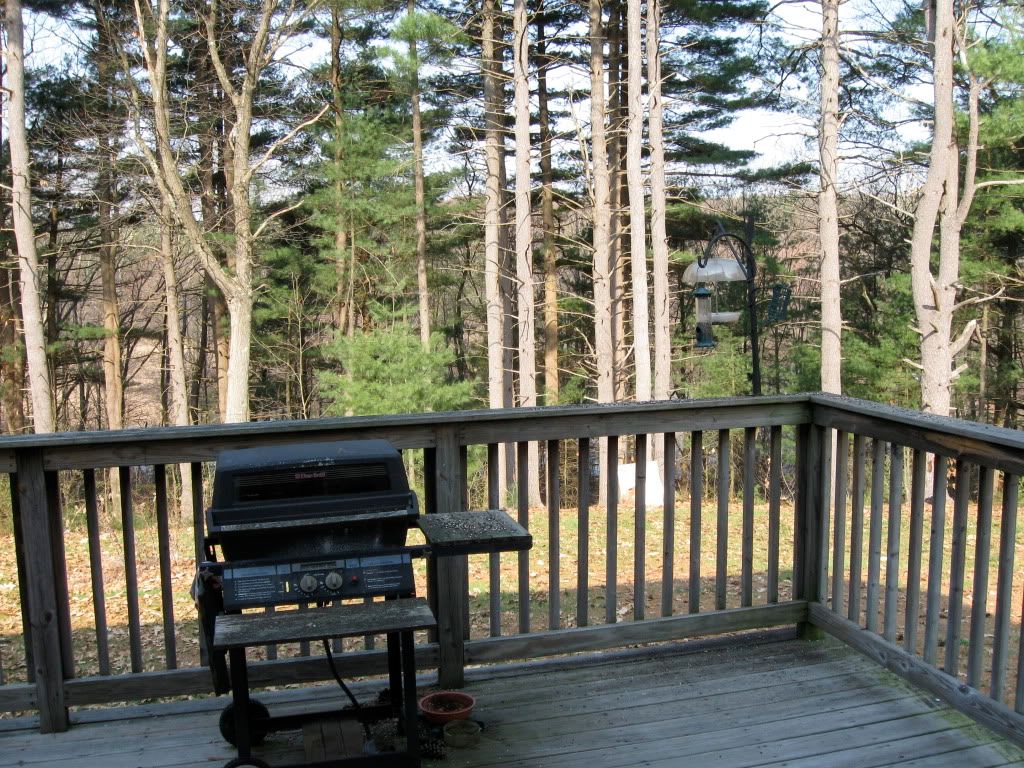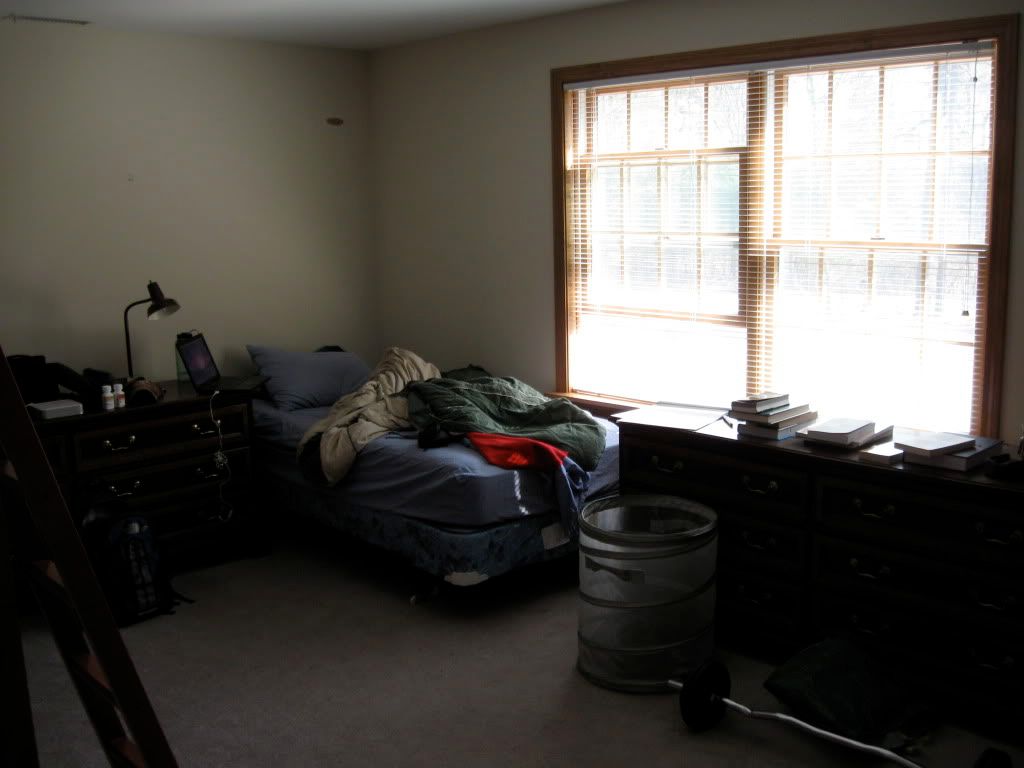 Exploring the backyard (NWR land)
First herp sighting – American Bullfrog (
Lithobates catesbeianus
)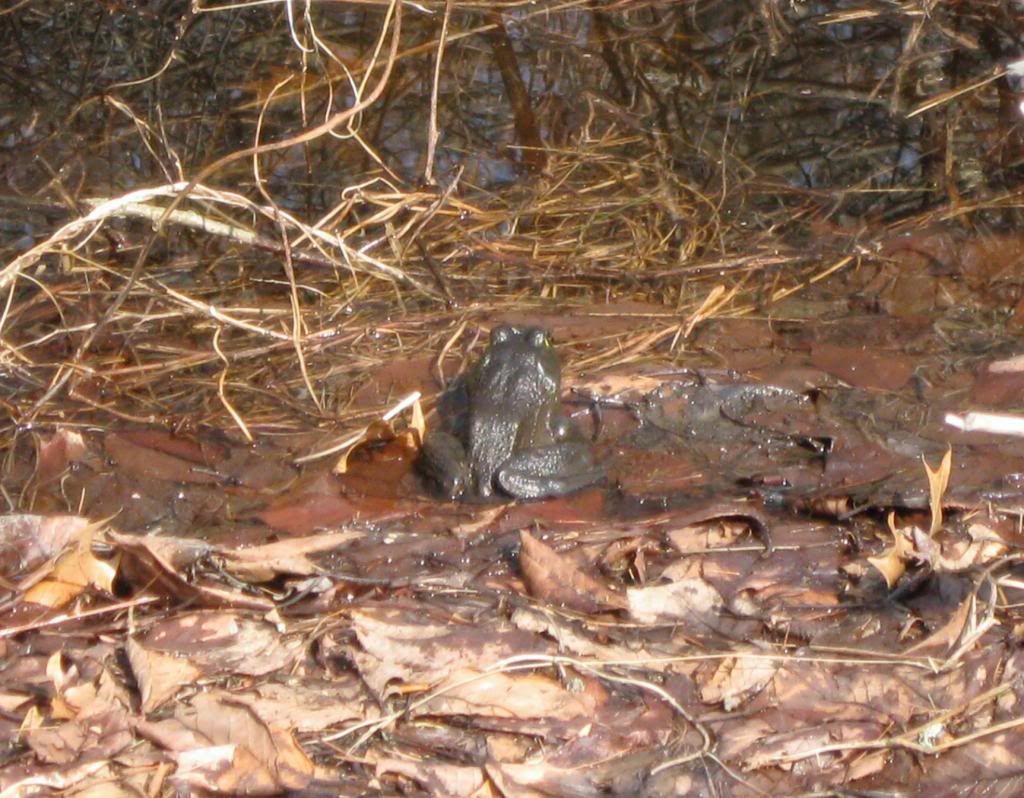 At the time I arrived, much of Eastern MA had just experienced the most severe flooding since the 1980s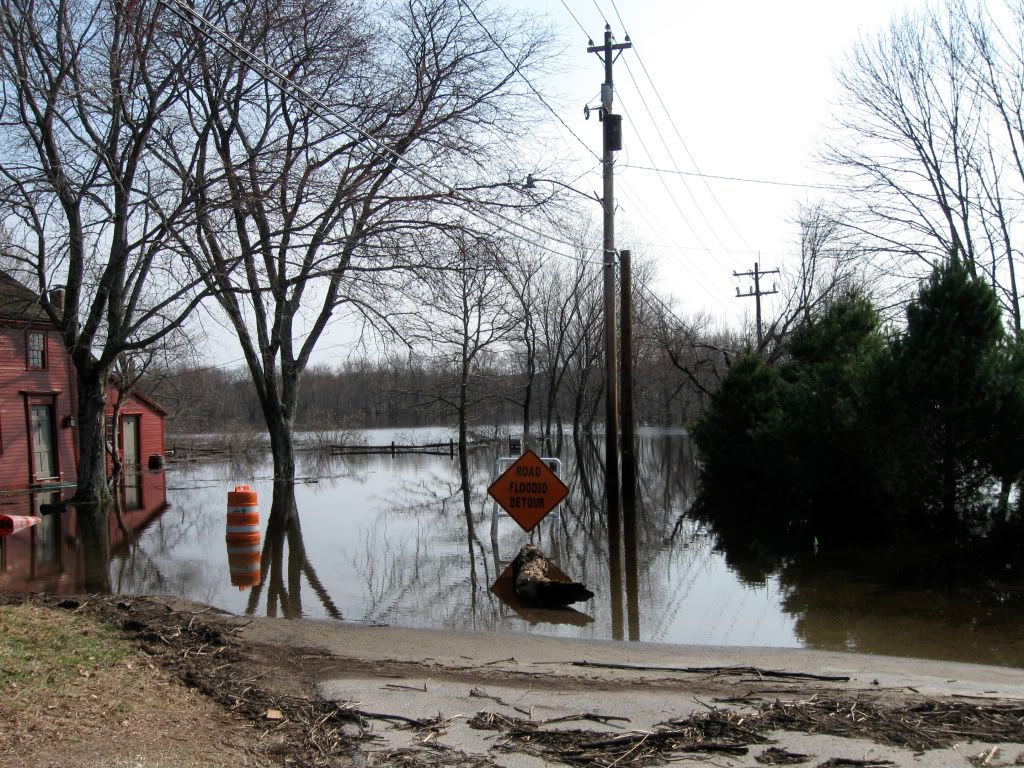 How fitting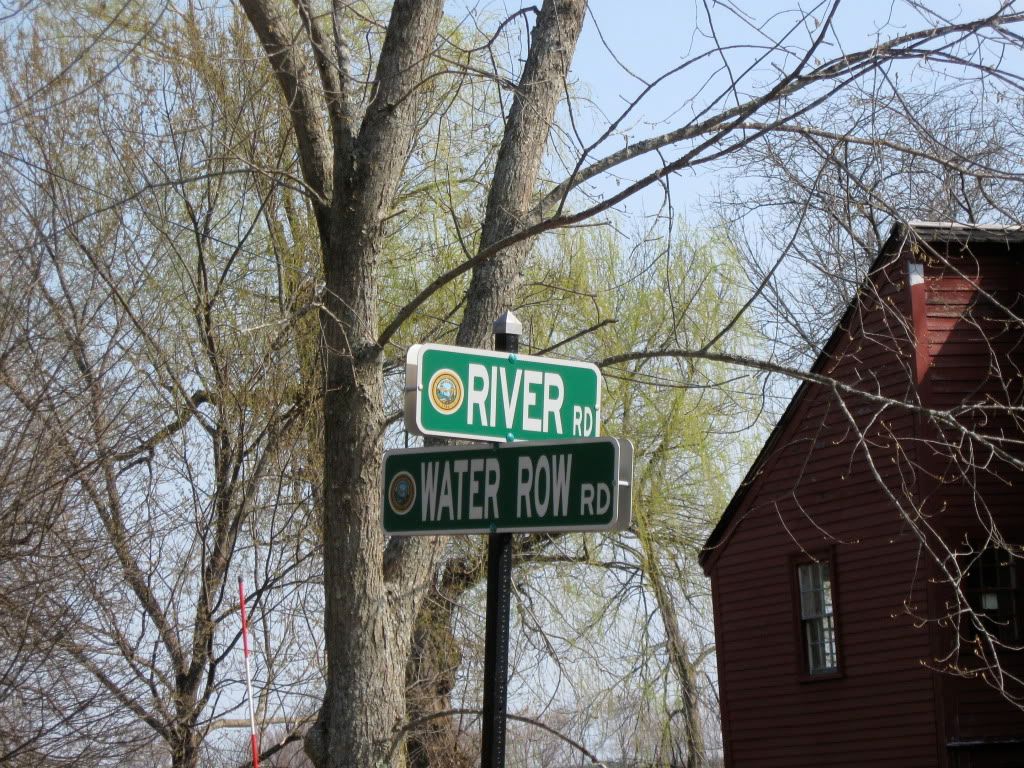 Lot's of roads were closed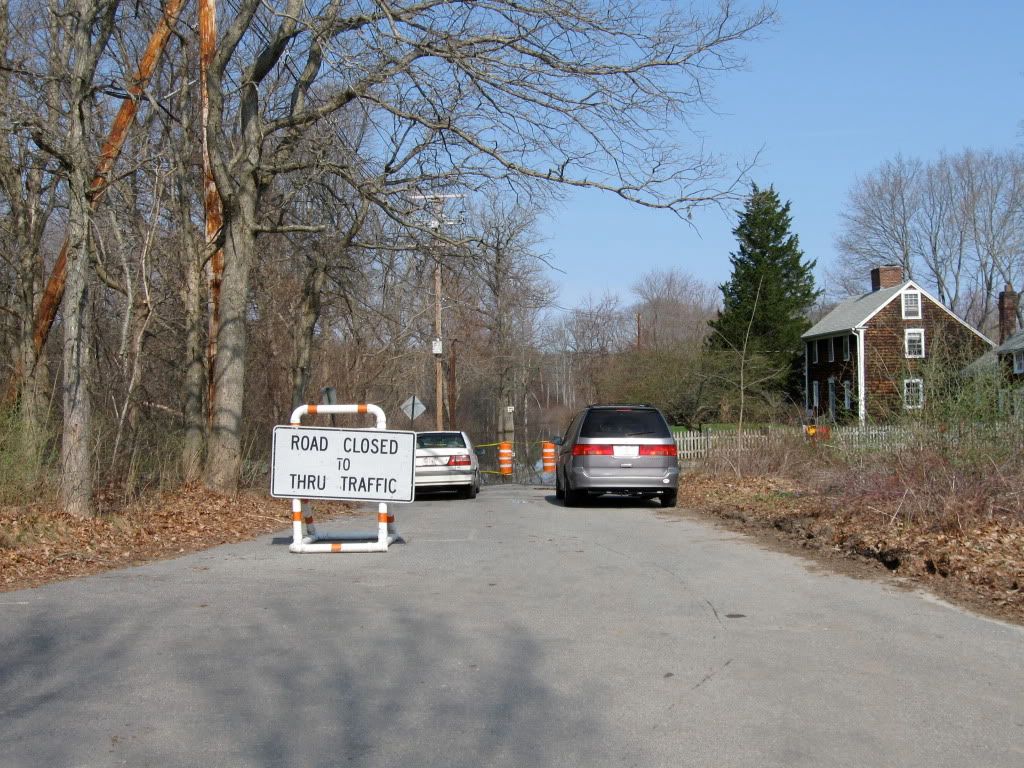 This is the street I would normally take to work. Apparently, flooding in this area is nothing new, as can be seen in the following passage from Thoreau's
A Week on the Concord and Merrimack Rivers
(1849):
"The farm-houses along the Sudbury shore, which rises gently to a considerable height, command fine water prospects at this season. The shore is more flat on the Wayland side, and this town is the greatest loser by the flood. Its farmers tell me that thousands of acres are flooded now, since the dams have been erected. . . "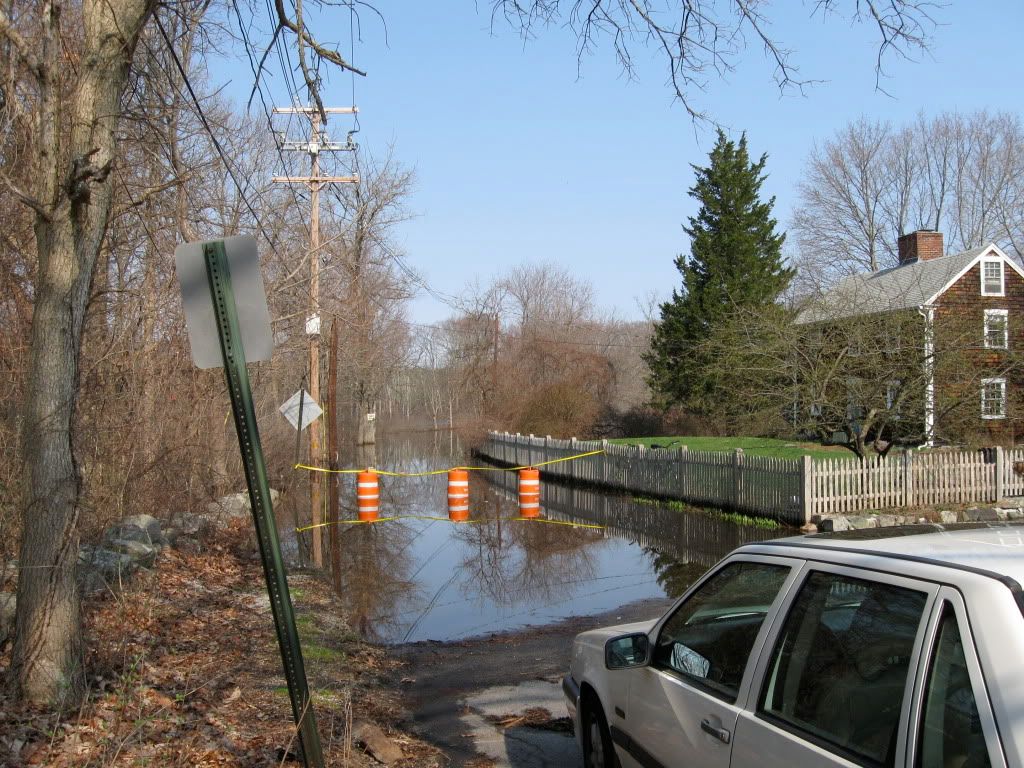 Uh-oh. Found this fresh DOR on the walk back – same frog from earlier?
Wonderful scenery…
"The future inhabitants of this region, wherever they may place their houses, may be sure that they have been anticipated."
-Thoreau (1854)
"Many of our houses, both public and private, with their almost innumerable apartments, their huge halls and their cellar for the storage of wines and other munitions of peace, appear to me extravagantly large for their inhabitants. They are so vast and magnificent that the latter seem to be only vermin which infest them."
-Thoreau (1854)
How quaint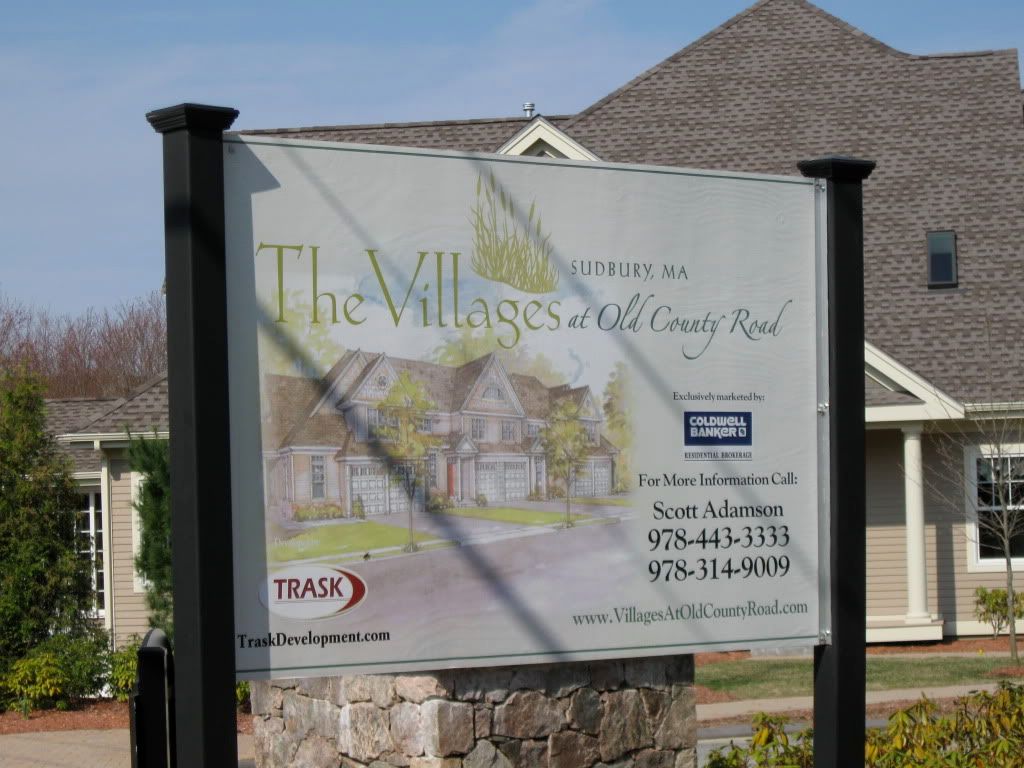 This is a very historic region. Down the block from my house I found this Revolutionary War training field.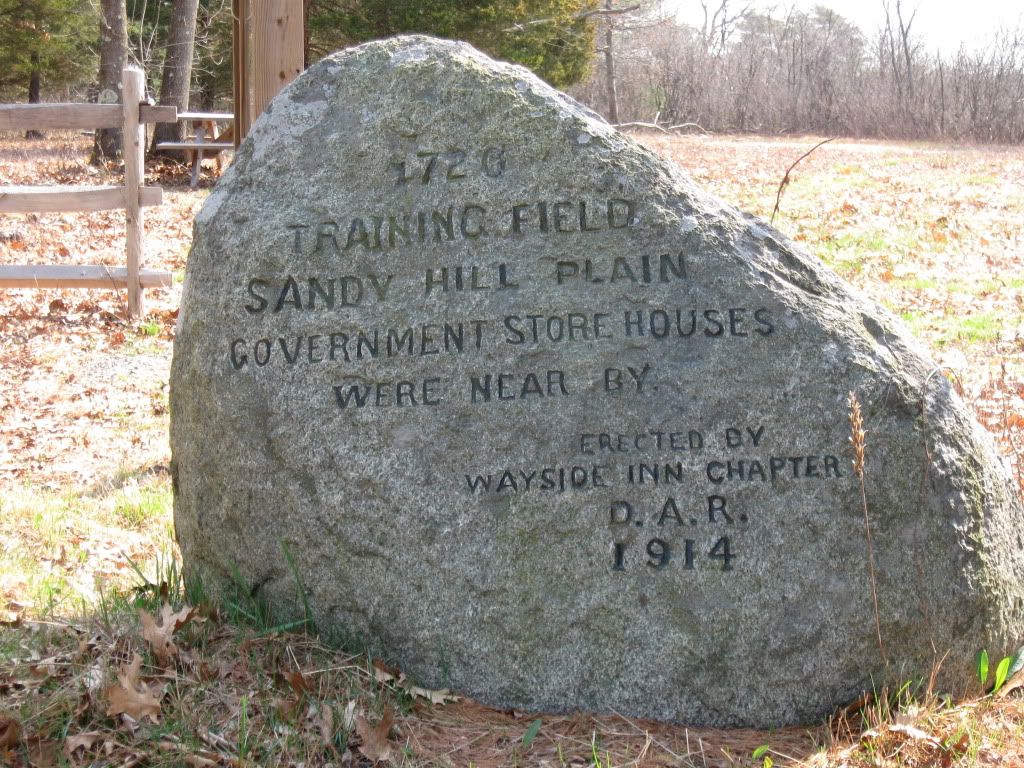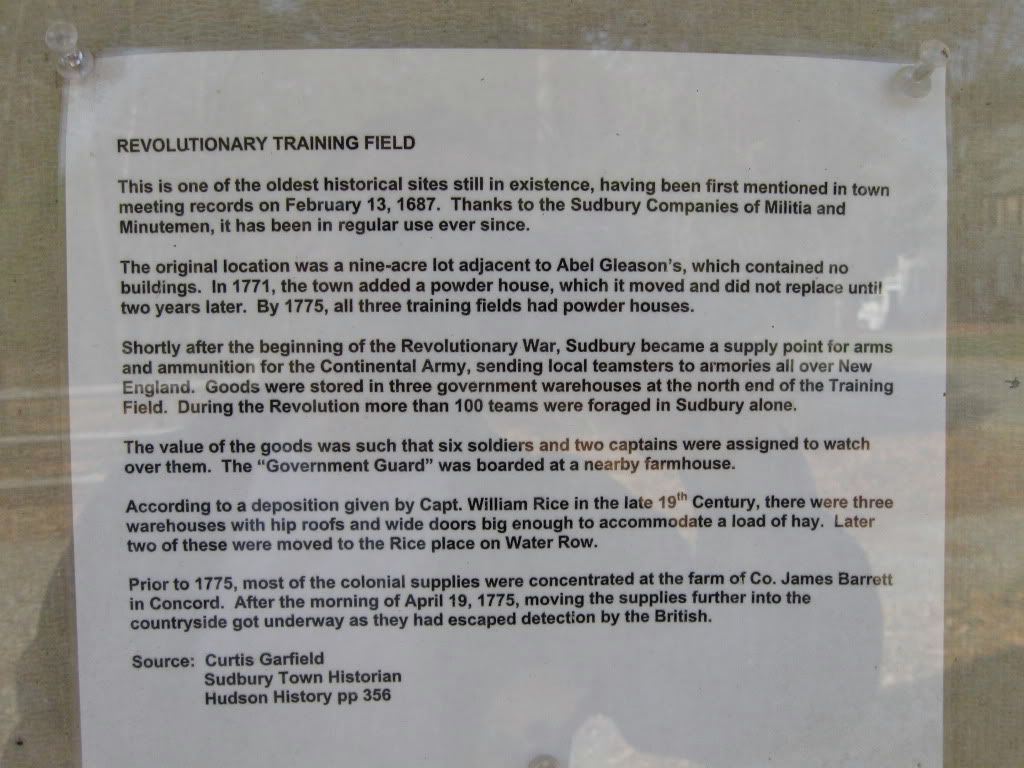 It's understandable why they don't want anyone metal detecting here. People might try and steal some of these treasures for themselves!
Common Gartersnake (
Thamnophis sirtalis
), warming up after recently emerging from hibernation.
"I saw a striped snake run into the water, and he lay on the bottom, apparently without inconvenience, as long as I staid there, or more than a quarter of an hour; perhaps because he had not yet fairly come out of the torpid state. It appeared to me that for a like reason men remain in their present low and primitive condition; but if they should feel the influence of the spring of springs arousing them, they would of necessity rise to a higher and more ethereal life. I had previously seen the snakes in frosty mornings in my path with portions of their bodies still numb and inflexible, waiting for the sun to thaw them."
-Thoreau (1854)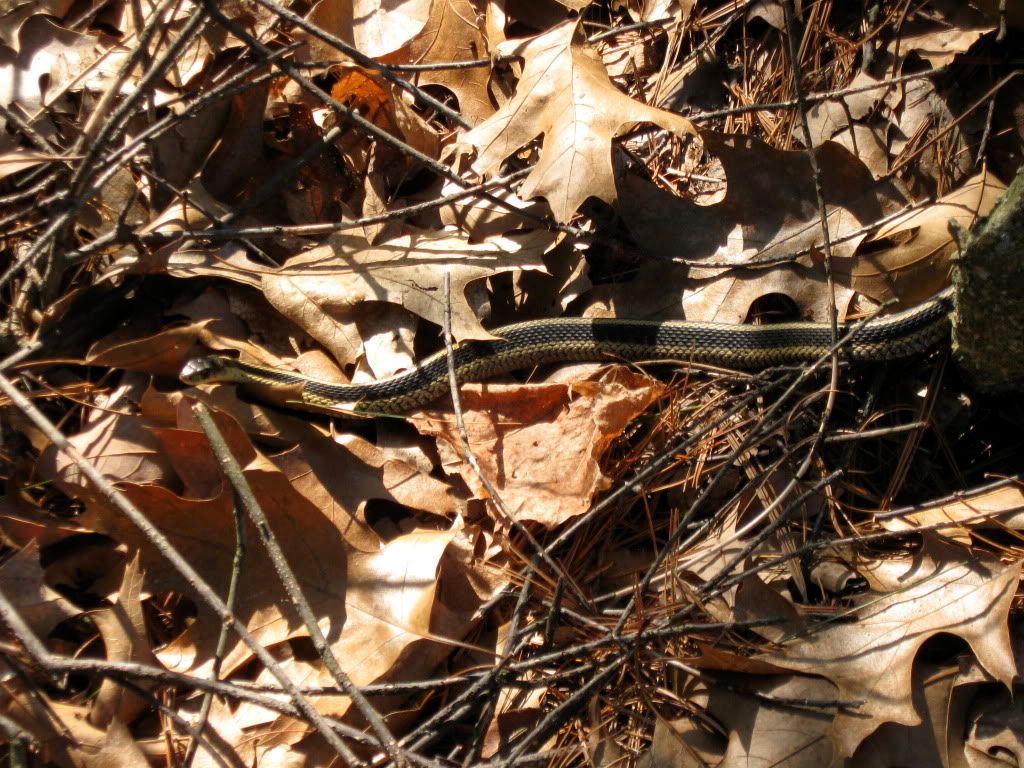 Getting mad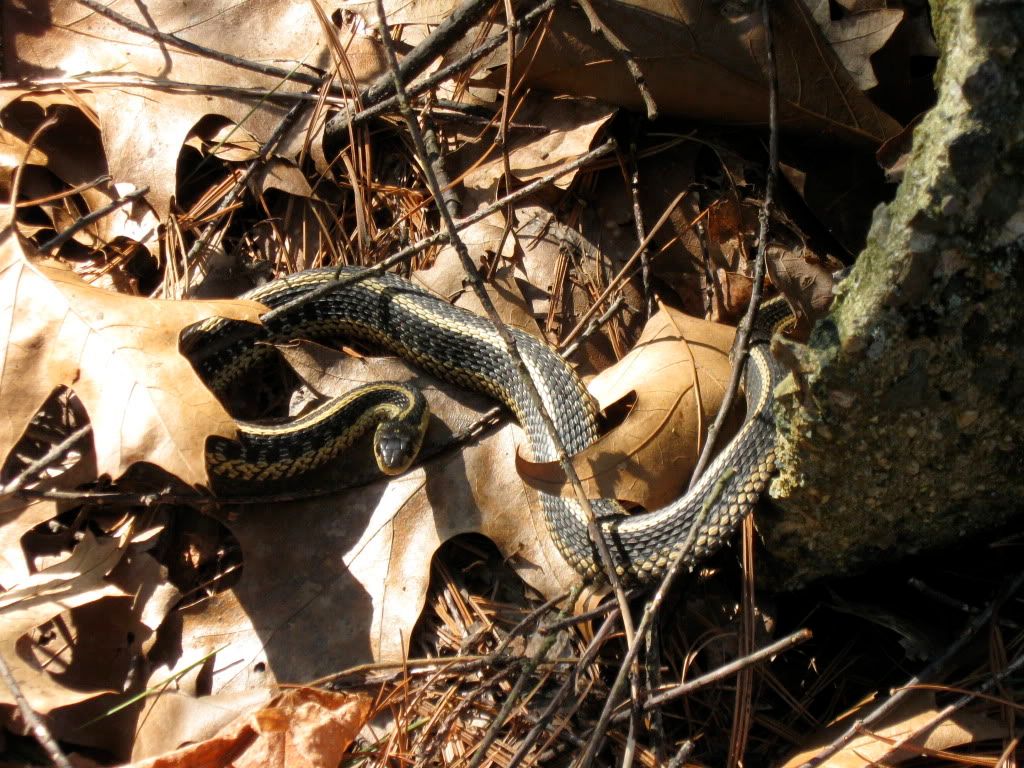 Very sluggish Ring-necked Snake (
Diadophis punctatus
) found under wooden board in the backyard.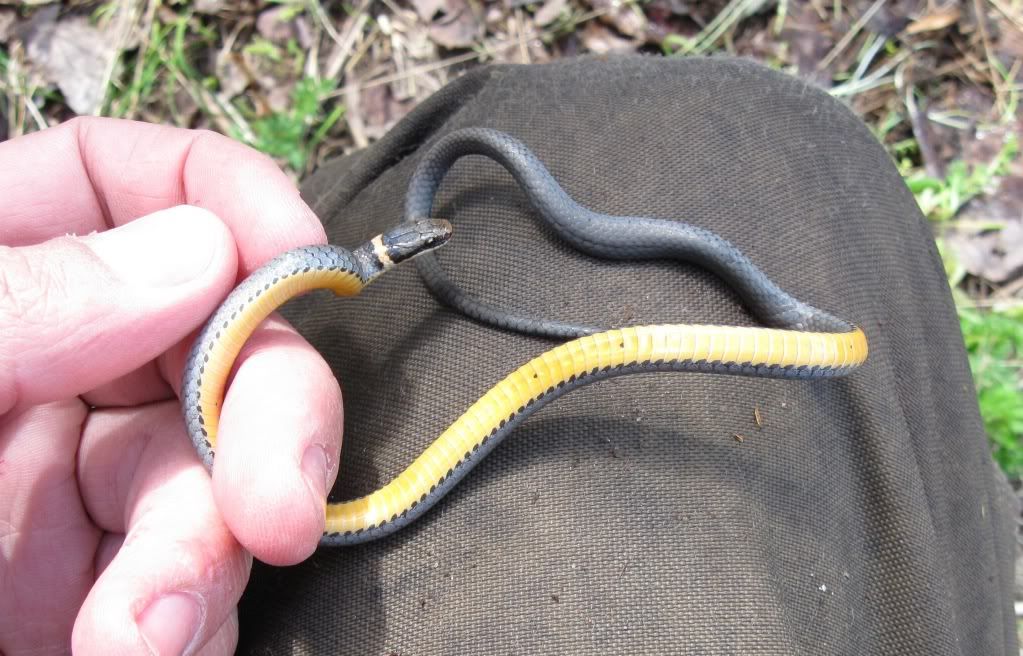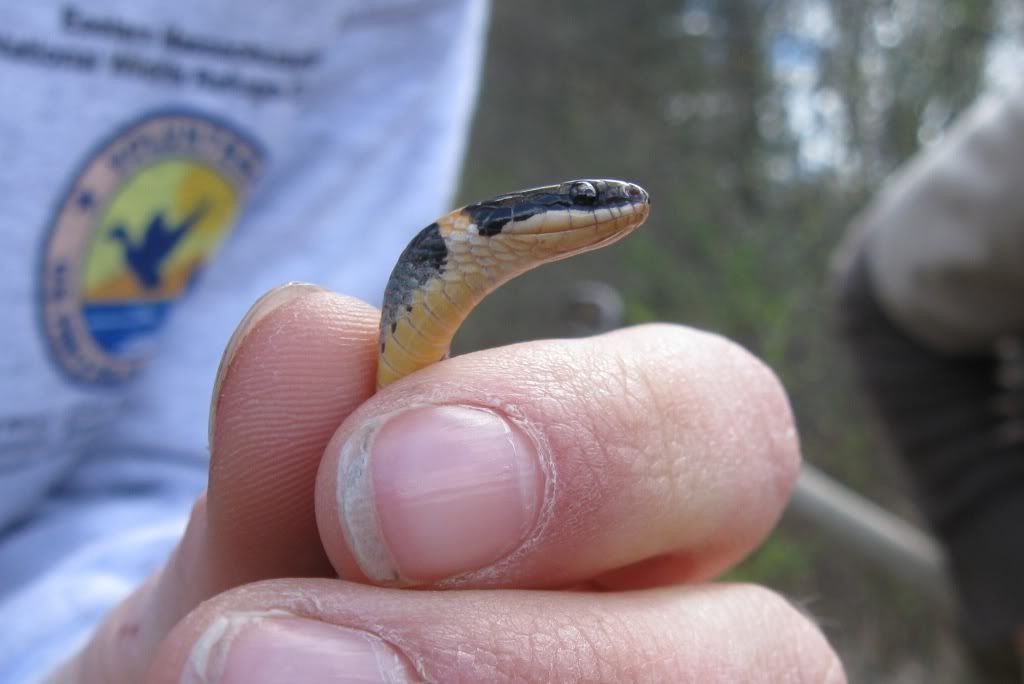 Snapping Turtle (
Chelydra serpentina
), found on the side of the road. Probably on the move after being left high and dry from receding floodwaters. Notice the leeches (
Placobdella
spp.) on this turtle's neck - the majority of snapping turtles are parasitized by leeches, and a symbiotic relationship exists between snapping turtles and painted turtles (
Chrysemys pica
), in which
C. picta
removes (and consumes) leeches from snapping turtles. (Painted turtles are also parasitized by these same leeches). I moved this turtle away from the road, and into a more permanent wetland behind our house.
"[O]ccasionally a travelling mud-turtle visits [Walden Pond]. Sometimes, when I pushed off my boat in the morning, I disturbed a great mud-turtle which had secreted himself under the boat in the night."
-Thoreau (1854)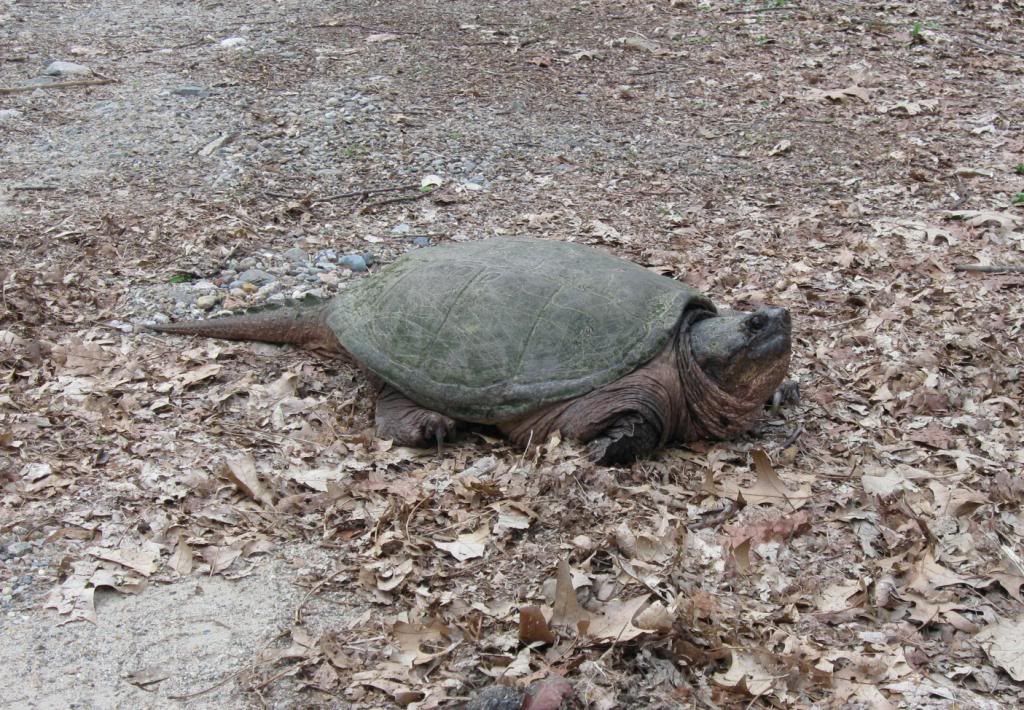 "If the hunter has a taste for mud-turtles. . . and other such savage tid-bits, the fine lady indulges a taste for. . . sardines from over the sea, and they are even."
-Thoreau (1854)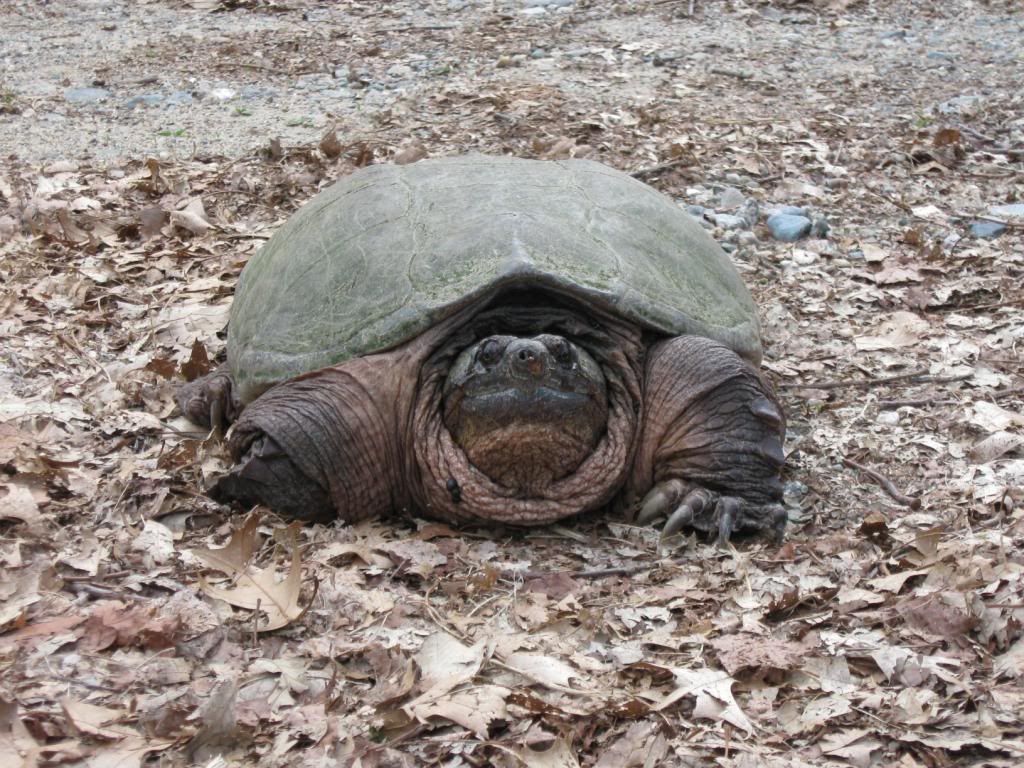 We arrive at Great Meadows NWR (Sudbury Unit - the headquarters of the EMNWRC) for my first day of work
The road to the parking lot was still flooded
We had to take a canoe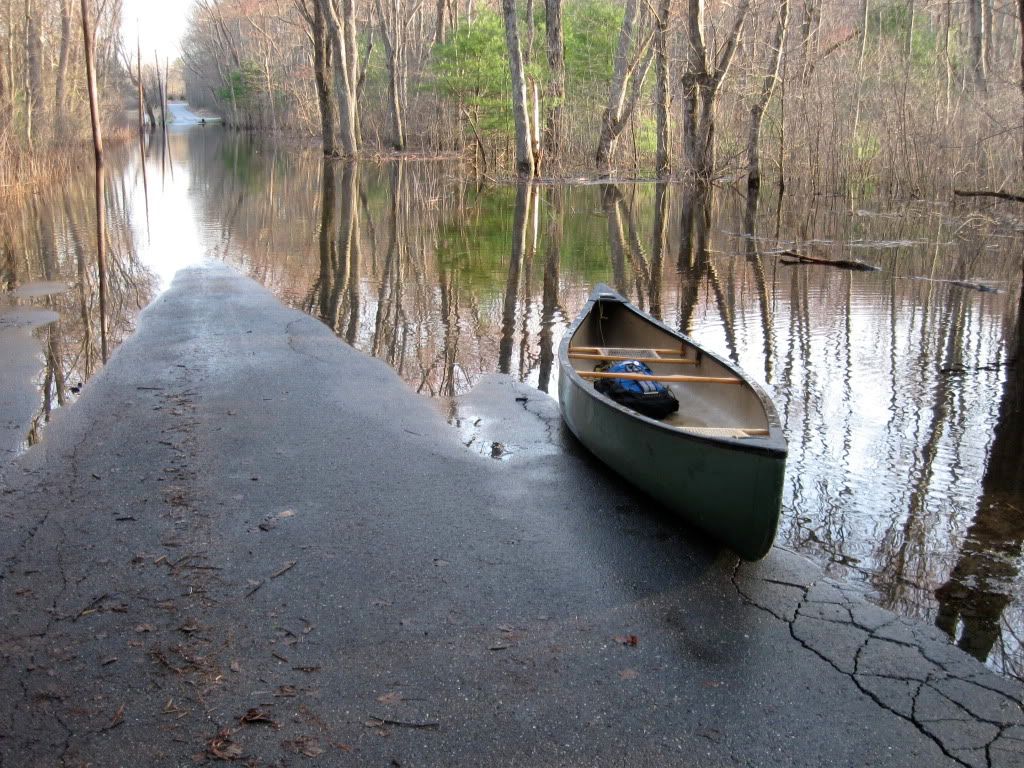 The main office/visitor center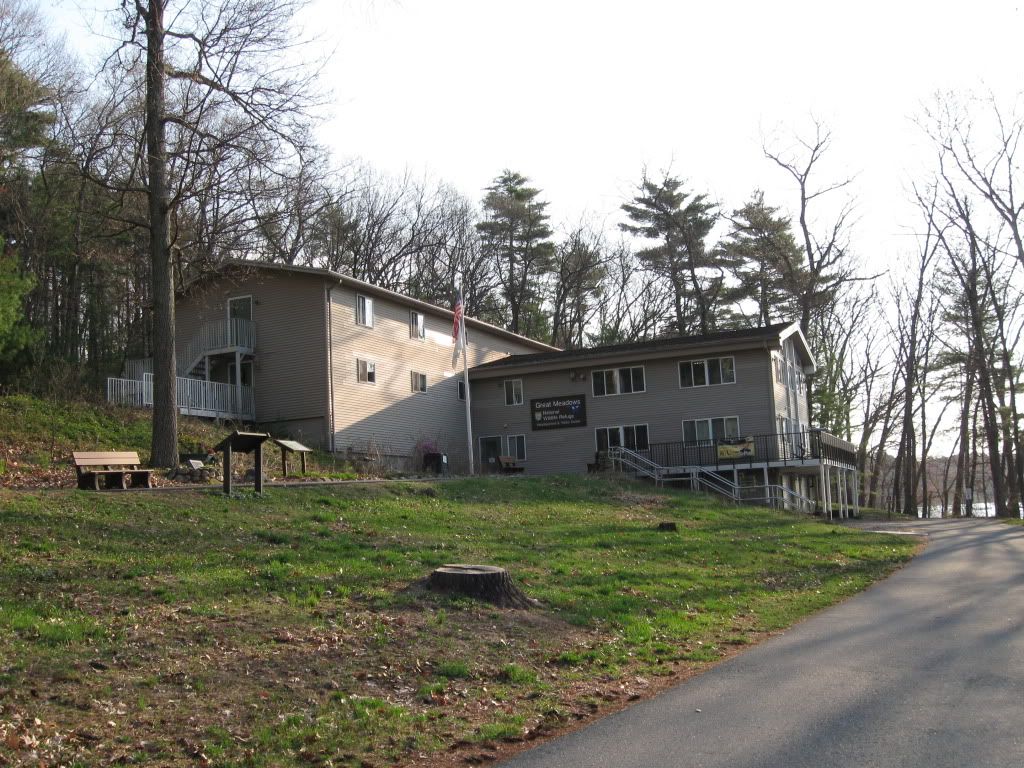 View across the Sudbury River, with Sherman's Bridge in the distance.
"Between Sudbury and Wayland the meadows acquire their greatest breadth, and when covered with water, they form a handsome chain of shallow vernal lakes, resorted to by numerous gulls and ducks. Just above Sherman's Bridge, between these towns, is the largest expanse, and when the wind blows freshly in a raw March day, heaving up the surface into dark and sober billows or regular swells, skirted as it is in the distance with alder swamps and smoke-like maples, it looks like a smaller Lake Huron, and is very pleasant and exciting for a landsman to row or sail over."
-Thoreau (1849)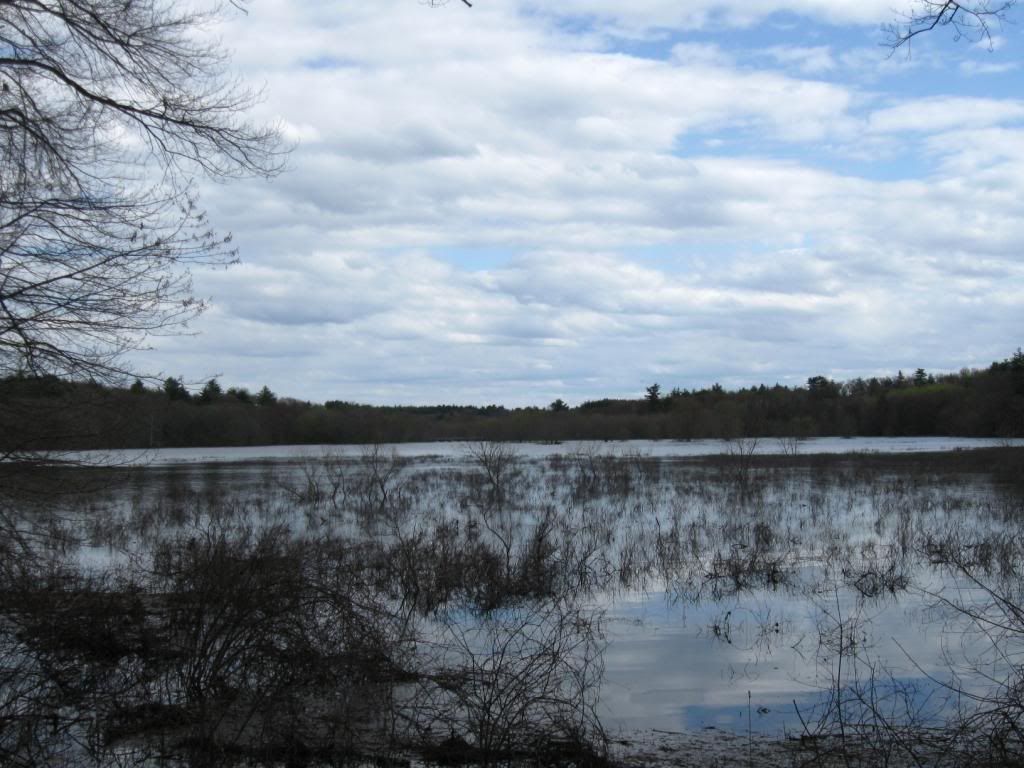 My very professional office
Nice décor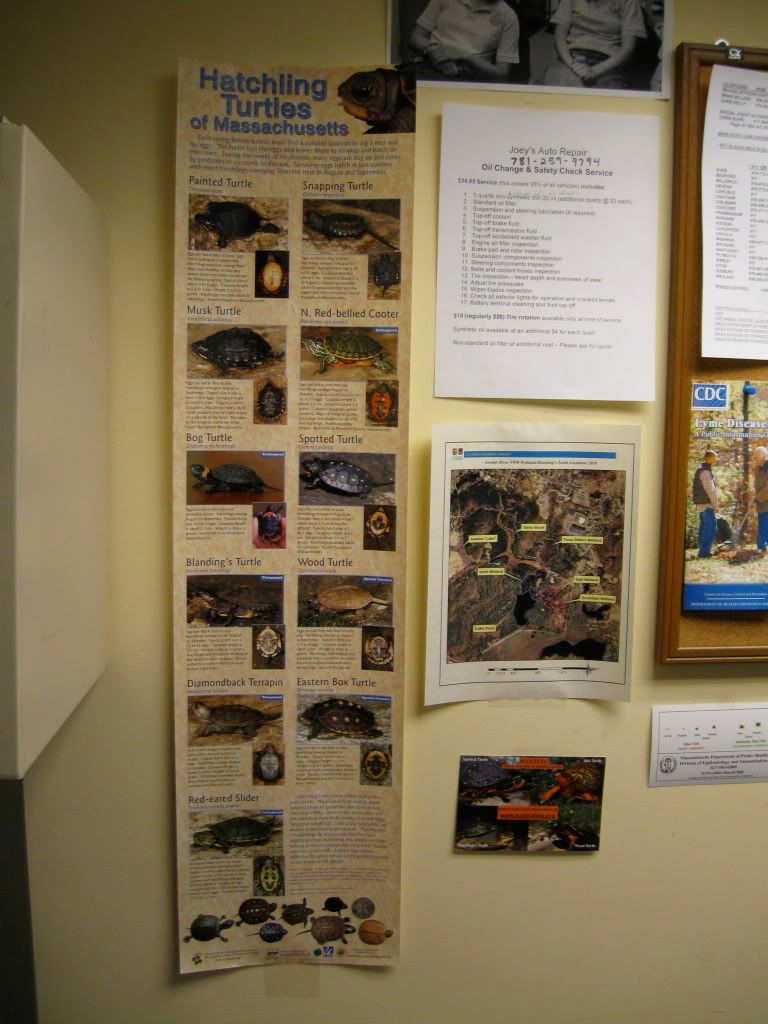 We arrive at Assabet River NWR for vernal pool surveys
Map of the refuge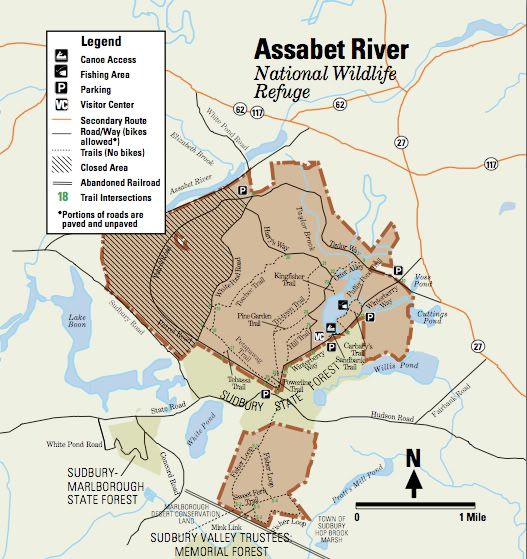 A couple habitat shots (not vernal pools)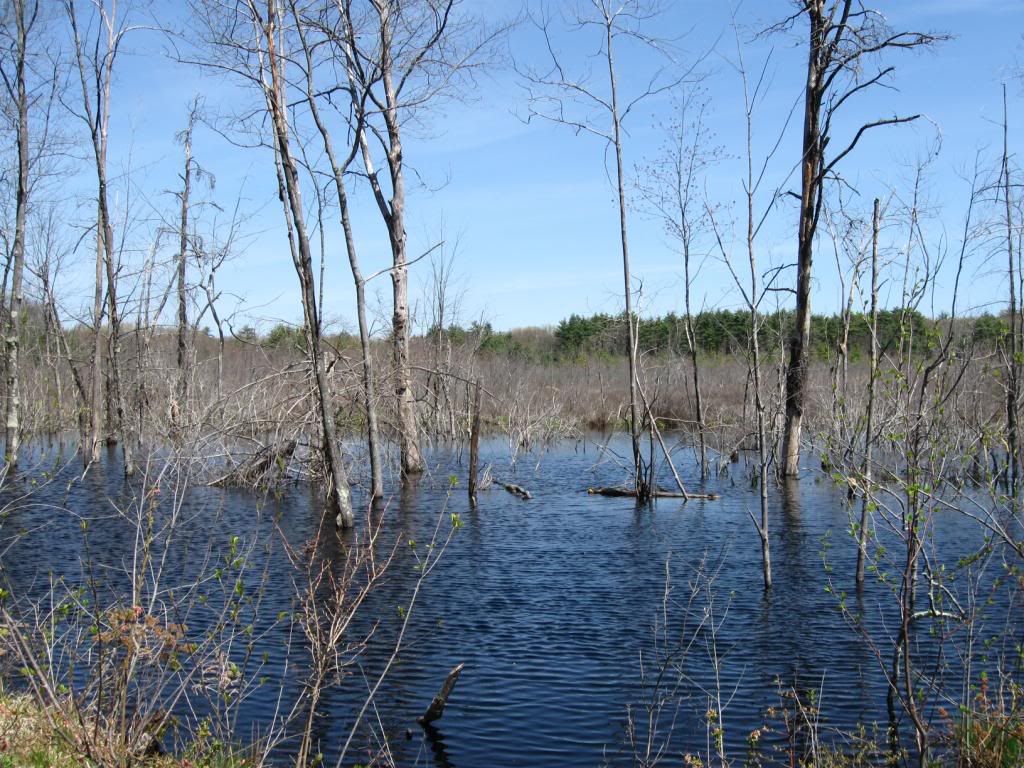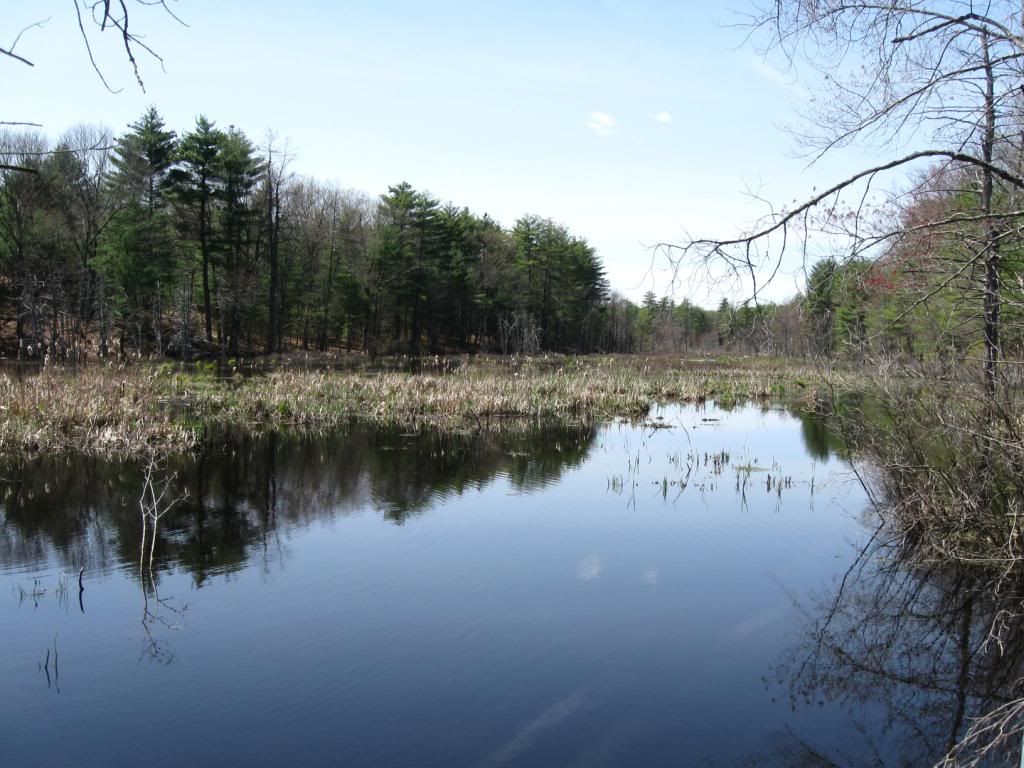 One of the dozens of concrete bunkers found throughout the refuge from back when this land was owned by the military. These were used to store weapons/ammunition a safe distance away from U-Boat fire from Boston Harbor during World War II.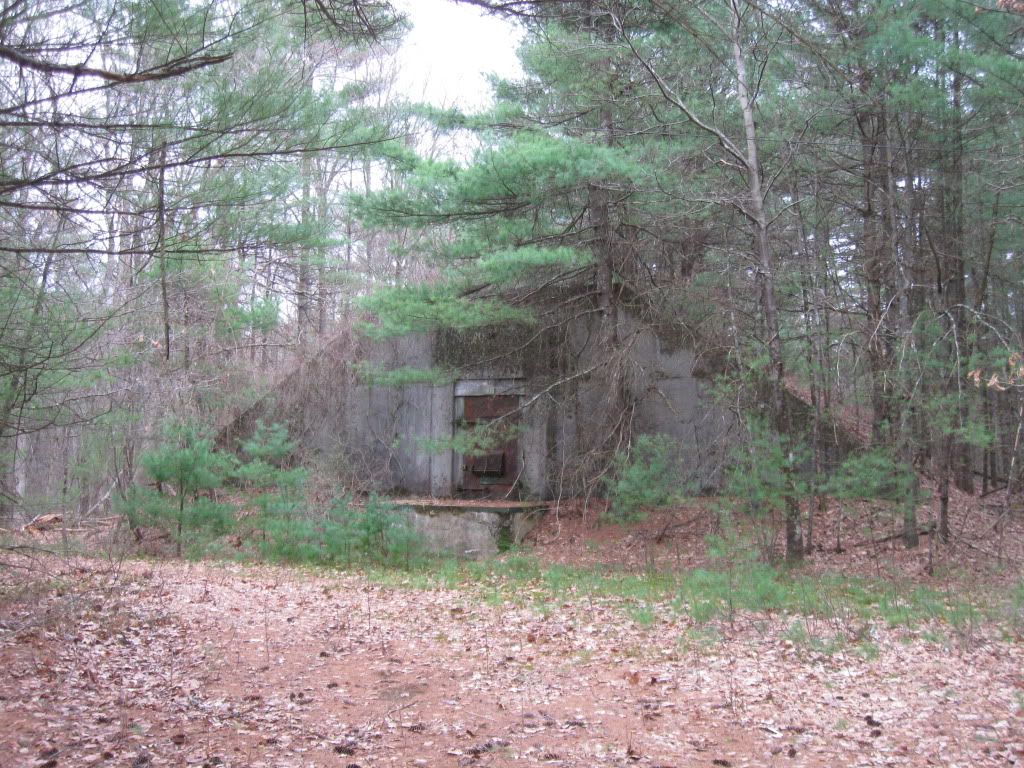 The first vernal pool to be surveyed. A total of 20 randomly-selected pools will be surveyed this season at Assabet River NWR. First, each pool is surveyed TWICE for Wood Frog (
Lithobates sylvaticus
) and Spotted Salamander (
Ambystoma maculatum
) egg masses, with visits occurring at least two weeks apart. (This helps to ensure accuracy, and increase the chances of detecting both species, as
L. sylvaticus
tends to breed slightly earlier than
A. maculatum
. Also, while these are our two target species, we take note of any other relevant finds as well). Then, in about two months, dipnet surveys will be used to check each pool for larvae. Ultimately, our findings will be incorporated into the Amphibian Research and Monitoring Initiative (ARMI) database, where they will be used to help assess the status of amphibian populations across the country.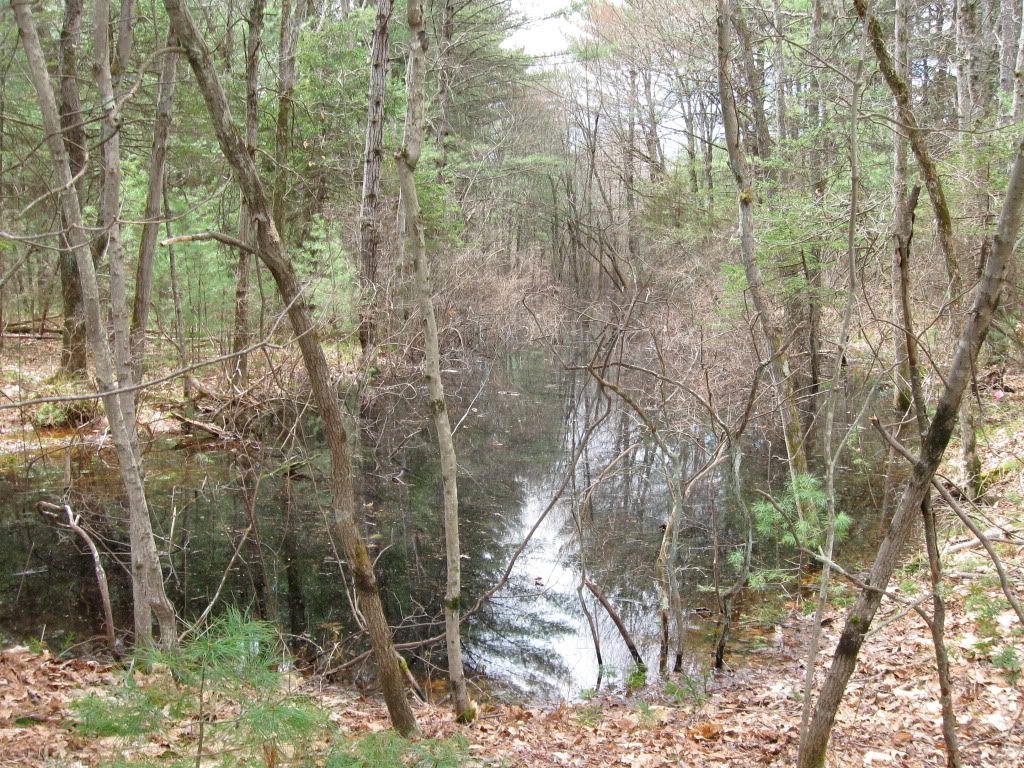 The egg mass survey procedure is basically twofold:
1) Characterize the pool in terms of its dimensions (maximum width, length, depth, overall shape), vegetation (type, percent cover), water quality (pH, conductivity, temperature, visibility), distance to forest and road, etc.
2) Count and record the number of egg masses present within the pool. To improve the probability of detection, two independent observers count egg masses simultaneously during each survey.
In full vernal pool monitoring attire. Polarized sunglasses help to reduce glare, so it's easier to spot egg masses beneath the water's surface. The waders work great – that is, until you trip over a submerged log, lose your balance, and fall face-first into the freezing cold water.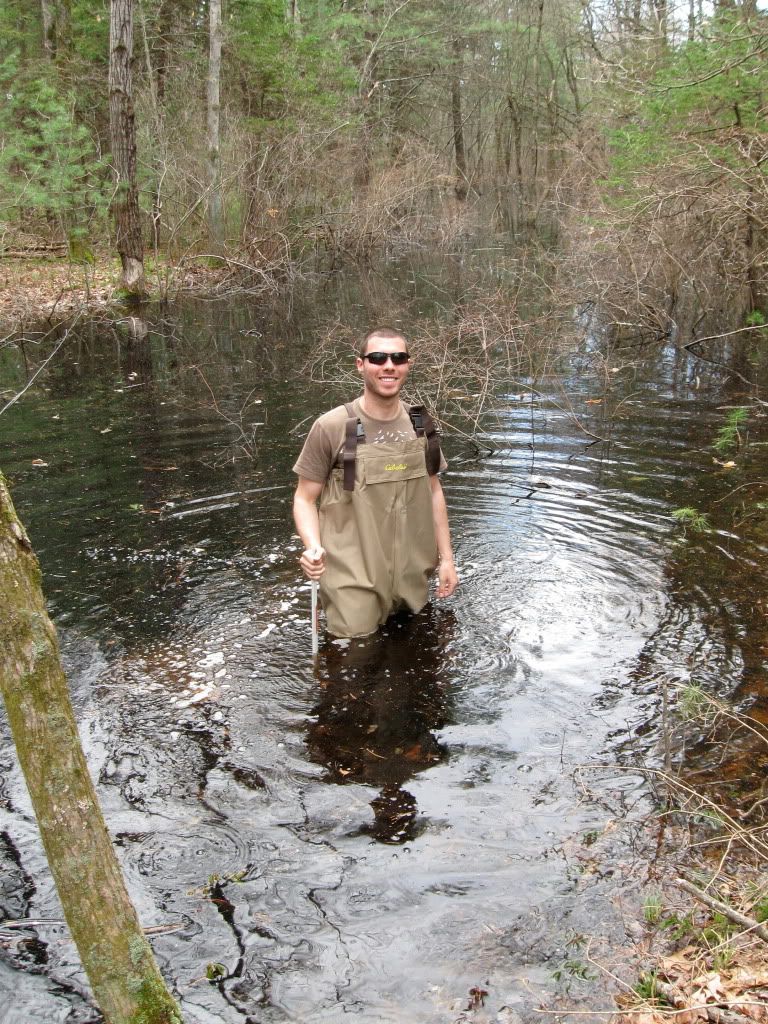 A large conglomeration of Wood Frog egg masses. Wood frogs are the earliest species of frog to breed in New England. They exhibit synchronous (aka "explosive") reproduction (rarely exceeding the duration of a week in any area), which has been shown to reduce the chances of cannibalism in this species, and communal oviposition, which also serves an adaptive purpose, as larger masses of
L. sylvaticus
eggs were found to be warmer, have shorter hatching times, and higher survival when compared to individual masses. As you can see in this photo, it is not uncommon for hundreds of individual egg masses to be deposited together in a group (963 is the record). Interestingly, large communal egg masses are generally laid in the same location each year. Also notice the greenish color of the egg masses – this develops over time as the eggs become colonized by the algal symbiont
Oophilia amblystomatis
, which helps to supply increased levels of oxygen to the developing embryos, while also providing a source of food for tadpoles once they hatch (at the time this photo was taken these eggs were in the process of hatching).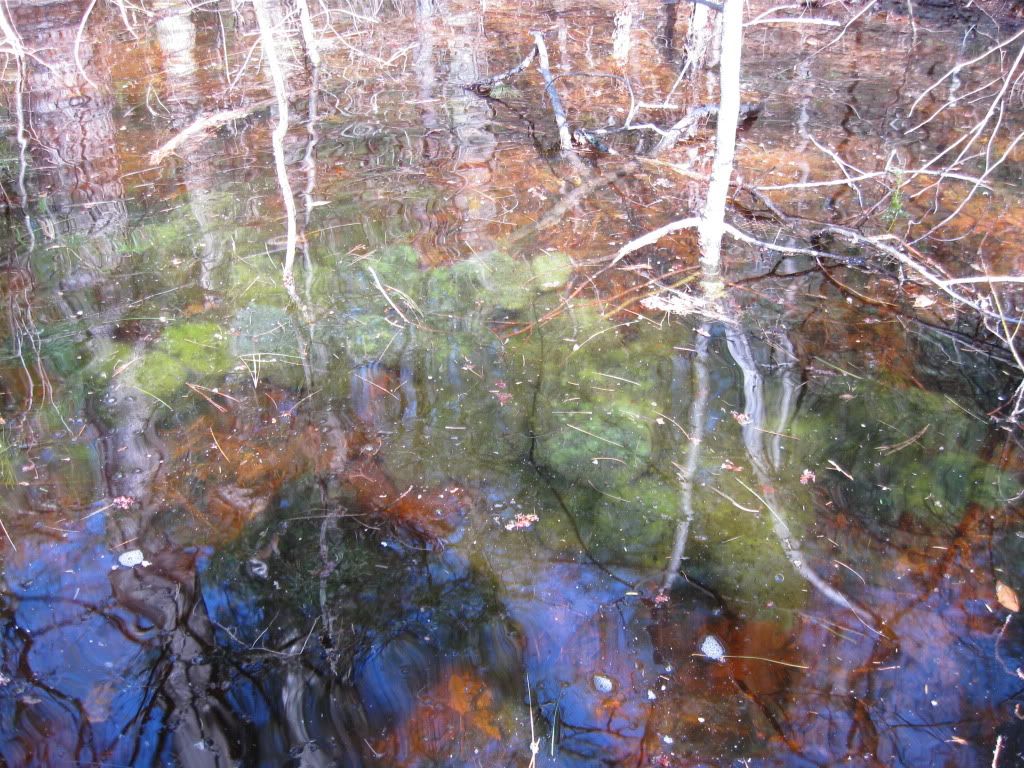 A single Wood Frog egg mass (or at least part of one). These are generally spherical in shape, with eggs loosely aggregated; deposited at water surface, sometimes attached to vegetation but often free-floating. Clutch size varies by year, but on average, an individual egg mass (i.e. clutch) contains 650 eggs.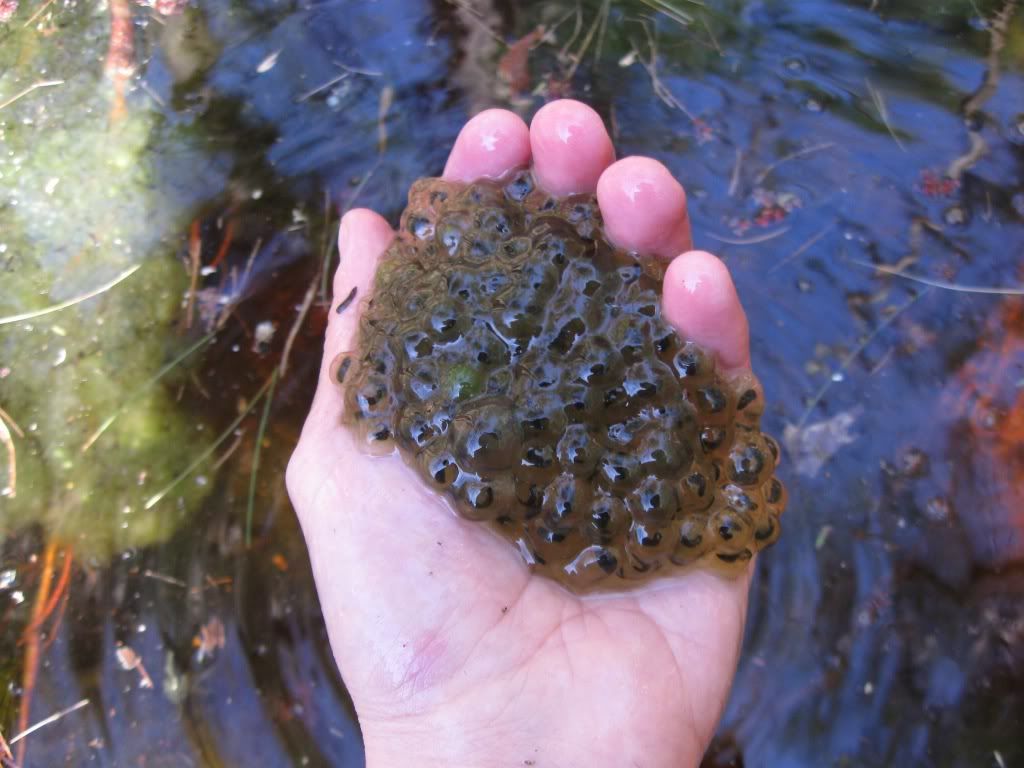 In contrast, here is a Spotted Salamander egg mass. Unlike wood frogs, spotted salamanders have a broader window of reproduction, which may last anywhere from days to weeks. And while
A. maculatum
does demonstrate some degree of communal nesting, it is not to the same extent as
L. sylvaticus
. Spotted Salamander egg masses are more variable in shape, and have a thicker, more firm jelly layer, which protects developing embryos from dessication and predation. Egg masses (60-200 eggs) are usually attached to vegetation (emergent or submergent) several inches below the water surface. Like the Wood Frog, Spotted Salamander eggs also harbor symbiotic algae. Studies have shown that spotted salamanders return to the same pools to breed each year, which they locate via olfactory cues.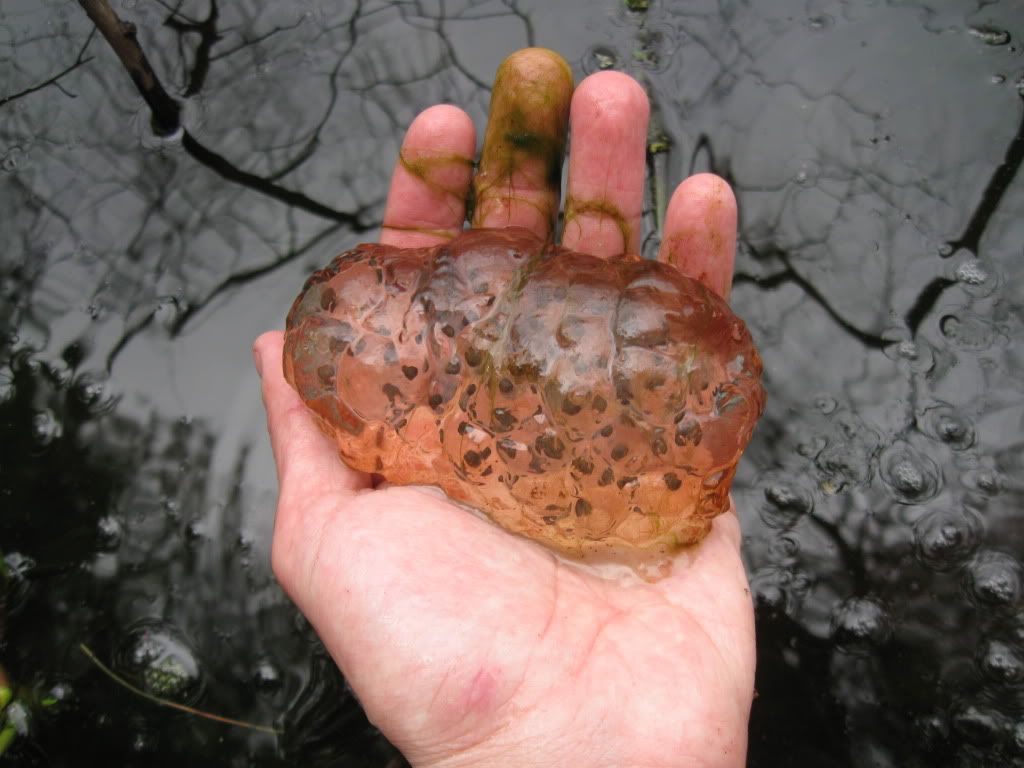 The American Toad (
Anaxyrus americanus
) has an even greater period of reproductive activity, sometimes lasting several months. Unlike the Wood Frog and Spotted Salamander,
A. americanus
lays eggs in long strands.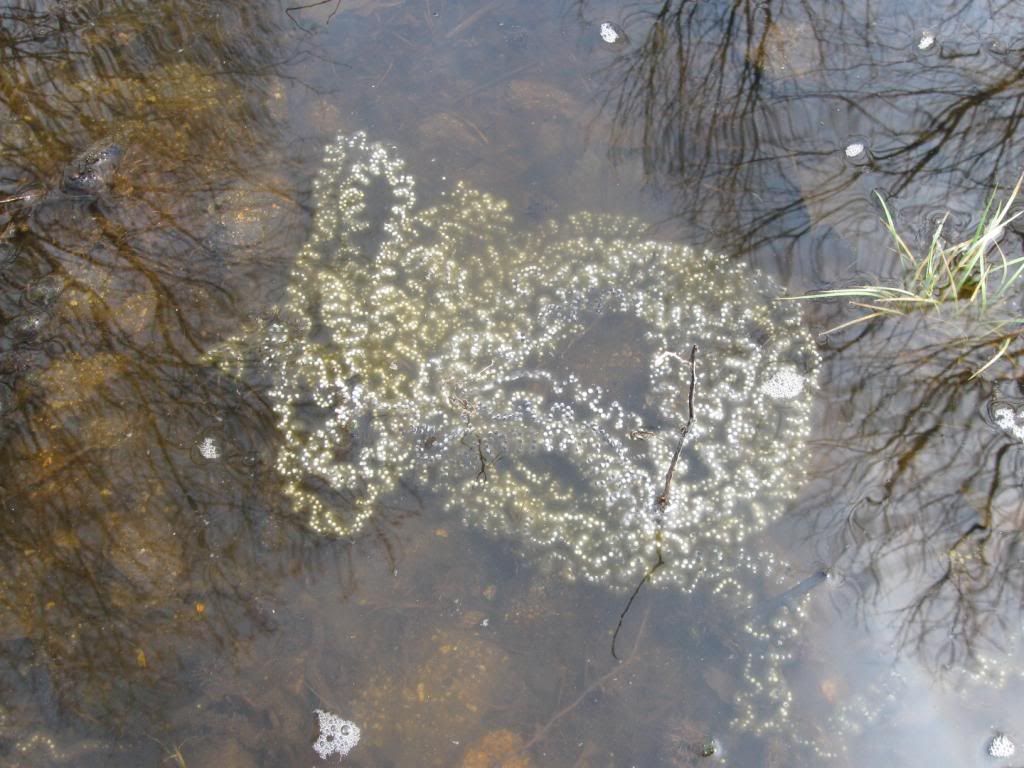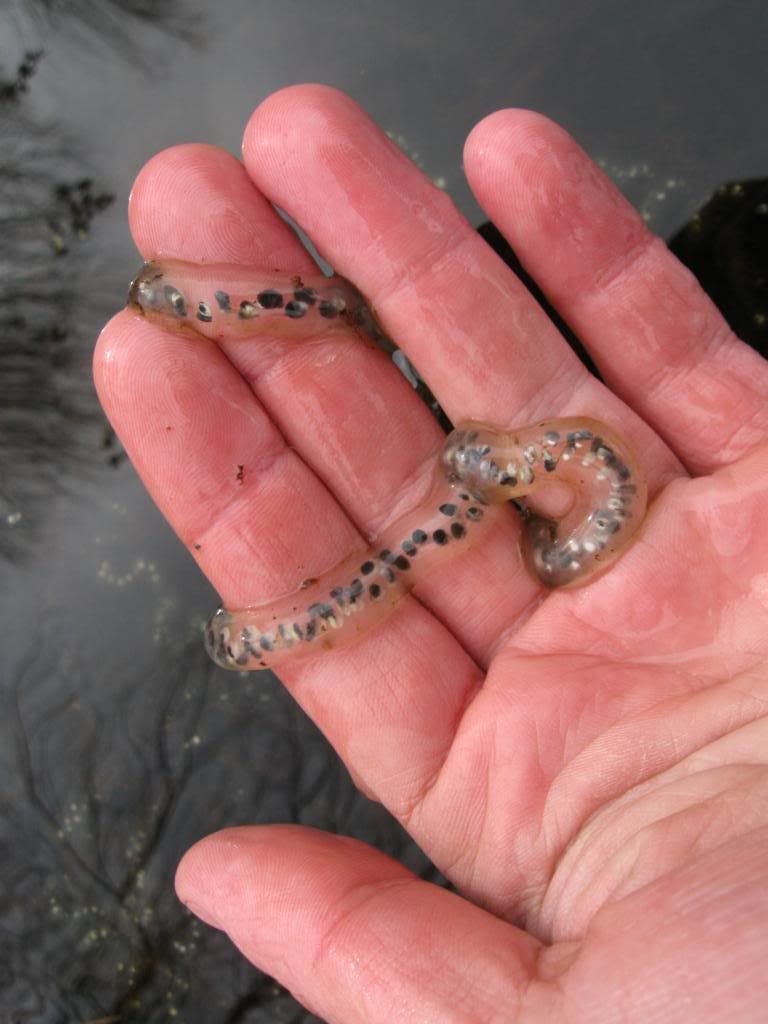 Jason (Biology Science Technician at EMNWRC) and Kate (High School volunteer) checking water pH and conductivity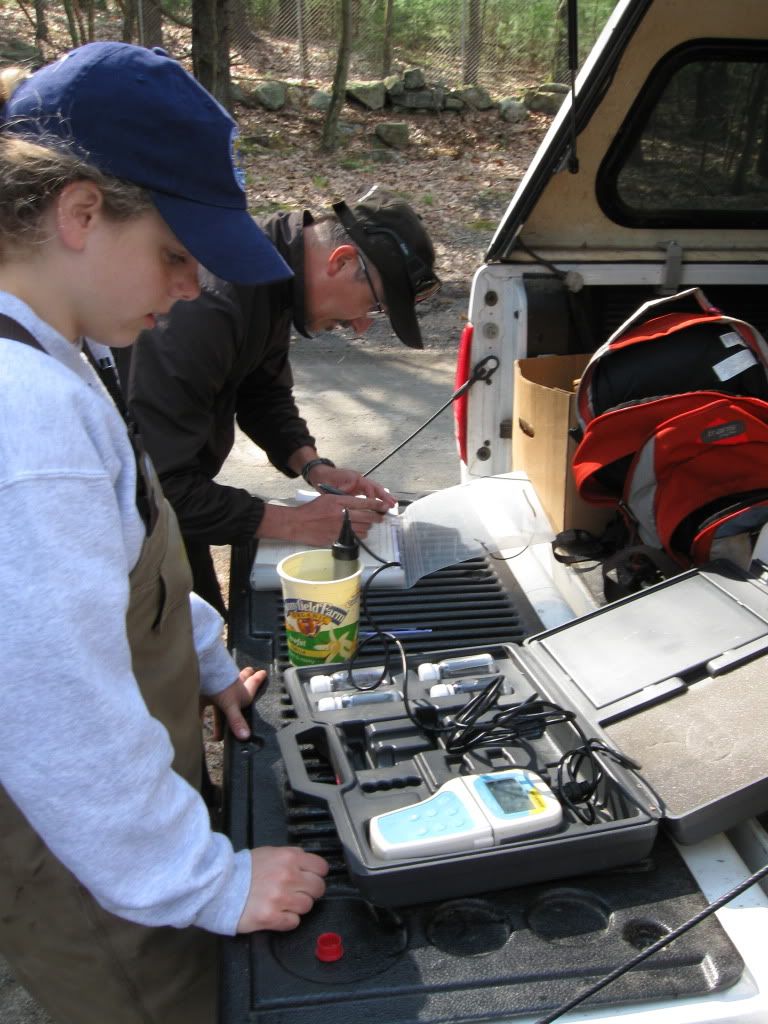 Bullfrog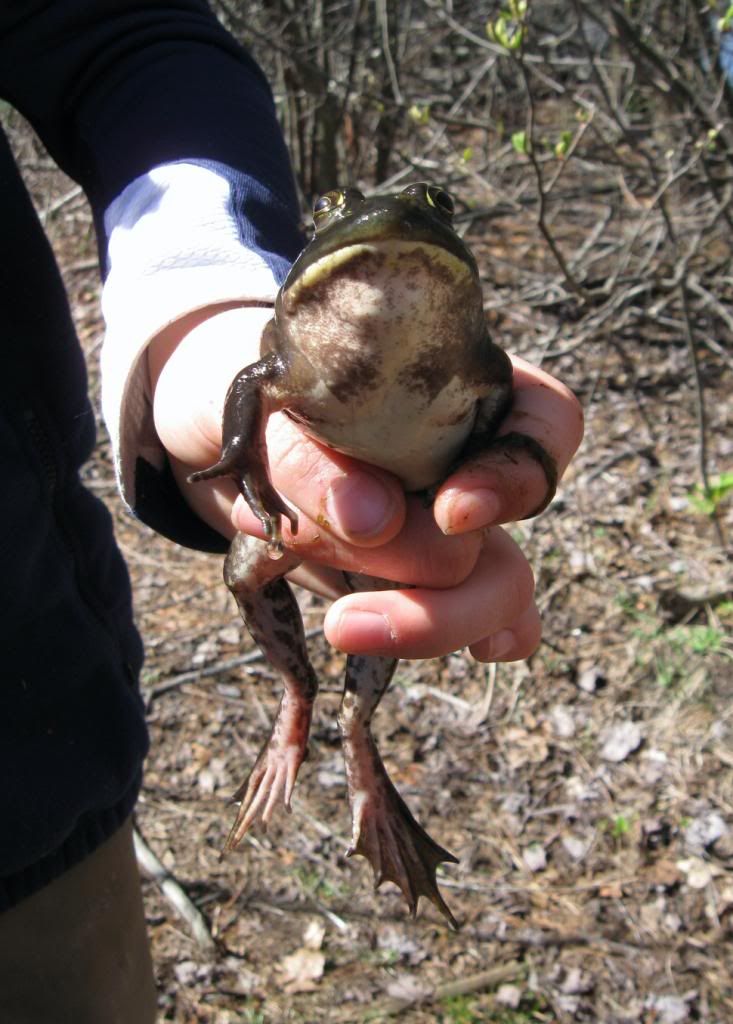 Gray Treefrog (
Hyla versicolor
). These guys won't be breeding until May.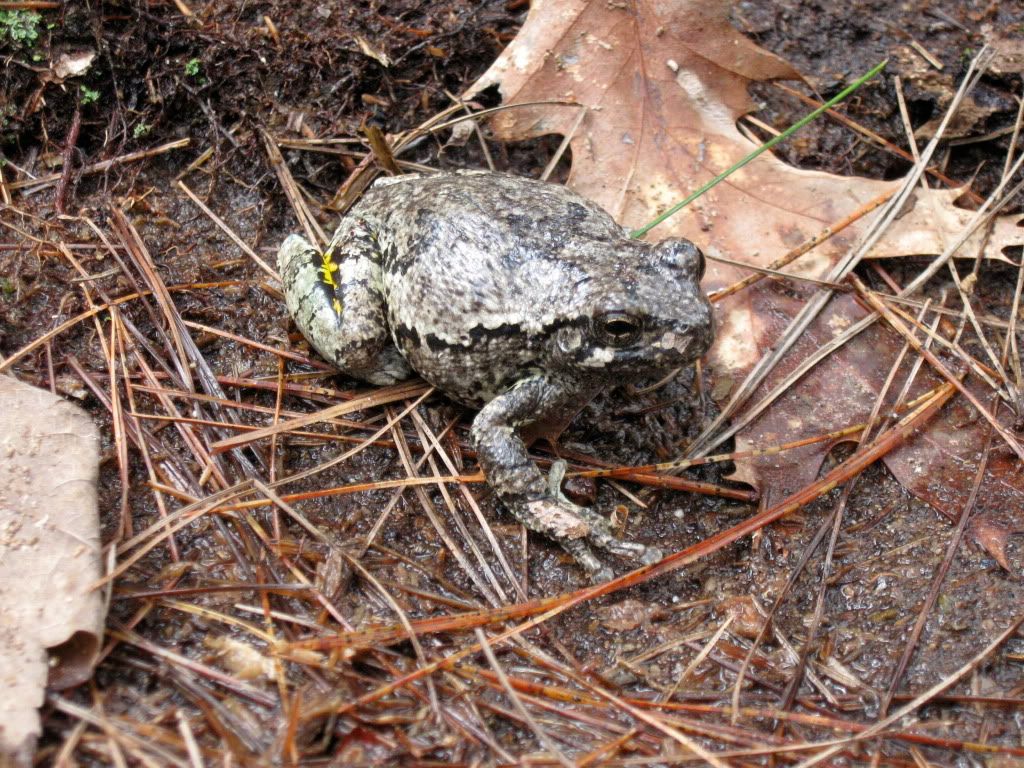 Many people might not realize it (at least I didn't), but FWS is not only responsible for wildlife related activities, but also just about anything that involves NWR land. Last week, for example, I had the opportunity to assist with a Phase 1 archaeological survey at the site of a
19th century lighthouse
located on Monomoy "Island" (ever shifting sand bars continuously change Monomoy's status between island and peninsula)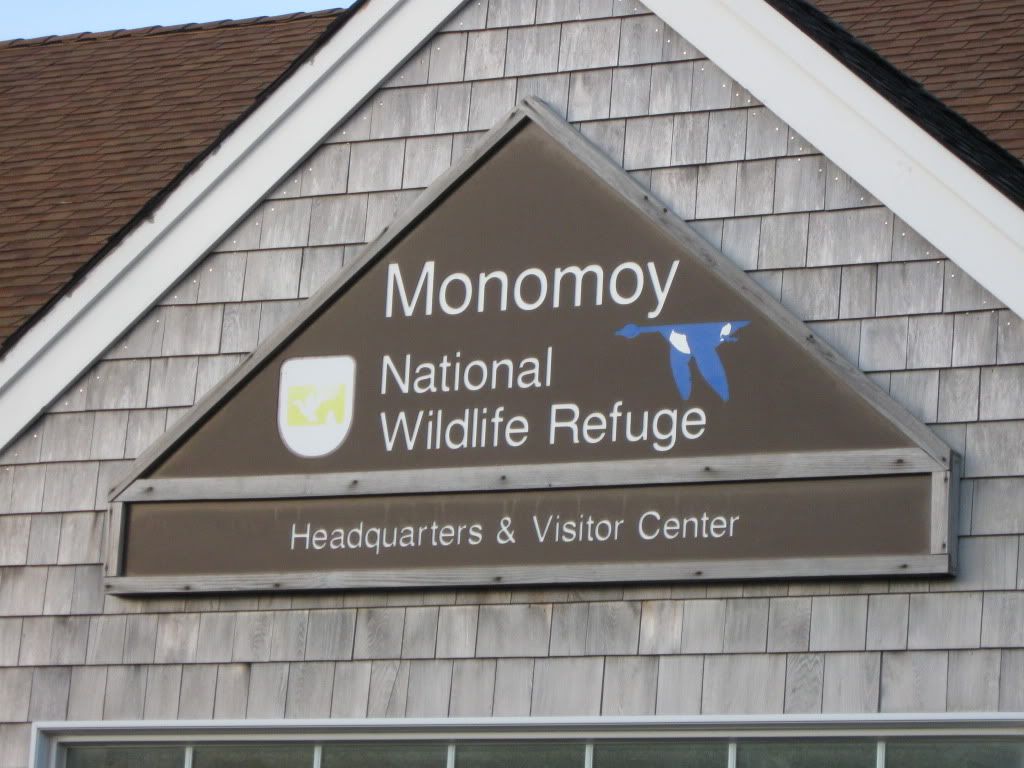 Map of Monomoy NWR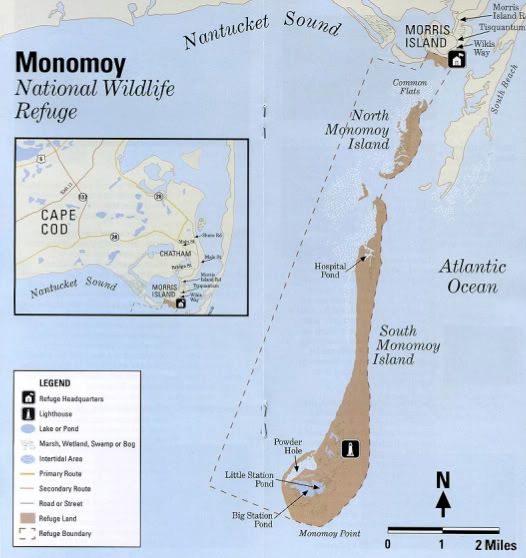 The boat ride to Monomoy was a little rough, and took about 45 minutes.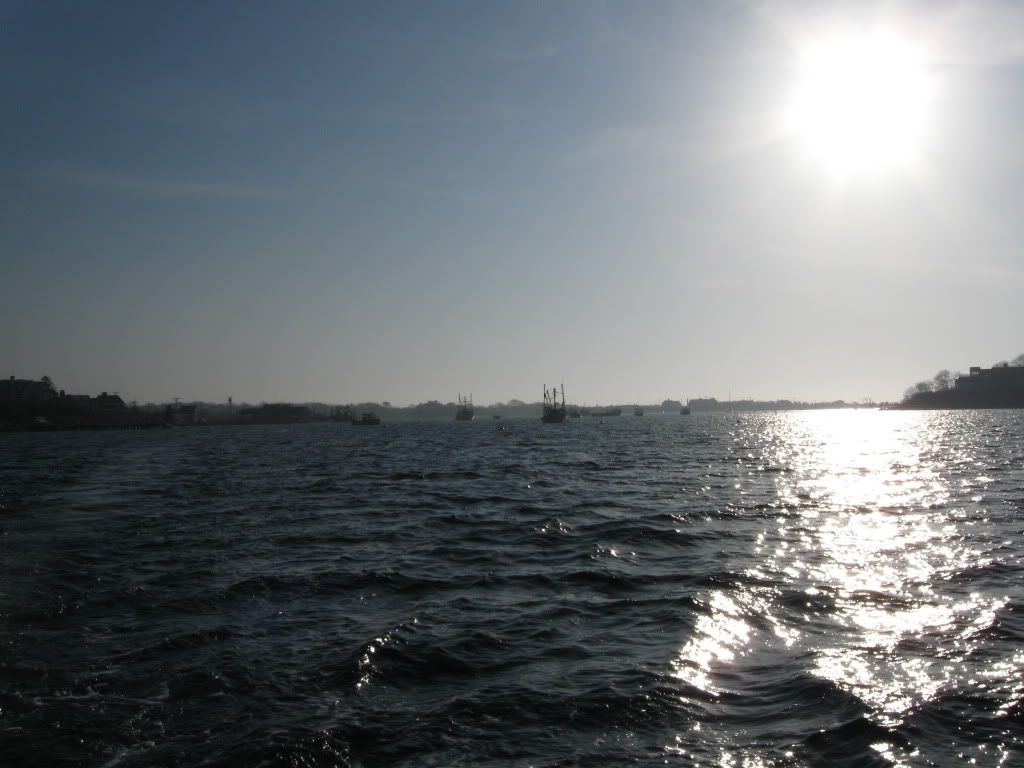 Because the combined air and water temperatures on this day did not add to 100oF, we were required to wear these awesome survival suits, being modeled here by Frank (volunteer) and Jason.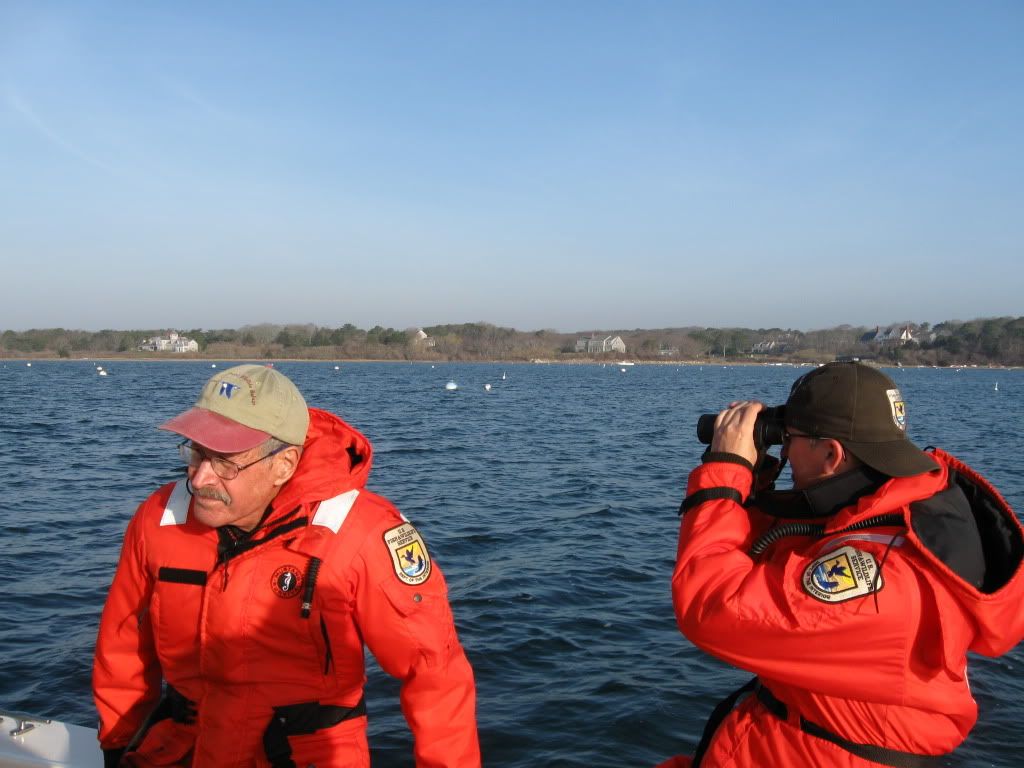 We make it to the island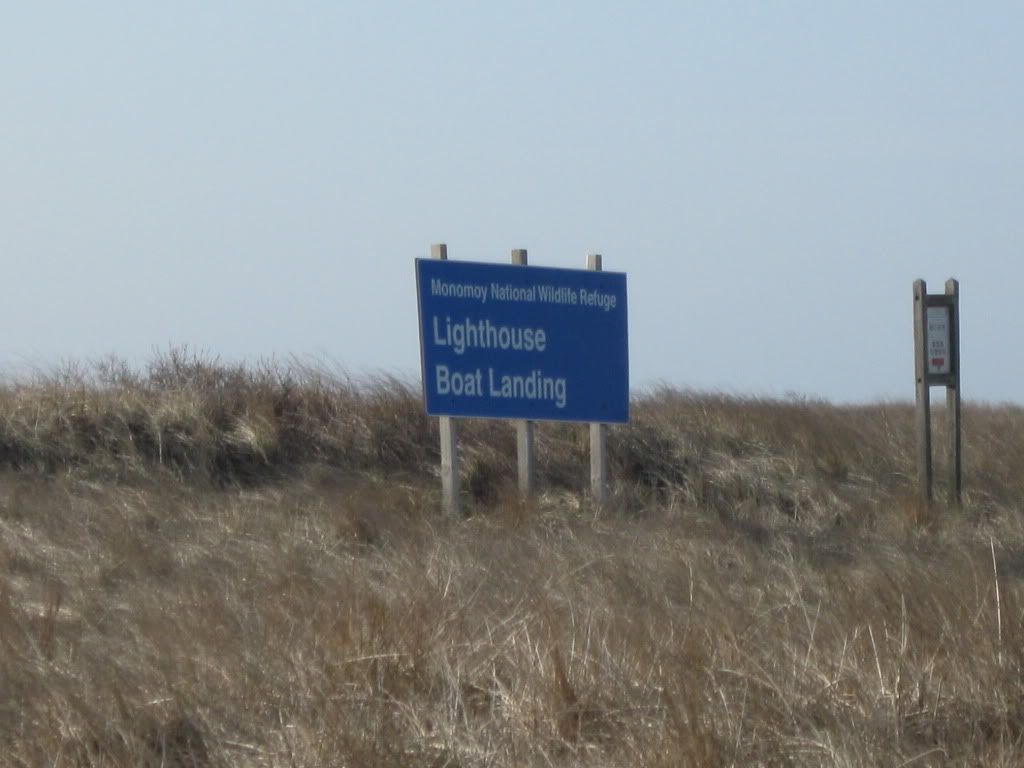 …or is it the moon?
Beautiful landscape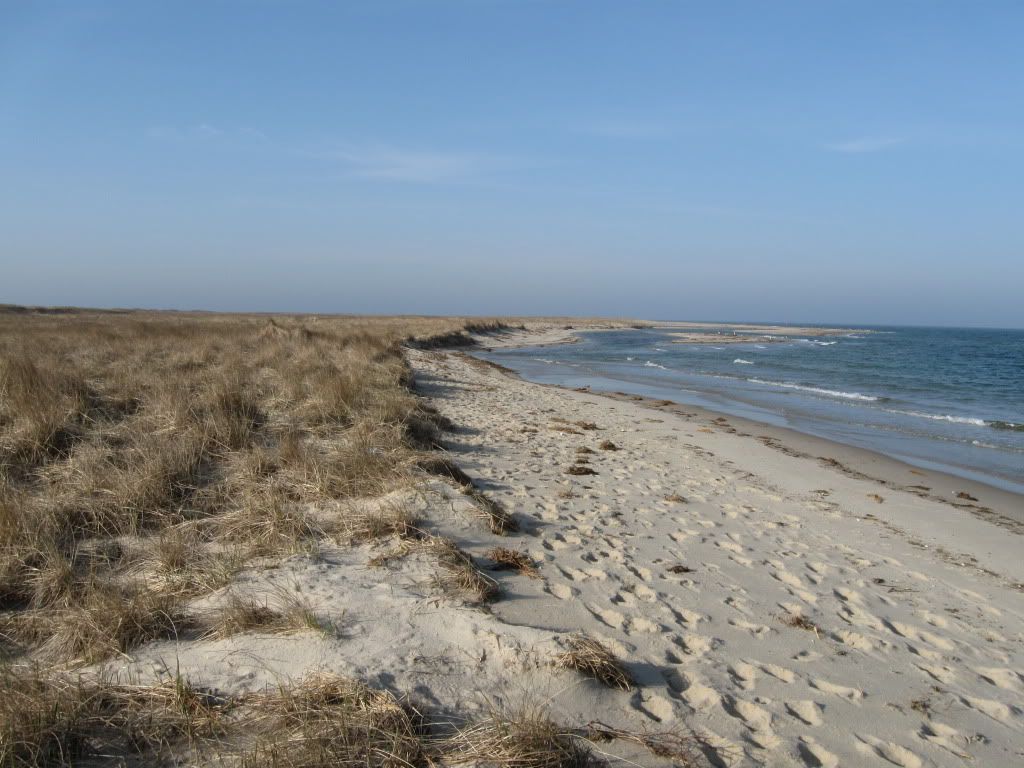 Freshwater ponds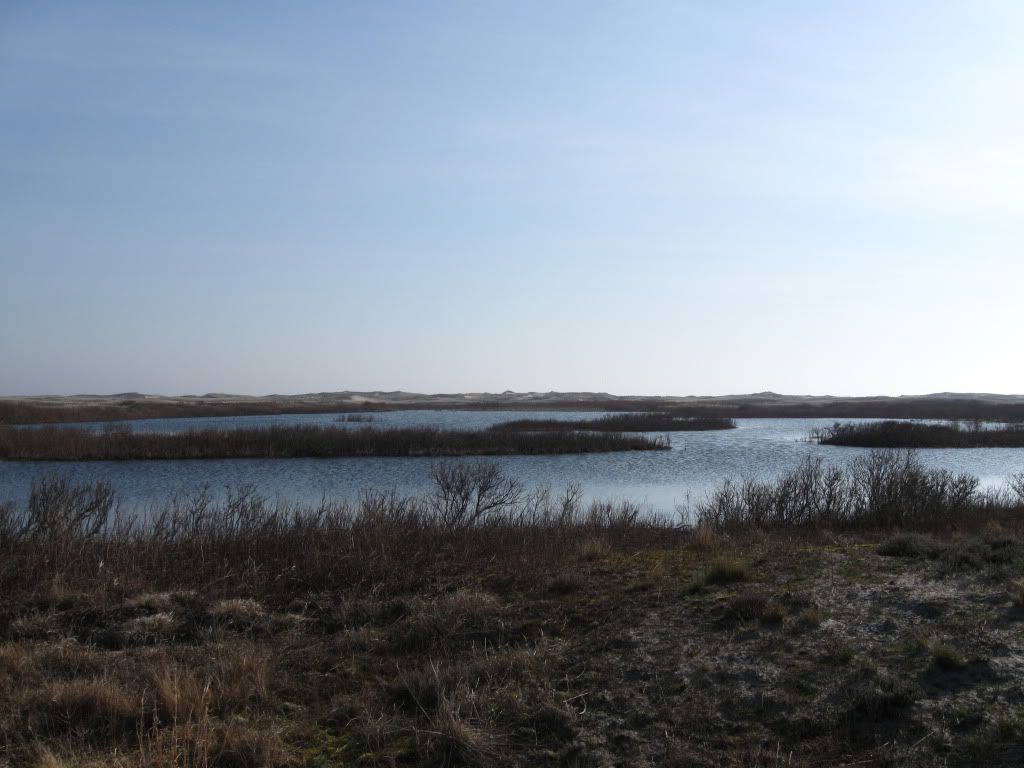 Trekking to the lighthouse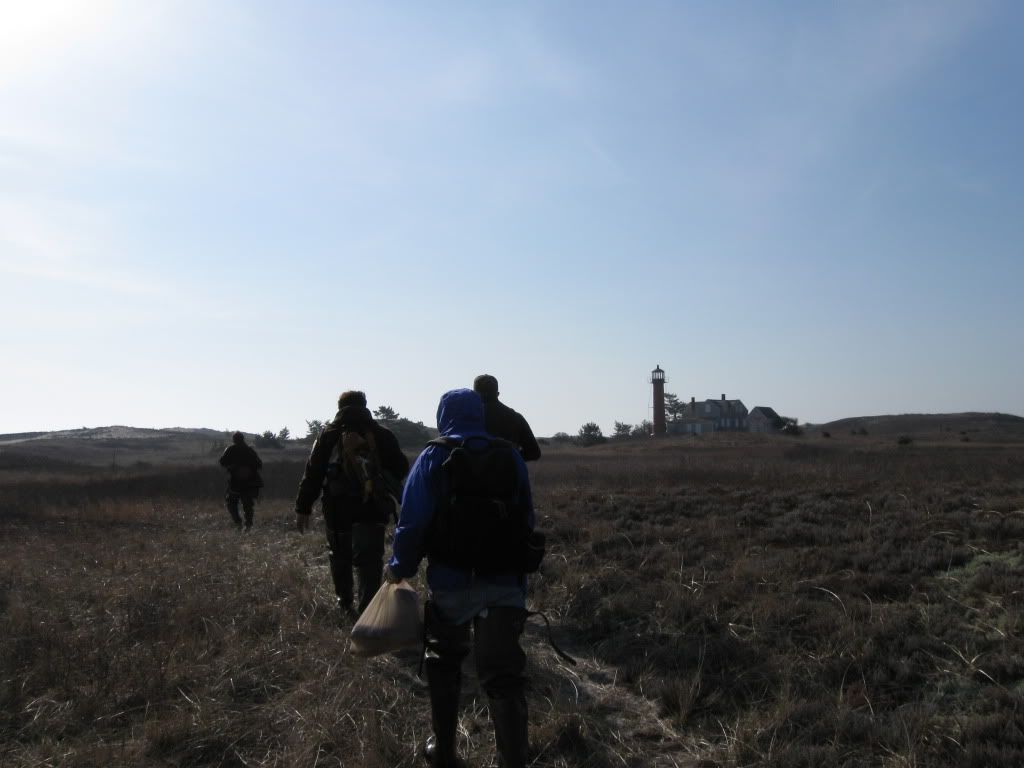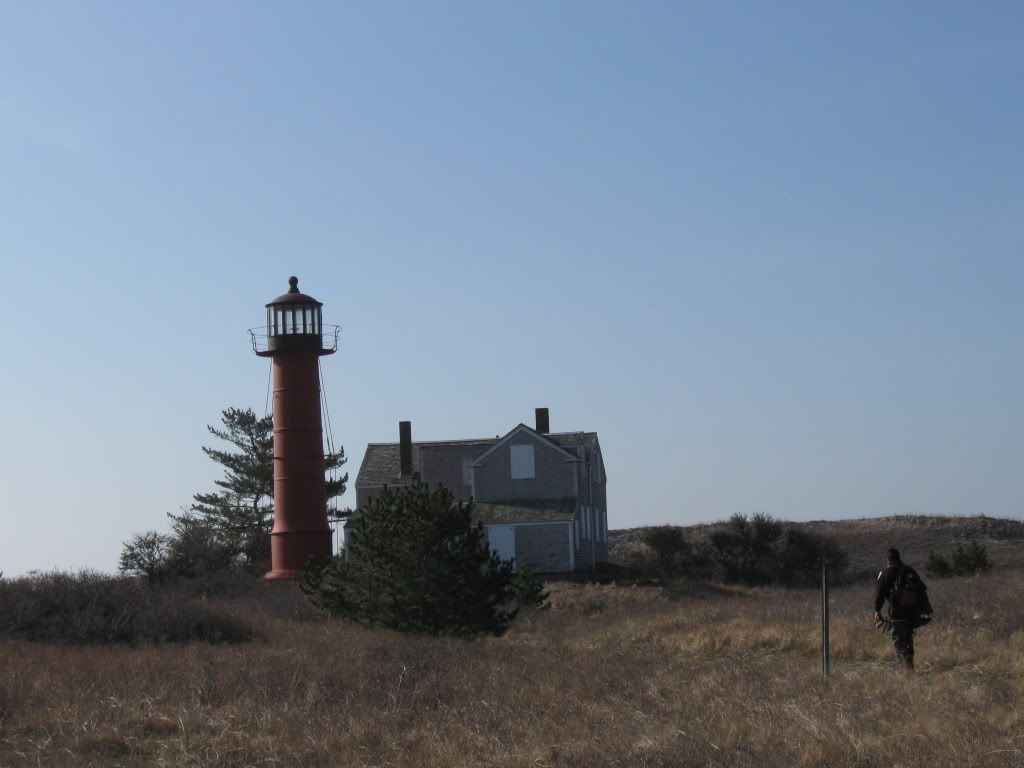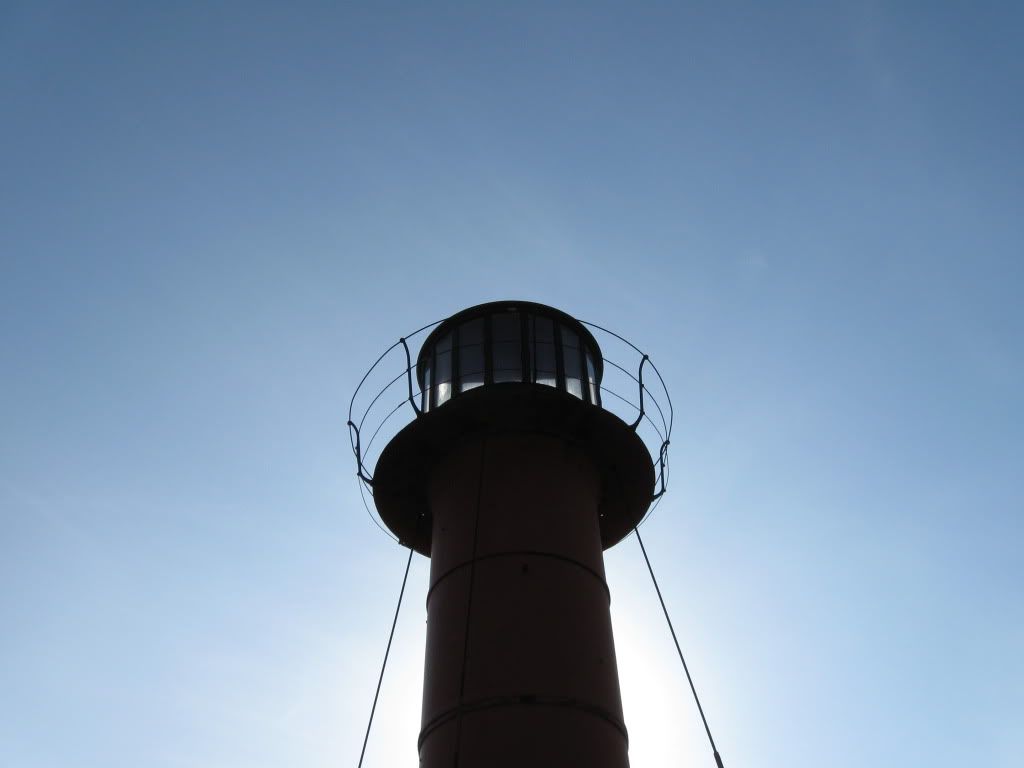 Climbing up the tower
View from the top
Hundreds of seals (species?)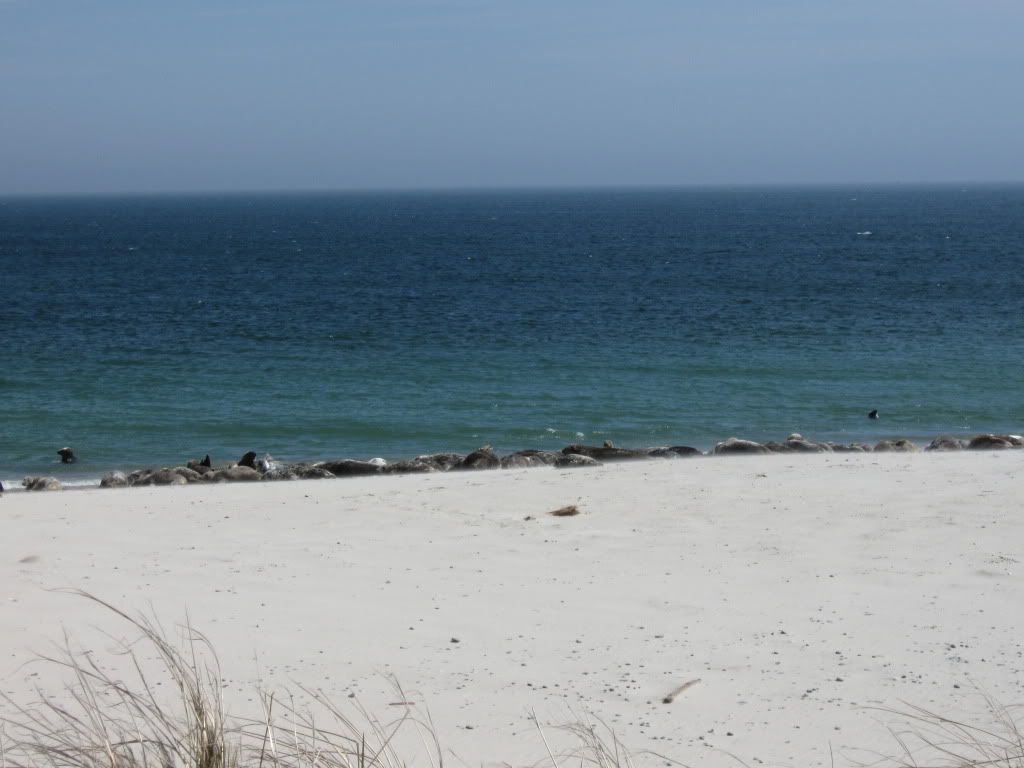 Touring the house
Not in the best shape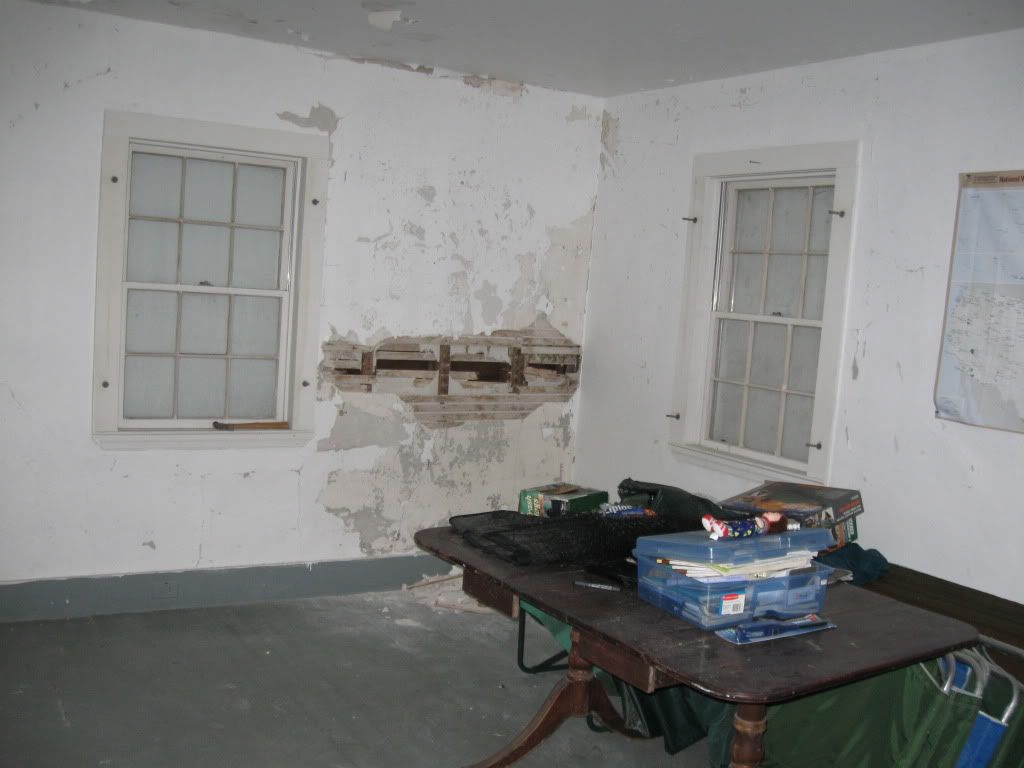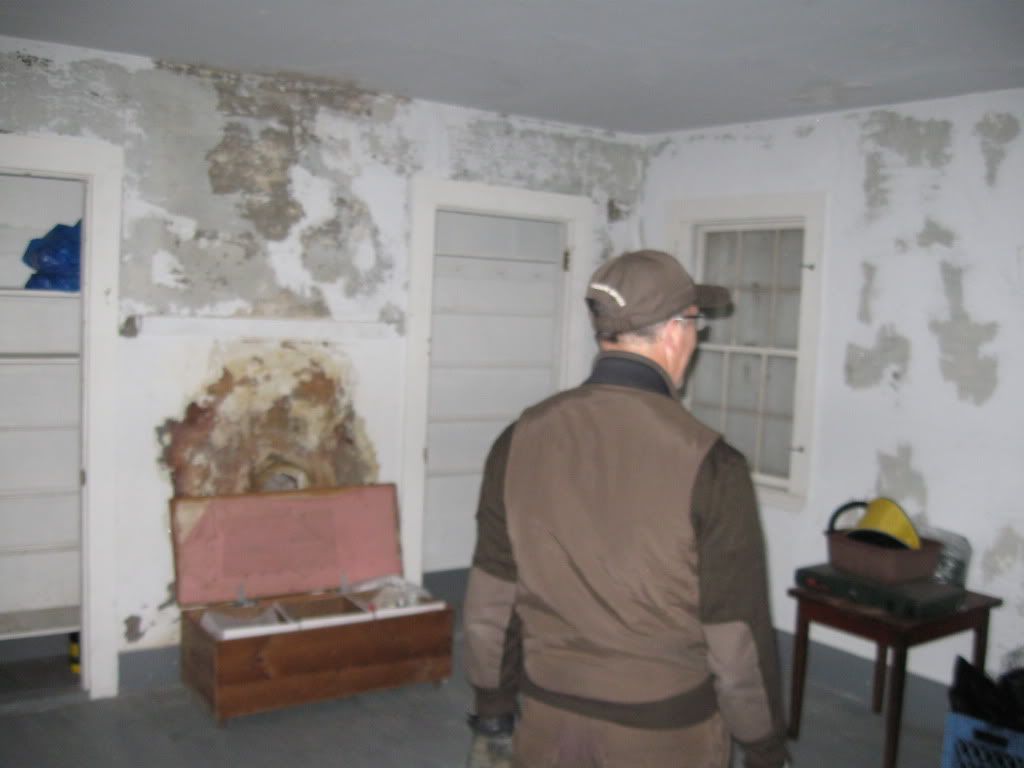 Old coal heap in the basement
Livestock pens
Looking for treasures. Kate (Biological Science Technician at Monomoy NWR) digs, while Matt (Fish and Wildlife Biologist at Monomoy) sifts.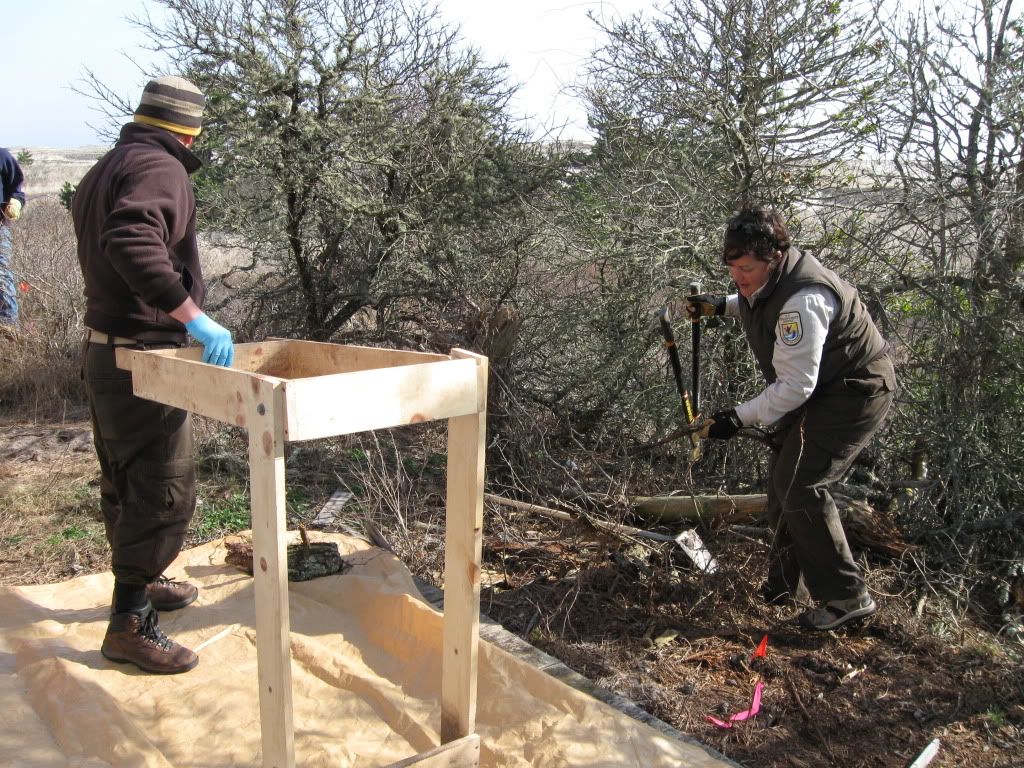 We dug layers in increments of 10 cm down within a 50 x 50 cm square plot, to a total of 80 - 90 cm below ground level (or as far as you could reach).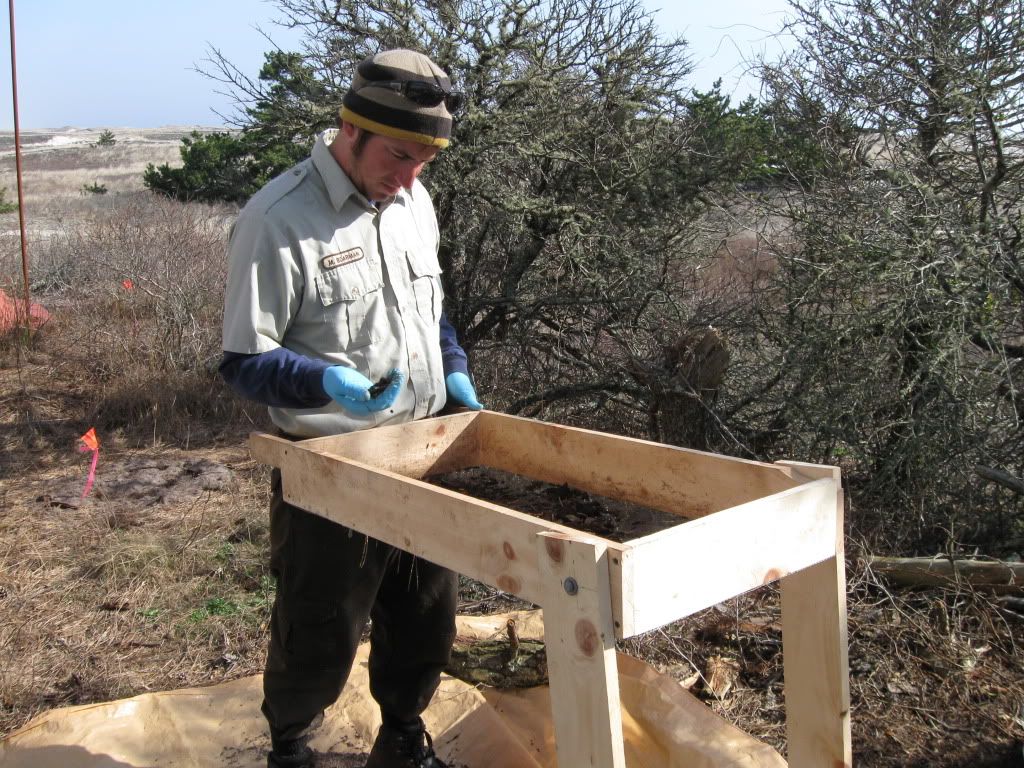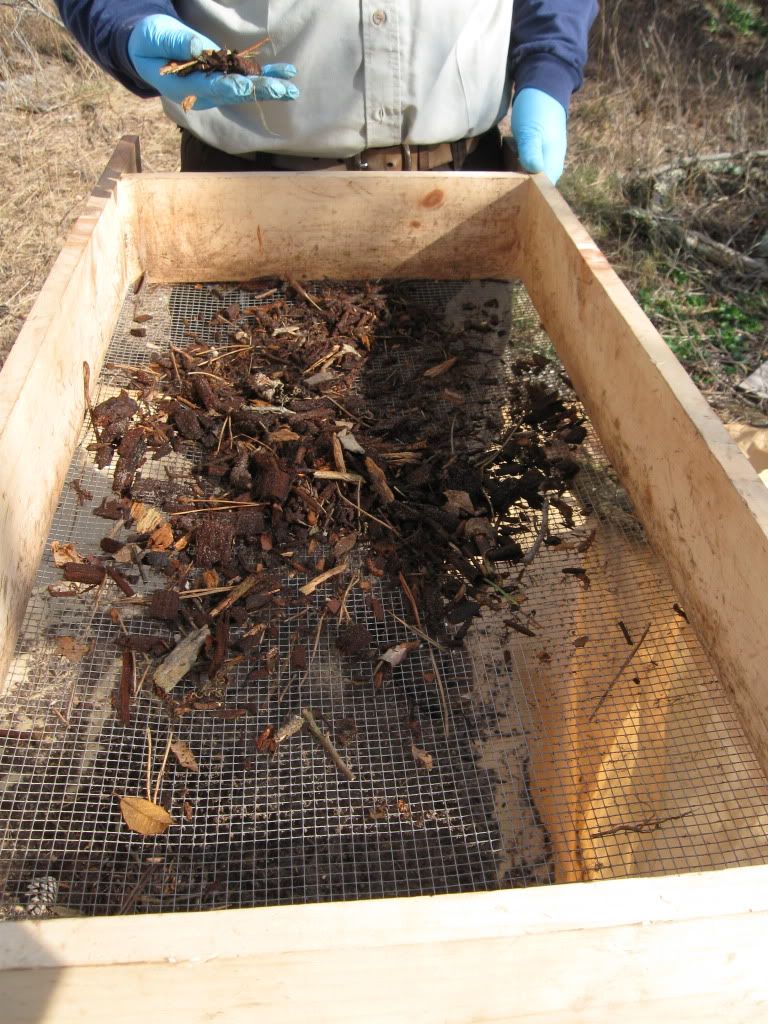 My turn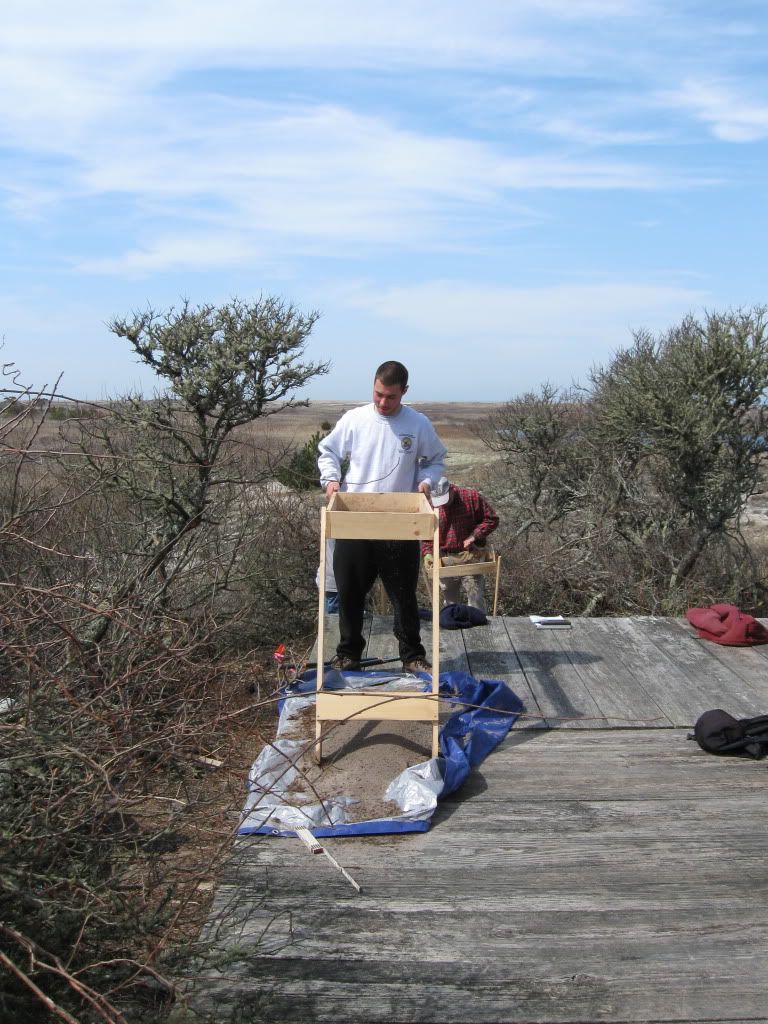 Tim (a USFWS archaeologist) characterizing soil strata
Some artifacts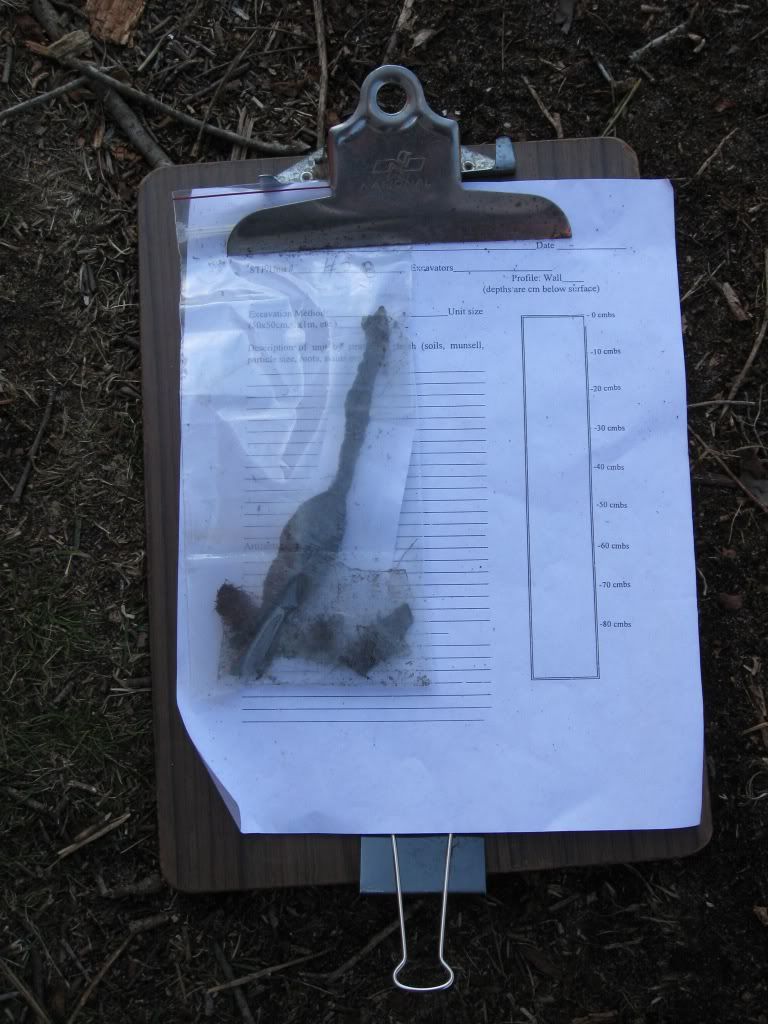 Old brick walkway unearthed around the periphery of the lighthouse tower. The soil will probably be cleaned off in the near future, as there are plans to refurbish the structure to its original condition.
Possum mummy (
Didelphis virginiana
)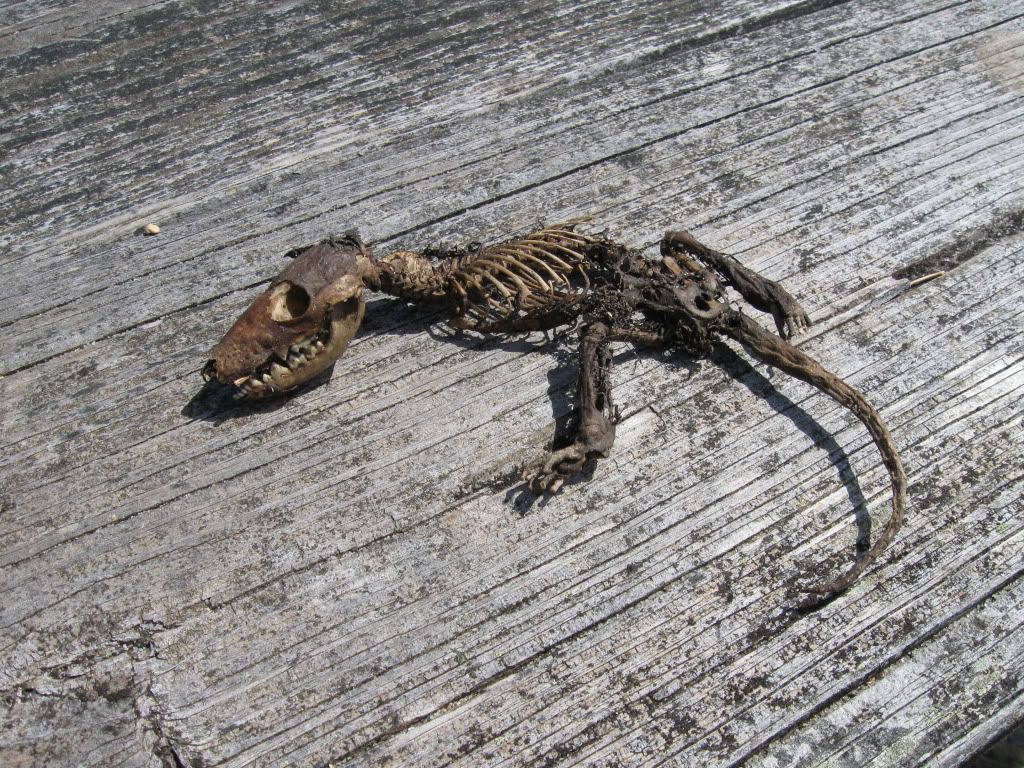 Two of my favorite shots from the day – the first is of an old oil shed near located near the lighthouse.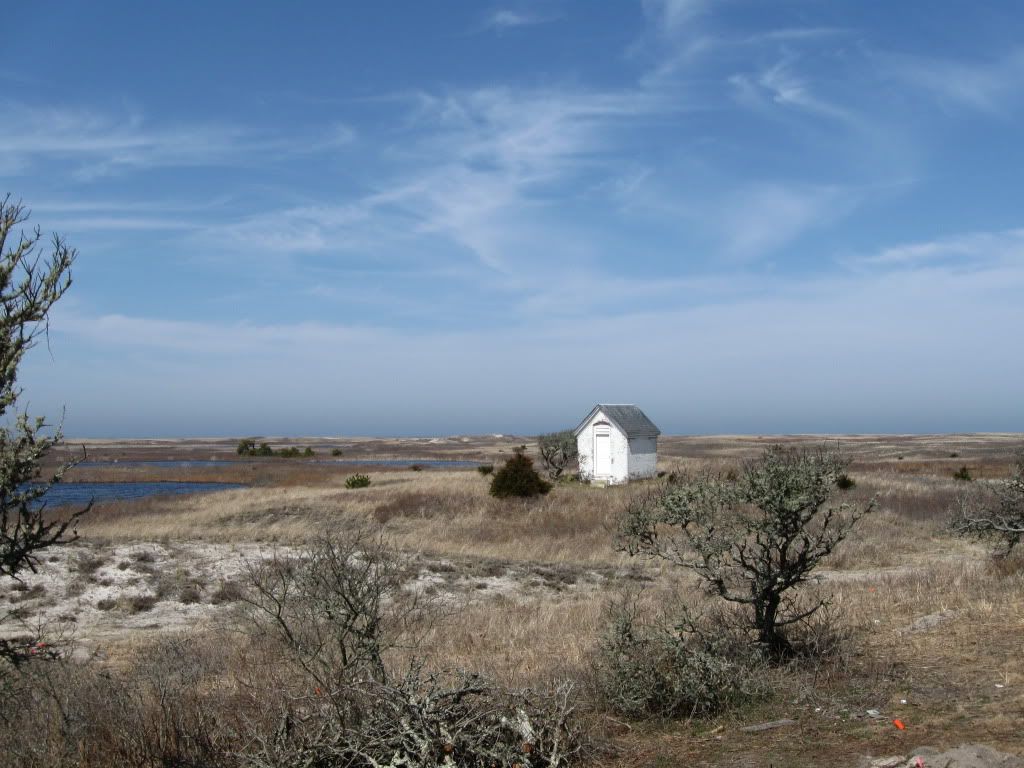 Back on the mainland – I passed my government vehicle driving test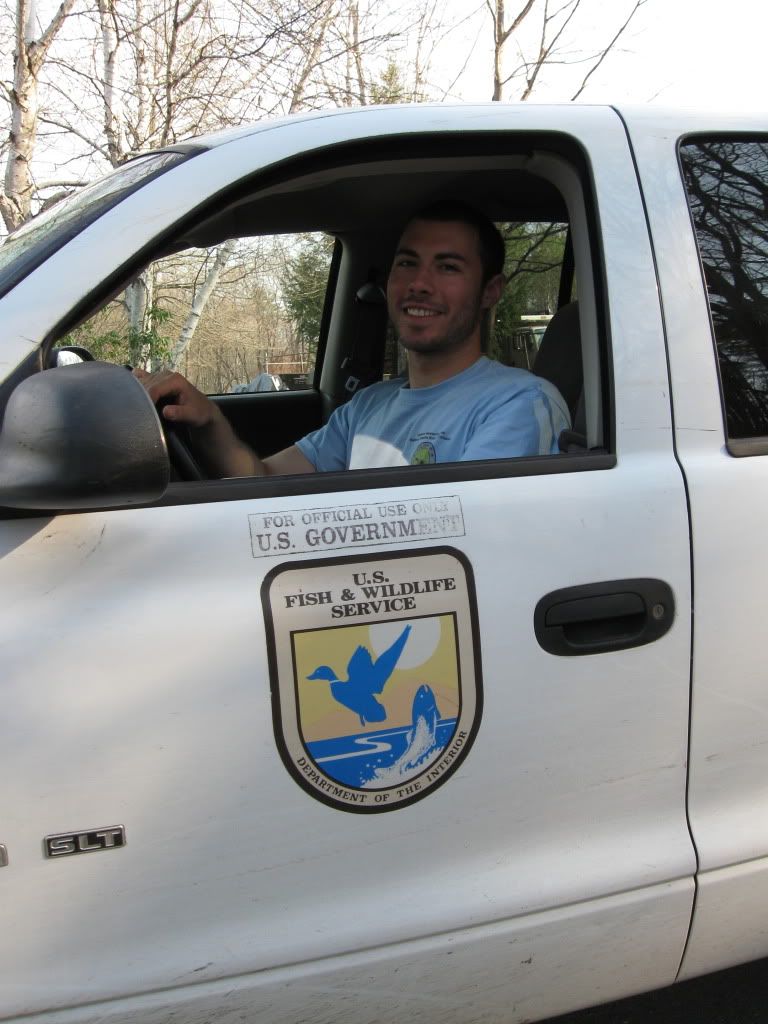 It's difficult to get pulled over in one of these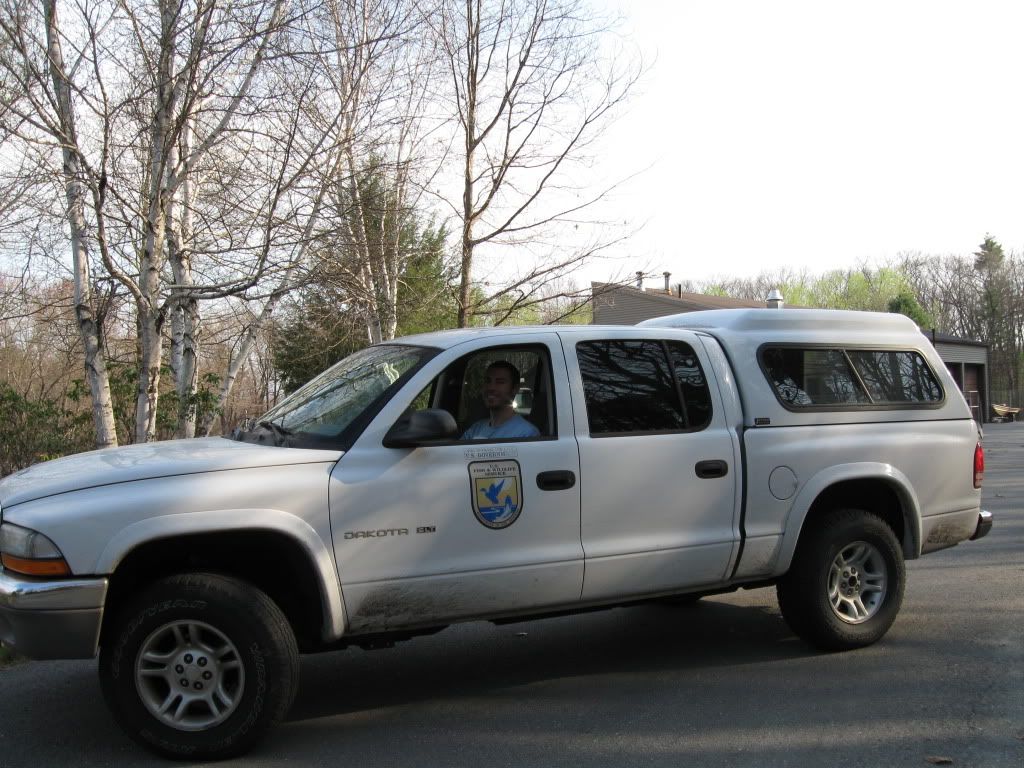 Jason gives Kate and I a tutorial on how to triangulate the location of Blanding's turtles at one of our sites using radio telemetry. These turtles have not yet started to move from their hibernaculums.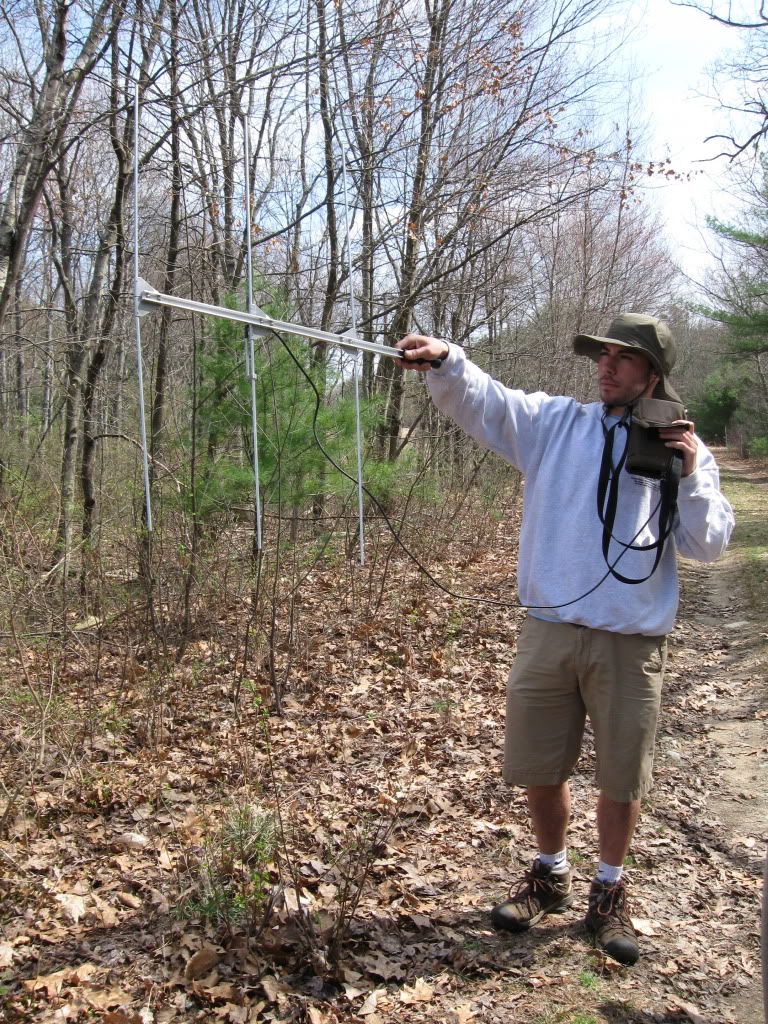 Kate getting a bearing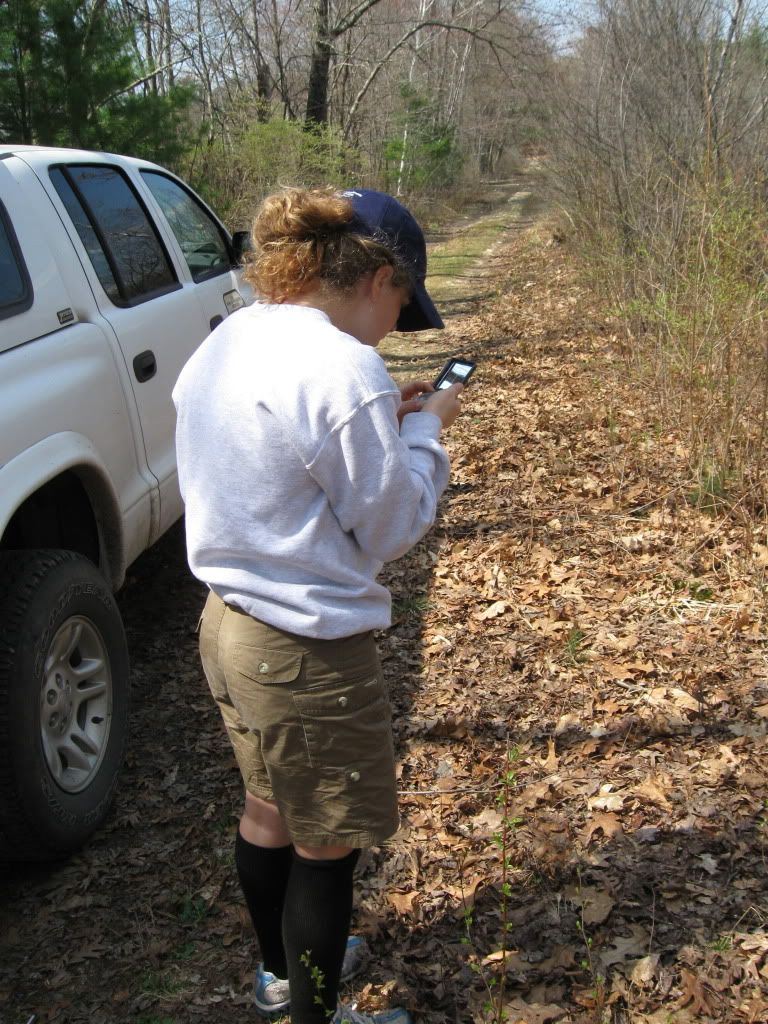 Unfortunate female Wood Duck (
Aix sponsa
) we found being eaten by a Northern Harrier
(Circus cyaneus
)
"We are cheered when we observe the vulture feeding on the carrion which disgusts and disheartens us and deriving health and strength from the repast. There was a dead horse in the hollow by the path to my house, which compelled me sometimes to go out of my way, especially in the night when the air was heavy, but the assurance it gave me of the strong appetite and inviolable health of Nature was my compensation for this. I love to see that Nature is so rife with life that myriads can be afforded to be sacrificed and suffered to prey on one another; that tender organizations can be so serenely squashed out of existence like pulp, ⎯tadpoles which herons gobble up, and tortoises and toads run over in the road; and that sometimes it has rained flesh and blood! With the liability to accident, we must see how little account is to be made of it. The impression made on a wise man is that of universal innocence. Poison is not poisonous after all, nor are any wounds fatal."
-Thoreau (1854)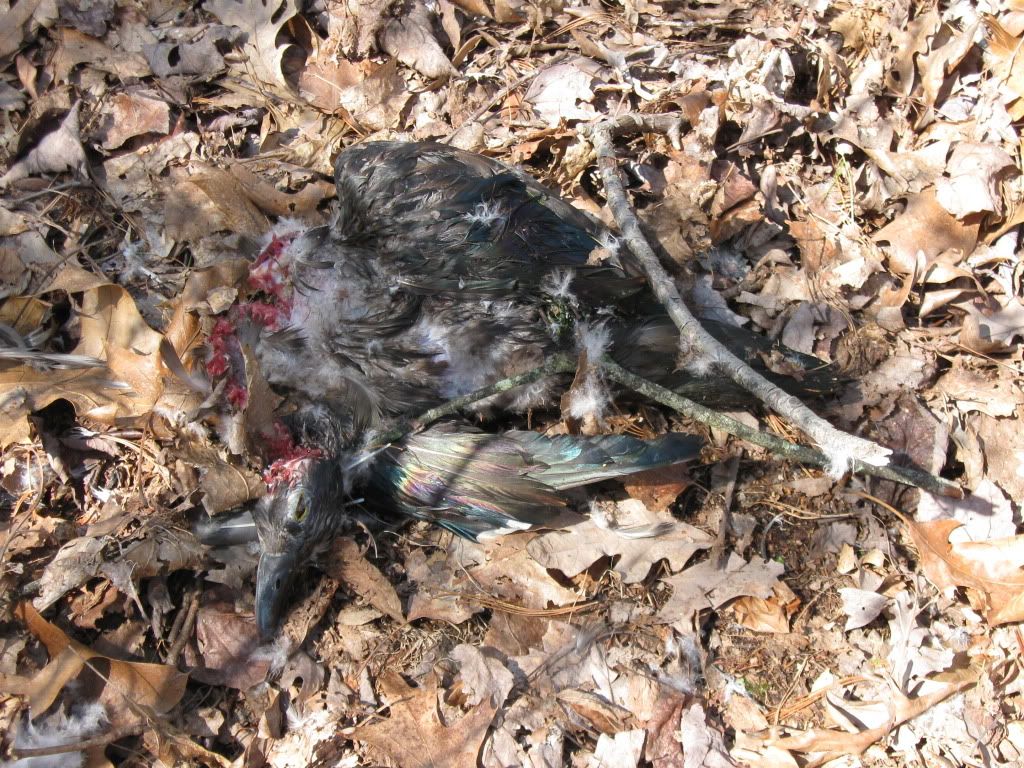 We took a trip to the Concord Divison of Great Meadows NWR for an early morning bird survey. Below is a map showing both the Subury (bottom) and Concord (top) portions of Great Meadows NWR.
On the viewing platform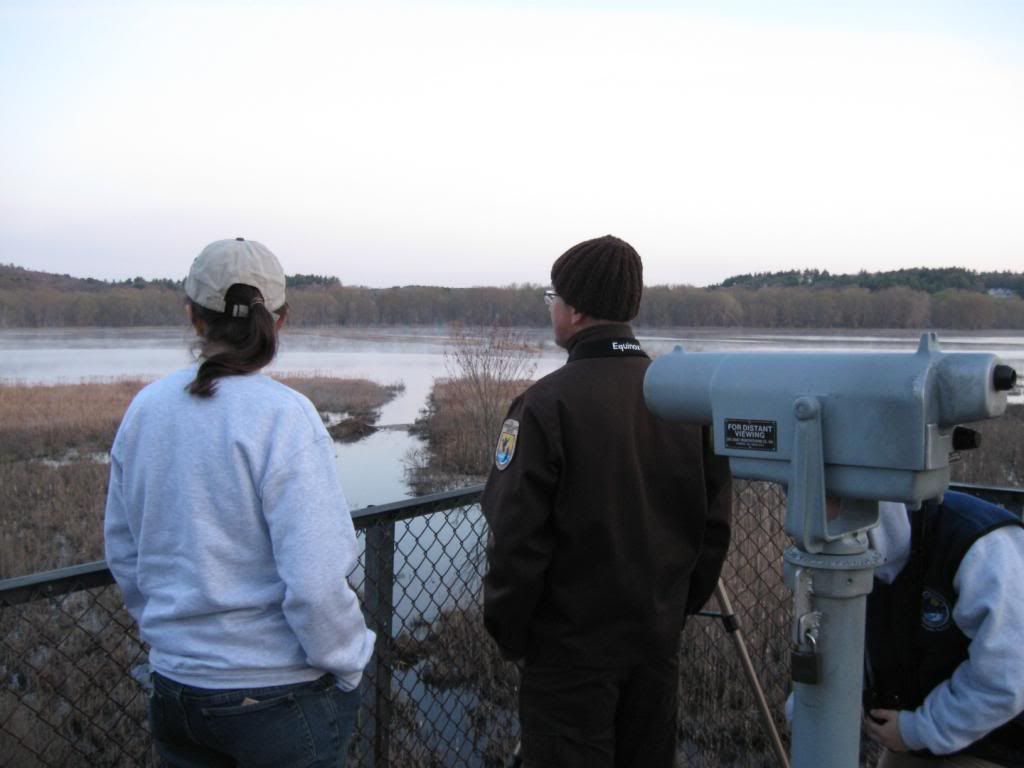 Morning fog over the Concord Impoundments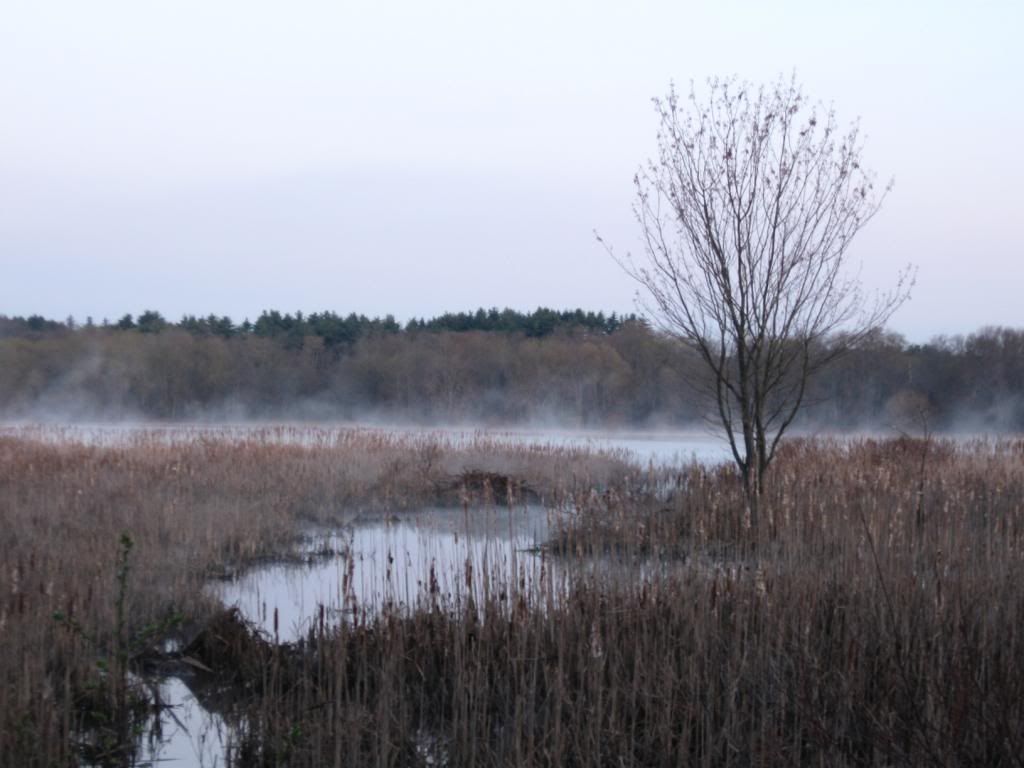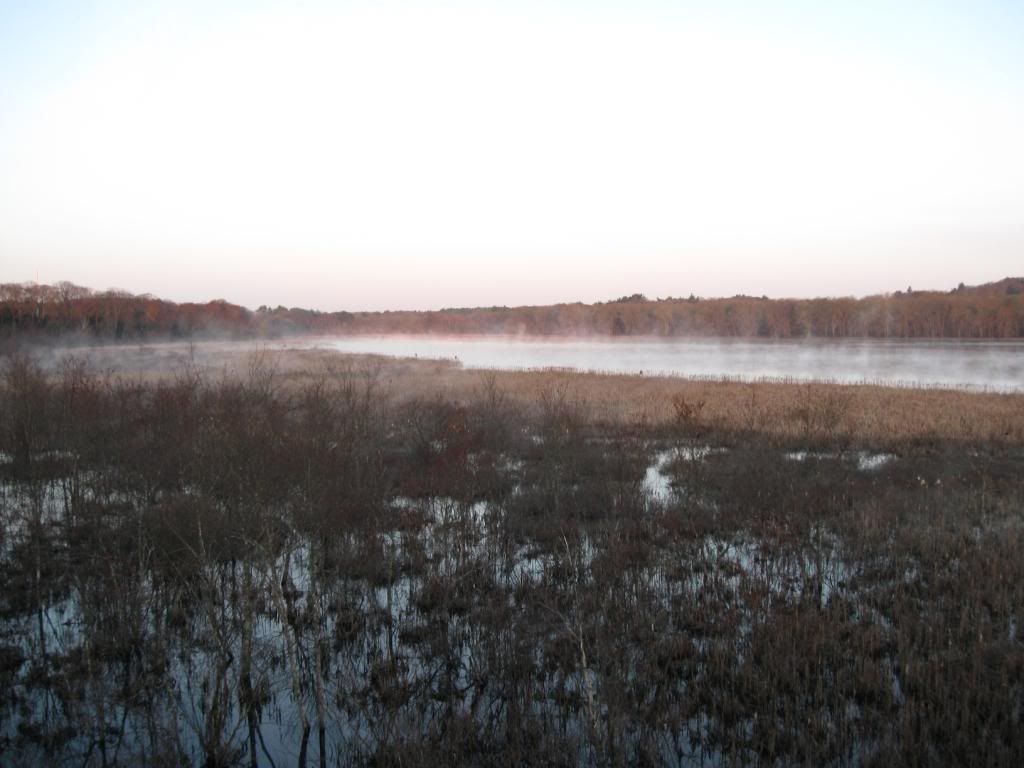 "[W]e had floated. . . into the Great Meadows, which, like a broad moccasin print, have leveled a fertile and juicy place in nature."
-Thoreau (1849)
Found this young male Painted Turtle on the side of the road on the way back to the office.
C. picta
is one of the first species of turtle to emerge from hibernation in the northeast (Usually at the end of March or beginning of April). Males often move between habitats during the spring and summer as wetlands dry up - or, as is likely the case here, floodwaters recede.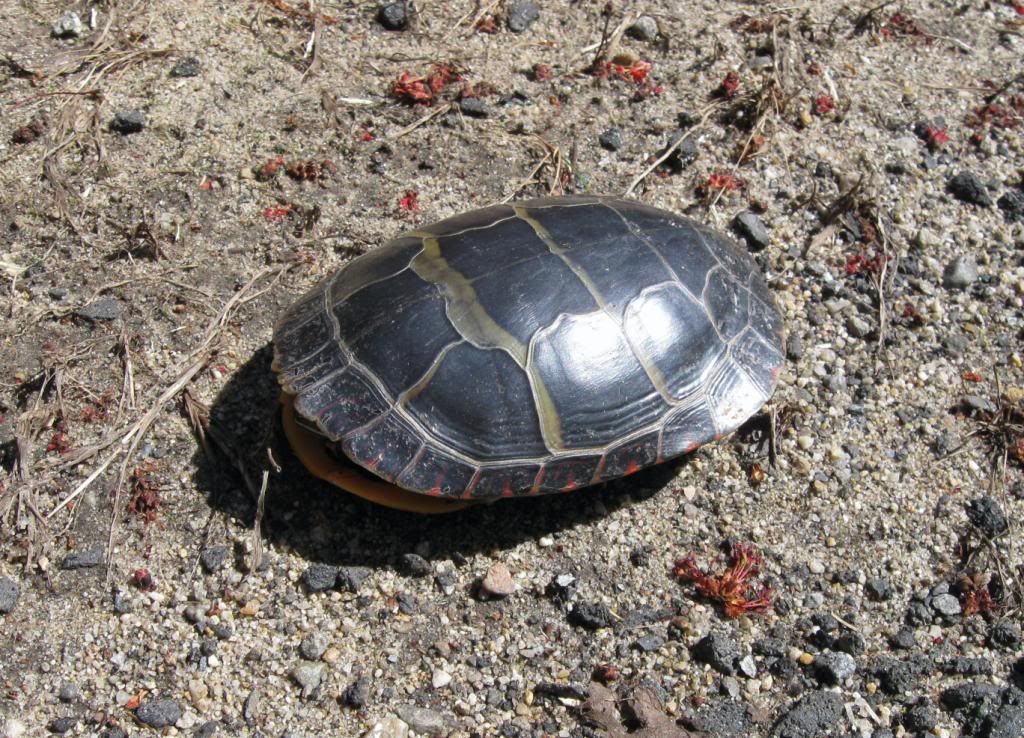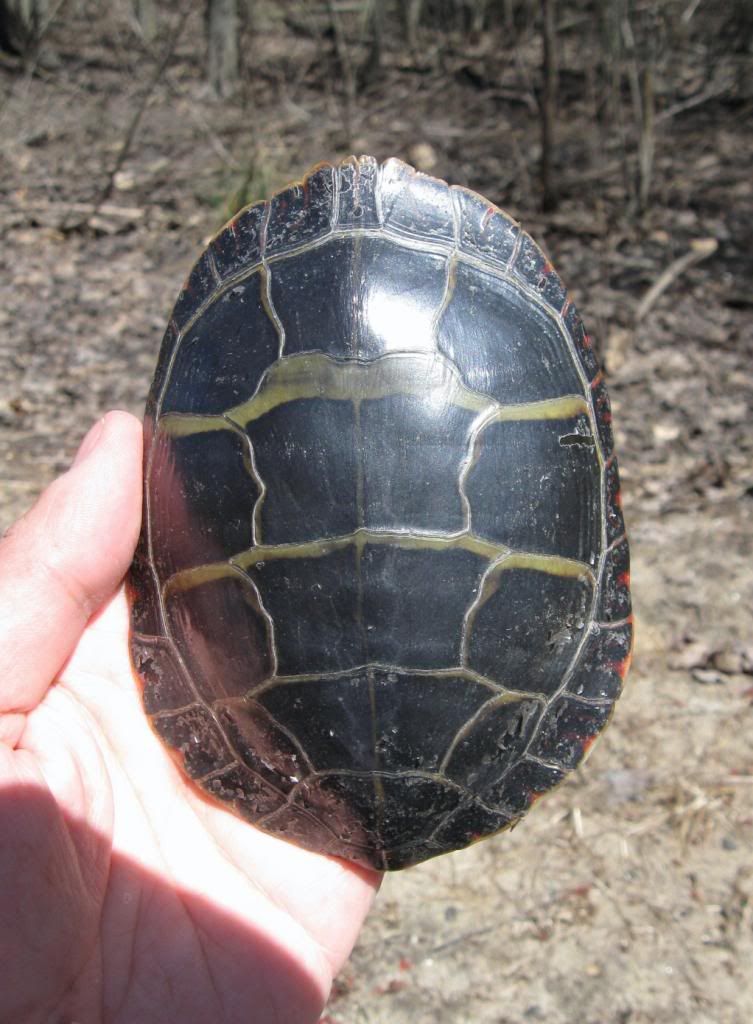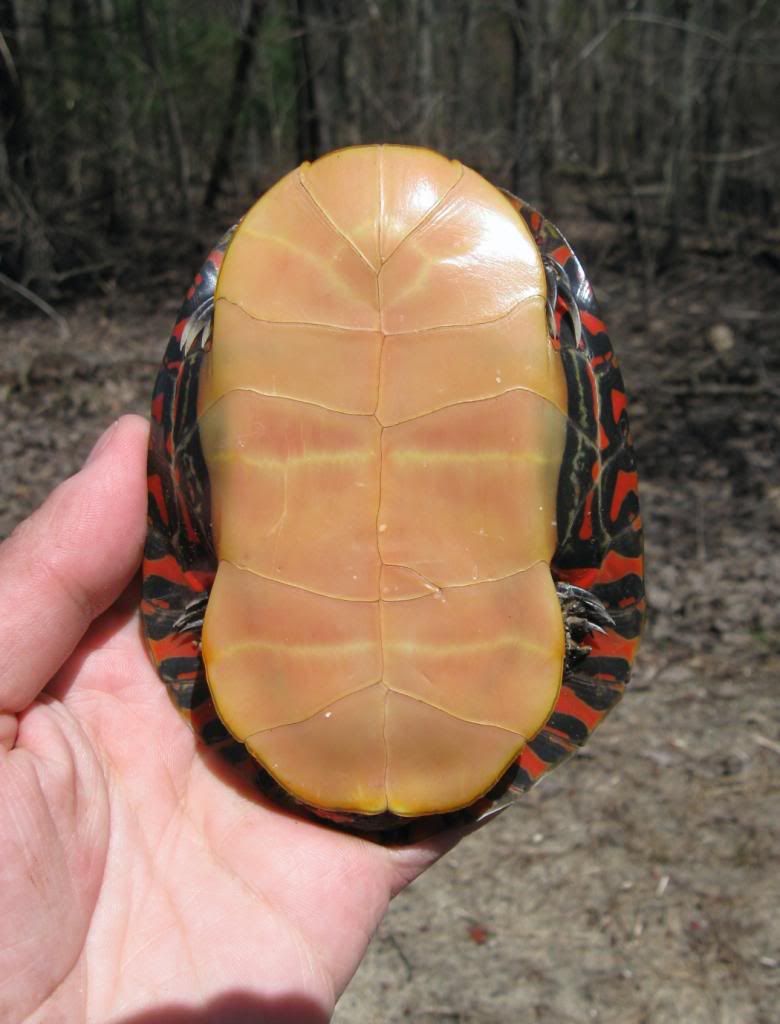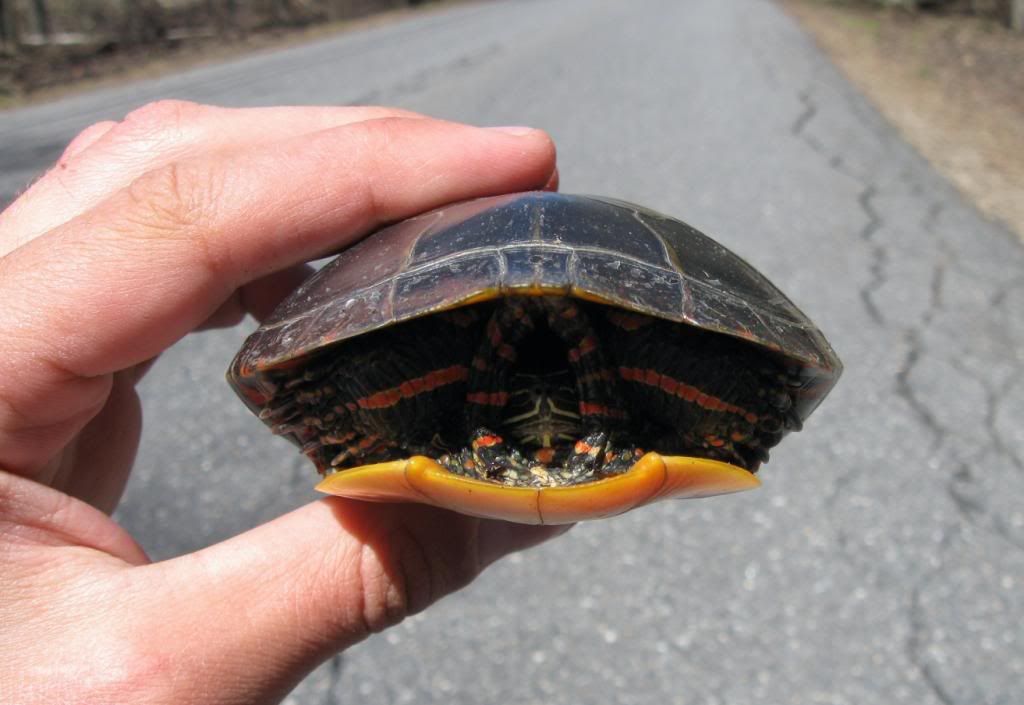 We have to do some grunt work too. Here I am driving in a signpost at Assabet River NWR – a trail needed to be closed because of a very territorial nesting Northern Goshawk (
Accipiter gentilis
)
Welcome to Jurassic Park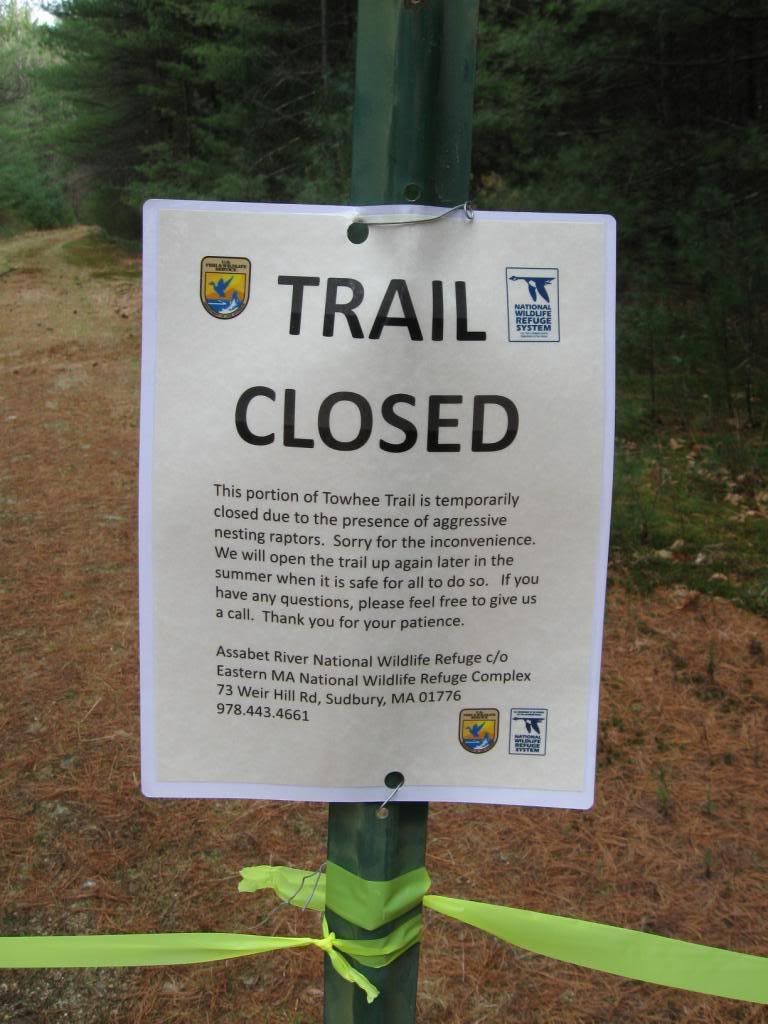 Beavers (
Castor canadensis
) are also constantly blocking up culverts that need to be cleared out (or else trails/roads become flooded).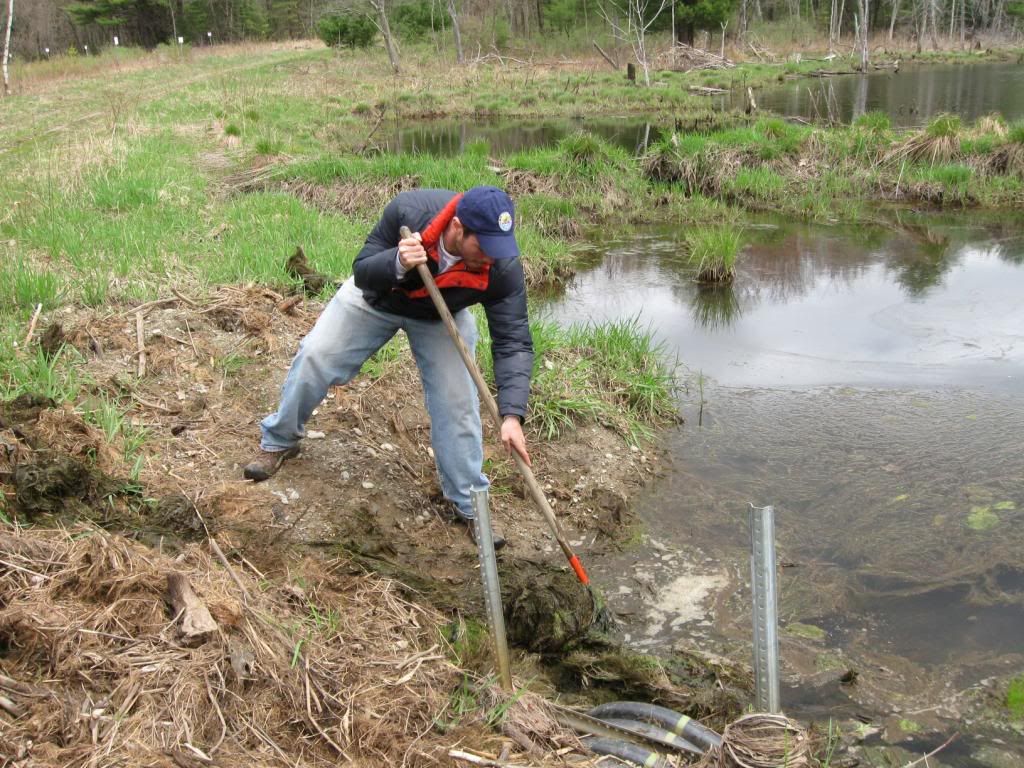 View over Oxbow NWR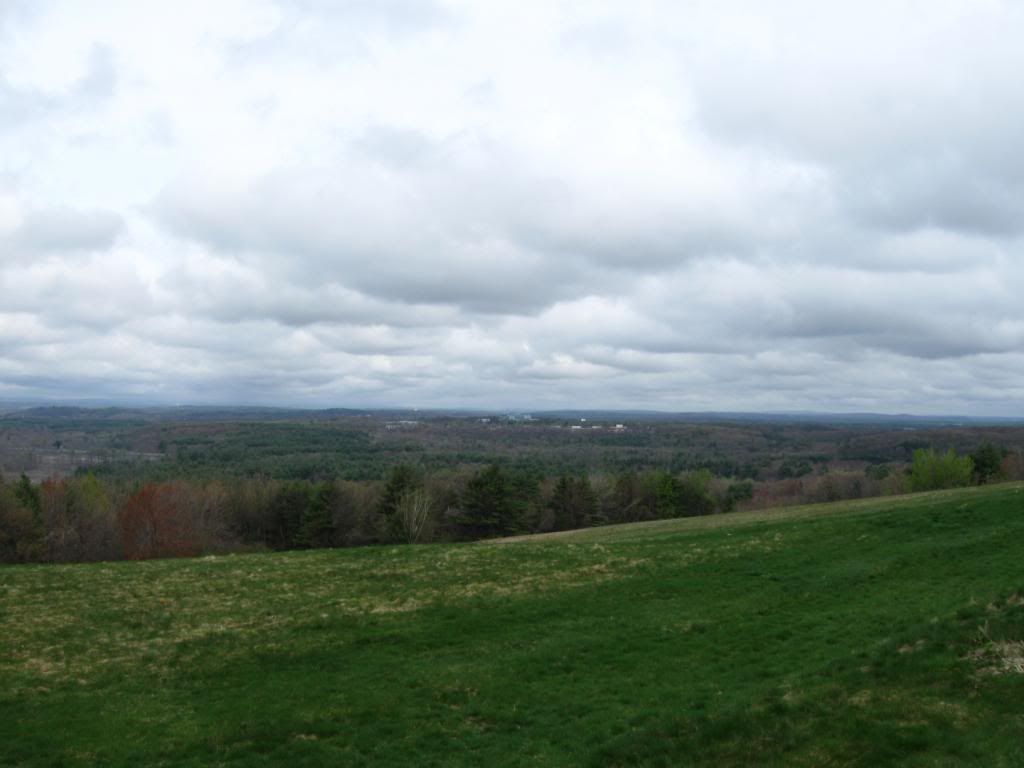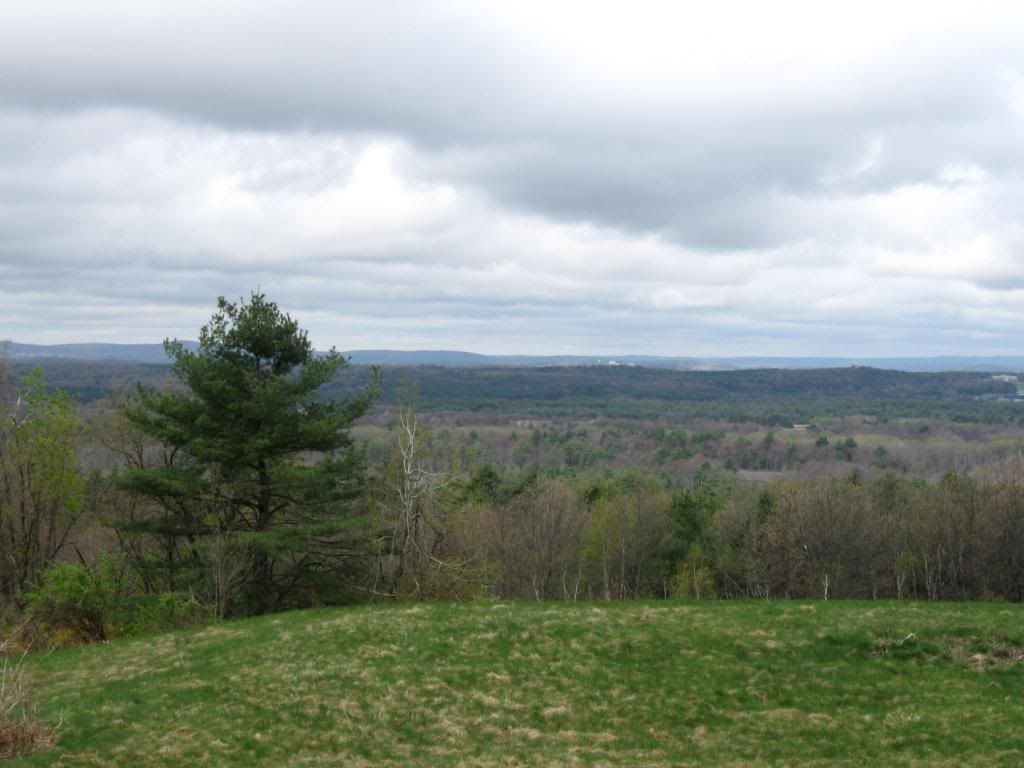 Northern Mockingbird (
Mimus polyglottos
)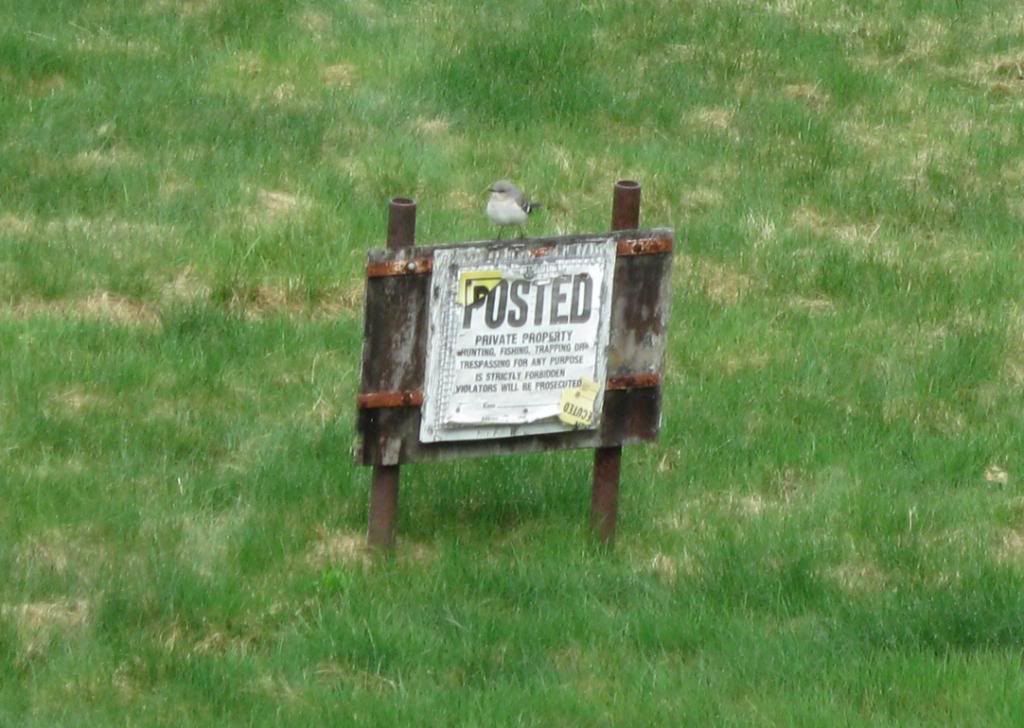 Map of the refuge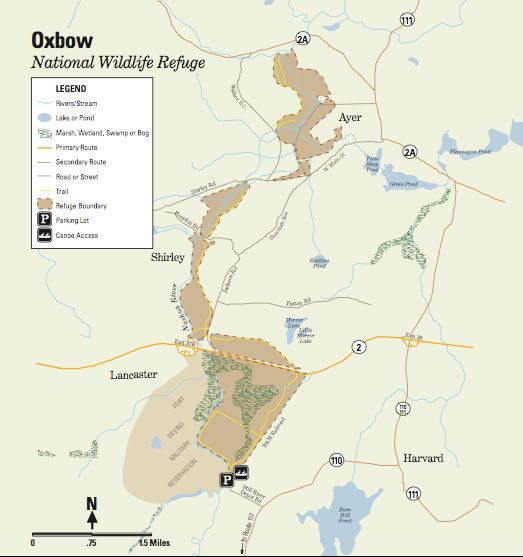 Recently cleared Blanding's Turtle nesting habitat. I'll be coming back here later in the season to set up next exclosures and monitor hatching success.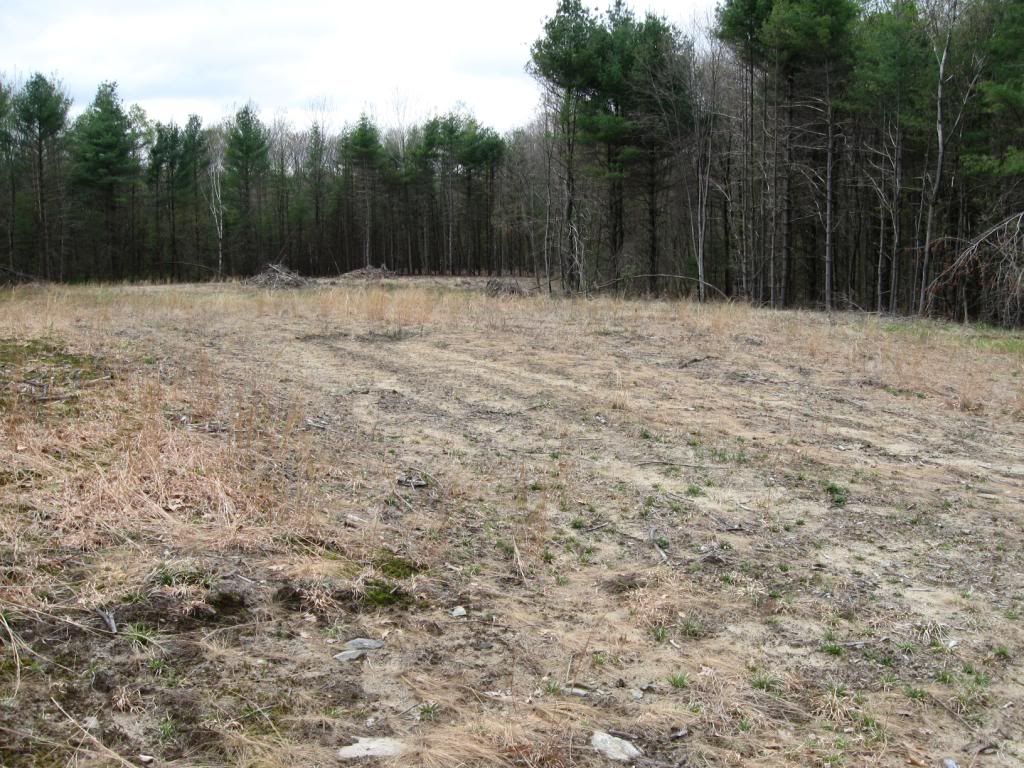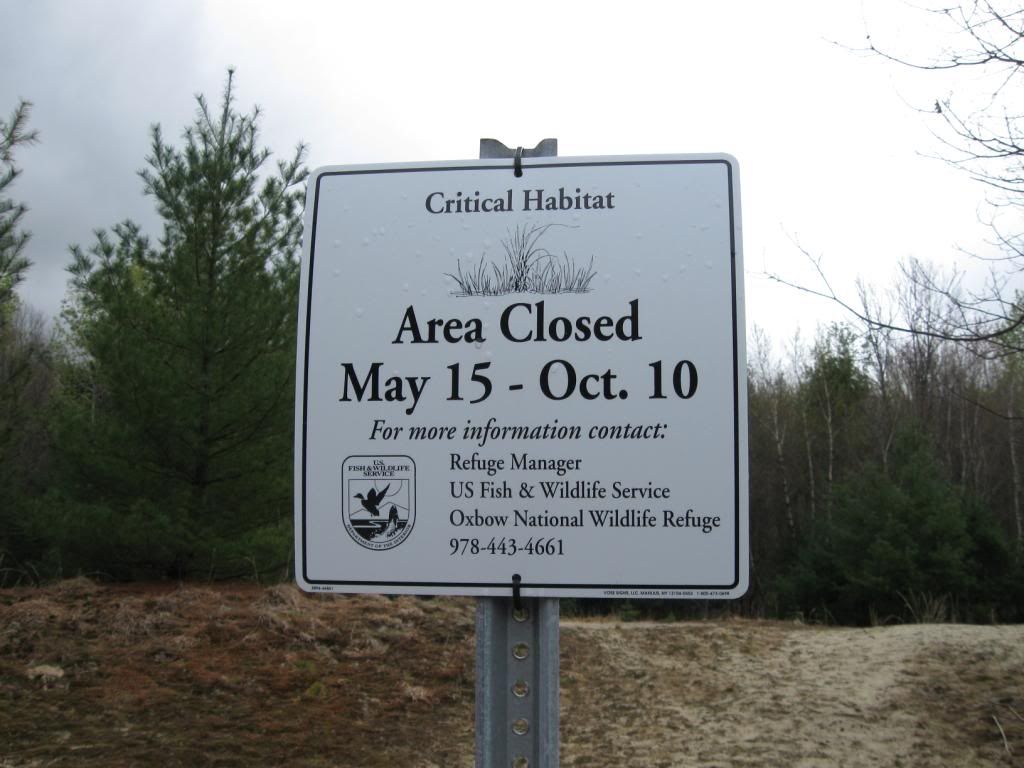 Now on to Massasoit NWR (no map for this refuge because it is closed to the public). This is Crooked Pond, one of the strongholds of the Plymouth County population of the Northern Red-bellied Cooter.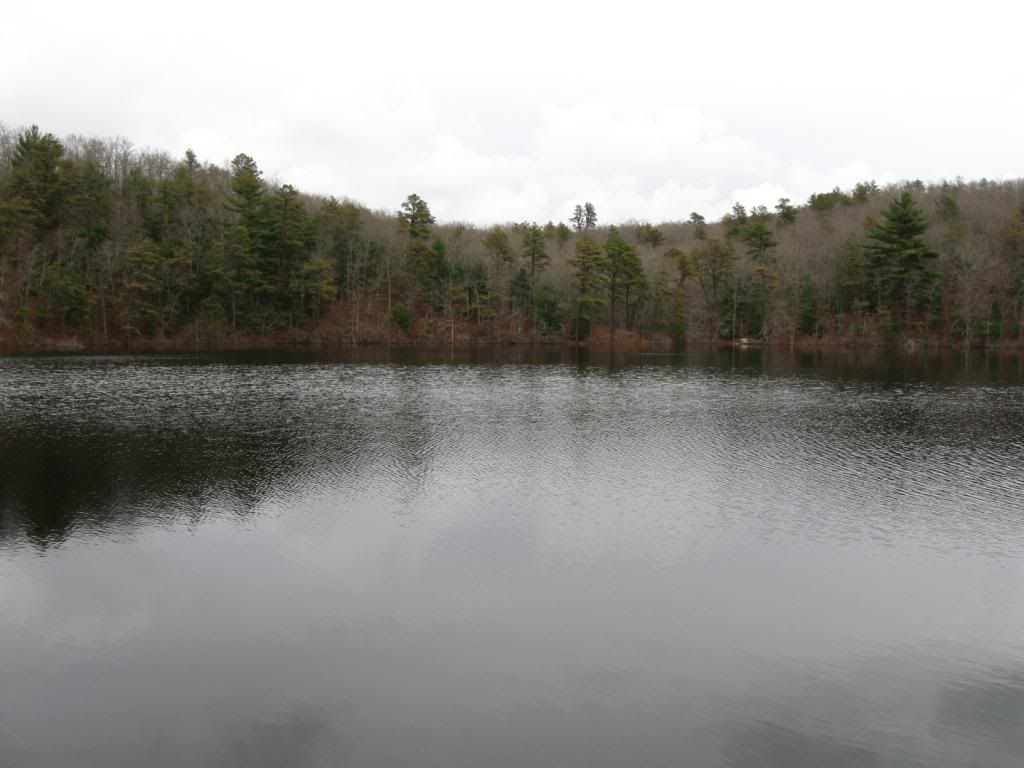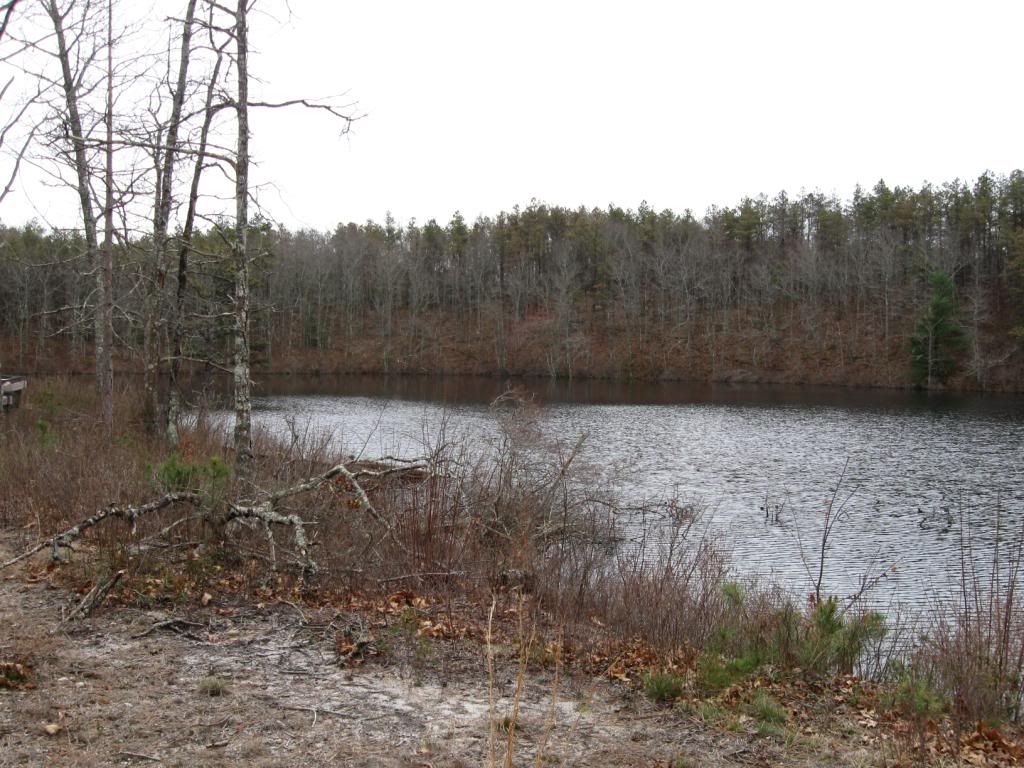 Nesting habitat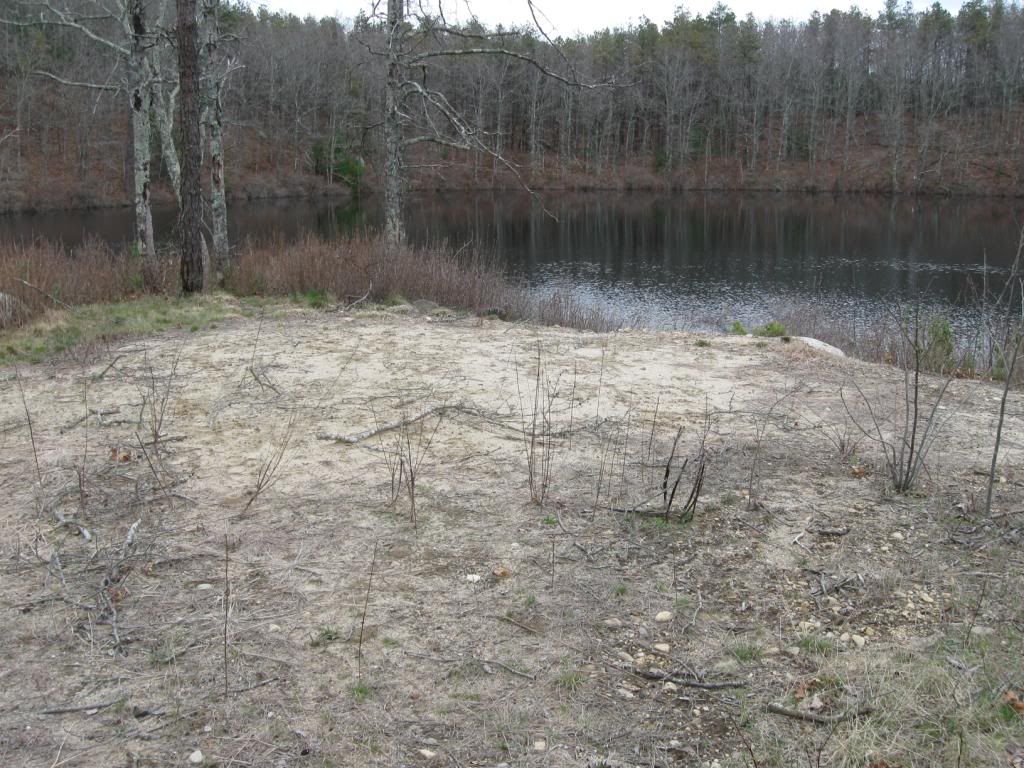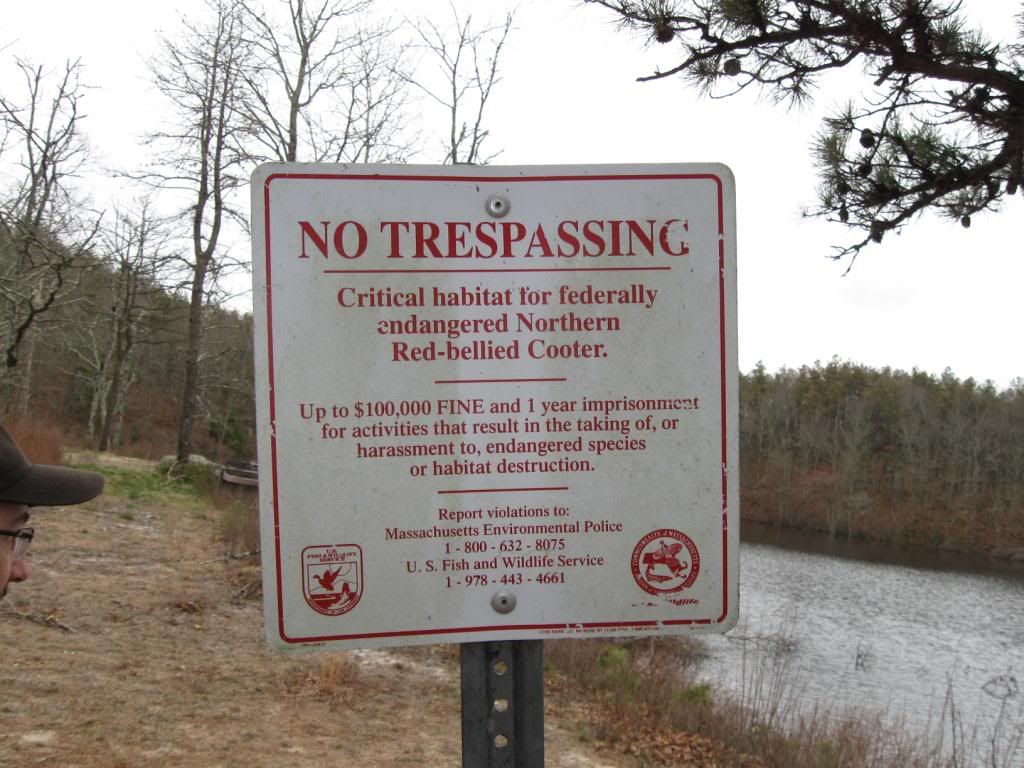 Some trees that had been previously girdled to create more nesting habitat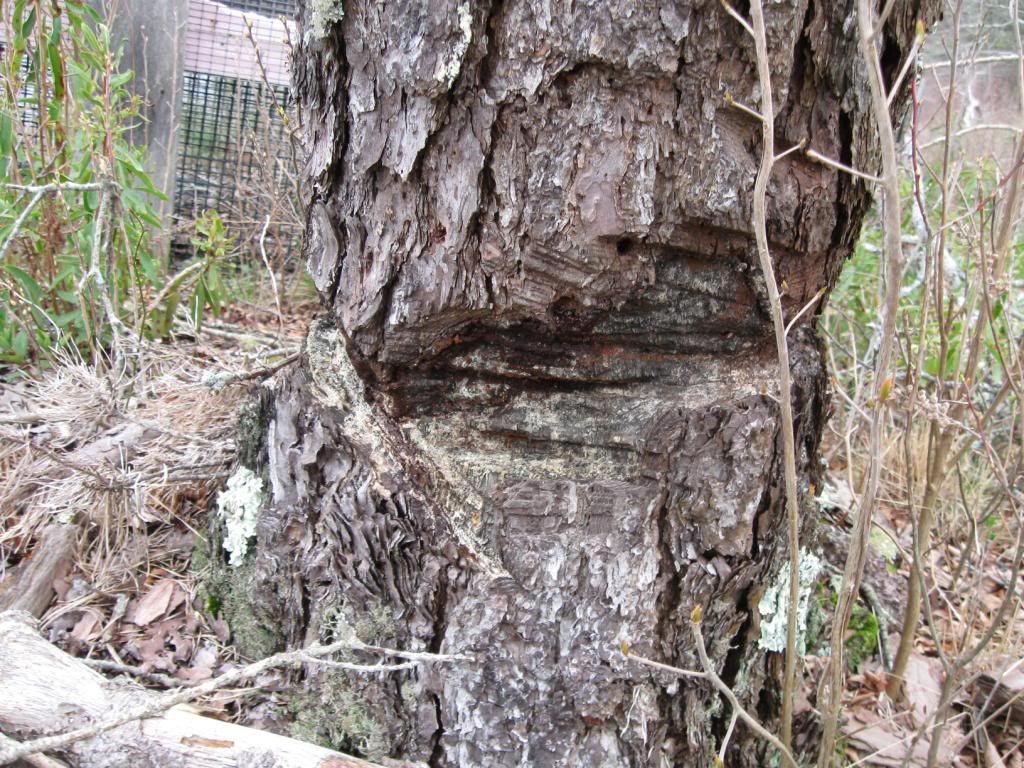 Basking trap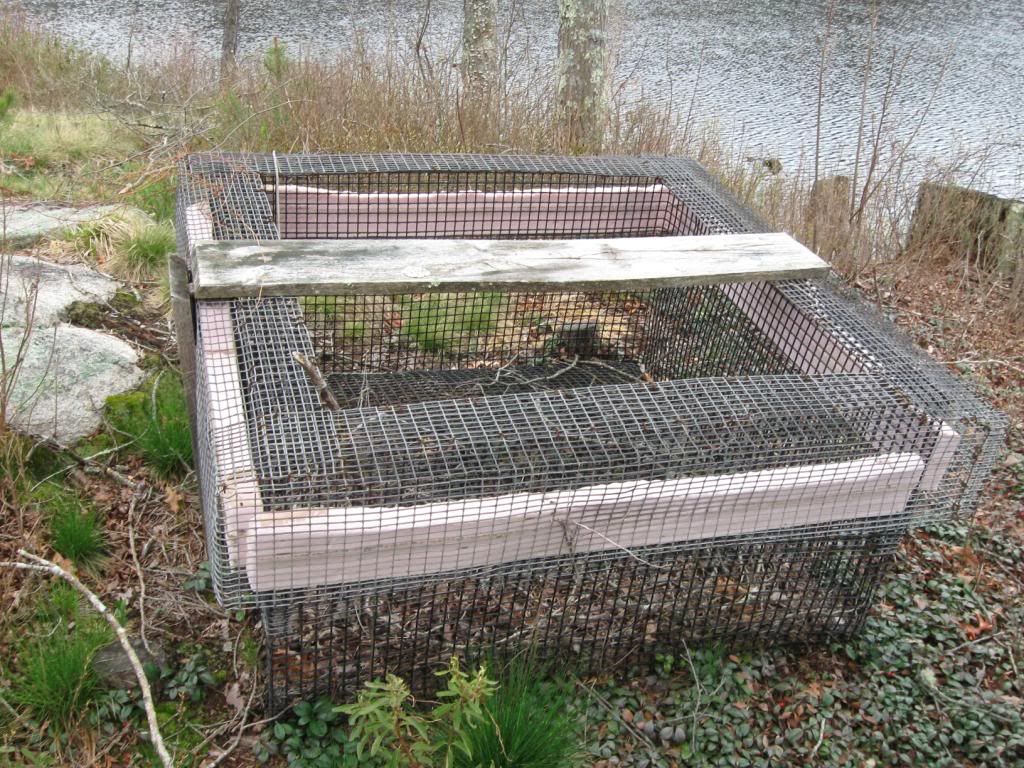 Lots of vegetation that will be need to be cleared later in the season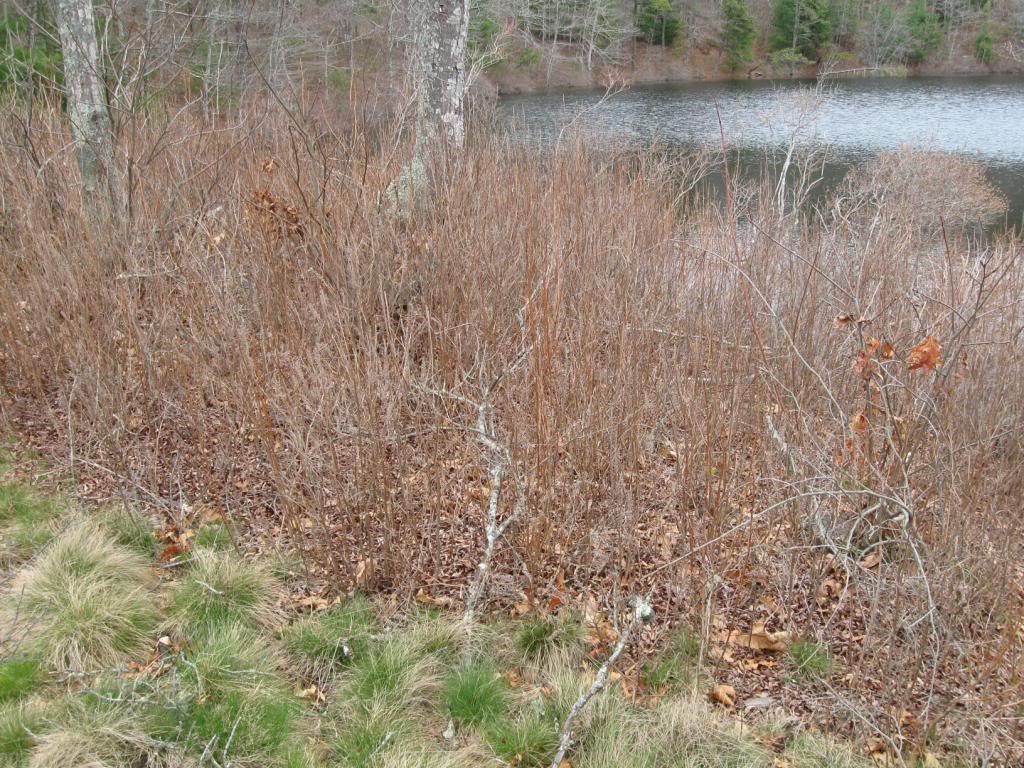 More nesting habitat – water levels are still high from all the rainfall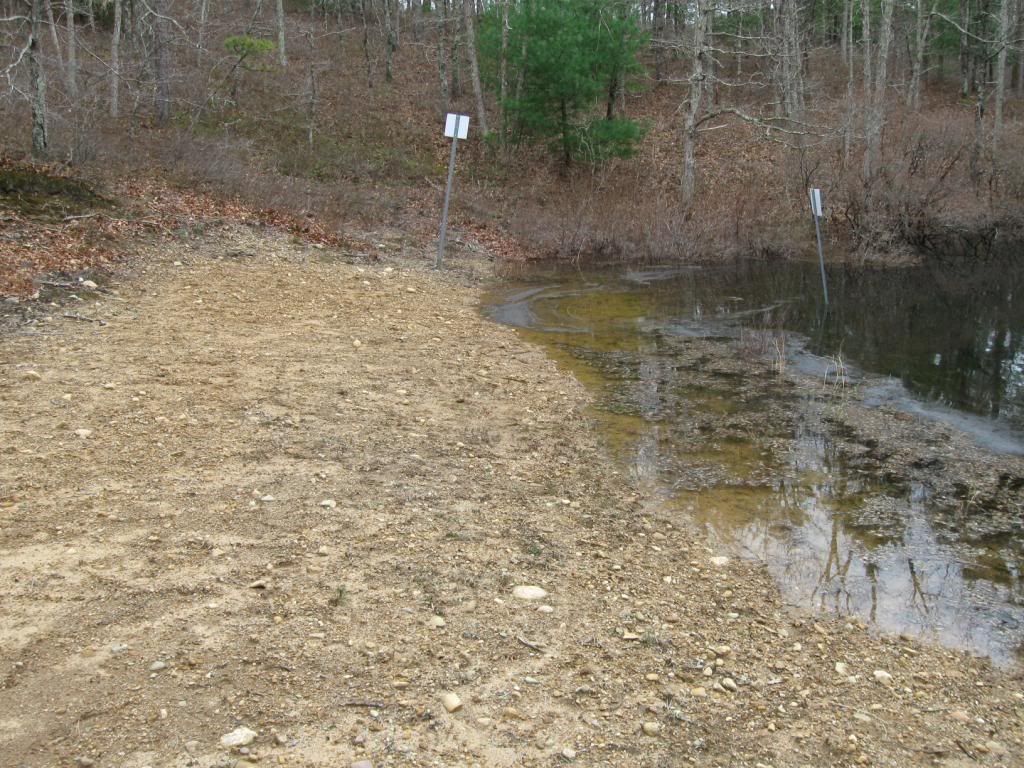 Well, that's all for now - Thanks for looking. Much more to come later!
-Zach
"I had often stood on the banks of the Concord, watching the lapse of the current, an emblem of all progress, following the same law with the system, with time, and all that is made. . ."
-Thoreau (1849)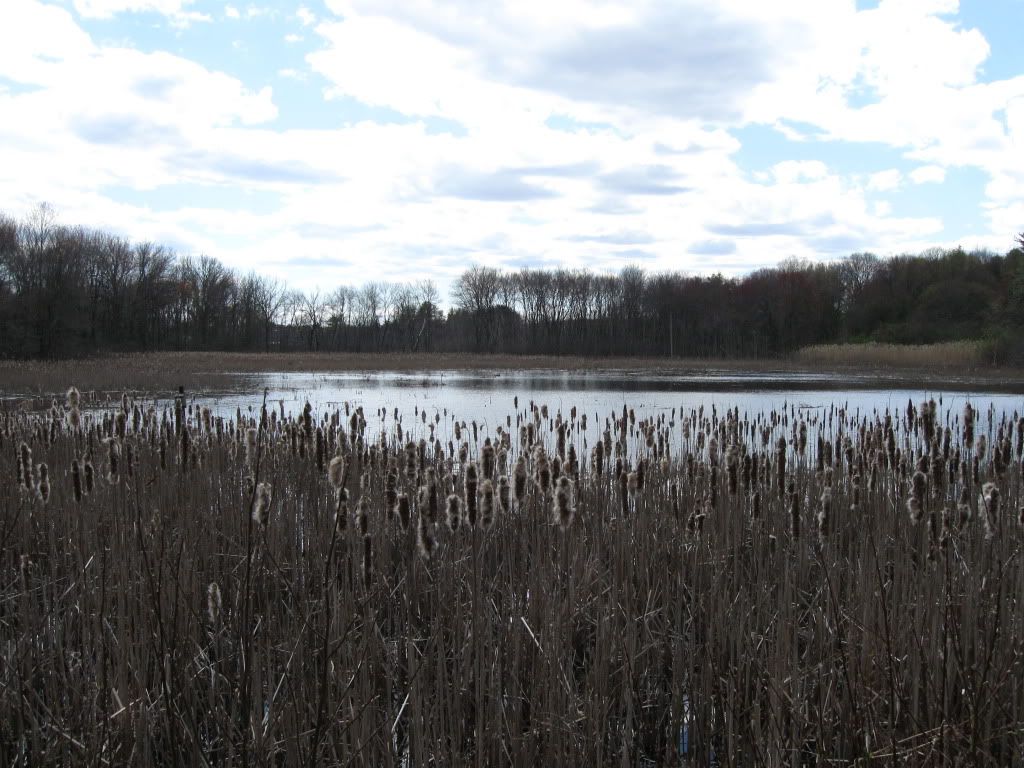 Part 1
Part 2
Part 3
Part 4
Part 5