Hi again – if you're just tuning in, please see
my first post
for background info. While the herps are still warming up for the season, I've had some extra time and have been helping with invasive species control, as there is always work to be done here!
"The rude Saxon pioneer will sometimes pine for that refinement and artificial beauty which are English. . ."
"Some spring the white man came, built him a house, and made a clearing here, letting in the sun, dried up a farm, piled up the old gray stones in fences, cut down the pines around his dwelling, planted orchard seeds brought from the old country, and persuaded the civil apple tree to blossom next to the wild pine and the juniper, shedding its perfume in the wilderness. . . He culled the graceful elm from out the woods and from the river-side. . . cut the wild grass. . . and fields of English grain sprang in the virgin soil. And with his grain he scattered the seeds of the dandelion and the wild trefoil over the meadows, mingling his English flowers with the wild native ones. The bristling burdock, the sweet scented catnip, and the humble yarrow, planted themselves along his woodland road, they too seeking 'freedom to worship God' in their way. The white man's mullein soon reigned in Indian corn-fields, and sweet scented English grasses clothed the new soil. . . The honey bee hummed through the Massachusetts woods, and sipped the wild flowers round the Indian's wigwam, perchance unnoticed, when, with prophetic warning, it stung the red child's hand, forerunner of that industrious tribe that was to come and pluck the wild flower of his race up by the root."
-Thoreau (1849)
Large stand of phragmites (
Phragmites australis
) at Nine Acre Corner. Phragmites is a perennial wetland grass, thought to have first been introduced to North America in the early 20th century from packing material and ballast on ships coming from Europe (though recent studies have found that there is also a native, non-invasive strand of Phragmites that existed in North America prior to European colonization). Phragmites grows in tall (up to 15 ft), dense stands that crowd out native plants and animals.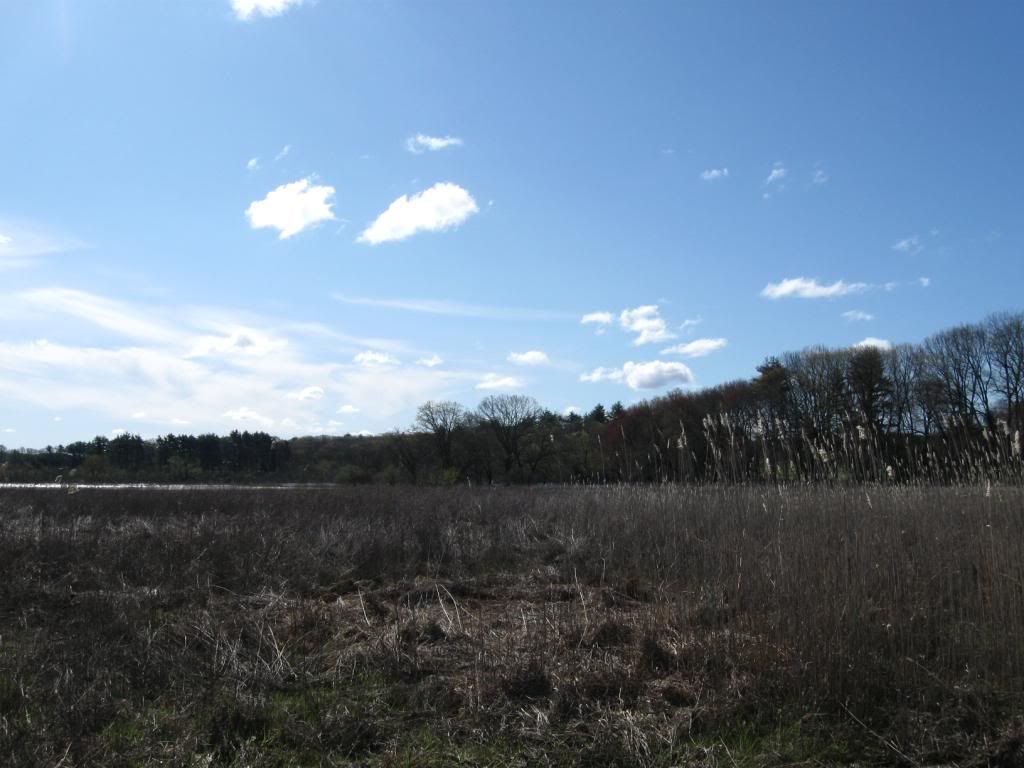 Japanese Knotweed (
Fallopia japonica
) invading an old house foundation at the entrance to Great Meadows NWR.
F. japonica
is native to eastern Asia, and was first introduced to America in late 1800s as an ornamental. Japanese Knotweed is now considered one of the world's 100 worst invaders by the
International Union for Conservation of Nature (IUCN)
, and is found in 39 states in the U.S. Knotweed forms thick, dense colonies that crowd out native herbaceous species, and damage building foundations, roads, etc. Its success is in part due to its high tolerance for a diversity of soil types, pH, salinity, and temperatures. Knotweed is also highly resilient to cutting, and re-sprouts from the rhizomes (roots), which can extend 7 m horizontally, and go 3 m deep, making removal especially difficult. Repeated herbicide treatment (glyphosphate based) combined with manual removal is currently the most effective treatment option.
"The chimney is to some extent an independent structure, standing on the ground and rising through the house to the heavens; even after the house is burned it still stands sometimes, and its importance and independence are apparent."
"Now only a dent in the earth marks the site of these dwellings, with buried cellar stones, with strawberries, raspberries, thimbleberries, hazel-bushes, and sumachs growing in the sunny sward there; some pitch-pine or gnarled oak occupies what was the chimney nook, and a sweet-scented black-birch, perhaps, waves where the door-stone was. Sometimes the well dent is visible, where once a spring oozed; now dry and tearless grass; or it was covered deep, ⎯not to be discovered till some late day, ⎯with a flat stone under the sod, when the last of the race departed. . . These cellar dents, like deserted fox burrows, old holes, are all that is left where once were the stir and bustle of human life. . . Still grows the vivacious lilac a generation after the door and lintel and the sill are gone. . . giving place to new-rising forests; ⎯the last of that stirp, sole survivor of that family. Little did the dusky children think that the puny slip. . . would root itself so, and outlive them, and house itself in the rear that shaded it, and grown man's garden and orchard, and tell their story faintly to the lone wanderer a half century after they had grown up and died. . ."
-Thoreau (1854)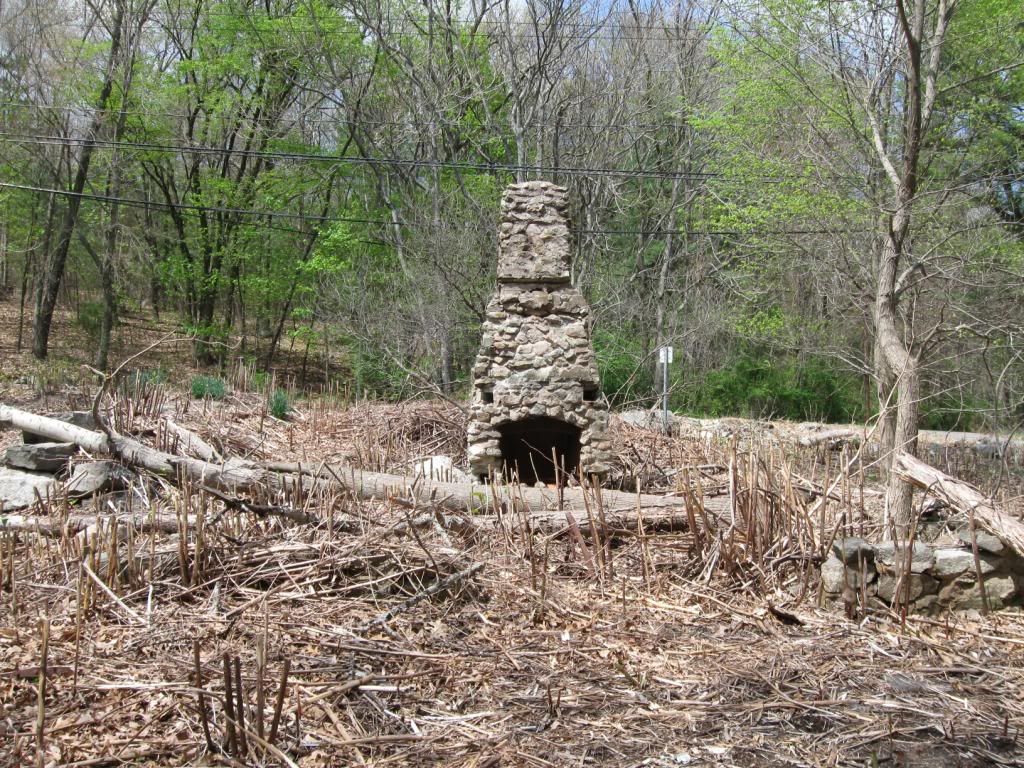 A day's Garlic Mustard (
Alliaria petiolata
) haul.
A. petiolata
is native to Europe, western/central Asia, and northwestern Africa, and was first introduced to North America as culinary herb in 1860s and has been spreading ever since. Recently studies have shown that Garlic Mustard produces chemicals that inhibit the growth of many native North American plants (and thereby allowing more room for itself). Garlic Mustard is also considered a threat to some species of native butterflies (West Virginia White Butterfly [
Pieris virginiensis
] and Mustard White Butterfly [
P. oleracea
]), which lay their eggs on Garlic Mustard plants that they confuse with native Toothwart (
Dentia
) plants, and whose young cannot survive on Garlic Mustard because of its toxicity.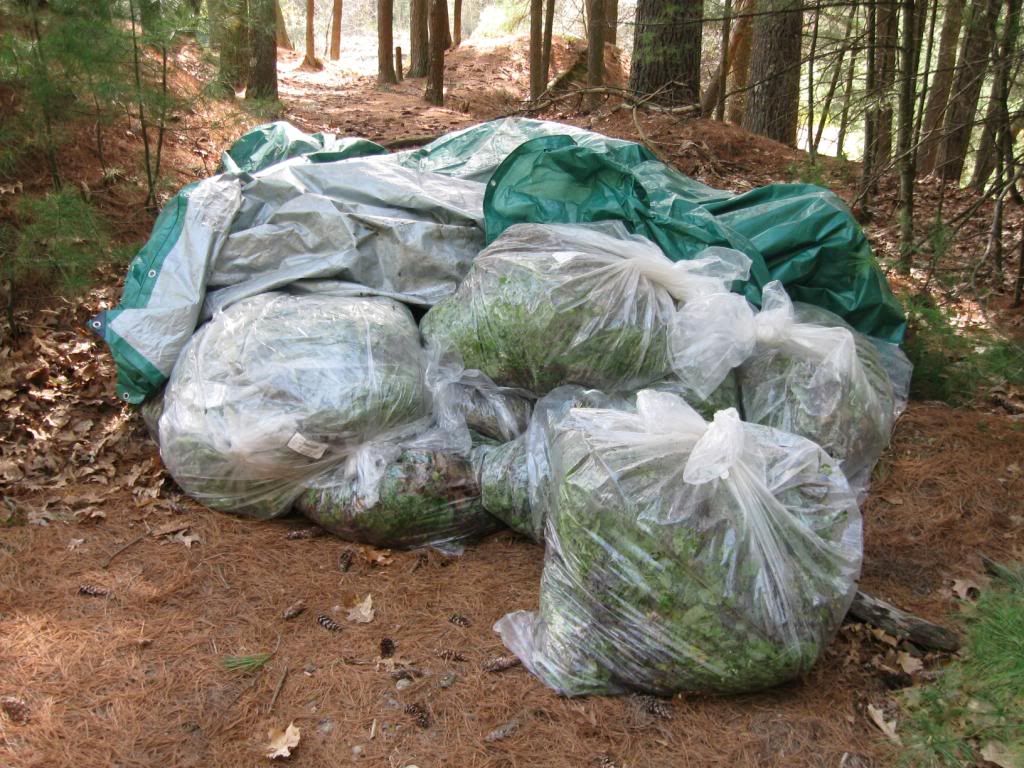 This is the gravel pit at Assabet River NWR. Normally, this is used as the "invasive species graveyard" - where we dump invasives (species permitting) to dry out, but, as you can see here, it was still quite flooded at the time.
Always a nice surprise to find Paper Wasps (
Polistes fuscatus
) nesting in gate locks at the refuge when you go to open a gate.
"The wasps came by thousands to my lodge. . . and settled on my windows within and on the walls over-head, sometimes deterring visitors from entering. Each morning, when they were numbed with cold, I swept some of them out, but I did not trouble myself much to get rid of them; I even felt complimented by their regarding my house as a desirable shelter."
-Thoreau (1854)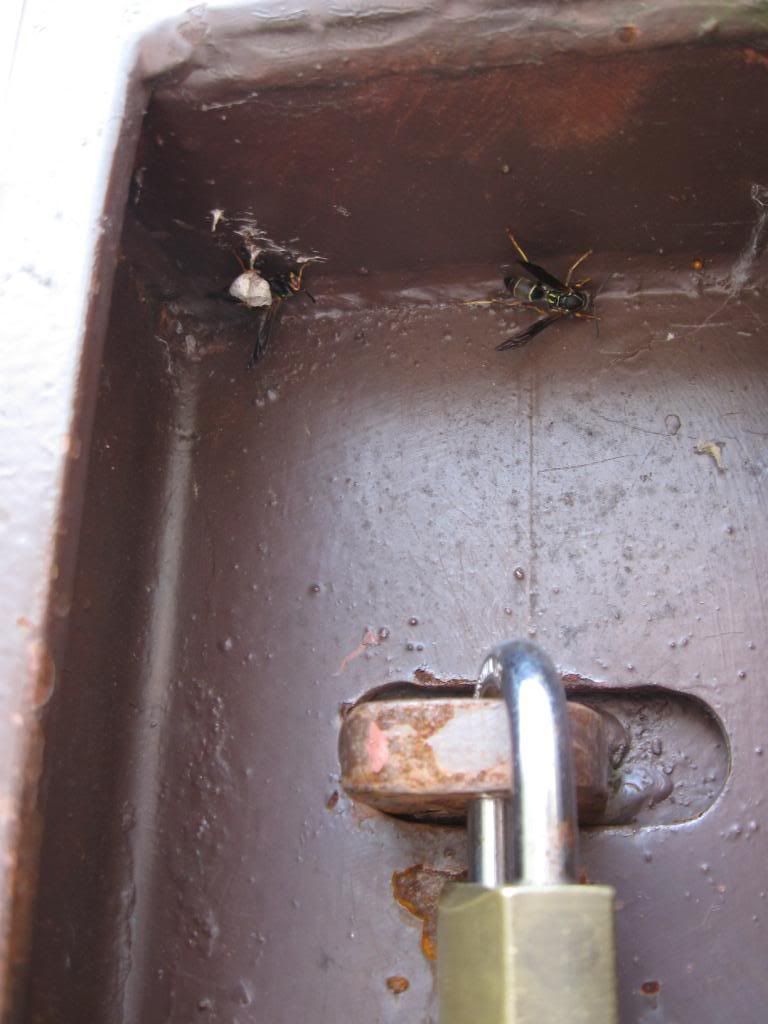 Pair of Northern Watersnakes (
Nerodia sipedon
) basking in the cattail (
Typha latifolia
) at the edge of the pond in my backyard. Watersnakes are the most aquatic snakes in the northeast, and also one of the most commonly encountered species. They may be found in the vicinity of almost any permanent freshwater source, and are common near human-made structures such as dikes, dams, and canals.
N. sipedon
can reach very high population densities (90 individuals/km have been reported from Lake Erie in Ohio), and often form small aggregations at prime basking sites. This species gives birth to live young, and by selectively basking portions of their bodies in which the young are developing, pregnant females can accelerate embryonic development.
Northern watersnakes are sexually dimorphic, and males are significantly smaller than females, averaging 575 mm in total length, while females average 907 mm.
While younger individuals have a characteristic banded/blotched pattern, their skin gradually becomes stained by organic acids in the water, causing older snakes to appear uniformly dark black or brown. An excellent swimmer,
N. sipedon
forages along the water's edge, where they prey most heavily upon fish (50% to 90% of diet by volume) and frogs, though salamanders, tadpoles, small mammals, birds, juvenile turtles, insects, and crayfish are also eaten. Young northern watersnakes are known to use both ambush and active searching to locate prey, and have even been observed using their bodies to herd schools of tadpoles and fish.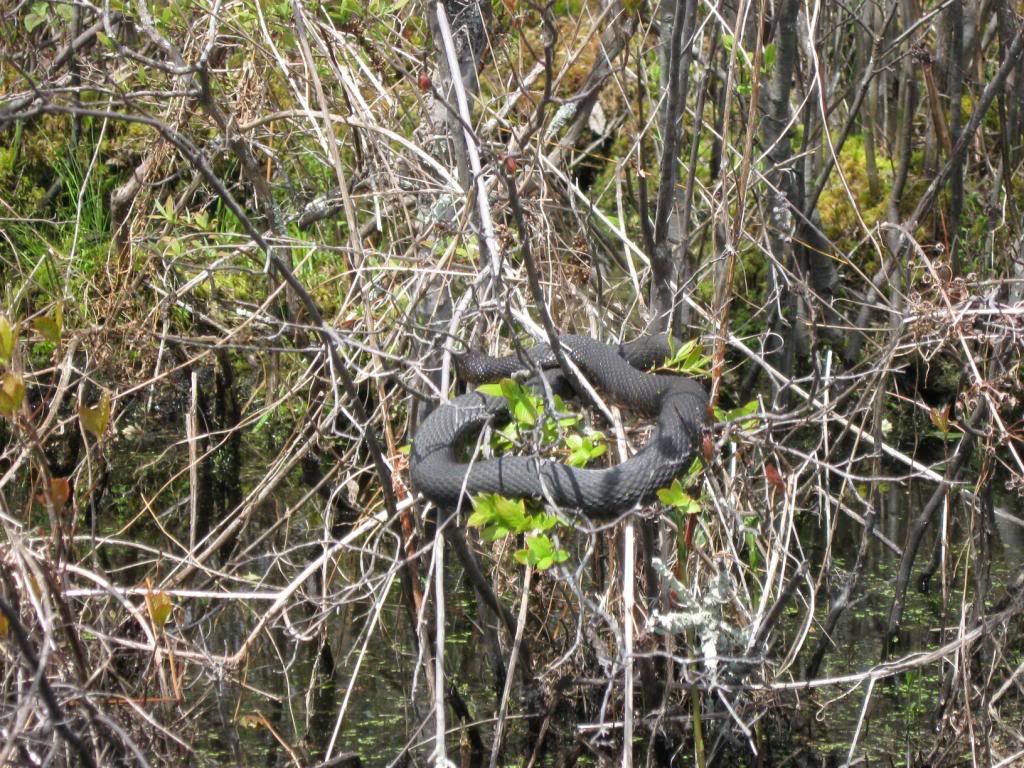 Wary watersnake scoping out the situation. When threatened,
N. sipedon's
usual escape strategy is to dive into deeper water, where they can stay submerged for over an hour (though if their escape route is blocked, they will defend themselves).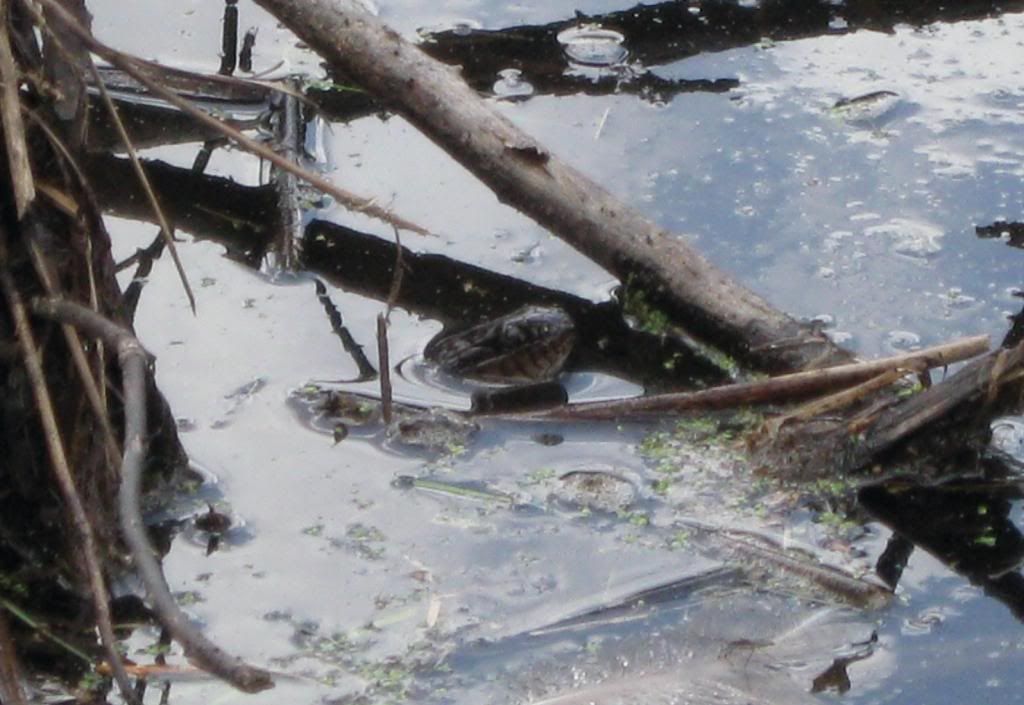 Baby Painted Turtle (
Chrysemys picta
) found on a hill overlooking the backyard pond. Female painted turtles nest between late May and early July, when they may travel up to 620 m from water to find a suitable nesting spot (generally, sandy, well-drained slopes with little vegetation and good sun exposure), though most nests are located within 100 m of water. The average clutch size is highly variable throughout
C. picta's
range (4 to 20 eggs), and females may lay two clutches in a year. Like most other turtles, the sex of the developing embryos is temperature-dependent. Hatching success is very low (less than 25% reported from a population in Quebec), with predation and flooding accounting for the greatest mortality. Painted turtles generally hatch in 10-12 weeks, around August and September, but hatchlings are freeze-tolerant (capable of surviving nest temperatures of -6.2oC) and will often overwinter in the nest and emerge the following spring, as was the case with the turtle we found, pictured below.
"In almost all climes the tortoise and the frog are among the precursors and heralds of this season. . ."
-Thoreau (1854)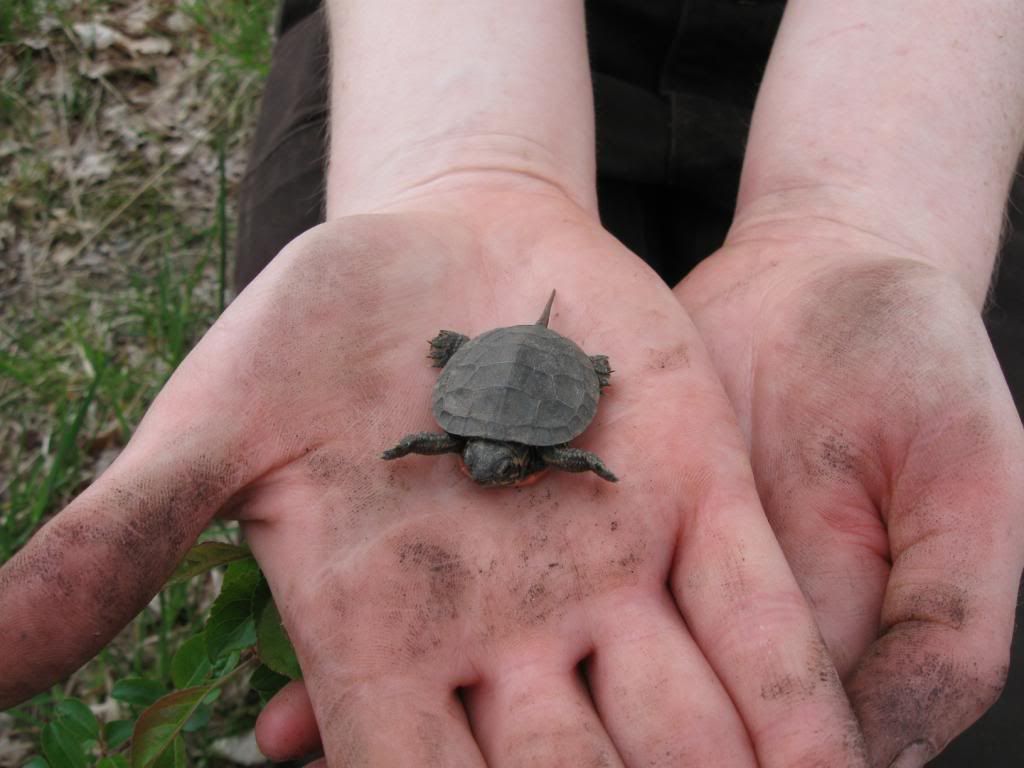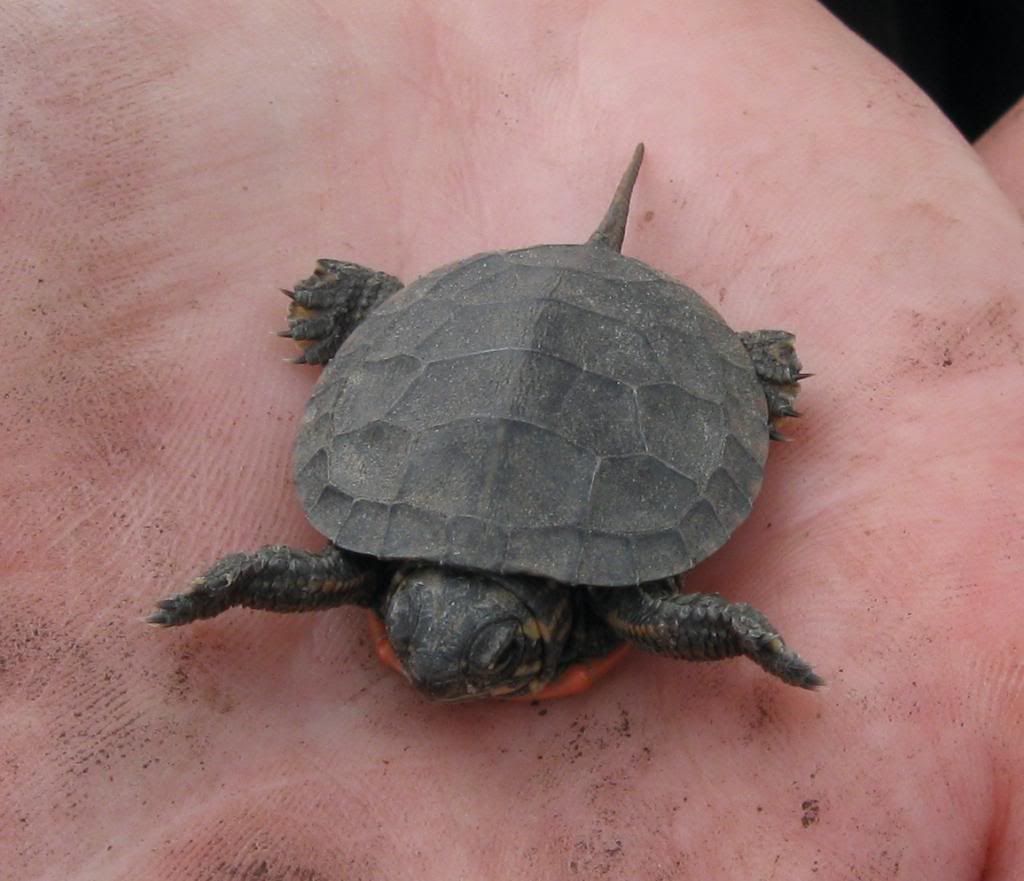 Plastron shot – notice the "belly button" – this is where the yolk sac was absorbed, and it will disappear as the turtle grows. Hatchlings range in size (carapace lenth) from 25 to 27.8 mm. Sexual maturity is reached when plastron length = 7 to 9.5 cm, or by age 3-7 years, depending on growth rate, and painted turtles may live over 40 years.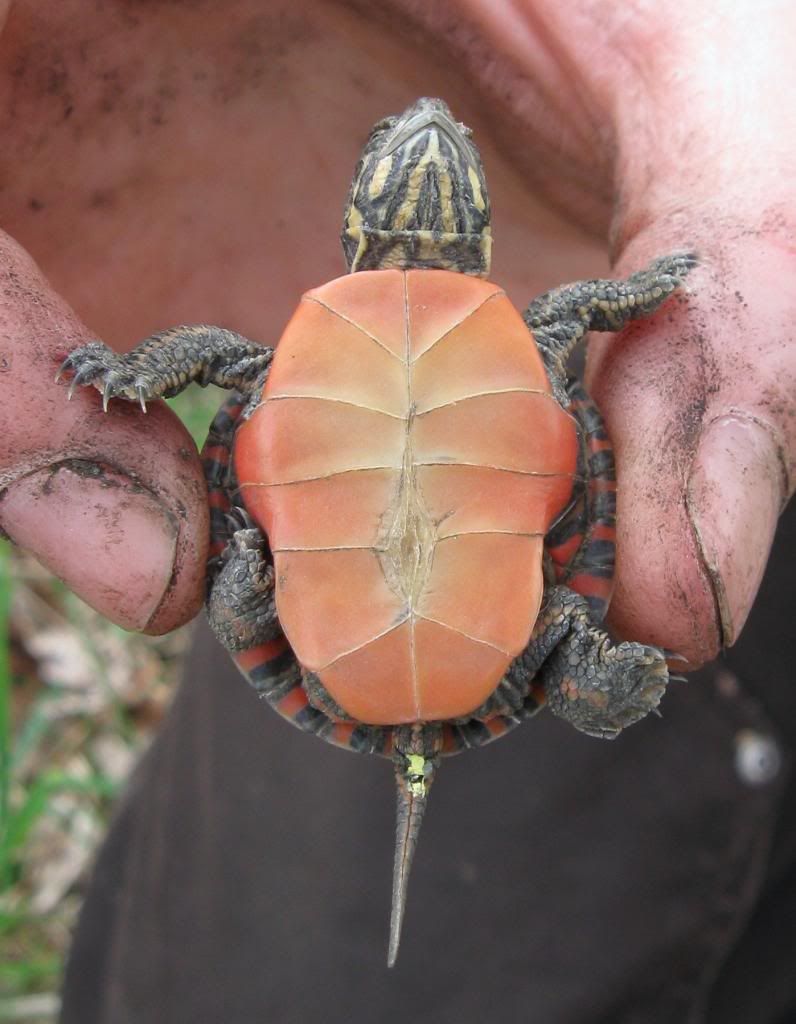 As I mentioned in
Part 1
, most of my work here will be centered on monitoring local populations of Blanding's turtles (
Emydoidea blandingii
) at several different sites. This week marked my first encounter with this species. Normally, this would be an exciting occasion, but unfortunately the turtles I met were not alive.
One local population of Blanding's turtles has been studied since the 1970s, when it was estimated to contain 135 individuals. However, the population has since declined, and by 2004 an estimated 54 turtles remained. So, in efforts to combat this decline (and in addition to a variety of other management strategies), a head-start program has been employed for a few local Blanding's Turtle populations in which hatchling turtles are raised in captivity to (at least) the size attained by three-year-old turtles in the wild, before being notched and released. If large enough, head-started turtles are also equipped with radio transmitters, so they can be tracked/monitored. While head-starts stand a much better chance at survival than hatchlings normally would, they are still significantly more vulnerable than adult turtles, and the survivorship of head-started individuals can be highly variable.
Sadly, when last year's head-starts big enough for radios were tracked last week at one of our sites, a total of six were found dead (three others, however, were found alive, and others still are yet to be captured). Considering the harsh winter this year, it's likely that many turtles were just not able to withstand such severe conditions and died from winter-kill (it was also noted last fall that many of the head-starts had chosen less than ideal locations to hibernate, and several snapping turtles have also been found dead). But, to rule out any other factors (i.e. disease, or problems related to husbandry), I was in charge of delivering the dead turtles to
Tuft's Wildlife Clinic
for necropsies (results not yet in).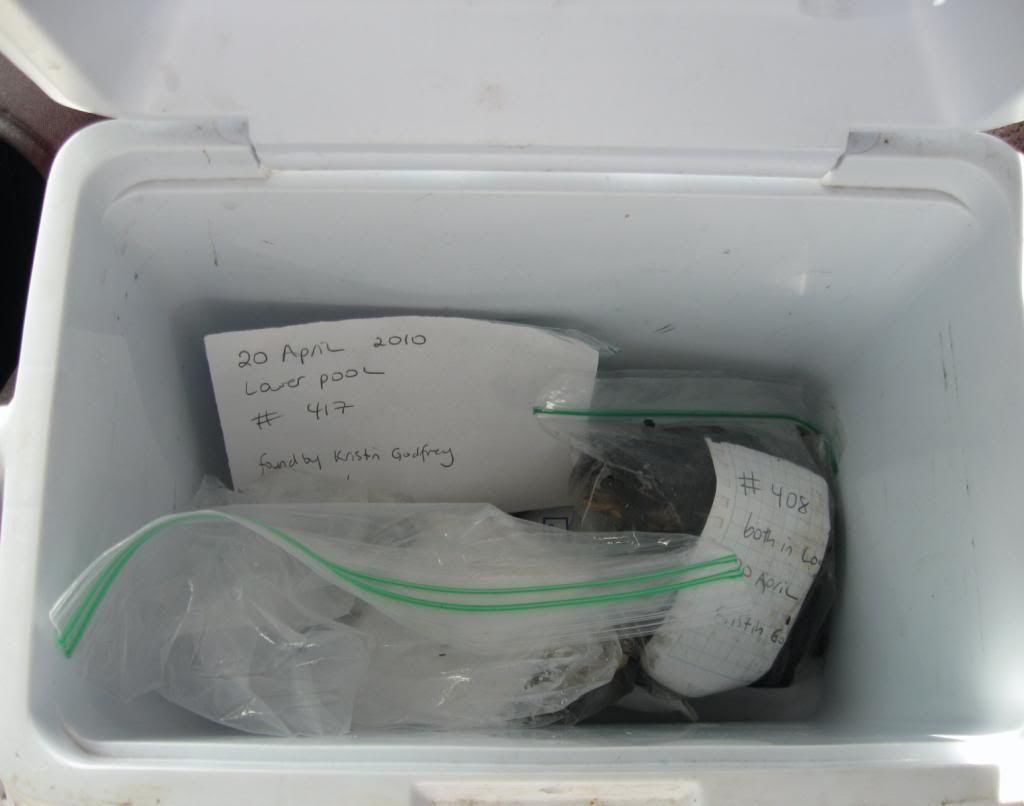 Two of the deceased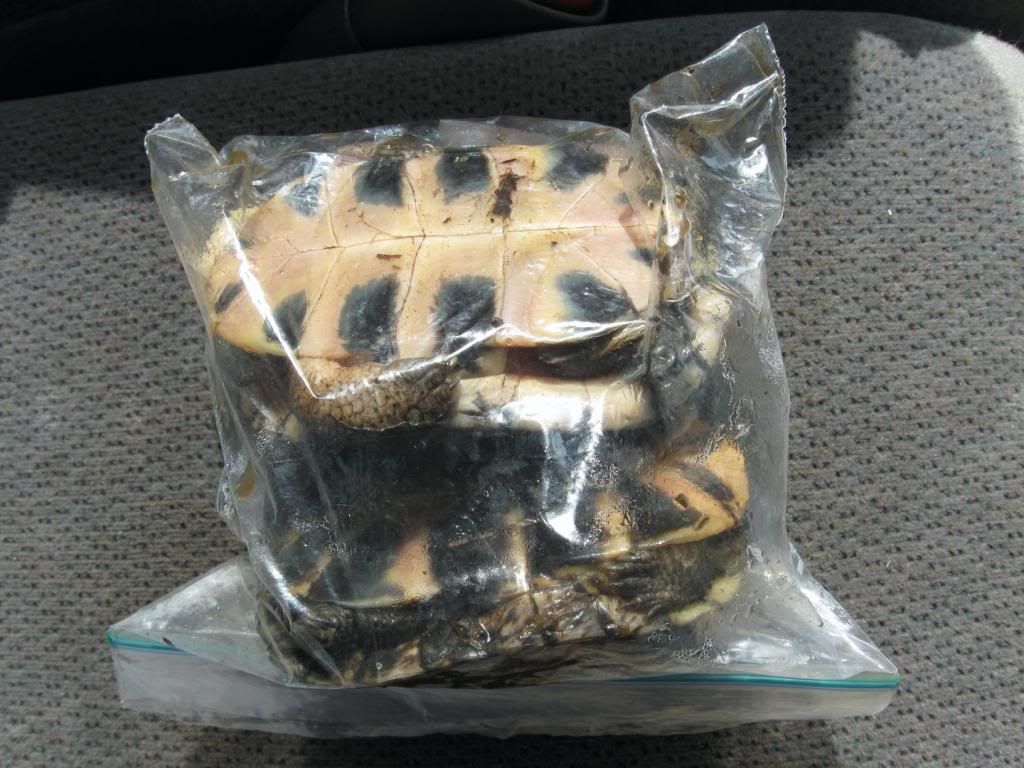 Other less welcome inhabitants apparently had no problem surviving the winter. Common Carp
(Cyprinus carpio
) are big problem here, throughout the country, and across world. The Common Carp is native to Europe, where it was first domesticated thousands of years ago. Introduced to the U.S. in 1831, carp were widely distributed by the government as a food fish, and have been causing a lot of problems ever since. To date, they have been introduced everywhere in the world except northern Asia and the poles.
Like most invasives, carp are tolerant of a variety of environmental conditions, and are notorious for negatively impacting native environments by uprooting vegetation, increasing turbidity, etc. (not to mention their impact on native foodwebs), the effects of which are due in part to the carp's large size (up to 120 cm long and 44 kg in weight). Carp are also highly prolific and lay up to 300,000 eggs in a spawning, and can spawn multiple times in one season. While millions of dollars have been spent in efforts to control carp, no truly effective strategies have been seen. No carp-specific control measures have been employed by the EMNWRC, though hundreds of carp die off (and then need to be cleaned up, which I'll probably have to help out with) when water levels drop below a certain point (more on this below). I am unsure if there has been any investigation into carp's impact on Blanding's turtles specifically, or other herps in general, and I think this would be an interesting area to explore.
"There have been caught in Walden, pickerel. . . perch and pouts. . . shiners, chivins or roach (Leuciscus pulchellus), a very few breams, and a couple of eels. . . Nevertheless, this pond is not very fertile in fish."
"[W]hen at the pond, I wished sometimes to add fish to my fare for variety."
-Thoreau (1854)
Beached carp
Pair of Mute Swans (
Cygnus olor
). Native to Europe and Asia,
C. olor
was introduced to the U.S. in the late 1800s as an ornamental and has since been rapidly increasing (a study of population sizes in the Great Lakes found that from 1971 to 2000 populations were increasing at a rate of at least 10% each year, doubling the population every 7-8 years). Mute Swans are strongly territorial, and frequently drive off native waterfowl, and studies have also shown the species significantly reduces the density of submerged vegetation in the environments they inhabit. Until recently, Mute Swans were protected under the Migratory Bird Treaty Act, but in 2005 the U.S. Department of the Interior officially designated them as non-native, and unprotected (though they are still protected in some places in the U.S. by local laws). Here on NWR land this species is "lethally controlled." Some people get really upset about this.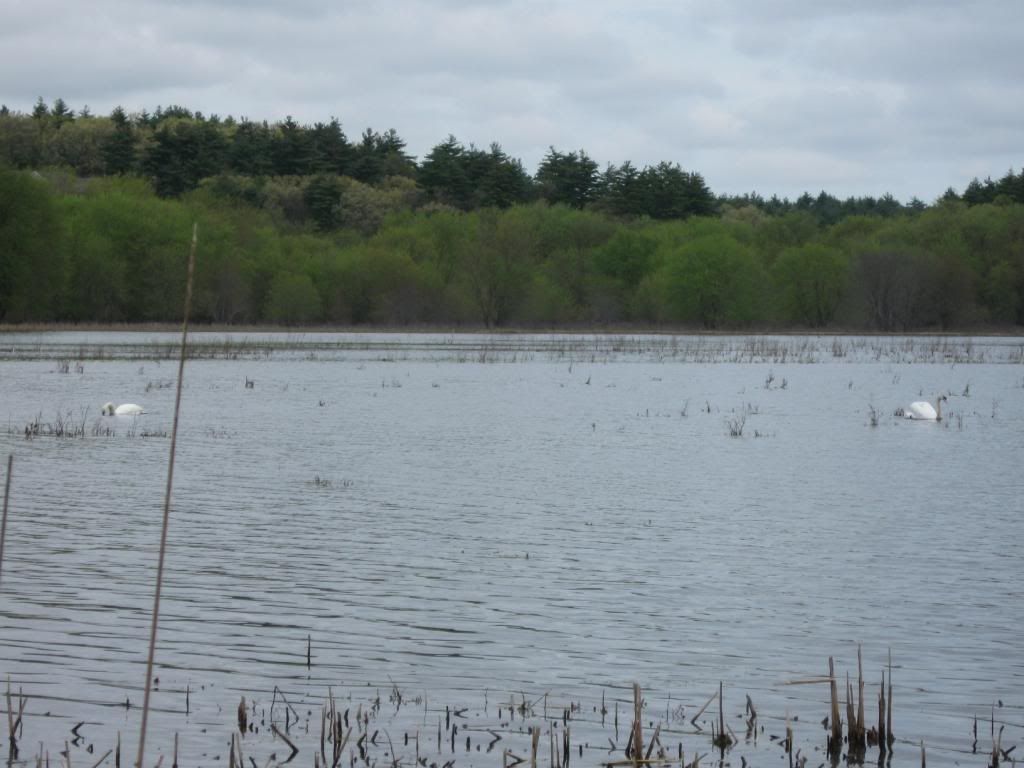 One of the water gauges at an artificial wetland in one of our local NWRs. The water level here is managed to accommodate different species in different seasons, and also help control invasive species like Purple Loosetrife (
Lythrum salicaria
) and Water Chestnut (
Trapa natans
). The wetland is divided into two pools. In early spring, one pool is partially drained to provide habitat for northward migrating waterfowl, then refilled. In late spring, the other pool is slowly drained until water is only retained in the ditches (by mid-summer), and vegetation grows to resemble a field habitat. This pool is then re-flooded in early fall to provide habitat for southward migrating waterfowl. By the end of fall, both pools are completely filled and stay full through the winter. The potential effects of water level management on Blanding's turtles here are not entirely clear, and so this is something we plan to investigate further.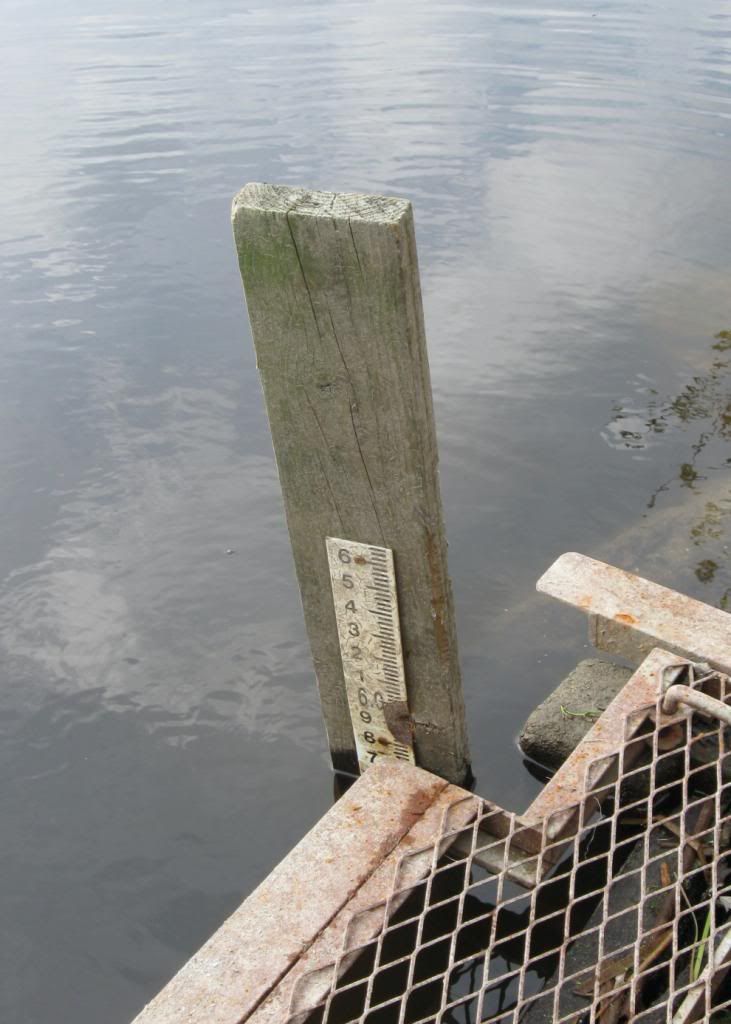 Ok, it's about time for a native species. Common Snipe (
Capella gallinago
).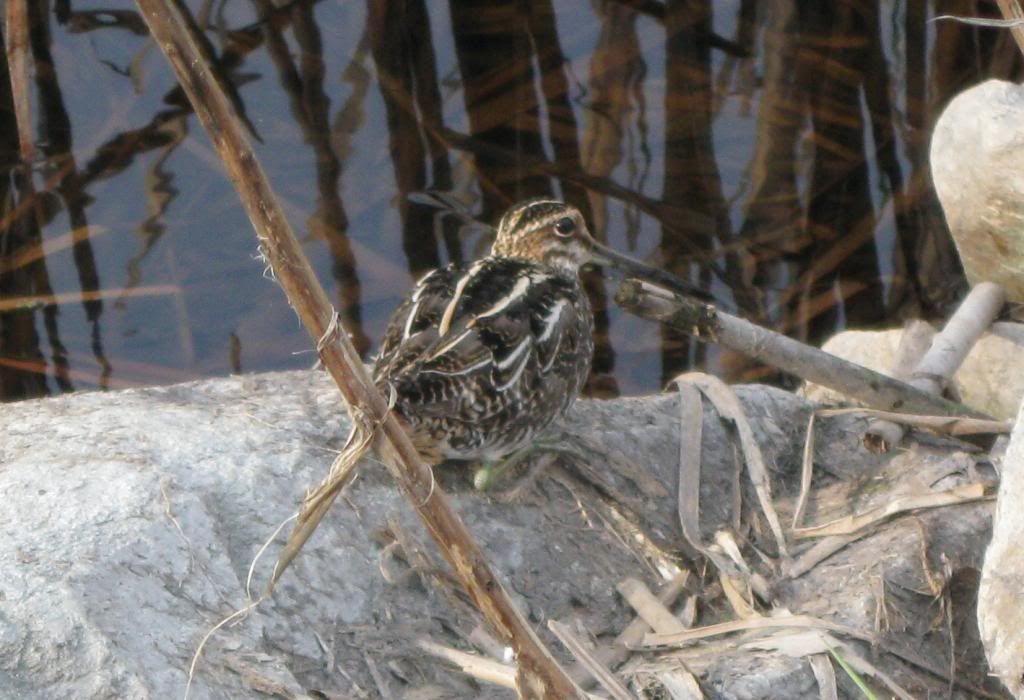 Great Blue Heron (
Ardea Herodias
)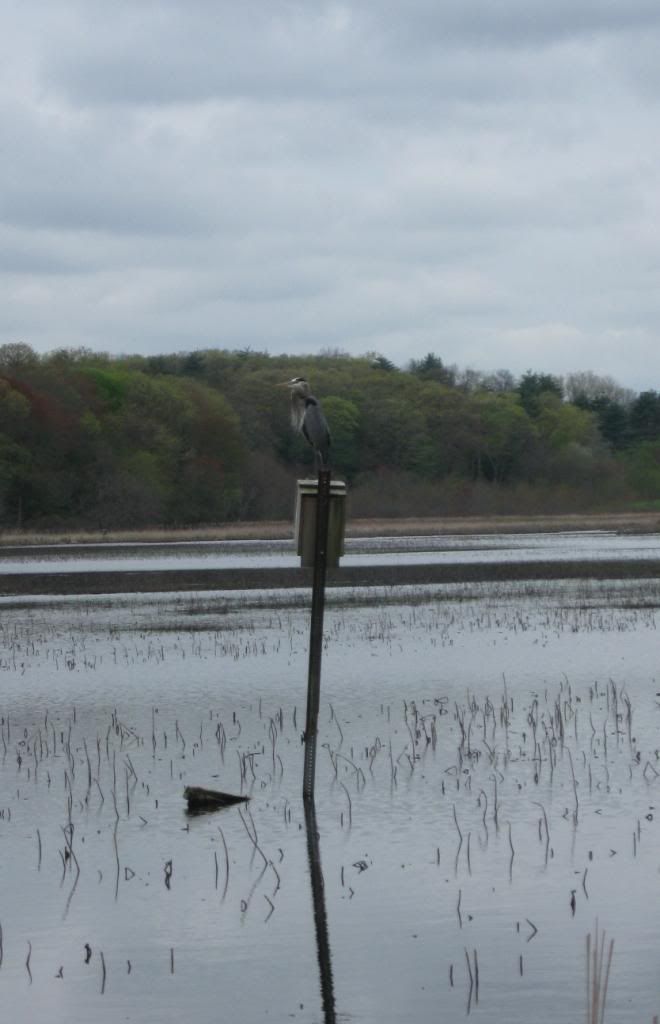 Now on to track Blanding's turtles at a different site. In 2008 a repatriation project was initiated here, in which several turtles equipped with radio transmitters were taken from a donor population and released here, where we have been monitoring them ever since.
Blanding's turtles have a really bizarre distribution, as can be seen from this map provided on the
New York State Department of Environmental Conservation (NYSDEC)
website. While they are primarily a species of the Midwest/Great Lakes region, there are several disjunct populations, including two in eastern New York (Dutchess and Saratoga counties), the one I'm studying, which extends from southwestern Maine and southeastern New Hampshire through eastern Massachusetts, and one in Nova Scotia: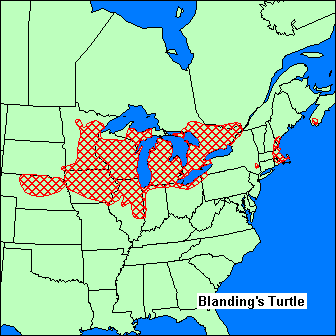 Finding the location of the turtle is one thing, catching it is another.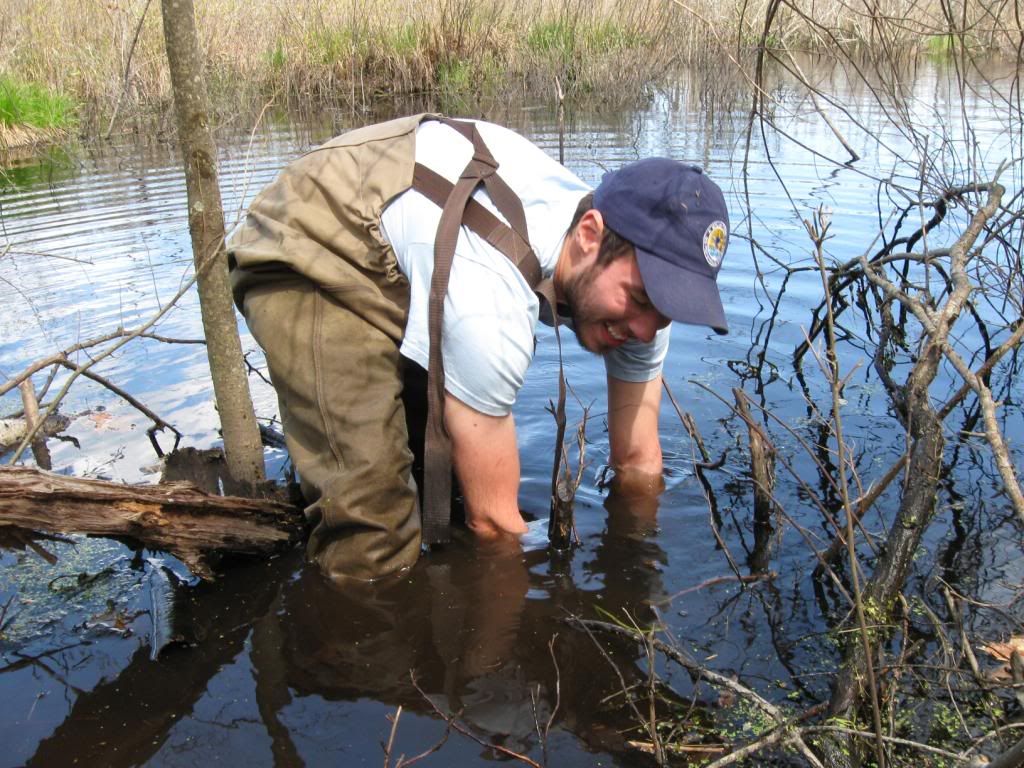 This one got scared off, but Sarah (another intern here) flags its location.
Finally, I catch my first (live) Blanding's turtle.
Blanding's turtles have a carapace length of 5-7 inches (12.5-18cm), with a maximum of 10.75 in. (27.4 cm).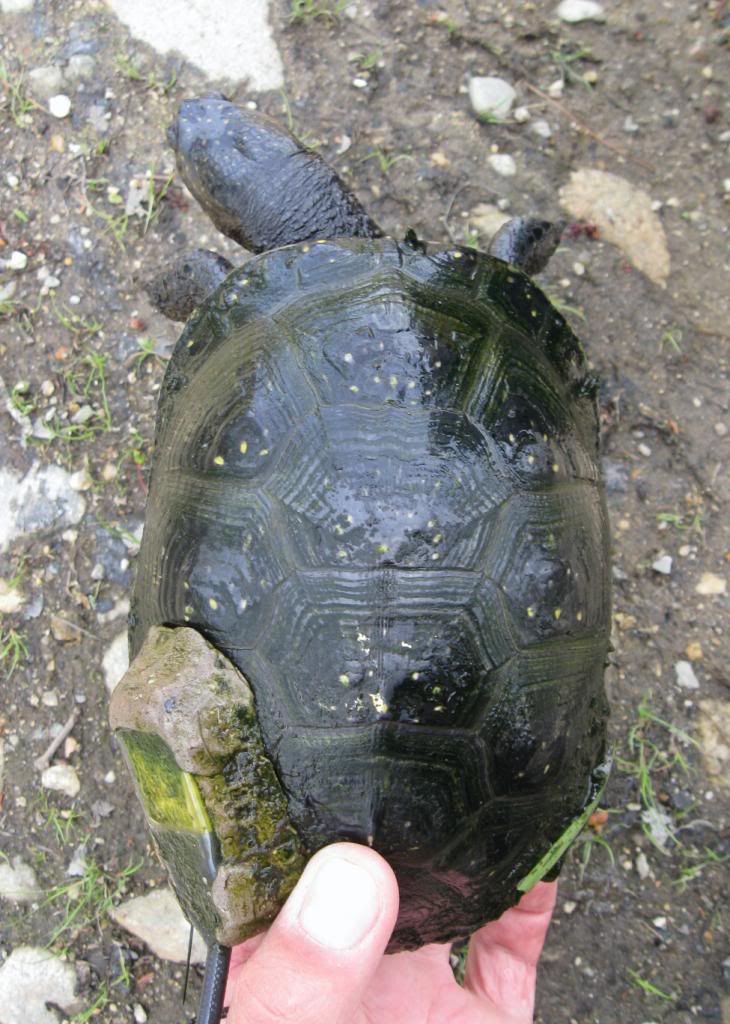 E. blandingii
is not a very sexually dimporphic species, and I'm not sure if this is a male or female. Any thoughts?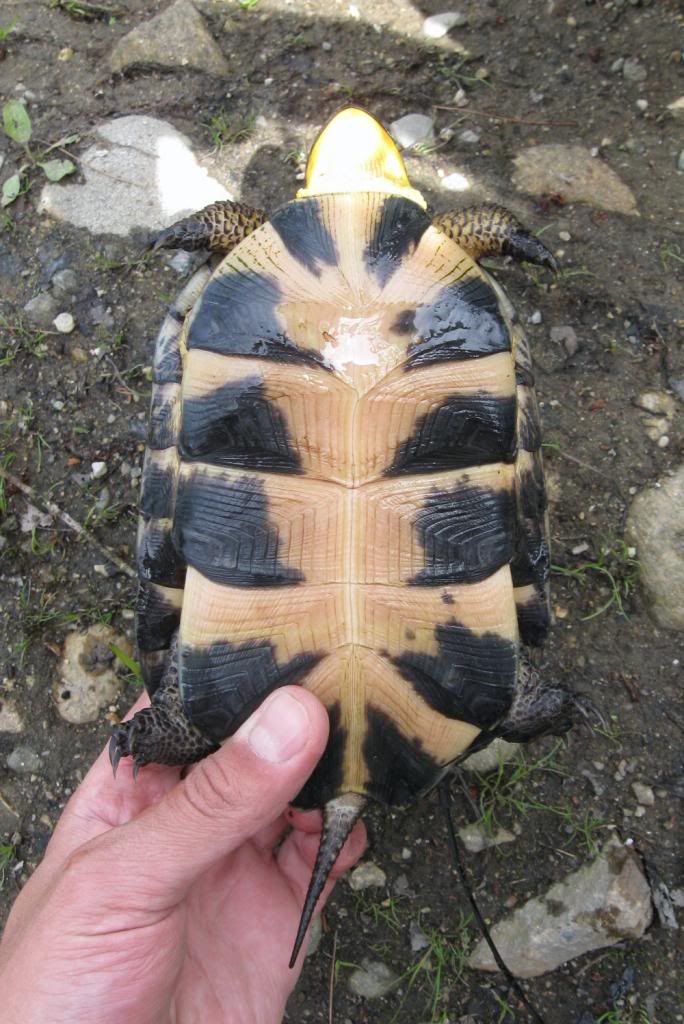 Annuli – I think this one is in its eleventh year. Blanding's turtles don't reach sexual maturity until 14-20 years, and may live up to 70 years or more. Research has shown that more than 93% of adults and at least 72% of juveniles (older than one year) must survive each year to maintain a stable population.
Look at that face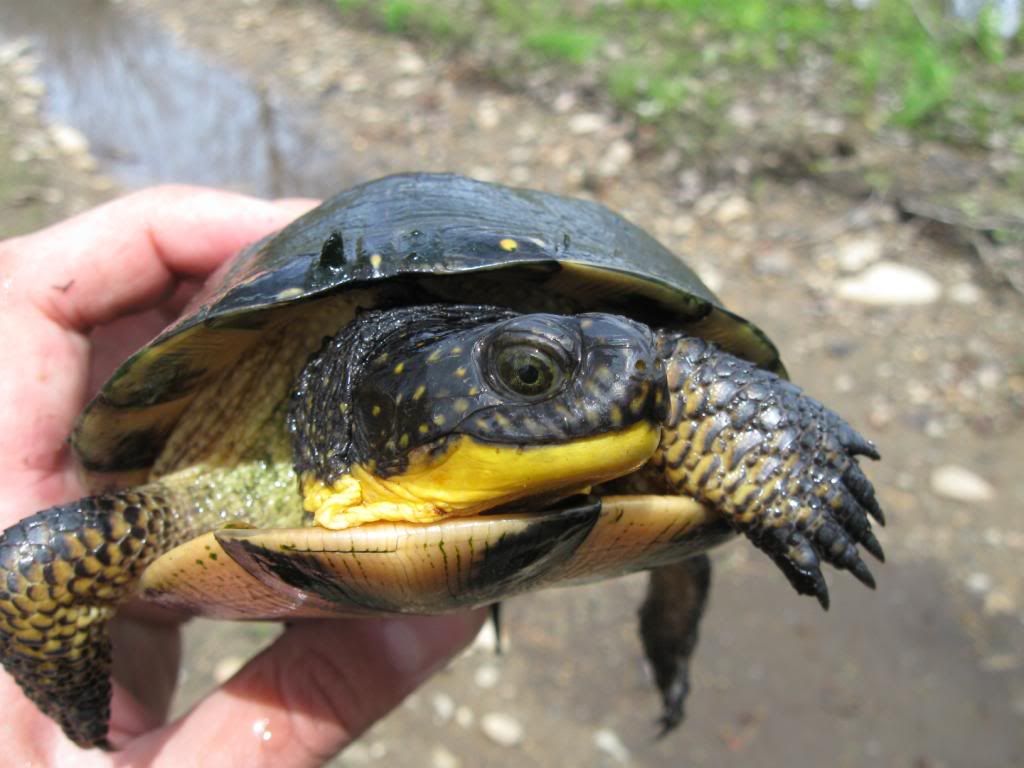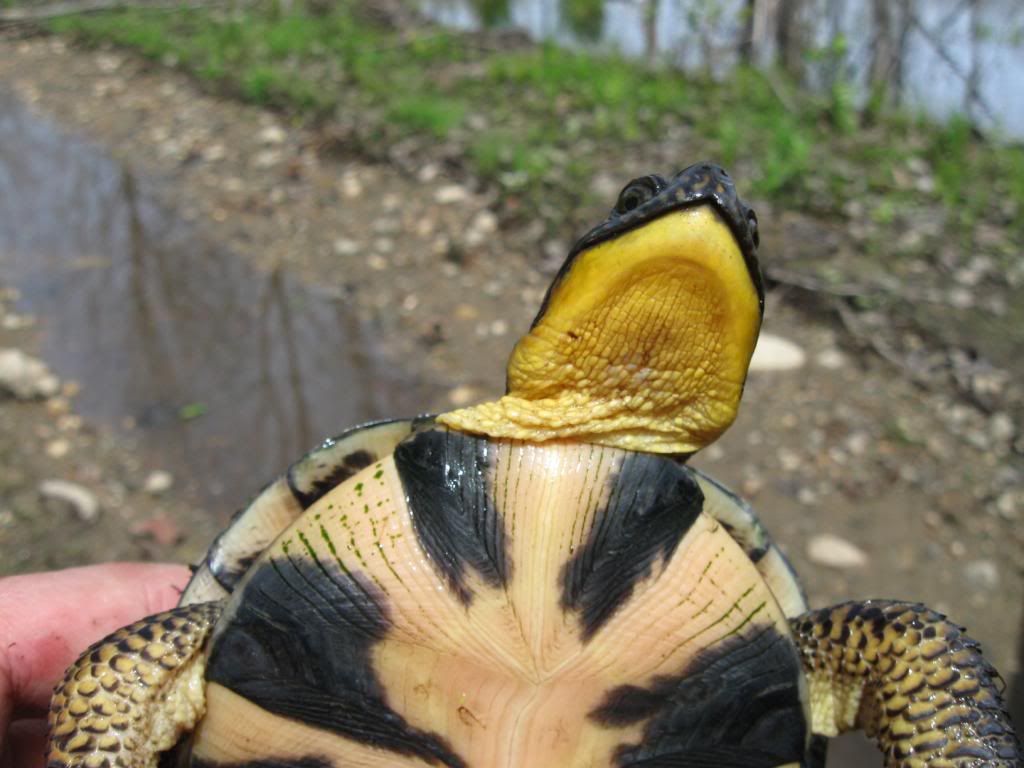 The radio – this one is due for a battery change.
En route to the office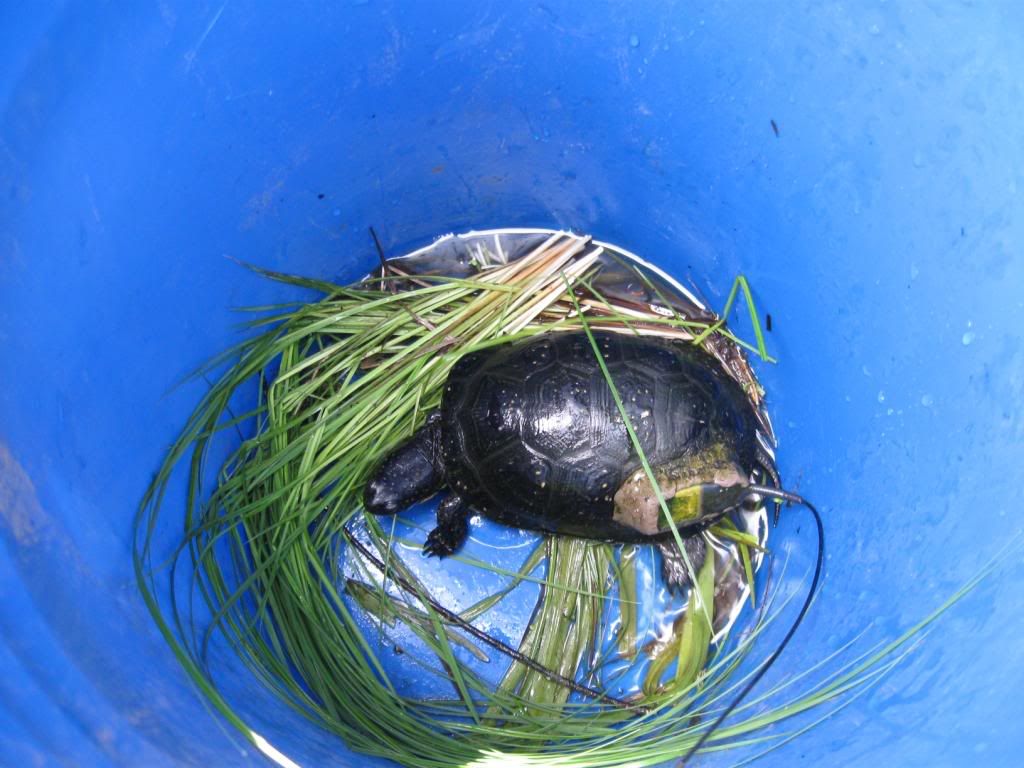 Getting its weight/shell dimensions. Don't worry he likes it.
Good news – this guy has grown quite a bit since the last time he was captured.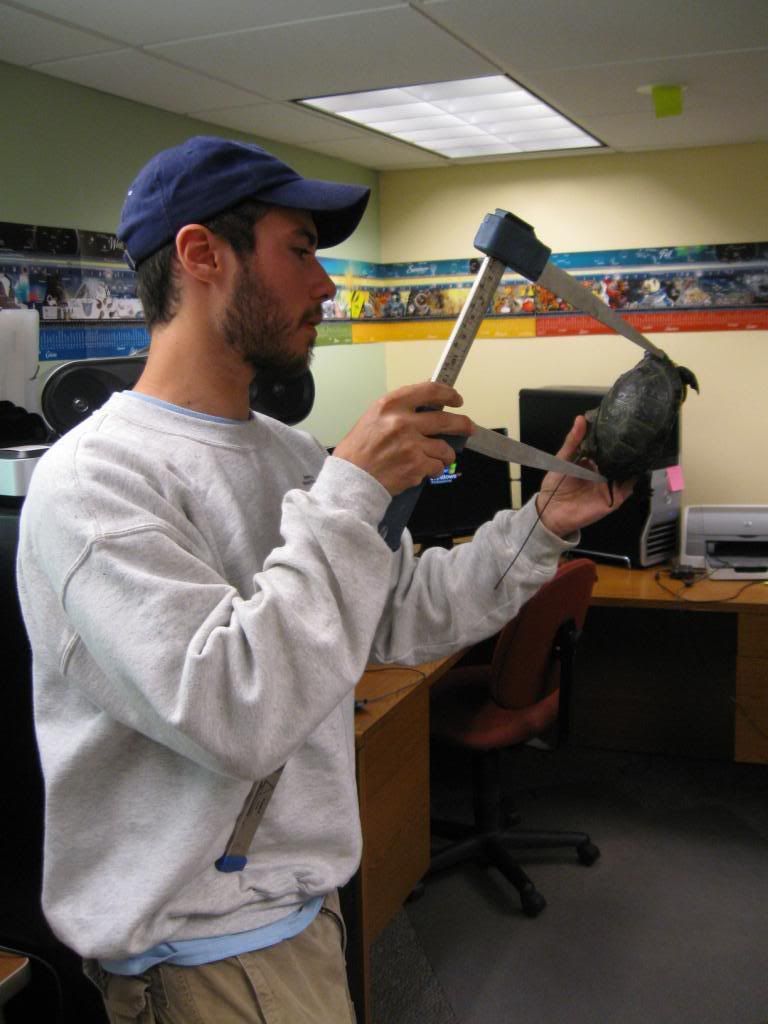 All turtles captured will be taken to
Oxbow Associates, Inc.
, a wetlands/wildlife consulting company contracted by USFWS to lead the repatriation project, where they will be further processed and given fresh batteries. However, no one was at the office on Friday when this turtle was found, so he's hanging out in the basement until Monday.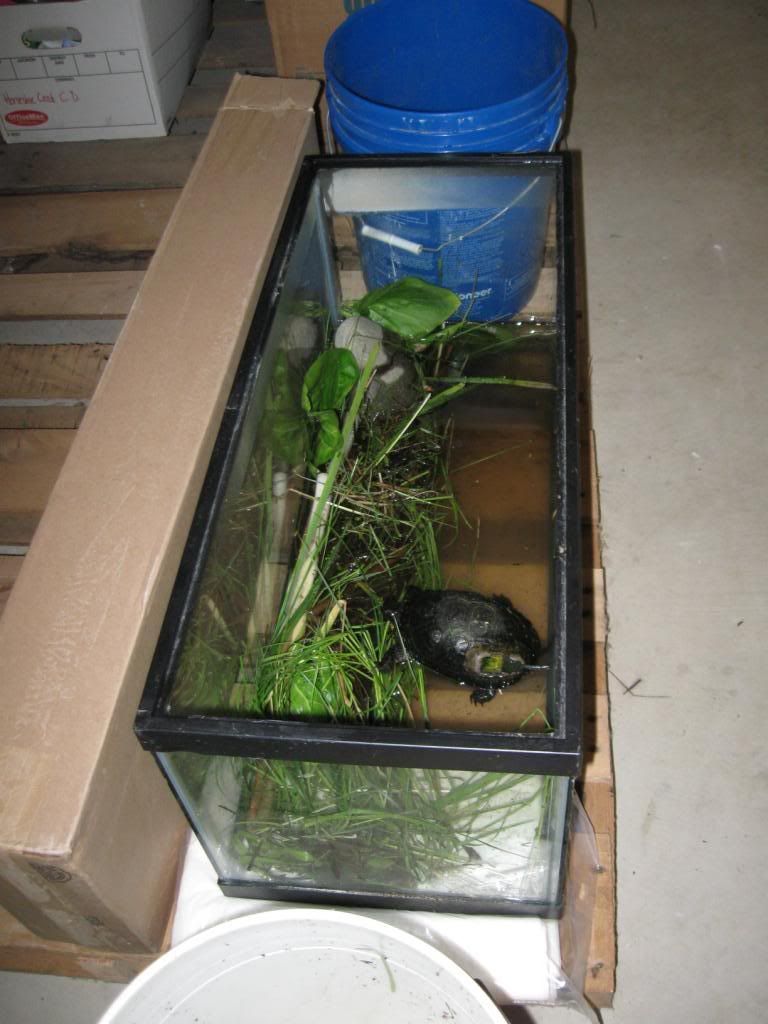 Thanks for looking!
-Zach
"This is the frost coming out of the ground; this is Spring. . . I know of nothing more purgative of winter fumes and indigestions. It convinces me that Earth is still in her swaddling clothes, and stretches forth baby fingers on every side. Fresh curls spring from the baldest brow. There is nothing inorganic."
"The grass flames up on the hillsides like a spring fire. . . as if the earth sent forth an inward heat to greet the returning sun, not yellow but green is the color of its flame; ⎯the symbol of perpetual youth. . . checked indeed by the frost, but anon pushing on again, lifting its spear of last year's hay with the fresh life below."
-Thoreau (1854)
Part 1
Part 2
Part 3
Part 4
Part 5