Here's a collection of miscellany pix I took over the past few weeks, every single of them either too uninteresting or too cellphoney for a dedicated post. So buckle up and get ready for some kick-ass mediocrity!
Let's start with a roadkill appetizer. This is a snake I've long wanted to see, if not necessarily in this particular condition. Blue Coral Snake,
Calliophis bivirgatus
, ca. three feet and change. Sadly, the ones in Sarawak ain't really blue.
A little innocuous expat fun with an Oriental Vinesnake (
Ahaetulla prasina
). If you're stationed in Kuching and you love nature, you and your family will live in paradise. If you don't, it's an East Malaysian backwater without theaters and art galleries, but there's always the pubs downtown...
No, they're probably not self-aware. Still a cool pic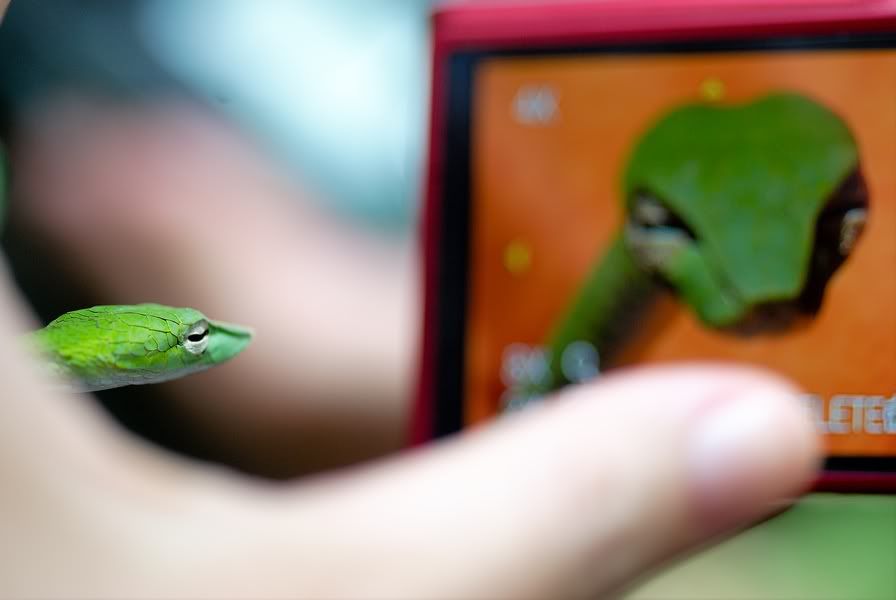 Welcome to Borneo Highlands Golf Resort, an exclusive country club in the middle of a rainforest. The place is located at 3600 feet, and the cloud sea you're looking at is Kalimantan, the Indonesian part of Borneo. Right at my feet is a two thousand foot drop that allows spectacular views of the above-canopy bird world.
The woods up there are cloud forest - everything's covered in moss, and you keep stumbling - literally - over rotten branches that have fallen out of the canopy, still bejeweled with orchids...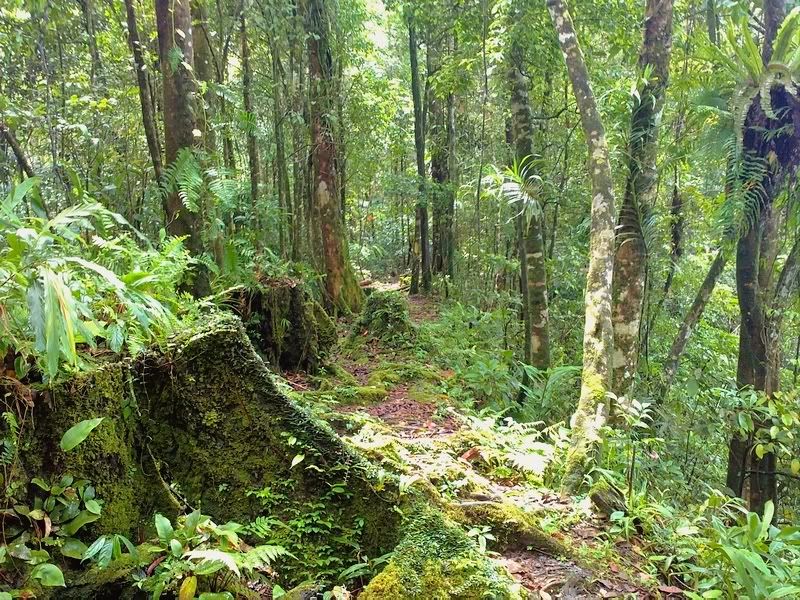 Twoton jr. with yet another Red-tailed Racer (
Gonyosoma oxycephalum
). There WILL come the day that we find a live one. Mark my words.
This fallen six-foot branch scared the living piss out of me when I passed it by the first time....
Sarawak Reed Snake,
Pseudorabdion saravacense
. The snake is dead, the pic atrocious, but hey, that's a critter so rare I needed to call Indraneil Das to ID it.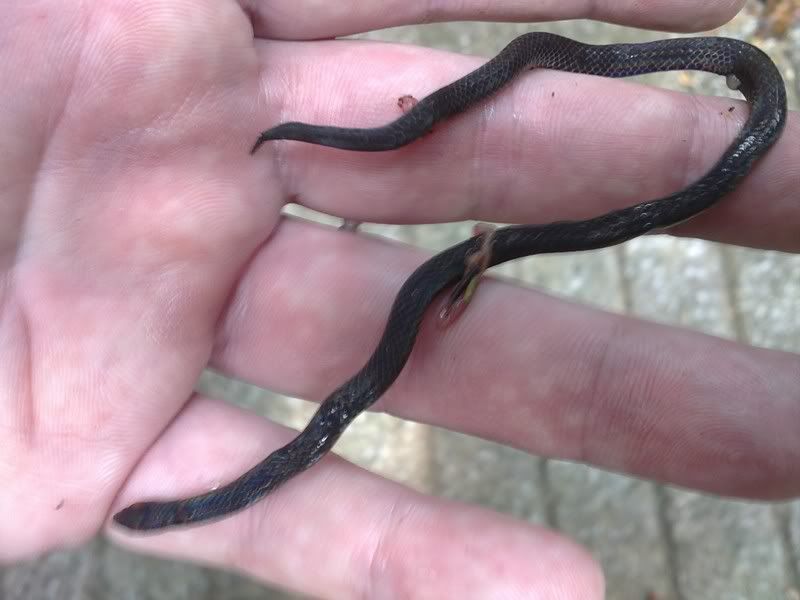 Big Wagler's (or is it a Borneo Keelback Viper?), the first adult I've ever seen. To far away in the mangroves to grab, though.
Juvie
Tropidolaemus wagleri
with a nose hair problem.
A katydid I found on the roof of my car.
Nepenthes mirabilis
inflorescensce, about my height.
Hornbill watching tower. Yes, it's as scary-creaky as it looks, but my son went up the entire eighty feet anyway. What was I to do, tell him not to climb it? Then he'd just do it on the sneak...without me downstairs to catch him.
Horny ant molesting peaceful beetle! Or something.
Varanus salvator
baby, chillin' in the mangroves. Barenaked and indolent...a true creature of the inner tropics.