Some of our favorite cruising roads are in the swampy estuary area around Kampong Bako, the village where you board the boats to Bako National Park. So far, we've seen mangrove snakes, mud snakes (Creberus rhynchops) and DOR pythons there, and a few nights ago, on our maiden voyage with our new herpmobile (
Mitsubishi Triton
, full post coming up), we found a nice
Bungarus fasciatus
, this time an adult.
But I'm getting ahead of the chronology. This was actually the third Banded Krait for us. Last winter (or what passes for winter down here), FHF's very own Elijah Wostl stopped over in Kuching for a day of leisurely herping. Although we didn't find any snakes during the daytime, at night we decided to cruise the Bako swamps despite the torrential rain, and we got lucky and found a baby krait trying to cross the road. The scene that unfolded then was pure slapstick, as I reported in a reply to another thread a few days later:
Another situation where people who don't usually handle hots do it anyway is when they get frustrated with the animal's lack of cooperation. When Elijah Wostl was in Kuching a few weeks ago, we went roadcruising and found a four-inch neonate Banded Krait (Bungarus fasciatus). As it was raining, we tried to get the beast into a snake bag to photograph it in a nearby shelter, an enterprise that turned out to be an exercise in frustration: as usual, the bag wouldn't stay open (a fact gradually worsened by its increasing wetness), the krait was too small for the tongs, wouldn't stay on the hook, and in the few instances when it did, neither of us wanted to be the one to hold the bag open so the other one could throw the snake in. There were many moments when, out of fury and frustration, we just wanted to tail the little fucker and chuck it in the bag.

Fortunately, Eli's girlfriend and my son were watching our antics. Both were aware of our frustration, and of what it eventually might drive us to. They didn't say anything, but their looks were sufficient to make us keep our hands safely away from the krait. (Eventually we did manage to hook the snake into the bag. By that time, everyone involved was soaked to the bone. Good thing the rain down here is warm...)
Just two days prior to this little circus act, we had found our first Banded Krait . That had been a dry night, and the snake quite hookable. Both times we took the animals to a dilapidated, thrash-strewn wooden rain shelter by a nearby beach to photograph it on the benches there. The following photos show both baby kraits (don't ask which one was which). The first one behaved in a really docile, almost sedated fashion, and let me get very close with the 100mm lens. The second kept thrashing around and falling through the bench slats onto the garbage-covered ground. For scale, please use that white straw

Please also note the slight pinkish tint on the white bands. That's exactly how they look like at that age.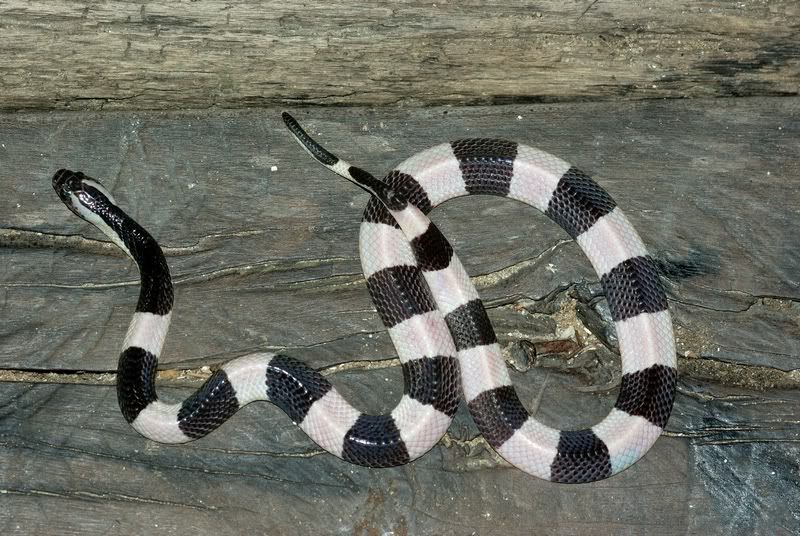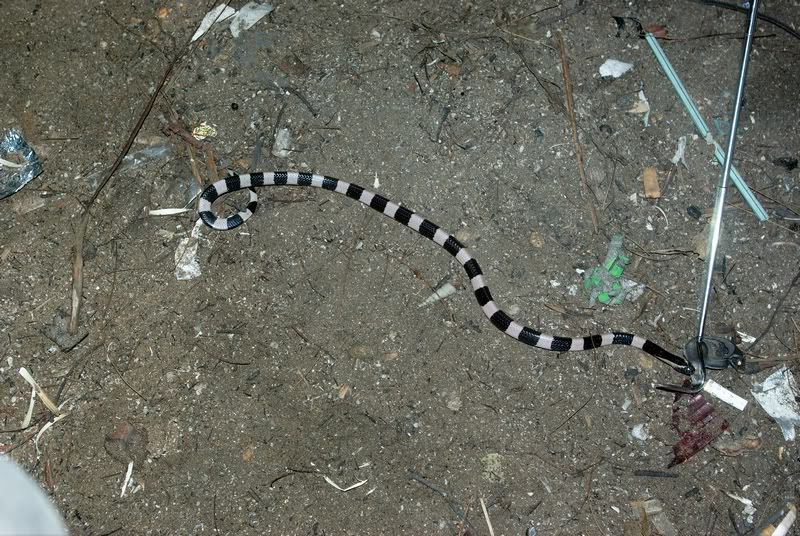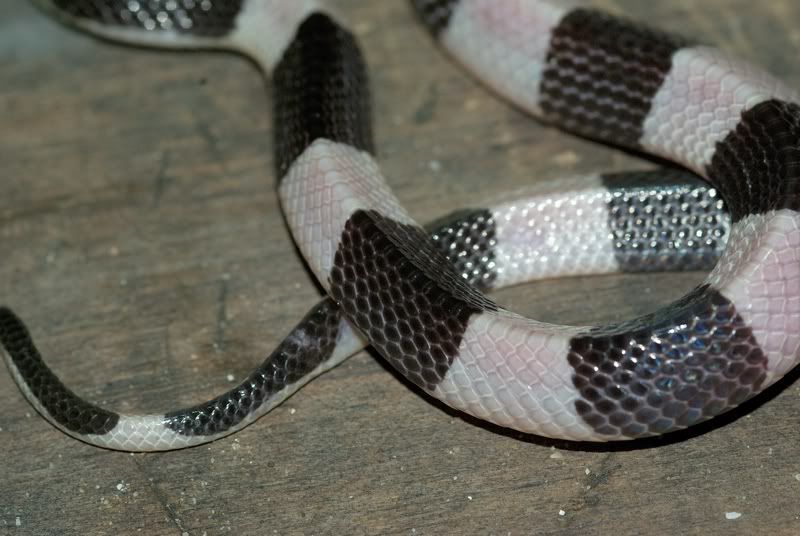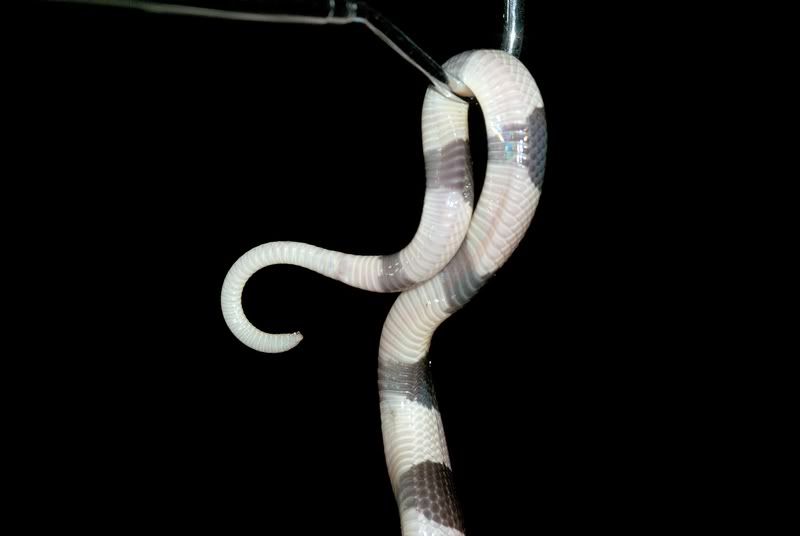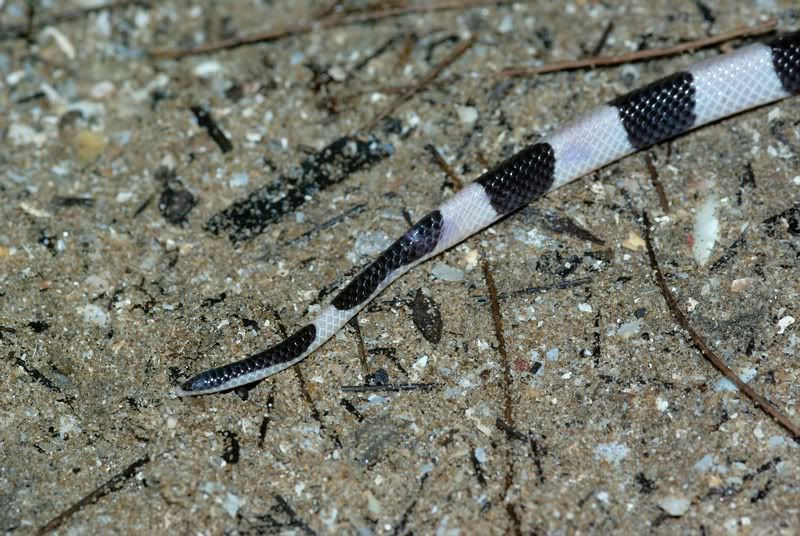 The adult krait we found earlier this week was, as is often the case, found at the ass-end of a long and, until then, completely fruitless cruise. It hadn't rained in 24 hours, usually not a very propitious augury, as my man Bill Murphy is fond of putting it. But I wanted to test our new 4x4 on the swamp roads, so we went anyway. After properly taking the vee-hickle over muck, mud and gravel tracks for two hours, we headed for home (it was what civilians call a "school night") . Just before hitting the main highway back to Kuching, we passed the turn into what is now and forever known as "Krait Road", and I decided to give it a last spin. A hundred yards into the road, something zebra-ish appeared on the tarmac, froze in the headlights and let us catch it without further ado. After four years of experience with the Many-Banded Krait (
Bungarus m. multicinctus
) in Taiwan, I was eager to find out how the behavior of its South-East Asian cousin would compare. Surprisingly enough (or not surprisingly at all, I guess), both kraits seem to behave exactly alike. They either try to get away, not too hasty, but with enormous stamina (it takes ages to calm them down), or, when they get sick of that, they just sit there as immobile as plaster casts. Unlike many other snakes, though, at any given time this immobility may be interrupted by a sudden urge to get away again, which means you always have to be ready to move quickly when you're down there on your belly, sticking the macro lens into the krait's face....
It's a pity
Bungarus fasciatus
doesn't come in yellow and black bands here in Sarawak...but I guess we'll always have
Boiga dendrophila
for that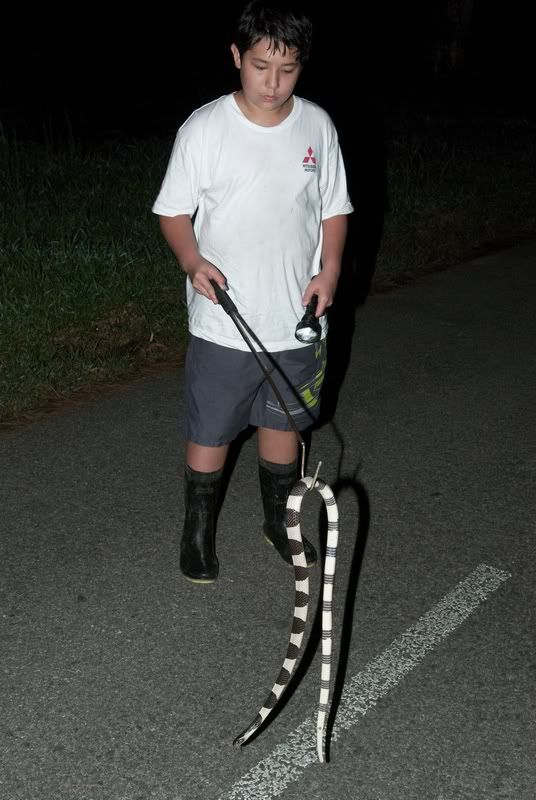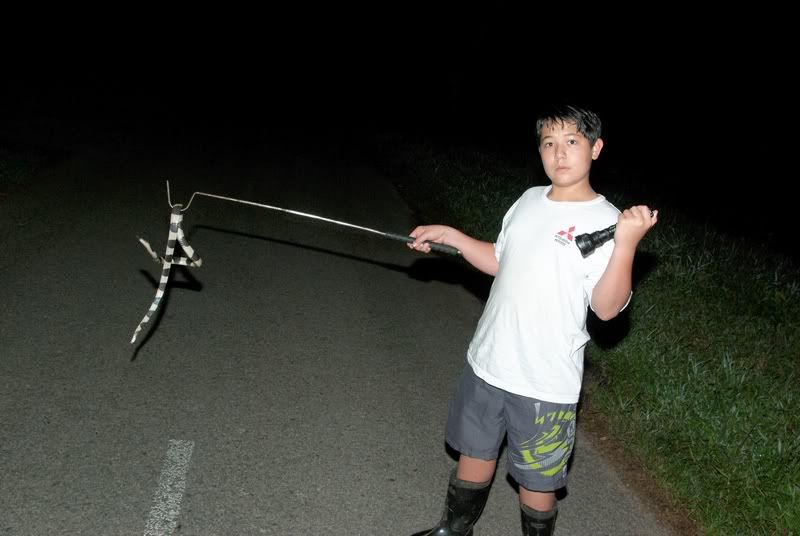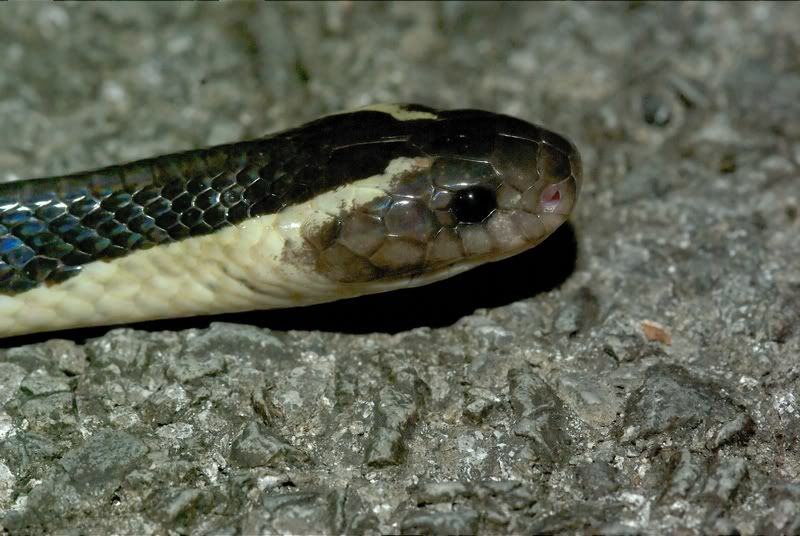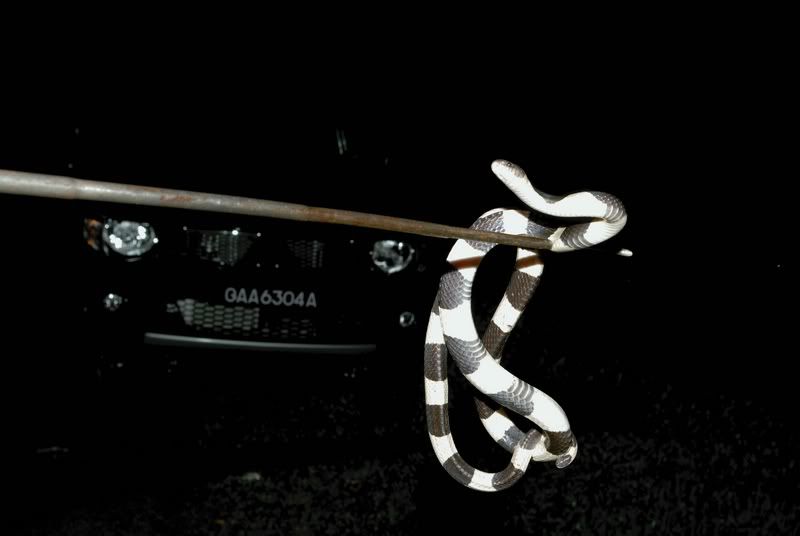 Good morning, Mr. Tyler. Going...up?
As sweet-natured as they are, we don't want them crawling onto our hands, now do we? So Hans had to let go.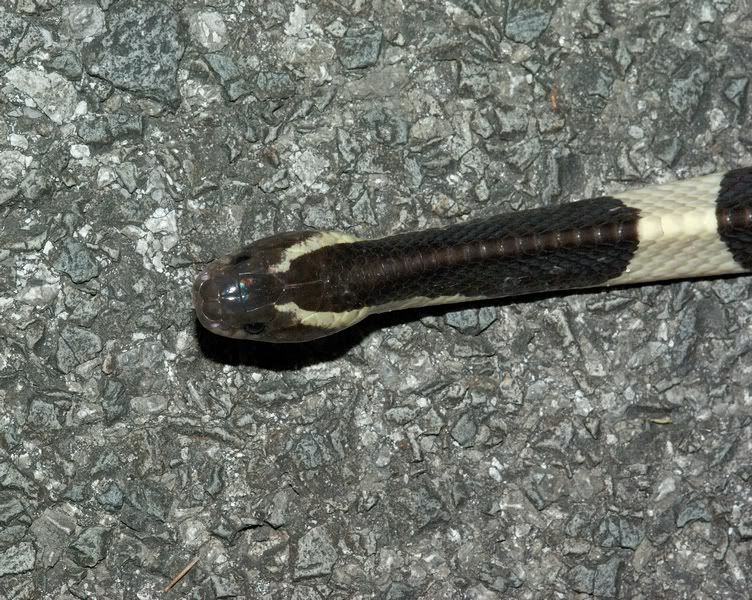 PS: In case you always wanted to know, the real reason why I keep finding all those cool snakes is neither my meticulous planning nor my unbelievable luck - it's my pact with the Dark One. For many years now he's been giving me everything I want: life in the tropics, awesome herps left and right, nice wheels, a trophy wife, free cable, and much more. There is only one drawback. The deal stipulates that, for reasons unbeknownst to me, this annoying (and very smelly) little troll has to follow me wherever I go. Luckily, most people never get to see him, as he only becomes visible at night....