The Reticulated Python (
Python reticulatus
) is not only the world's longest snake, but also rather common in much of South-East Asia, including Borneo. In every village I've been to I've heard stories about retics stealing chickens, dogs and cats. In fact, just last Saturday night a friend called me from her elegant townhouse in downtown Kuching to tell me that she'd just seen a python take off with one of her best hens, after killing and eating her prized rooster. In most cases the locals will kill the snakes whenever they get the chance, not only in revenge, but also because retics apparently make good curry. They taste a bit stringy, I'm told, but it sure is a hell of a lot of meat.
Prior to last weekend, our own history with
P. reticulatus
had been limited to
a truly monstrous specimen
we had found in a forest creek last fall. Given its size, there was not much hands-on experience involved, and ever since we'd been looking forward to meet a smaller, more manageable one we could play with. That chance finally came when a four-footer baby appeared in our headlights on our last Sunday cruise. Apart from the above-mentioned monster, we had absolutely no prior experience with boids of any kind. I knew pythons are ambush hunters and often sluggish, in particular the older ones, but I had also heard a lot about their ability to administer very nasty bites, courtesy of roughly one hundred long, sharp, and curved teeth - four rows in the upper jaw, and two in the lower. Clearly, staying away from the snake's business end seemed to be a smart idea.
But this python turned out to be quite a docile chap - we picked it up with that Python Hunter grip (fist behind the neck, as seen on TV), it coiled its beautiful body around our arms, and everything seemed peachy (apart from the irritatingly strong squeeze the snake applied to our arms until our hands changed color). Maybe it was the flesh wound (prey bite?) on its flank that had sapped it of its strength. We made a few calls to a few local herpers and were told to take the snake home, put some snake-friendly disinfectant on the wound, and then give it a few day's rest and maybe a frozen mouse or two before releasing it again.
After 24 hours in our overnight tank, our guest hadn't touched the mouse at all, but we saw no cause for alarm. Some of our guests eat right away, some take a little longer to adapt. So the next night we readied hooks, cameras, and a thick kitchen glove, and I took the python out of its tank, again picking it up behind the neck. Sadly, that was as far as the beast would play along. Before I even had the chance to support and stabilize the snake with my left hand, it lashed its body around like an out-of-control weed whacker and sprayed the entire dining room with copious amounts of foul matter. First came a clear liquid that smelled like pee, then slimy feces, and then that white, semi-solid snake urine that is so hard to get out of evening gowns. The snake's spinning movement had equally distributed the evil concoctions on all nearby surfaces (including my entire right side from chest to foot), so I dropped the creature in the large bucket I had prepared for emergencies, and instead of taking pictures of the animal, we spent some quality time scrubbing floor and furniture with industrial soap.
Then I prepared for the second round. This time I fished the python out of the bucket with a snake hook, thinking that as an arboreal species, it might just stay there and let us take some nice close-ups. As with the first attempt, our hopes were again quickly shattered. The snake did indeed just sit there, but as soon as the first camera came closer than four feet, the python repeatedly lunged at the lens with spectacular fury, opening its mouth at almost 180 degrees for each attack, nicely displaying its army of sharp choppers. Then it turned around, snapped at me, then at the hook, and when it started to crawl along the shaft in my direction, I flicked it back into the bucket, slammed the lid on, and admitted bitter defeat. Even compared to the formidably ill-tempered King Ratsnakes (
Elaphe carinata
) I had met in Taiwan, this thing was indisputably the most aggressive serpent I'd ever seen, and I simply had no idea how to handle it.
It was depressing. Snake From Hell: Two; Herpers: Nil. We seriously needed to rethink our strategy. After a little pow-wow, we concluded it would be best to photograph the snake in an open, easy-to-clean environment such as a lawn. Since out backyard is too small and the neighbors might take offense, we would take the little lindwyrm to the nearby forest park the next morning and try our luck on the greens there. In preparation, I sent a
cry for help
to the fine forum folks here, and soon received tons of tips, which we planned to try out the next morning.
At 0900 hours, we met up with a fellow nature photographer in the park. I took the snake out of the bag, and it immediately repeated its urinating weed whacker impression with much gusto. He also popped out his hemipenes for additional effect, finally revealing his gender. I grabbed him around the neck and went to wash him (and me) off under the sink in the men's room, which garnered many perplexed looks from the gents using the facilities. The running water seemed to have a cooling effect on the snake, and I could relax my grip. Now I was able to carry him in a loose coil rolled up in my hand, like a little fat lasso, the end of which peered curiously hither and thither as I walked back to the lawn.
Now we tried the tips from FHF:
-
Maybe let it get off the ground into a low tree or bush. Somewhere it can't get out of reach
That worked to a degree, but the snake never settled down, no matter what tree or bush we used. Instead it either tried to get off the tree, or straight into the canopy.
-
Supersize the hat trick maybe? Give it a hide, let it settle down, lift the hide and get one or two shots before it freaks out?
I didn't want the park wardens to get suspicious, so I brought just a normal hat. That also worked for a while, but only until the snake had found the exit

-
Have you tried letting it crawl around (i.e get away from you) to exhaust it?
That's what we did once it came back out from under the hat. Unfortunately, even in the sun, the snake had more stamina than all of us combined.
-
With small burms, I usually tap em' on the nose if the butt of a snake hook - this gets them into a pretty defensive posture.
Tried that, but reaped miffed looks from joggers. While the majority of the locals is scared of snakes, animal abuse is still a big no-no. After all, this used to be a British colony

-
The perception of fear is greatly reduced when there is no larger moving form in visual anywhere from above
That probably explained his anger at close camera movements.
But even through all his relentless activity, the python stayed calm, and after a while I started freehandling to position him or drag him back into focus. After we were done, we took him back to the wild. As a last photo op, I put him on the lid of the truck bed, and that's when Li'l Bo Peep morphed back into his original demonic form. The black lid was very warm from the sun, and charged the snake back up in no time. Every image from the back of the truck was taken at great personal risk in between barrages of open-mawed strikes...
All photos in chronological order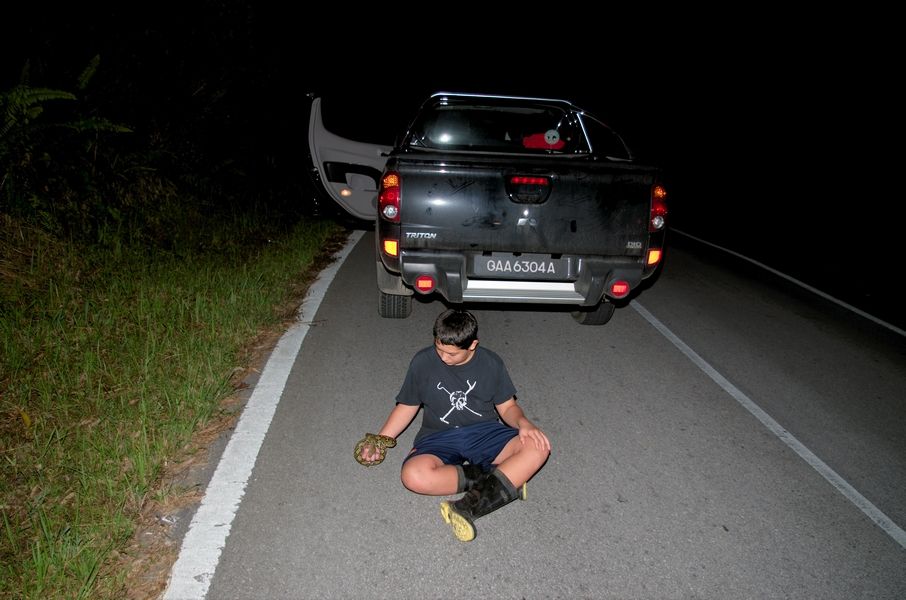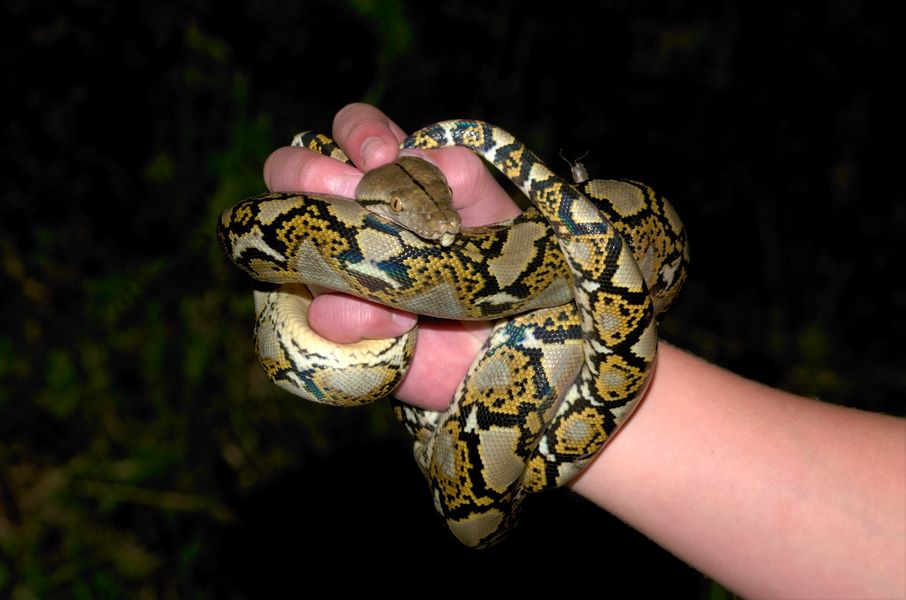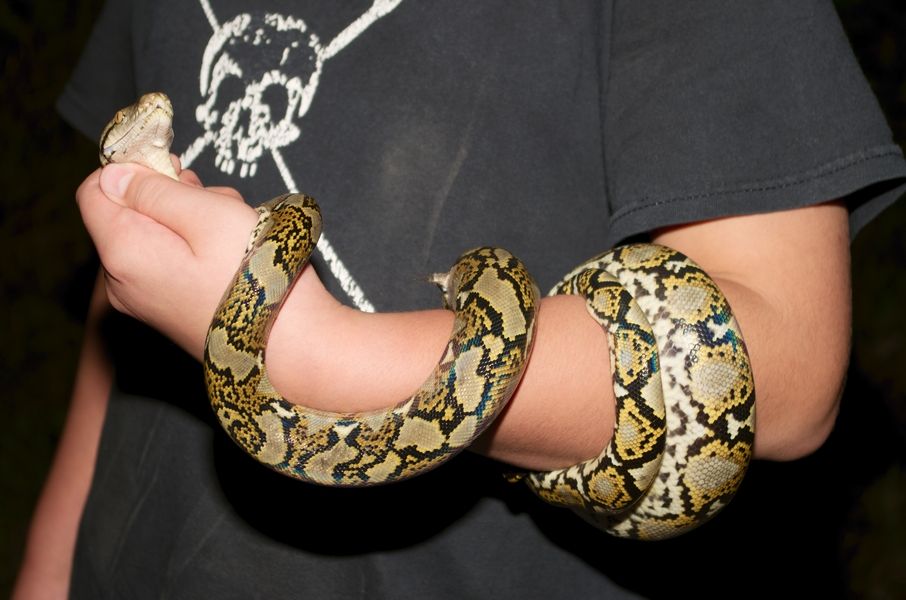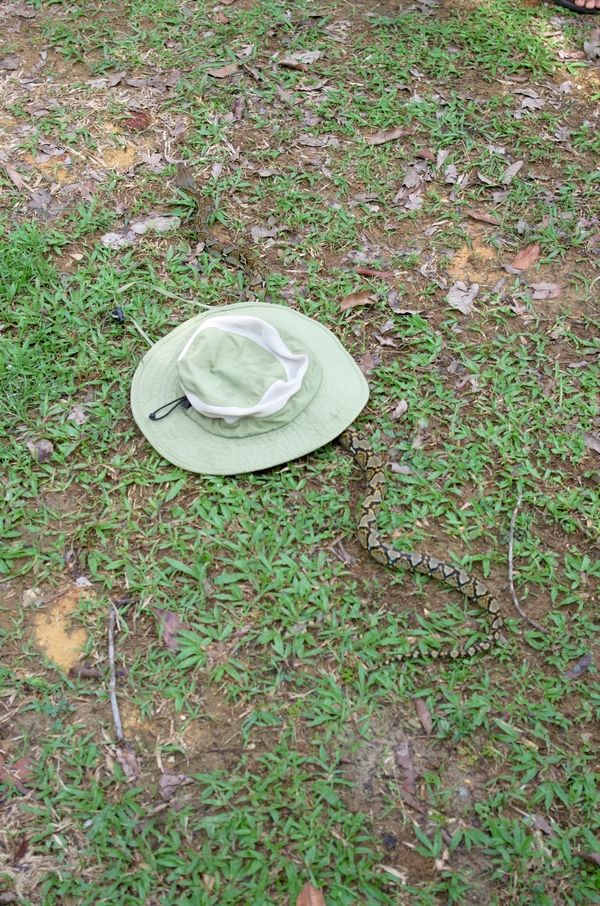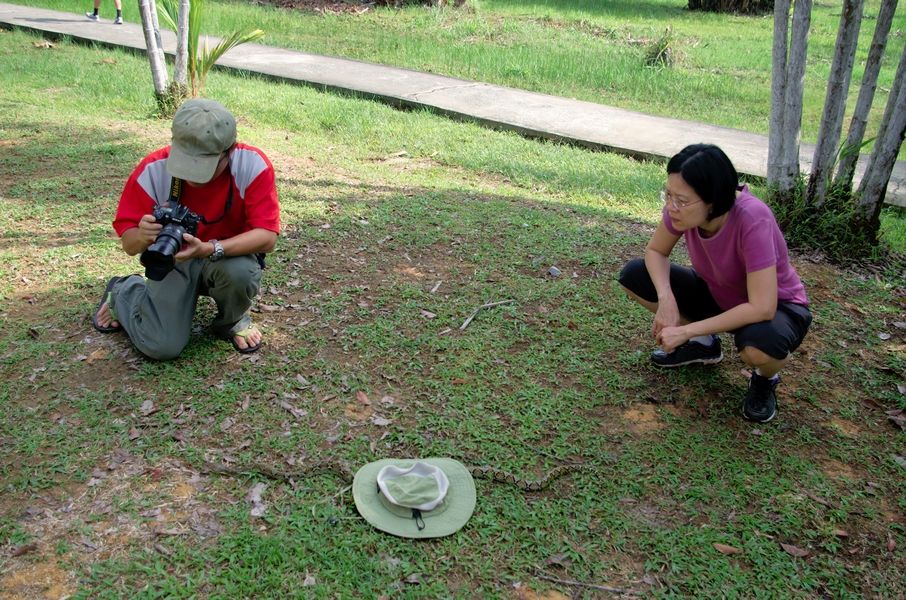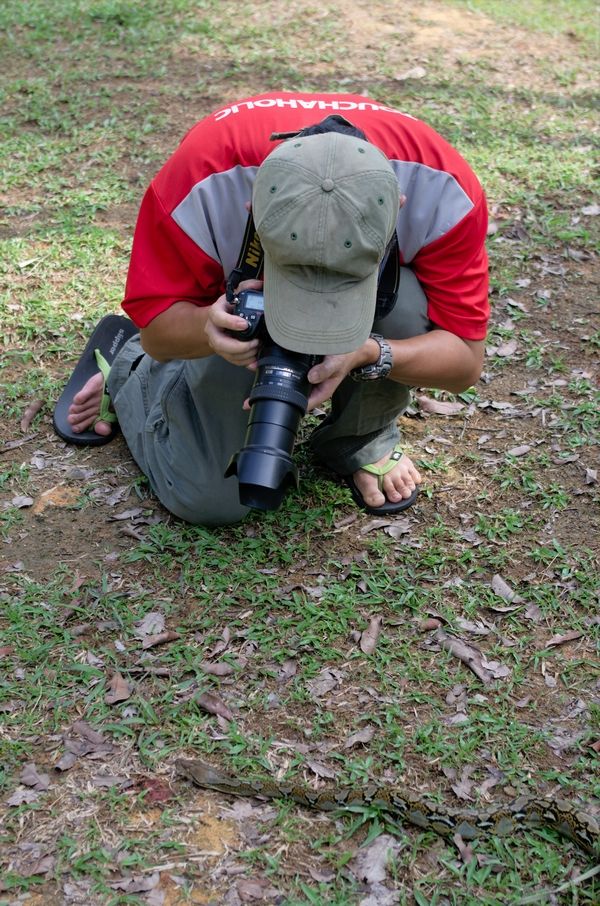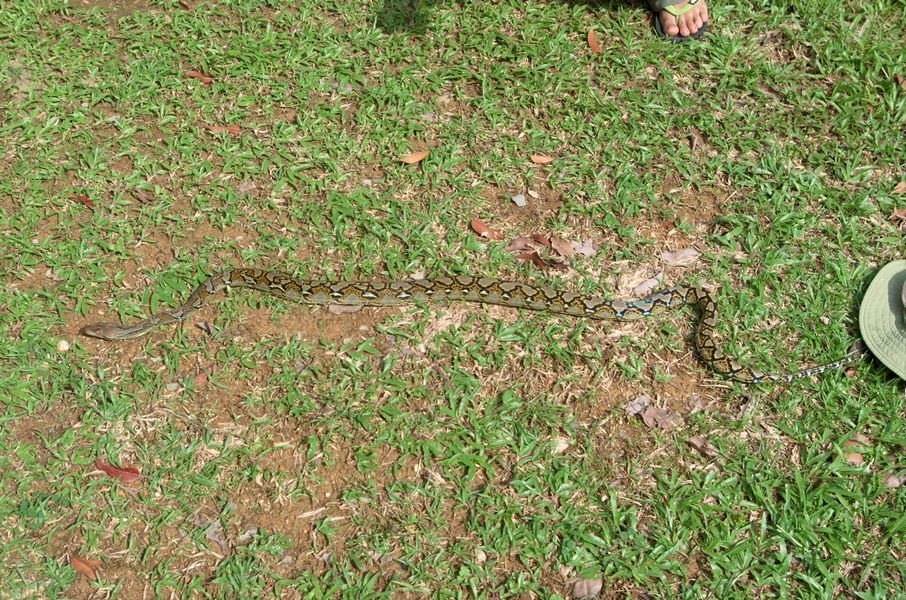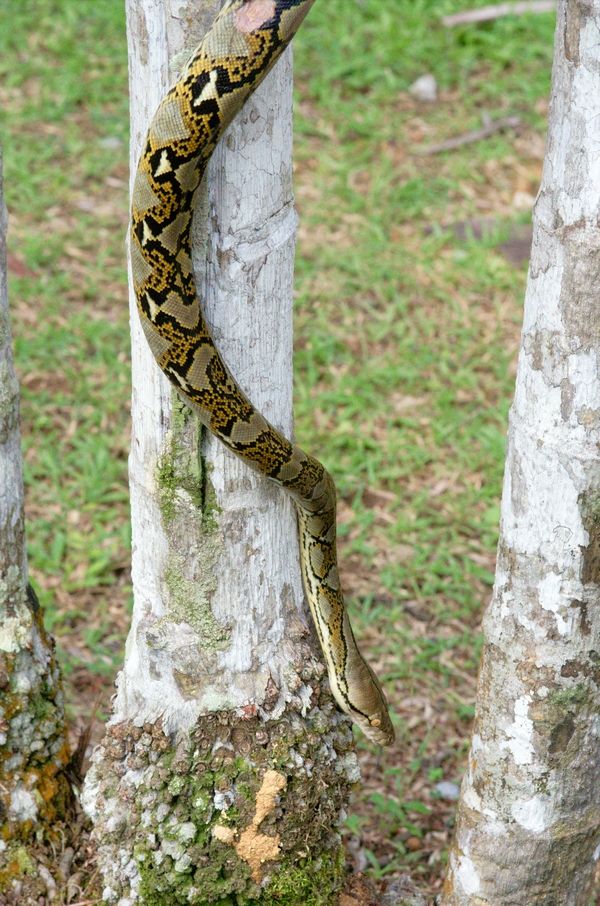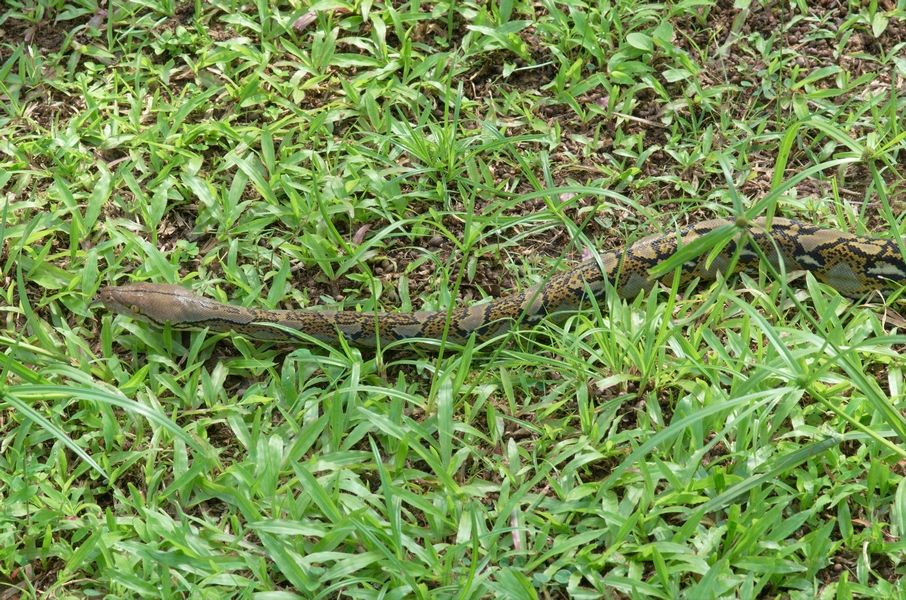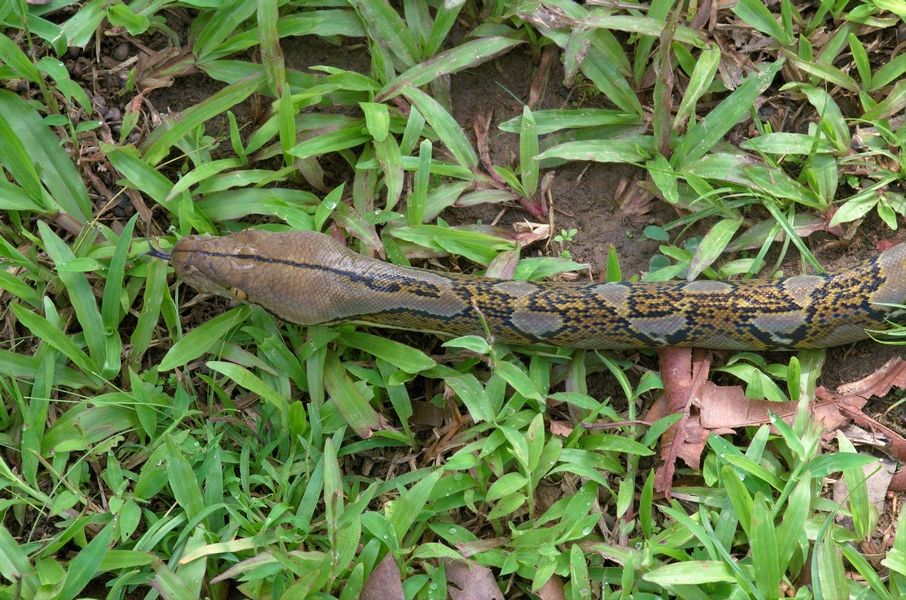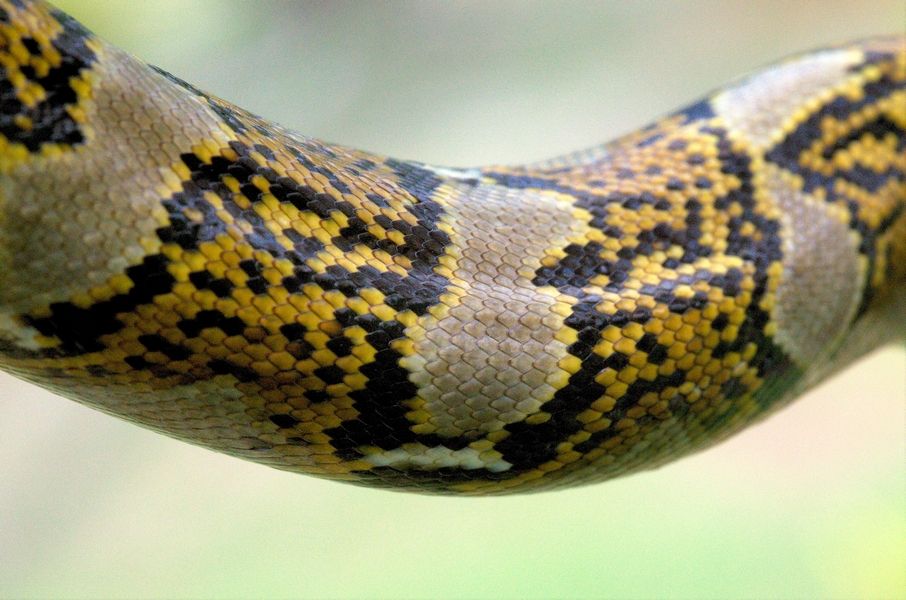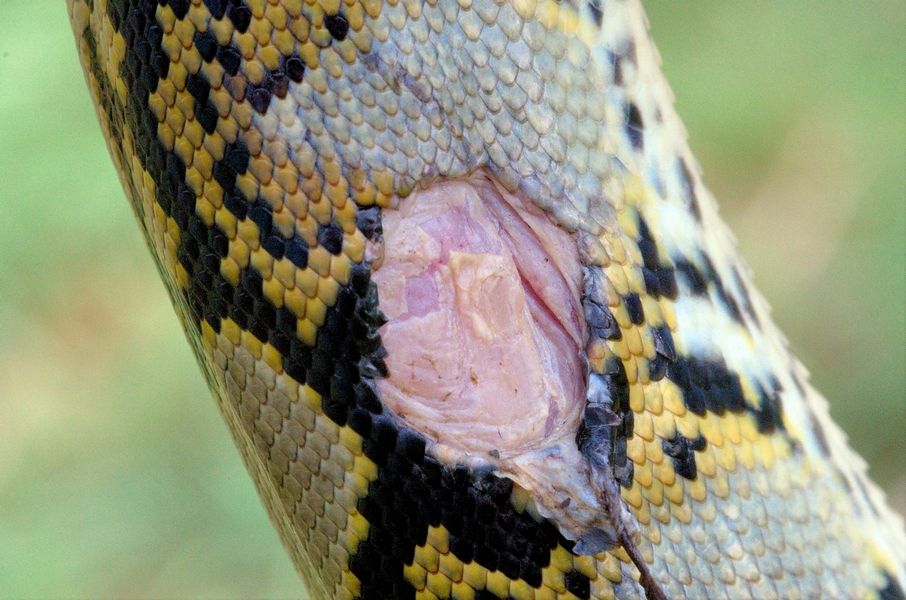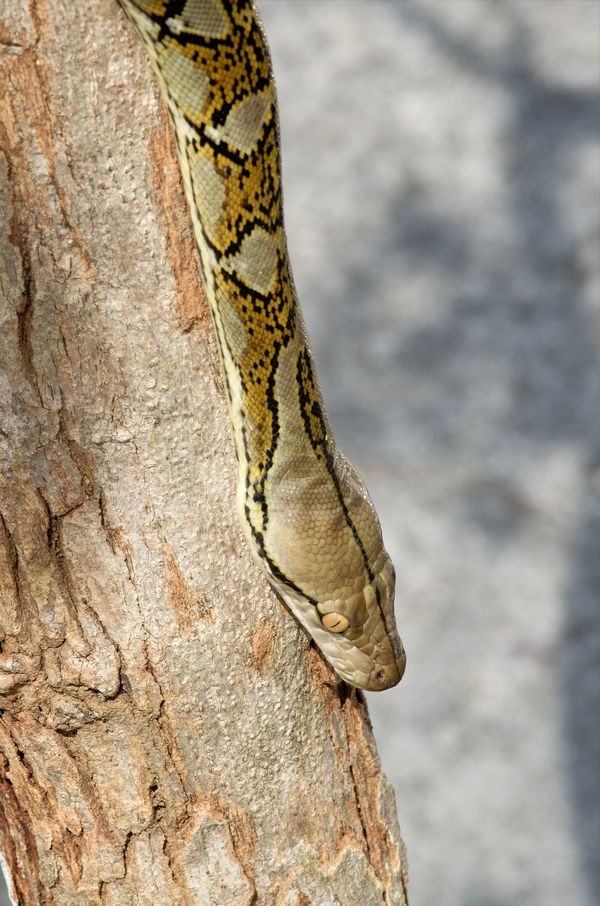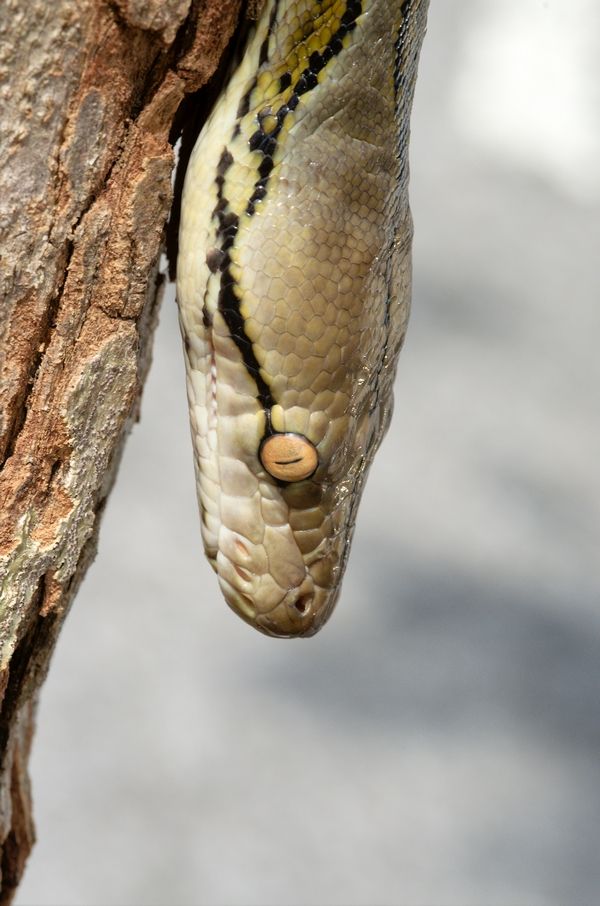 Born and raised in Sarawak, but this was the first time this intrepid nature photographer has had a live python on his shirt...there was a bit of apprehension on both sides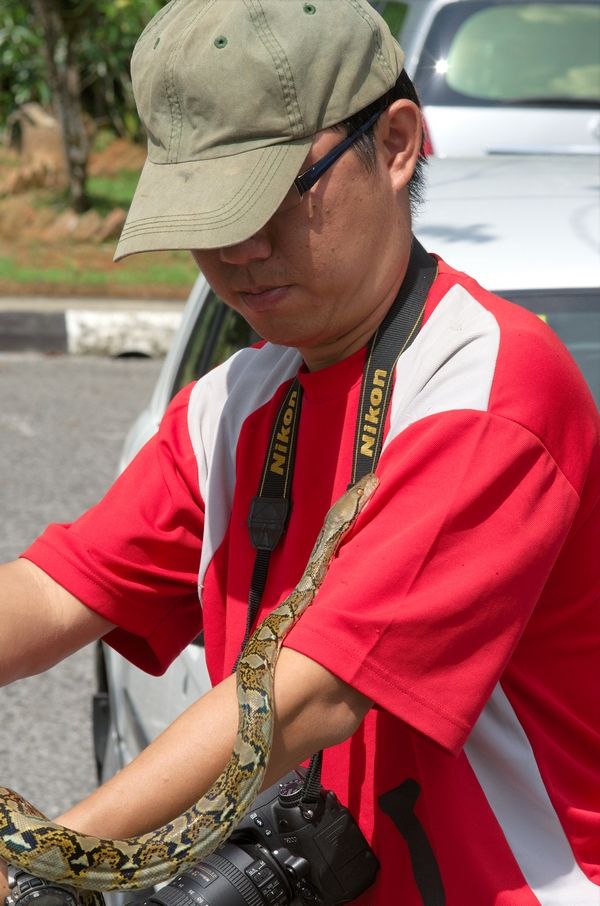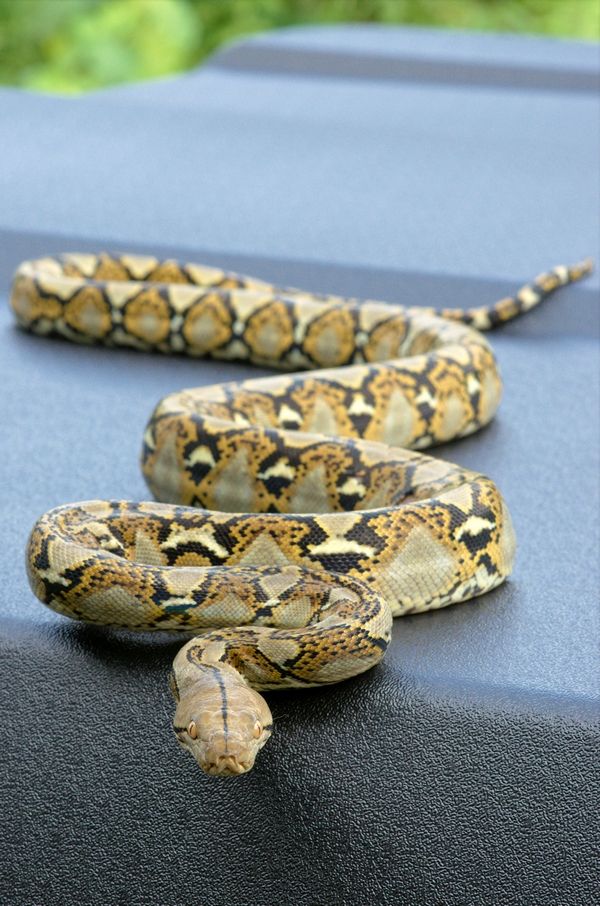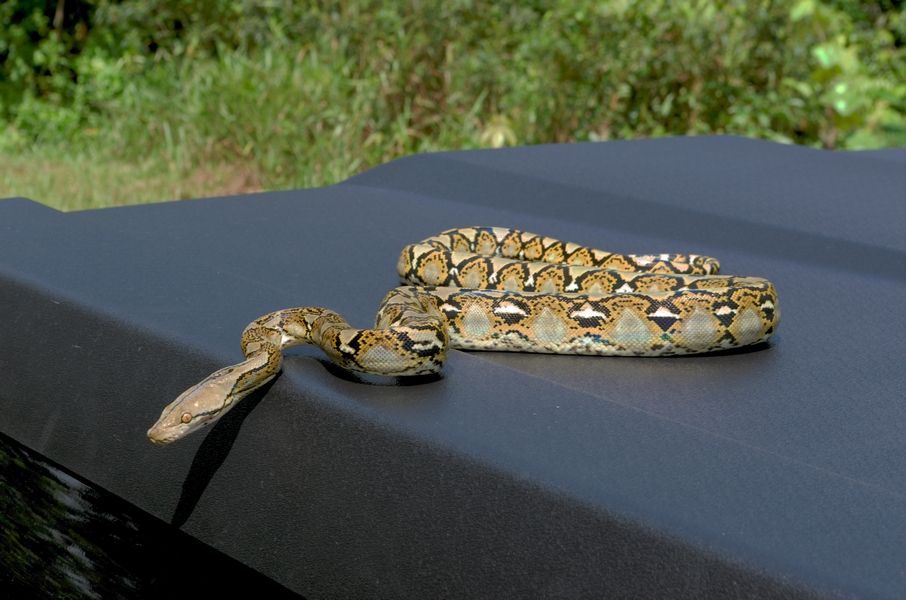 PS: Did you know that retics have moveable eyeballs?
PPS:
He is a frightened little prince , after all - who someday will be King.
I loved that comment. Thanks, Kelly Mc!
PPS: there's an interesting NatGeo program called "Search for the Supersnake" which concentrates on retics and Green Anacondas. Sometimes a bit on the sensationalist side, but educational nevertheless. Interesting experimental results about their constricting power, as well as nice CGI inner-body images showing anatomical details.