Smack-dab in the middle of a Kuching suburb, surrounded by heavily developed real estate, lies MJC Forest. It is probably not bigger than five hundred acres, but it is a treasure trove of natural wonders. It is a very swampy forest, and the few trails blazed by small-time rubber tappers are only walkable in waders or on stilts. As far as I understand, the swampy ground is the reason that the forest still exists; it is difficult to drain and has thus been spared so far. There are already plans to turn yet another part of it into yet another suburb, but the Malaysian Nature Society hopes to be able to stem the tide in time. As the forest is virtually impenetrable for most humans, it is a refuge for many birds (89 species recorded!!), even rare ones, and on most mornings you can find at least one birder in cammo garb dragging a 600mm howitzer along the only access road, which cuts about half a mile into the forest. This is a dead-end street with no houses or lights along its entire length, save for a small homesteader at one end eking out a living from a few banana and papaya patches. For higher primates without prehensile toes, this road is the only access to the forest.
Soon after I had heard about this place, I started regular morning walks there. It is only eleven minutes from my house, and it takes less than 40 minutes to walk along the road and back, and even that only if you scrutinize every single tree on both sides. My morning walks never produced any snakes, but the birders kept telling me about sightings, the most exciting of which was a big
Ptyas fusca
which one chap managed to photograph (ID c/o Bjorn Lardner, photo c/o Peter Lai):
The road is lined with wide, if shallow ditches large enough to provide habitat for medium-sized freshwater fish, giant snails, and lots of interesting dragonflies, including the strikingly Day-Glo red
Nannophya pygmaea
whose abdomen length of about 15 mm makes it the planet's smallest dragonfly. There are also plenty of Ornate Coraltails (
Ceriagrion cerinorubellum
) in various stages of sinful behavior:
These ditches are also home to what looks like the entire 3rd Corps of the Bornean Anuran Armed Forces, and all of the facts above combined just screams "NOCTURNAL SNAKES!!!" So, a few days ago we went to test that theory. It was shortly past 8 PM on a balmy night, and we hadn't even parked yet to begin our walk, when we found an adult Sunbeam Snake (
Xenopeltis unicolor
) crossing the road. After messing around with tongs and hooks for a bit, we realized that this was a highly nonaggressive snake and switched to freehandling. The snake did musk a little, but even that wasn't too bad, as it had a very peculiar and interesting odor that can only be described as burnt dog poo with a lime twist and just a hint of smoldering iron slag.
We had seen this species many times before, but always DOR on highways bisecting coastal lowland plantations or swamps. Even in death, their iridescence is absolutely spectacular. Indraneil Das calls them "living holograms", and that's exactly what they look like. Photos just cannot do justice to the stunning light show that plays on the snake's body when you turn it hither and thither in the beam of your headlamp. These snakes are neither rare nor do they live particularly exciting lives (the fossorial life is seldom glamorous), but their anatomy is so different from all other snake species that they have their very own family, aptly named the Xenopeltidae ("the strange-skinned ones"), which consists of exactly one genus and two species.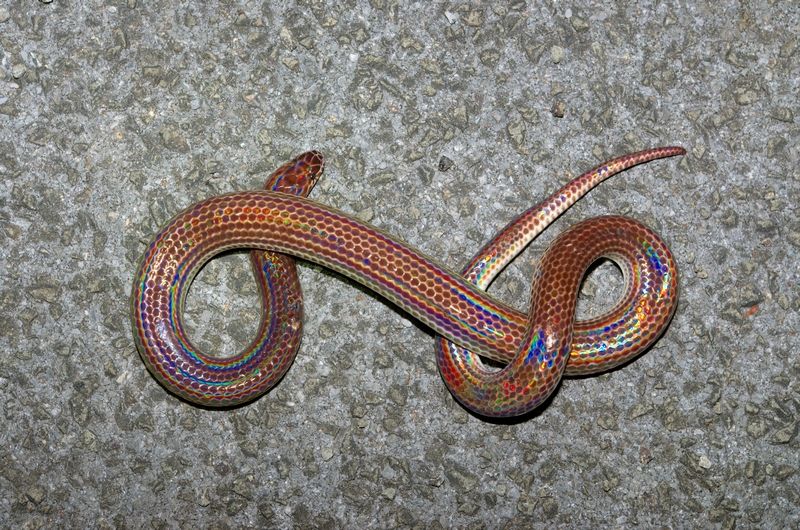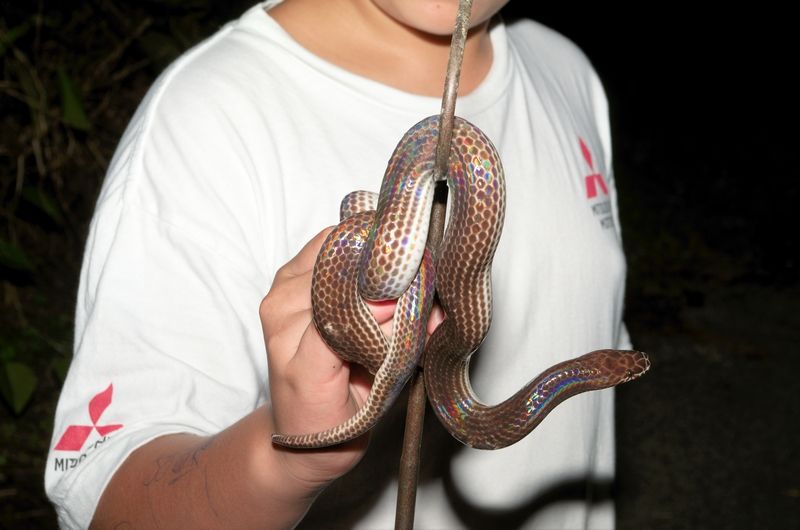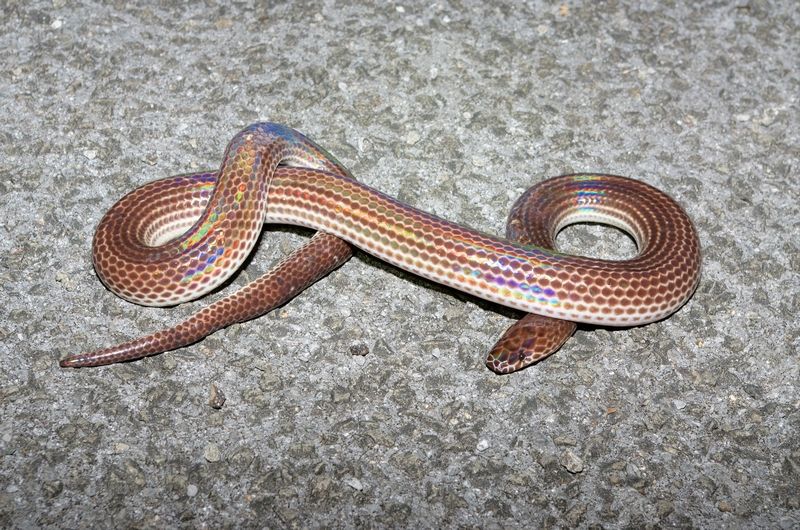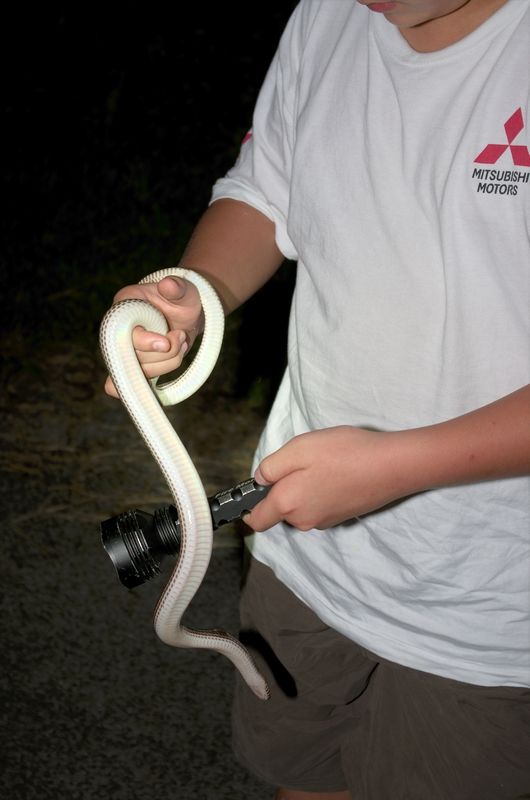 Check out the pupils!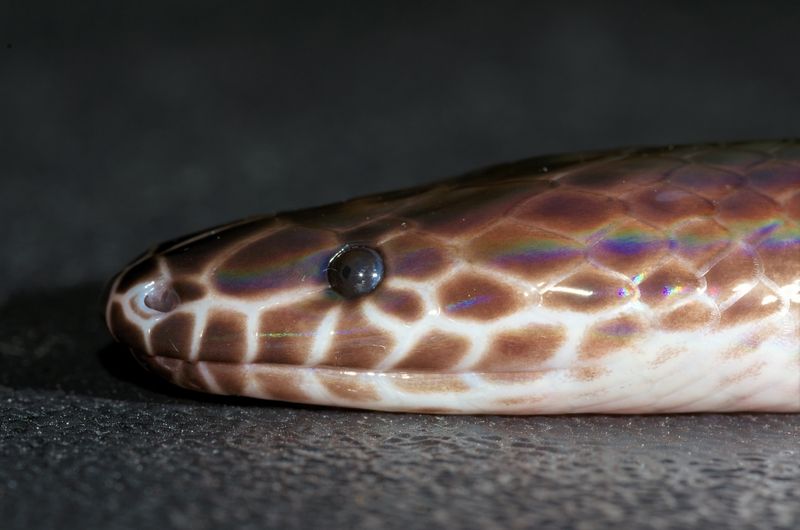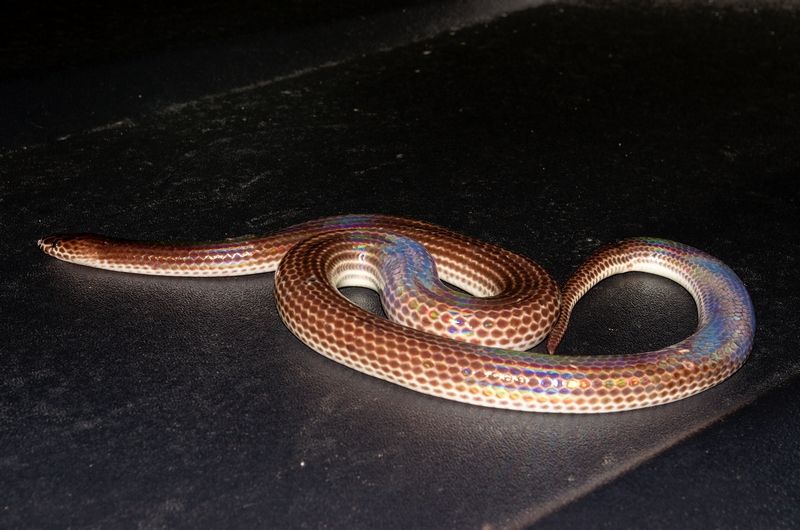 Too much beauty will wreck a man's mind...
Encouraged by our instant success on the first night, I went back a day later and found nothing. One single frog, that was it, although it was raining. On the third night, I went back again, and this time to more paydirt. Frogs were everywhere. Angle-headed lizards (
Gonocephalus sp.
) were snoring off the tree branches they were sleeping on. And I found not one, but two snakes (remember, a two-snake night in Borneo is akin to a thirty-snake day in Kansas,
see here
for more on this dire topic)
The first snake was one of the oddest serpents I had ever laid eyes on:
Cylindrophis ruffus
, the Red-Tailed Pipe Snake. I had seen a freshly run-over specimen before, but observing these guys in action (or rather, non-action), was the champagne topping on the holographic cherry cake. The Cylindrophiidae, or Asian Pipe Snakes, encompass eight species. As the scientific name implies, they're built like short, fat cigars, with an almost comically blunt head and a not much pointier, extremely short tail. Their bodies are engineered, in shape and function, to eat long, thin food items - snakes and eels. Their tiny eyes, which are not covered by brilles, look like a mere afterthought, and indeed, they don't really need them, as they're burrowing species that can dig down over three feet into muddy soil. And that bold color design! As if the paint job had been done by a two-year old armed with just three crayons and a big tube of iridescence rivaling that of the Sunbeam Snakes. Like those, the Pipe Snake was also very docile, almost to the point of ridiculousness. The closest the animal came to defensive behavior was to flatten its entire body, which gave it an even weirder appearance.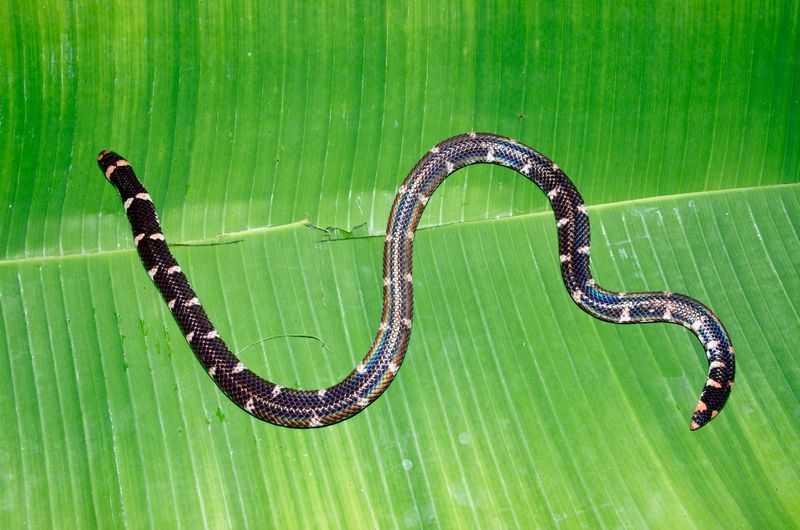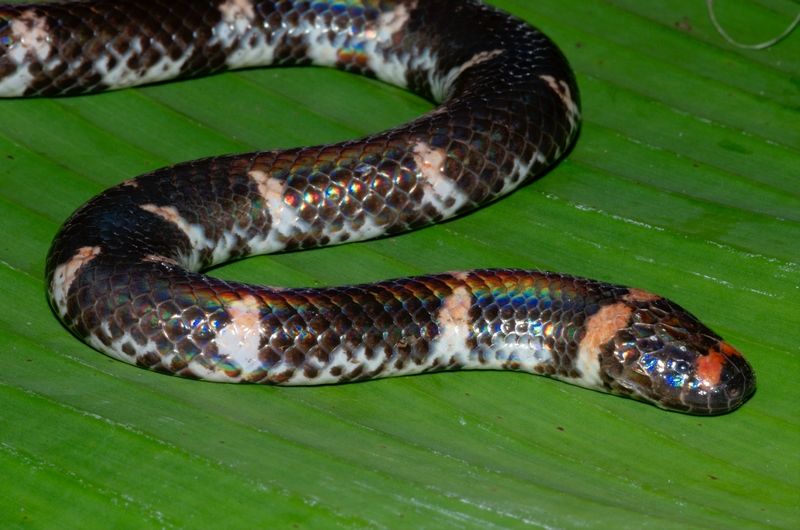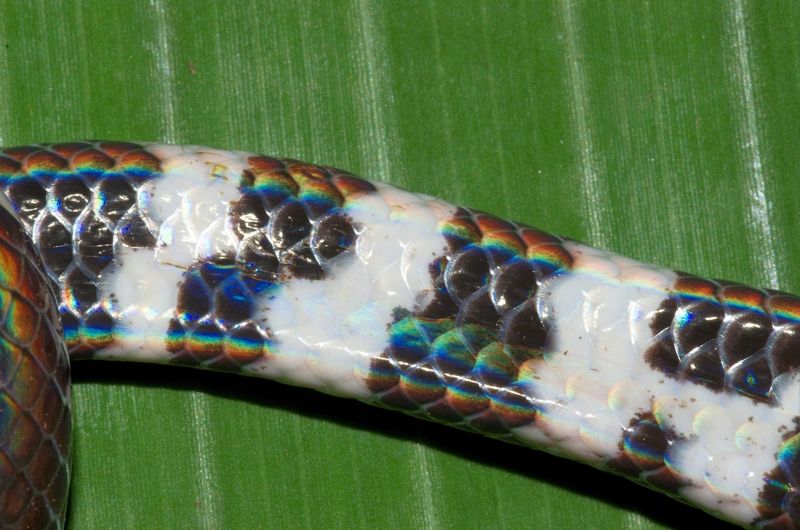 I found the second snake twenty minutes later. This one was less holographic, but dazzled instead with its satiny finish and ultra-cute stuffed-animal eyes. This was a Smooth Slug Snake,
Asthenodipsas laevis
, just a wee eight-incher. And smooth it is - the entire snake has a very silky feel to it, quite unlike the other
Pareas
conspecifics I've met so far.
A. laevis
used to be a pareatid before someone took it out of the cage and threw it in next door with the, uh, Asthenodipsids (I hope that's a word). Again, a very mellow animal, and a joy to photograph.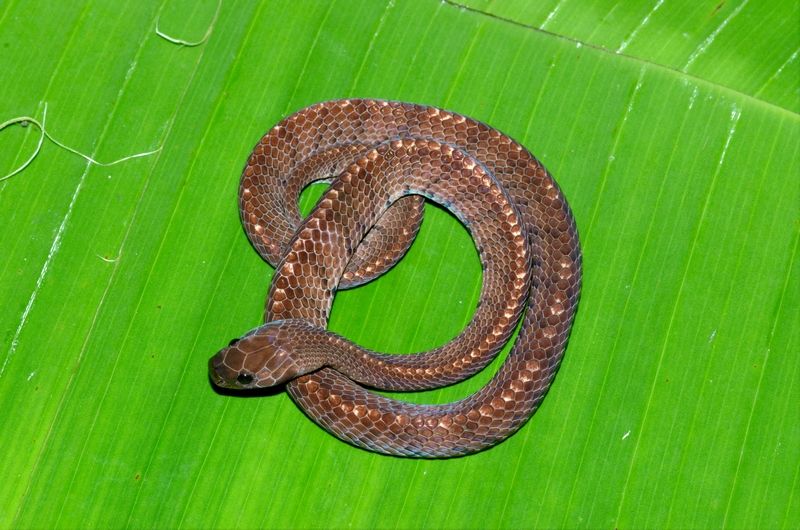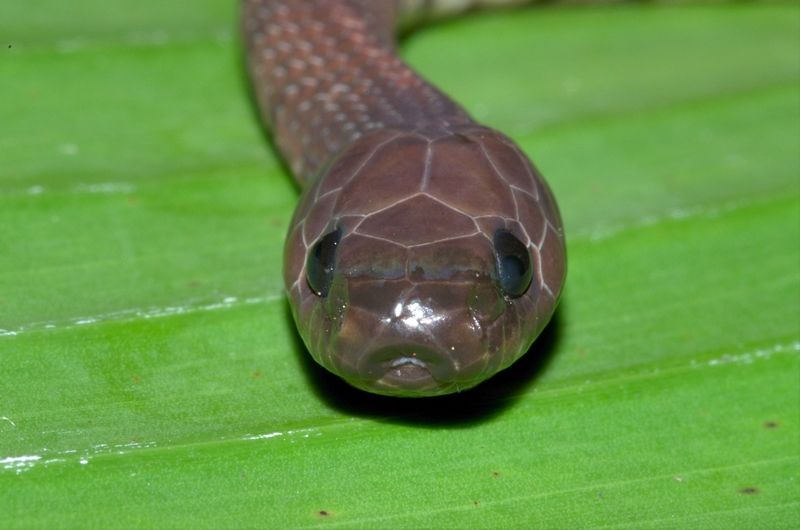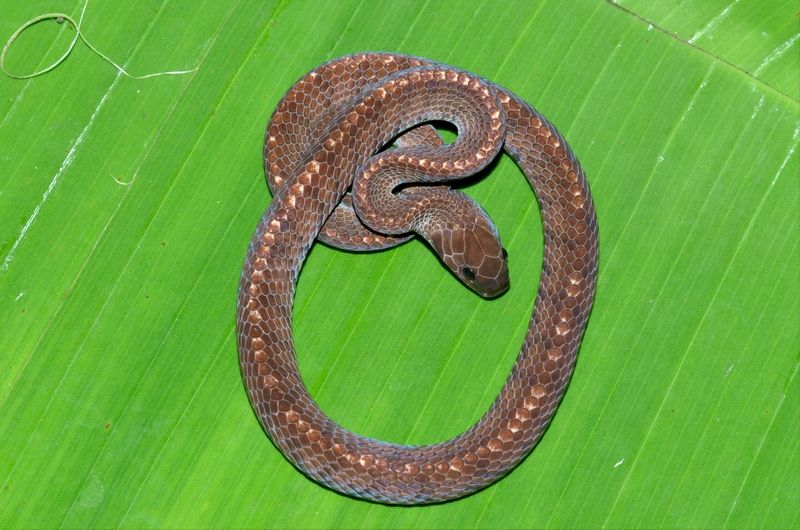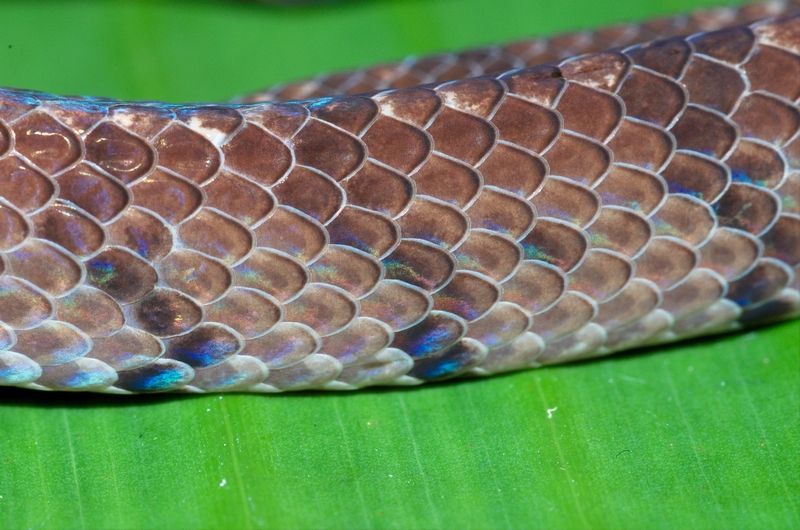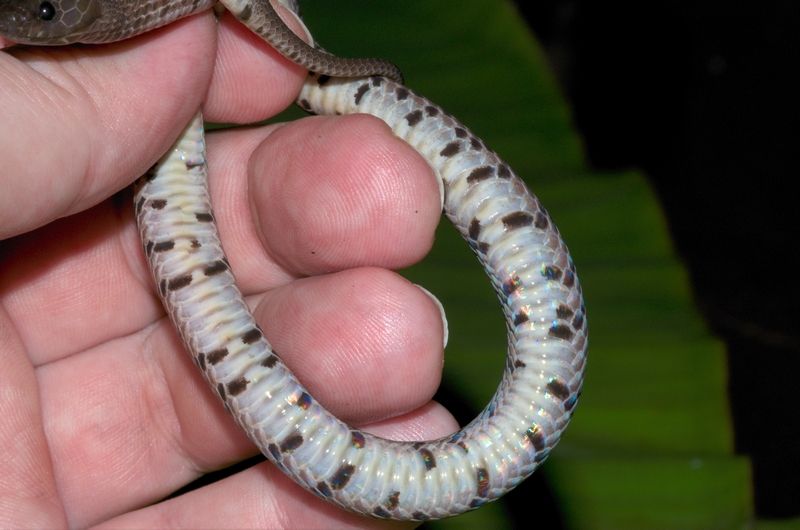 And just for kicks and giggles, a dramatic sunset I took with my cell phone the other day, in front of the supermarket. I love those epic tropical weather fronts!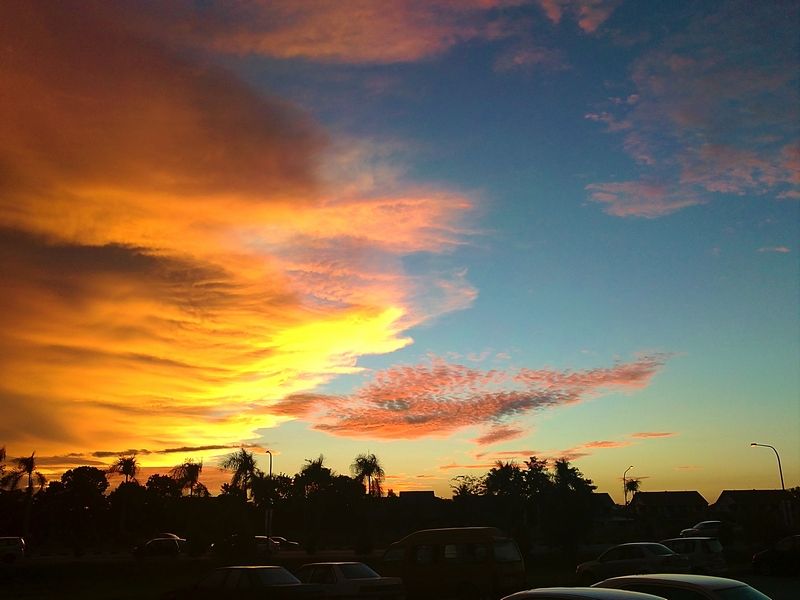 Wish us luck for our Save MJC Forest campaign!