Once upon a time in the not too distant past, there was the Short Python, aka Blood Python, aka
Python curtus
. Then a splitter came along and hacked off two subspecies:
P. c. breitensteini
and
P. c. brongersmai
. A little later, another, even more zealous splitter passed by and elevated all three to species level. And this is why today we have
Python curtus
, the Sumatran Short Python, resident of - you guessed it! - Sumatra; Brongersma's Short Python,
Python brongersmai
, found in Peninsular Malaysia, Thailand, and many of the neighboring countries; and lastly,
Python breitensteini
, the Bornean Short Python. And it is this beast of which today's tale shall tell.
All Short Pythons are members of the South-East Asian Big Five Herps (that's just a figure of speech, so don't ask what the other four are), and the Bornean species has been at the top of our to-do list since Day One, right up there with the King Cobra. So you can imagine our insane exhilaration when we found a two-footer sitting in the middle of the road last Friday night, at the end of our weekly run in our favorite cruising area. It was late, we were tired, and we also wanted to share the find with a few other folks, so we bagged the thing and took it home.
The next afternoon I had the house to myself and fancied a little photo session with the snake. Very soon I wished I had waited for my son to come back. As I wrote in the
teaser post
:
I just tried to photograph it at home, and while it's not as crazed as the retics and eventually calmed down, it's an immensely fast snapper for its girth, and my trusty flower-print oven mitt is now in semi-tatters...

Time for Hex Gloves.

I'll shoot another session when my son's back tomorrow. This is not an animal for solo photography.
Despite looking like a larger python species that had been squashed together from both ends by a troll, and now resembled a snake-skinned liverwurst with a tiny shovel head and a ludicrously short tail, this thing was clearly a proud member of the Pythonidae. A few replies later I wrote:
My limited experience with wild retics has taught me that they will have a go at you whenever they feel like it. But with the Short-tail it's not so much the temper. Right off the bat, the snake will sit there and do nothing, just like the pipe snake I posted the other day. The problem is that the breitensteini will snap at you when you to get too close, even when you think the animal is spent and played out, and these attacks are very fast and sudden. What's more, they feel even more fast and sudden because the snake's mass lulls you into thinking it's a slow animal. From all I've read online so far, P. breitensteini does not display the typical aggression you find in other python species....but it is a python still.
Trying to feed it a frozen/thawed mouse ended with the mouse meeting a similar fate as my oven mitts within seconds, but without actually being eaten. Clearly, banana leaves on the dining table were not the setting for a photo session with this animal, so I started looking for a nice lawn to shoot it. Sadly, "nice lawn" and "Borneo" are mutually exclusive terms. In this climate, everything grows so fast and tall that the City of Kuching employs an army of weed whackers to keep the roadside grass at an acceptable level, and my backyard needs trimming every two weeks (which the neighbors kindly remind me of by shooting me ugly looks pertaining to the two-foot high bushland behind my house).
But my lawn hadn't had a visit from the gardener in ten days. There are lawns in public parks, of course, and they would seem like a great option. Large areas, short grass, tree shade. And some of those lawns are even dry (most are swampy, thanks to the clayish soil and the regular heavy rains). But there are also people. And some of them do not relish the idea of some sweaty bignose wrangling large serpents in their close vicinity while they're on their morning walk/run/hobble. And some of them might call law enforcement - if not for abuse of a potentially protected animal, then at least for public indecency.
That leaves soccer and field hockey pitches. But those are all private and therefore fenced in. In short, in the whole of Borneo you cannot find a single flat place with short grass to photograph snakes in peace...or so I thought until this morning when I drove my son to school. Less than half a mile from our house there is a huge, three-football-fields-sized lawn open to the public. No houses around, no people, no passers-by. I had never paid attention to that patch, but now I did, and I took the python there to see if the ground was dry enough to leave the rubber boots at home.
The ground looked fine. There were some swampy patches, but about half of the area was nice and dry. The grass hadn't been maintained in ages, so there was a patchwork pattern of moss, raw earth, grass, and low plants. The perfect background for shooting creeping animals.
But there was something else. After I had walked twenty yards on the pitch, I started to notice a mess of dime-sized red plantlets on the ground all around me. Scarlet they were, and sparkling like tiny chandeliers. I bent down to take a closer look, and almost fell on my ass in surprise: I was standing in an ocean of sundews (
Drosera burmannii
), the plants growing so closely that I squished a dozen of them wherever I set my foot. Some of you might know that before I fell ill with serpentitis, I used to have another sickness, growing carnivorous plants. I specialized in Nepenthes, but I had a few tropical sundews as well. Many a rainy winter day in Taiwan was spent macro-ing the little gem-studded plants and their prey sticking to the glue droplets. Borneo is home to only four sundew spieces, and I had only seen one of them (
Drosera spathulata
, a trash species found everywhere on the planet but McMurdo Station), and that had been in 2007. I had not seen any sundews since we moved to Sarawak last year....and now I was surrounded by thousands of them!
I've seen a lot of very impressive Nepenthes here so far, but none of them made such a deep impression on me as this sea of sundews did, sitting as it did on a dilapidated soccer field in the middle of Kuching. I was indeed very close to tears of joy, I'm embarrassed to report

But the ruthless efficiency of my always goal-oriented German mind (yeah, right) soon brought me back to reality: I had a mission to fulfill and a python to photograph. Hey - why not in the middle of all these sundews? The snake and the light (overcast, but still squinty) didn't cooperate sufficiently to get a shot of the snake laying its head right between a clump of 'dews. But at any rate - even if you can't see them well, the pink little dots you're about to find on almost every photo almost made me cry, and it's the thought that counts

Something wrong with the alignment of his lower jaw?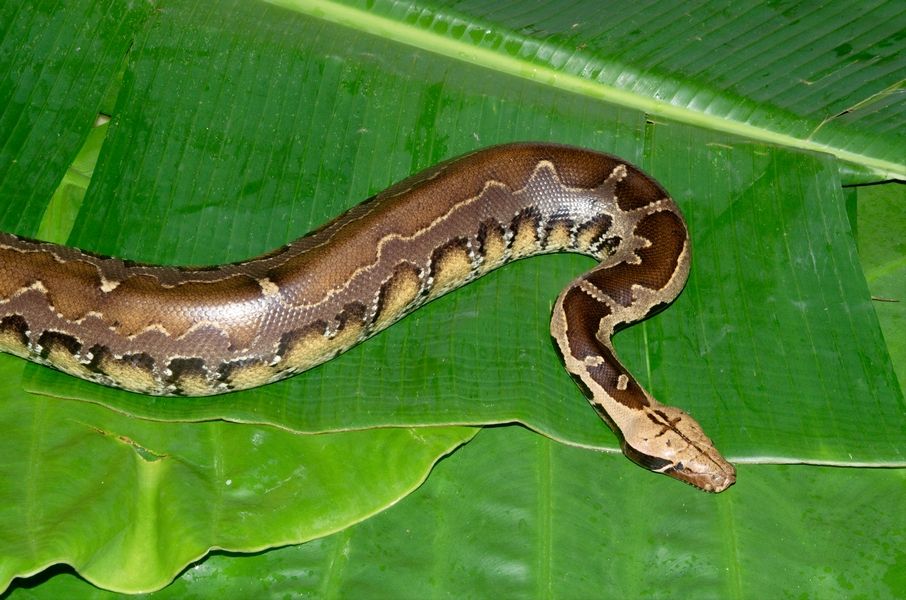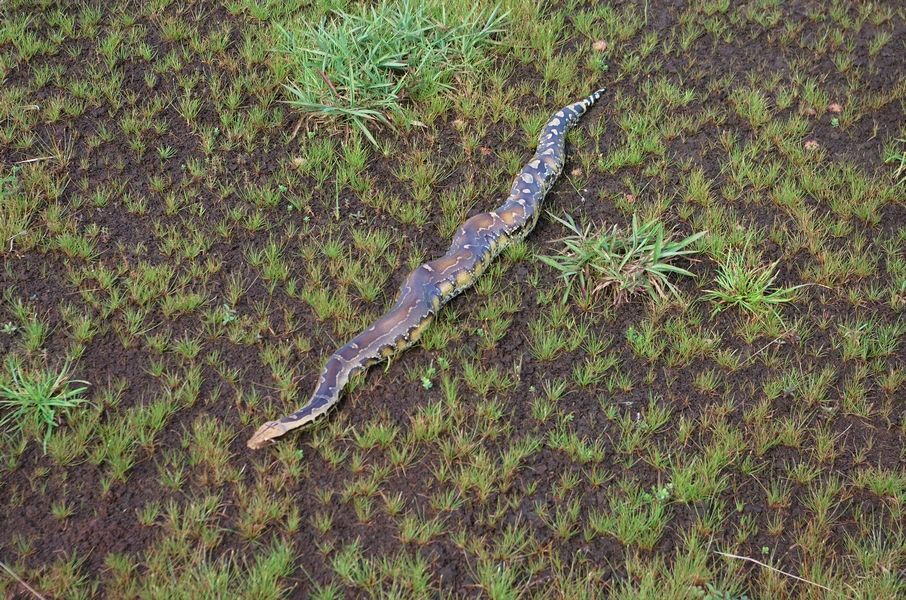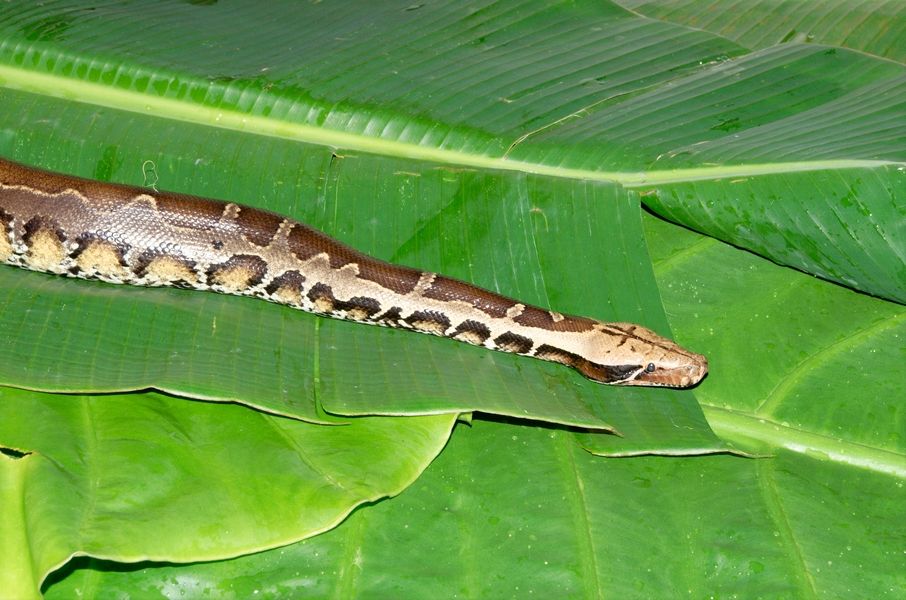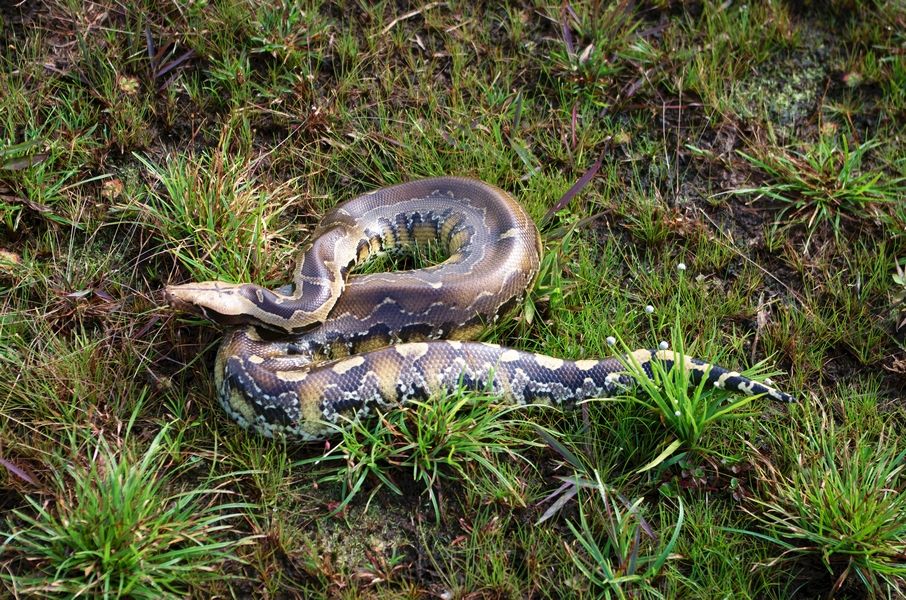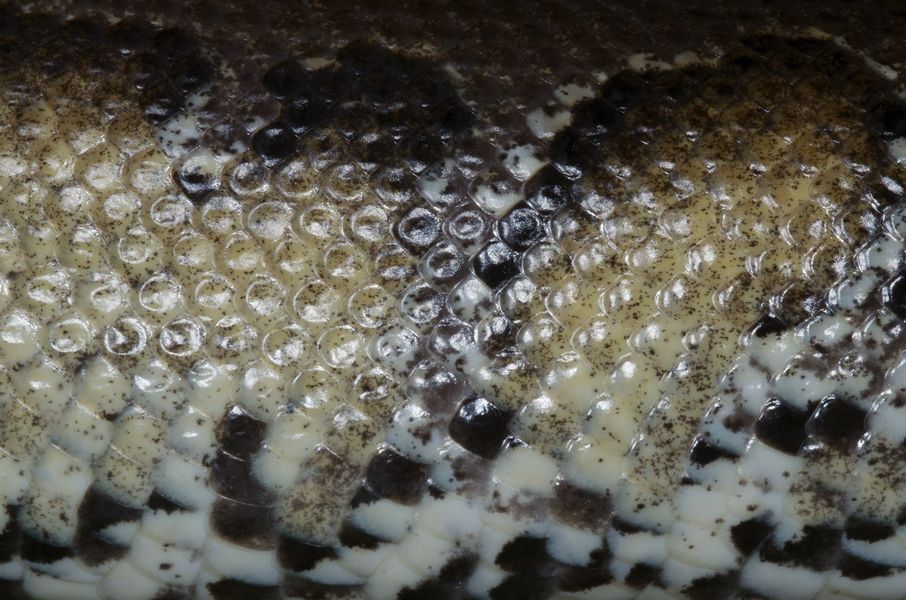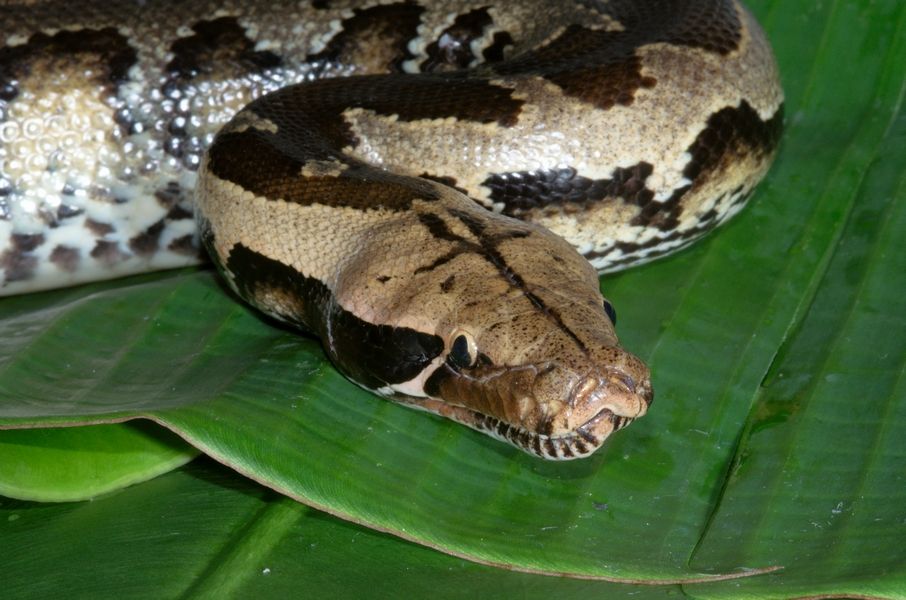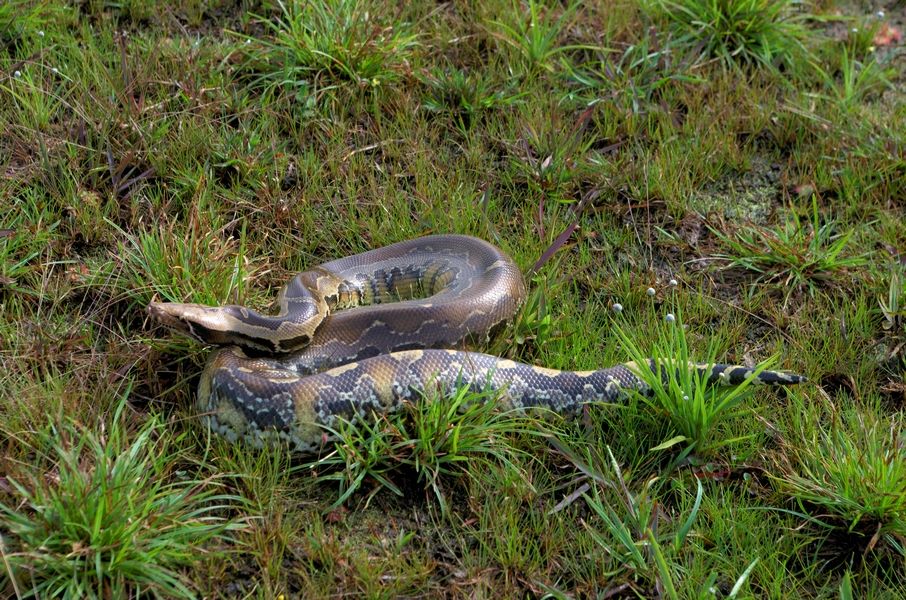 Heading for the hills...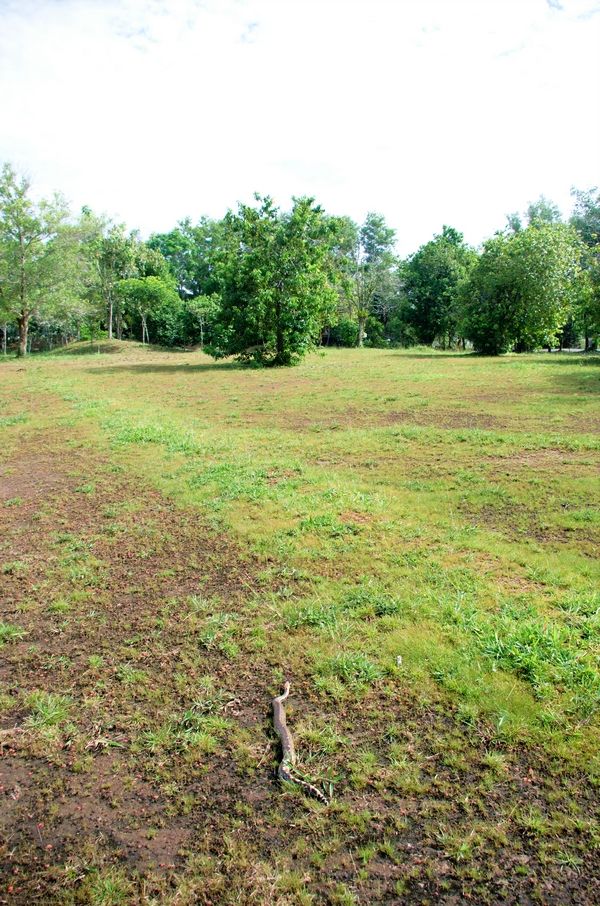 Now for the shiny stuff: