After a long cold winter of working behind a desk and dealing with people and numbers day after day and week after week, I decided I needed a little break from the chaos. Thankfully I can come to FHF and live vicariously through many of my fellow FHFers. I decided a four day weekend was in order to celebrate a friend's birthday and find my sanity again.
The plan was to meet on a Friday in Grant County, WA and do a little dual county herping in Kittitas and Grant county that afternoon, evening and Saturday morning. I decided to leave my side of the state early in the morning and get a head start on the others. I finally arrived just before noon and went to a spot known for Pygmy Short Horned Lizards - Phrynosoma douglasii which had skunked me the year before and a species I had yet to encounter on my Herping Journeys.
The deserts in Central WA are under rated by most Washingtonians in my opinion, but to me they are somber and beautiful.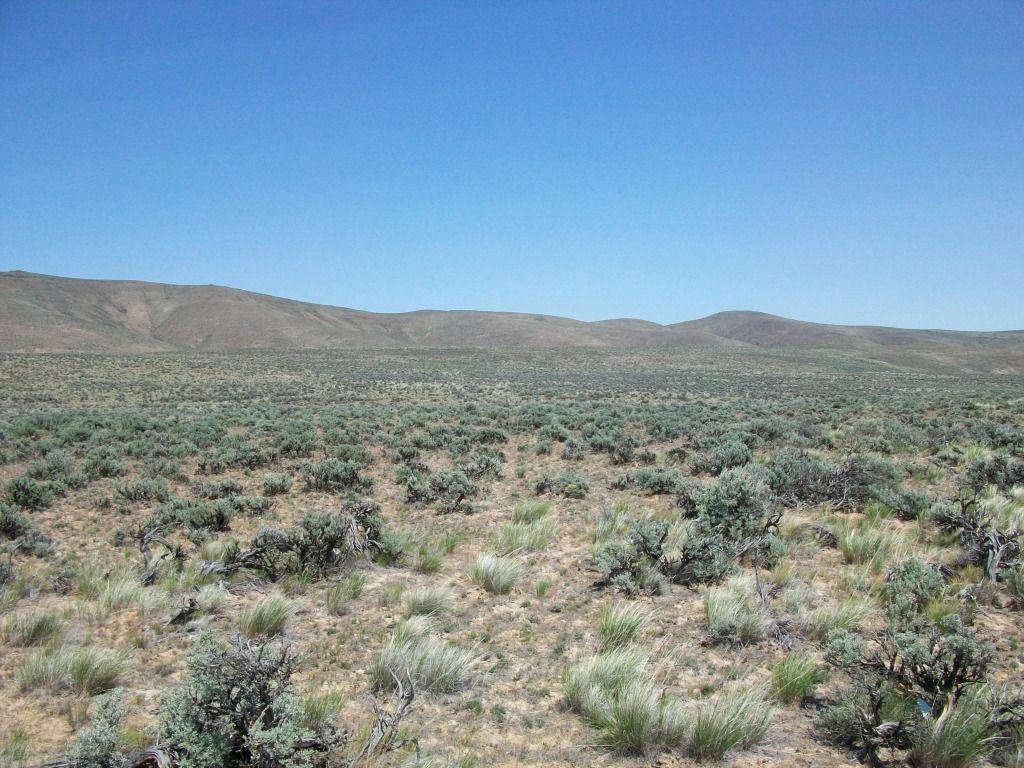 The sound of warm wind and song birds was just what this Desk Jockey needed to start his reprieve from 50 hour stress filled work weeks. Wandering the hillsides with no other human being in sight was almost hypnotic for me.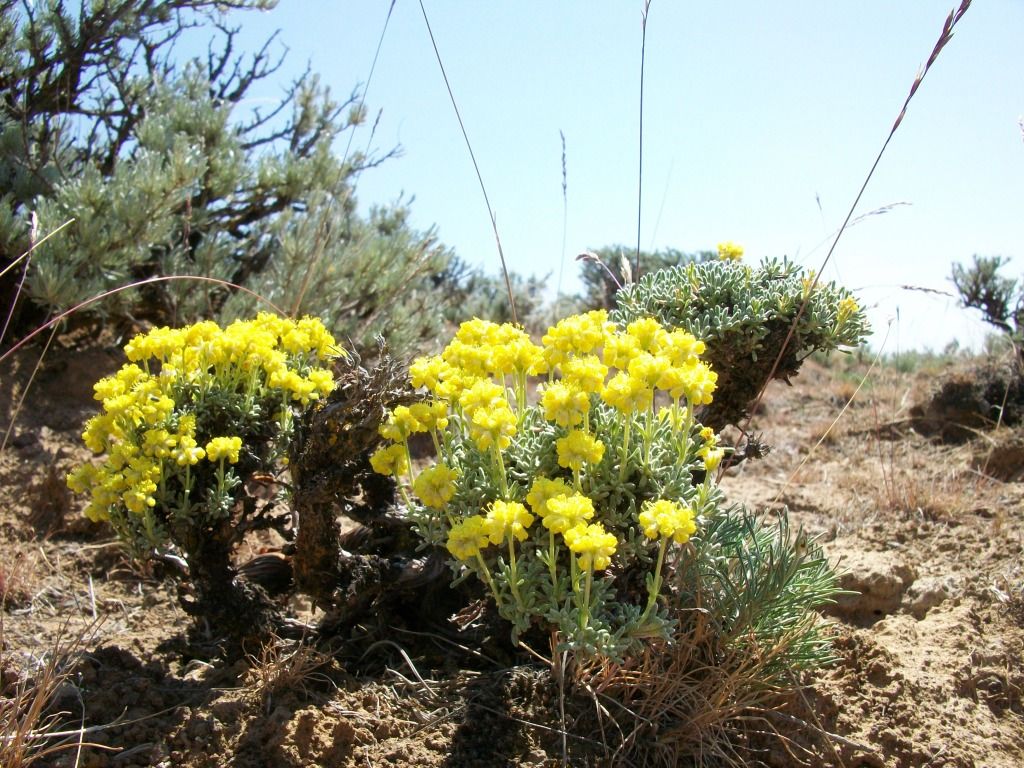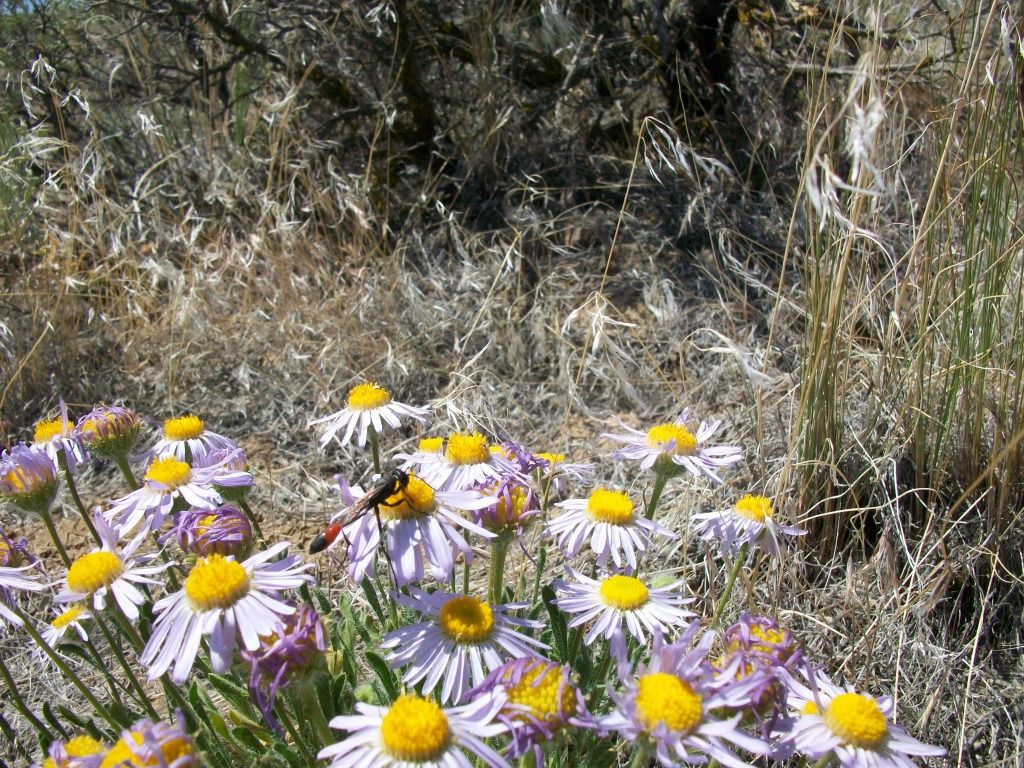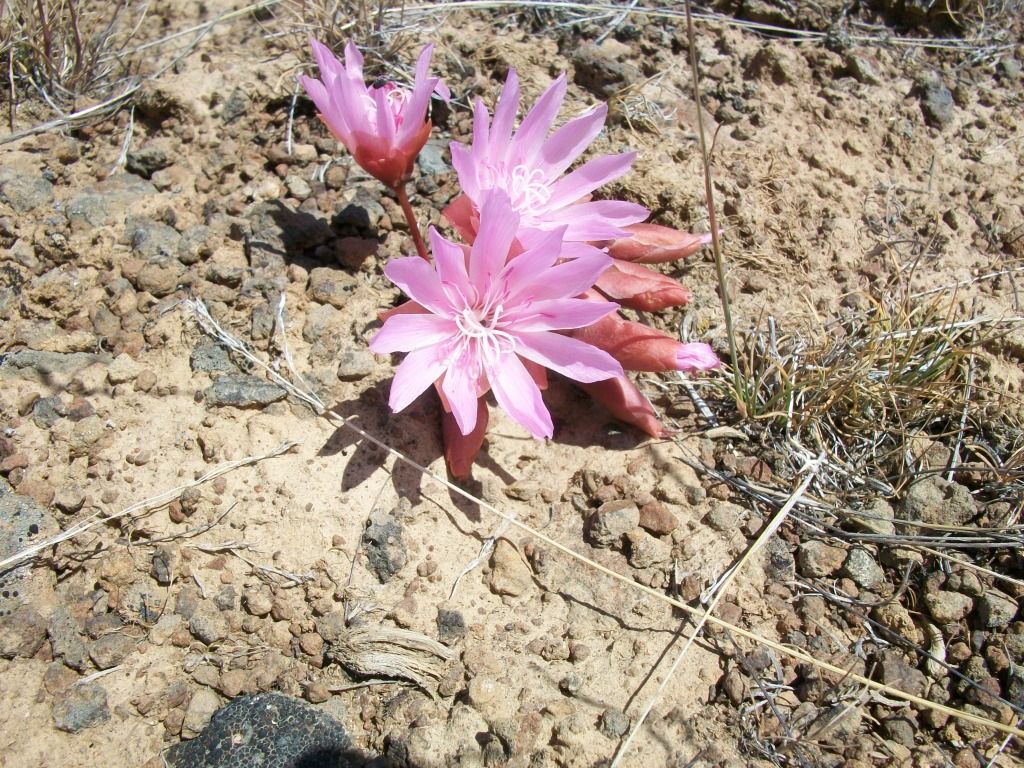 Finally, I strike pay dirt!
Pygmy Short Horned Lizard -
Phrynosoma douglasii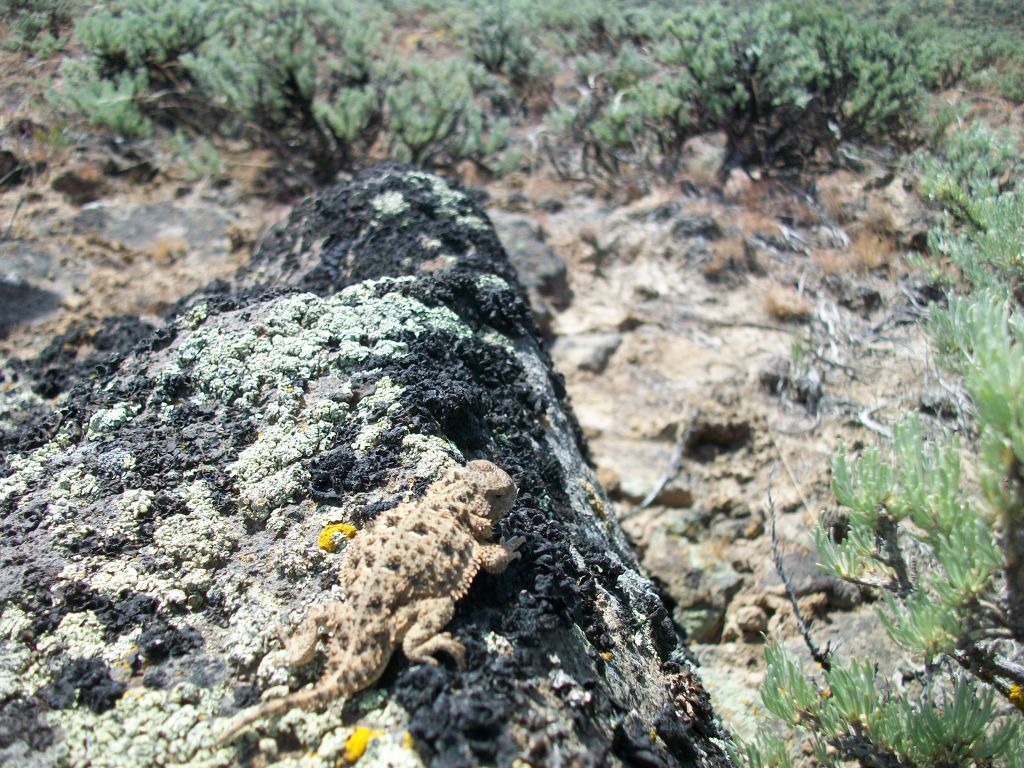 This, what I estimate to be a yearling, was out in the open.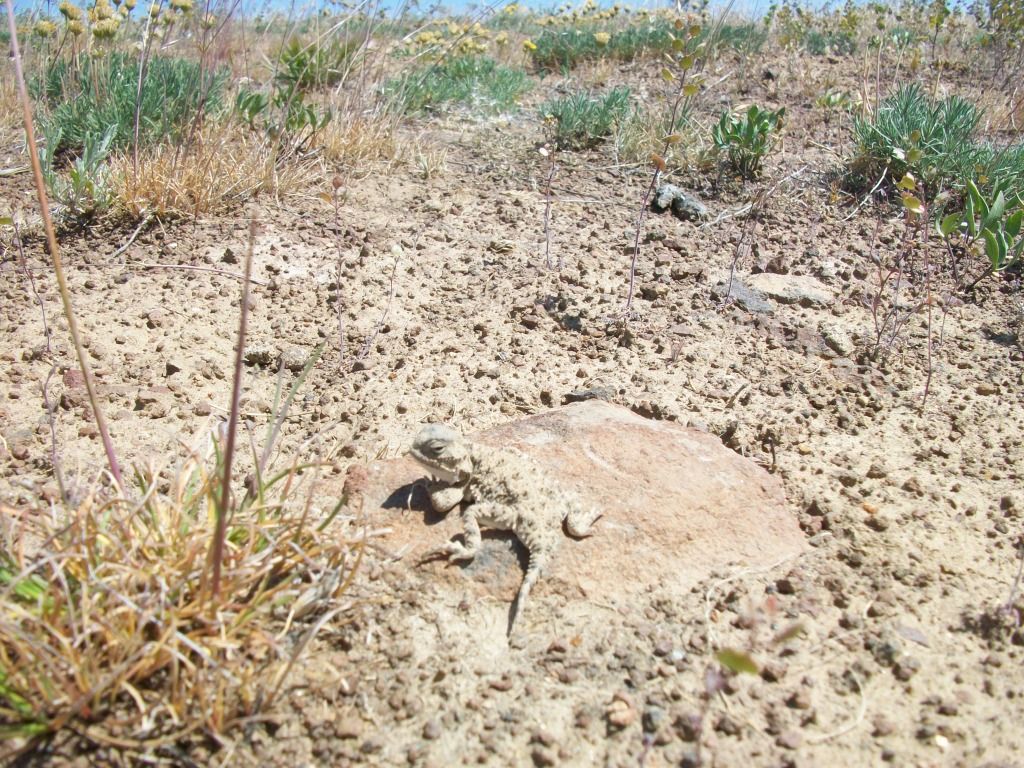 I noticed the larger mature Pygmy Horned Lizards were more often found between the sage where they could quickly scurry to the protective cover of the ever so bountiful Sage Brush, but the smaller juveniles were almost always seen in the open breaks with sparse grasses. I had seen plenty and was very pleased I arrived at the appropriate time to witness them above ground. When I had come to the same place in late June of 2011 the ground was so dry, inhospitable, and barren that there were hardly even signs of invertebrate life.
I stopped by a local fossil and mineral gift store and spotted a
Kueichousaurus hui
for sale which was tempting but I didn't have $750 worth of loose change in my pocket.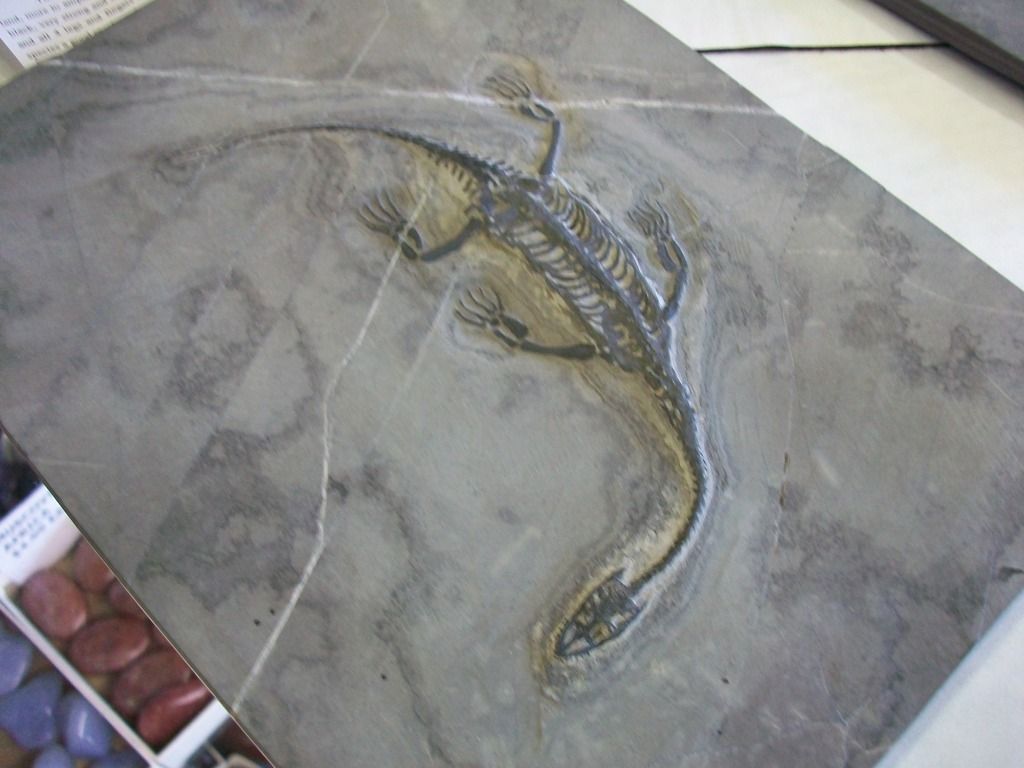 There were also some other dinos outside the shop but I don't have any firm IDs on any of them.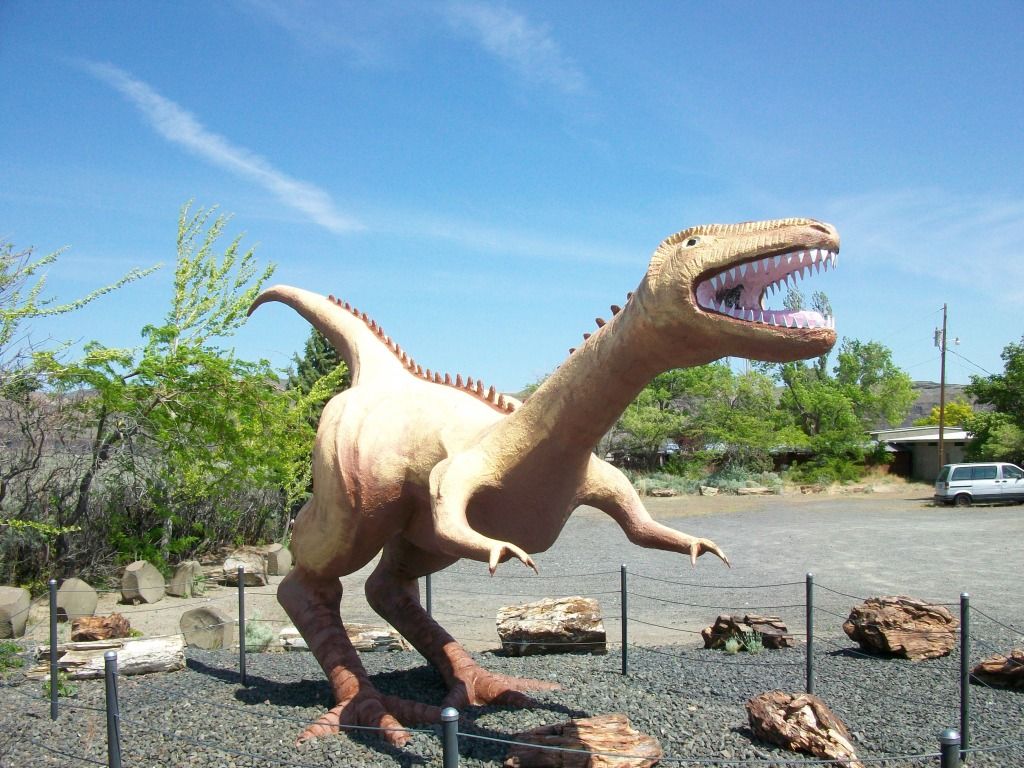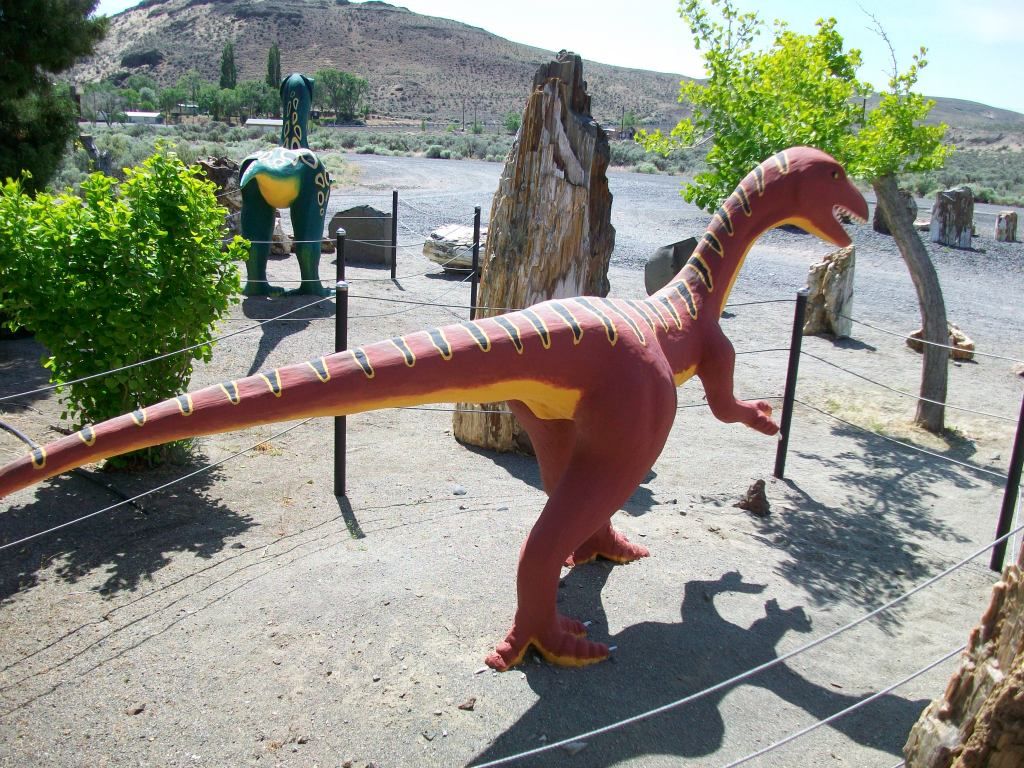 After browsing the neat little fossil shop I decided to hop over to the East side of the Columbia River into Grant County to get a little bit more herping in before people started showing up for camp. I found two DORs about 75 feet from one another, a Gopher Snake - Pituophis catenifer catenifer and a Northern Pacific Rattlesnake - Crotalus oreganus oreganus. I also spotted one of three Racers - Coluber constrictor, but they are always way too fast for me to photograph or catch.
After a fellow bug lover joined me around the same area we started seeing tons of Side Blotched Lizards -
Uta stansburiana
.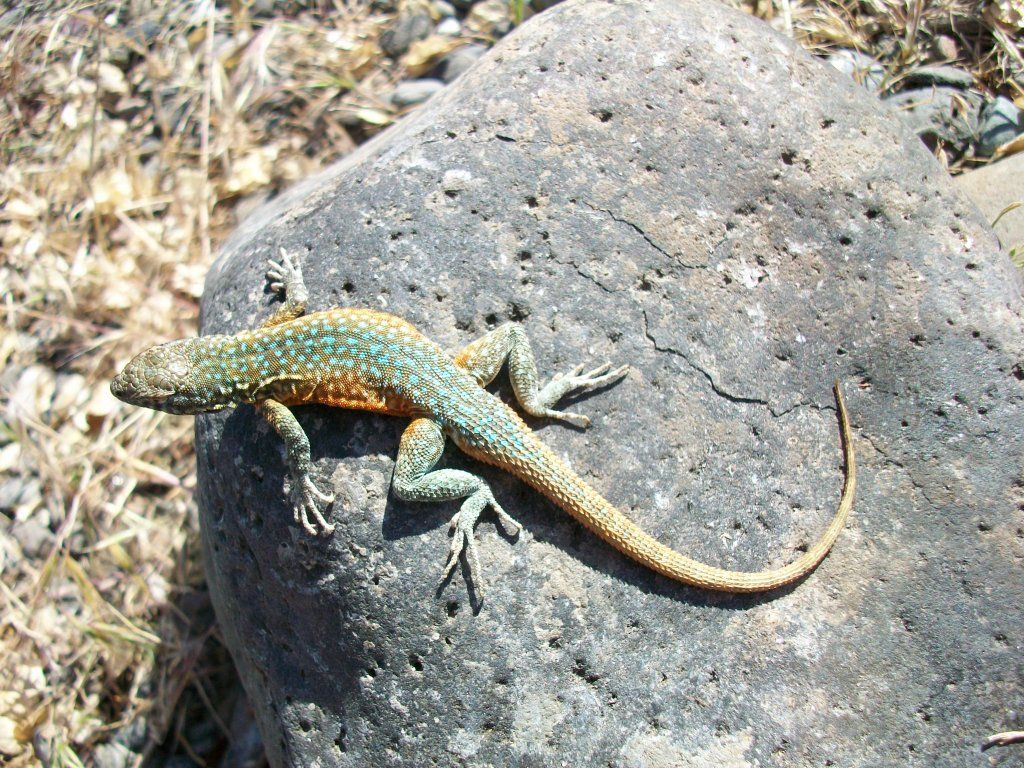 That night we road cruised till I could not road cruise any longer. The temps were dropping fast in the evenings all weekend and the road cruising was subpar for this area. We first cruised a neonate Crote which was my first neonate rattlesnake.
Crotalus oreganus oreganus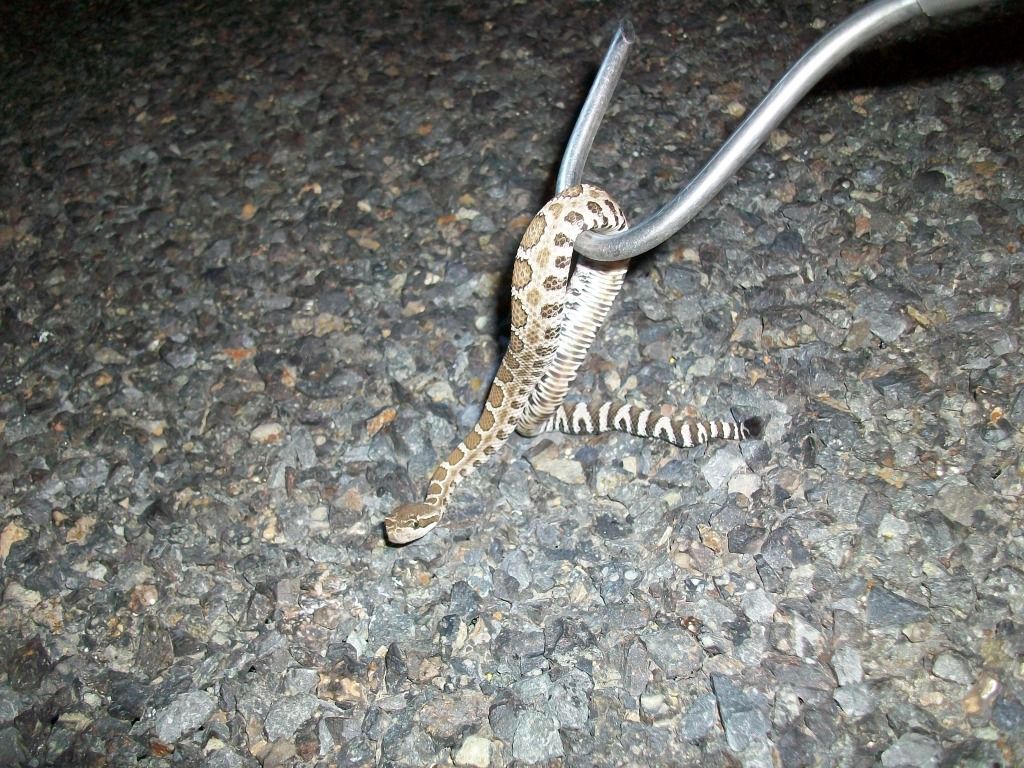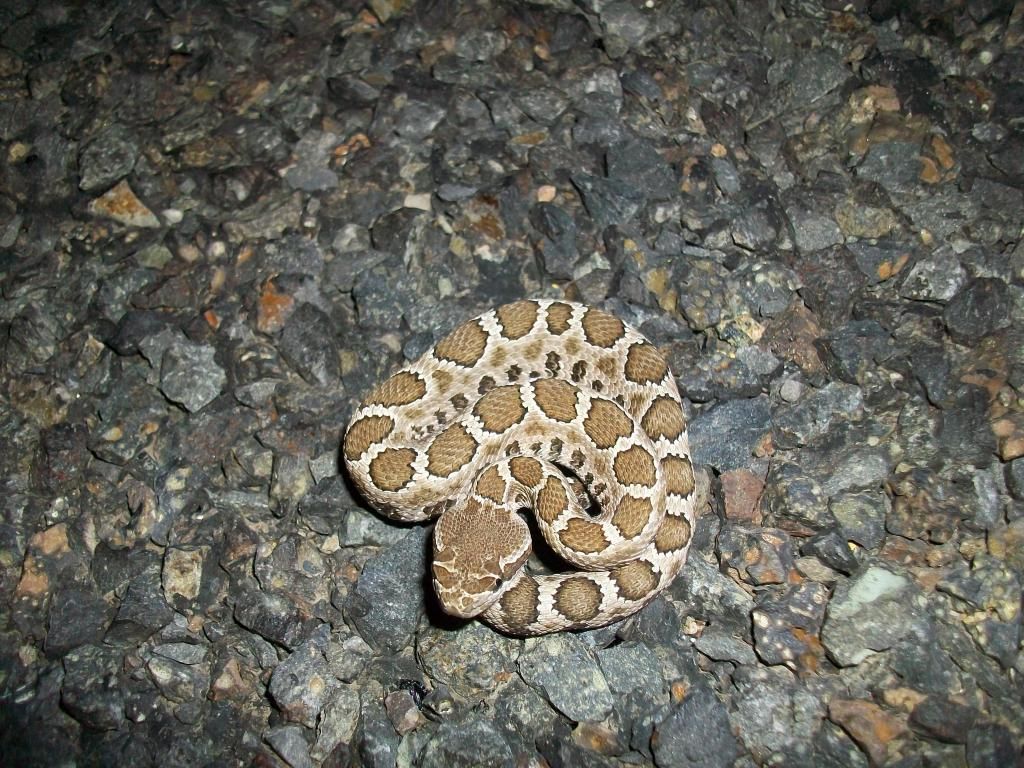 We came upon a DOR Gopher later on but the cruising was pretty slow. I almost ran this happy fellow over but my lead foot was able to strattle him so thankfully we didn't have another DOR to snap pics of.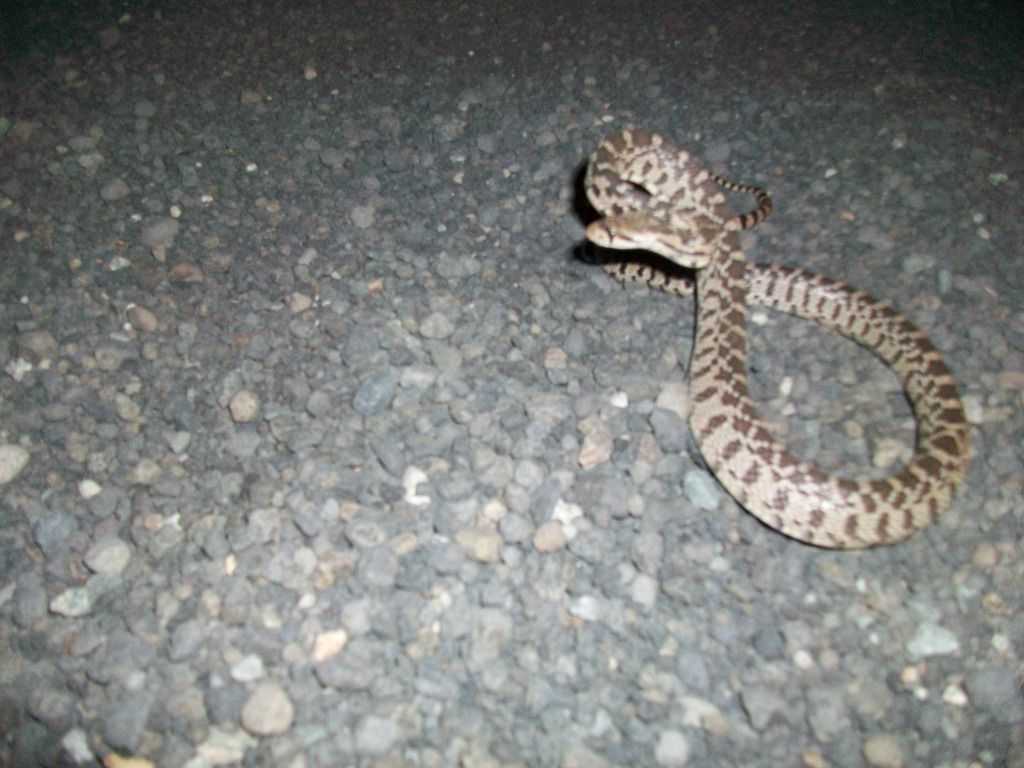 A little while later after cruising the same road we had cruised about an hour before we found this little guy.
Crotalus oreganus oreganus
DOR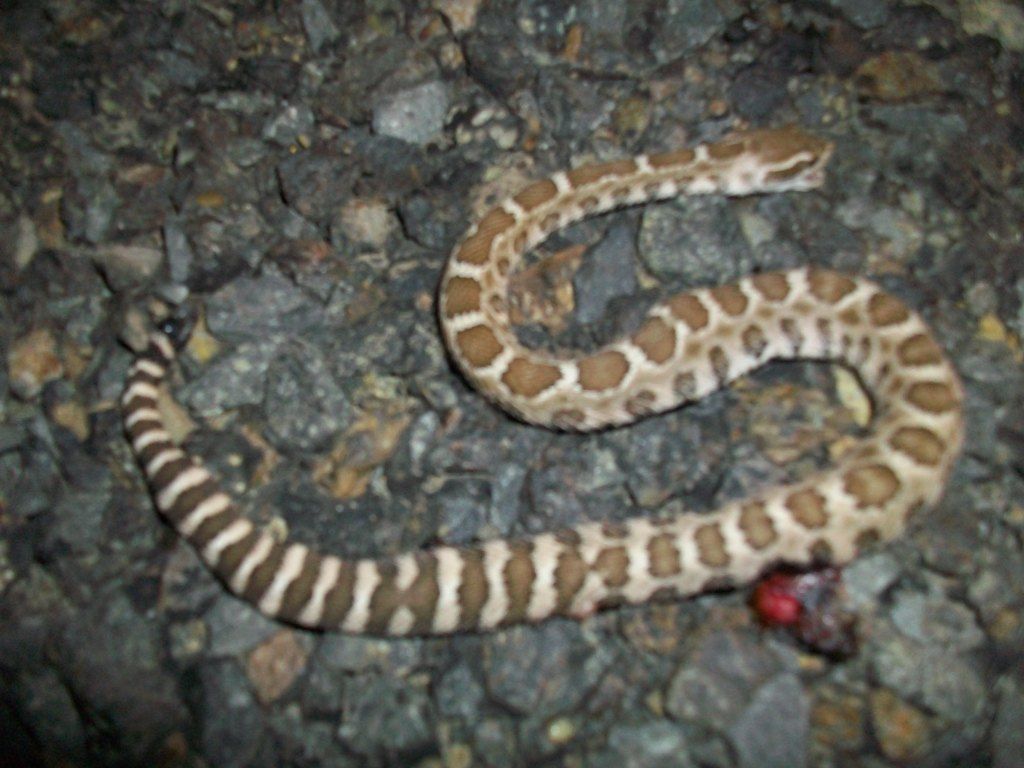 I really liked how far the banding went up this one's tail, it is a shame it was DOR.
Saturday PNWHerper (Filip) met up with us the next morning and we visited a spot east of the Columbia River which was a beautiful area but we only saw two snakes which fled before we could get pics of them. The first was a HUGE Racer and the second was a Crote that decided it was much more comfortable deep inside a basalt fracture.
Filip was itching to head back over to the West side of the river and get some track data on the Pygmy Short Horned Lizards for a book/field guide he is working on so we decided to head out. I was very impressed with how much PNWHerper knows about edible and medicinal plants in WA and his skills at tracking were rather impressive.
The Pygmy's were out in force on Saturday and I can't even remember how many we saw that day. We noticed a mature male that was vocalizing when we picked it up and Fil got the hissing on video. I will ask him to post the video clip on this thread.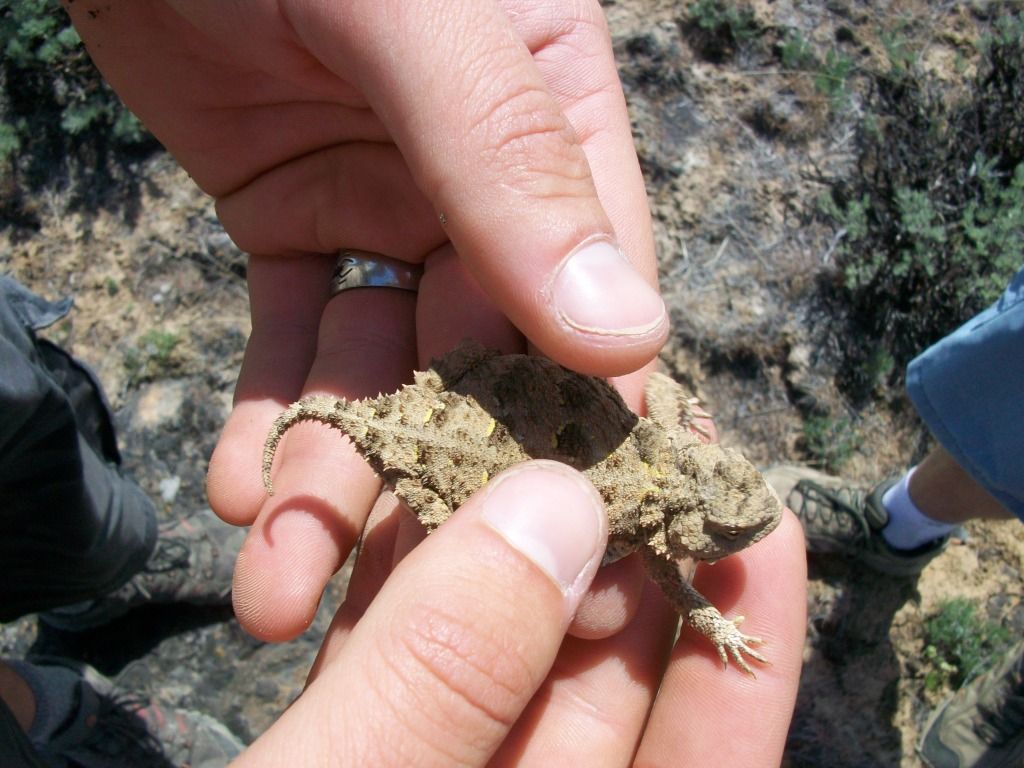 Male, Female comparison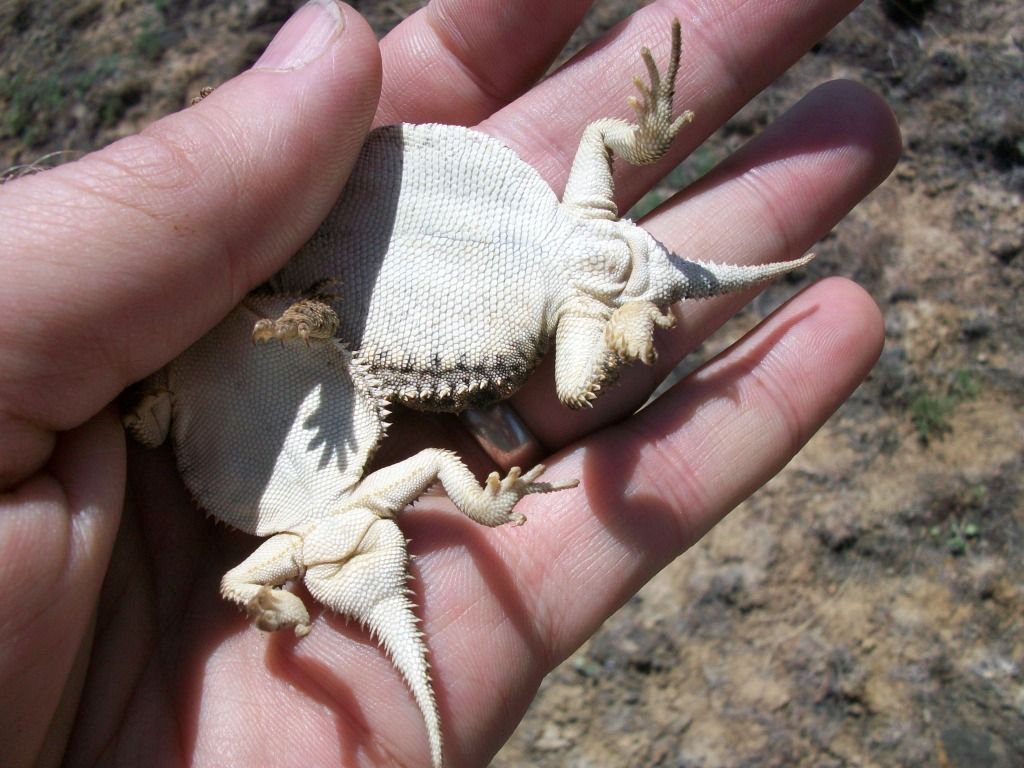 The male being the smaller one on the left and his female counterpart on the right.
Filip showed me that this flower I had taken pics of the day before was actually one of the best tasting onions I have ever had and probably ever will.
Allium douglasii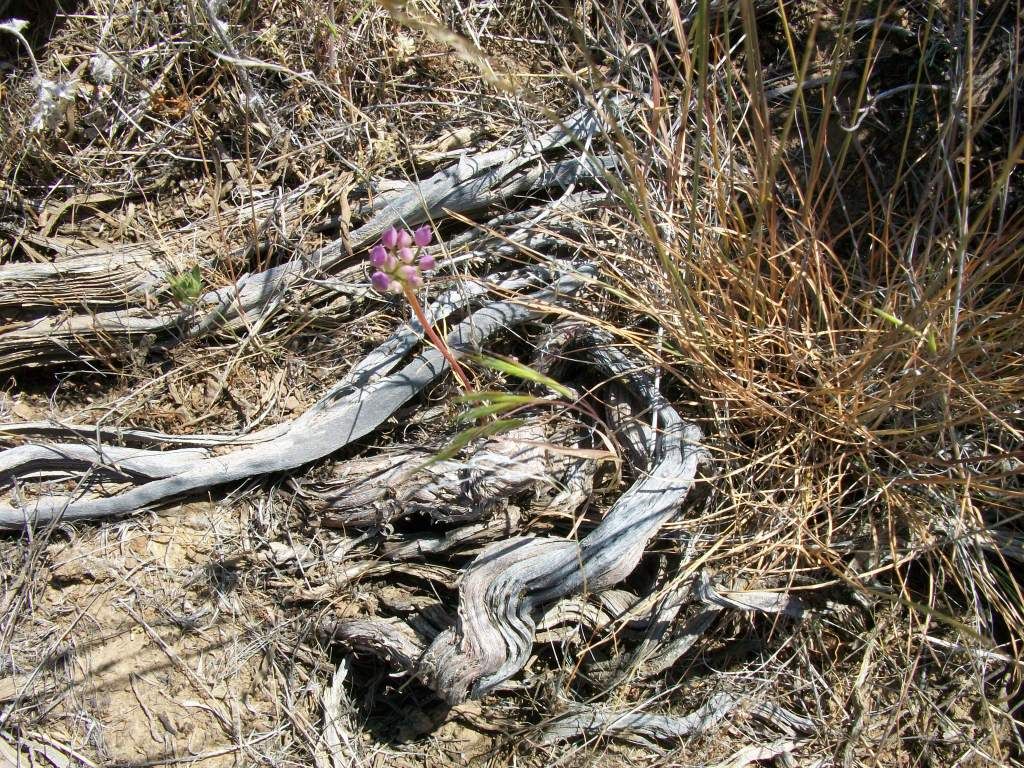 It was time to pack up and head over to our next destination which was North of Moses Lake, WA at Gloyd Seeps. I had done as much research on this area as I could online and it looked like very accessible land, but there just wasn't much info available online and it ended up being closed to vehicle access and we decided to head to an area PNWHerper was familiar with south of Moses Lake. A nice looking lake lined with Basalt cliffs called Soda Lake was where we ended up camping. I was happy with the change in plans even though I was pretty deflated over not getting to do Gloyd Seeps. I guess I will have to put Gloyd Seeps on the back burner and hike in there for a day sometime in the distant future.
We did manage to cruise another gopher trying to find our way into Gloyds.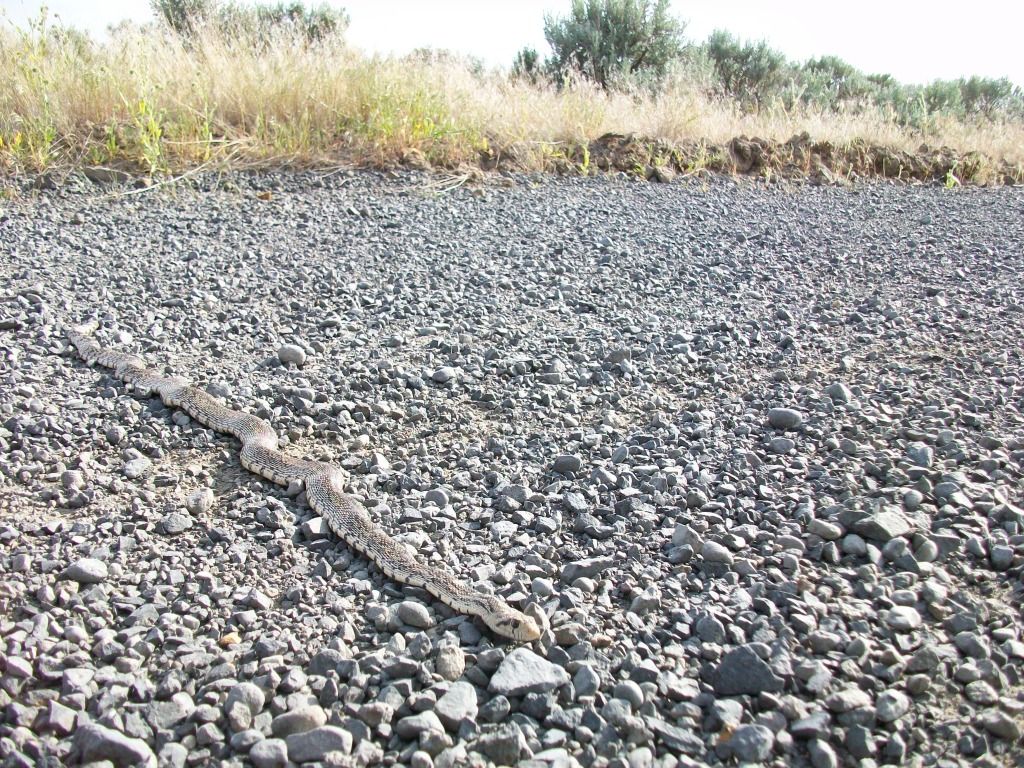 It was a typical Basin Gopher
Sunday, we headed north to a spot I heard was good for large Phidippus audax (Jumping Spiders) and found this little guy amongst our eight legged targets.
Pacific Tree Frog -
Pseudacris regilla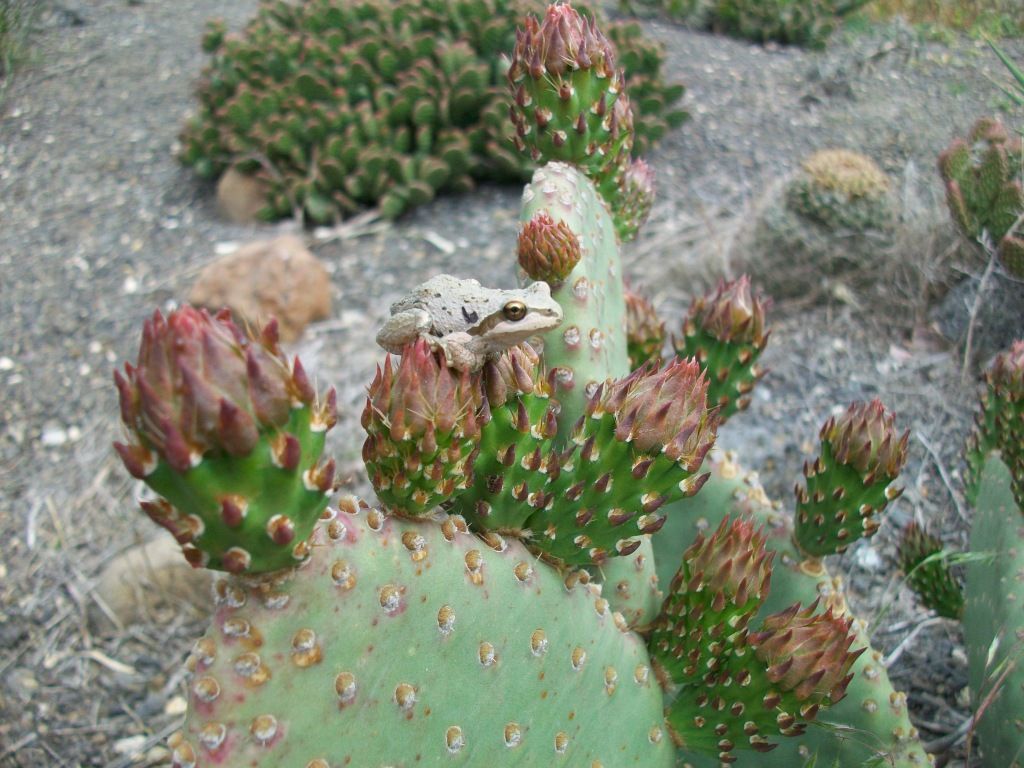 Coincidentally, upon returning home I was told by my children that the 2-4 P. regilla in my front yard water feature in Spokane County had laid a small cluster of eggs.
After we collected our Oogly Eyed Spiders we headed to some B&L land Northeast of Moses Lake for a quick jaunt before heading to camp and spotted a few more Pygmy Short Horned Lizards.
Phrynosoma douglasii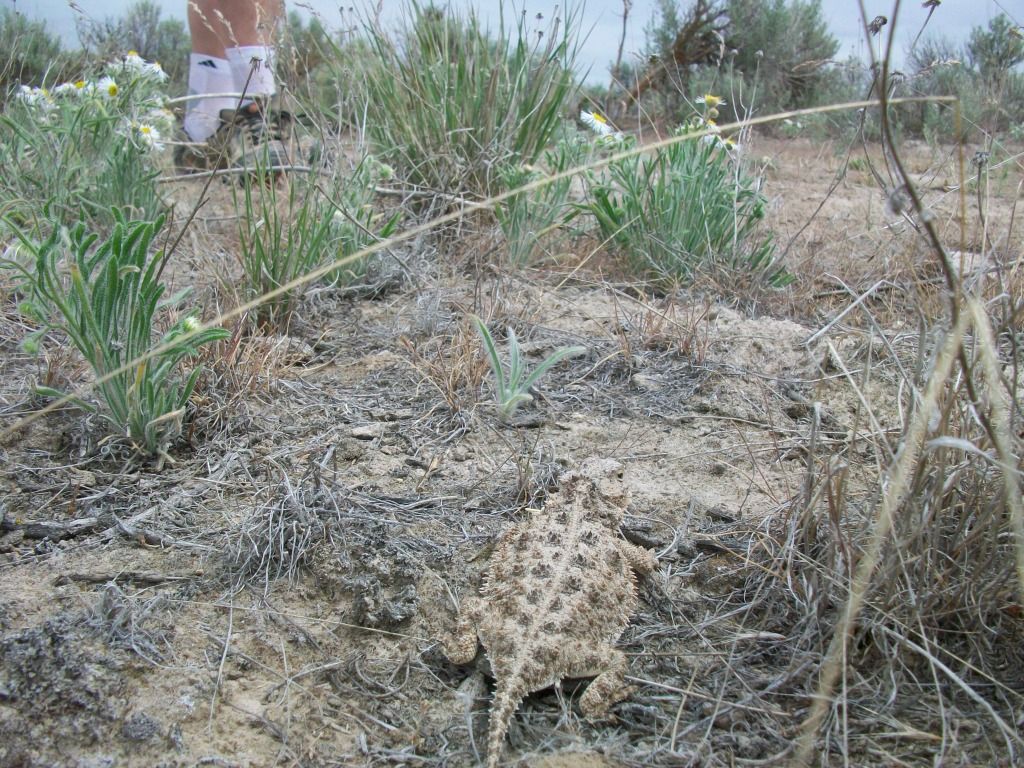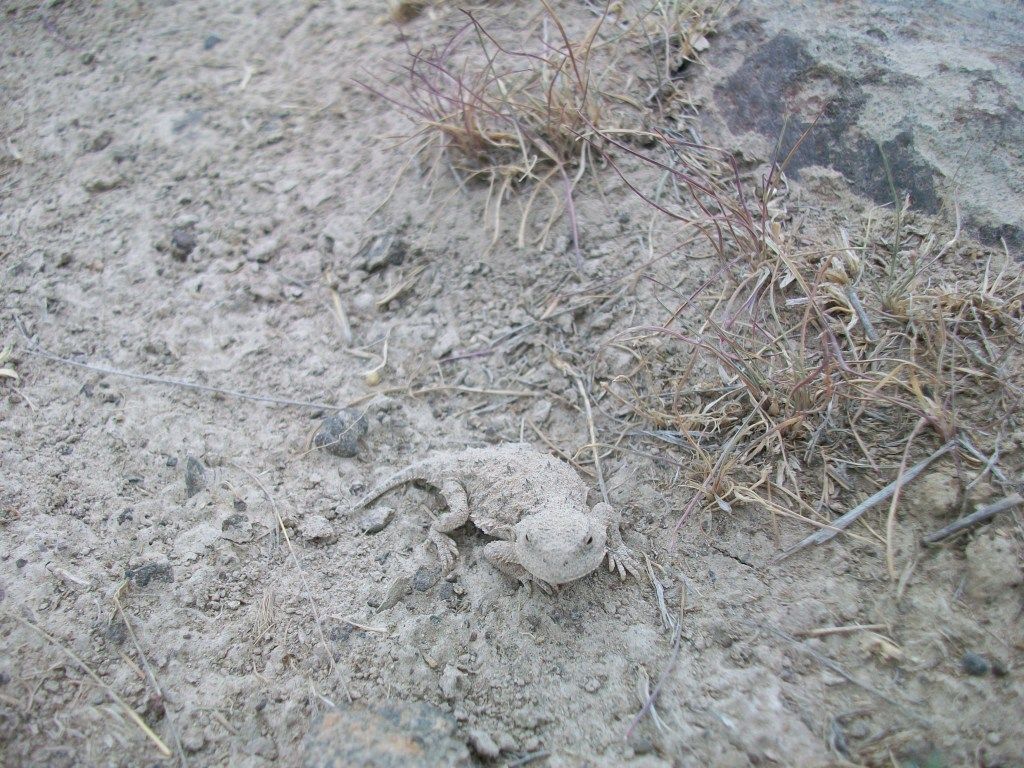 On the way back to Soda Lake we found an interesting gopher snake that would have surely been pressed into the black top had we not stopped traffic to get it.
Pituophis catenifer catenifer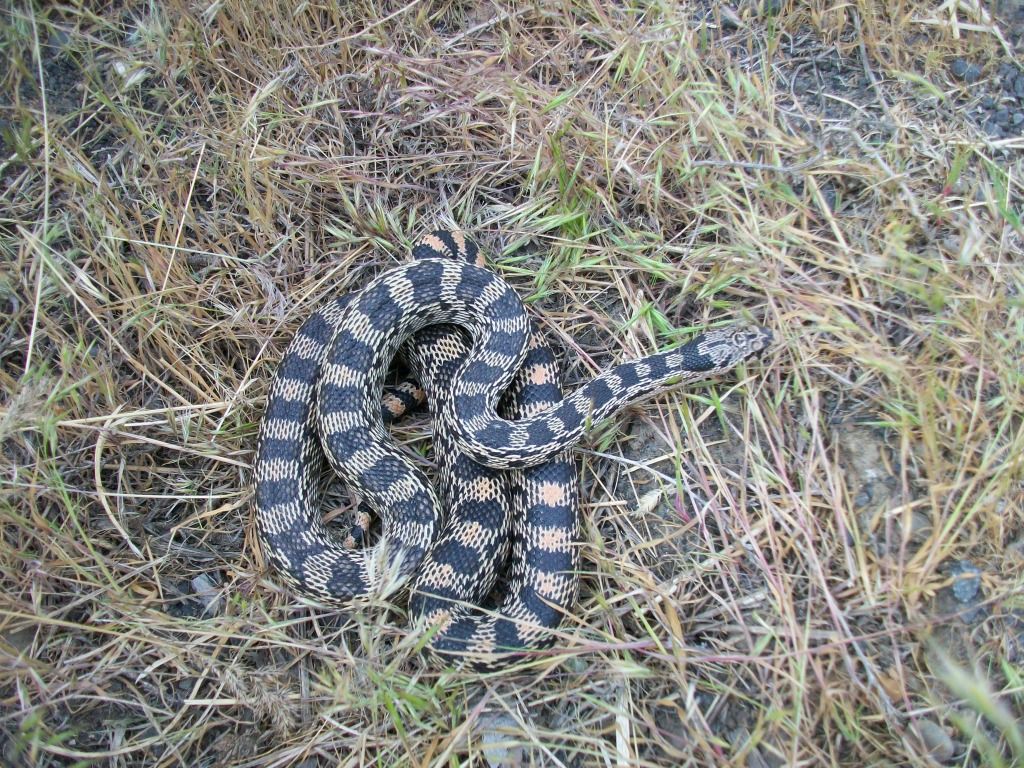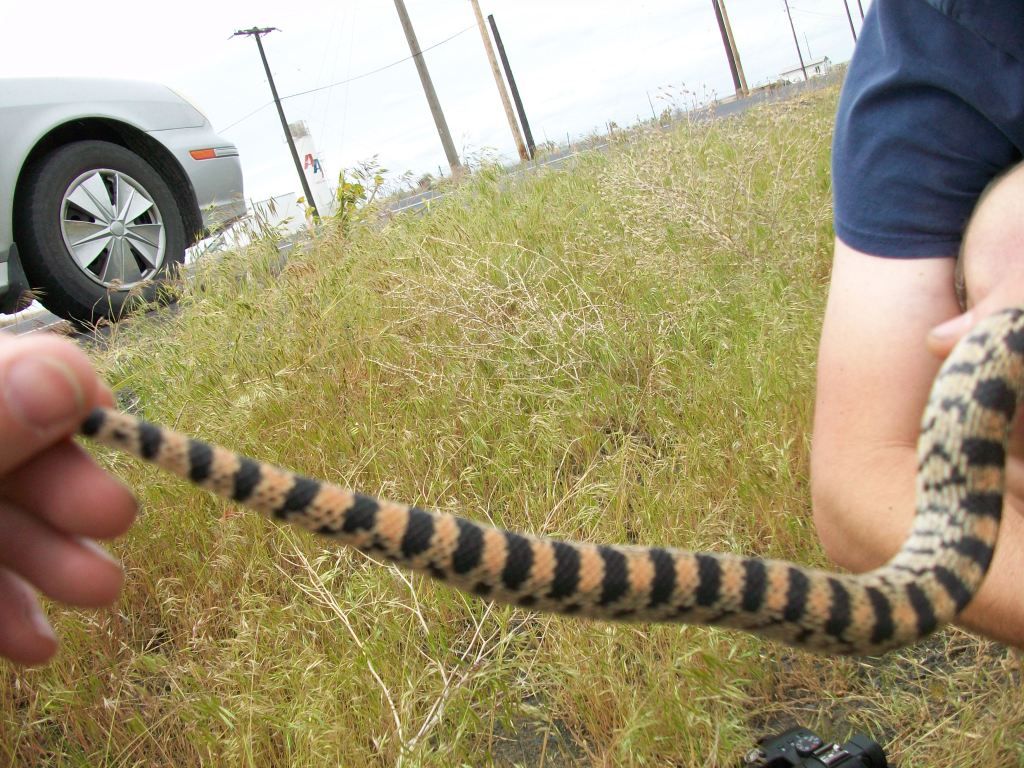 This one's girth and coloration kind of reminded me of the P. c. sayi we have in Spokane and Stevens counties in Northeastern Washington.
Back at camp another Racer gave us the slip…. Sigh
John and I decided to go canoeing to end the day.
Great Egret -
ardea alba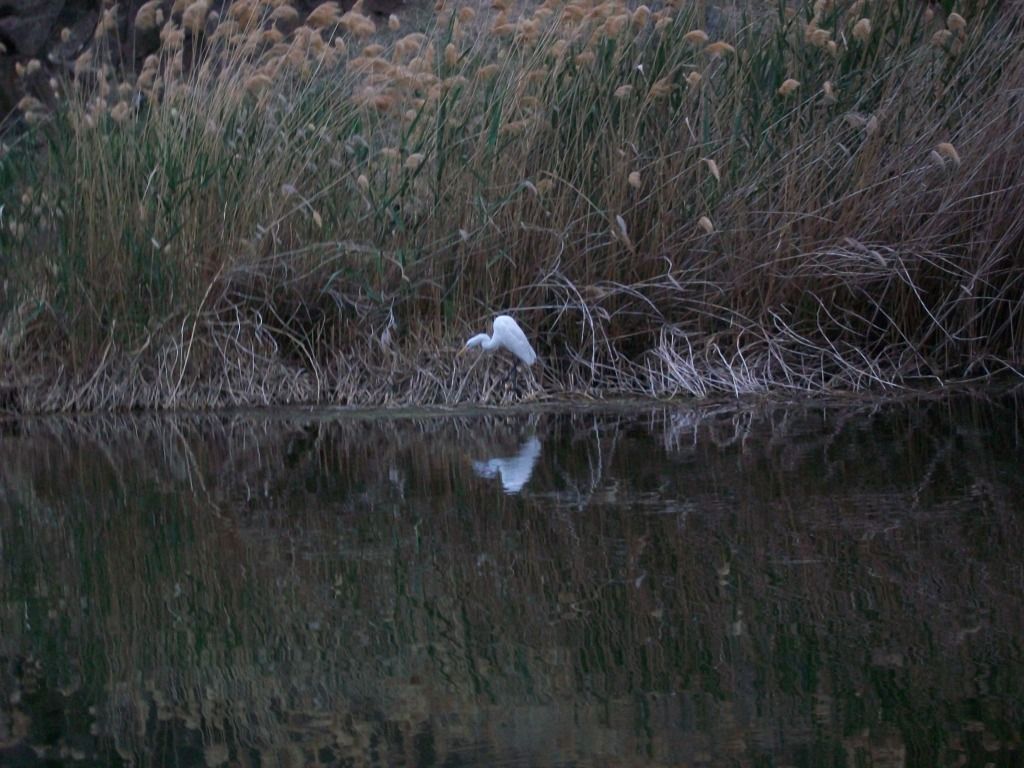 The next two pics are not very good but it is still hard not to fall in love with the form and grace of this beautiful bird.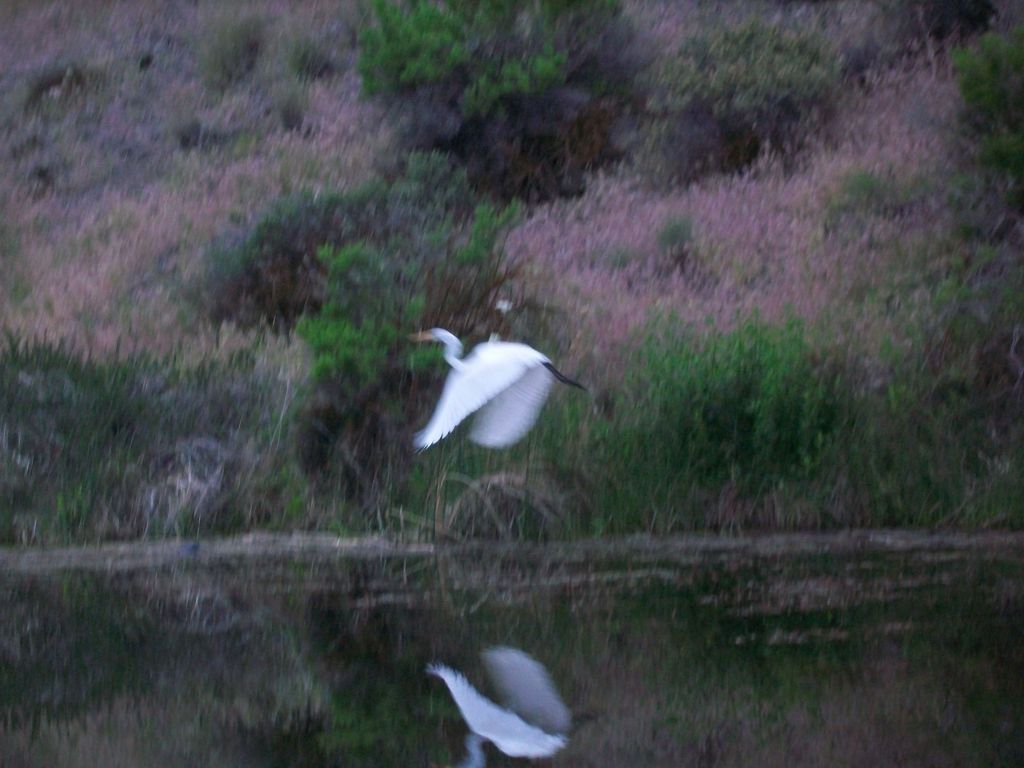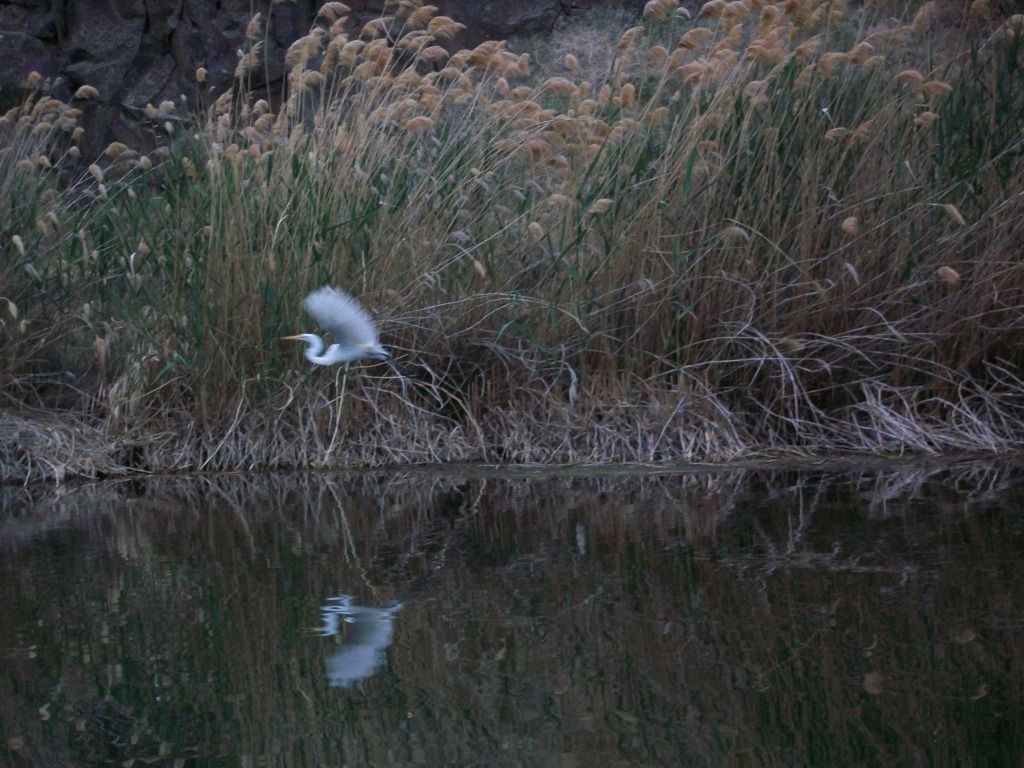 Monday morning we were packing up the camp and were thrilled to find three Stenopelmatus sp. Just when we thought it couldn't get any better these two serpents came to camp to bid us fare well.
Pituophis catenifer catenife
r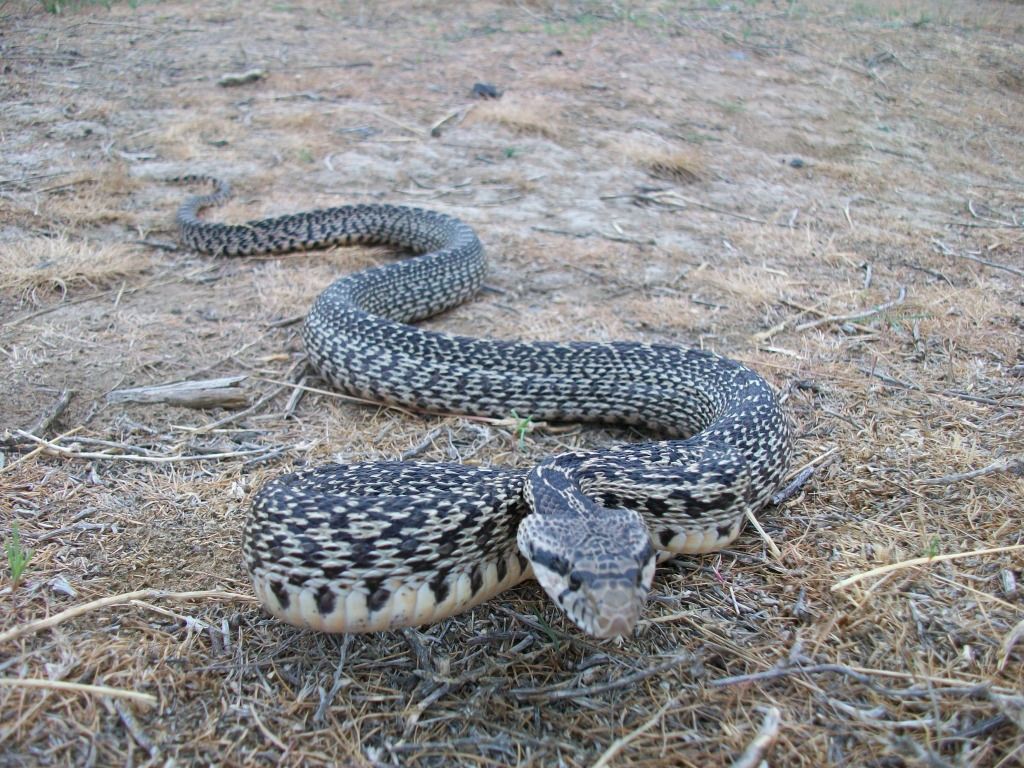 Crotalus oreganus oreganus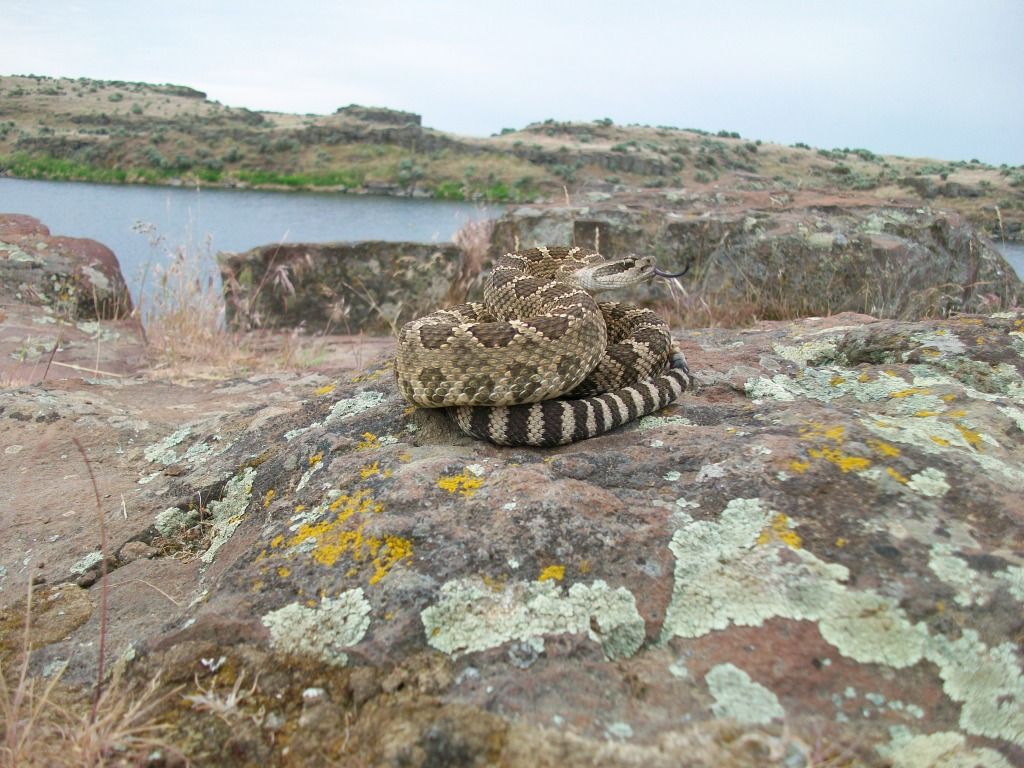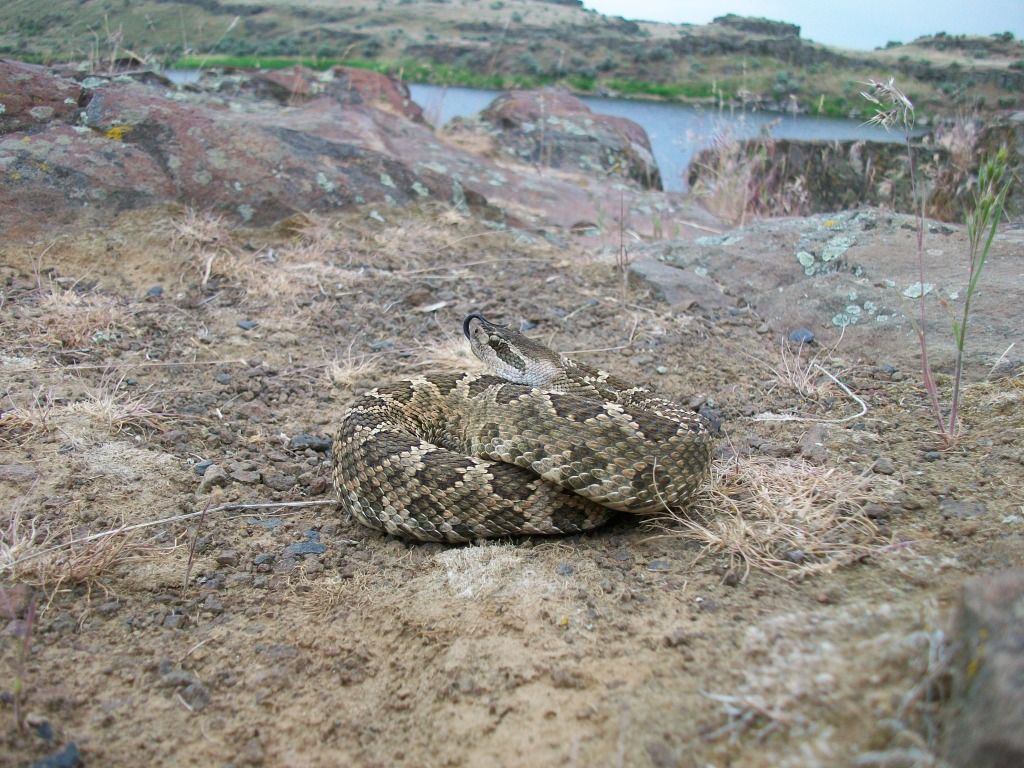 My bug buddy John getting some shots.
All in all, this was the kind of weekend I would like to have more often.
Cheers,
Travis K.