"And so the seasons went rolling on into summer, as one rambles into higher and higher grass."
-Thoreau (1854)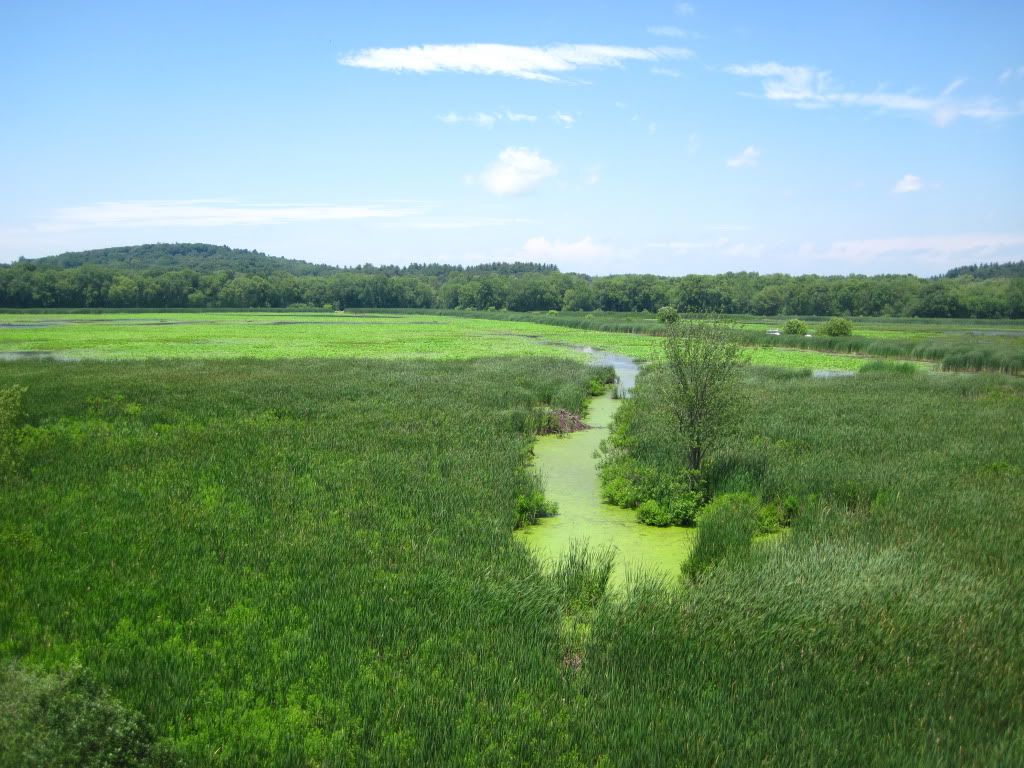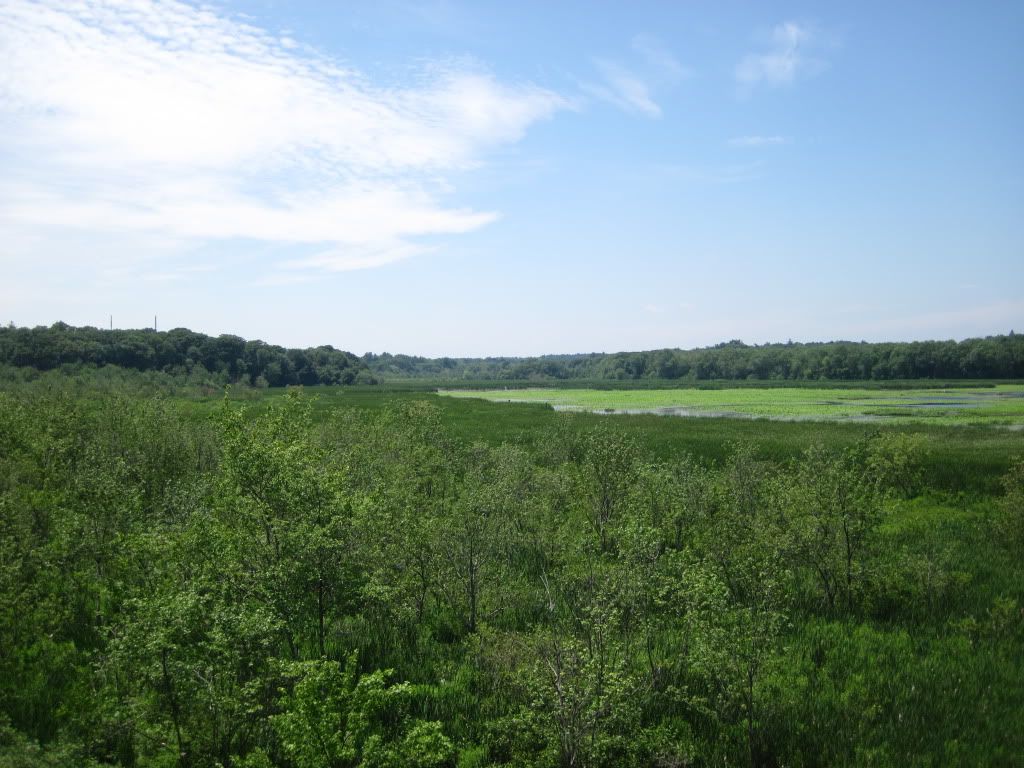 "The sun lodged on the old gray cliffs, and glanced from every pad, the bulrushes and flags seemed to rejoice in the delicious light and air; the meadows were a-drinking at their leisure; the frogs sat meditating, all Sabbath thoughts, summing up their week, with one eye out on the golden sun, and one toe upon a reed, eyeing the wondrous universe in which they act their part. . ."
-Thoreau (1849)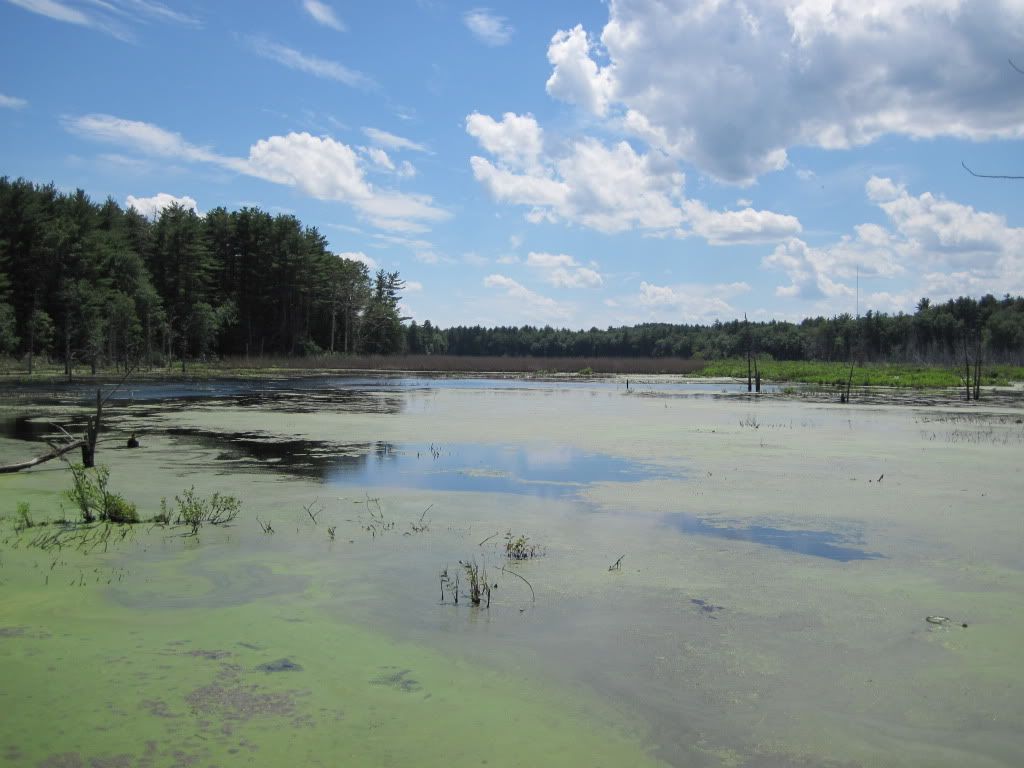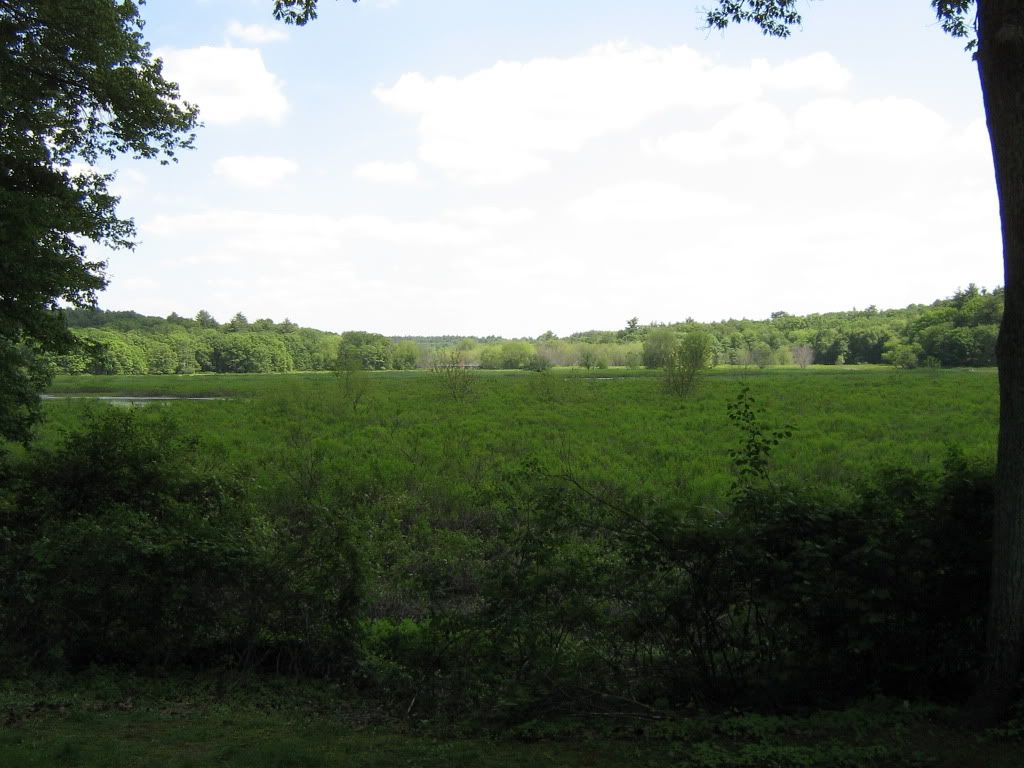 For background info about this blog, please see
Part 1
,
Part 2
, and
Part 3
.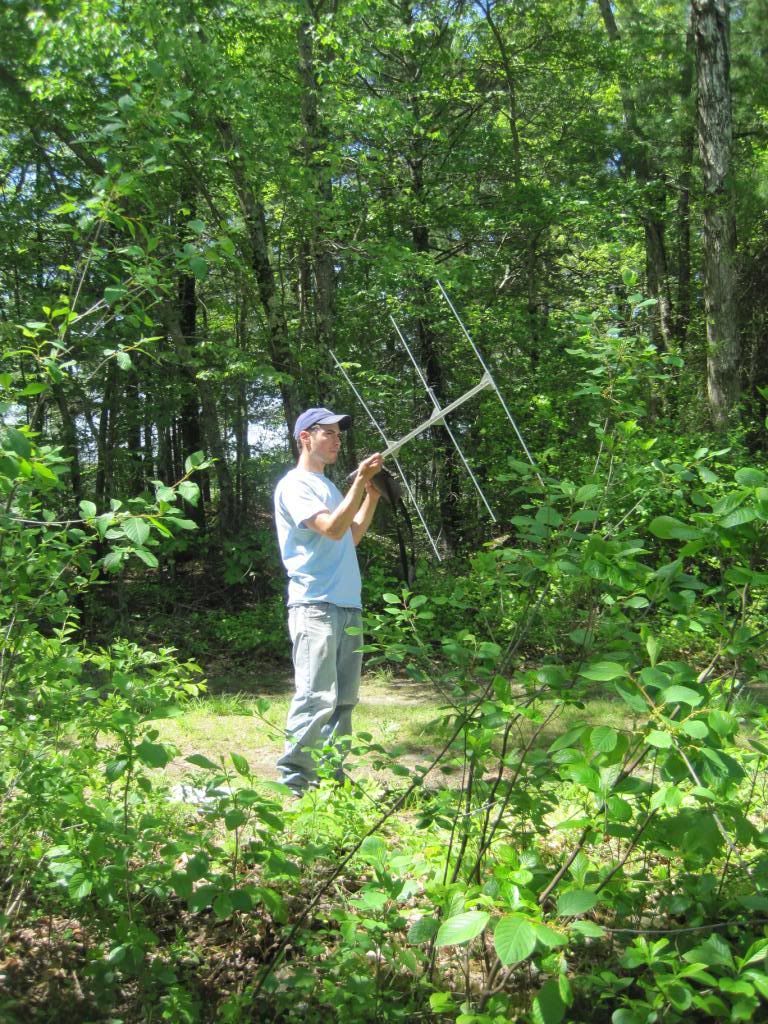 This turtle was found aestivating after a long movement away from the wetland where it had spent the winter. Although Hulse et al. (2001) state that "hibernation tends to occur in the same pond where summer activity takes place," Joyal (1996) reported that individuals of this species may occupy up to 6 different wetlands throughout a summer, frequently migrating overland between foraging areas, nesting, aestivation, and hibernation sites, sometimes traveling up to 2 km (1.2 mi).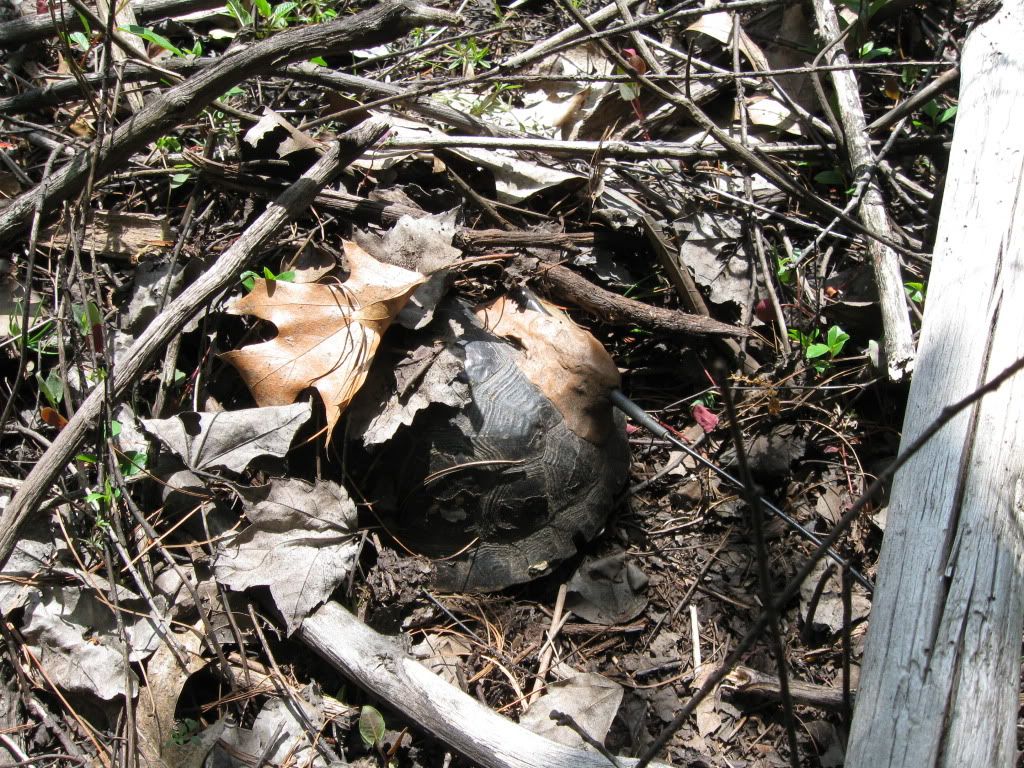 Here you can see why
E. blandingii
is sometimes called the "semi-box turtle"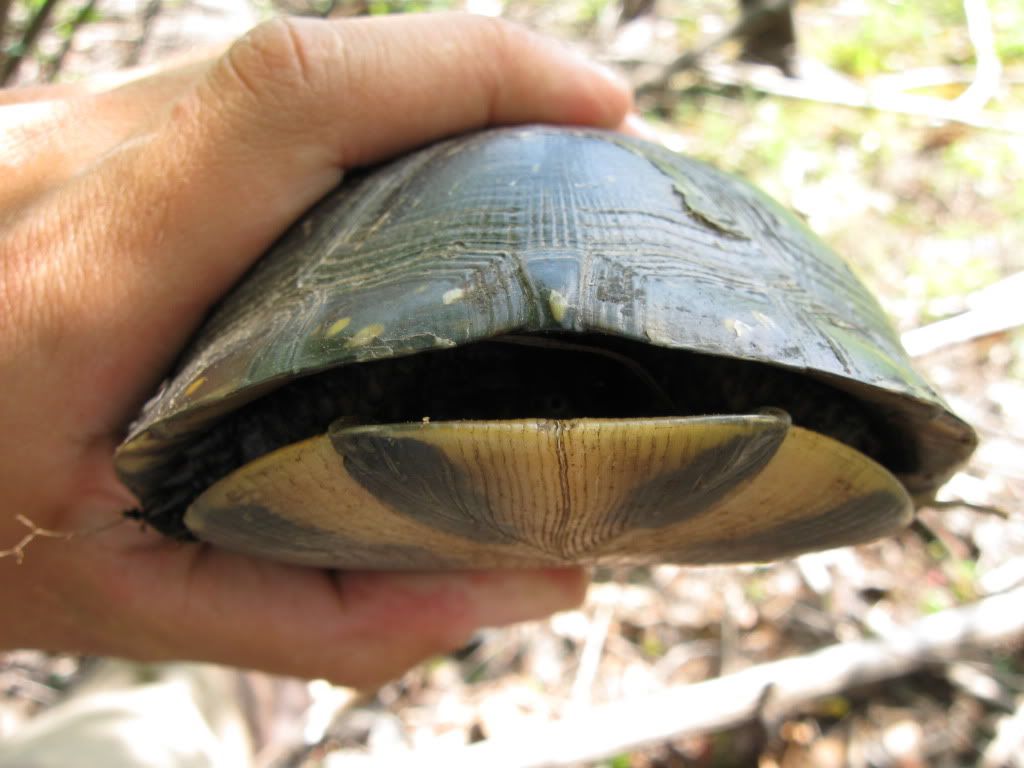 Water lilies
"In short, nature seemed to have adorned herself for our departure with a profusion of fringes and curls, mingled with the bright tints of flowers, reflected in the water. But we missed the white water-lily, which is the queen of river flowers, its reign being over for this season. He makes his voyage too late, perhaps, by a true water clock who delays so long. Many of this species inhabit our Concord water. I have passed down the river before sunrise on a summer morning between fields of lilies still shut in sleep; and when at length the flakes of sunlight from over the bank fell on the surface of the water, whole fields of white blossoms seemed to flash open before me, as I floated along, like the unfolding of a banner, so sensible is this flower to the influence of the sun's rays."
-Thoreau (1849)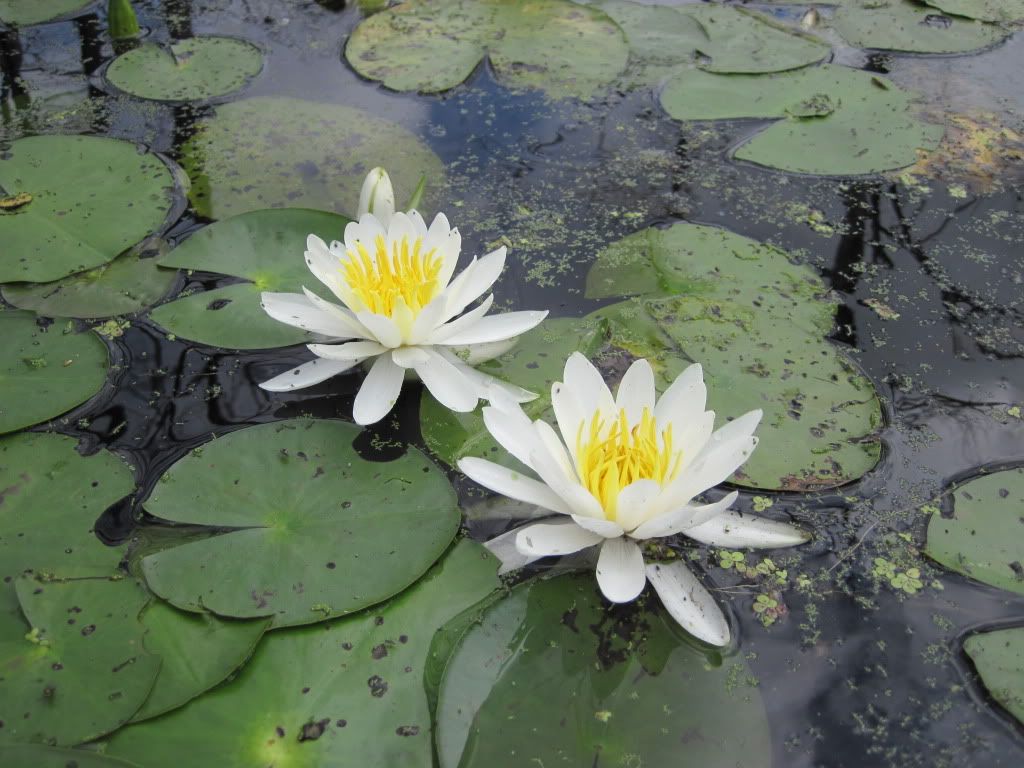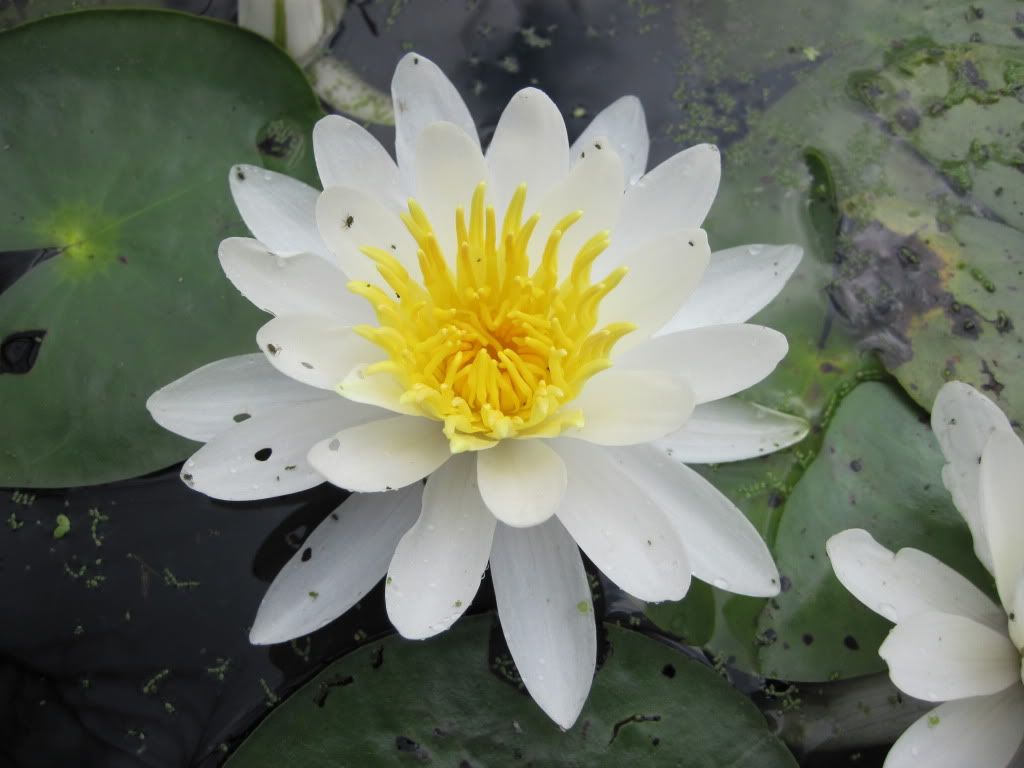 Release of another Blanding's turtle after its seasonal checkup/radio change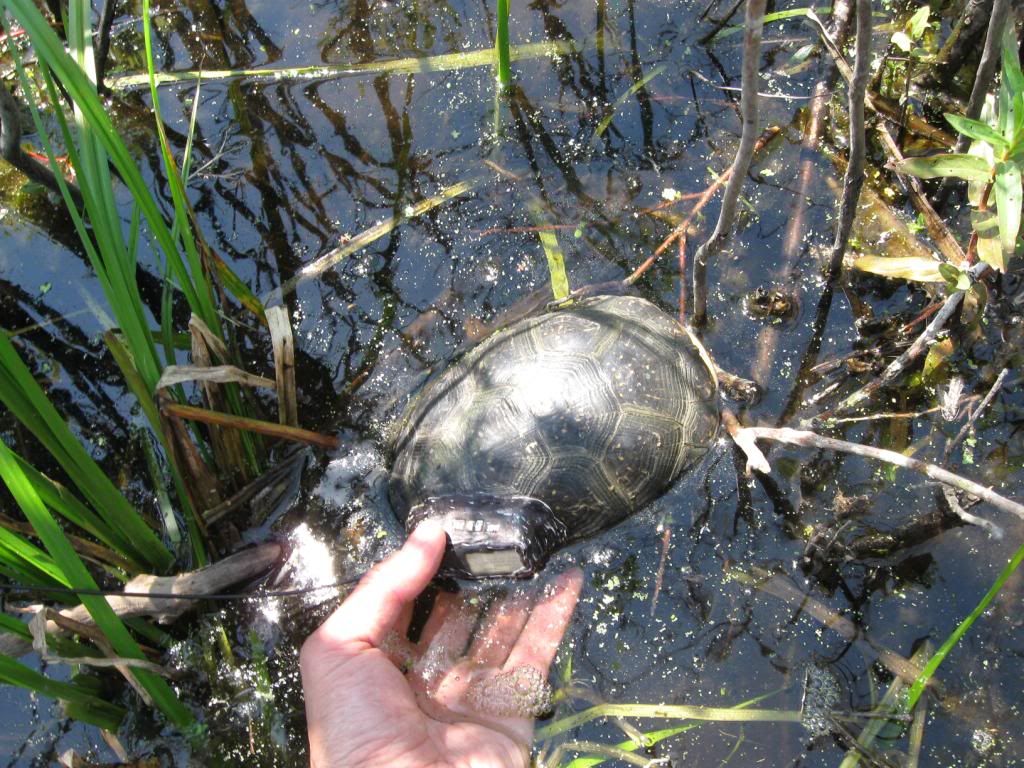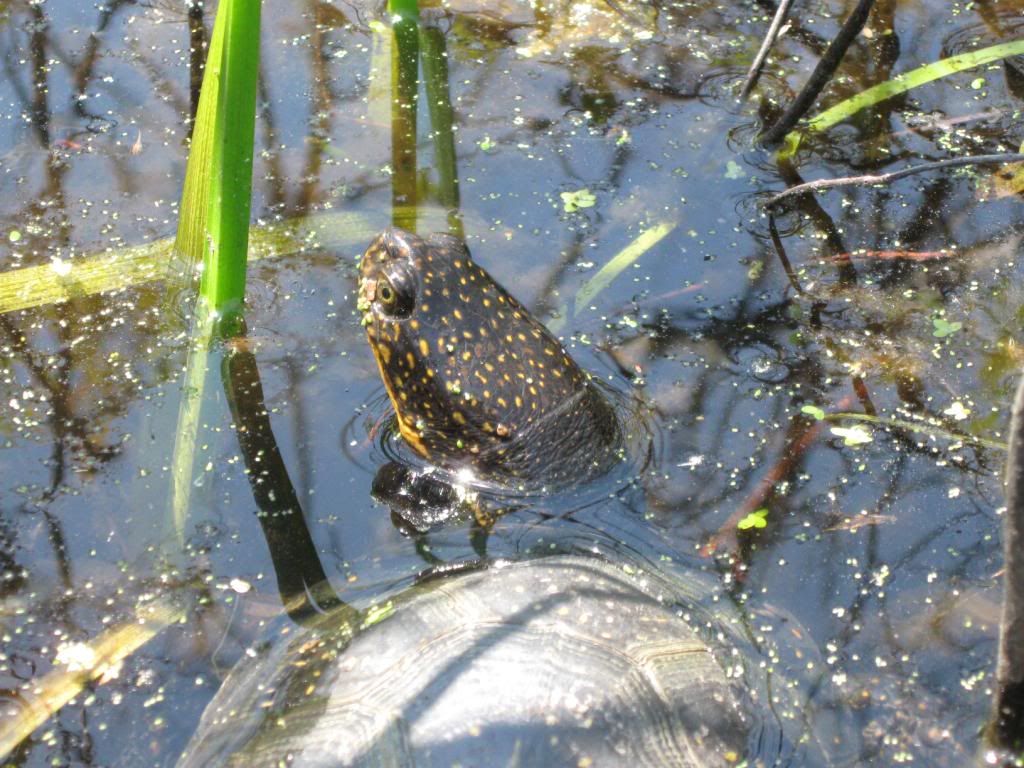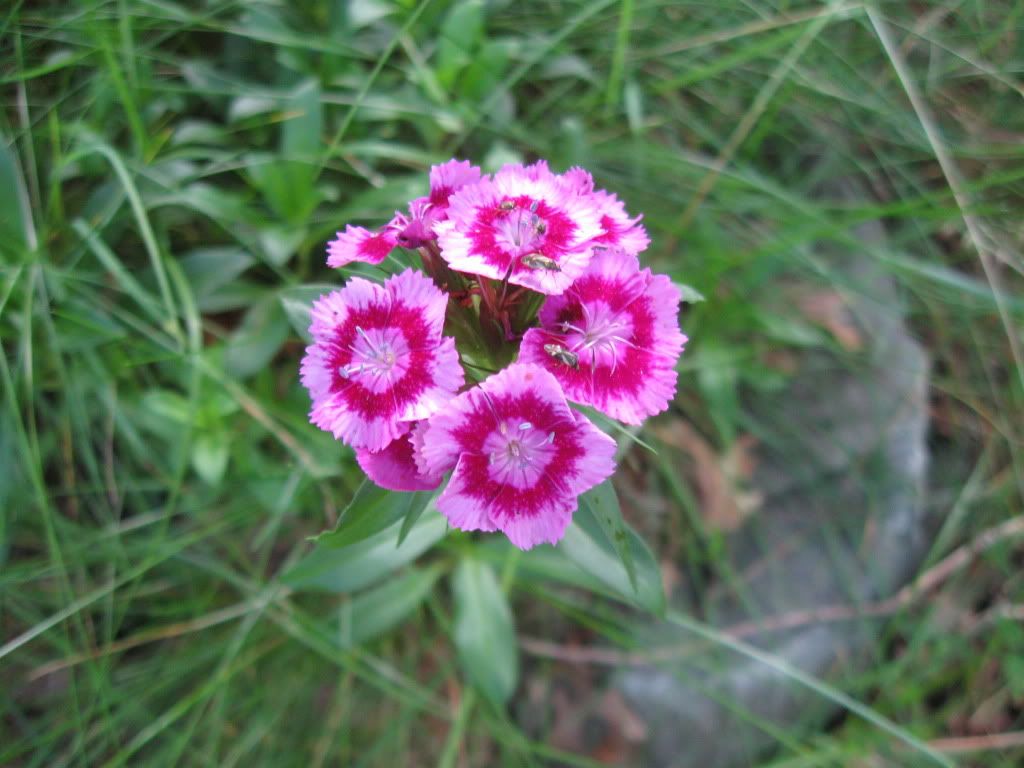 Painted Turtle (
Chrysemys picta
) with plastron stained from iron deposits – a result of high levels of dissolved iron accumulating on the shell over time (compare with similar environmentally-induced changes seen in water snakes; described in
Part 2
and
Part 3
). Interestingly,
Chrysemys treleasei
(Hurter 1911) was mistakenly distinguished as a separate species on the basis of this staining.
Another clue that this is probably an older turtle is this healed injury.
"Nevertheless I did discover that all the claws but one on one hind foot were gone! Had not a bird pecked them off? So liable are they to injury in their long lives."
-Thoreau, June 18th, 1858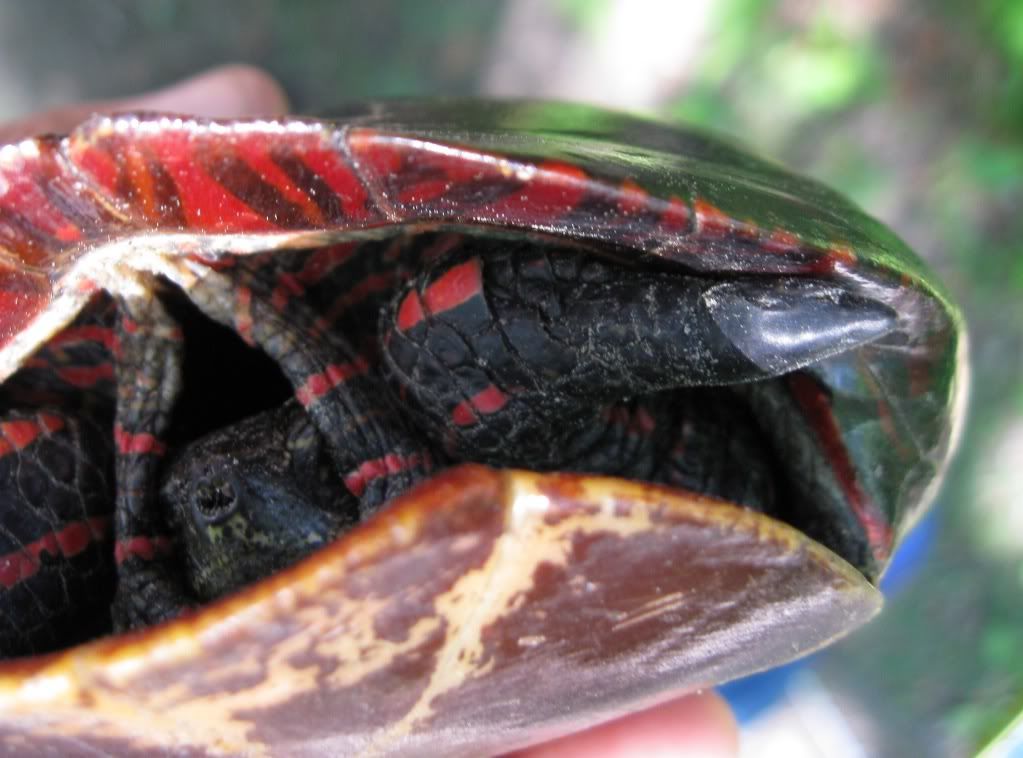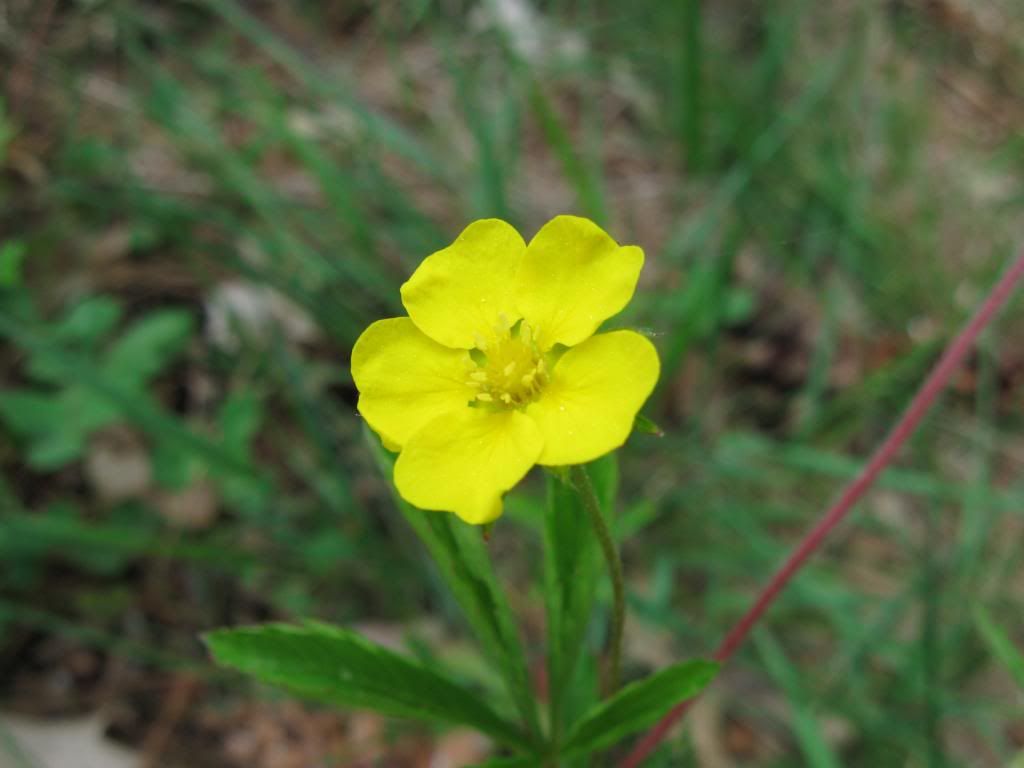 This Snapping Turtle (
Chelydra serpentina
) was nesting right by the EMNWRC headquarters parking lot. Female snapping turtles reach sexual maturity when carapace length is 20 cm (7.9 in) (this can take anywhere from 7 years in the southern US, to 20 years in Ontario). They generally nest over a 2-3 week period in June, the onset of which may vary. While females usually nest within 82 ft (25 m) of water, they may travel several hundred - or even thousand - meters (up to 3 km). Preferred nesting sites are generally vegetation-free, and sandy, but as you can see in this photo, this is not always the case. After a female has chosen a nesting spot, she digs a flask shaped hole 10-23 cm (4-9 in) deep and lays 20-60 spherical eggs (each 30 mm [1.2 in] in diameter; number of eggs is positively correlated with female body size). Female
C. serpentina
show strong nest site fidelity, often returning to the same spot year after year. Incubation takes 3-4 months, and hatching may begin between August to October depending on environmental conditions. Like many other turtles, snapper nests experience a high degree of mortality from skunks, raccoons, foxes, and coyotes.
"How much lies quietly buried in the ground that we wot not of! We unconsciously step over the eggs of snapping turtles slowly hatching the summer through. Not only was the surface perfectly dry and trackless there, but blackberry vines had run over the spot where these eggs were buried and weeds had sprung up above. If Iliads are not composed in our day, snapping turtles are hatched and arrive at maturity. It already thrusts forth its tremendous head,⎯for the first time in this sphere,⎯and slowly moves from side to side, ⎯opening its small glistening eyes for the first time to the light, ⎯expressive of dull rage, as if it had endured the trials of this world for a century. When I behold this monster thus steadily advancing toward maturity, all nature abetting, I am convinced that there must be an irresistible necessity for mud turtles. With what tenacity Nature sticks to her idea!"
-Thoreau, August 26th, 1854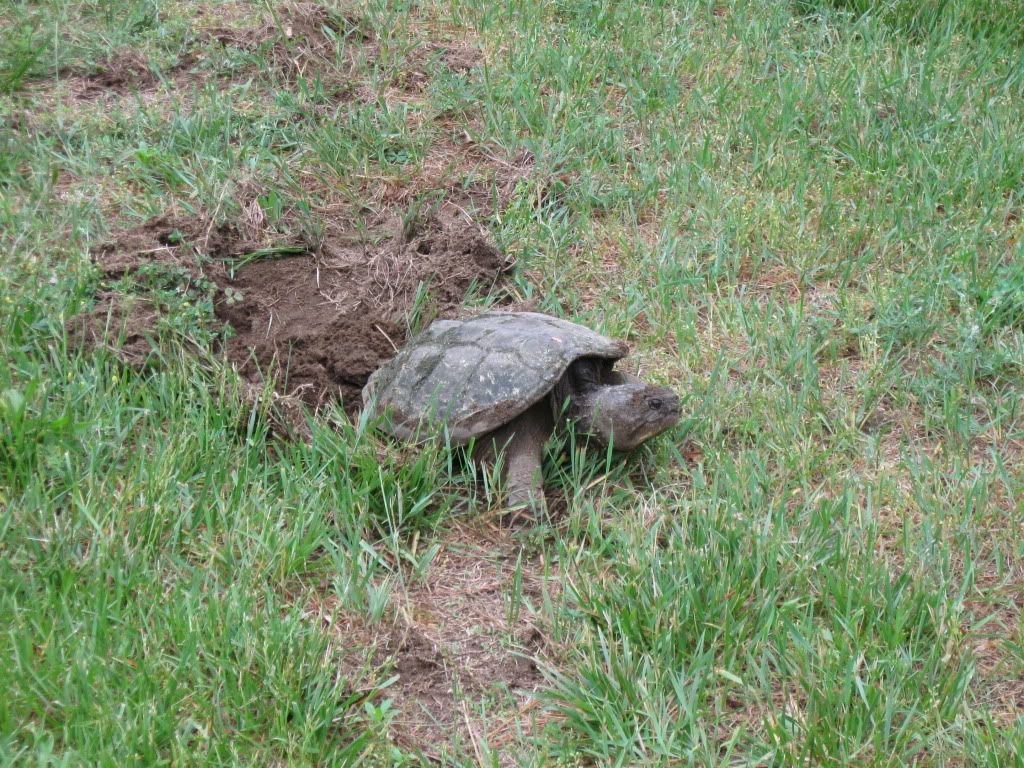 As a follow-up to the amphibian egg mass surveys we completed in April (see
Part 1
), we revisted these same vernal pools for dipnet surveys to check for larvae.
The first step of a dipnet survey is to stand at the edge of a pool and scoop from a distance of about 1m in, getting some leaf litter in the net as well (larvae like to hide in it).
Then dump the sample in a bucket and start sifting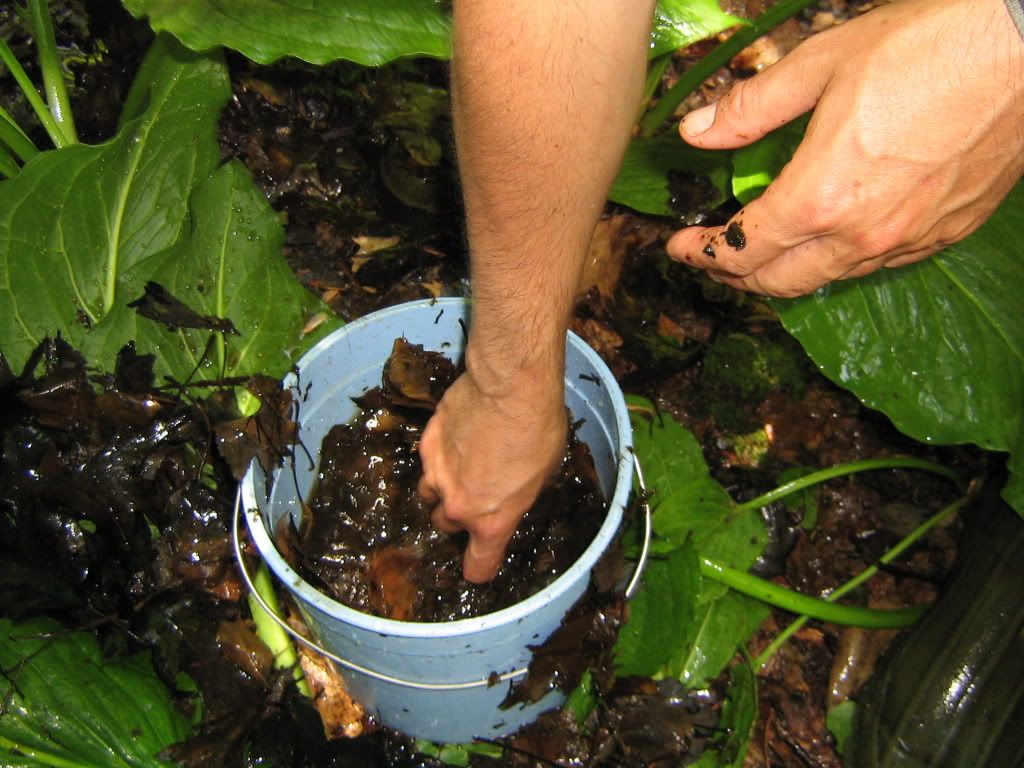 American Bullfrog (
Lithobates catesbeianus
) tadpole (at least I think it is – not really sure how to tell the difference between bullfrog and green frog tadpoles, so correct me if I'm wrong).
Bullfrogs are the largest frog species in North America, and understandably, their tadpoles are also big (up to 14.5 cm/5.7 in). This species also has the longest developmental period of any frog in the country, with the time to metamorphosis sometimes taking more than 3 years (2 years is most common, but can also be as short as 4 months; depends on climate and food availability). Bullfrog tadpoles are primarily vegetarians and have well-developed teeth used to snip aquatic vegetation and graze algae, though they will also scavenge dead animal remains. As with adults of this species, bullfrog larvae have voracious appetites, and can outcompete other species for food, potentially altering entire aquatic ecosystems (one of the reasons why they are becoming such a problem in many places they have been introduced).
L. catesbeianus
larvae are eaten by diving beetles, dragonfly nymphs, etc., and apparently when disturbed they can emit a loud "chirp" (though I've never heard this). A study in Kentucky found that survival to metamorphosis was fairly high (11.8-17.6% depending on year), and reported a maximum density of 13.2 tadpoles/sq. meter and a maximum biomass of 103 g/sq. m. (Cecil and Just 1979).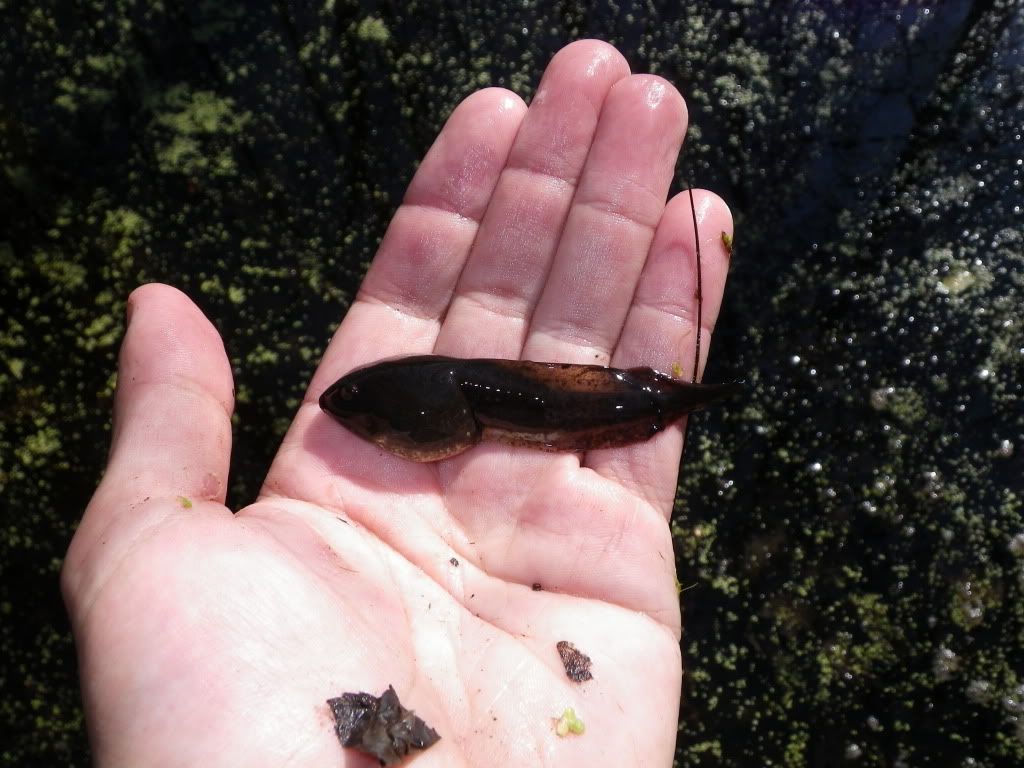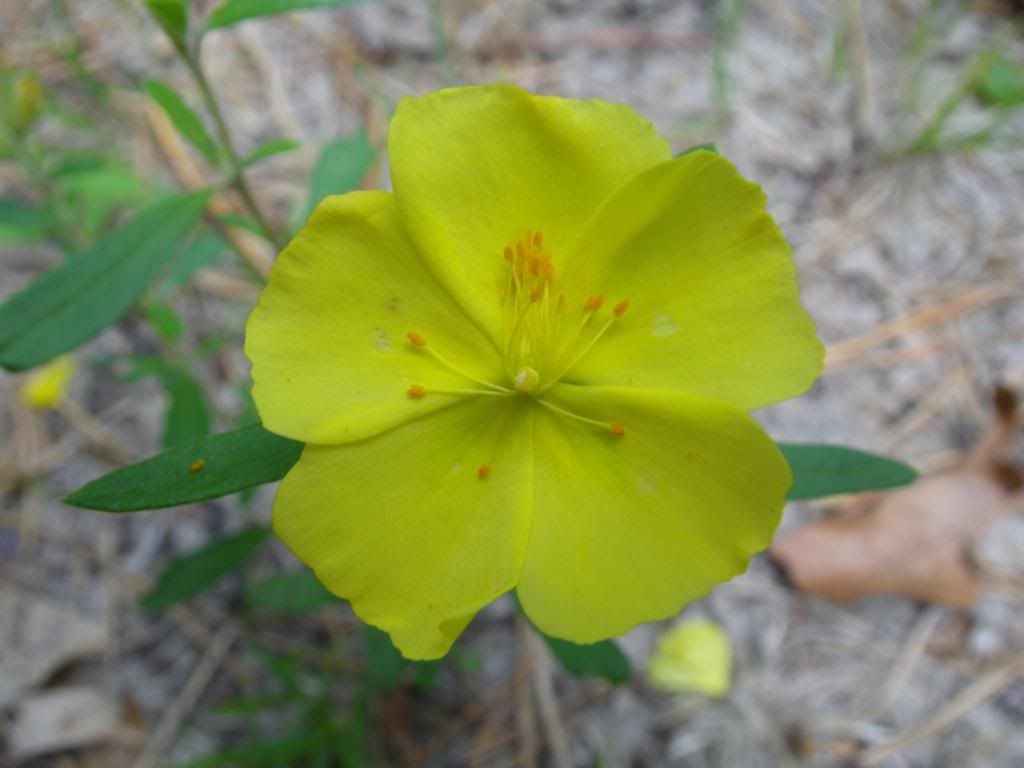 American Toad (
Anaxyrus americanus
) tadpoles.
A. americanus
tadpoles are small (30 mm/1.25 in), and swim in schools that confuse predators, stir up nutrients, and perhaps offer a thermal advantage to help speed up development (Beiswenger 1975). Female toads tend to avoid laying eggs in pools already occupied by larger Wood Frog (
Lithobates sylvaticus
) tadpoles, which prey upon/compete with the smaller toad larvae (Petranka et al. 1994).
A. americanus
tadpoles consume (in order of importance) fly larvae, mites, ants, beetles, thirps, and springtail, and are sometimes cannibalistic. They are in turn preyed upon by diving beetles, dragonfly nymphs, and leeches (the head-start Blanding's turtles also love them), and reduce their activity as a defensive mechanism in response to increased predator density (Anholt et al. 1996). Metamorphosis occurs 1-2 months after hatching.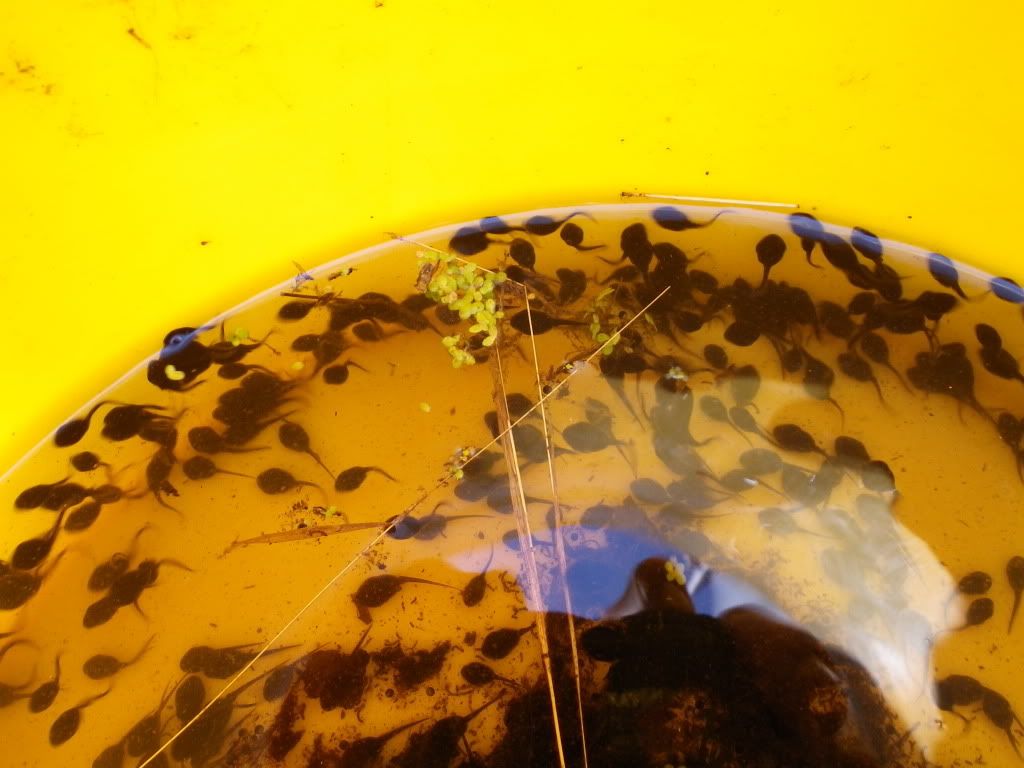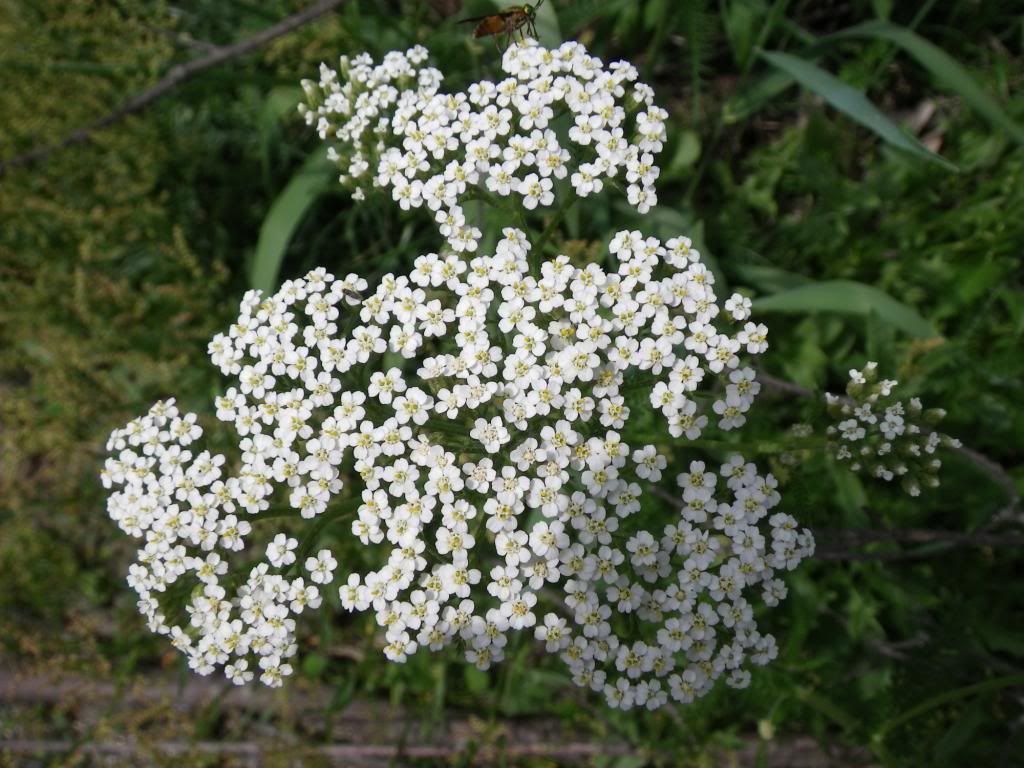 Wood Frog (
Lithobates sylvaticus
) tadpole – one of our two target species.
Wood Frog tadpoles are smaller than the bullfrogs' but larger than toads' (usually about 50 mm/2 in.; maximum 66 mm/2.5 in.), and can be easily identified by their iridescent, semi-transparent belly, in which their intestines are visible (see photos below).
Like the two species described above,
L. sylvaticus
larvae eat algae, decaying plants/animals, small invertebrates (spiders, beetles, bugs, moth larvae, earthworms, slugs, snails), and smaller tadpoles (of their own species, and others [i.e.
A. americanus
]). They are themselves eaten by diving beetle larvae, Ambystomid salamanders, Blanding's and wood turtles, and birds. Because Wood Frogs prefer to breed in vernal pools, mass mortality can result from the premature drying of such pools.
Metamorphosis occurs 2-3 months (average = 67 days) after hatching (late May-mid August in the northeast).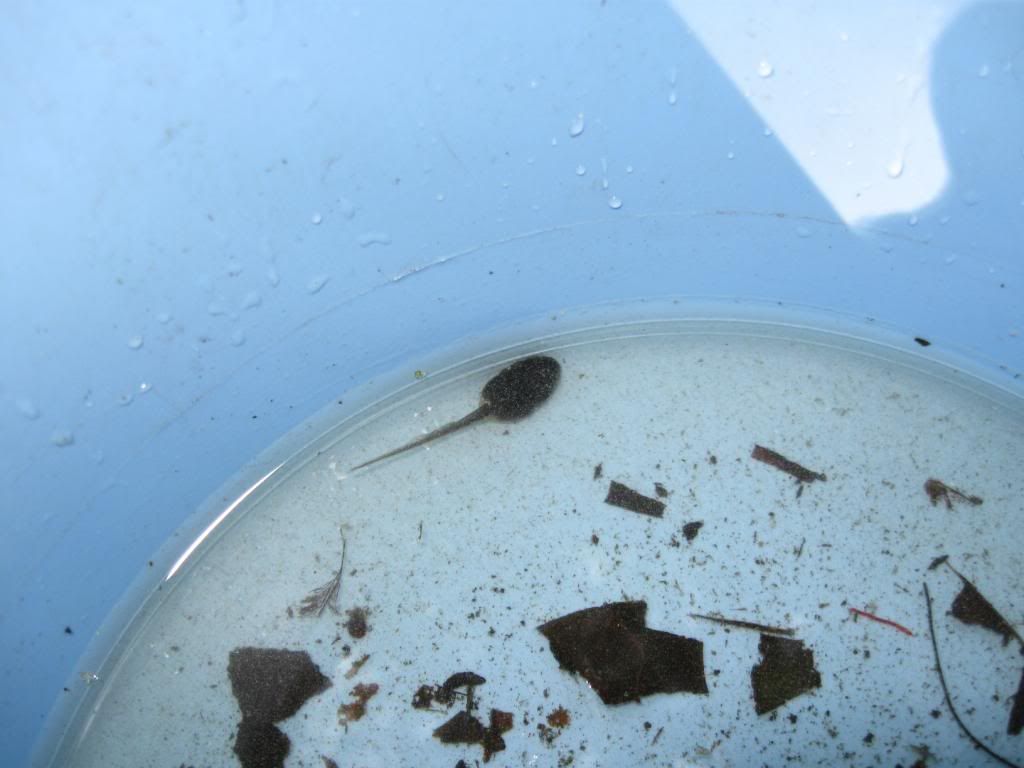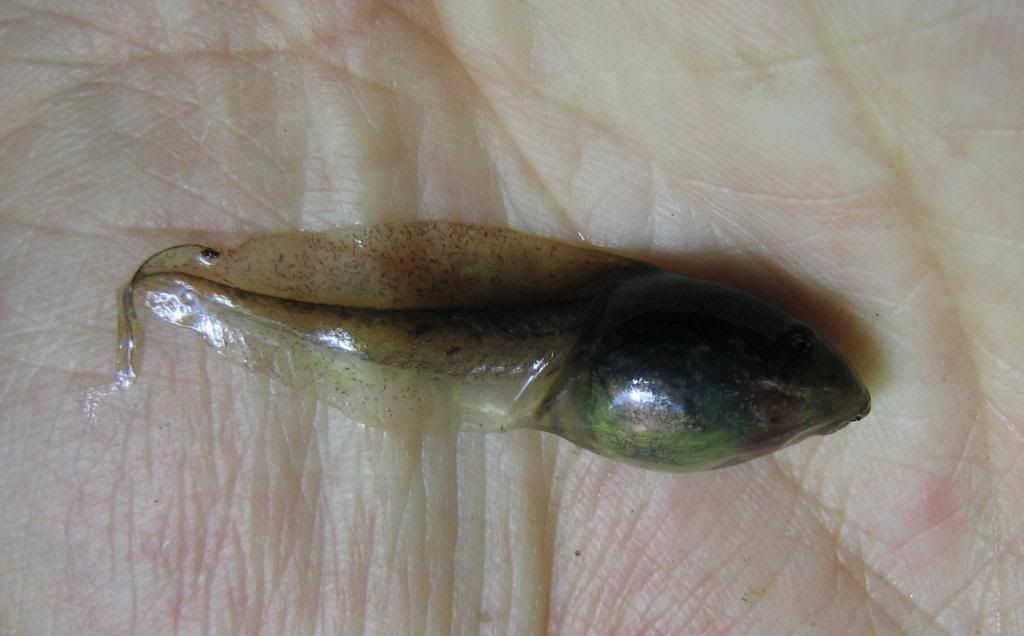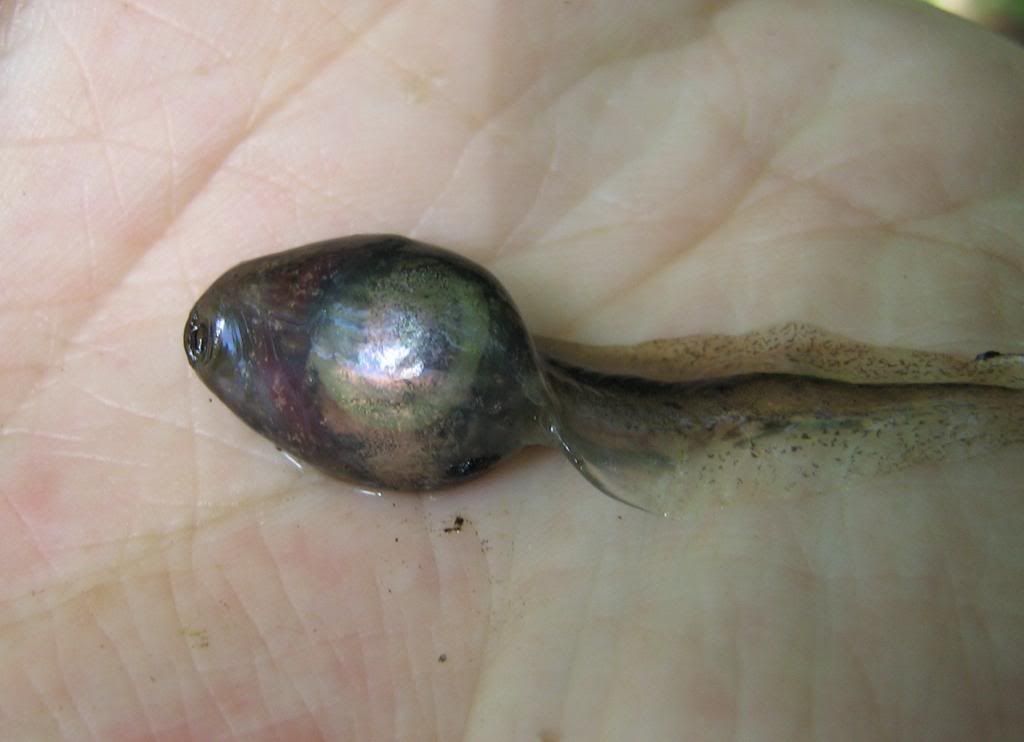 Spotted Salamander (
Ambystoma maculatum
) larva – our second target species.
Spotted salamander larvae measure 1.1-1.3 cm (.25-.5 in.) in length at the time of hatching, and grow to 3.5-7.5 cm (1.4-3 in.) before metamorphosis (5 cm/2 in. is most common), which takes between 70-100 days, depending on environmental conditions. While metamorphosis usually occurs in August-September, larvae may overwinter if temperatures are especially low and pools don't dry up completely. Individuals can live to 20 years or more.
There are a few notable differences relating to the larval stage of this species versus those of the other anurans (aka frogs & toads) described above. For example, in contrast to anuran tadpoles that respire via internal gills,
A. maculatum
larvae possess long, fringed, external gills (which are later absorbed during metamorphosis). Additionally, while the hindlegs are the first to develop in anuran tadpoles, the forelegs emerge first in aquatic salamander larvae. Finally, whereas tadpoles are primarily grazers/detritvores, salamander larvae are entirely carnivorous, active predators. Spotted Salamander larvae are known to consume a variety of aquatic invertebrates (i.e. fly larvae, beetles, cladocerans [aka "water fleas"]), small fish, and each other.
A. maculatum
larvae make daily vertical migrations between the bottom and top of a pool in response to changing light/temperature and/or to follow the migration of prey. Larvae of this species are especially sensitive to the acidification of breeding pools as a result of acid rain, which stunts gill development, slows growth, and increases mortality rates.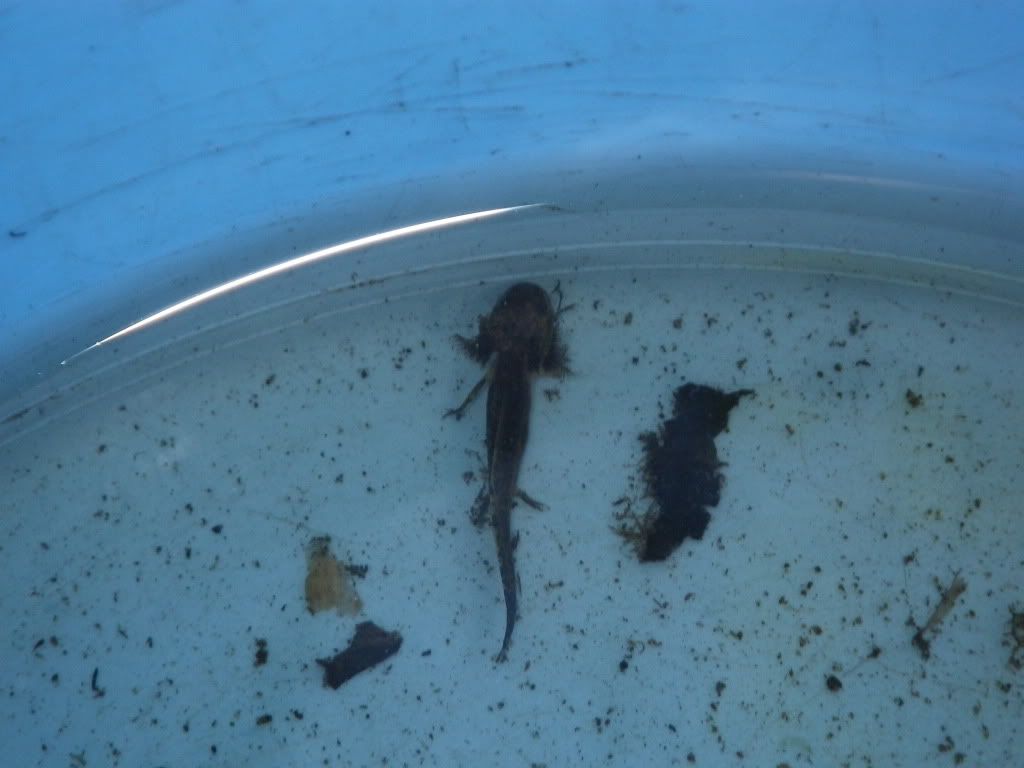 "[F]rom under a rotten stump my hoe turned up a sluggish portentous and outlandish spotted salamander, a trace of Egypt and the Nile, yet our contemporary."
-Thoreau (1854)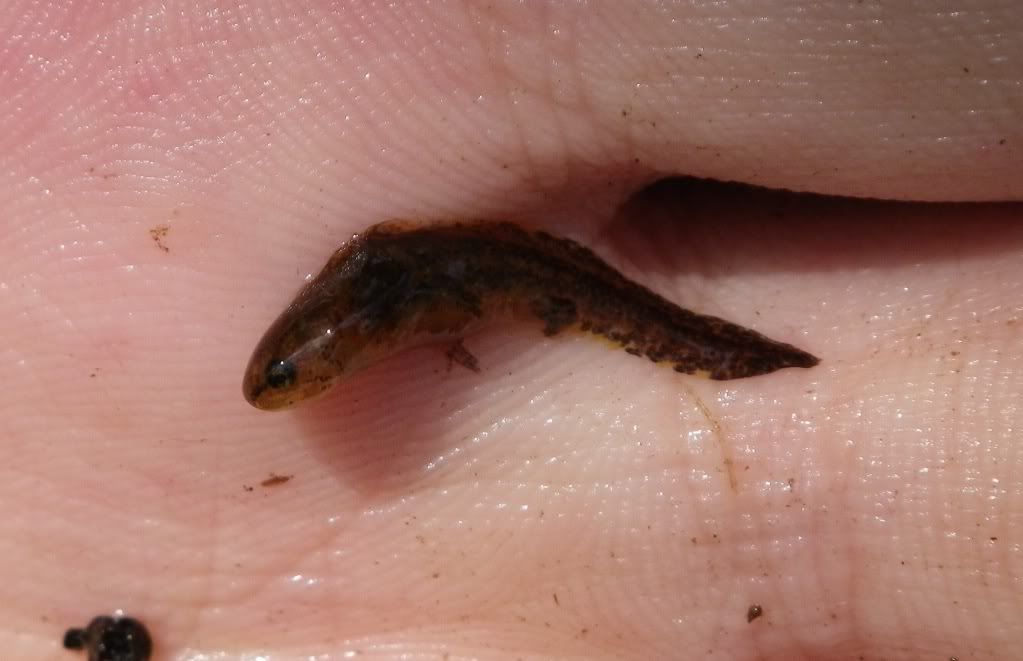 "This is a world where there are flowers."
-Thoreau, August 19th, 1851
As with local amphibians, the Blanding's turtles started nesting about two weeks earlier this year than in previous seasons. Nesting usually occurs over 2-4 weeks, with a peak around mid-June. It seems that this year the peak had already happened by the start of June.
Turtle tracks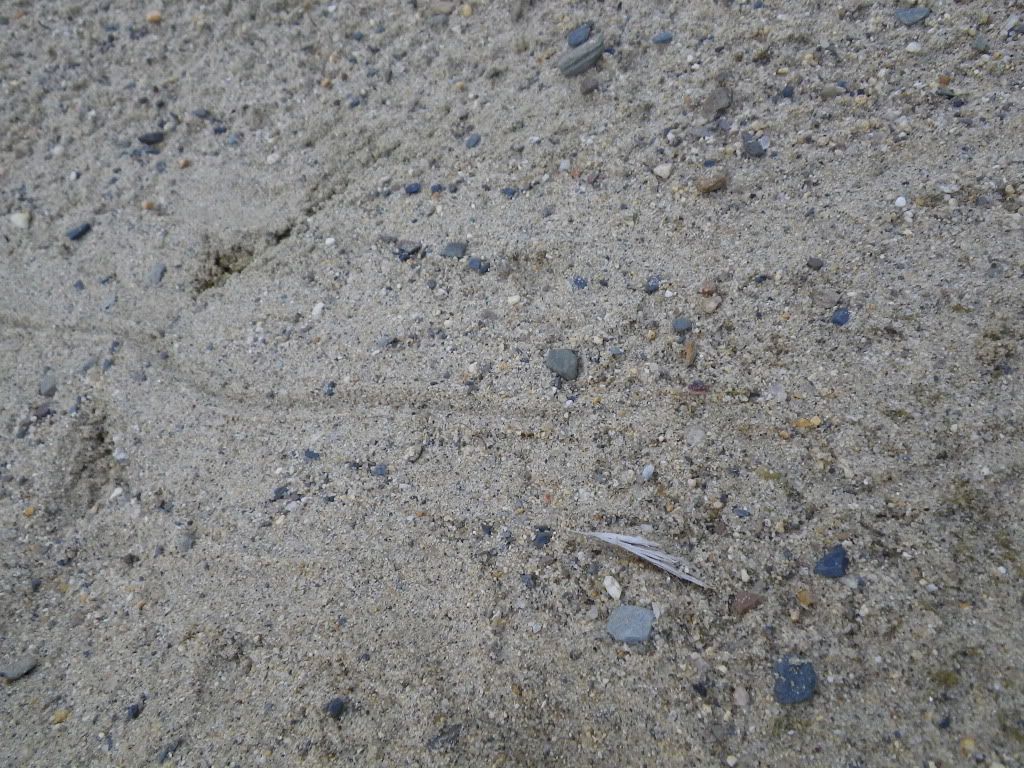 "Test" dig
Predated nest – there were unfortunately lots of these this year, as we think we missed peak nesting activity.
Clean-cut eggshell. Anyone have any idea what might have done this?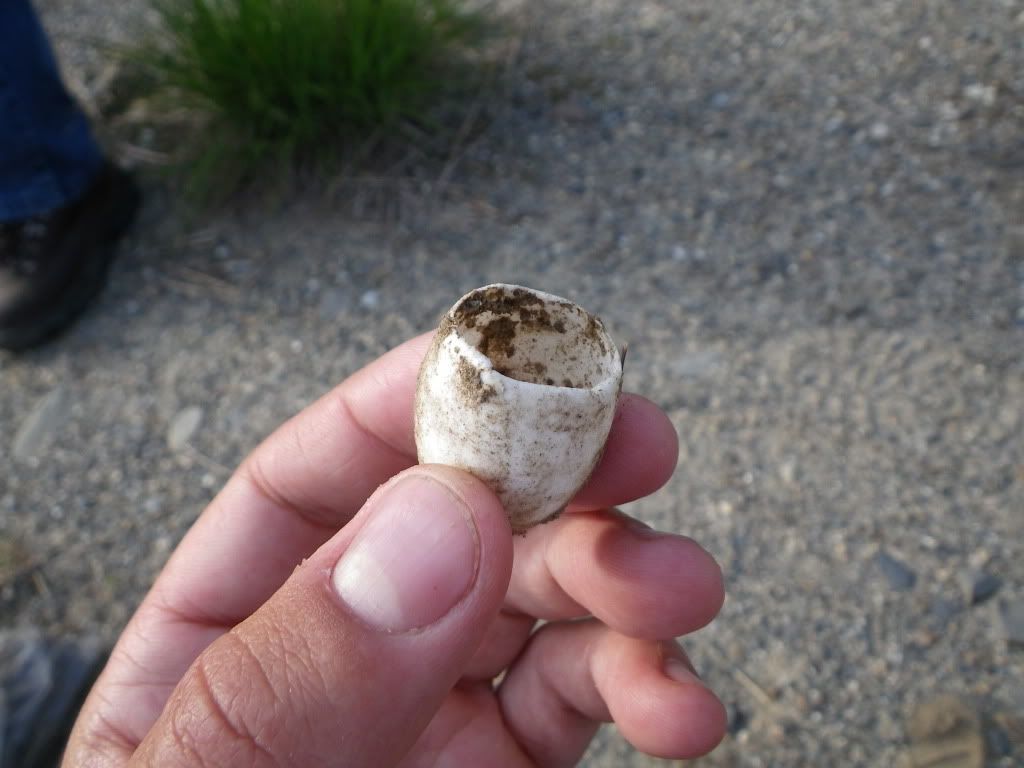 First female of the evening. Female Blanding's take 12-20 years to reach maturity, and
less than half of the females in a particular population may nest in a season. They may travel up to 0.6 mi (1 km) overland to find a suitable nesting spot (sand, loam, gravel substrate; in plowed farmlands, pastures, road edges, and yards)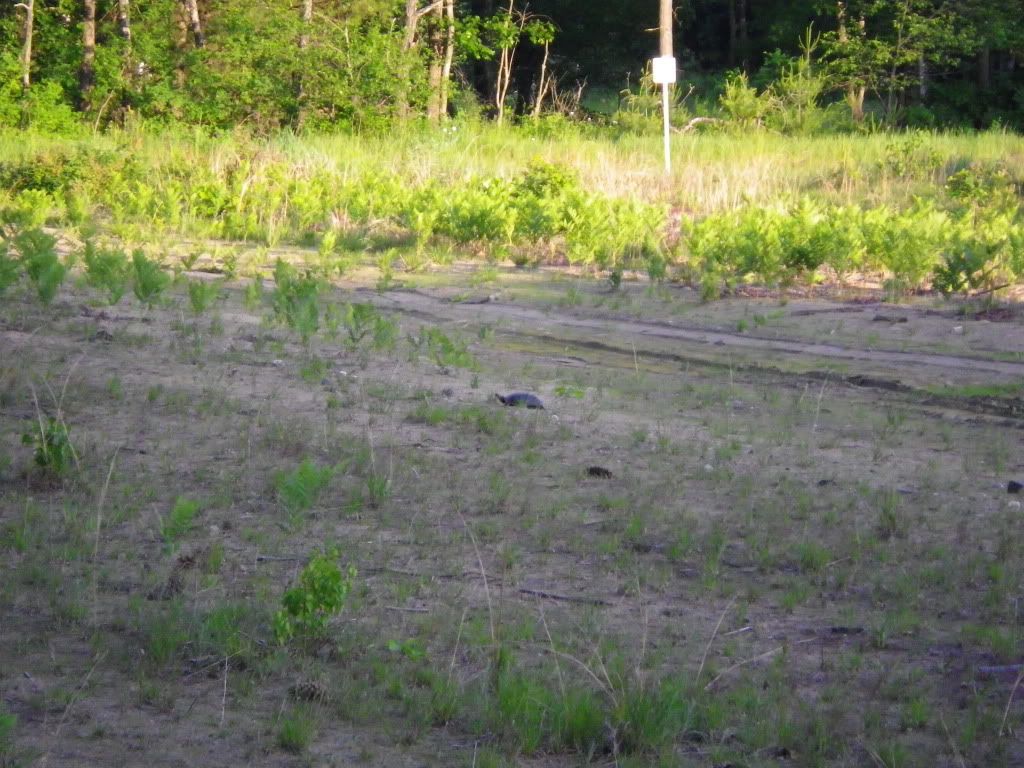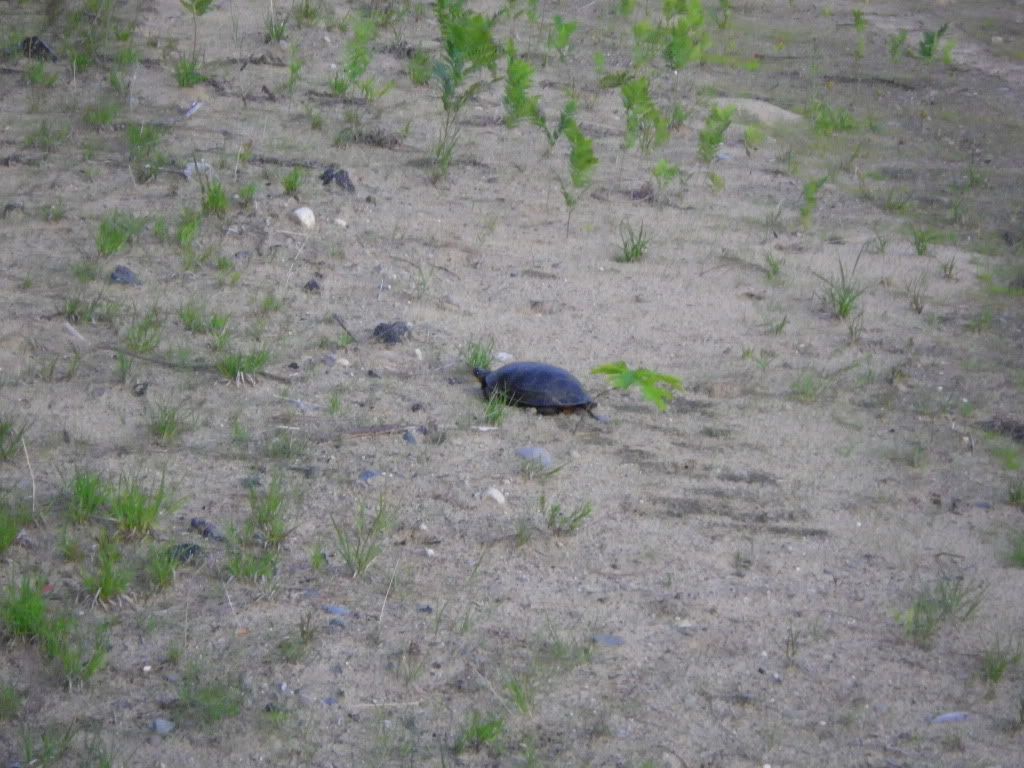 Unfortunately this turtle saw us and got spooked before she started to nest. Darlene of
Oxbow Associates, Inc.
records her measurements.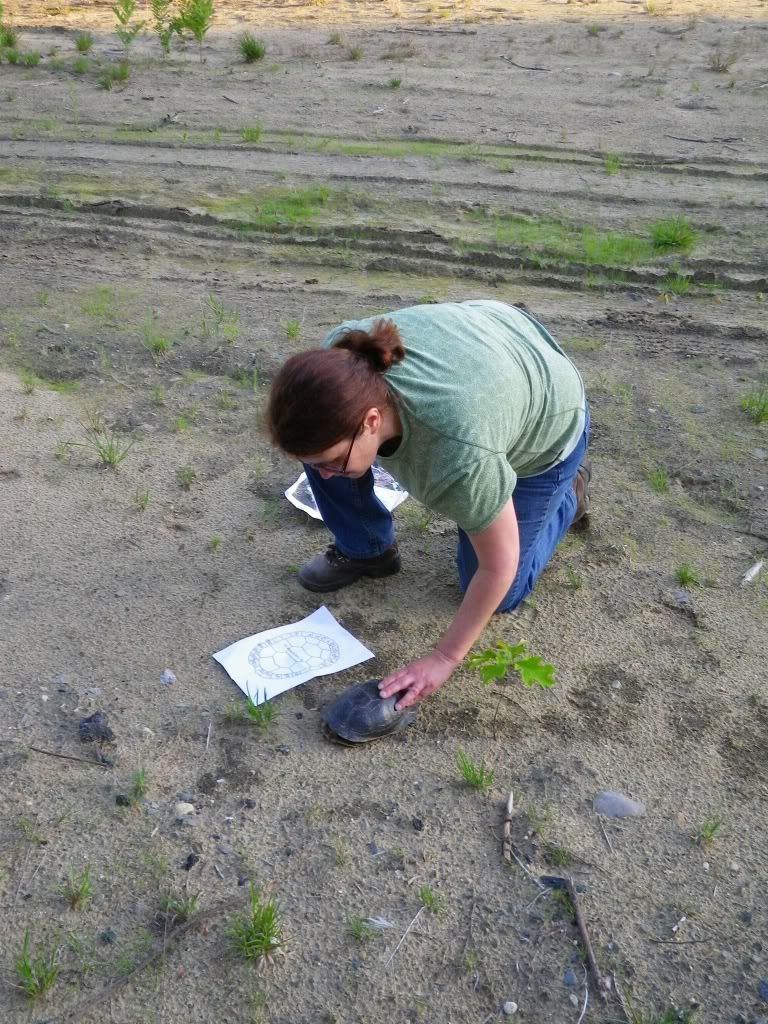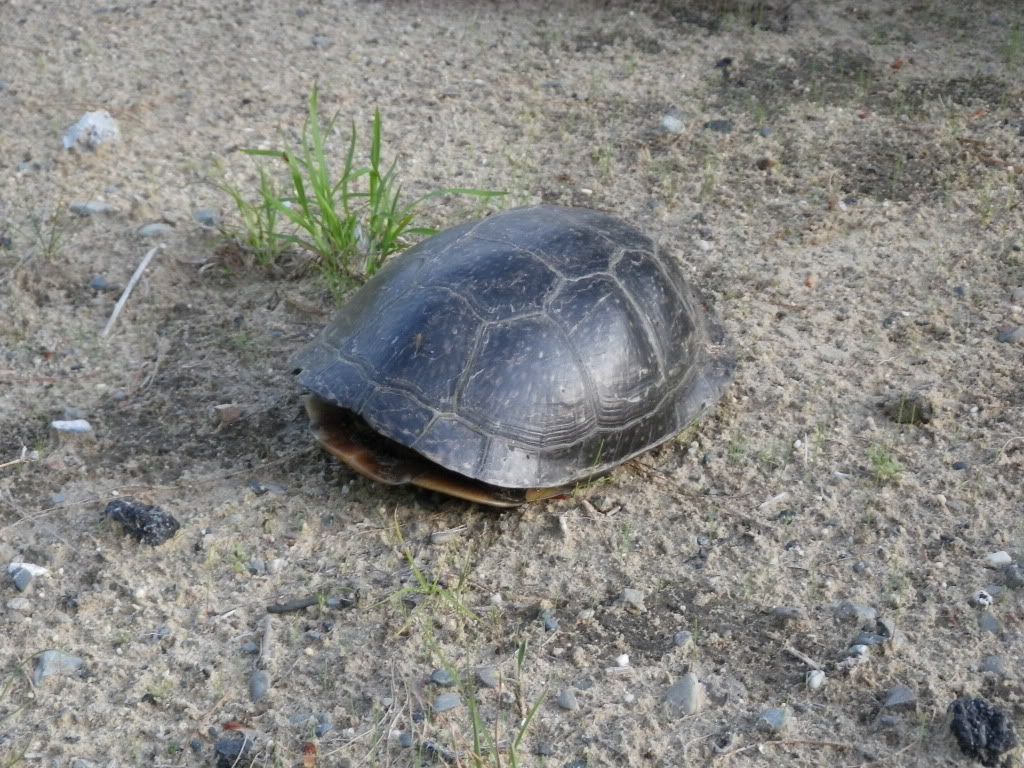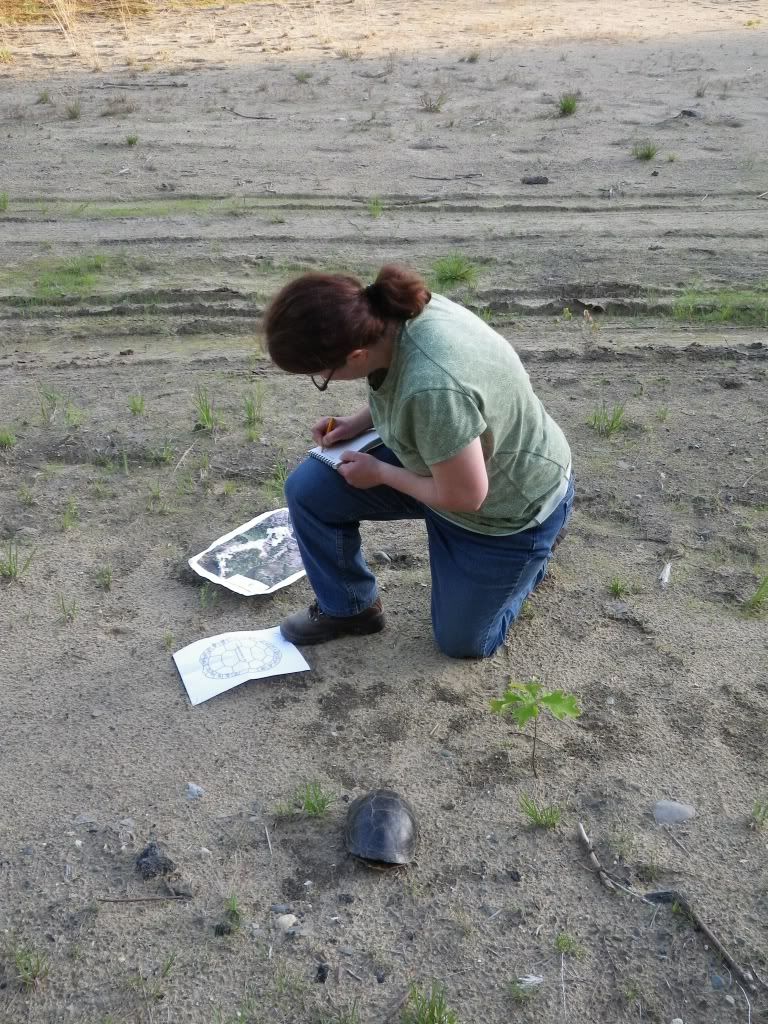 This female, however, was already laying when we found her.
Blanding's turtles lay between 3-21 eggs, (12 was most common at this site) each measuring an average of 38.2 mm (1.5 in) x 23.4 mm (.88 in).
"I am affected by the thought that the earth nurses these eggs. They are planted in the earth, and the earth takes care of them; she is genial to them and does not kill them. It suggests a certain vitality and intelligence in the earth, which I had not realized. This mother is not merely inanimate and inorganic. Though the immediate mother turtle abandons her offspring, the earth and sun are kind to them. The old turtle on which the earth rests takes care of them while the other waddles off. Earth was not made poisonous and deadly to them. The earth has some virtue in it; when seeds are put into it, they germinate; when turtles' eggs, they hatch in due time. Though the mother turtle remained and brooded them, it would still nevertheless be the universal world turtle, which, through her, cared for them as now. Thus the earth is the mother of all creatures."
-Thoreau, September 9th, 1854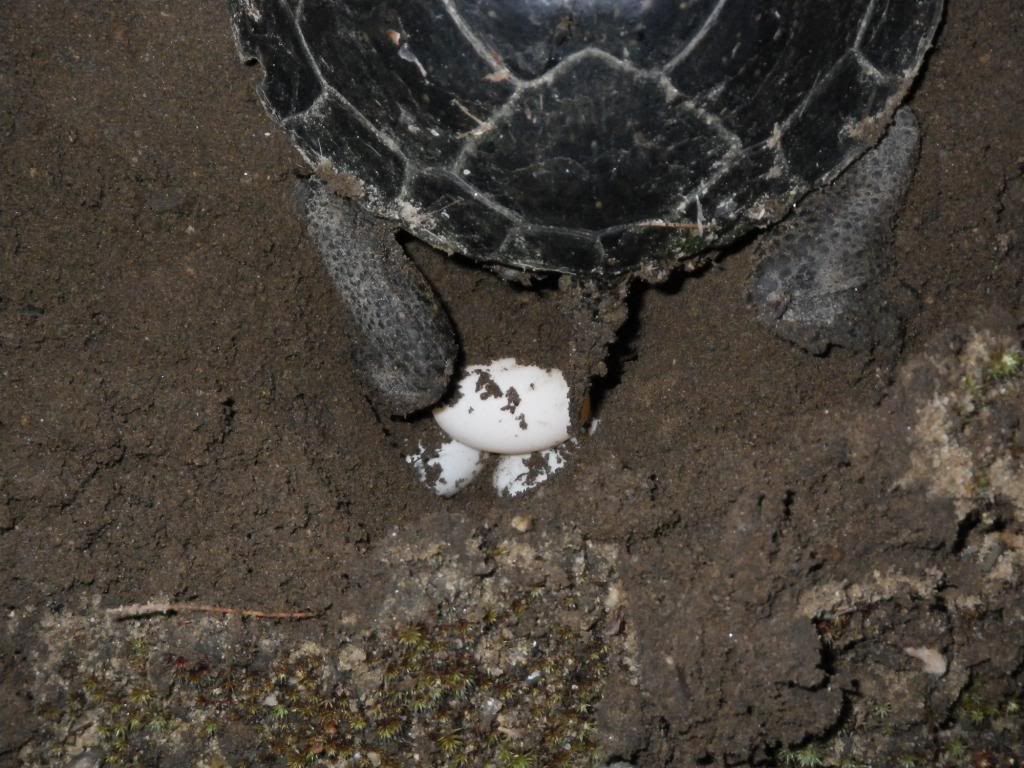 After a female finished laying, the nest was carefully excavated, and the eggs counted, then re-buried. Predator exclosures were then placed over the nests.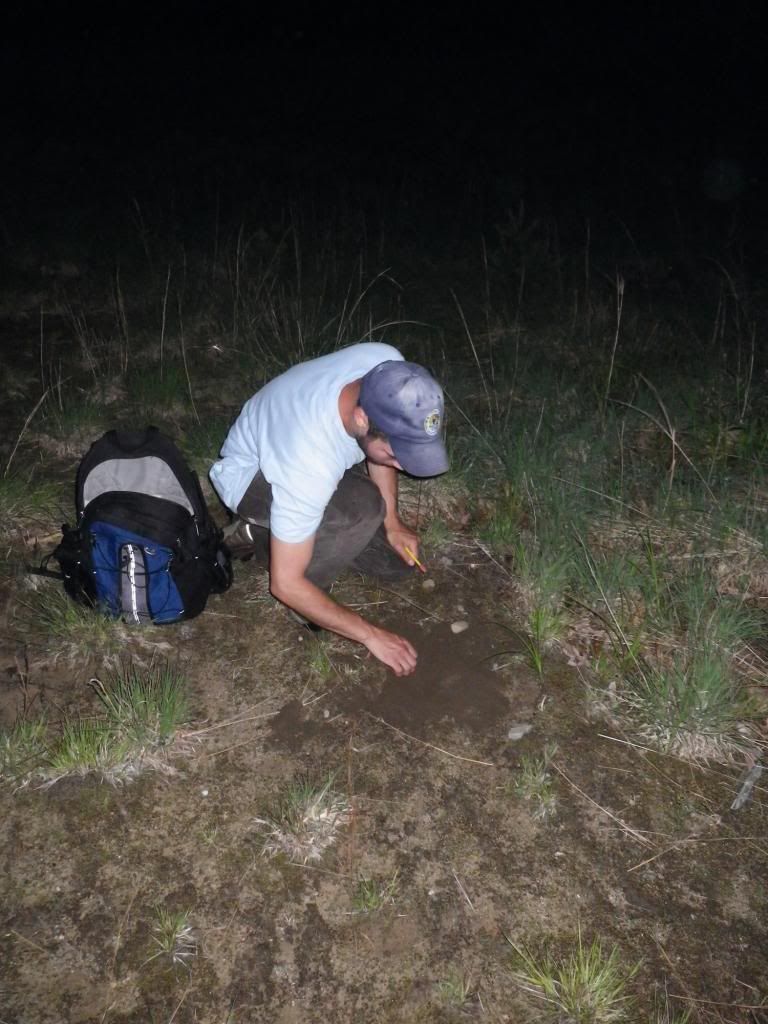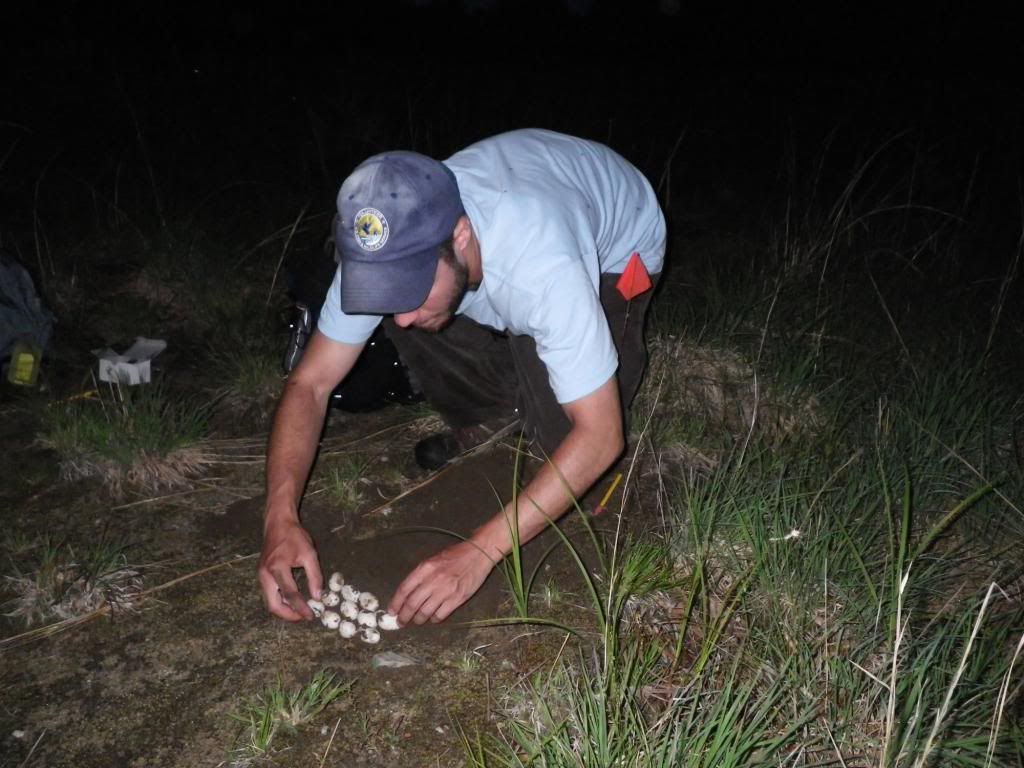 I was surprised by how brittle/rigid the Blanding's eggs seemed, relative to other reptile eggs I've seen that were more leathery and flexible.
Putting the eggs back in, being careful not to rotate them.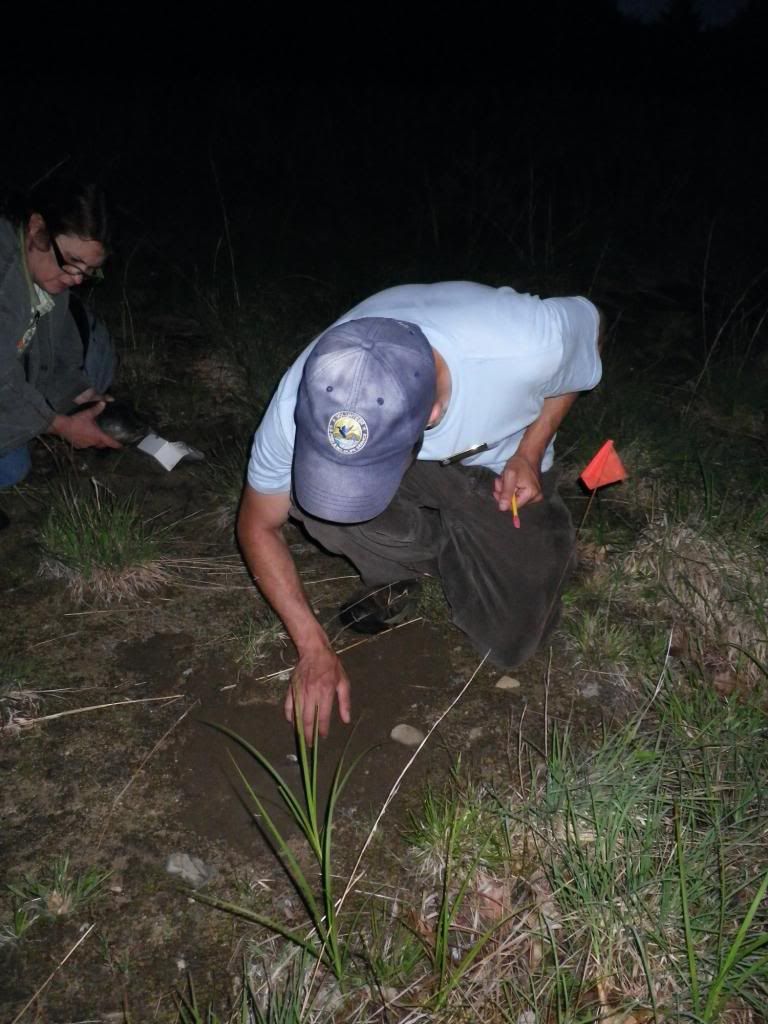 Installing the predator exclosure. Incubation takes 56-126 days, with hatchlings emerging August-October.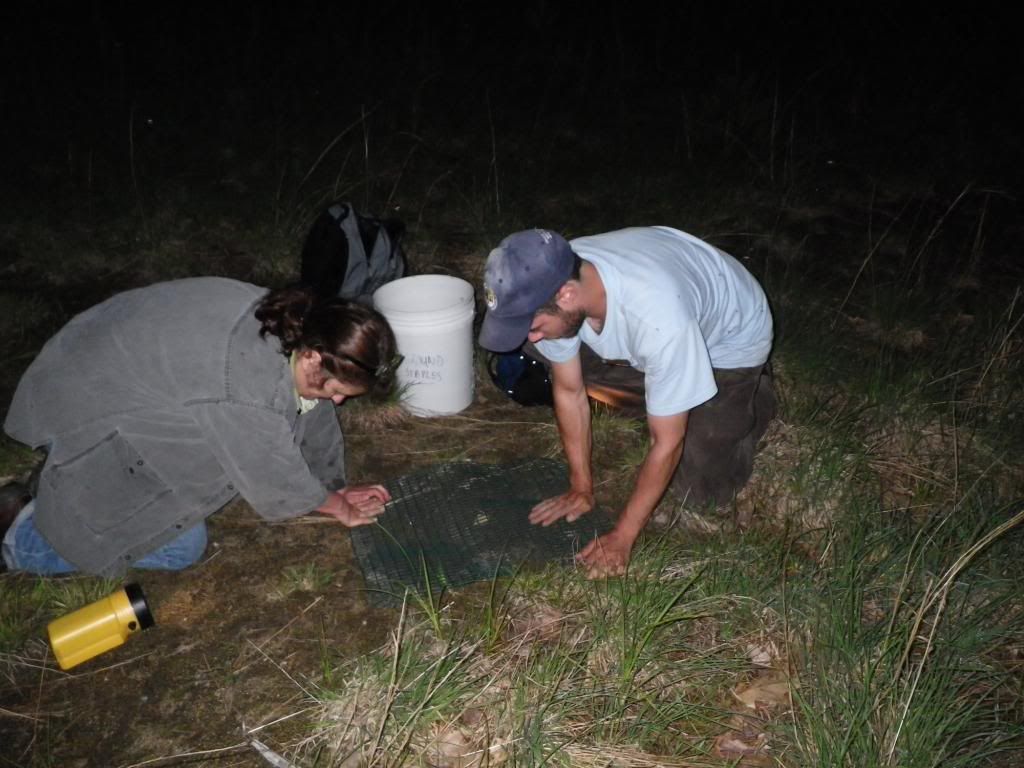 "The sun was setting on the one hand, while our eminence was contributing its shadow to the night, on the other. It seemed insensibly to grow lighter as the night shut in. . . There was no other house in sight, nor any cultivated field. To the right and left, as far as the horizon, were straggling pine woods with their plumes against the sky. . . That straight geometrical line against the water and the sky stood for the last refinements of civilized life, and what of sublimity there is in history was there symbolized."
-Thoreau (1849)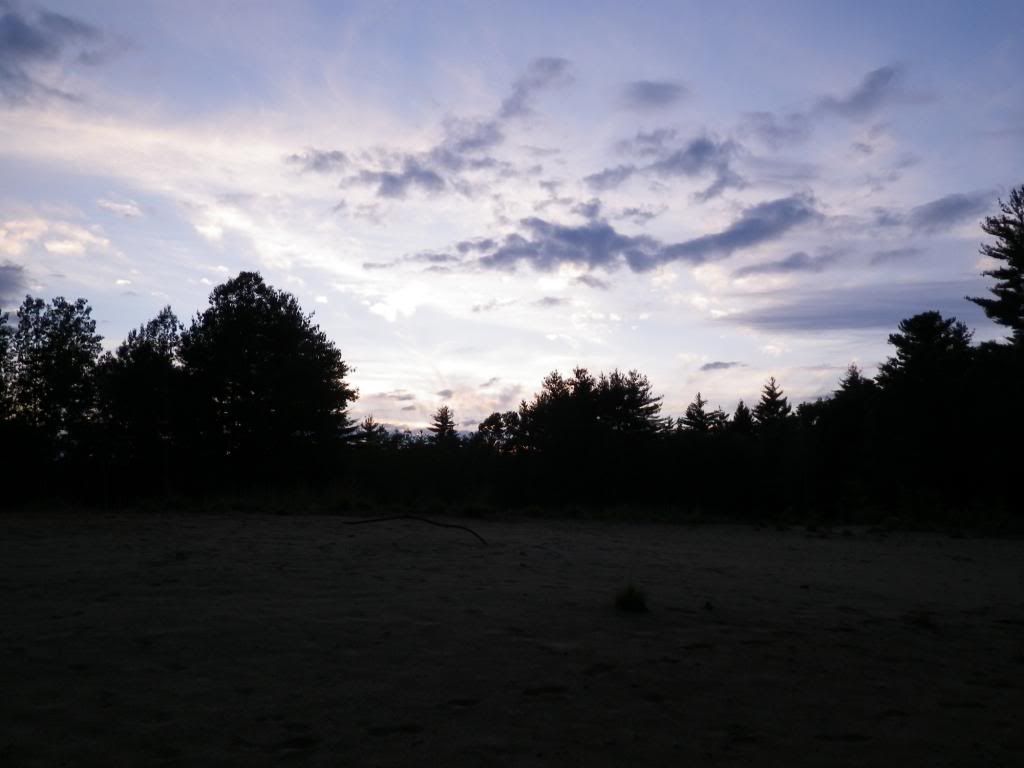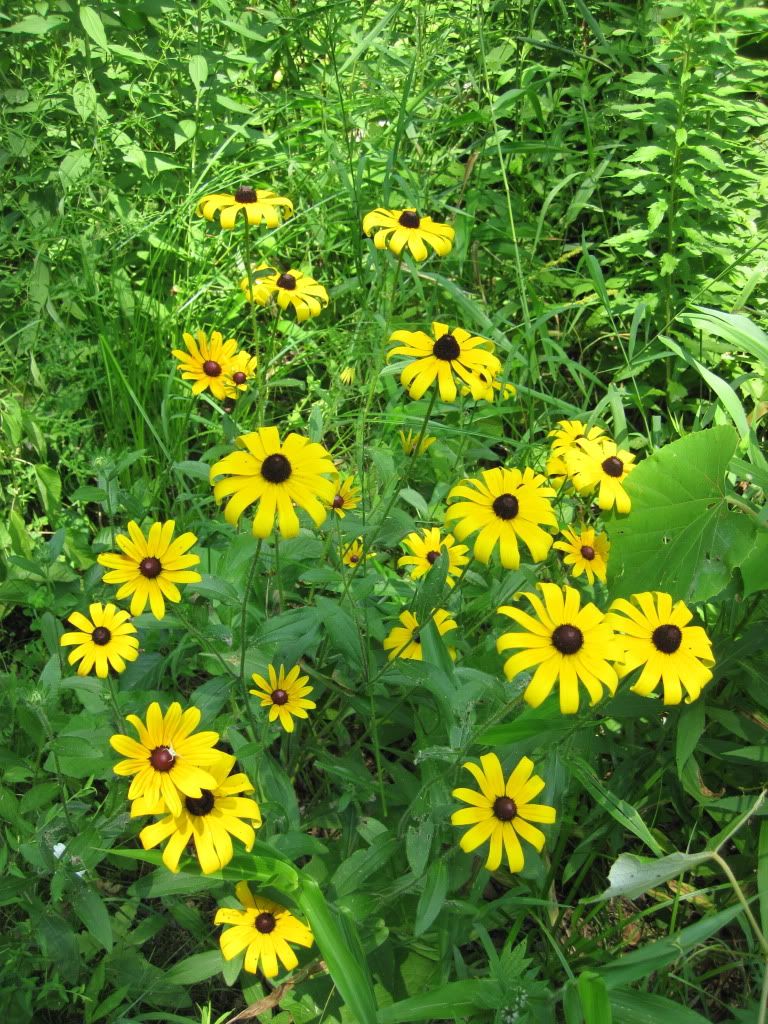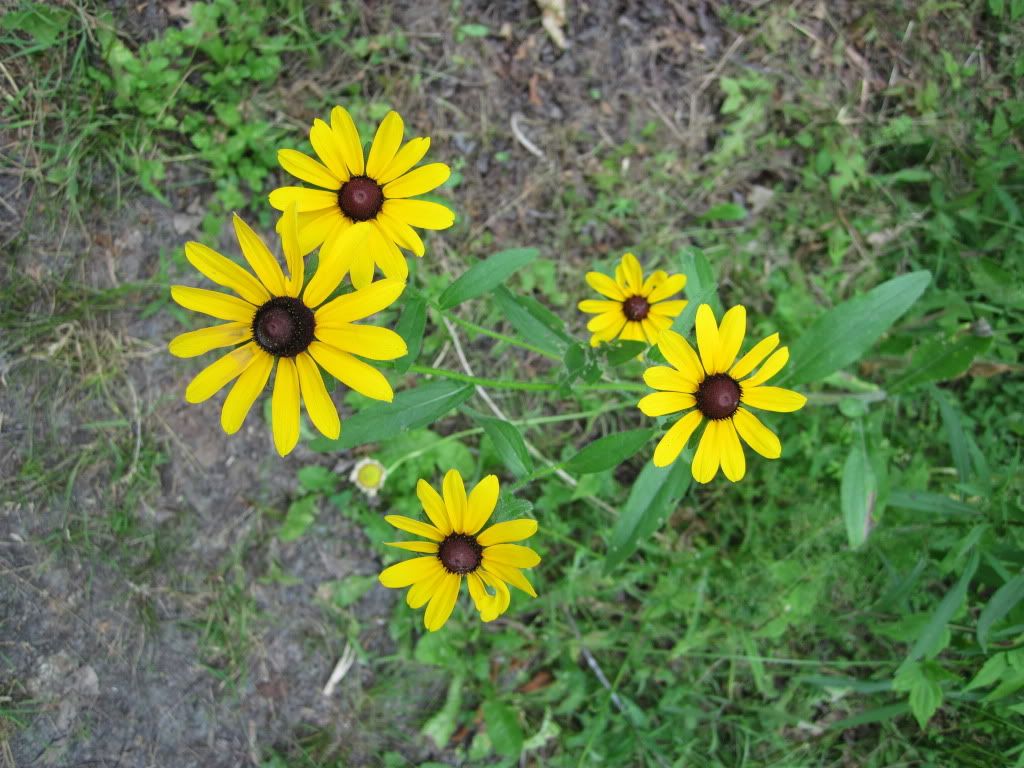 A highway borders this wetland, and while a fence has been constructed to keep turtles from getting onto the road, sometimes it needs repair. So, Jason and I walked down a couple miles to conduct a mortality check. We were yelled at by several state troopers along the way.
Luckily we only found one small shell fragment, which looked pretty weathered.
"On the northeast part of the Great Fields, I find the broken shell of a Cistuda Blandingii [Blandings Tortise], on very dry soil. This is the fifth, then, I have seen in the town."
-Thoreau, March 13th, 1859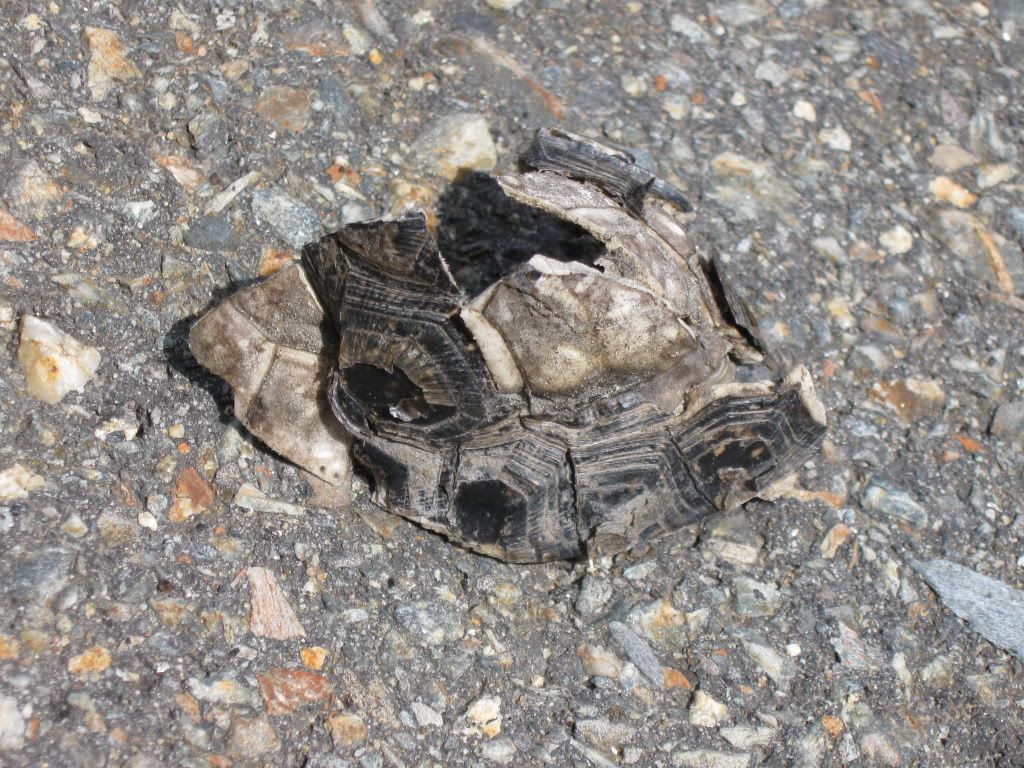 Milkweed (
Asclepias syriaca
)
"To-day the milkweed is blossoming."
-Thoreau, June 29th, 1851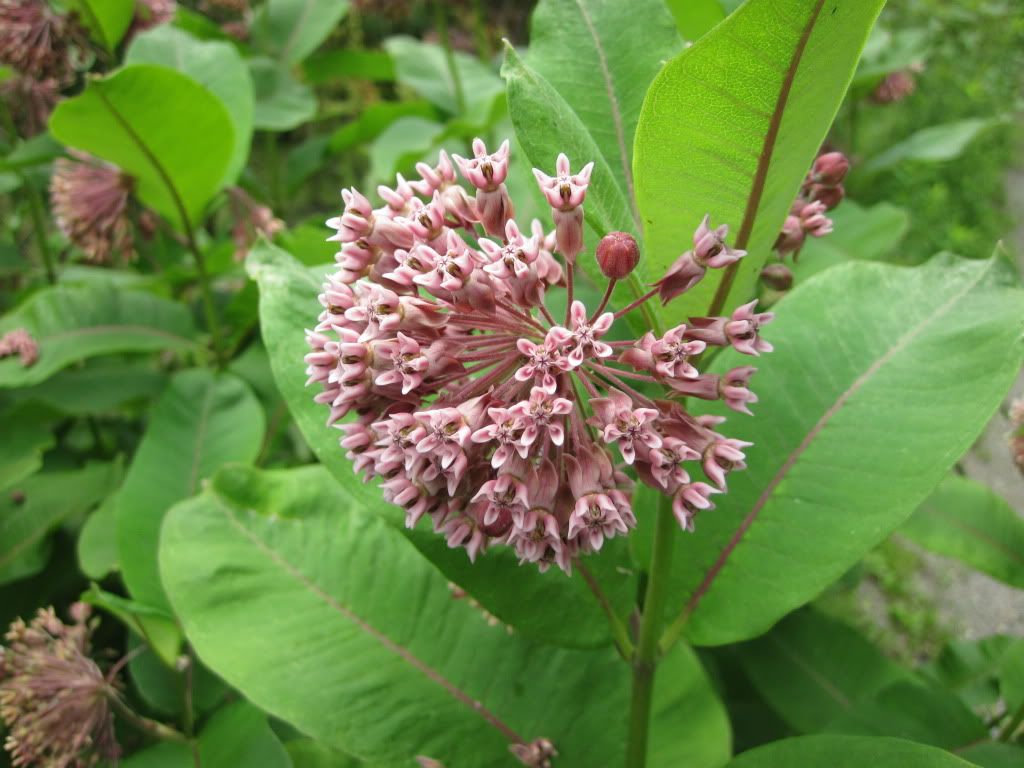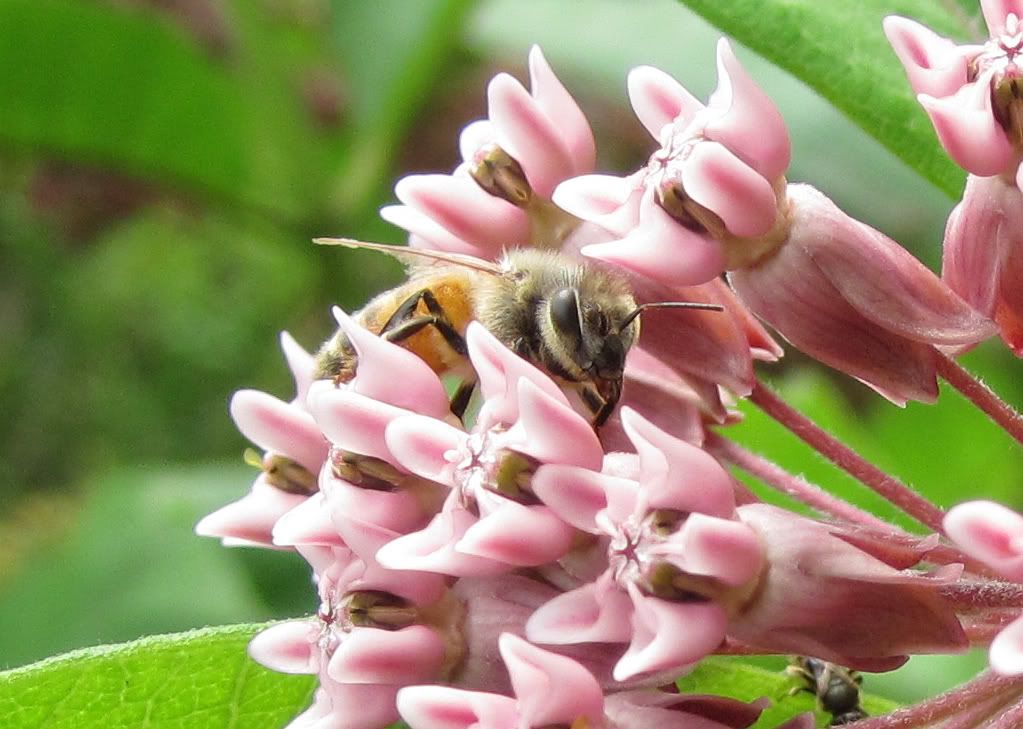 Female bullfrog (
Lithobates catesbeianus
)
As mentioned earlier, bullfrogs are the largest, most aquatic anuran in North America, and adults can reach 20.3 cm (8 in) (9-15 cm/3.5-6 in standard) from snout to vent. While males and females do not differ in size, during breeding season males can be distinguished by their yellow throats. Males also have tympanums (eardrums) significantly larger than the diameter of their eye, whereas females' are about the same size (see photo). Bullfrogs can be distinguished from green frogs (
Lithobates clamitans
)by the lack of a dorso-lateral skin fold (more on green frogs later).
L. catesbeianus
require permanent bodies of water (i.e. ponds, lakes, marshes, swamps, slow-moving portions of streams and rivers) with abundant emergent and shoreline vegetation. They are often found basking on or near the shore.
Males are territorial, and call to defend their territories (prime egg-laying sites). They vocalize while partially submerged, allowing sound to travel through air and water (Boatright-Horowitz et al. 1999). It has been shown that females choose males based on the quality of their territory (Howard 1978)
L. catesbeianus
are aggressive sit-and-wait predators, and will eat just about anything they can fit into their mouths, including snakes (
T. sirtalis
and
N. sipedon
), fish, small turtles (
C. picta
,
C. serpentina
,
T. Carolina
) mice, bats, moles, voles, young waterfowl, other frogs/tadpoles, (especially other members of the genus
Lithobates
, including their own species), crayfish, diving beetles, dragonfly nymphs, beetles, spiders, larvae etc. Bullfrogs' diets change with age, as younger individuals eat mostly invertebrates. The most common prey taken by adult bullfrogs are other frogs and crayfish.
Bullfrogs are great at invading new habitats, including non-natural ones, where they have been known to impact other species in various ways. For example, Hecnar and M'Closkey (1997) found that after bullfrogs disappeared (naturally) from Point Pellee National Park in 1991-92, green frog numbers increased fourfold. Bullfrogs' voracious appetites can have an economic impact on human activities, too. Corse and Metter (1980) estimated that at one goldfish hatchery in Missouri each bullfrog consumed an average of $12 of fish per year, with a total loss of $42,000 for the hatchery each year (1980 dollars).
Bullfrogs are preyed upon by wading birds, raccoons, mink, snakes, larger bullfrogs and people (some states list them as a game species). They are threatened by habitat loss from development, and the embryos/larvae of this species are susceptible to increasing water acidity. Bullfrogs are also disproportionately sensitive to some insecticides such as fenitrothion, and herbicides triclopyr and hexazinone, which are used for forest management.
"The bullfrog belongs to summer."
-Thoreau, June 13th, 1851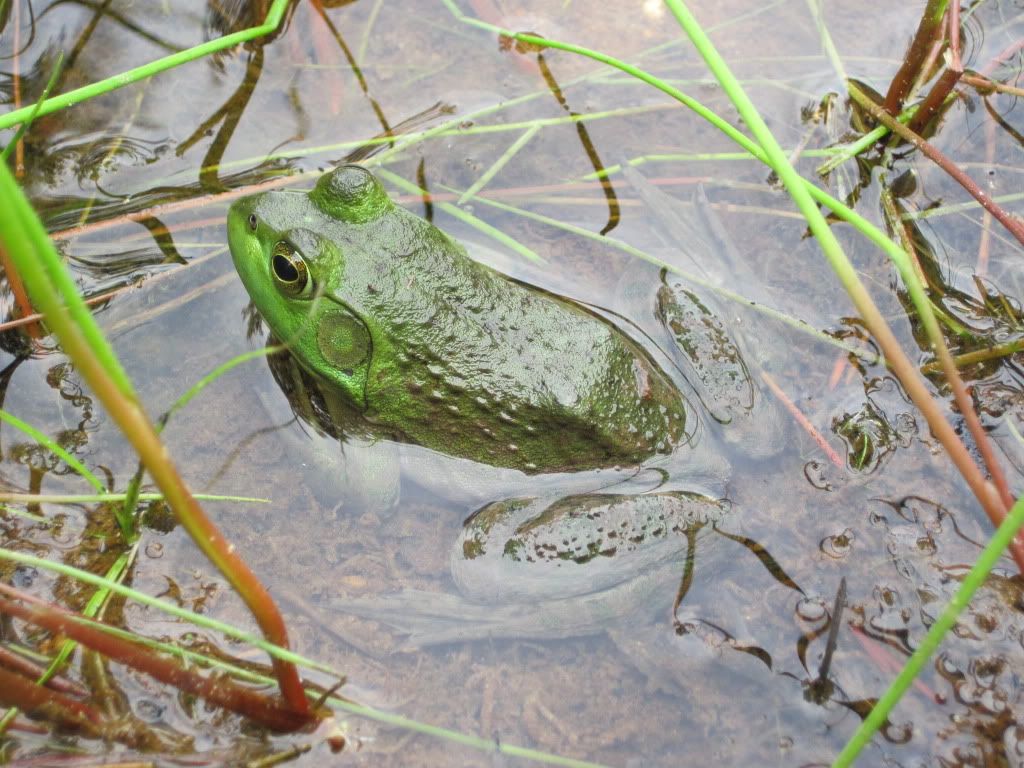 "[W]ith visions of toadstools, and wandering frogs, and festoons of moss hanging from the spruce trees. . . our road still holding together through that wettest of weather, like faith, while we confidently followed its lead."
-Thoreau (1849)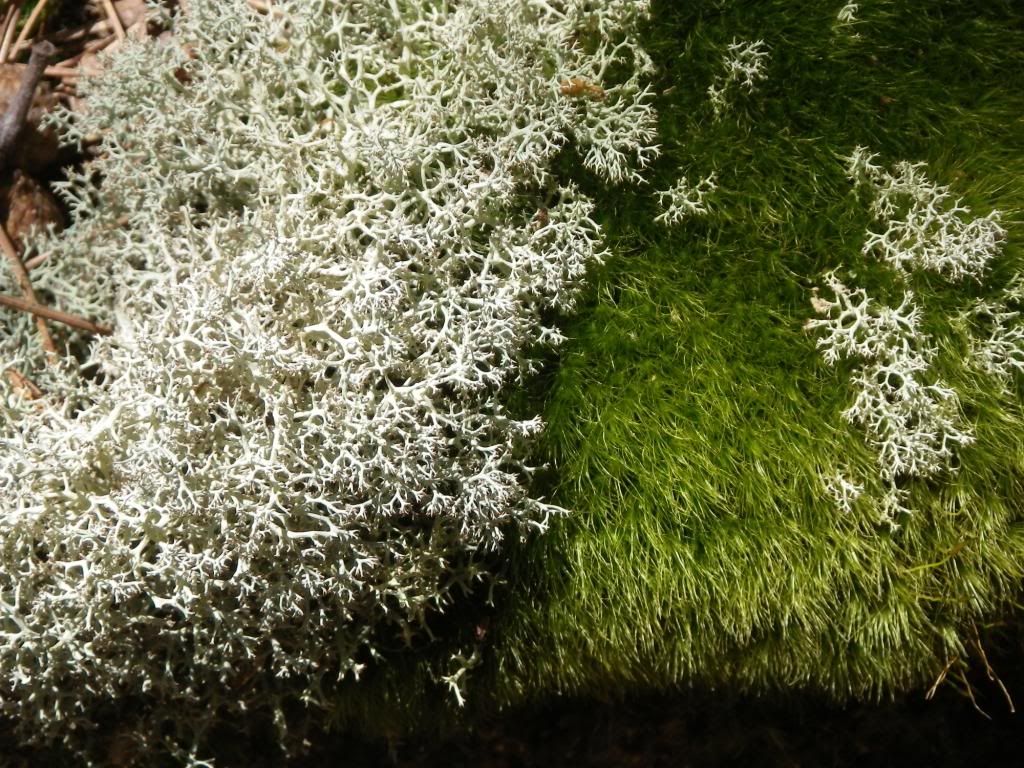 Northern Leopard Frog (
Lithobates pipiens
)
Leopard frogs are common in grassland areas near marshes, ponds, lakes, and slow moving rivers and streams. Unlike bullfrogs, they are semi-terrestrial, and move away from water during the summer. They are a medium-sized species, usually measuring 5-9.5 cm (2-3.7 in) with a maximum of 11.1 cm (4.5 in). (Males are generally slightly smaller than females). Leopard frogs are often confused with pickerel frogs (
Lithobates palustris
) which have less streamlined bodies, shorter legs, and more squarish spots organized in distinct rows.
Leopard frogs eat variety of invertebrates, mostly beetles (see Linzey 1967 or Knowlton 1944 for details), and are preyed upon by fish, bullfrogs, and garter snakes (see photo below). When disturbed, they can jump in a zigzag pattern to avoid getting caught, and are also able to darken themselves to match their surroundings, which serves to camoflage them from predators, as well as increase their ability to absorb solar energy (Fernandez and Bagnara 1991). In contrast, their bellies are white, which helps them to blend in with the water surface and avoid being spotted by aquatic predators.
L. pipiens
prefers relatively open habitats, and their larvae are outcompeted by wood frog tadpoles in closed-canopy pools. Consequently, the recovery of forests across America may benefit wood frogs, while reducing leopard frog abundance.
A high incidence of hermaphroditism has been observed in this species, possibly related to the use of pesticides such as Atrazine (Hayes et al. 2003). Leopard frogs have also been historically overharvested for food and science (they are popular as a "lab frog"). This species reaches the southern extent of its range in Eastern Massachusetts.
The specific epithet "pipiens" (peeping) was mistakingly assigned to this species by P. Kalm, who mistook the call of spring peepers (
Pseudacris crucifer
) for that of the leopard frog.
"Say twelve hours of genial and familiar converse with the leopard frog. . . Surely one may as profitably be soaked in the juices of swamp for one day as pick his way dry-shod over sand. Cold and damp,⎯are they not as rich experience as warmth and dryness?"
-Thoreau (1849)
Garter snake (
Thamnophis sirtalis
) eating leopard frog
"There is a reptile in the throat of the greedy man always thirsting and famishing. It is not his own natural hunger and thirst which he satisfies."
-Thoreau, September 2nd, 1851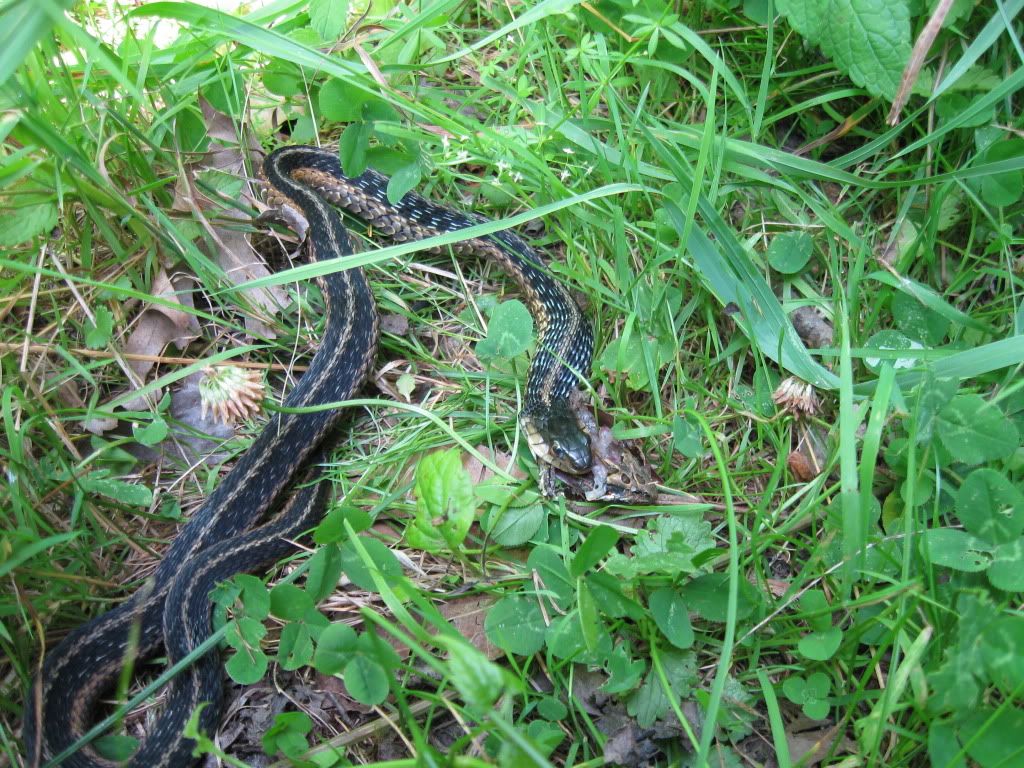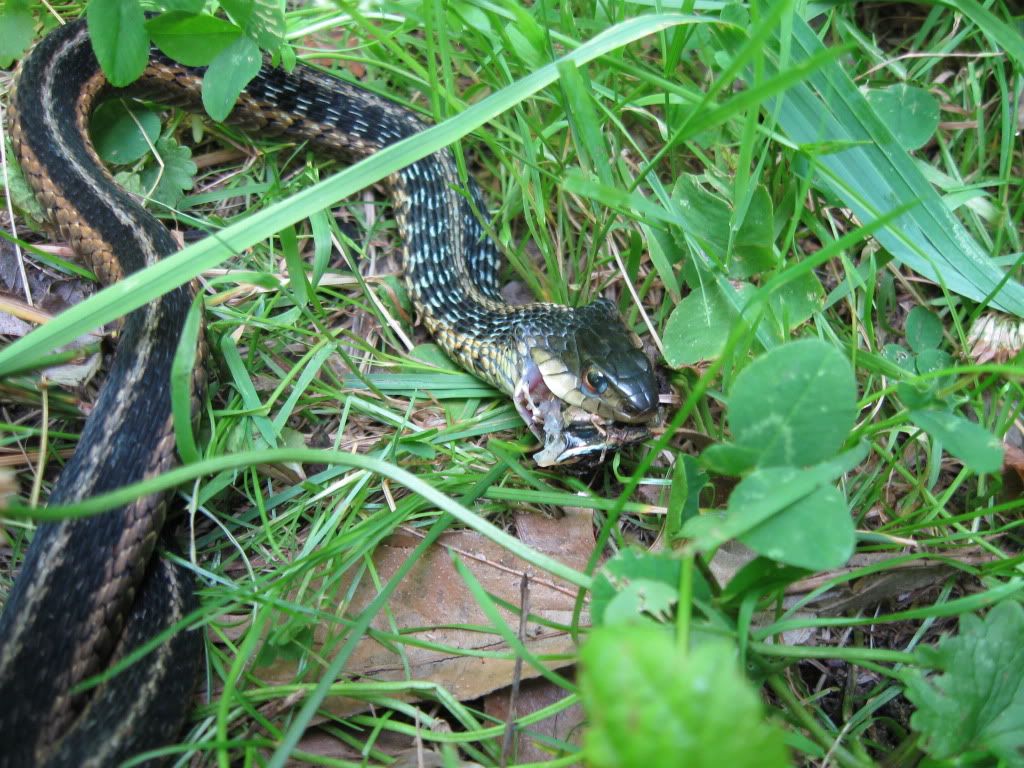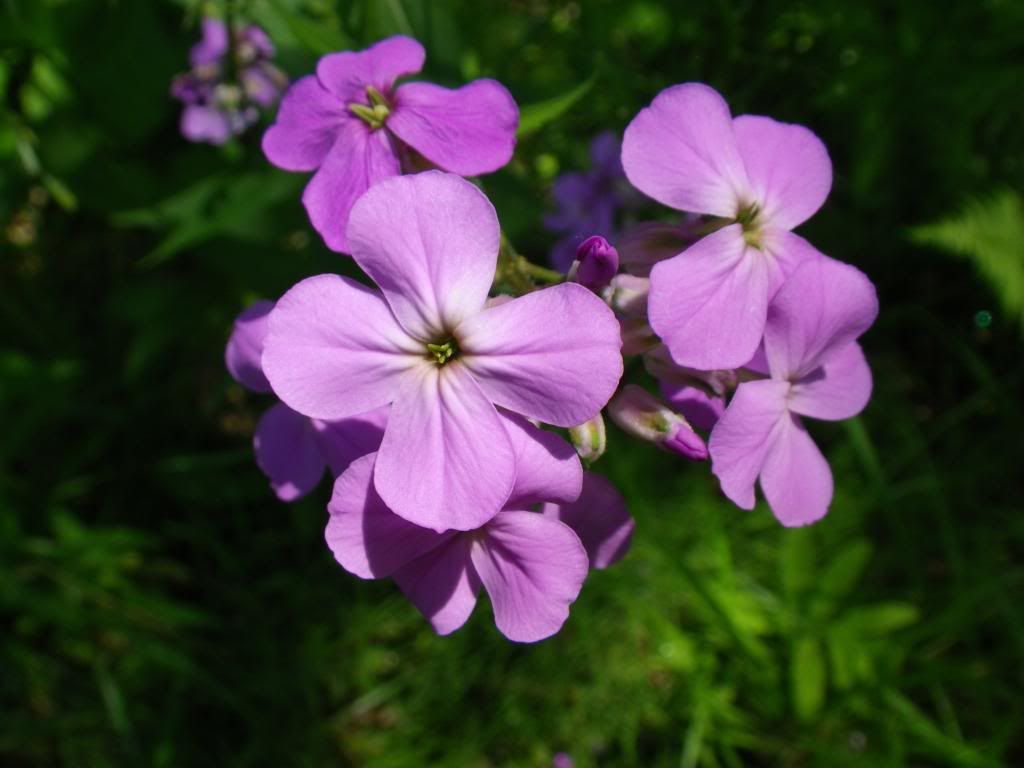 I found several dead painted turtles like this one washed up on the shore of the marsh as the water level dropped.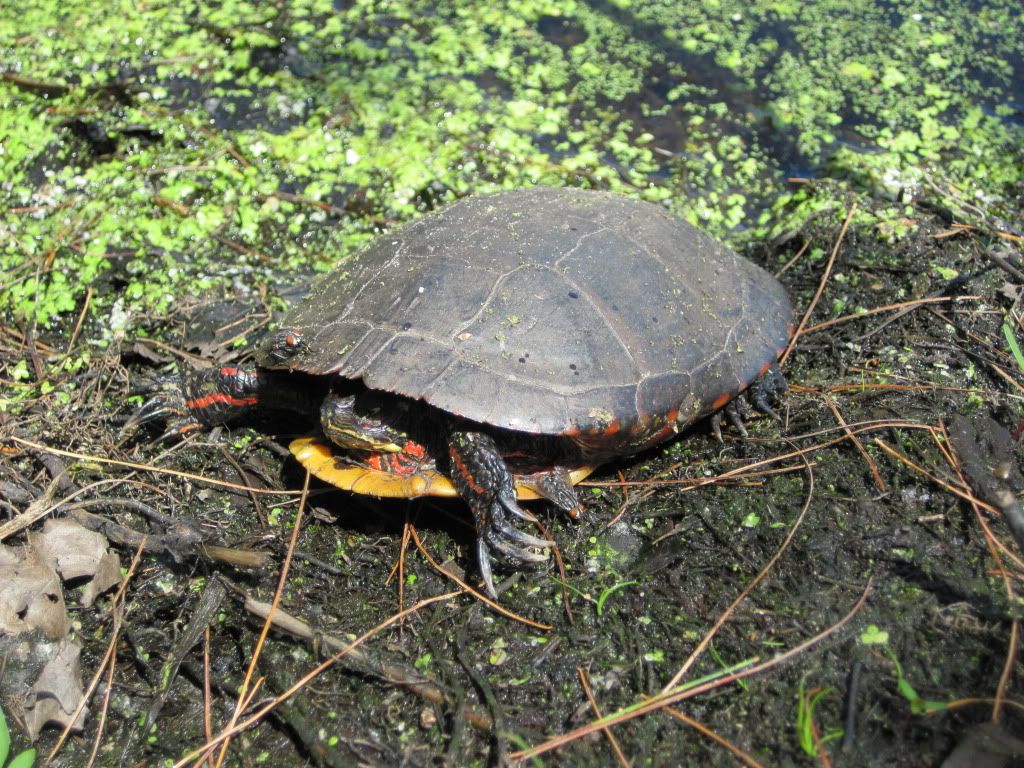 I also found this partially dug-up clutch of dead, dessicated painted turtle hatchlings. I'm not sure if they died recently after overwintering, or sometime earlier.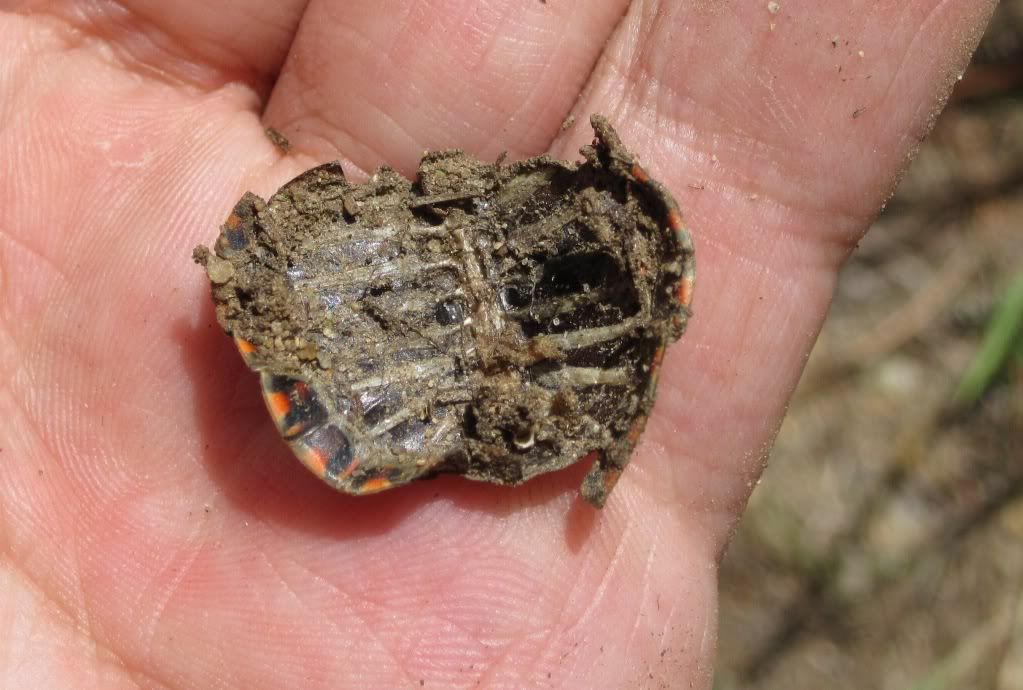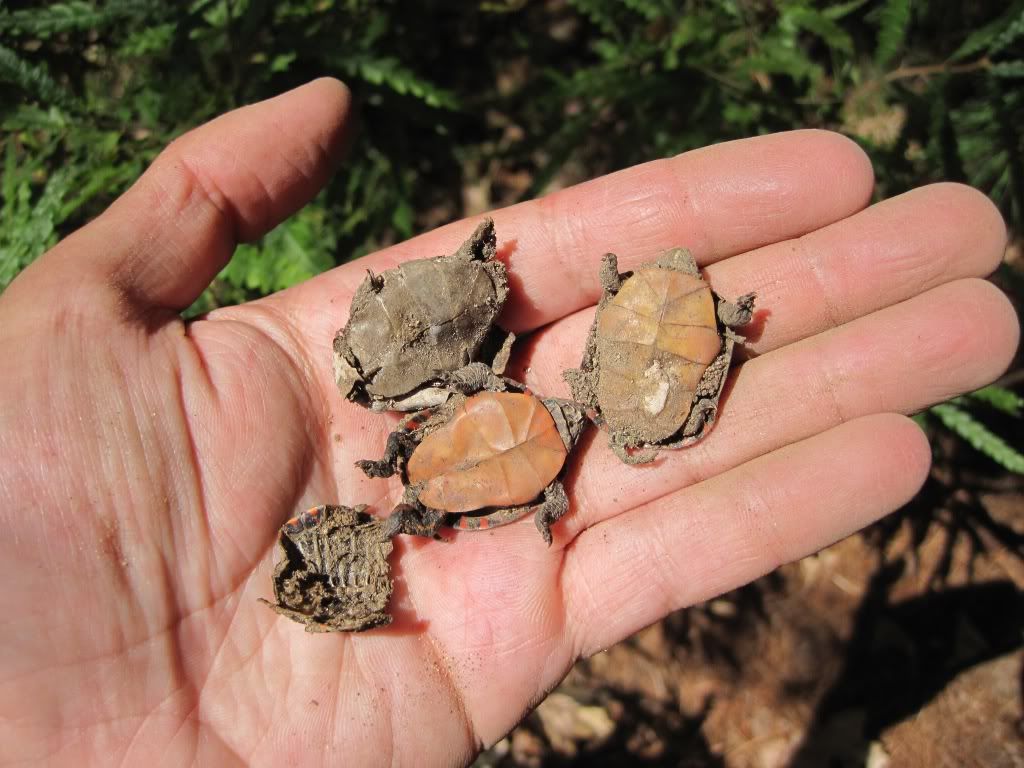 White-faced Meadowhawk dragonfly (
Sympetrum obtrusum
)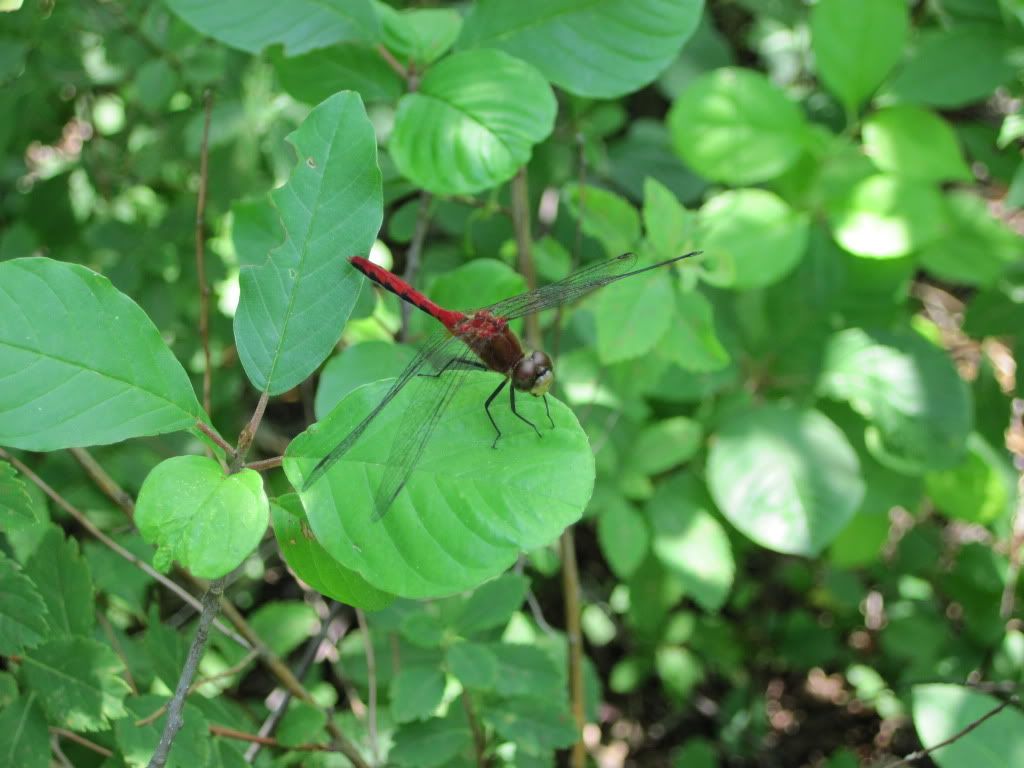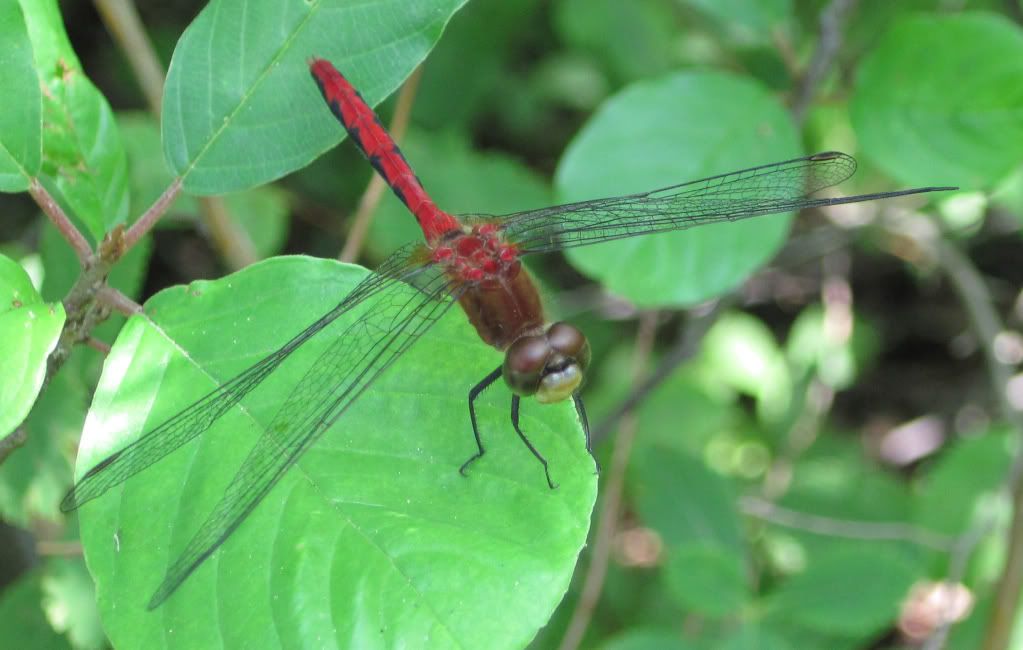 Blueberries
"The season of fruits is arrived."
-Thoreau, July 16th, 1851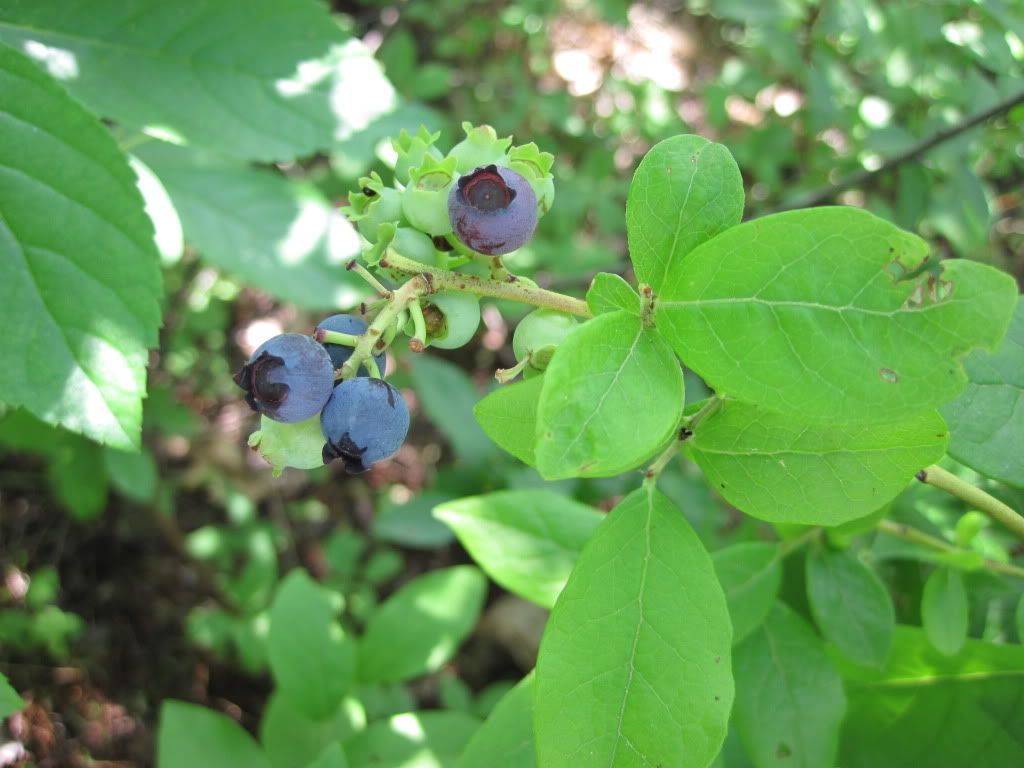 Pickerelweed (
Pontederia cordata
)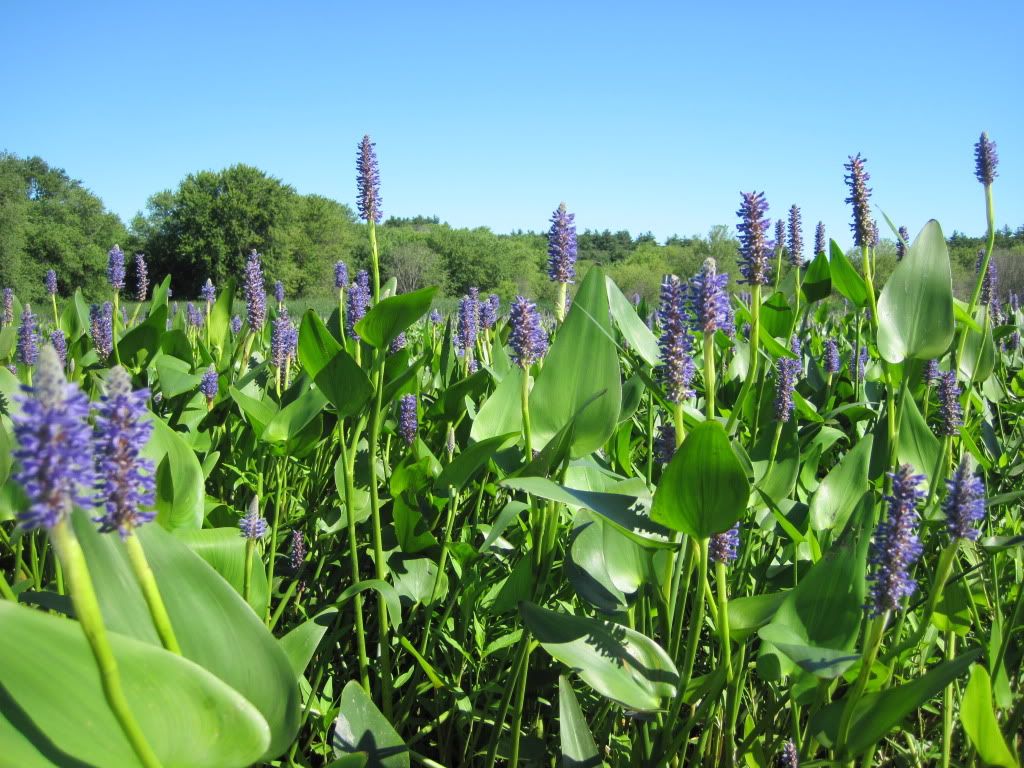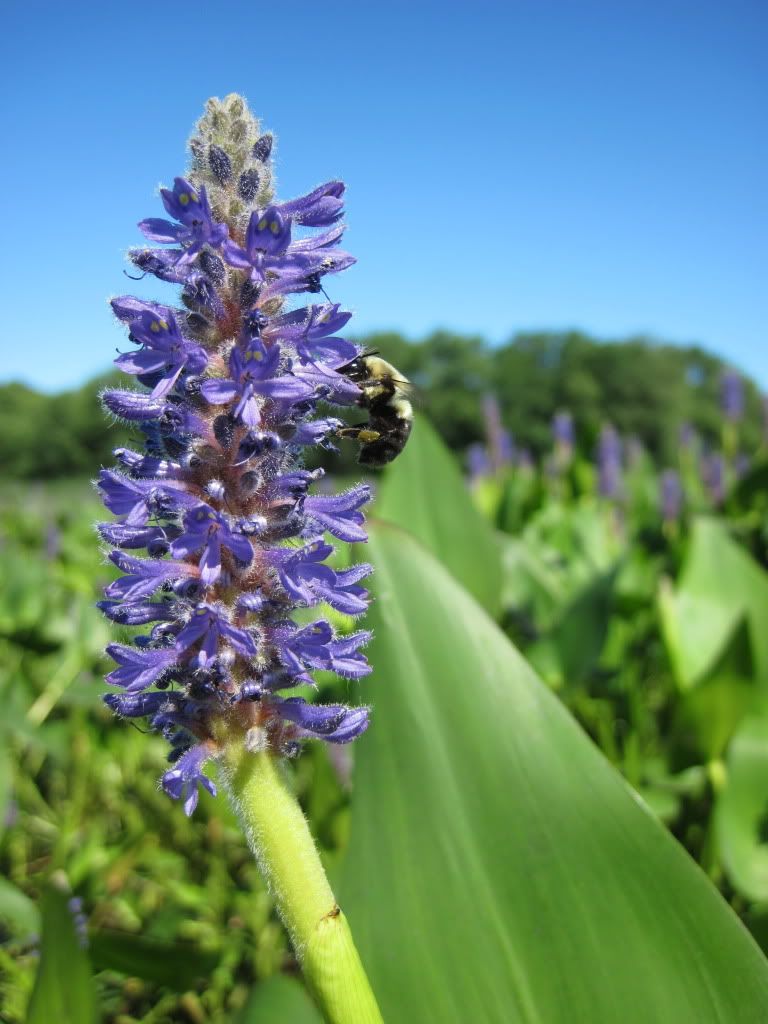 Freshwater bryozoan (aka "moss animal") colony,
Pectinatella magnifica
I think. For more info check out these sites:
#1
,
#2
.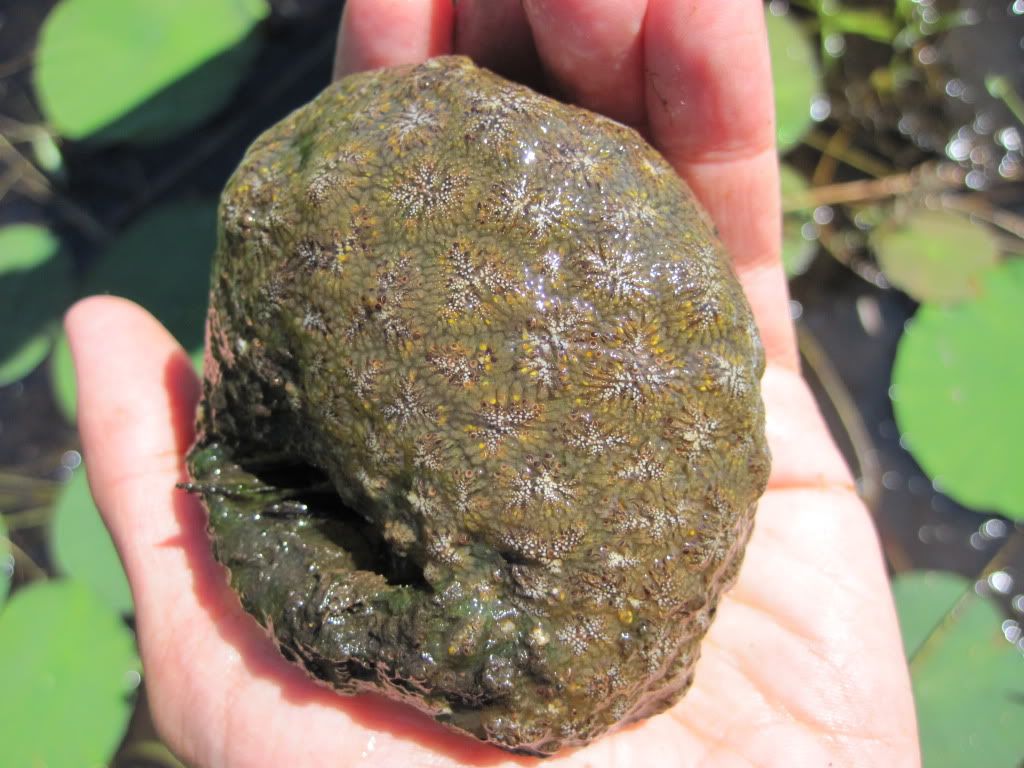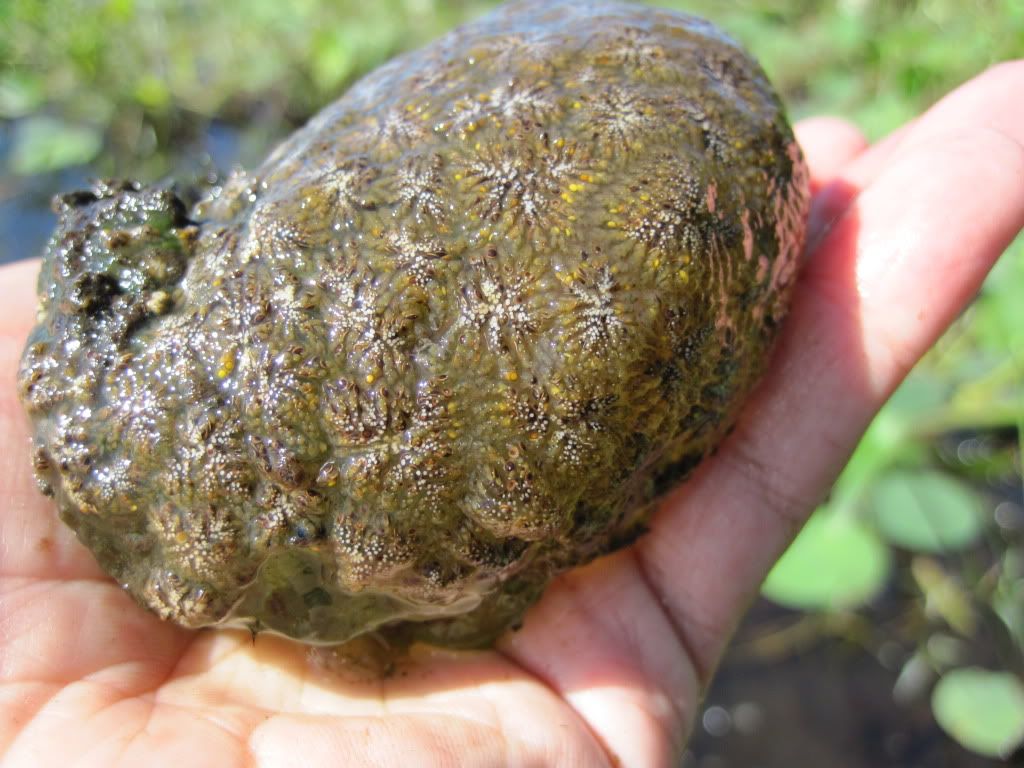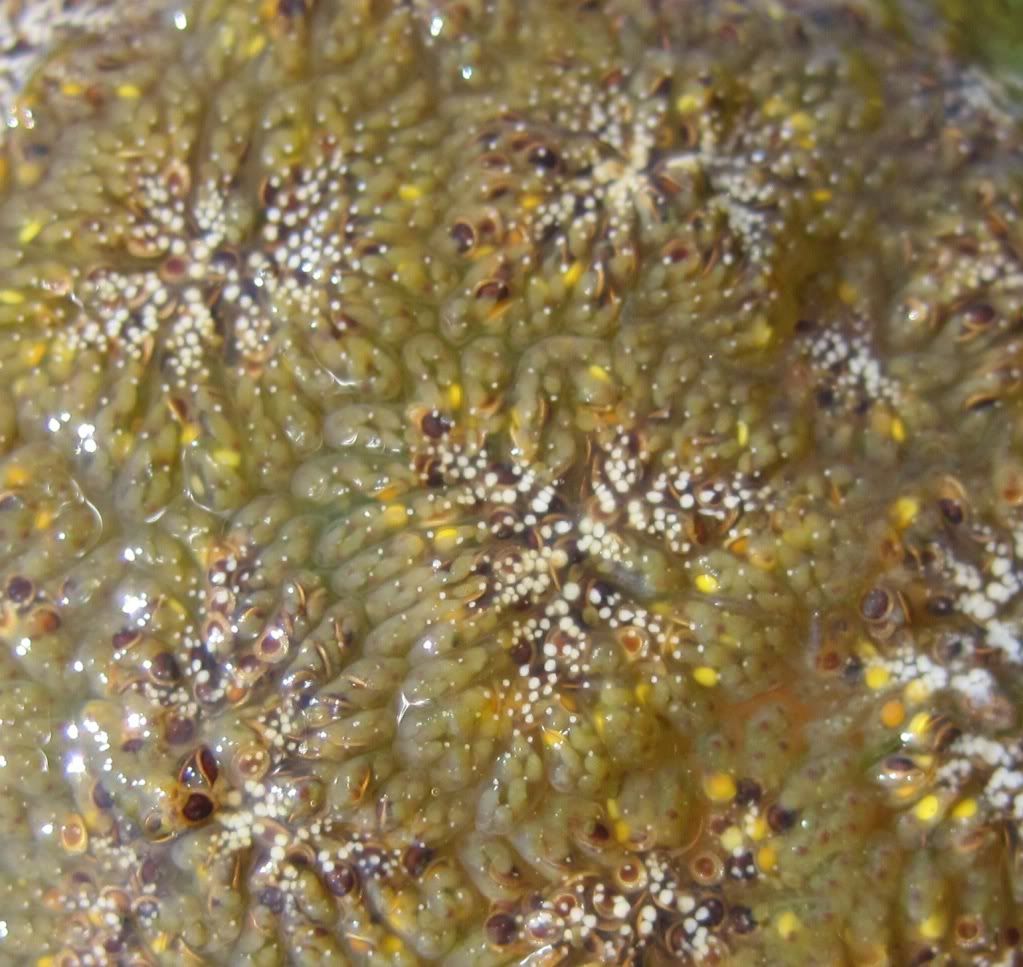 Kristin changes a turtle's radio transmitter out in the field. A transmitter's lifespan depends on its size, and these larger transmitters last up to three years (theoretically).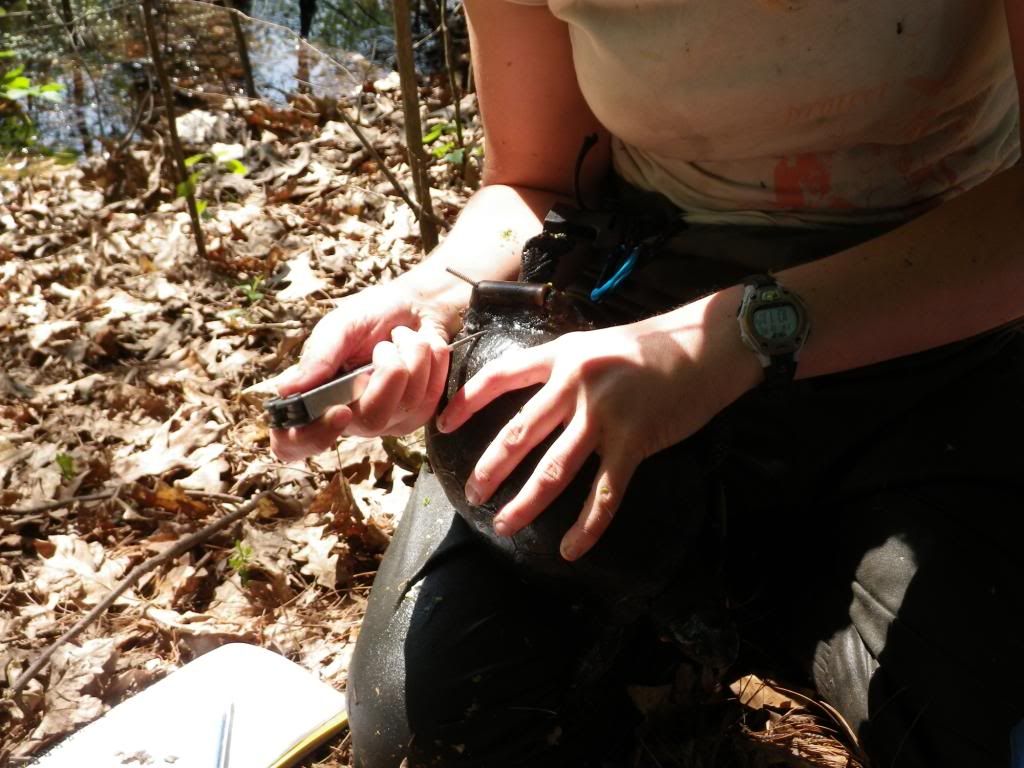 It's not unusual for a radio's antenna to break off, as this one has.
Chinese Mystery Snail (
Bellamya chinensis
, syn. with
Cipangopaludina chinensis
).
B. chinensis
is a large, freshwater snail native to East Asia. Its popular use in aquariums has led to its introduction in the U.S.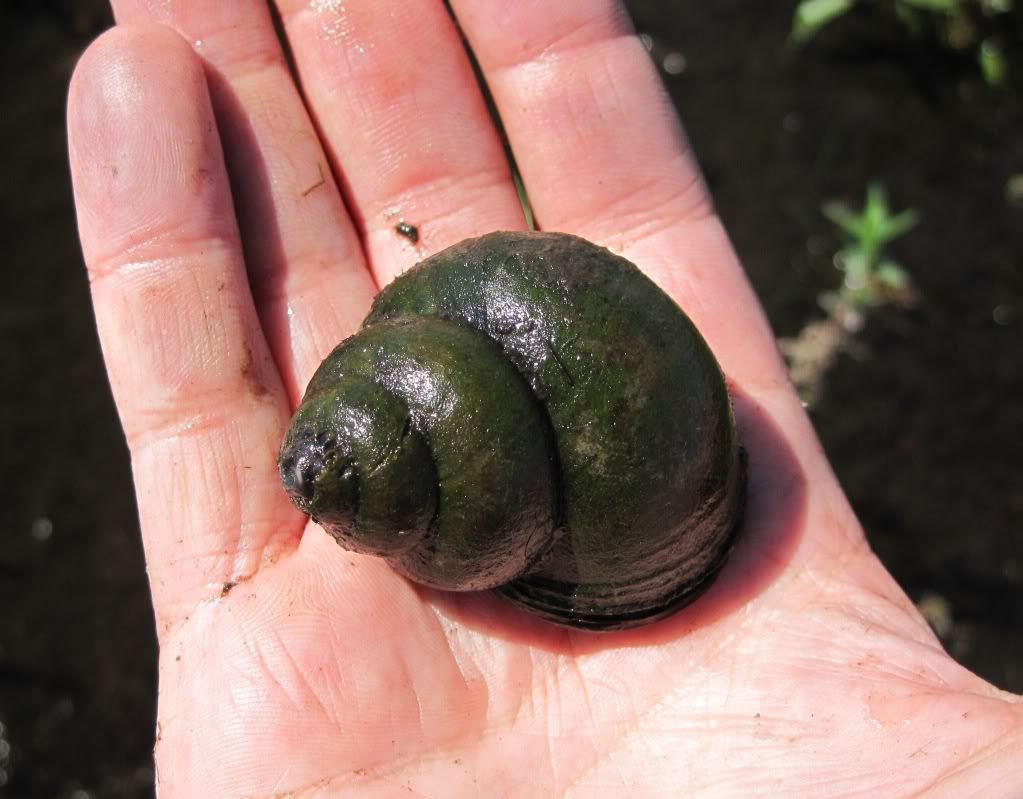 At least the otters like them (as do the headstarts)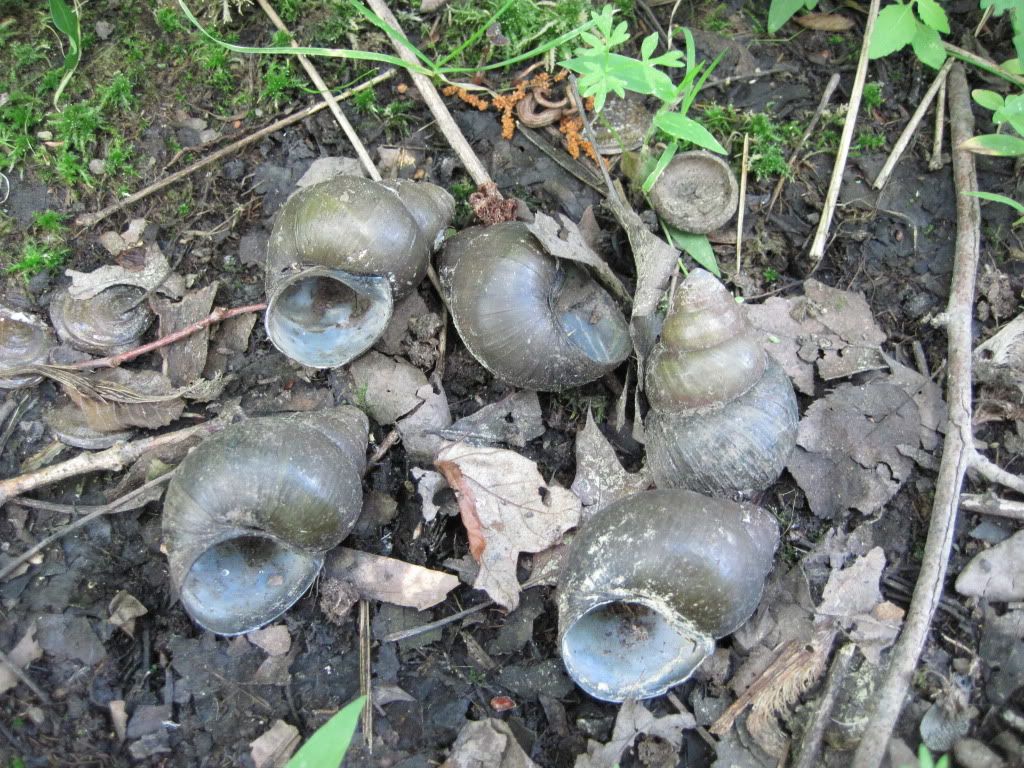 Buttonbush (
Cephalanthus occidentalis
)
"The buttonbush is in blossom."
-Thoreau, July 23rd, 1851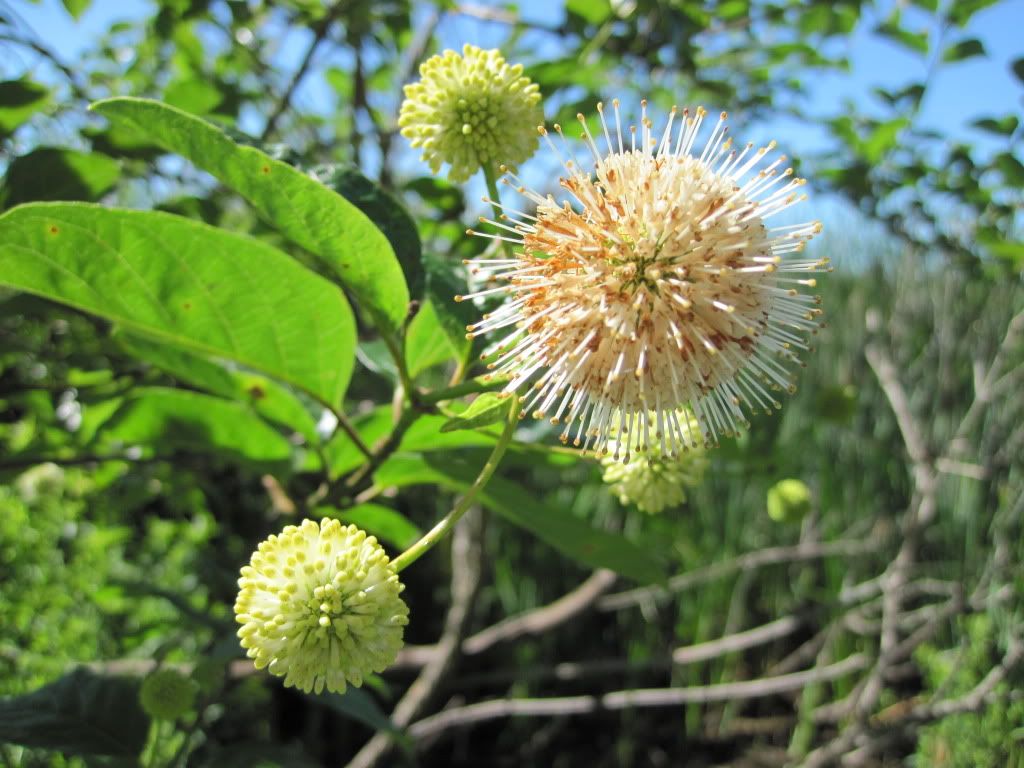 Lots of lotus (
Nelumbo lutea
). It's nice when the turtles pick pleasant places to hang out (this is not always the case).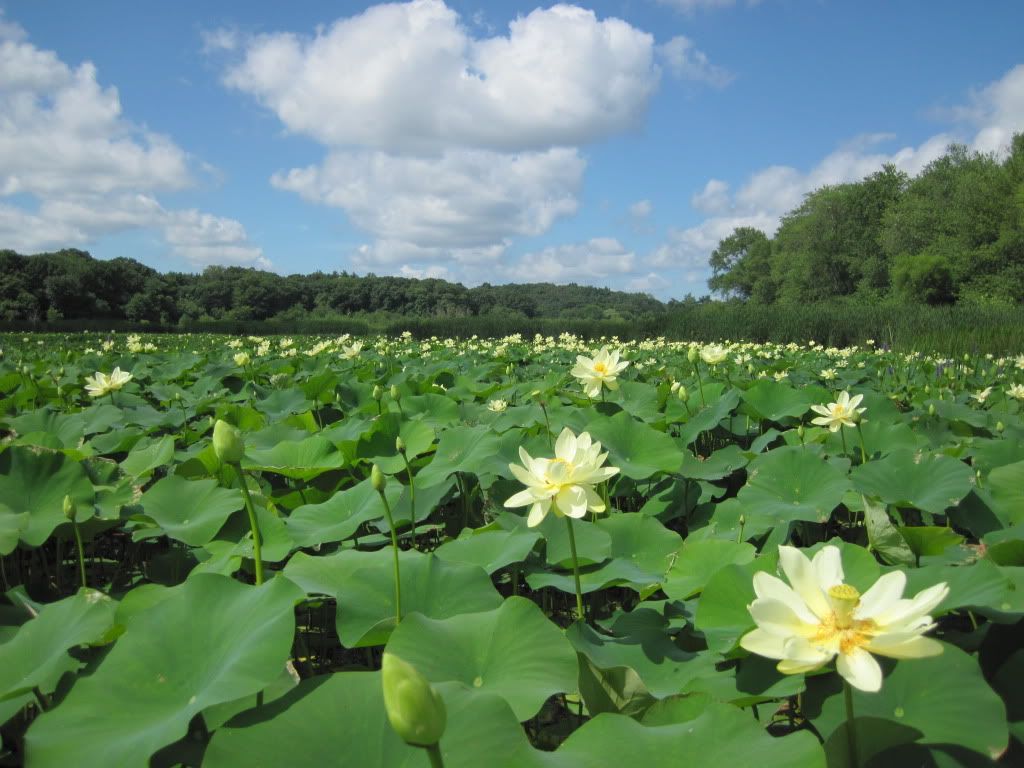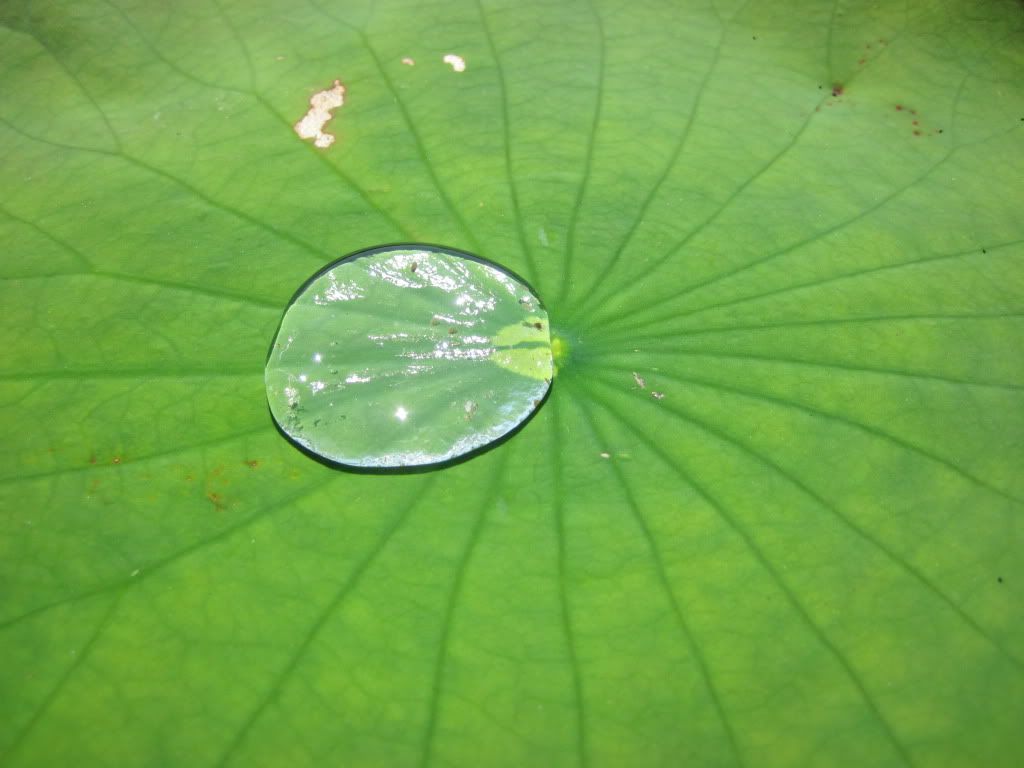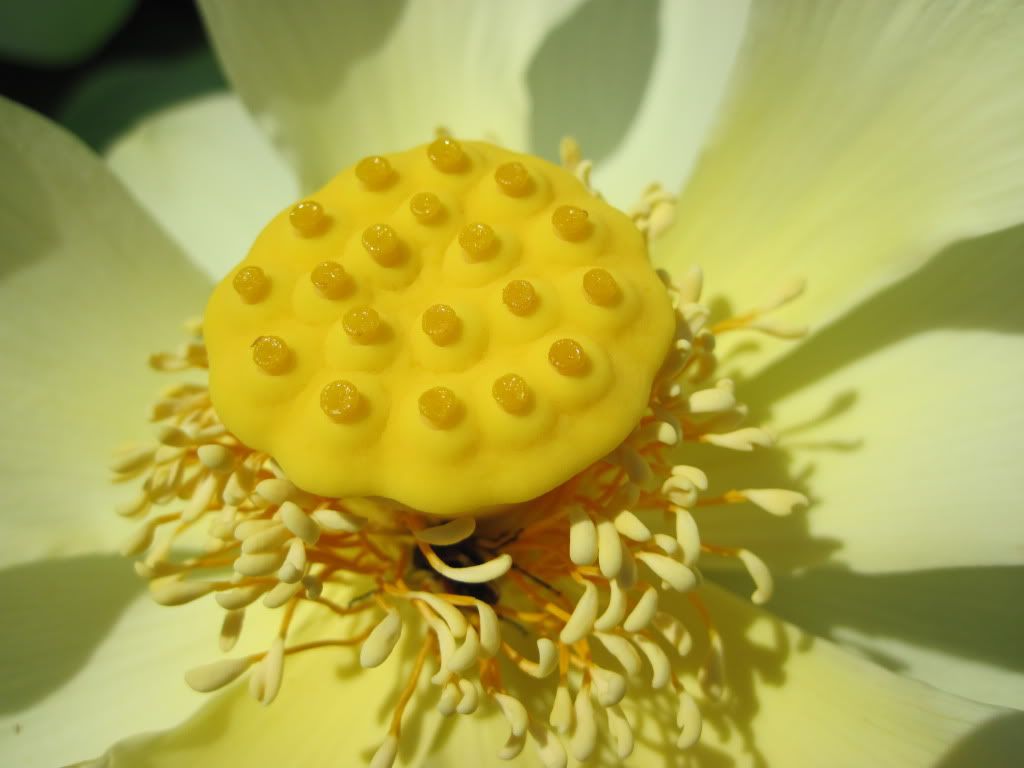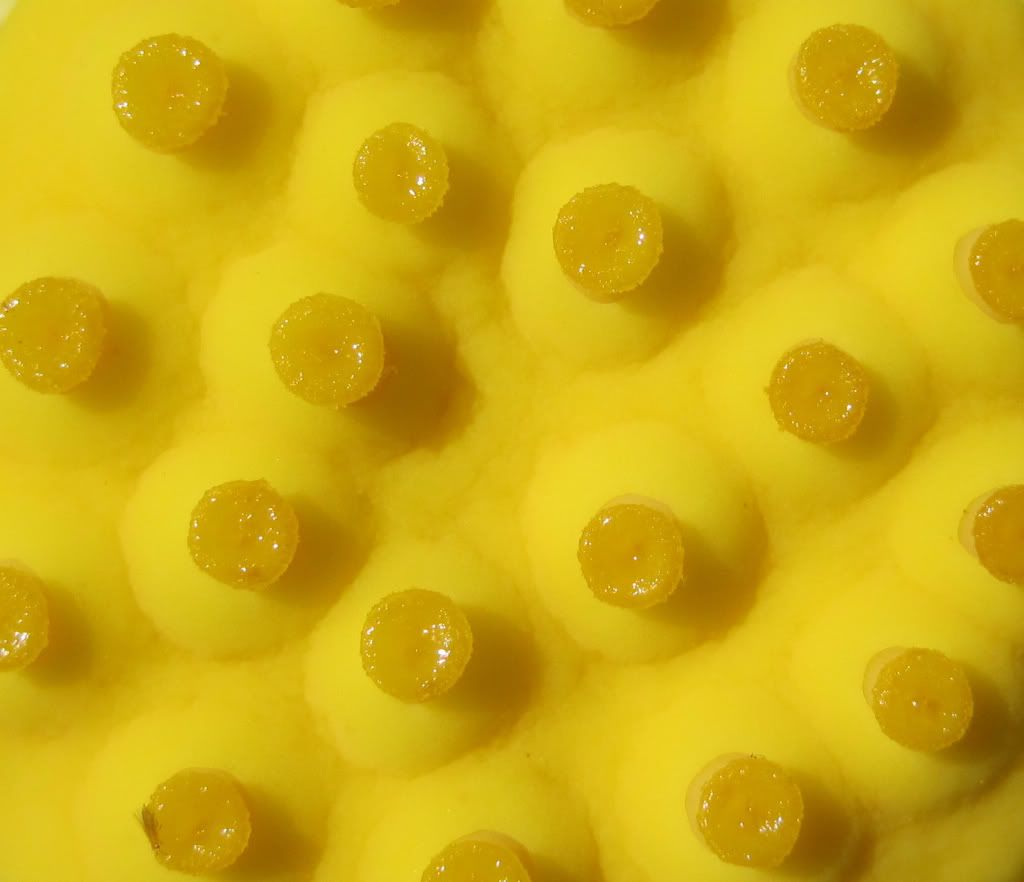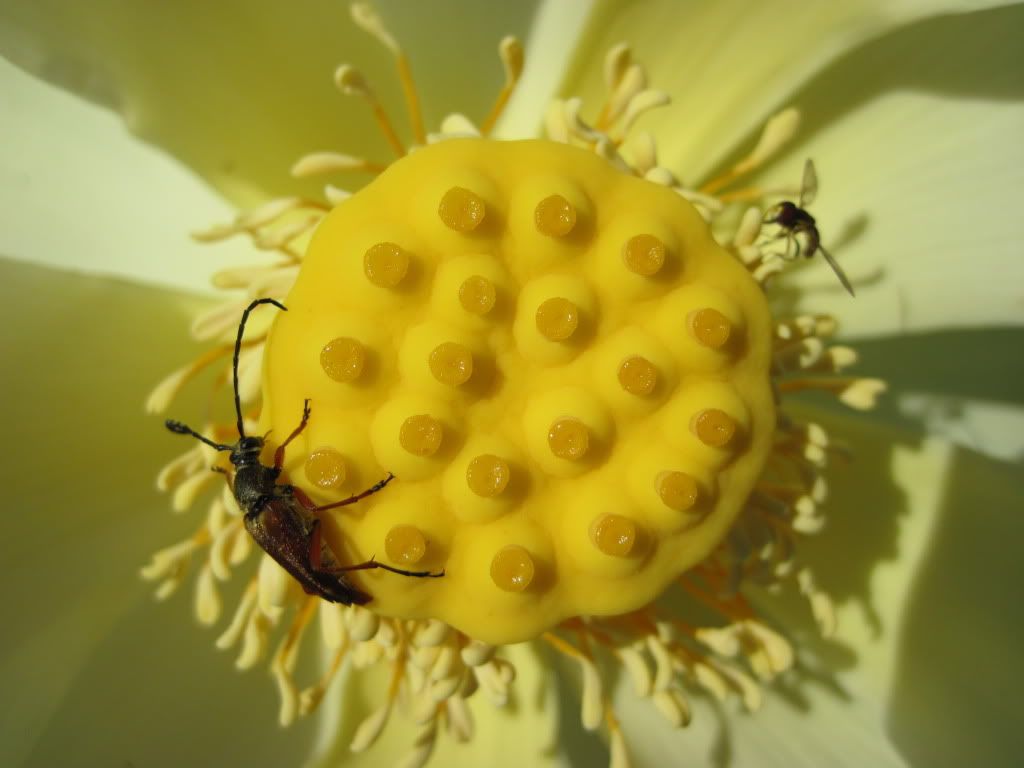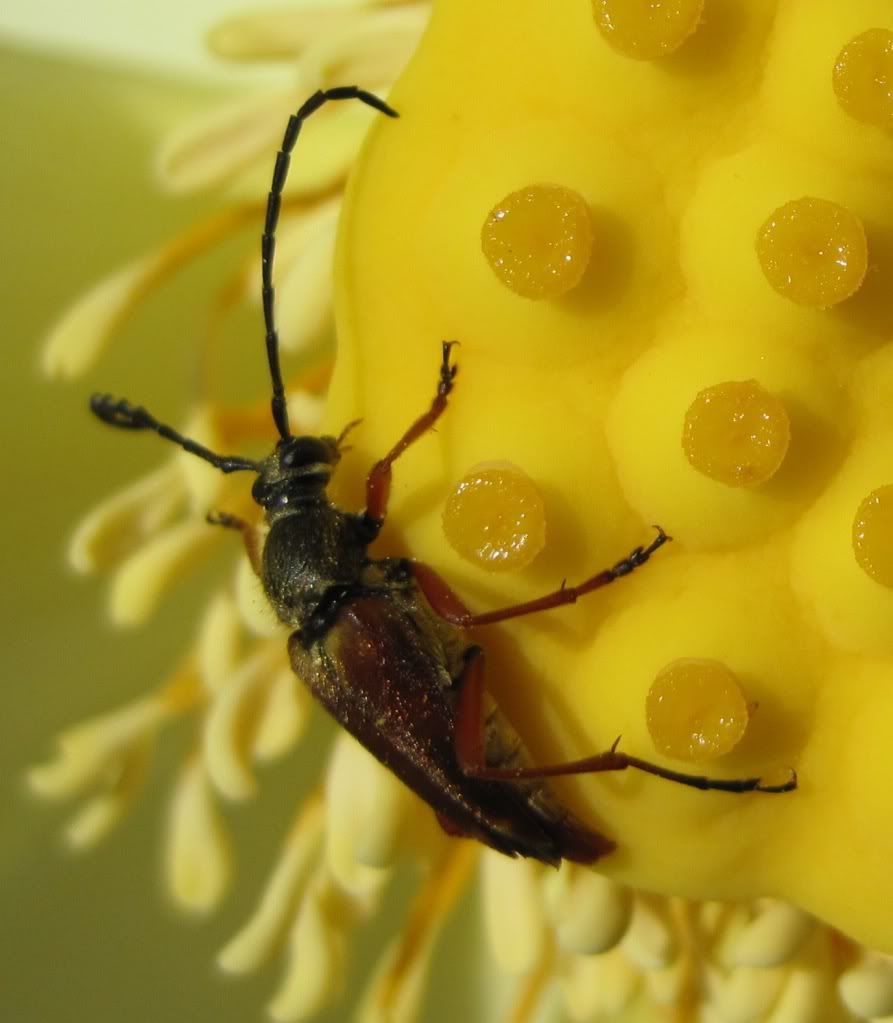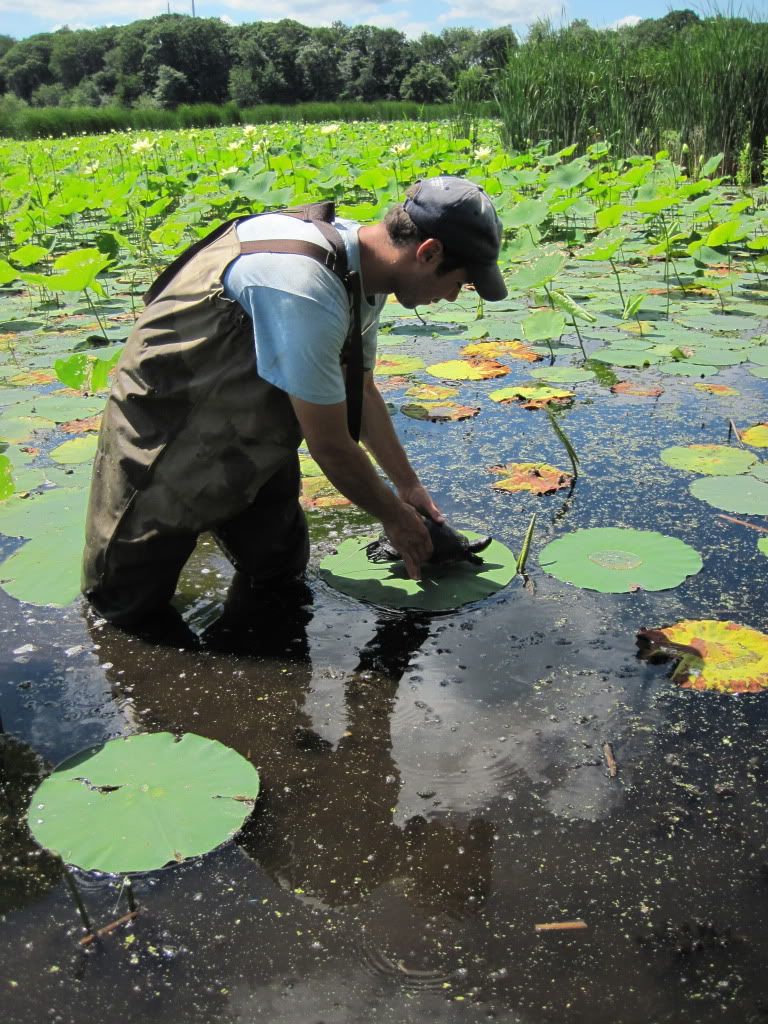 Turtles'-eye view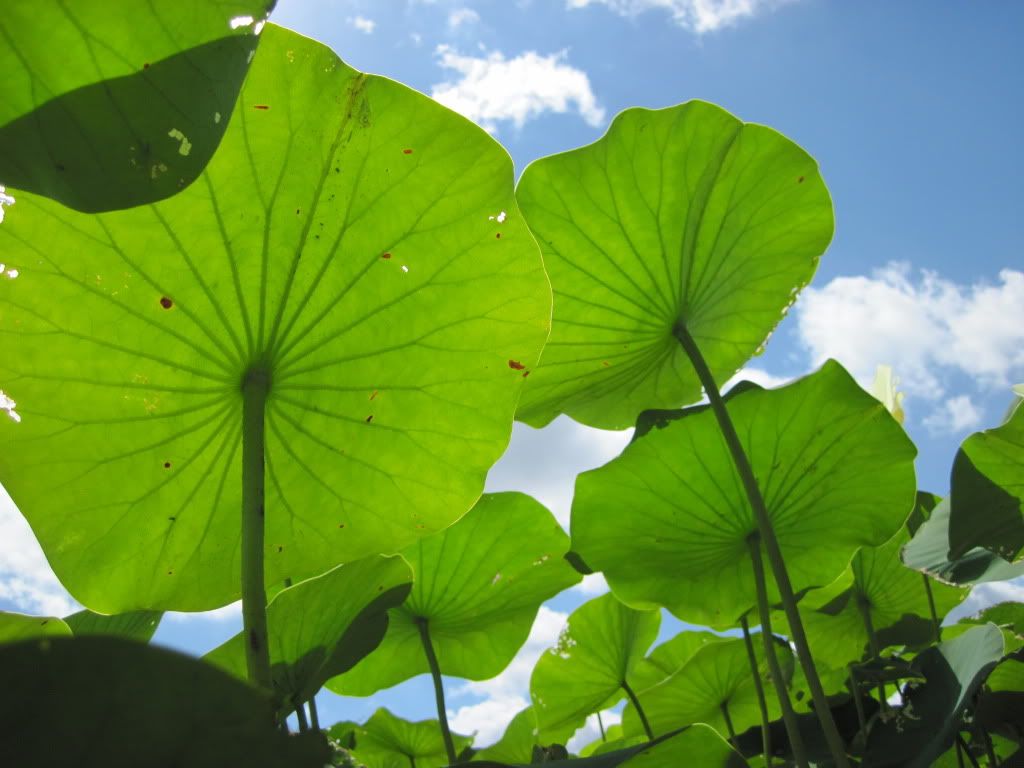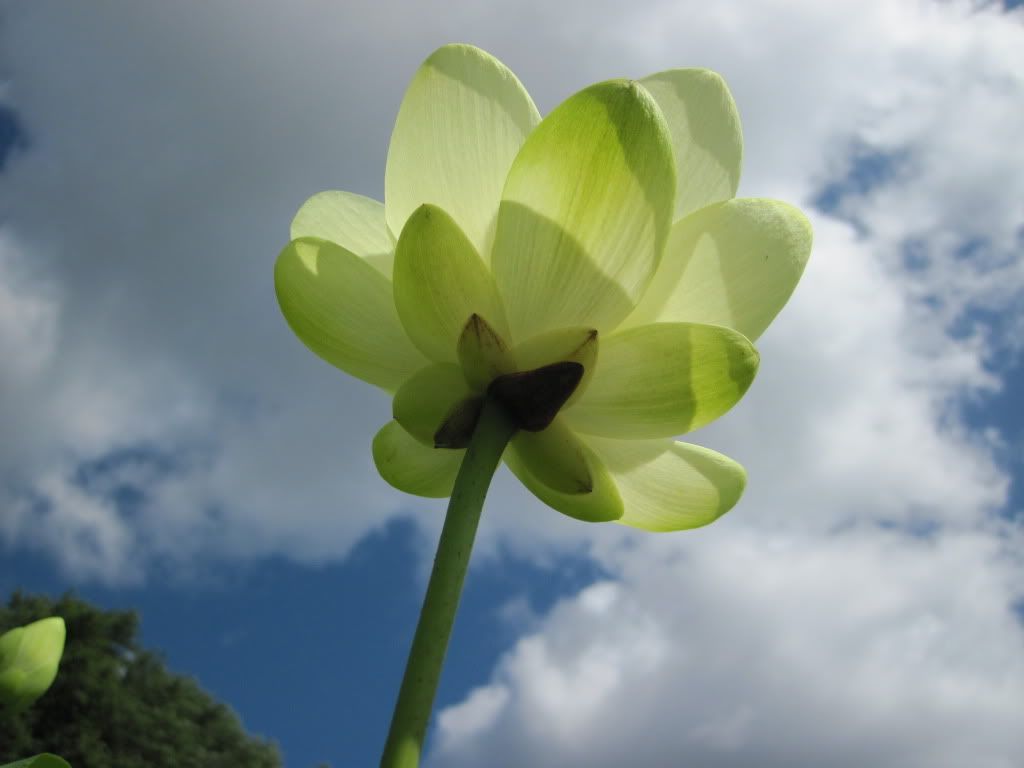 Thanks for looking – if all goes well I should have some hatchling Blanding's to show you real soon!
-Zach
"The stillness was intense and almost conscious, as if it were a natural Sabbath. The air was so elastic and crystalline that it had the same effect on the landscape that a glass has on a picture, to give it an ideal remoteness and perfection. The landscape was clothed in a mild and quiet light, in which the woods and fences checkered and partitioned it with new regularity, and rough and uneven fields stretched away with lawn-like smoothness to the horizon, and the clouds, finely distinct and picturesque, seemed a fit drapery to hang over fairy-land. The world seemed decked for some holyday or prouder pageantry, with silken streamers flying. . ."
-Thoreau (1854)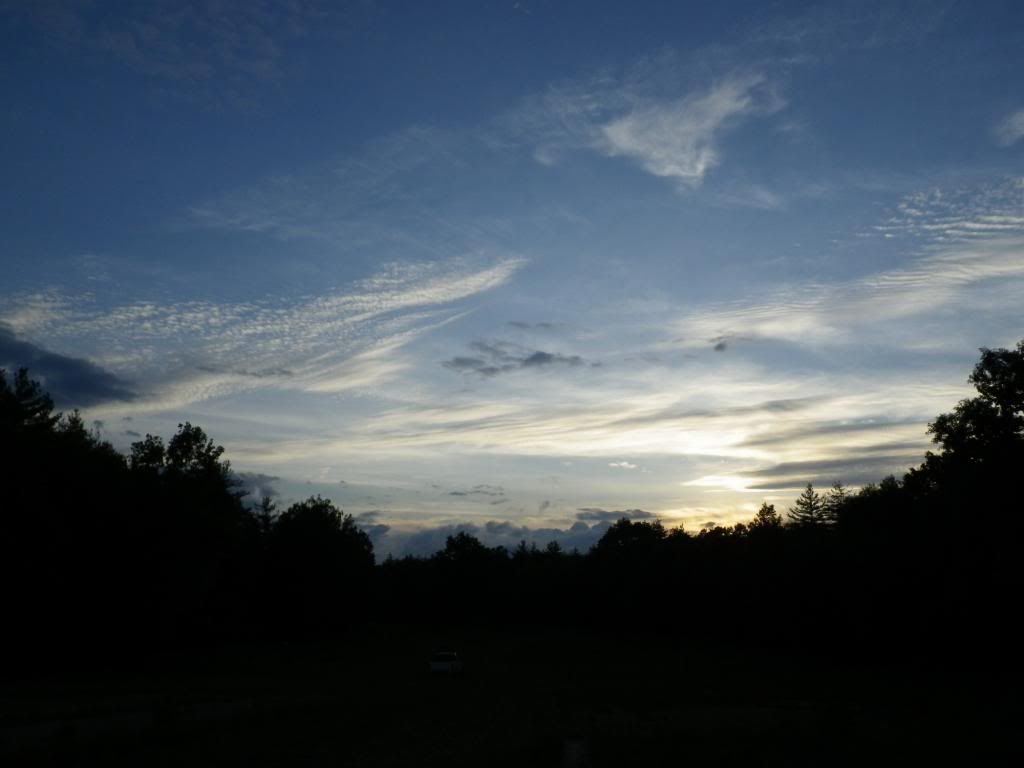 Part 1
Part 2
Part 3
Part 4
Part 5