When I arrived in the Mojave Desert in January of 2011 I wasn't planning on staying for more than six months, but over a year later here I am. I'm ok with this, so long as I continue to find interesting stuff to photograph, write about, and share. After my term with the
U.S. Geological Survey (USGS)
ended in February, I accepted a short-term (March through May) position with the
Great Basin Institute (GBI)
. In
their words
, GBI is an
"interdisciplinary field studies organization that promotes environmental research, education, and conservation throughout the West. The Institute advances ecological literacy and habitat restoration through educational outreach and direct service programs."
While GBI is involved with a variety of projects, they have been monitoring local desert tortoise populations (in partnership with the
U.S. Fish and Wildlife Service [USFWS]
) since 2007, as part of a 25-year monitoring program. Data is collected by Line Distance Sampling (LDS), a method used to estimate population density/abundance, which involves crews searching transects for a particular object of interest—in this case tortoises. The majority of those hired for GBI's tortoise monitoring project work on the LDS crew.
However, I had a different job. In order for the raw data from LDS crews to be accurately translated into population estimates, other factors must be considered. Desert tortoises are notoriously cryptic. They spend the overwhelming majority of their lives underground and out of sight. Even during their brief periods of aboveground activity, a tortoise may be stepped over, unnoticed, by even the most seasoned tortoise biologist. So, when LDS crews record the number of tortoises found on a particular transect, we must also account for the amount of tortoises that were
missed
.
This is where I came in. Near the sites where LDS crews were walking transects, GBI has groups of wild tortoises equipped with radio transmitters, which can be tracked by radio-telemetry. So, while LDS crews were walking transects, members of a much smaller crew, including myself and five others, would simultaneously track these tortoises. A particular group of tortoises was tracked continuously throughout the day, in order to get as many data points as possible. Because of desert tortoises' short activity season, LDS crews walk transects seven days a week, and tortoises must also be tracked each day.
While tracking tortoises we recorded their behavior and visibility (among other things), and this information was then applied to the LDS data to generate a more accurate representation of tortoise populations. So, say one day LDS crews find only two tortoises, but the telemetry crew reported that no tortoises were aboveground and active that day. Other factors aside, this could indicate that their were significantly more tortoises in this area than those found by transect walkers, simply because the animals were not active/visible at the time, and the population estimate would be affected accordingly.
So, although I was tracking tortoises at both USGS and GBI, the two jobs were quite a bit different, and there were pros and cons to each. For one, the work at GBI was conducted at four different sites in southern Nevada, whereas I was working both in Nevada and California during my time with USGS (but mostly California). The USGS sites were more remote, and our days consisted of a lot more driving. We had a field house that we would return to at the end of the day. For GBI, we camped out for the duration of the workweek, and pretty much hiked all day long (often times 20+ km/day). Since we each tracked a single group of tortoises over and over again during the day, we didn't get to experience the excitement of covering so much new ground on the scale that those in the LDS crews did (or as we had with USGS). On the other hand, the nature of our work allowed us to experience the area we worked quite intimately. Back at USGS we were tracking a large number of tortoises fairly infrequently, and over a large area. One of us might see the same animal once or twice a month, if that. So while we would know when a tortoise moved, went missing, died, etc., in no way did we learn the minutia of individual tortoise's day-to-day lives as we did here at GBI.
*
For the most part the following photos are presented in the order of each site I worked at. I've tried to avoid repeating subjects already photographed in previous entries as much as possible. There are a few repeats, though, and for these I have at least tried to capture the subject in new light.
USGS Odds n' Ends
Before I begin with the GBI stuff, here's a few leftover photos from my time at USGS:
Reptile eggshell. Any thoughts on what it could be from?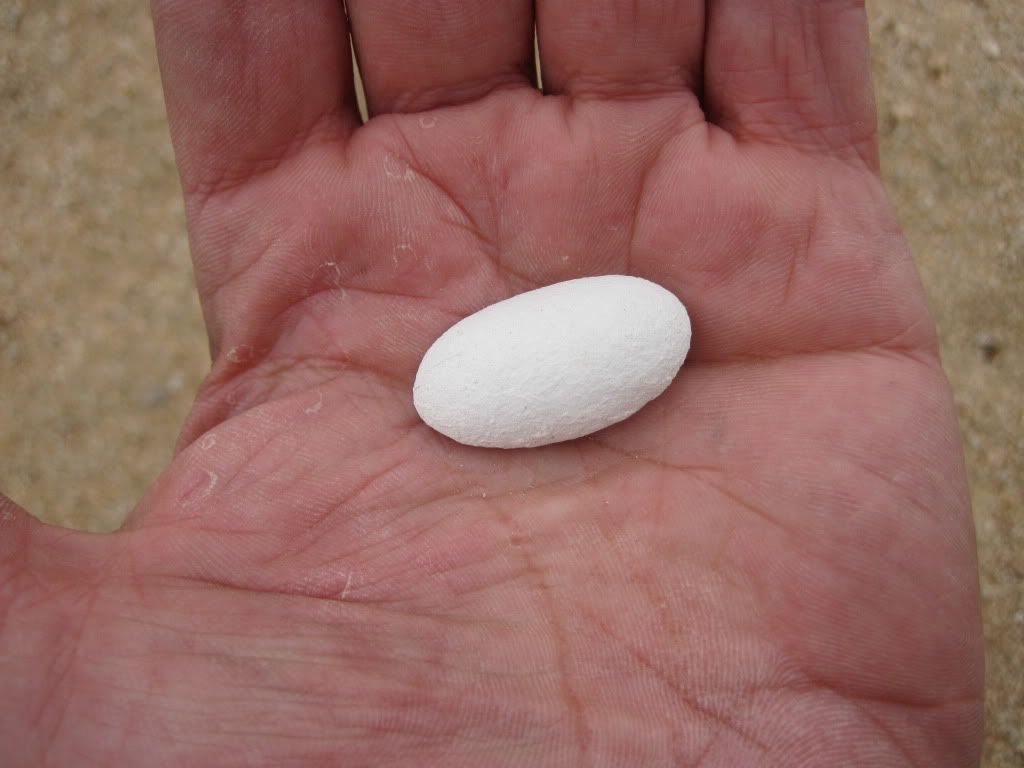 A nicely colored
Beavertail Pricklypear (Opuntia basilaris)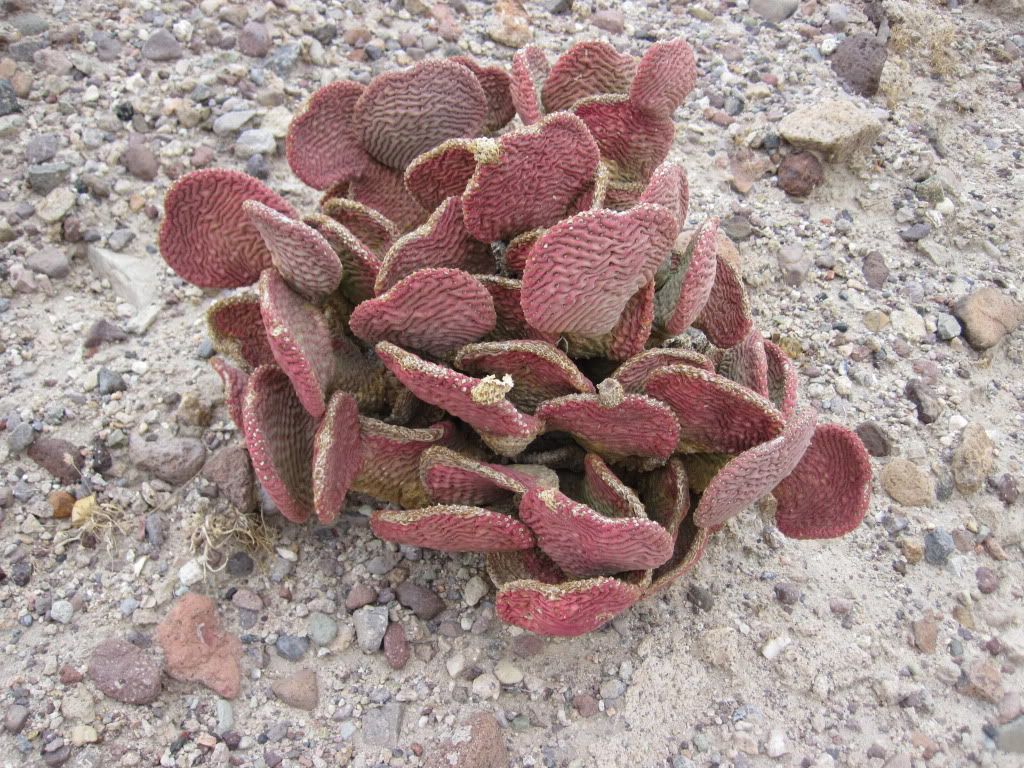 Cool textures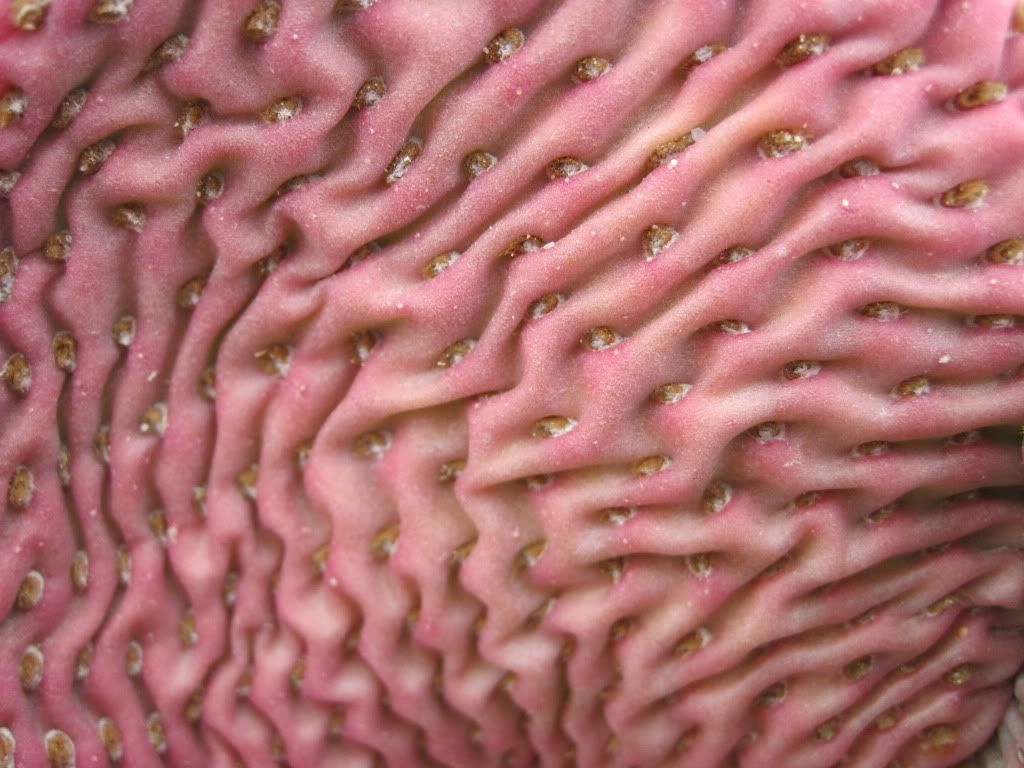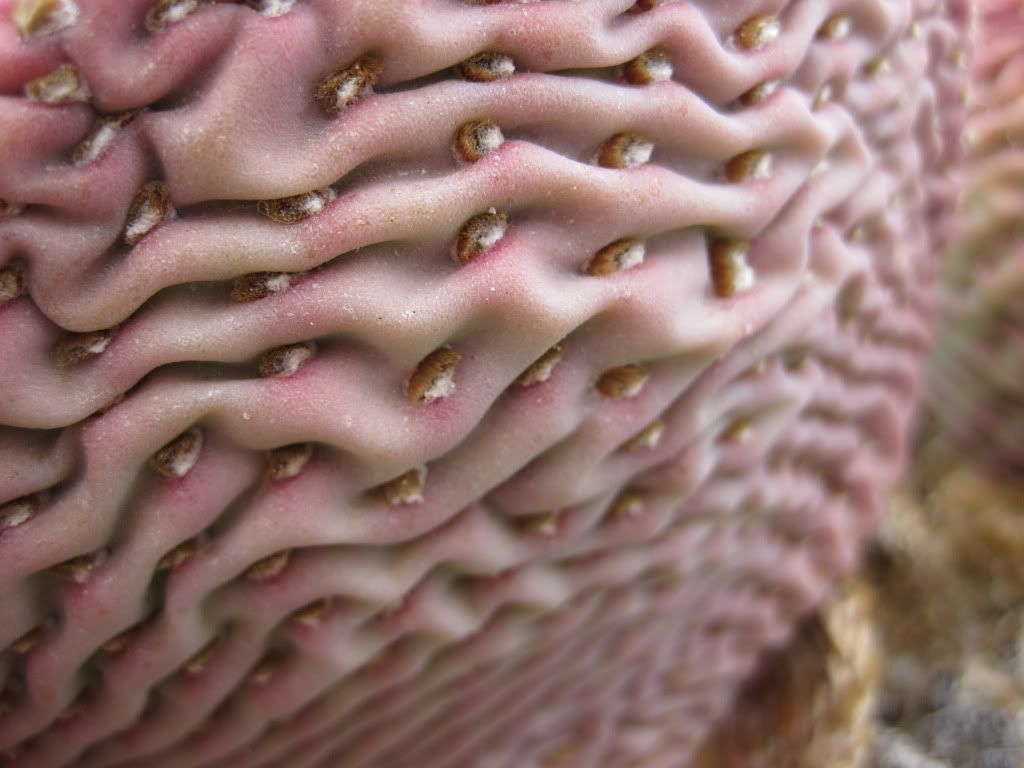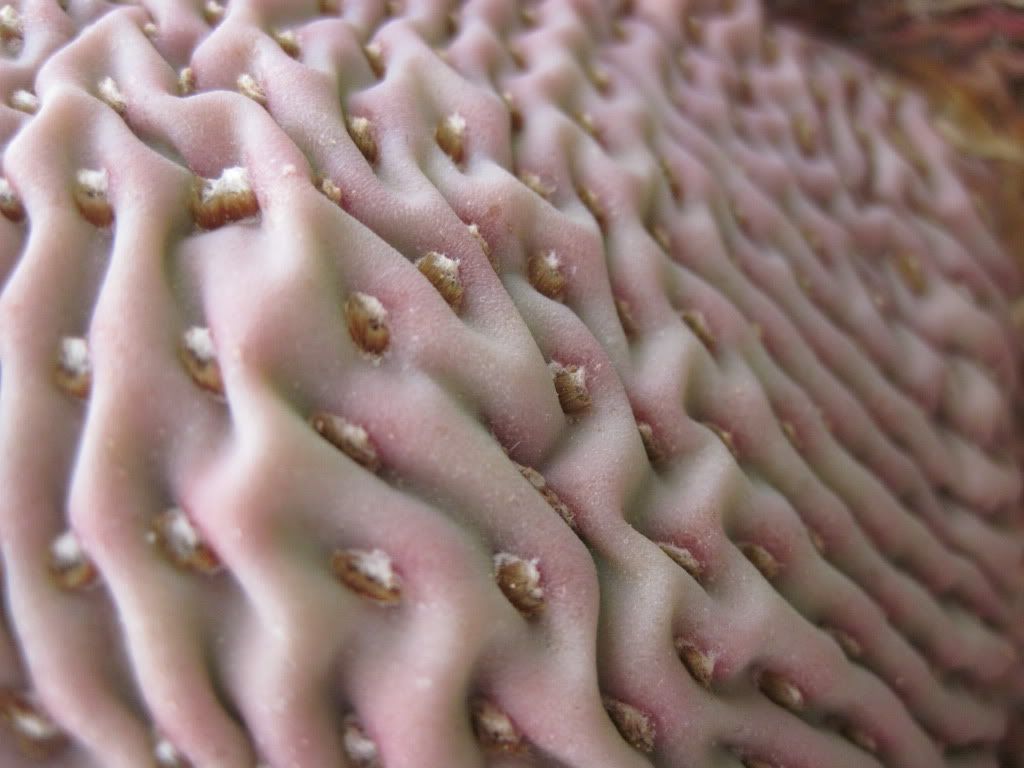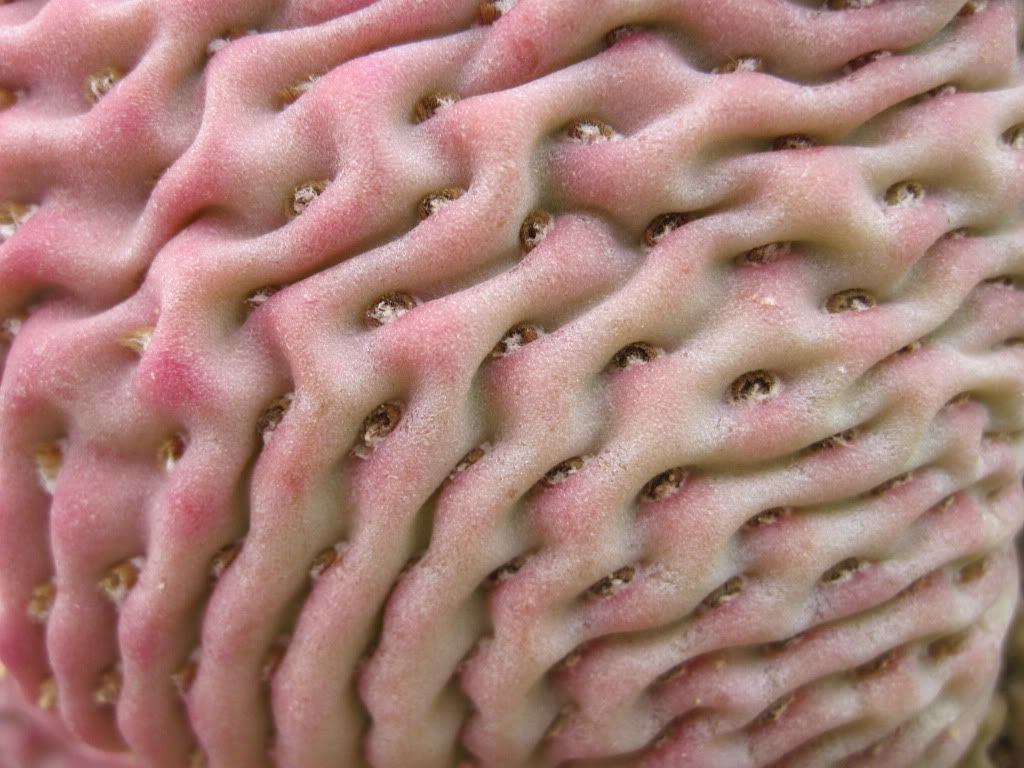 Black Widow
(
Lactrodectus mactrans
or
L. hesperus
?). Found when cleaning out the garage. Black widows' venom is neurotoxic (contains
latrotoxin
), and a bite results in a condition called
lactrodectism
. Symptoms may be severe, but bites are rarely fatal to humans.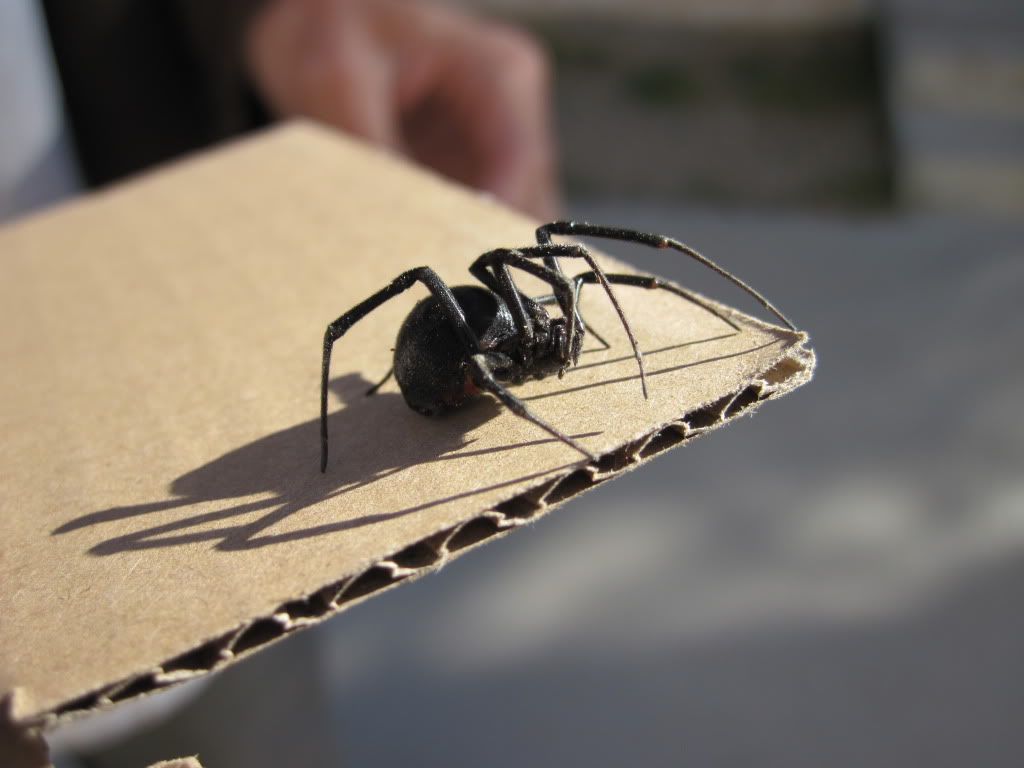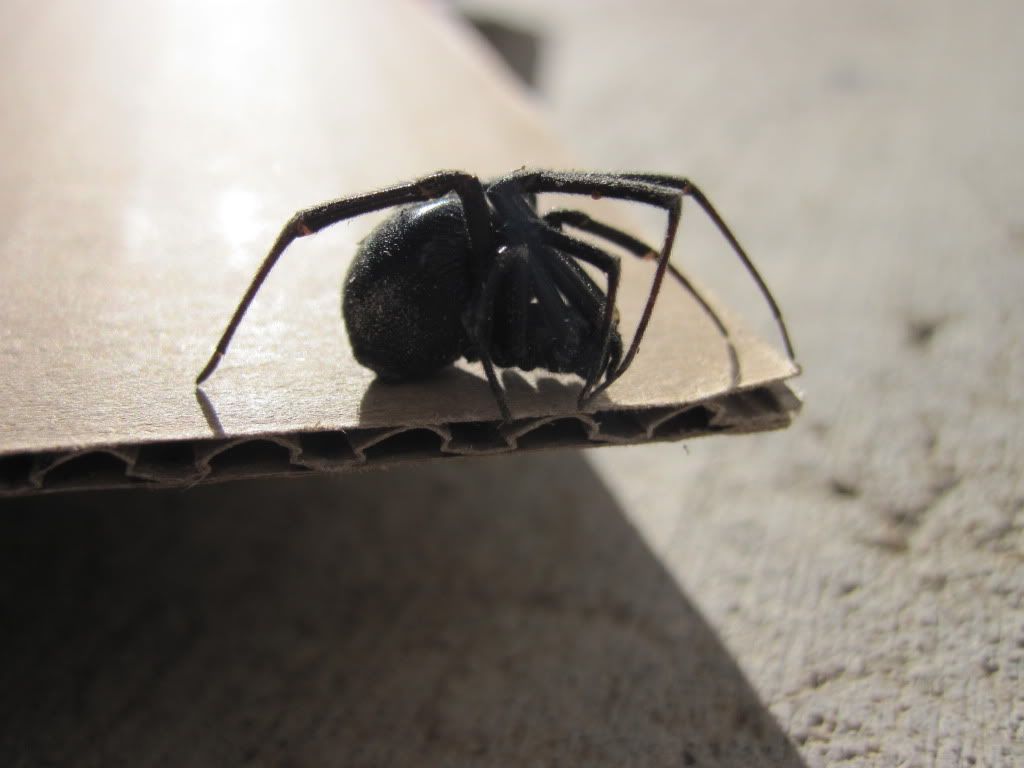 Characteristic hourglass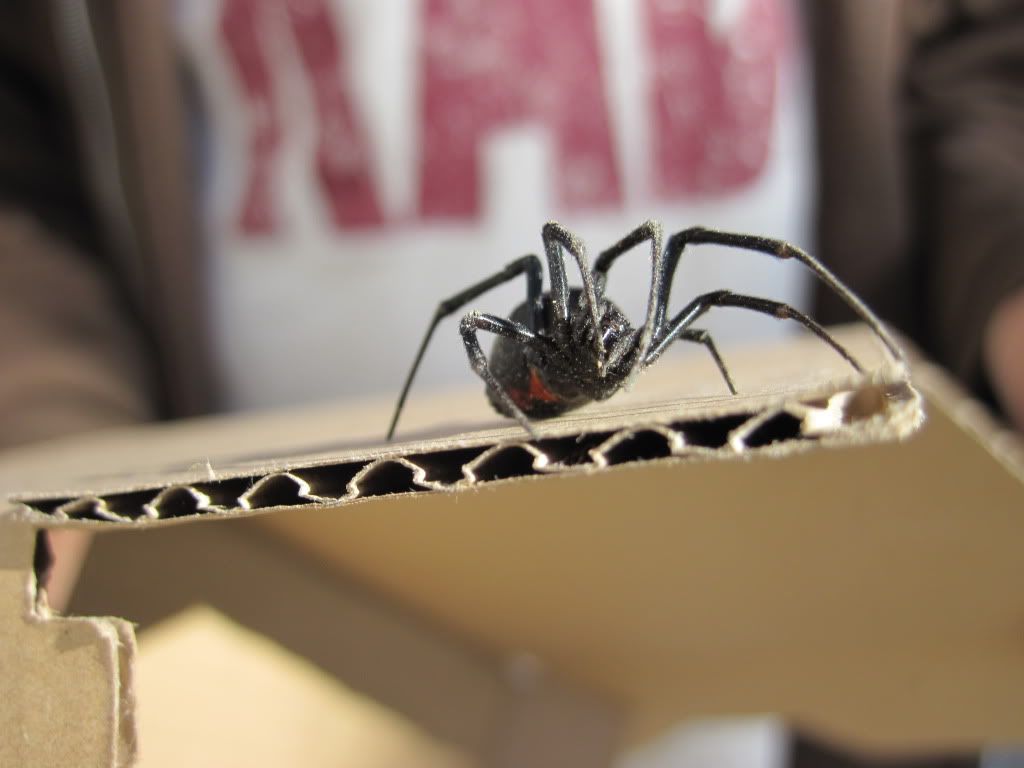 Lone petroglyph (they are typically seen in groups)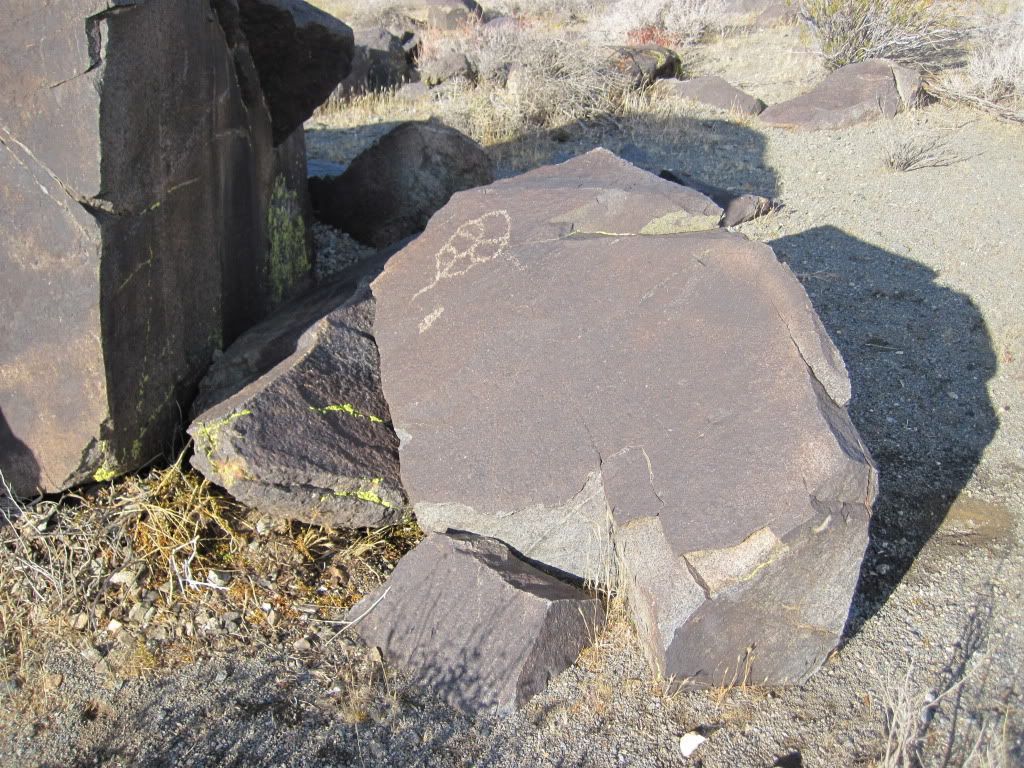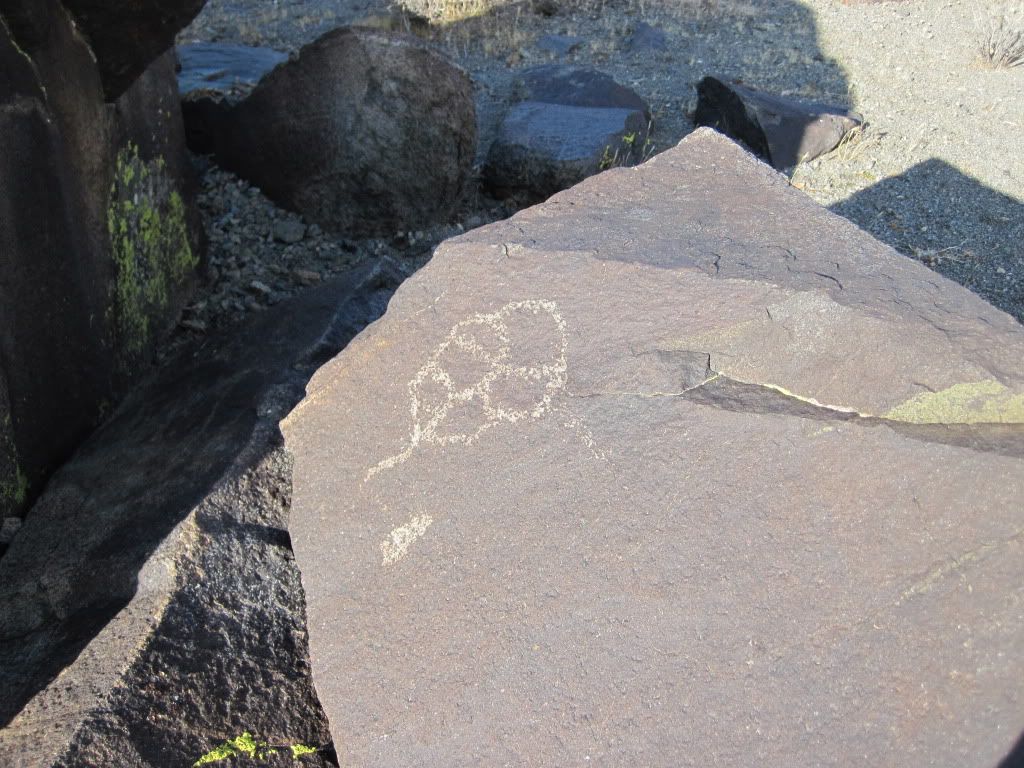 Coyote (Canis latrans)
. This one was much closer than the last one we saw (see
Part 5
), and actually approached me, so I got some better shots. You can see how well it blends in with the surrounding landscape.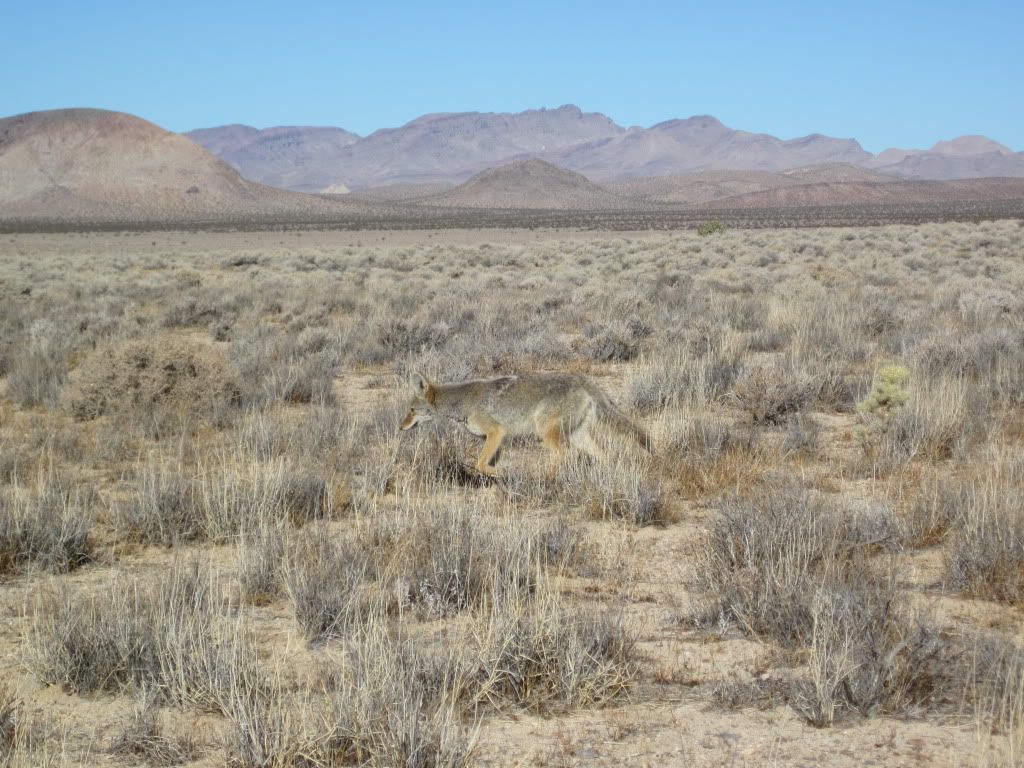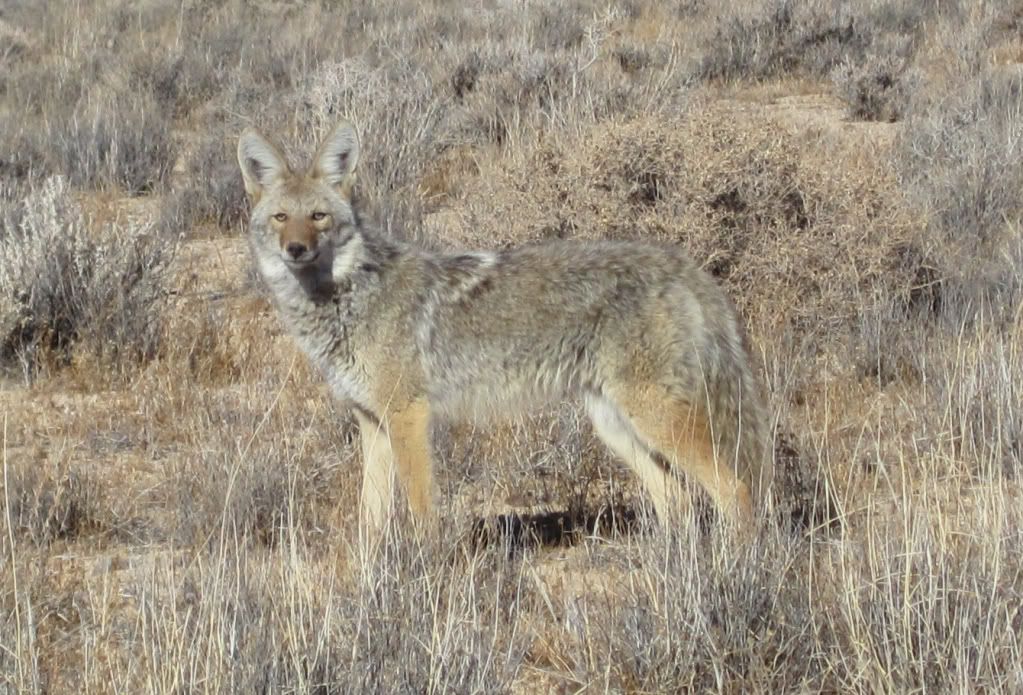 Okay, on to the new stuff…
On the way back from training traffic was stopped on the highway because of a dust storm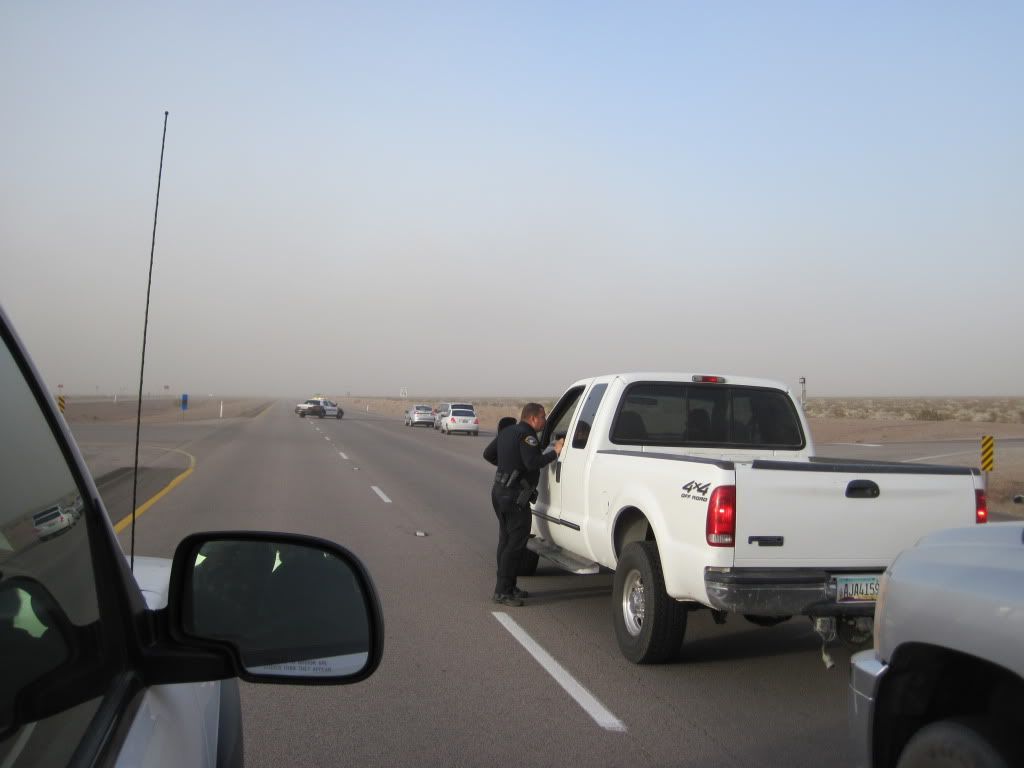 GBI Site #1
Tortoise with landscape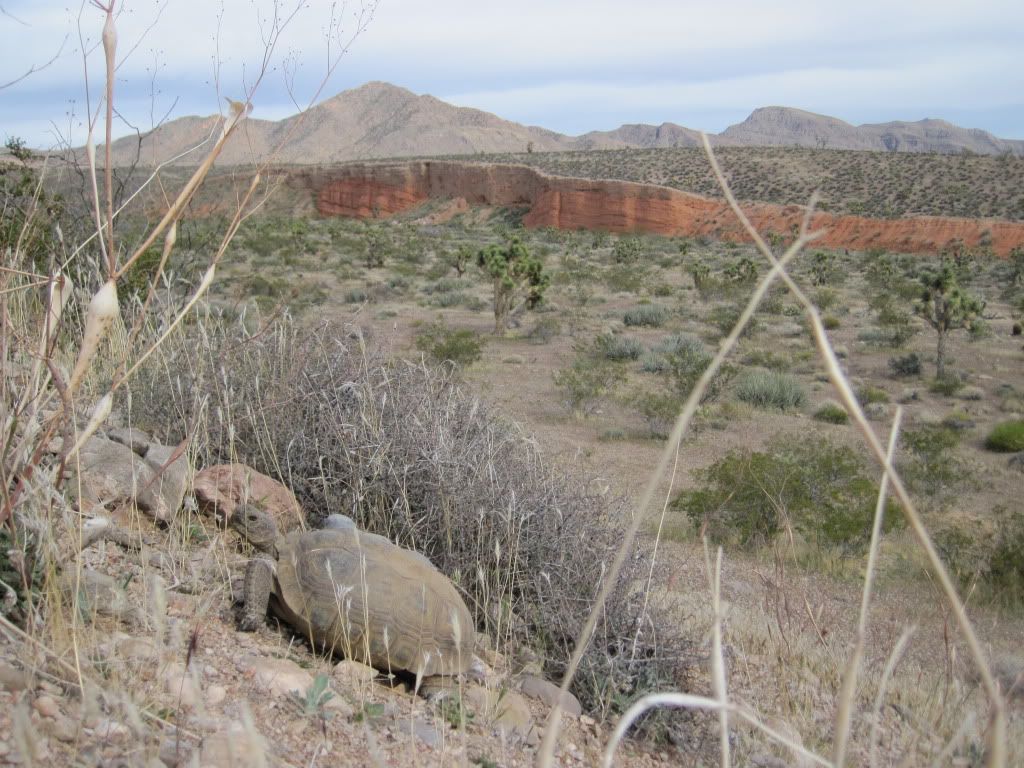 Some of GBI's sites are shared with USGS, so I already had some familiarity with them. Our first one was new to me, and quite different from anywhere else I had worked in the Mojave. As I have mentioned before, someone new to this region might think it all looks the same, but the longer you're here, the more you appreciate the subtle (or not so subtle) differences.
Tulip Pricklypear (Opuntia phaeacantha)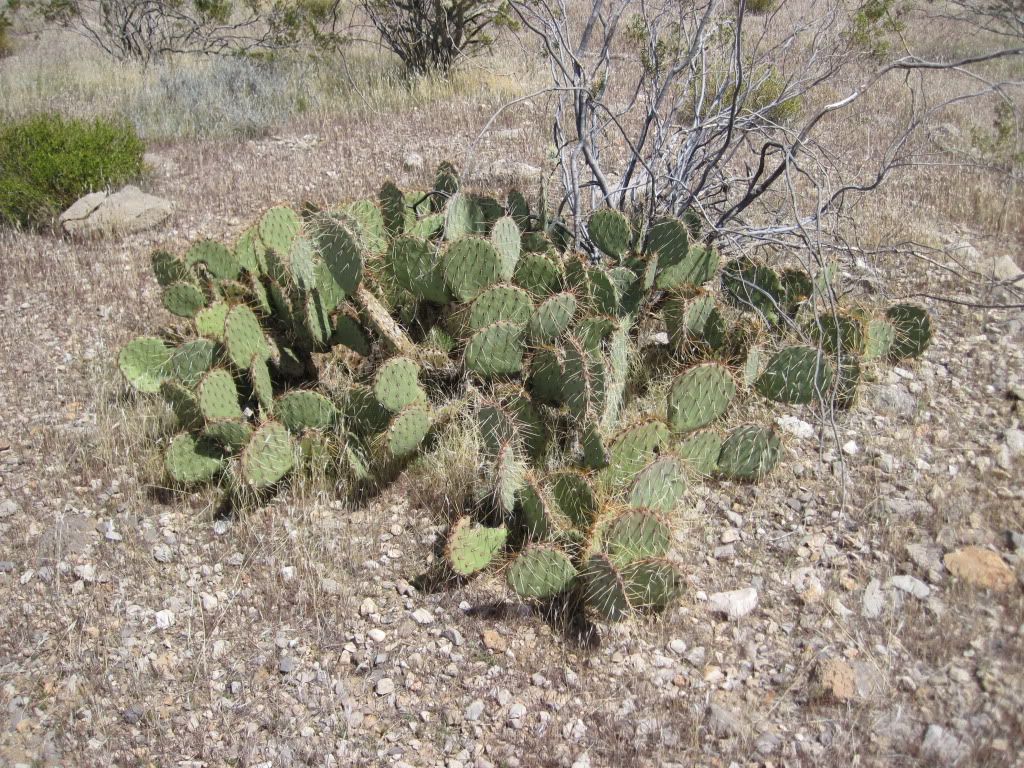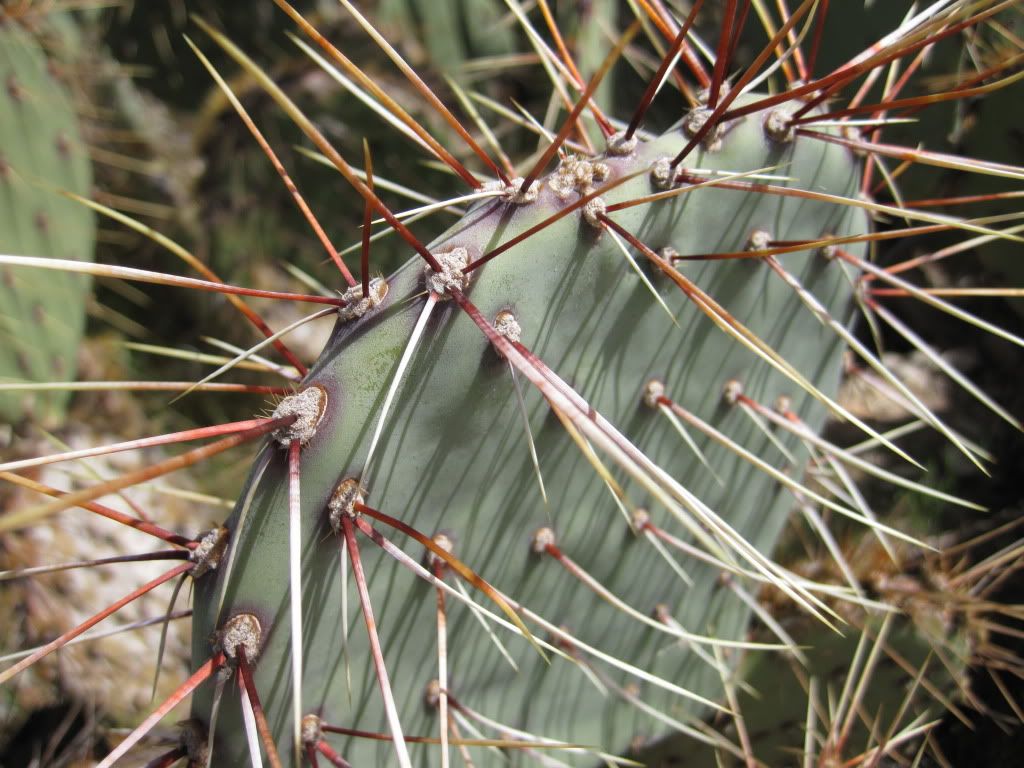 Utah Agave (Agave utahensis)
. Used for food and fiber by Native Americans. Agaves flower only once, at which time they grow a tall stem (aka "mast") and then die.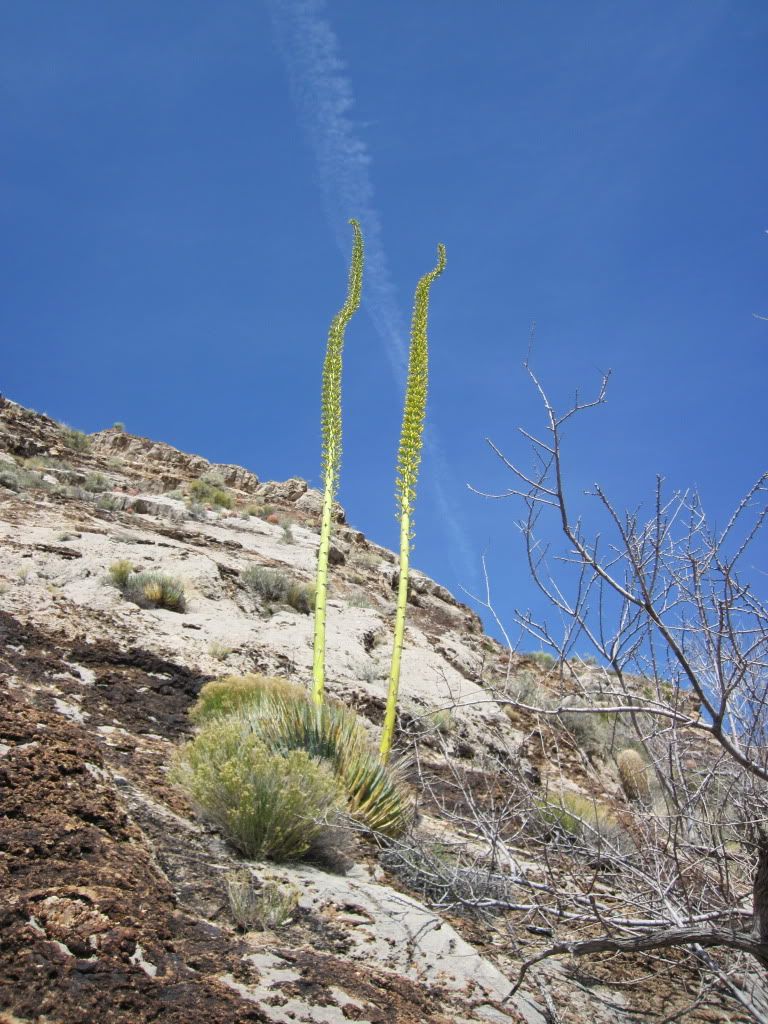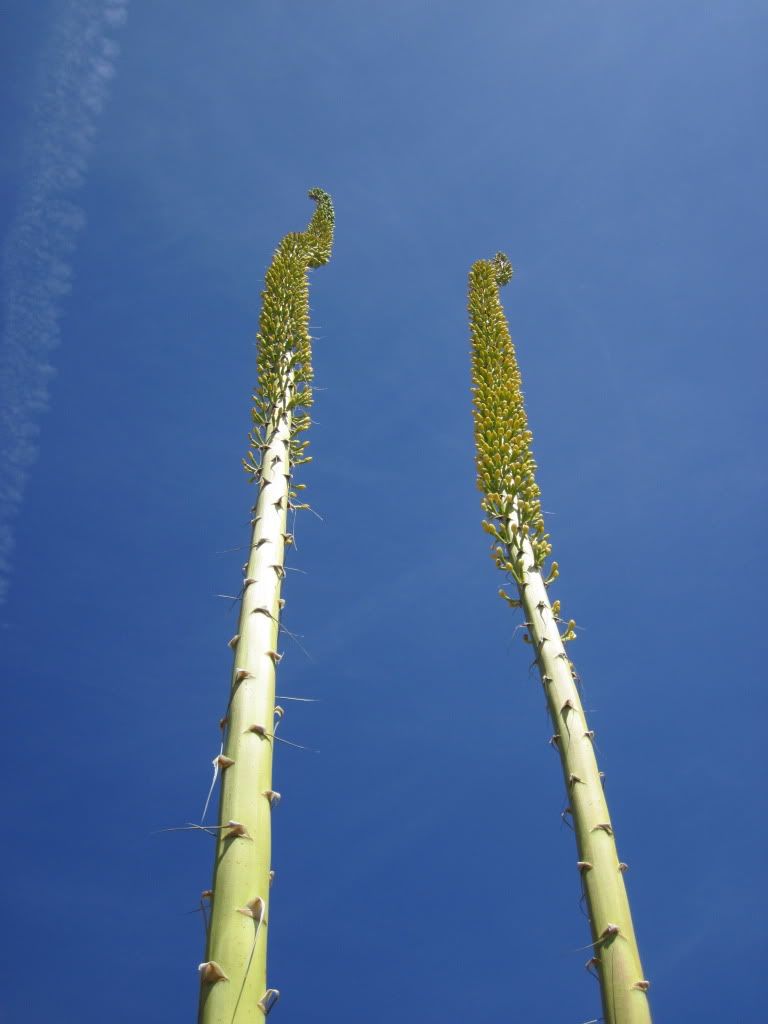 Interesting how these two agave stalks have corresponding curves. I wonder what caused them to grow this way?
Flower buds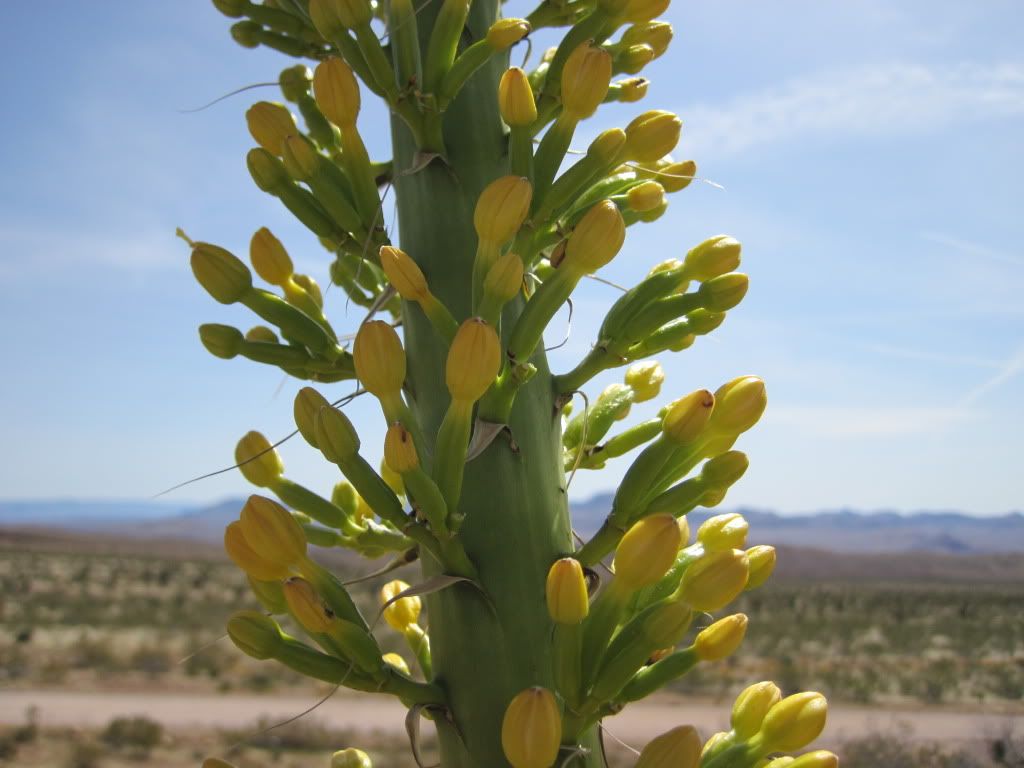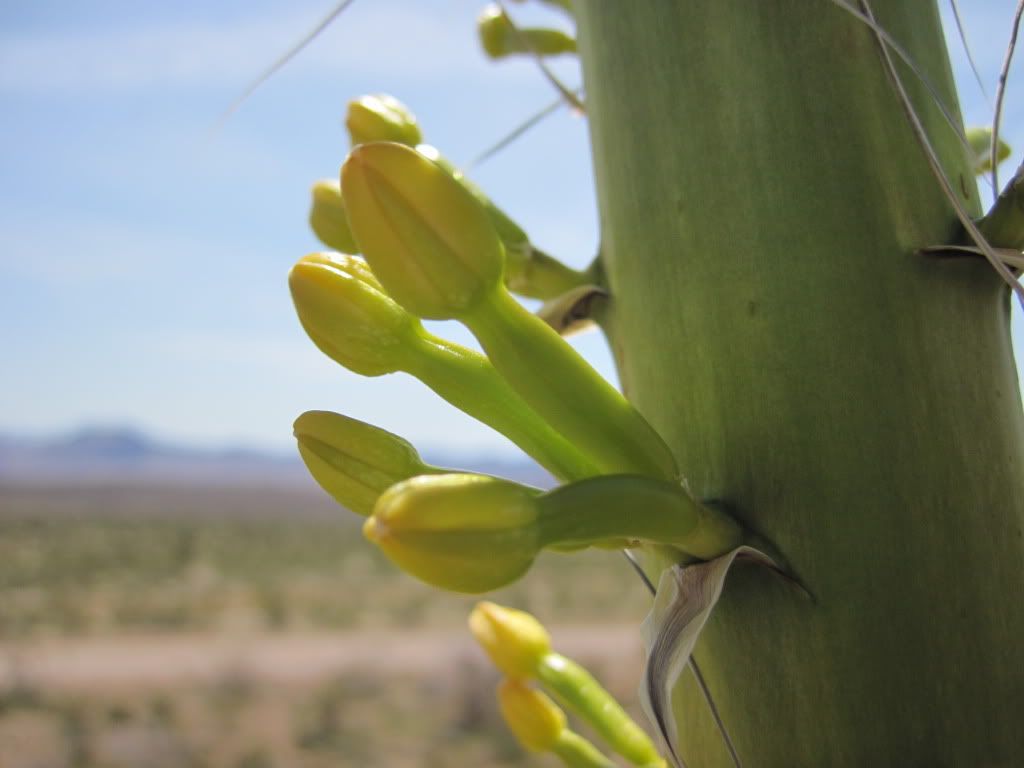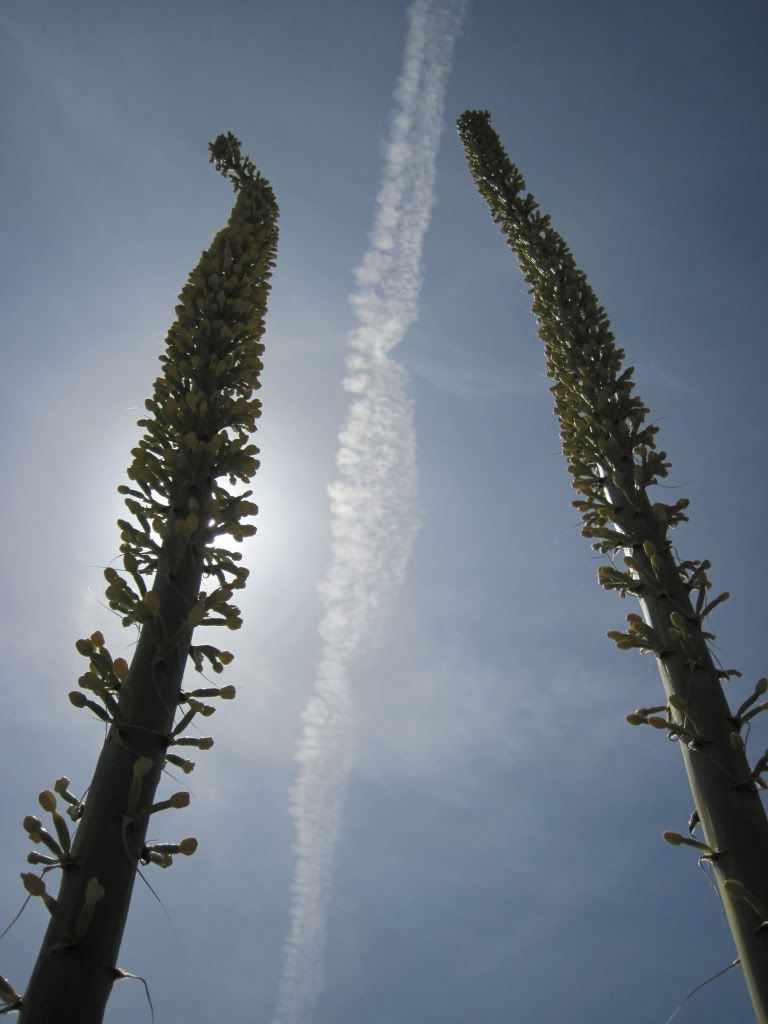 Colorful earth
, probably iron rich.
Grizzlybear Pricklypear (Opuntia polyacantha var. erinacea)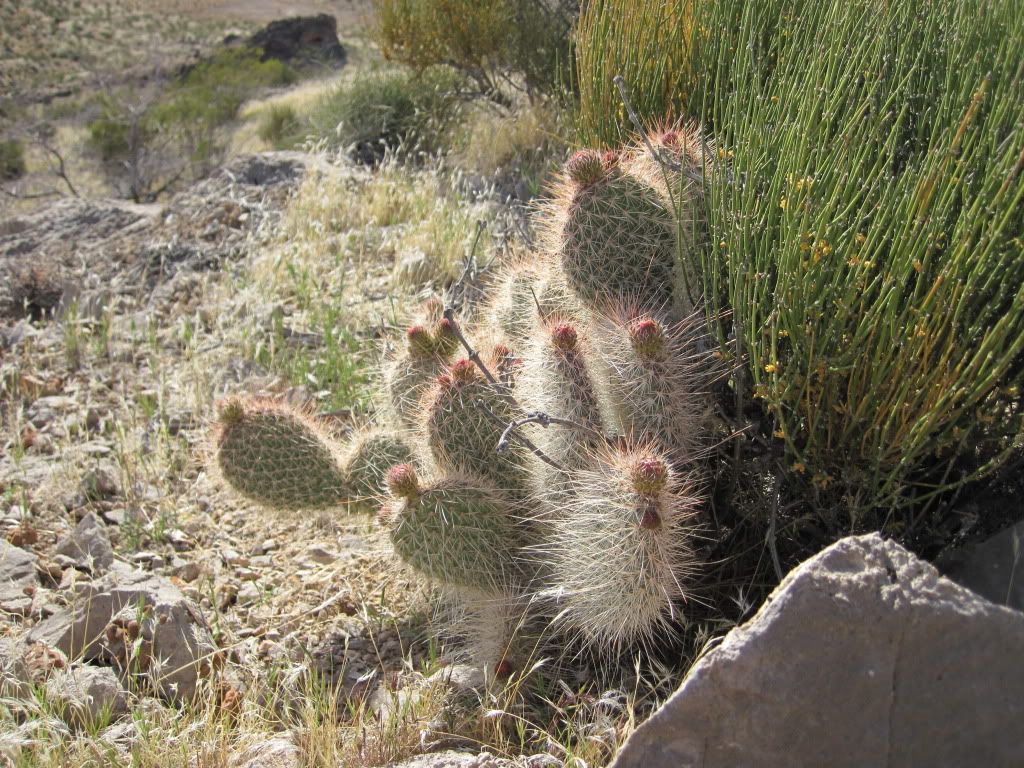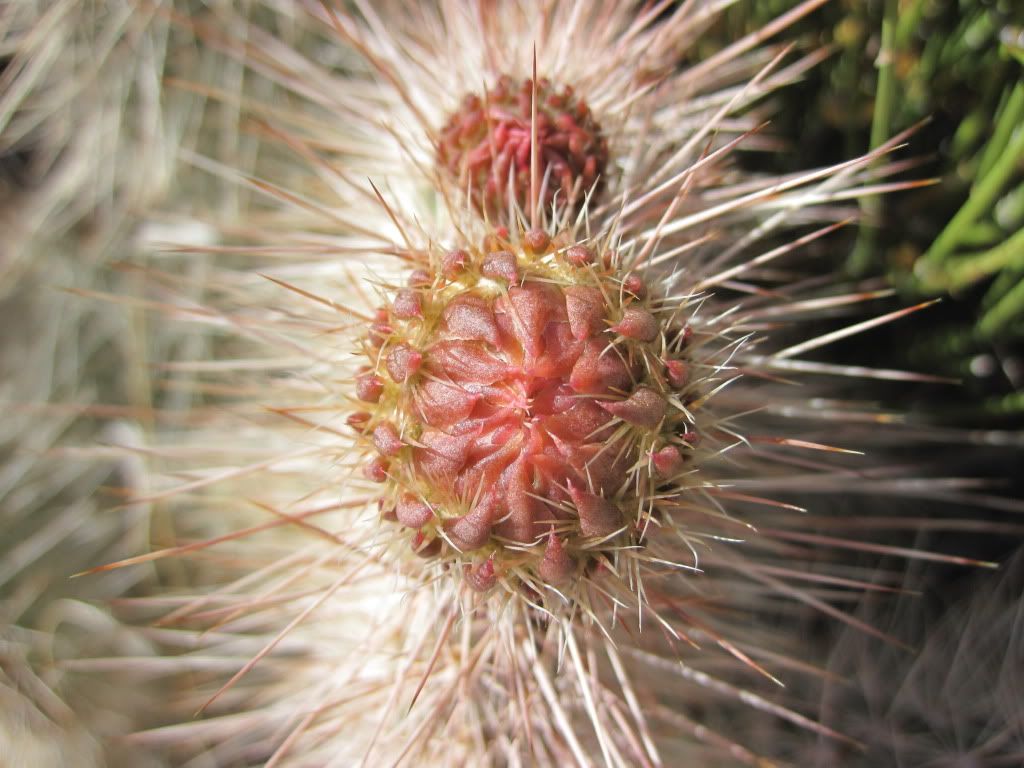 Our first campsite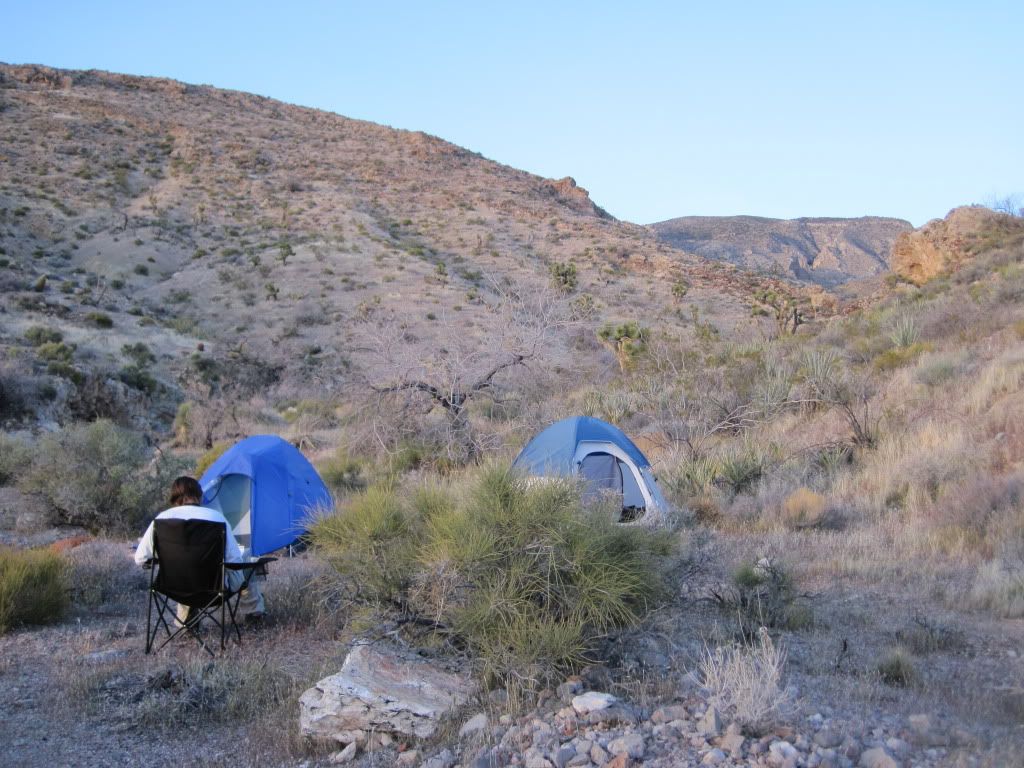 An afternoon hike (back when we still had the energy)
Agaves are resourceful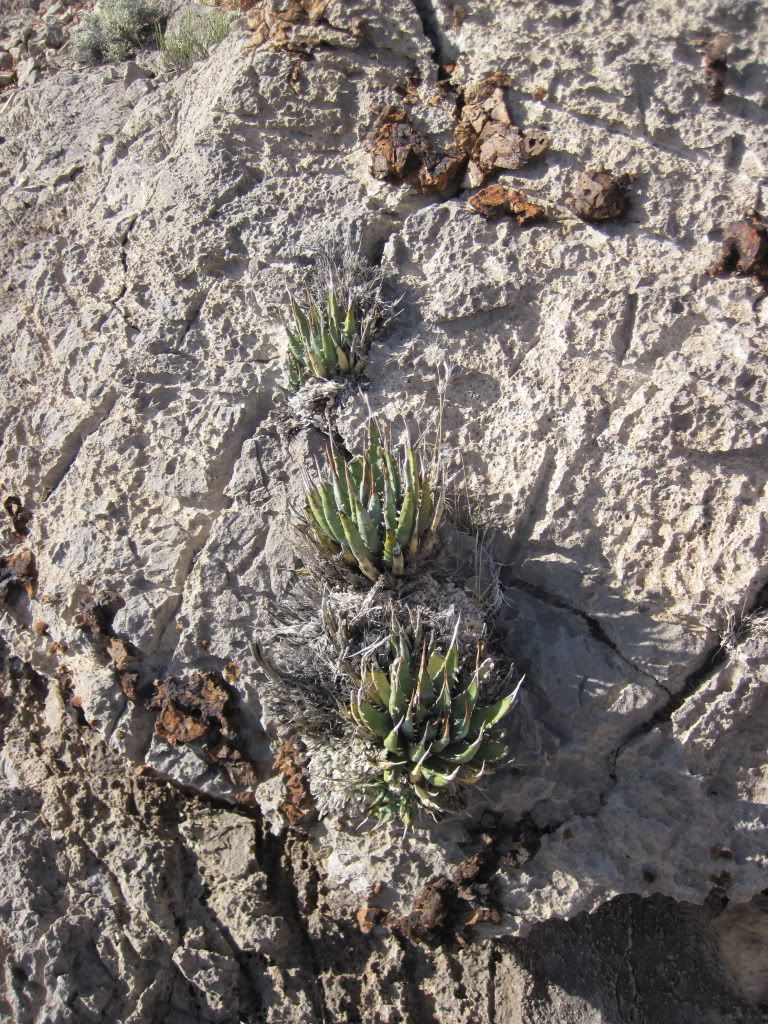 Agave from above
Agave stalks look like asparagus
Wasn't expecting to find ferns in the desert. I think this is
Parry's Lipfern (Cheilanthes parryi)
.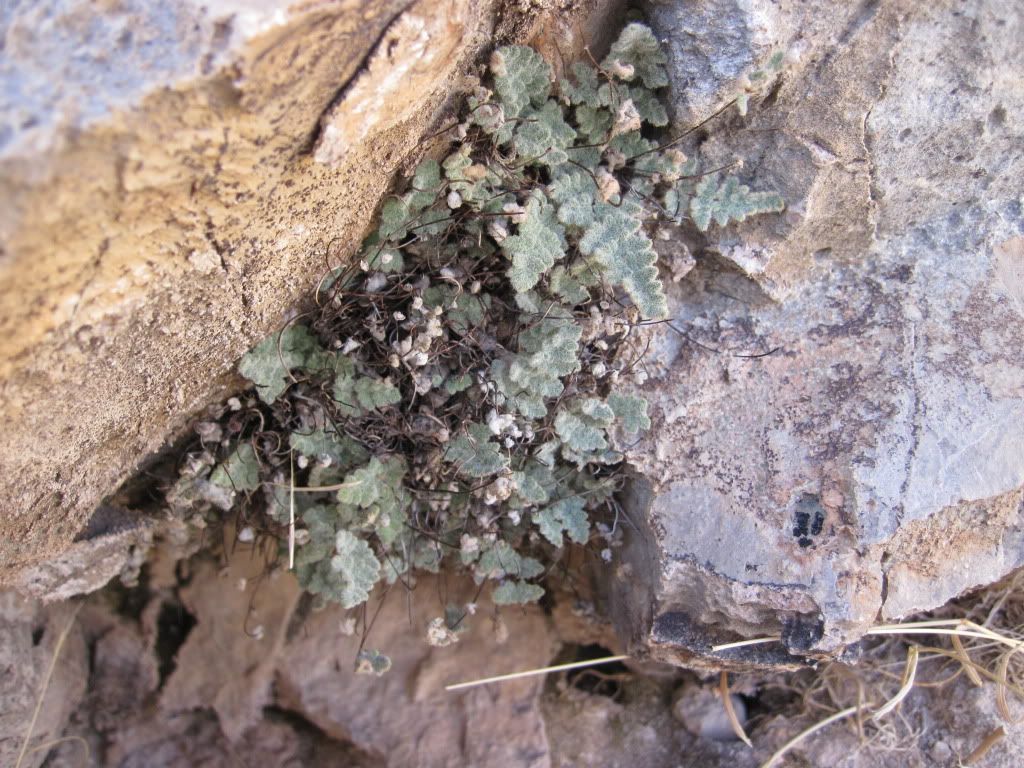 Fuzzy fronds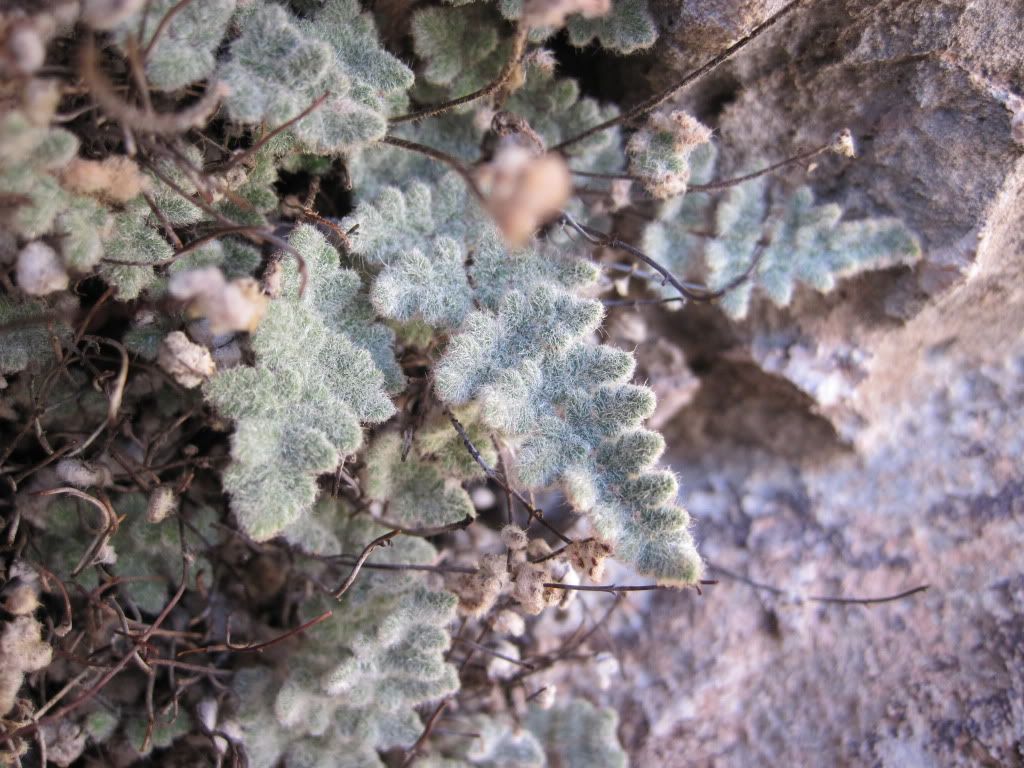 Strange, bubbly rock textures (I think it had a disease)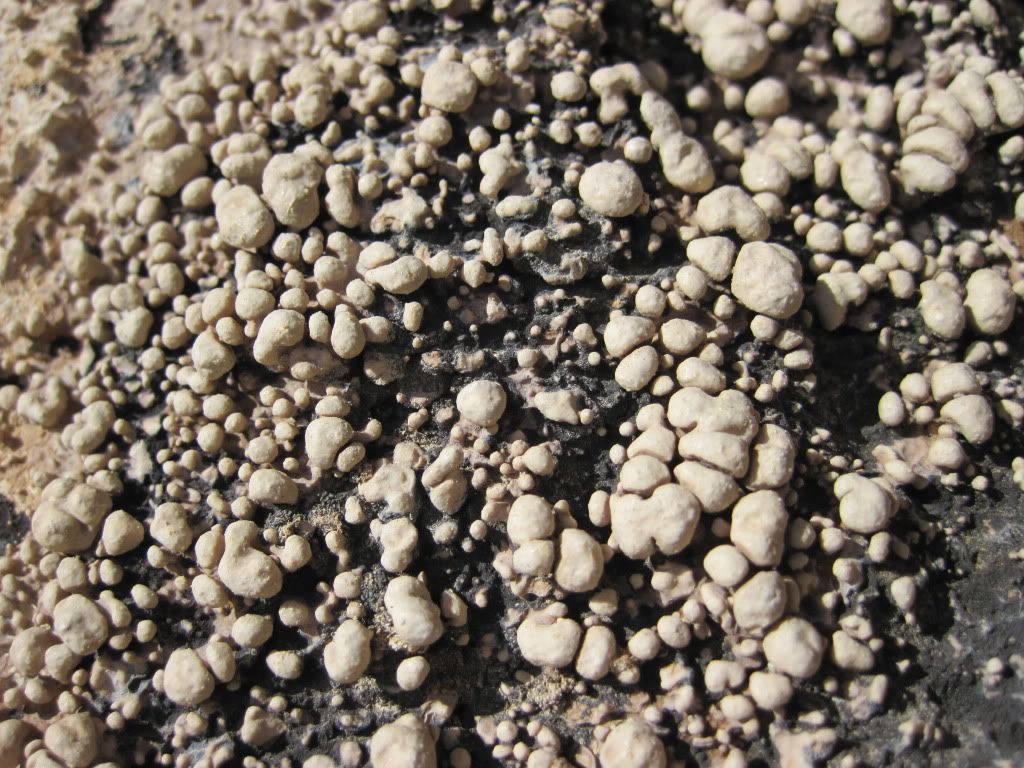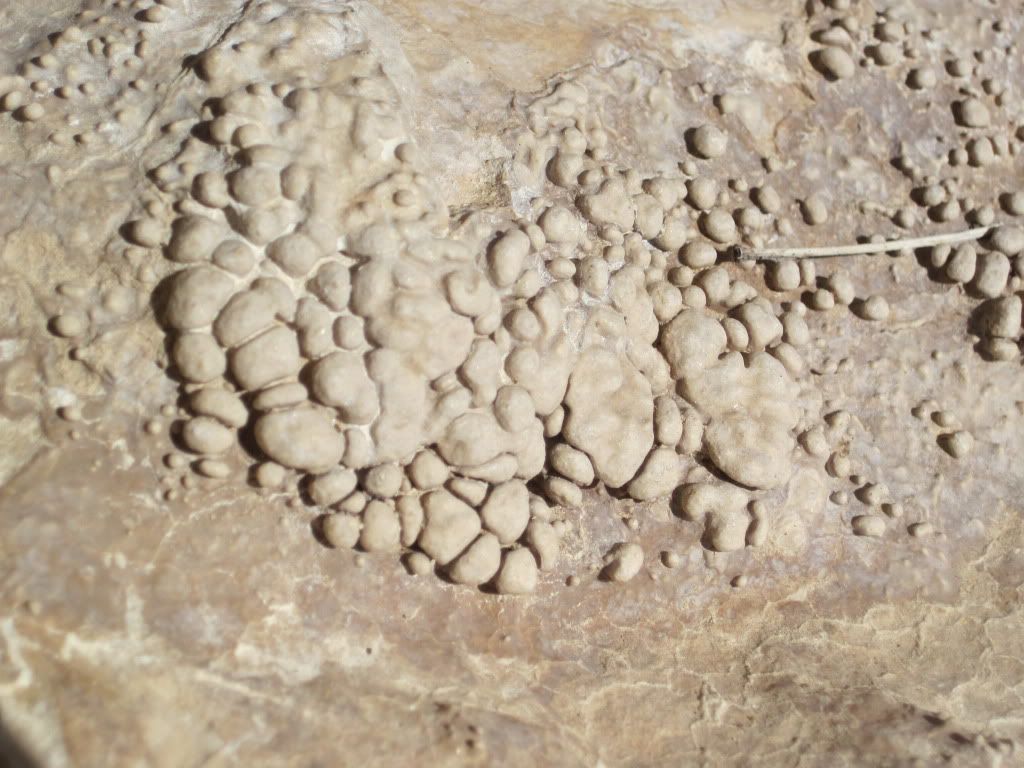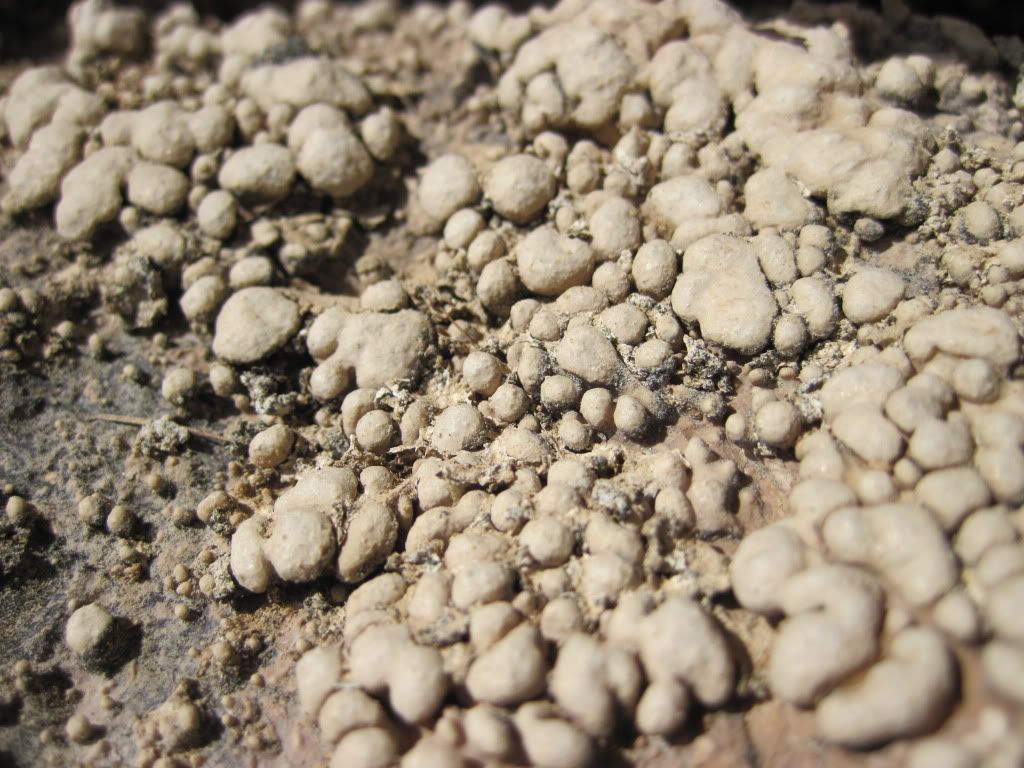 Landscape with cactus (Lake Mead in the distance)
A cool little "stonecrop" (
Sedum
sp., I think)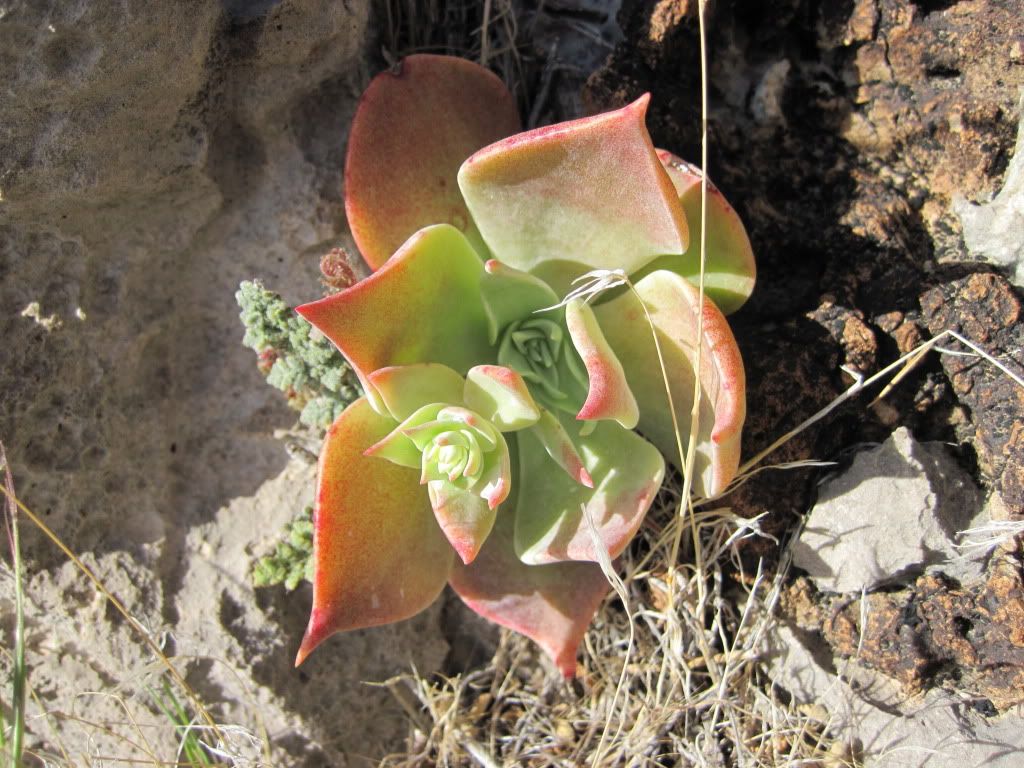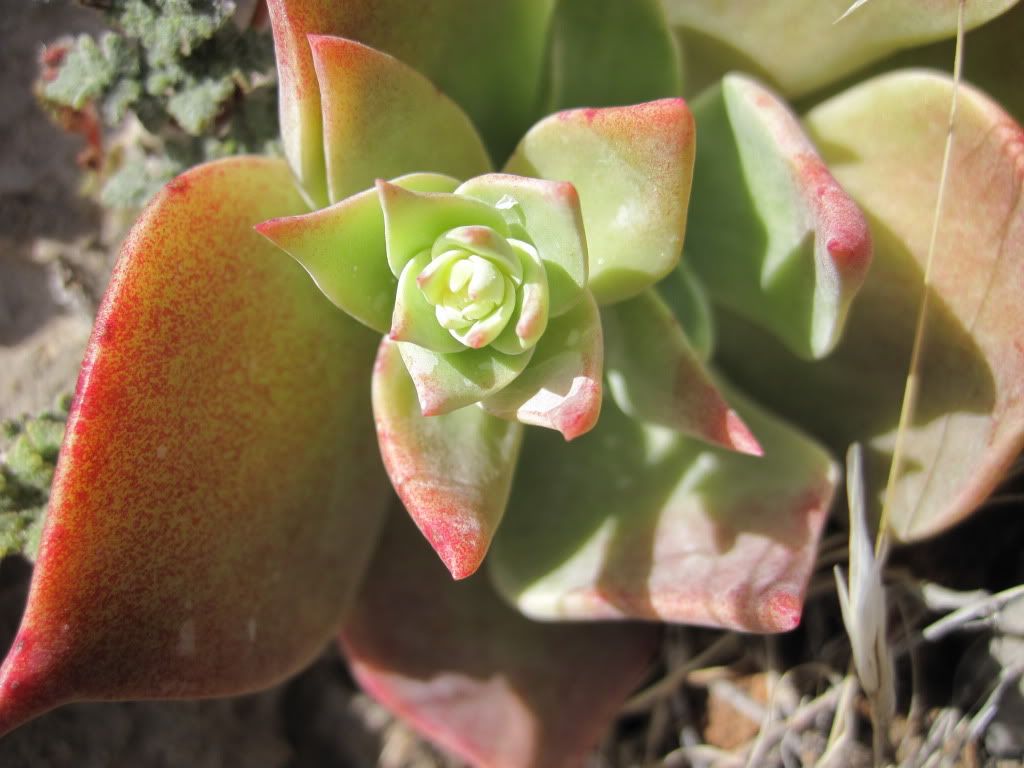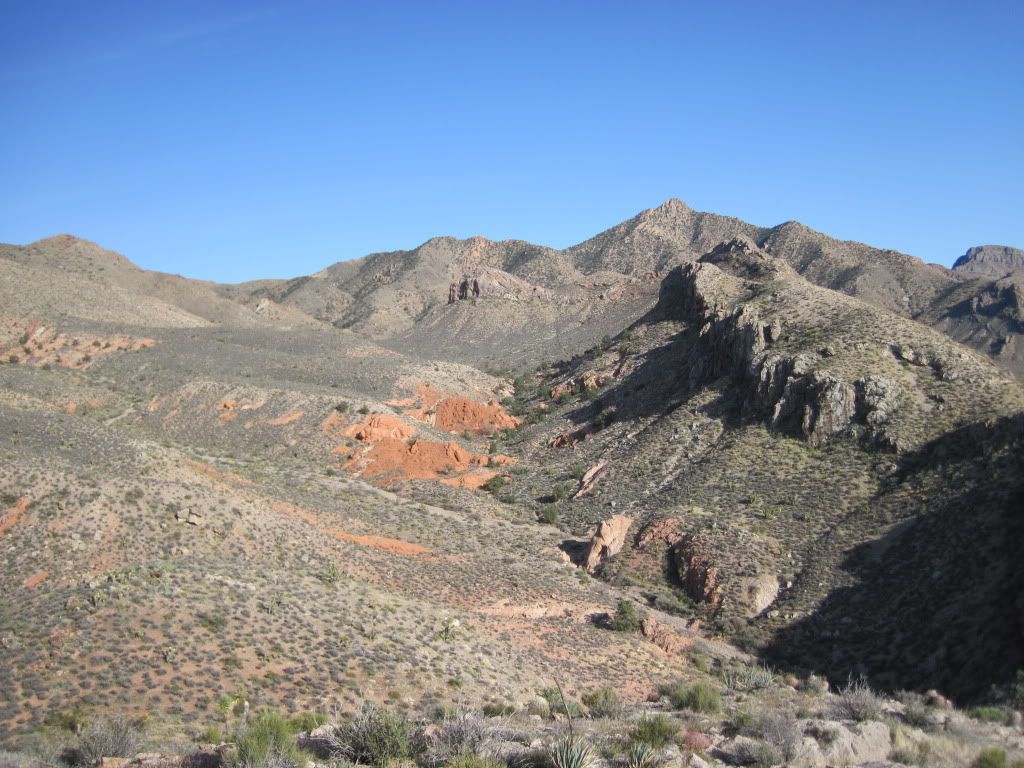 Tiny cactus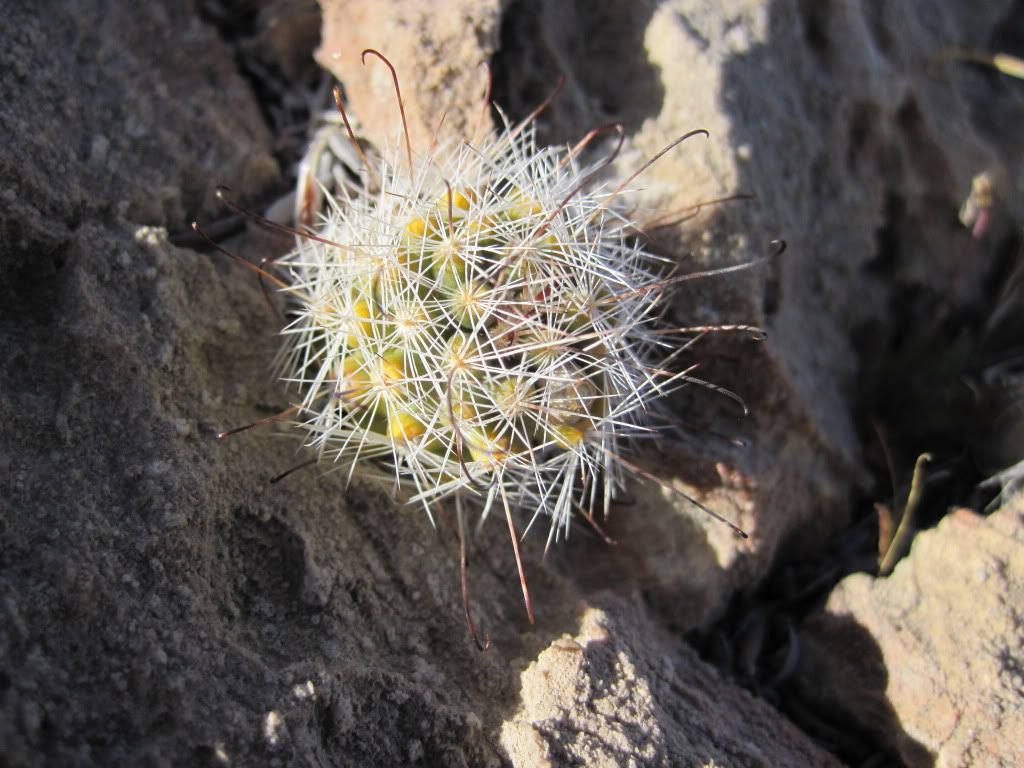 Banana Yucca (Yucca baccata)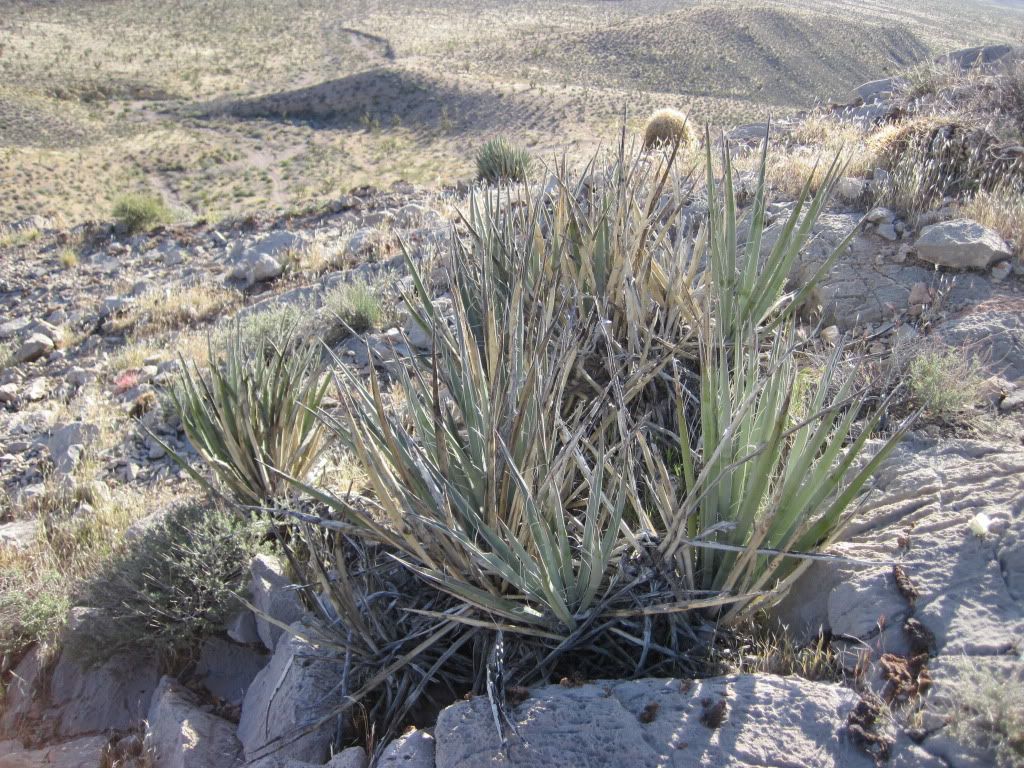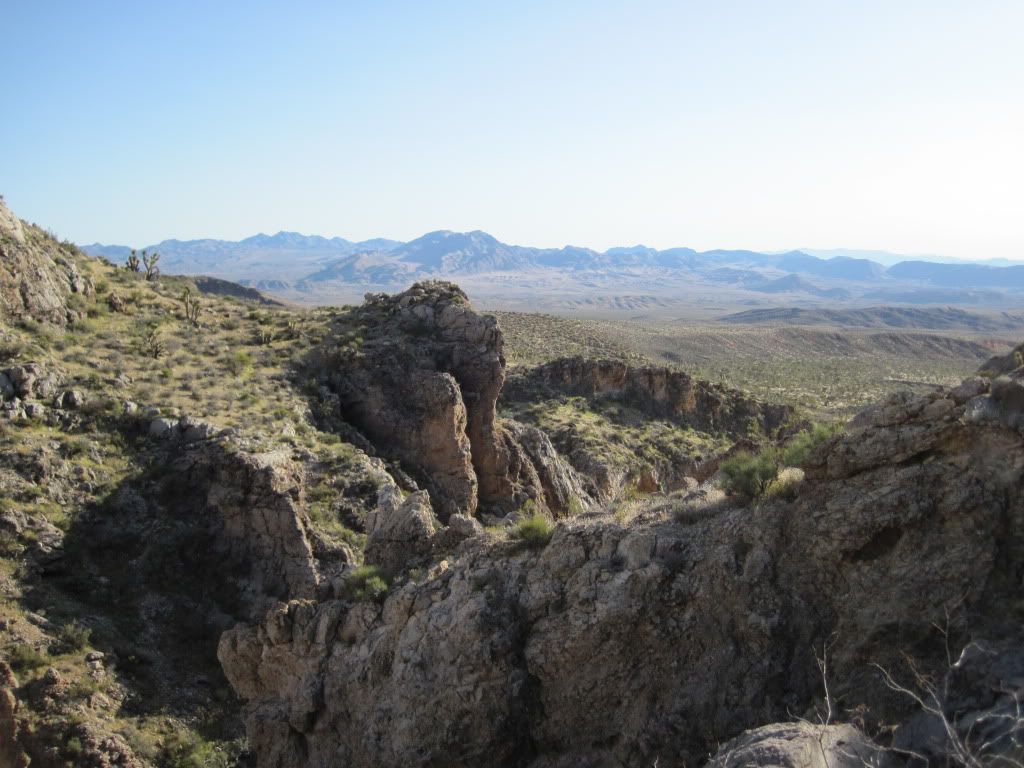 Hiking down to the wash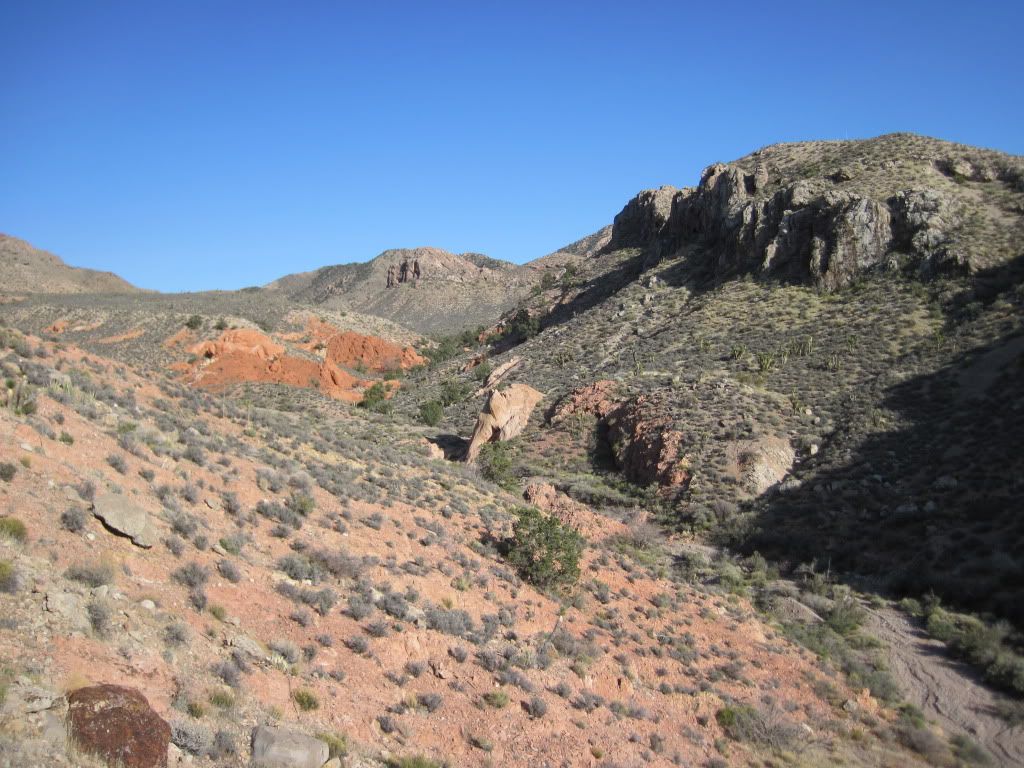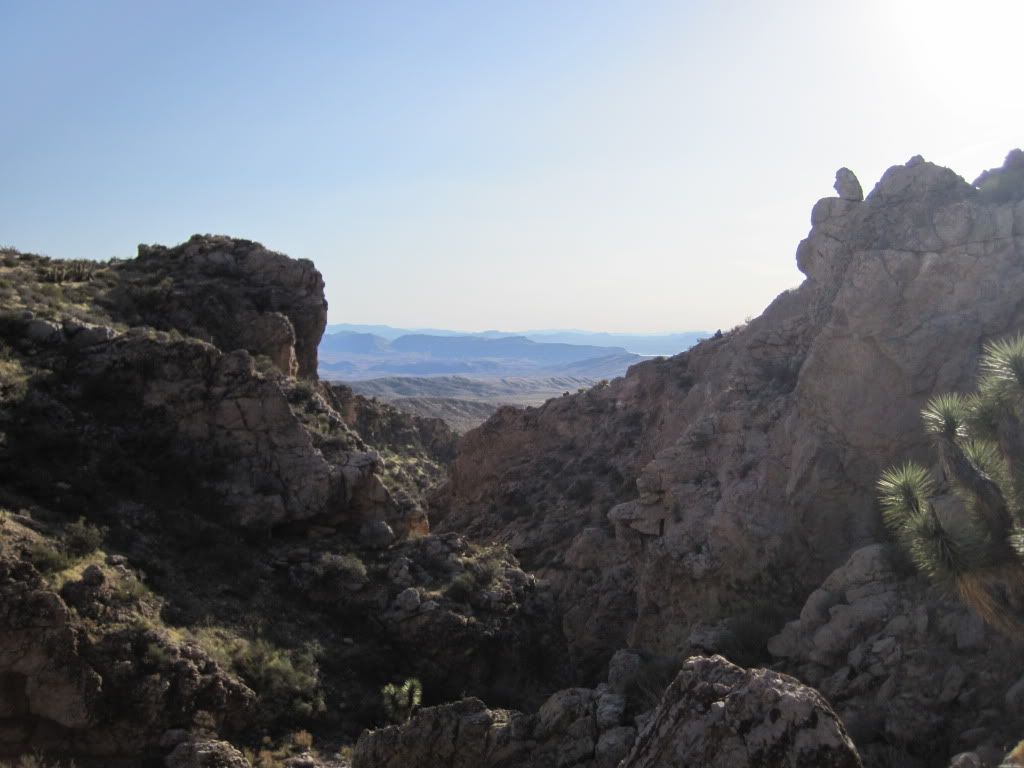 Engelmann's Hedgehog Cactus (Echinocereus engelmannii)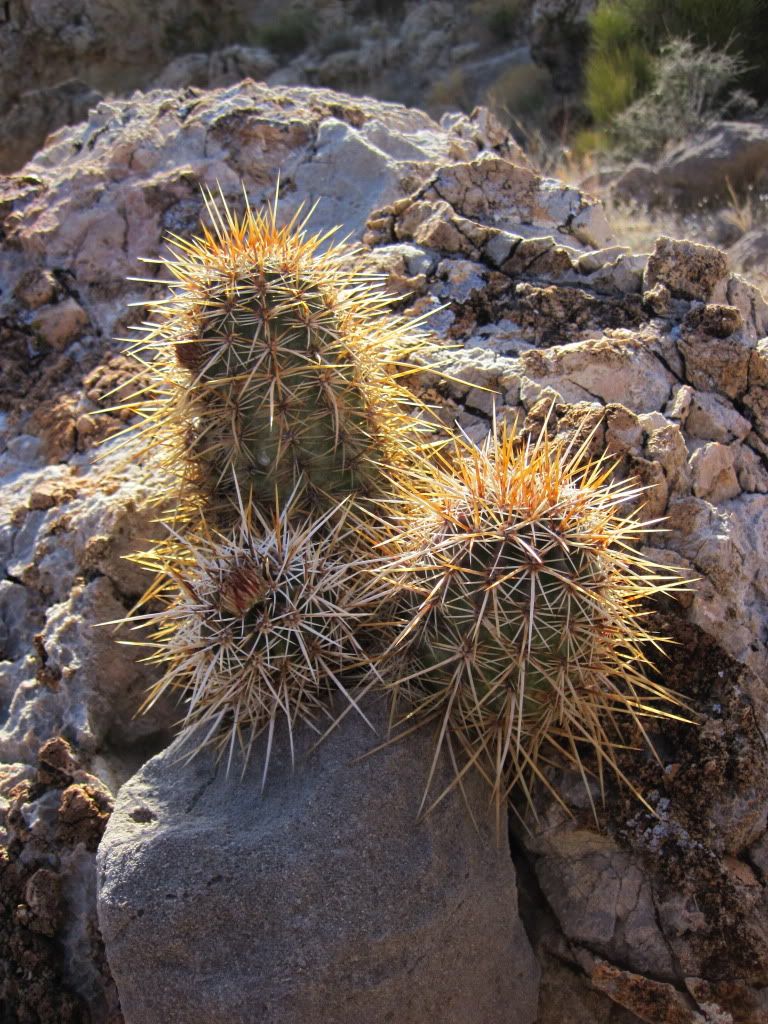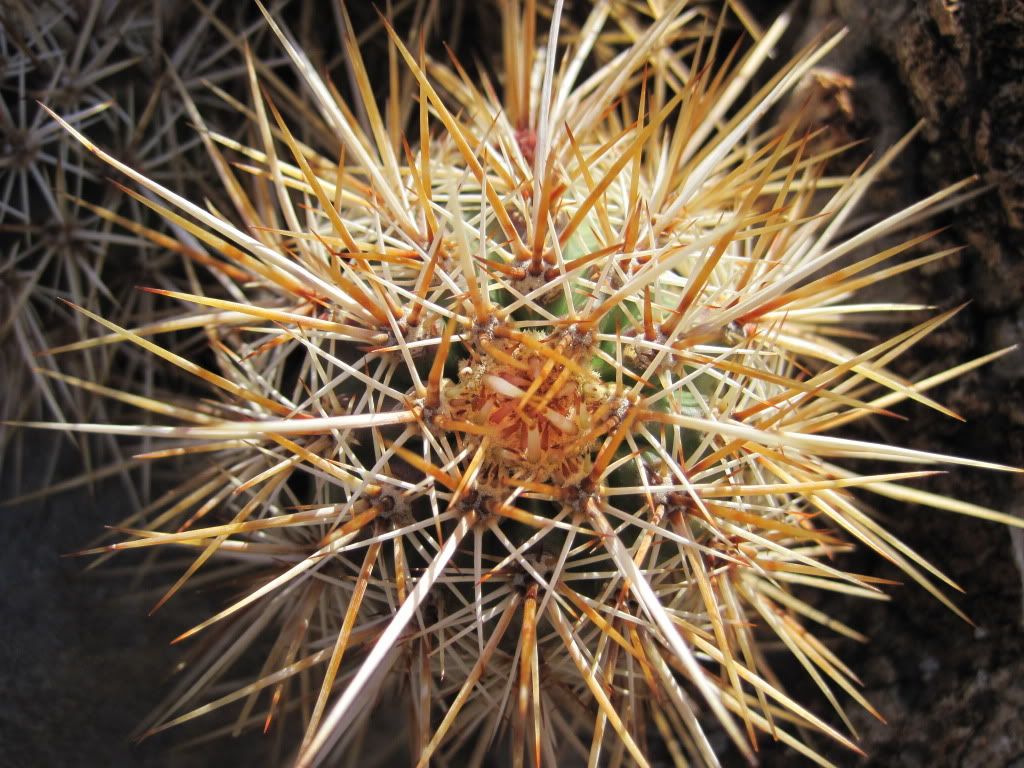 In the wash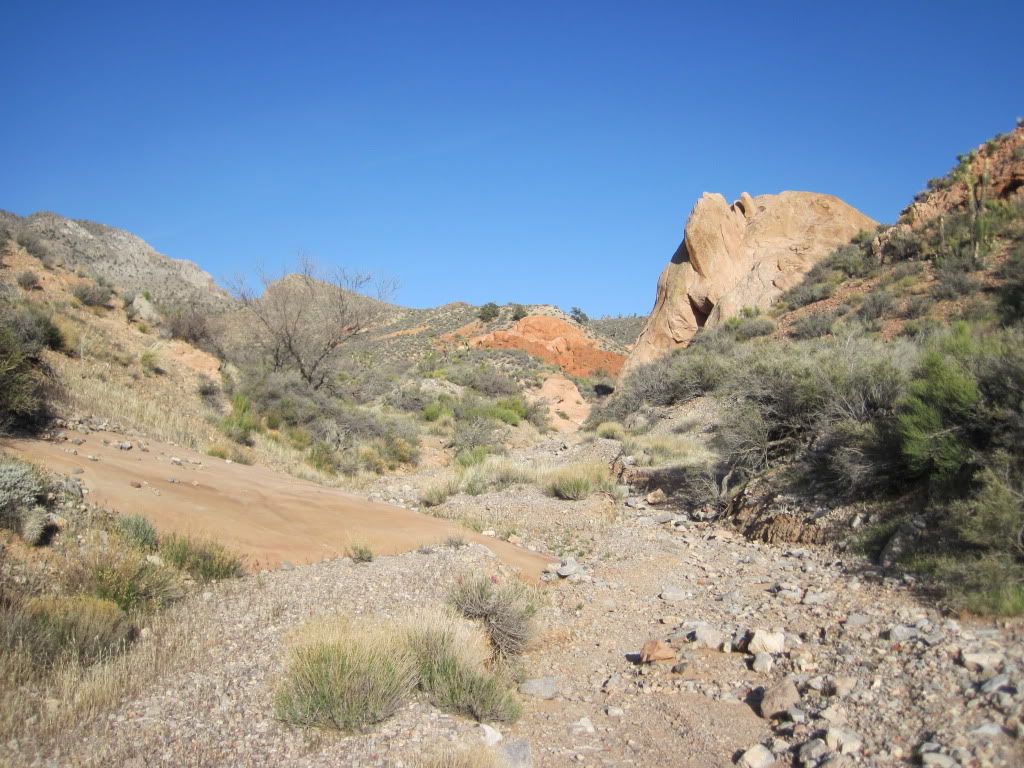 Tent Caterpillars
(
Malacosoma californicum
or
M. incurva
?)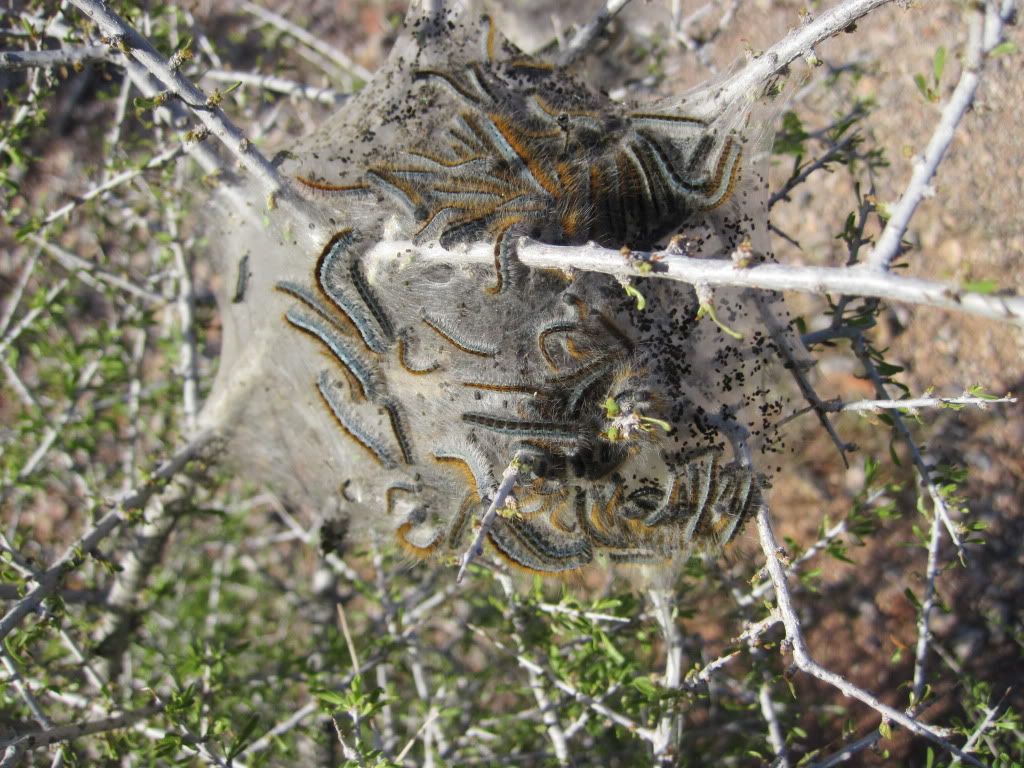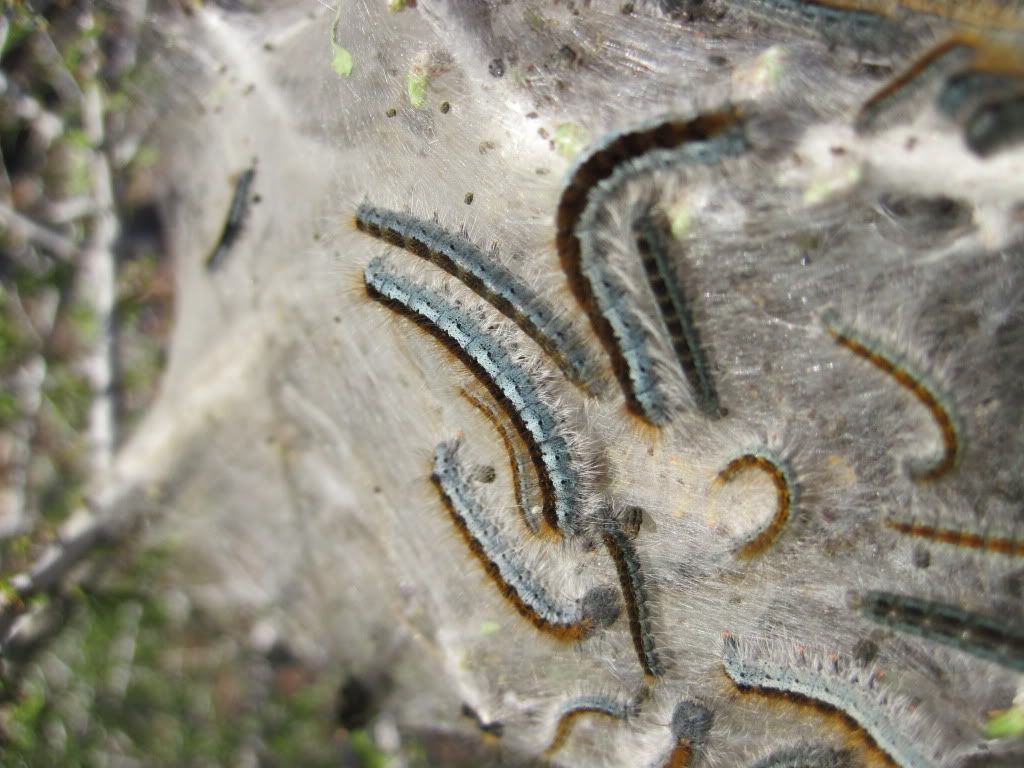 Indian Paintbrush (Castilleja angustifolia)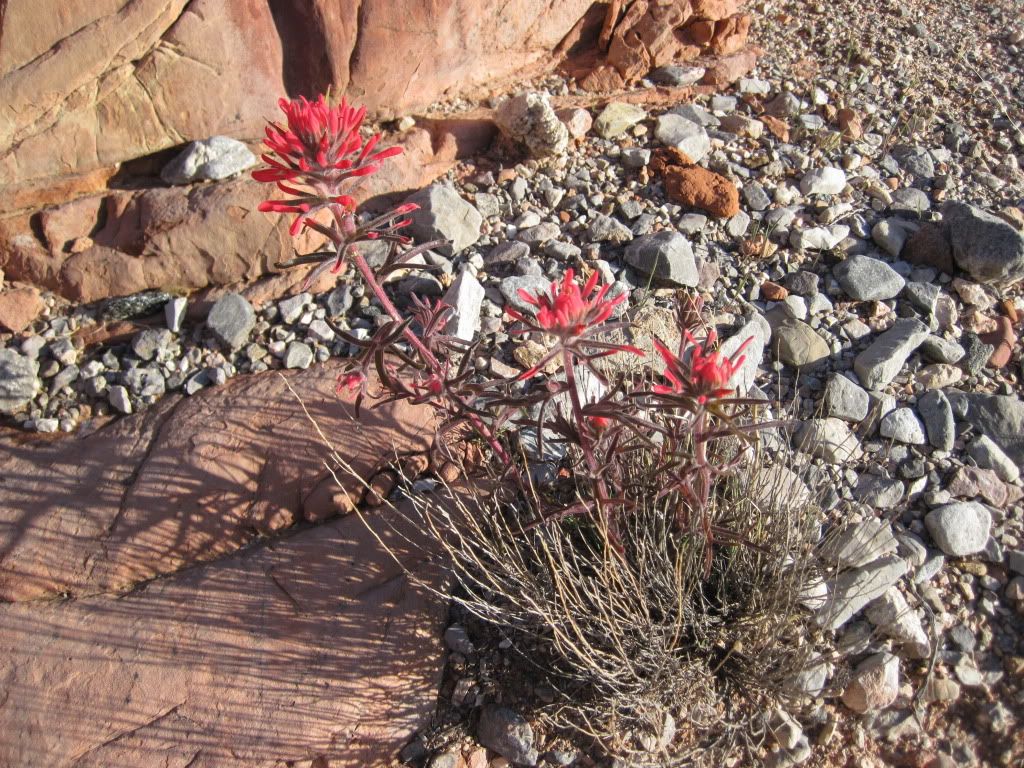 Trees!
Utah Juniper (Juniperus osteosperma)
and
Singleleaf Pinyon (Pinus monophylla)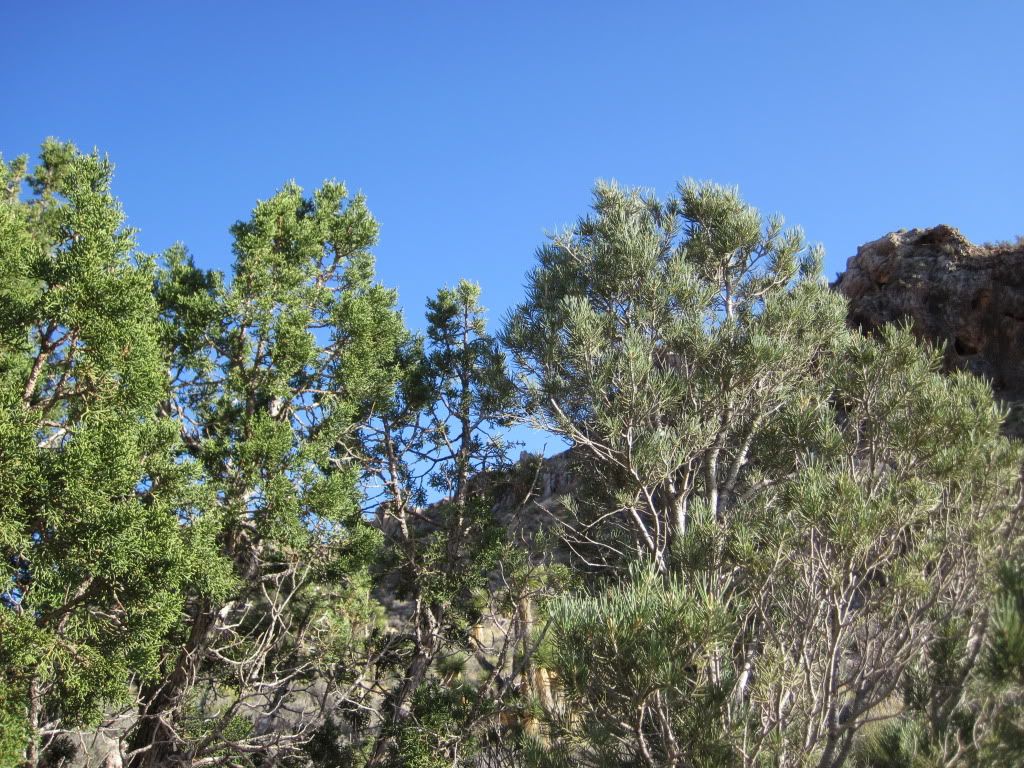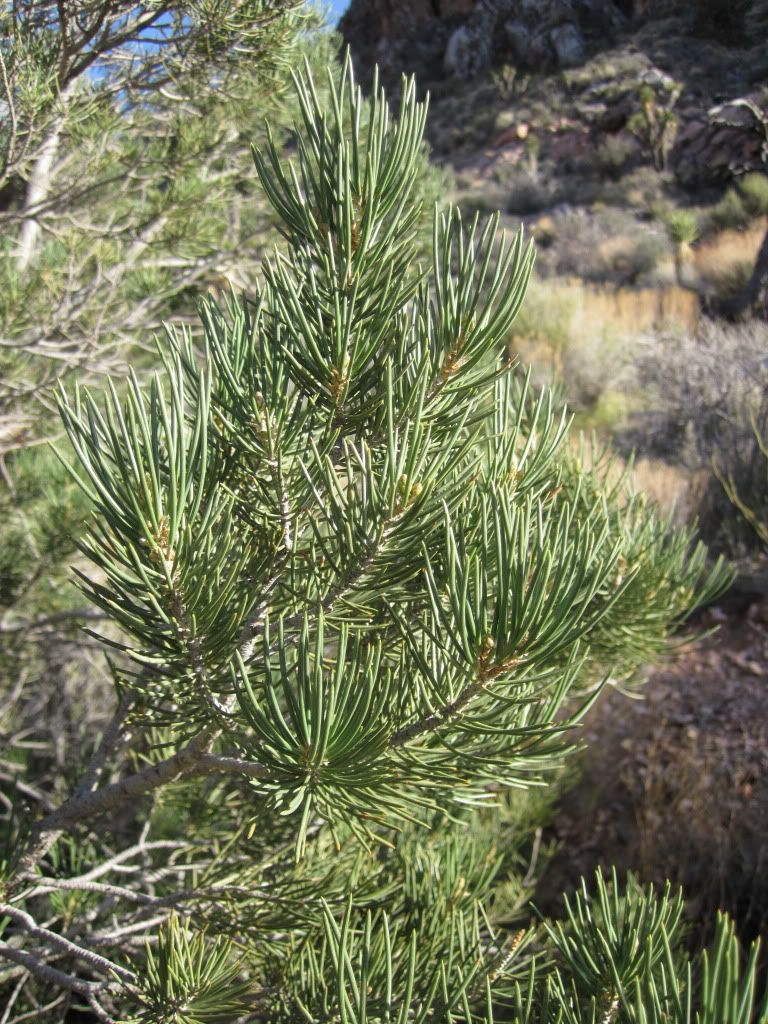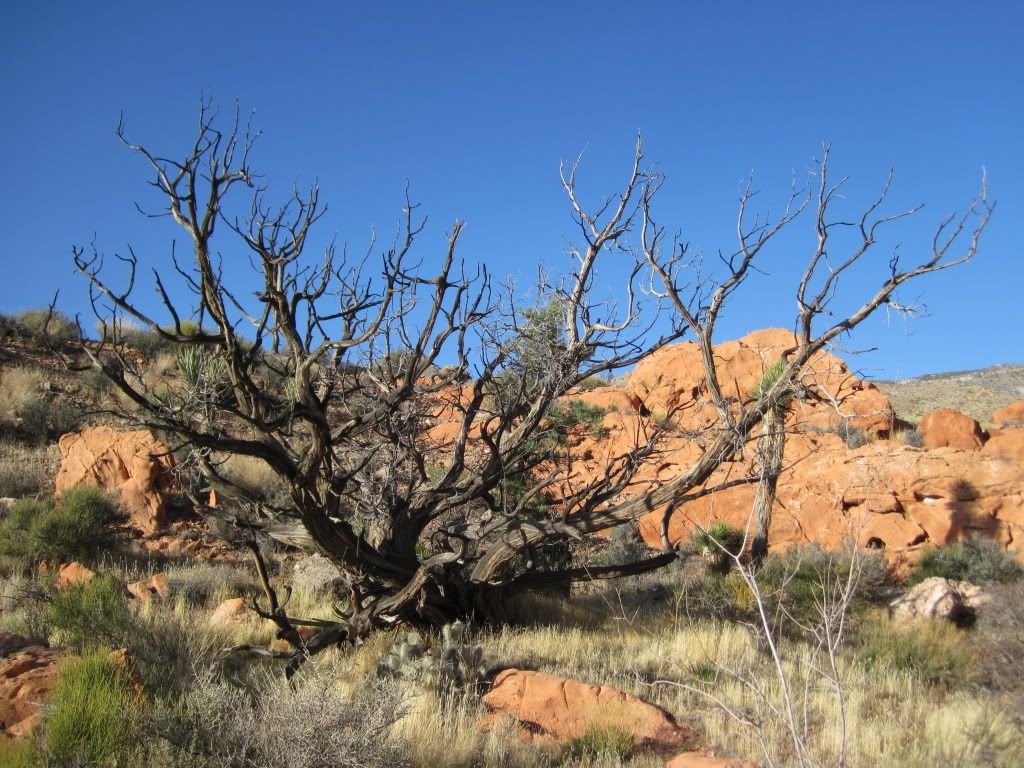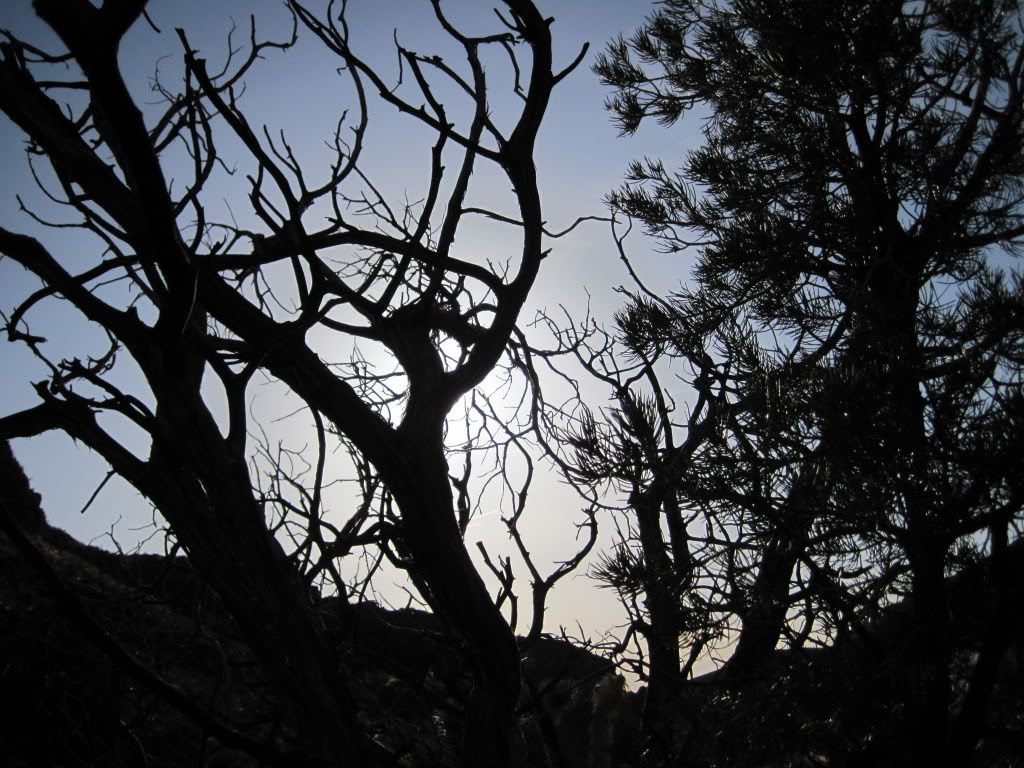 Continuing up the wash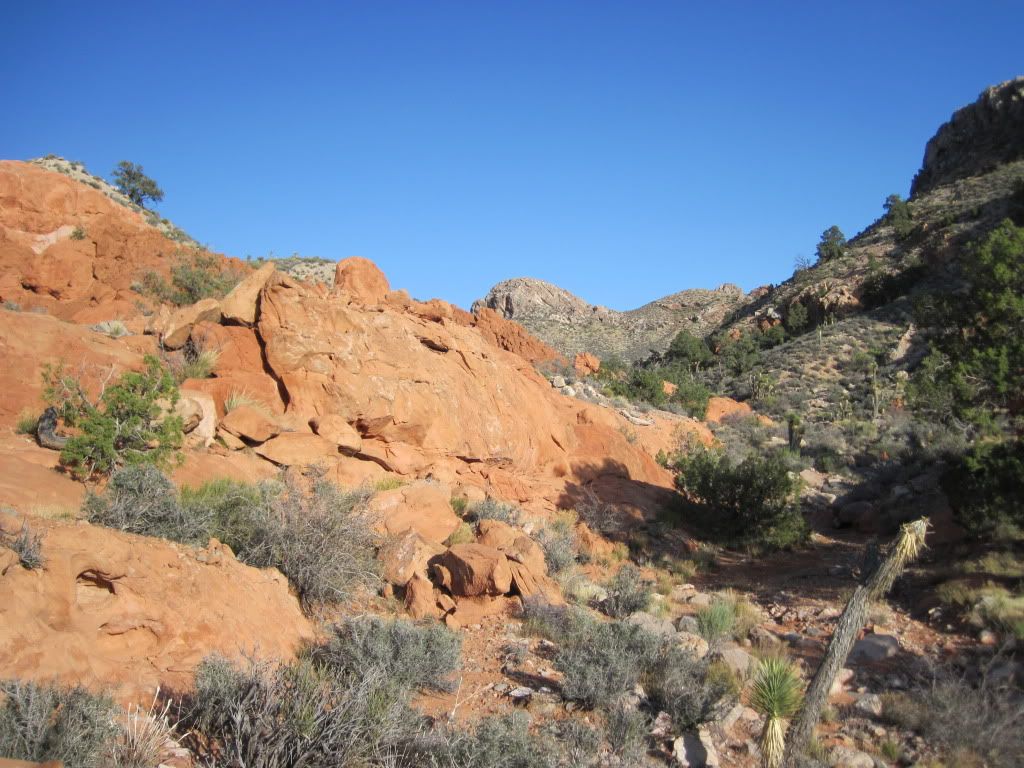 Buckwheat
(
Eriogonum
sp.)
Heerman's Buckwheat (Eriogonum heermannii)
. The branching pattern on this one creates really cool geometric patterns, though hard to illustrate in a photo.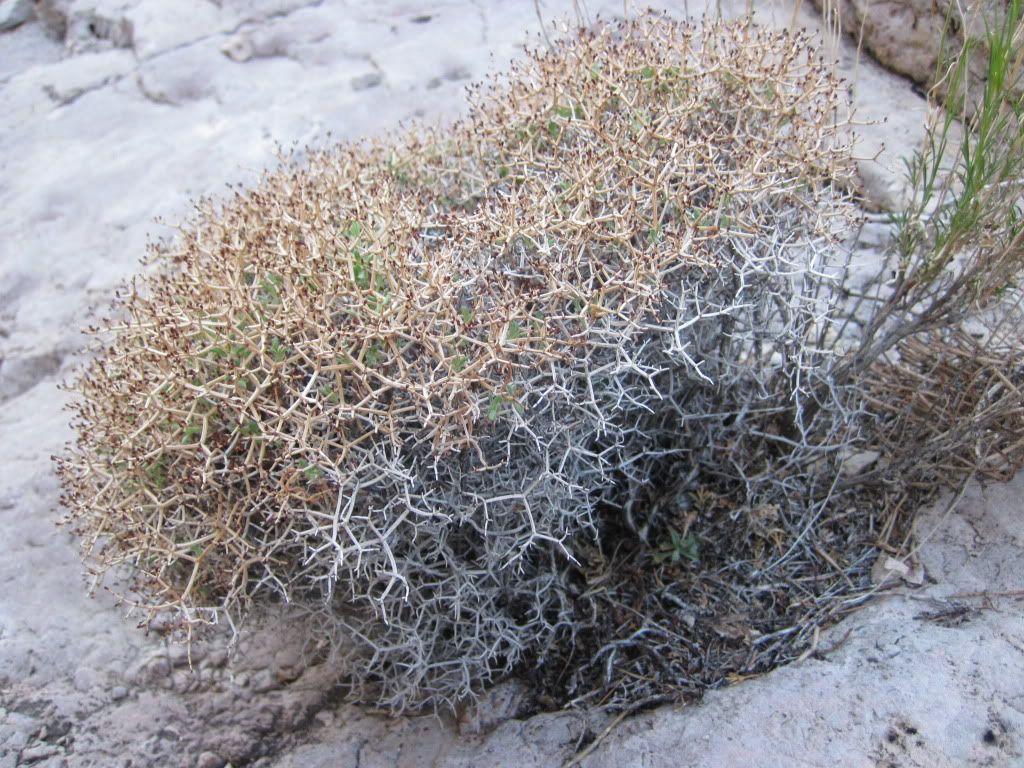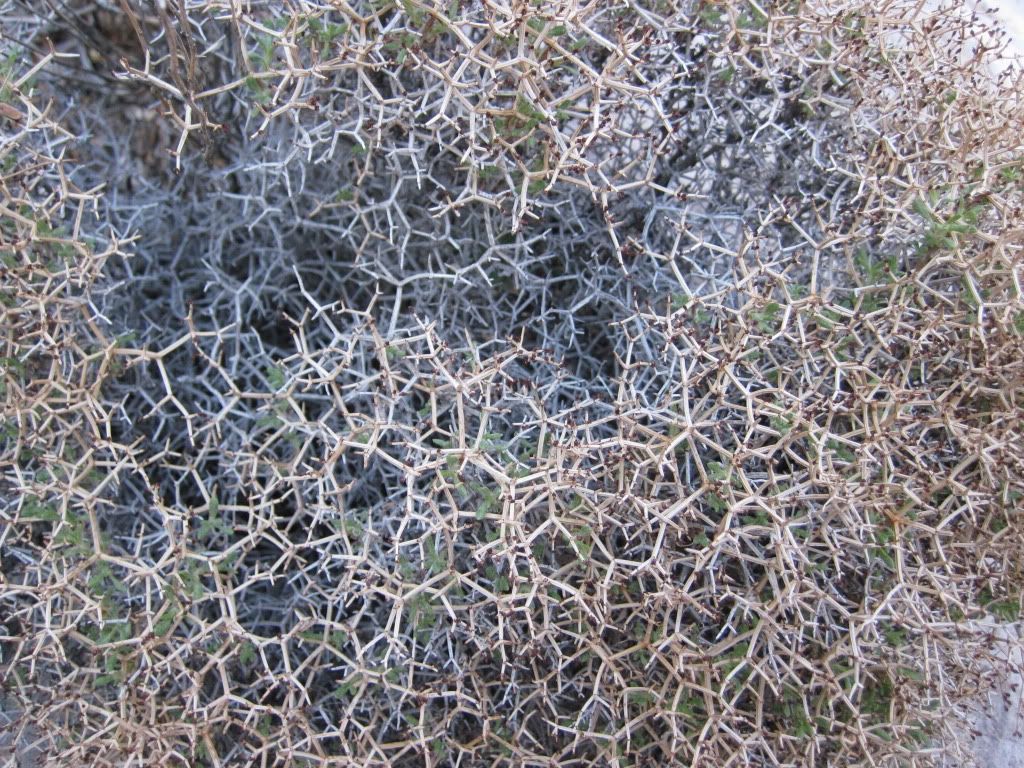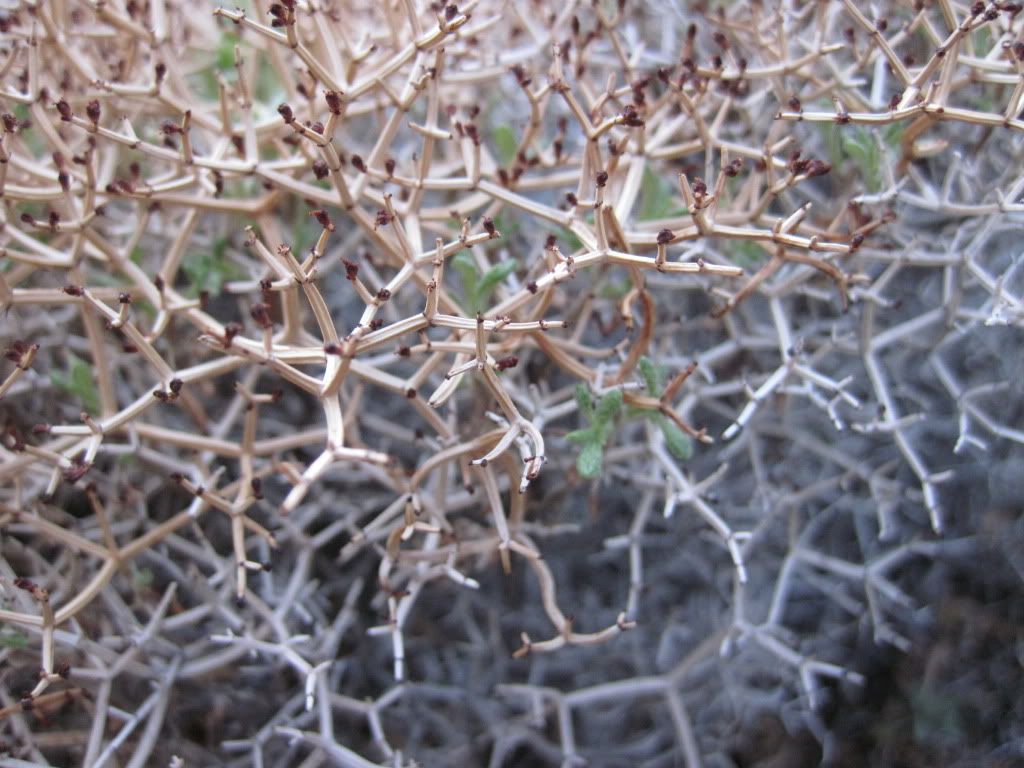 Poppy (Eschscholzia)
sp.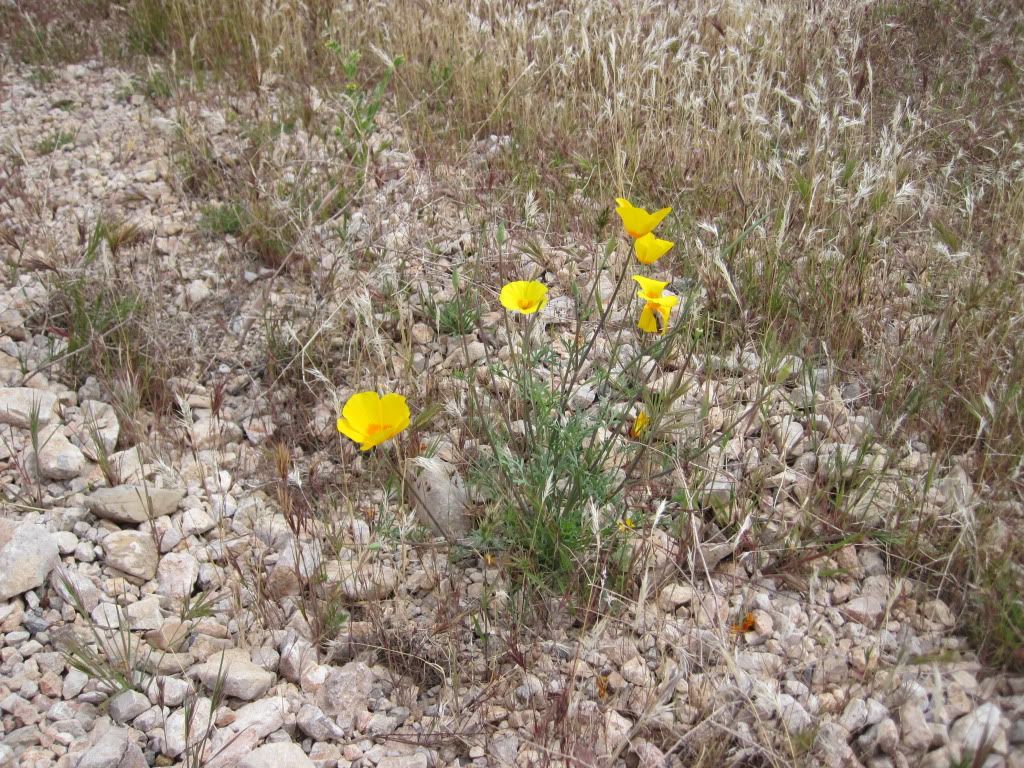 Looking down into the valley from atop a hill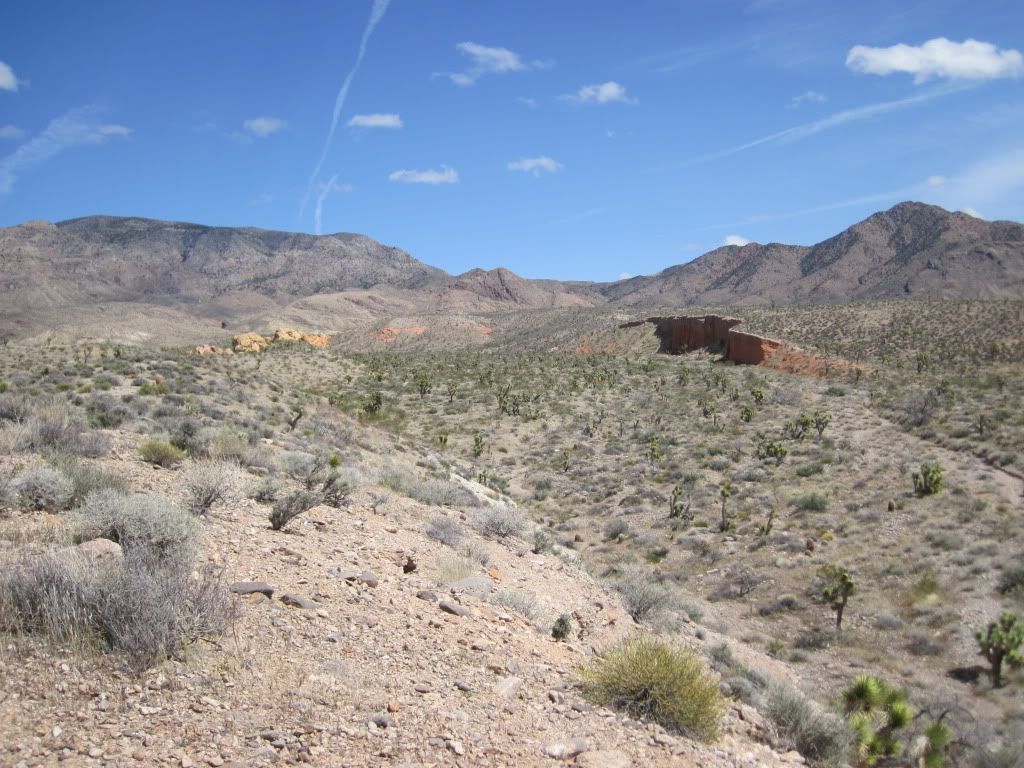 A closer shot of the cliff with a very steep (~40 ft) drop off. Had to be extra careful tracking tortoises out here—you don't see the edge of the cliff coming until you're about to walk off it!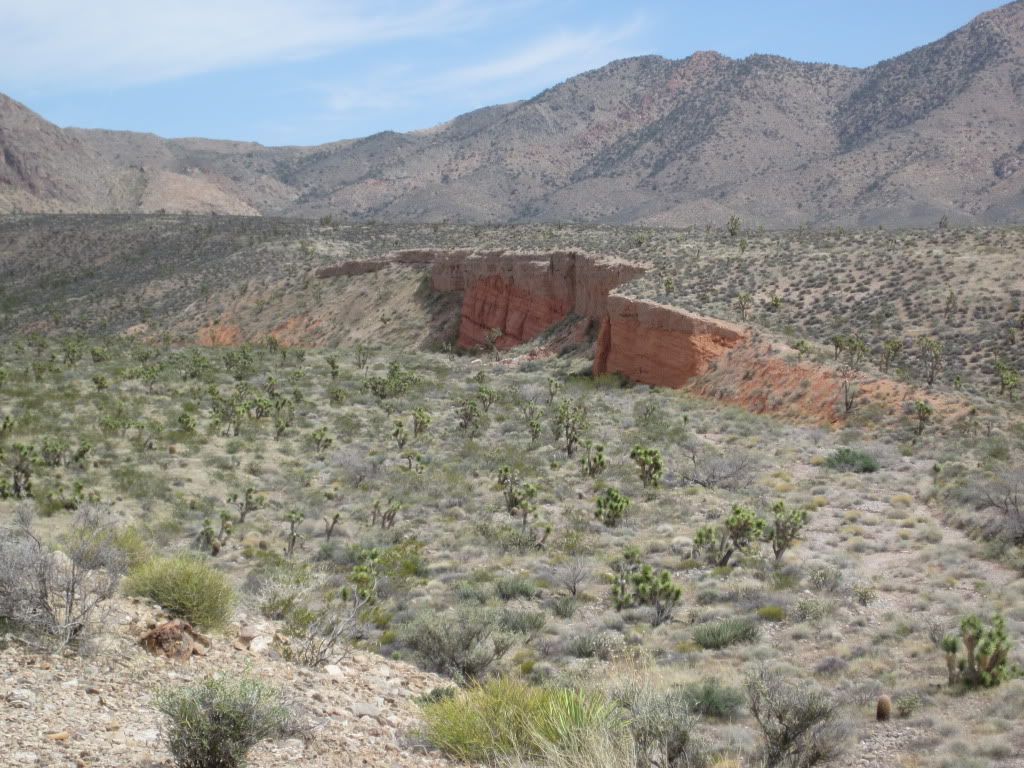 A sunny morning in the valley
First snake of the season, a
Great Basin Gopher Snake (Pituophis catenifer deserticola
; see
Part 3
for more on this sp.)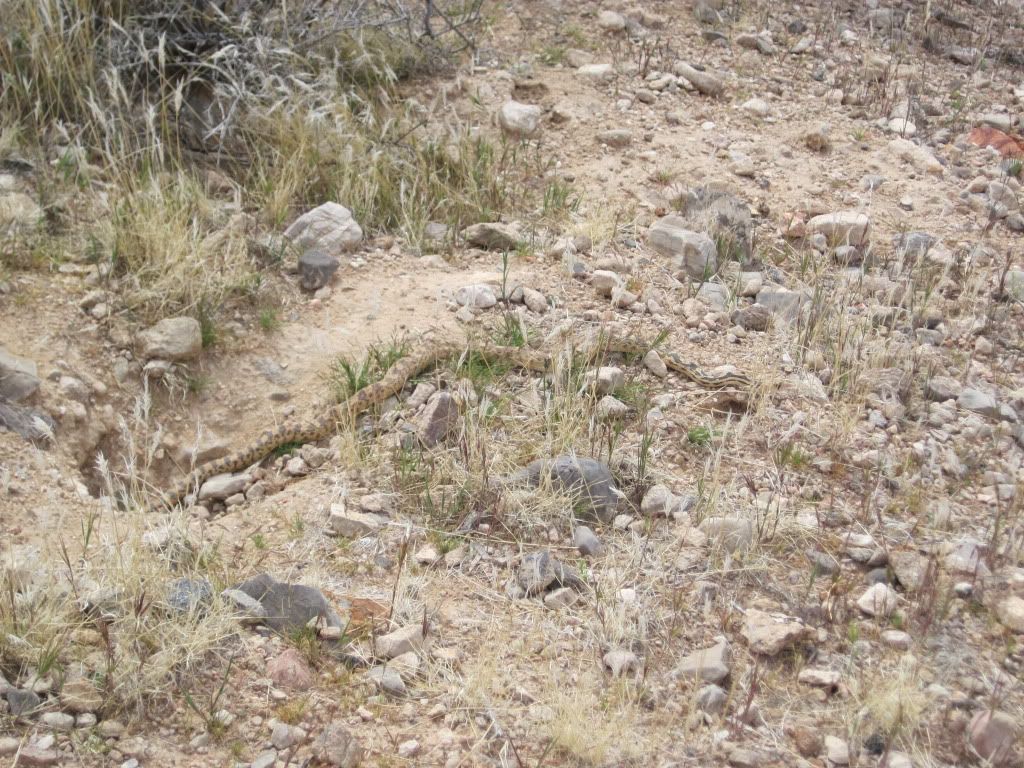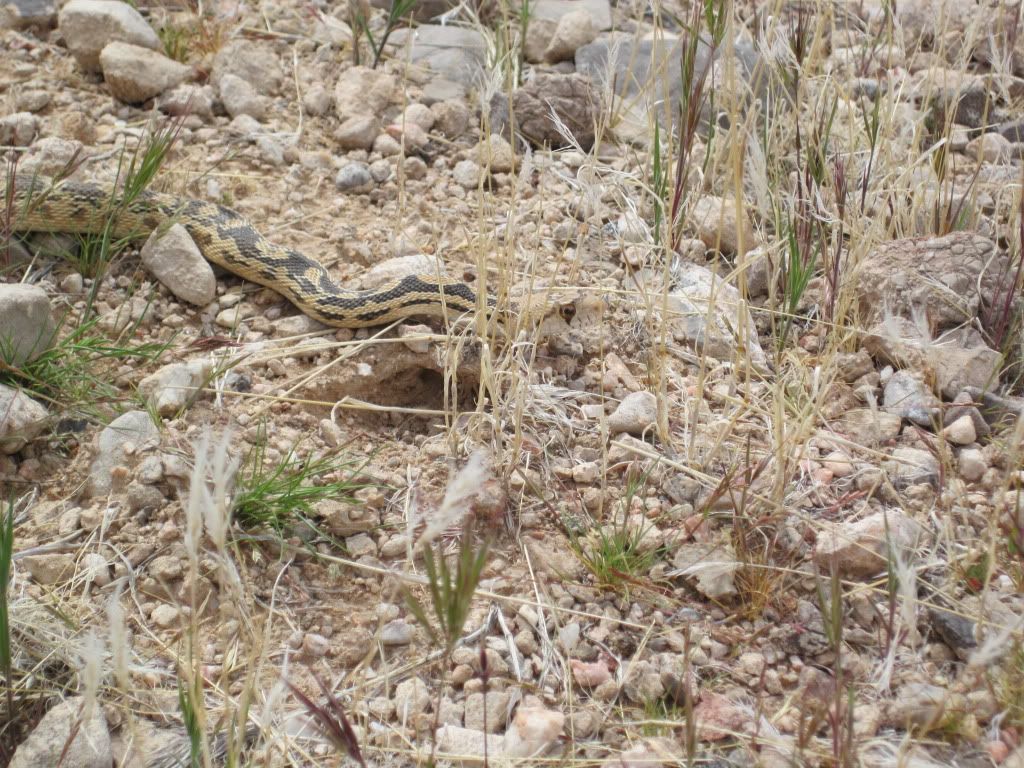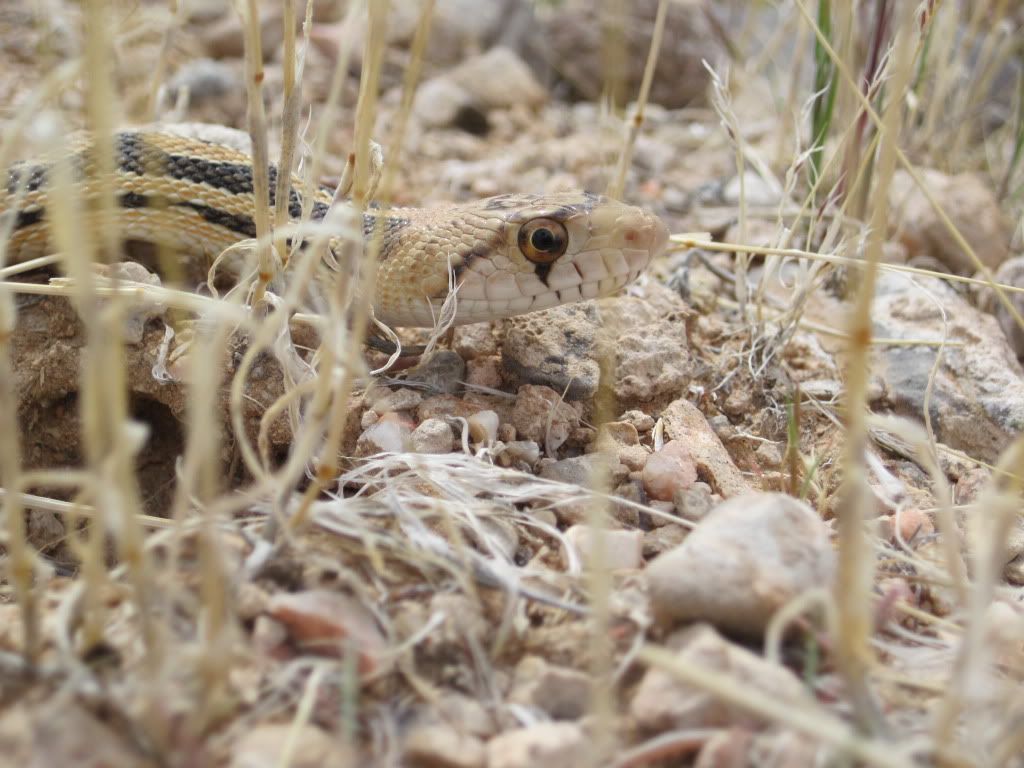 An old
Cactus Wren (Campylorhynchus brunneicapillus)
nest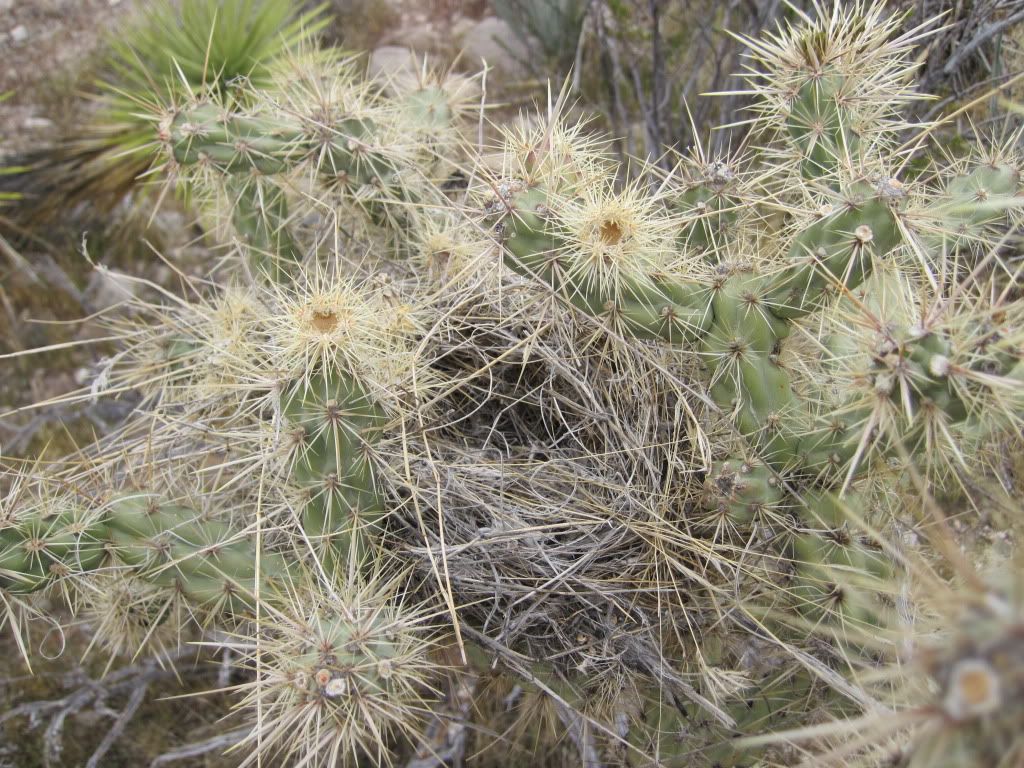 This part of the Mojave gets more water than the other places I've been working, and it shows.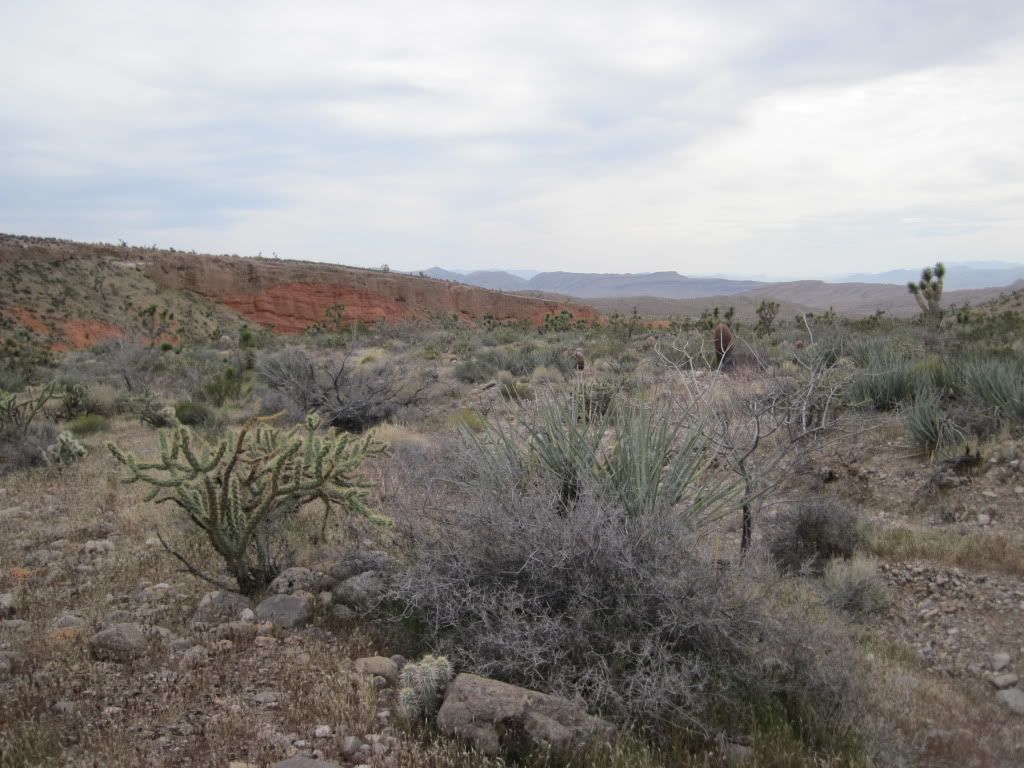 In addition to the "lush" vegetation, there are some really cool rock outcrops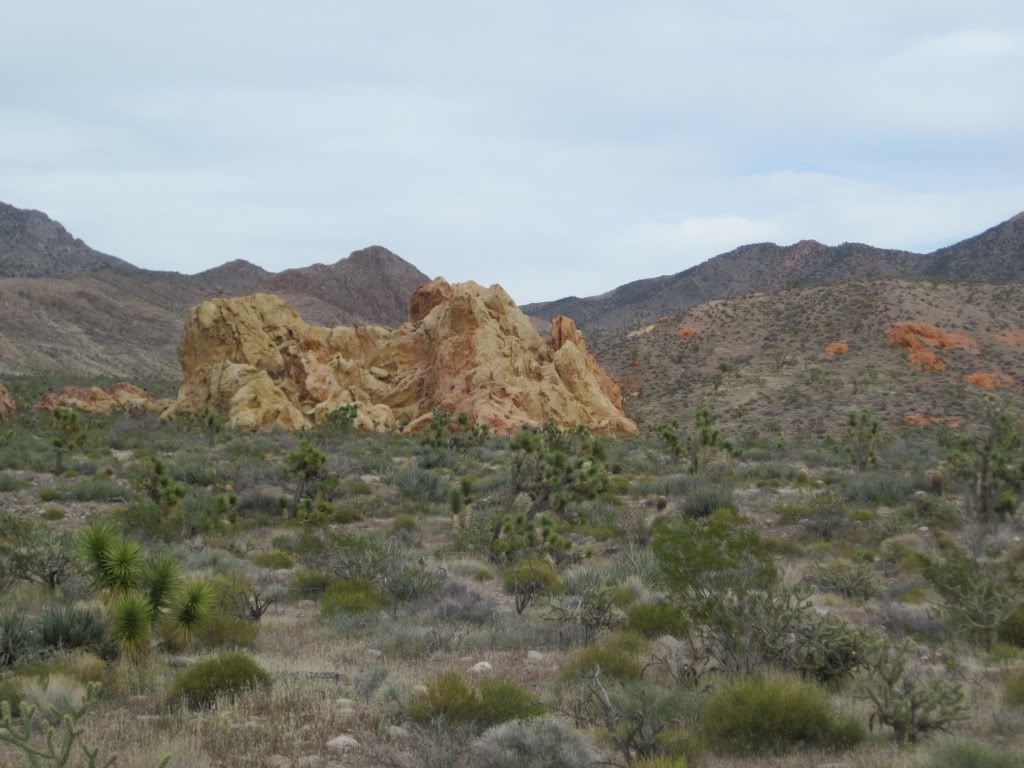 Western Side-blotched Lizard (Uta stansburiana elegans
; also featured in
Part 1
and
Part 5
). Notice the orange throat coloration on this guy. This species has a unique mating strategy in which males exist as one of three morphs, which can be easily distinguished by throat color. Orange-throated males are the largest and most aggressive of the morphs. They defend large territories and do not form strong pair ponds. Blue-throated males are smaller, less aggressive, and defend smaller territories, though they form stronger pair bonds. Finally, yellow-throated males are the smallest, and their coloration mimics females. This allows them to "sneak in" and steal mates from orange-throated males. This mating strategy has been likened to "rock-paper-scissors" in that "orange beats blue, blue beats yellow, and yellow beats orange." For more on this interesting strategy, see
Sinervo and Lively (1996)
.
From my own experience with side-blotched lizards I have noticed differences in behavior based on color morph. For example, this orange-throated male seemed quite bold, and allowed me to get pretty close, compared to others I've encountered. He also did a lot of "push-up" displays, apparently attempting to defend his territory against me.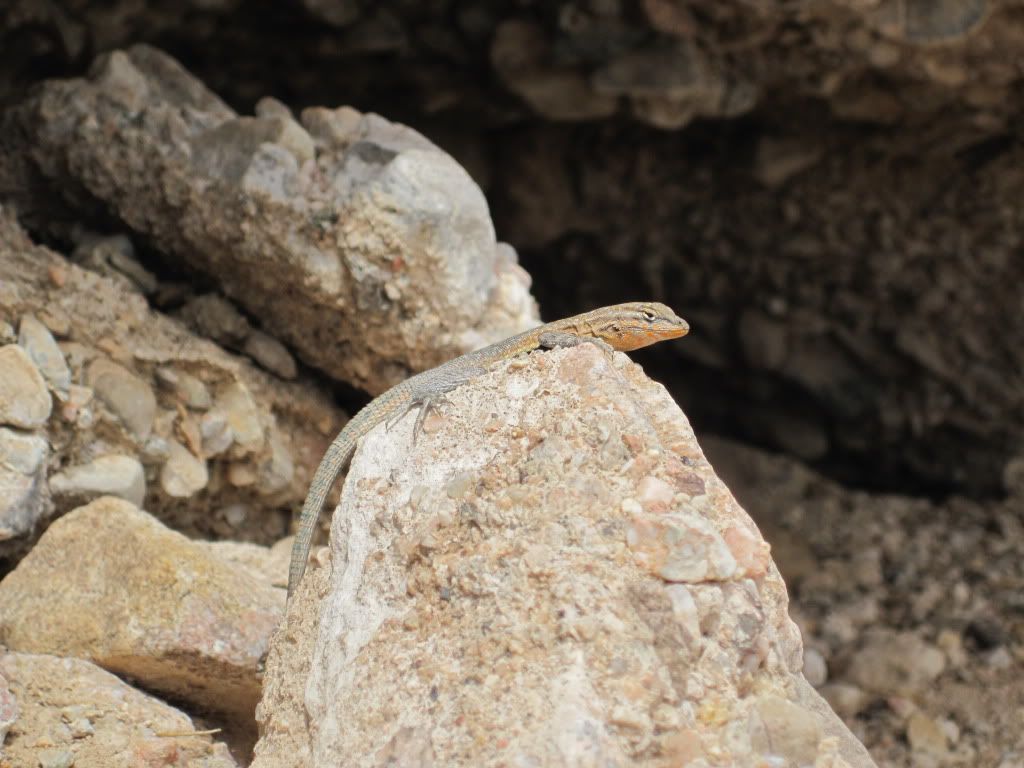 I forgot to include a range map for
U. stansburiana
when I featured it earlier, so here it is: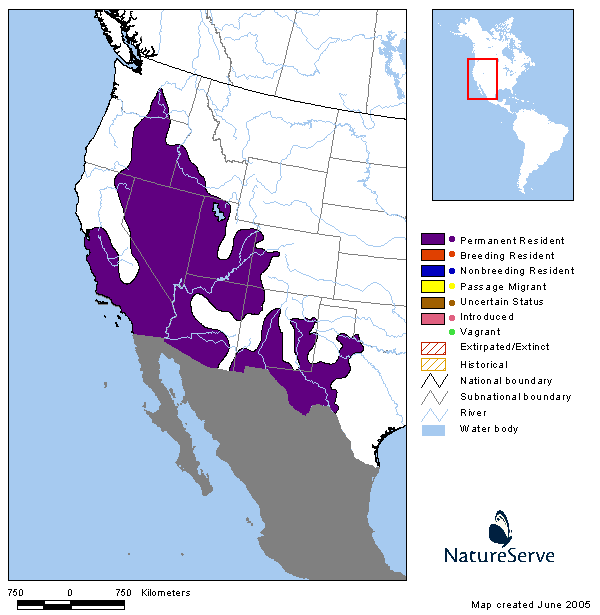 We were finishing up a vehicle check the other day when John remembered we forgot to check the air pressure of the spare tire. As I crouched down to do this, a strange little "rock" caught my attention. I picked it up for closer inspection and noted the scale-like appearance of the surface.
Wow,
I thought.
Could this really be what it looks like? Fossilized dinosaur skin!?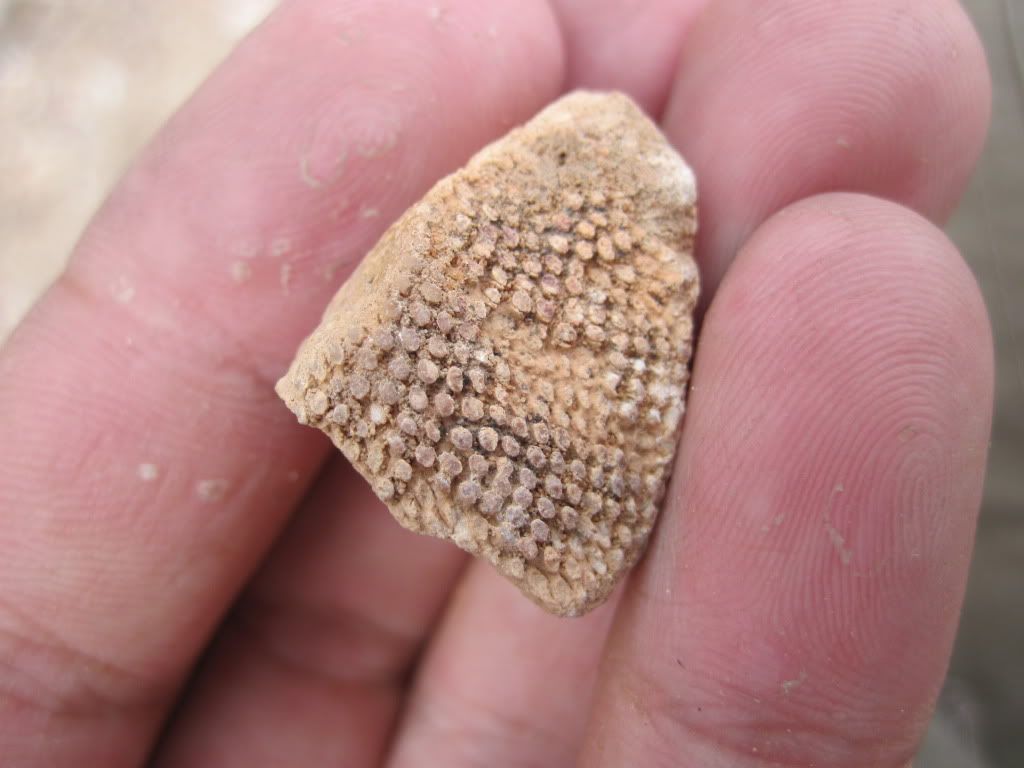 In my
last blog entry
I included a chapter called "The Un-natural History of the Mojave Desert." In that section I explored some of the ways in which humans have left their mark on the region throughout history, and how such artifacts reflect the dynamic nature of this environment. Scientists believe
Earth is about 4.5 billion years old
, and that the
first life forms emerged at least 3.8 billion years ago
(though possibly quite a bit earlier). Anatomically modern humans (
Homo sapiens sapiens
) have been around only 200,000 years. Just as early humans left traces for future generations to discover and interpret, so did organisms that came long before us. Considering such a vast expanse of time, one might expect the accumulation of these
biofacts
to be enormous, far exceeding that of
artifacts
in existence today. But in our day-to-day lives this certainly does not appear to be the case. So why aren't we rolling around in dinosaur bones? Well, there are a few reasons. In order for organic material (or traces thereof) to be preserved in the form of a fossil, specific environmental conditions must exist. As a result, preservation of organic matter is an extremely rare event, and the majority of organisms decompose soon after death. (Even if initially preserved, fossils may not survive millions to billions of years to be discovered).
If an organism
is
preserved, the chances of it being discovered are still slim. Following preservation, sediment and organic material gradually accumulate layer-upon-layer (called
strata
) above the fossil, with the bottom layers representing older material, and upper layers more recent. Over time (millions of years), this really adds up. Consequently, the majority of fossils remain inaccessible and concealed, buried deep underground. Meanwhile, on the surface we see mostly recent stuff (a whole lot of it our own). But just as Earth's natural processes hid these fossils away, such processes can in turn bring them back. There are several ways in which previously buried strata can become accessible again. For example,
weathering
and
erosion
can displace material from upper strata, revealing older layers lying beneath, and
tectonic plate
movement can cause lower strata to be pushed up (more on this in a bit). Still, even when technically accessible, in many regions fossils are obscured by the rapid accumulation of dense organic matter, notably in the form of vegetation. There are unique places, however, where the world's ancient lineage is on display for all to see—the Mojave Desert is one such place.
So back to that fossil. Although the appearance of the fossil was strikingly reminiscent of reptile or fish skin (a consequence of the repetition of similar
patterns in nature
; in this case the pattern is a
tessellation
[see
last entry
for more on this]), I had a feeling this was probably unlikely. So I wasn't terribly disappointed or surprised when, after consulting some others more knowledgeable in this field, I was informed that no, I had not discovered the remains of some prehistoric reptile, but rather a colony of aquatic invertebrates called
bryozoans
. Yeah I know, not as exciting as dinosaur skin, but I'm thankful for the opportunity this gave me to learn more about these organisms, which are pretty interesting in their own right (and I probably wouldn't have investigated otherwise).
Bryozoans belong to the phylum Bryozoa (aka Ectoprocta; commonly known as "moss animals"). They are aquatic, invertebrate filter feeders that are generally colonial* (except one genus,
Monobryozoon
). Colonies are comprised of individual (though not
independent
) animals called
zooids
, which typically measure 0.5 mm long. In some classes, zooids of a single species can exist as one of many specialized forms within a colony, each form serving specific functions (i.e. feeding, excretion, reproduction, defense, etc.). Colonies range from 1 cm to over 1 m (though most are under 10 cm) and can take a
variety of forms
, including "fans," "bushes," and "sheets." All bryozoans produce an
exoskeleton
, however the composition of the exoskeleton varies (i.e. mineralized, or gelatinous).
While over 4,000 species of bryozoans are alive today, about 15,000 species have been documented from the fossil record, where they first appeared during the late
Cambrian period
nearly 500 million years ago (Ma; however, soft-bodied forms probably existed earlier but were not well preserved). At that time, shallow seas covered what is now the Mojave Desert. Here's a paleogeographic map (courtesy of
Dr. Ron Blakey
, professor emeritus at
Northern Arizona University (NAU)
, Department of Geology) that illustrates what North America looked like back then.
*
Since "colonies" are a theme in this entry, let's take a minute to explore the meaning of the word. Like many words in the English language, the word "colony" can mean different things depending on the context in which it is used. Biologically speaking, in the most general sense, a colony traditionally refers to a group of organisms associating with one another. As you can see, this definition is pretty ambiguous, to say the least, and that's because there's not much consensus on what a colony is. Some sources are more restrictive with defining the word, for example limiting its application to specific taxa ("a community of animals or plants of one kind living close together or forming a physically connected structure"; Oxford). Others state that a colony must be composed of members of the same species ("a distinguishable localized population within a species"; Miriam-Webster).

On a related note, the term "colonial organism" often has a slightly different meaning, referring specifically to single-celled organisms that form colonies (i.e. bryozoans). In this sense, colonialism is thought to represent an evolutionary precursor to multicellularity. Scientists have traditionally distinguished between colonial organisms and multicellular organisms on the basis that individual organisms from a colony (i.e. zooids) can survive on their own if separated, whereas cells from multicellular organisms cannot, but, as you might expect, this distinction is sometimes blurry.

The real problem with clearly defining words like "colony" or "colonial organism" is that our interpretation of these terms is in turn totally dependent on how we define an organism —and you guessed it, there's a lot of disagreement surrounding this issue as well. Recently, some have challenged the traditional view that organisms and colonies are necessarily separate entities, arguing that the terms can be synonymous. For example, while we think of ourselves as individuals, in reality our bodies are filled with lots of microorganisms, and you can make the case that we, too, are colonies.
The region that now makes up the Mojave Desert remained inundated until about 250 Ma, when the supercontinent
Pangaea
began to break apart, and
tectonic plate convergence
caused the area to be
uplifted
. This process is illustrated in the following figure: (The image is from
this USGS article
, which describes the Mojave's geologic history in greater detail, for those interested).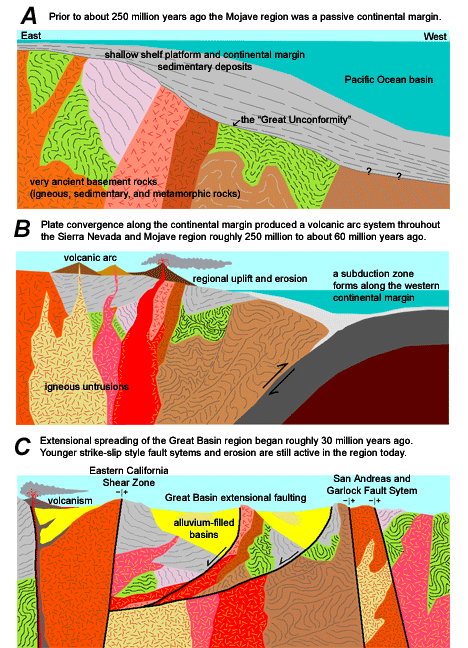 These next two maps (also from Dr. Blakely) show the consequences of this tectonic uplift. Looking at southern Nevada in particular, it seems that the most drastic changes to the landscape occurred between 260 and 255 Ma, when the seas dried up:
260 Ma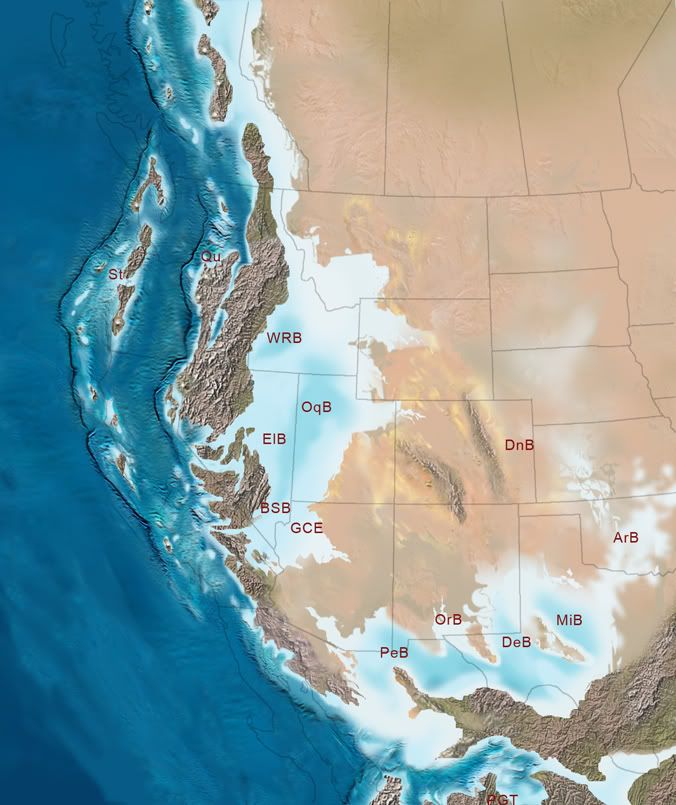 255 Ma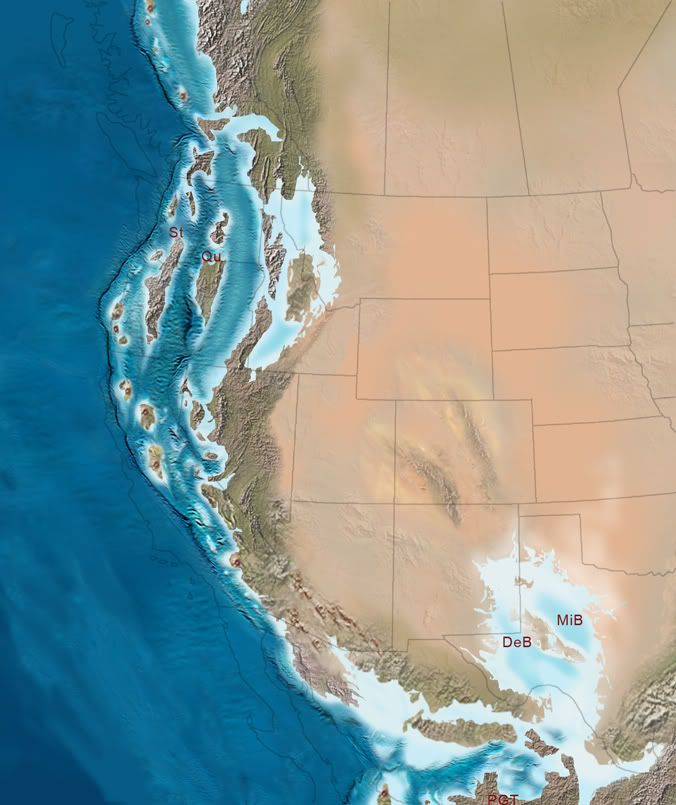 During the course of my bryozoan research, I soon realized that this was not my first encounter with these strange animals. Although most bryozoan species are marine, some, including the class
Phylactolaemata
, live exclusively in freshwater. Back in 2010 I was tracking Blanding's turtles for USFWS in Massachusetts when I found a living colony of
Pectinatella magnifica
(to see these photos in their original context go
here
):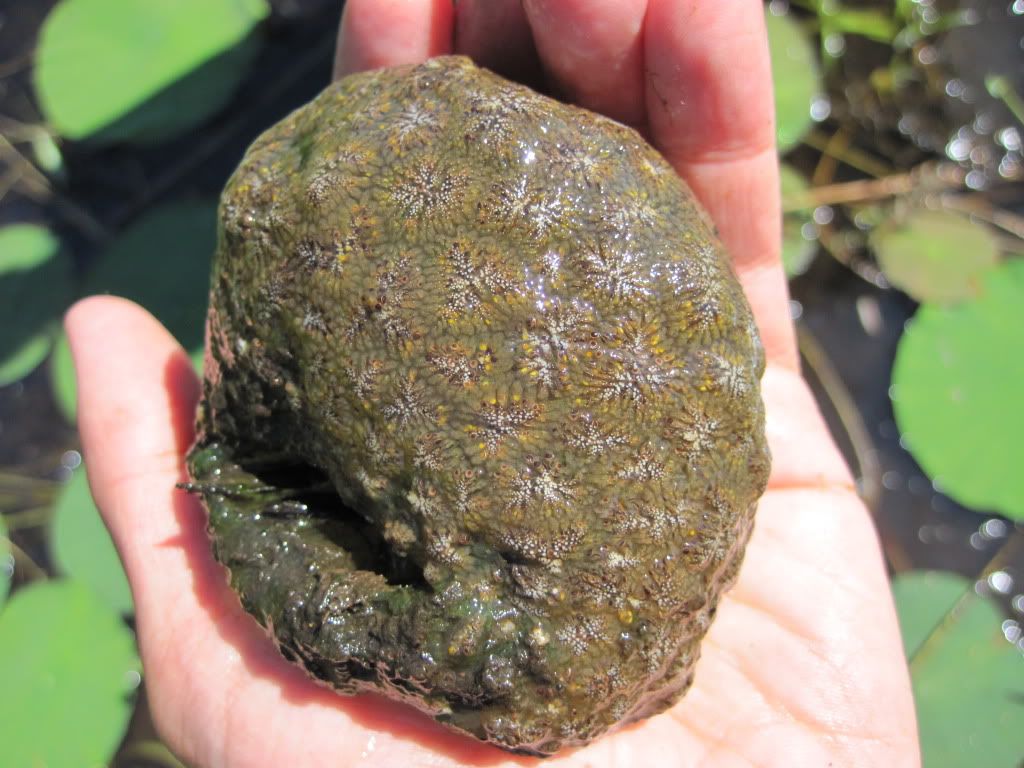 When you first see one of these things floating in the water (or attached to vegetation or other substrate, as they often are) it can easily be mistaken for an amphibian egg mass, and it feels similar too (firm, gelatinous, and slimy). Specifically, it reminded me of a spotted salamander [
Ambystoma maculatum
] egg mass; I wonder if they share a similar chemical composition (i.e.
mucoproteins
/
mucopolysaccharides
? See
this blog entry I did
while at USFWS for examples of different amphibian egg masses).
The surface of a
P. magnifica
colony is divided into "rosettes," each of which contains 12-18 zooids: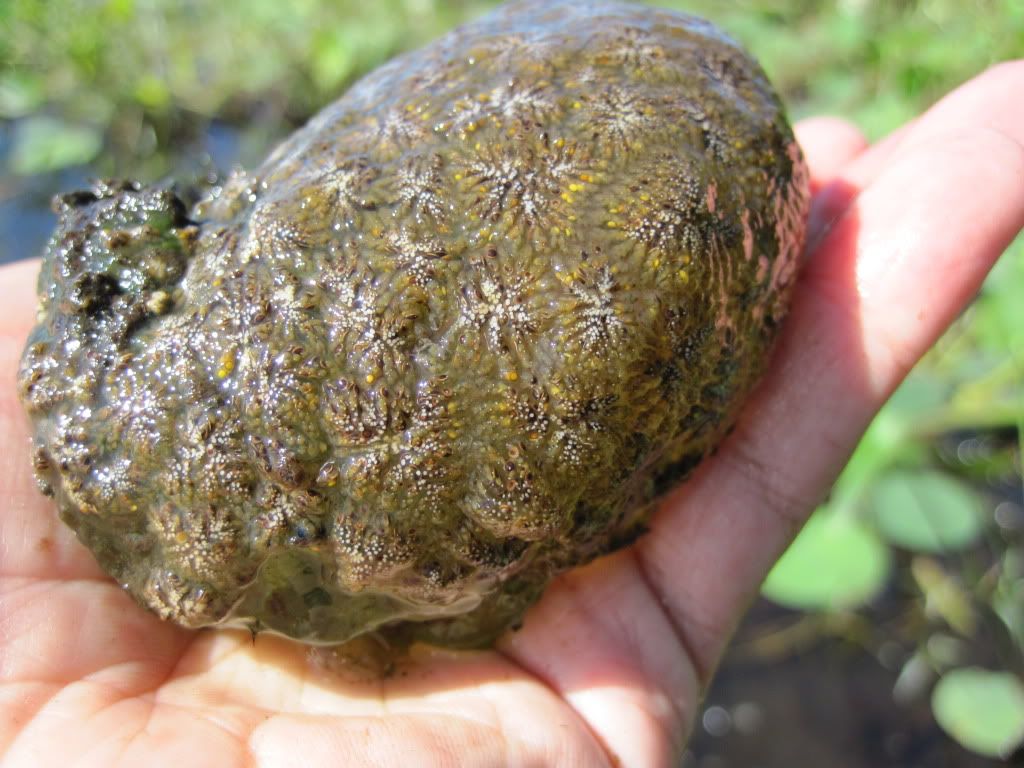 A closer look.
P. magnifica
is thought to have been
originally endemic to North America, east of the Mississippi River
. However, within the last 20 years this species has been
observed with increasing frequency in freshwater systems across the continent
, and even appears to have spread overseas (
P. magnifica
has been documented in Europe, Japan, Korea, and probably China;
Thorp 2009
). How and why this species is suddenly spreading remains unclear, though some suspect climate change is playing a role. Considering
P. magnifica
's role as a filter feeder, some are concerned that its spread could potentially lead to significant ecological changes (i.e. conversion of aquatic environments from eutrophic [nutrient rich] to oligotrophic [nutrient poor], reduced
turbidity
/deeper penetration of sunlight, etc.).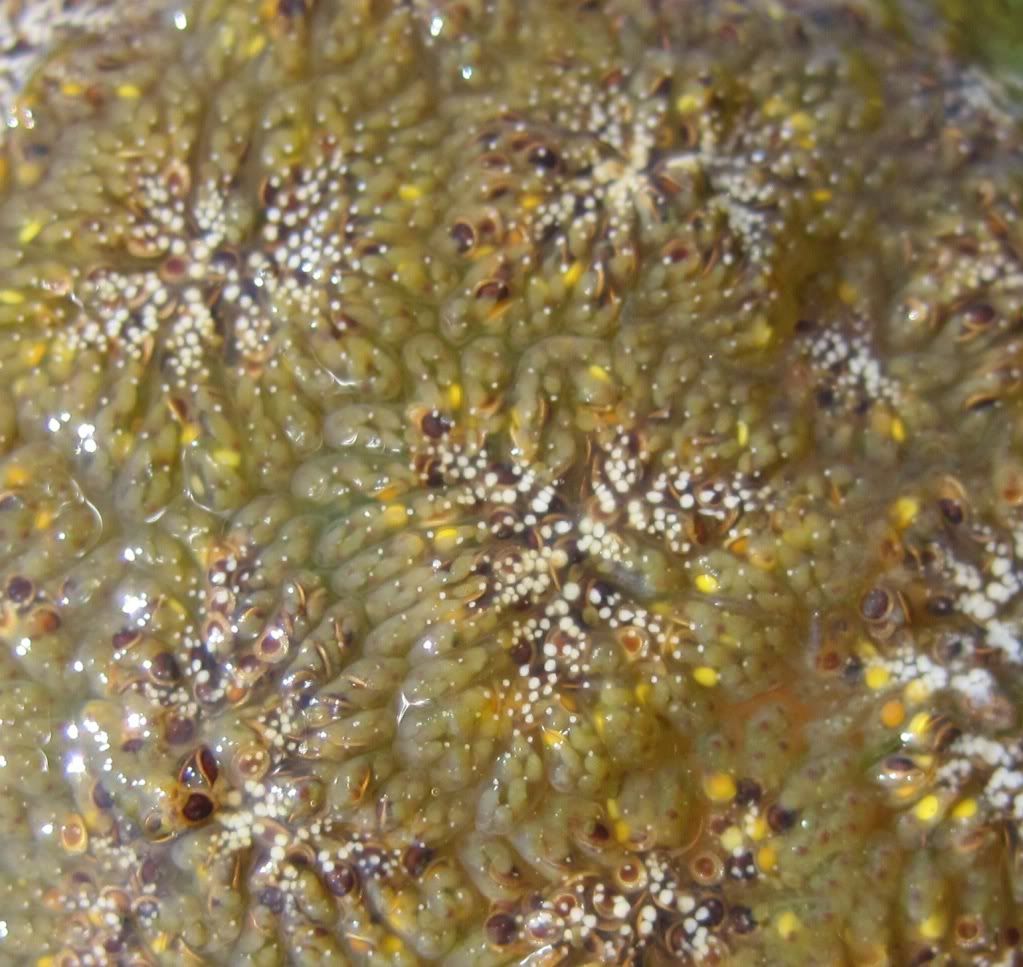 Site #2
When people find out that I live in Las Vegas they usually seem a bit surprised—first, surprised that people actually
live
in Las Vegas—and then, if they know me, especially surprised that
I
live in Las Vegas. Hey, I'm surprised too, even after living here for 1.5 years. Almost inevitably, I'm asked
"What's it like?"
or
"That must be fun!"
I respond concisely.
"It's interesting."
I think a lot of people interpret this response as a euphemism, as the word "interesting" is often applied, assume I'm having a terrible time, and drop the subject. This is fine, since I probably didn't feel like going on a rant, like I am now (I'm much better at organizing my thoughts in writing). But I wasn't euphemizing. I was being entirely genuine. In fact, "interesting" is probably the most accurate word to describe my experience here.
Of course, I never could have imagined that I would be living in Las Vegas, a city that seemed so at odds with my "core values." Don't get me wrong, I like to have fun like anyone else—and there are good things about Las Vegas… but there's a lot about this city I'm not crazy about. Still, I didn't have much reservation about coming here—this was valuable opportunity that I didn't want to pass up, and at worst I would learn a lot about desert tortoises. I have learned a lot about desert tortoises (and other desert wildlife), but I may have learned even more about our own species.
I got my first real impression of Las Vegas from the sky, as I looked out the window of a jet en route to McCarran International Airport. After miles of desert, the city appeared—an island of defiance in an endless brown sea. Unlike most cities I was familiar with, which, when viewed from high above could be distinguished from the surrounding landscape by a relative
lack
of green, here the relationship was unsettlingly inverted. Beside the city was
Lake Mead
, the basis of this color reversal. Formed by the construction of the
Hoover Dam
(1931-1936), Lake Mead is the largest reservoir in the United States, and the lifeblood of Las Vegas.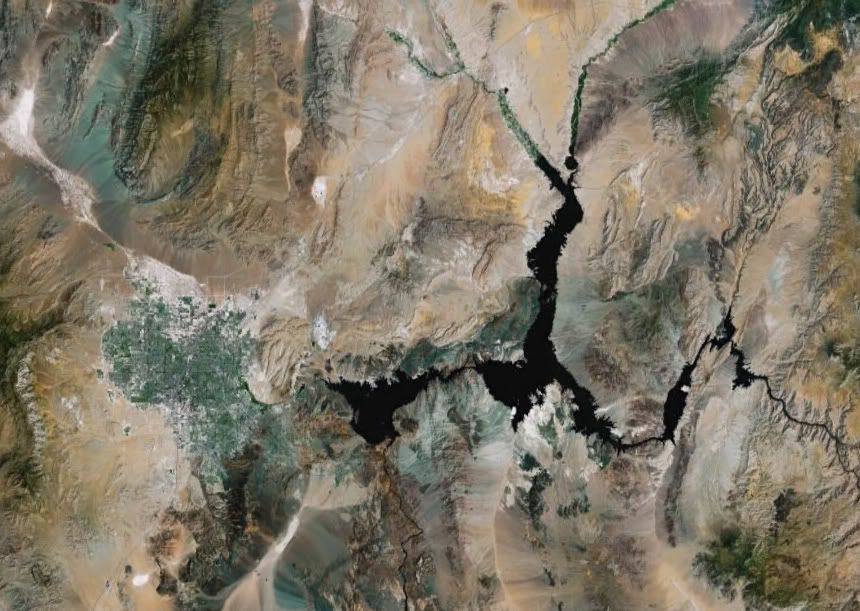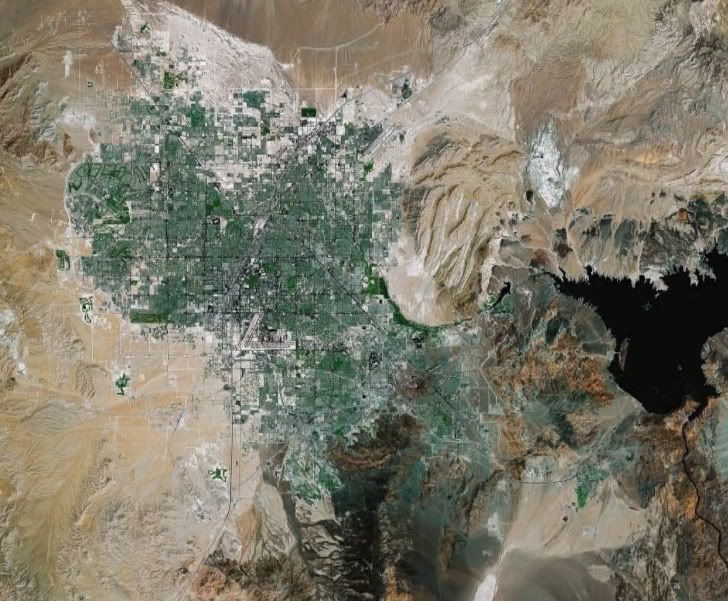 Vegas from space (Credit:
NASA
)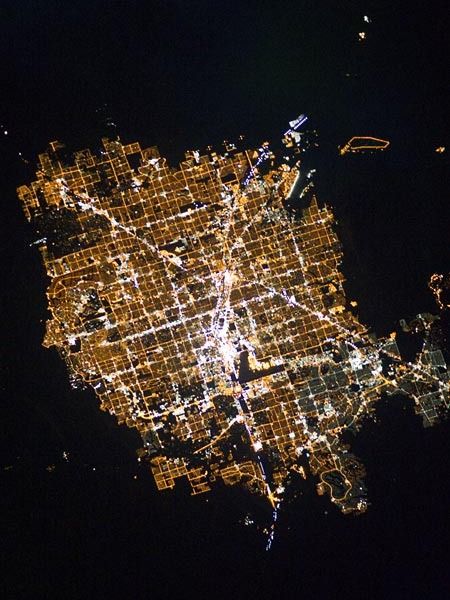 It's not like I was not overly idealistic about how the world worked before moving to Vegas, nor have I become totally jaded after living here. It's more like my initial feelings have been powerfully reaffirmed, and more developed. Las Vegas is a city defined by contradiction. Yes, the very fact that there is a city here stands as a testament to the incredible ingenuity and perseverance of the human race—yet at the same time, Las Vegas epitomizes what I consider to be some of our species' worst qualities. After all, this is a place where reckless self-indulgence, unchecked growth, excess, and waste are not only tolerated, but
embraced
. At the root of all of this, there seems to be an underlying attitude of complacency (you'll find this all over, but it's especially pervasive here). It's not so much that people don't know things are bad (though some really are that disconnected, and others are in denial), but that people think things are
so
bad that they can't possibly be fixed, so rather than wasting our efforts in vain, we might as well do whatever we want.
"I may be going to hell in a bucket, babe, but at least I'm enjoying the ride."
—Grateful Dead
I find it both amusing and sad that for so many people, this place serves as a distraction—a place to "get away from it all"—away from their everyday lives; away from the state of the world as a whole. Then there's people like me, who need a distraction from the reality of living in Las Vegas! Luckily my work has been great at providing this… for the most part.
I have worked at a few places in southern Nevada—some fairly remote, others closer to civilization—but this is the first site where I had a clear view of
The Strip
, and the surrounding sprawl.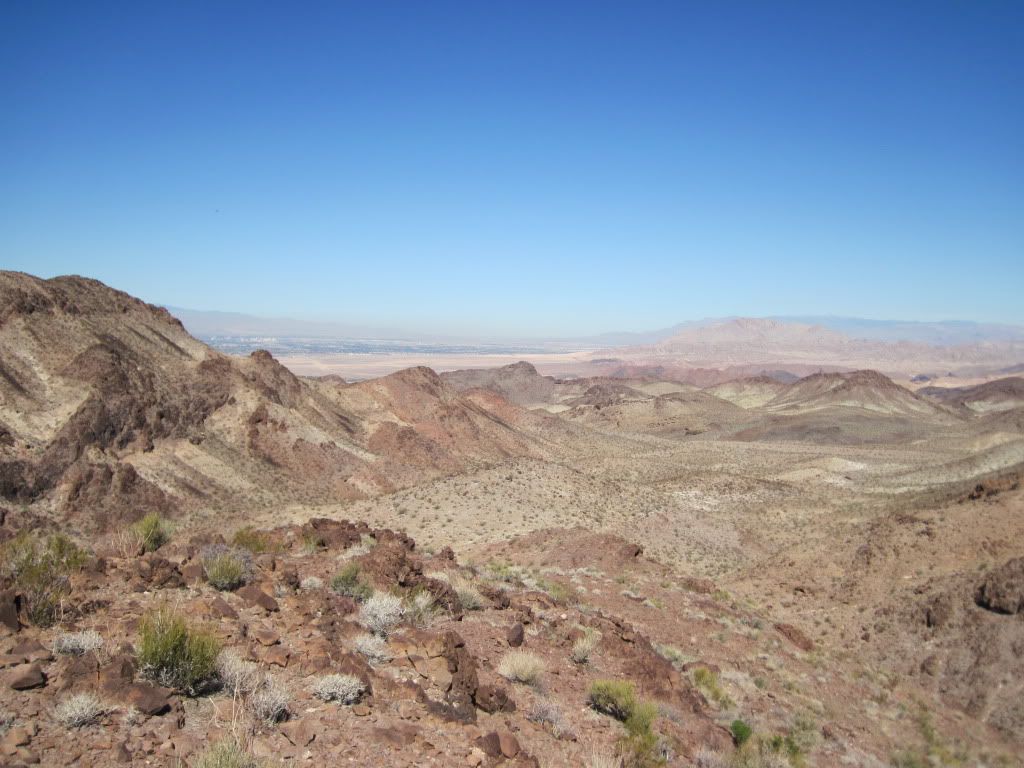 Obviously it wasn't always like this. In my
previous entry
I discussed how the climate here has changed (and continues to change) over time. Historically, Las Vegas was cooler and wetter, with rivers, marshes, and forests. Fossil remains show that extinct megafauna including lions (
Panthera atrox
), ground sloths (
Megalonyx jeffersonii
and
Nothrotheriops shastensis
), mammoths (
Mammuthus columbi
), horses (
Equus
spp.), camels (
Camelops
sp.), and giant condors (
Teratornis merriami
), once inhabited what is now Las Vegas (
Springer et al. 2005
).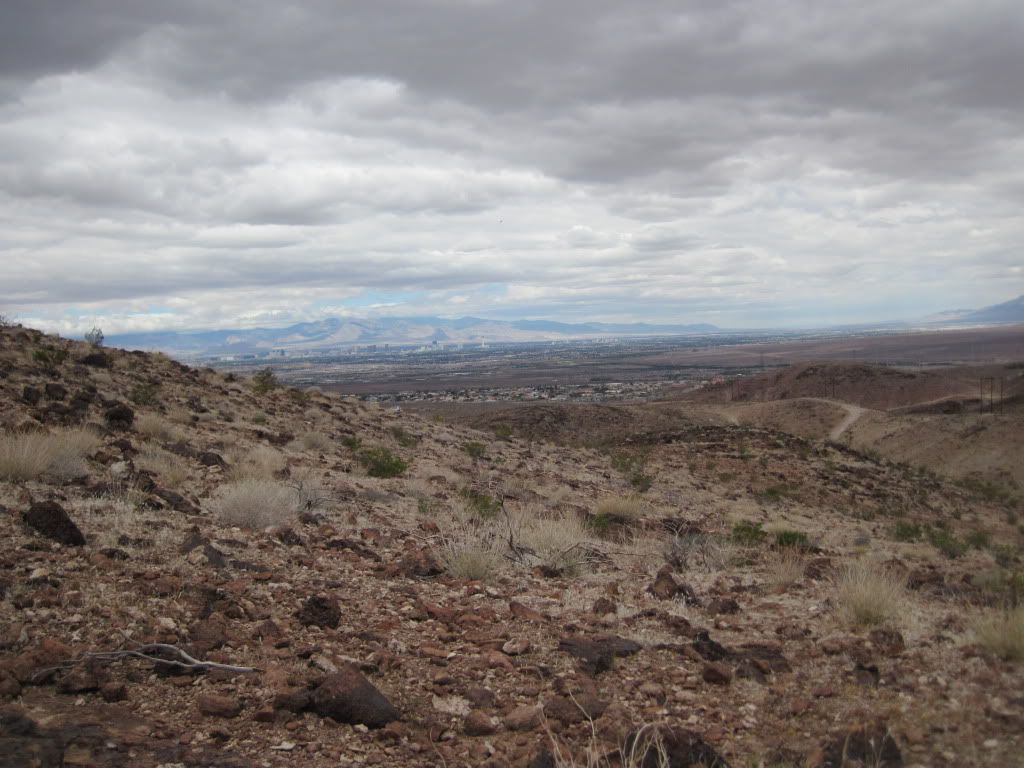 I also mentioned before that humans have been living in the Mojave Desert for over 10,000 years, and this applies to the
Las Vegas Valley
, too. But while Native Americans have inhabited the area for thousands of years, Anglo-Americans didn't get here until the 19th century. Although it had dried considerably since the days when mammoths roamed, in the 1800s the Las Vegas valley still had many natural springs, and early trade routes from New Mexico to Los Angeles incorporated Las Vegas as a stopping ground. Construction of a railroad across southern Nevada brought more permanent settlement to the area. The city of Las Vegas was officially established in 1905 and incorporated in 1911, with a population of 800. Completion of the Hoover Dam, and the development of gaming/entertainment industries facilitated unprecedented growth in the following decades (see chart/maps below).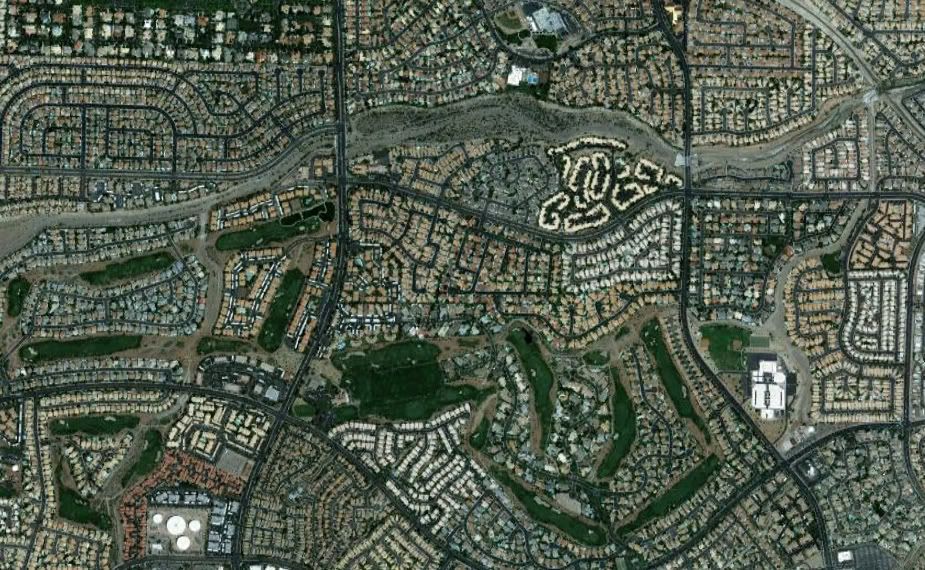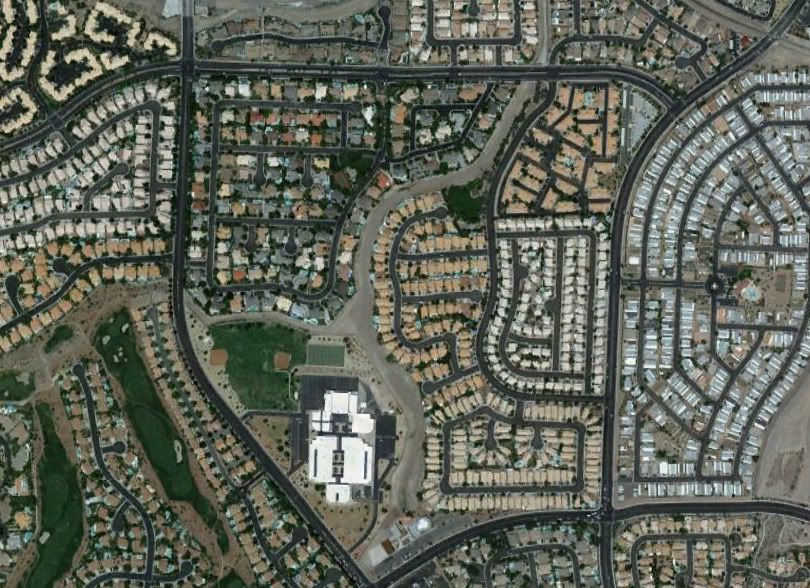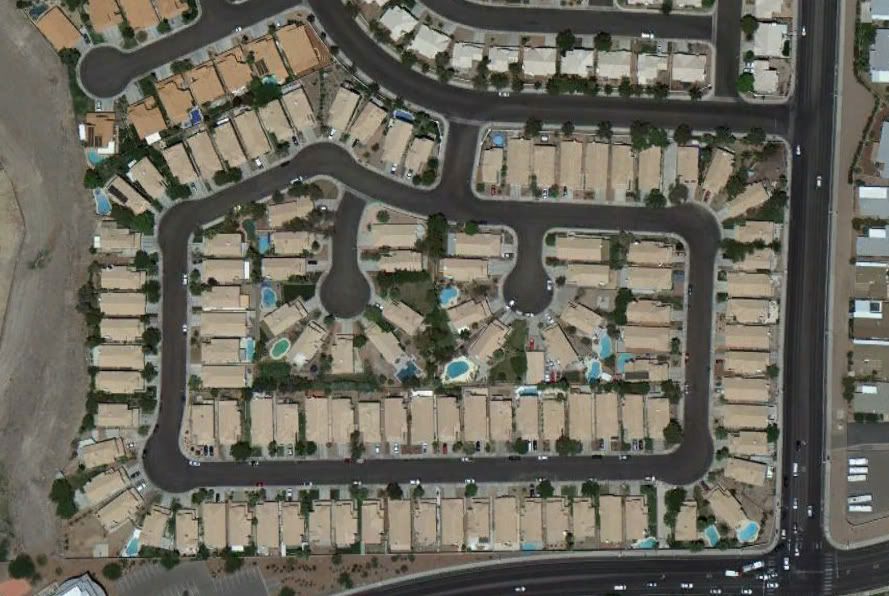 Although the rate of growth has decreased in recent years, the Las Vegas
Metropolitan Statistical Area (MSA)
is still one of the fastest growing in the country. Between 1990 and 2000 the population increased 83% (852,737 to 1,563,282). By 2010 the population was approaching two-million (1,951,269). Of course all of these people need water, which is becoming increasingly difficult to come by out here. Considering projected climate change and water use, scientists estimate there is a
50% chance Lake Mead could be dry by 2021
.
The urbanization of the Las Vegas Valley (Credit:
Acevedo et al. 1997
)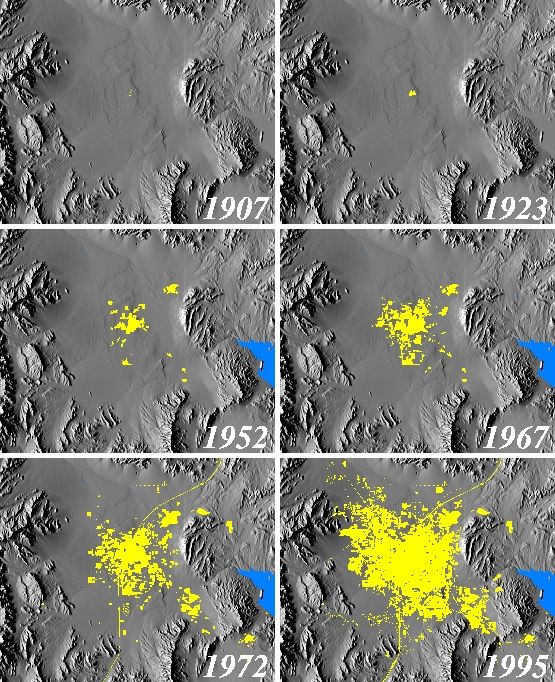 Population growth by year in the Las Vegas Valley (Credit:
Acevedo et al. 1997
)
Satellite images of Las Vegas from 1984-2009 (Credit:
NASA
/
USGS
)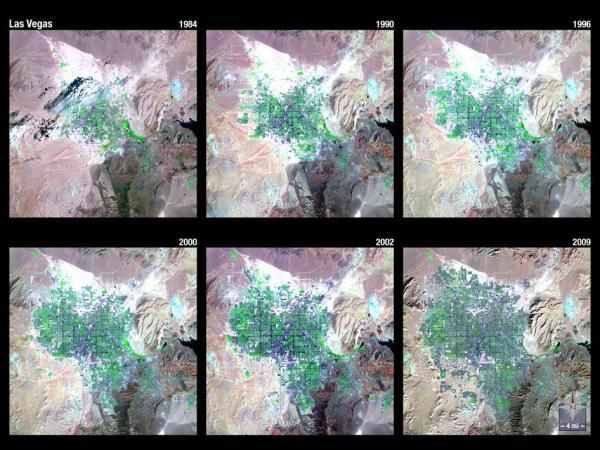 One day, after tracking a tortoise, I sat down beside it to record data. I looked up, and took a moment to register the view. Then it hit me.
Whoa
. Here I was, looking at a wild desert tortoise, with the Las Vegas skyline in the not-so-distant background! (Unfortunately it didn't come out very clearly in the photo below, but you get the idea.) The juxtaposition of the tortoise—a creature that has endured so much, for so long, yet managed to remain essentially unchanged—against the encroaching development of Las Vegas, and everything this city represents—was the most profound embodiment of the age-old "man vs. nature" conflict I have ever experienced. It's hard to describe what I felt at this moment—the view was surreal, beautiful, and disturbing all at once.
I continue to stare at the Las Vegas metropolis—an amorphous blob, but with distinct, complex internal organization—with lots of little
zooids
people that somehow make it all work; chaos and order comingling in tentative equilibrium. If I stare hard enough I can almost see it growing, its
pseudopod
arms of concrete and asphalt stretching outward, its boundaries steadily advancing. This
biopolis
(
Biopolis giganticus industrii
) is hungry, and very little gets in the way of a hungry biopolis. (The genus
Biopolis
is thought to have
originated
between 10,000 - 7,000 years BP. The subspecies
B. g. industrii
, which is now so widespread, arose from a
mutation
in
B. giganticus
that occurred fairly recently [sometime between the 18th and 19th centuries]). Like a parasite, it drains the blood from
its host
(and
as observed in many other parasites
, it has
modified its host's behavior
for its own benefit). Simultaneously, and indiscriminately, it gobbles up the desert and spits out strip malls and apartment complexes in its wake. No matter how much it consumes, the biopolis is insatiable. Even as its food supplies are dwindling, the creature is determined to keep growing, seemingly unaware of—or unconcerned with—the consequences of its actions. Scientists are struggling to understand this baffling behavior in hopes of saving this species from its own
cancerous
demise, though some fear it may already be too late.
I feel extremely lucky to have happened upon such a rare vista—tortoise and city, side by side. I admit, this is partly a morbid, selfish delight, the kind of feeling you get when you witness something few have seen—something that (in the near future) might never be seen again. Yes, the view can be interpreted ominously. As if
Dickens
' "
Ghost of Christmas Yet to Come
" had dropped by to show me "the shadows of what may be" (I've pretty much covered what the other ghosts had to say), I looked at the scene before me and envisioned a future where the Las Vegas metropolis—a malevolent
superorganism
—enveloped the entire landscape, tortoises and all. I don't think this is a future anyone
wants
(whether they realize it or not), yet if current trends continue, this is where we could be heading.
But Scrooge found redemption… and so can we.
I decide to set the bleak scenario aside for a minute, and try something new. I blink my eyes and start over, fresh. The tortoise hasn't moved. The city's still there, too. Nothing's changed, but the scene takes on a radically different tone. Now, looking and the tortoise and city, I see a symbol of great
possibility
. Right before my eyes, here was proof that it
wasn't
"already too late." I could see the potential for a healthy coexistence, not only between ourselves and tortoises, but between humans and nature as a whole.*
*
Actually I shouldn't use the word "between," because this is the root of the whole problem. "Between" is responsible for the "man vs. nature" myth—an illusion we have perpetuated based on the naïve assumption that we are separate, and special, and "nature" is something that can be conquered, when in reality we're just one part (i.e. "cell," "zooid," "organ," "organism," "colony," "species"… whatever) of a much larger, interconnected system.

It's not entirely our fault for thinking this way, though. The world is a big scary place, and it gives us some comfort to ascribe order to it as best we can. So, we organize and label everything so that we understand it, and things become less scary. Meticulously, violently, we deconstruct our universe into tiny, easily digestible pieces and force them neatly in order.

No doubt, this technique has been so effective that it has revolutionized our existence. The problem is, in many cases the whole is not equal to the sum of its parts, in which cases this fairly rigid method of understanding falls short. But we hold on to it tightly because of how far it's gotten us, and it's the only way we know. We're afraid we might regress.
Back to the reptiles. This was my first
Great Basin Collared Lizard (Crotaphytus bicinctores)
. This one seemed to be a juvenile. This species prefers rocky hills with little vegetation, which is exactly the habitat I found this one.
C. bicinctores
eats invertebrates, lizards, and some plant material.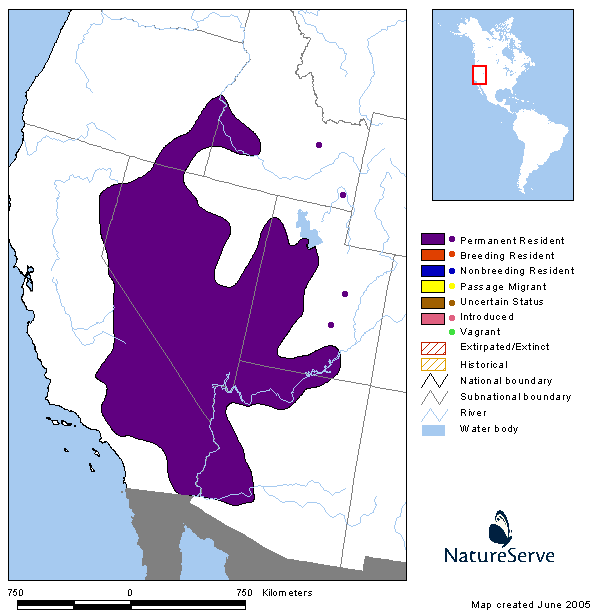 Common Fishhook Cactus (Mammillaria tetrancistra)
The red things are fruits.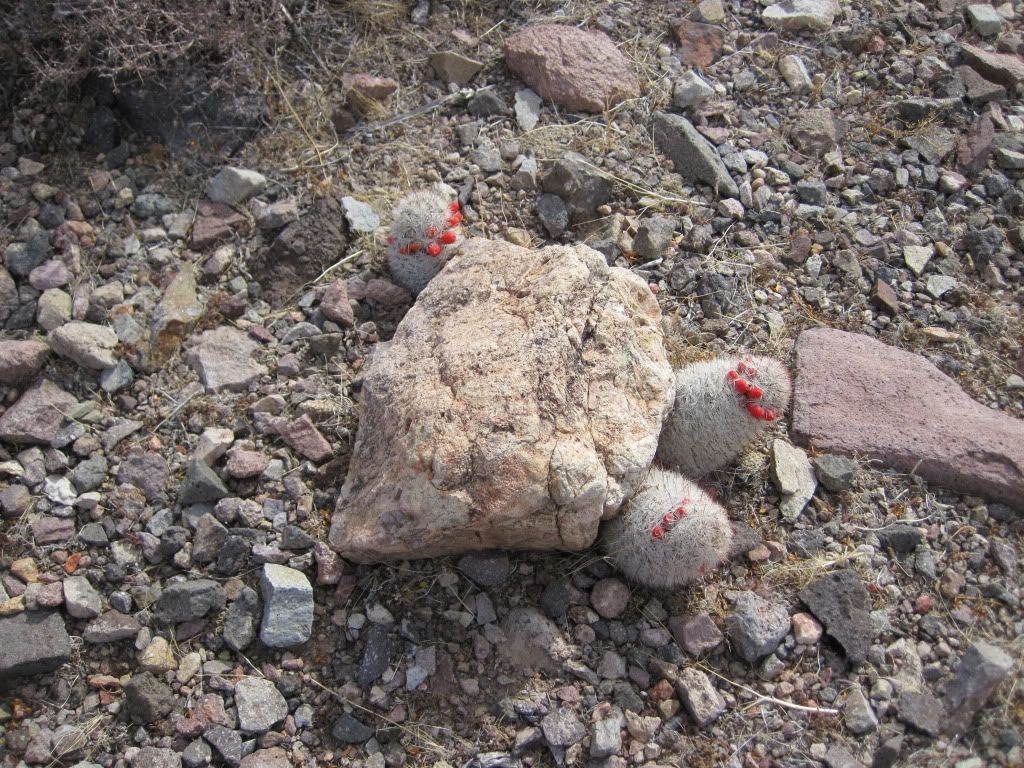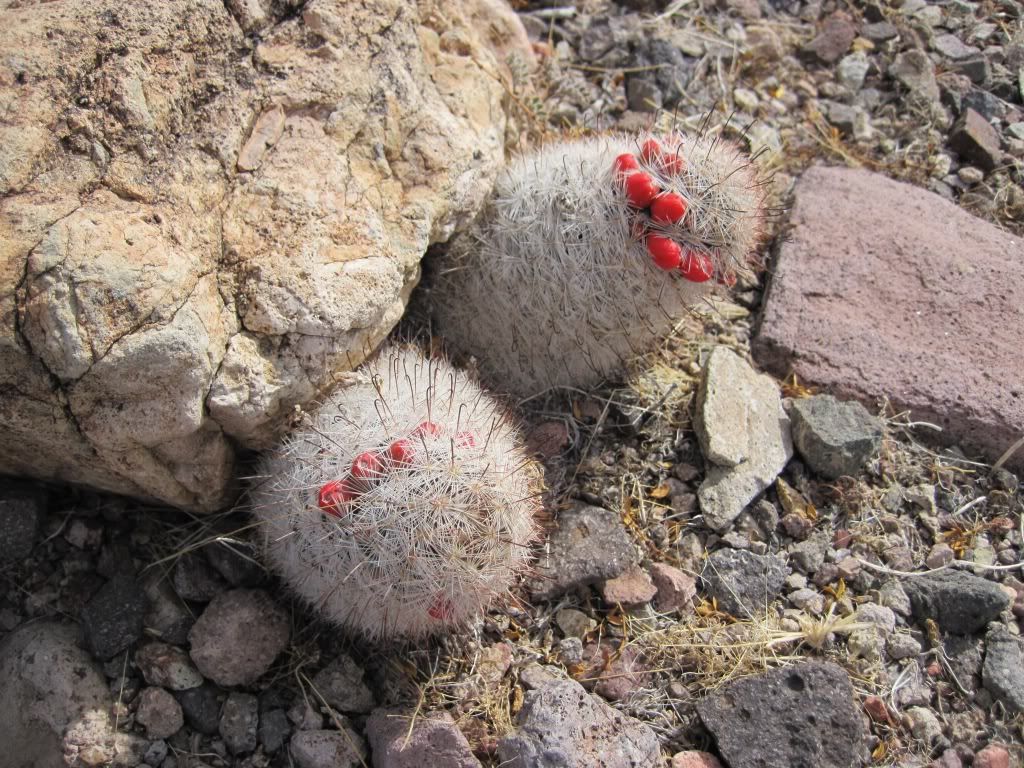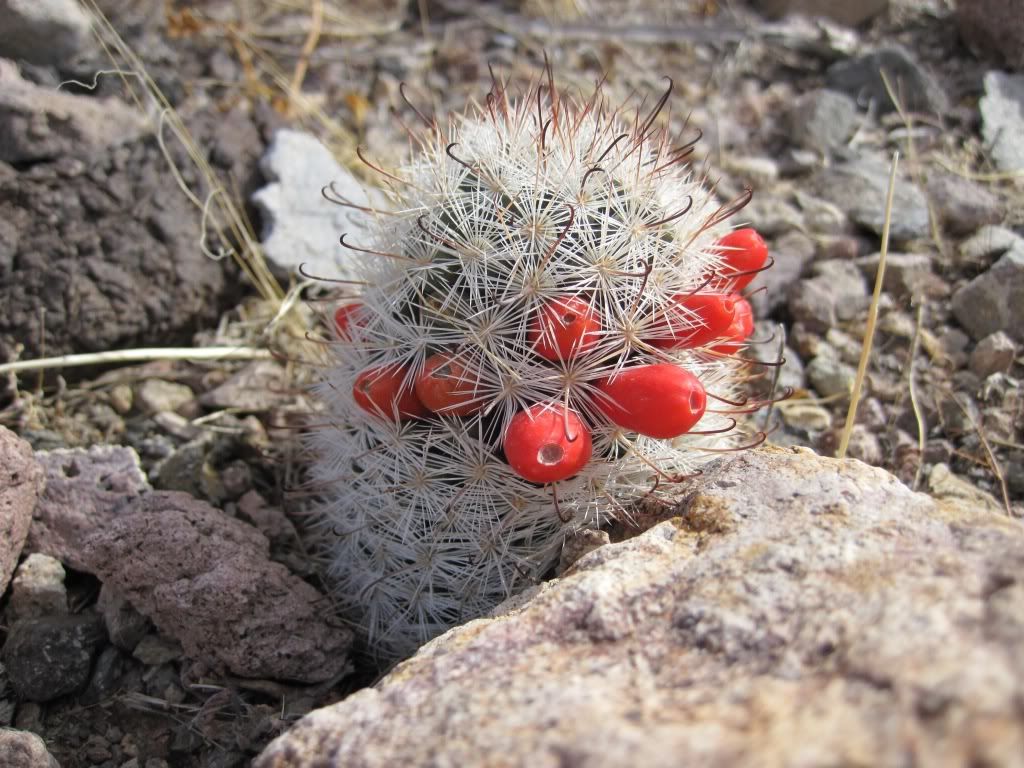 My first decent shots of a
Zebra-tailed Lizard (Callisaurus draconoides)
. These lizards are really fast, and I usually see them running in flat, sandy washes. When approached, zebra-tails will often "wag" and curl their characteristic black and white striped tails, and the tail is kept in a curled position as they run.
Hasson et al. (1988)
demonstrated that this species uses "tail-wagging" as a
pursuit deterrent
.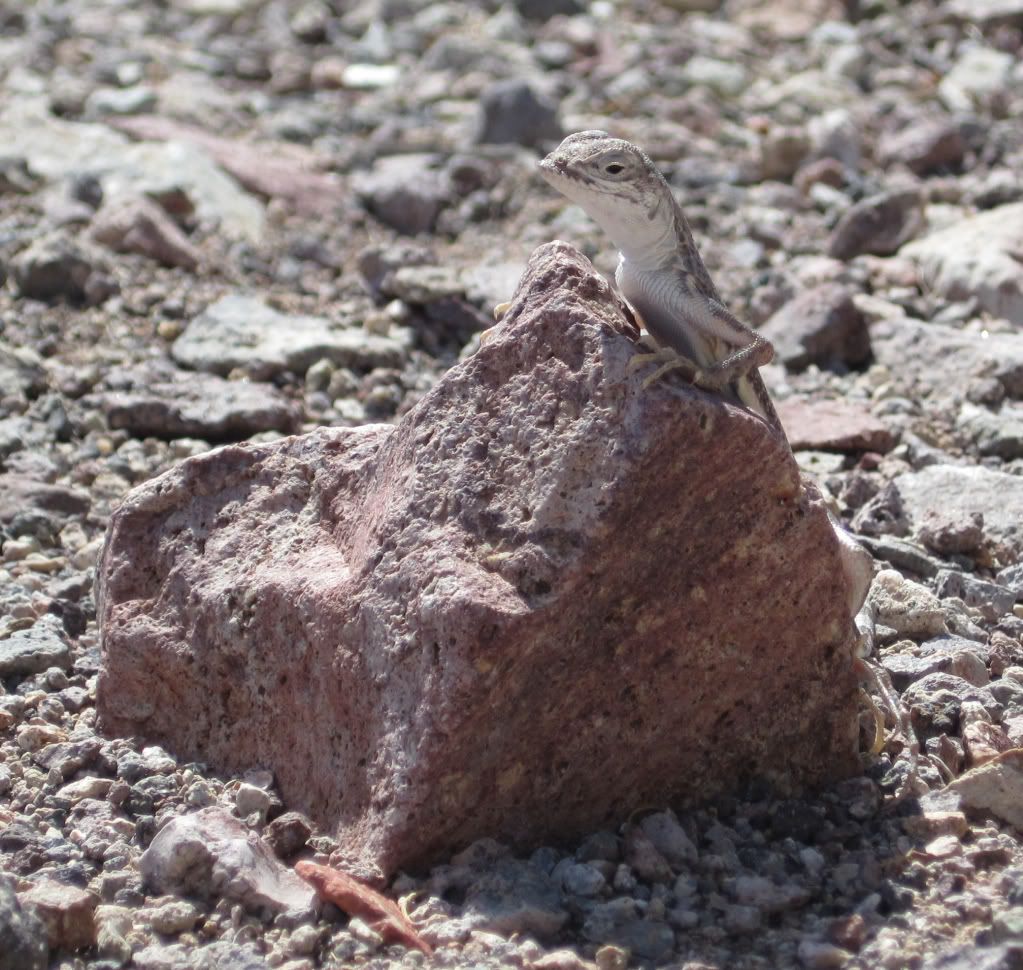 C. draconoides
range:
Desert Bighorn Sheep (Ovis canadensis nelsoni)
, a subspecies of
bighorn sheep
that occurs in the southwest United States. Desert bighorns are similar to other bighorn sheep, though they possess some unique adaptations to a desert environment. For example, they have ability to go for long periods of time without water, and are able to lose up to 30 percent of their bodyweight and still survive. Their body temperature can also saftely fluctuate several degrees (unlike most other mammals). Since European colonization of the southwest (beginning in the 1500s), desert bighorn sheep populations have steeply declined. While conservation measures have allowed their numbers to increase since 1960, populations are still very low.
Desert bighorn sheep are social, and generally form herds of 8 to 10 individuals (though herds of 100 sheep have been documented). For most of the year, rams and ewes live in separate groups, meeting during breeding season (July-October). Males fight for dominance, and the winner gets the ewes. During these battles, rams will face each other from >20 ft and charge head-on, crashing their horns together, until one gives up.
Both male and female bighorn sheep begin to grow horns soon after birth, and these horns continue to grow throughout life. Rams' horns grow much larger, and curl more than the ewes'. The horns of an adult ram can weigh more than 30 pounds. Analagous to the annuli on tortoises' scutes, growth rings on these horns can indicate a sheep's age. Sheep use their horns for fighting, as well as tools for breaking open cactus to eat.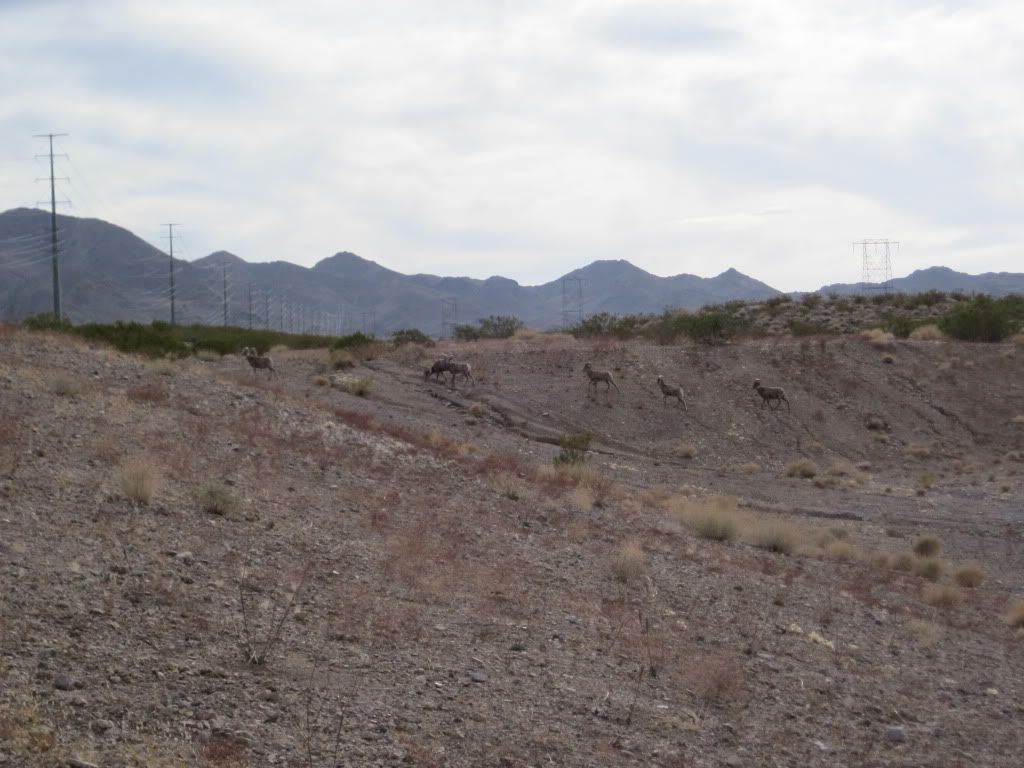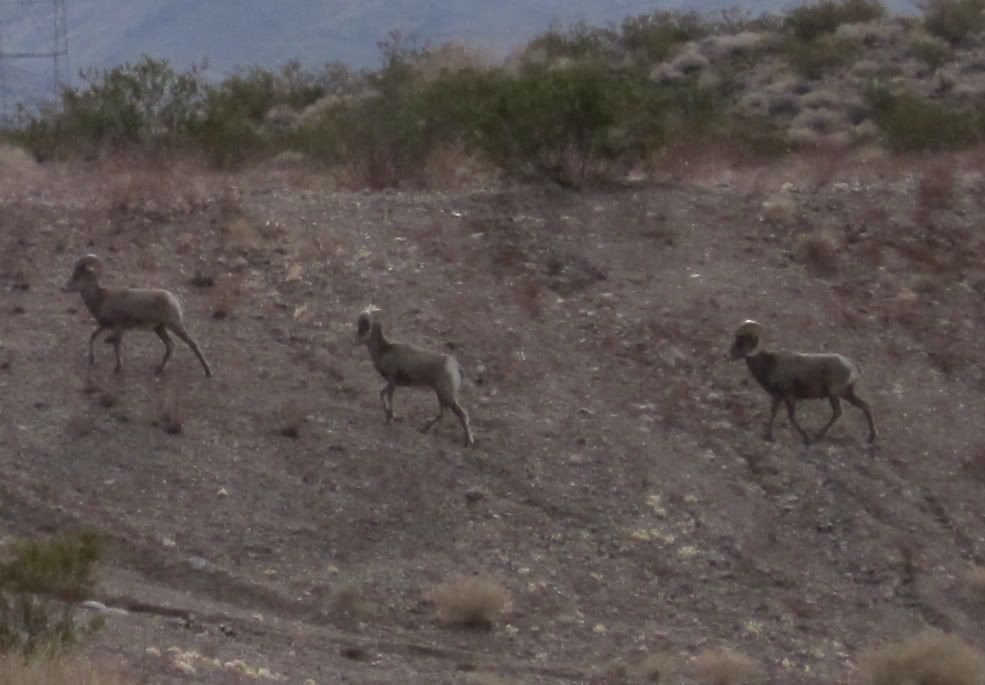 A colorful
Pencil Cholla (Cylindropuntia ramosissima)
A nice
geode
, or maybe a "
vug
?" Anyone know how to tell the difference?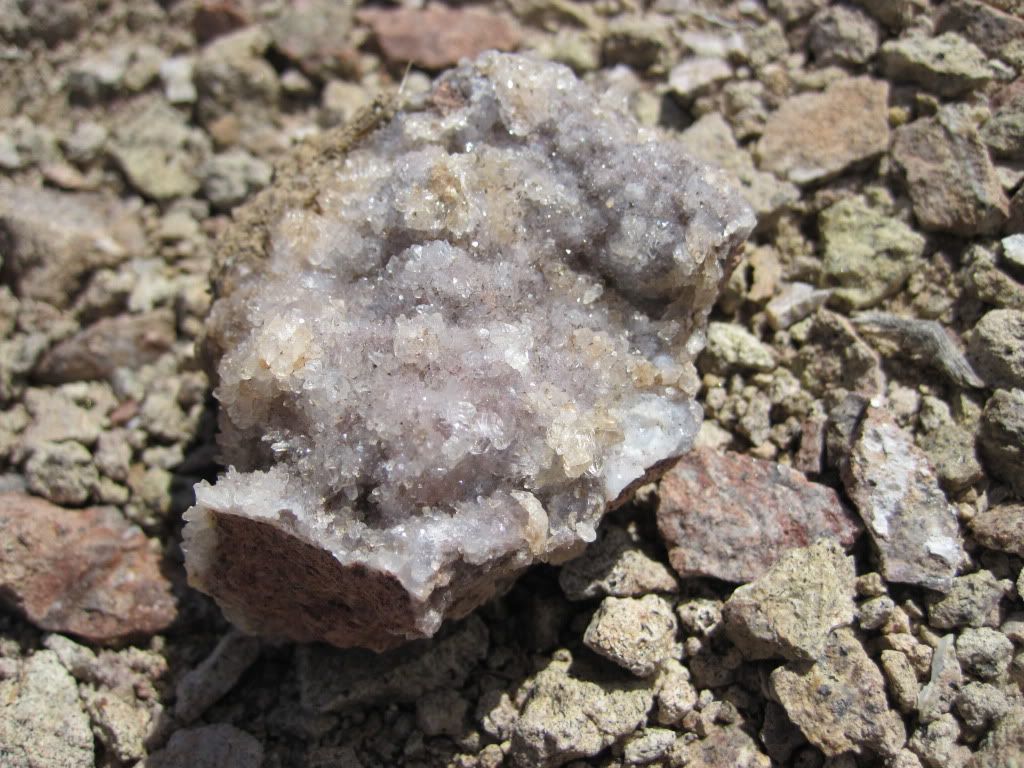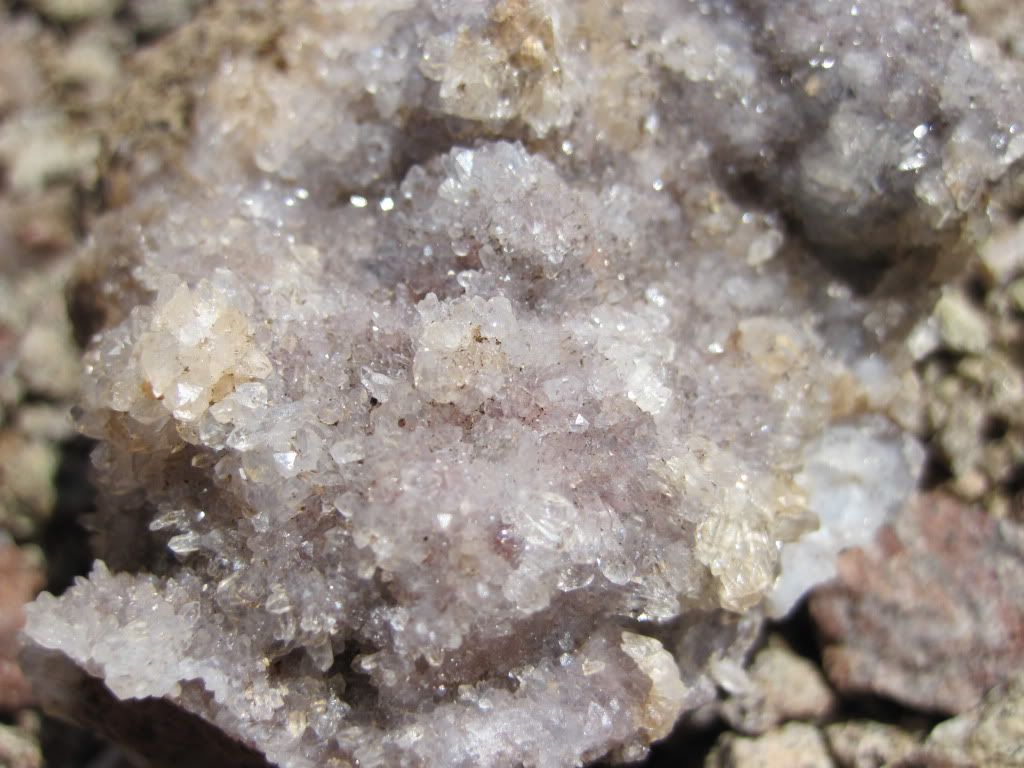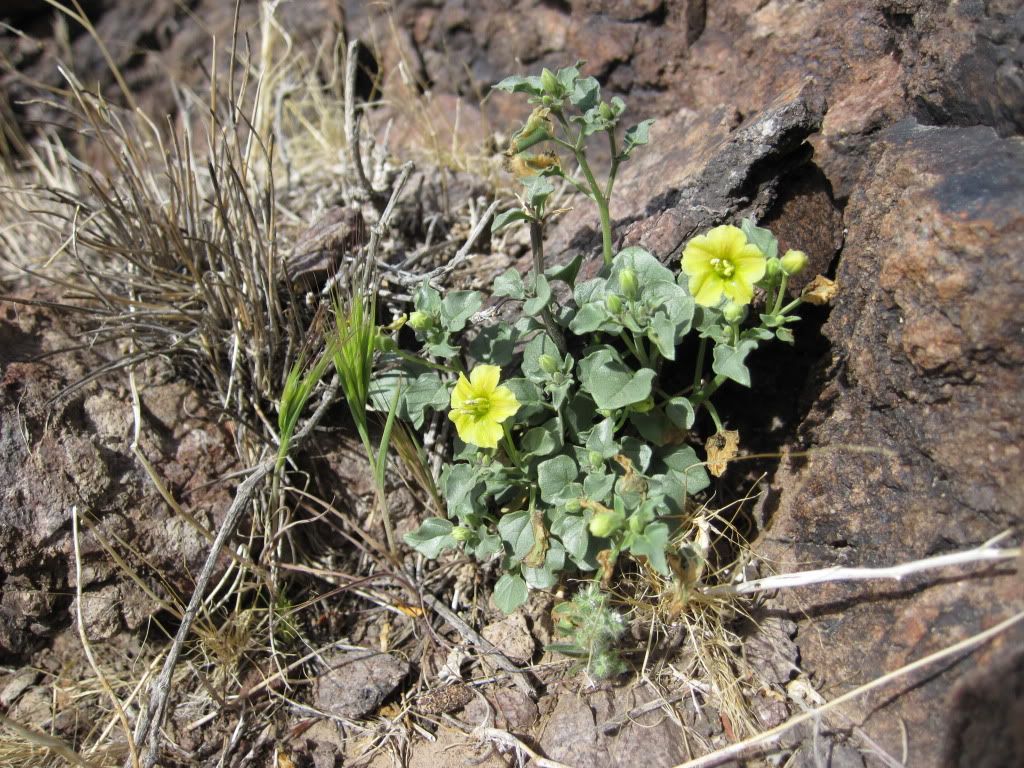 Pallid-winged Grasshopper (
Trimerotropis pallidipennis
)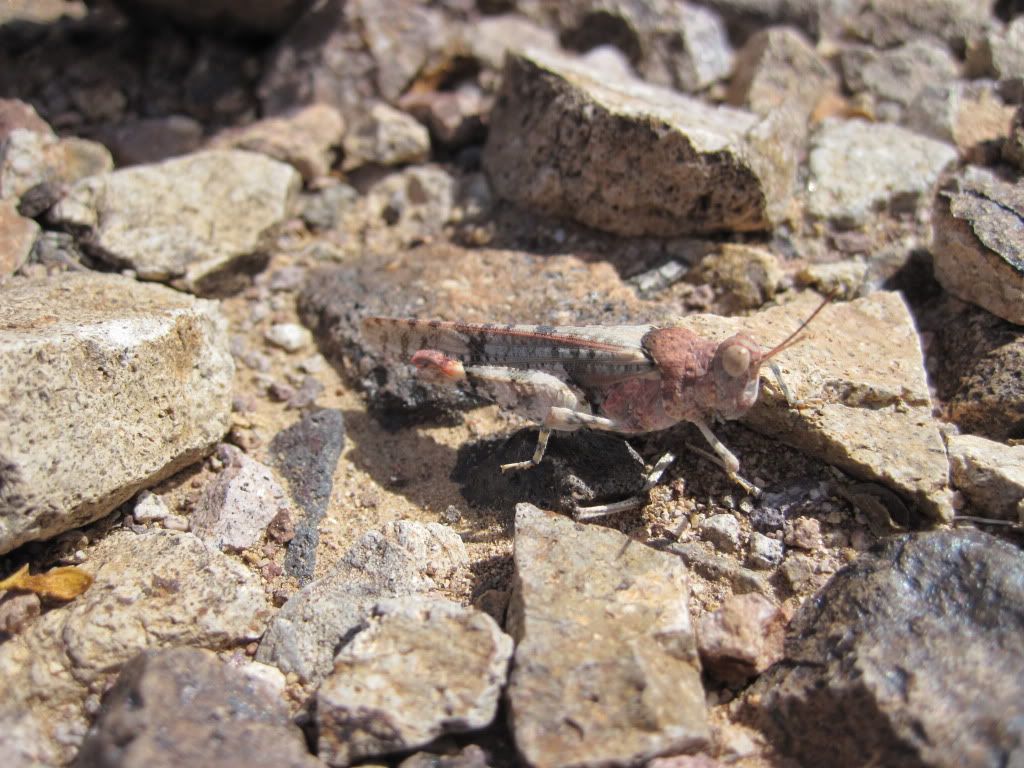 Desert Stingbush (Eucnide urens)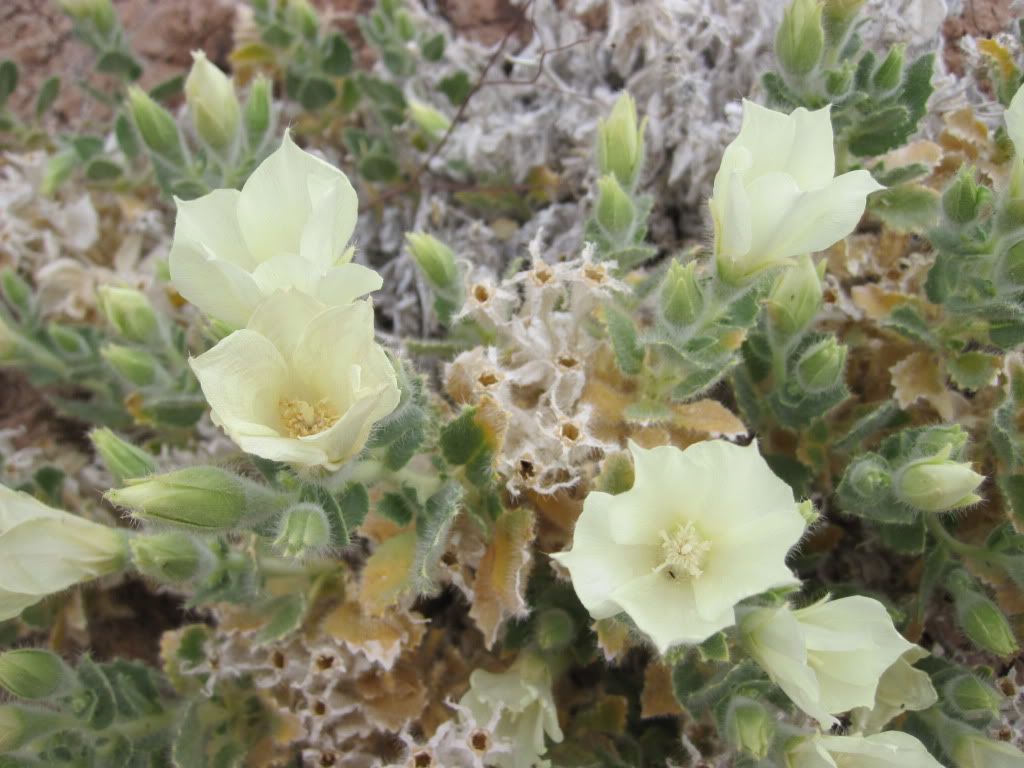 Johnson's Fishhook Cactus (Echinomastus johnsonii)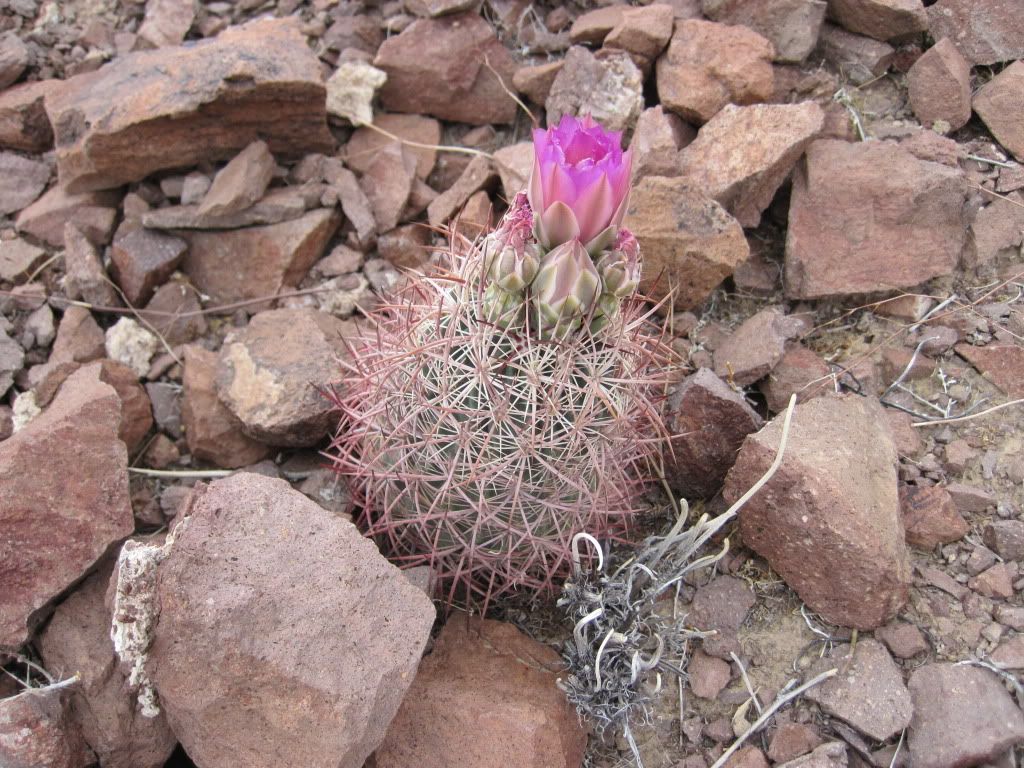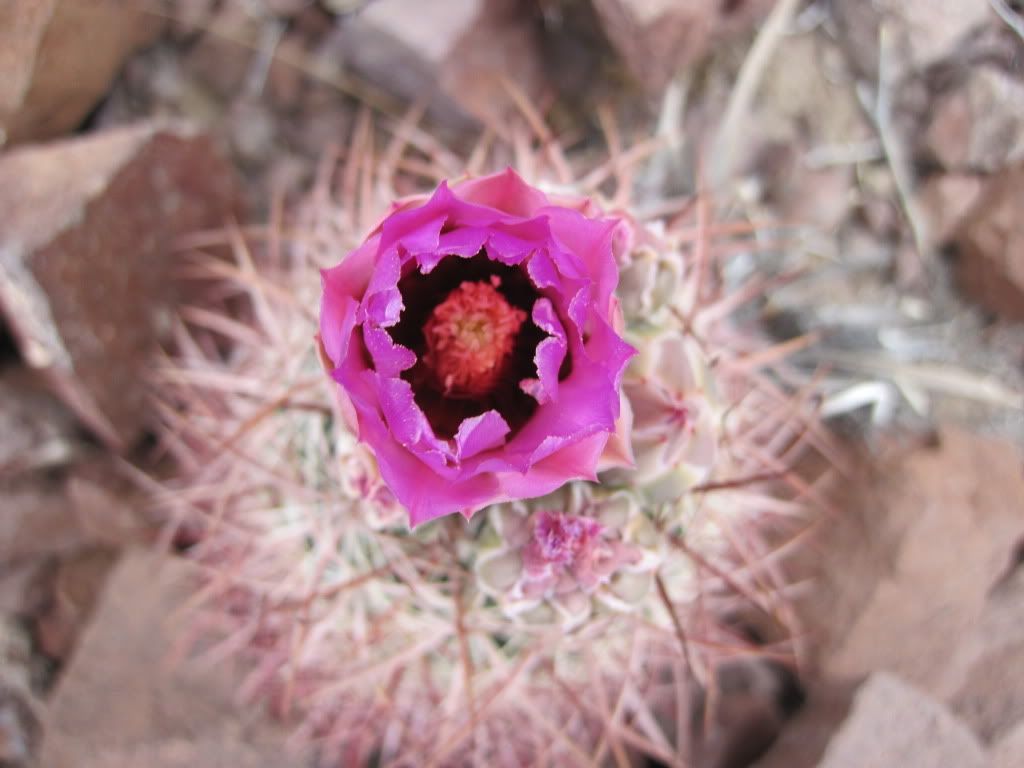 Site #3
This is one of the sites GBI shares with USGS, and I have worked a bit here before. It is unique in that it was previously burned in a wildfire (for background, see
Part 1
).
One of the things people are interested in learning about here is how tortoise use burned vs. unburned habitat. Here I observed a tortoise foraging in a previously burned area.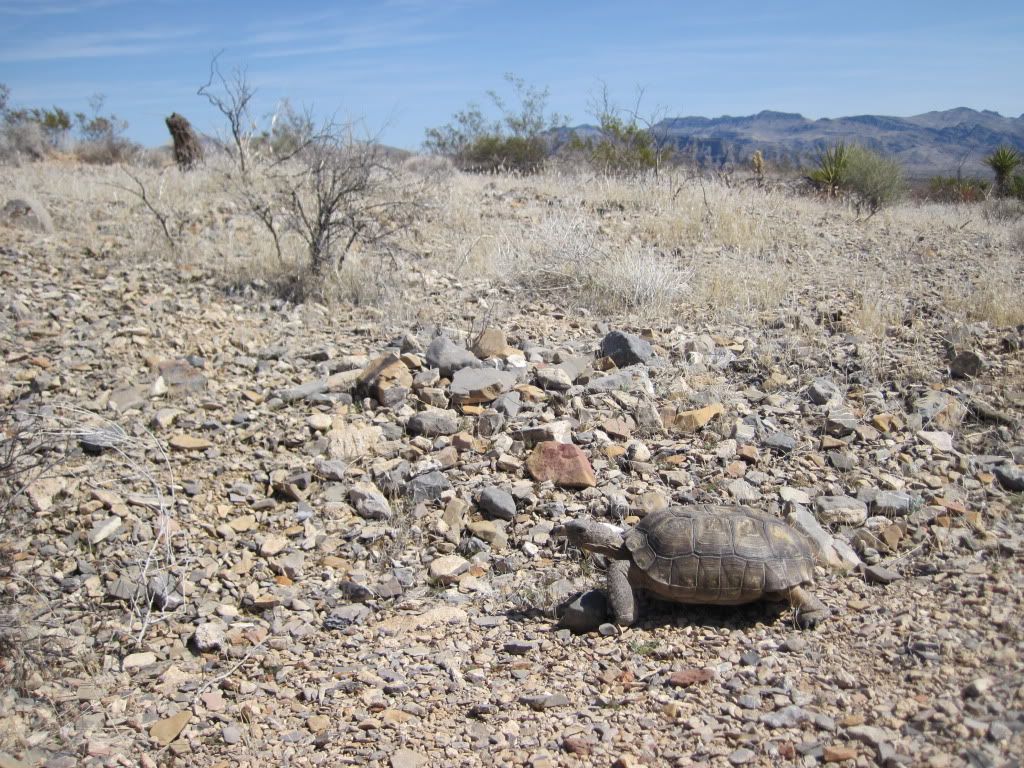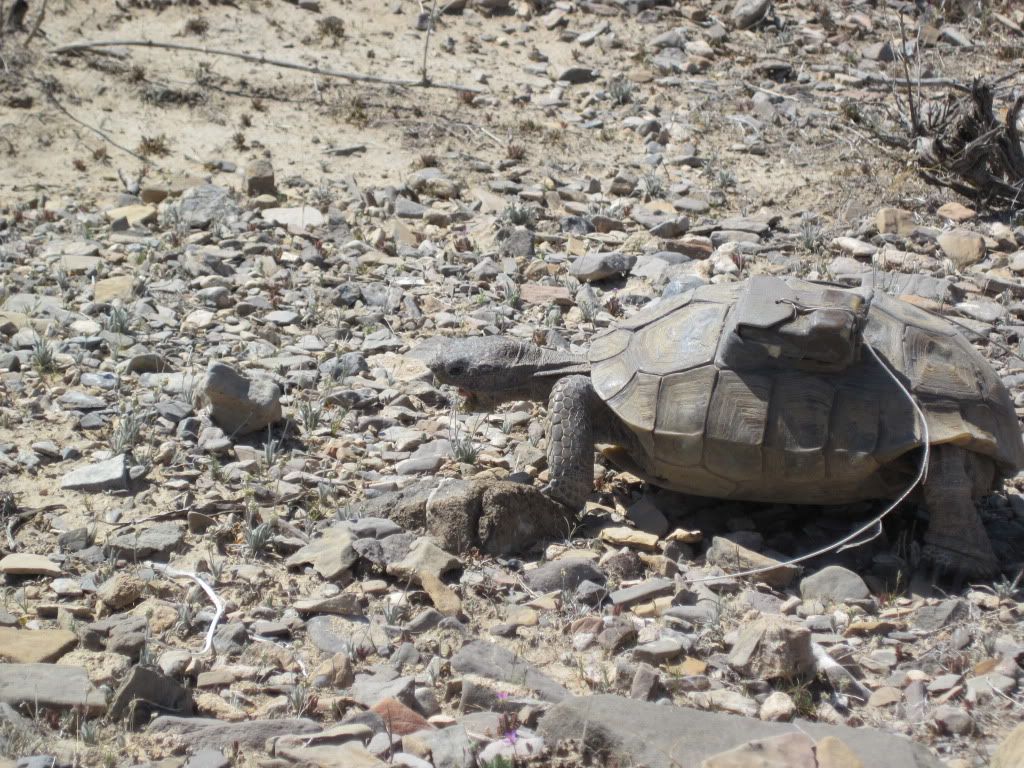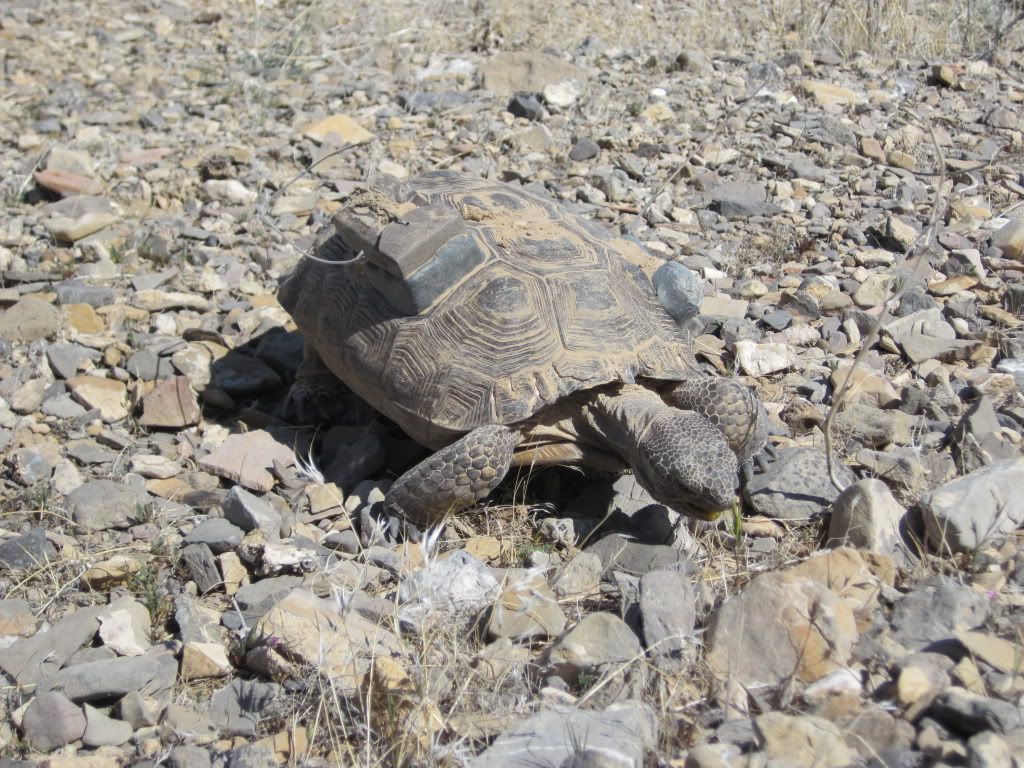 As you can see, this one didn't seem to mind my presence.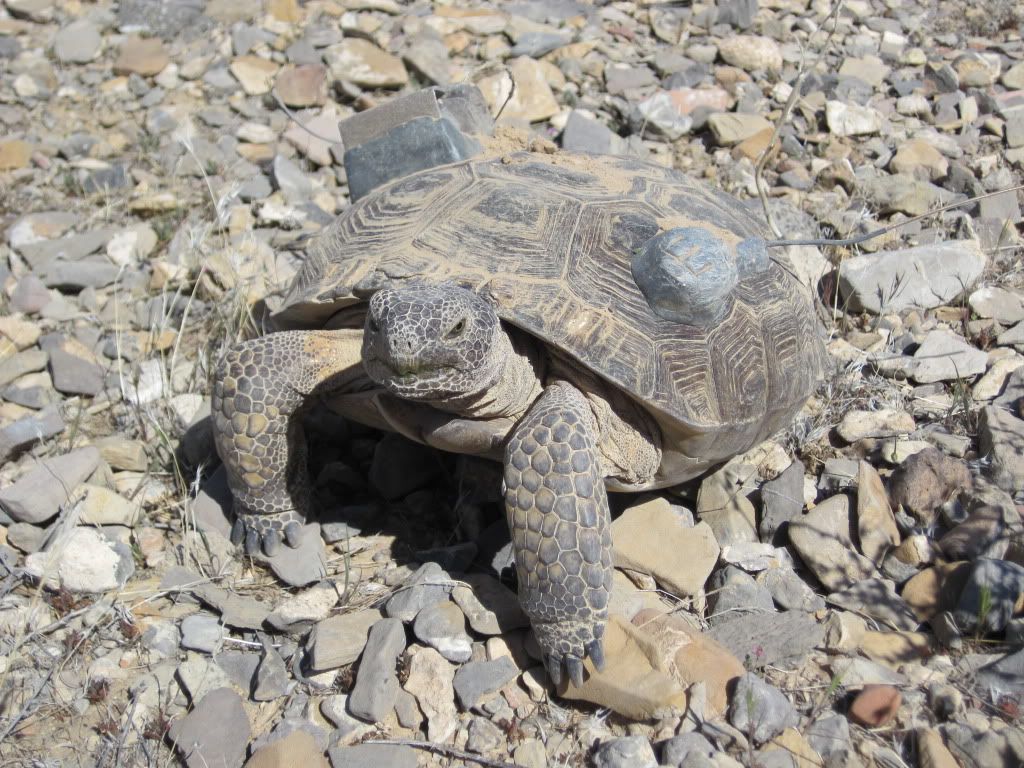 Here's a clip:
I tracked this transmittered male and found him courting an unmarked female. I taped a temporary transmitter on her, and I'm not sure he knew what to make of her new outfit.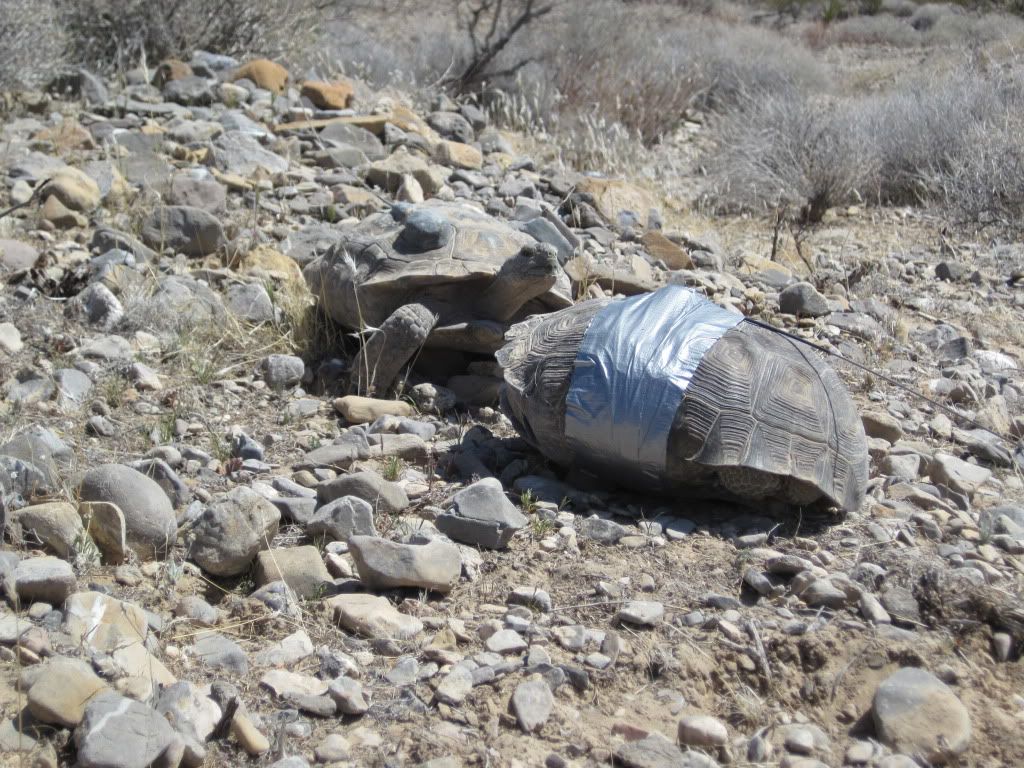 Here's a close-up. Just look at that face! Very suspicious.
Pricklypoppy (Argemone)
sp.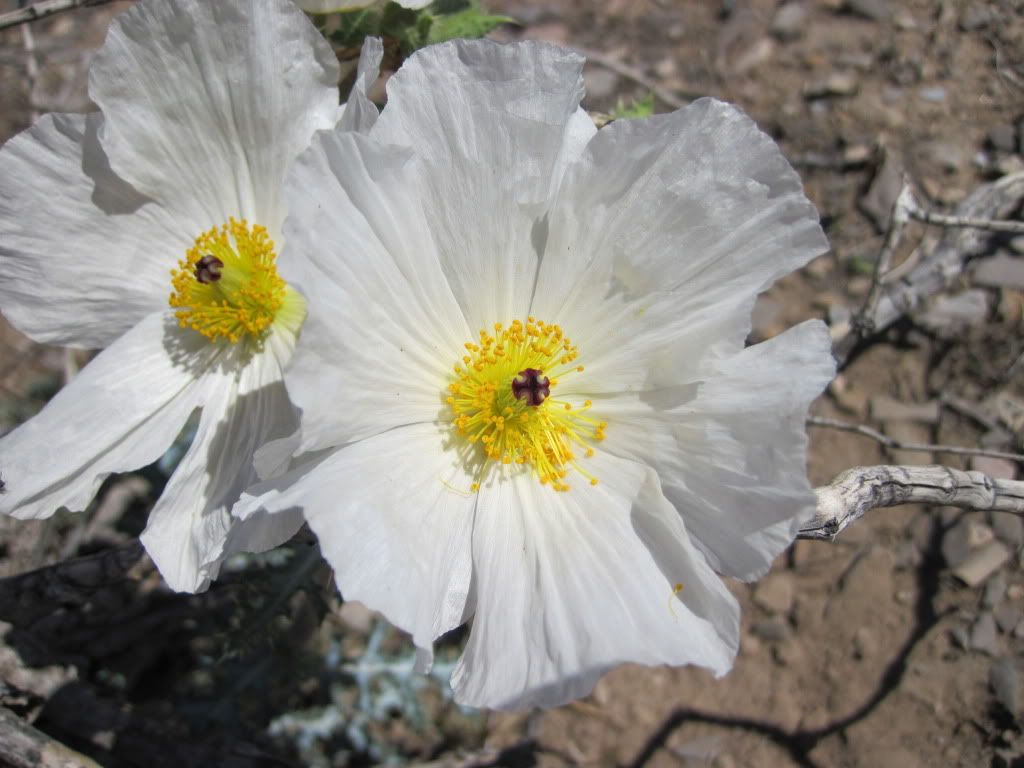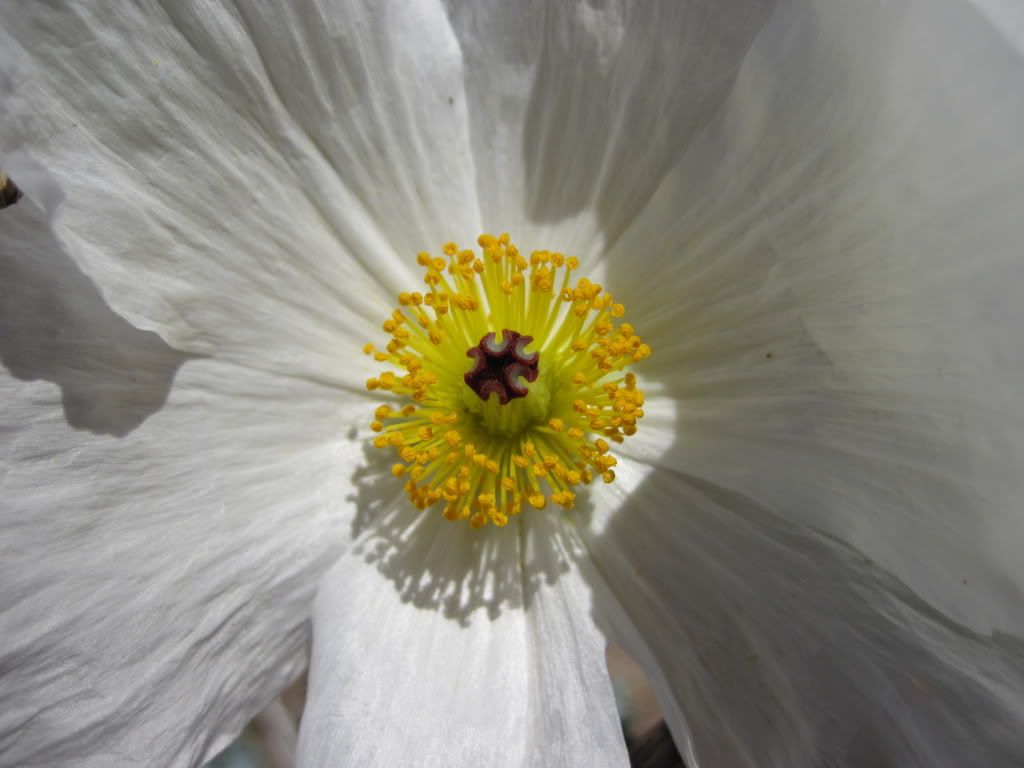 A really cool rock. I am told its unique appearance is the result of fractures in the rock, which were then filled with a mineral more resistant than the rock matrix. Finally, the rock was "sandblasted" for many years. (Hopefully some of you geologists out there understand this better than I do).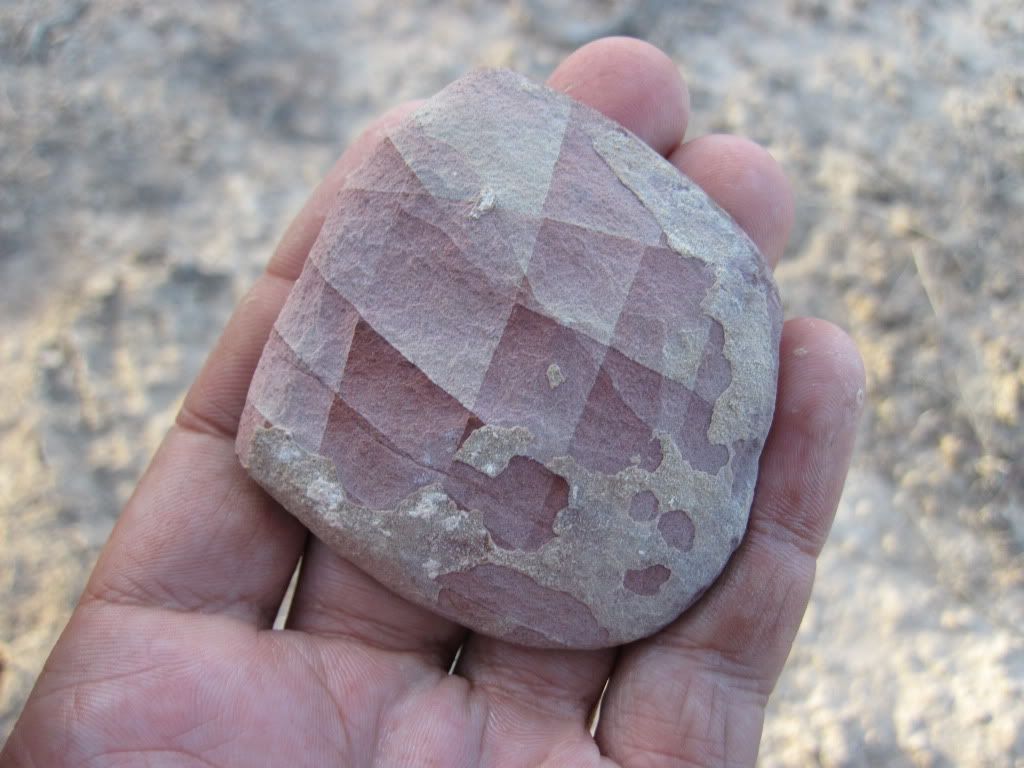 Another cool fossil. Like the bryozoan fossil described earlier, at first glance this one bares superficial resemblance to the skeletal remains of a vertebrate, perhaps a snake. But again, in reality these remains can be traced to a slightly less exciting (at least to a herpetologist), but far more ancient invertebrate - either a coral (solitary/
horn
?) or an
archaeocyathid
. (If anyone can provide a more precise ID/timeframe for any of these fossils, please do!)
One thing you may notice here is the difference in appearance between this fossil and the ones I found at Site #1. Besides the fact that they represent different organisms, this is also a different
kind
of fossil. While all fossils result from the preservation of organic material, there are several different ways in which such material can be preserved. The mechanism of preservation is defined by environmental factors as well as the nature of the organism being preserved. Different preservation pathways yield fossils with distinctive qualities/appearances.
For example, the two fossils from Site #1 (bryozoan and shell) are easily identified as impressions or "external molds." For both of these fossils, the organic remains have completely dissolved, leaving behind only an imprint. In contrast, with this fossil from Site #3 the organic remains have been "mineralized." (There are several types of mineralization that occur, but I am not versed enough to determine which is represented here. Let me know if you have any ideas.)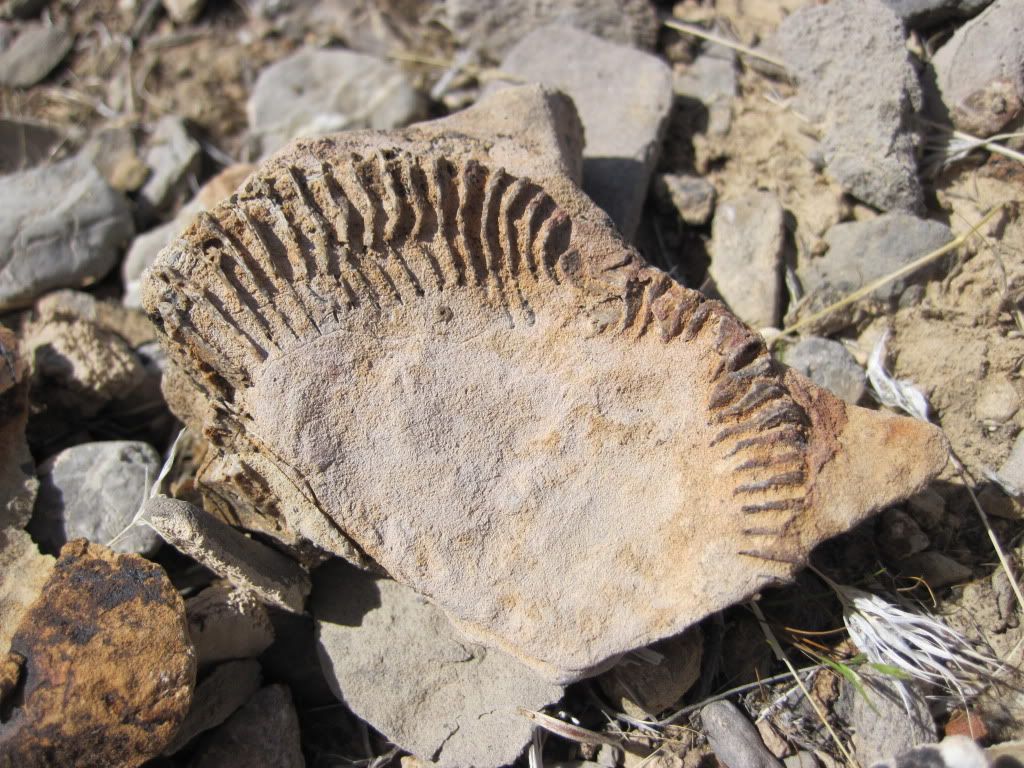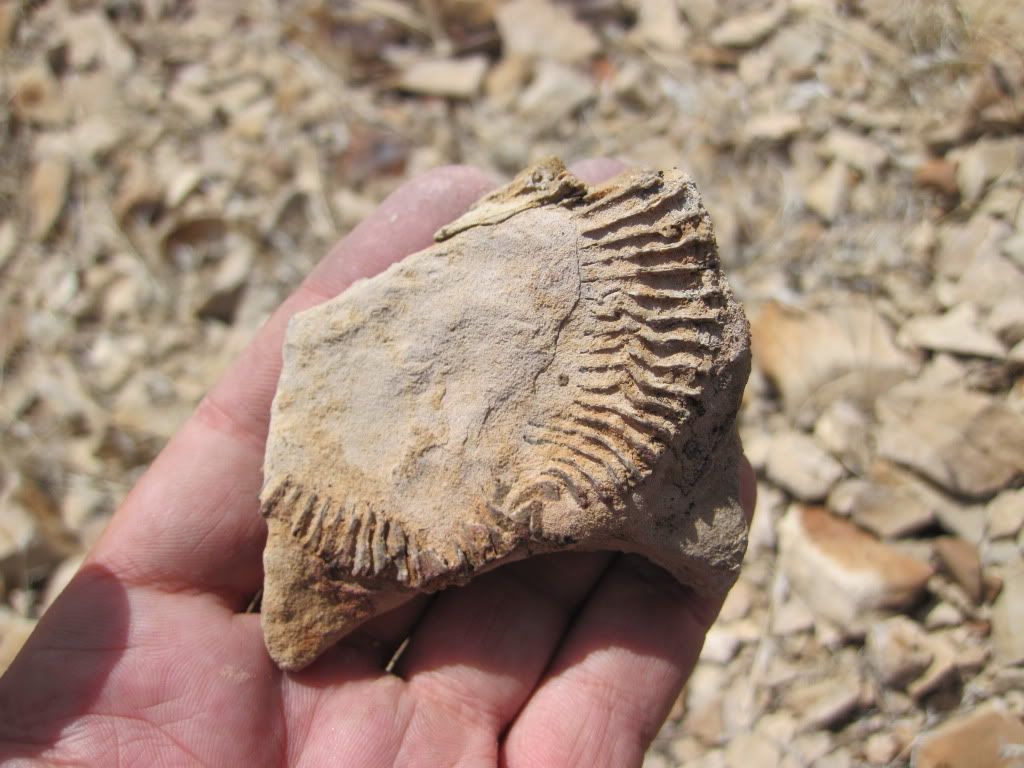 Not far from where the last fossil was found, I discovered another. This one is definitely a colonial coral.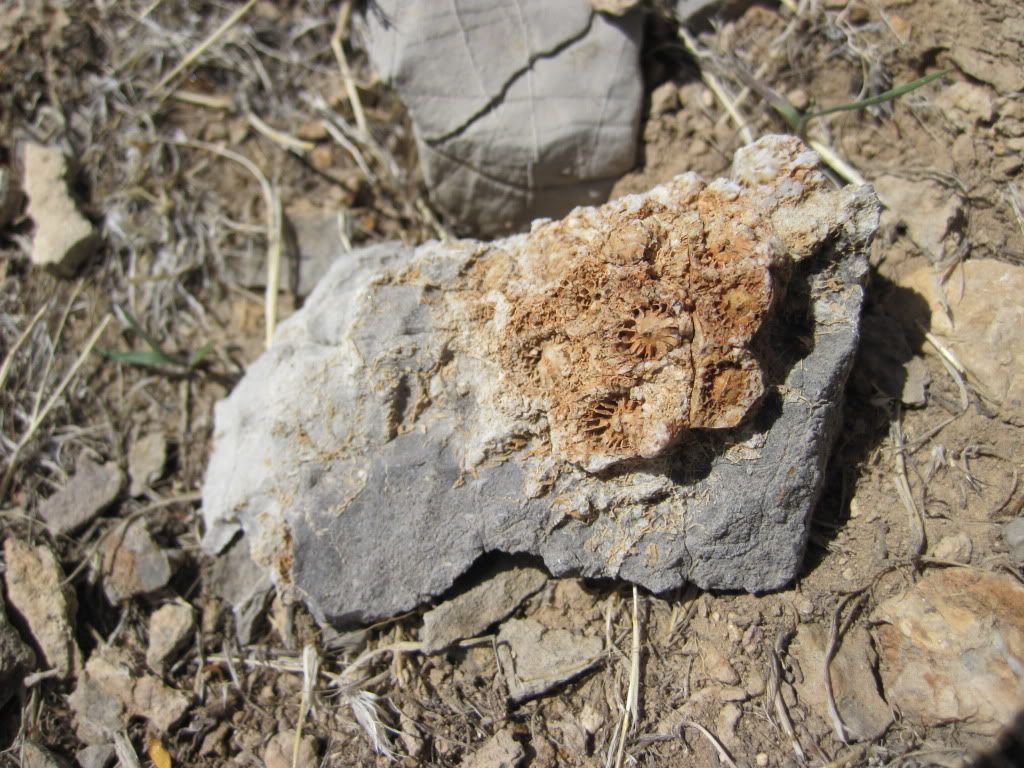 Site #4
An increasingly common sight in the Mojave Desert. Construction projects like this are required to have biologists on staff to ensure that tortoises and other listed species are not harmed.
Blooming
O. polyacantha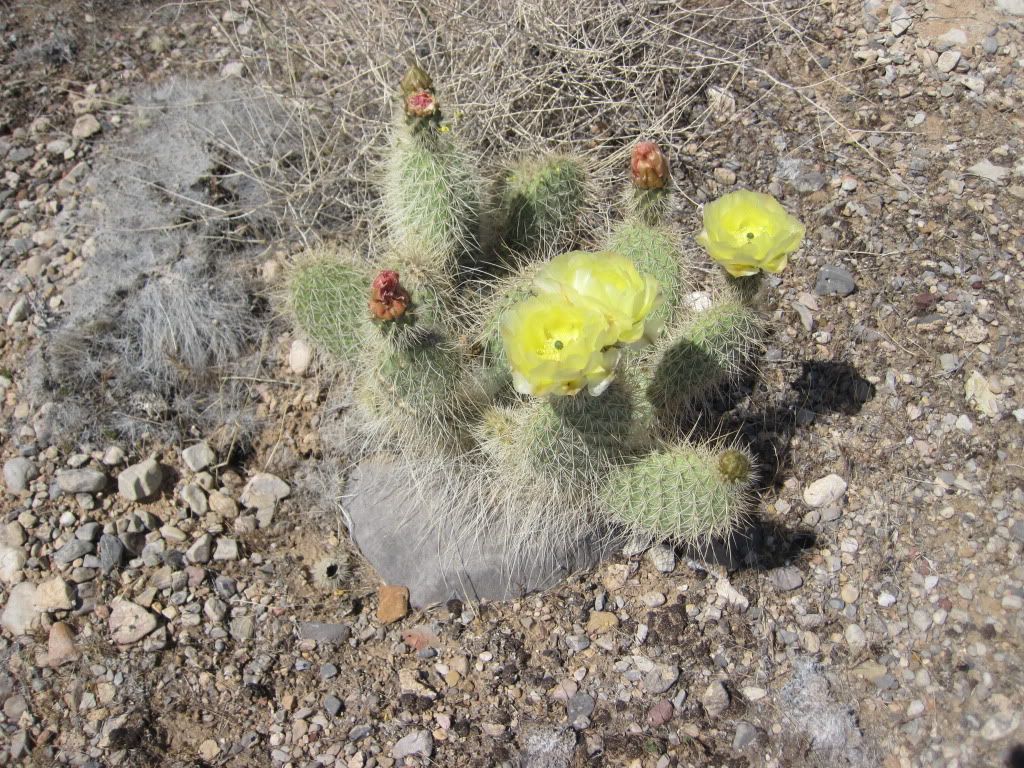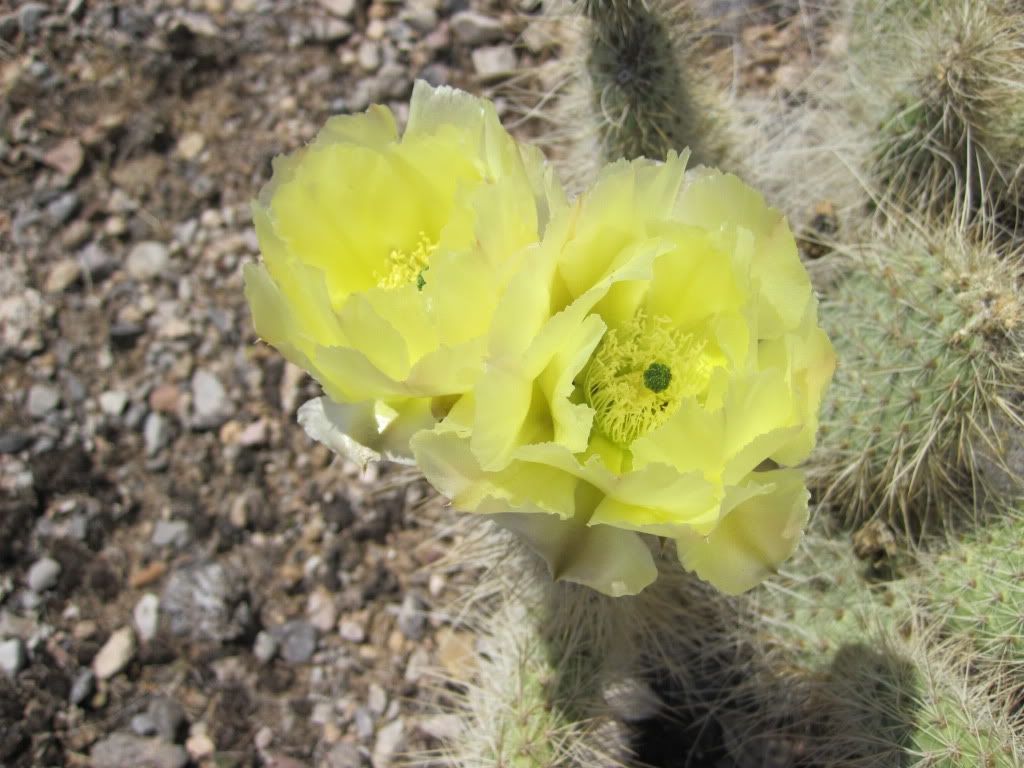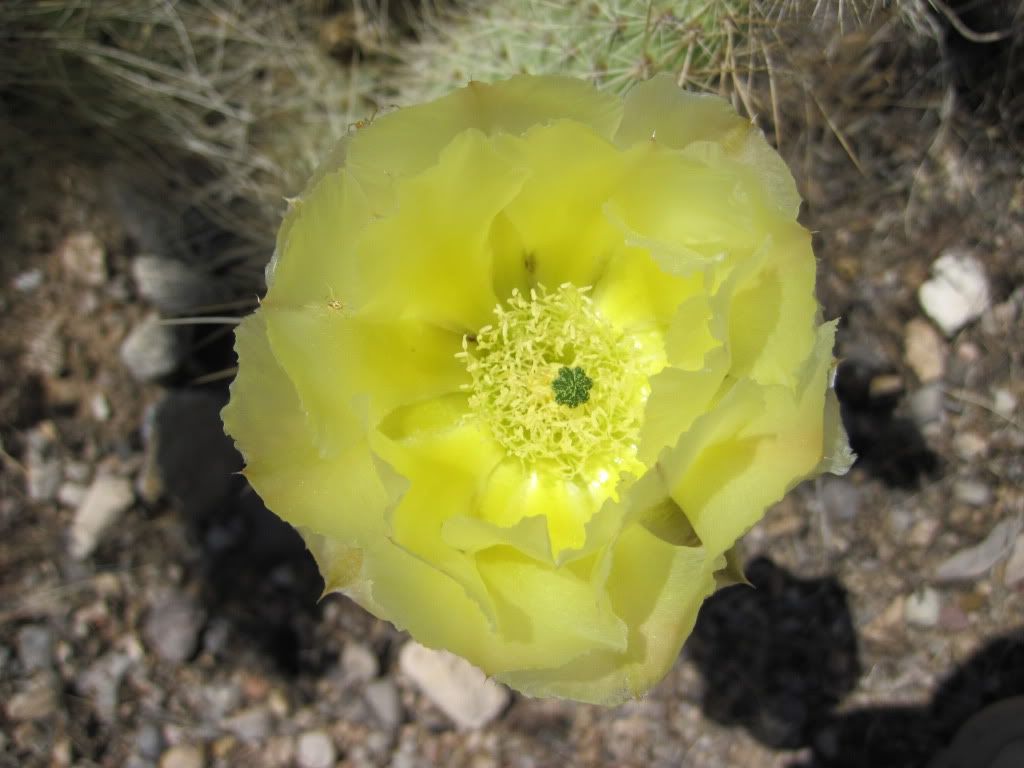 Palmer's Penstemon (Penstemon palmeri)
. Smelled very nice.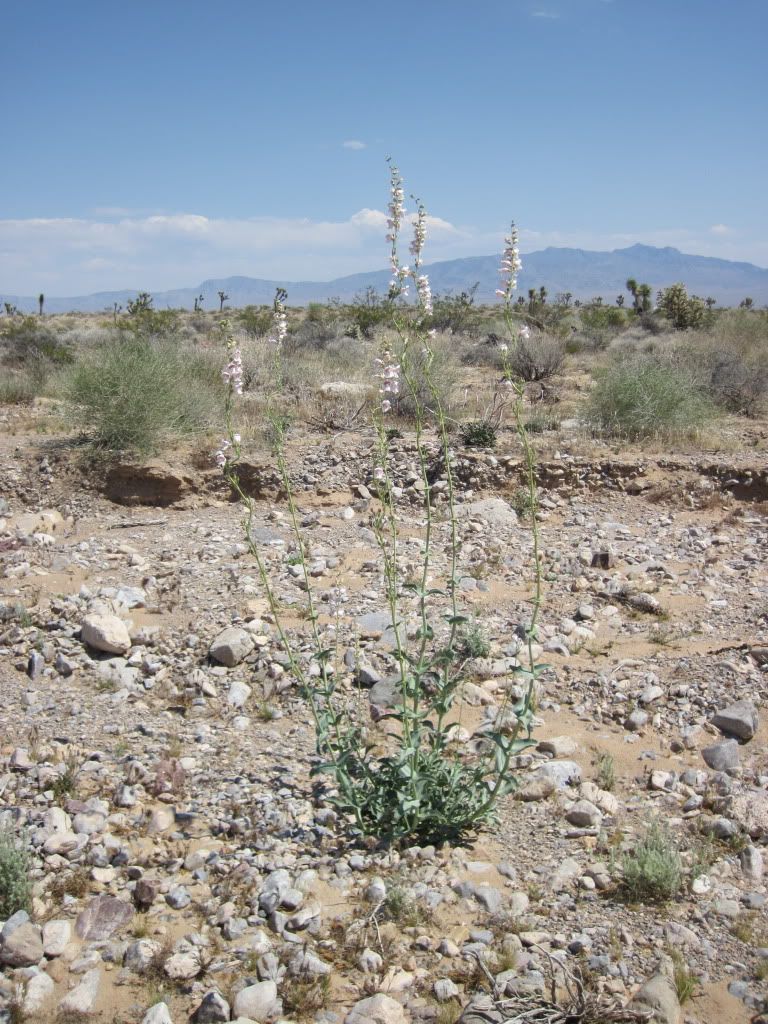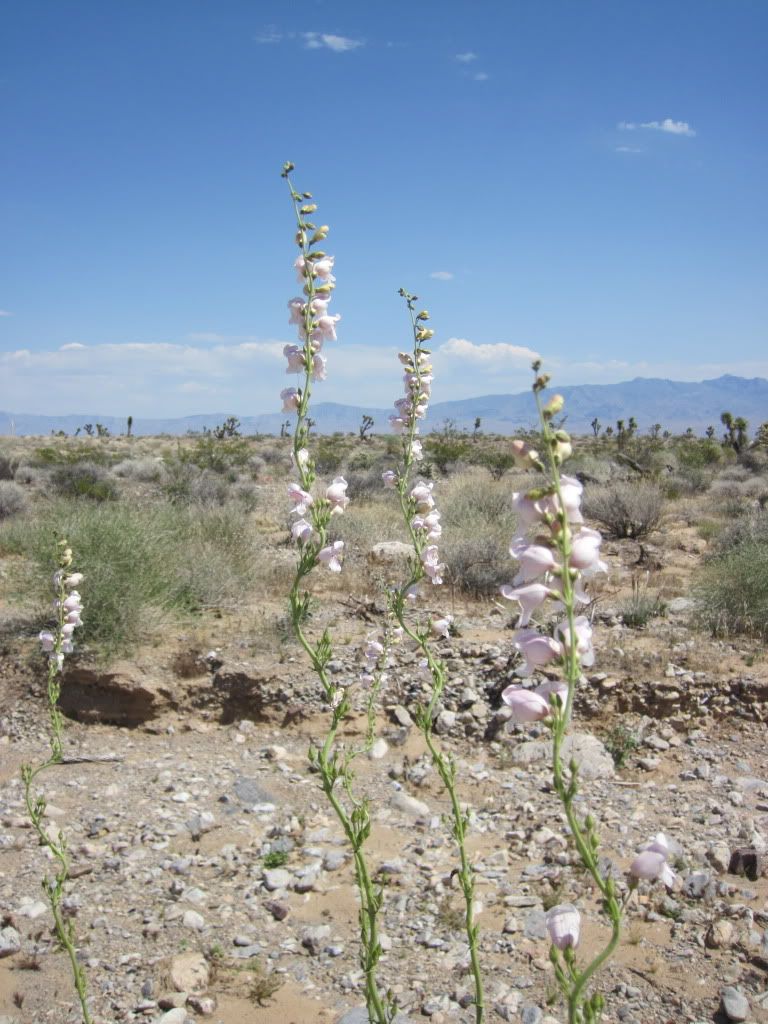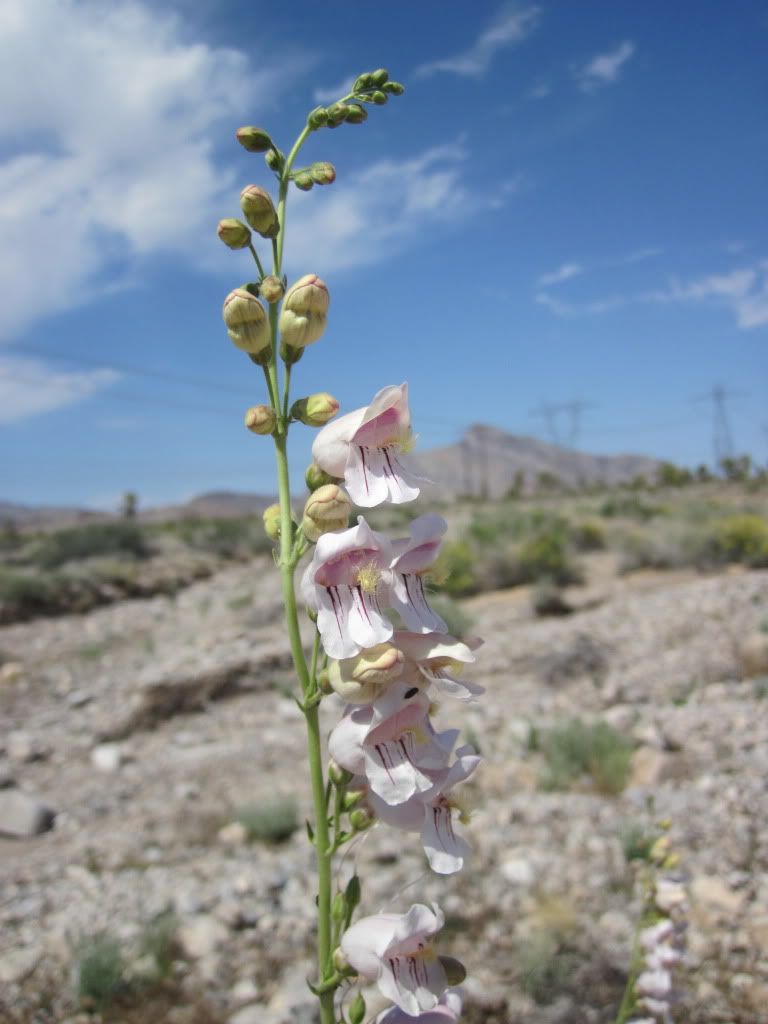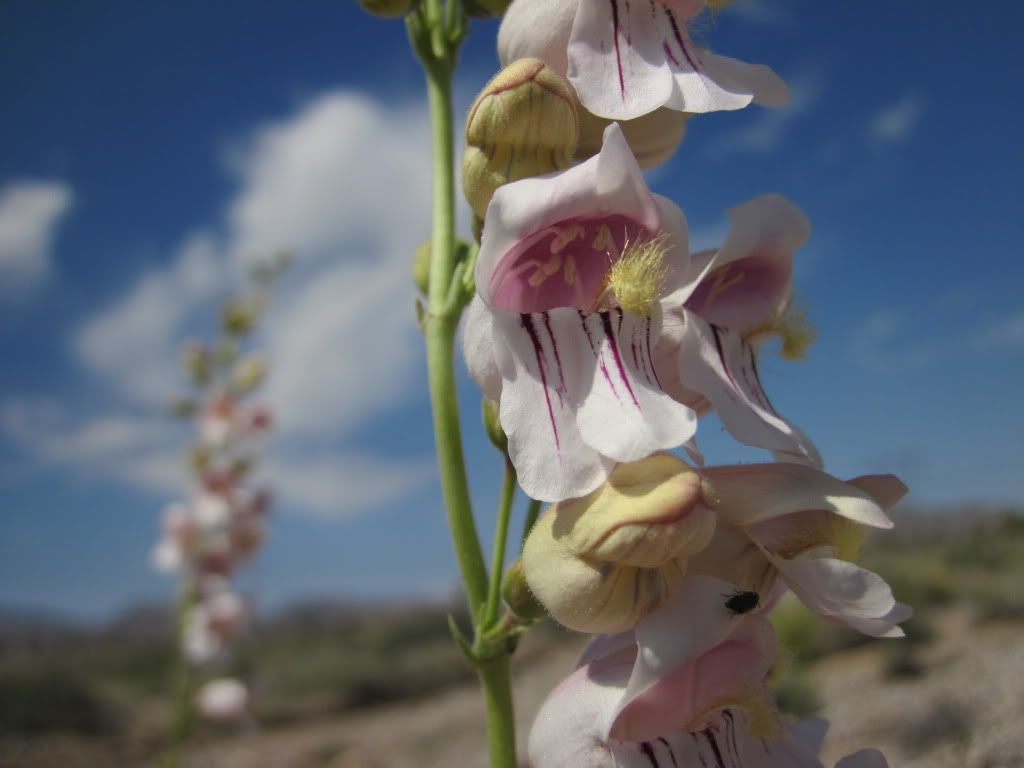 Littleleaf Ratany (Krameria erecta)
. Also smelled good.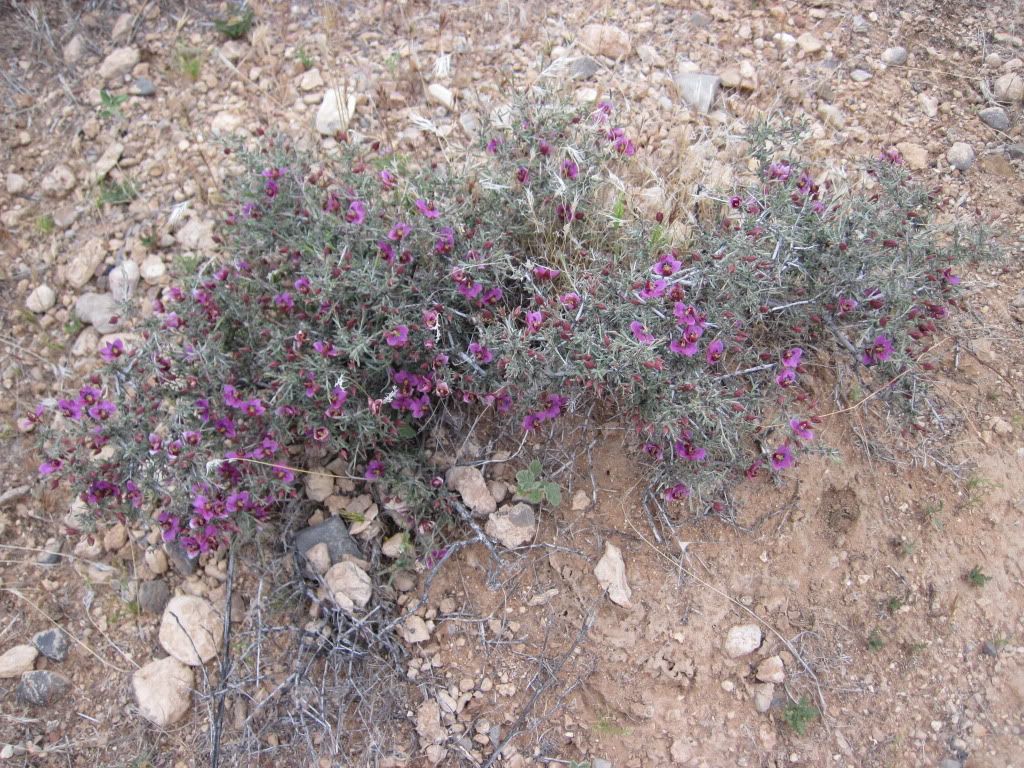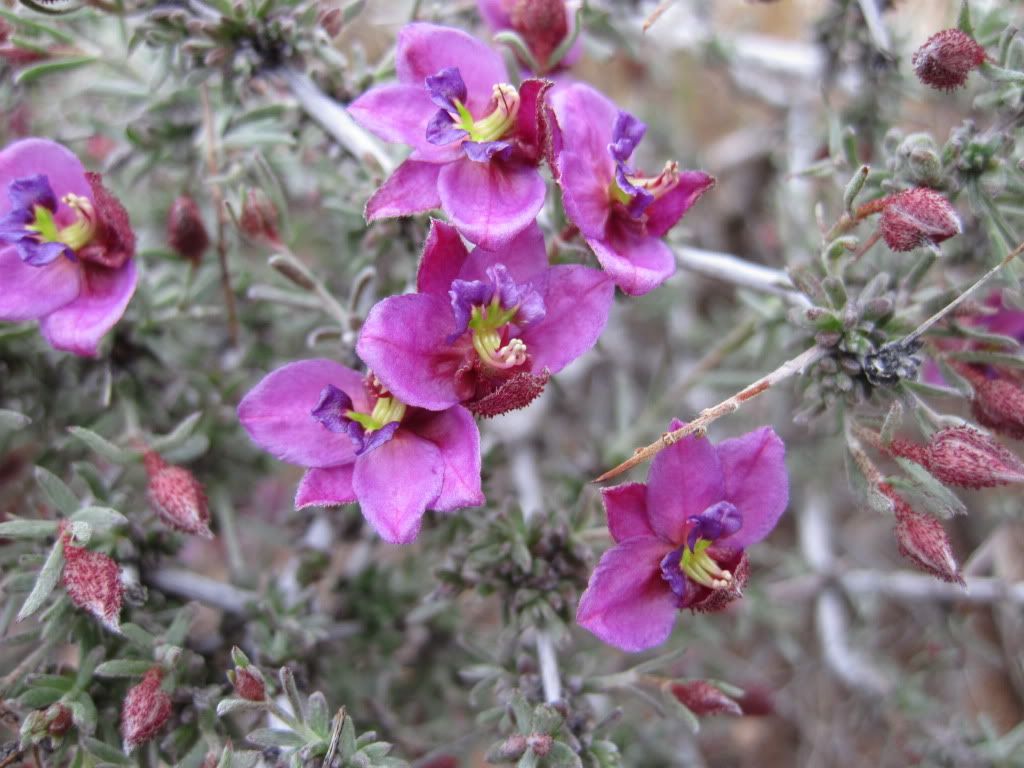 Some kind of seedpod, maybe from a
Joshua Tree (Yucca brevifolia)
? Looks like something bored some holes into it.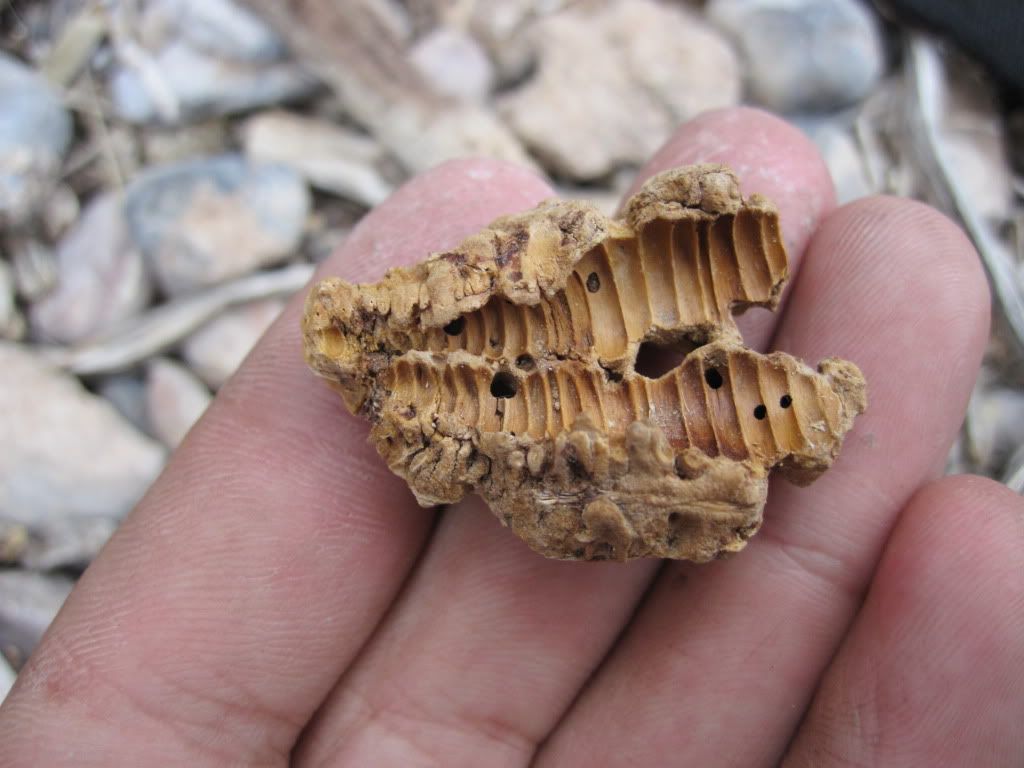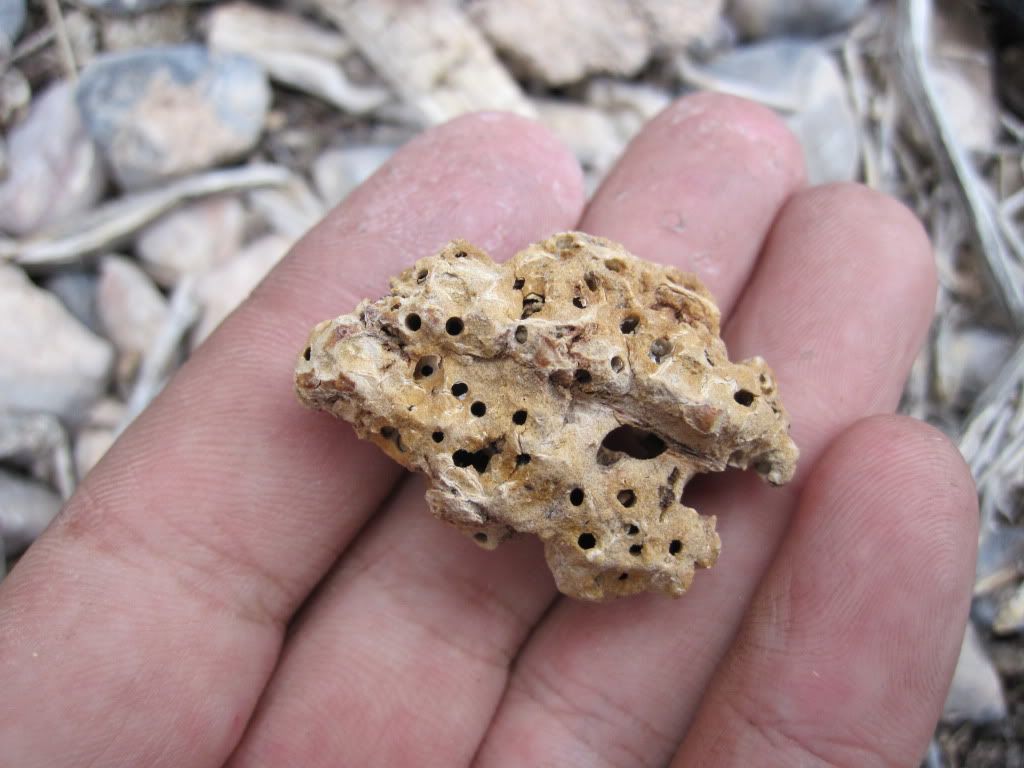 I was thinking about how strange it was that I had only seen one sidewinder (
Crotalus cerastes
) in my time here (see
Part 2
), when I nearly stepped on this guy. I must have summoned it. Interestingly, this happened on one of our uncommon, overcast days, and forecasts were predicting rain for the following day. Was this snake also anticipating rain?
We know that water is essential for just about all forms of life, and because there's so little of it out here, desert organisms have developed novel ways of optimizing the use of this valuable resource. Because of the low frequency of precipitation events out here, this often means that plants and animals must be able to survive long periods of drought, which they accomplish in different ways (physiologically and behaviorally). Additionally, when there is water, its important for these organisms to take advantage of it to the fullest extent, and part of this depends on being prepared. Humans are not the only species that can predict the weather, and I don't know if we're even the best. The Desert tortoise is one Mojave Desert reptile that is thought to be able to do this, as tortoises have been observed digging shallow depressions before a rain, and then drinking from them (Medica et al. 1980). This is especially cool because the tortoises are actually
modifying their environment
for this purpose (it's no Hoover Dam, but the idea is the same). Notice the sidewinder's tightly coiled position. Could this snake also be preparing to collect water, but with its own body? Snakes have been observed drinking water in this way before (including
anecdotal evidence of C. cerastes
), so I think it's quite possible. I don't know if there has been any investigation into the mechanisms of such anticipatory behavior—I would guess it involves chemosensory perception, and/or the ability to detect changes in atmospheric pressure?
More shots of tortoises eating, just because they look so funny.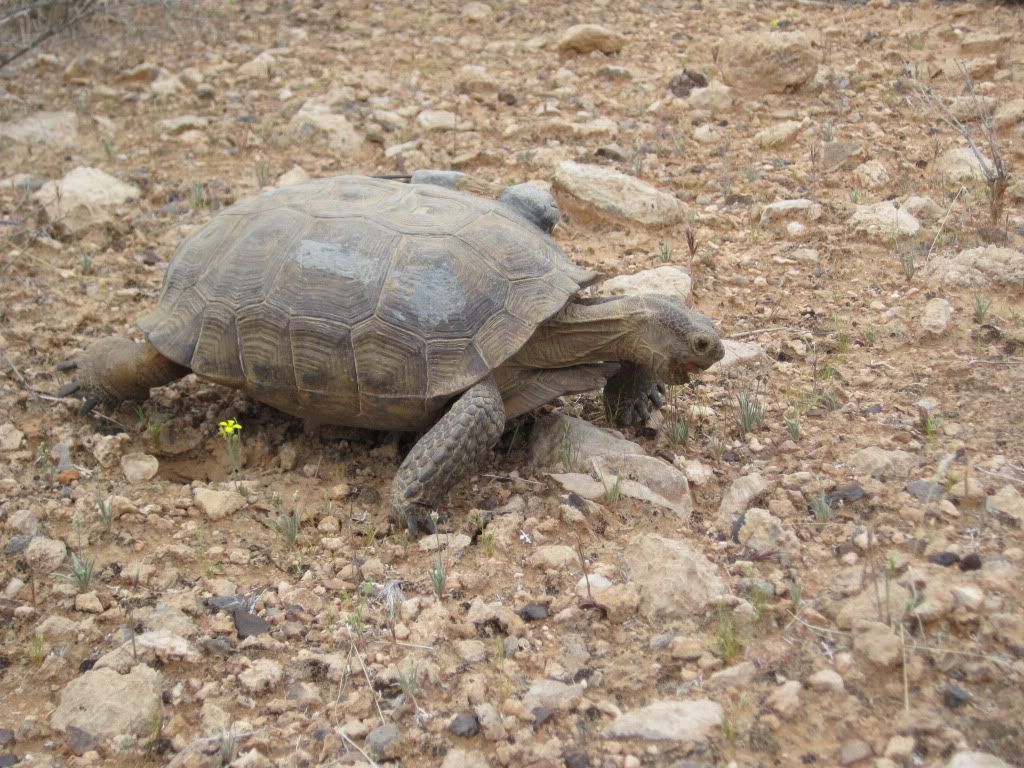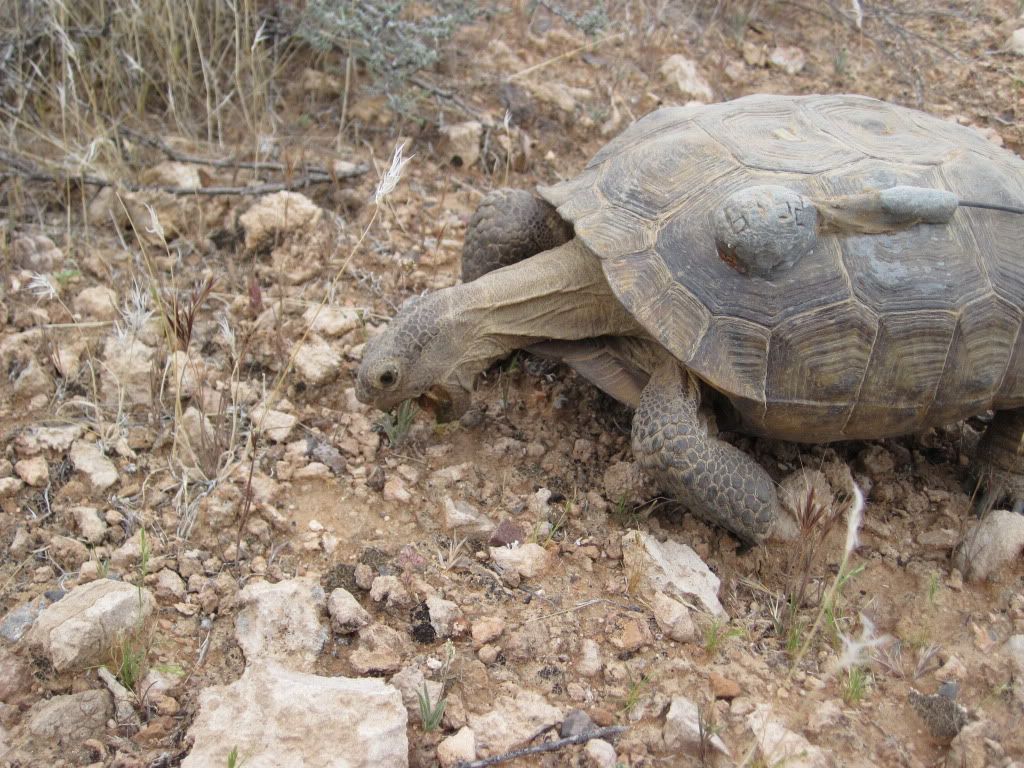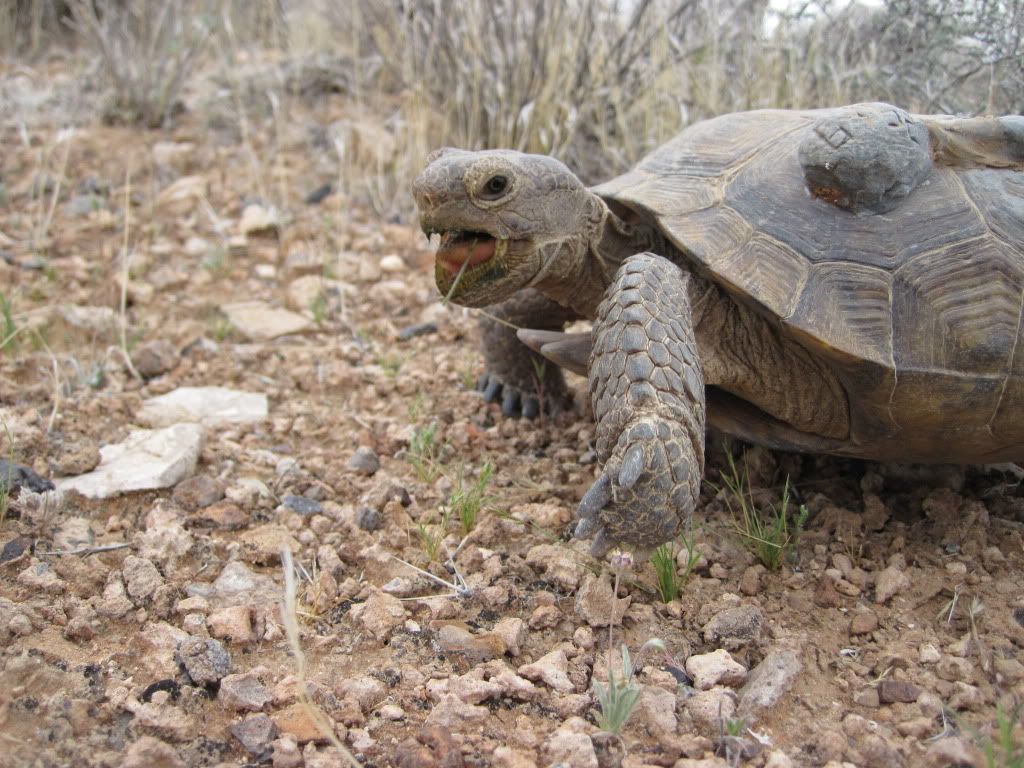 Courting tortoises. Notice the "head bob" that the male is doing (I discussed this behavior in
Part 5
). The female was more interested in eating.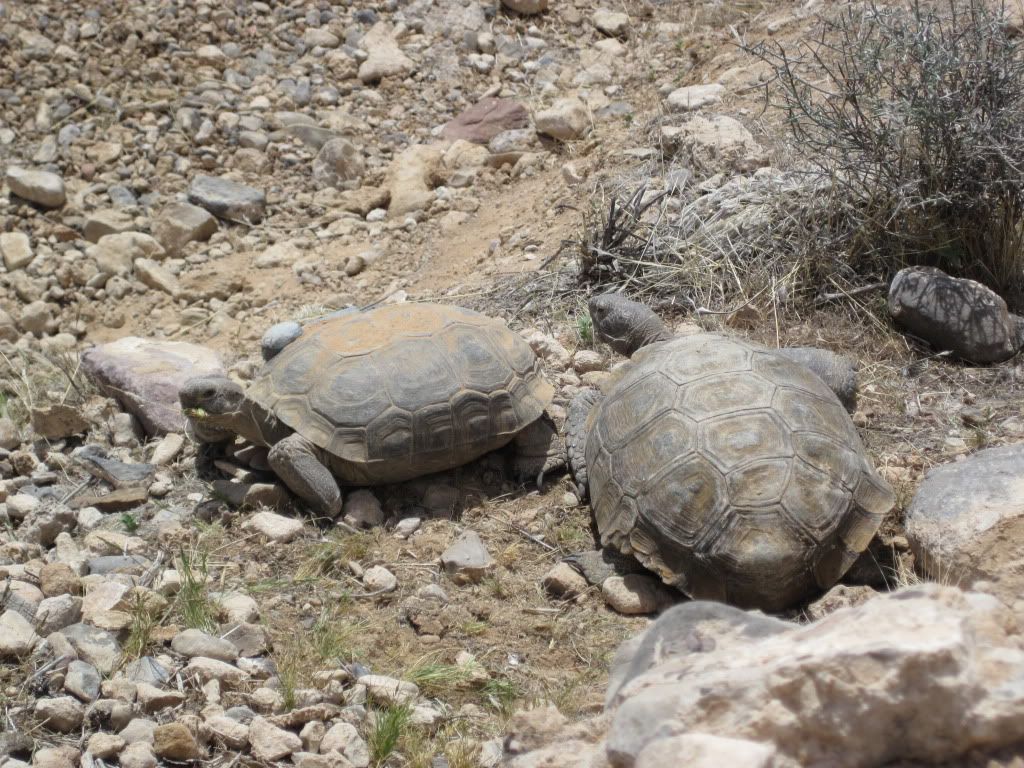 I guess the bees were really thirsty out here. As the ice in our cooler would melt and leak out, bees would swarm around the truck bed to get a drink.
All of the honey bees in this region are Africanized, aka "killer bees." Africanized bees are hybrids of the
Western/European Honey Bee (Apis mellifera)
; these hybrids originated from crossing African varieties (
A. m. scutellata
) with European strains (i.e.
A. m. ligustica
and
A. m. iberiensis
). These subspecies were crossed in attempt to create a bee that would produce more honey and thrive in tropical climates. Breeders were successful in this endeavor, and today Africanized bees are preferred for beekeeping in tropical regions of Central and South America. However, though in the process of creating a bee that produced more honey, breeders had also inadvertently perpetuated some undesirable traits. Notably, compared to other honey bees, Africanized bees are more aggressive, more prone to swarm, and travel greater distances. In 1957 some Africanized bees were accidently released from a hive in São Paulo, Brazil and went on to breed with local bees and their progeny have been spreading ever since (see map below).
Spread of Africanized bees in United States:
Blurry shot of a
Red-tailed Hawk (Buteo jamaicensis)
. One of these hawks, possibly this one, had a nest on top of a power line tower and would constantly yell at us when we were tracking during the day—even when we were nowhere near its nest!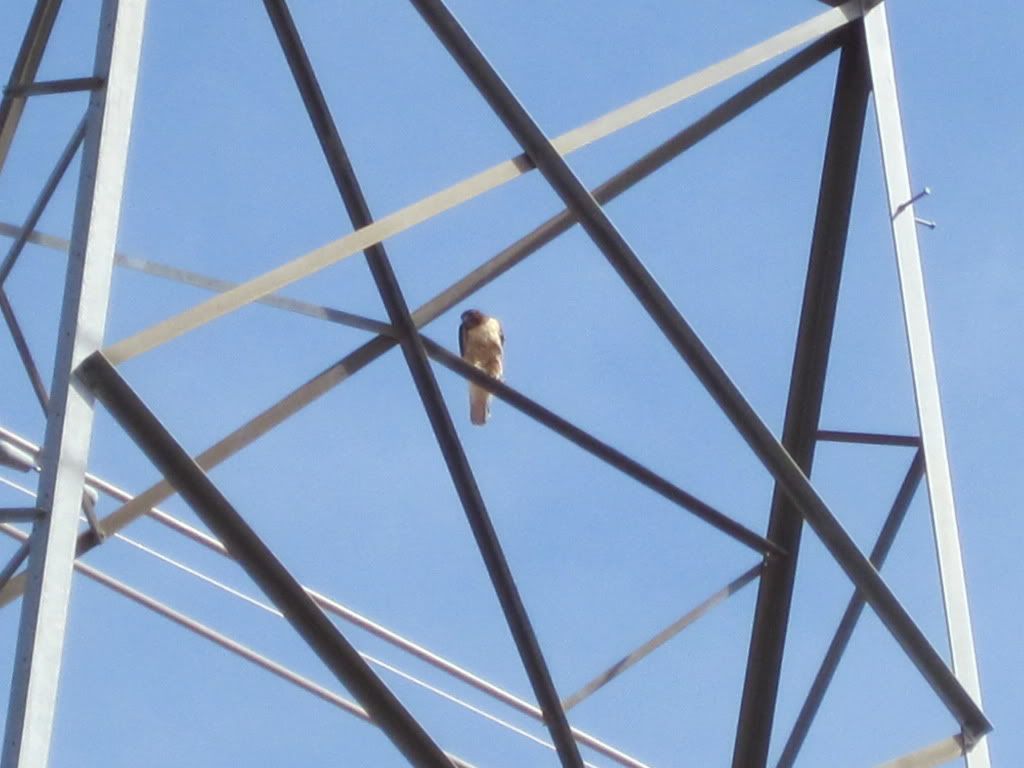 Another Cactus Wren nest, this one in much better condition than the one from Site #1.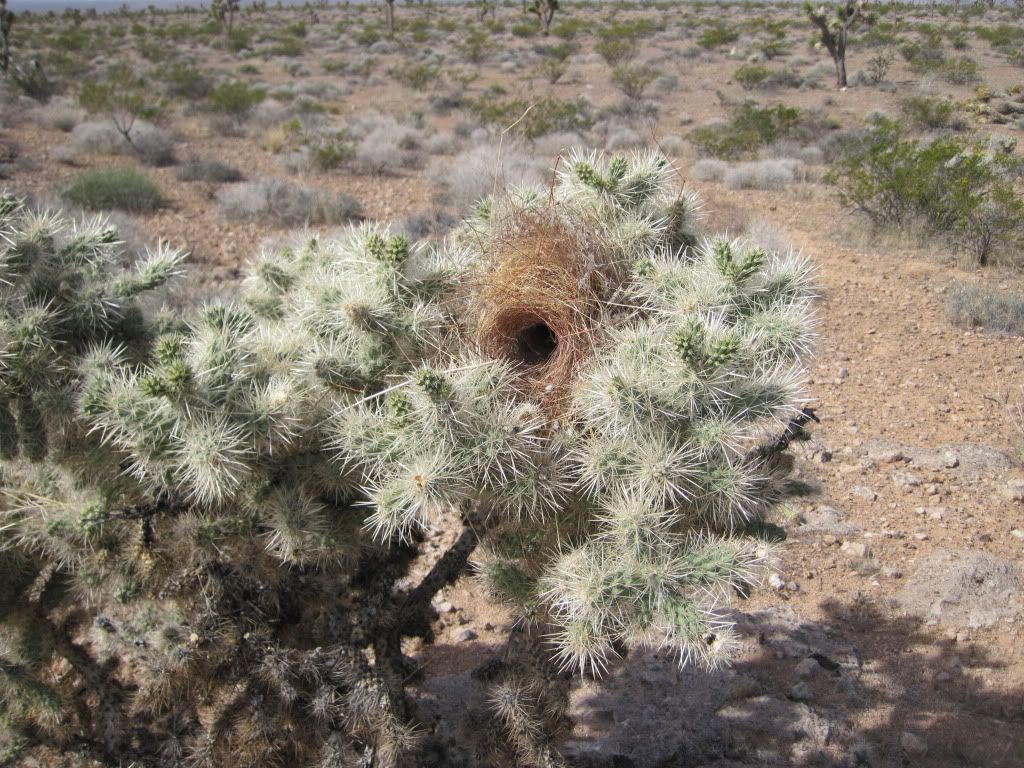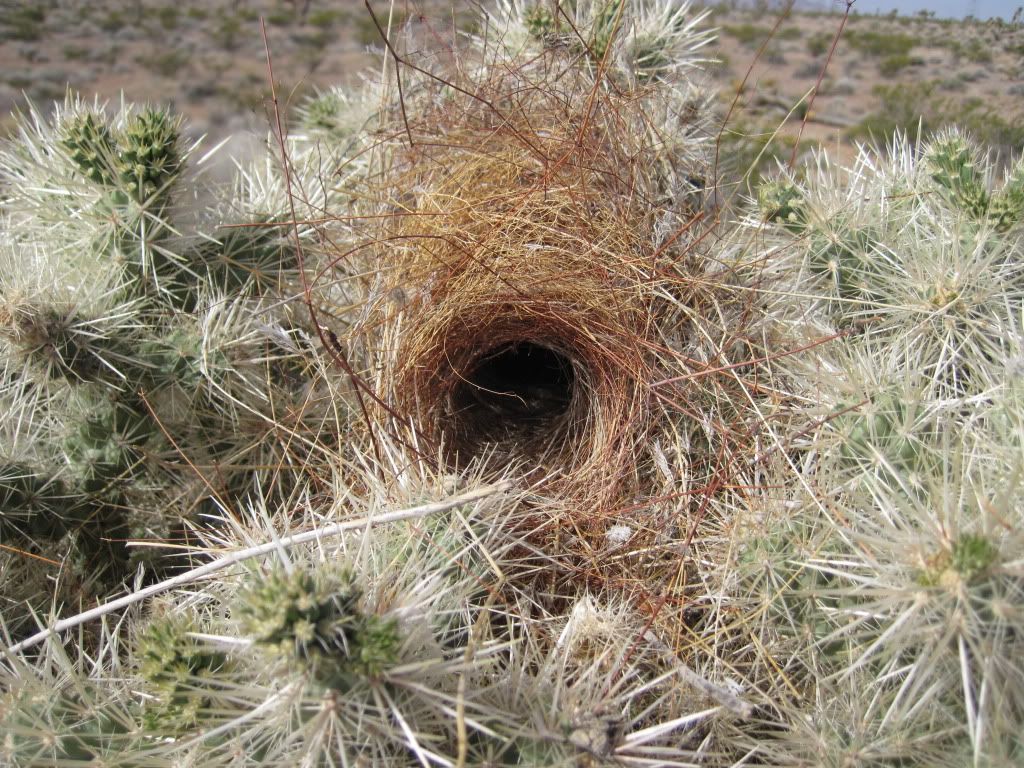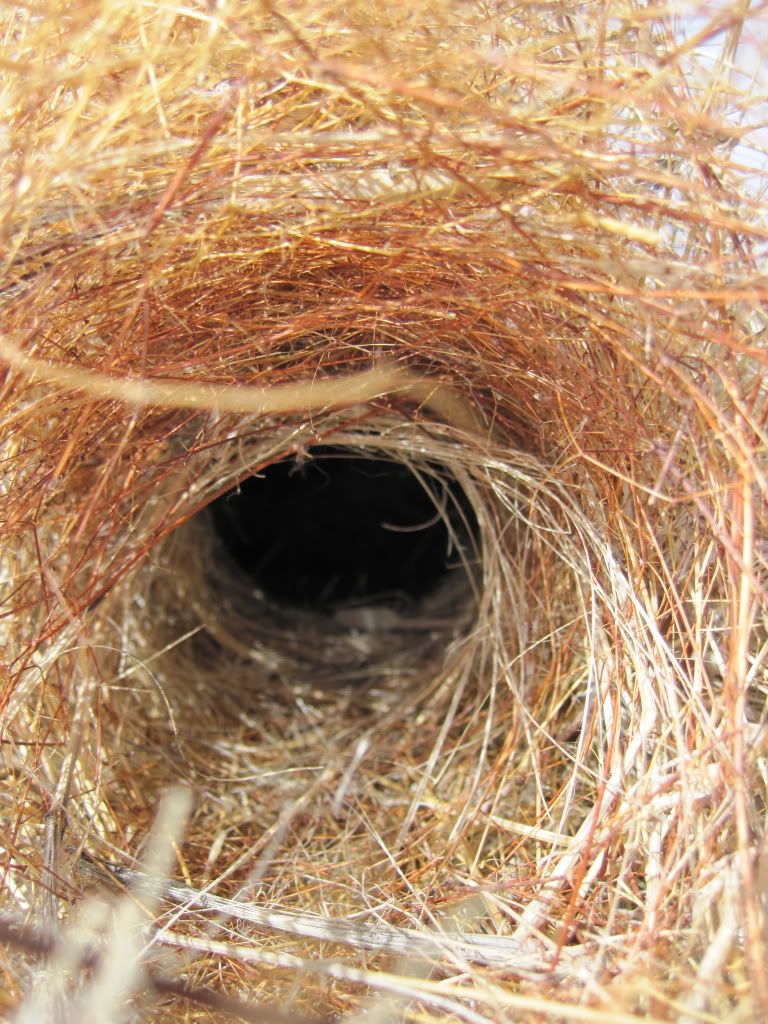 Juvenile
Red Racer (Coluber flagellum piceus
; former genus
Masticoiphis
)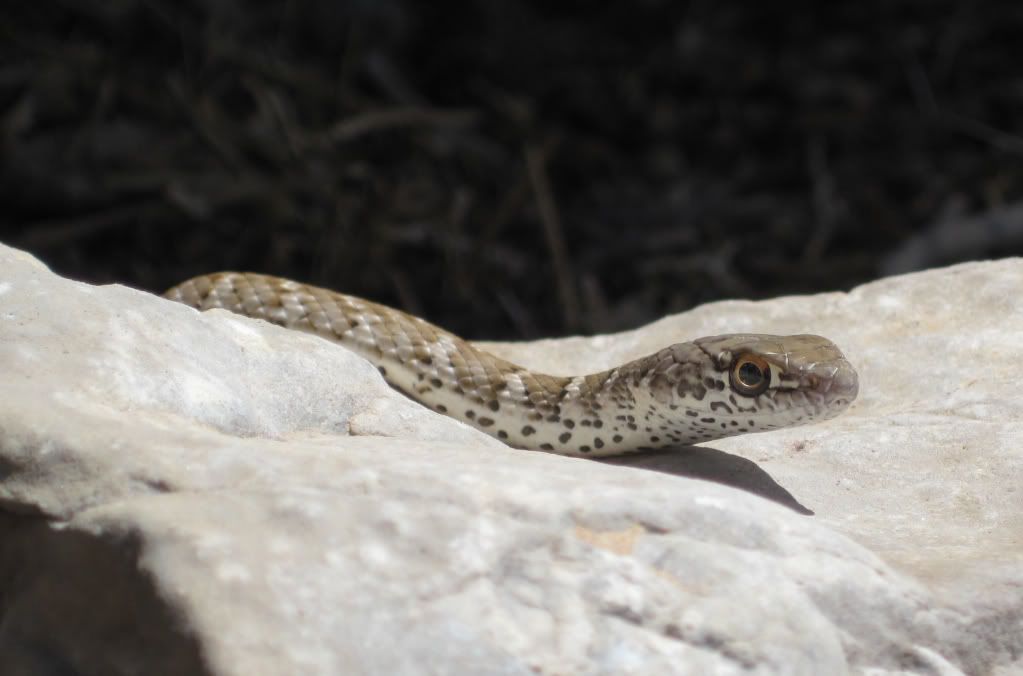 A very fruitful
Mammillaria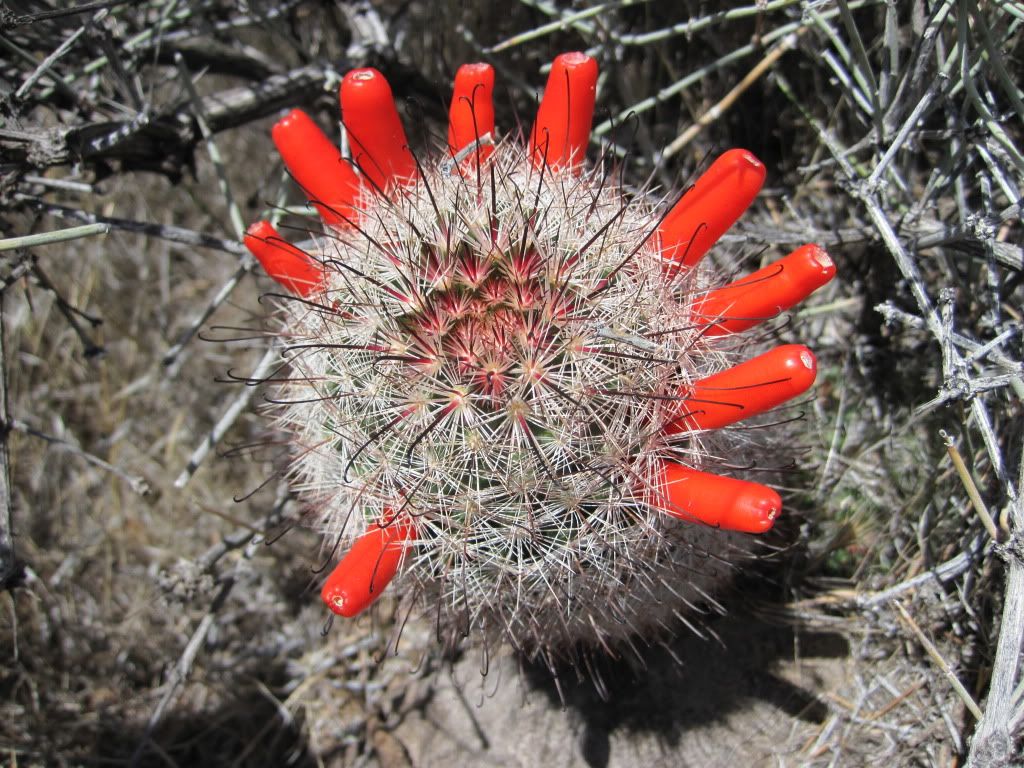 My second-ever wild baby tortoise—always a hopeful sign. Considering all the threats to desert tortoises, its encouraging to see firsthand that populations are still reproducing, babies are still hatching, and some, like this one, are still able to beat the odds and survive their first few, most vulnerable years. (Obviously this one still has a ways to go before it has a decent shot at reaching maturity, and ultimately, making more tortoises).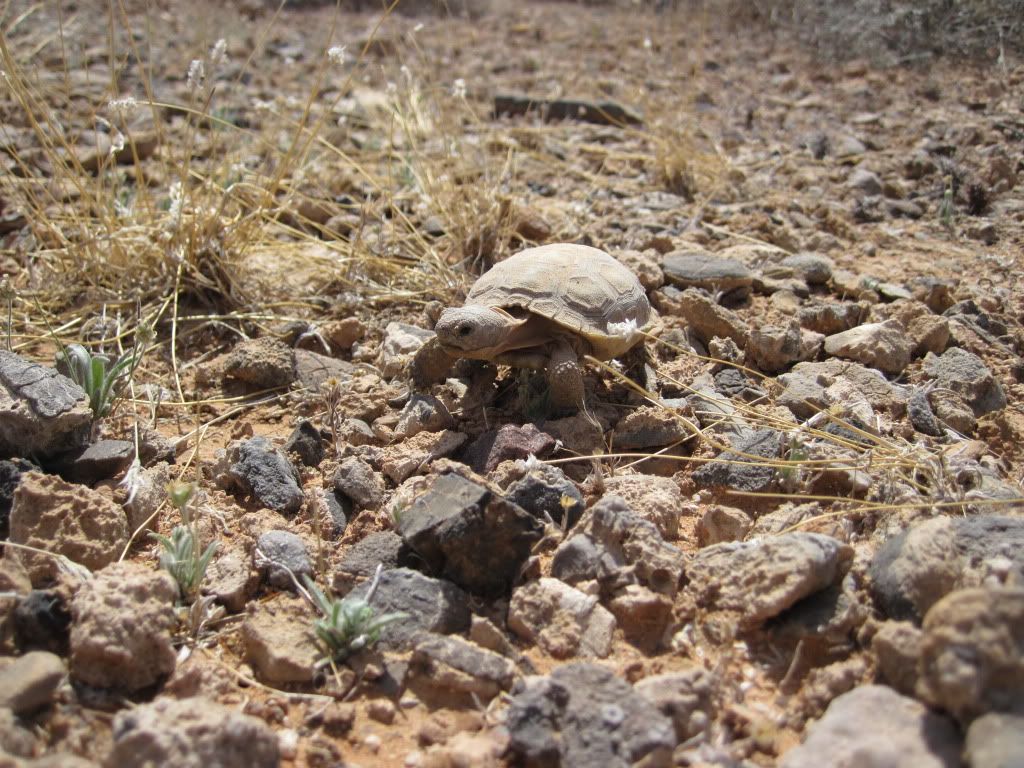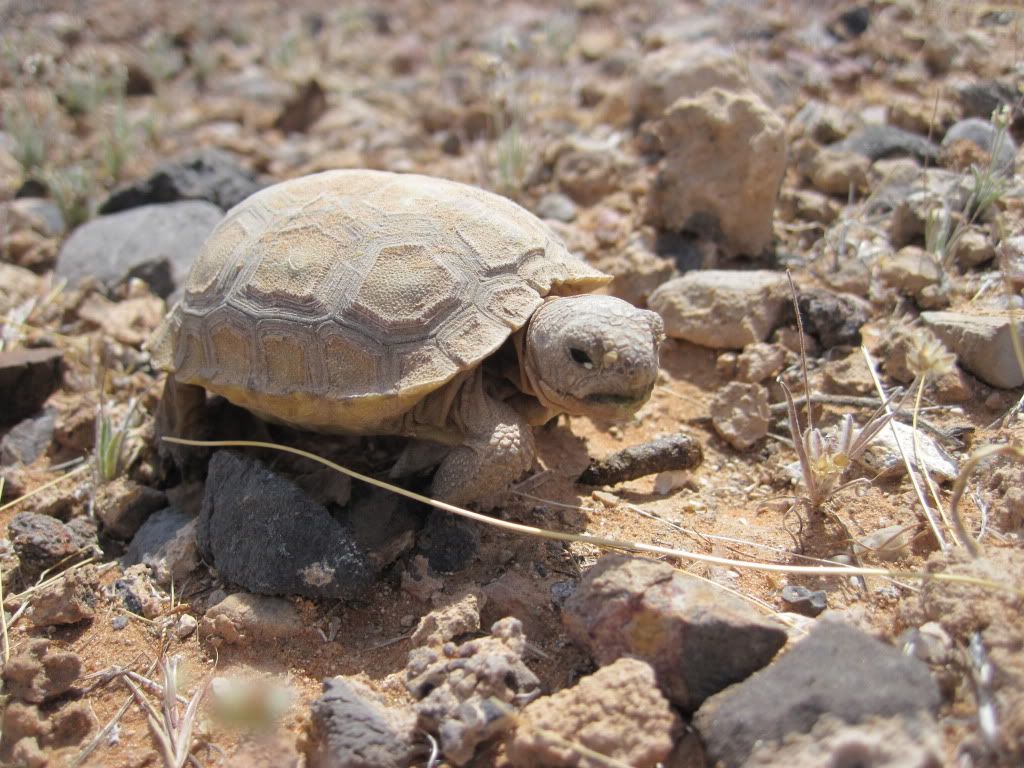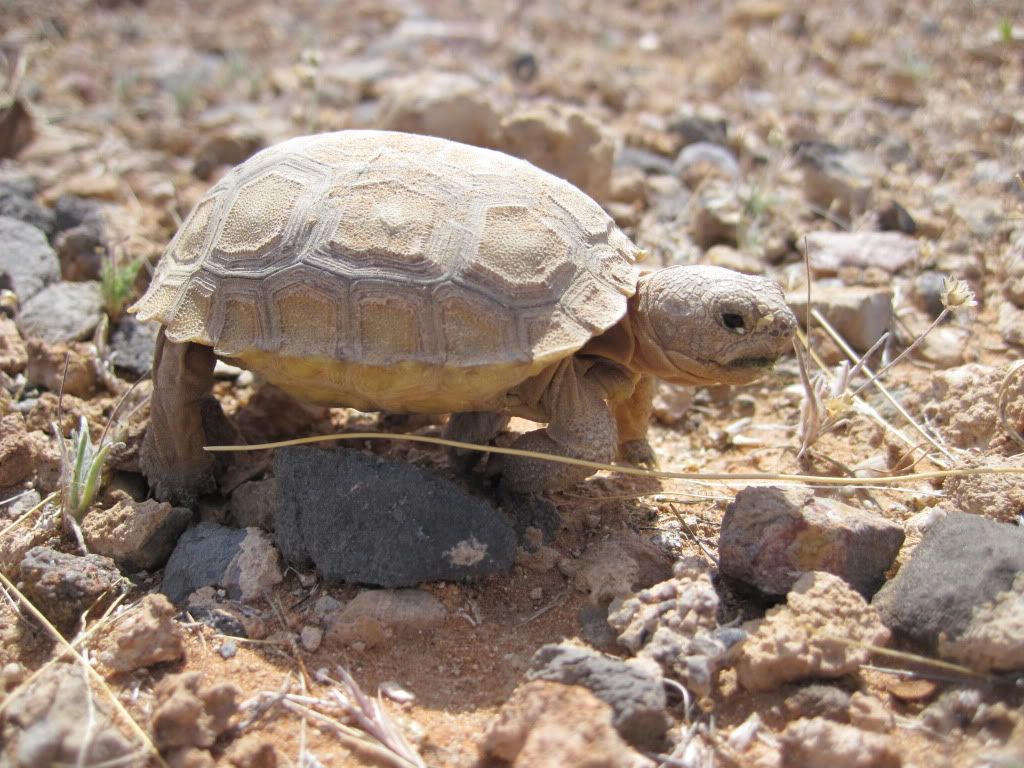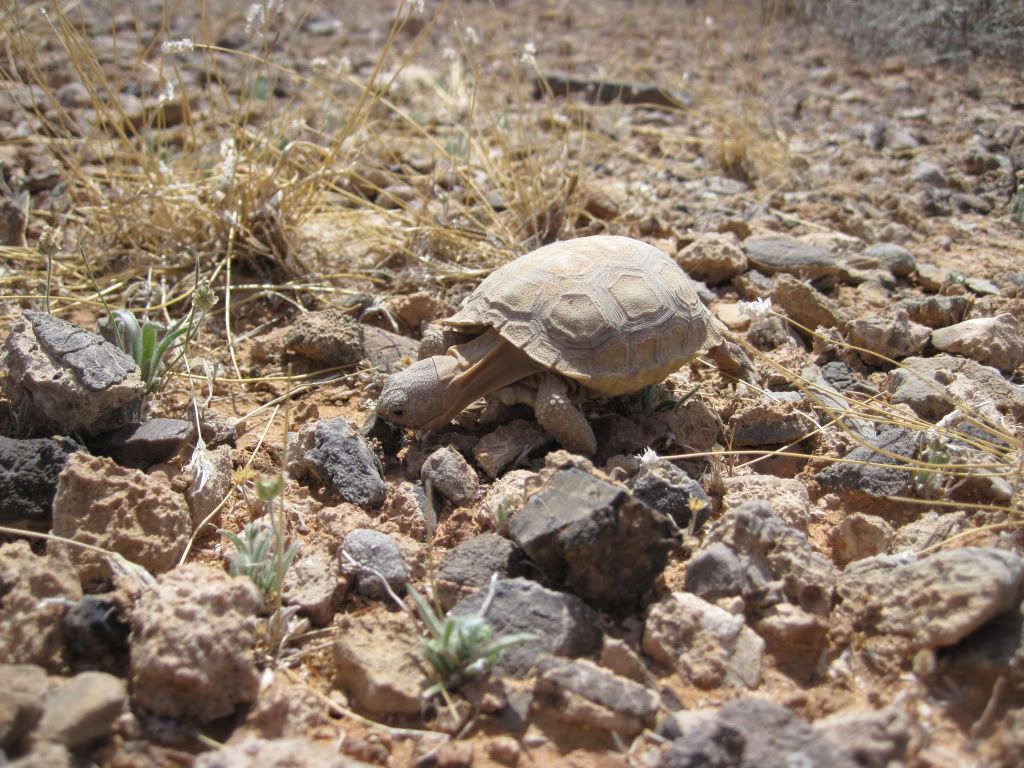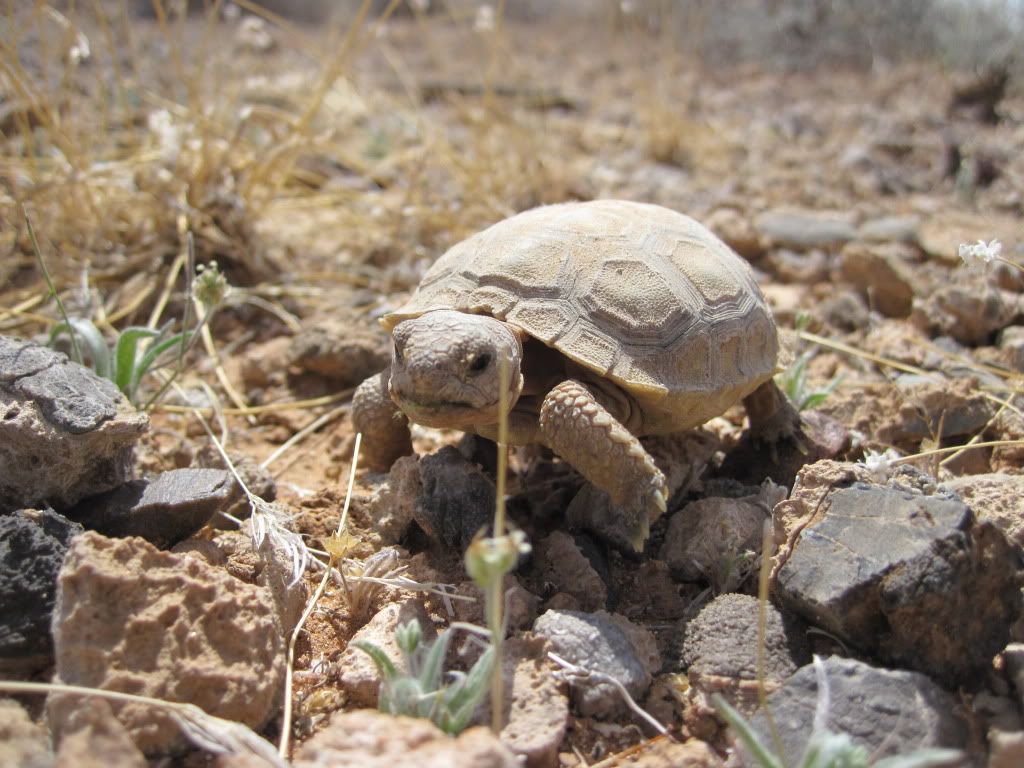 Even after working in the Mojave Desert for over a year, this place still seems so alien to me, and I think it always will. Out in the field there have been moments when it was easy for me to imagine myself in some prehistoric era, or on another planet. I talked in my
last entry
about how some anthropologists think local Native American Shamans carved their petroglyphs while under the influence of mind-altering substances. But even without drugs one can easily (and unwittingly) experience "altered states of consciousness" here—just ask any of us field technicians! The human brain operates under fairly restrictive environmental parameters, and because of its importance, our bodies devote a lot of resources to ensure the brain's requirements are met (and the brain reciprocates the favor). Two major factors influencing brain function are temperature and hydration. Too hot or too cold, and brain function may be impaired. Similarly, studies have shown that even minor dehydration can hinder mental abilities. Considering the Mojave Desert climate with these concerns in mind, we obviously go to great lengths to stay as cool and hydrated as possible. But despite our best efforts, we've all experienced moments when it becomes clear that our minds are operating at less-than-optimal capacity.
As you might expect, hiking around anywhere all day long in the heat can lead to altered mental abilities, but the unique conditions in which we work seem to add a whole new flavor to the experience. Aside from things like temperature and hydration, one's state of consciousness can also be influenced by less obvious, non-physiological factors. For example, at this job we worked alone, perhaps you're familiar with how solitude and silence can encourage the mind to wander. The striking, if often-monotonous desert scenery (the wide-open landscape, with thousands of evenly spaced creosote bushes stretching to infinity; the horizon that divides the desert from the deep blue sky) has a hypnotizing, at times dizzying quality, which contributes to the "zone out" effect.
The "desertified" brain lags a bit, struggling to reconcile the constant stream of confusing, at times conflicting, stimuli that bombards it. You're out hiking and before you know it, rocks morph into lizards, quickly scampering away. The rustling of dried vegetation becomes the alarming rattle of a rattlesnake. Rabbits pop out of thin air, apparently just as startled by their sudden materialization as I am. Snakes acquire the ability transform into twigs when you get closer. All of the rocks on the ground start to look like arrowheads - and petroglyphs, clearly defined on the surface of a boulder from a distance, become indistinguishable when you approach to investigate.
So we're used to a certain level of weirdness. It's to be expected. When I do see something that seems out of the ordinary, I've learned—as when dealing with an outdated computer, or bad internet connection—to pause and "let things load." (It's probably also a good idea to drink some water and find some shade to sit in for a bit). Sometimes this resolves the weirdness… sometimes not.
It should be no surprise that people sometimes do strange things when there's no one around to see, and I think there's some truth to the saying that the farther out into the desert you go, the stranger the people (and their activities) become.
What can I say? If there were ever to be a Peter Frampton-worshipping cult, this would have to be the place. John discovered the tattered remains of this shrine while searching for a tortoise.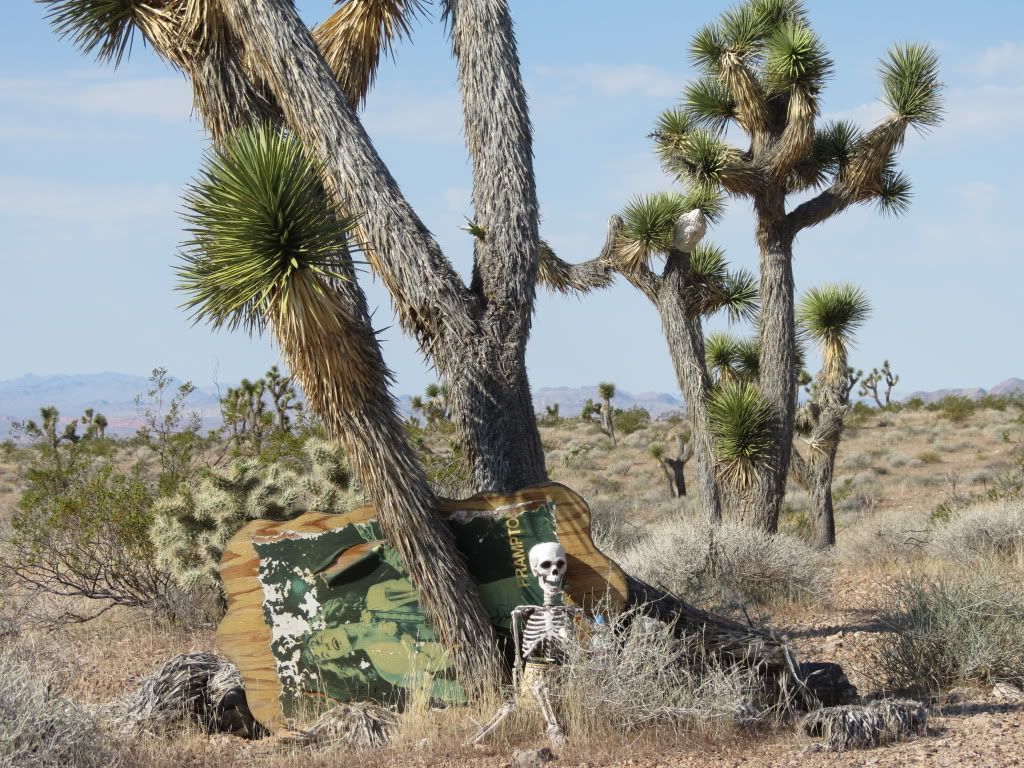 Members of this cult are known as "Framptonites," and they have proven to be very elusive (probably nocturnal). While we have yet to see one, we encounter signs of their bizarre activities on a daily basis. The following items were all found several miles from the nearest road.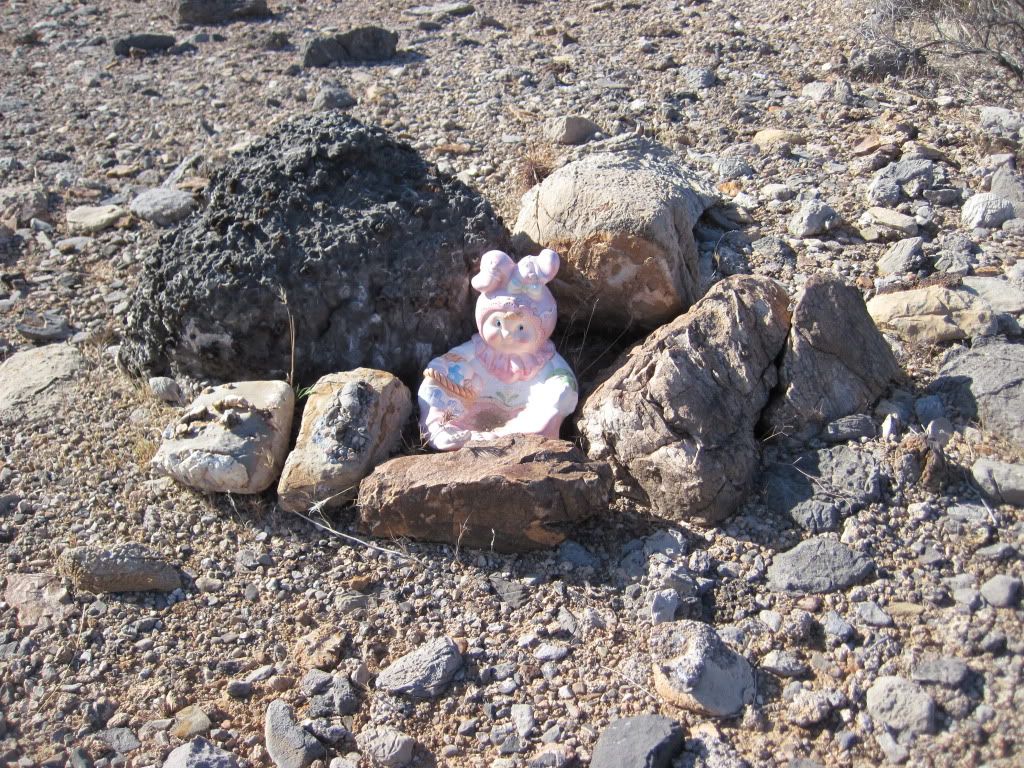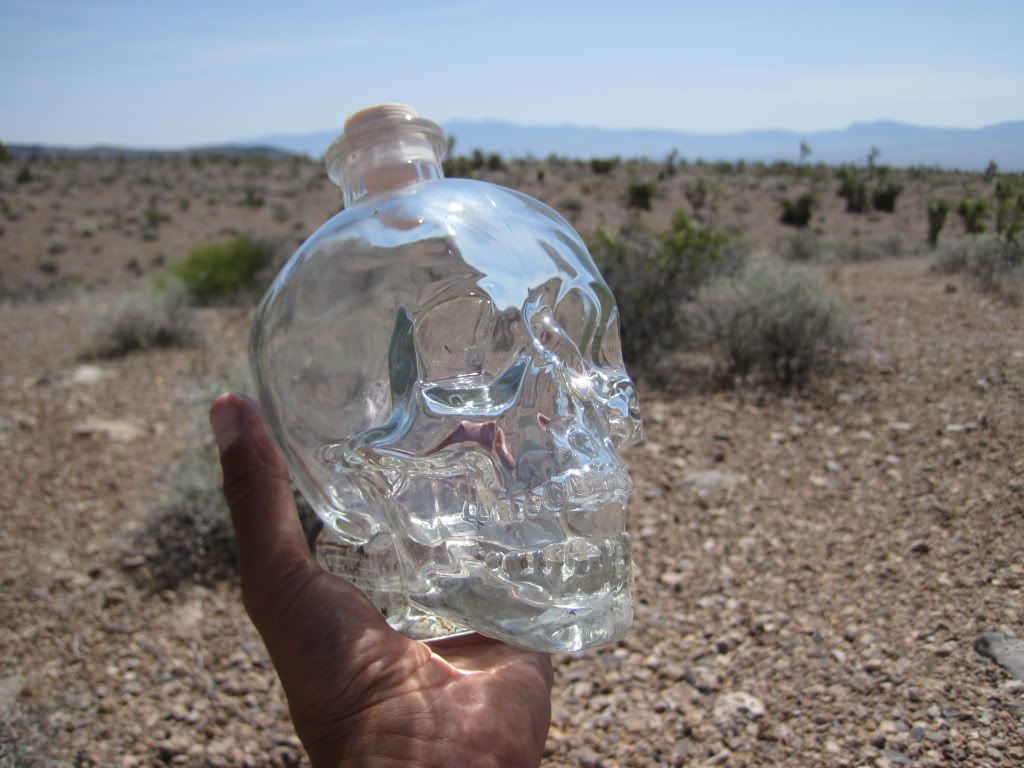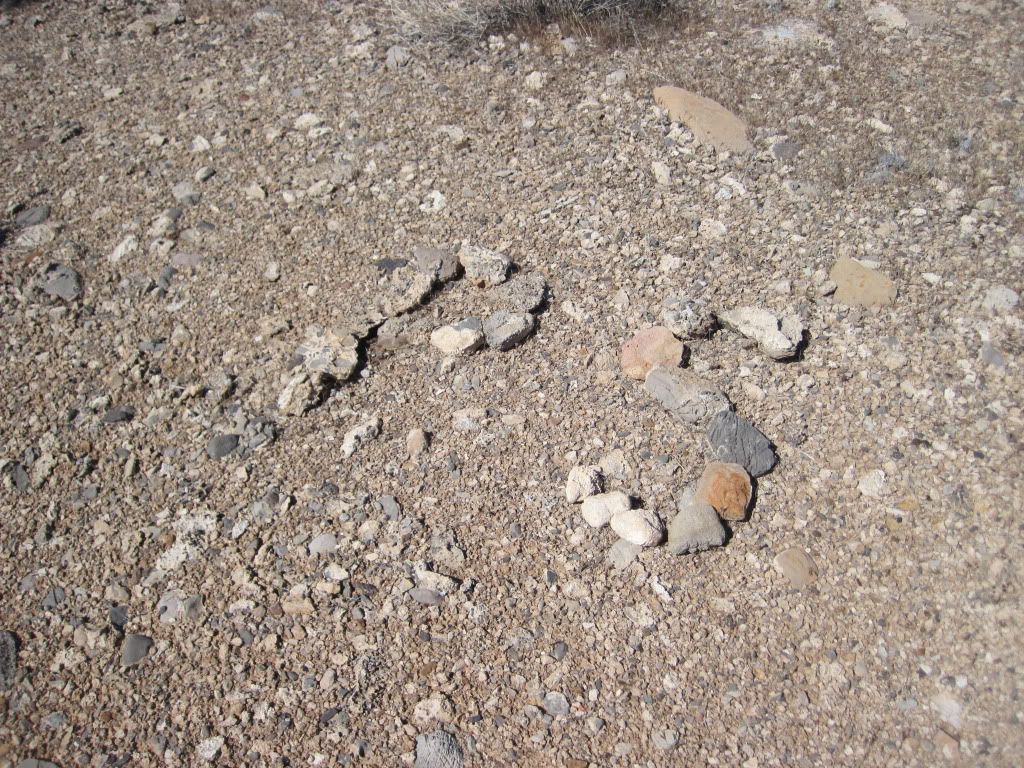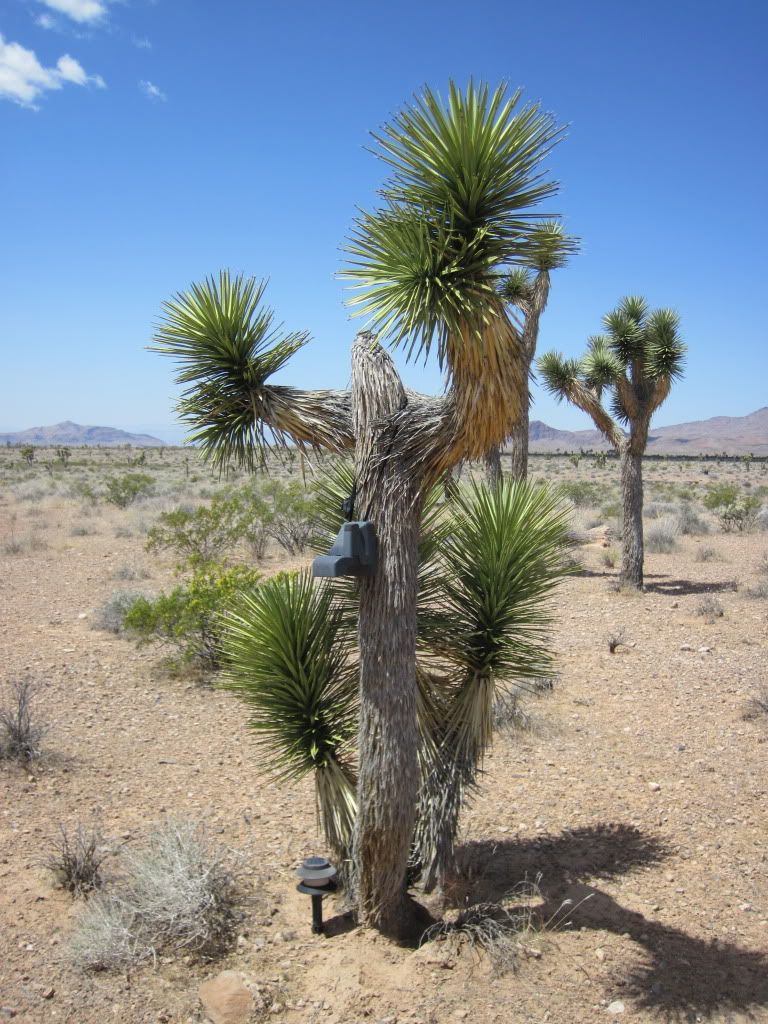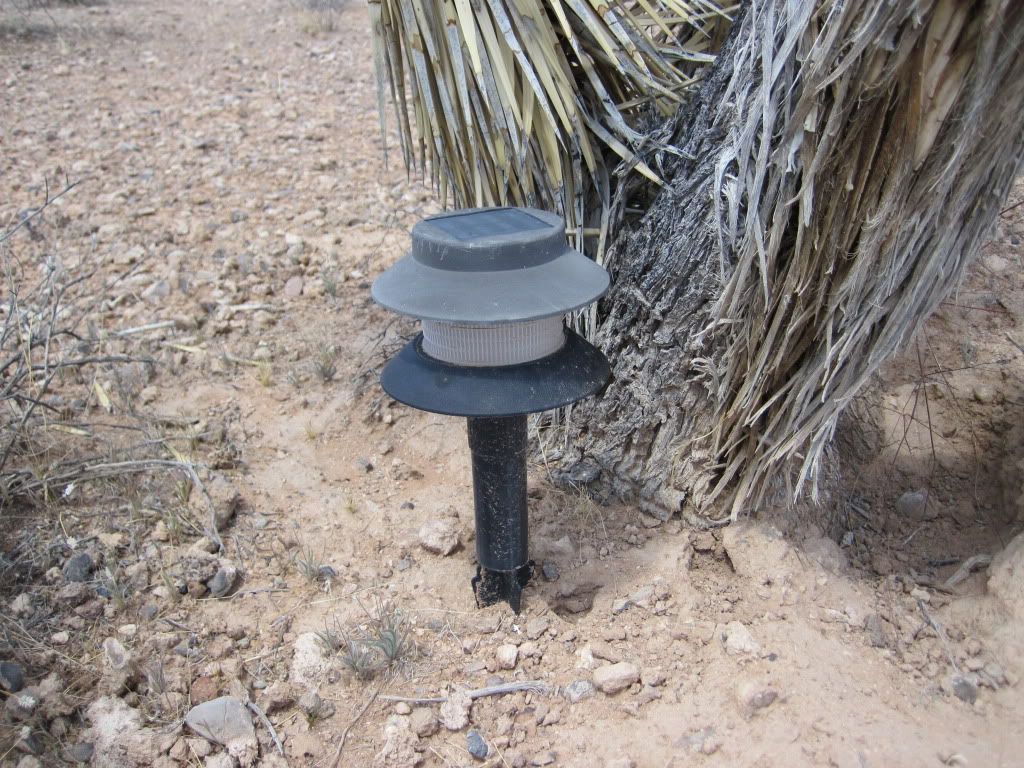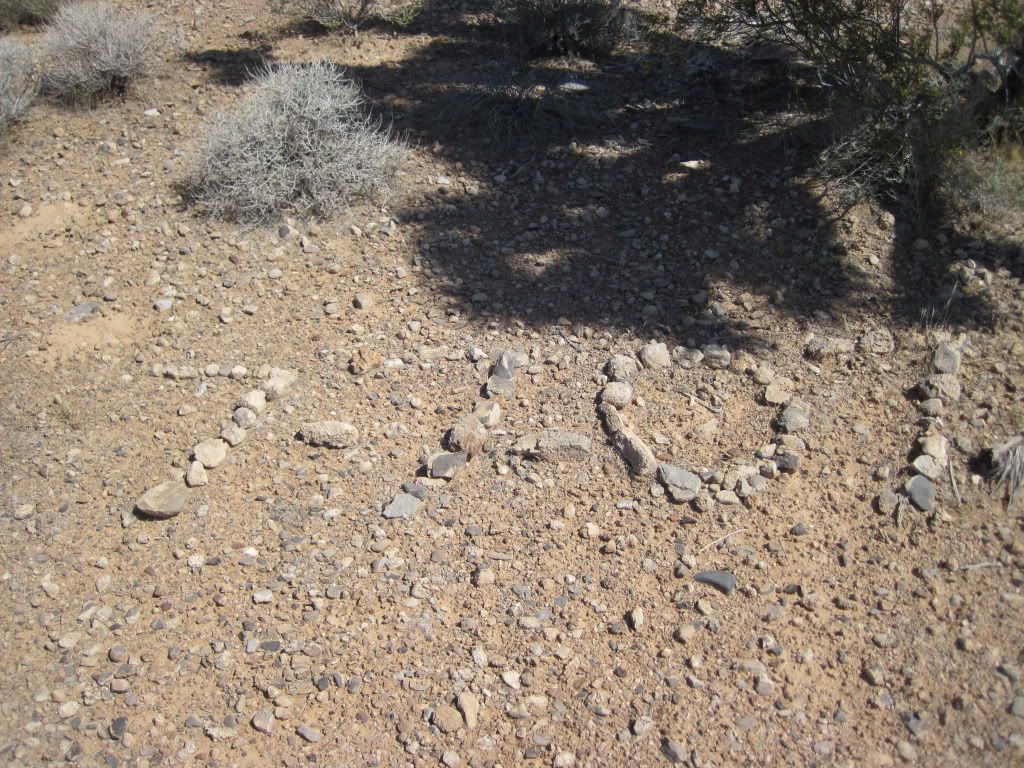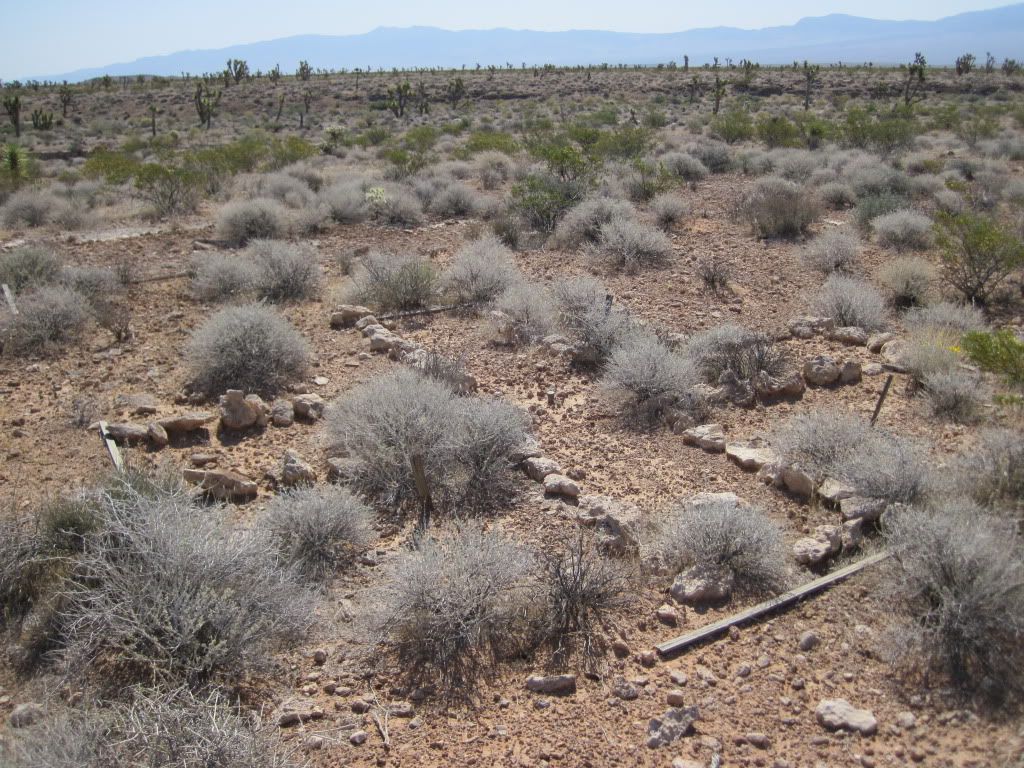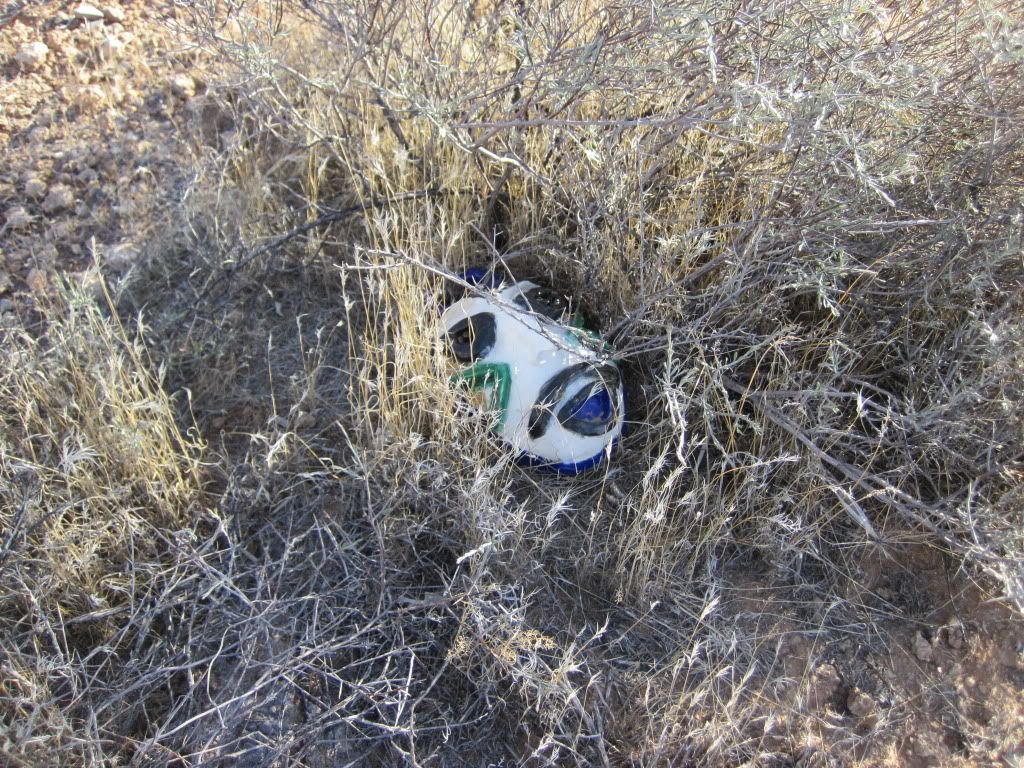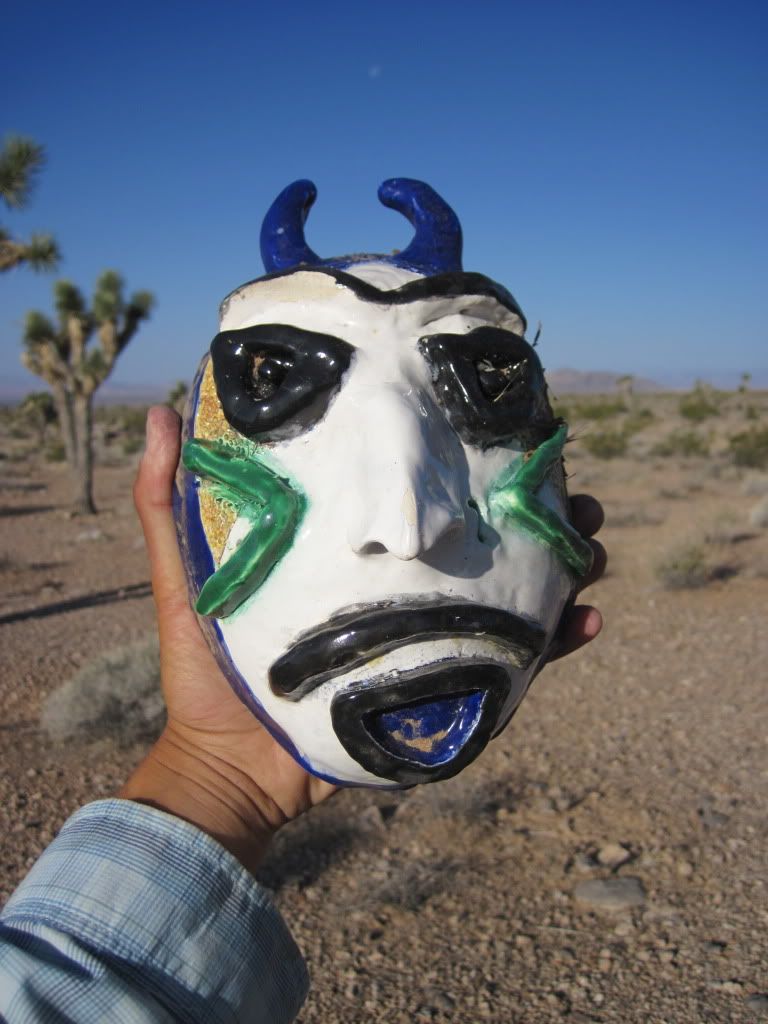 Another colonial insect with a bad reputation. I didn't expect to find termites somewhere without any real wood, but apparently dead Joshua Trees suit them just fine. (Order
Isoptera
is as far as I got for these...)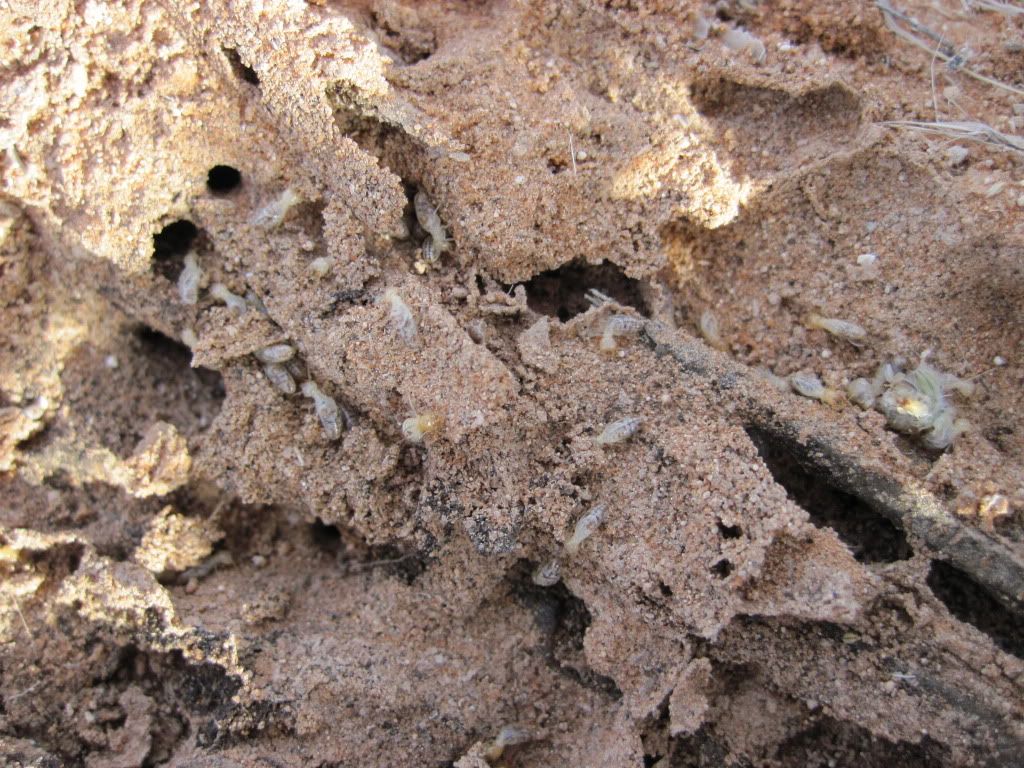 When camping near a power line tower, we found several of these recently deceased birds that had apparently flown into the tower or power lines. This one is a
Wilson's Warbler (Cardellina pusilla)
, probably a first year male.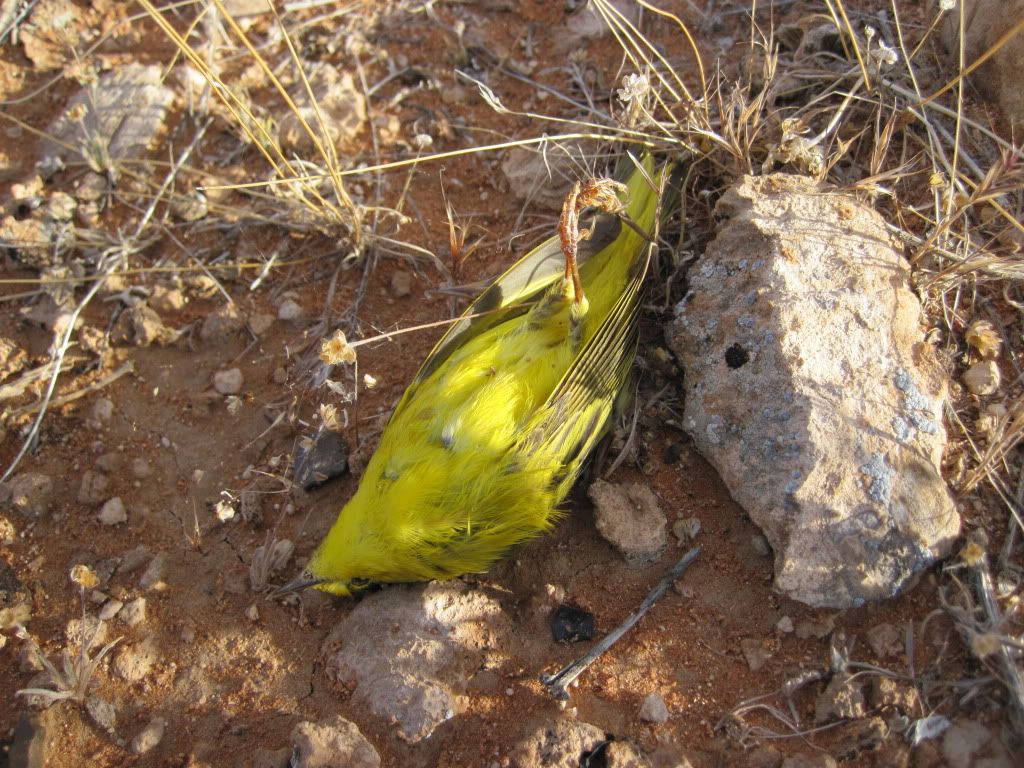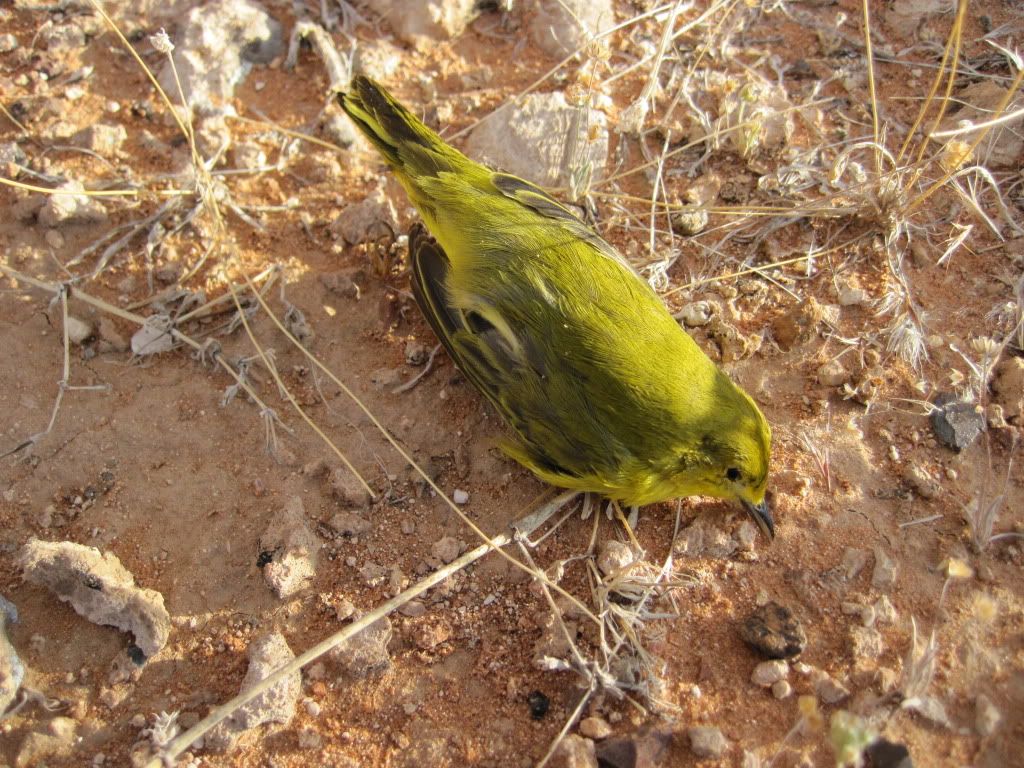 Green-tailed Towhee (Pipilo chlorurus)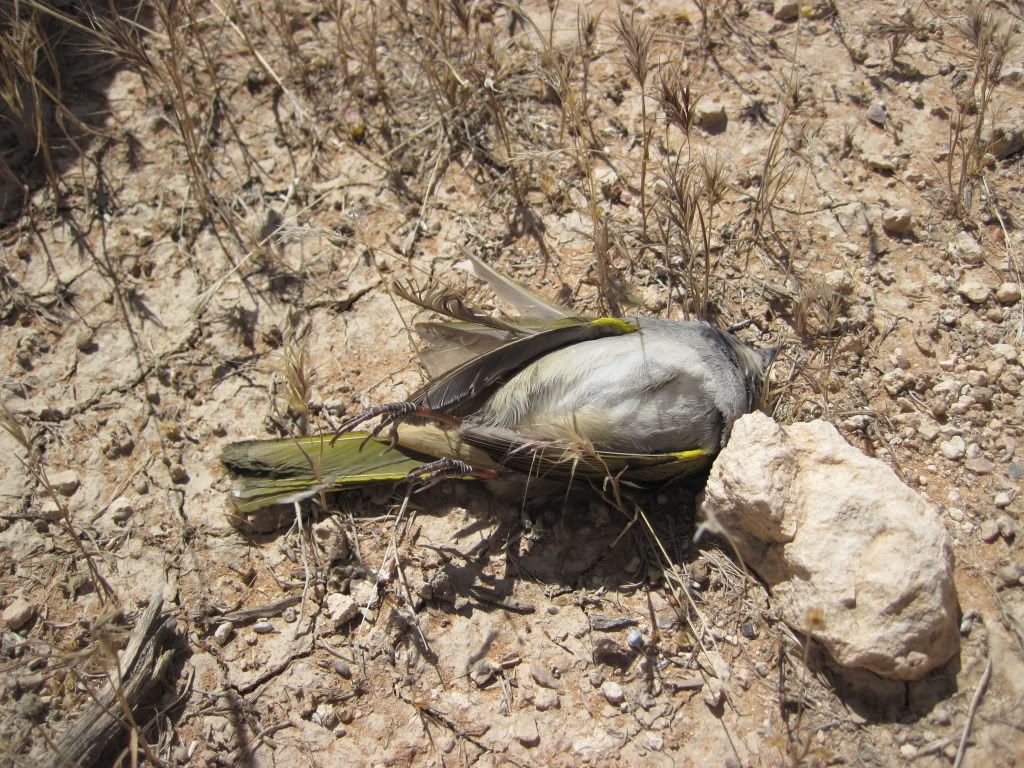 More fossils. The fossils at this site had a different appearance than all previous ones I had found. In contrast to the fossils from Site #3, in which the preserved remains were darker than the surrounding rock matrix, in this case it was the reverse. Maybe this indicates these fossils were preserved in a different way.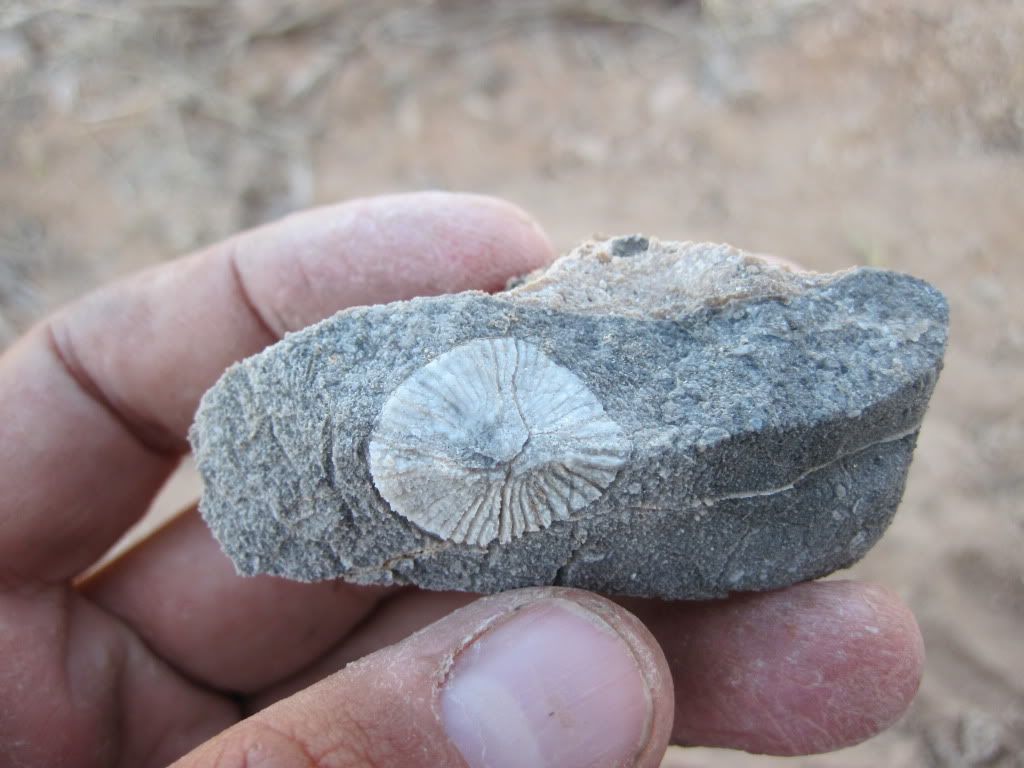 Tiny lizard jawbone I found at the entrance to a caliche cave that was being shared by tortoises and woodrats (
Neotoma lepida
). Woodrats collect bones, and I would often find rodent bones around their dens/middens (see
Part 5
). So when I first saw this jawbone, I expected it had belonged to a rodent. But when I took a closer look something seemed different. I realized this mandible (lower jaw) was definitely not from a rodent, and the only other thing that came to mind was a lizard. It turns out reptile jawbones are actually pretty easy to distinguish from mammals'. Whereas a mammal's mandible is made up of just one bone, reptiles' lower jaws contain many bones. You can see some of these other bones in the photos below (where the "cracks" are), but it looks like others have broken off.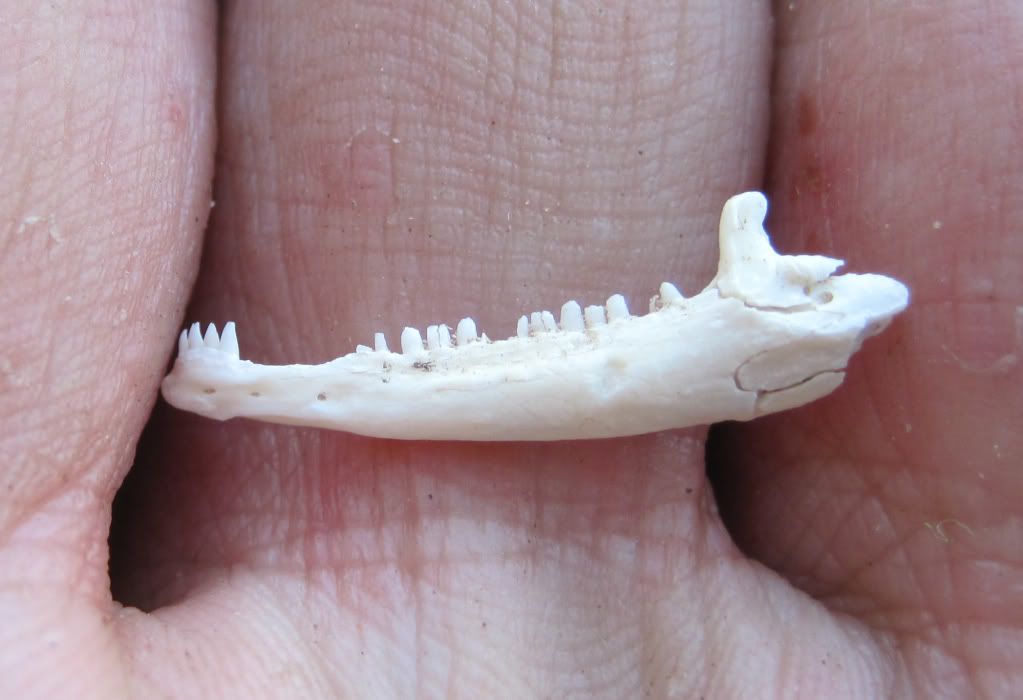 Let's take a look at the teeth. Notice how they are lined up inside a groove on the inside of the jawbone? This formation of teeth is called
pleurodont
, and is found in most lizards. (Alternatively, reptile teeth can attach directly on top of the jaw [
acrodont
; snakes, some lizards], or may be attached in sockets [
thecodont
; crocodilians]).
Here's an illustration that shows these three types of teeth formations (Credit:
Vitt and Caldwell 2009
):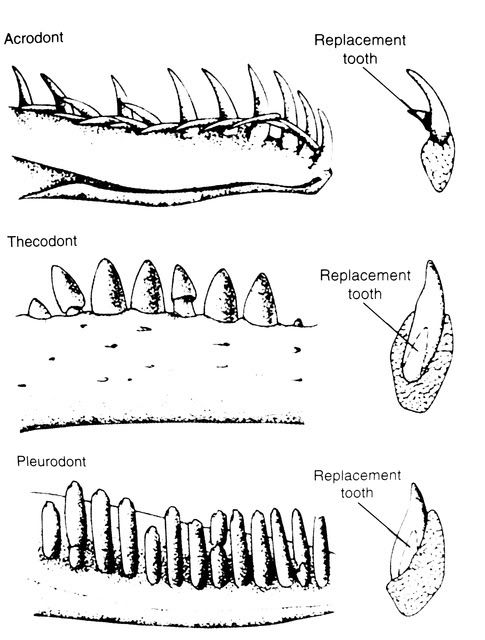 Based on this X-ray available on the
DigiMorph
website (a really cool site to explore and play around on if you haven't already), it seems like this mandible probably belonged to a
Long-nosed Leopard Lizard (Gambelia wislizenii
; see
Part 5
).
Cryptobiotic soil crust
. This stuff is composed of cyanobacteria, green/brown algae, fungi, lichens, and/or mosses. Biological crusts are found in dry regions around the world, and serve important roles in desert ecosystems. These crusts help stabilize loose substrate, aid in moisture retention, and fix atmospheric nitrogen. Cryptobiotic soils are extremely slow growing and easily disturbed, so watch where you step.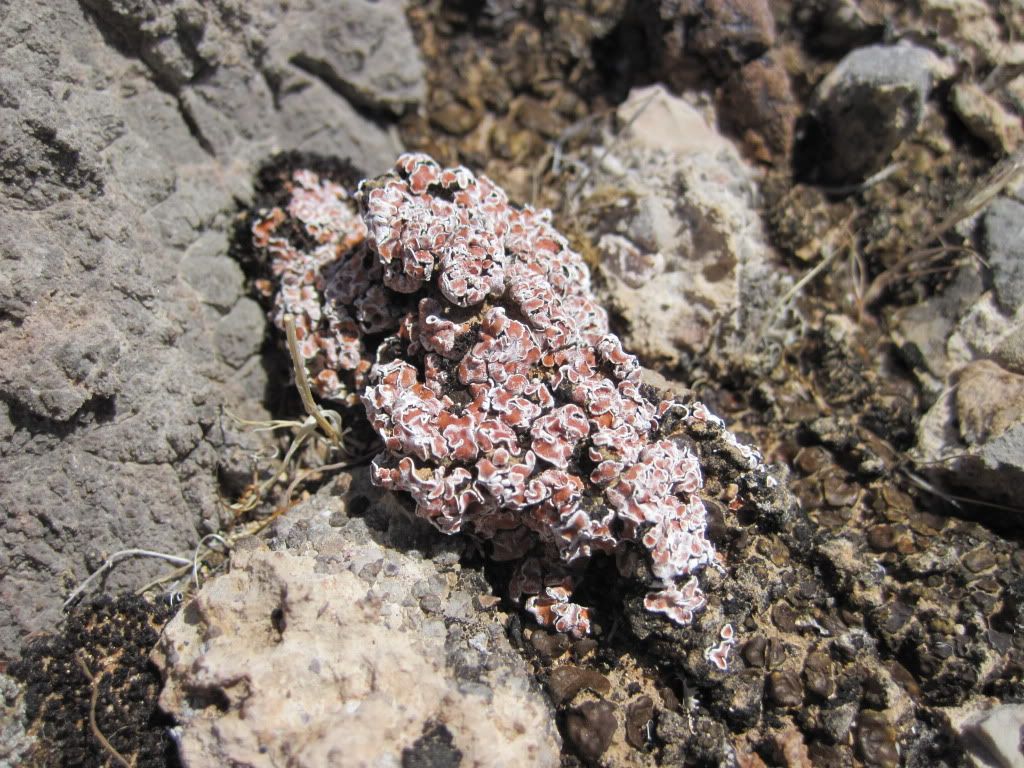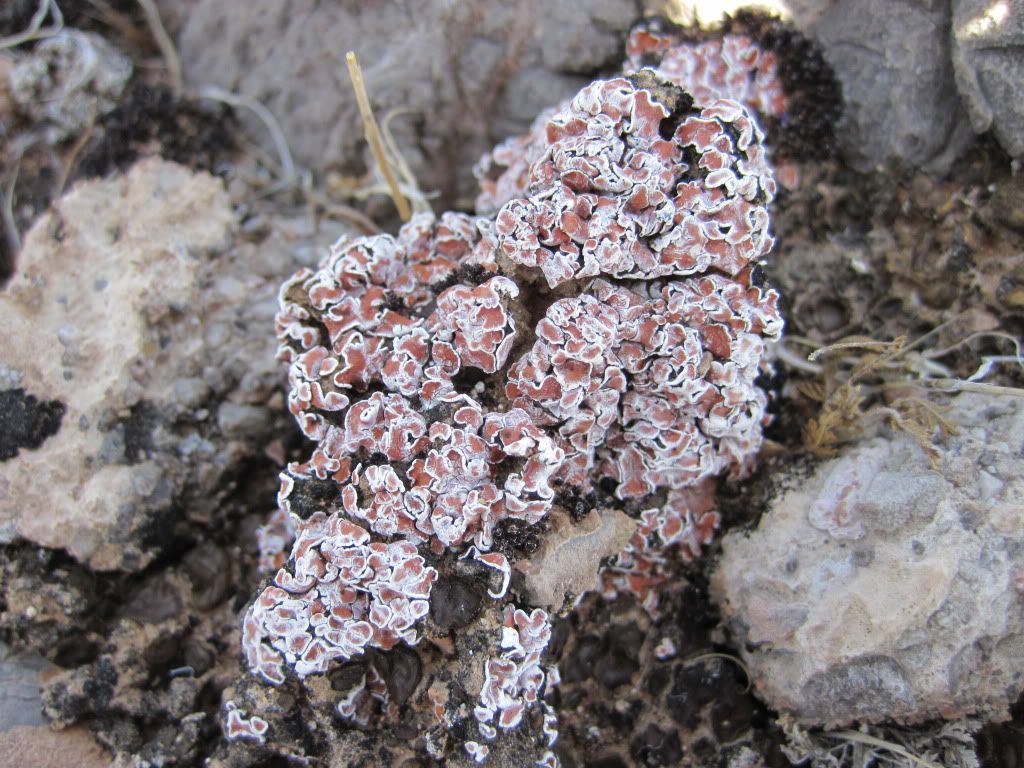 Spiny Lizard (Sceloporus uniformis)
. Featured in several earlier entries.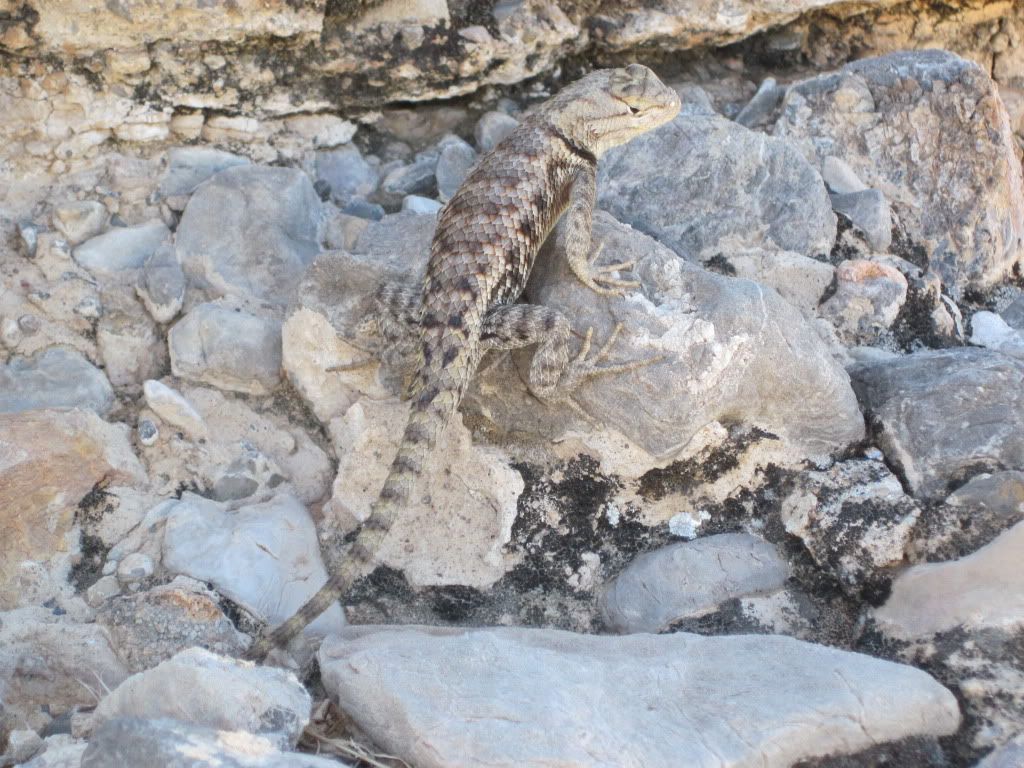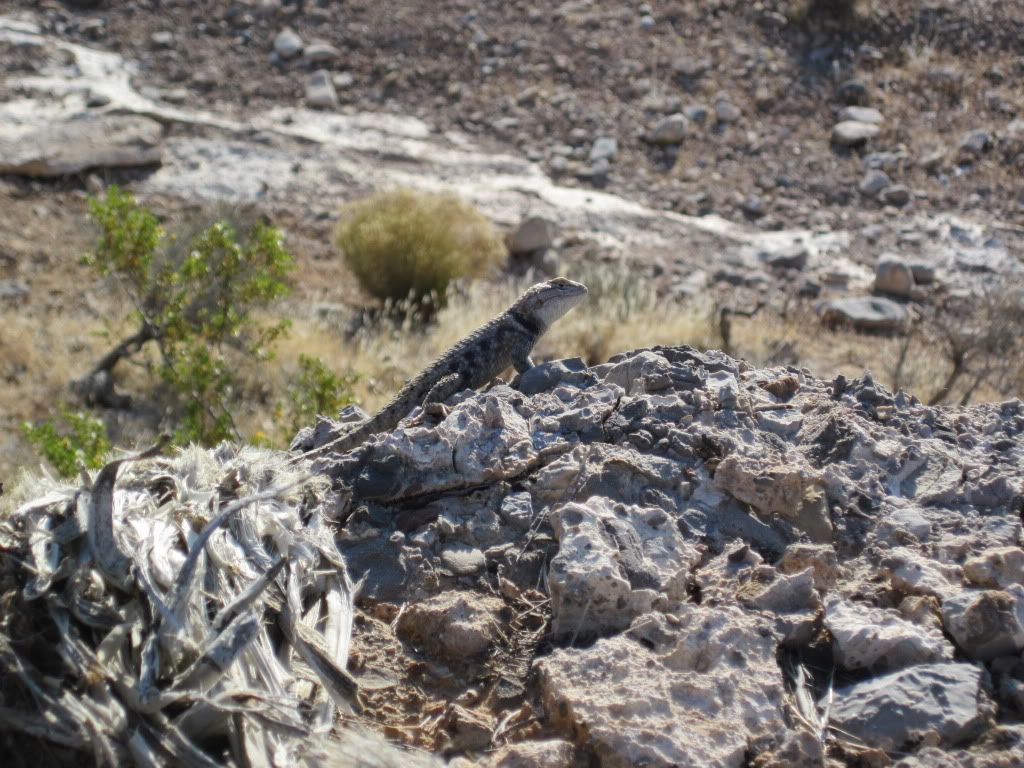 A rock containing several fossils (more coral?)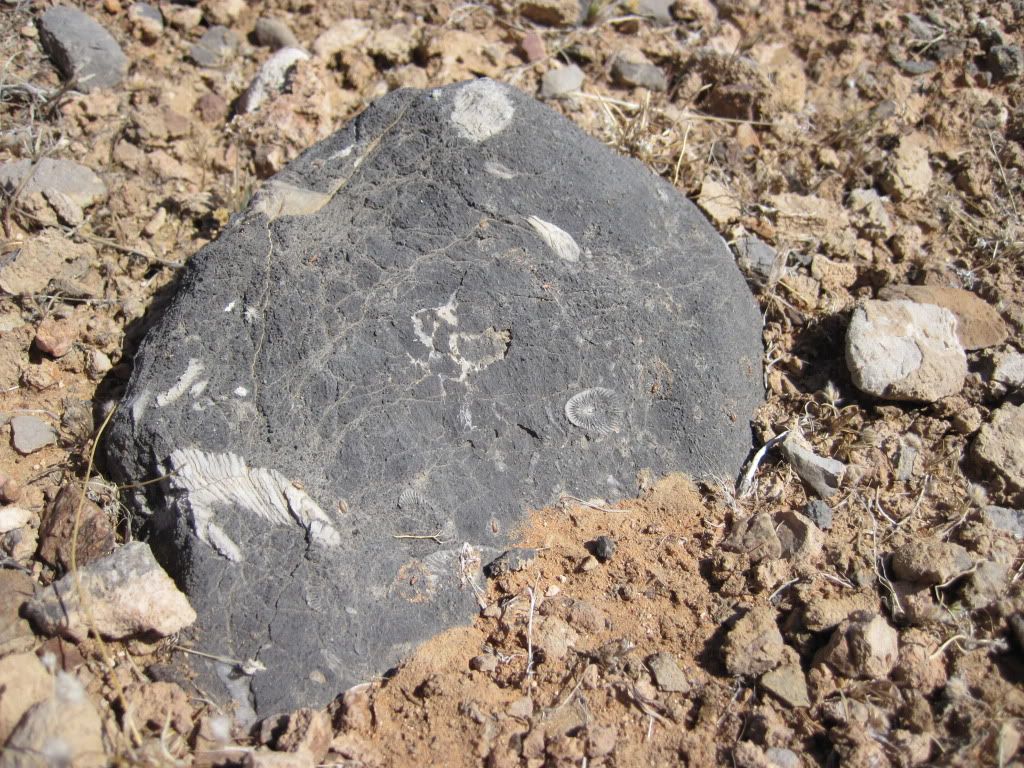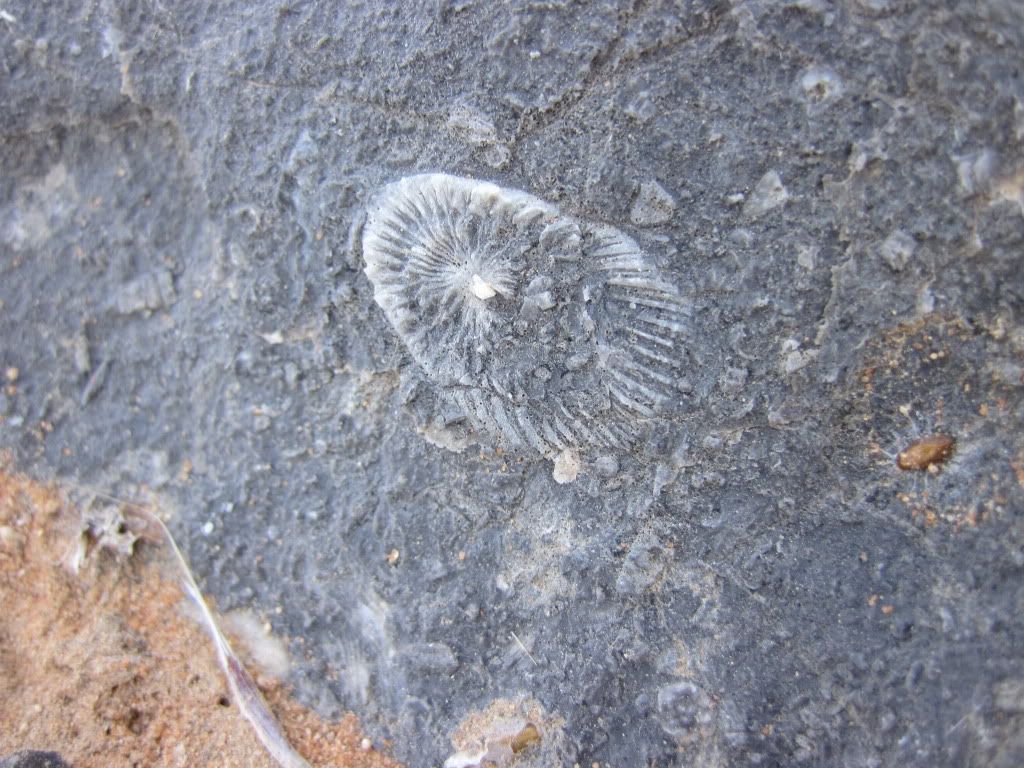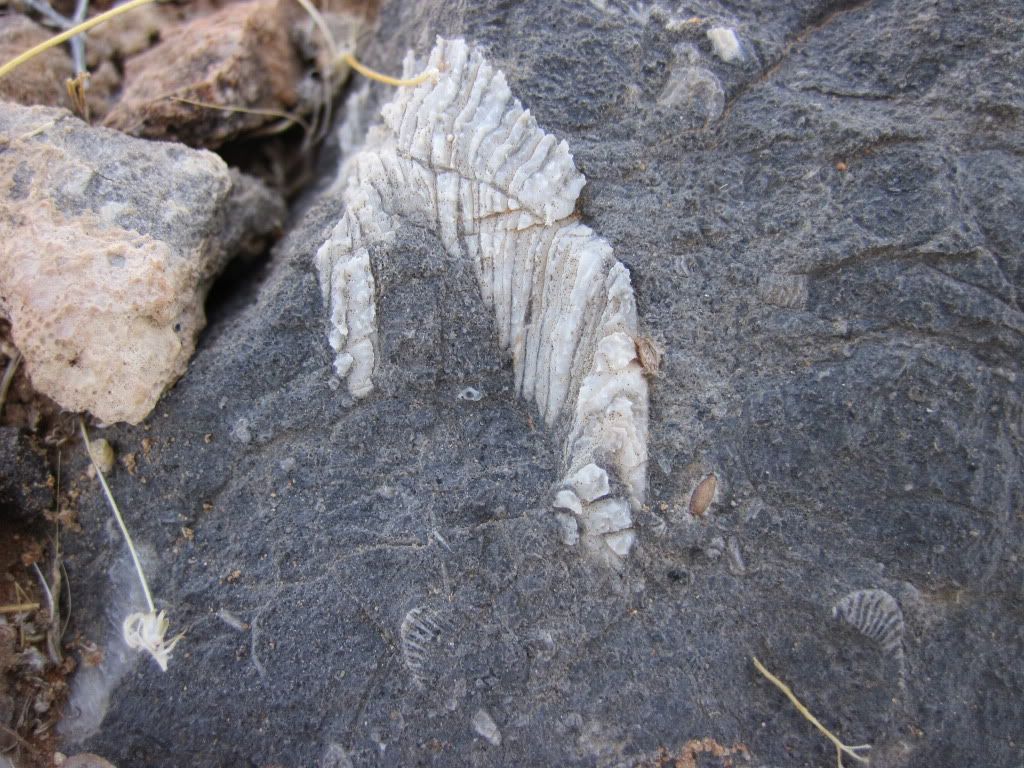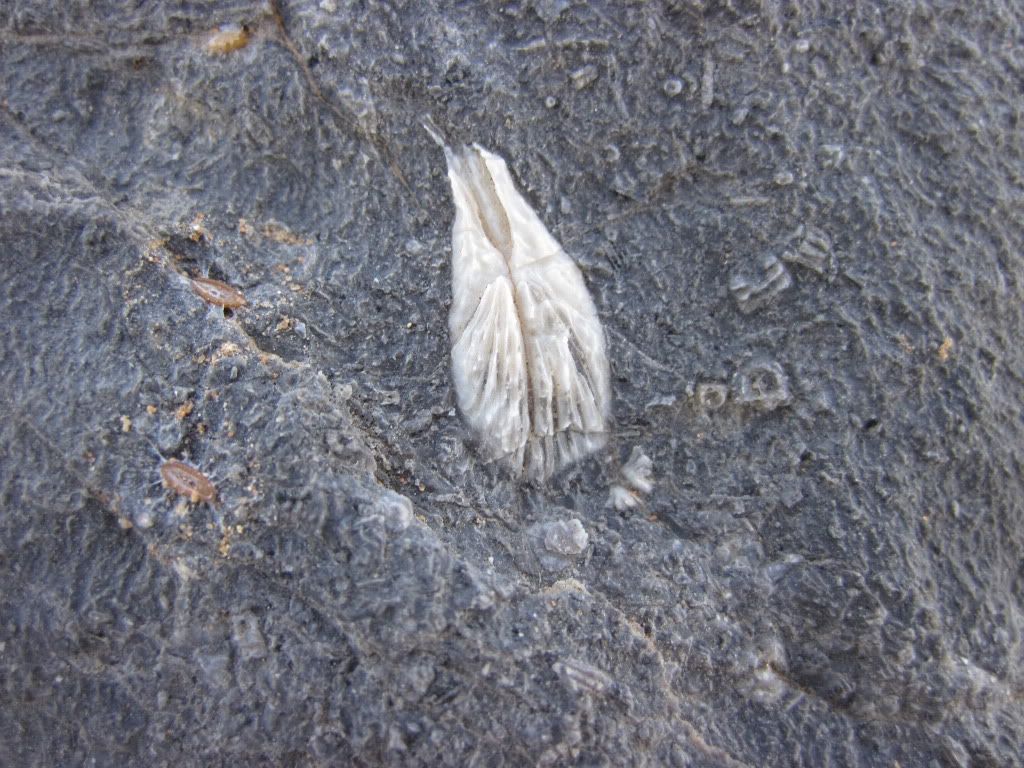 Blooming
California Barrel Cactus (Ferocactus cylindraceus)
. With all of the barrel cacti I've seen out here, I'm kind of surprised this is the first time I saw one flowering.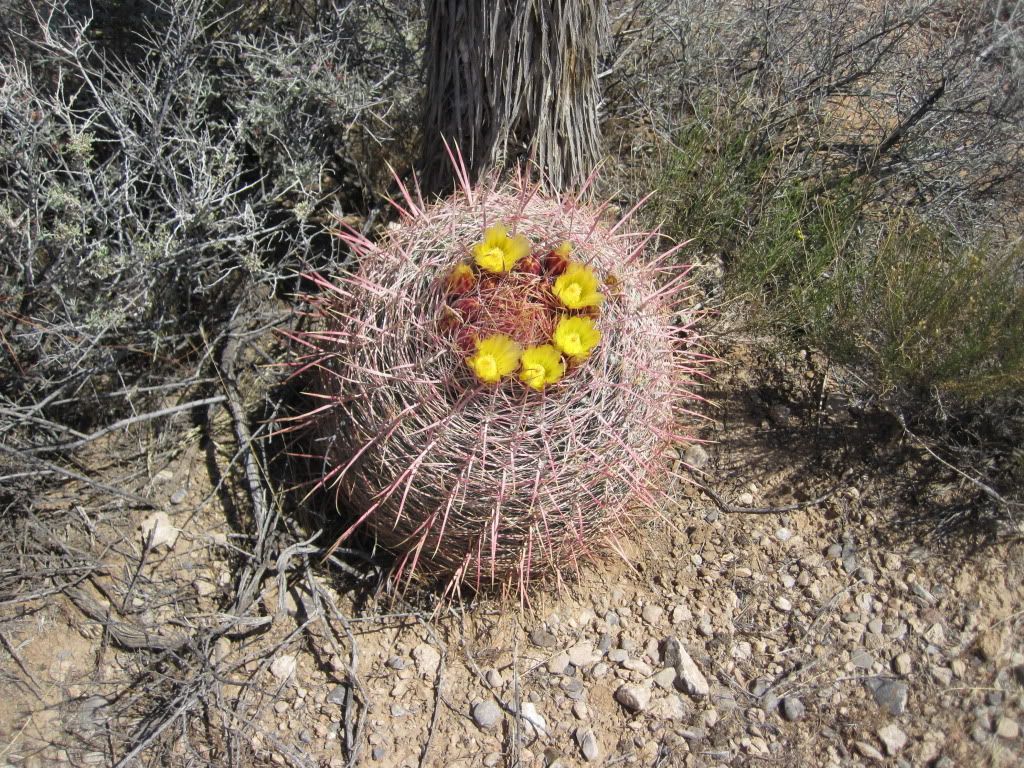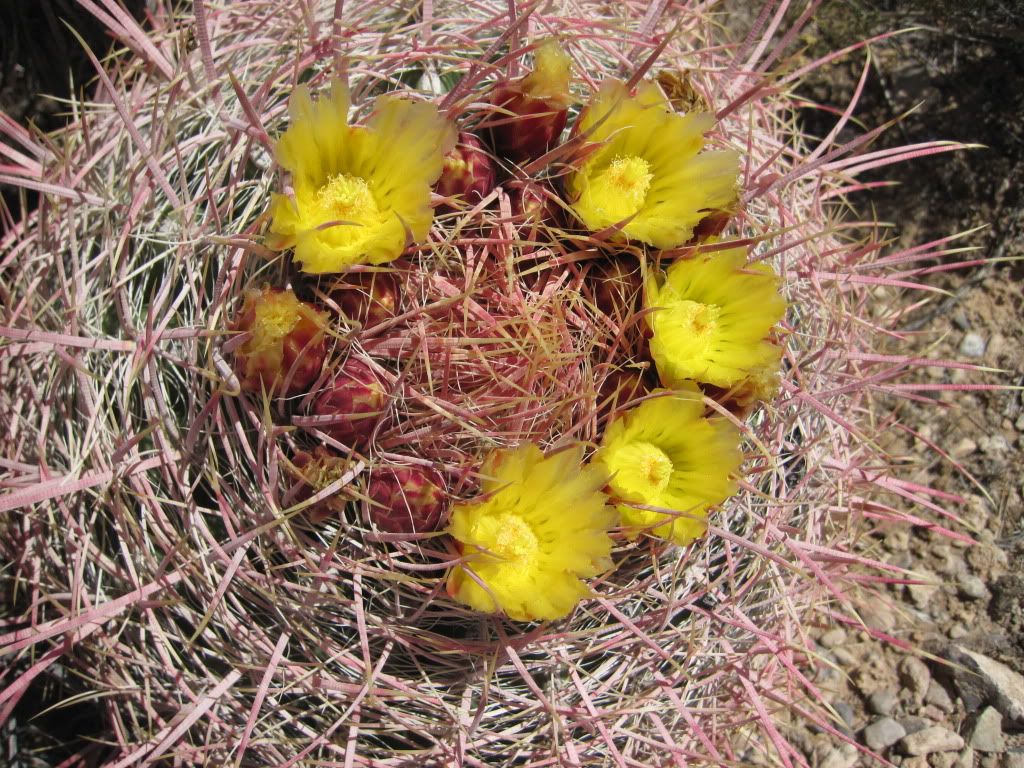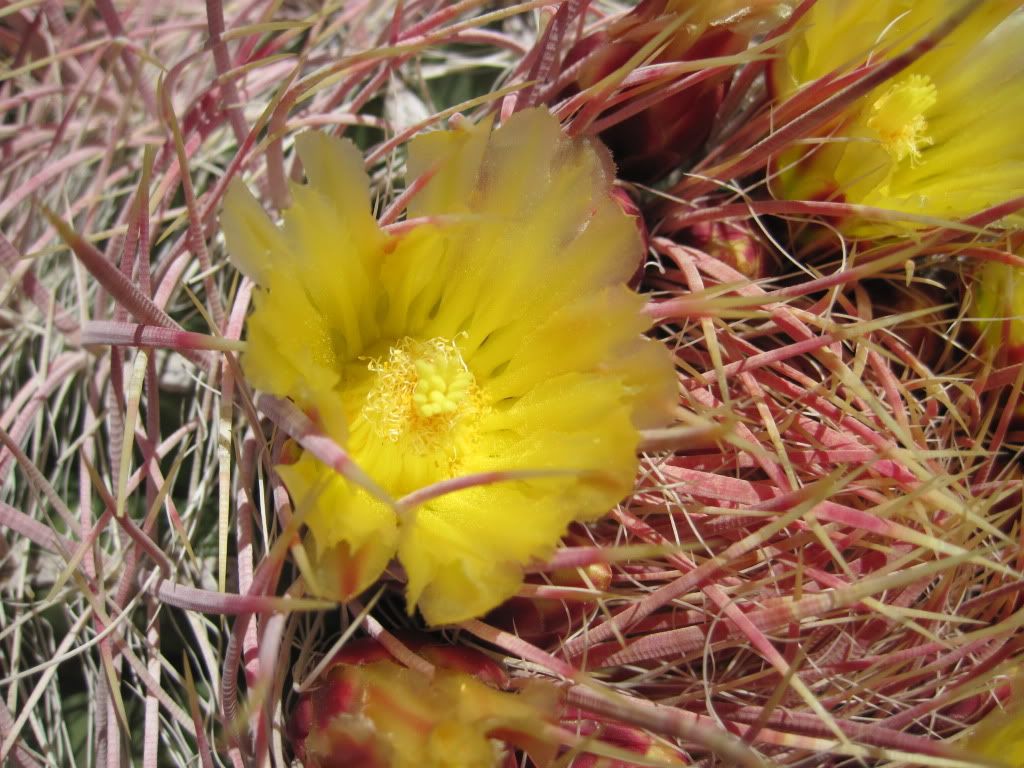 As always, thanks for looking, and for anyone who actually read all of this, I'm impressed!
-Zach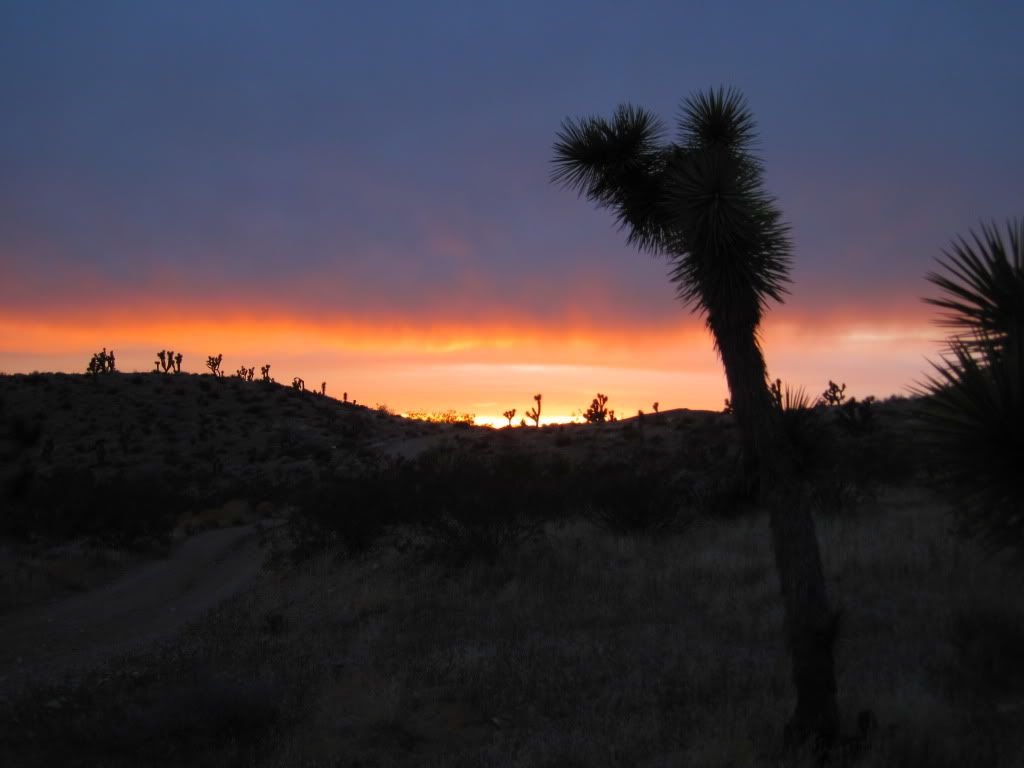 Part 1
Part 2
Part 3
Part 4
Part 5
Part 6