My wife Lisa and our younger son Karl are currently visiting Hans and me in Sarawak for a month, and we're dragging them all over Evolution to show them the wonders of Borneo. Naturally, the program involves an overnight visit in Kubah National Park, which we did last night. Forest visits with children are always a treat, especially with kids whose eyes are much better trained for the jungle than mine.
The first thing we found was also the most epic: Karl accidentally shone his Fenix TK-45 in my eyes (at full power), and I reacted with my trademark impatience, wrenching the lamp out of his hand with a violent curse. Karl didn't want to let go, though, and for a split second or two, we were wrestling for the flashlight, causing the beam to do a wild sweep through the canopy where it passed over two huge orange reflections about 30 feet above us. A closer inspection with a now more controlled beam showed the owner of the eyes to be furry, the size of a giant squirrel, but much stouter and without a tail. The beast walked slowly from branch to branch and finally settled on a thick, corkscrew-shaped vine that connected two trees like a horizontal trapeze ladder. For the next half hour we enjoyed the rare treat of observing an adult Slow Loris (
Nycticebus coucang
) in its natural habitat, the first encounter of this kind for all of us. I had heard that lorises flee as soon as they face a flashlight beam, but this one just perched on his liana and watched us with as much interest as we watched him. Not even the children's excited yelling and swearing ("why in HELL didn't you bring the long lens, Dad?? OR AT LEAST THE BINOCULARS?") fazed the furry little clown ("loris" being an old Dutch word for that profession), and in the end it was the humans who left the scene first....
It was a new moon, it hadn't rained for two days, so I had told my family we'd probably skunk out on the herping front, but promised that we would at least see some stick insects. So we looked for stick insects. After half an hour of eye-straining inspection of every damn twig in sight - and discovering tons of stick-insect-like sticks - I finally did find a phasmid. However, it wasn't exactly what I had anticipated (like, something long, thin, and delicate), and only technically a "stick insect". Instead, it was the mother of all phasmids, a bruiser of an invertebrate that can give small cats nightmares: a bright green female Malayan Jungle Nymph(
Heteropteryx dilatata
), one of the largest insects on the planet. It was sitting above me on a branch, just out of reach of the snake sticks, and when I tried to down it by shaking the tree, the tree punished me by hurling a large piece of bark into my face, knocking my glasses off and prompting my wife to announce that this was now quite enough of this nonsense, and that we had no right to scare the living nightlights out of this docile creature that was just tyring to eat the tree in peace. Hence, no photos, but
here is a short flick
showing how impressive these things are.
The rest of the way up to the Frog Pond yielded little of note, but the Pond itself, despite the extremely low water level, rose once again to everybody's expectations. We observed two Malayan Softshell Turtles (
Dogania subplana
) chasing a frog, then each other; we played with the always astonishingly tame and astonishingly huge (as far as tree frogs go) Bornean Eared Frogs that litter the plankwalk and the trees around the Pond, and we found a sizeable number of other interesting/pretty/cute/weird frog species some of which the boys photographed with great enthusiasm.
On the way back down to the hostel, the two boys moved quickly ahead and out of sight, as they were very tired and wanted to hit the sack ASAP. Lisa and me, on the other hand, opted to walk slowly hand in hand down the narrow moonlit road, surrounded by romantic midnight jungle sounds and shadows, quietly enjoying each other's nearness after being separated for six months...
...and then we almost stepped on a snake. Lisa thought it was a twig. I thought it was a crack in the road. But it was actually a four-foot White-spotted Cat Snake (
Boiga drapezii
), a rather common species which we nevertheless had before only found DOR or dying. It allowed me to pick it up and bag it without further ado, and it's now happily munching on house geckos in the Snake Room until I have time to photograph it.
So, no photos of that one either. But for the snake heads amongst you, I did include a few pix of a Sarawak Grass Snake (
Amphiesma sarawacense
) I found last week and for which I didn't want to waste precious bandwith by dedicating a full post to it

Bornean Eared Frog (
Polypedates otilophus
)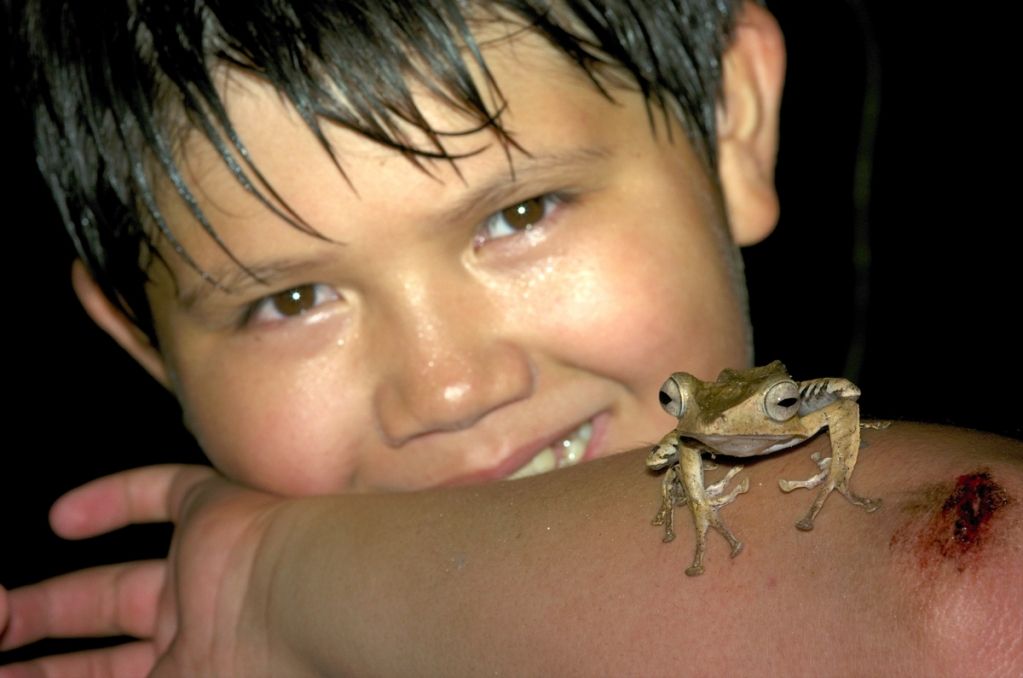 Why I like cammo clothes...they save the hassle of collecting leaves for a natural-looking photo background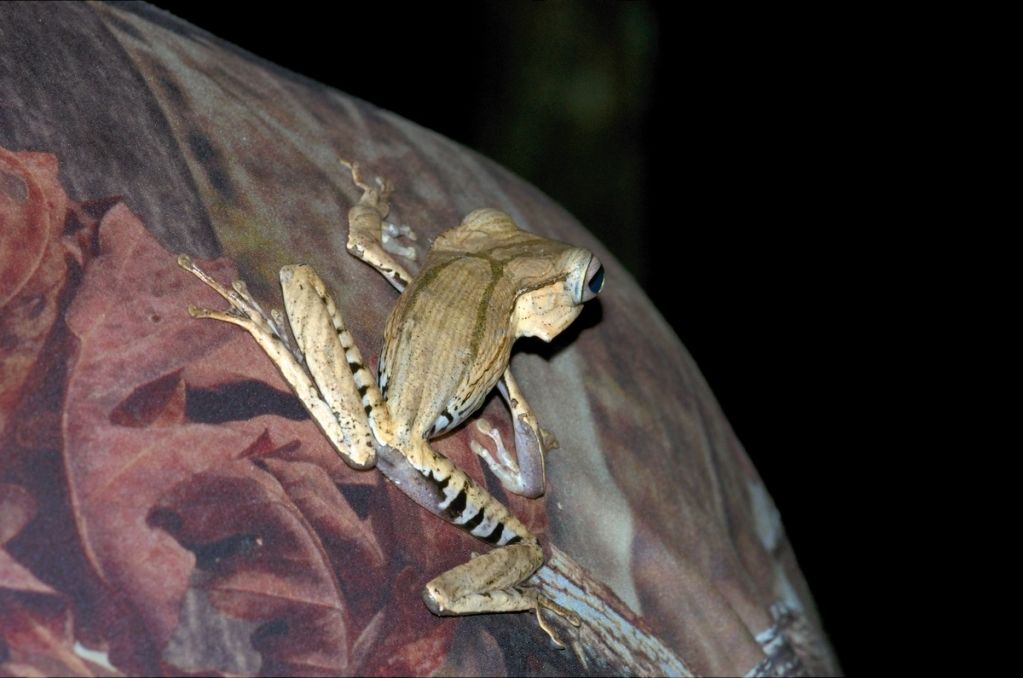 Tree Crocodile!
Greenery and Brownery...live together in perfect harmony
(ID for the little one, please?)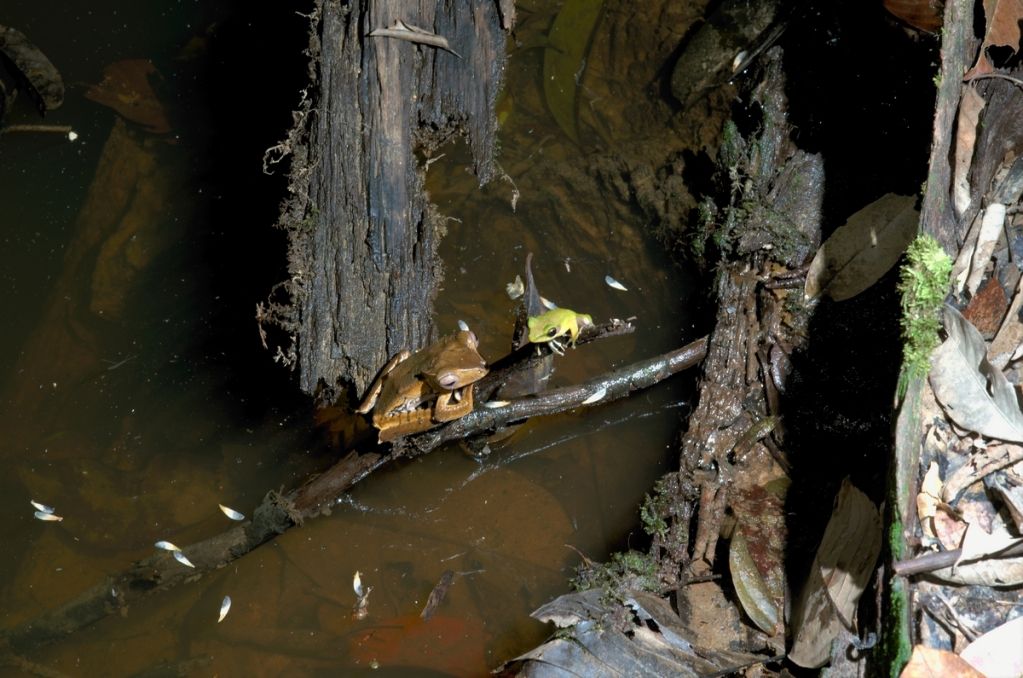 Red-soled Jungle Gawper, clinging to the mast of his sinking tea clipper? (ID please!)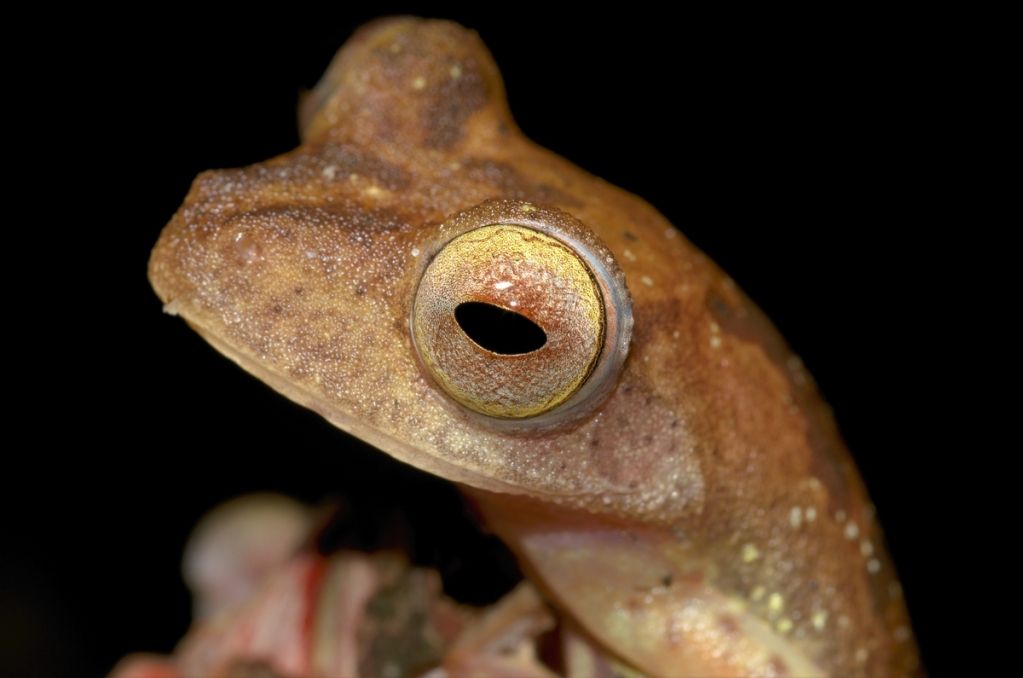 Some kind of albino roach?
Sarawak Grass Snake,
Amphiesma sarawacense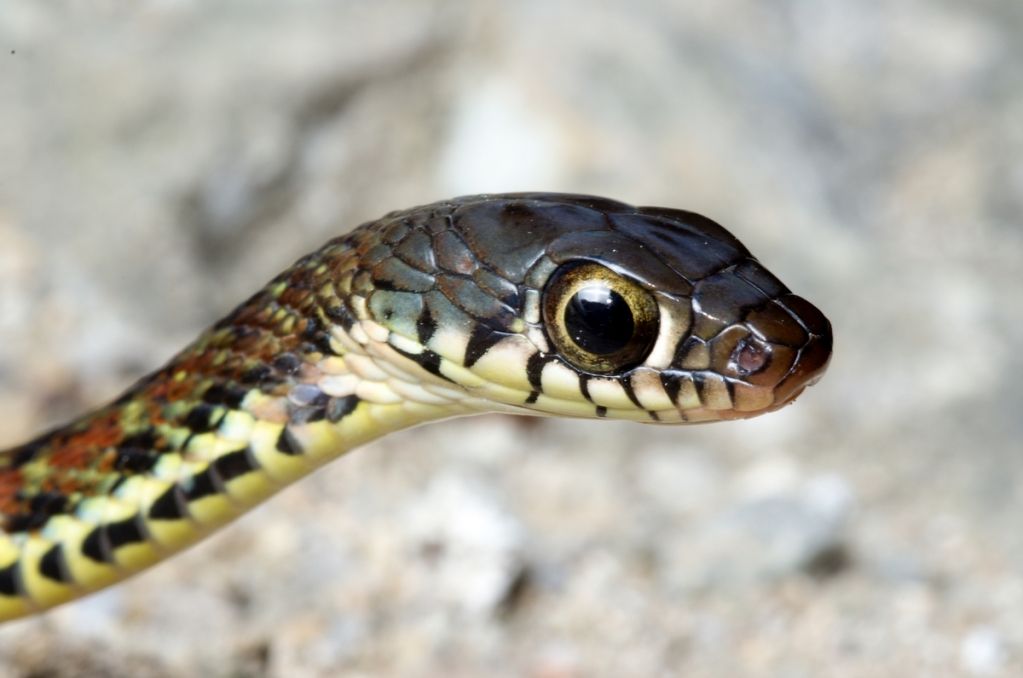 Karl "Charlie Snakefinger" Twoton with friend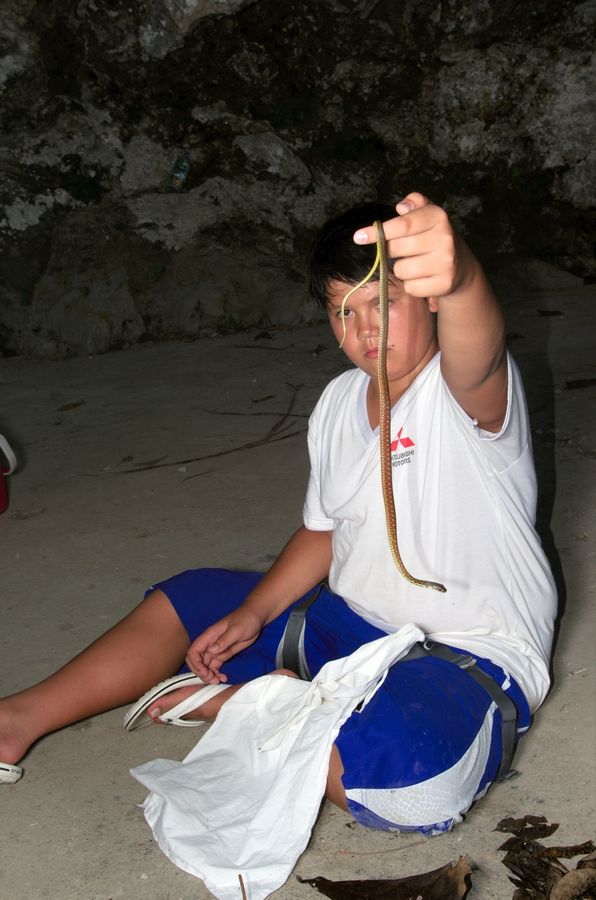 Incidentally, I've been lucky with the natricines of late -
here's another one I found just recently
.
And lastly - the happy reunited couple on the Rainforest Rollercoaster at Six Flags over Borneo...