As some of you know, we recently went on a ten-day, 2082 km road trip along a stretch of the Trans Borneo Highway, from our home in Kuching in southwest Sarawak to some of the national parks upstate, namely Similajau, Niah and Lambir Hills (see above map).
It was the first time in a year that we'd been further away than eighty miles from Kuching, and it was also the best family vacation we'd ever had. In spite of the long drives, we were never bored, and some of the highlights were nothing short of Very Nice: eight Black Hornbills making a huge racket right outside our cabin in Niah; first at dusk, then again at dawn (I woke up cursing our Malaysian cabin neighbors, thinking they'd brought a bunch of rowdy fighting cocks into the chalet). We observed a huge gliding gecko (
Ptychozoon sp.
) on the same tree two days in a row. The entire highway was lined with fruit vendors offering the stuff of dreams - salak! durian! Brazilian longyan! We gawped at dozens of colossal longhouses (up to 70 doors!) along the road between Sri Aman and Sibu. We stayed in Miri, oil city of Hummers and Harleys, and after Bintulu passed through an entire galaxy of oil palm plantations - hours upon hours of No Other Vegetation, stretching all the way to the four horizons. And still, we only experienced a minute fraction of Sarawak (and an even more minute fraction of Borneo!) . Among the life lessons I learned was the fact that you should never gas up your pickup truck
before
breakfast on a Sunday morning at 0630, cuz it'll make you fill 'er with 87 Regular instead of diesel. Luckily, I realized my mistake before I'd started the engine, so we only suffered a two-hour delay while we waited for the tank to be emptied....
But while all that was quite nice and dandy, we returned with nothing much of herpetological value - the herping had been simply abysmal. Apart from the above-mentioned gliding gecko, a Malayan Box Turtle, and six or seven DOR Common Malay Racers/Yellow-Striped Ratsnakes (
Coelognathus flavolineatus
) along the way, most of the other reptilian life forms were the ubiquitous house geckos and a few common lizards.
However, our herping luck changed in the days after our return: after trying hard for over a year, I finally caught not one, but three Flying Dragons (
Draco sp.
, pix to follow) in one single weekend, and the first one actually jumped off a tree onto my shin where I could conveniently pick it up. There was also a nice, big Malayan Banded Wolf Snake (
Lycodon subcinctus
). A few weeks before our trip, I had found a younger specimen together with Tom Charlton, and that specimen still showed traces of its teenage bands.
So here they both are, with a few boring photos from the vacation album added to the mix, as the dearth of herps wouldn't warrant a dedicated trip report, and as the two wolf snakes are too alike to bore you with a single post full of cow-nostrilled black snakelets.
BTW: in stark contrast to the wolf snakes I know from Taiwan (
L. ruhstrati
), evil little pissers, forever ready to snap with their needle-sharp lizard catcher tools at everything foolish enough to get too close, these guys displayed almost stoner-like docility. Very weird indeed.
Lycodon subcinctus - The Juvie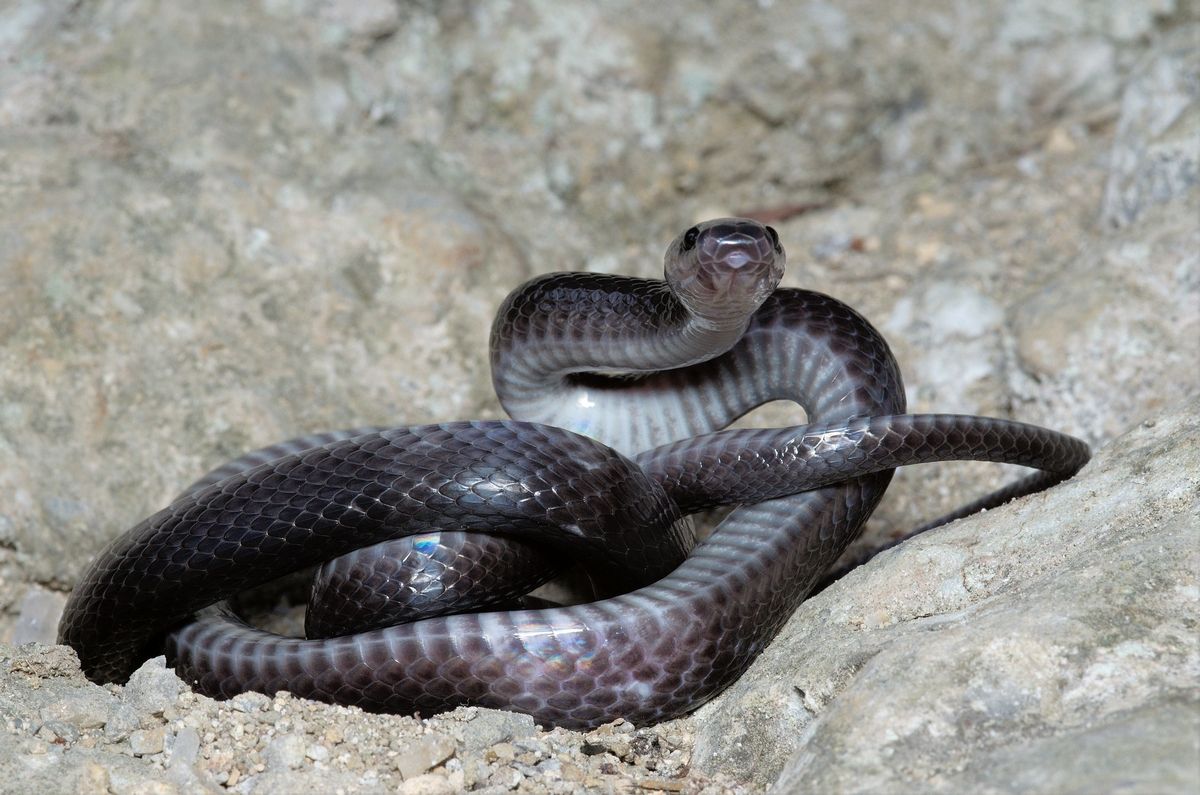 While we knew it was a wolf snake, at first we weren't sure what kind, and ID proved difficult.
Here we see him dodging identification.
No matter who we asked, all we got was puzzled faces.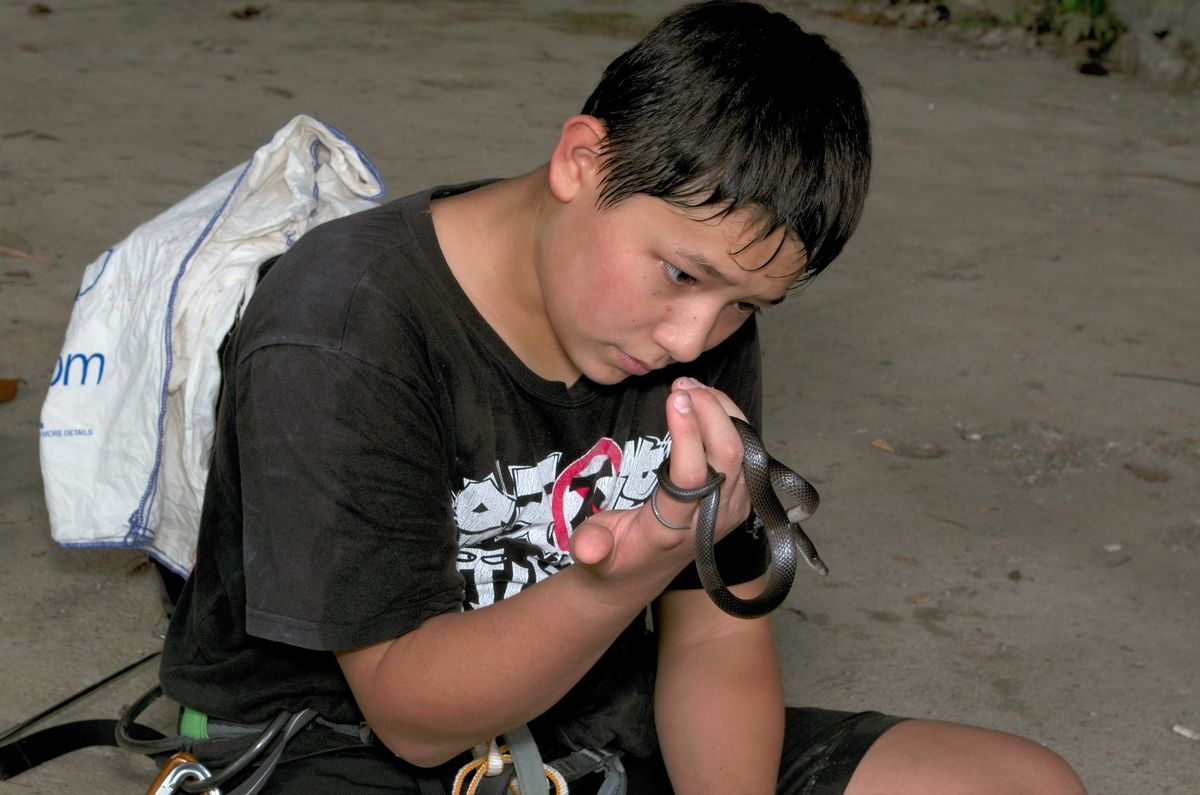 ...even our resident jungle expert was stumped.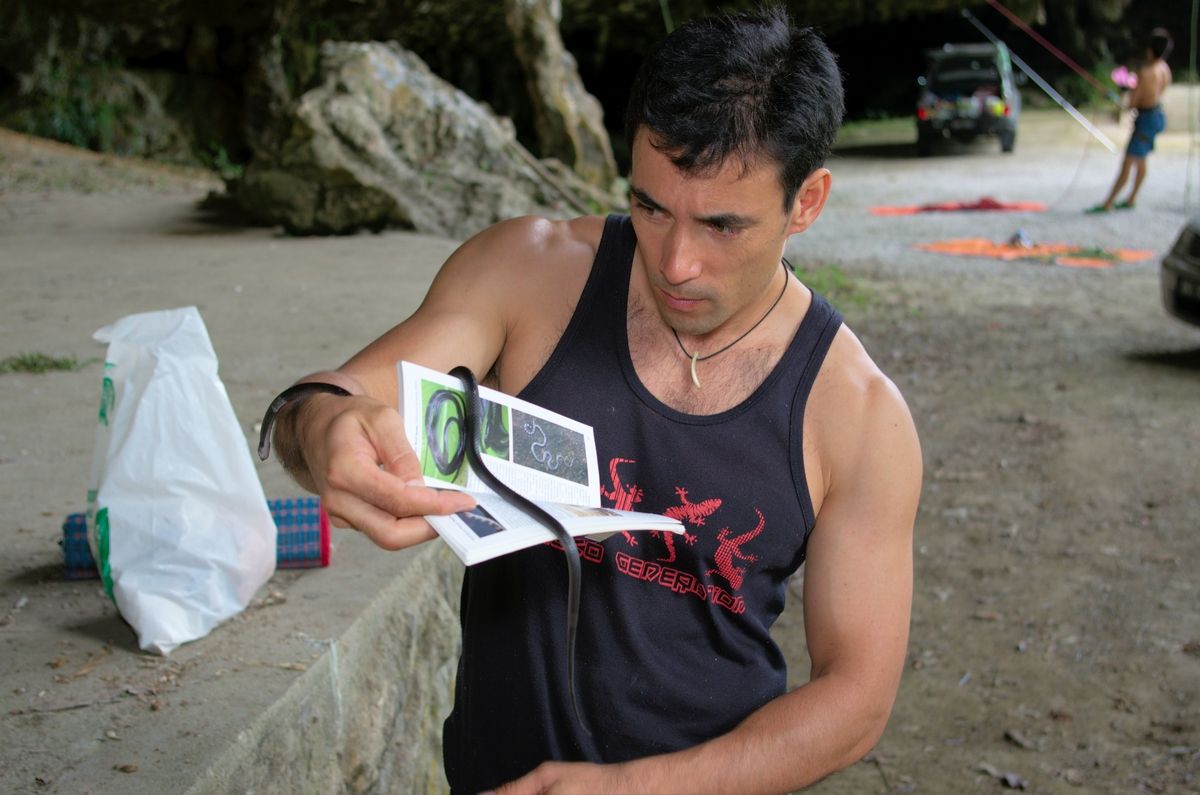 Only a cry for help here on FHF brought out the truth, c/o Lardman (again!).
Now, before I continue with the adult, here are some holiday pix, as threatened:
Similajau National Park dazzled with some of the most amazing mangrove forest I've ever seen. Jurassic to the core!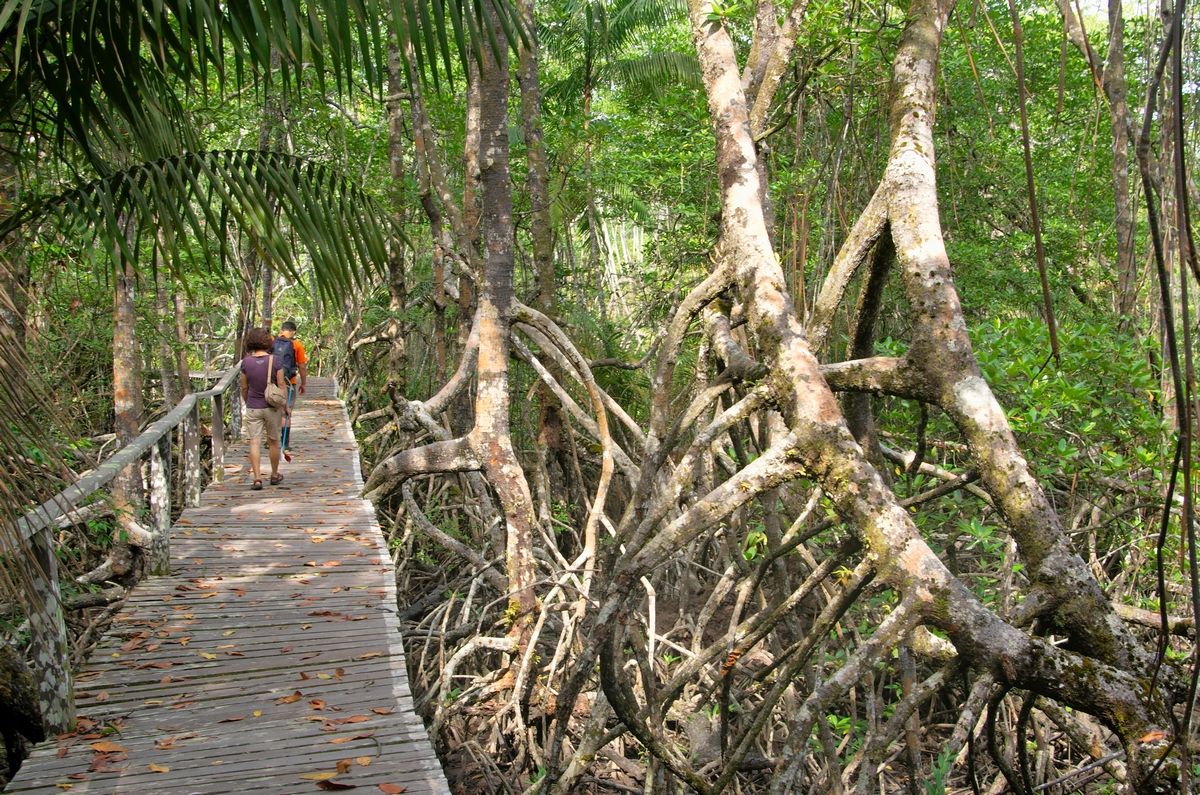 Palm fruit. No further idea as to which palm. There wuz a LOT of palms in that swamp...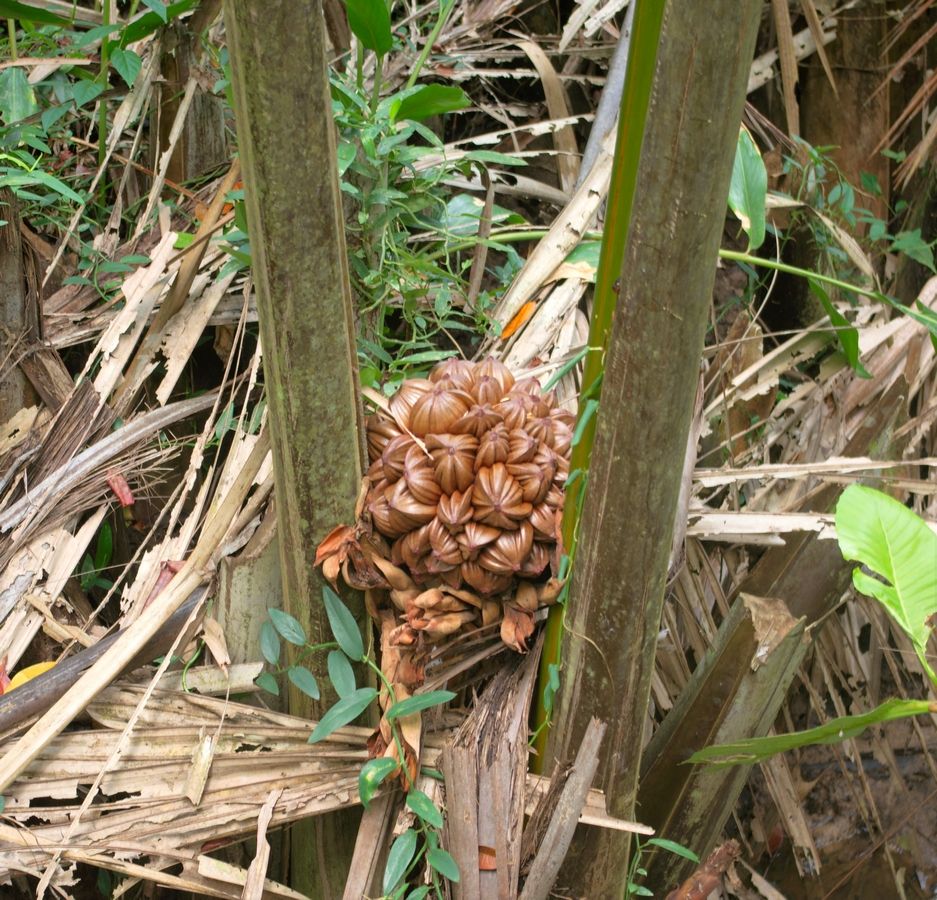 We found this little Malayan Box Turtle (
Cuora amboinensis
) crossing the road as we were about to enter Similajau. Karl took it along for an hour of intense observation at the lodge, then released it in the swamp again.
Few vehicles embody Borneo as these chop jobs do. No idea what it once was when it left the plant...
A Red-legged crake (
Rallina fasciata
) we caught sleeping at eye-height during a nightwalk
Planariaaaan!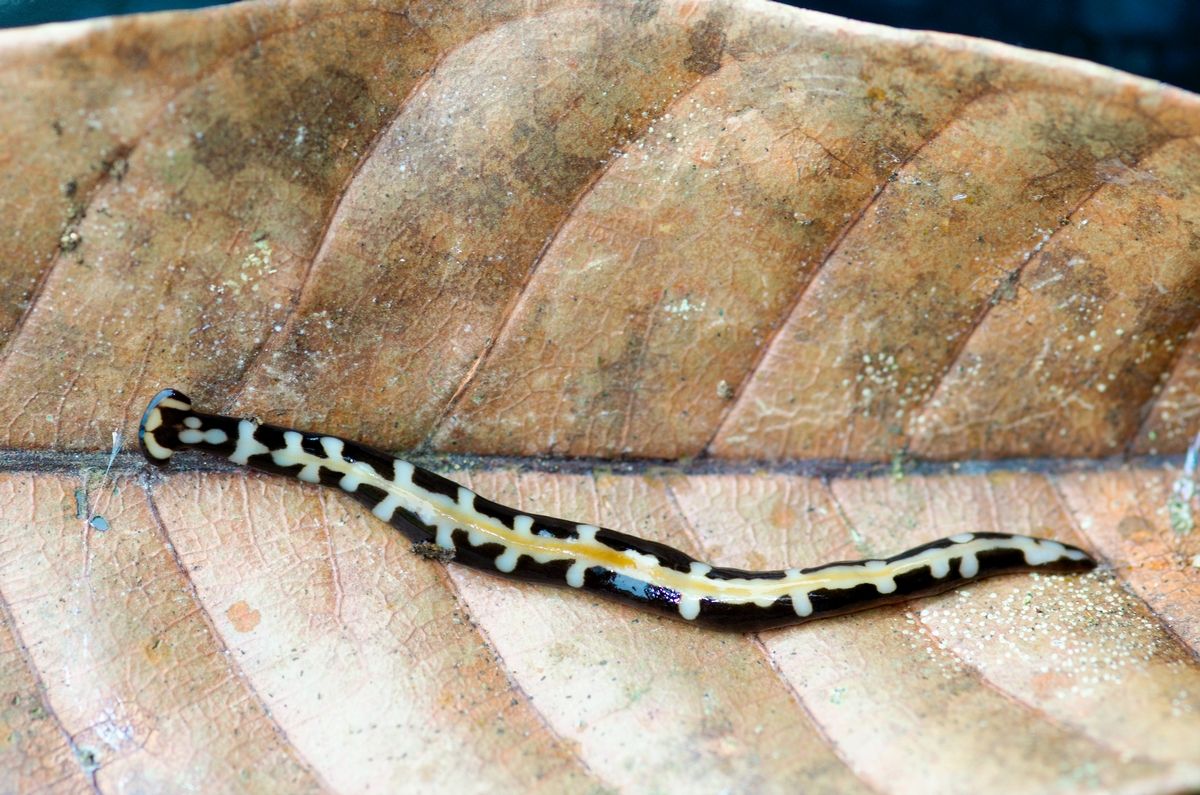 One of the racketeers outside our cabin (Black Hornbill,
Anthracoceros malayanus
). Absolutely amazing to see members of this usually mega-shy bird family being so at ease around human habitation. (Photo courtesy of Karl Breuer)
Lycodon subcinctus - The Adult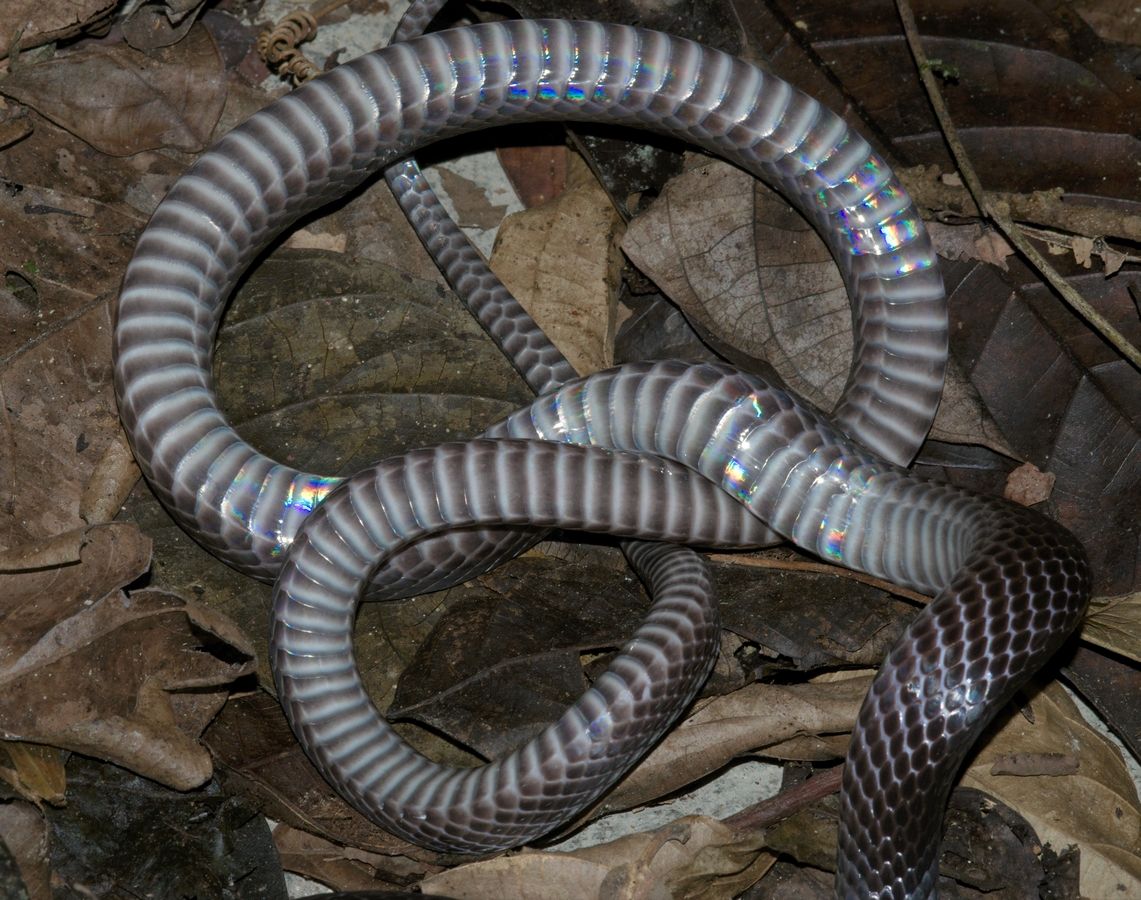 Found it somewhere around here.
Back to the fambly album now: this is one of the many longhouses lining the highway. These aren't just "big houses", but actually entire, if compact, villages, complete with a name, a mayor, and a zip code. The smoked heads above the fireplace are (mostly) gone today, replaced by plasma TVs showing satellite programs.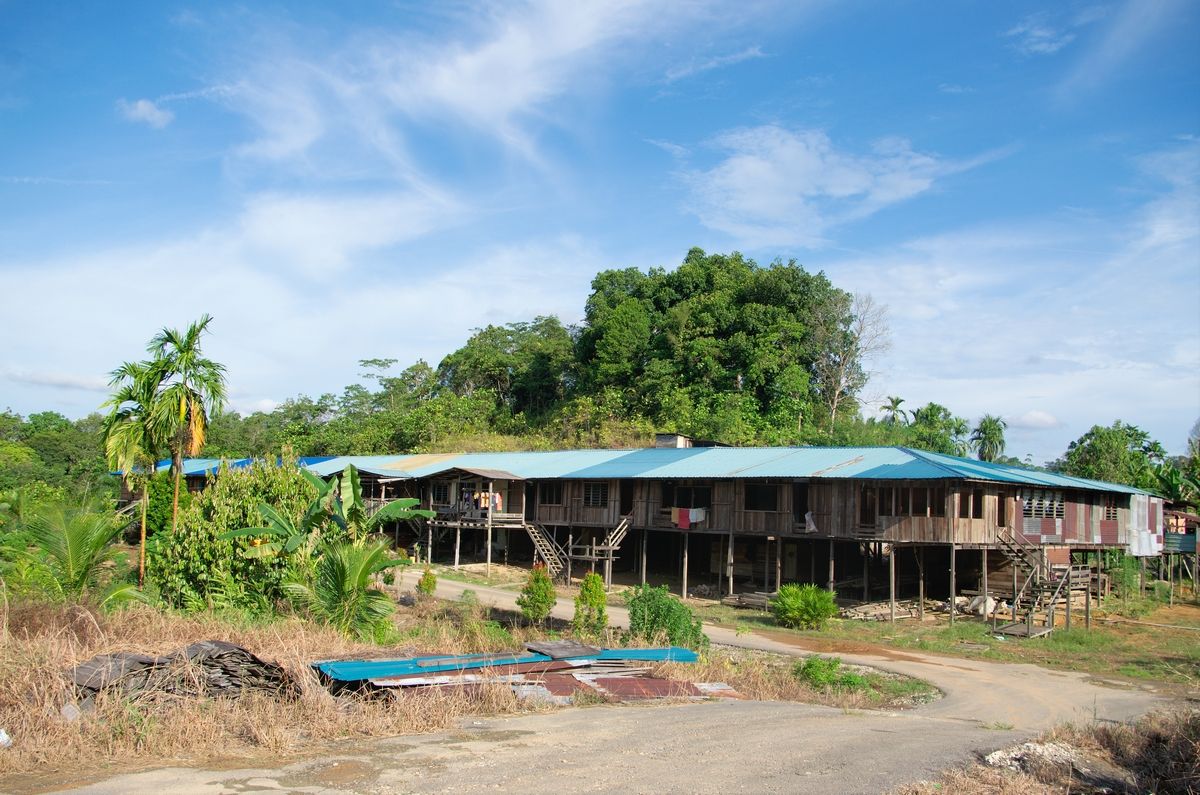 Longhouse kids
Bronzeback getting a tan
Roadside stall in the middle of Ass. What fruity treasures might it hold?
Bingo! Two minutes after this photo was taken, we were elbow-deep in durian gunk.
Back room in Niah Caves. (
This is what the entrance looks like
. Yes, there are HOUSES inside.)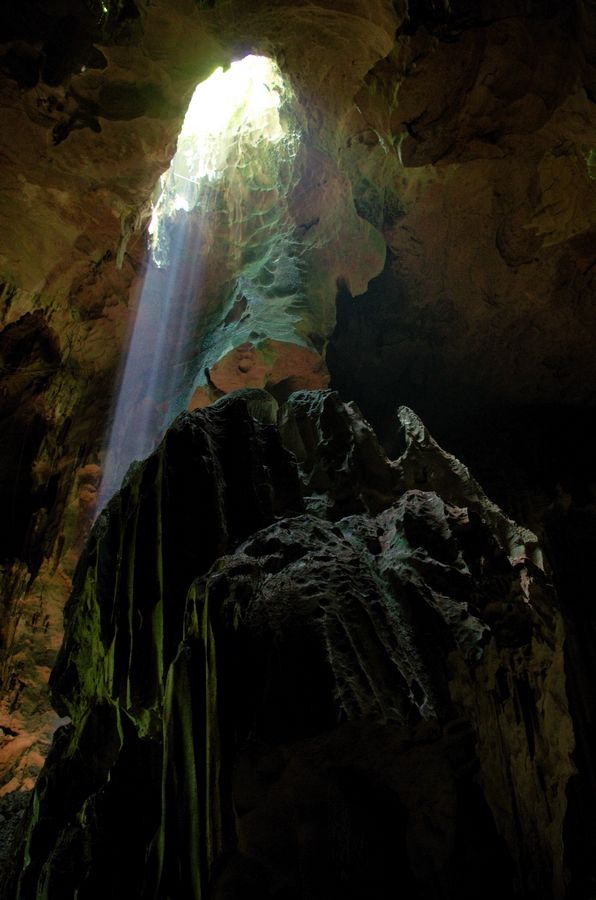 Almost more impressive than the caves are the trails around Niah. Here's the Mother Of All Buttress Roots (no, not the Taiwanese lady).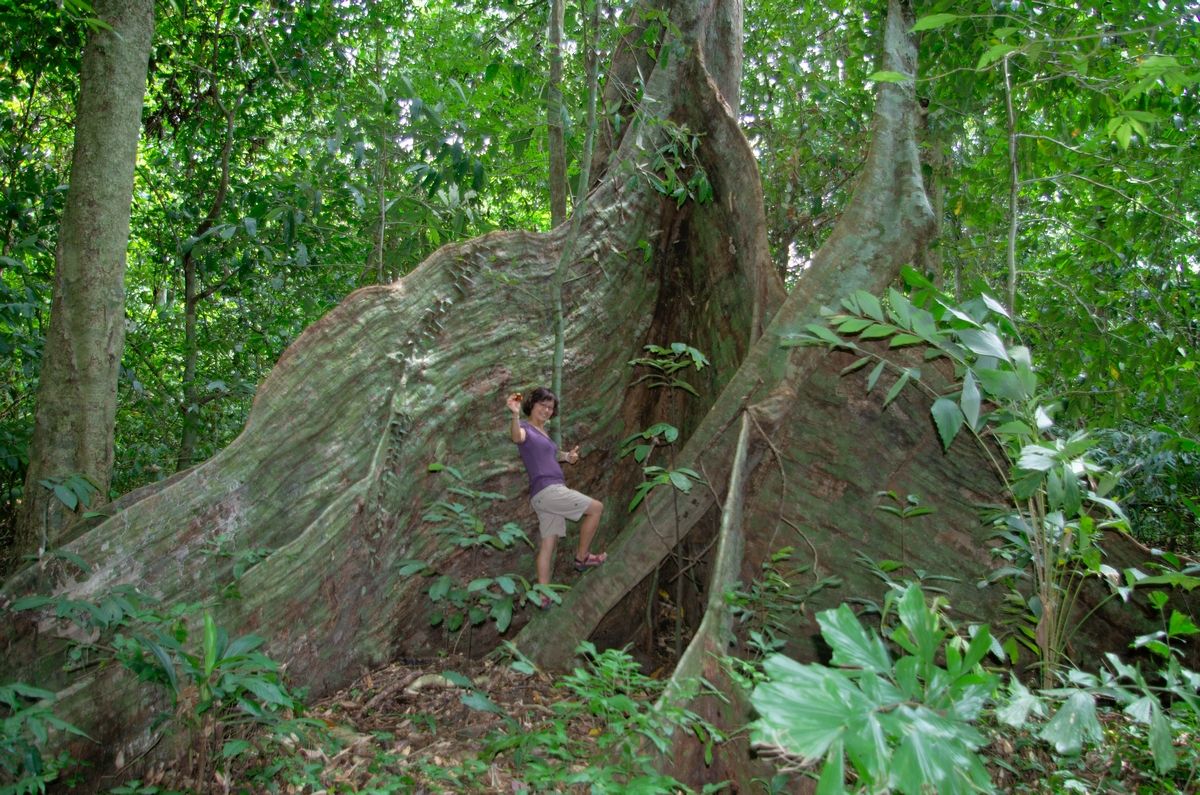 Two snails. (Duh.) The one on the right was as big as a ripe pear.
Friends through thick and thin (geddit? GEDDIT?)
The handrails along the main boardwalk in Niah were littered with these flashy millipedes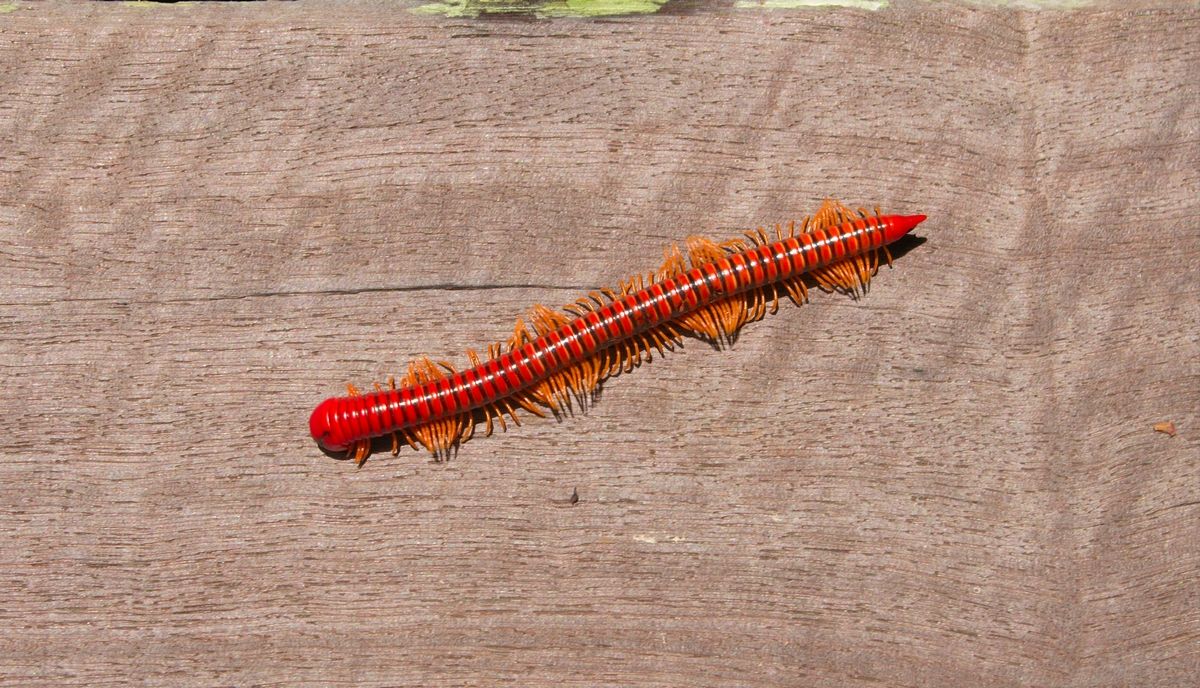 Lambir Hills National Park was small, but picturesque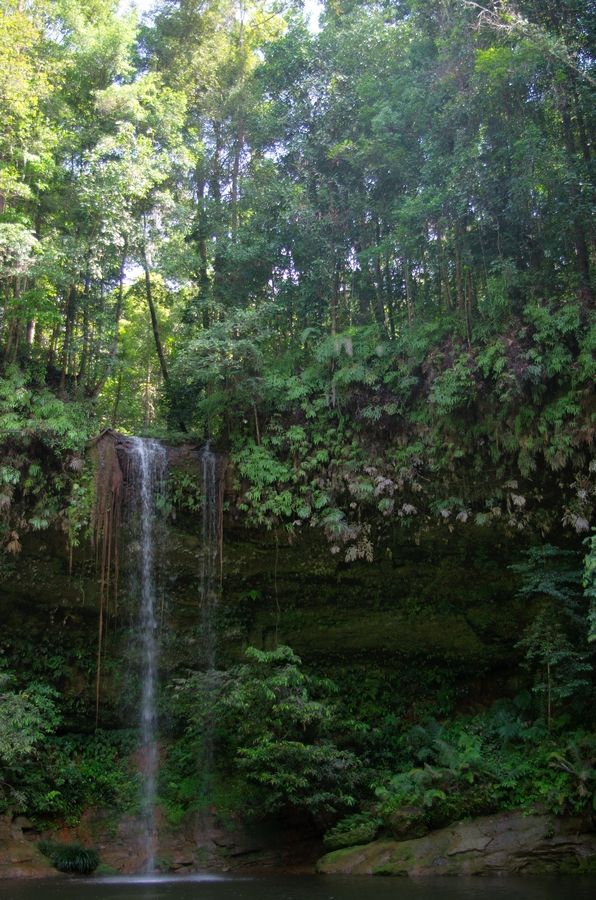 Had some nice (jumping?) spiders, too
Ahhhhhhh....salak, the heavenly Snakeskin Fruit, borne of a palm tree with the glorious moniker
Salacca zalacca
(no, I'm not making this up). The taste? Imagine a pineapple crossed with a lime, then dried to woody perfection. I could KILL for these things. Then again, I decorate my living room with durians just to have the entire house smell of it...
They's not smart, them
Bronchocela cristatella
. If you sneak up on them veeeeeeeeery carefully, you can take pix like this with a 15mm lens. And grab 'em by the tail, which they will then try to free with a weird, but effective vibrating movement.
There's a special punishment in Hell for people who don't water their geraniums: counting every single vegetative species on the island of Borneo by hand (= no, I do NOT know what this thing is. But it's purdy!)
The highway at dusk, somewhere around Tatau.
And last but not least, a word to all you aspiring NatGeo photographers: IT'S ALL FAKE - DEAL WITH IT!!!