Quote:
I would say that's a once in a lifetime sighting, but living in Borneo I suppose makes it somewhat more common?
Actually, it's possibly a repeatable sighting. This happened in Semenggoh, a 740-hectare forest reserve 20 minutes from Kuching that contains an orang-utan rehabilitation center. The 20-odd apes there are either poaching victims (mom shot, baby survived), or were removed from properties where they were kept as pets. The staff tries their best to prepare them for life in the wild, and if, after a few years, a specimen is fit for the jungle, it will be released in a larger national park. The free-roaming orangs are fed twice a day on special feeding platforms in the forest, but mostly they keep to themselves in the surrounding jungle.
For all intents and purposes, these are wild animals, and large posters showing gruesome bite wounds in Technicolor abound in the reserve. "If you meet an orang-utan, do not go closer than 5 meters (yards)" etc. The photos above were shot with a 500mm lens - my buddy Marcus, on his second visit in Kuching, kept at least twice the recommended distance while shooting, and I was waiting in the car, nervously revving the engine, ready to lay rubber and take a bloodied and mangled Marcus to the closest ER. The big male shown above is called Ritchie, I believe he's about 20-odd years old, and he's the biggest of the bunch. We met him on the access road to the center, two hundred yards away from the main highway. The reserve is not fenced in, but the orangs have enough common sense and bad experiences with humans not to leave the forest.
On the one hand I realized that what we had "roadcruised" here were immensely intelligent beings, and part of me really wished to interact with them on that level. On the other hand, the more intelligent an animal is, the less predictable it becomes (one reason why I like to work with snakes

). So here was Ritchie, at first hiding beneath a roadside tree, clearly afraid of the car, then of Marcus who got out to take photos. As magic as the moment was, neither Marcus nor I entertained any notions about testing how far we could "interact" with Ritchie before he got scared/irritated/teed off enough to open the Gates of Hell. Not only do these animals sport muscle fibers that AFAIK are four to five times stronger than their human equivalent (they can hang from a branch for hours, on one arm), but their dentures, if only evolved to open hard-shelled jungle fruit and get to soft tree bark layers, are nothing short of formidable. Here are the chompers of another male we found in another wildlife center last year, catching raindrops (seriously):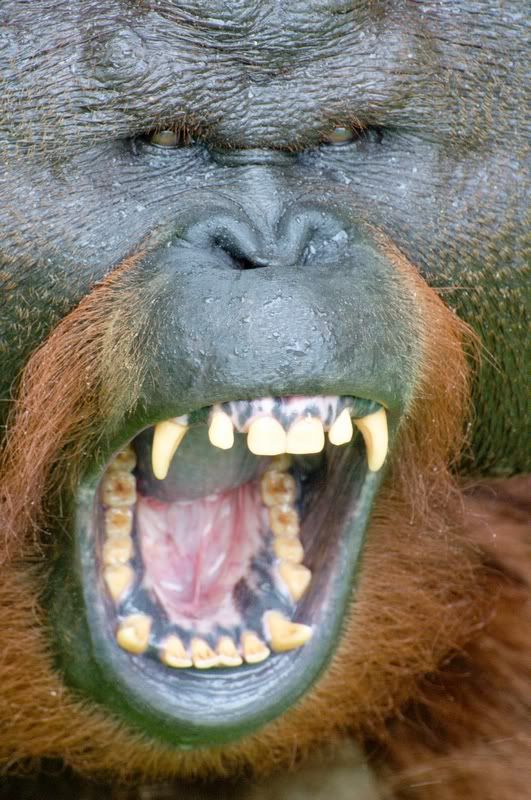 'Nuff said