I've been busy with work, yet another house guest (old college buddy), herping and occasionally working with folks from the herp department at the local university (UNIMAS) under the tutelage of Indraneil Das, as well as stumbling over snakes in the weirdest places. And today is my birthday, so I thought I'd take the liberty to produce a huge, but completely anarchistic post with unrelated and unsorted photos of seven of the snakes we've found over the past three weeks or so, without much coherent narrative. Just the pix, Ma'am.
1. Bornean Keel-backed Pitviper,
Tropidolaemus subannulatus
. This is the biggest I've seen so far (well, there was another large one a few months ago, but 20 feet away from me on a mangrove tree) My aforementioned house guest almost trod on it when we were coming back down the Tanjung Sapi trail in Bako National Park, and now he's convinced the Bornean woods are full of venomous vermin with his name etched on their scales. No matter how hard I try, he just won't believe that this was a one-in-ten-thousand encounter (maybe because we've already found six snakes in the five days he's been here

)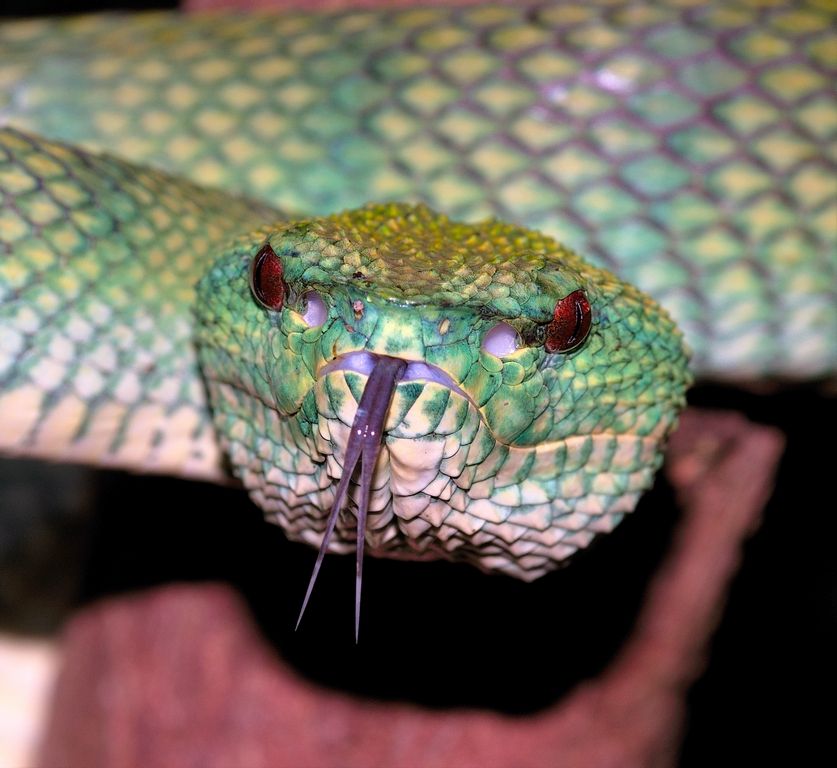 2. Brown Wolfsnake.
Lycodon effraensis
. This one was found on my first road hunting trip ever with Indraneil (Neil) Das, in mid-November. I wanted to show him snakes so badly, and boy, did I get more than I had bargained for. During a little show-and-tell for Neil's young son, this little %$#@ wolfsnake fell off the hook in the middle of the road, rushed straight over to my sandal-clad right foot and not only bit, but also held on to my pinky toe with such intensity that although Neil's son was present, I had a %$#@ hard time keeping my verbal output on a family-friendly level. Instead of helping me, Neil danced around the carnage, filming the entire bloodletting in all gory detail, grinning and giggling like a schoolboy, and topping the humiliation with the question "Are you sure it's just a wolfsnake? Heheheee.....". And it WAS funny. The video is a milestone of classic herping comedy, but after a few days of contemplation I've decided not to put it online, since there are too many things less kindly-minded folks might latch onto, starting with the decidedly Asian footwear (sandals, flip-flops, nightmarket copy Crocs) almost all of us were sporting. Oh well. Their loss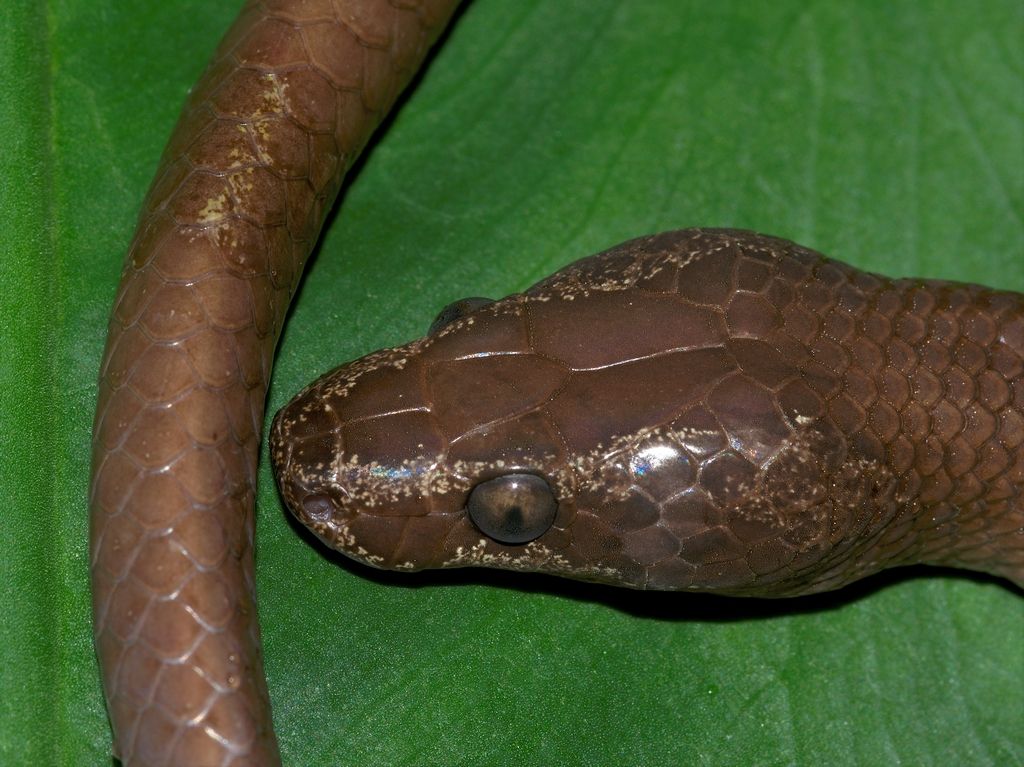 3. Sumatran Cobra,
Naja sumatrana
. This was the second snake we found that night, and again, Neil filmed very nice footage of us playing with the snake. THis time I didn't get bitten, but my Tevas were four feet from the cobra, forbidding publication of the video for the above-mentioned reasons. This is a very difficult species to photograph: it takes ages to calm down, and when it finally does, it doesn't hood up like most other Asian cobras, but lies flat on the ground. Since it's capable of spitting venom (although not as far or as accurate as African spitters), I was too tired to go through all that rigmarole, so I just took a few voucher shots. The next cobra will certainly materialize soon - after all, we all got them in the ditches around our houses.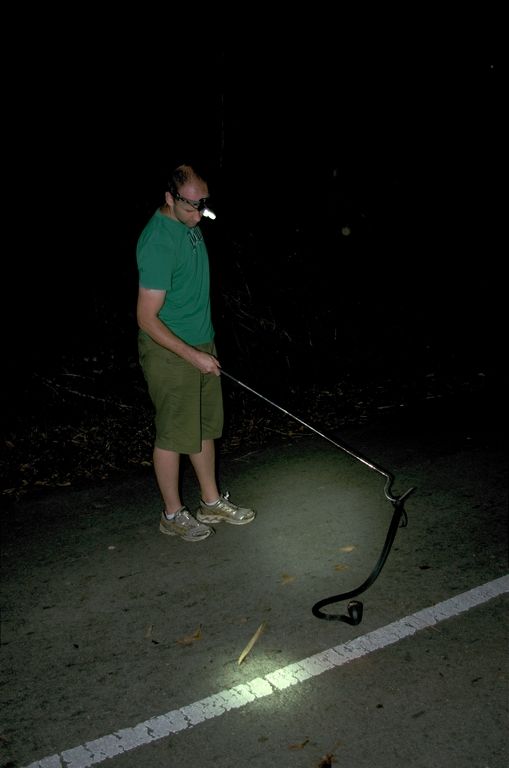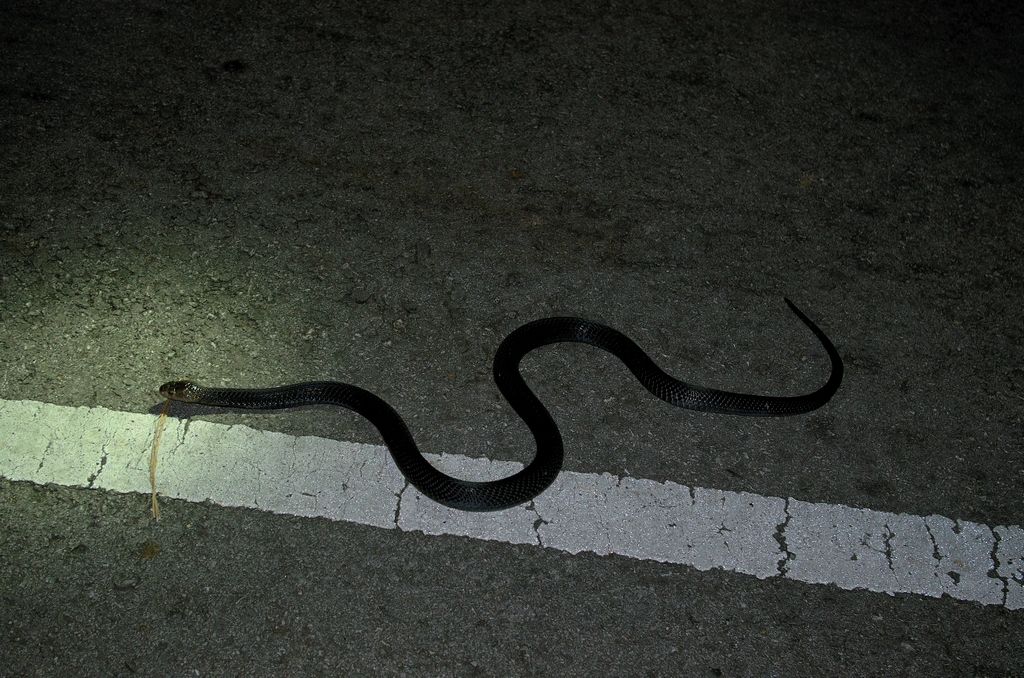 "Installation with Cobra and Malfunctioning Flashlight"; Hans Breuer, 2012 (MOMA, New York)
4. Dog-toothed Cat Snake,
Boiga cynodon
. The third snake we cruised with Neil was this eight-footer. While I was holding it in my hand (thank Jove for cheap Chinese welding gloves!), the snake began to work its considerable dentures all over the glove, and we later reconstructed the scene in daylight.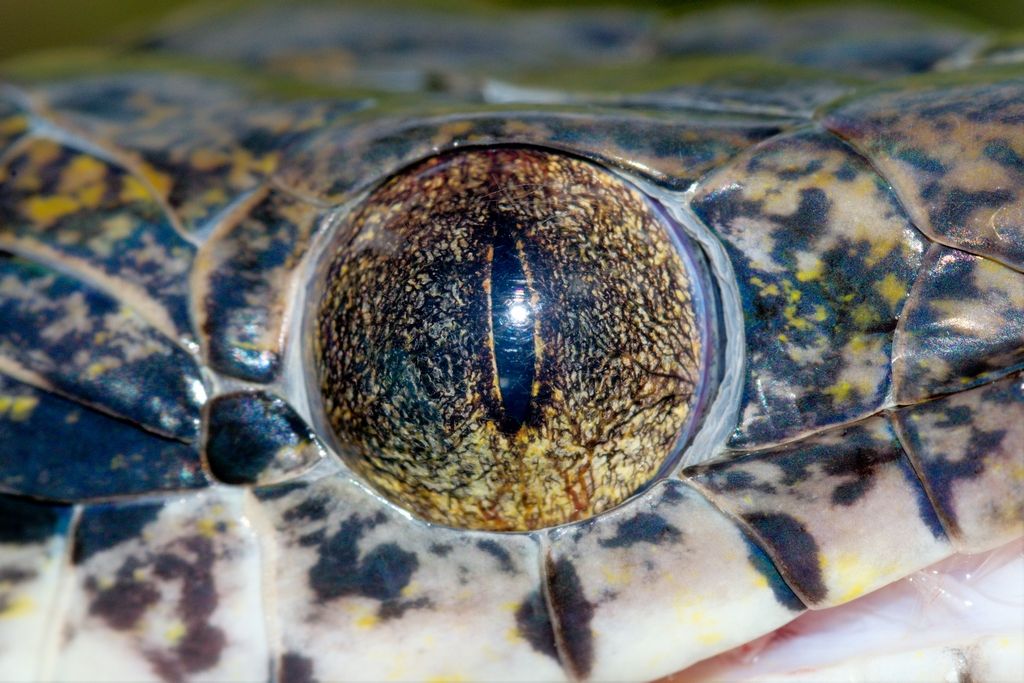 5. Two Sunbeam Snakes,
Xenopeltis unicolor
, found crossing the road within 50 yards distance from one another. Juveniles (a subadult in this case) have white heads.
Doc Das, gathering material for his next field guide in my dining room

6. Neonate Sabah Green Pitviper,
Popeia sabahi
. Boy, that thing was tiny. And the chap who had found it had to scrabble all the way to the top of a 4000-foot tall hill covered in steep cloud forest. Good thing I only had to drive to his office to take these pix...better him than me