Taken me awhile to write this, it isn't terribly herp intensive. But there's a lot of scenery shots, so this will end up being pretty long, so I apologize for that.
Post #47 – Shennongjia in August
A link to the previous post, Hong Kong:
http://www.fieldherpforum.com/forum/vie ... =2&t=13833
I arrived in Wuhan around 8pm, found a hotel nearby and crashed.
10 August 2012
Today's travel kinda sucked. I woke up in Wuhan, walked to the bus station (which took forever to find, they sell tickets in a different location from where the actual buses are) – once I got on the bus, left around 9am, arriving in Yichang around 2pm, all the tickets to Muyu were sold out. So I thought, ok, if a taxi from Yichang to Muyu costs around 300Yuan per car (so two ppl would be 150Yuan), then surely taking a taxi from Xingshan (the town just south of Muyu by about an hour) would not be very much, so I asked about tickets to Xingshan – "yo" (translation: we have). "ok, I'll take one."
So I rode another bus to Xingshan, arriving around 6pm (~4 hrs from Yichang). When I got there, I asked the driver about buses to Muyu – he shook his head "too late, not until morning."
Dammit. So I walked around town looking for a taxi, I figured since it was only an hr drive it would be fairly cheap. If Yichang to Muyu (a 5 hr drive) is 300 Yuan, then this trip, at 1 hr, should definitely be less than 100 Yuan. I had 97 Yuan on me. I found a taxi, asked about the price to Muyu. "150 Yuan" – what?! "I only have 97…" That conversation went nowhere. I eventually found another taxi that said they would take me, so long as I got the rest of the money when I got to Muyu. It was still a rip off, but at least I would get there. And in the grand scheme of things, an hour taxi ride for $20 USD is still pretty cheap.
I got up to Muyu around 9pm. I stopped at my new "go-to" hotel. The wife behind the counter had a piece of paper with a number for me to call as soon as I arrived. I called the number, didn't recognize the name, and told the person that it was me, and that I'm here in Muyu, at the same hotel I was at before. A few minutes later Yang Jin and another guy show up (a driver). They asked if I had anything to eat – of course I hadn't. We went next door and grabbed a quick bite to eat. While eating I asked Yang Jin if we were still on for my game plan, which was to spend a few days in Pingqian, a day or two in Muyu. While I was in Beijing, Yang Jin had told me that Mr. Yang, the director, wanted to know if I wanted to go on an expedition through the "primitive forest" as she put it. This sounded awesome, but my time was short and I needed to focus on Pingqian so I could determine the productivity of this site in the month of August. So, I had told Yang Jin that I would love to, but that I would pass on the opportunity, I just didn't have the time. Unfortunately, the message didn't get across. So back to the present: when I asked Yang Jin if we were still on, she seemed a little confused. She said that tonight I would join Mr. Yang over in Bancang and that I would hike through the "primitive forest" for 4 days and then spend the last day or two in Pingqian before leaving Shennongjia for good.
This was quite the shock, "oh?? Ok. Bancang, really?" – I haven't been to Bancang since 2006, so I was kind of happy for the turn of events. If there were a single expression to describe working in China, it would be this: "never expect everything to go as planned, and to be flexible."
"Ok, when do we leave?"
"Tonight, as soon as you finish your meal."
"Seriously? It's like 10pm at night, how long does it take to get to Bancang?"
"About an hour and half."
"Ok, sure, I'm game."
I asked her how many people were going on this "expedition" – I was thinking a small group. Not the case, around 20!! But about 10 of the 20 were porters.
We went to the hotel and I stripped my gear down to a single bookbag, the hotel was going to hang on to all of my other gear until I got back.
I loaded my bookbag into the truck and the new driver and I take off toward Bancang.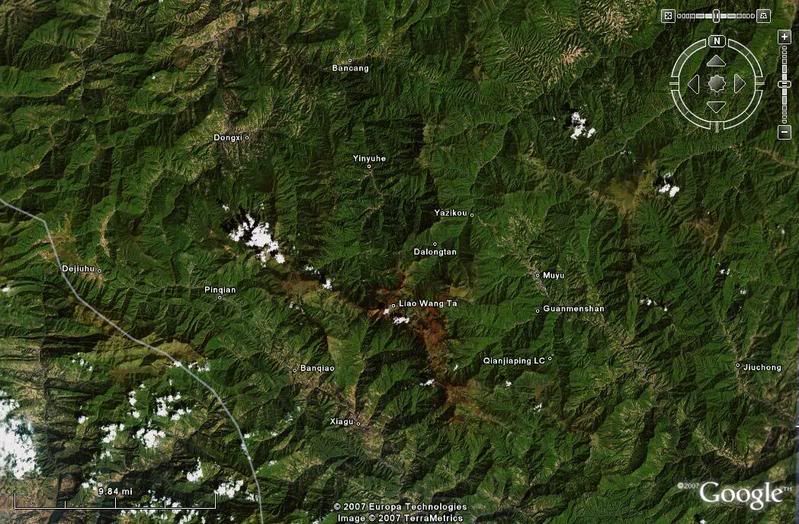 (that's Bancang up on the north end)
We arrived around 11:30 or so. The expedition crew had set up camp at the local school. They had a tent ready for me, as well as a sleeping pad and bag.
11 August 2012
Woke up around 6am. It was nice to see Bancang again.
our campsite
the crew, we're grabbing breakfast before we head out
of the three sitting down, the one on the far right is the Shennongjia videographer, he wanted to hang out with me all of the time so he could get some snake capture footage. It should be pretty obvious, but my role in this expedition was to find any herps I could
The hike was quite brutal. That's Leo Tang there on the far right, he was one of my assistants way back in 2006. He and I went on a crazy brutal hike back then too, which also happened to take place in Bancang. Bancang is quite low in elevation, around 100 m. Our destination was across a mountain ridge and down into a small village at around 600 m. I thought places like Pingqian were small – the place we were hiking to had a population of maybe 10 families.
note the house in the middle of the pic
same house there on the right
here's the house up close, with a surprising occupant
he's not solo either
Stopping for lunch, which comprised of a can of beans and two rolls of bread, now that's what I'm talking about – I wish I could have had more lunches like this in the past. Now, all of this was reminiscent of the 2006 hike in Bancang (see post #8:
http://www.fieldherpforum.com/forum/vie ... f=2&t=2764
) where I suffered heat exhaustion due to not enough water. Well we would be running into the same problem during these 4 days as well. By time this of this lunch break, everyone had exhausted all of their water. We purposely stopped here because it was the only site since we left that had any water. Down to the right and in that valley was a tiny little stream. Here we re-filled our water supply, drank as much as we could since we weren't sure when the next stream would come.
We finally hit our goal around 3pm. My legs were JELLO! The last km or so was all downhill, but as most people that know about long-term hikes, downhill is not always easier. Uphill is way easier because you can control your speed, when hiking downhill and the incline is extreme, it takes a lot of muscle to keep your speed at bay.
Looking at the elevation profile in GE, it looks like we hiked up 683 m and down 1098 m. Max slope hiking up was 46%, max slope on the hike down was 59%!
Me, Leo Tang, and the video guy were in the lead for the entire hike. I needed to be in front so that no snakes were scared off the trail. As we stumbled into the town, I asked them if this town had beer. "Yes." "Let me rephrase, does it have
cold
beer??" "Yes." "Awesome!"
We walked into the one and only shop and grabbed 3 beers and 3 pepsi's. It was incredible. And since Chinese beer is so light, it was almost like drinking water. Afterward I tried to pay, and the shopkeep said it was on the house… after all, I was the first foreigner she had ever seen in person. Haha
we set up camp in some open ground
The road heading into the town, man I'd love to road cruise this for a week. I'd definitely be walking it that evening.
Odonata of some kind
moth
moth
moth
moth
moth
How most people in Shennongjia pass their time
After dinner, which was great as usual, and quite spicy, I took a stroll down the awesome looking road. Unfortunately, nothing really special.
Amolops chunganensis
Amolops chunganensis
Fejervarya limnocharis
Odorrana margaratae
Odorrana margaratae
Bufo gargarizans
Bufo gargarizans
Bufo gargarizans
Conditions were pretty dry. As I said, if I were here for a week, and there was at least a little bit of rain, I bet some cool snakes would show themselves.
This next part got my heart racing though. So one of the enigmas of Shennongjia for me has been the lack of terrestrial salamanders. The place is 800,000 acres (323,750 hectares) and only has 3 species of salamanders, all fully aquatic, yet is reminiscent of the Appalachian mountains of the east coast, which has the highest diversity of terrestrial salamanders in the world. Therefore, it has always struck me as weird that this massive nature reserve doesn't have a single one. In my opinion, it just hasn't been found yet. And we all know a great way of finding terrestrial salamanders is walking along a damp rock wall full of crevices. Shining a flashlight into any of the crevices usually reveals the target species.
So back to the present story, we're walking along the road, not finding much. We come up on a section of the wall that is weeping moisture, has moss all over it. Of course I can't help but shine my light in the crevice:
See that black, shiny spot? Like the head of a salamander inspecting the entrance of its home, deciding whether or not it is safe to venture out, or waiting for an insect to walk by…. That's what I was thinking. But the angle of the crevice made it extremely hard to see what was in there. I shifted various angles until I finally got a clear image. I was so disappointed:
Just discarded exoskeletons from various arthropods.
Well that was it for the night. No snakes that day, or that night. The hike was incredible and tomorrow's hike was going to be much more intense.
A review of the hike:
12 August 2012
Got up bright and early, the plan was to not be stuck hiking in the extreme heat throughout the day. Our base camp was at 600 m and our destination for the day was around 1500 m, and unlike yesterday, the hike wouldn't be up and down, just straight up about 900 m (nearly a 3,000 ft climb).
Breaking camp and getting ready to go:
This time we were getting a mule for a portion of the hike. As before, me, Leo Tang, and the video guy (I never wrote down his name), took the lead.
As with yesterday, the hike was amazing. At one point along the hike we came across a large stream and decided to use the site as our lunch break. The water was beautiful, crisp, clean and cold. As before, everyone replenished their water supply here. And just laying on one of the rocks in the middle of the stream was like sitting near an air conditioning unit.
See the frog?:
Odorrana margaratae
It's funny, the Chinese love to make stone structures. We were all relaxing on the rocks, but some of the porters felt the need to stack the rocks into a structure:
Walking around while everyone was still relaxing yielded a beautiful
Elaphe taeniura
:
After our lunch break, we hit the trail again.
Up and up we went. At one point there was some disagreement on where the trail was. Our group split to the right, the other group split to the left. We ended up on the older, unused trail and the other group stayed on the well-maintained trail. Their trail was longer and more manageable, ours was shorter but was extremely steep (~60% incline). At one point we had to hike through an overgrown crop field, Leo Tang was in front of me and I guess stirred up some wasps because first I got stung on the ear, swatted at that, then got stung on the neck, so now it's running time… running up a 60% incline….
Ugh, once I got up to the main trail I was BEAT. Thankfully the wasp wasn't anything serious. We took a longer than average break since I just sprinted up the super hill. Mr. Yang said we were not far from our goal.
We finally reached our goal around 2:30pm. Unlike yesterday our goal wasn't a town, but just a house in the middle of the woods that was capable of serving a bunch of people, it was kinda weird.
One of the first things the crew does:
Poker
Front yard:
The yard was loaded with these edible fruits, kind of like passion fruit (I think):
Inside the house, the owners had some bacon curing:
Unfortunately, due to the terrain, I couldn't really explore too much like I did yesterday. In one direction from the house, it was a straight up climb, in the other direction; it was straight down… so we all set up camp early.
The kitchen:
With flash:
A review of the hike:
13 August 2012
Our hike today was going to mostly be along the ridgeline, not a ton of up and down. Still plenty of that, just not compared to the first two days. Our starting elevation was around 1500 m and our destination is around 1800 m, so only 1,000 ft climb.
Some edible berries:
Larval salamanders (either Ranodon tsinpaensis or Liua shihi, jury is still out):
A farmhouse we took another breather at:
Onward we went. We hit the top of the mountain and hiked along the ridge top for some time before hitting another farmhouse. Typically anytime we hit a house of any kind we take the opportunity to rest, get some water/ tea. At this location we decided to stop for a lunch break as well.
This didn't hit me until too late in the game, but all of the places in the middle of the woods, with so little modern technology (electricity, etc) – seems like they would make for some good black and white shots
Lunchtime (can of beans, and some weird sort of hotdogs that are extremely popular in China – made of composite meat, kind of like spam):
Our mule:
The homeowner smoking a long pipe:
Qian Ye, a journalist from Wuhan
Onward some more. Today's goal was essentially at the same elevation as where we started, so pretty easy hiking for the most part. We did have to cross over the mountain ridge, but after that it was all pretty smooth.
Along one section close to the ridgeline I saw the tail of a snake slip down over the edge. I peered over and could still see some tail. It was a brown tail, and I could see a little bit of mid-body, also brown, an obvious species, one I was expecting –
Rhabdophis nuchalis
. I made a lunge and got him. He was opaque and ugly, so I didn't bother with any pics.
Another farmhouse on the edge of "community" (not even a village), again, our destination was a home.
Potato chips drying in the sun:
And finally our goal (1pm):
Around back, the farmhouse had some cute little pigs:
Today's hike was the last big hike, tomorrow we'd be arriving in Dongxi, so tonight's dinner was a celebration dinner, and as usual, as the foreigner and good friend of the reserve, I was expected to drink copious amounts of liquor and beer. The evening was incredible. Great food, great conversation, lots of alcohol.
A review of the hike from day 3:
14 August 2012
Our last hike; the goal was to reach Dongxi, and then hitch a ride to Pingqian.
See the road in the lower left, way down there? That's where we are heading
Unfortunately, I didn't take any shots of the next part, and I wish I would have had my GoPro attached and rolling. So just a few more feet down the trail a landslide took out the mountain side, but there was no other way to get down, so Mr. Yang starts climbing down the landslide. We had to use the trees growing out of the ground as short repelling ropes. The entire thing was quite exciting. It took maybe 30 mins to "repel" down using small trees, then we were able to just walk down the rock pile the rest of the way. Qian Ye took a pic of me when I was essentially already at the bottom. It would have been cool to have a pic when we were at the top.
Once we got down from the landslide, the rest of the hike was just road stuff – pretty easy and mellow from there on out.
A review of the hike from day 4:
It was pretty cool to hike from Bancang, through the forest and wind up in Dongxi. Here's the entire hike from start to finish:
25 km total
hiked uphill: 2,300 m
hiked downhill: 2,500 m
We had an awesome lunch in Dongxi, afterward we'd drive to Pingqian where I would spend the next two days.
Qian Ye, the videographer, and the two students would accompany me to Pingqian. Since the beginning there were two students along with us, they were documenting everything: plants, rocks, birds, herps, and insects, whatever they saw.
We arrived in Pingqian with maybe 2 hrs before dinner. So obviously I went to my favorite hillside. August is way different, everything is far more dry, flipping the same rocks that I would flip in May or June and usually yield at least 10 snakes, in August yielded 0. But it might not have been just because of the dryness, there was a lot of disturbance at the site. It looked like some new power lines were running through and in order to make sure none of the tree branches took the lines down they decided to be preemptive and cut the branches off, plus it looked like they mowed a little path. They whole change was very upsetting. I guess I should just be thankful that the hillside hadn't changed in 6 yrs.
Dinner, as usual excellent. Afterward I told Qian Ye that I was going down to the stream to look for some salamanders. Qian Ye and one of the students tagged along. The stream was loaded with the guys. These are Liua shihi and Ranodon tsinpaensis. I am not 100% on the ID characteristics.
Here are some shots of standard
Liua shihi
, the way the species is documented in books:
Some of the other different looking individuals:
I didn't realize the second salamander was there until just the other day when I was looking at these pictures in greater detail, see his head sticking out from under the rock, above the main salamander?
The rain started to pick up, so we decided to head back. It was a fun little 30 min jaunt.
15 August 2012
Since the hill was screwed up, I wanted to check my backup sites and see if they were as unproductive as the hillside.
They were….
Qian Ye was busy being the photographic photo bug he was, being a journalist and all that:
All of those photos and not a single snake to show for it….
We took a break at the stream that had the salamanders the night before. I left my pepsi in the water to cool down while we were checking sites. When we got back to the stream I started walking around and saw a flash of color and movement. I yelled over to Qian Ye and the video guy, they came running over and the snake flushed from the vegetation. It was a gorgeous false cobra (
Pseudoxenodon macrops
)! Well the day had been a bust, but these guys are always a lot of fun to find, they are like our north american hognosed snakes except for the fact that they actually commit to a bite.
The habitat:
The videographer, who was of course afraid of snakes:
And when they are calmed down:
Well that was about it for my Pingqian days. I was mainly just curious about how things were in August. I hadn't been to Pingqian in August since 2006. I now know it isn't worth the effort and I should focus on May and June.
We headed back to Muyu. The videographer and the two students went to meet up with Mr. Yang and the rest of the expedition crew, they were now going into the upper elevations to do some more "primitive forest" hiking. They asked if I wanted to come along, but I didn't have the time. I'd be leaving in two days, plus where they were going the temps were in the 50's!! (~10°C)
Qian Ye came back with me to Muyu though so he could introduce me to his boss, another journalist that was in Muyu. She had been there for about a month. I was to be another article for them.
16 August 2012
The only thing on the schedule for today was to have some lunches and dinners with friends, say good byes and all that fun stuff.
Oh yeah, and to buy a bus ticket to Yichang. So some new changes to Muyu since May – Muyu now has a bus station! In the past it was just a stop for a bus. The bus would drop you off, park, and then the next day it would take passengers back to Yichang, but I guess traffic in the reserve has increased and now they have their own bus station.
They told me that next year, from Wuhan it should only take me around 4 hrs to get to Muyu! I hope this is the case, that would be amazing. The super highway they are building outside of the area should be done by 2013 and I think a high speed train from Wuhan to Yichang is also meant to be completed by then. Cool. Well we got my ticket without issue (though it was the last one. I tend to get a lot of that).
After that important business was done, one of the girls from HQ came by my hotel room to check out my snakes:
(Yang Jin always has the best facial expressions)
QIan Ye's boss:
After the snake showing, she told me that they had a cute animal back in the offices. Yang Jin tried to translate what animal she was talking about, but it never came through. Basically all I got was that it was "very cute." Plus I hadn't seen Wong Ming yet since coming back to Shennongjia, so we headed over to the offices. There in a bag was the animal. I opened it up:
A hog badger! I had no idea Shennongjia had these guys. Last year in Danshui the owner had one (to eat…). The thing was pissed as hell. Wong Ming came in and pulled him out. A bite from this guy would have been pretty severe.
(again, Yang Jin's facial expressions make it worth it)
From here I had some time to kill before our dinner. Nothing much, just catching up on photos and what not.
For dinner Mr. Yang (the driver) joined us, a longtime friend as well. The guy on the far left I knew, I met at some point, but I forgot his name. If I don't have names written down for me, in pinyin, I'm not likely to remember. The other thing that sucks about remembering Chinese names is a lot of them are three names, at the very least two.
Anyway, my last dinner in Shennongjia (until 2013):
I tried to sneak a pic of Yang Jin without her knowing:
(to me it says "what the hell are you trying to do??")
17 August 2012
–
Leave Muyu, take bus to Yichang.
Leave Yichang, take bus to Wuhan.
Leave Wuhan, take plane to Shenzhen
Leave Shenzhen, take taxi to Hong Kong border
Leave HK border, take subway to Dan's apartment to sleep for a few hrs before flying to Taiwan!
Next trip, Taiwan:
http://www.fieldherpforum.com/forum/vie ... =2&t=14811