I'm going to do the first run with snakes, habitat and the most interesting reptiles. Amphibians, inverts and other creatures will follow. We found about 30 snakes in about 21 nights so don't worry, there'll be some stuff you've never seen on the Forum before.
Catching snakes is illegal in Malaysia (without a permit) so watch out, we got a badass over here!
I would like to thank Tom Charlton, Hans Breuer, Peter Engelen and Indraneil Das for the scoop on most of the places I visited, even if it wasn't intentional.
Well, enjoy!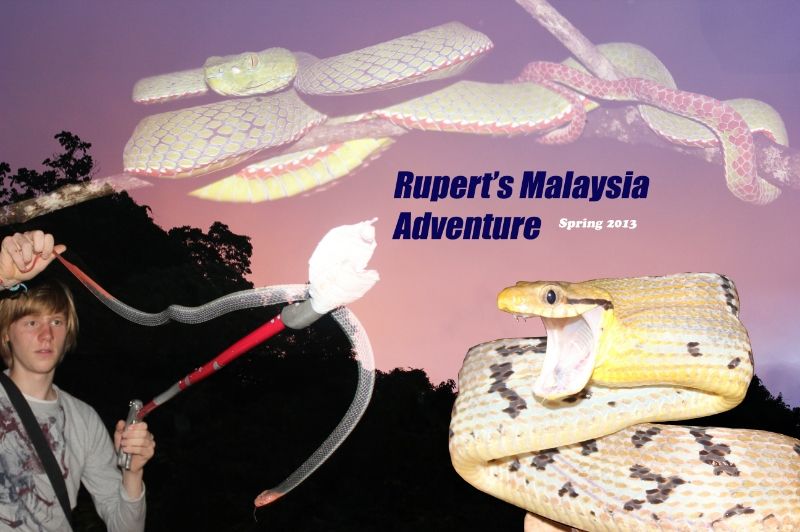 Herping in the South-East Asian tropics isn't easy. For instance, 'terrestrial', is a term most snakes are not familiar with and if you ask a South-East Asian snake what 'visible' means, all you'll get is blank looks.
Most of the landscape is cultivated. Diversity hates cultivation. Therefore, if you are already versed in plantations snakes (as I am), Primary forest becomes huge magnet and I'm a puny piece of iron.
However, a whopping five hours hiking at night, with a maximum personnel of three, yielded an average of one and a half snakes. Of course, an alternative is Road-Cruising, but unfortunately, Asia isn't known for good quality roads and it often takes rare local knowledge and months of living somewhere to find a productive road. Luckily, I had Field Herp Forum and experienced acquaintances to help me out with that. But there is nothing quite like the forest in the dark, besides, you will
always
find something cool whilst walking in the forest, no matter what conditions.
On the island of Lankawi, the first leg of my trip, the jungle is almost unavoidable with Gunung Raya dominating the skyline with a height of almost 900 meters above sea level.
Strangely enough, someone had built a lovely 7km road to the summit of Mount Raya, making it perfect night cruising territory.....or not. Unfortunately, full moon conditions and solid bad luck rendered night cruising useless, scrapping any hope of finding our target
Cryptelytrops venustus
. However, I set out on the first day and caught a feisty Asian Vine Snake (
Ahaetulla prasina
) in the bushes, quite a fitting first find of the trip.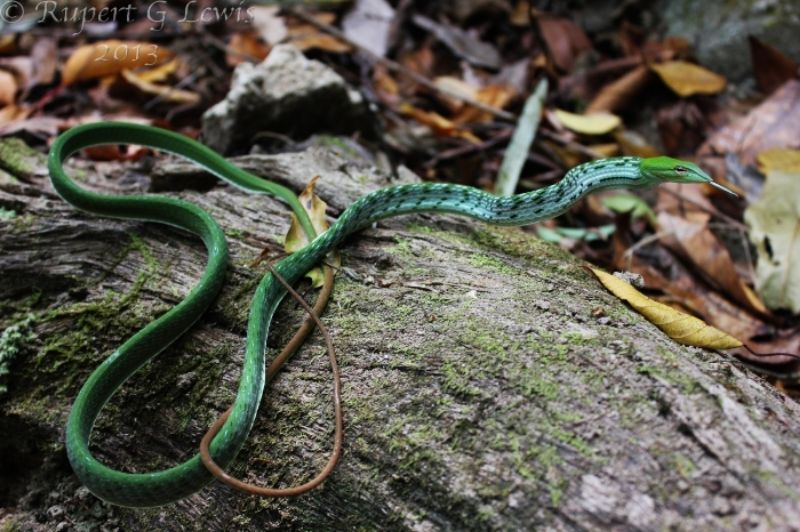 Habitat of
Ahaetulla prasina
(base of Gunung Raya):
Sunset from the summit: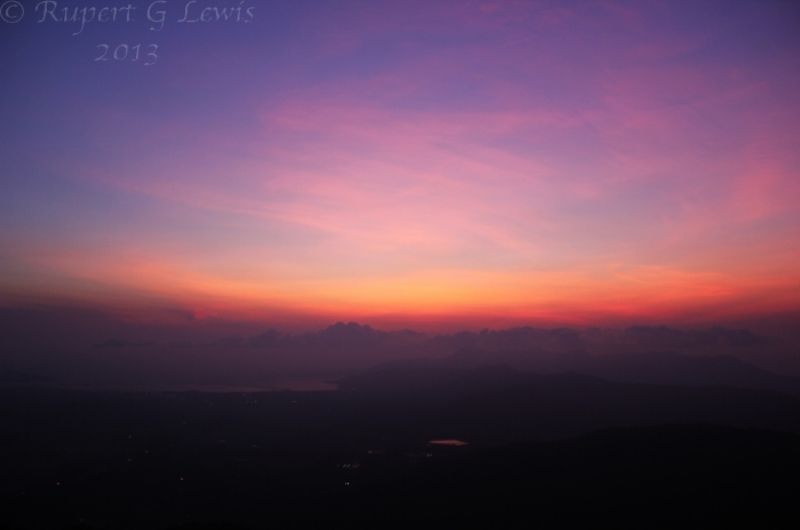 That night, we weren't so naive and decided to walk a waterfall area we scouted out during the day. This was good idea as I caught an adult Malayan Krait (
Bungarus candidus
) as it was hunting the crevices and cracks along the stream, making our time at Lankawi worth
something
.
Peninsular variety Malayan Krait (
Bungarus candidus
), Malaysia's *most venomous snake* (I
think
- they're always updating this stuff):
These docile but oh-so-deadly Kraits are absolutely magical...
The next morning, we immediately caught the Ferry from Lankawi to our transition point of Alor Setar, where we had booked one night's stay and a vehicle.
Surprisingly, this Hyundai Matrix turned out to be the best night cruising car I've ever had!
My original plan was to spend the night chilling and head to Bukit Larut the next day, but the cloudy conditions around Alor Setar looked great and I was itching to catch a snake or two so we attempted to get out towards Lake Pedu. The only problem was 50km of Malaysian plantations, towns and villages that stood between us and the lake. However, after an hour of going round in circles and making wrong turnings, we arrived in Kuala Nerang where behold, they had signs to Lake Pedu!
Our perseverance payed off and we found this cute *Lifer* Keeled Slug Eater (
Pareas carinata
) almost immediately: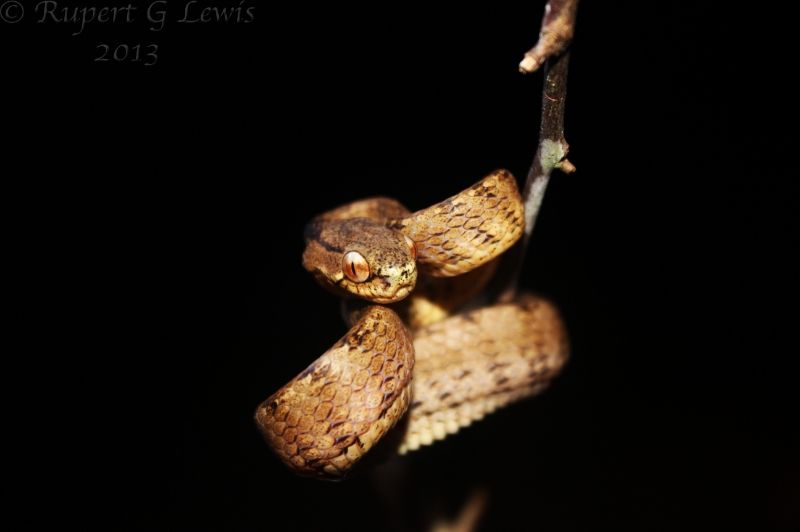 ...and a 130cm Dog-Toothed Cat Snake (
Boiga cynodon
):
The
cynodon
spent the first few minutes trying to flee but eventually showed me those
vicious
chompers!
I'm always told how aggressive
cynodon
is and how nasty the bite can be, however, I find
cynodon
to be a timid and intelligent species of snake which only puts up a fight if it feels cornered, but sometimes it doesn't even do that!
After the disappointment of Lankawi, two snakes in a night felt great so we decided to return to town. It was past 1am and an evening of rolling around on the floor photographing snakes had made me quite tired, however, a sight like this can give any herper an adrenaline rush:
Malayan Pit-Viper (Calloselasma rhodostoma), and even though it only occurs in the very north of the Malay peninsular, it still claims the most snake bite related deaths in all of Malaysia. Although, only 2% of bite victims of this snake actually die, which puts in perspective how many plantation workers must get bitten.
There was no space or time for proper photos so here he is all flattened out, looking mean. Personally, I never found these to be particularly aggressive and many a time I've had them show no aggression whatsoever.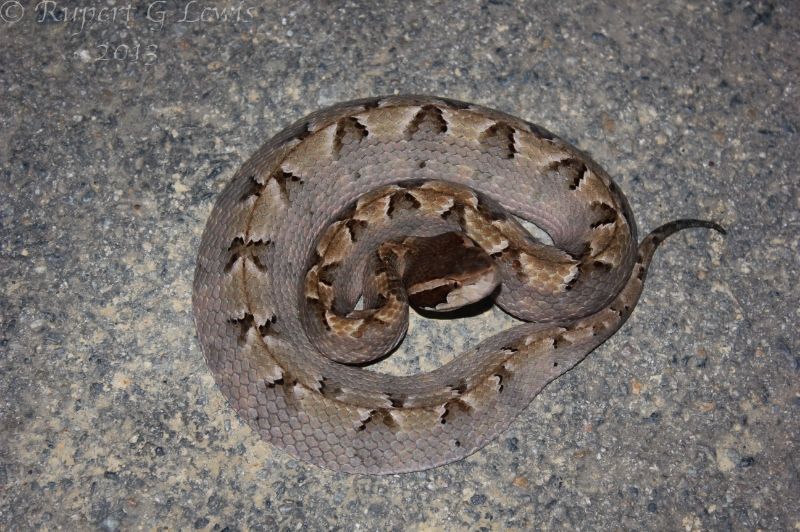 And that concluded the night!
The next morning it was time to make a decision on where to go. I had wanted to hunt about at Bukit Larut, the smallest of the hill stations, but you can't drive up, you can only take a their jeep. Spending money on a hire car and then not using it seemed stupid so, after some discussion and the ghastly suggestion of Ipoh (OH LORD!) by my dad, I called 'full steam ahead' to Fraser's Hill, as to maximise time in the place where I wanted to focus my efforts.
Six hours of driving brought us to the bottom of the range where we took a short break to admire the lake.
If you don't know already, Fraser's Hill is located at about 1,200 meters above sea level and the temperatures are simply glorious. You can literally go out at any time of the day and not worry about the wrath of the tropical sun. It actually gets pretty cold at night, which means sissy lowland dwellers like myself have to wear jumpers most of the time.
On the night that we arrived, my father said he was too tired to hit the forest, but I had just spend seven hours sitting in a car, so (whilst cursing my lousy staff) I trudged off into the network of misty mountain trails alone.
To say the jungle is creepy at night would be a huge understatement, but the thought of a lovely lifer kept me powering on and I caught this friendly
Lepidodactylus lugubris
*Lifer*:
I spent about ten minutes sitting on the forest floor letting this little thing crawl slowly over my hands and arms: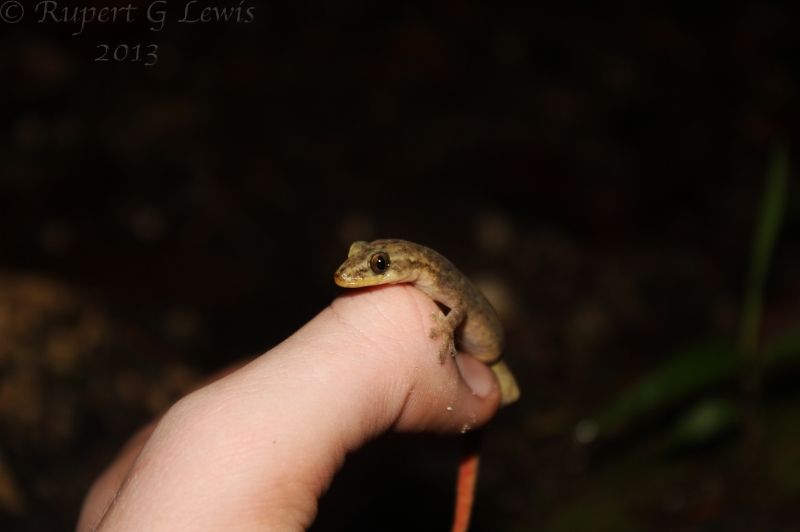 I later arrived at a stream where I used cunning to catch this adult Cyrtodactylus quadrivirgatus:
Then, whilst checking the vegetation around the stream, I finally got my snake! A Malaysian highland endemic and one of three targets I had for our six nights at the hill.
Mountain Slug Eater (
Asthenodipsas vertebralis
) *Lifer*:
It was a long slug back up the hill but I was happy with my finds. Plus, Siva, the Indian shopkeeper you might remember me mentioning in
http://www.fieldherpforum.com/forum/vie ... rt#p179041
had let us rent a two bedroom apartment for a amazing 80RM, more than 40RM less than you would pay for the cheapest one bed room in the rest of the hill.
Thanks to the fridge in our apartment, I started off the first day with several bowls of Kellog's Corn Flakes.
However, the only notable find during the daylight hours was this Malaysian highland endemic (and very tiny) Titiwangsa Day Gecko (
Cnemaspis flavolineata
), living up to it's common name for once.
This time round, I had really done my homework for herping in the highlands and I had some strategies I was dying to put into action. One of them was to find roadside streams in submontane forest habitat then use the boulders as well as animal trails to hike up them (at night). This was tough and slightly dangerous work but if I was going to find the next target snake, it was the only way.
Sure enough, on literally the second stream I hit, there was a small snake lying flat on a rock with it's head only a couple centimetres from the rushing water! I knew exactly what it was and immediately remembered a report I read on this species which said it was 'extremely light sensitive'. No way was I going to let what could possibly be the best find of the entire trip slip into the current so I quickly hopped two boulders and plucked it off the rock before it had the slightest chance to react.
Extremely rare, West Malaysian highland endemic known as the Red Mountain Keelback (
Amphiesma sanguineum
) *Lifer*: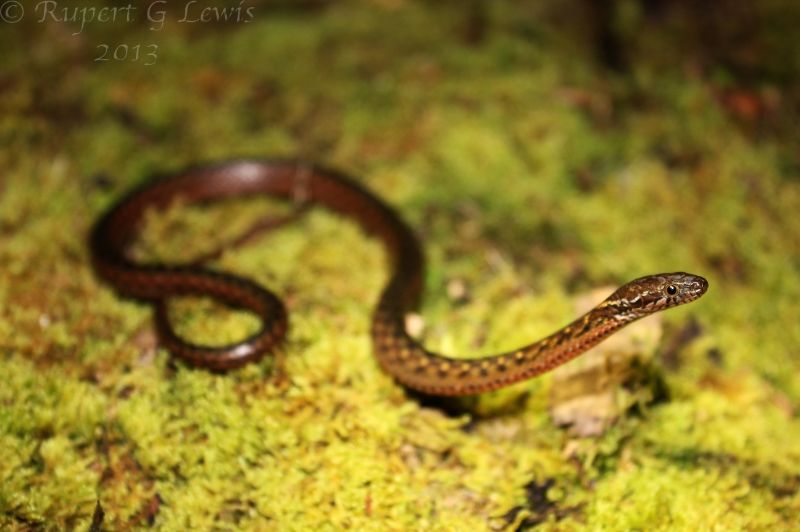 The fast flowing mountain stream habitat of
Amphiesma sanguineum
, with a Larut Torrent Frog -
Amolops larutensis
(can you see it?):
Still in disbelief that I actually found the snake I was looking for - that never happens in the South-East Asian tropics!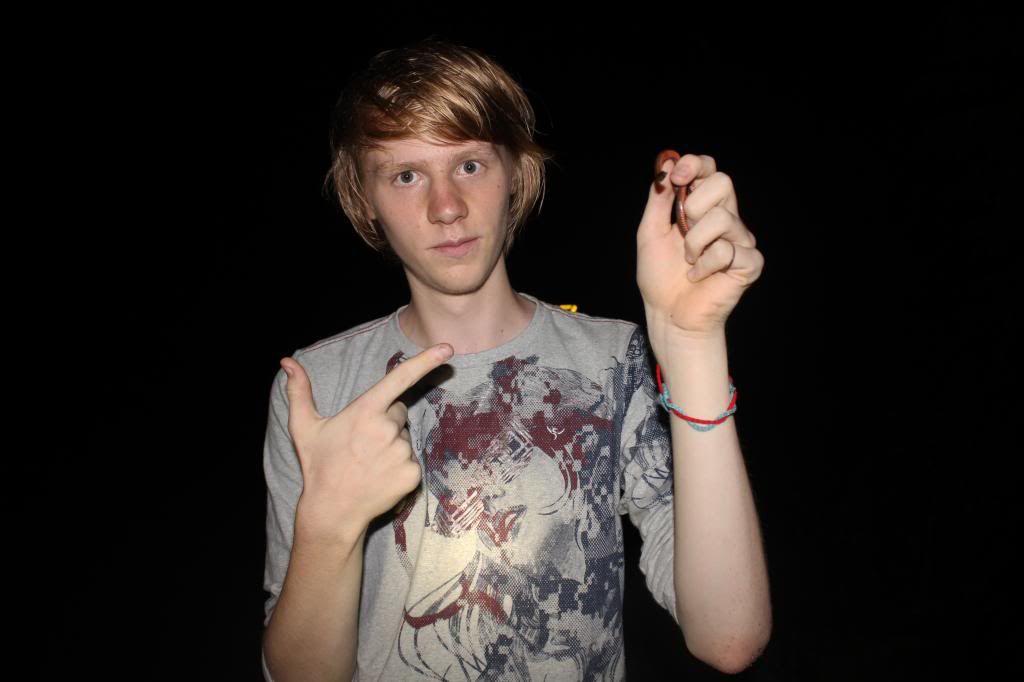 Since that find came so early in the night, my father and I decided to walk the mountain top circle known as Telecom's Loop, as I'd heard our third and final target,
Lycodon butleri
, can be regularly found up there. It took about an hour and a half but we didn't find our wolf snake, just a Cyrtodactylus quadrivirgatus gecko and another, but more banded, adult Mountain Slug Eater (
Asthenodipsas vertebralis
).
Next morning, we decided to relish in the last night's success and take it easy, making an excursion down the mountain to the town of Raub to get some fruit and fuel up the Matrix.
However, we still got a nice long afternoon walk but came out empty handed.
For the rest of the stay, I decided to sleep in so I could spend more time out in the night.
Mountain stream habitat off one of the trails where we were looking for
Amphiesma sarvacense
, a secretive and diurnal snake which has not been recorded from Fraser's Hill, but then again, nor was
Amphiesma sanguineum
.
We hadn't really done any nightcruising yet so we decided to hit the road and get a relaxing two hours of driving in. Well, relaxing for my father, I'm the one leaning out of the window scrutinising every twig or piece of plant which could possibly be a tiny reed snake.
As we arrived at the Gap and began the Old Road, it began to absolutely pour with rain, but this is the mountains and the weather is screwed up so it stopped about 2 minutes later.
Short bursts of rain like that are notorious for bringing snakes out so I had high expectations for what we might find on the way up. Sure enough, what I originally thought was one snake materialised round a bend. I jumped out of the car and found not one, but TWO snakes checking each other out!
It didn't take long for me to realise that one was about to eat the other so I quickly grabbed the non-venomous snake and shoved it in the box while the other tried to escape off the wet tarmac.
The Predator:
A huge (70cm) Bukit Fraser variety Striped Coral Snake (Calliophis intestinalis lineata) *Lifer*, a highly venomous but secretive elapid with a taste for fossoral serpents.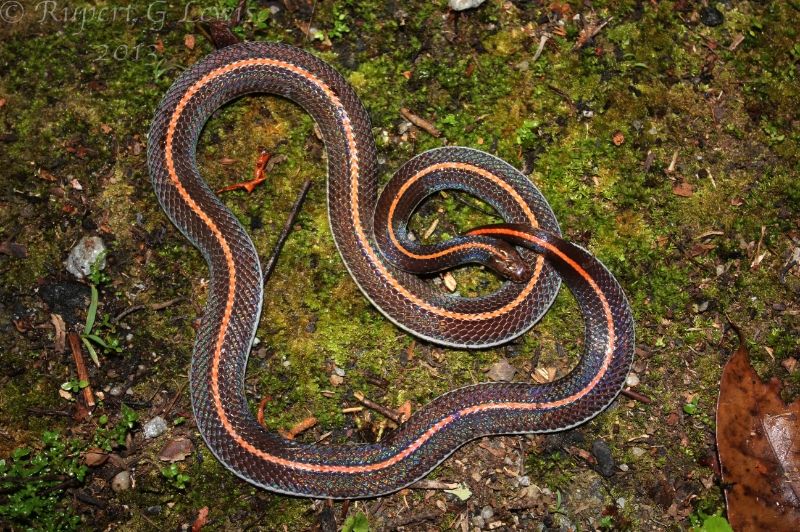 Calliophis sp.
aren't very intimidating and prefer to hide their head and show their striking venter than act aggressively. The mouth is situated quite low under the snout (snake eaters) so it is very hard for them to get grip on flesh, rendering antivenin futile, so it isn't produced.
The Prey:
This snake definitely challenges the last night's
A. sanguineum
for rarest find of the trip. Very, very illusive Barred Kukri Snake (
Oligodon signatus
). Which definately trumps it's brothers and sisters in Borneo and Sumatra in terms of being hard to find. Indeed, the
signatus
from the malay peninsular is restricted to high altitude forests where it cruises through loose soil and leaf litter in search of reptile eggs. To put this snake's rarity in perspective, the holotype was found in Singapore and, apparently, has not been found there since.
After all the photographs, I couldn't stop thinking about how much it would have sucked if we had got there one minute later and the once-in-a-lifetime
signatus
was being eaten.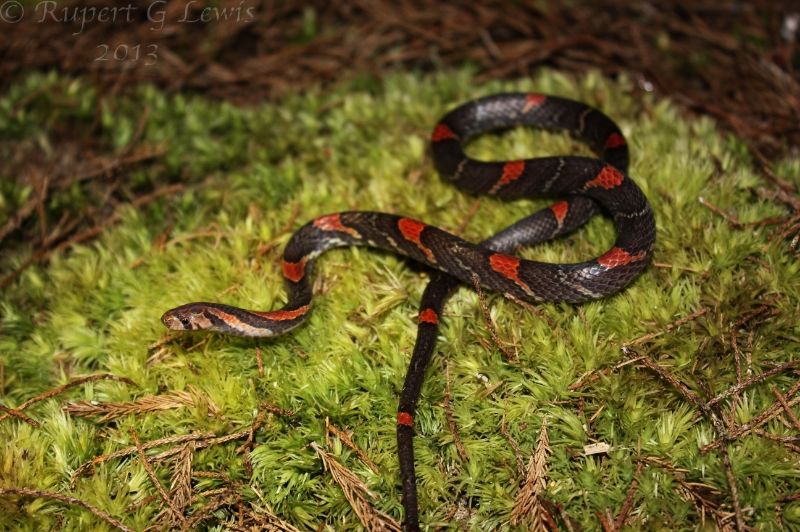 What a night!
The next day it rained, and rained...and guess what? It rained!
Luckily we had Uncle Siva who made a list of things we should do and he should show us while it rained. The first being a trip to see the preserved snakes at the clinic. Most were over seventy years old were named completely wrong (E.g.
Lycodon butleri
was marked as 'Egg-Eating Snake') so I asked if I could take a look and rename them correctly. Unfortunately, they had lost the key to the cabinet decades ago...
Then Siva took us to meet Professor Carolina at the Interpretive Centre, who was under the impression that I was post-grad and actually tried to offer me a place in the University of Malaya's scholarship programme. Jeez, I'm only seventeen!
By the time we were finished, the rain had eased off to a drizzle so Siva took us up to the Maybank Lodge where he had recently seen two Lycodon butleri. Alas, in the two minutes it took to get up there it had started pour again.
In Thailand, a day of incessant rain would usually mean that snakes will have disappeared so we decided to hit some mountain streams, because semi-aquatic snakes are rarely affected by rain.
There had been enough rain to bring the rare
Rhacorphorus
tree frogs down to the ground to breed and we saw two stunners (coming up later).
I hiked a up the first stream we came across until I saw a little green and red worm poking out behind a rock: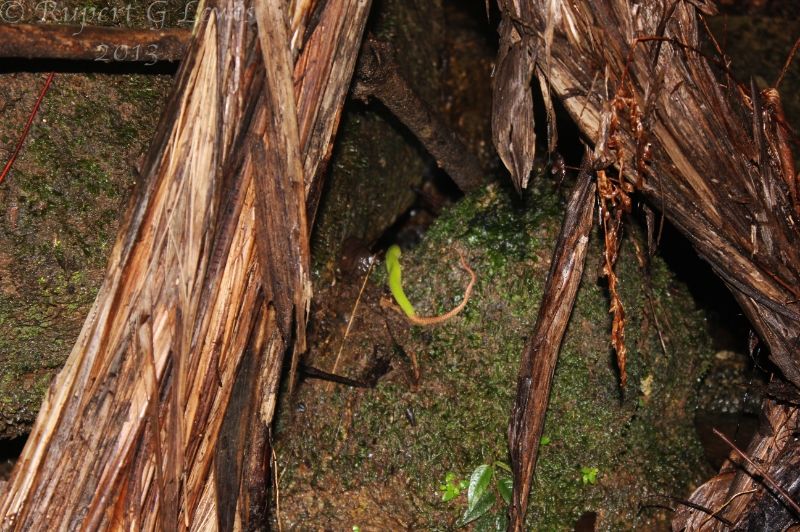 Mid size, female Peninsular Pit-Viper (
Popeia fucata
) waiting to ambush an unsuspecting frog (in situ):
After realising she was spotted, the little snake slipped into the stream and just kinda sat in a small enclave, looking unsure of what to do. This was a beautiful place to photograph her but unfortunately there was tons of vines hanging in my face and the part of the stream I was standing on was beginning to crumble and I didn't fancy falling a few feet into stream water with my camera.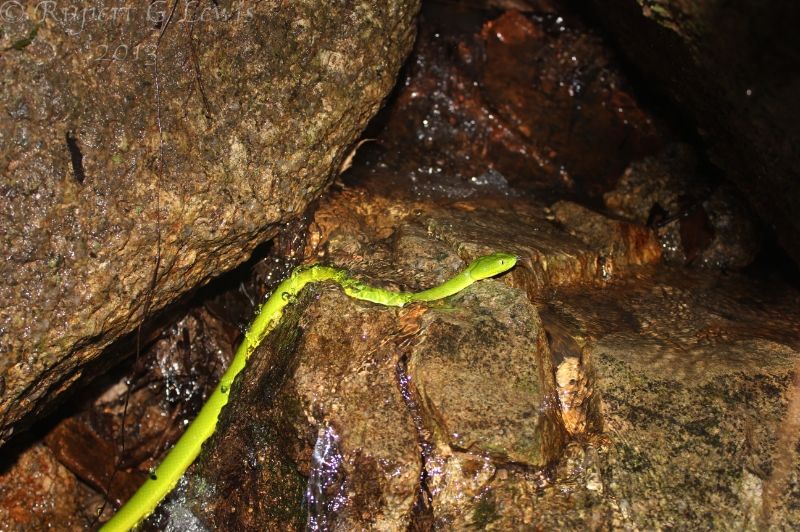 I used the tongs to get her up onto the bank so I could climb up and find some stable ground (remember it had been raining all day).
To my delight, she then climbed, pretty much unfazed, onto a dead-end branch at head hight:
Not entirely sure why I used so many pictures of this snake, I guess I just liked the story.
Not long after that encounter, we happened across this huge male Peninsular Pit-Viper (
Popeia fucata
) which, unlike the female, had some attitude!
The males also have more patterning:
Keeping it out of arms reach...
We also found two
Asthenodipsas vertebralis
that night, bringing the total found to four. However, I only bothered to photographed this huge, I mean
giant
female!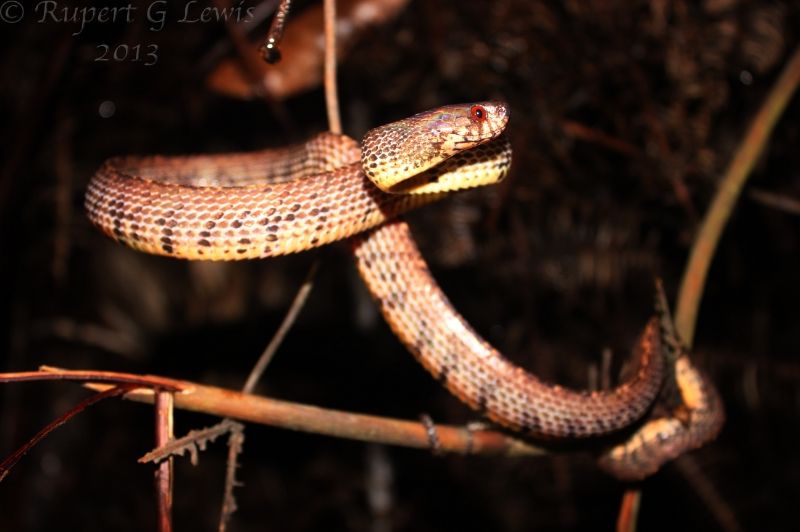 The following day, as the storms we rolling in, my dad spotted this ancient fella sitting on the edge of the road. I knew they were fairly abundant here but never actually expected to see one, especially not at the hottest, most humid point in the day!
Impressed Tortoise (
Manouria impressa
) *Lifer*, a species of Tortoise found in uplands across South-East Asia:
I thought this was regular Tortoise size, but when I showed Siva the pictures he said he'd never seen one that hefty! Apparently they are usually about two thirds of the size of mine.
Clouds descend on the mountain every evening:
After dinner, we decided to go back up to Telecoms loop to see if we could be third time lucky for
Lycodon butleri
, but again, a different snake was found.
Variable Reed Snake (
Calamaria lumbricoidea
) *Lifer*:
Cute little chap which would never stop moving, I do have my tactics though...
At the end of the night, I spotted another Striped Coral Snake (
Calliophis intestinalis lineata
) on the edge of the golf course. This one was heavily in slough, so I didn't spend much time taking pictures:
Although, at one point, it started climbing up my jeans!
Check out that venter: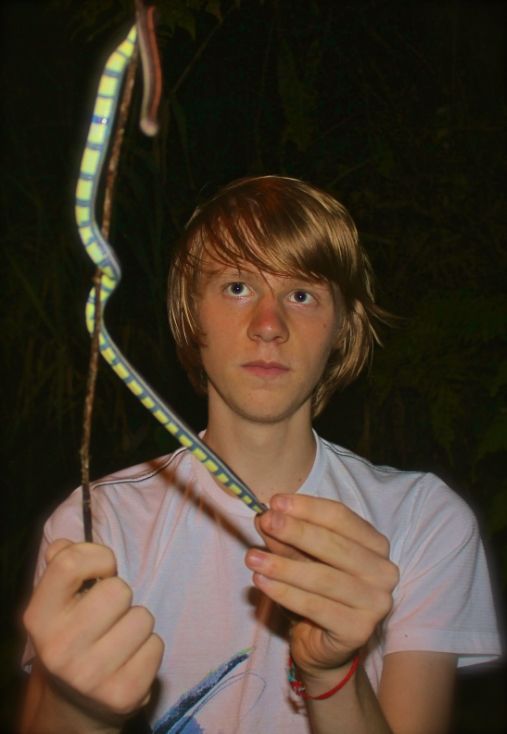 Not the most exciting night but that
Calamaria
was a cool find. They are very secretive, fossoral snakes which rarely show themselves above ground.
On our last day, nothing particularly interesting happened although I did meet an English birdwatcher who showed me video of a 2 meter+ Banded Krait (
Bungarus fasciatus
) that he filmed in the Selangor mangroves - a spot I visited a few years back.
But when night fell, sh*t got serious!
First up was this Malaysian highland endemic
Hemyphillodactylus harterti
:
Then this recently described
Cyrtodactylus elok
(Grismer and Fide, 2010), another Malaysian highland endemic and a *Lifer*:
Next up was our first snake of the night, and a good spot on my part, considering how tiny it was!
Unknown
Calamaria sp.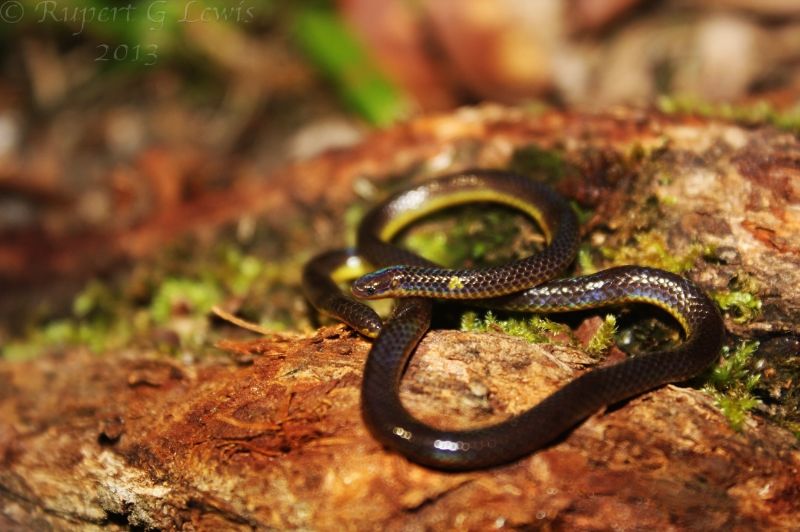 There are over sixty species of Calamaria in South-East Asia and they are finding new ones all the time so it's very hard to identify small and obscure
Calamaria
like this. However, I wasn't aware of any Calamaria found in this area with the body structure and tail length of this one. Luckily, Siva The Saviour had some methylated spirit so we could preserve the specimen. I am obviously not able to describe it so I gave it to Indraneil Das when I met him in Kuching a couple days later. He agreed to take a look at it, but warned me that he already has a few
Calamaria
and even a new species of
Calliophis
to describe, so I'll be surprised if he gets round to it in the next 12 months. I will post results when it happens, though.
Wait, which end is the head?
But nothing previous compared to the next find... Yep, not one, but
TWO
Red-Headed Kraits (Bungarus flaviceps)!!!
So at first we came across this in-slough female (which was exciting enough) and spent about an hour taking photos, then, as we were filming video of us releasing it, I heard something large drop off the bank at my feet...
I honestly couldn't believe my eyes. I had actually caught two rare-as-f**k Red-Headed Kraits, but not just in one night, in the same spot too!
It's crazy how quickly we forgot about the female once seeing the colouring and sheer size of this male! Oh man, what a beast!
Now, I don't want to give you the impression that photographing
Bungarus flaviceps
is a walk in the park, they literally spend the whole time looking like this...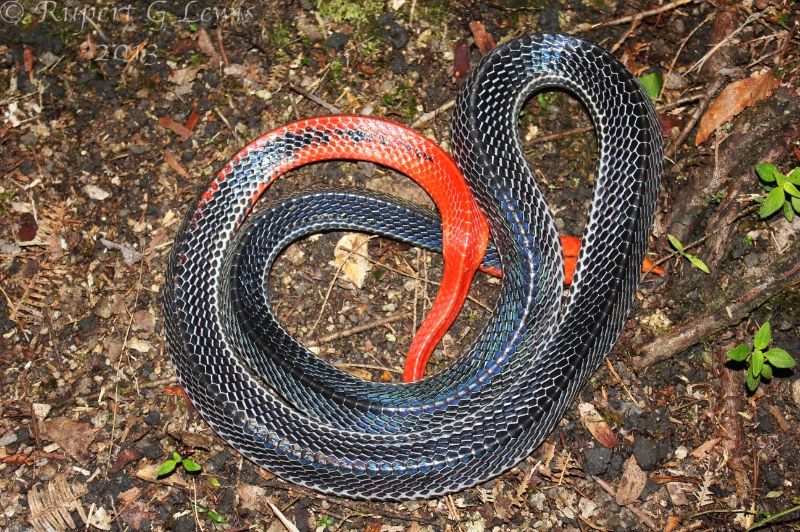 ...so most people wouldn't spend longer than an hour lying on the floor, using a flimsy twig to try and dig a shy but extremely venomous snake's head out from under it's coils. However, after a full hour and a half, I got exactly what I held out for; yep, backache, low camera battery and my favourite picture from the entire trip - possibly
ever
!
But the story doesn't end there because, as we released the snake, I pointed out the lights on the car had gone really dim...you know where this is going, right?
Yes, we were stuck, 5km down the mountain, after midnight with a ton of equipment that we didn't want to leave in the car - perfect. Oh, there was also no phone signal for either of us. Better brace for the hike then. Well, we were making pace and got about one km when my Das suddenly cried 'Oh NO!'. Yes, he had left our apartment keys in the car.
So there I was, sitting on the edge of a desolate mountain road, alone. But you know what? I was happy. Why? Because I'd found two Red-Headed Kraits in one night! Idiot!
That would also be a good place to end, but once my father had sweated his way back up to me, some car headlights came round the bend...
Let me explain the road system at Fraser's Hill. Well, there is one road for going down to the Gap, labelled 'The New Road' and one road for going up from the gap, labelled 'The Old Road'. You are forbidden from going the wrong way on either of these roads but, for some reason, somebody was going the wrong way down the old road! This was already good luck, but when he wound down the window, I couldn't believe my eyes for the second time that night! It just happened to be the friendly restaurant owner who we just ate our last three meals with, who was, for some reason, taking an overnight shopping trip to KL. He also 'just happened' to have jump leads at his place. What?
Now that's what you call a grand finale!
Well, it wasn't a grand finale. We still had Borneo to go!
After a couple nights in Kuching, my father and I headed to our first herping destination; Gunung Gading National Park.
I took this photo as we arrived to an epic weather front:
As we were sitting in the accommodation area (waiting for the rain to stop) we met a American guy called Tim who showed great interest in wildlife photography, snakes and coming out on a night walk with us. I of course agreed, the more the merrier, right?
As we set of Tim immediately spotted this monster Rhinoceros Beetle. I love beetles and did quite a bit of Stag Beetle conservation work in London so I had to get my hands on this beast!
If you aren't experienced at getting beetle claws out of your hand, these can often leave you bleeding.
Endemic, *Lifer* Gading Day Geckos (
Cnemaspis nigridius
) were abundant on rocks and low trees around the forest:
Cyrtodactylus quadrivirgatus
were common on low vegetation and I must have seen about 15 by the time we left:
These *Lifer* Great Angle-Headed Lizards (
Gonocephalus grandis
) were also found sleeping on both nights:
Along with one very pretty, *Lifer*, juvenile Bornean Angle-Headed Lizard (
Gonocephalus bornensis
):
*Lifer* Blue Eyed Angle Headed Lizards (
Gonocephalus liogaster
) were found on both nights.
First a juvenile: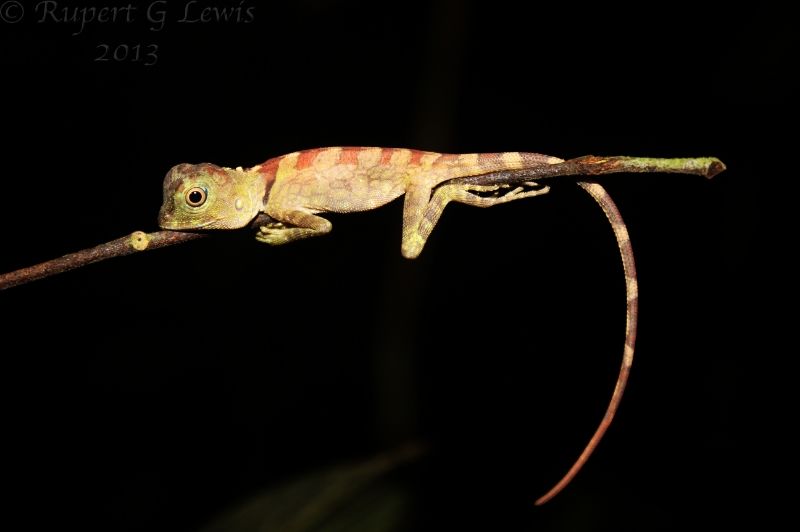 Then this awesome adult: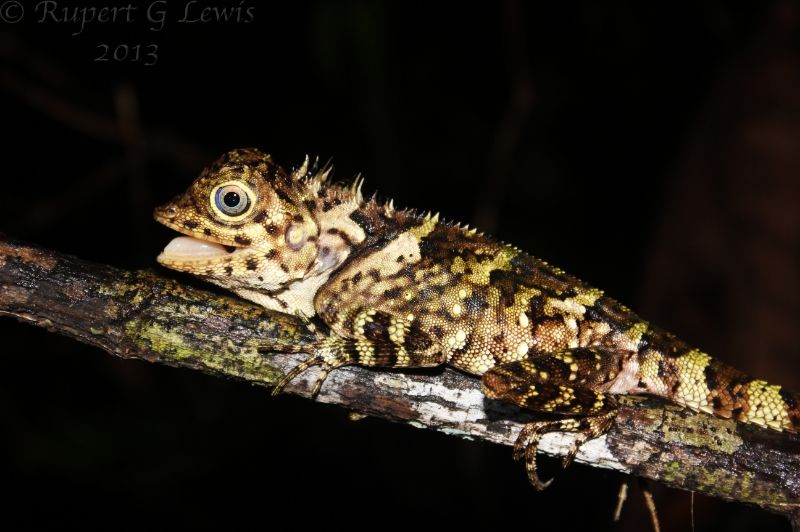 I was ecstatic when I found the first Cat Gecko (
Aeluroscalabotes felinus
) *Lifer*. They are absolutely fascinating! However, we ended up finding four over two nights.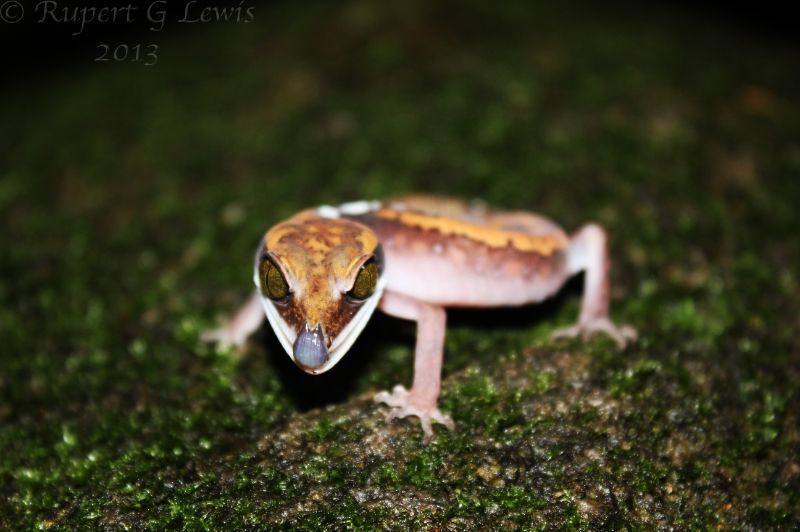 One Earless Agamid (
Aphaniotis fusca
) *Lifer* also made an appearance on the first night:
On the last night, while I was walking alone, this *Lifer* adult Peter's Bent-Toed Gecko (
Cyrtodactylus consobrinus
) swaggered across the boardwalk: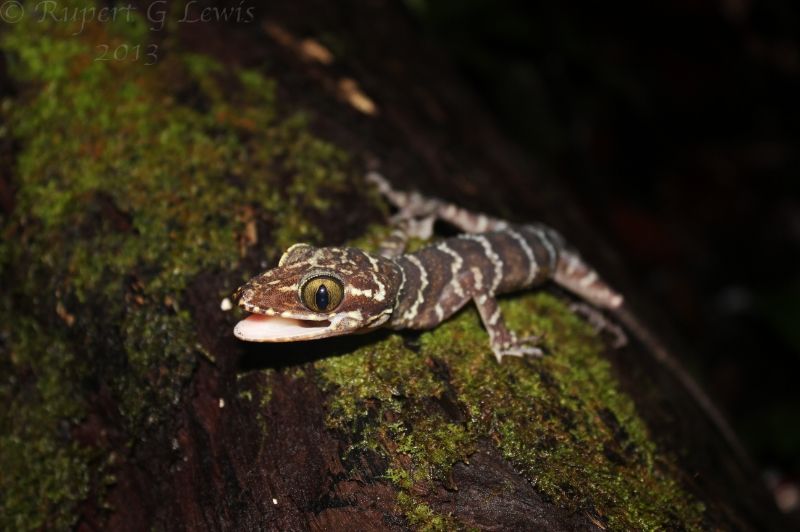 And bit me, hard!
Considering how many frogs and saurians were about the forest, I was surprised with the lack of snakes we saw. However, I did snag this absolutely gnarly (*Lifer*) Bornean Palm-Viper (
Trimeresurus borneensis
) after three hours walking on the first night:
Unfortunately we found the ugliest morph going.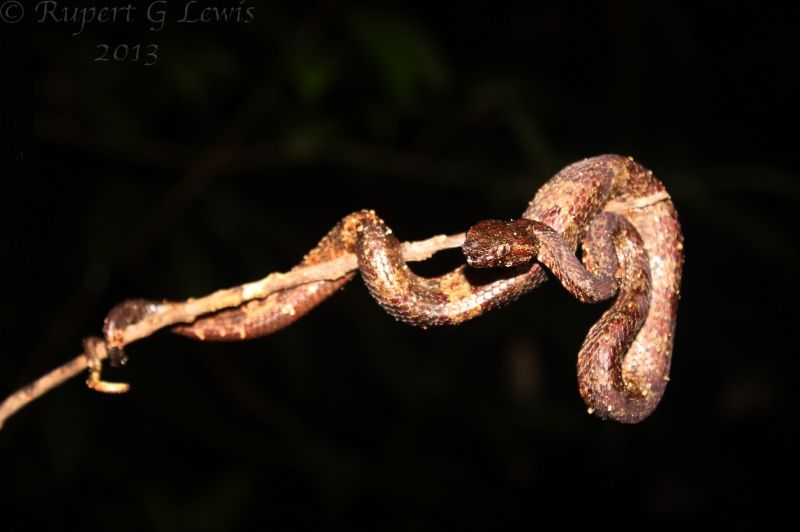 I also caught this very turquoise Asian Vine Snake (
Ahaetulla prasina
) during a break in the rain which consumed almost all the daylight hours. These are actually harder to find in Borneo because, unlike the prasina in mainland South-East Asia, these are restricted to forested areas.
Rafflesia: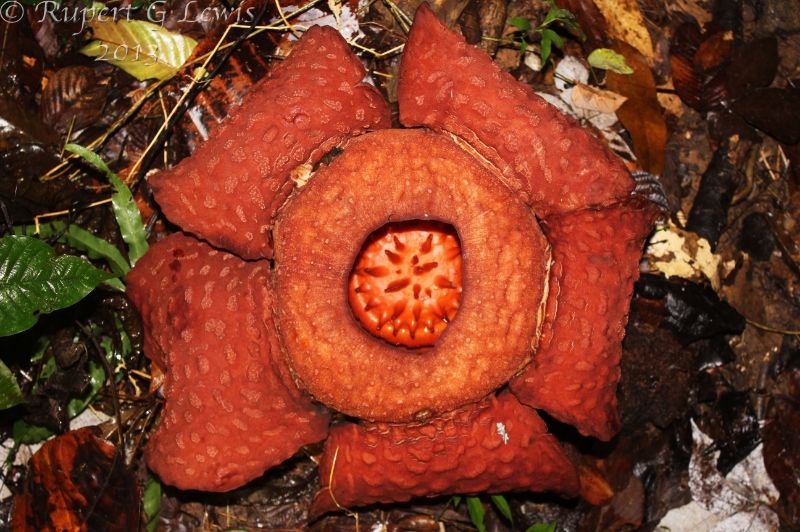 Shortly after leaving Gunung Gading, Tim, Dad and I met up with Hans who took us out to the swamps around Kampong Bako. We didn't see any Banded Kraits but got introduced, had a good laugh and I even caught a *Lifer* Dog-Faced Swamp Snake (
Cerberus rynchops
) by grabbing Hans' pincher tongs and leaning my entire upper body off the boardwalk to grab it off the mud.
First
: Hans, a big guy with a big personality and a big heart.
Second
: Tim, a quiet but very fun dude with excellent herper potential. Also very extreme Christian views, but that just made him more interesting. Very polite too, I guess his strong faith gave him good morals, unlike Hans and I.
Last
: Dad.
Our next stop was the popular Bako National Park, which has to be accessed by boat.
We arrived and immediately went on a afternoon walk.
This was the picture I took seconds before I saw an unknown snake shoot into the undergrowth. When I looked at the photo on the computer, I realised you could see the snake staring right at the camera! Can you see it?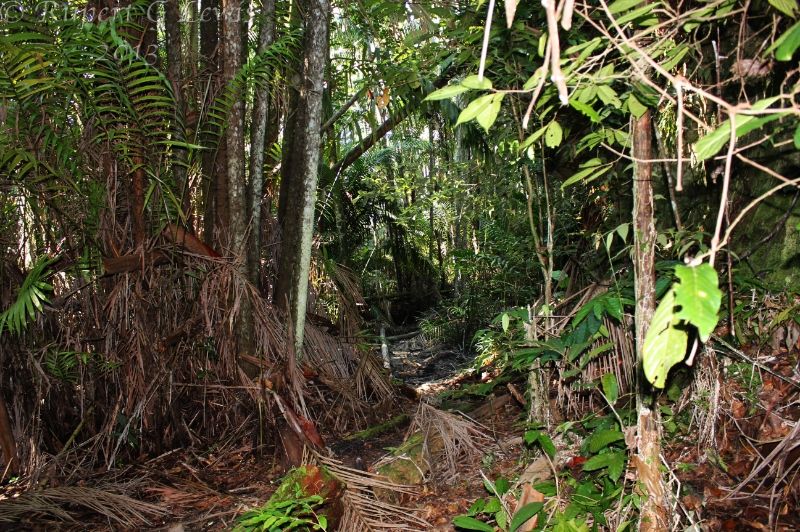 Striped Bronzeback (
Dendrelaphis caudolineatus
):
During the evening rainstorm, I decided to go shoot some macro of the big female Bornean Keeled Pit-Viper (
Tripidolaemus subannulatus
) that was digesting a frog in some vegetation near the restaurant. *Lifer*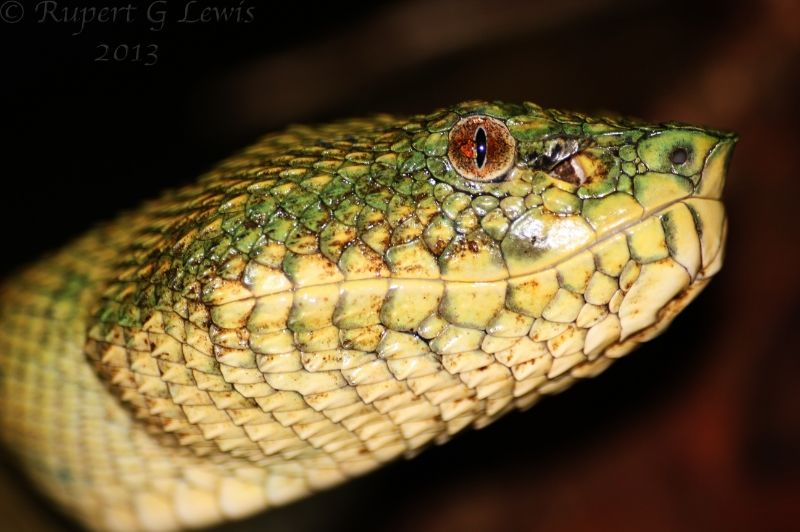 At night, dad and I hiked a coastal trail and found an adult male Bornean Keeled Viper (
Tripidolaemus subannulatus
) in some vegetation. Thanks to the small, extendable hook Hans gave me the other night, I was able to get him down: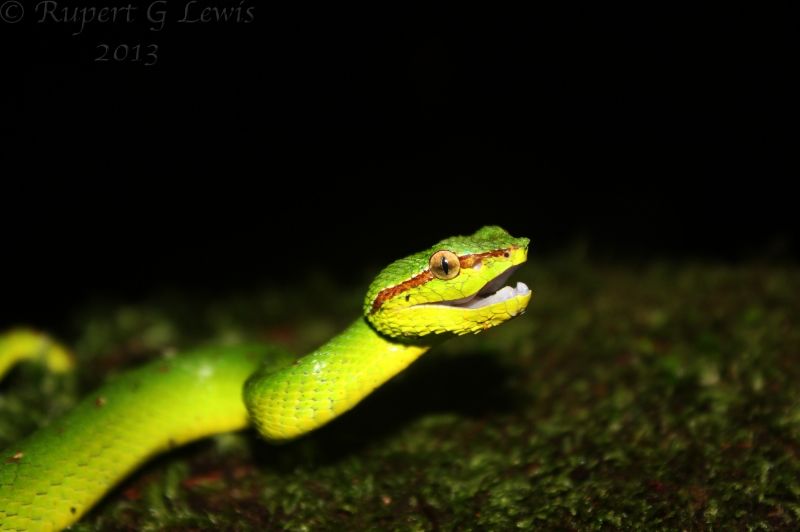 Peter's Bent-Toed Geckos (
Cyrtodactylus consobrinus
) were quite abundant that night and I managed to catch this very pretty juvenile: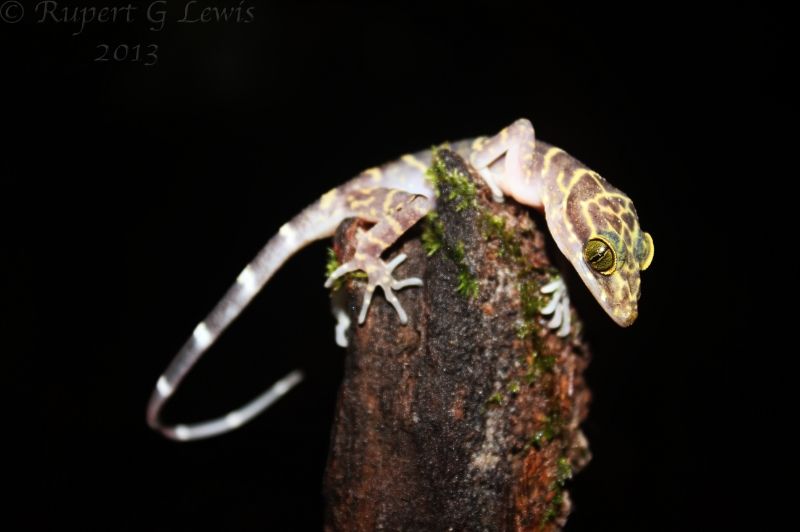 We also caught that confirmed
Cyrtodactylus pubisculcus
*Lifer* along the coastal trail:
But definitely the most impressive find of the night was this monster, 2.6 meter Melanistic Dog-Toothed Cat Snake (
Boiga cynodon
):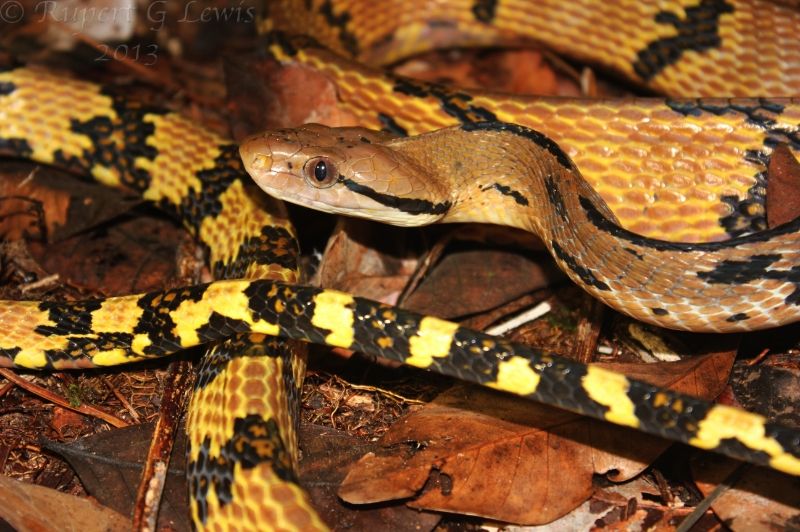 It of course, showed no aggression. Although my dad accidentally kicked it in the face while adjusting his headtorch and it bit his shoe. Hans said the Bornean
cynodon
are always vicious, but if he handles them like he drives, I'm not surprised.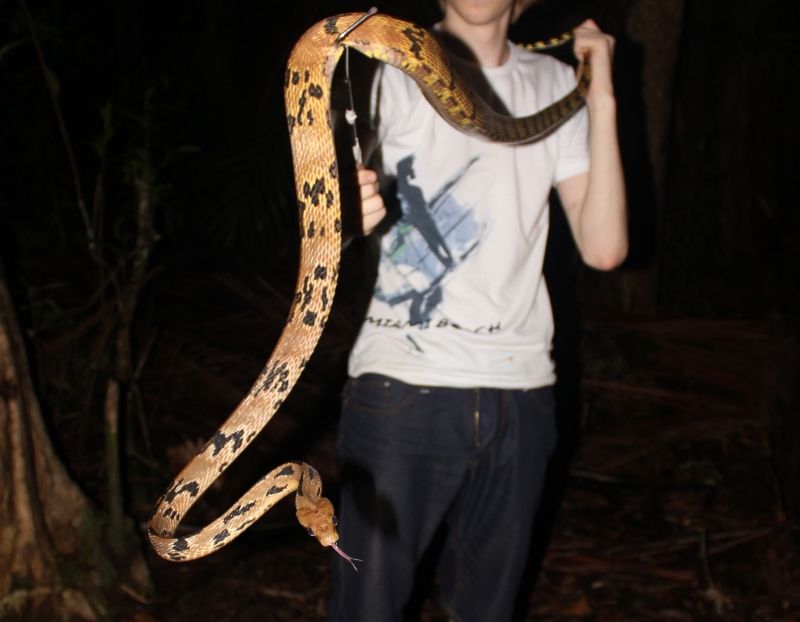 The next morning, as Tim, Dad and I were walking to catch our boat back to the mainland, we accidentally found a juvenile Bornean Keeled Pit-Viper (
Tripidolaemus subannulatus
). I had my zoom equipped, but took a voucher anyway: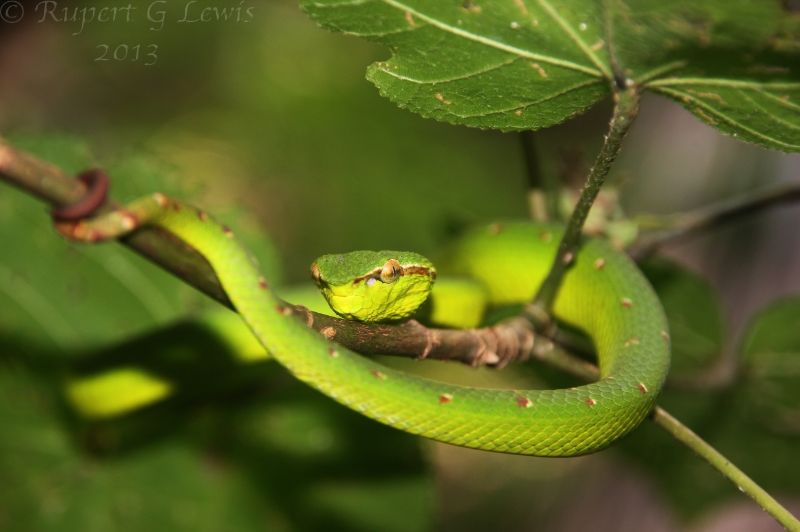 That wrapped up our time at Borneo's National Parks, but we still had the weekend with Hans Breuer.
He picked us up in his truck and dropped us off at his place where I got to meet his son and a lovely
Sibynophis melanocephalus
: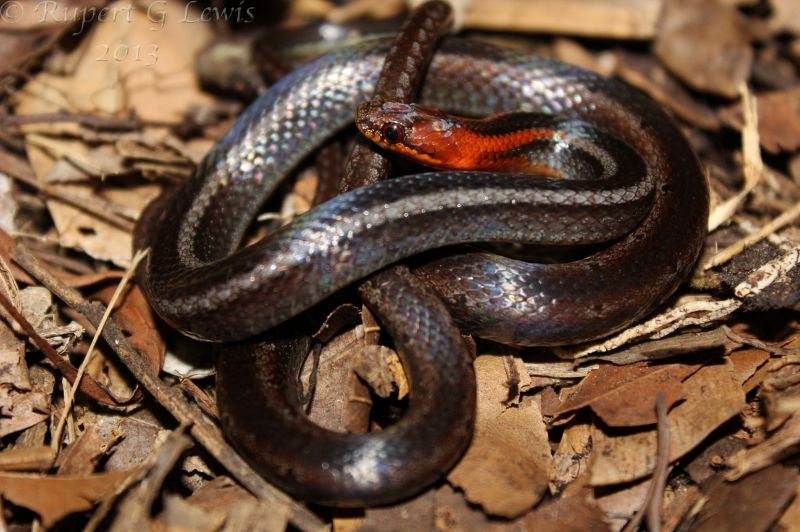 Tim and I had formed quite a friendship during our time in Borneo and Hans liked him too, so we invited him over then headed out to the Santubong peninsular...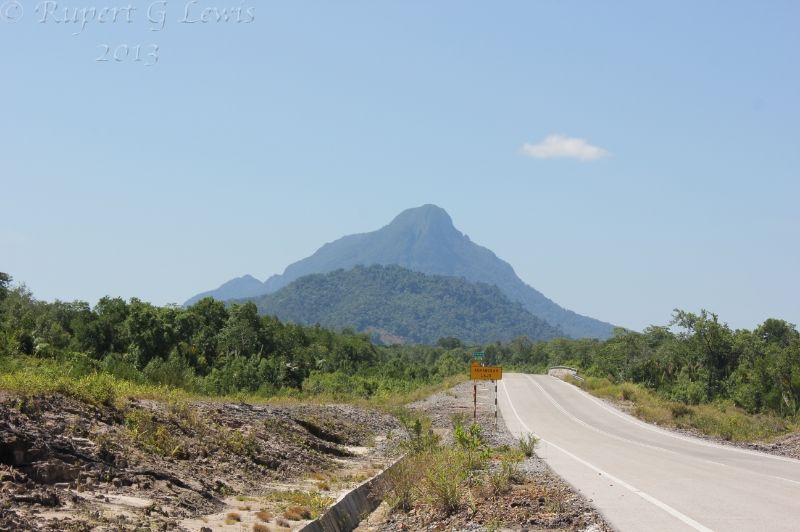 ...where Hans junior spotted a Striped Bronzeback (
Dendrelaphis caudolineatus
) which I wasted no time in rugby tackling. The last four of these that I saw escaped, no way was it gonna happen again.
If you ever thought catching one of these skittish, lightning fast Bronzebacks was hard, you should try to get one to keep still for photos. I persevered and after about forty-five minutes it was as tame as a puppy-dog and could be free-handled without fear of the bites it was giving me earlier.
Nobody else wanted to hold it though, can't see why!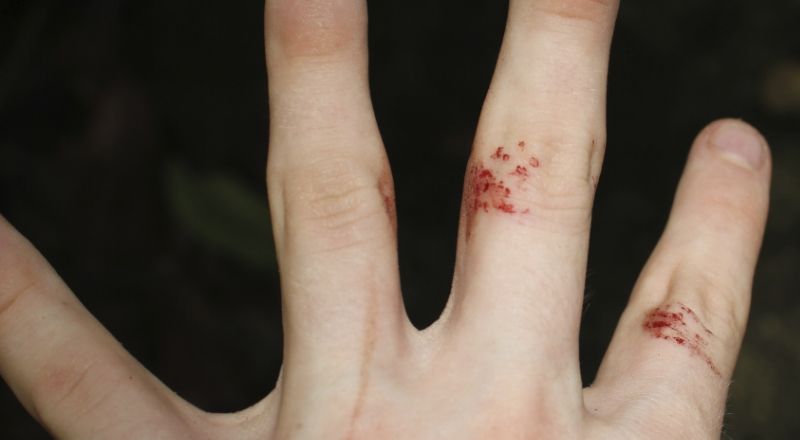 Dendrelaphis
bites
sting
, by the way.
We also saw a couple Green Crested Lizards (
Bronchocela cristatella
). This one is in the middle of changing from 'distressed brown' to 'casual green', which is why it looks a bit messy.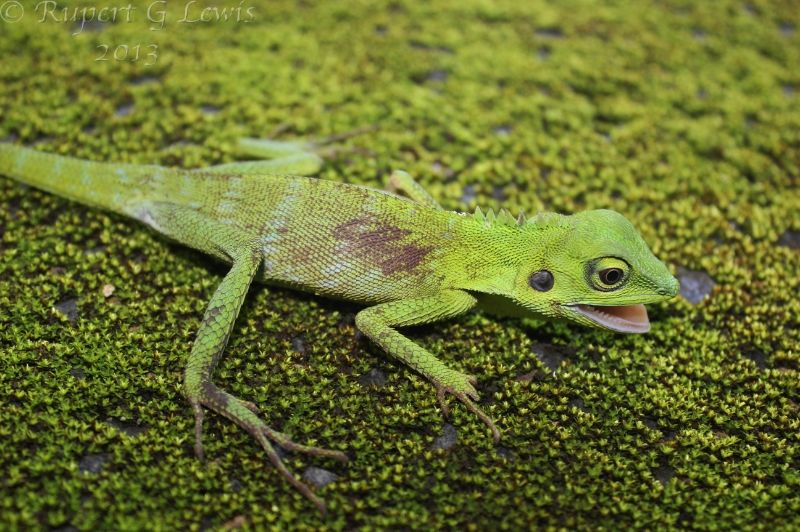 What a shady bunch. Geddit? GEDDIT?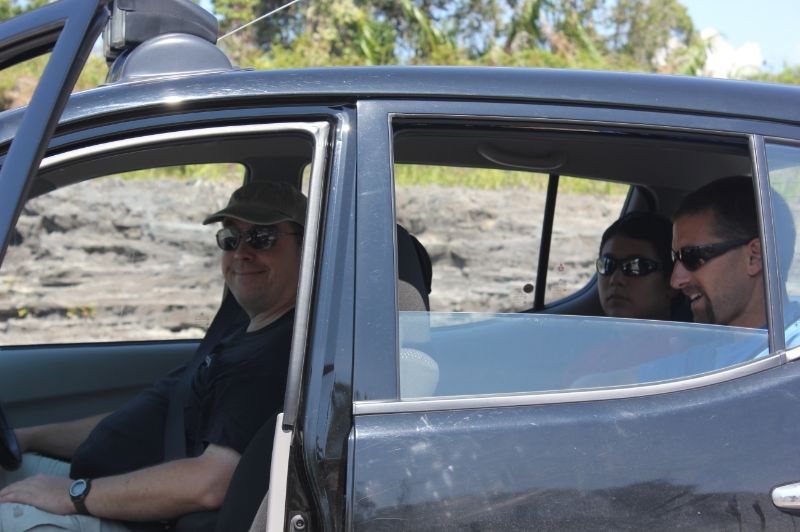 Hans and I also got out to the boarder of Kalimantan over the weekend a caught this green morph White-Spotted Cat Snake (
Boiga drapiezii
):
I originally thought we had clipped him with the car, as he was originally acting strangely. We bagged him to see if he would shape up overnight, but didn't realise there was a hole in the bottom of the bag. Luckily, Tim was walking a little behind us and noticed the snake, completely back to normal, trying to get as far from us as possible (it didn't even make it two meters).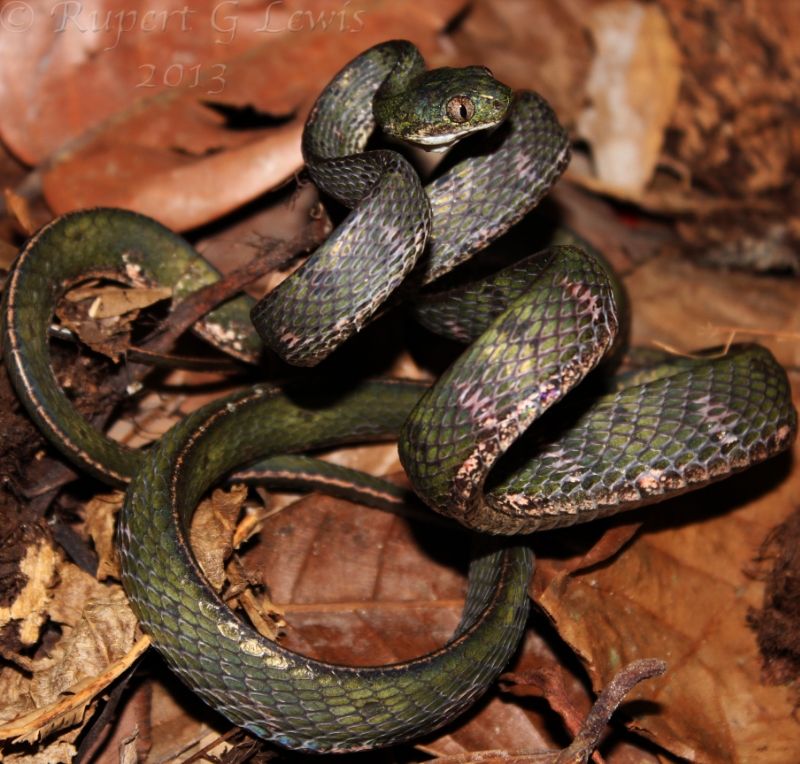 And last but definitely not least, I snagged a big, melanistic Malayan Racer (Coelagnathus flavolineatus):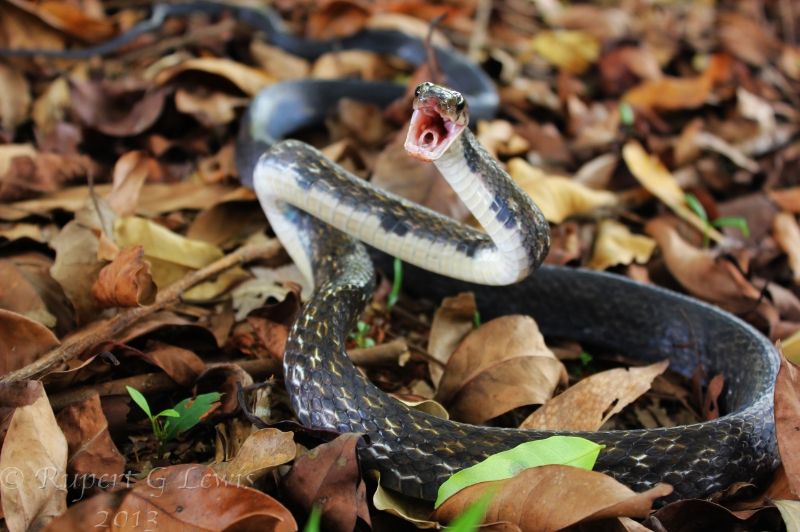 Despite how many Malayan Racers Hans had seen in his two years in Borneo, this was his first melanistic morph. However, we actually saw two in two nights!
The area where I spent my last nights in Borneo: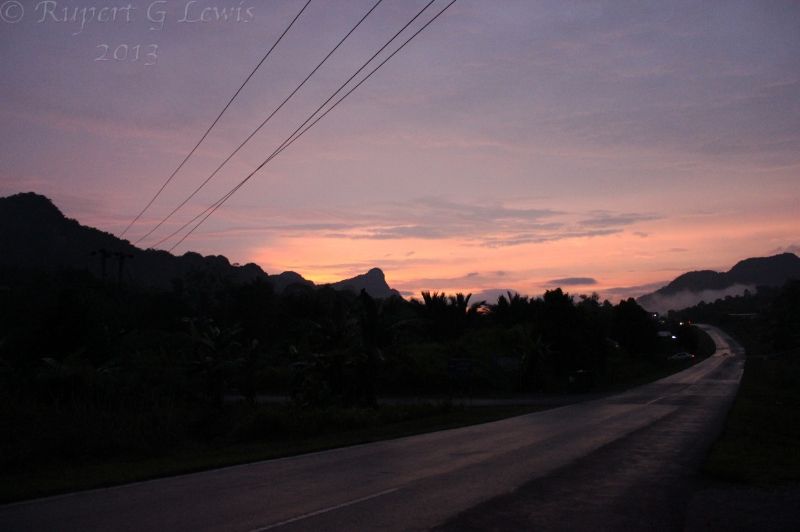 And that wraps up the trip report.
Big
thanks if you made it through, as this was one hefty post!
Also, I hope that, despite my lack of emoticons, you still know when I'm being sarcastic or making a bad joke.
I have four months left in Thailand and have big plans. I'll make sure to keep FHF updated.
We totalled 30 live snakes in 21 nights, covering 19 species - 12 of those being lifers.
Total life list of snakes (only live specimens):
Ahaetulla prasina (2) - Pulau Lankawi, Gunung Gading NP.
Amphiesma sanguineum (1) - Fraser's Hill.
Asthenodipsas vertebralis (4) - Fraser's Hill.
Boiga cynodon (2) - Tasik Pedu, Bako NP.
Boiga drapiezii (1) - Somewhere on the road to Kalimantan (forgot place name).
Bungarus candidus (1) - Pulau Lankawi.
Bungarus flaviceps (2) - Fraser's Hill.
Calamaria lumbricoidea (1) - Fraser's Hill.
Unknown Calamaria sp. (1) - Fraser's Hill.
Calliophis intestinalis lineata (2) - Fraser's Hill.
Calloselasma rhodostoma (1) - Kuala Nerang.
Cerberus rynchops (1) - Kampong Bako.
Coelagnathus flavolineatus (1) - One of the Kampong's on the way to Kalimantan.
Dendrelaphis caudolineatus (2) Bako NP, Santubong peninsular.
Oligodon signatus (1) - Fraser's Hill.
Pareas carinatus (1) - Tasik Pedu.
Popeia fucata (2) - Fraser's Hill.
Trimeresurus borneensis (1) - Gunung Gading NP.
Tripidolaemus subannulatus (3) - Bako NP.
Cheers,
Rupert