Ah spring is everywhere...
So a couple weeks ago, Mike Spencer & my boy decided to make a run to south arkansas. The allure of buttermilk racers and coral snakes trumped anything we could find up here in the northwest part of the state, so to the south we went. As usual, the weather went to shit the day we left...temps in the upper 30's on the way down.
First stop was a swamp with gators. None of these were big boys, but we did get to see 3, so it was worth it.
My boy in his new rubber boots.
Habitat
cypress knees
Since most of this area is not familiar to me, we did the 'ol 'freestylin' (a ref to american pickers) where we just drive around and look for shit to flip, then get permission. This spot made our legs quiver when we saw it...2 destroyed chicken houses with tin ALL OVER THE PLACE. Landowner was super nice and told us to flip to our hearts content!
A while later, we met up with C & E...as I had predicted, we'd see a dead buttermilk for sure (temps were in the 70's and sunny). Sure enough, as C&E were coming to meet us, they saw the car in front of them clip a BEAUTY of a buttermilk racer...thats it lying on the ground- they are MUCH easier to photograph when they are dead.
Despite this being tin heaven, the ONLY snake we found was this prairie king.
The dead racer. Hey at least I know we were in a good area for them.
We herped hard for the rest of the day at several junk/dump sites and came up empty. Mike mentioned that his buddies in FL always find racers in carpet...so when we hapt upon this big pile of carpet, he got pretty stoked.
Sure enough, while digging through the mountain of carpet, we found this nice adult buttermilk racer. If the dead buttermilk was a 'whole buttermilk'...this one was a 2% buttermilk. My son is pointing to a couple of spots...he probably had 20-30 spots total on his body.
The flash made this one look like an indigo! You can see a couple of spots here as well.
The next day, we headed north to focus more on corals...and not suprisingly, came up empty. Found a couple things in this area worth shootin pics of.
...like a juvie coachwhip with a flower in its mouth.
Another big racer that could technically be called a buttermilk- if the other one was a 2% buttermilk, then this one would be 'skim buttermilk'...i think we counted less than 5 spots total.
Dwarf sally. I suck at photgraphing salamanders!
And a nice little marbled.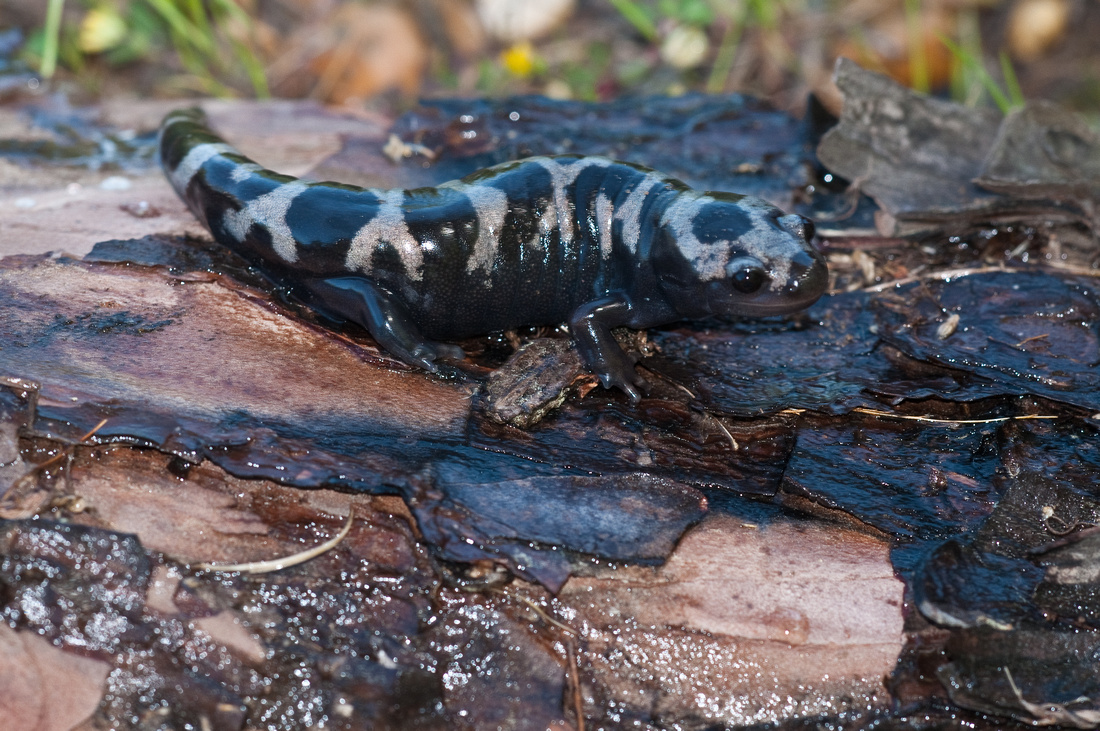 We also found another prairie king, a black rat, a couple more racers (just standard black) skinks & fence lizards. Not the greatest herp adventure ever, but better than staying at home doing yard work!
Good herping.