Went herping w/ Cole, Trey, and my daughter Emma. Cole and I will be making this post together, with me posting in white and Cole posting in
blue
. We're short on time, or we would have asked Scott for another screen name to post jointly under.
Our goal with this posting scheme is to keep down the redundancy. Hopefully everyone enjoys!
Credit should go to Crazins aka Marisa for coming up with the multiple speakers in one post. Brilliant!
I'll jump back in here with a few habitat shots to provide a sense of place. Things are starting to green up around here, following an unbelievably dry winter and spring
.
Here's Dell and Trey doing what we do. Those are the highest mountains in the state of Montana in the background.
We had a very busy day of hunting, and the time flew by as a result. Here's what we found.
The day was warm, but not hot. It was also partly overcast. I think we were all surprised at the number of Coluber, Pituophis, and Crotalus seen "out on the crawl" that day.
First snake of the day was a Yellow bellied racer,
Coluber constrictor
. I failed to photograph even one of the over a dozen we found, but this from a few years ago will have to do.
We found a number of
C. viridis
out basking on this beautiful day.
I obviously ended up with quite a few "similar" shots, so I'll attempt to keep repeats to a minimum
Here's one of the multiple viridis seen that day in situ, as spotted by "Eagle Eye" Trey.
Find the snake!
There it is!
And a little closer.
Indeed we were having great weather, which made for some great herping.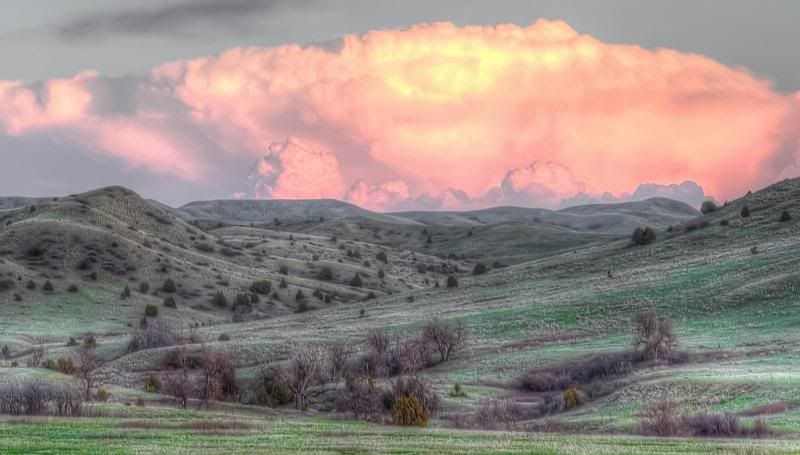 Beartooth Mountains from the hillsides we were hunting in.
Aaaah, the Beartooths...
With the warmth and recent moisture, many of the plants were coming into bloom. I'm a bit of a xerophyte/succulent aficionado in addition to being a herper, so I was thrilled to see Escobaria [Coryphantha] missouriensis in bloom with smokin' peach/orange flowers.
The weather was so nice and the rocks had just the right amount of moisture for a number of Salamanders to be up and soaking up radiant heat.
Tiger Salamander,
Ambystoma mavortium melanostictum.
I snapped a few photos of this darker critter, too
This
mavortium
was particularly bright looking.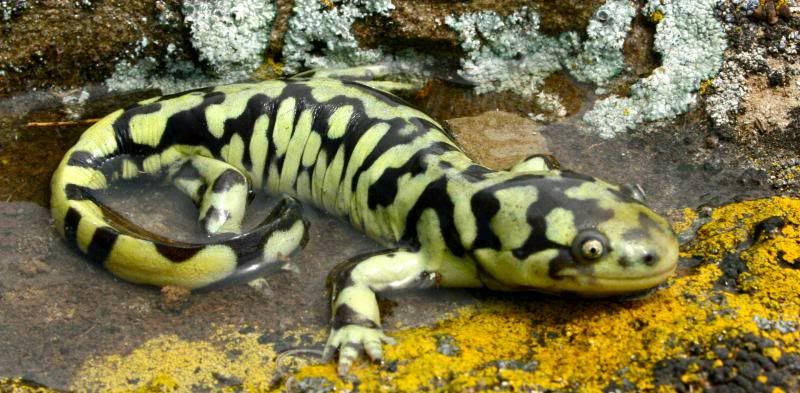 Agreed. It was a nice contrast to the drab bugger above
We found over 10 Bull snakes, which I never get tired of.
Bull snake,
Pituophis catenifer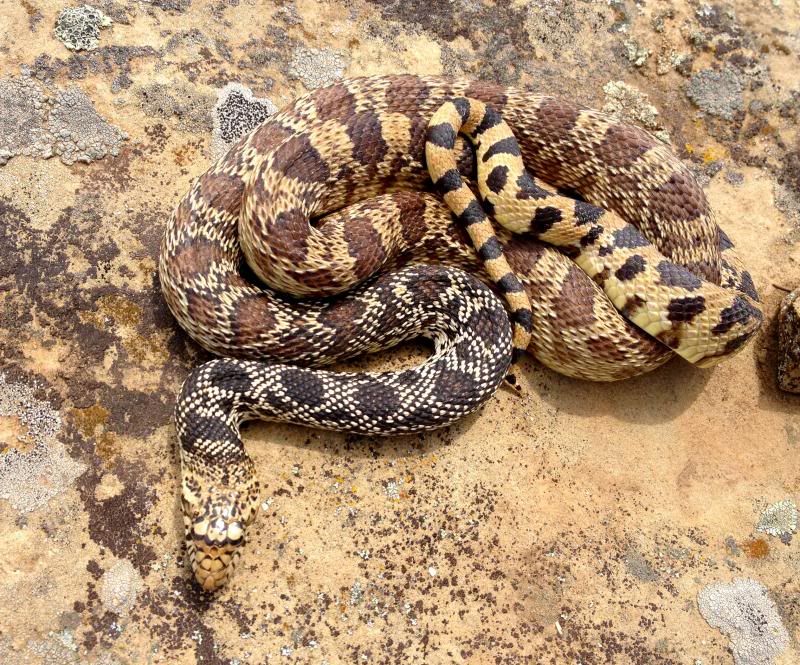 I took the time to photograph a number of them. Our Bull Snakes tend to be high-contrast, with lots of rusty-tinted blotches.
Here's a different animal, as flipped
Dell's daughter is a trooper. She can put up with conditions in the field that most grown-ass men would shun. Here she is with one of the day's Pituophis.
For Cole and I it's Milk snakes that motivate us, and lucky for us he flipped this bright animal.
Milk snake,
Lampropeltis triangulum multistrata.
Of course, I photographed the milk, too... for a few minutes, anyway. My camera battery died shortly thereafter. Here are the results.
A little different shot.
Trey wanted to see a Horned Lizard, and we went to work in a little different spot to try and find these fat little gargoyles. We quickly found a neonate from last year.
Greater Short-horned lizard,
Phrynosoma hernandesi.
Then another.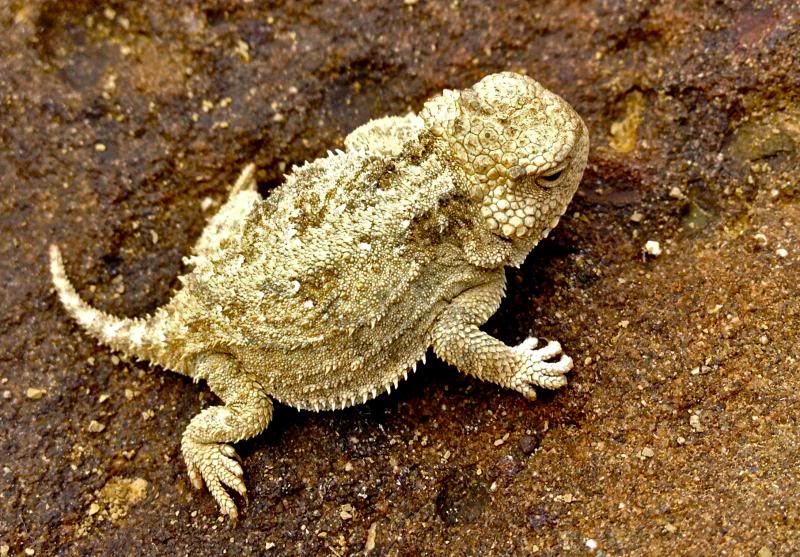 And a couple of adults.
We always enjoy these spiky little guys.
.
.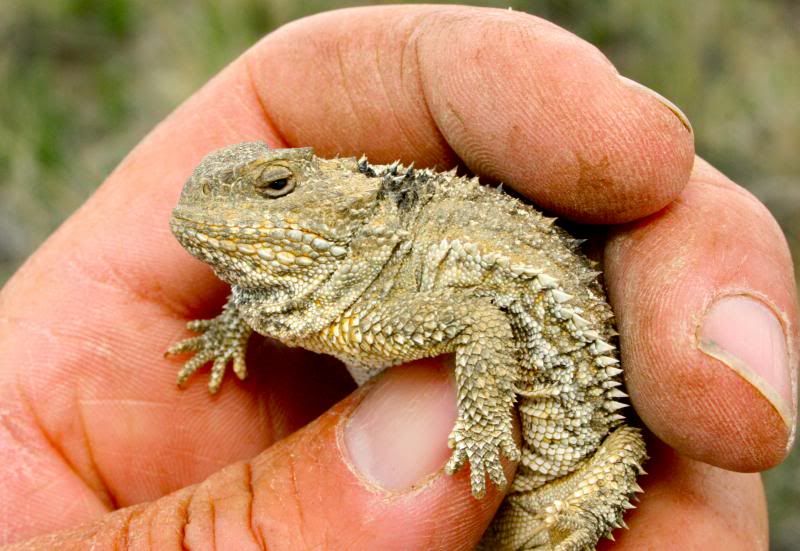 I'll round this out with a few more habitat shots, for those who care.
-Cole
-Dell