Ok let's figure this little guy out.
My dichotomous key to the genera Spea and Scaphiopus is as follows:
1a. Interorbital boss present...2
1b. No interobital boss..3
2a. Boss low, soft not bony, not extending forward of the eyes
Spea intermontana
Paratoid gland if visible is almost round. Glandular not bony boss.
2b.Boss high and bony, extending forward of the eyes
S. bombifrons
distance between the eyelids across the top of the head is shorter than the width of each eyelid. Small indistinct almost round paratoid gland.
3a. Dorsum greenish gray; spade short, about as wide as long;
S. hammondi
Not in Utah.
3b. Dorsum often brownish; spade longer than wide; spade short and wedge shaped, not from California or Baja California
S.multiplicata
(no boss) Large eyes. Distance between eyelids across the top of the head is shorter than the width of each eyelid. Paratoid gland is oval.
3c. Dorsum well patterned; spade is long and sickle shaped (not wedge shaped)
Scaphiopus couchii
. Not in Utah. Paratoid almost invisible. Eyes widely separated.
S. bombifrons
has been recorded from San Juan, Kane and Garfield Counties
S. intermontana
is found statewide
S. multiplicata
is found all over the Colorado plateau in Southeastern Utah
Range-wise any of the three or a hybrid is possible in Garfield county
The eye width/interorbital thing seems to favor a
S. mulitiplicata
or
S. bombifrons
interpretation.
The boss looks very low to me in all three photos of the specimen in question and is not in front of the eyes for sure so a S. bombifrons seems very unlikely and can be eliminated.
Even the low soft boss of a intermontana is readily apparent as seen in this picture of a very young GB Spadefoot. I think most GB Spadefoots have a more apparent boss than the one in question but it cannot be eliminated with any certainty.
Spea intermontana
Great Basin Spadefoot Toad and tadpole polywog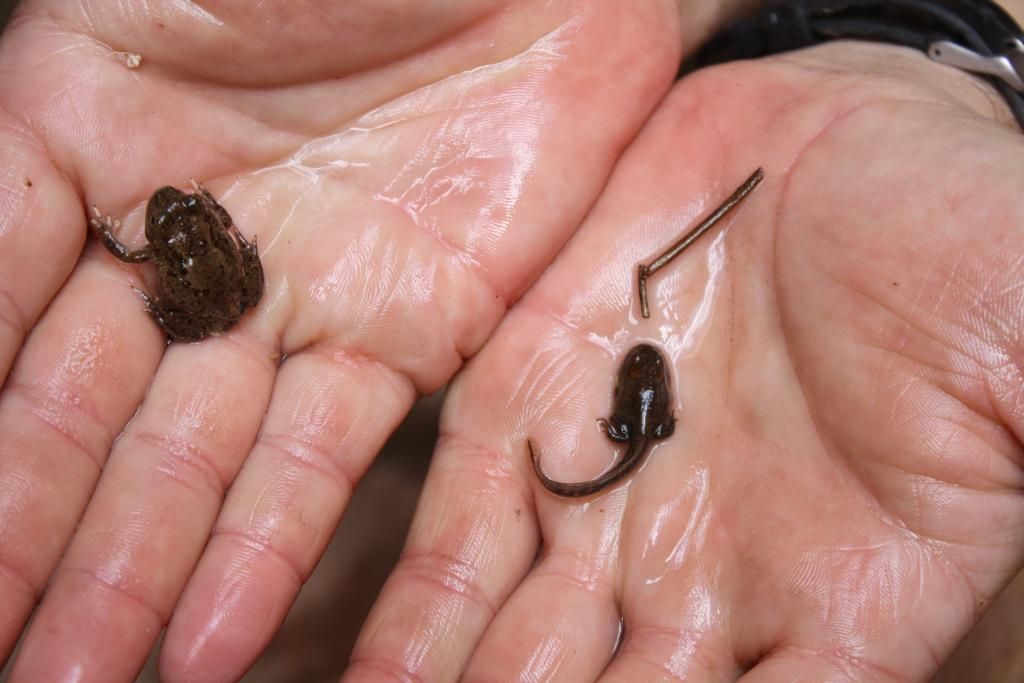 Spea intermontana
young Great Basin Spadefoot Toad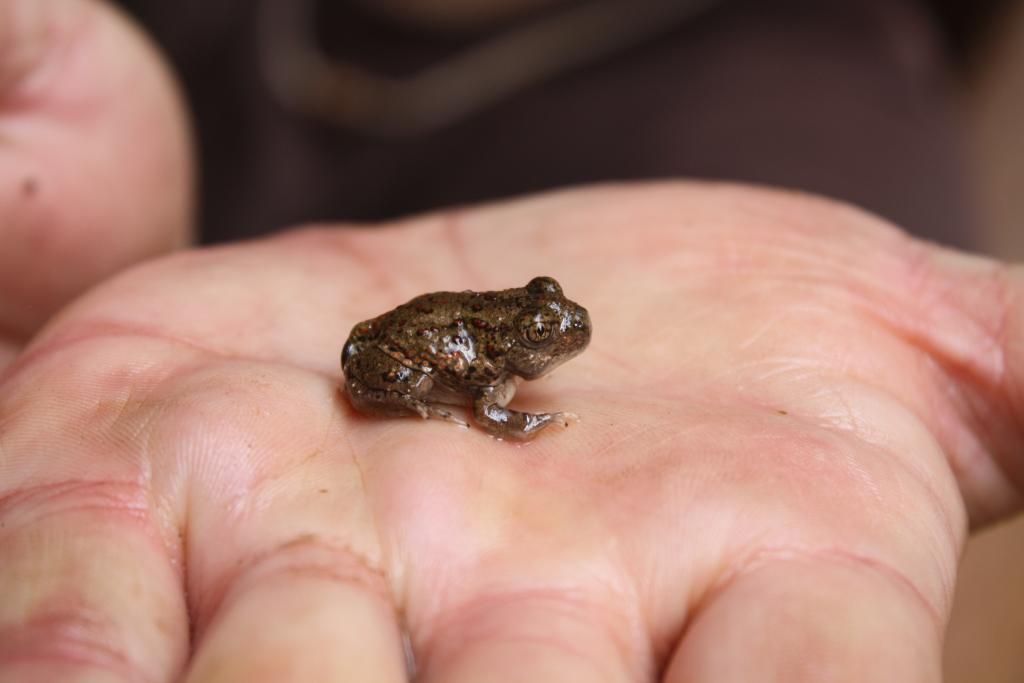 NM Spadefoots have no boss at all and big eyes that are not far apart. Looks alot like the critter in question except for the slightly raised boss(?) In the first two photos of the specimen in question he has dirt between his eyes on the boss area, could this create the illusion of a hump? But the wrinkles or creases behind the supposed boss do make it seem to have height. Are we seeing things and it is a multiplicata?
Here is a
Spea multiplicata
New Mexico Spadefoot toad with no boss at all but dirt or a plant bit by his right eye is creating some illusion of one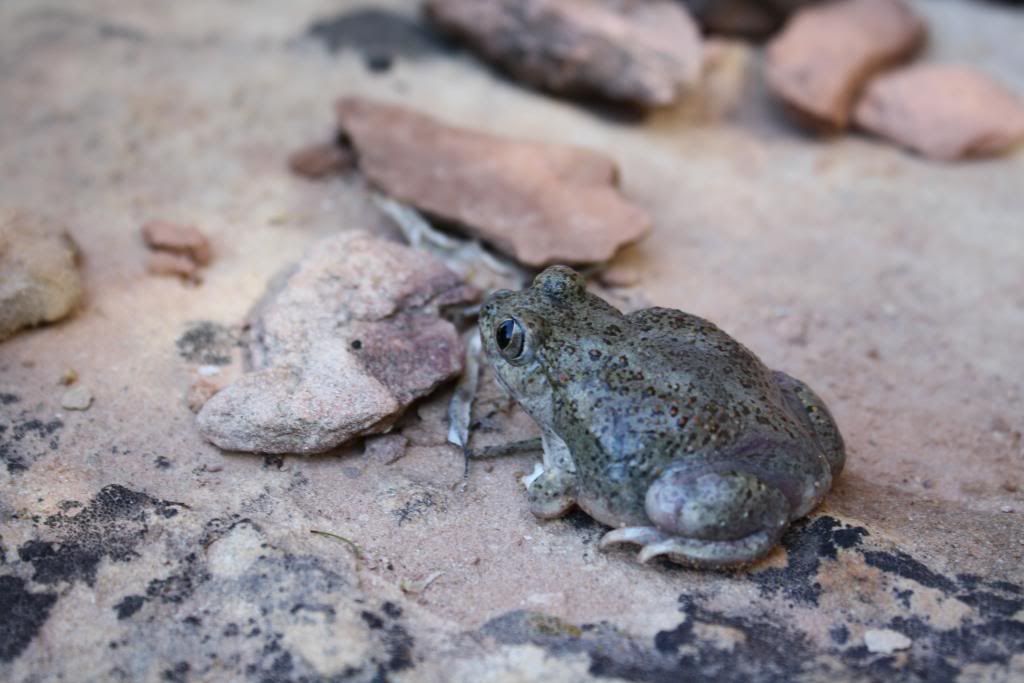 After careful analysis, I can't come up with a definitive 100% identification because the diagnostic feature (Boss/no Boss) appears to me to be ambiguous in the only three photos of the animal. The best guesses I have by looking at the photos are:
1.
S. intermontana
by range and what I personally have found in the same area (not from comparison with my own photos and this one) is the most likely culprit however, the ones I have seen have a better pronounced obvious boss between the eyes. Lizardman1988's photo of a known intermontana looks very similar to the mystery beast.
2.
S. multiplicata
(with dirt on his face and confused herpers like me looking at an imaginary or very low boss) is very possible
3. or a
S. multiplicata

X

bombifrons
possible hybridization which might explain the very slight boss rather than apparent-no-questions-asked variety of obvious there-it-is-boss. Like a boss!
Go up the the photo of the mystery spadefoot put your finger over the wrinkles just behind the head and the supposed boss disappears!!!