I've wanted to do a San Gabriel/San Bernardino Mountains post for a long time. I love herping the mountains more than any other habitat in Southern California. Here's some of the interesting stuff I've found there:
If you want to see salamander diversity in Socal, you really have to head into the mountains. The canyons of the San Gabriels can be quite productive under the right conditions. The following salis were all found in mountain canyons between 1300 and 1800 feet.
Black-bellied Slender Salamanders (
Batrachoseps nigriventris
)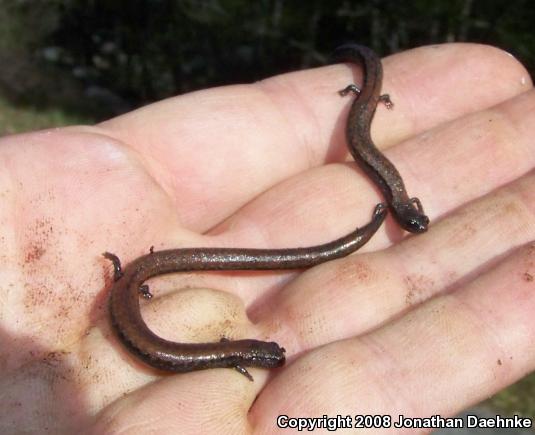 Montery Ensatina (
Ensatina eschscholtzii eschscholtzii
)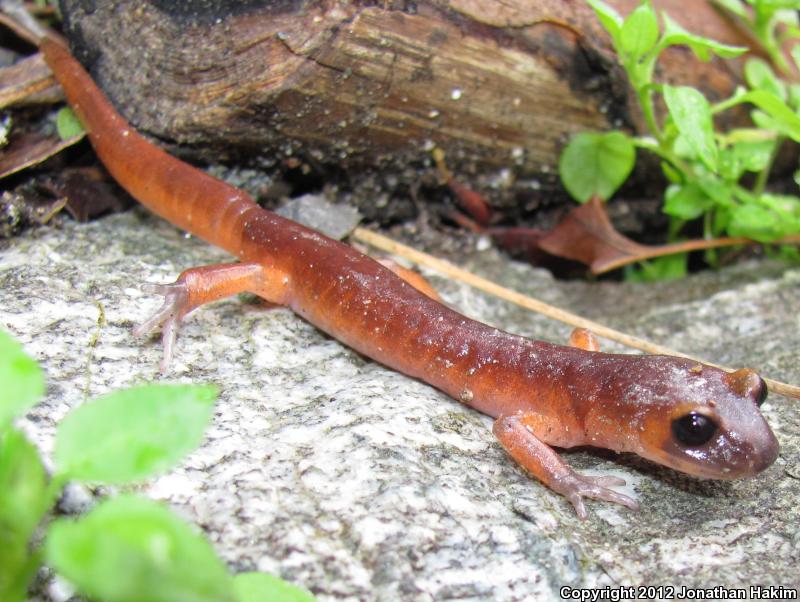 Arboreal Salamander (
Aneides lugubris
)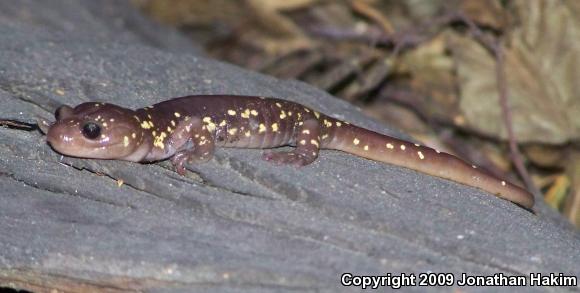 Coast Range Newt (
Taricha torosa torosa
)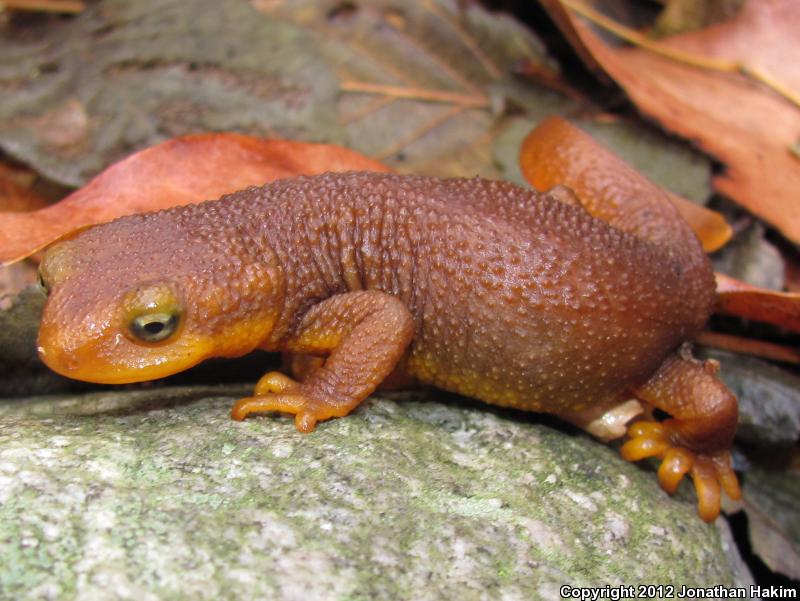 pile o' newts found under a log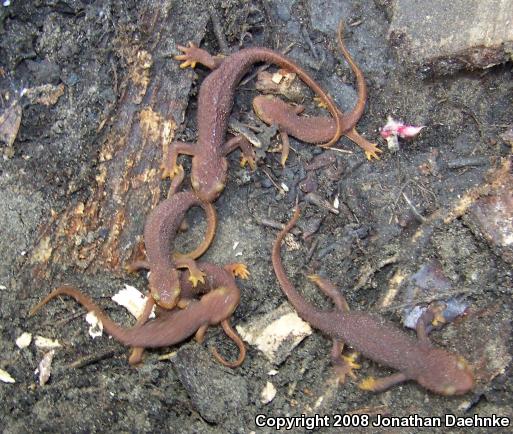 Salamanders habitat shot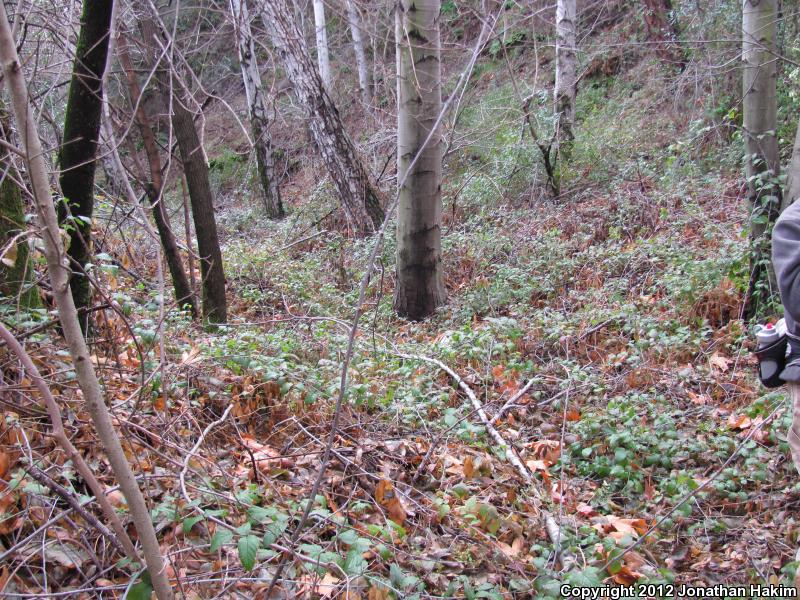 The most interesting salamander resident of the San Gabriel range is the San Gabriel Mountains Slender Salamander, one of the few vertebrates completely endemic to the region. This individual, from close to 4000 feet elevation, was found under a log still covered in snow.
San Gabriel Mountains Slender Salamander (
Batrachoseps gabrieli
)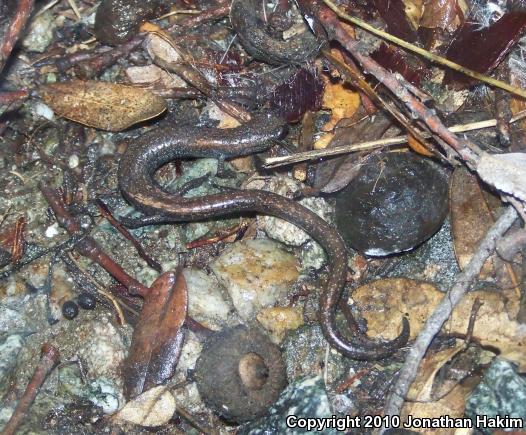 Habitat shot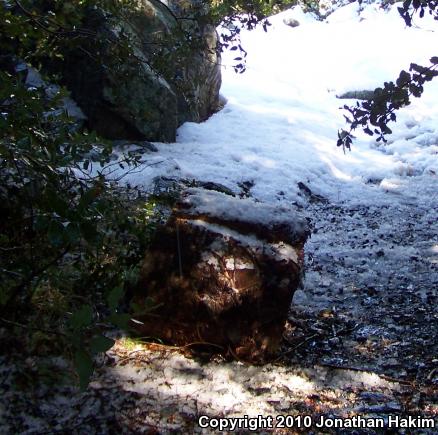 More from the same locality: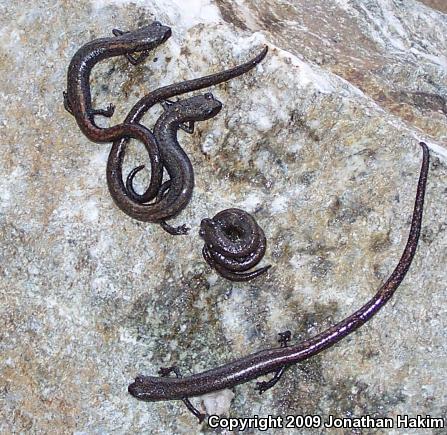 The frog species also change in SoCal when you move from the lowlands to the mountains. As you get into the mountain foothills, the Baja California Chorus Frogs (
Pseudacris hypochondriaca
) are largely replaced by California Chorus Frogs (
Pseudacris cadaverina
).
This guy was found near a waterfall at 2800 feet.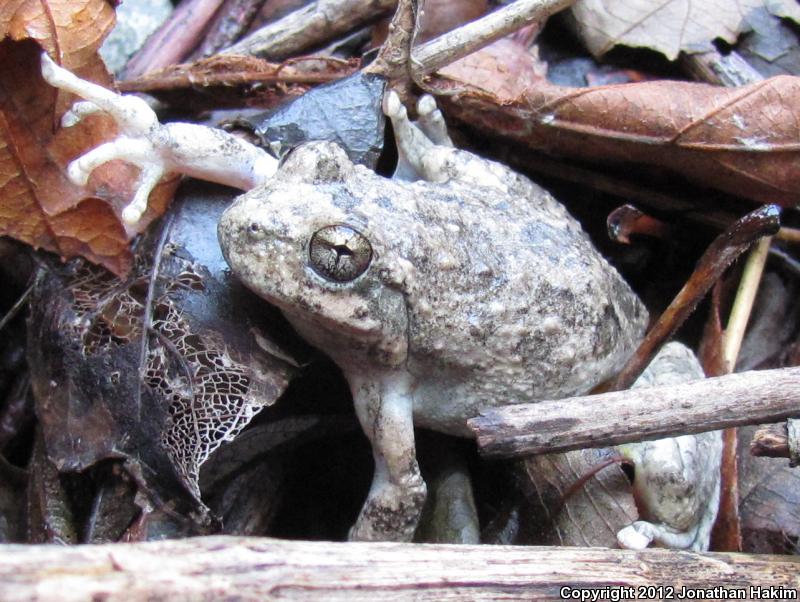 This one was found at 4500 feet elevation.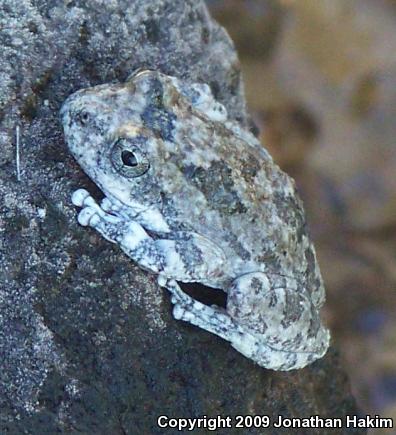 Those same streams used to also contain Foothill Yellow-legged Frogs. Unfortunately, they went extinct from the San Gabriels back in the 1970s, and now are no longer found anywhere south of Fresno.
Foothill Yellow-legged Frog (
Rana boylii
) from Curry County, Oregon.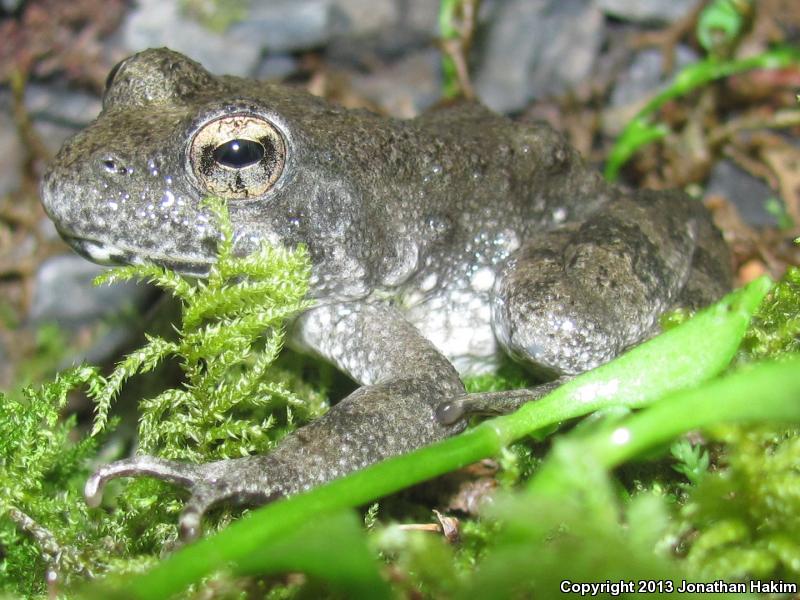 Where you find the California Chorus Frogs, you'll likely also find Two-striped Garters. Here's one from over 4500 feet:
Two-striped Garter Snake (
Thamnophis hammondii
)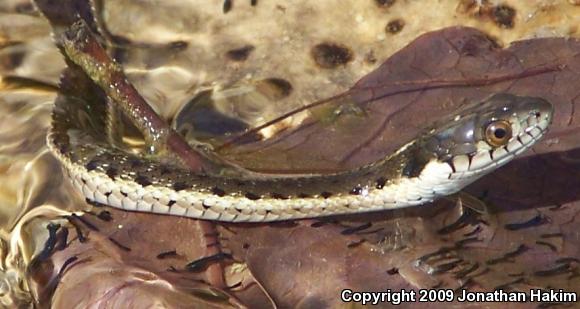 That particular garter snake stream once held Southern Mountain Yellow-legged Frogs, but now the species can only be found in about half-a-dozen remote locales. It took several aborted or failed searches before I finally located some of these guys up at 5200 feet.
Southern Mountain Yellow-legged Frogs (
Rana muscosa
)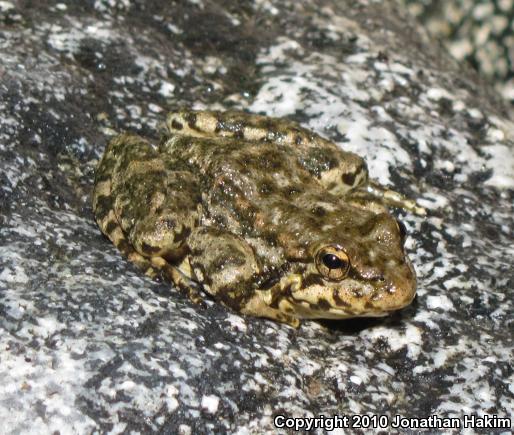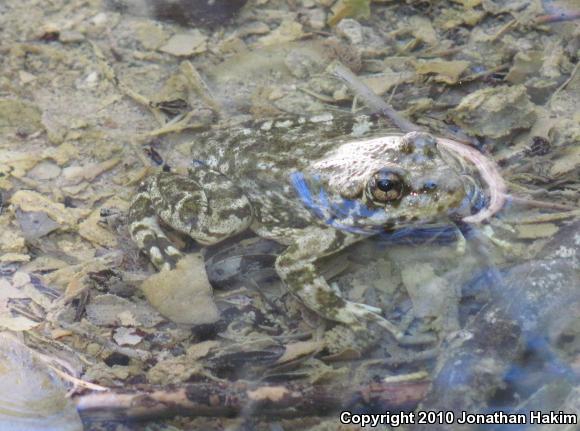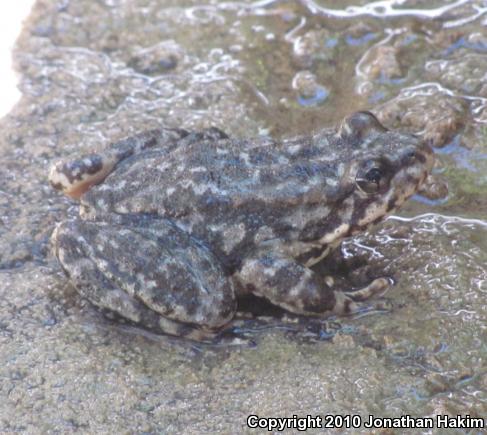 habitat shots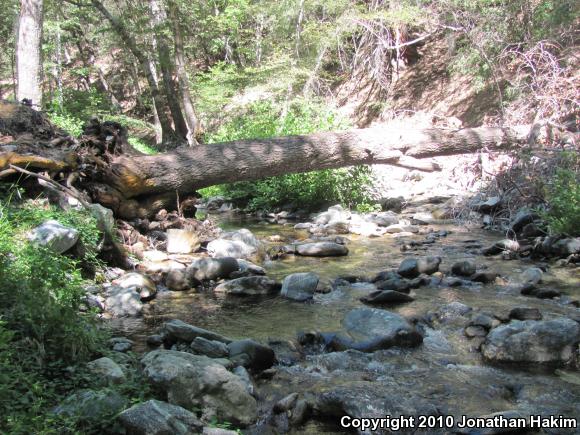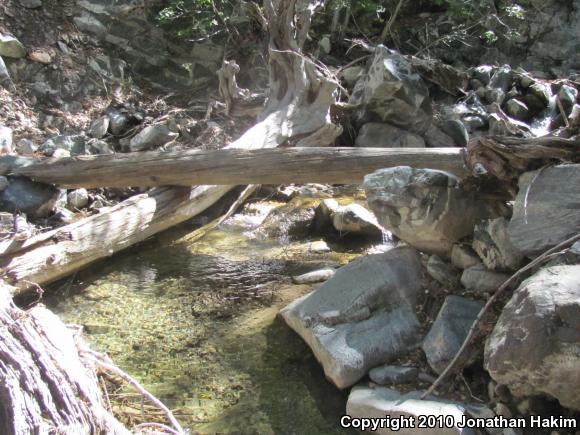 In a very different type of canyon (very well-profiled by Sam Sweet in this post:
http://www.fieldherpforum.com/forum/vie ... f=2&t=1833
), you can find a toad species unique to the California coast. These cute little guys were in a sandy wash at about 3000 feet elevation:
Arroyo Toads (
Anaxyrus californicus
)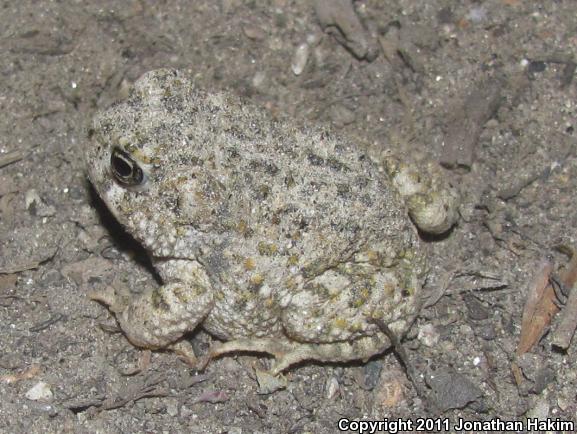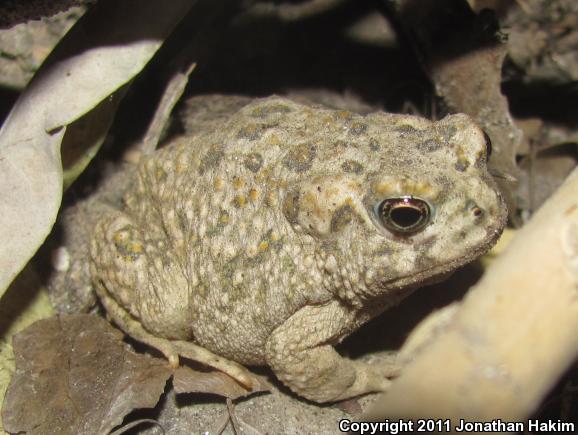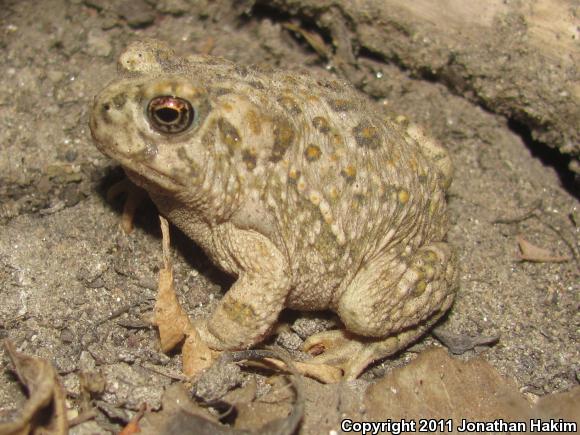 Moving away from the canyons, you find high-and-dry spots in the mountains only suitable for reptiles. Several of the common lizard species thrive at high elevations. All of the following were found between 5500 and 6500 feet elevation:
Western Side-blotched Lizard (
Uta stansburiana elegans
)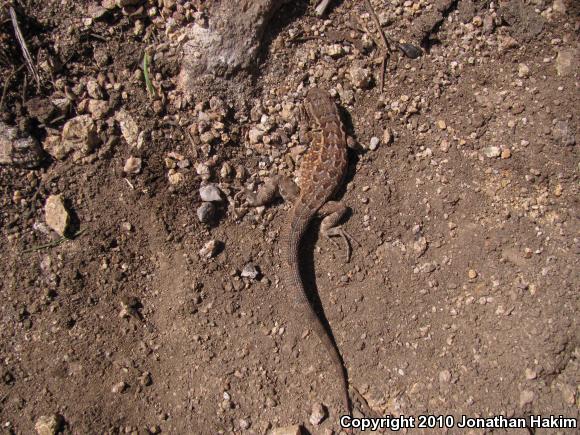 Western Skink (
Plestiodon skiltonianus skiltonianus
)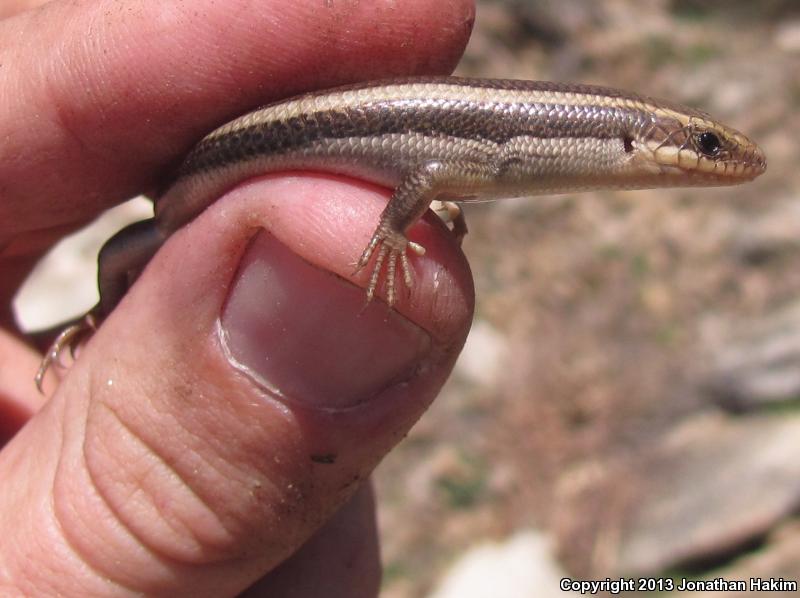 Great Basin Fence Lizard (
Sceloporus occidentalis longipes
)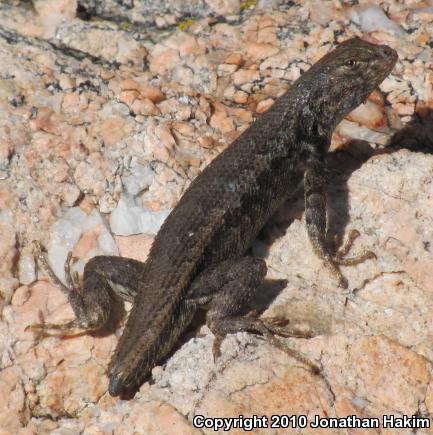 San Diego Alligator Lizard (
Elgaria multicarinata webbii
)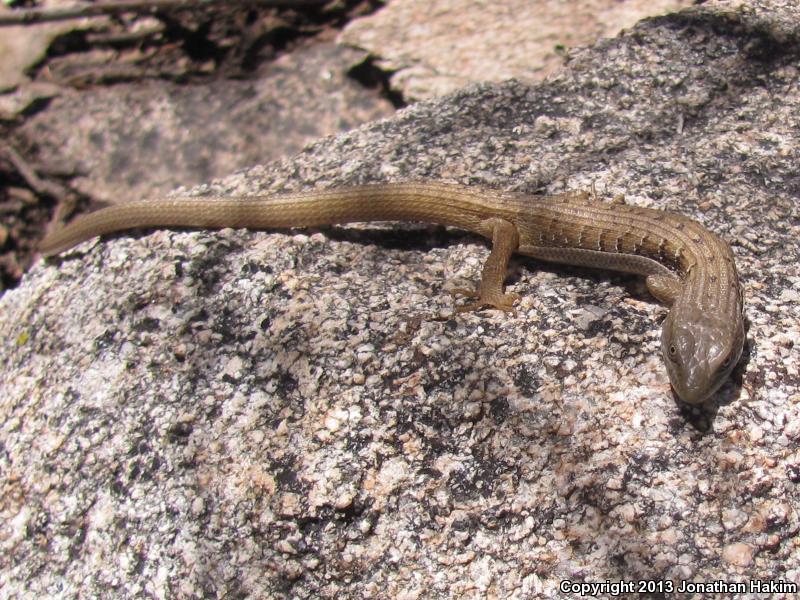 Lizard habitat shot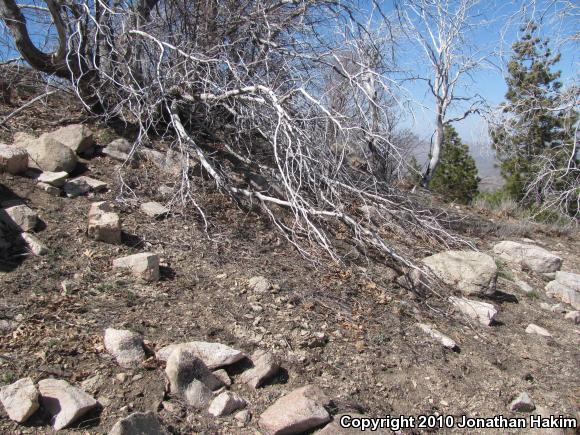 One lizard species that I didn't expect to find in these mountains is the Great Basin Collared Lizard (
Crotaphytus bicinctores
), but I've been able to see one at 4600' on the coastal side of the San Gabriels. Unfortunately, I didn't get a picture, so here's a distant shot from a less interesting population found at 3200' in the San Bernardinos: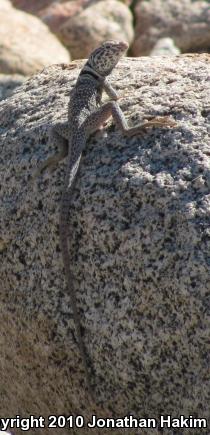 There's only one lizard species in the Gabes/Berdoos that is completely limited to high elevation - the Southern Sagebrush Lizard. These were found at over 6200 feet:
Southern Sagebrush Lizard (
Sceloporus graciosus vandenburgianus
)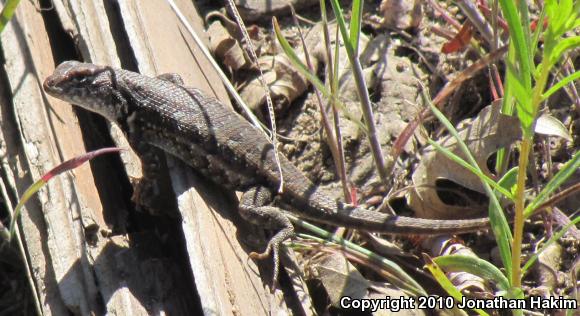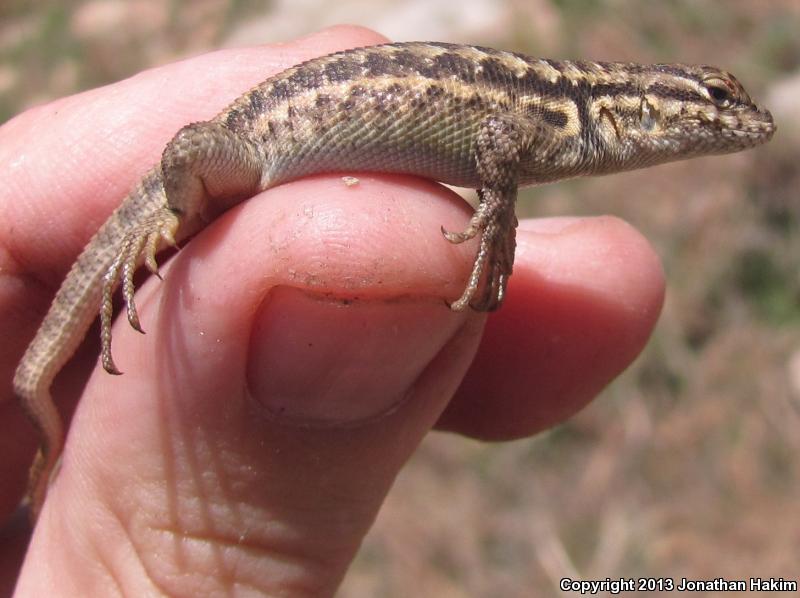 Considering the cold temperatures and lack of vegetation in some of these spots, the snake diversity is truly remarkable. Once again, several species that thrive at low elevations are also found up in the mountains. The following were all spotted at over 6000 feet elevation:
San Diego Gopher Snake (
Pituophis catenifer annectens
)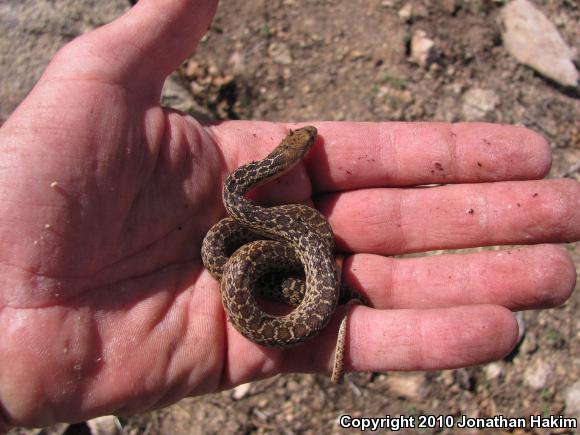 San Bernardino Ringneck Snake (
Diadophis punctatus modestus
)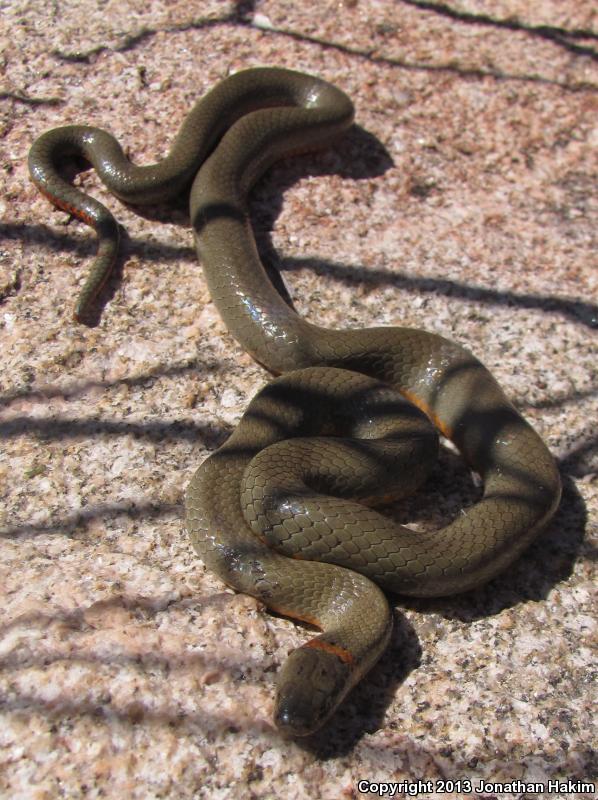 California Striped Racer (
Coluber lateralis lateralis
)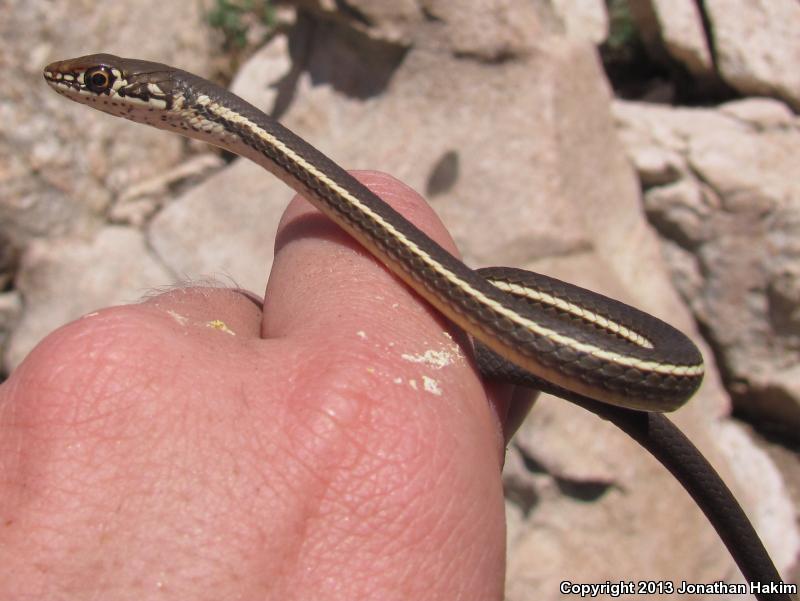 One section of the San Bernardinos has a relict population of Mountain Garter Snakes in the higher elevations. You have to go a couple hundred miles north to the southern Sierra Nevadas to find the next population of these. These two were found at over 6700 feet.
Mountain Garter Snake (
Thamnophis elegans elegans
)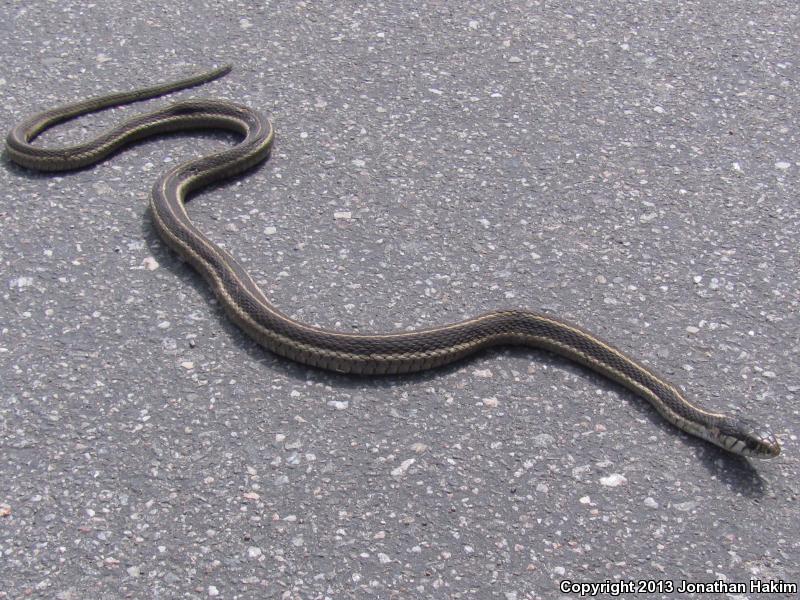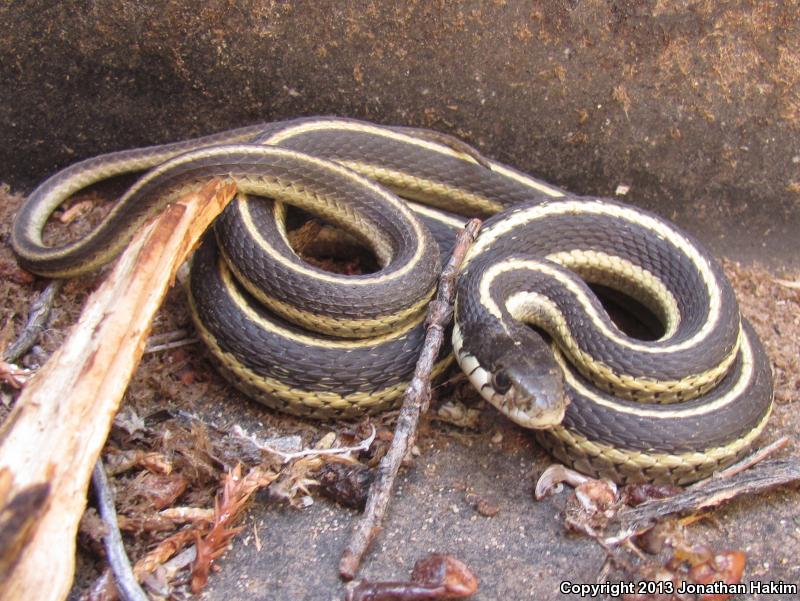 habitat shot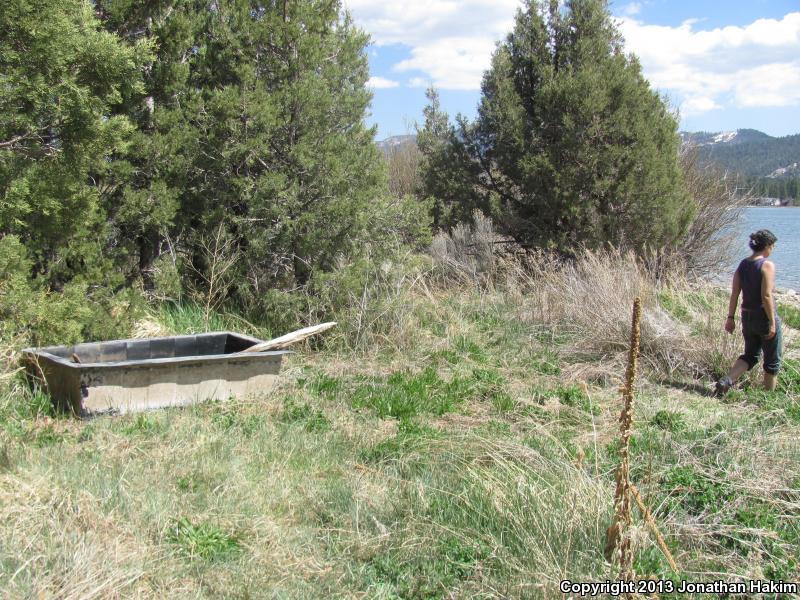 One beautiful snake that is mostly restricted to high elevations, of course, is the San Bernardino Mountain Kingsnake. Finding these is always a highlight. Though they can certainly be found much lower, I only seem to see them at over 6000 feet:
San Bernardino Mountain Kingsnake (
Lampropeltis zonata parvirubra
)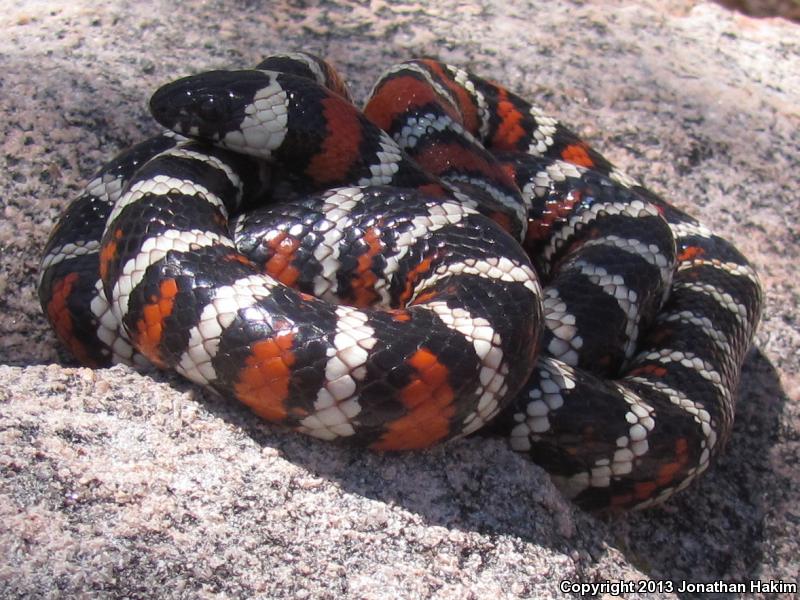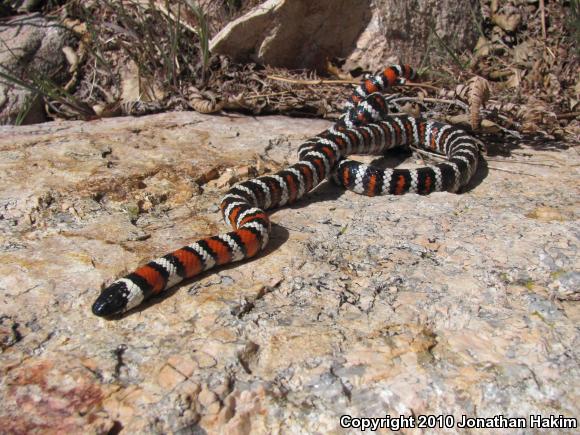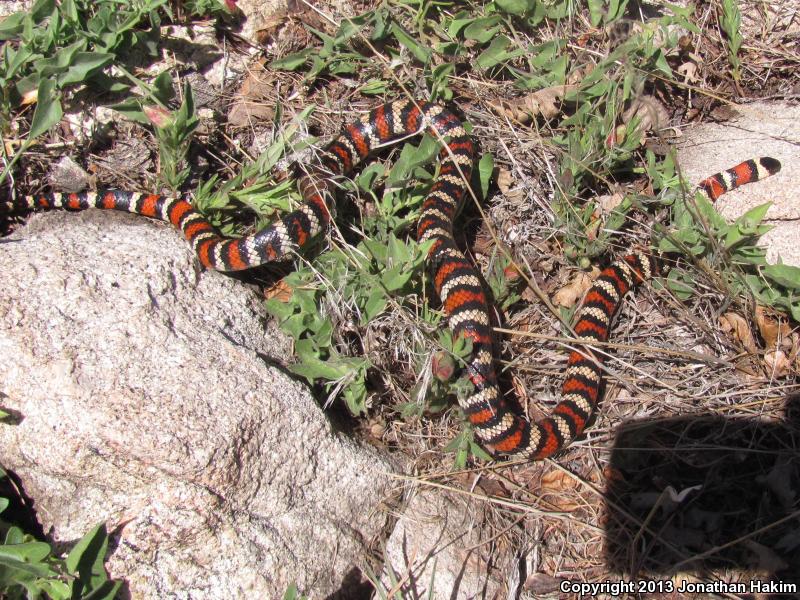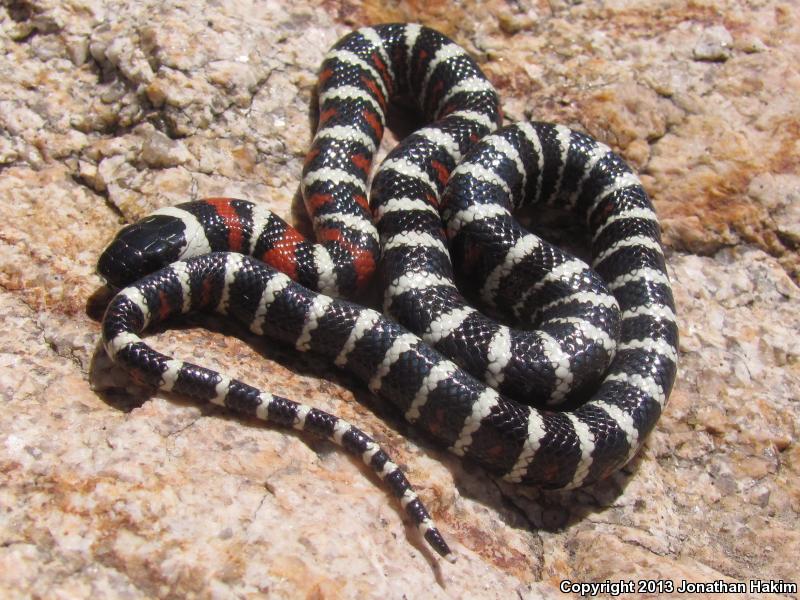 Finally, one of the truly cool herps of the region is the Southern Rubber Boa. While they are not quite endemic to the San Bernardino Mountains (also being found in the San Jacintos and possibly other ranges), the majority of the known localities are here. These boas are almost exclusively known from habitats at 5000 to 8000 feet elevation.
Southern Rubber Boas (
Charina umbratica
)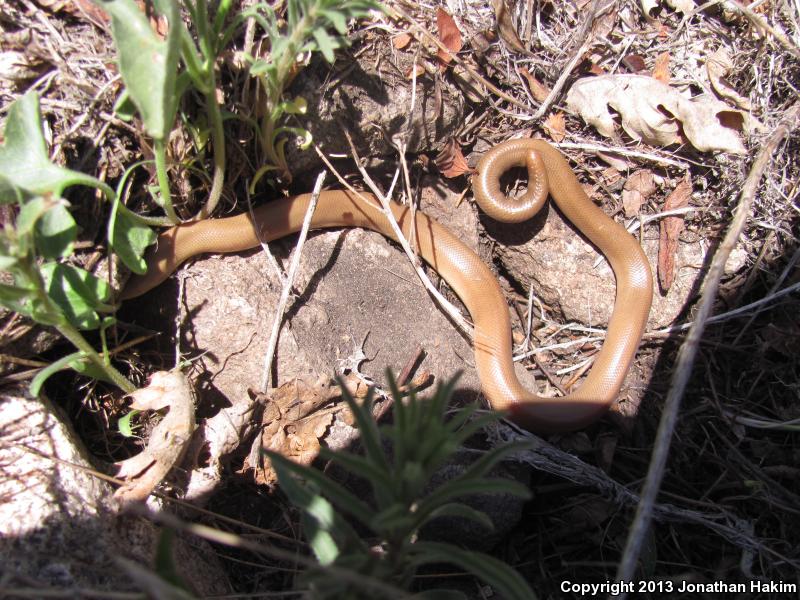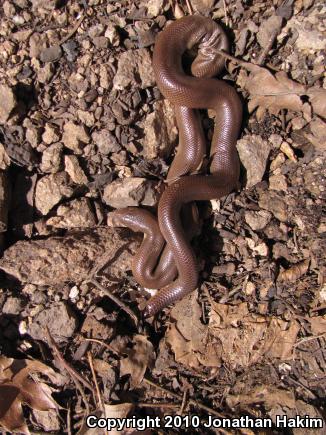 I've wanted to do this post for a long time, but it took so long to get around to finding a live Mountain Garter! I hope you enjoyed it.
Now, is anyone going to do the San Jacintos? Lagunas? Tehachapis? Sierras? White Mountains?