I haven't posted anything for quite a while. Life's what happens while you're making other plans, and for the past few weeks I've been inundated with work, and also suffered a sudden urge to learn how to cook properly, an itch I pursued with my usual brand of time-consuming, all-excluding obsession, much to the detriment of my herping. On top of all that, my regular herping runs that I still religiously exercise every Saturday night had yielded absolutely nothing for four solid weeks in a row, not even roadkill (well, OK, apart from that one DOR King Cobra baby, but I'm sure the herping gods just chucked that one at me to mess with my head). I'm not sure what was to blame: the advent of the rainy season (although that wouldn't make sense, would it now)? The increasing spread of slash & burn farming along the previously forested roadsides? Or maybe just a really nasty streak of bad luck? Whatever it was, it clearly sucked all the snakes off the roads. I was so desperate that even I started to plan a search for alternative cruising roads, but then, as it always happens, things finally started to look up.
Of course, they didn't look up the way one would think they would:
Last Saturday I was on my usual Snake Survey Run in Padawan County (no, in spite of its name, that's not where the Jedi Academy recruits its students), this time bringing along a Swiss artist friend who teaches design at a local university and who was very keen on experiencing a Borneo Night Hunt the herper way. Alas, two and a half hours on my study road amounted to nothing more than a freshwater crab that sat on the tarmac and was so huge that for a minute we entertained the thought that it might have fallen off a seafood delivery truck.
But a freshwater crab, no matter how big, is no ersatz for a nice, fat (or even a little, scrawny) snake crossing a dark forest road, and with no little amount of pent-up frustration we nosed the car back towards Kuching. Barreling through twenty miles of secondary forest, scrappy bushland, parched
kerangas
and other man-made boils and rashes on the planet's skin, I was close to falling asleep at the wheel, when suddenly I saw a kangaroo rat hop across the road. Somehow my fatigue-pickled brain managed to realize that there are no kangaroo rats anywhere near Borneo and slammed on the neural brakes, bringing me back to reality; then my right foot slammed on the real brakes, just inches away from the animal, guided by a sudden flash of rational deduction: "There's only ONE mammal on this island that can move in this fashion - Horsfield's tarsier!" I had never seen
Cephalopachus bancanus
on the ground before - in fact, I had only seen it twice, both times from a distance - but I was aware that finding one skipping across a highway was akin to seeing a dolphin climb an apple tree.
Astronomical odds notwithstanding, when we got out of the car, there he sat, shivering and cowering in our headlights, a hand's breadth away from the massive mud tire that would have sent him to his maker less than a second later, had I not put the truck's ABS system to very good use at the very last minute.
Now, I've found a lot of weird things on roads in my time - pangolins, adult orang-utans, drunken old ladies wielding machetes - but the only thing that would top roadcruising a tarsier is a Sumatran rhinoceros or a pink unicorn. In fact, whenever people joining our herping trips ask me what we might see, I usually answer "anything is possible but rhinos and tarsiers." A tarsier is just as unlikely to dabble in terrestrial life as a gibbon, and the sheer incongruousness of the sight before me excited me so much that I started shaking like a leaf, and was barely able to control my camera when I plopped on the ground to take close-ups. The little primate was still in shock, just sitting there and swiveling his head around in that ultra-eerie >180° manner, but I sensed that the miracle wouldn't last long. If we just let him go, though, there was a chance that he wouldn't last long either: not half an hour earlier we had talked to two guys with shotguns walking along our study road looking for "animals - any animals - to eat, you know?". Hunting is a very powerful instinct among many Borneans, for whom the nutritional value of the prey is of little concern, as long as it can be killed and grilled. (Bat stew, anyone?)
So I devised a plan: we would take the little guy home, keep him in my pantry overnight, and then release him in a nature reserve closer to Kuching the next morning. But how do you catch a tarsier? One look at his dentures will tell you that in spite of its superficial cuteness, this is not some fluffy-wuffy monkey baby you can bottle-feed with pureed mangoes. No, siree. Like any rugged woodsman worth his plaid flannel shirt, this guy likes his
meat
. Lots of meat, in fact, thanks to its almost hummingbird-like energy requirements. Any meat will do: invertebrates (the bigger, the better - tarsiers looooove cicadas!), bats, snakes, lizards, anything with shreddable flesh and a heartbeat is fair game for this gremlin, which is, indeed, the world's only strictly carnivorous primate.
Apart from a good chance of getting one's hands piranha'd, there were also zoonoses to consider - vector-borne diseases. Animals field-collected in Borneo - even herps - are routinely checked for malaria, a malady that is present in the vast majority of macaques here, and who knew what other eclectic bugs this little proto-monkey might host? In short, there was no chance in hell that I would just grab the thing and stuff him in a bag. After bit of agonizing, I finally had an idea. I fetched a Faunarium (plastic herp tank) from the truck, put it upside-down over the tarsier, and then gently slid the lid between road and beast until I could snap the lid close.
At home, I put a water bowl in the tank (this time risking my precious fingers) and put the tarsier in the pantry. The next morning I found the prosimian in good health, and he also surprised me with his exquisite sense of neatness: he had used the water bowl as a urinal -
only
the water bowl, in fact - the rest of the tank was spotless!
The next hour was spent taking pictures of Mr. T. He didn't seem to mind the procedure at all, sitting there like a little furry Buddha, waiting patiently for me to quit pointing the stupid black box at him. Afterwards we released him in said nature reserve, where he finally showed his true colors: as soon as he touched the bark of a nice big tree, he shot up into the canopy like a rocket and disappeared out of sight in no time.
We all wish him well, and may he live a long, hunter-less life, with a katydid drumstick for every dinner, and without any more road warrioring ...
(
More on this wonderful creature here
)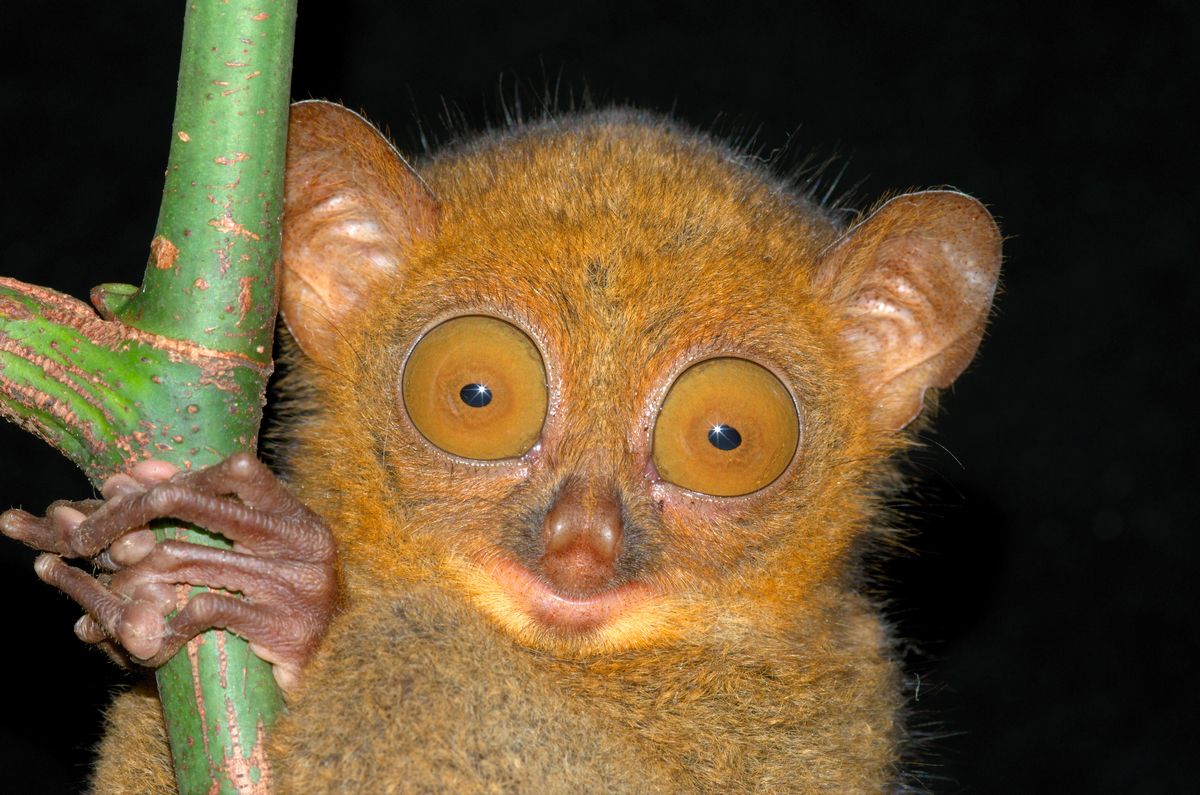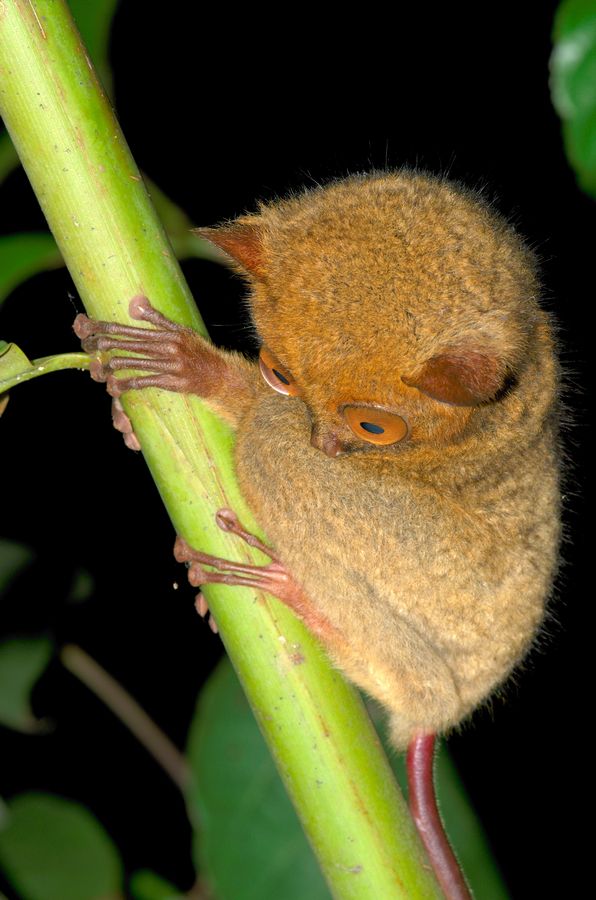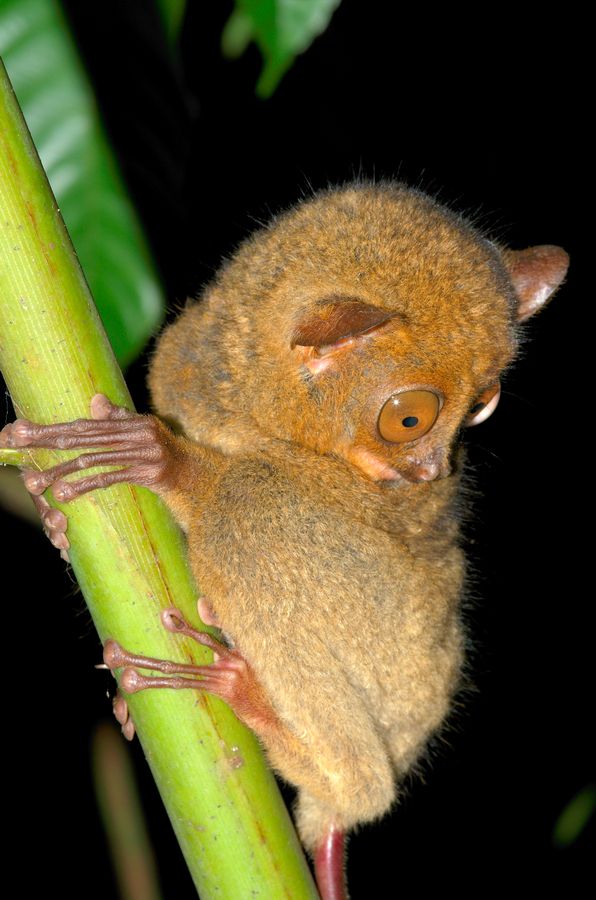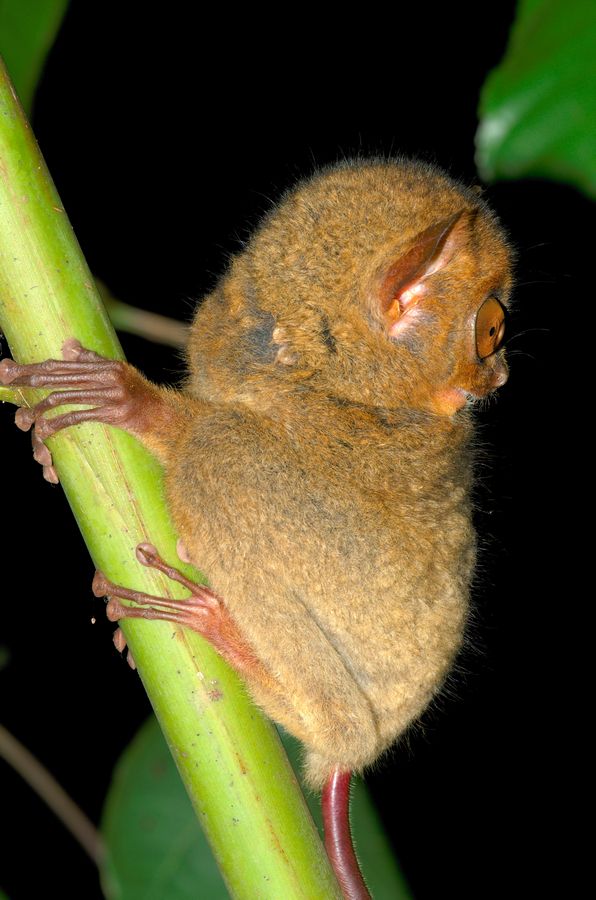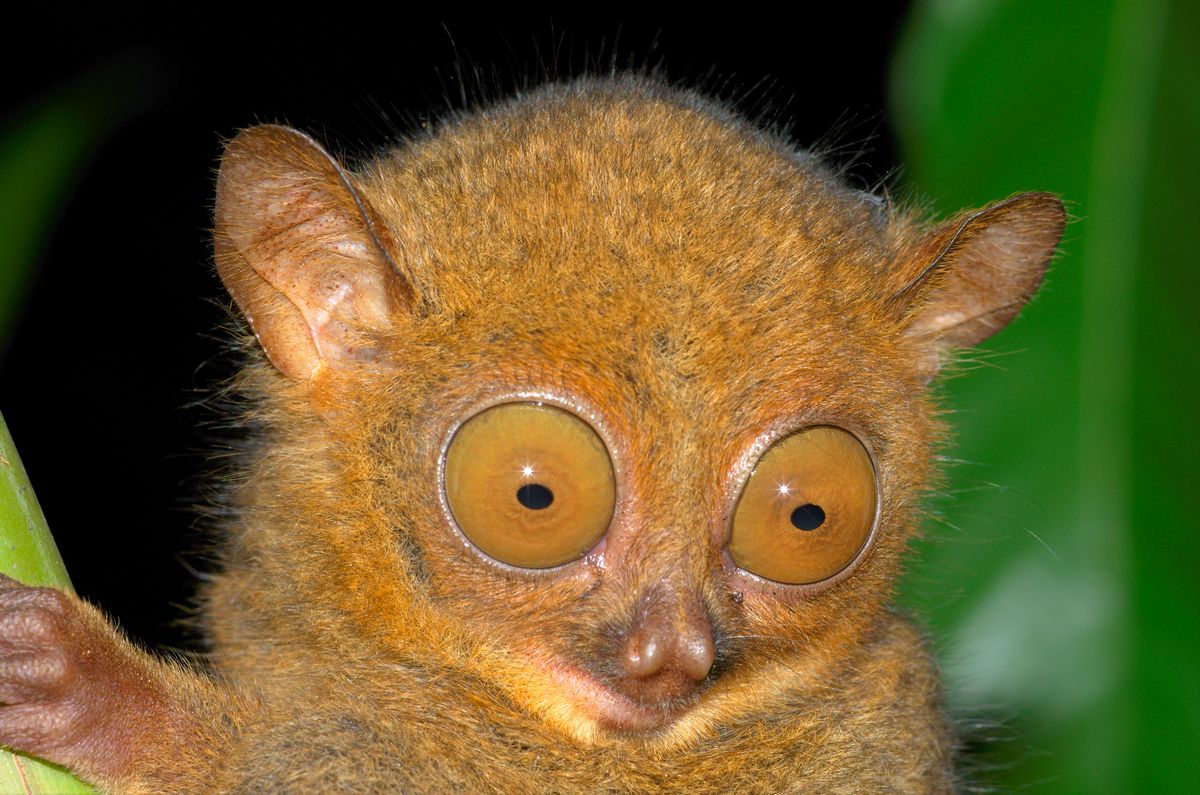 Now for the Wallacians and the token snakes (this IS a reptile forum, after all

). A week prior to our meeting with Mr. T, the Second International Alfred Russell Wallace Conference was held in Kuching. Being a bit of a Wallace groupie (as the Earl of Cranbrook called himself during his keynote speech), I couldn't miss that event. As I expected, the talks and presentations were very interesting, but the people I met were even better. I had the great fortune to meet folks like Aaron Bauer, Lee Grismer, Michael Cota, Noel Thomas, and the storied Earl of Cranbrook (my meet & greet with this legend of South-East Asian natural history was a bit of a social disaster, but that's a story for another day

). Always eager to meet like-minded people, I organized two roadcruising nights for the weekend after the conference. The event was co-organized by Indraneil Das, so the program as well as the attendants leaned heavily towards herpetology, and it didn't take me long to fill up the truck with visiting scholars for both trips. Here are some pix. We didn't find much, just the two snakes you are about to see here, but our weird Sarawakian black and white (instead of the black and yellow they sport on the mainland) Banded Kraits and that cute little velvety slug snake did impress the out-of-towners quite nicely anyway

.
Approaching the dragon. From left to right: Andre Koch; Noel Thomas; Michael Cota.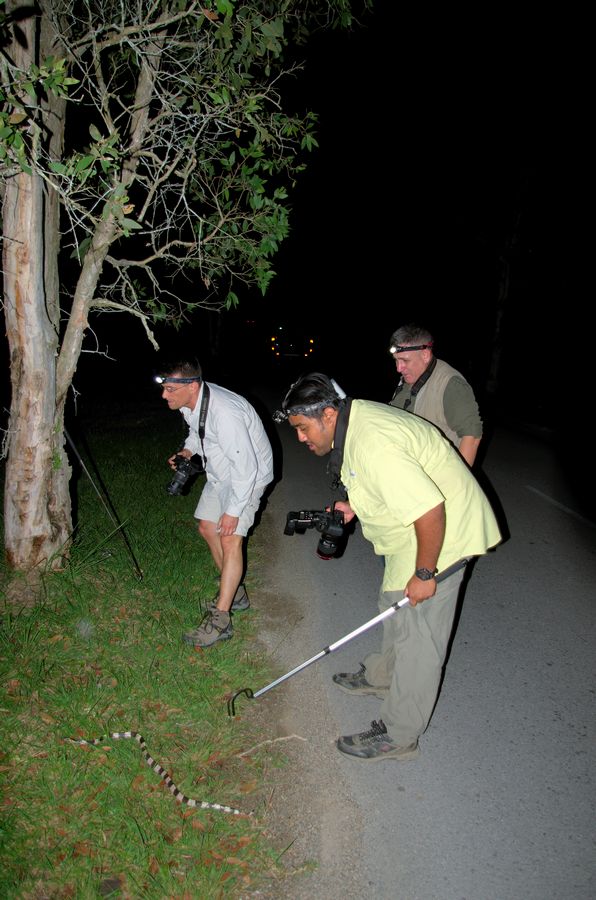 Bungarus fasciatus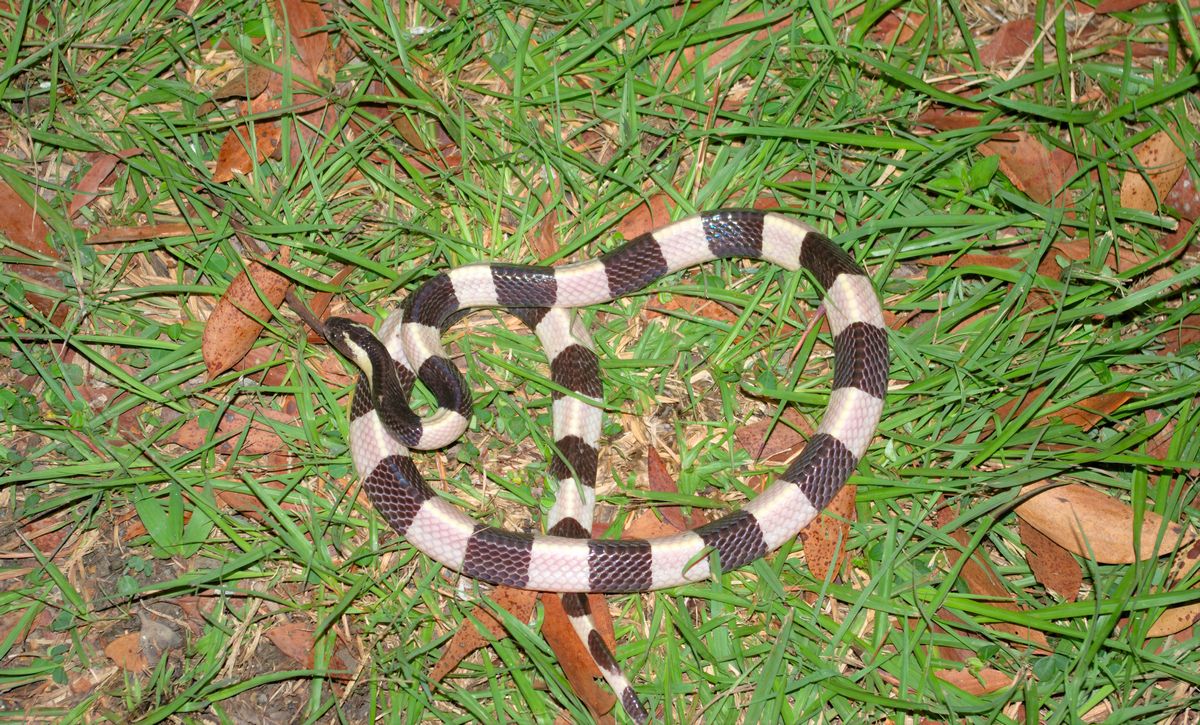 Shooting the wild.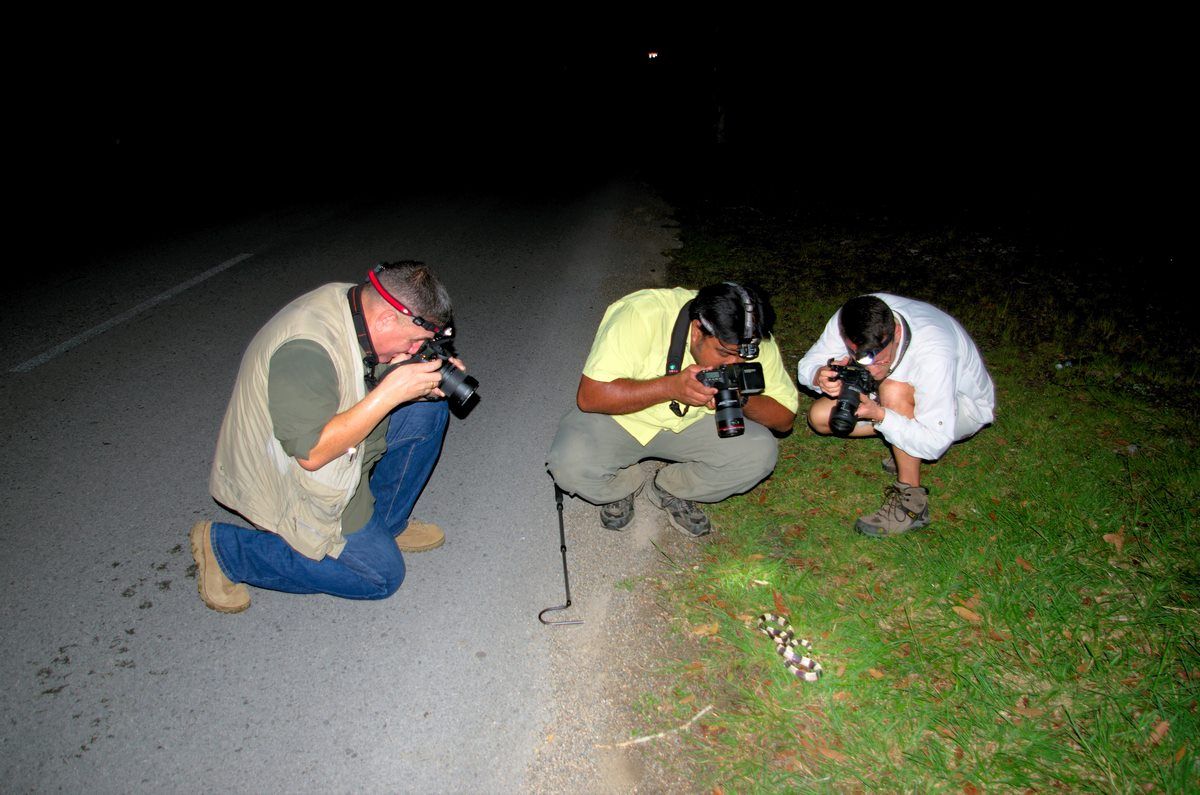 Noel, Michael and Jonathan Murray, giving
Asthenodipsas laevis
the green carpet treatment.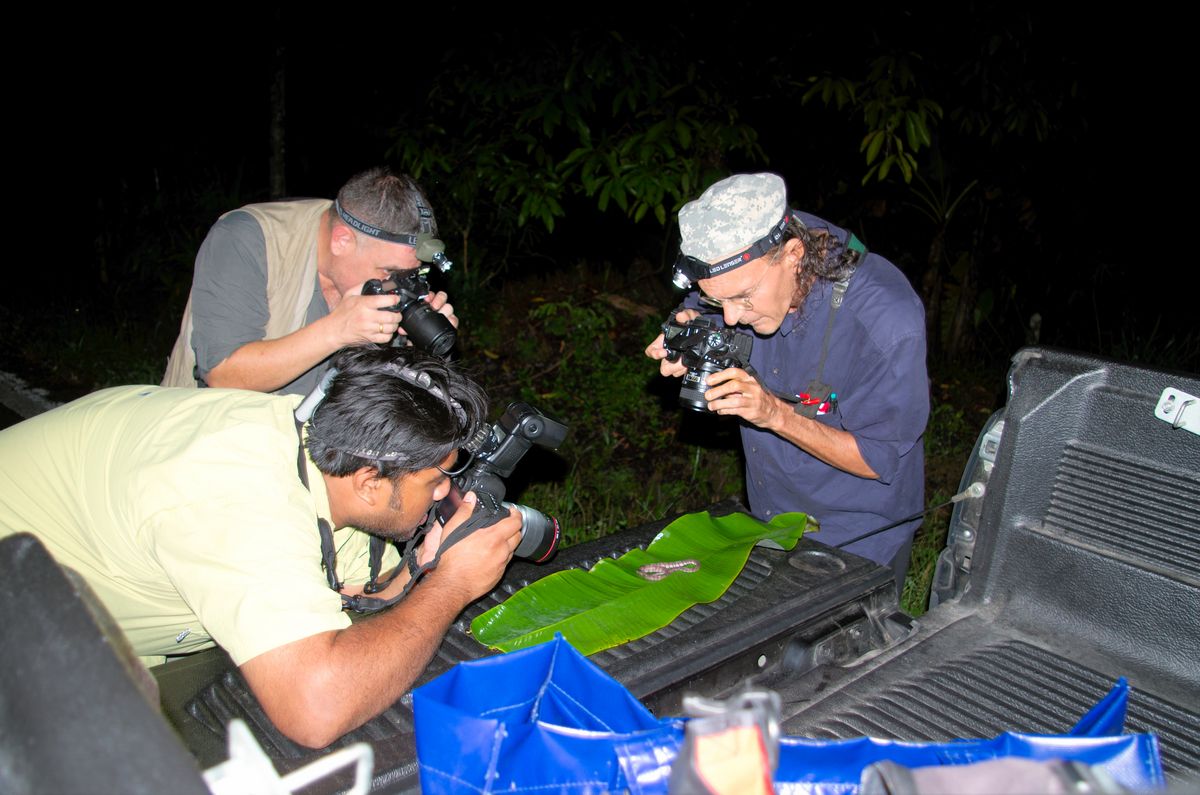 Nothing makes herpers happier than a lifer!
I didn't take any pix of the snake, sorry. I was busy documenting the event

But I'm sure either Mike or Noel will be willing to share their pix here.
A root snake Noel found during a walk in Matang.
Claderia viridiflora
, also from Matang
PS, and totally
non sequitur
: If you ever needed a reason NOT to take naps under a durian tree - this is how big they get (my wife for scale). Imagine a heavily spiked, hard-shelled football weighing five pounds falling from that height ...