Sibynophis chinensis chinensis
belongs to a genus of nine little drab-looking snake species distributed through southern and south-eastern Asia. This obscure subfamily hardly gets any press, save for the odd mention in even
obscurer herpetology papers
. In fact, these animals seem so unspectacular even to herpetologists that they were saddled with the unwieldy moniker "Many-Toothed Snakes".
S. c. chinensis
is the sole representative of this genus in Taiwan, and its English name, "Asiatic Many-Toothed Snake", is such a mouthful that most foreigners on the island rather use the direct translation of the much more efficient Chinese name, "Black-headed Snake", or just "blackhead".
But even the most boring-looking creature has its moments, and the points of interest about the blackhead are its teeth and its speed. It's a skink-eating genus, and like other skinkophagous (no, that's not a word) snakes,
Sibynophis
sp. possess hinged teeth which can lock prey in a vertical position if it tries to escape. A very cool modification that is also reflected in the animal's name: "sibyna" was an Ancient Greek term for certain hunting spears.
Then there's the snake's velocity. Unlike most other semi-fossorial snakes, the blackhead does not try to burrow under leaves or into dirt when surprised, but relies on its considerable athleticism: I've run into nine of these guys over the last 24 months, and only managed to catch three of them. They're often found hunting in roadside ditches, and I'm here to testify that in a debris-filled, two-foot wide ditch they can outrun any overweight, middle-aged German. The memories of seeing these little brown lightnings taking off down the ditch like Lucifer's pets, and disappearing into the sunset, are most bitter indeed

Last Friday I had the opportunity to catch another one of these diurnal snakes (not because I was faster his time, but because the confused critter ran towards me instead of away), and I took it home for photos. Little did I know that during our
Saturday Morning Snake Walk
the very next day, my son Karl found another conspecific, but one that didn't exactly deserve the name "Blackhead": its entire head was orange! This is the first color aberration in any animal we've ever seen in the wild, and we were properly psyched. I guess an island doesn't allow for a lot of gene pool variety, so most creatures look exactly as shown in the field guides...
Both snakes were about 20 inches long, with the orange-headed being a little smaller and more slender.
PS: Saturday night the kids failed to properly close the lid of the blackhead tank after playing with the snakes, and Sunday morning both snakes were AWOL. Our two cats are usually good at finding them, so I was relaxed about the situation. The first blackhead turned up half an hour later in the living room, and the second one when I used my office phone....see last photo. Yes, that's exactly the position where I found it - sleeping under the %$#@! receiver!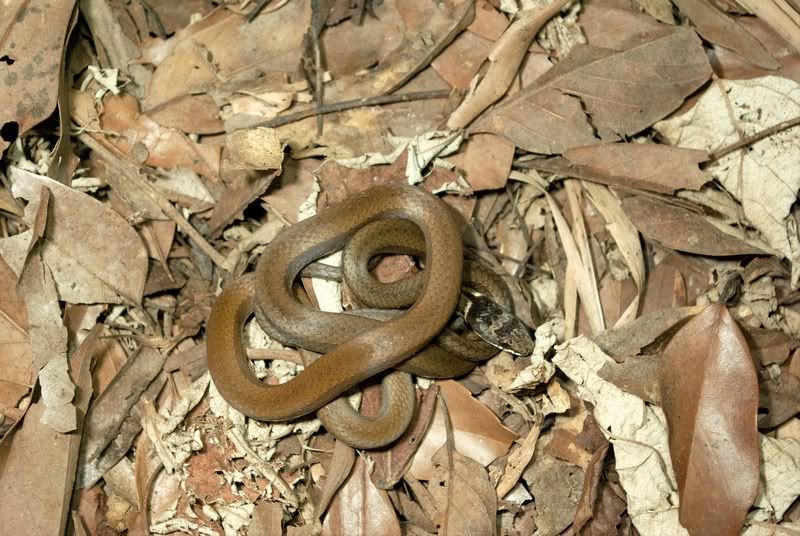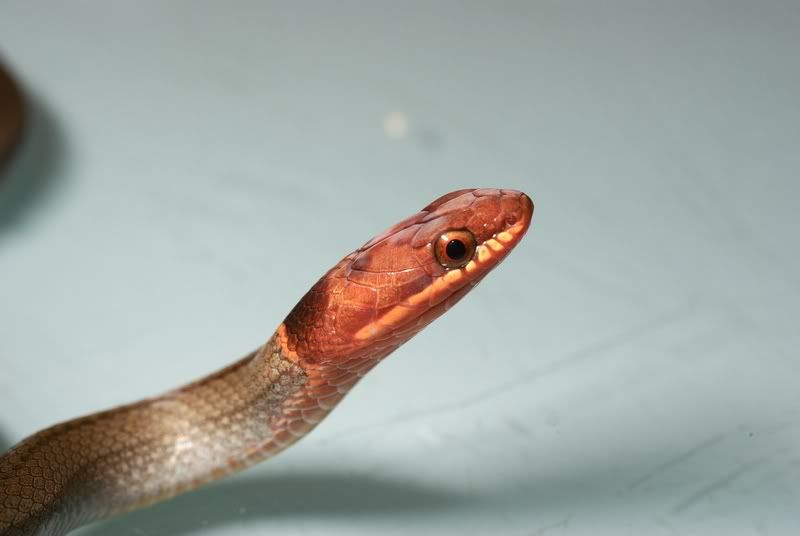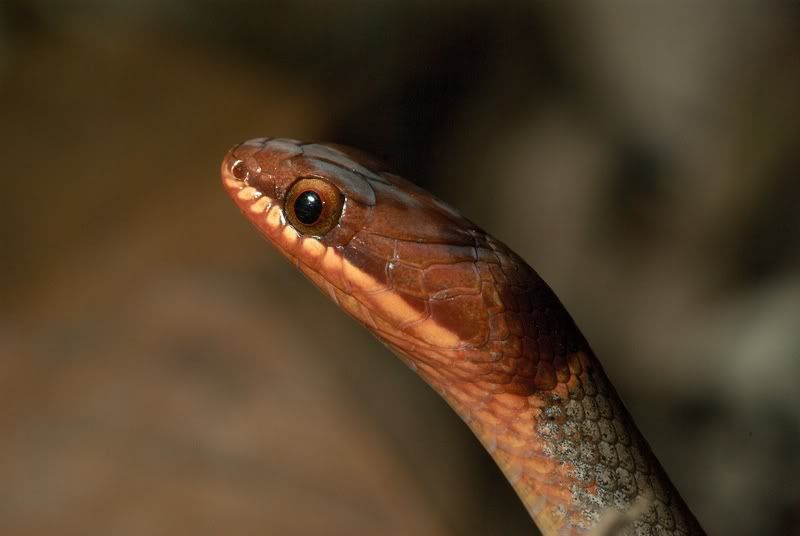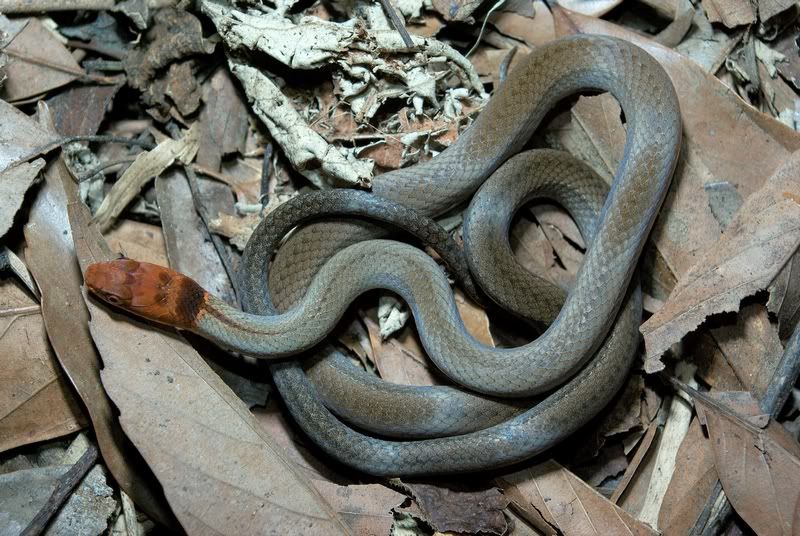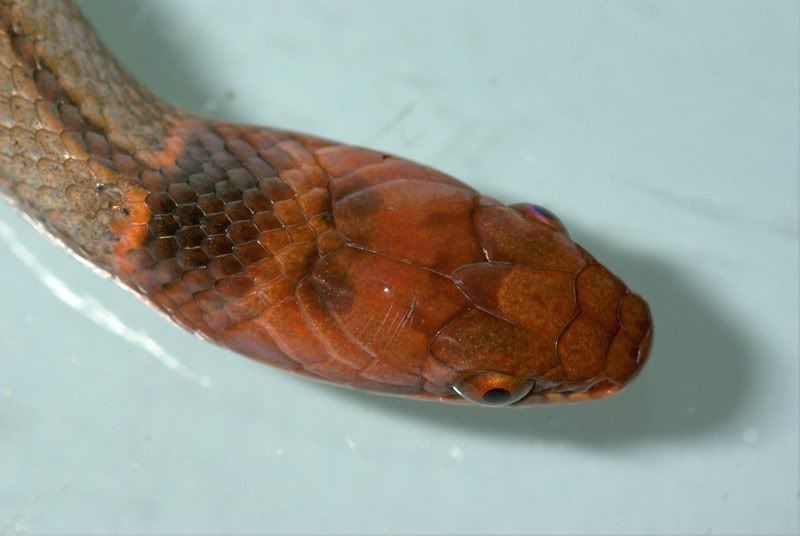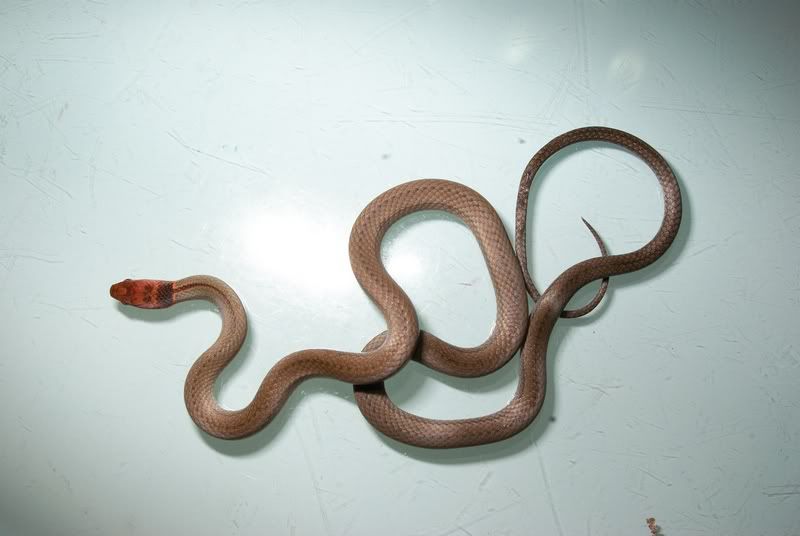 Ventral shot of both snakes