At the risk of boring all y'all into a lethal stupor with my recent deluge of cobra sightings, I hereby present yet another one

After an entire summer of no typhoons - a once-in-a-lifetime situation - Taiwan finally enjoyed some relief from the heat and drought last weekend, when not one, but three typhoons (= hurricanes) approaching from the North, South, and West, took La Ilha Formosa in a pincer movement. Although all of them eventually veered off before they could make landfall, their fringes lashed the island with massive torrents of rain for 24 hours straight, and after the downpour had subsided, the conditions were just perfect for herping, and I set out on my usual mixed ditch walk/road cruise trip with high hopes.
Sometimes, though, perfect weather alone just doesn't cut it - you also need a bit of luck, and for the first three hours it certainly looked as if I were shit out of it. Three boring snakes, plus one highly interesting, but sadly very DOR coral snake, and lots of frogs was all that came out to meet me. At 11 pm I was tired, frustrated, had generally lost my herping spirit and only wanted to go home to curl up with "Sand, Sun and Snakes" and a nice bowl of frozen durian. But somehow I wasn't ready to accept my defeat just yet. It really was just too early to give up, and I forced myself to drive an extra six miles before heading home - there HAD to be something out there in this wet and cool weather! So I slugged another can of iced coffee and prepared for six more miles of nothing. The first five miles were indeed more of the same; nothing but forest debris knocked onto the tarmac by the rain. But when I had almost reached the turnoff to civilization again, my tired eyes fell on a
Naja atra
slowly crossing the road - and what a specimen it was! Not really large, just about 40 inches, but thickly muscled, jet-black, with a dark-grey belly, and yellow instead of white stripes across its posterior.
What a beauty! But I wasn't there to admire snakes from the safety of the car, but to photograph them, and that's when things went slightly south. Remember what I mentioned elsewhere regarding getting jaded about seeing so many cobras this summer? Well, I'm taking it all back. This specimen taught me huge respect for its species again, made me work really hard for my photos, and taught me much about humility. Plus there were so many mishaps with my camera gear, it's a small miracle I came home with at least a handful of useful pictures.
The entire photo session was part slapstick, part Blair Witch. Getting a Chinese cobra to sit still for a photo op isn't difficult - the trouble starts when you try to shoot from creative angles such as prone position, getting into the ditch with the snake, and advancing so close that the beast will answer each of your foolish moves with violent outbursts of hellish fury, lunging at you with the entire power of its upper body, hissing at unnerving volumes, and, in between lunges, incessantly growling like an idling Monster Truck engine.
As soon as I climbed out of the car, the cobra started its formidable intimidation routine with an anger that had to be seen to be believed. I think the snake's myopia in combination with getting flashlighted in the face, plus the utter darkness on that desolate forest road confused it and made it even madder than in daylight. I've photographed pissed-off
N. atra
before, and although those went through their usual chest-thumping spiel, compared to this guy they were positively tame. This one was so badass, any minute I expected him to start spouting "I'm the baddest motherf***er in the valley"-type Samuel L. Jacksonisms.
At first I was lucky, because instead of attacking me, the snake would lunge at things in the opposite direction, as if something more threatening than me were coming at him from out of the forest. I soon realized that he was attacking the beam from my headlamp which was shining at a point on the road slightly behind its body, as seen from my position. I used this knowledge to guide the snake's movements into photogenic poses. Then I found out that there are few more frustrating things for an auto-focus system than black snakes on a dark blacktop on a moonless night. To keep the lens from hunting, I had to switch off my headlamp after the camera had focused and then release the shutter. This technique was somewhat successful, but it also meant that every time I wanted to snap a picture, I had to switch off all light sources, plunging the entire scene into utter darkness for a few seconds - a situation rendered very creepy by the highly agitated cobra sharing the darkness just a few feet away from me.
Then there were the lighting problems: in order to illuminate the black snake properly before the dark background, I had to hold the flash in my left hand and move it as close to the animal as possible. That was a bit dicey, but after a while I got the hang of it. Then the flash ran out of power, which meant I had to go back to the car, get new batteries, and change them, while constantly keeping an eye on the snake. Many Chinese cobras will stay put and hooded for a while after the threat is gone, but this one didn't. As soon as I had opened the car door, he folded up his hat and headed for the road side, requiring me to walk over to him twice in mid-battery change and hook him back back on the road. Now, hooking snakes back on the road is something all of us have done thousands of times, but it's a slightly different deal with this species. As you touch it with the hook, he will rear up and attack, leaving the front part of the body upright, and if you try to hook the snake towards another location, you'll give it extra momentum and guidance for its lunge towards you. After a few pretty scary trials and errors (my hook's only four feet!), I found a way to deal with that, too, but eventually I had enough of the adrenaline bath and tonged the cobra into the ditch, where it finally mellowed down a little. By the way, I think his uncompromising way of communication has landed him in a few fisticuffs before - note the missing wedge on the left side of the hood?
The main lesson I took home from this encounter is that photographing adult Chinese cobras at night alone can be bad for your heart. There's no one to transport the snake to an area better suited for shooting while you properly park the car; no one to distract and control the animal while you set up your shots and deal with your camera equipment, and no one to get you out of there should things go wrong. That said....I can't wait for my next encounter with this magnificent, spirited and simply awe-inspiring species - alone or no!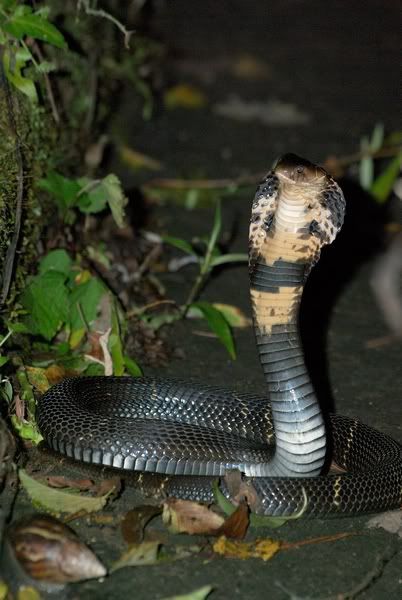 Check out the other critter....