Banded rock rattlesnake, male, NM: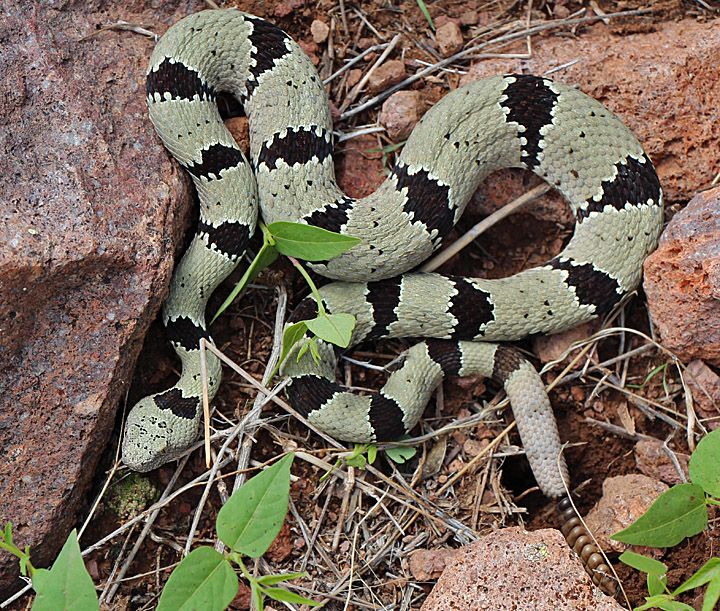 Banded rock, female, NM:
Banded rock, male, NM:
Black-tailed rattlesnakes, pair, NM: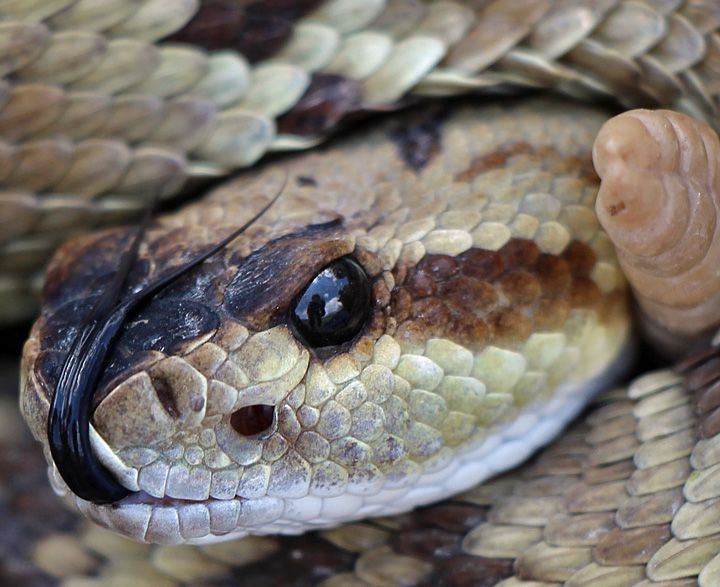 Red pigmy rattlesnake, NC: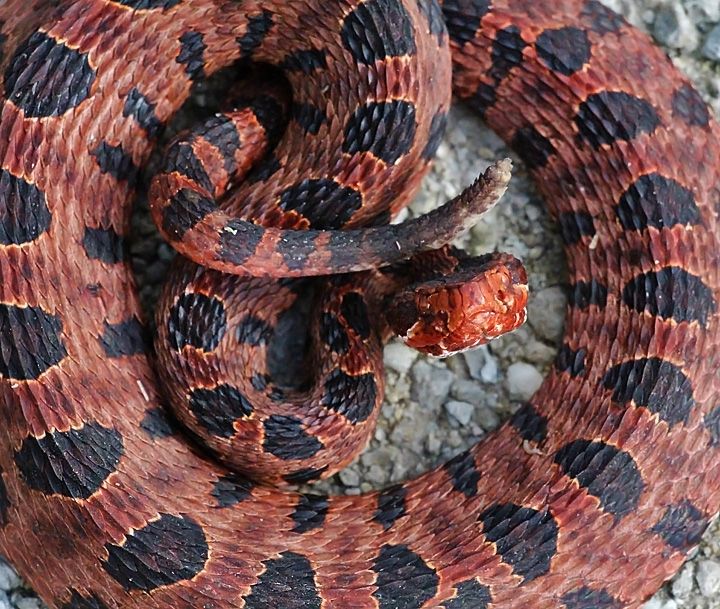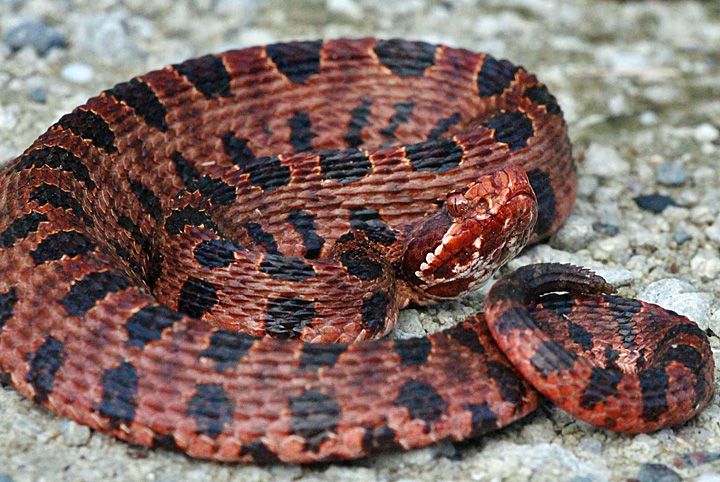 Mexican rosy boa, AZ: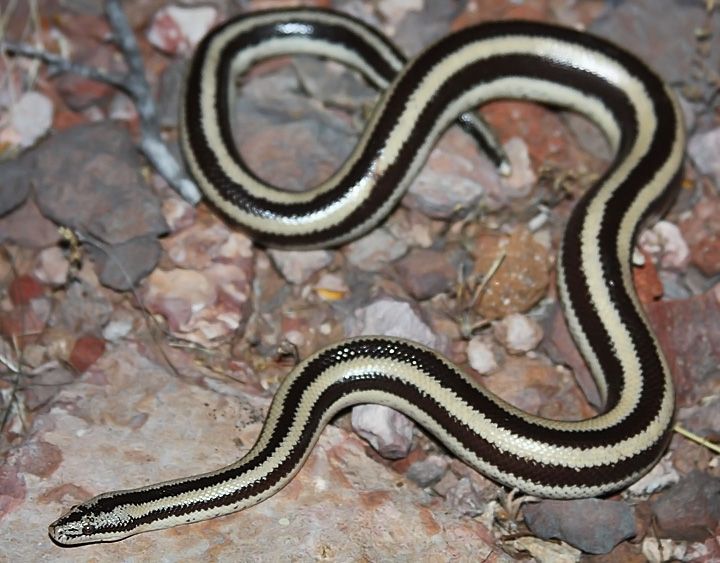 Greater earless lizard, NM:
Grand Canyon, AZ: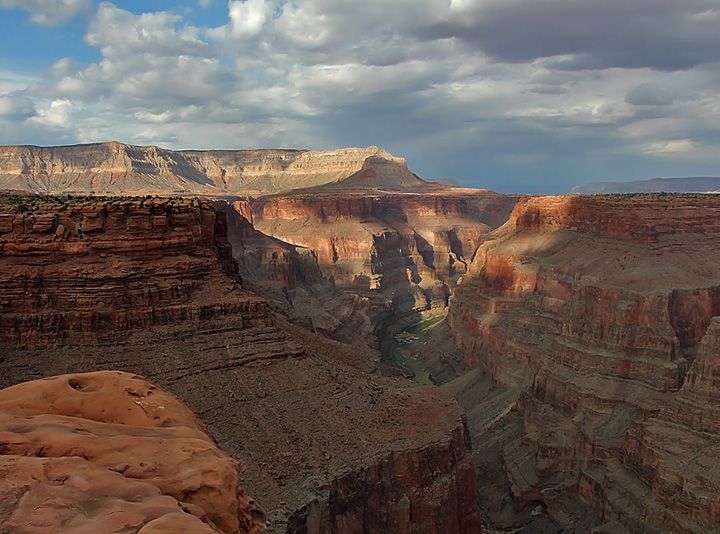 Collared lizard, male, Grand Canyon, AZ: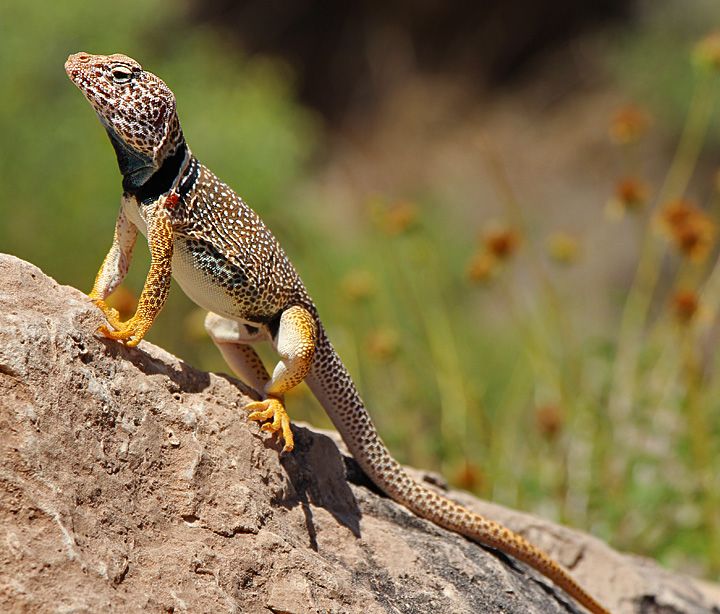 California condor, Grand Canyon, AZ:
Veiled chameleon, FL: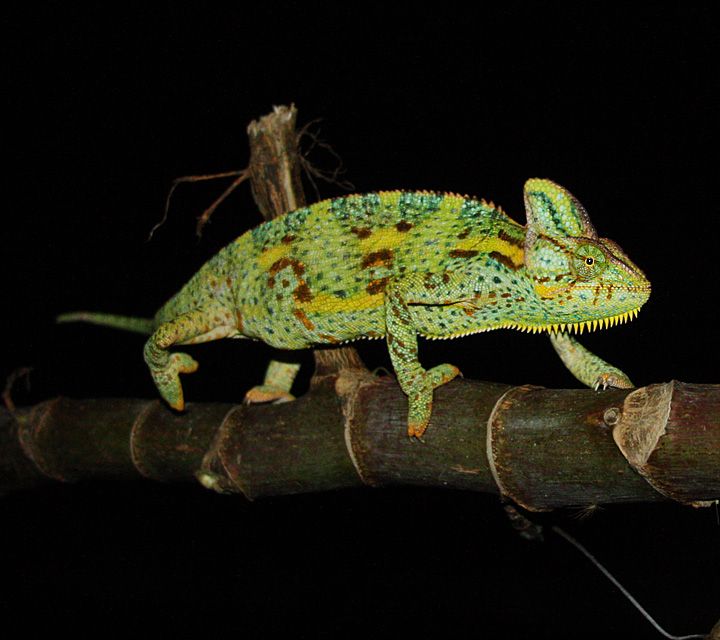 Green iguana, FL:
Western diamondback, NM:
NM: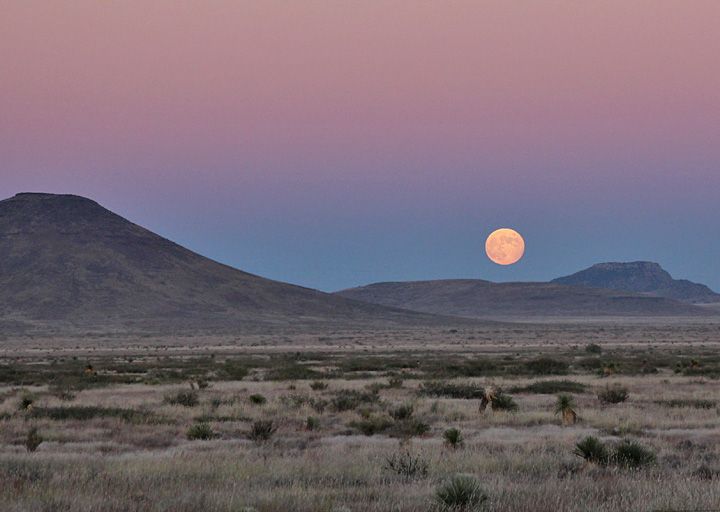 Bobcat, NM:
Banded rock rattlesnake, male, NM: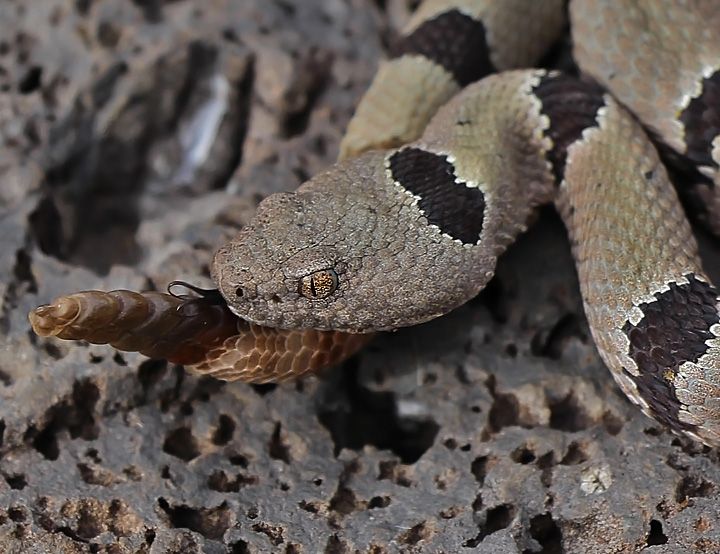 Mountain short-horned lizard, NM: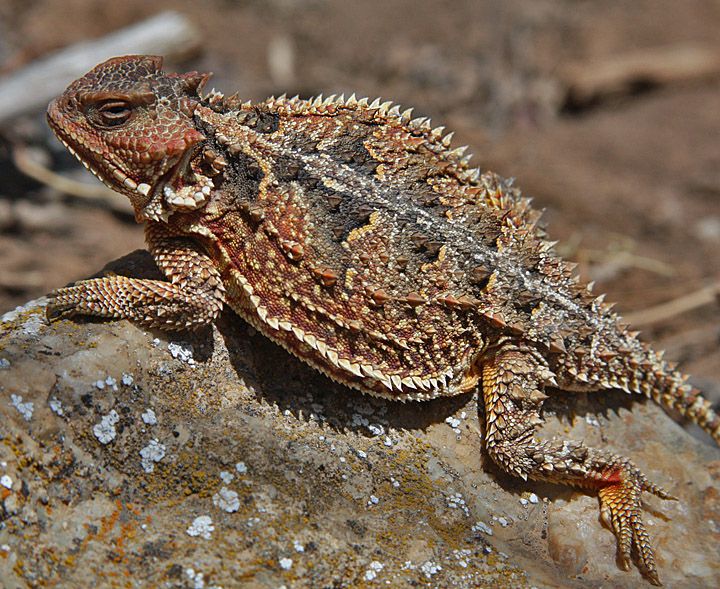 Gila monster, AZ: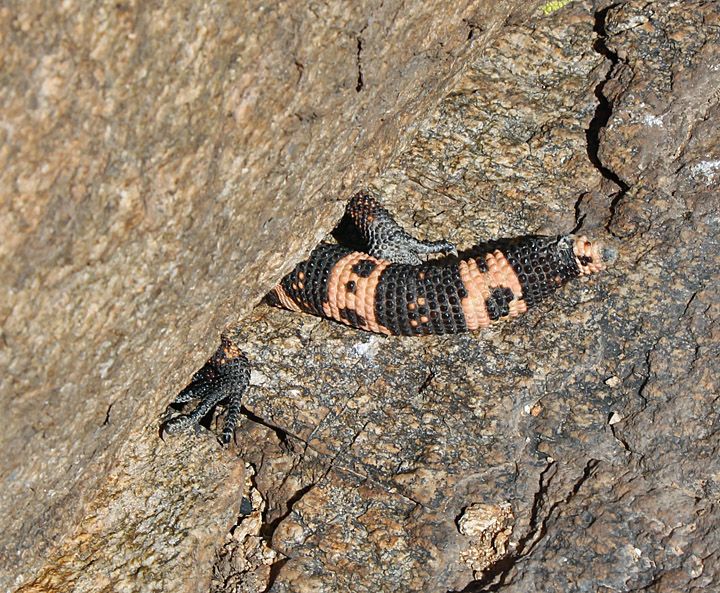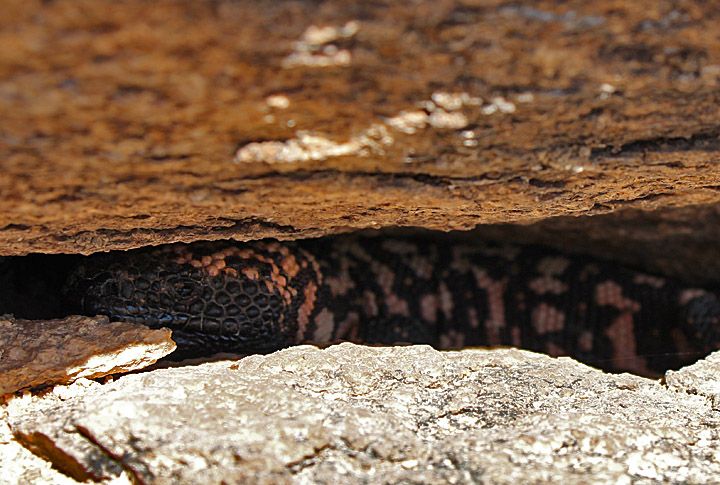 Sidewinder rattlesnake, in situ, CA: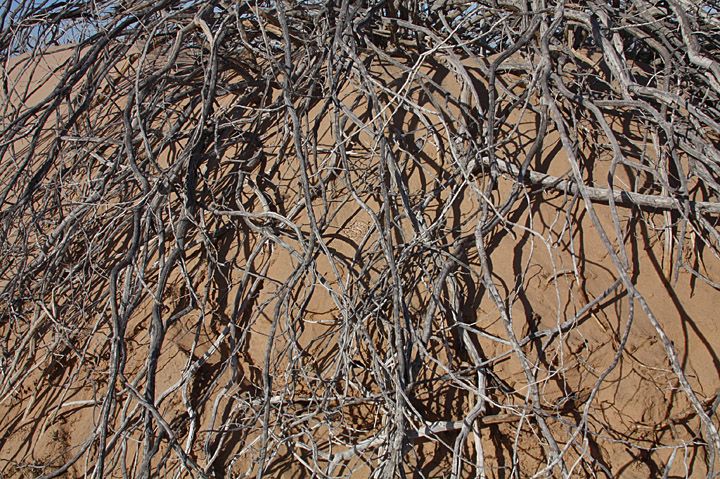 Green rat snake, AZ: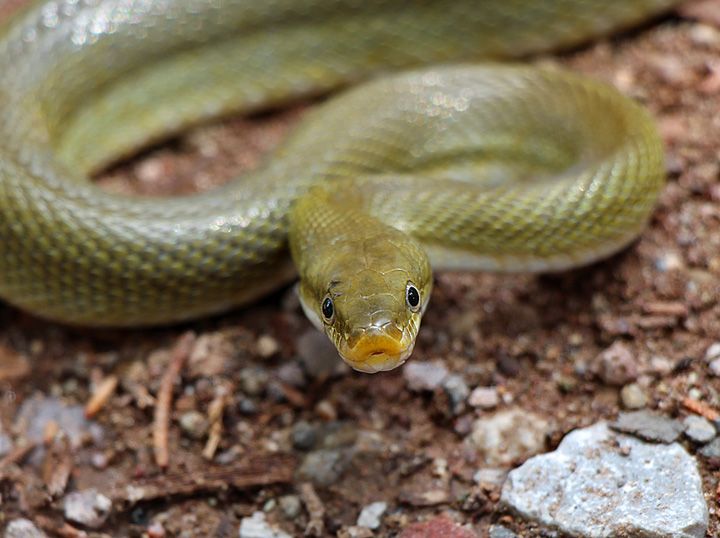 AZ:
Black-tailed rattlesnake, AZ:
Western diamondback rattlesnake (a huge, pinkish specimen near home), NM: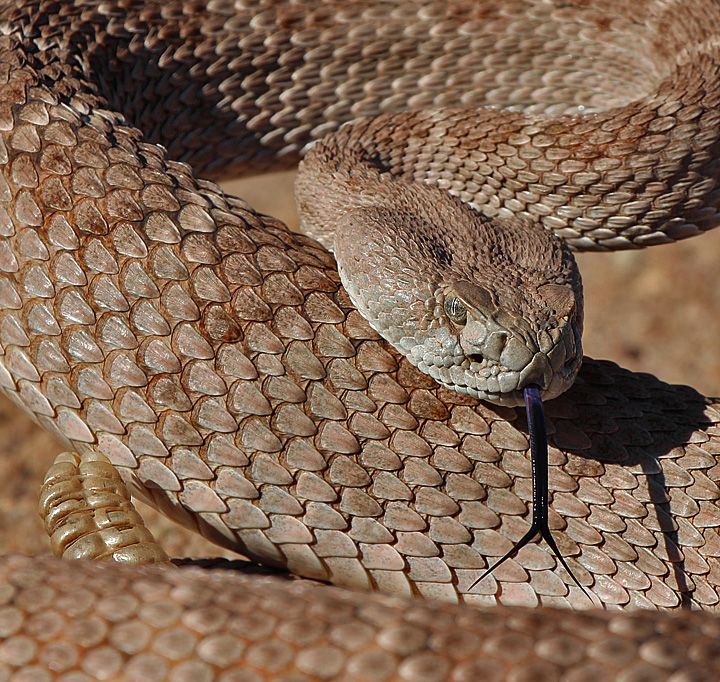 Another WDB, NM: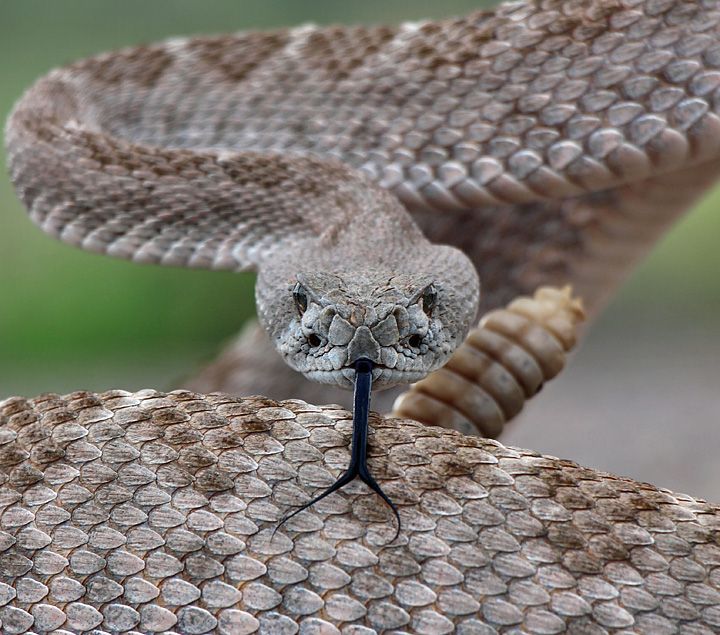 Black-tailed, NM: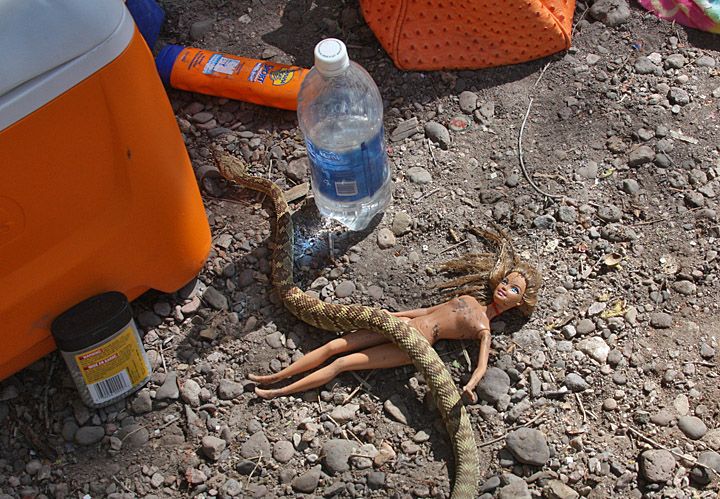 Storms here can be very localized, NM:
Same storm - results, NM: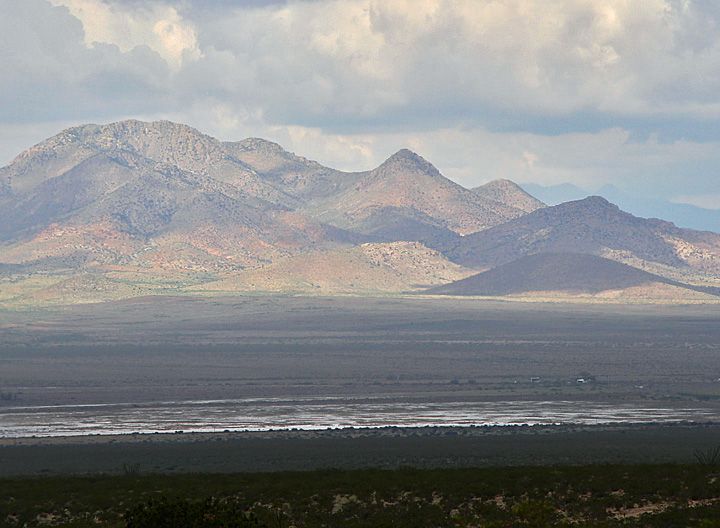 Banded rock, male, NM: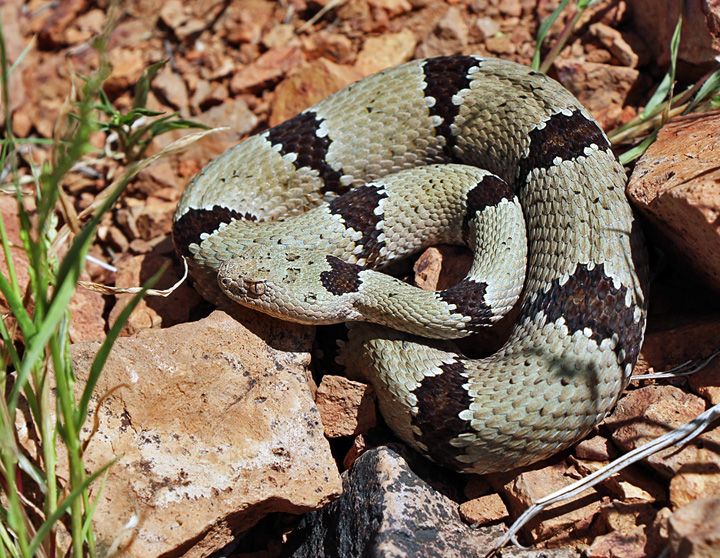 Collared lizard, male, TX: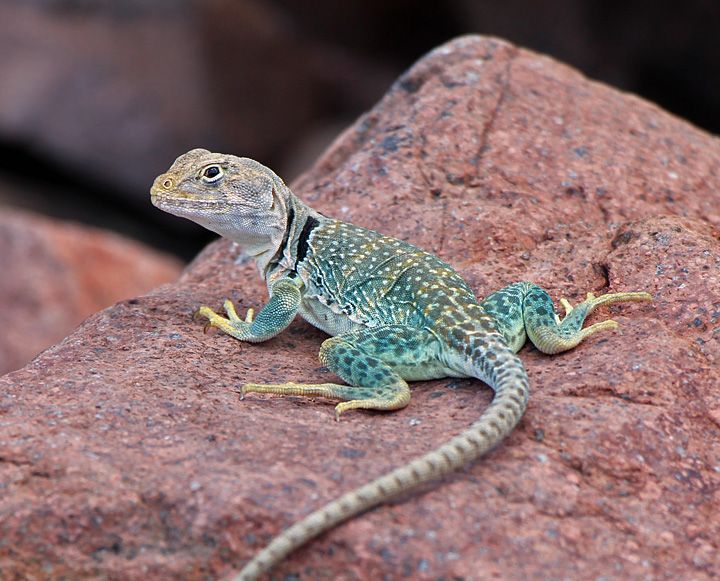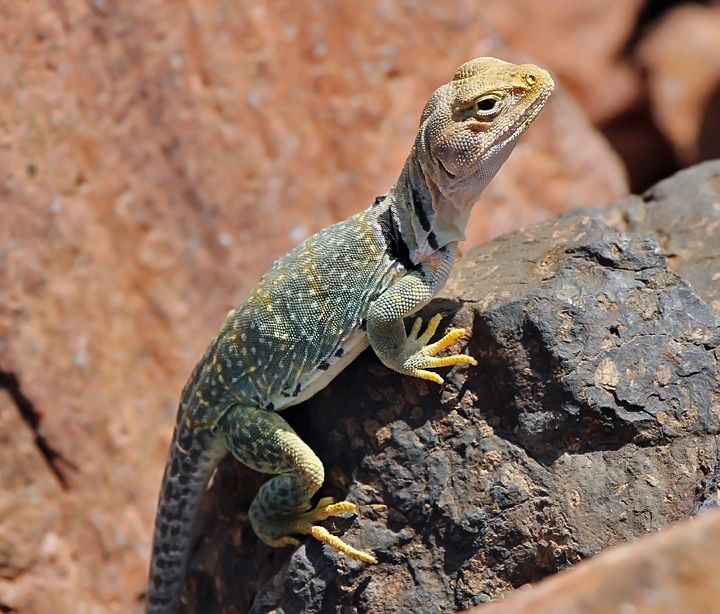 Round-tailed horned lizard, NM:
Prairie rattlesnake, NM:
Black-tailed, NM: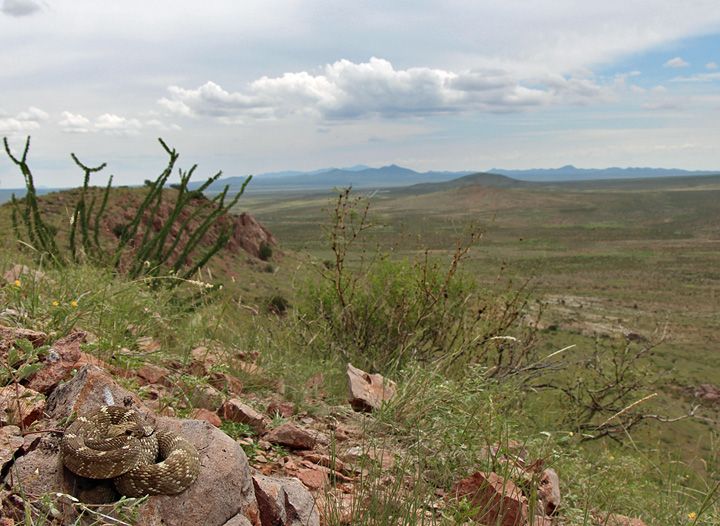 Eastern patch-nosed snake, NM: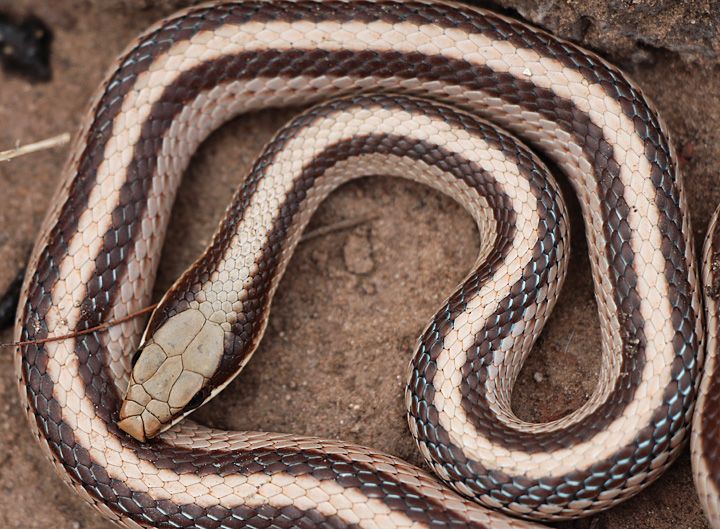 Round-tailed horned lizard, NM:
Greater earless lizard, NM:

Striped whipsnake, NM:
Prairie rattlesnake, NM:
Copperhead, NC:
Painted turtle, NC: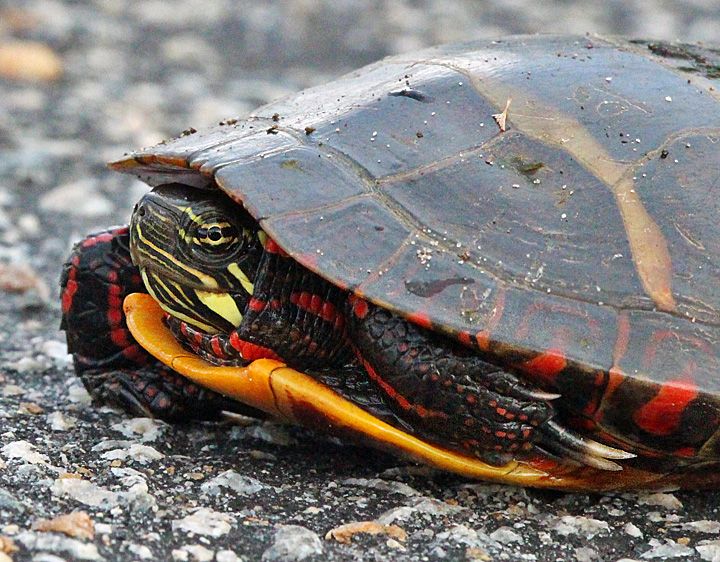 Variable ground snake rescued from a utility vault in November, SE NM: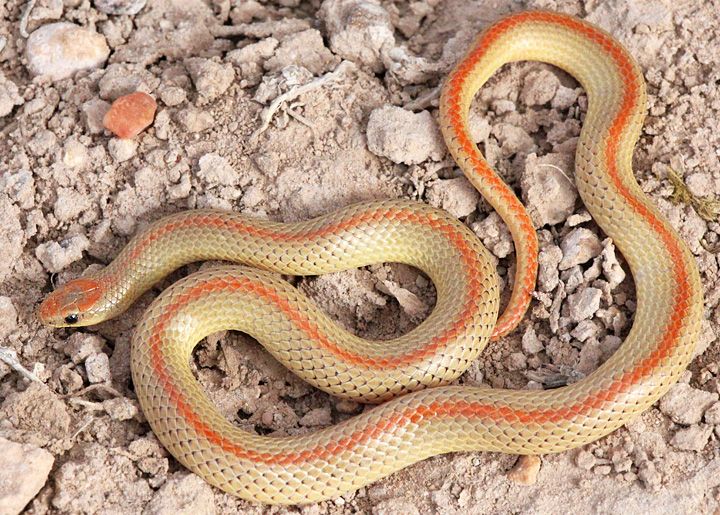 Variable (indeed) ground snake, Central NM:
Variable ground snake, Central AZ:
Where in the hell could such a gaudy snake possibly blend in? A bag of bacon:
We paused for an hour during a 16-mile hike inside the Grand Canyon, AZ to watch male desert spiny lizards (magisters) jockey for territory:
The dominant magister was exquisite:
My last banded rock of 2013 came from a range near home that we had hiked at least 50 times over 5 years - finding a logic-defying 5 females and 0 males until this one. So much sweat, frustration, and fruitlessness. 5 years and finally a male - one of the best finds of the year, NM: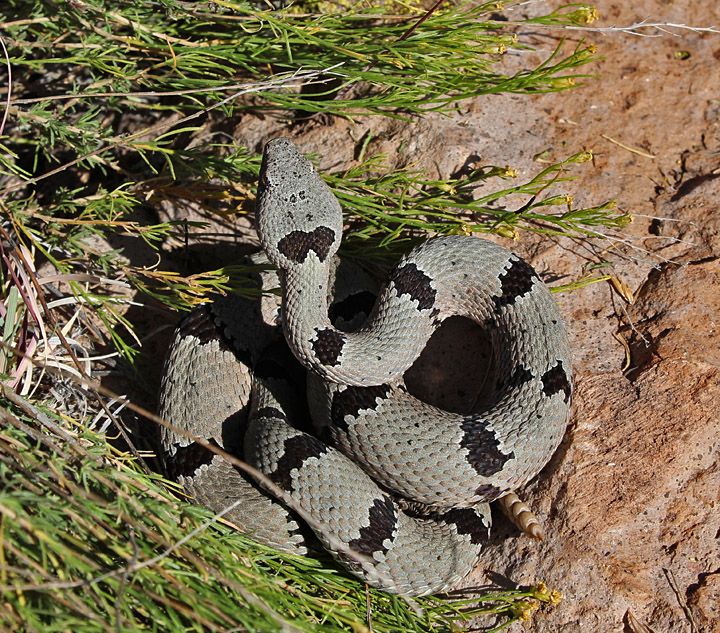 Many of us are confounded by the way the green in male banded rocks doesn't usually show up well in photos. One trick we have found is to pose the snake near green vegetation, which seems to help accentuate green the in the snake. Compare the above photo with this one (below) of the same snake sans vegetation. There's some difference? Not so much now that I see it posted: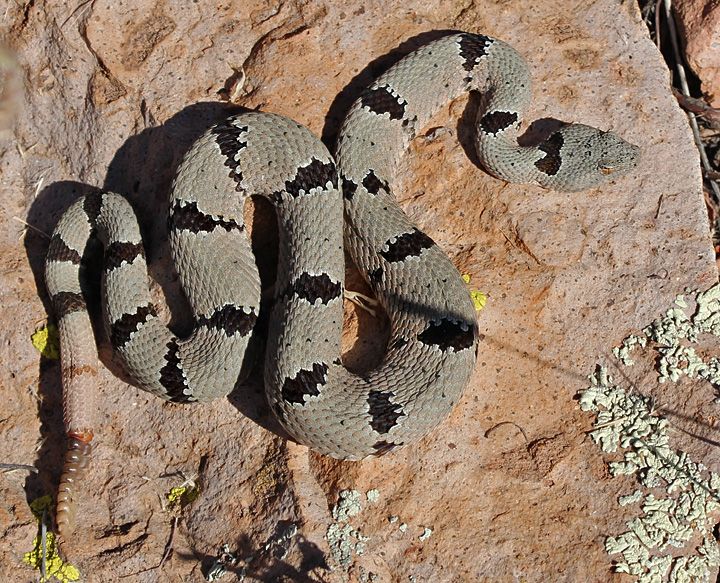 When a huge wildfire broke out near home in May after consecutive years of horrible drought and fire, it seemed like a movie we'd already seen. Black Range on fire, NM: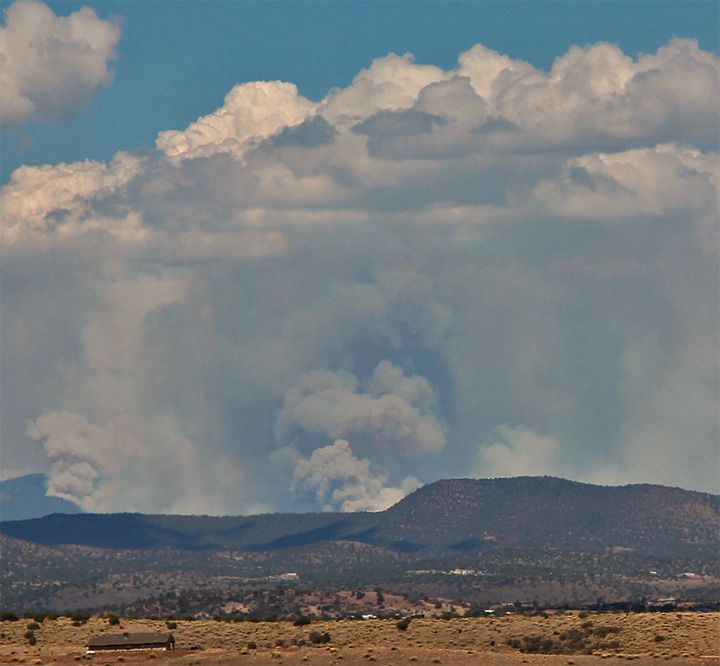 With nightly smoke-enhanced sunsets, we braced for another dry year, NM:
But the weather patterns changed and we actually had a good monsoon. During one big storm, I was stranded overnight in a remote area near the Mexico border. Black-headed snake swimming on the road, NM: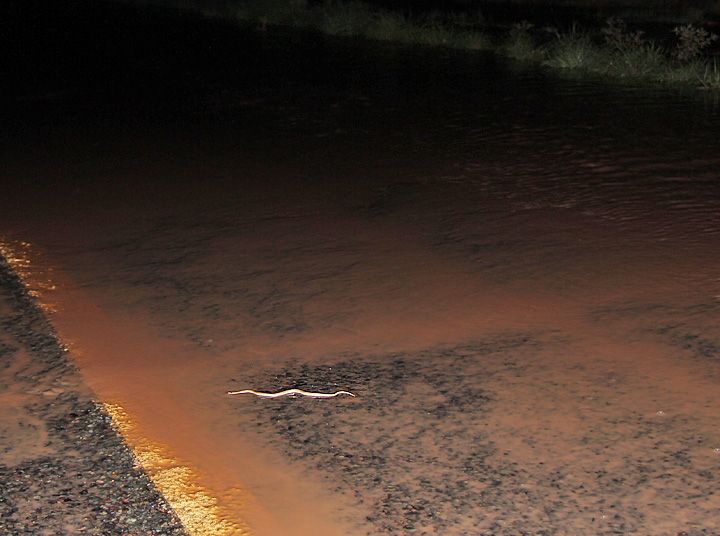 Couch's spadefoot body surfing on the road:
The deluge was so strong when this desert king snake turned up, the only place to photograph it was inside the truck. These splendida seem to thrive during heavy downpours, NM: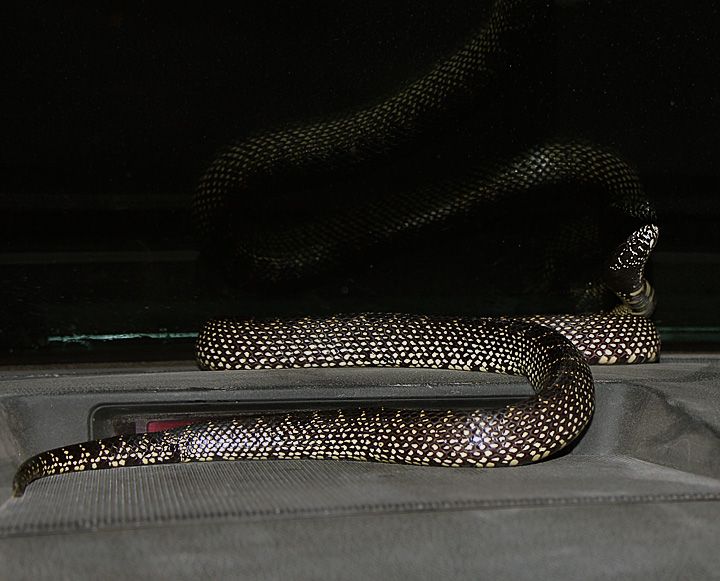 The water had already receded when I went out to photograph this flood downtown that required police blockades to prevent cars from potentially washing away, NM:
Massive flood damage along the San Francisco river, NM: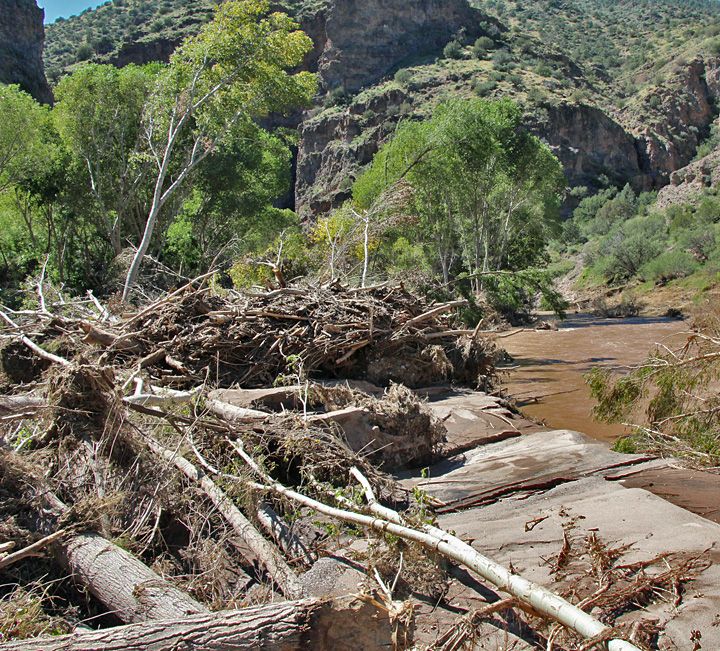 A smart herper would've avoided this road after seeing a western diamondback swim across the shoulder: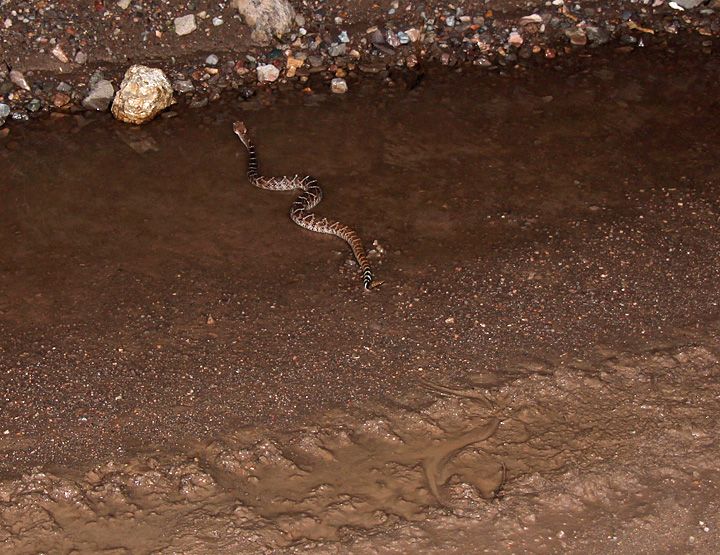 I, on the other hand, drove up it and slept in the truck, waking the next morning to find it had rained torrentially all night. Hearing running water nearby, I discovered the road had become a river overnight.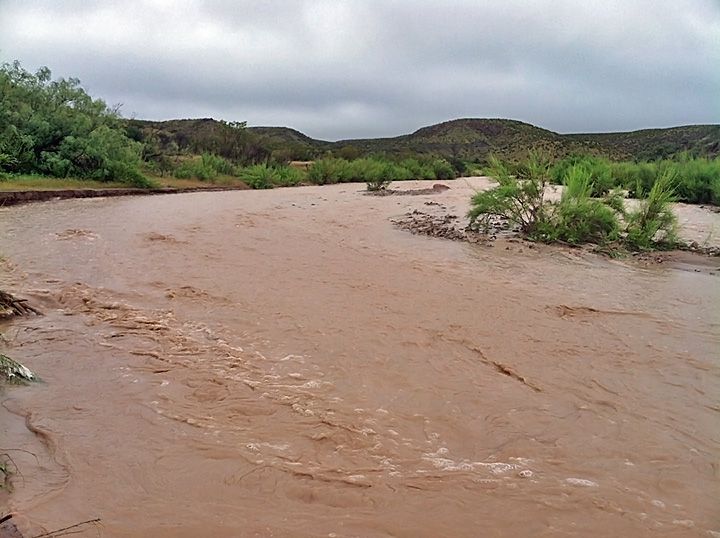 After being stranded in the canyon for 2 nights and 2 days, it finally warmed up enough to find my targets. Blah male and gorgeous female banded rocks, NM:
This Mojave rattlesnake was on the crawl despite 60F temps and torrential rain , TX:
Grand Canyon, AZ: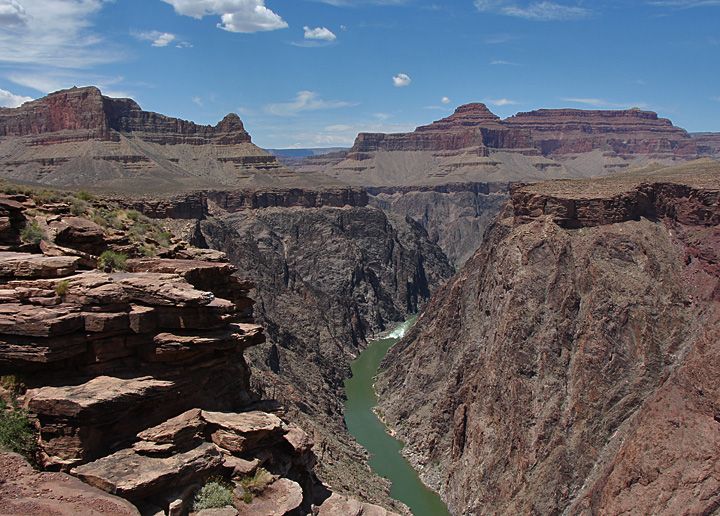 Collared lizard, female, in the Grand Canyon:
Elk, Grand Canyon, AZ: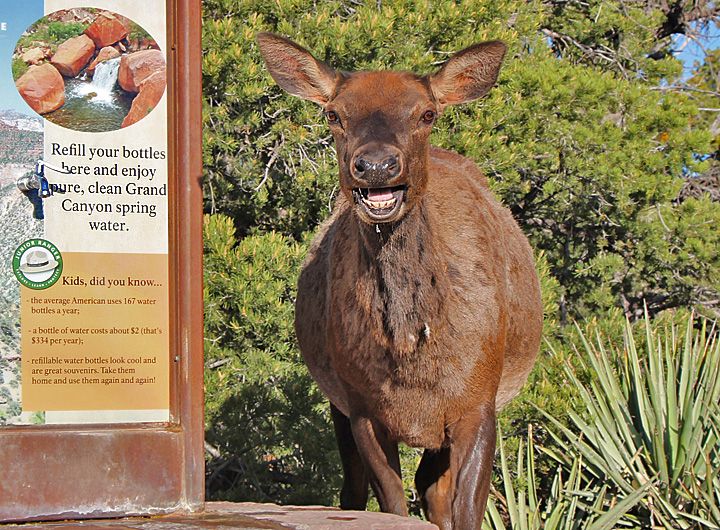 Two Great Basin gopher snakes, AZ: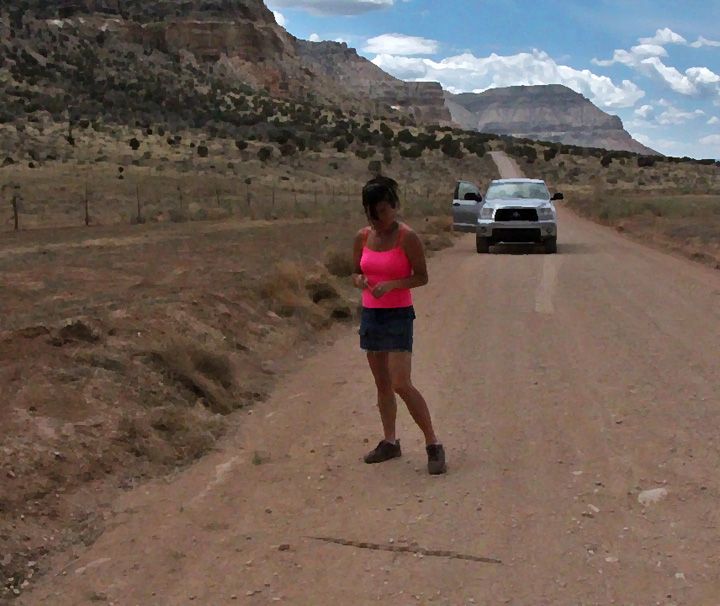 Mojave rattlesnake, AZ: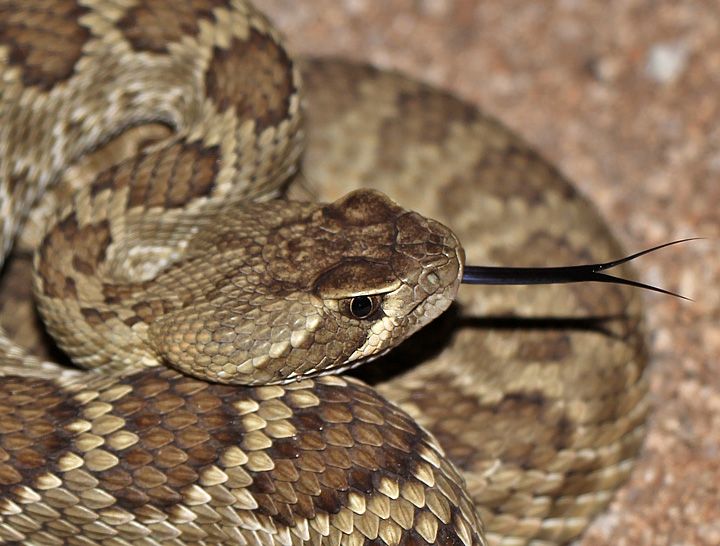 Javelina, AZ: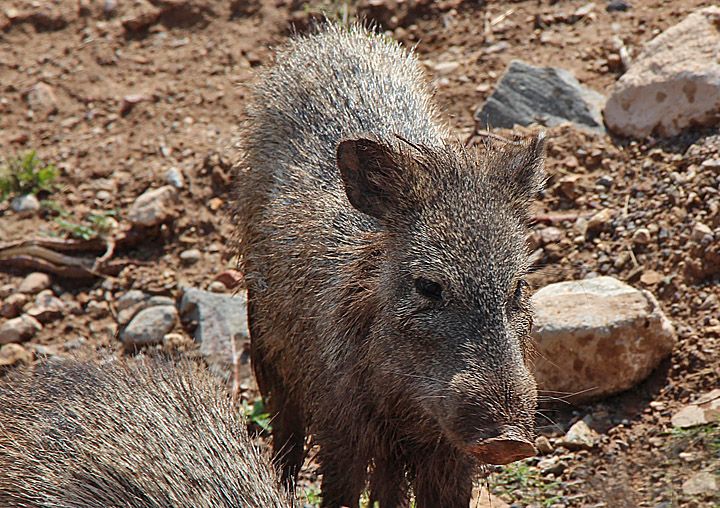 Madrean alligator lizard on my back deck. We find these around the house all summer, and they often come inside through the screen door, NM: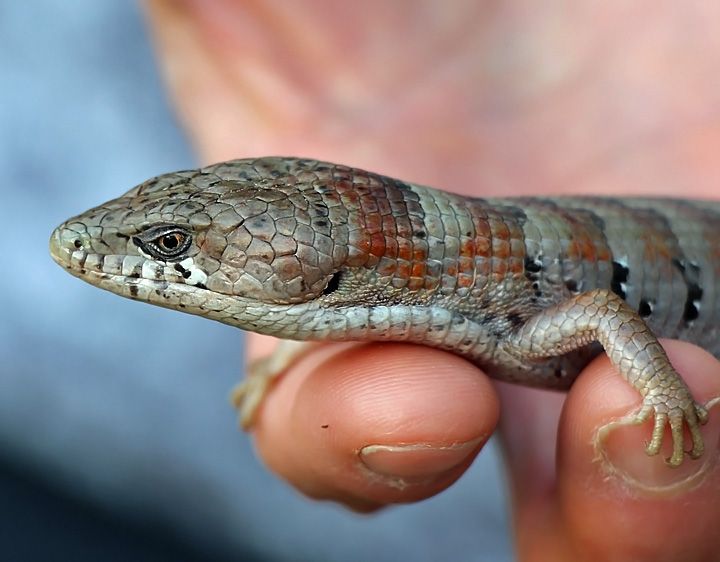 Like finding gold...this male (upper left) and female banded rock were about 50' apart in a mountain range that virtually no herpers can access, NM: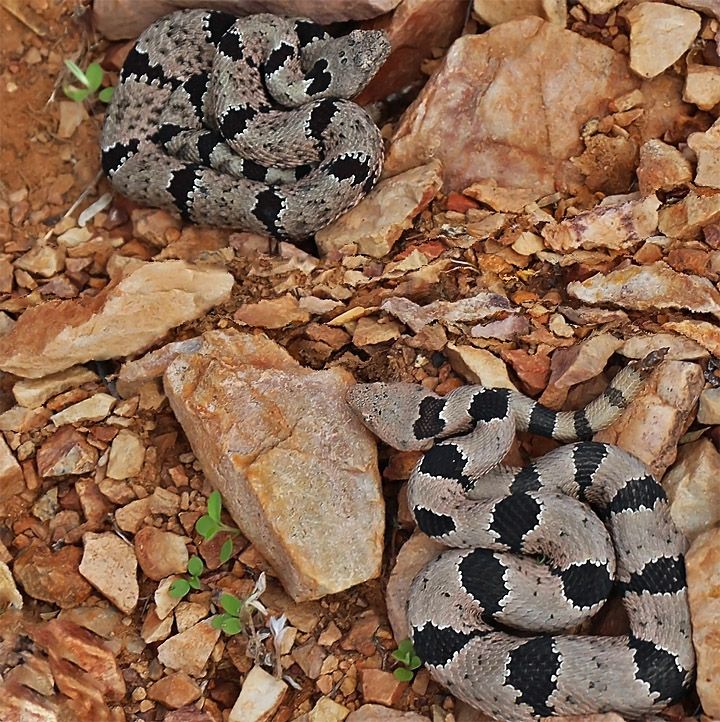 The female was one of our favorite klauberi of the year: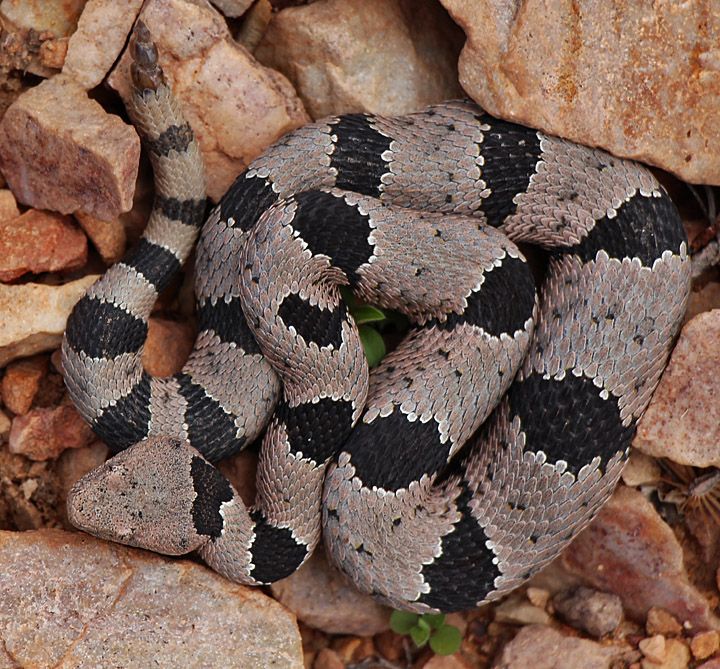 On the same hike, we also found this female banded rock with newborns, NM:
Chicken turtle, FL: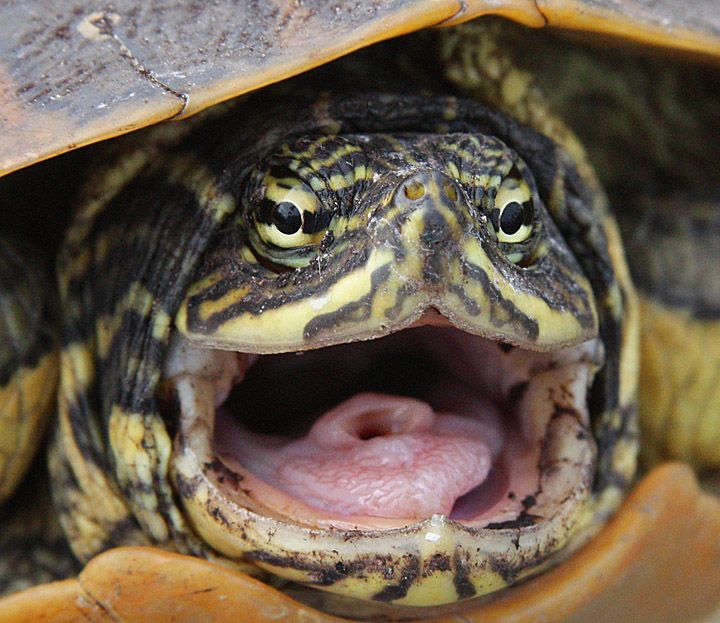 Cottonmouth, FL:
Cuban knight anole, FL: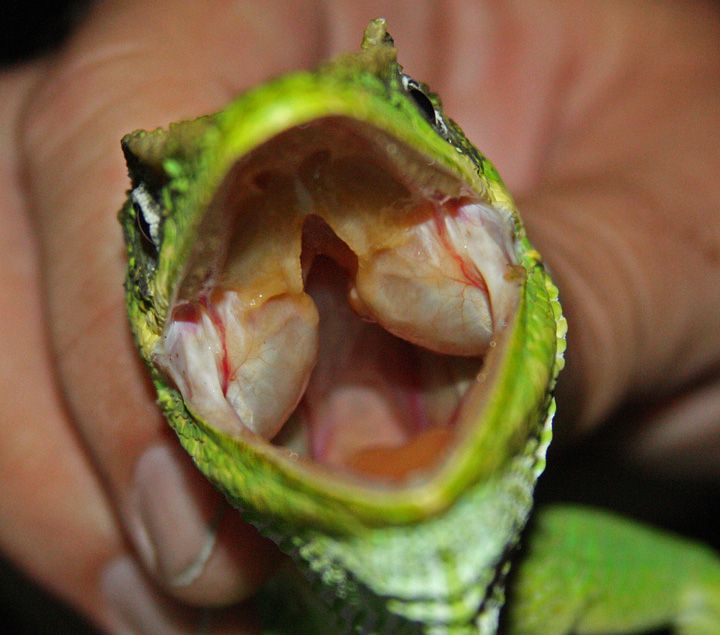 Green iguana, FL:
From a friend's herp book collection:
AZ:
Barbary sheep are evidently threatened in their native north Africa, but populations are strong in central and eastern NM: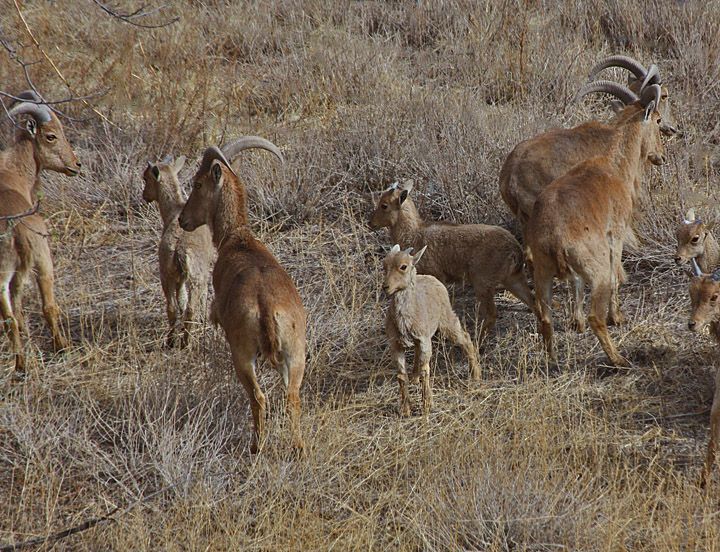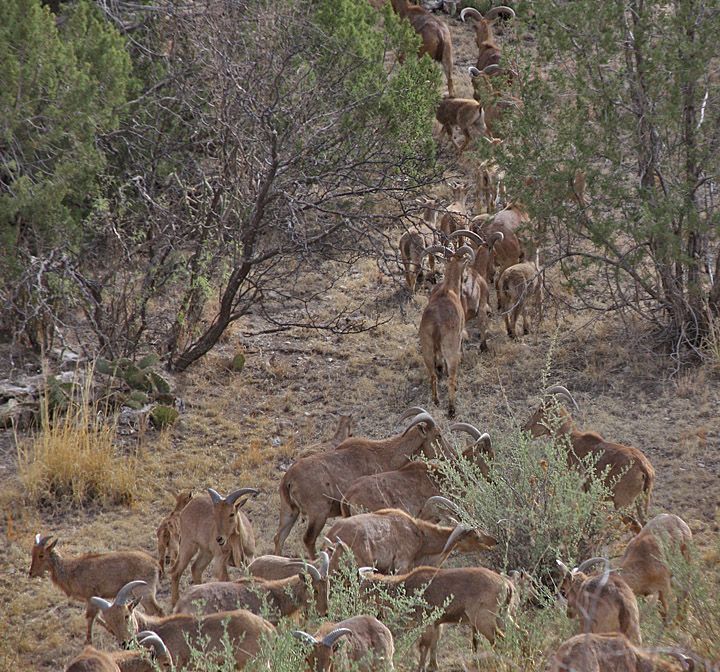 Oryx (aka blesboks in Africa) are also plentiful in the same general region, NM: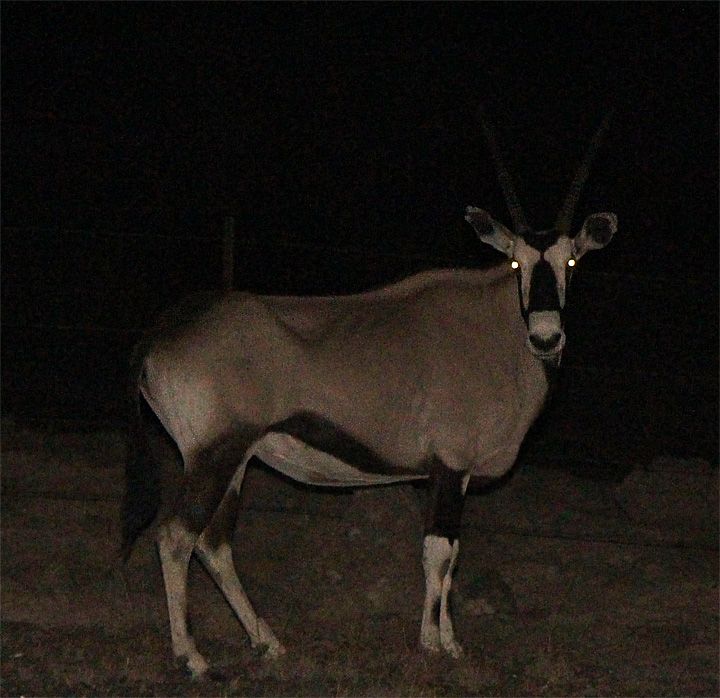 Fortunately, re-establishment efforts in NM favor native animals nowadays. Bighorn sheep are increasingly common throughout their former range, NM:
Ornate box turtle, NM: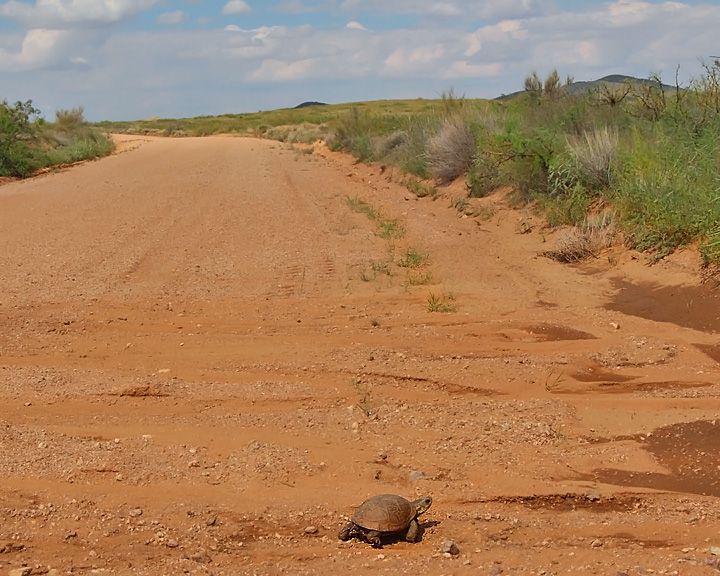 Redtail hawk w/ unidentified snake, NM:
A rare winter storm brought snow and temps in the teens to the border of New and Old Mexico, then an intense bank of fog moved in:
New (foreground) and Old (background) Mexico with 40 miles of fog in between:
"Striped" rock rattlesnake, AZ:
Another top find came at a banded rock locality near home that my brother (Wyeth) found. We'd hiked this spot dozens of times over the years and found only 2 males until this huge, gorgeous female buzzed, NM: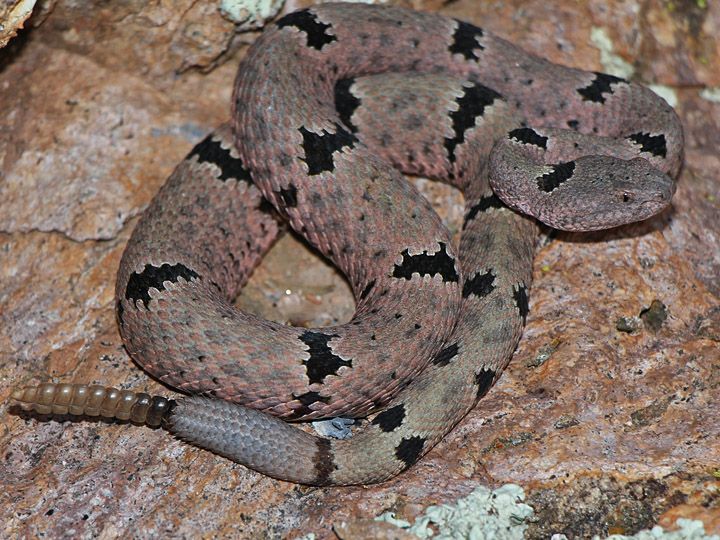 Same snake in habitat: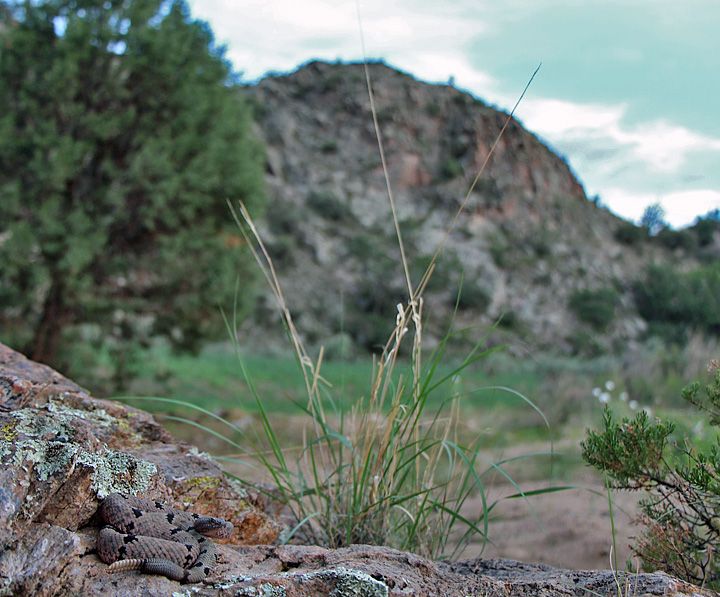 After roadcruising a Mexican hog-nosed snake that refused to sit still for a photo, we put it on ice while we lightened the cooler's load. 24 ounces later, we opened the lid to find Mr. Hoggie contentedly drinking ice water with no signs of lethargy. We see similar behavior often in the desert where animals forget about fight and flight in favor of drink, AZ: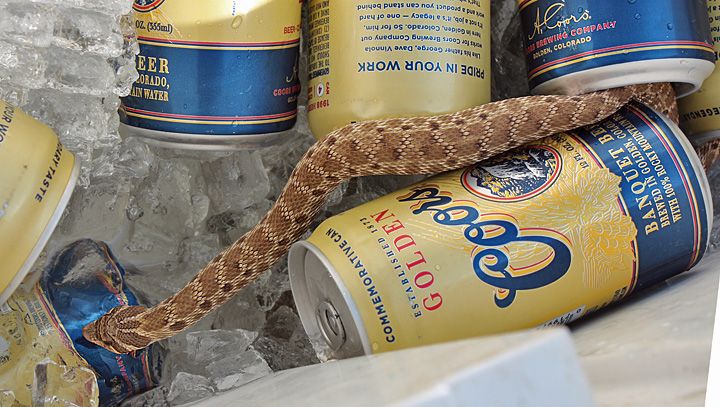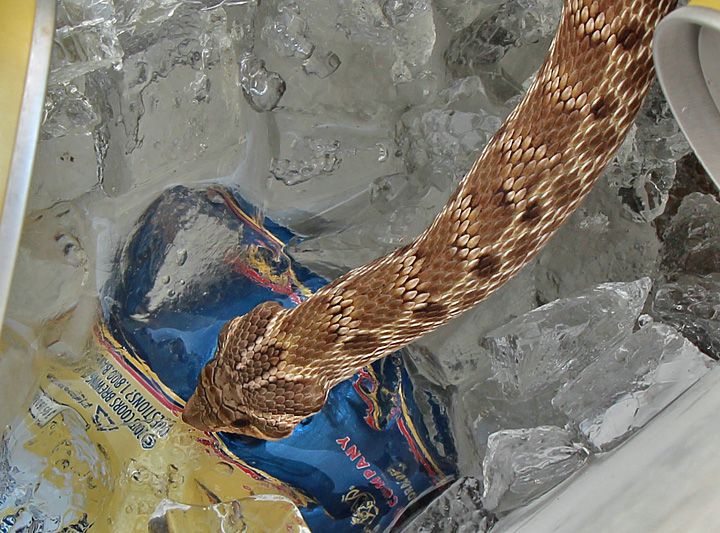 Similar scenario - we brought a black-tailed rattlesnake from its upgradient hideout down to the river; and damn, if it didn't quit rattling and start drinking right away - as if its life depended on it...hmmm...NM: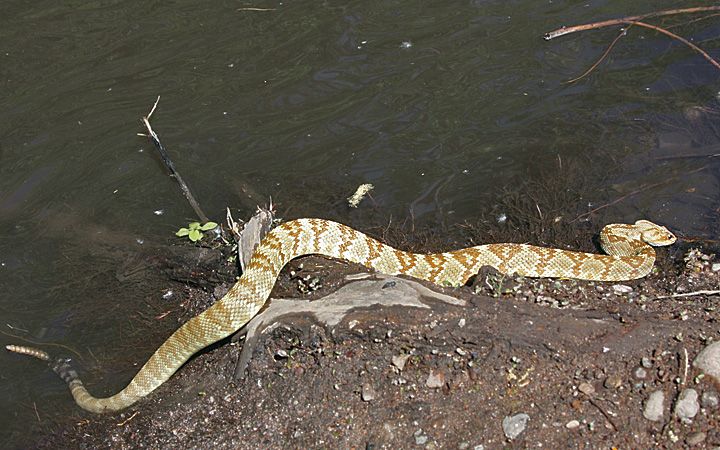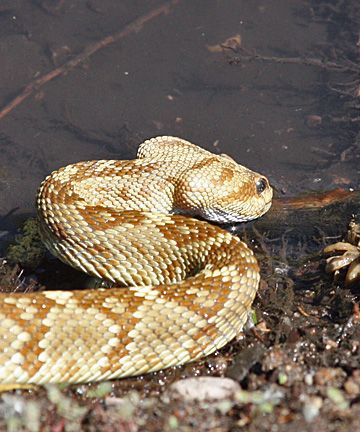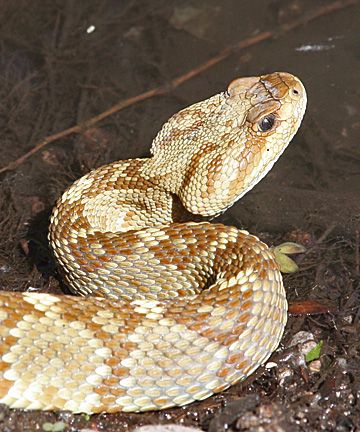 Also, Gila monsters often accept water when offered:
I miss the backroads and backwaters of my native NC so much that the commonest sights and critters brought intense joy when I finally made it back:
Black racer, NC: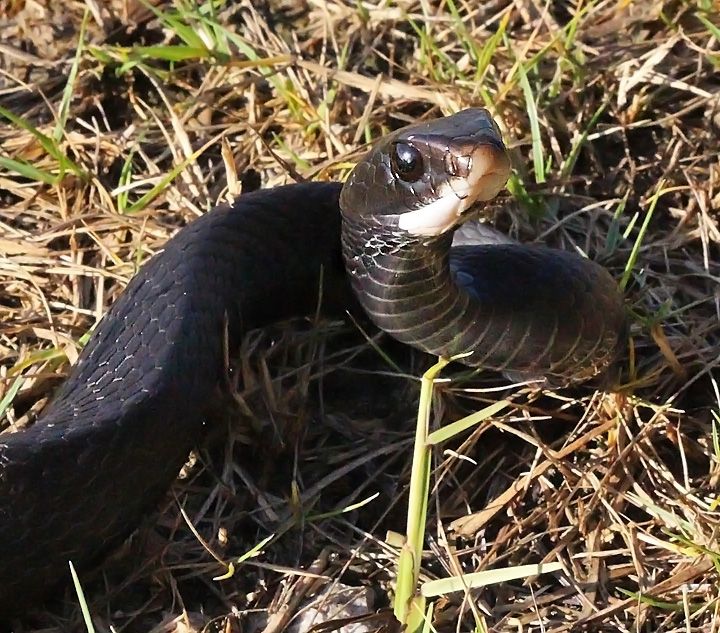 Eastern king, NC: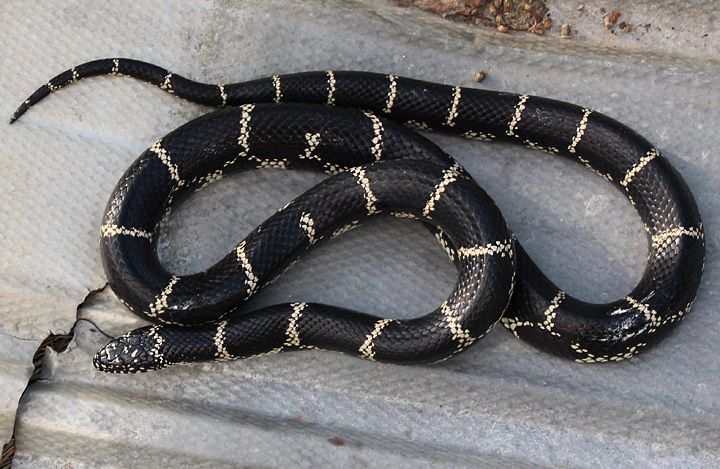 7 in one day...T. carolina carolina yessir - eastern box turtle in situ, NC:
Rat snake, NC: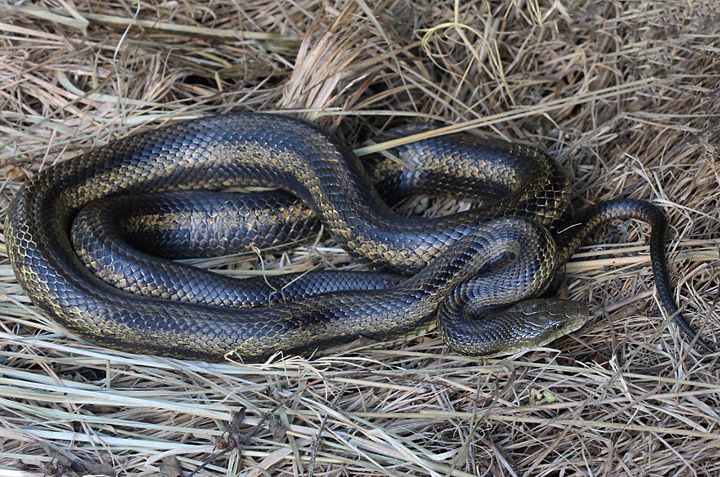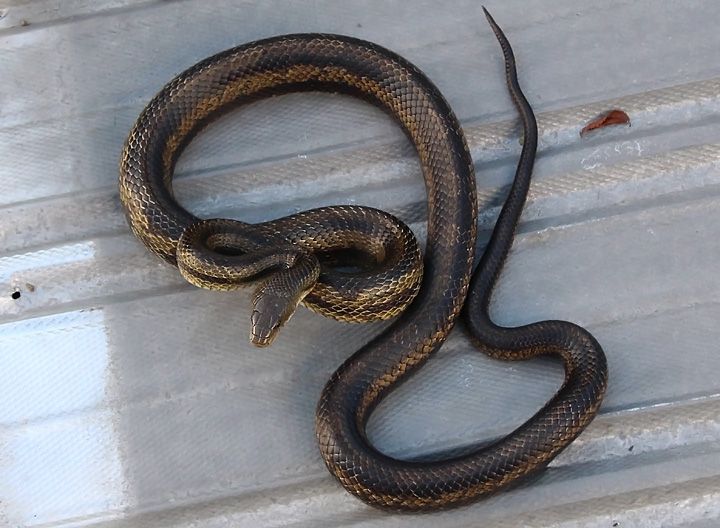 Pining for North Cackalacky wanes substantially when rattlers turn up in the front yard of mi casa de Nuevo México. This black-tail was on the curb DIRECTLY in front of my house...it buzzed visitors as they were leaving, NM: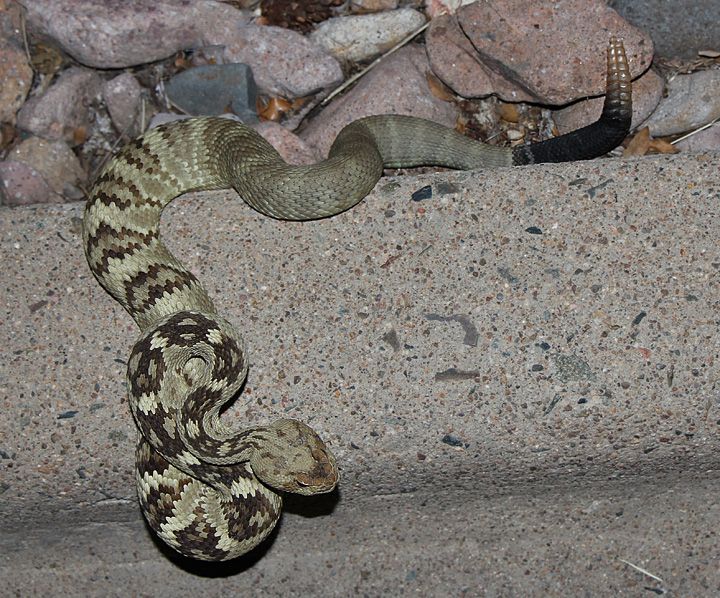 Juvenile male banded rock from a high-altitude range near home, NM:
Adult male banded rock from same day, same range, NM: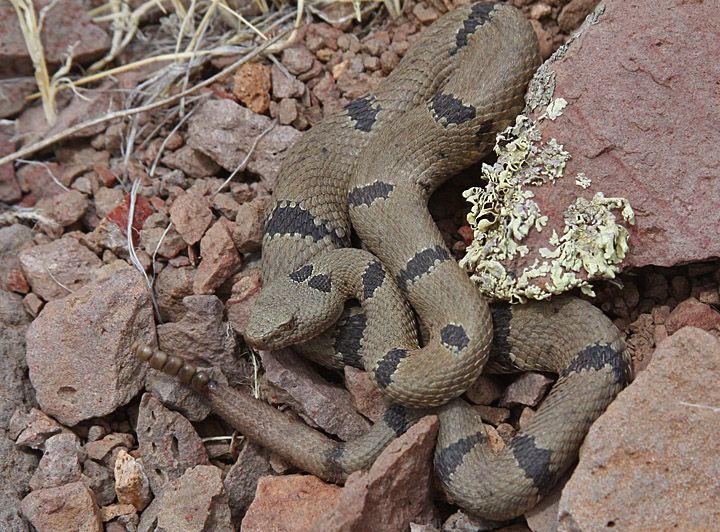 Scenes like these are common in the same area as the preceding klauberi: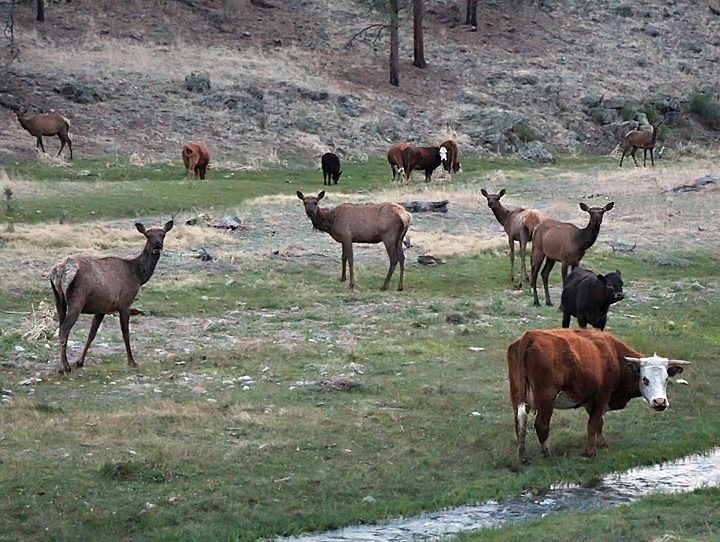 Banded rock rattler, NM:
See how this prairie rattler is hiding its head? It's not afraid; it wants to lure you a bit closer so it can spring out and envenomate your dumb ass. I know. NM:
I always say viridis are the irasciblest of all crotes in NM, yet somehow this happened….prairie rattler bite + 22 minutes: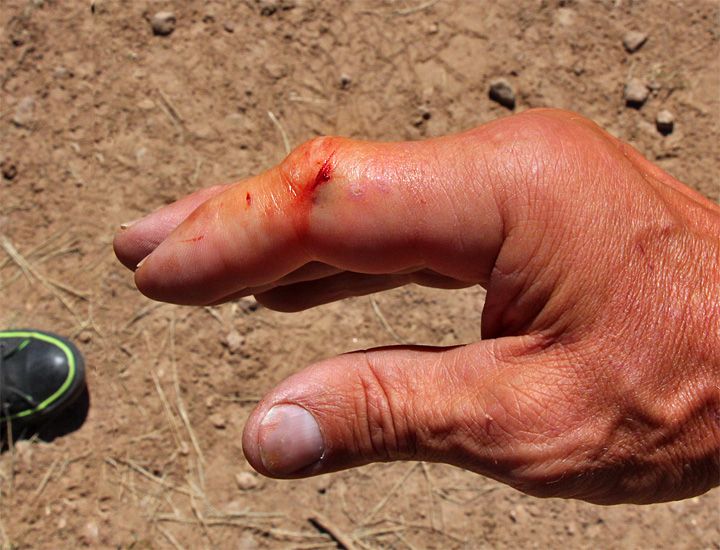 See that shoe on the left (above)? That's a middle schooler….1 of 22 to whom I was delivering a reptile presentation when the bite occurred. Their teacher was there too. Two parents as well. It'd've been a shame to suffer my stupidest moment audienceless. Swelling ensued at an alarming rate and within 30 minutes or so, prudence (along with lack of mobility in the hand) made it necessary to abort the presentation in favor of the 1.5-hour drive back to town. Prairie bite + 60 minutes...swelling and redness into the wrist….selfie:
Did I mention that the bite occurred WHILE I was discussing rattlesnake safety? Prairie bite + 85 minutes...swelling past the wrist and starting to itch like crazy all over: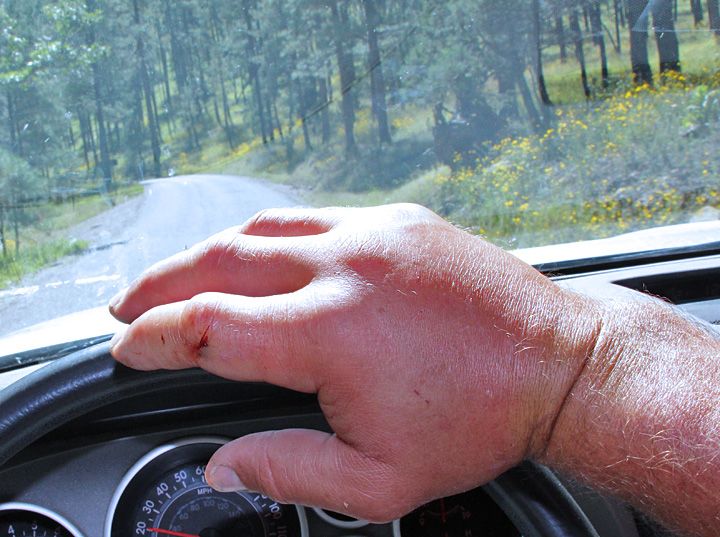 At the emergency room parking lot, I waited to see what would happen. My bud (who'd been tagged by a prairie the previous year) was reassuring over the phone and ultimately saved me thousands of dollars in needless ER bills. Thanks Dude! I popped some Benadryl, soaked up some A/C, listened to an audiobook, and monitored the rate of swelling as well as an alarming case of hives. Bite + 2hr 50 minutes, hives on opposite arm: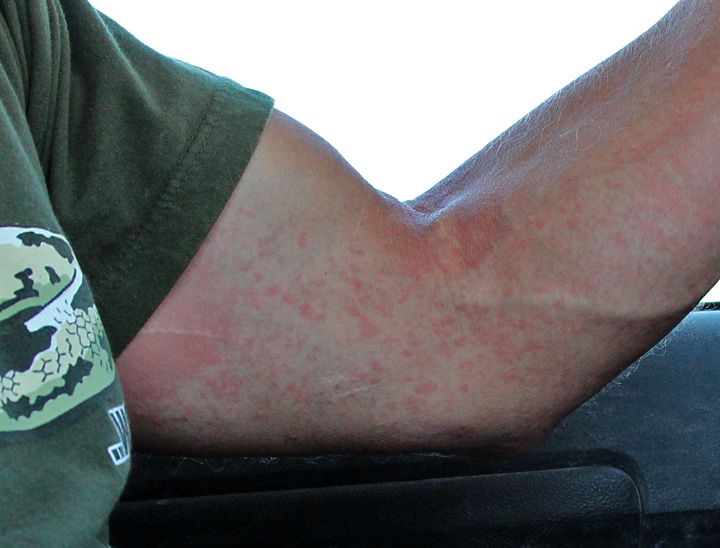 The obvious wave of swelling in my forearm after nearly 3 hours...no more selfies, thanks to a friend who came by: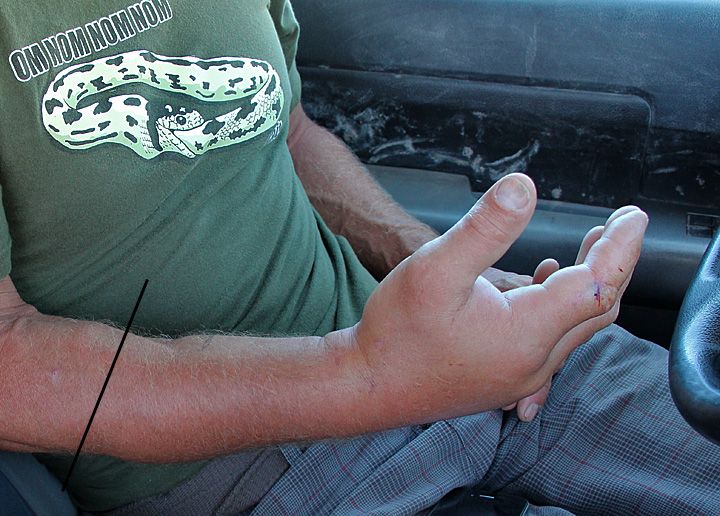 The bite and swelling hardly hurt at all compared to bites from banded rock rattlers, but the hives were something new. This photo was after the hives were subsiding, bite + 3 hr 11min:
After a nap at home, the hives were gone and pain was surprisingly minimal. I knew I was out of the woods; bite + 9hrs: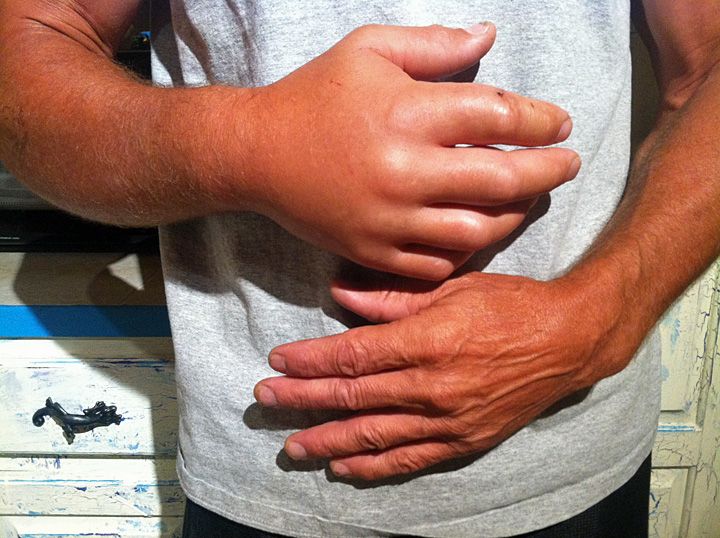 Before work the next day, bite + 18hrs:
Cell phone selfie at office, bite + 20 hrs: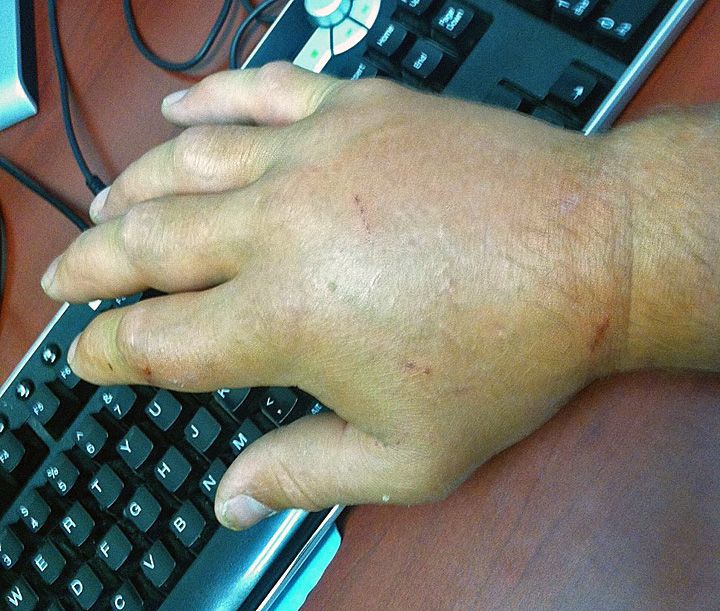 The next night, swelling was already leaving the hand and moving past the elbow and upper arm. Bite + 32 hrs: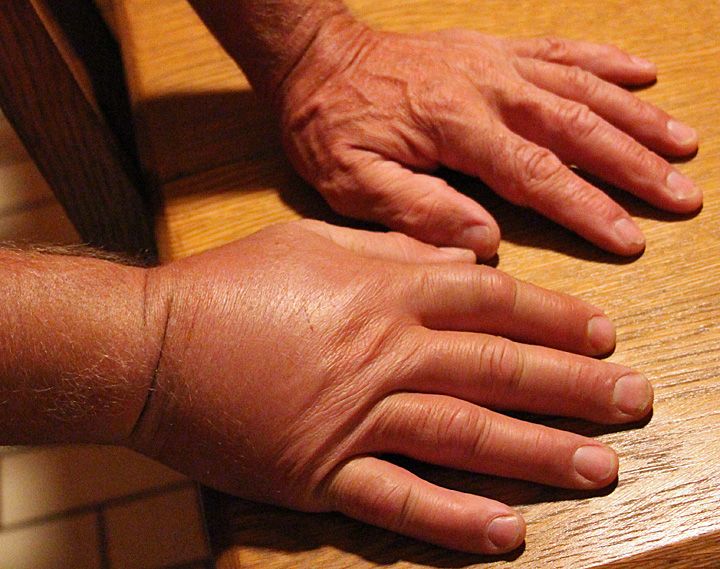 2 days and 8 hrs after the bite, the hand was relatively functional: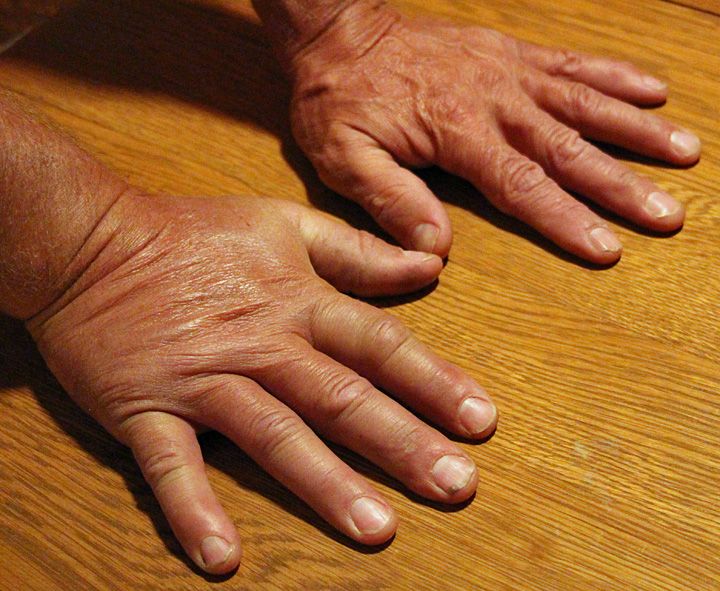 I'm not sure what was more surprising, the rapidity of swelling or of healing. Within 3 days of the bite, I had nearly full mobility of the finger and hand with no necrosis or numbness whatsoever. Two weeks later, I couldn't even remember which hand was bitten. The only side effect that lingered (lingers?) is darker colored urine.
While I'm on a roll, might as well share the worst incident of the year. After finding a screamin' male banded rock rattler in a rockslide, I reached for it with my tweezers just as a cobble rolled downhill into the hole I'd made. At first everything seemed fine and I celebrated the find, NM:
Then, I saw a wound, and there were red bubbles emerging from it in time with the snake's breathing. Celebration turned to despair. It was already in throes when released moments later. Through clumsiness and bad luck, I killed this gorgeous snake:
What's worse is that with this incident fresh on my mind, it happened again the very next weekend with a gravid female. One round rock slipped free just uphill and rolled down to hit her at the very instant she was exposed. She later birthed 2 live babies and a dead one at my bud's place. He force-feeds her and she defecates okay, but is paralyzed over the lower half of her body. Please learn from my mistakes and be very careful when digging these snakes out!
These prairies are mean I'm telling you. This one struck wildly at me and got its fang hung on a rock somehow:
Bottle-raised at the Rio Grande Zoo, ABQ NM:
Banded rock, young male, AZ:
Arizona ridge-nosed rattlesnake, AZ:
Twin-spotted rattlesnake, AZ:
The venom from these twin-spots is evidently pretty bad. My bud's pricei bite + 11 months:
Glossy snake, NM: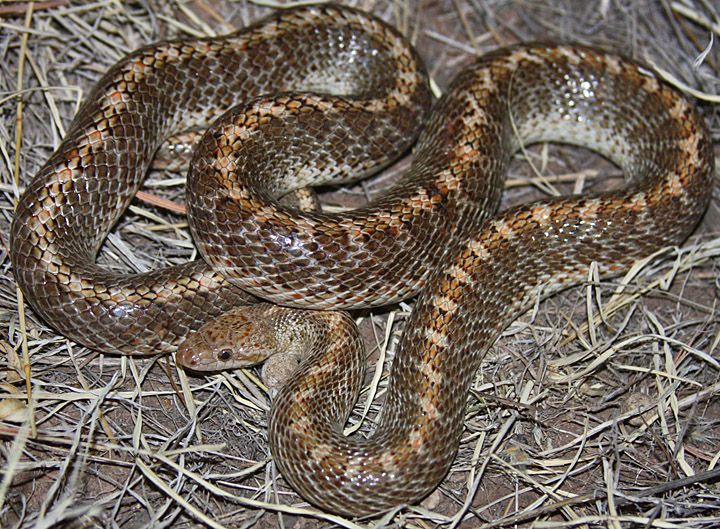 California tree frogs, CA:
Granite night lizard, CA:
CA oasis and terrain:
Sidewinder, CA:
Some of you might remember this hybrid I posted on FHF from 2010. Consensus opinion was that it was either molossus x viridis or molossus x atrox (blacktail x prairie or blacktail x wdb), NM 2010: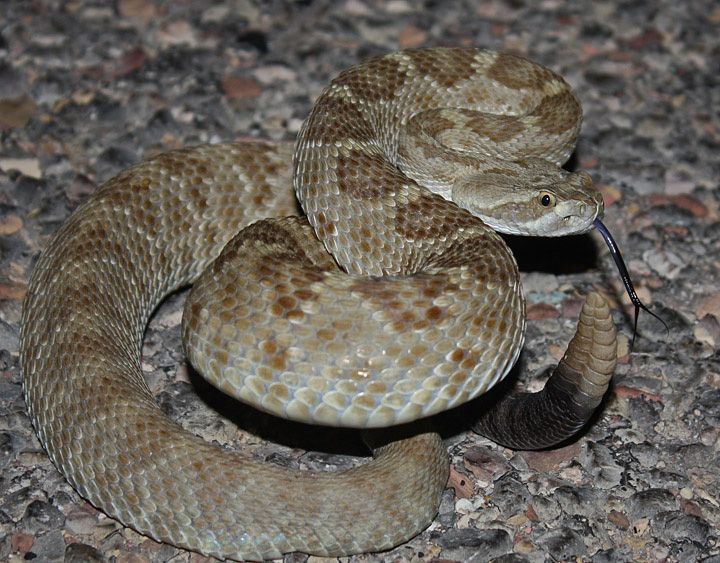 In 2013 about 5 miles from the preceding location, we found another hybrid...this one in talus. It was clearly a molossus x viridis, NM: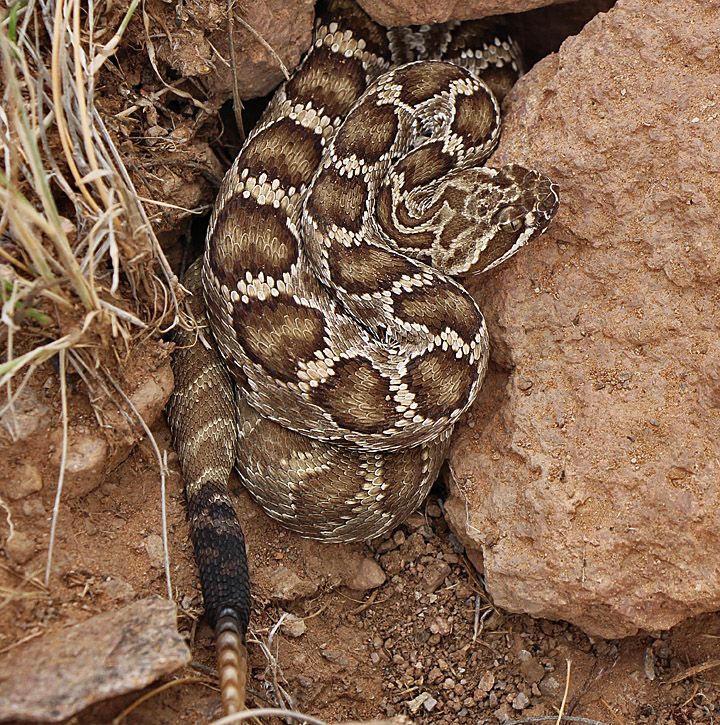 It behaved a lot like a viridis (nervous and defensive) but also had mellow moments more like a molossus. Same snake with weak cell phone shot:
Likewise, some of you might remember this male banded rock that I posted on the FHF after finding it in 2008 in TX. Mike Price honored me by giving this photo a full page in his rock rattlesnake book: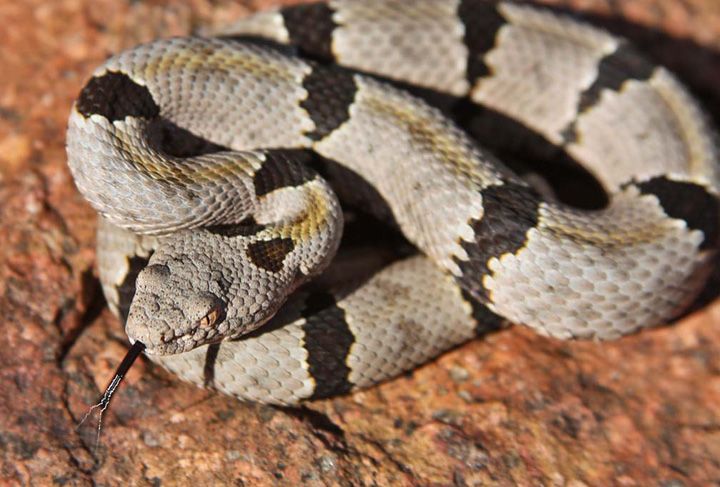 In 2013, we finally mustered the energy to return to this god-forsaken range where temps are high, humidity is low, hikers abound, park rules are in effect, and noise from sprawl, cars, airplanes and a military base completely trump the freedom one normally enjoys when searching for banded rocks. The payoff was unreal though as we found the VERY SAME klauberi 5 YEARS LATER!, TX:
A mating pair of blacktails, AZ: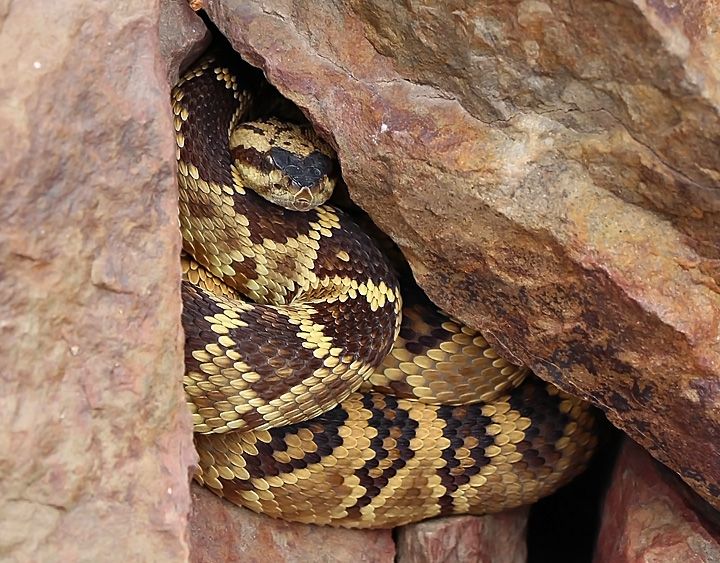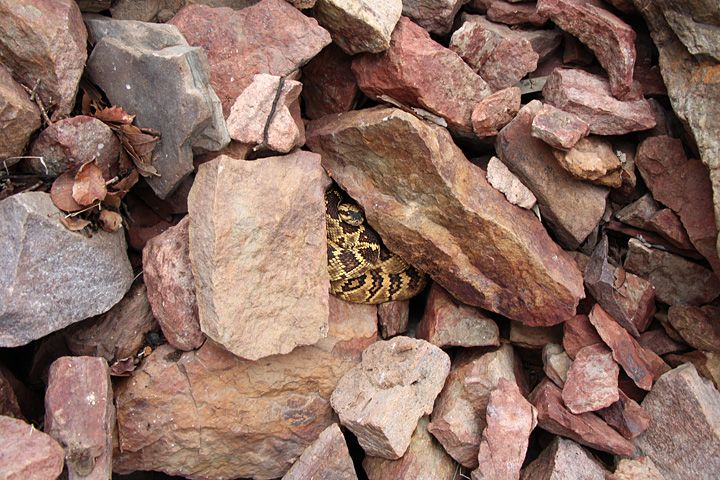 Security system that works on non-herpers, at least: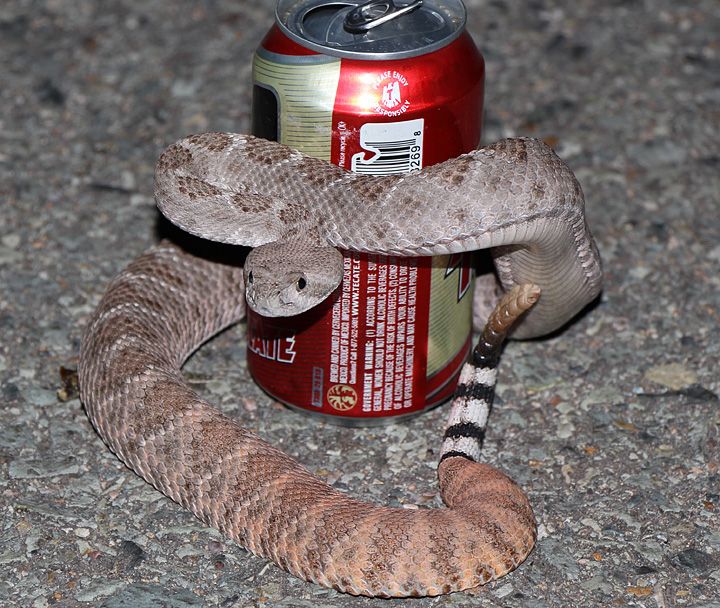 NM:
Encountered near home right at sunset, a female banded rock, NM:
Same snake:
The adults from this mountain range are very tiny but lovely, male banded rock, NM:
Ring-necked snake, NM:
Ringtail, NM:
Scolopendra, AZ:
Variable skink, NM: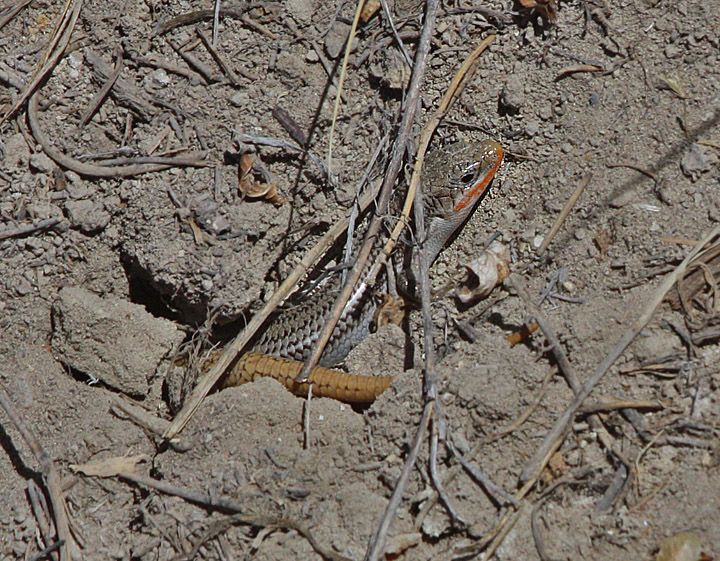 Whiptail, NM: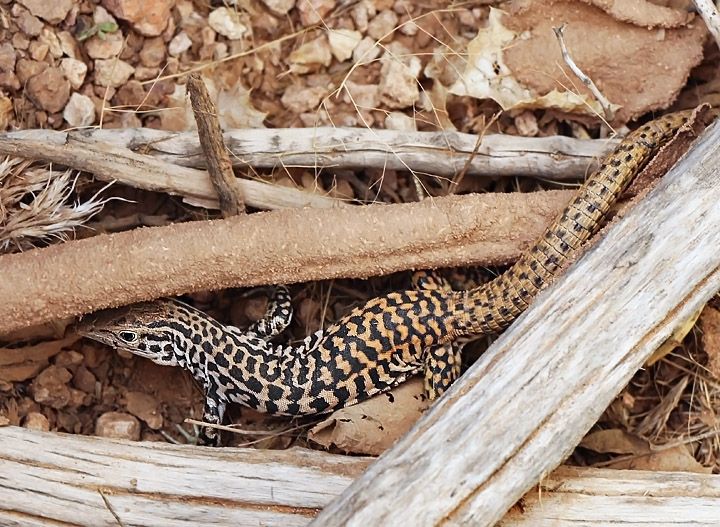 There's an awesome variety of western diamondbacks in NM and AZ. SE AZ: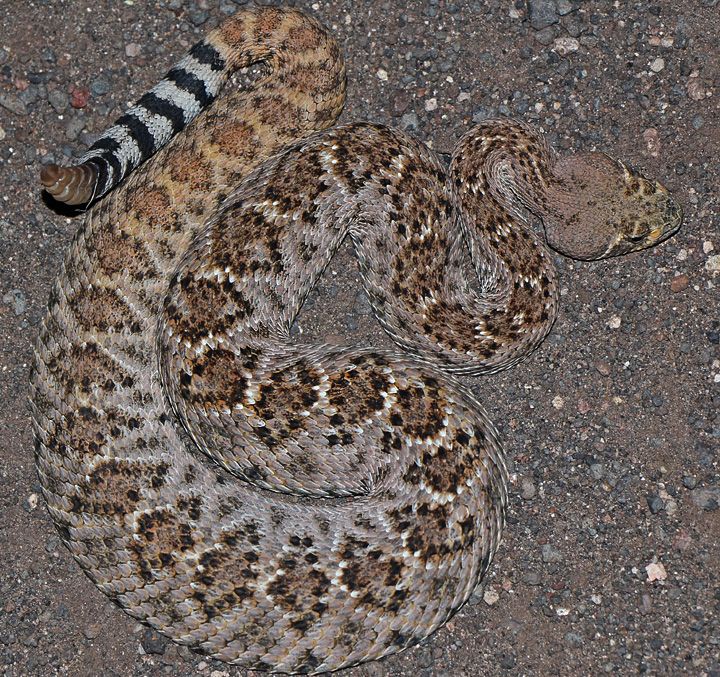 Same huge WDB shown at beginning of post, NM:
Nearly patternless WDB from SW NM:
Same night, nearby in SW NM: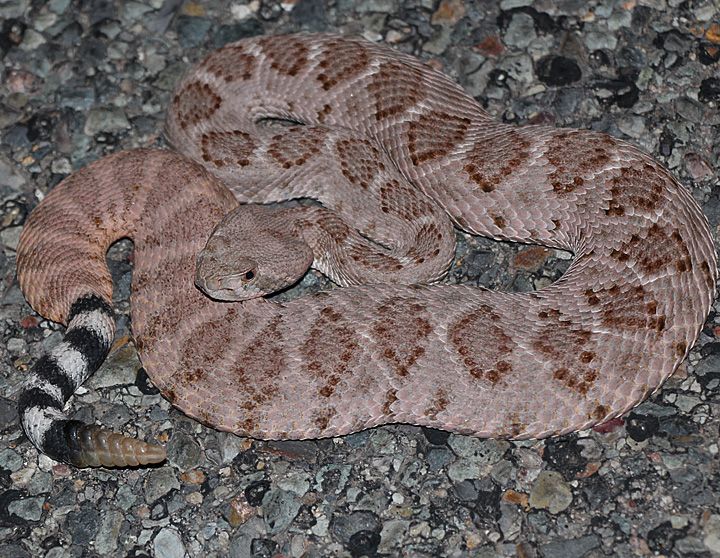 Reddish WDB, hiked in SW NM:
Same snake:
My favorite atrox to date. Like a ruber in SW NM: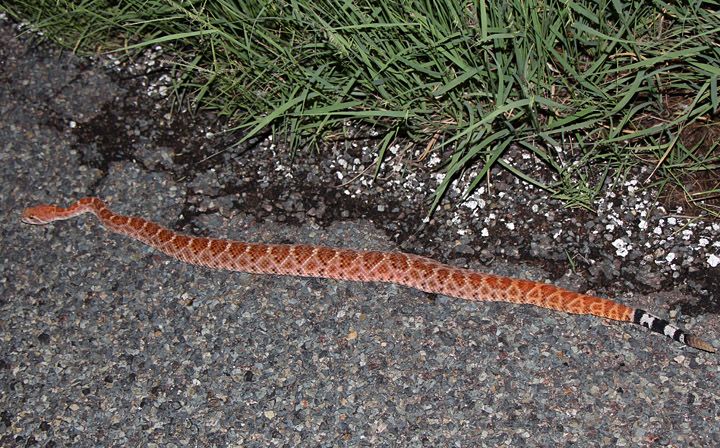 Even the prairies are pinkish sometimes in SW NM:
WDB from TX:
Gopher snake from NM: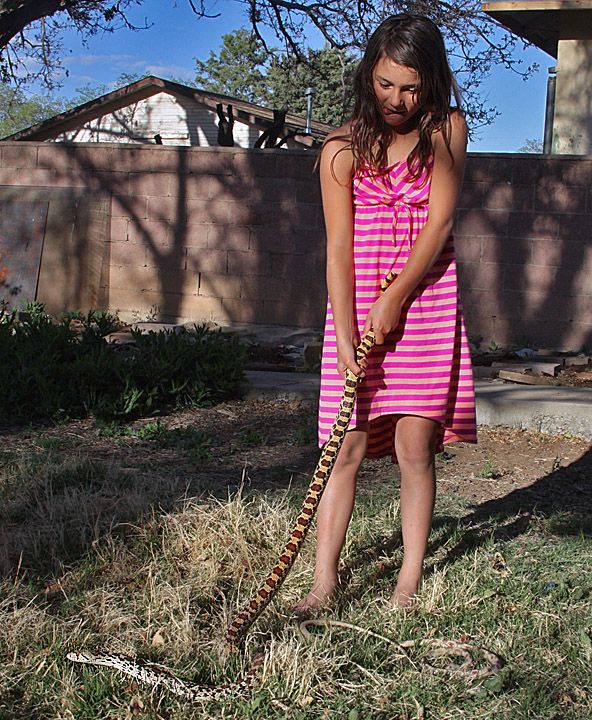 Great Plains skink, NM:
NM: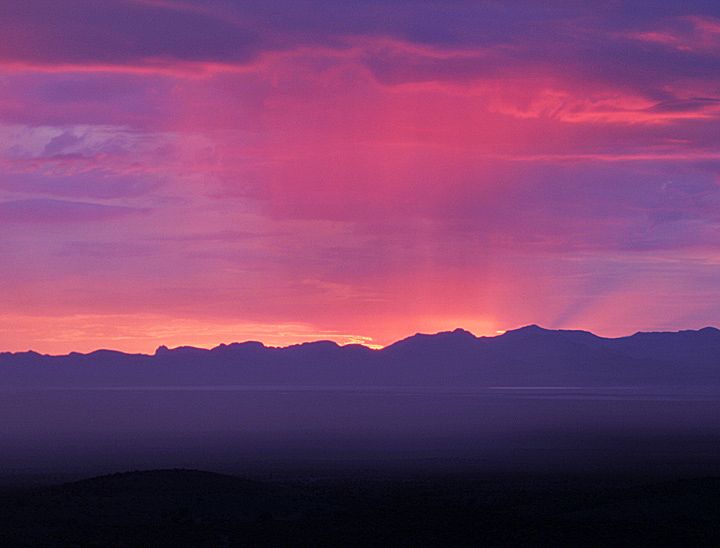 2 male banded rocks night-hiked in an hour in NM: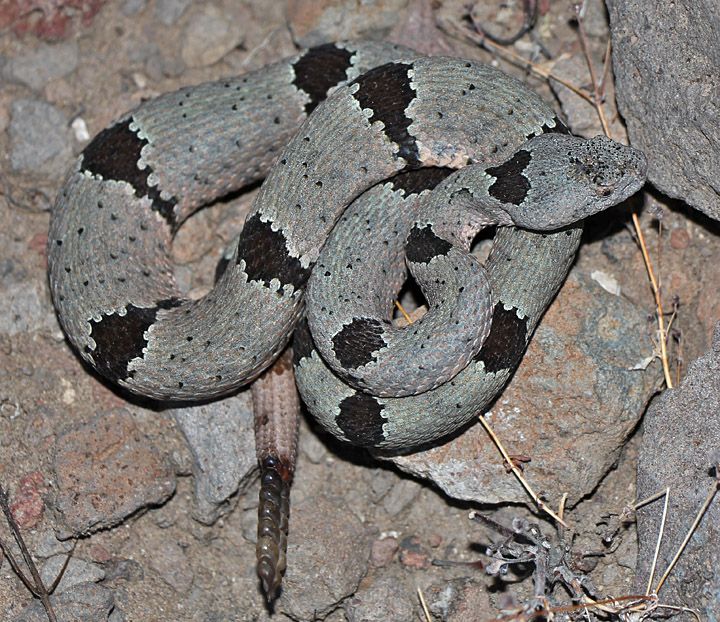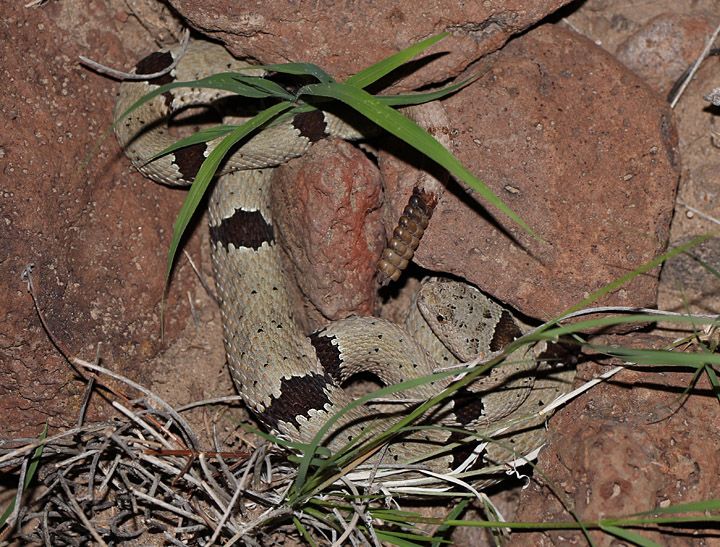 Male banded rock from an obscure new range for us: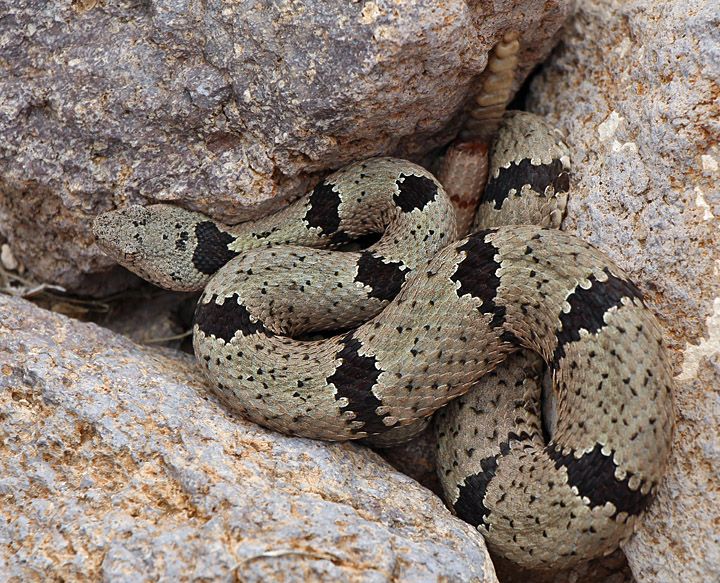 While working for more than a week at a local jobsite, we saw numerous lesser earless lizards. Most were very skittish and took off so fast they were barely visible...no kidding. But some were curious and even gregarious. Female lesser earless lizard with gravid colors...seems a shame to call them "lesser", NM:
Male lesser earless, NM:
A neonate banded rock from the northernmost locality I've ever seen one. My first from this range, NM:
Chiricahuan leopard frog, AZ: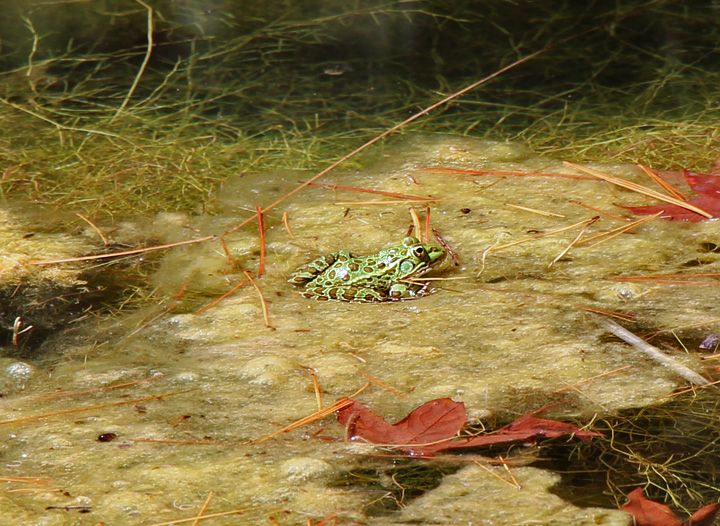 Dust devil running parallel to the truck, AZ:
Ornate box turtle, AZ: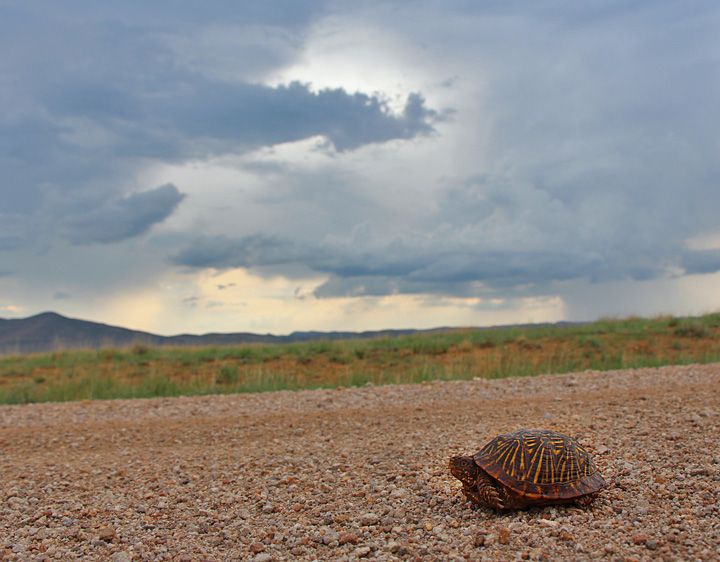 Roundtail horned lizard on a hot road, AZ: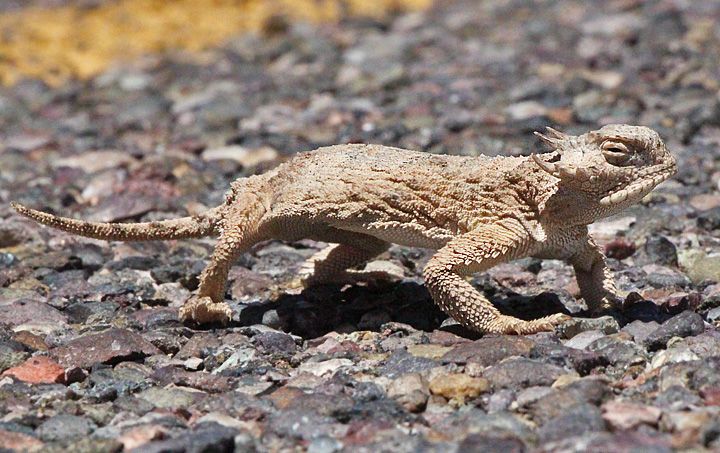 Checkered garter, NM:
Collared lizard, female, NM:
This banded rock was about to shed and didn't move at all as we removed one rock from above it and walked around taking pics. It was still there when we came back by 30 minutes later. NM: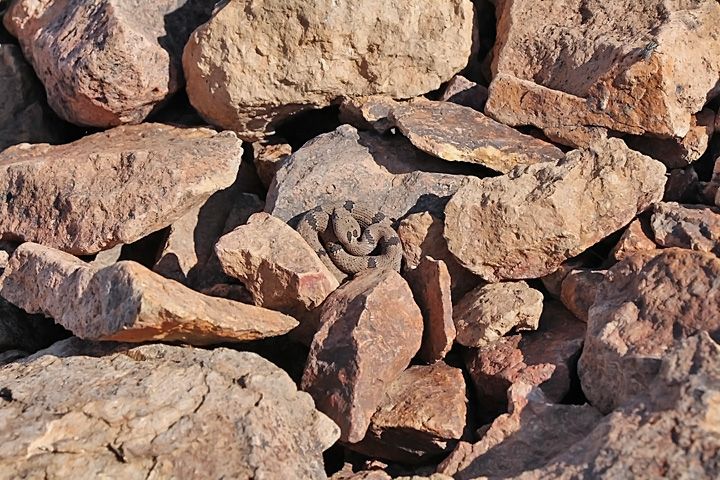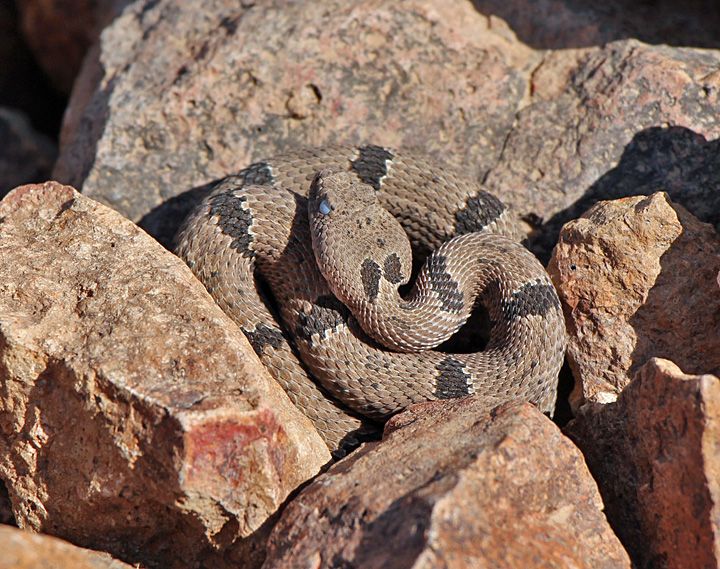 Black-tailed rattler, NM: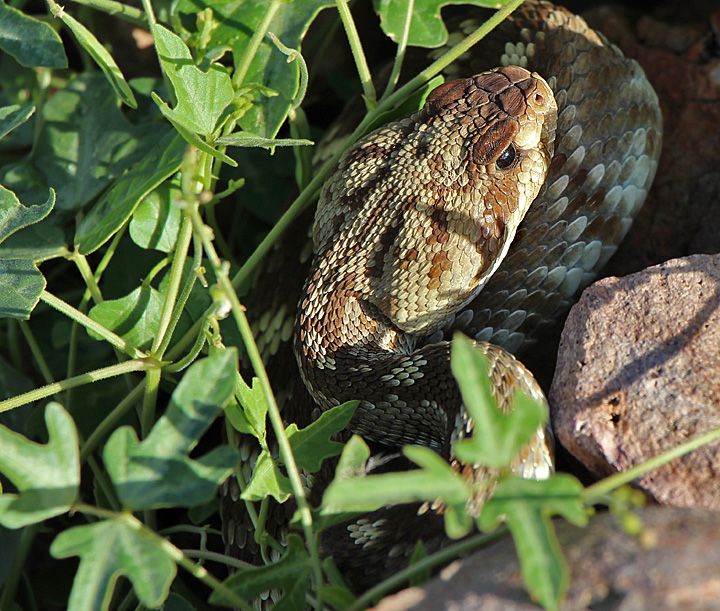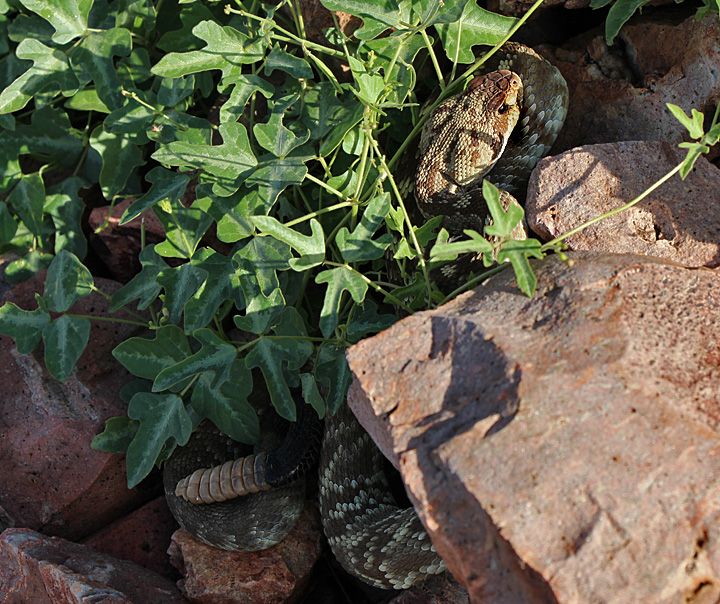 Another of many veiled chameleons found in FL:
Garter snake and leopard frog as found, FL: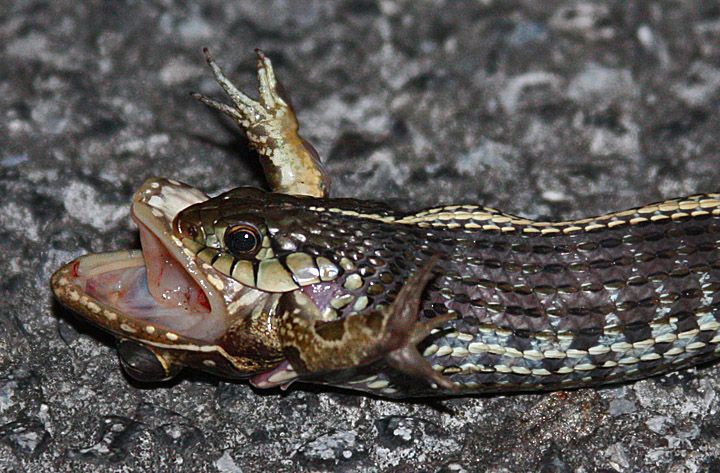 The most popular alligator in FL:
Ashy gecko, FL:
Our favorite find in FL, a salt marsh snake:
We palped this DOR Mojave rattler, AZ:
Banded rock rattler, male, NM: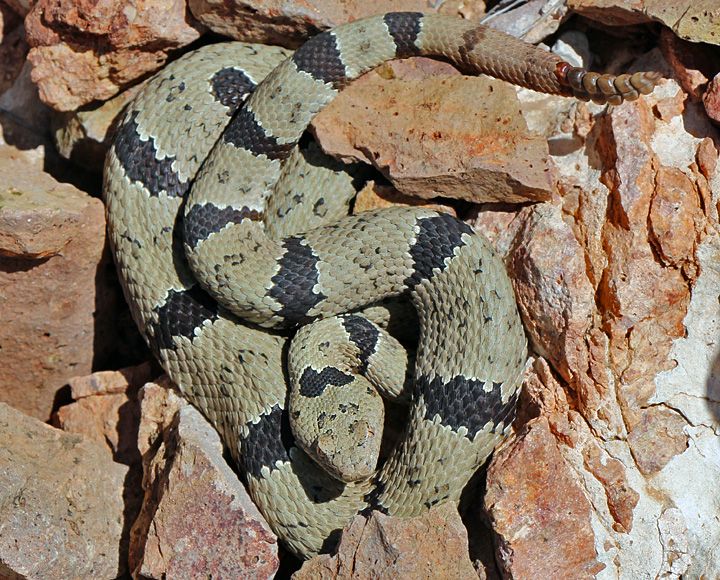 Black-tailed rattler, NM:
Montane rattler habitat, NM:
This osprey hauled in a carp that had to be of equal weight, NM: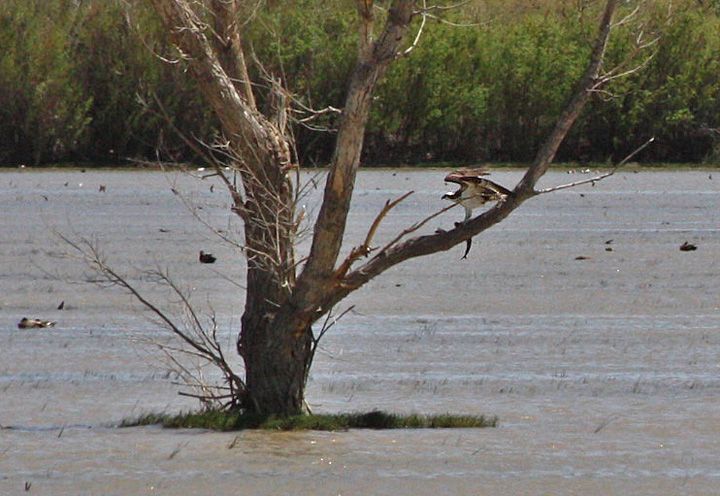 Prairie dog in habitat:
Short-horned lizard, NM:
Ornate tree lizard, NM:
2 female banded rocks found together right after emergence in March, AZ:
Mule deer, AZ:
Sonoran desert toad, NM:
Collared lizard, female in situ on quartz, NM:
I'm still pulling spines outta my mouth: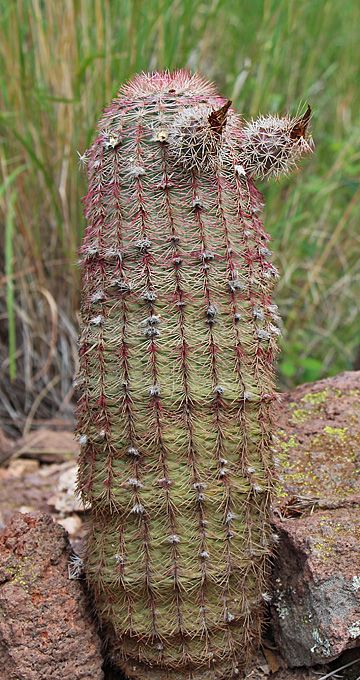 Sonoran gopher snake near home, NM: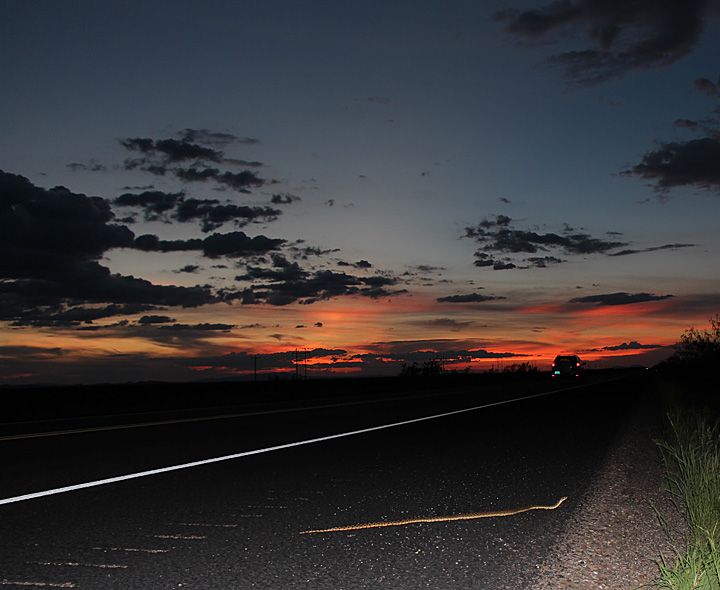 Dedicated to its ruse, very dedicated - Mexican hognose snake, NM: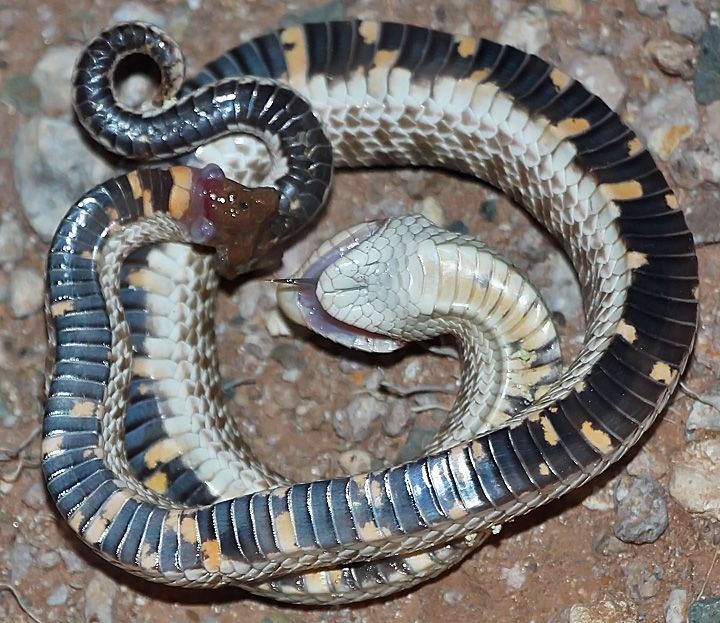 We hiked miles to reach this new range and were rewarded big time. Banded rock rattler, male, NM:
Same range...a huge, very gravid female:
Immediately after taking the preceding shot, I turned south and took this shot of habitat: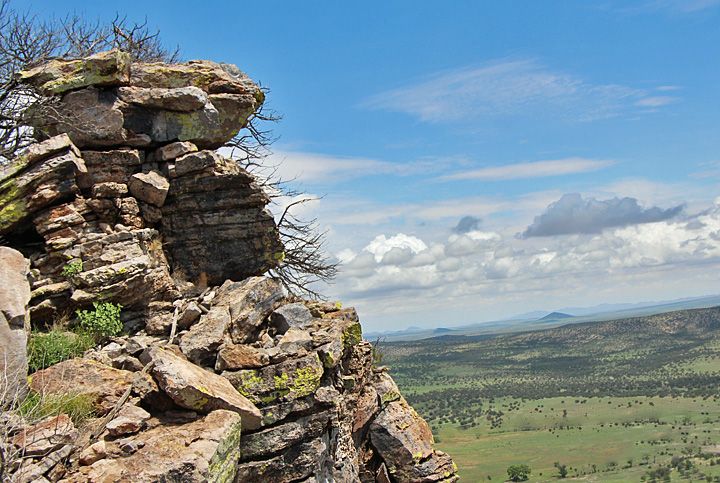 This (above) is what klaub-hunting in New Mexico is all about. We hike for days and days in extremely rugged, high-altitude terrain and often we find nothing...particularly since we're often trying for ranges where klaub numbers are few or possibly zero. This post might give the false impression that we easily stumble over snakes here, which is just wrong. With lots of help from my friends, I saw banded rocks in 25 different ranges in 2013. I also saw blacktails in at least 20 different ranges. But for every day we found 1 montane rattler, we had at least 2 days where we found nothing…that's 2 days of hard hiking for nothing.
Diving long-nosed snake, NM:
NM interstate:
Copperhead, NC:
Flounder, NC:
Box turtle, in situ,NC: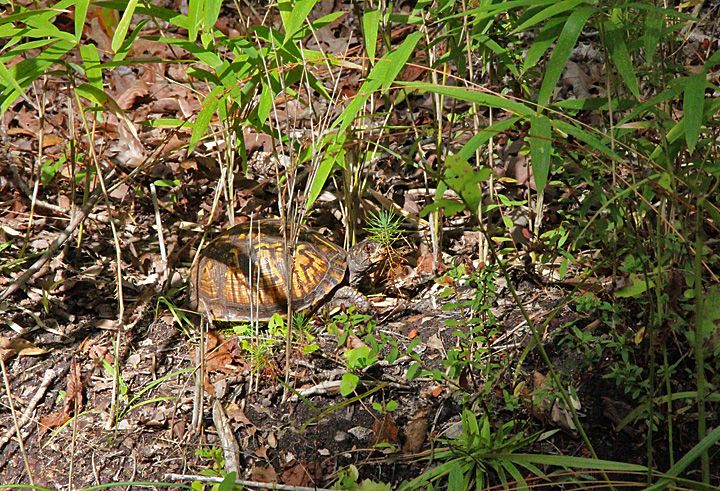 Squirrel treefrog, NC: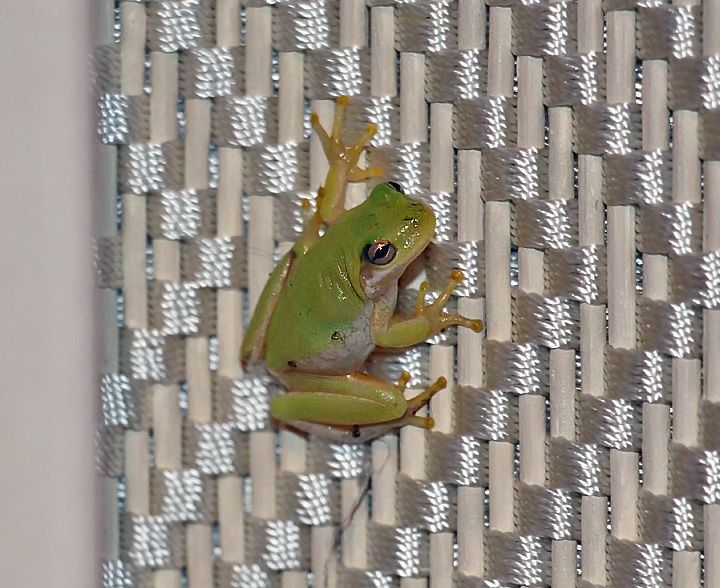 Opossum under tin, NC: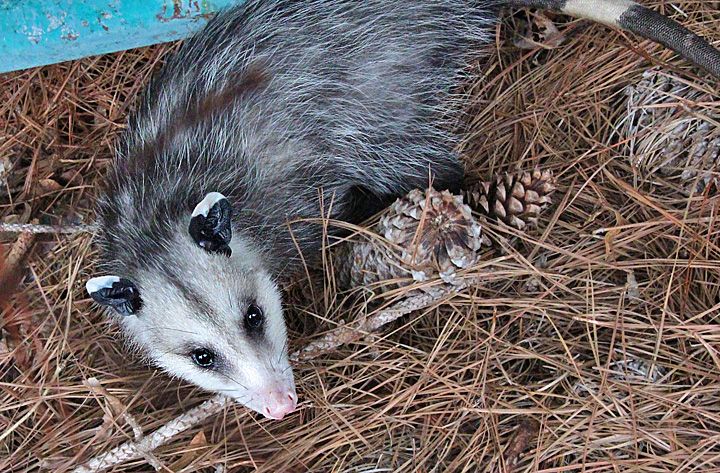 Neonate red pigmy ratter, NC: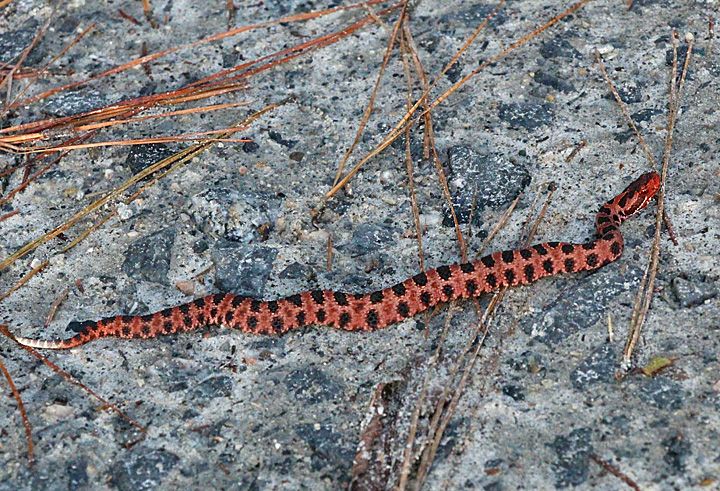 I had to reduce the saturation on this one so the red on the chin didn't look clownish: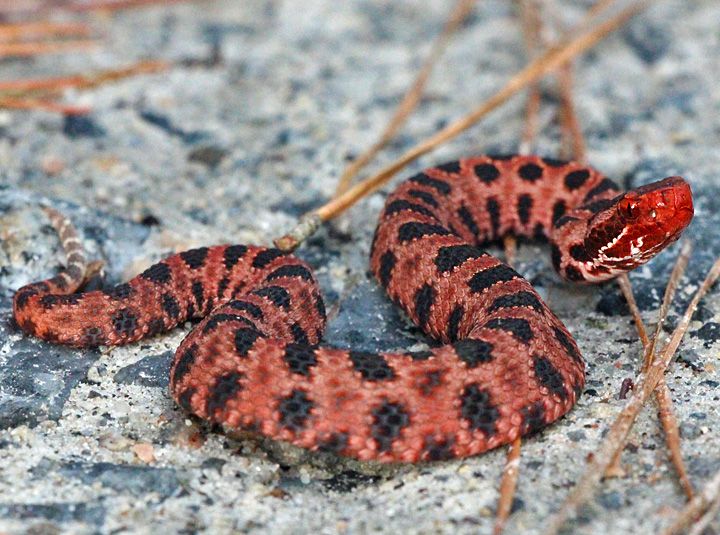 Grand Canyon, AZ: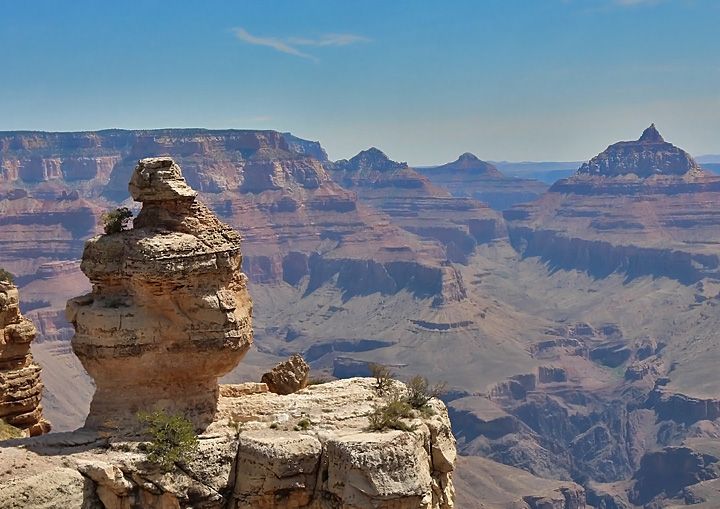 Side-blotched lizard in Grand Canyon: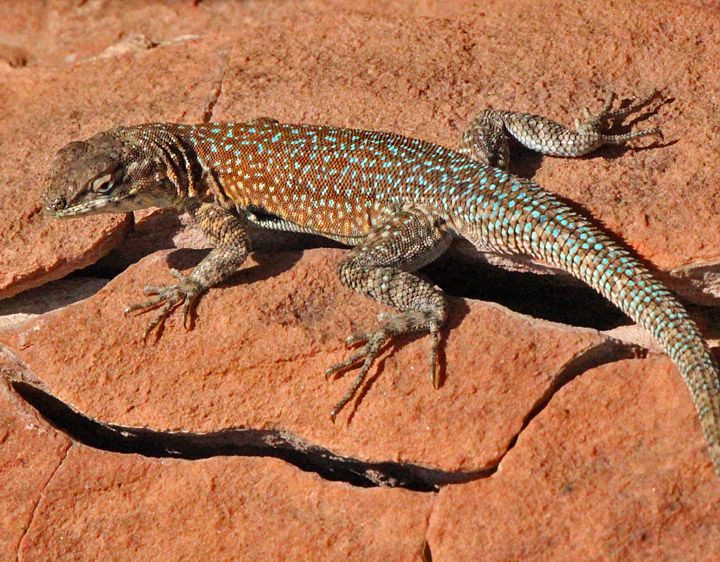 Great Basin rattler (lutosis) in the ugliest, most over-grazed, bleakest terrain we saw in northern AZ: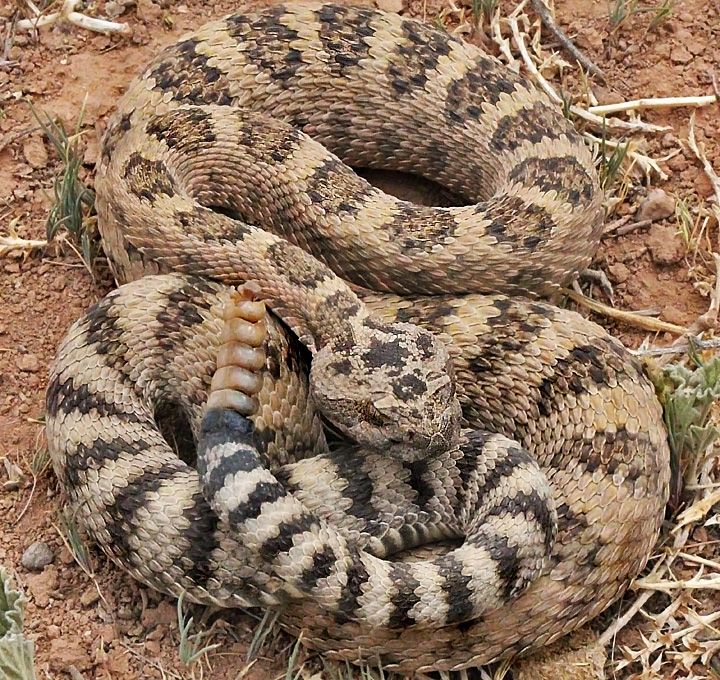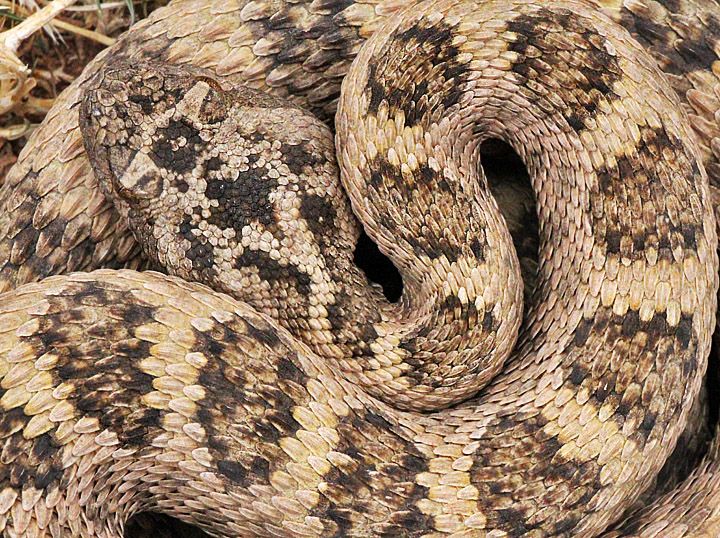 Splinter, a personal best:
The banded rocks in this particular mountain range are especially speckled compared to nearby localities where the bands are cleaner, like we expect in NM. It seems no coincidence that this range is mostly granite, whereas most ranges in the region are basalt or tuff. The speckling found in mitchelli seems to have evolved as result of the granite that predominates their ranges. Maybe klauberi do the same? NM: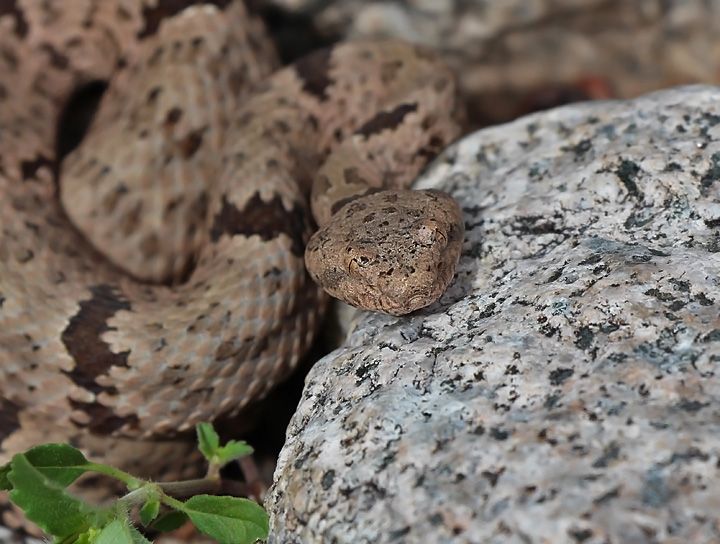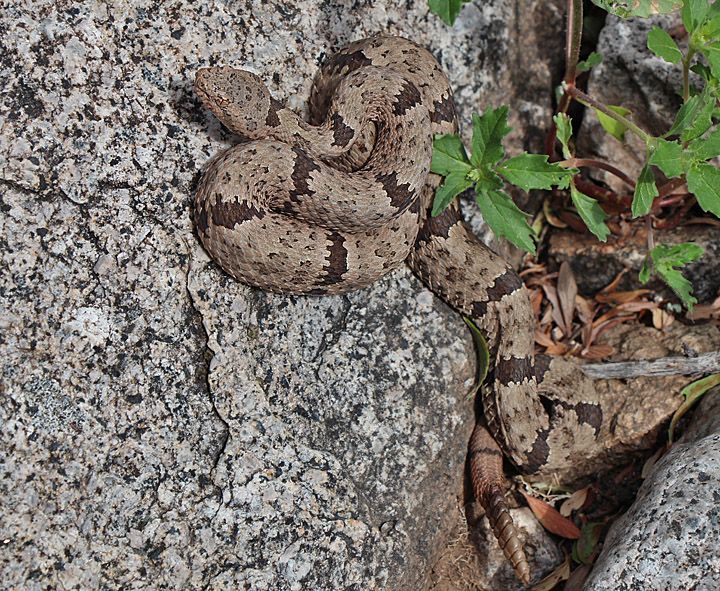 Sandhill cranes with the Chiricahuas in the back, AZ: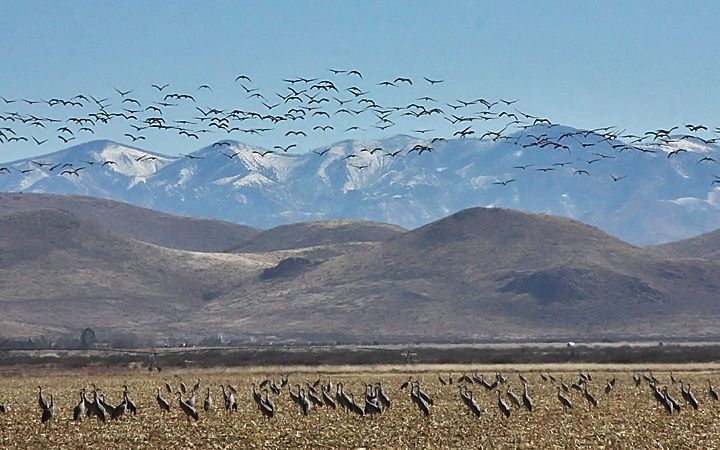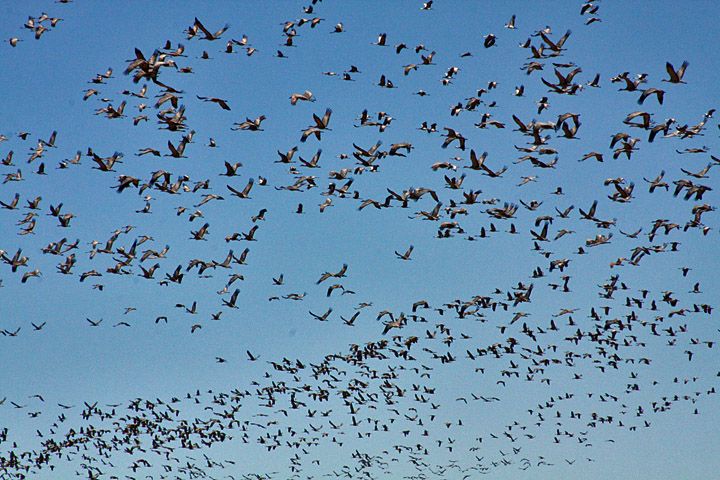 Neonate banded rock, female, NM: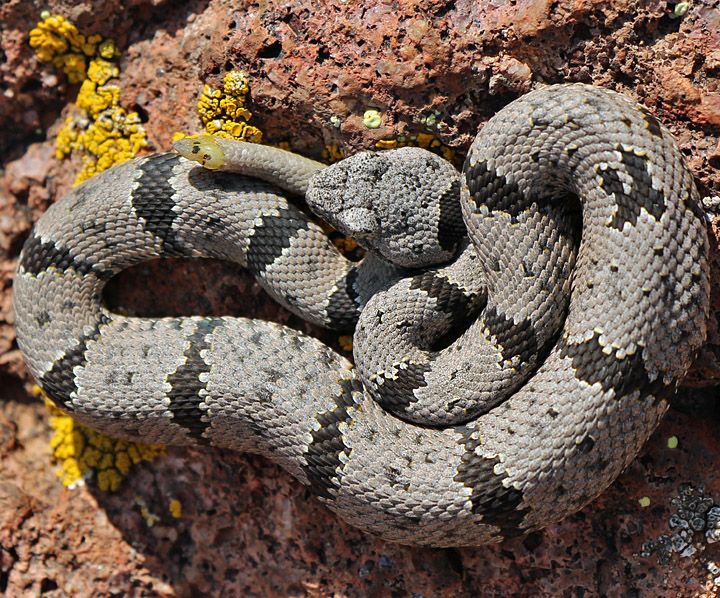 With banded rocks, we typically find more males at a rate of about 3 males : 2 females. In 2013, however, I saw 30 females, 23 males, and 7 unidentified = 60 total. Maybe the horrible drought across most of their range favors females, which move less frequently and are therefore less prone to desiccation and starvation? Or maybe it's just chance? Another female klauberi from NM: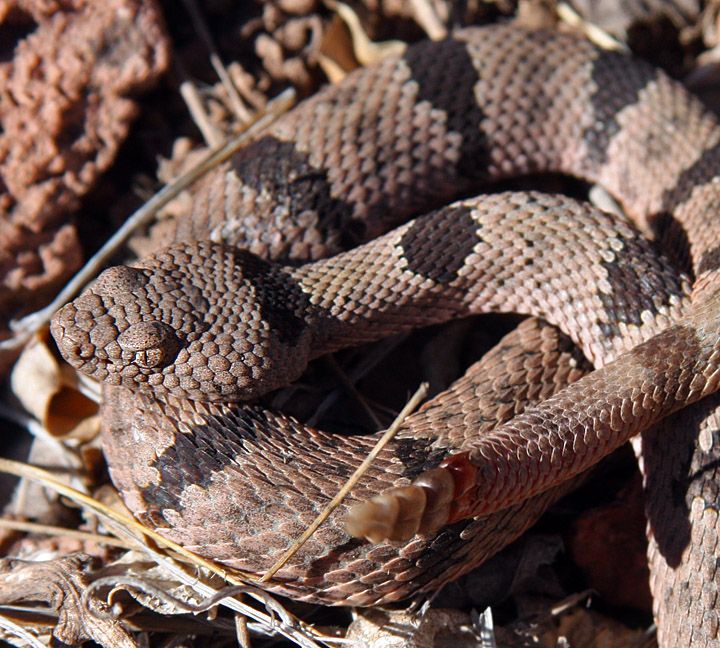 Banded rock, male, NM: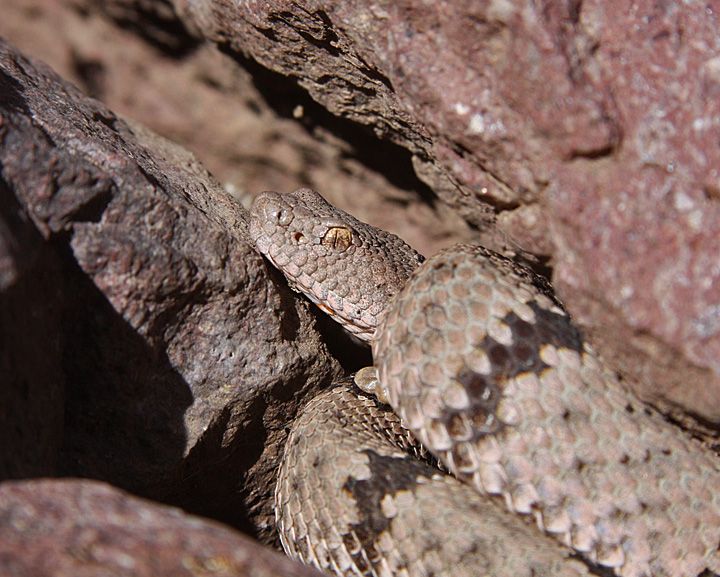 Normally fast and flighty, this eastern patch-nosed snake never moved as we walked around it and eventually picked it up, NM: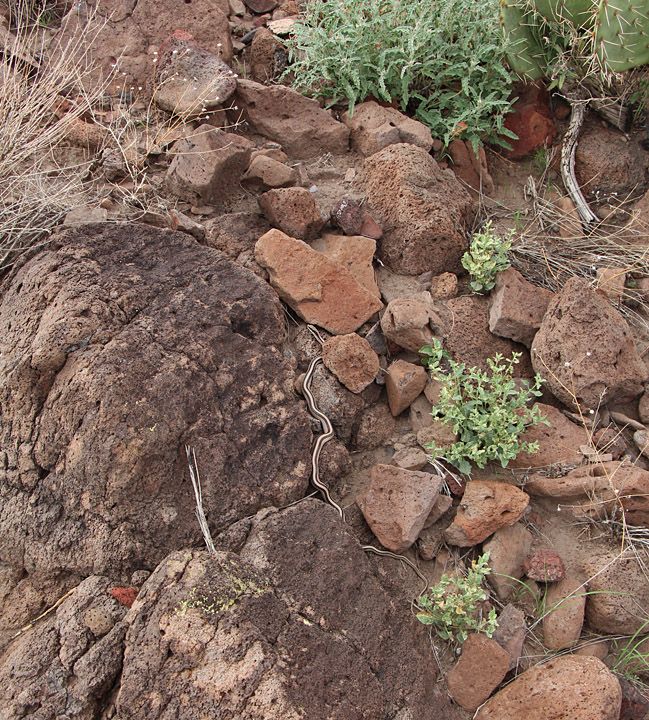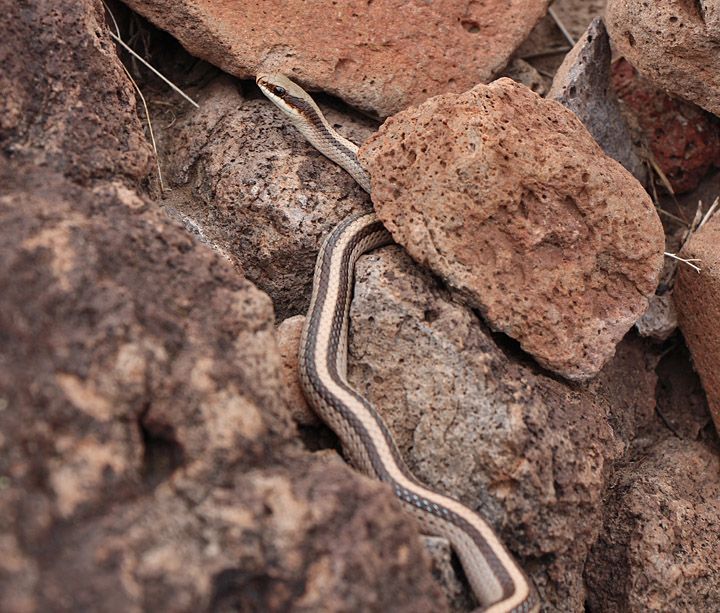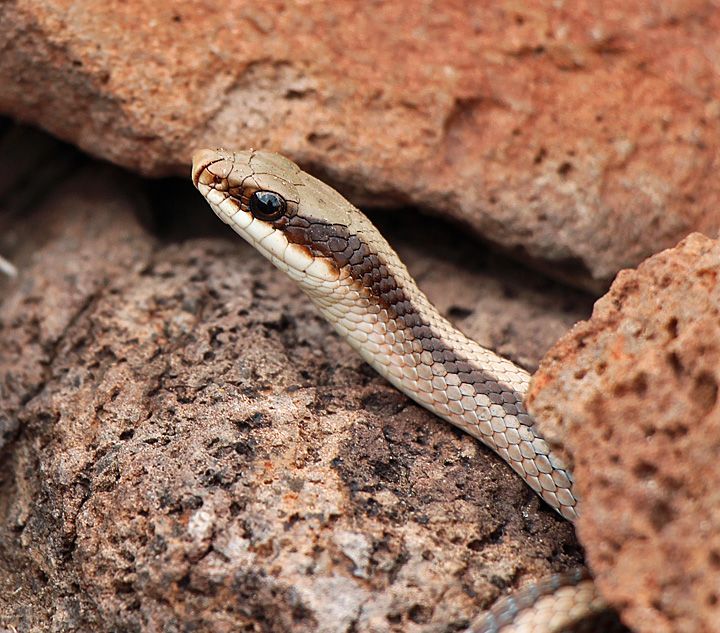 Same goes for this striped whipsnake...normally a blur, this one hung out for a photo session, in situ, NM: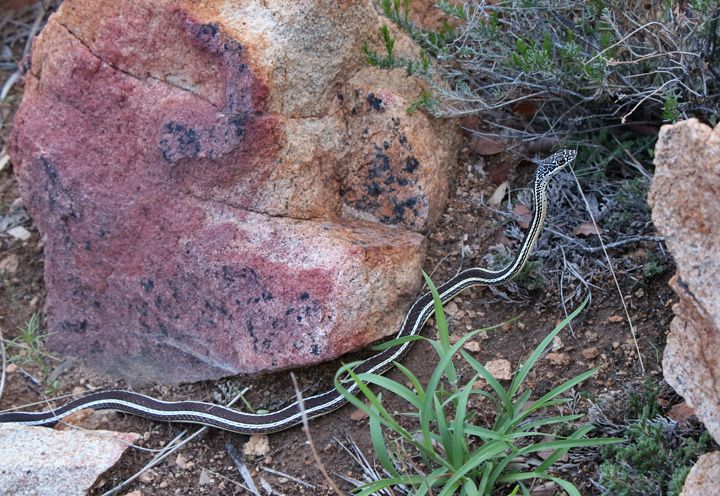 NM: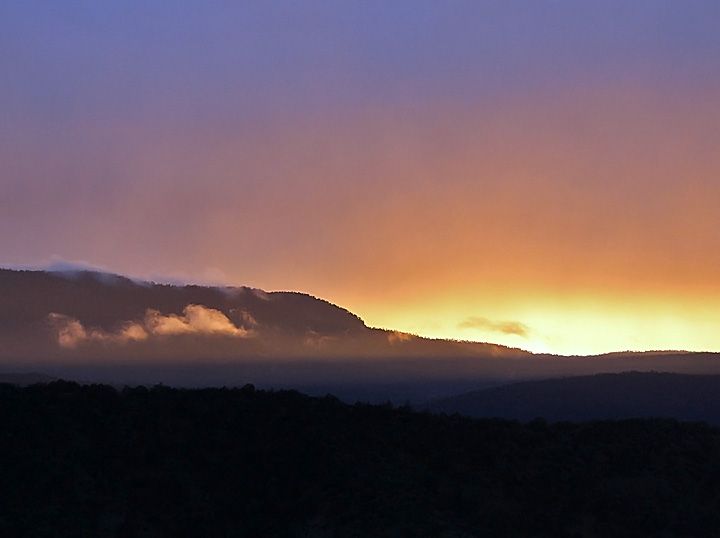 2 gravid female banded rocks that were actually touching each other when they buzzed us, NM:
These banded rock and blacktail rattlers were also touching each other when they buzzed, NM:
Texas horned lizard, NM: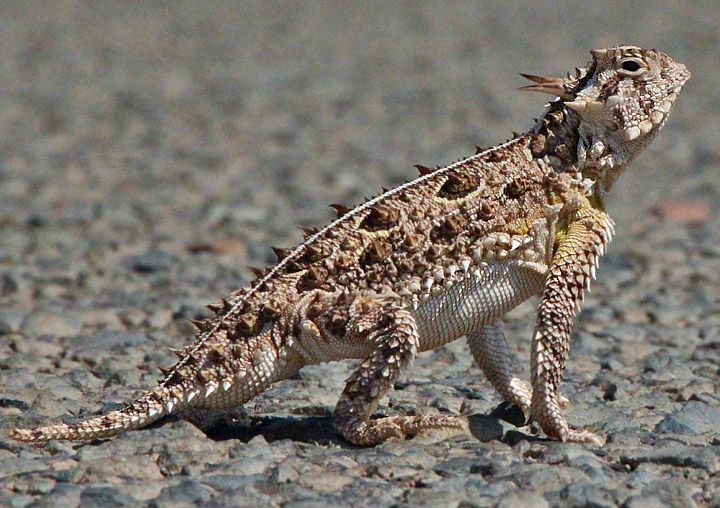 Banded rock rattler, male, AZ: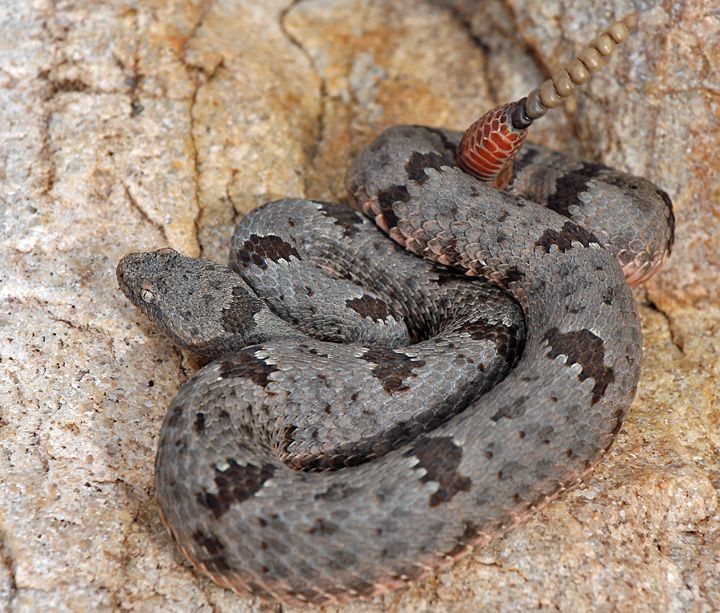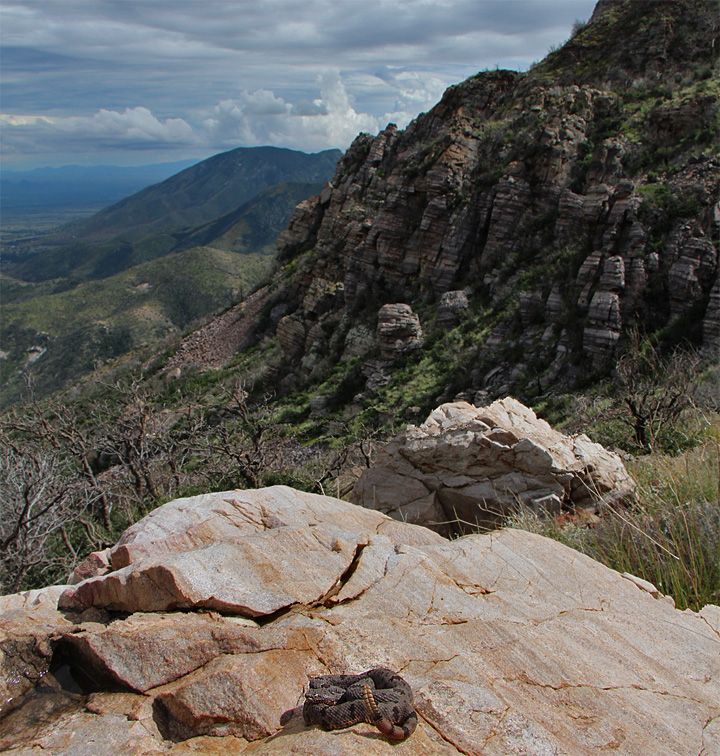 Banded rock rattler, female, NM:
Same snake: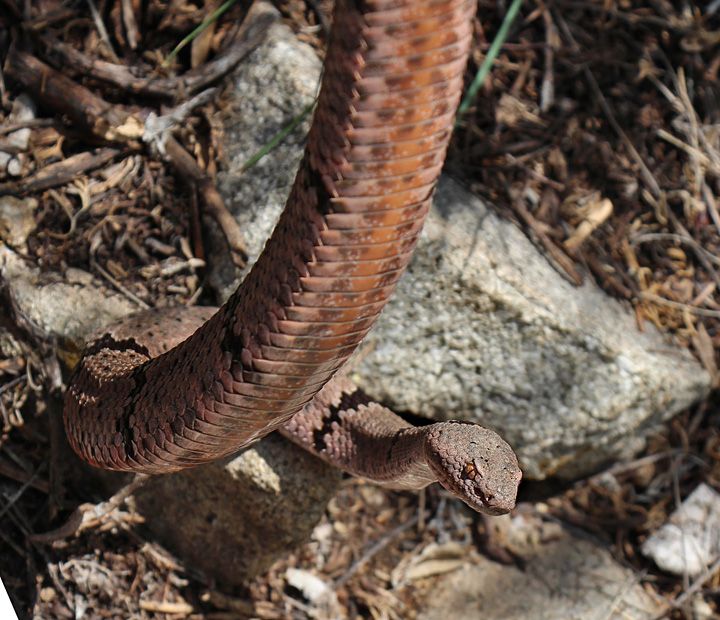 These guys were all hanging out together when we drove up, but after they ran a safe distance away, the deer seemed to suddenly realize there was an imposter pronghorn in their midst: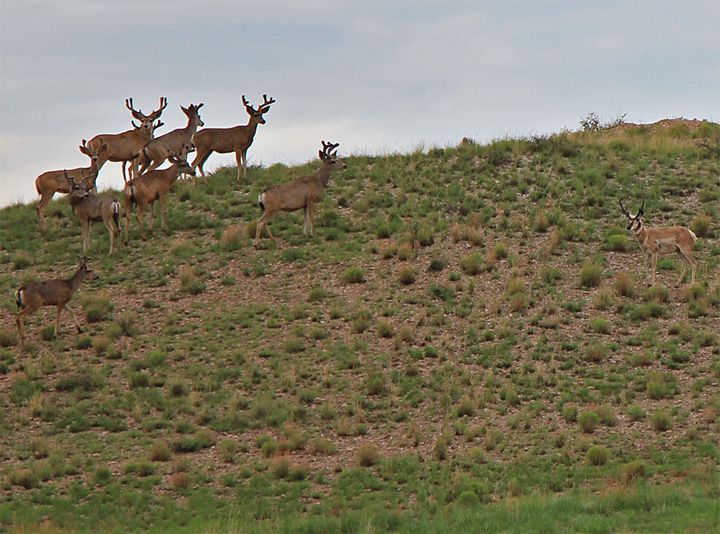 I was a bit too rough when grabbing this guy...it was the first time it's happened to me. TX horned lizard, NM: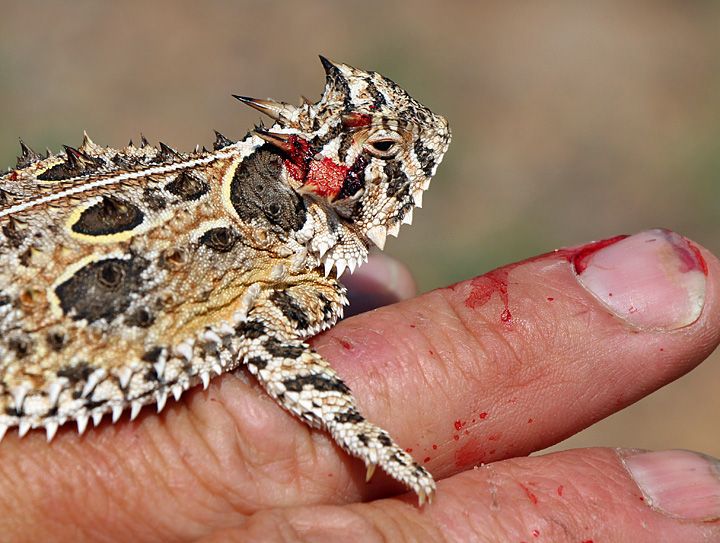 Black-tailed rattler, NM:
Banded rock, female, NM: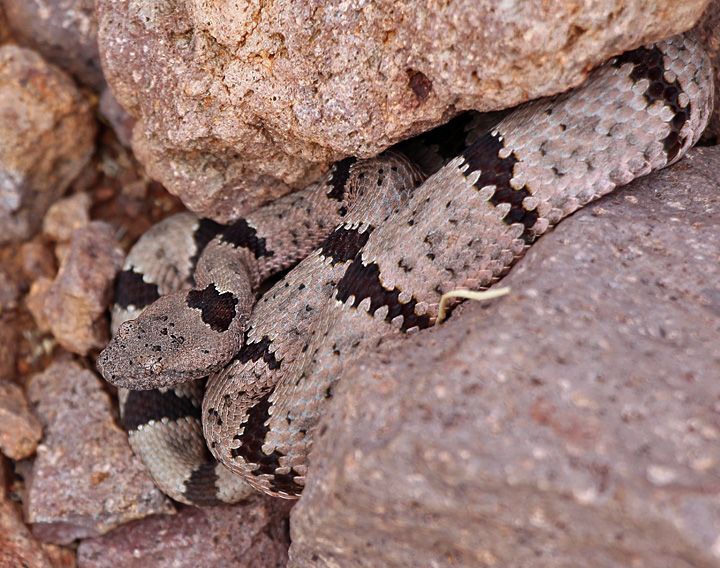 An oddly patterned black-tailed ratter, NM:
Banded rock, male, NM:
Despite severe cuts to the photos I wanted to post, I've gone on too long again. Sorry about that. If you have any questions about a particular animal or theme, please don't hesitate to ask….I've got WAY more photos!
Cheers,
York