This is the 3rd of 3 posts covering our 6 week trip to Australia from late December 2013 to early February 2014.
Part 1 can be seen here:
http://www.fieldherpforum.com/forum/vie ... =2&t=19112
Part 2 can be seen here:
http://www.fieldherpforum.com/forum/vie ... =2&t=19156
Travel details can be seen in part one.
This portion starts as we continued our way south from southeast Queensland, across SE Australia to the eastern end of the Great Ocean Road, spending our final week in Tasmania. My skills at finding herps are not up to those of many on this forum, and at this point, I had completely struck out on seeing any of the native geckos. I most wanted to see one of the leaf tailed geckos and that was high on my hit list upon reaching Lamington National Park. One was pointed out to me on a building on our first night in the area but I completely struck out finding one on my own in the forest. The second night was different, however, and I found three, two on the same trail I had walked the night before... go figure. Anyway, they were spectacular.
Southern leaf-tailed gecko
Although I wanted to find and photograph one of the spiny-tailed geckos, because their eyes looked fascinating in photos I have seen, the eyes of these guys did not disappoint.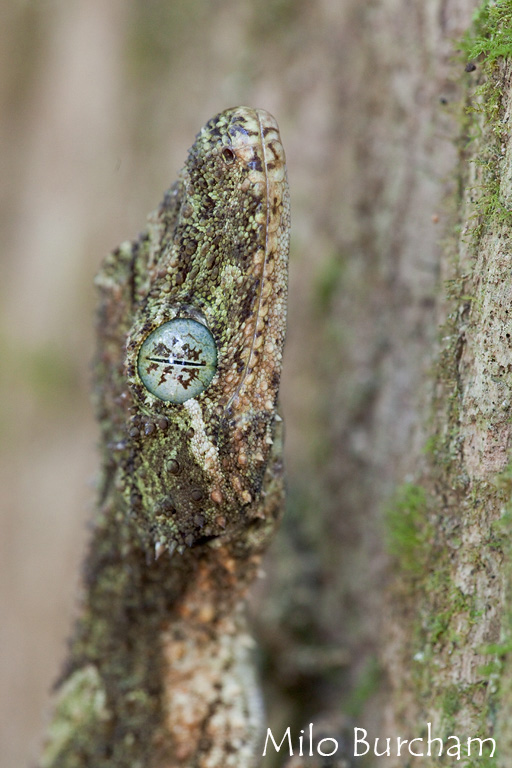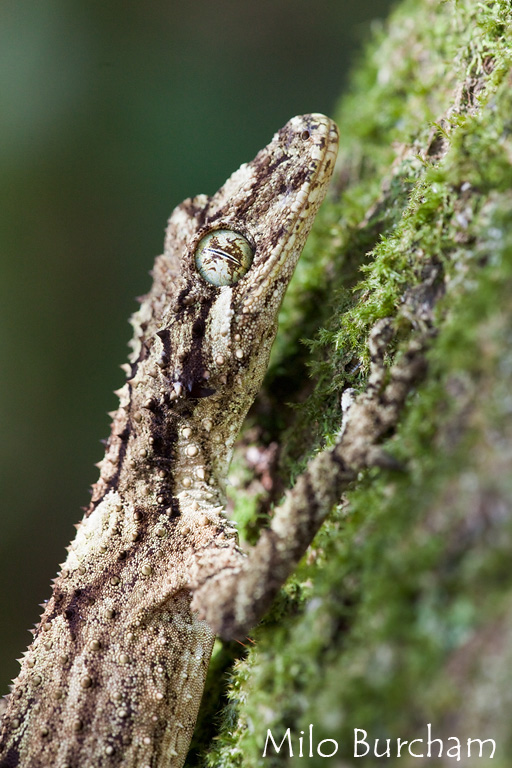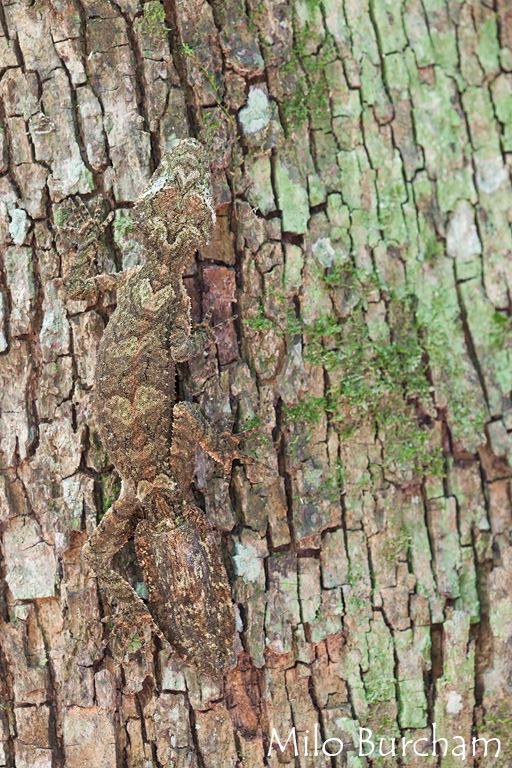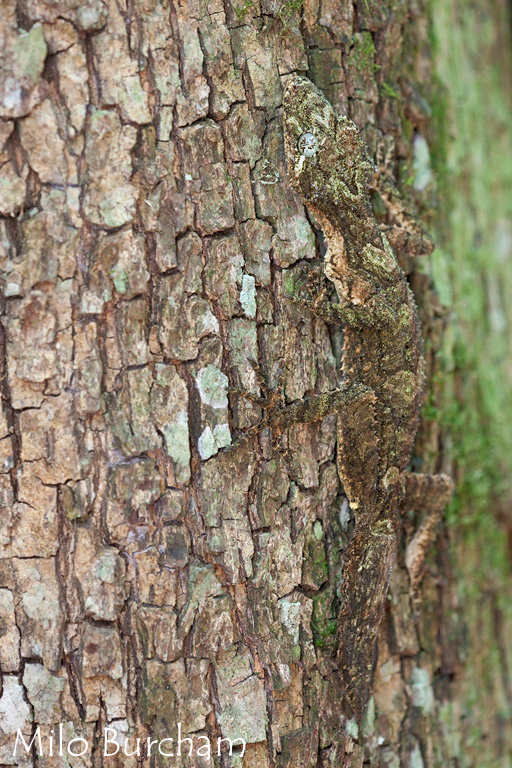 The following image is one of my favorites. I draw a pretty firm line on photoshop manipulation of my images and do not alter any content (i.e. I don't remove twigs, blades of grass or other "distracting" elements). The single on-camera flash used for this image, however, created a relatively harsh shadow on the bottom of this geckos limbs, so I have taken the liberty to remove most of the shadows digitally. I was really impressed how this thing blended in with the lichens on the tree.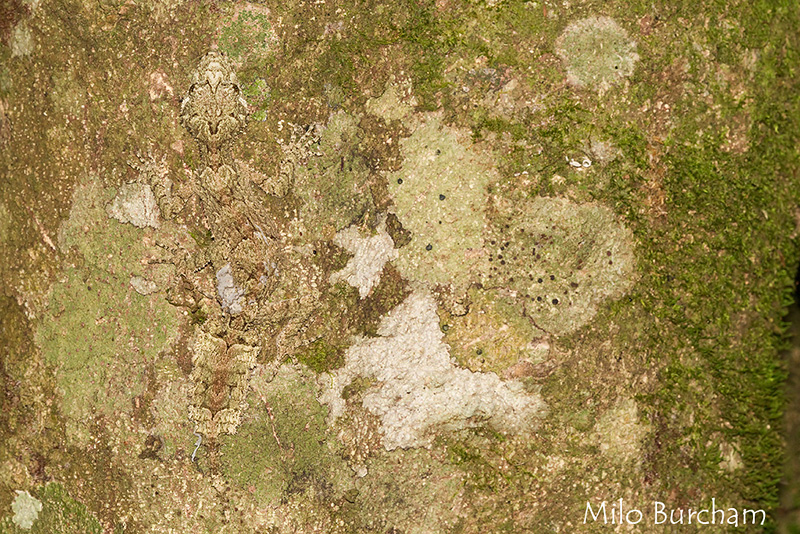 I also found a few frogs in the area:
Orange-eyed tree frog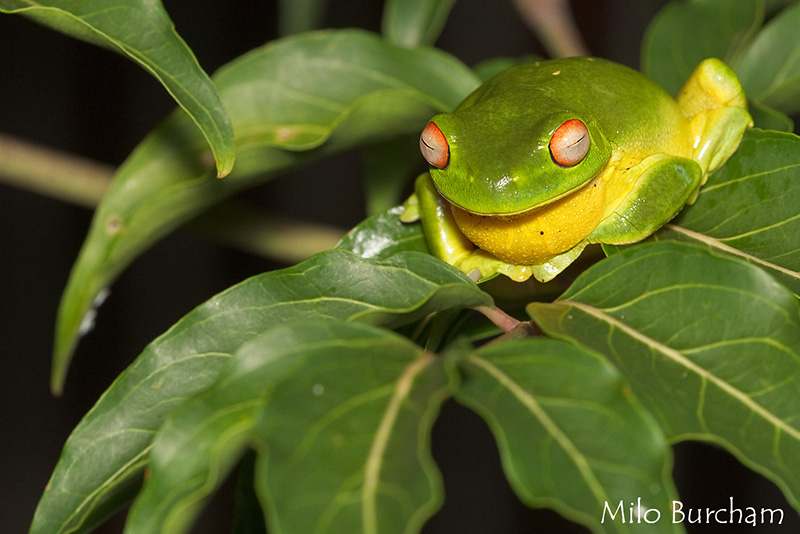 Fleay's barred-frog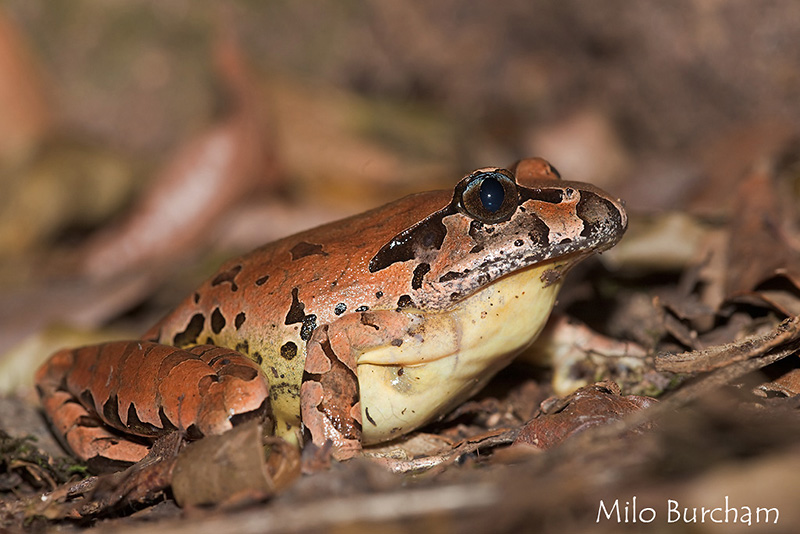 And a few pythons. One 8 foot specimen was not photographed but is probably the largest snake I have seen in the wild. This one apparently had been in the same location for several days digesting a large prey item.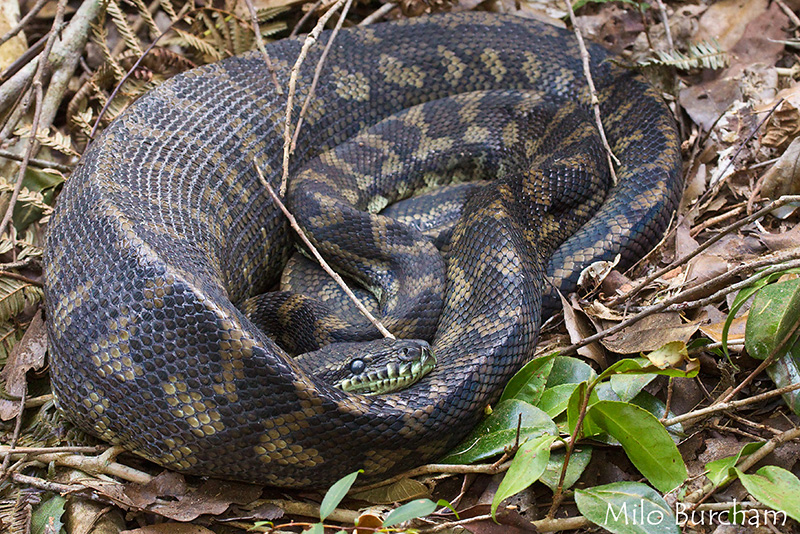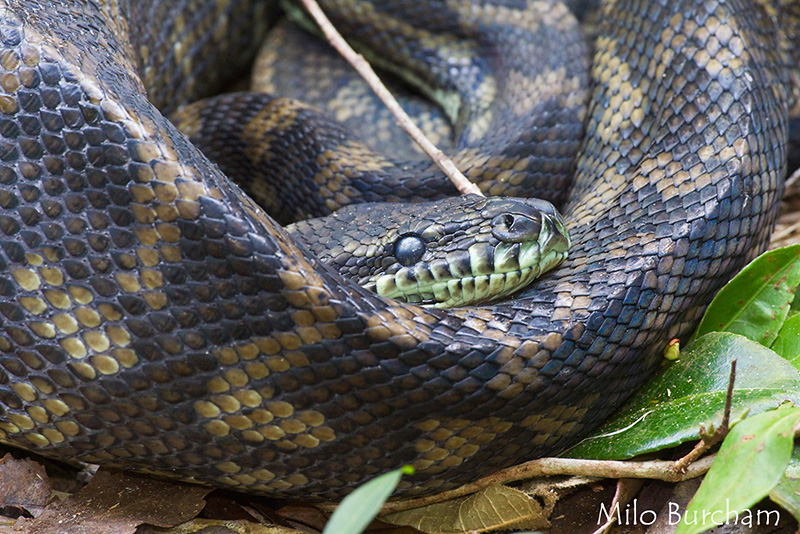 Back on the coast, we awoke to one of my wife's favorite mornings of the entire trip. There were 28 kangaroos grazing around our tent at 5AM, including a little joey who was touching the tent wall. We could see his tiny little hand silhouetted through the tent fabric.
Eastern gray kangaroos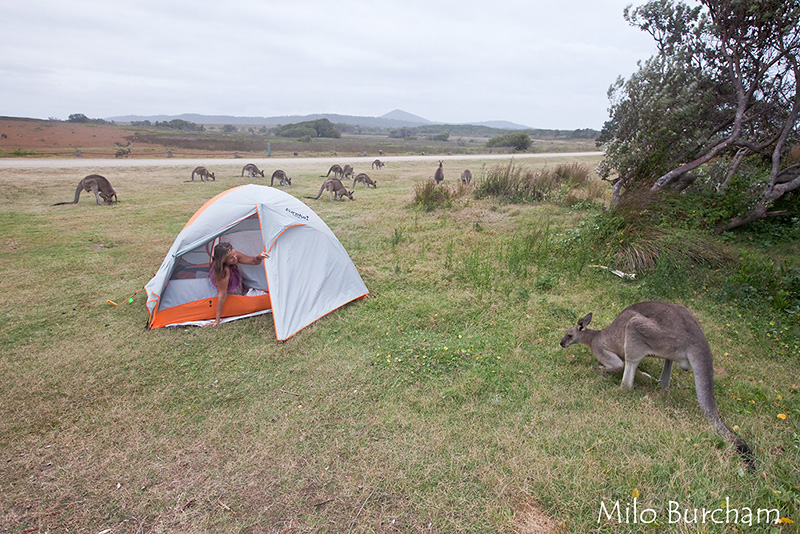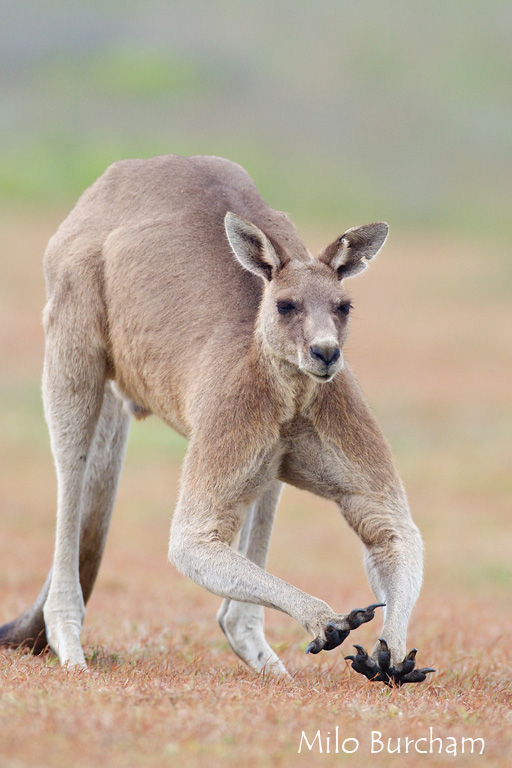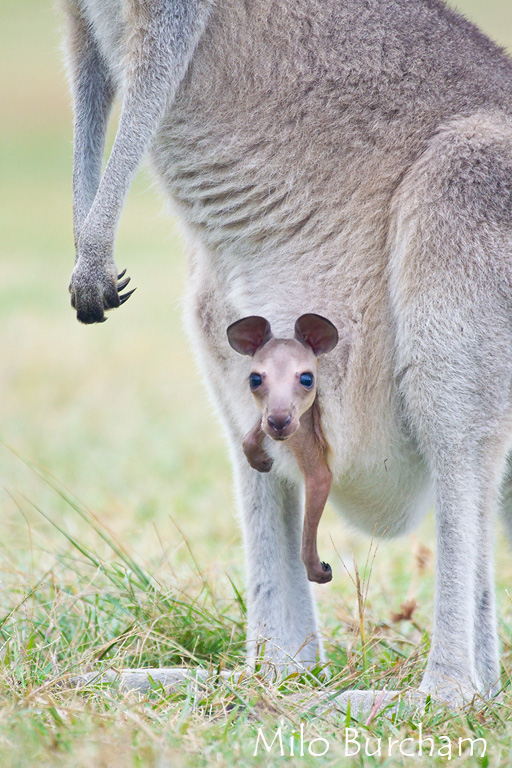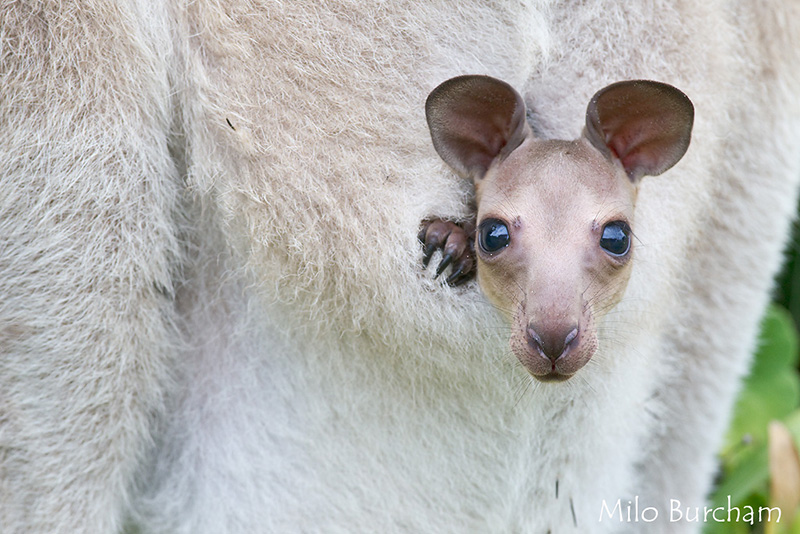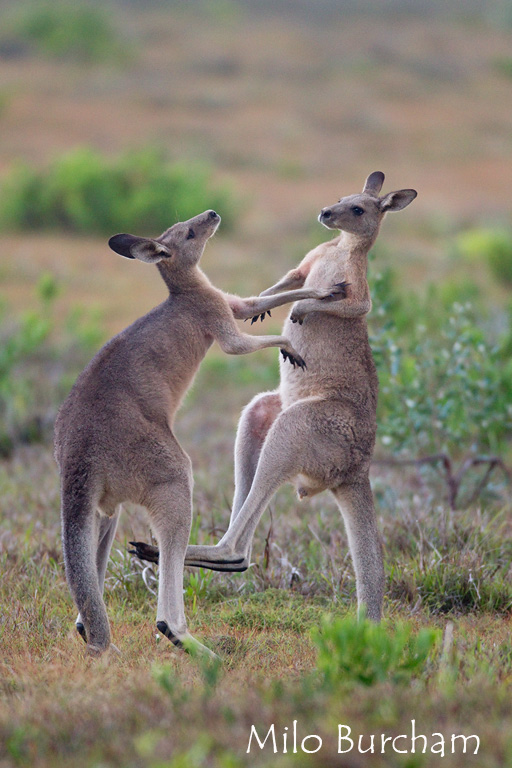 A pair of bats from another spectacular yet controversial bat "camp" or colony on the outskirts of a small town.
Little red flying foxes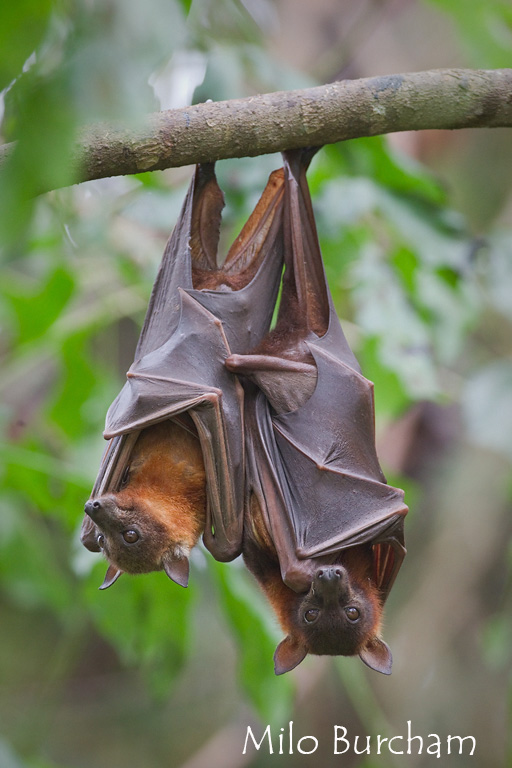 We then skipped across the SE corner of the country getting another all to brief glimpse of some of the interior, including Warrumbungle National Park.
This was the largest monitor of the trip at close to 6 feet. Wary at first, he eventually let me walk along beside him as he made his way up a hillside.
Lace monitor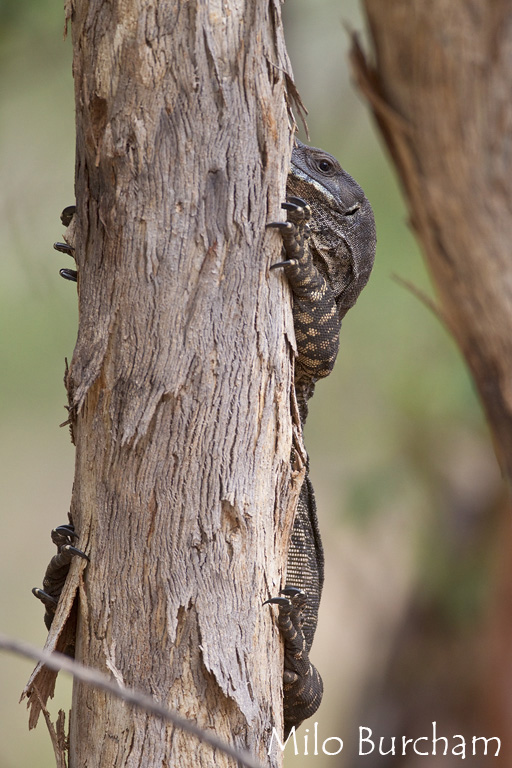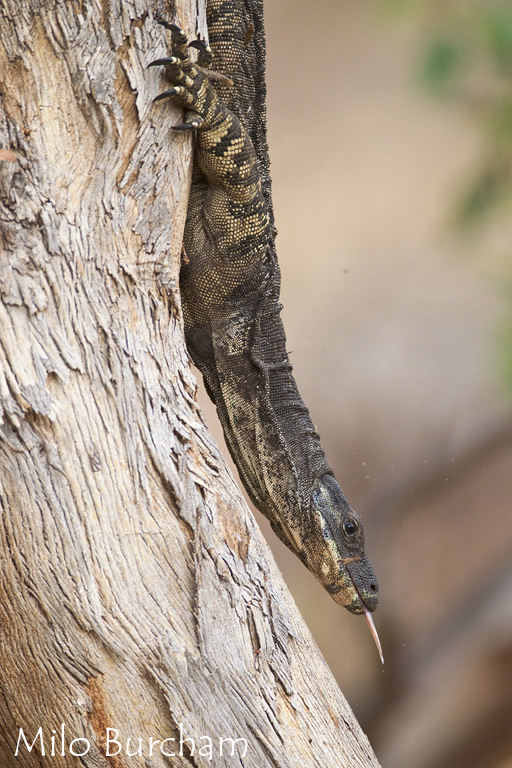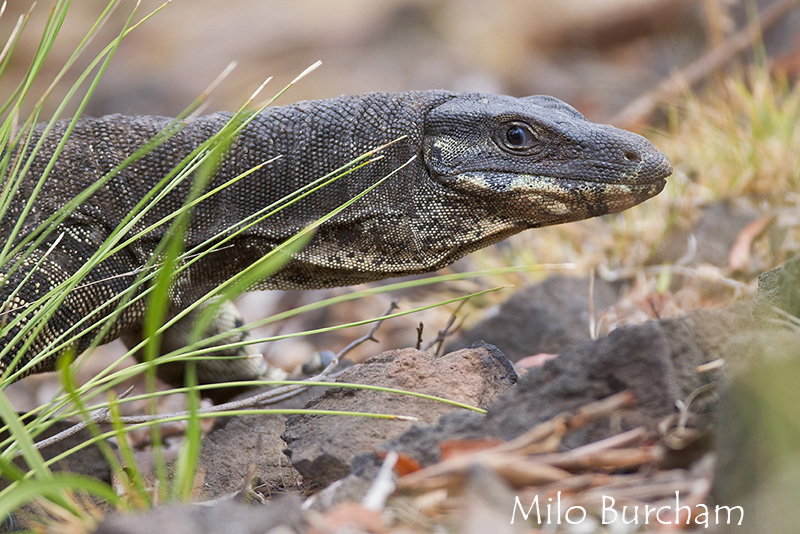 Emu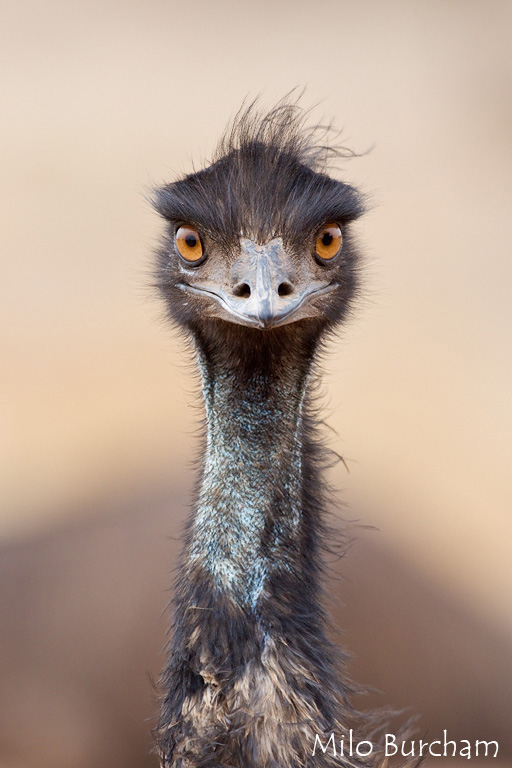 We eventually made it to the south coast where we saw lots of one of Australia's major icons. I am surprised one of the girls on the trip did not try to bring one home with them!
Koala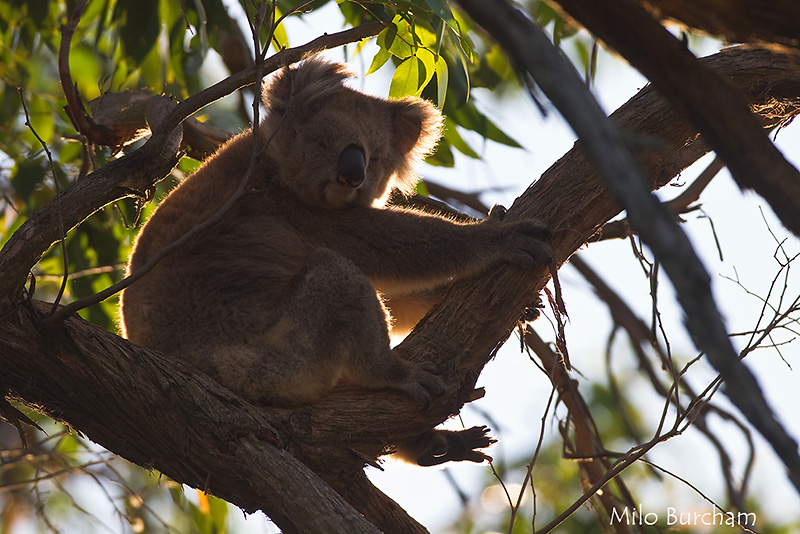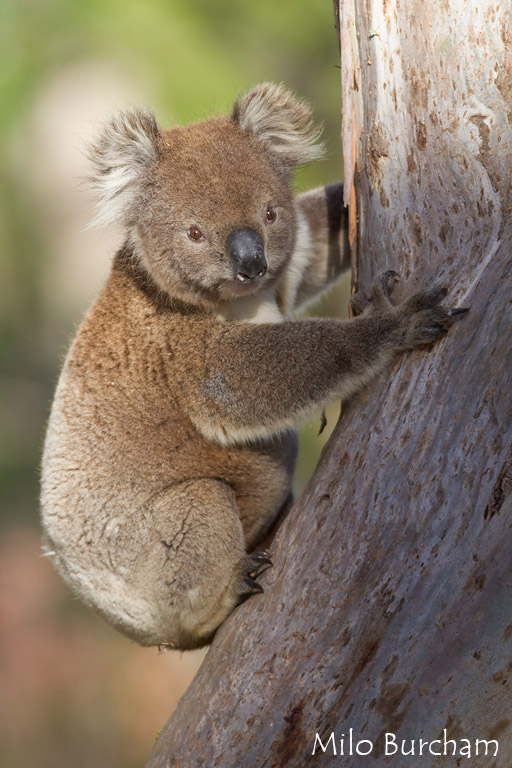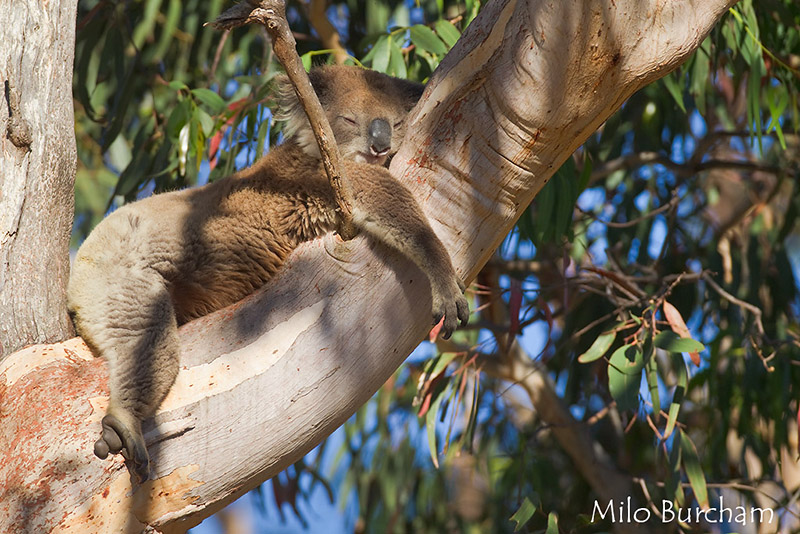 I do not think that this sign would be very effective at keeping members of this forum on the designated trail!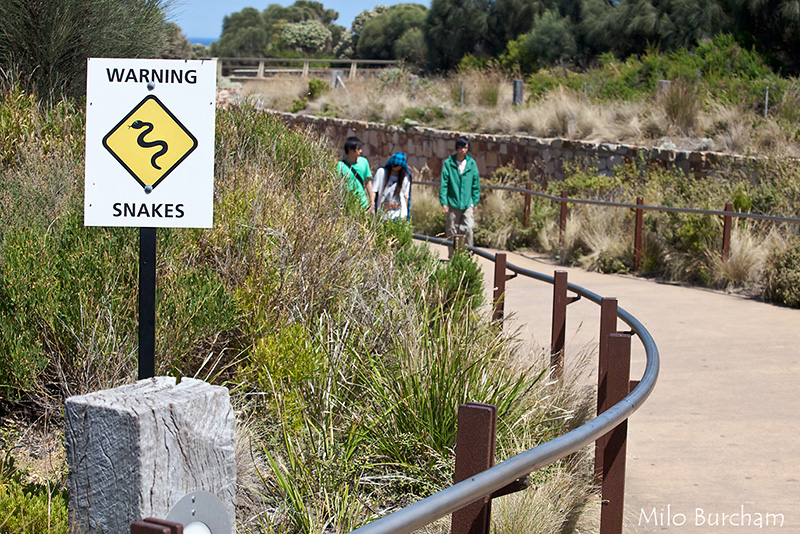 Lastly, on to Tasmania where I largely kept glimpsing or missing snakes, and seeing another major target of mine, blue-tongued skinks, DOR in many locations! While riding bikes on Maria Island, I had pushed on ahead of my wife. I finally stopped to wait for her and when she caught up to me, she had a disgusted look on her face. Apparently a large tiger snake crossed the road behind me. She rode up to it and started yelling for me trying to get my attention without luck. Taught me not to zoom ahead of her in the future!
Tasmania had lots of great wildlife and many great parks for hiking.
Cape Barren goose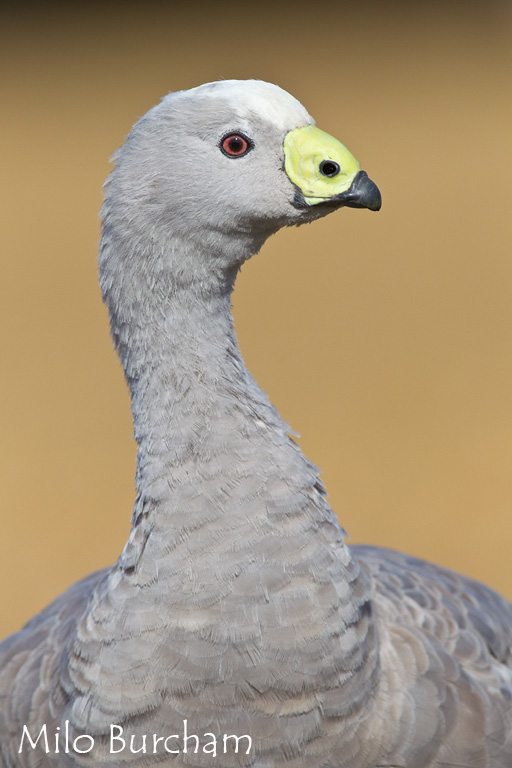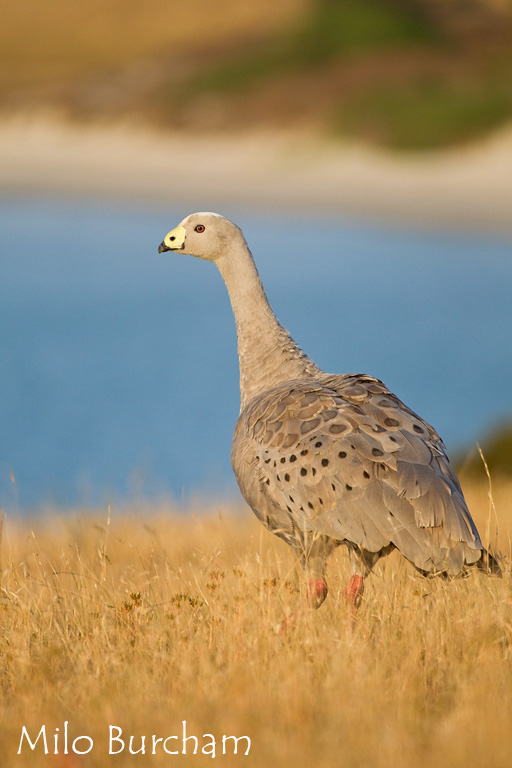 Bennett's wallabies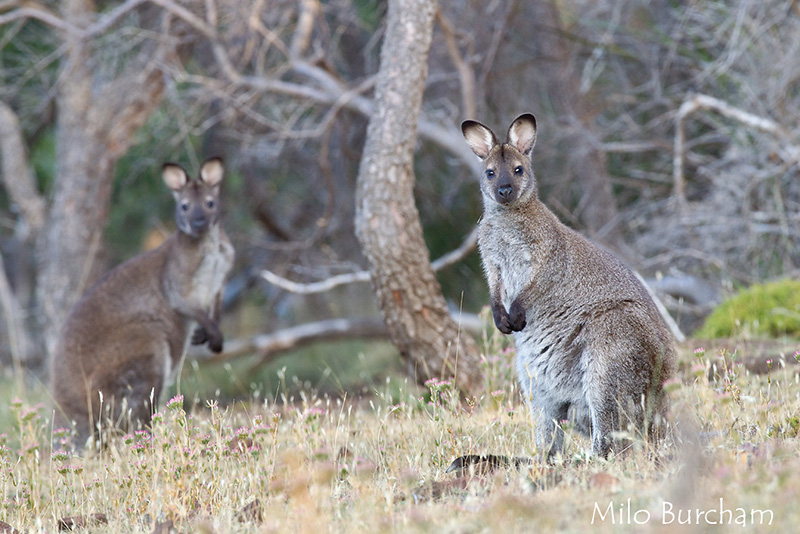 Wombat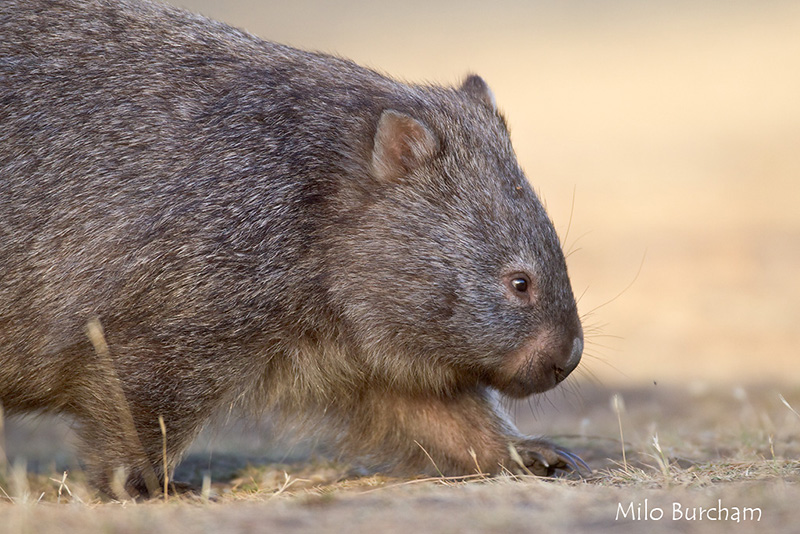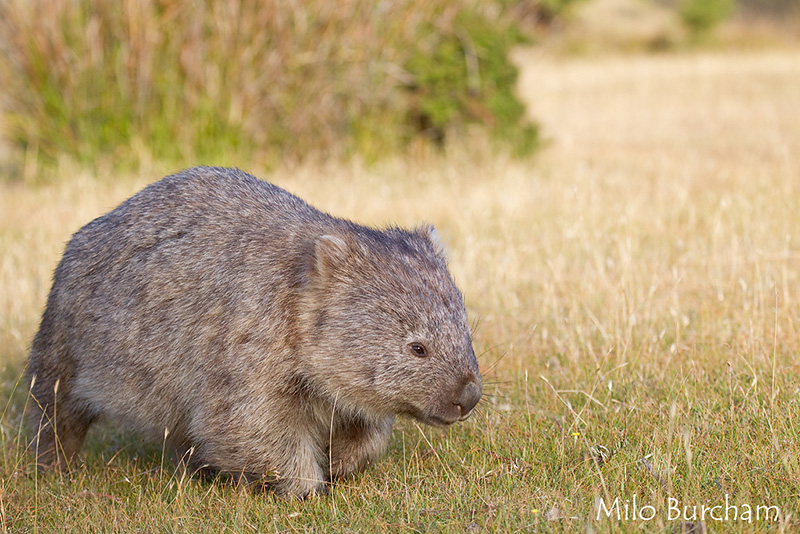 Night hikes were a staple everywhere we went and resulted in many great finds other than herps (Some of these images were from areas other than Tasmania).
Yellow-footed antichinus (a mouse-sized marsupial photographed on the Atherton Tablelends)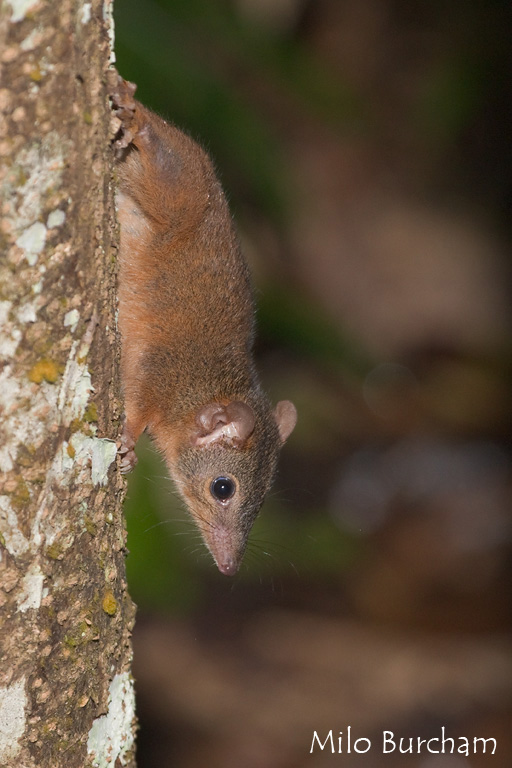 We ran into common bush-tailed possums and common ring-tailed possums EVERYWHERE!
Common ring-tailed possum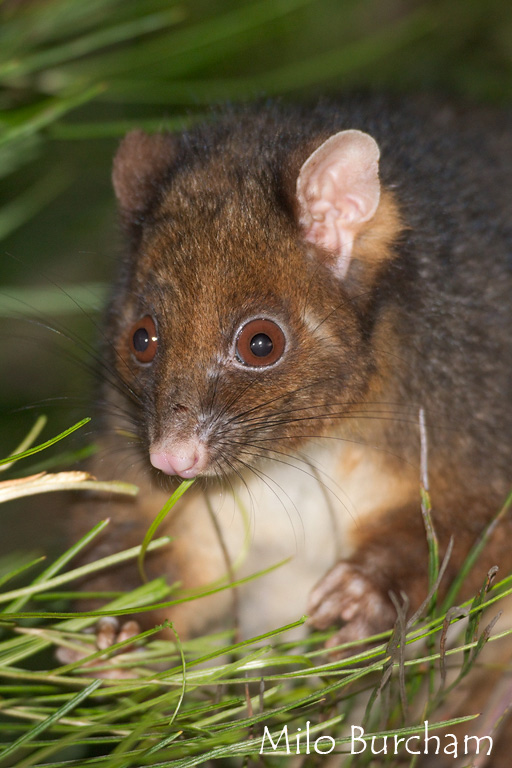 Tawny frogmouth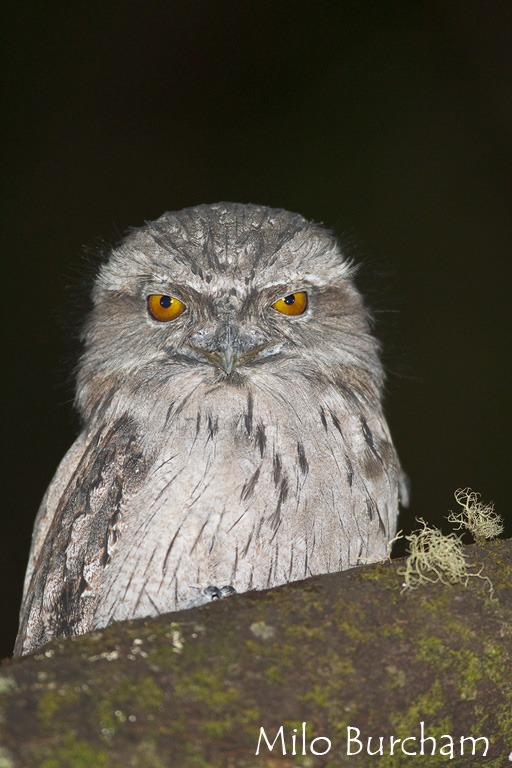 Eastern barred bandicoot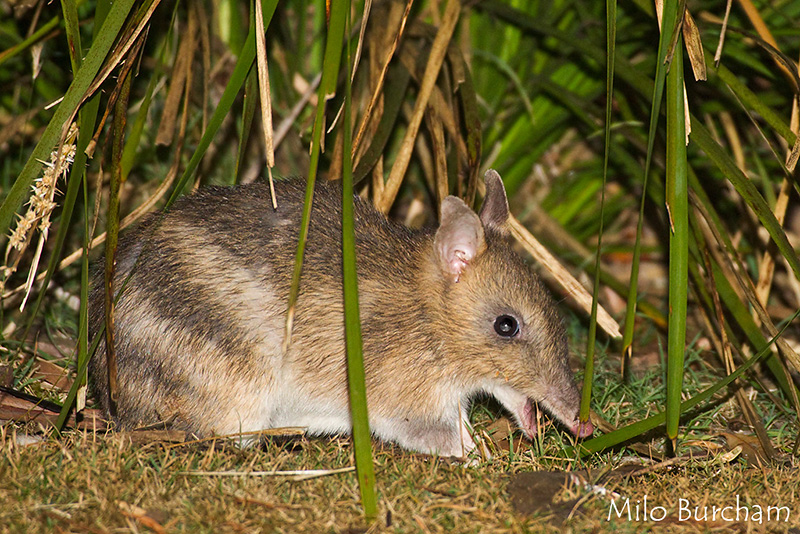 And I was incredibly fortunate to see a Tasmanian devil in the wild, although the photo is not the greatest. I believe it was hunting penguins!
Tasmanian devil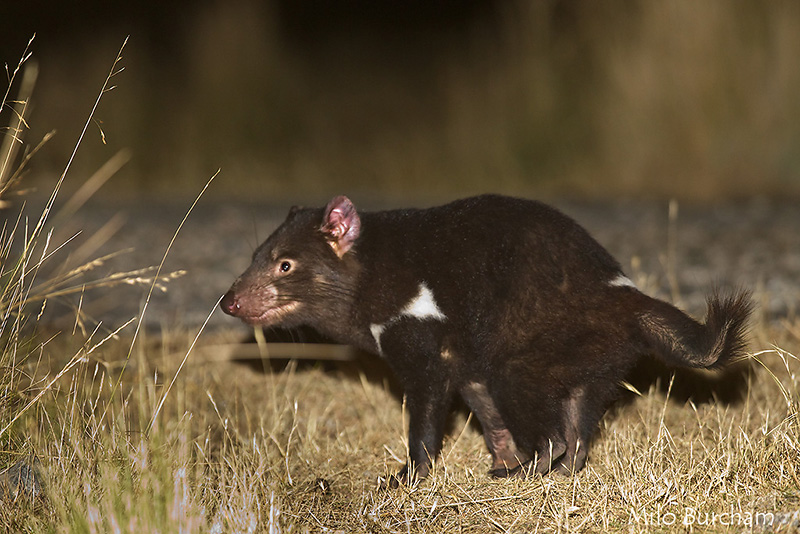 And FINALLY, after seeing all the skink road kill, and being obsessed with finding one on the final days of the trip, I found one! On the FINAL day of our 6 week trip. Yet another spectacular lizard!
Blotched blue-tongue skink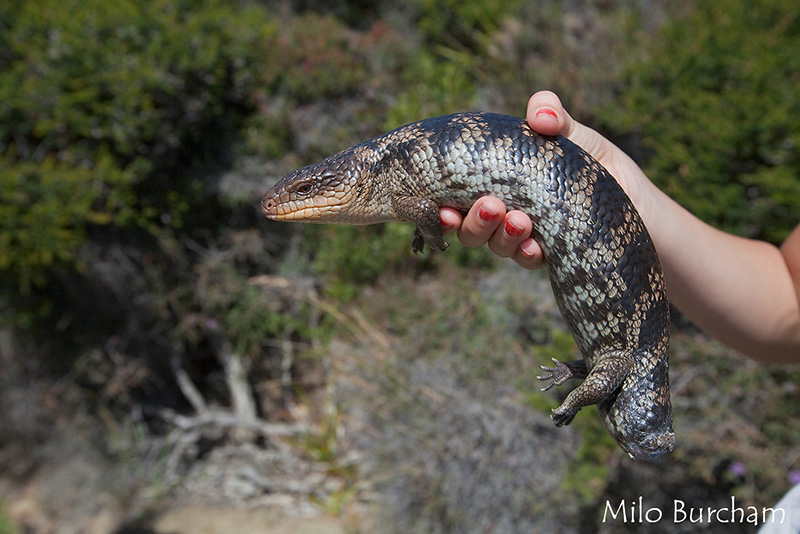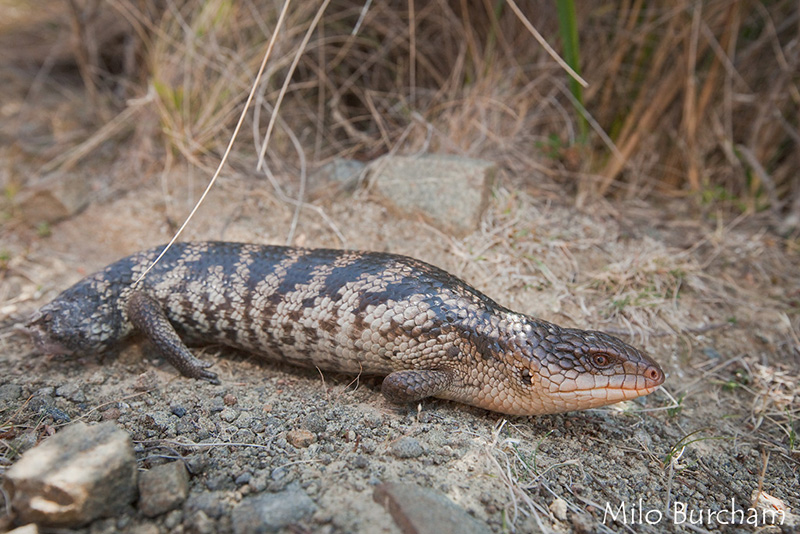 The take home message from our trip is that Australia is a spectacular place to visit. Particularly for anyone interested in not just herps but any wildlife including birds and mammals. I could have spent the entire 6 weeks in any of the many locations we visited, and never become tired of photographing the wildlife. Although I missed many of the neat herps that occur there, I was tickled to death at what we came up with on our own. As I said before, it was all new and exotic, especially for someone living in Alaska. It has whet our appetite for many vacations to come.
As I sit here in my office on a Friday evening in early April, there is snow falling outside. I have spent evenings after work earlier this week photographing whales that are gathering around the annual herring spawn event. One of our first signs that spring is coming. Although spectacular in its own right, the cold waters and winter breeze are a complete contrast to our time spent in Australia's tropics. Reliving our trip by putting these posts together has been fun and I hope it inspires others to visit Australia as well.
Humpback whales, Prince William Sound, Alaska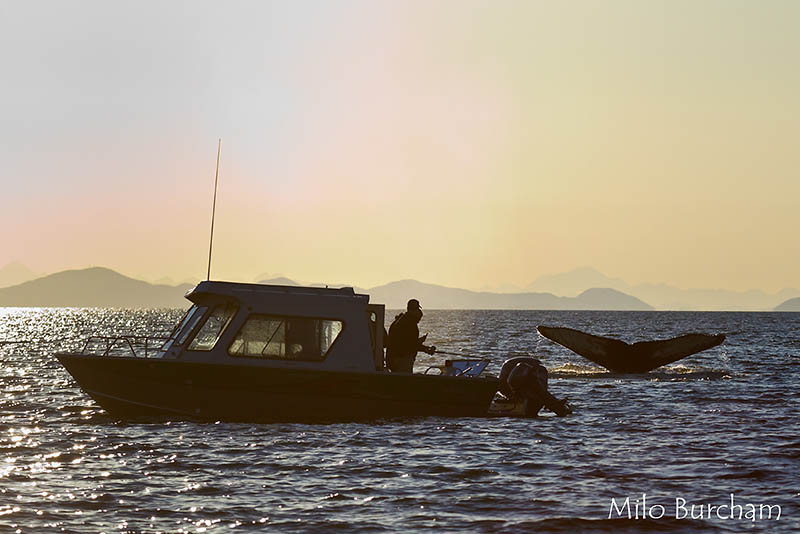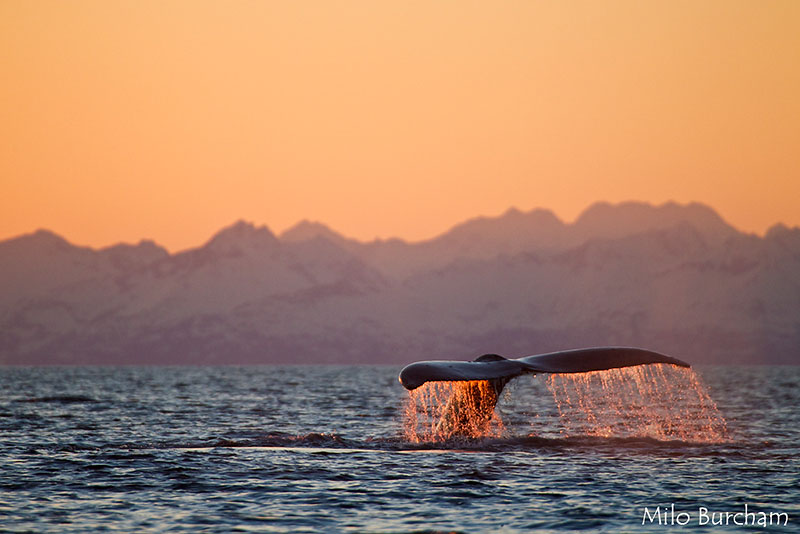 Thanks for looking!