Due to a six-week business trip to Taiwan earlier this year, lots of work after my return, and a general lack of high adventure, I haven't posted anything major between November last year and the green rat snake last week. But somehow I still managed to rack up quite a number of pix I which I'd like to share. Not too many herps here, but the ones that are there are worth a look. They're at the bottom of the post, so you need to wade through all the kingfishers, waterfalls and assorted inweirdebrates to reach them <
evil cackle
>
Let's set the mood with a quasi-herp: a dinosaur. As much as I love birds and bird photos, I will never, ever get into bird photography. I just don't have it: the patience for the long waits, the ability to keep my mouth shut for extended periods of time, the funds for the rocket launcher lenses, and the physical dexterity to corkscrew my mass into one of those tiny sweat lodges called "birding hides". But once in a very blue moon, along comes an opportunity that I just cannot refuse, and this was one of them. Kingfishers are my favorite birds, and the Rufous-backed Kingfisher (
Ceyx r. rufidorsa
) is my top contender among the 14 Bornean species. And when such a bird is sleeping on a branch right by the trailside, and displays such docile demeanor that it lets twenty-odd humans rudely awake him with an electrical flashlight storm that lasts for well over twenty minutes, without the bird batting an eyelid, then yes, that's one of those opportunities. The close-up was taken with a 105mm macro lens, then cropped. The studio-quality lighting comes from the Pentax' pop-up flash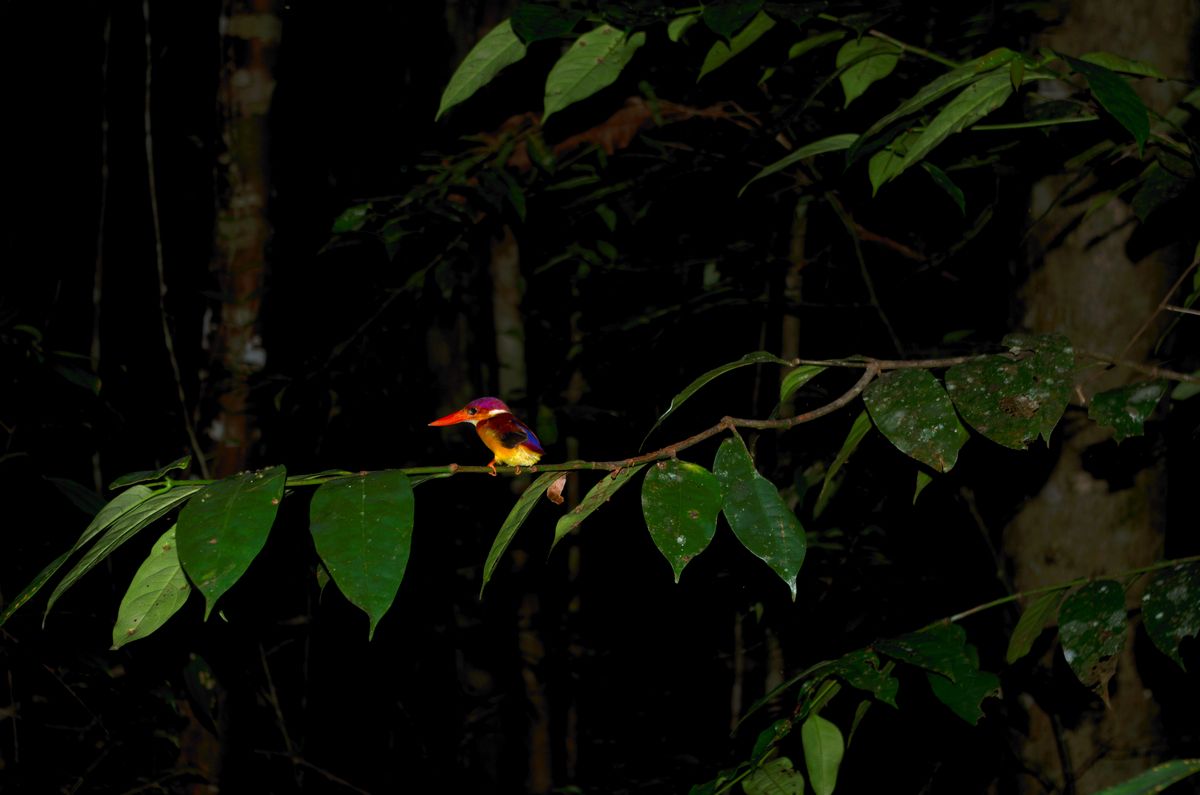 Now we saunter over to the inweirdebrates, something Borneo's particularly rich in.
Crab spider eating moth. A PITA to photograph, as the beast kept dashing beneath the other side of the leaf as soon as I flipped it into the open...
Wood cockroach. The ancients used to tile their ballrooms with them ...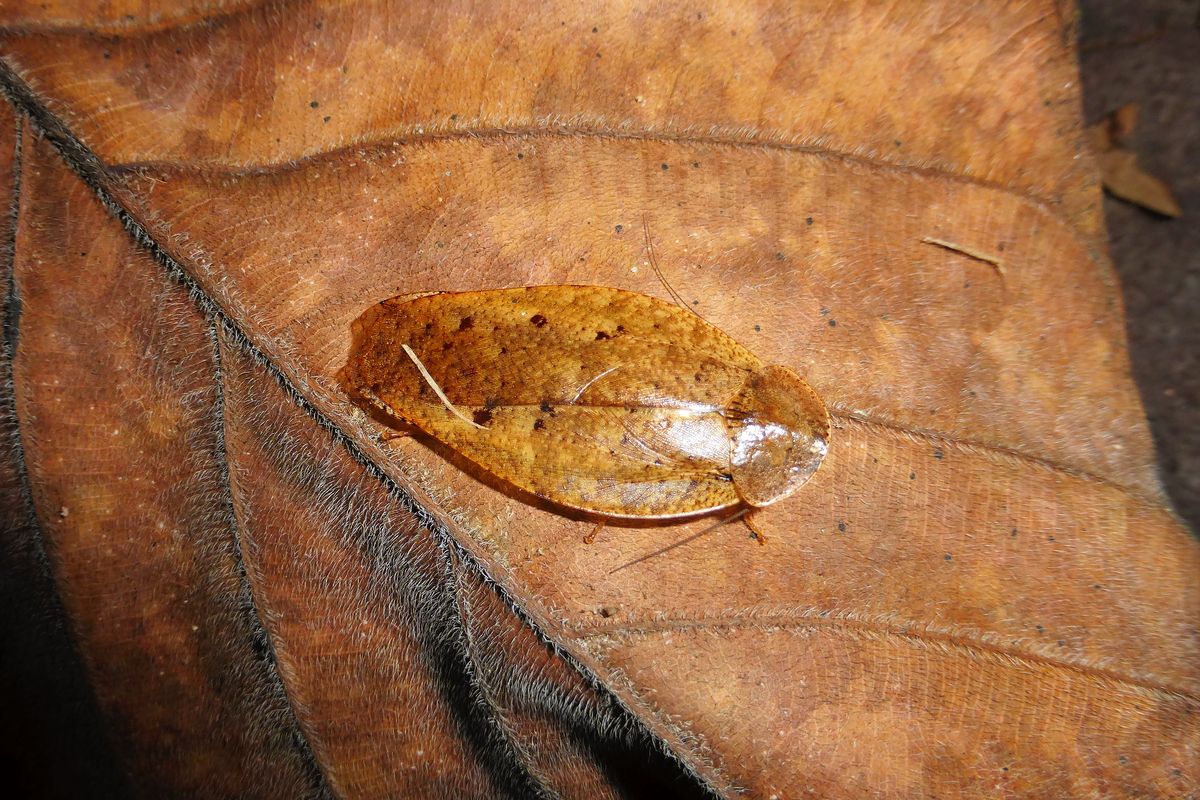 Still on the fence what exactly we saw in this spider web. A butterfly eaten away by the arachnid until only the frame was left?
Male tarantula. Lots of those on the roads this time of year, looking for babes to party with. Having succeeded, they die shortly afterwards.
This is the tiny nymph of a tree hopper (Flatidae). The adults look completely different, and a hundred-strong nymph congregation fuzzing up a tree branch is one of the more bizarre sights on an island rich in bizarreness.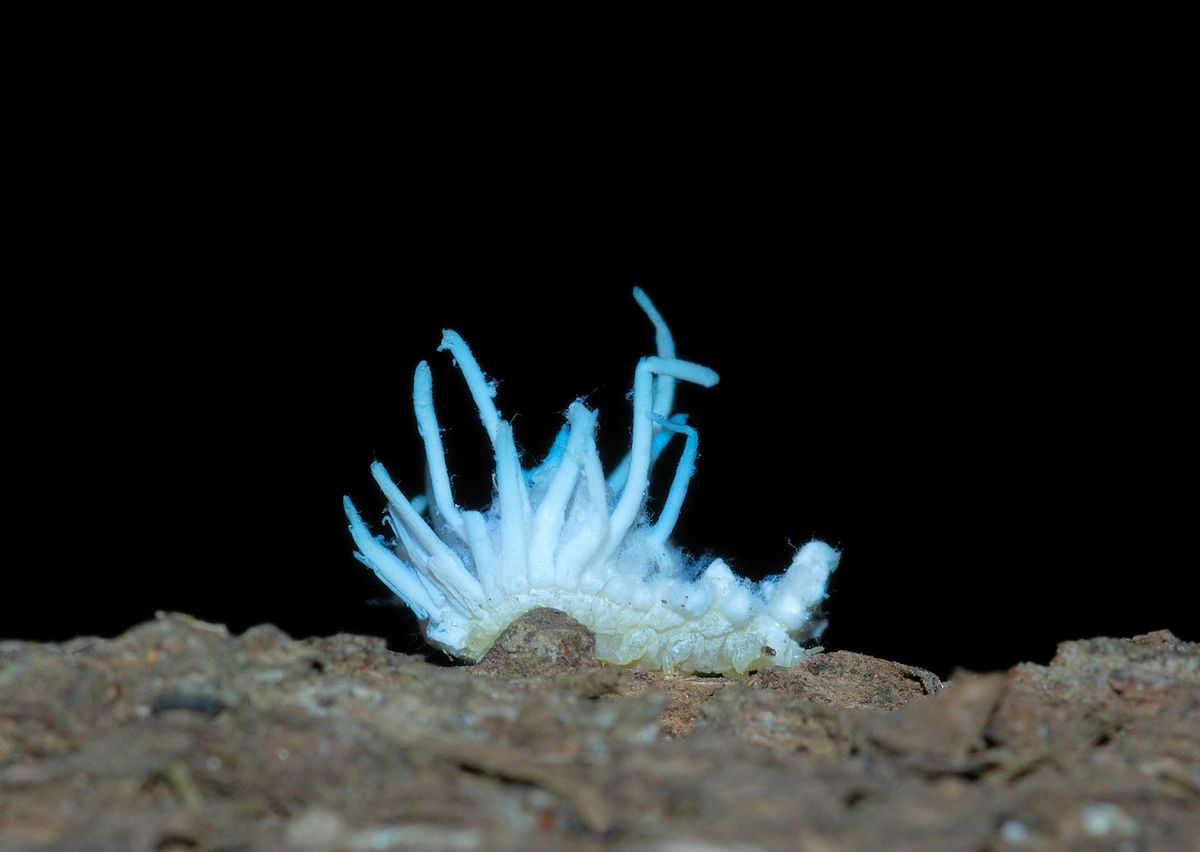 The primate gallery:
Whoever comes up with the best caption for these two bozos, wins a free guided one-day tour of Bako National Park, where they live (airfare and accomodation not included)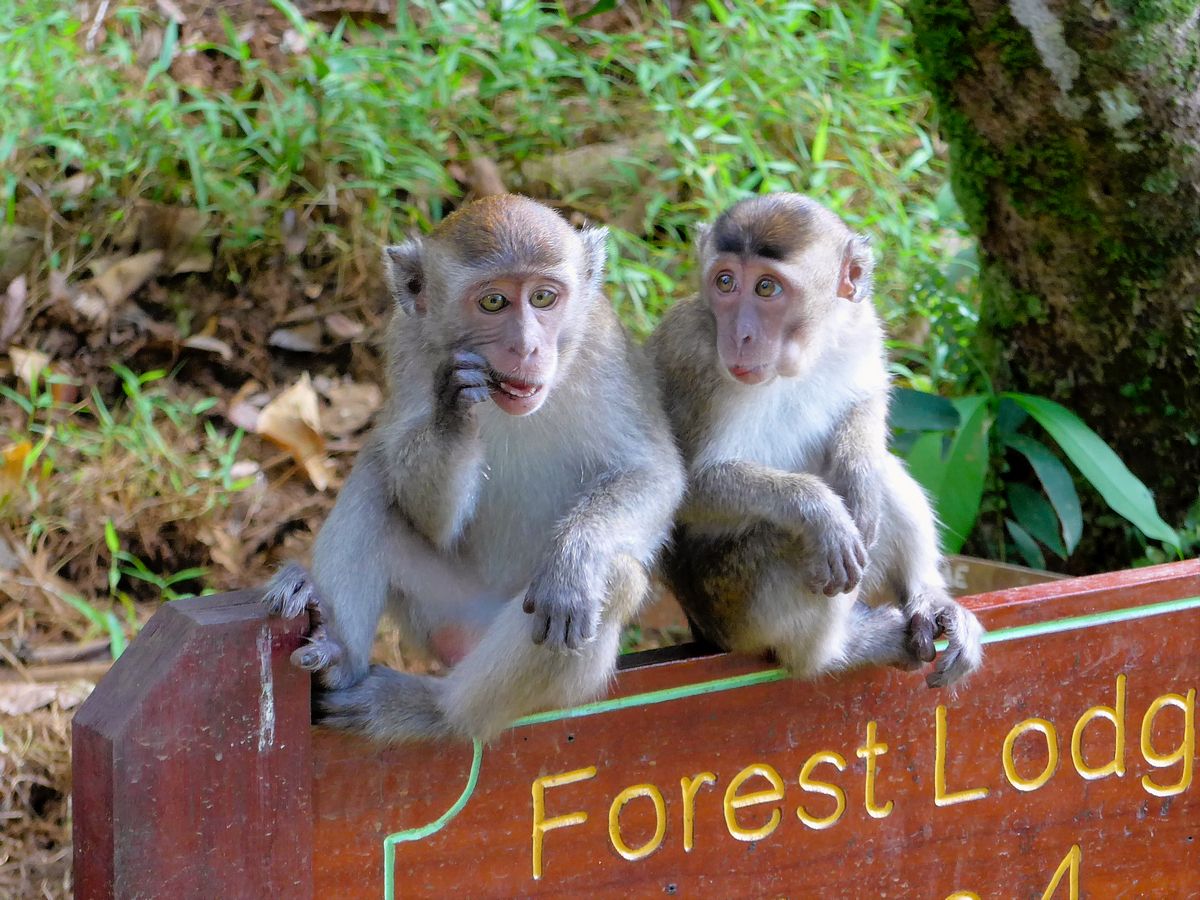 Another forest-dwelling bozo. After many years of photographing rather small things on the jungle floor, I've come to the conclusion that the main purpose of cammo shirts is to hide from your wife the mud and dirt you're covered in after such a session.
The reason the above-seen member of the megafauna was communing with the leaf litter can be witnessed here. These very small, but brightly scarlet fungi pop up everywhere in the forests around this time of year (
Hygrocybe
sp.?)
Also sprouting lustily this season are the gingers. My "Pocket Guide to the Gingers of Sarawak" tells us "The ginger family consists of more than 1200 species mostly growing in tropical forests ... Borneo alone harbors more than 200 species; the exact number has not been established." Tiny Kubah National Park alone is home to over fifty ginger species. As a closet botanist with a background in obsessive horticulture of tropical pitcher plants (Nepenthaceae), and a weakness for outlandish lifeforms, it didn't take long until gingers appeared on my radar. The two species here are fine representatives of a family that really knows how to let its freak flag fly. Hot-pink flowers the size and shape of pineapples, perching on seven-foot stalks that grow beneath 25-foot tall mother plants? Check. Alien landing craft in trippy colors that leap into your eyes from their brown-grey leaf-litter background like a 1968 Fillmore East light show? Check. And the list goes on ...
Torch ginger,
Etlingera elatior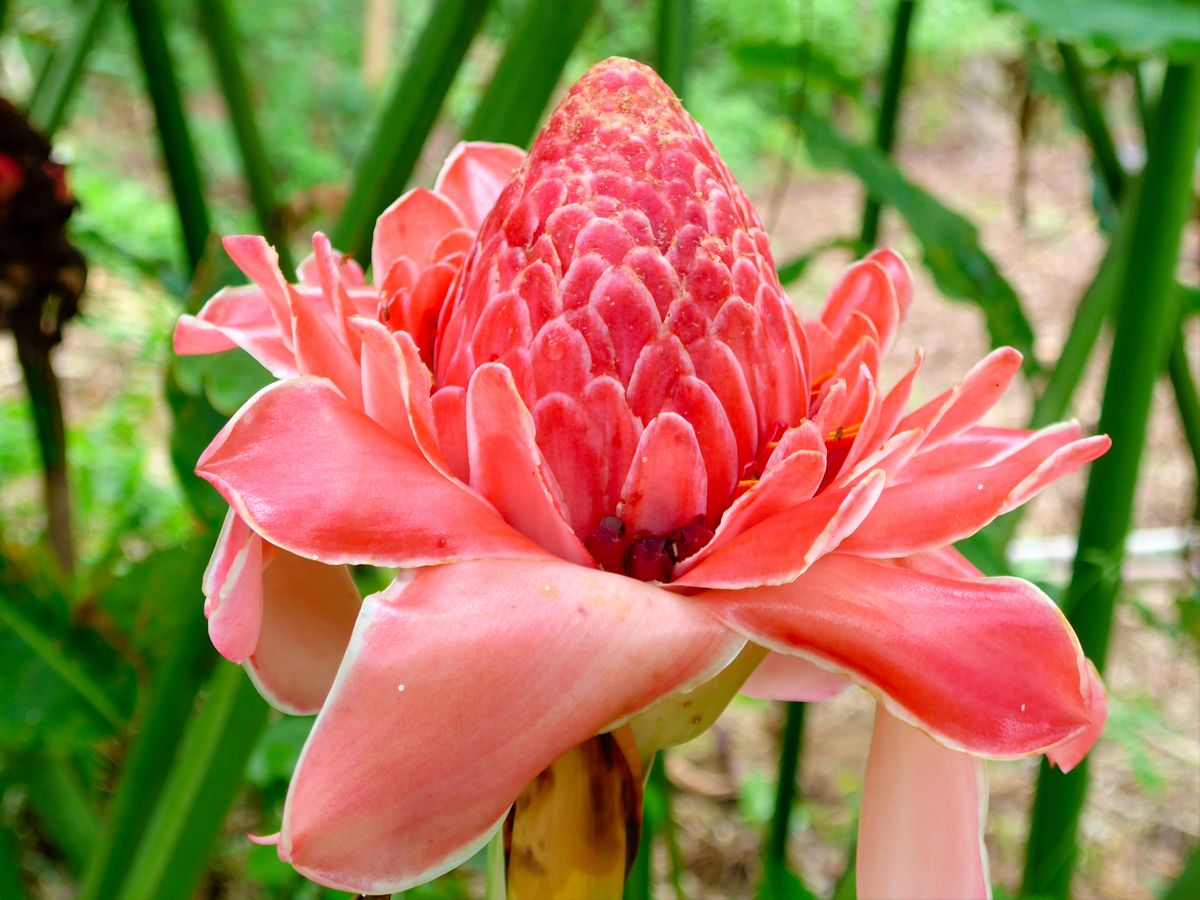 Etlingera coccinea
Another plant genus making the most of Spring are the bat flowers, the Goth demographic's favorite Valentine's gift. Here are two of the more common ones.
Black Bat Flower (Bat-head Lily),
Tacca chantrieri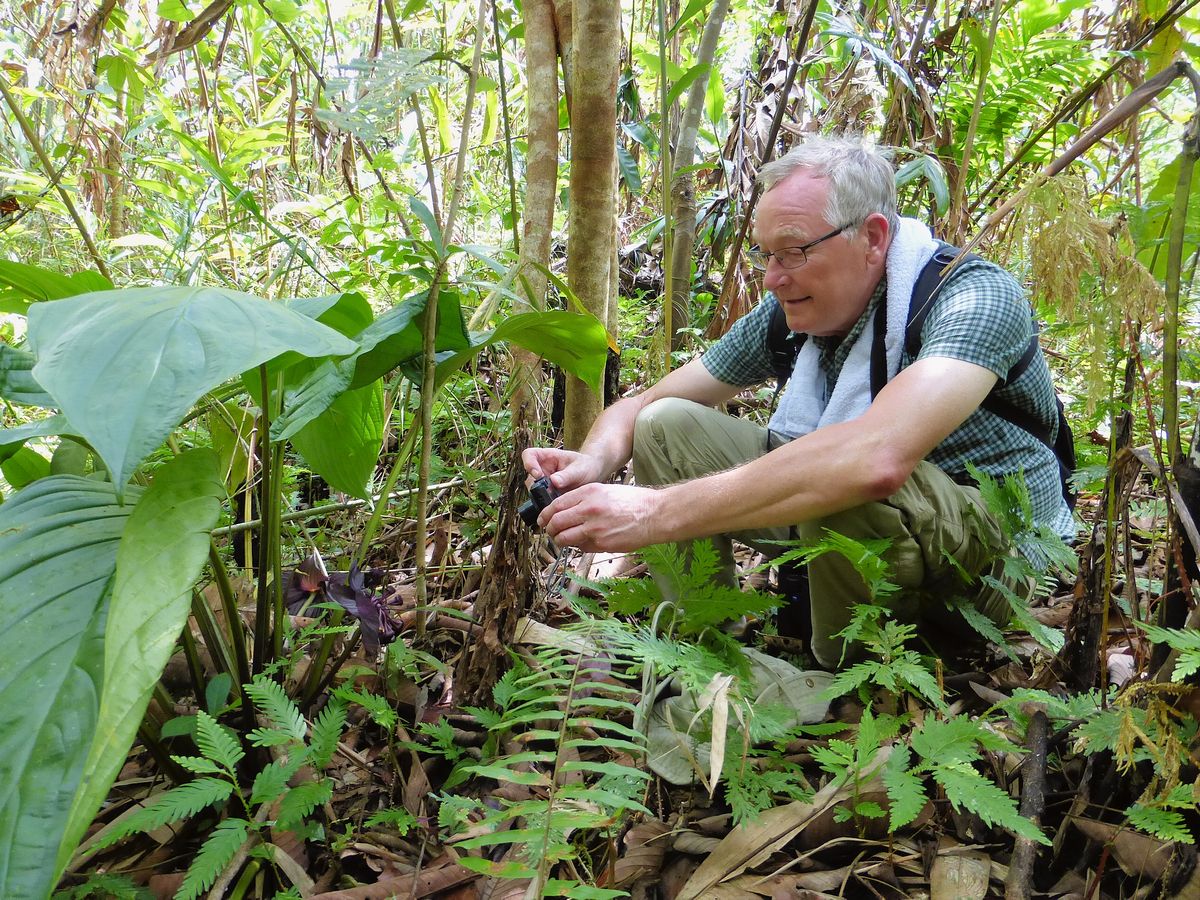 (Purple) White Bat Flower,
Tacca integrifolia
Back to primary colors now - this is a fruiting Belimbin tree (Jungle Starfruit,
Baccaurea angulata
) I don't fancy the fruit much, but the trees are a thing to behold.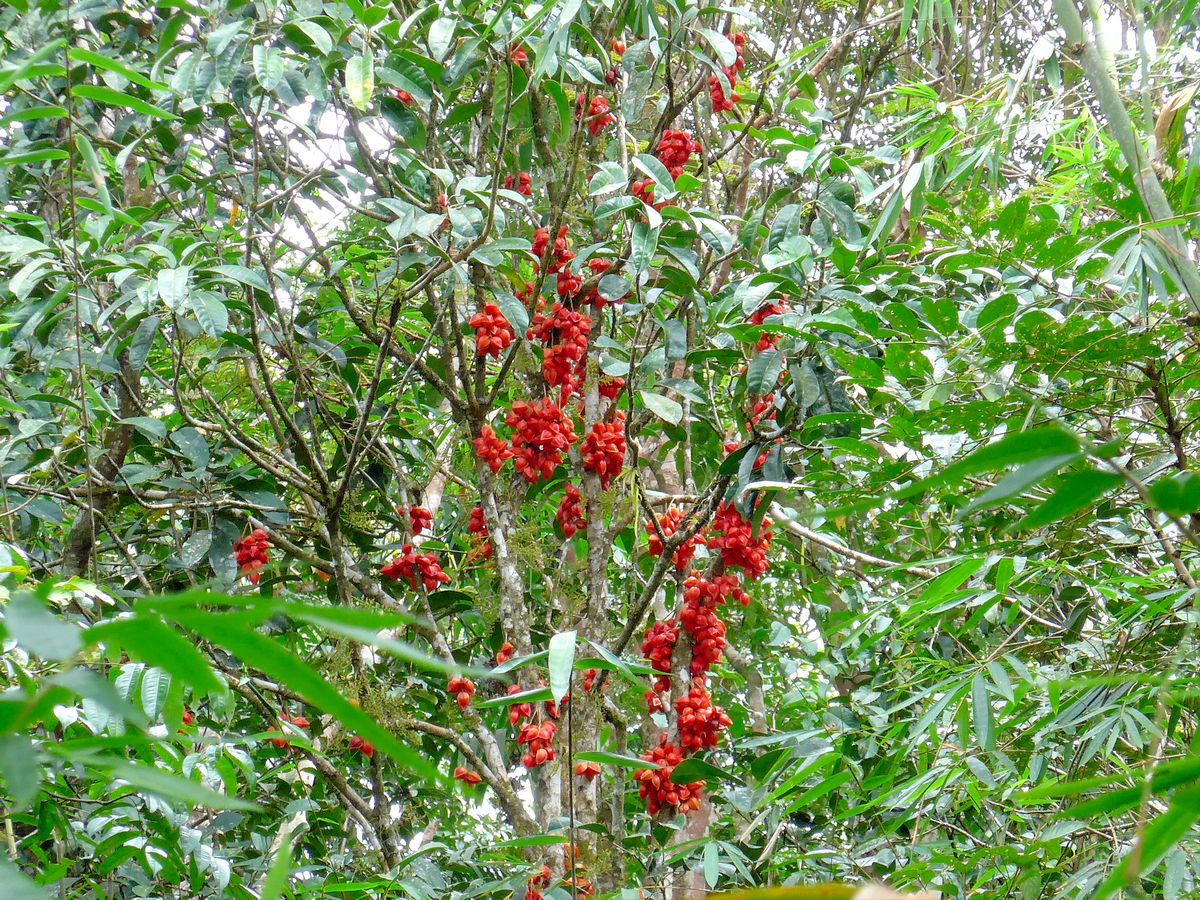 Jungle tree flower, no ID. I wish there were a field guide dealing with the trees of Borneo. Should be a fairly thin affair; there's only about twelve hundred species ...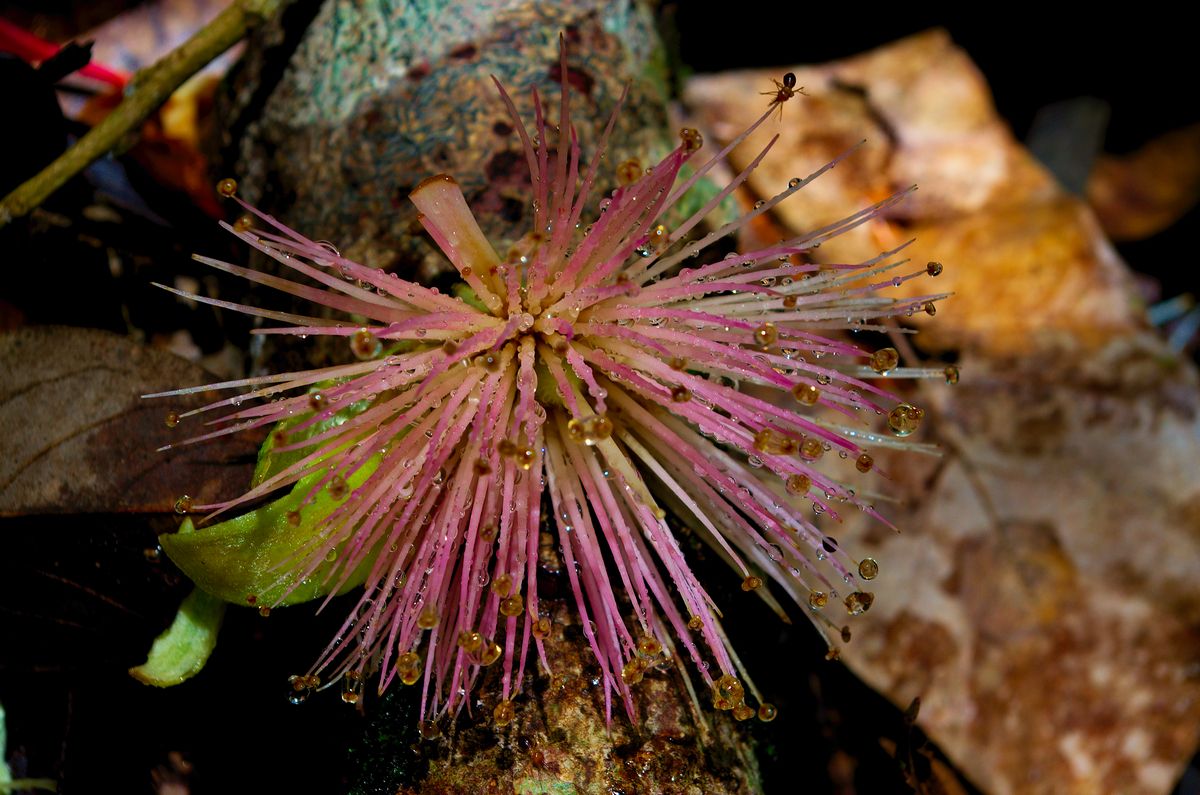 A very showy fungus:
Phallus indusiatus
, aka bamboo fungus, bamboo pith, long net stinkhorn, crinoline stinkhorn or veiled lady.
Many young leaves are red or pink before they turn green later in life. Theories about the reason for it abound. I like the one that says "most leaf-eating insects home in on the color green". Discuss!
Now, a few looks at many plants standing together. Some of them with water running through them.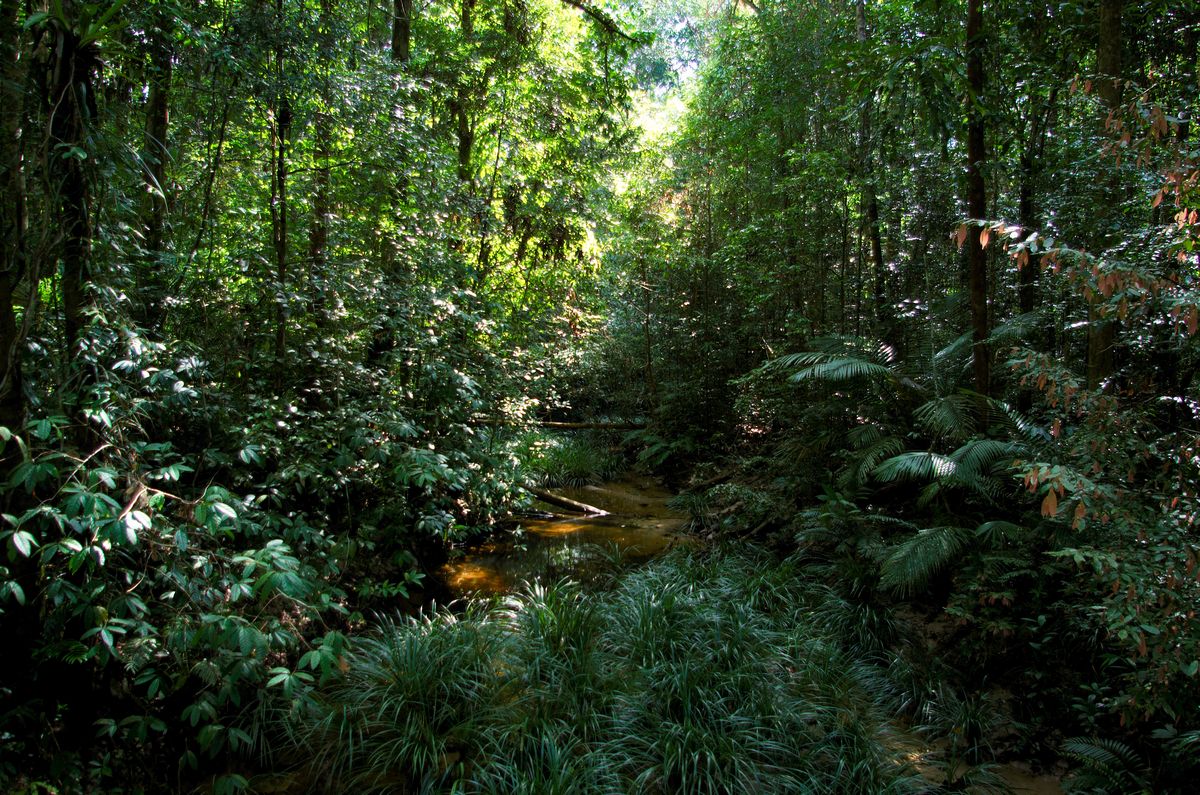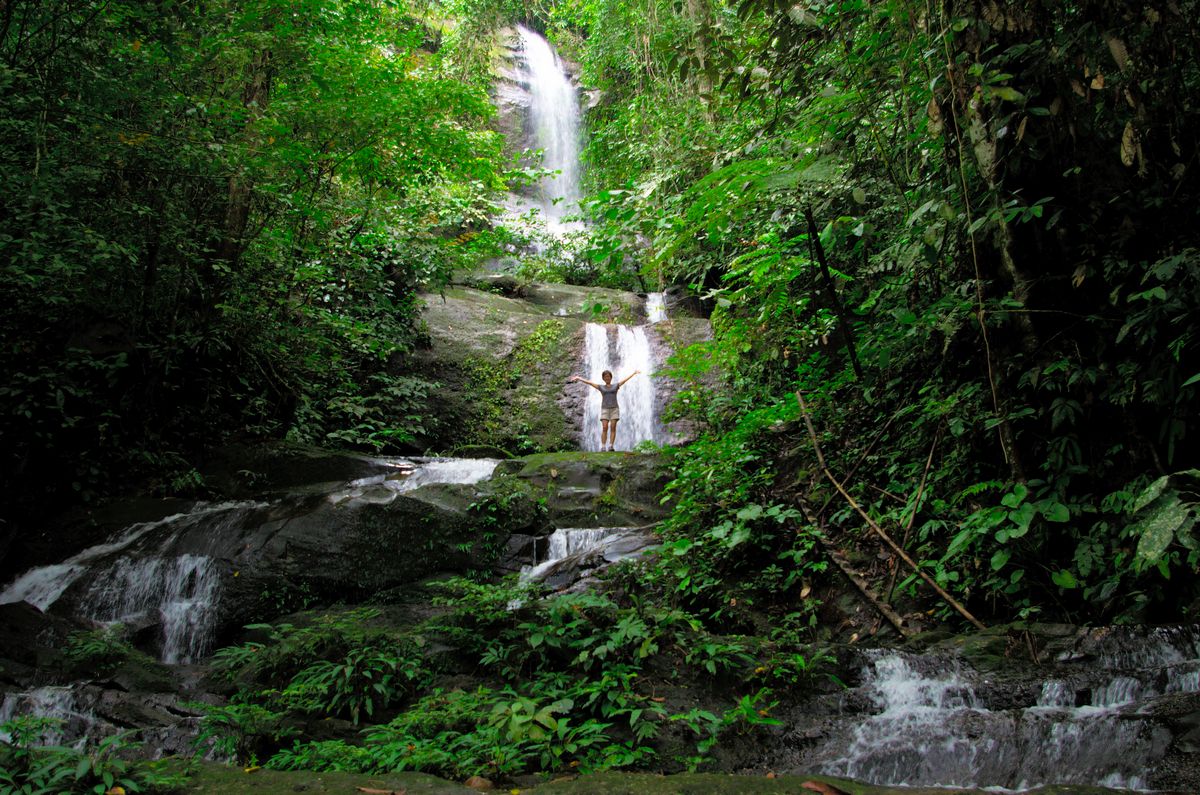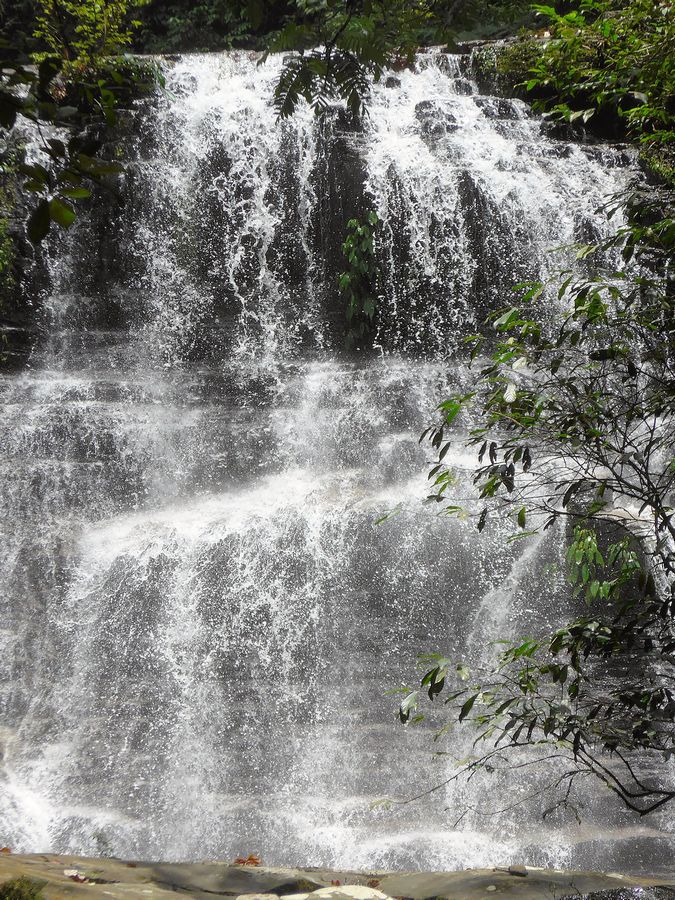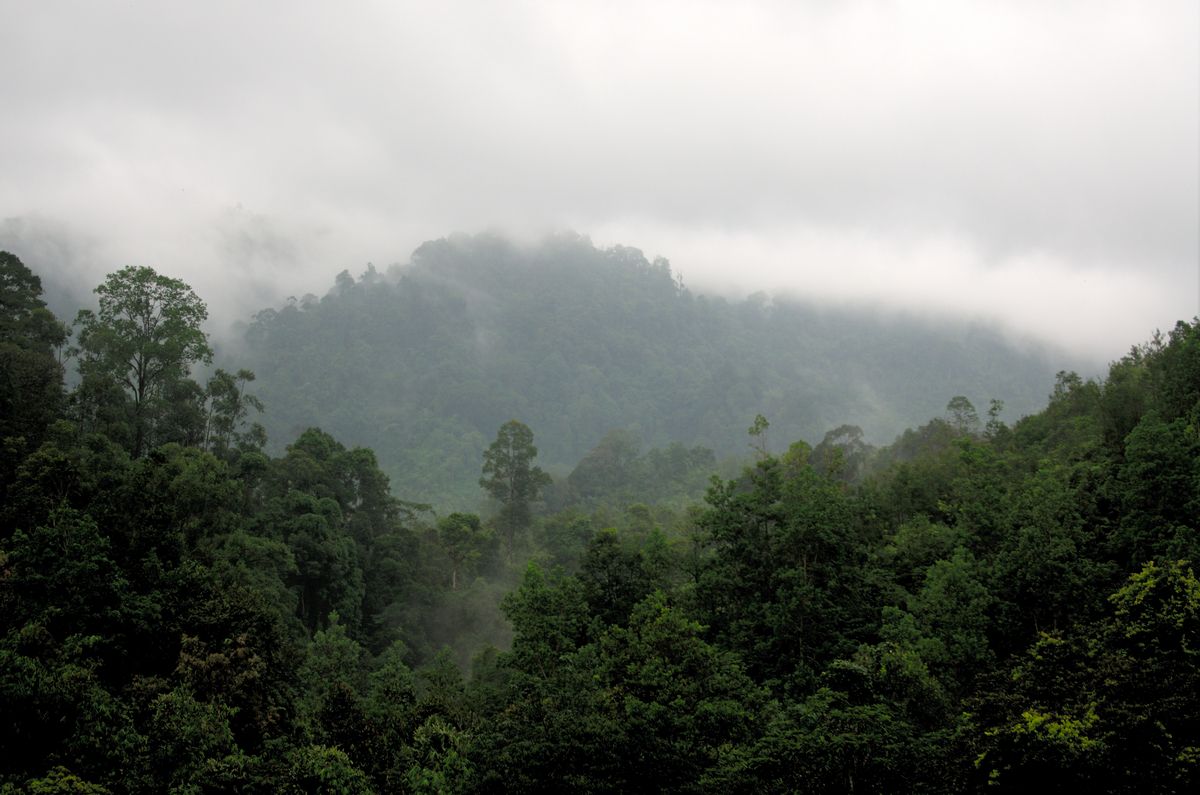 A couple of man-made things:
Typical jungle bridge (this is the Deluxe model. Usually there's only one pole for walking and another for a flimsy handrail)
A lady from the Bidayuh tribe returning home from the fields and forest. Regardless of age and gender, people never leave house without one of those rattan baskets (you never know what you find in the forest) and a machete (trail maintenance is up to the individual. Also, you might need to open a durian.)
Somebody shot a boar last night, and now it's being prepared and distributed among the villagers, for a little fee. This is a feral pig, not the local bearded
Sus barbatus
. That would be a protected species. Not that anyone gives a rat's tail - to Borneo's indigenes, there's no better eatin' than swine meat.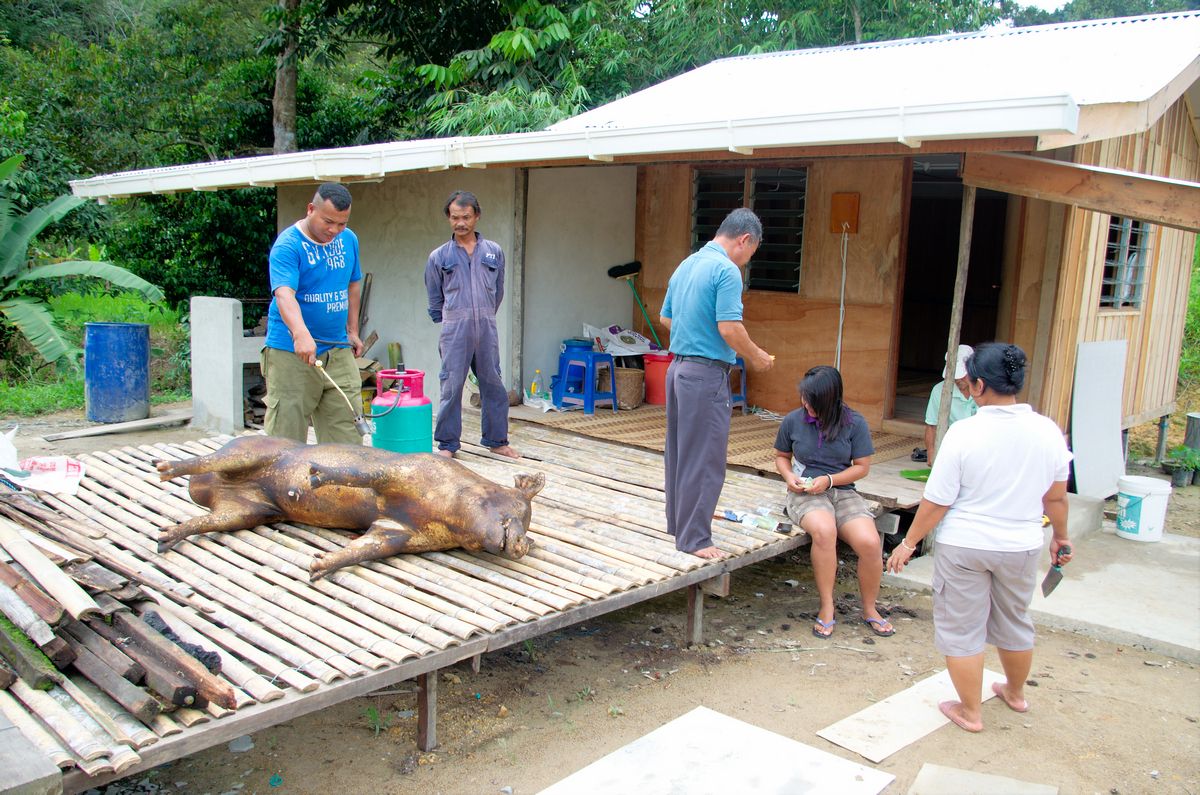 Life without elevators
And nowwww, what you've all been waiting for - the herps!
Great Angleheaded Lizard,
Gonocephalus grandis
. Photos not taken by me (that's why they're so nice), but by Ringo Wong, a Hong Kong herper who visited Kubah National Park with me and two of his buddies. The reason why I didn't take any pictures of this large and spectacular agamid - a species I've been searching for years to boot! - was that the bastard bit me in the thumb (the lizard, not Ringo) during my clumsy attempt to remove it from his sleeping branch, and bit me so hard that I couldn't get in the mood for photos, lifer or no.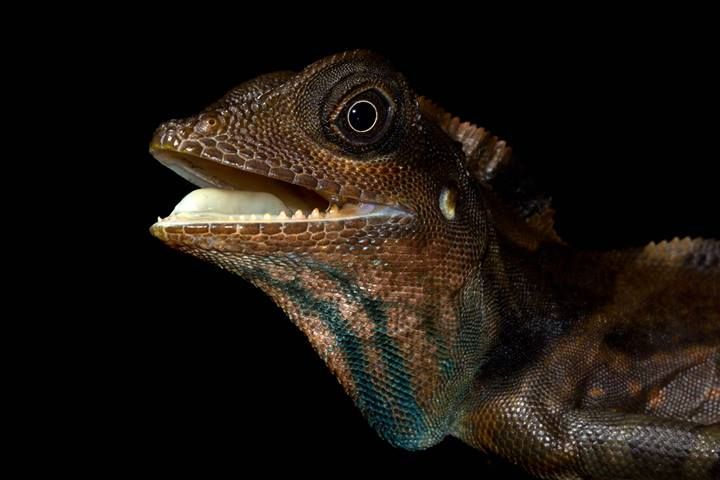 Another lizard, a little closer to home. Right outside my window, to be precise. I was standing in the kitchen, waiting for the coffee to percolate, idly looking out the window, when I spotted this rather peculiar stray animal searching for edibles out in the yard. Thanks to the kitchen windows being tinted from one side, I could observe him for ten full minutes, while he had no idea of my presence. This was a really rare opportunity, since
Varanus salvator
is so smart, shy and cautious that I've never been able to take any useful photos of the species.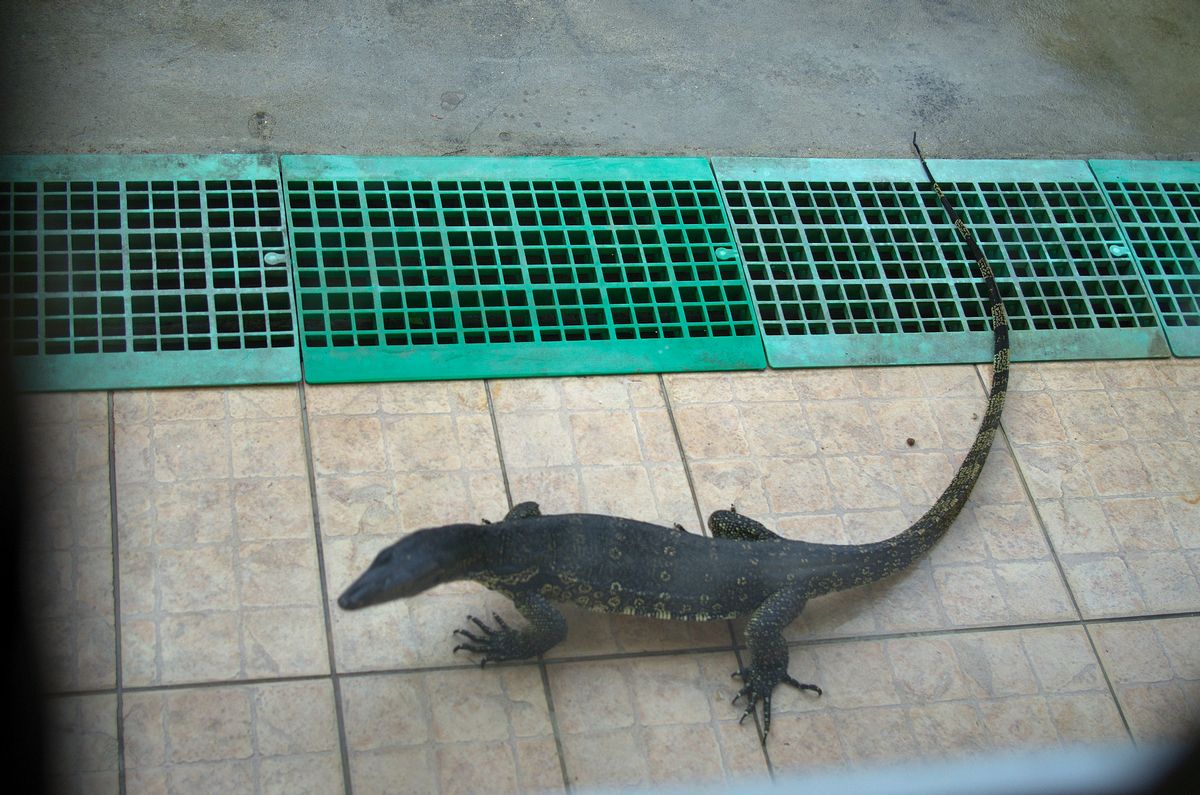 And lastly, my strangest herp find ever. This adult
Pseudorabdion albonuchalis
was found as shown here - dry-baked, dead, and in this peculiar reared-up pose - on the grassy roadside in the no man's land between Indonesia and Malaysia at the border checkpoint Tebedu. I'd love to know the story behind it!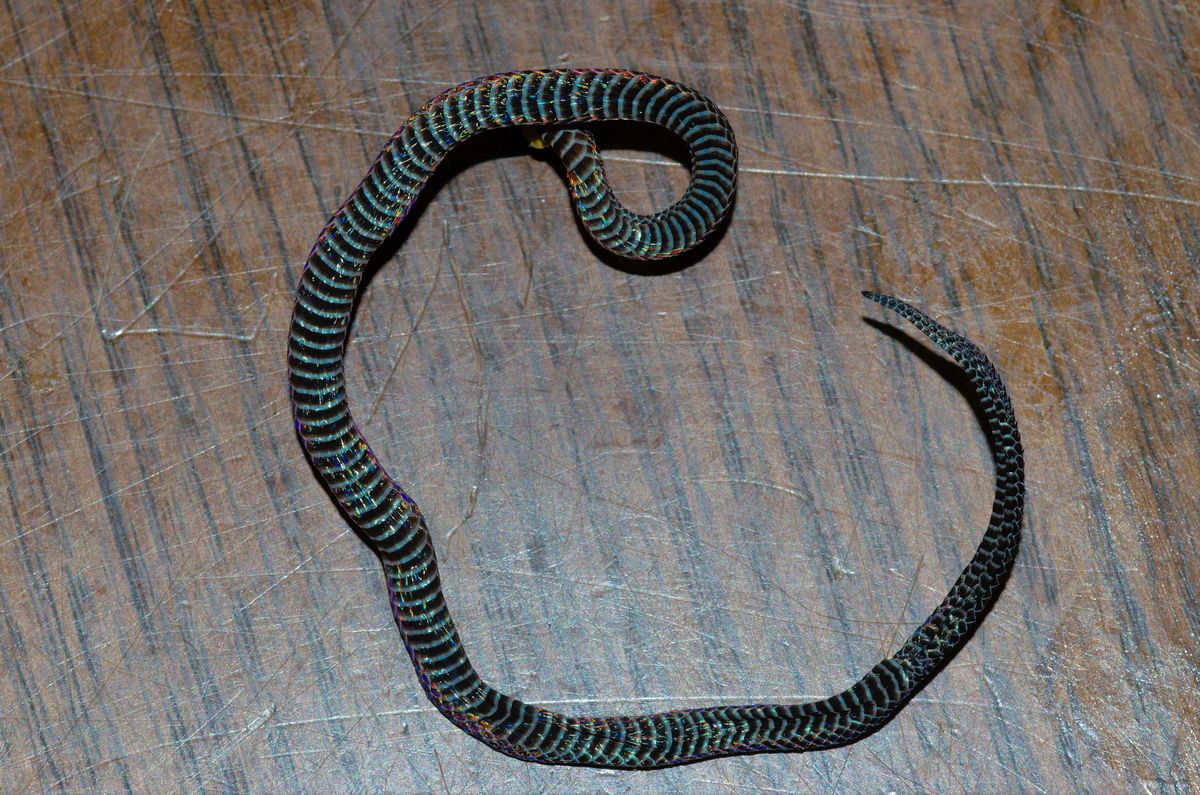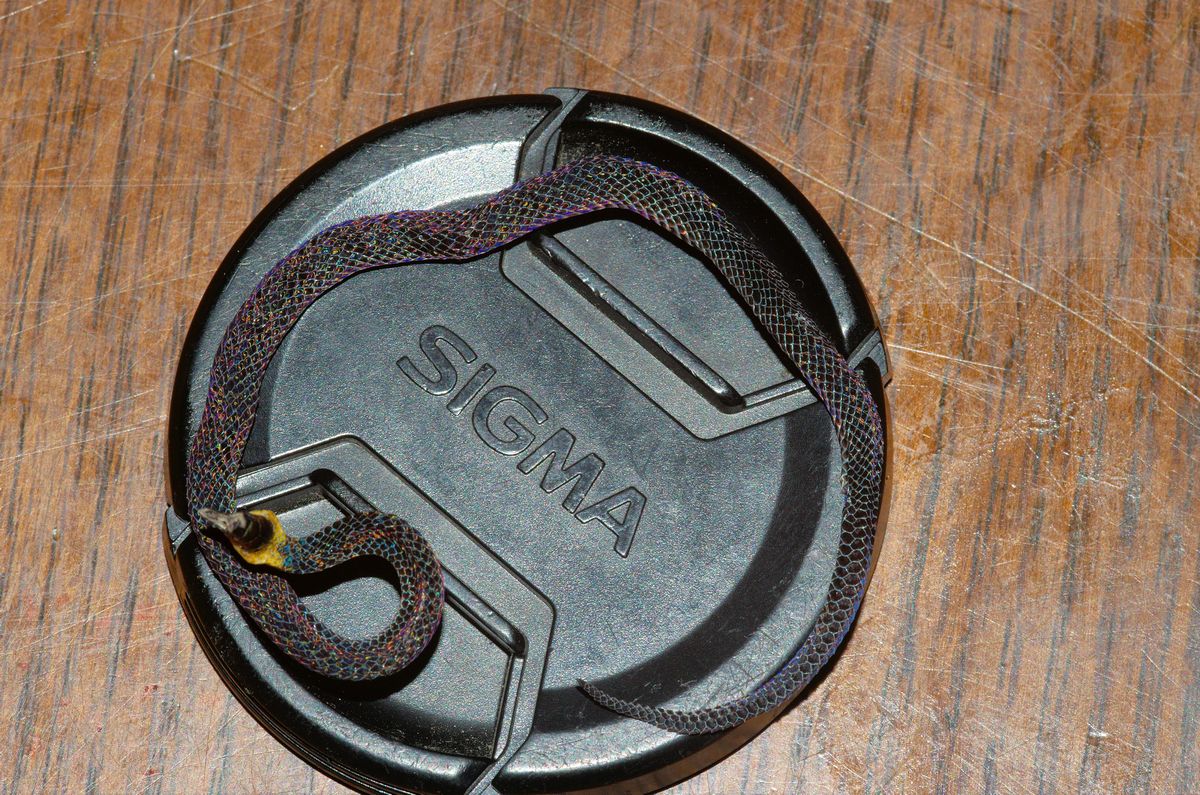 Special Extra Bonus Pic: the wizard who makes grown men weep, a.k.a. my favorite curry paste vendor at the Stutong Wet Market. At only USD0.30, one blob of mixed paste is enough for ten portions of roaring inferno. Just add lamb and potatoes!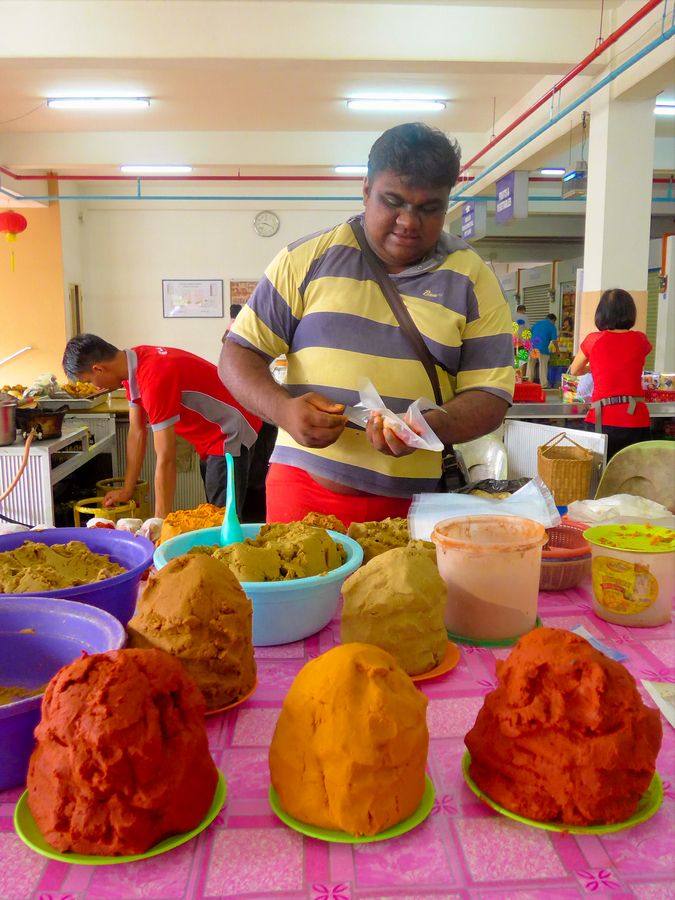 Soon to come: a full report on our trip to Mulu National Park, World Heritage Site and one of the greatest natural wonders in South East Asia, and a few pix of a nice Equatorial Spitting Cobra which we found roadcruising with Jason "ÜberHerper" Luke and one of his Oz mates.