I recently had the pleasure of taking Australian herpers Jason Luke and his buddy Mick Austen roadcruising here in Sarawak. It was the second time for Jason, but during our first trip in 2012, it rained like crazy and we saw so few snakes (less than none, it seemed at the time), that in the end he and his friends resorted to taking pictures of frogs (frogs!), just to take
something
home.
This time, luck had better things in store for the antipodean visitors. Granted, we found only one snake in two hours, and only a rather common Equatorial Spitting Cobra (
Naja sumatrana
), but according to Luke and Mick, finding a cobra -
any
cobra! - is the Holy Grail for Ozzie herpers, who have tons of large and nasty elapids to play with back home, but none that flip up their collars and do the famous Cobra Dance

It was a joy and a privilege to watch these guys work their magic. Cobras, even the usually sluggish
N. sumatrana
, often put on a dynamic show, and this one was no exception. But Luke and Mick brought years of herpetographical experience to the set, plus a great deal of creativity, and I relished my role of "making-of" documenter. As a result, these pix have more atmospheric than artistic value, but I hope Jason and Luke will swing by here and add some shots of their own - they're really good!

By the way, if I recall correctly, that black trashcan lid for snake control is part of the AHSFK (Australian Herper's Standard Field Kit). They all have it strapped to their backpacks ...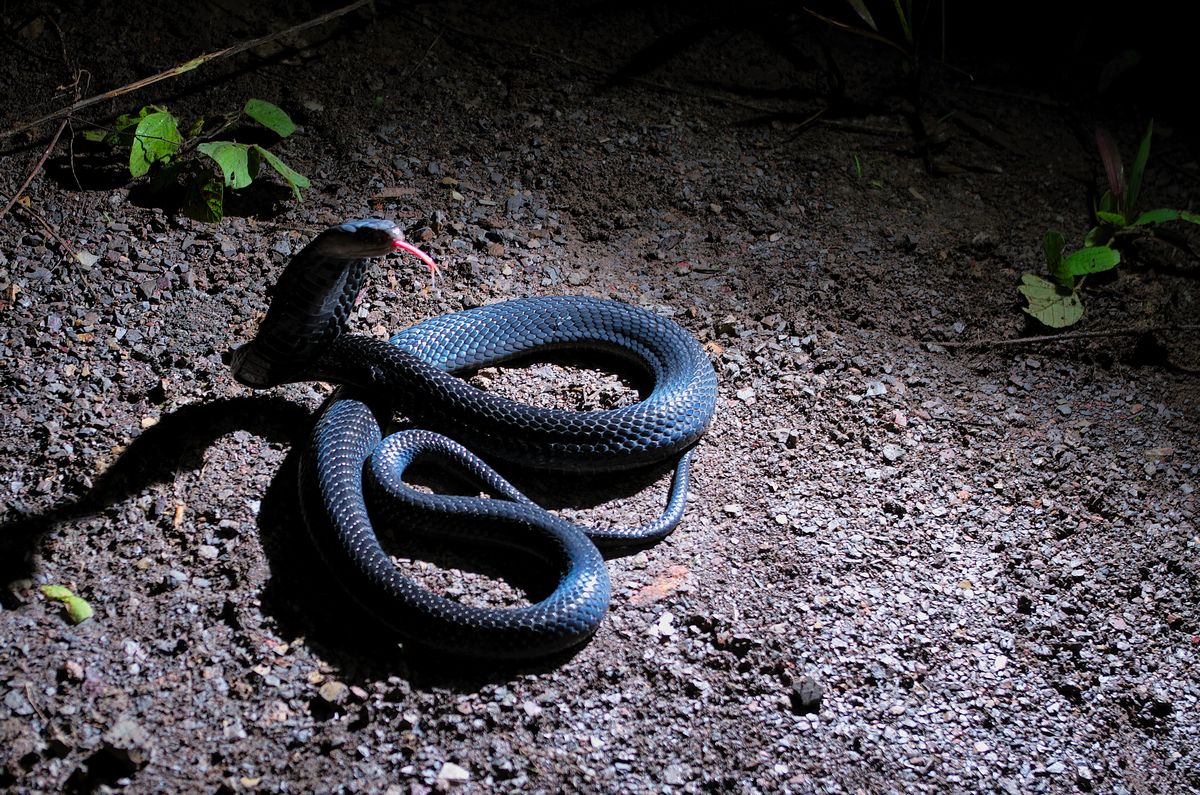 I really wish I had filmed this scene. This was the moment when the snake got so irritated by the constant shoe-waggling that he actually retreated backwards, in a straight line, head and hood up! Ten seconds later, he was still in the same pose, but four feet to the left. First time I've ever seen this mode of locomotion in a snake!!