"
Though I walk through the Valley of the Shadow of Death, I shall fear no evil, for I am the baddest motherf*cker in the valley
"
(Staff Sergeant Sykes,
Jarhead
)
That's most likely the notion little
Psammodynastes pulverulentus
would like to convey, and the English-speaking world has indeed rewarded it with the common name "Mock Viper". Well, it looks like a viper, and tries to act like one, too, but at the end of the day this snake is all hat and no cattle. Snakesoftaiwan.com reports "
It is an irritable species that will form defensive coils and strike in viper-like fashion when threatened. Its bite is strong and the animal will clamp down hard when biting
", but what do those guys know? While most Tea-Stripe Snakes (as the Chinese sensibly call the species) do initially display the whole smoke & mirror bit, they all will calm down very quickly and do not mind being picked up by hand and played with at all.
P. pulverulentus
tries to back up the show with a touch of venom, as this is a rear-fanged species, but "...as with most other rear-fanged species, not much is known about the Mock Viper's venom. There are no reports of deaths or severe bites, but there may be swelling, redness and aching muscles in the bite area."(ibid.) I personally haven't heard of anyone displaying these symptoms, however "the venom might contain some kind of anti-coagulant, because the bite wounds tend to bleed profusely."(ibid.) That's a neat trick, I have to admit, but the same goes for most Kukri snakes (
Oligodon
sp.), and it doesn't make
them
real vipers either.
P. pulverulentus
is widely distributed throughout Asia and "displays a very broad coloration range; some individuals are very dark chocolate-colored, others are reddish-brown, gray, yellow, or almost black. Some have hardly any head or body patterns, while others specimens show small spots or stripes."(ibid.) The subspecies
P. p. papenfussi
shown here is endemic to Taiwan and usually sand-yellow or yellowish-grey, with few body patterns.
The genus name is a result of one of the many nomenclatural confusions in Victorian times: "
(It) is derived from the Greek psammos = sand, and dynastes = ruler. These snakes, which do not live in sandy countries, were first placed in the genus Psammophis, a group living mainly in sandy, arid areas that could account for the unsuitable first part of the present name.
" (A Field Guide to the Snakes of Borneo, Stuebing & Inger, 1999).
OK, class is over - you can go now and play with your real snakes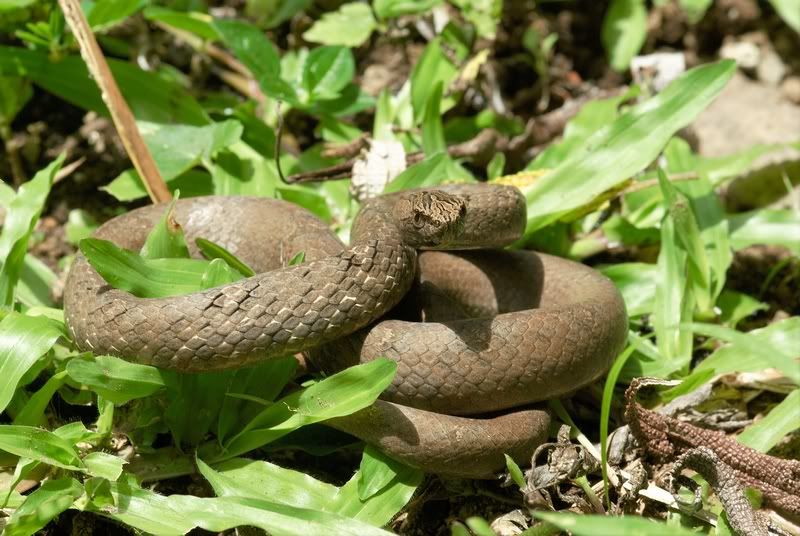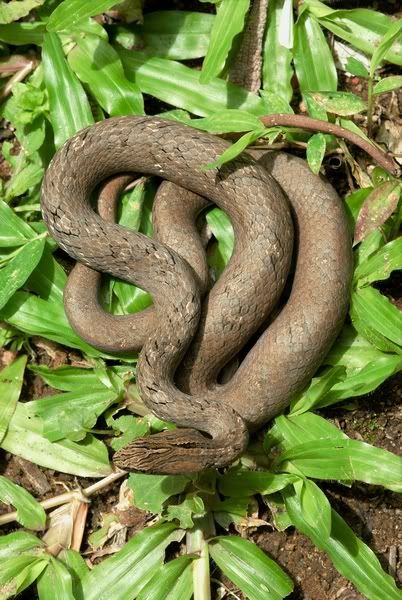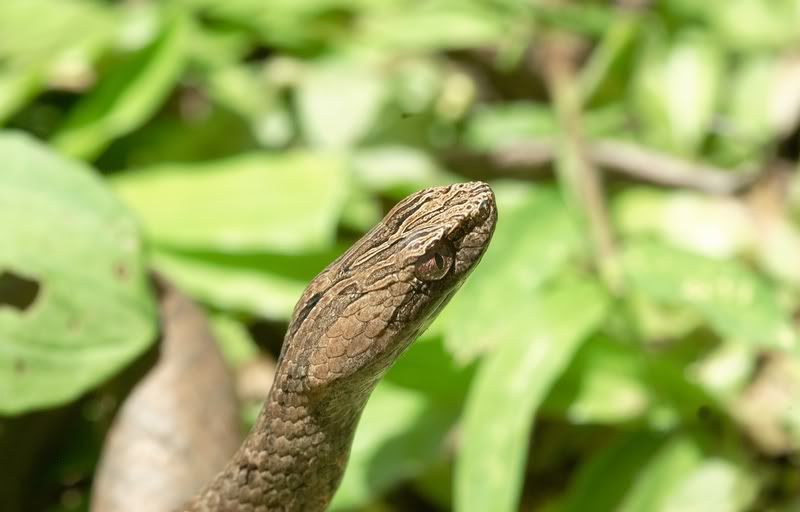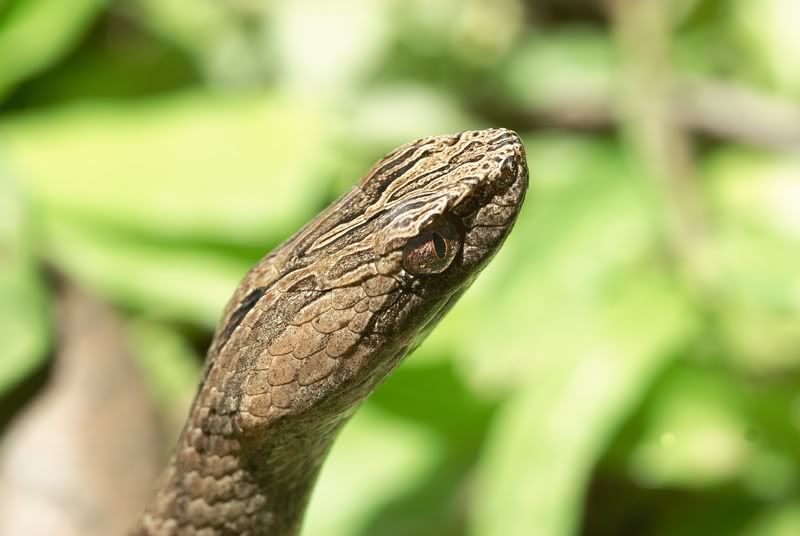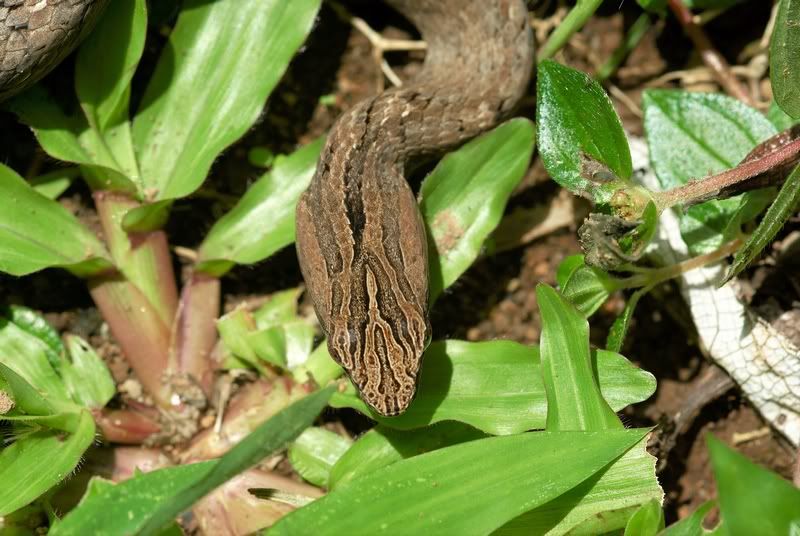 Ventral shot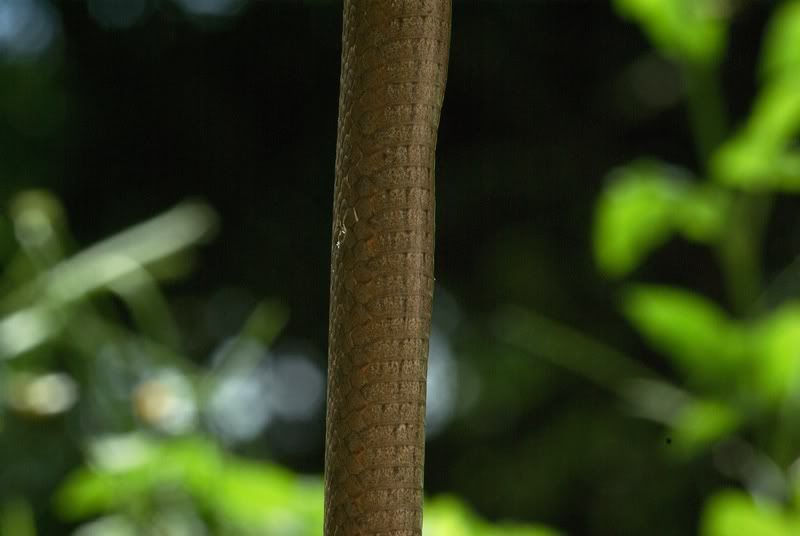 Uncle Twoton and his Merry Band of Snakemen (
in situ
, snake under pot)
And a Forest Cobra we spotted from afar...