Hey There Everyone,
I've been spending most of my spare time out in the field trying to check off the final few reptiles and amphibians on my San Diego County life list. I've also played host for some visitors to SD and herped just for fun with friends and family.
Here is a list of the species I've been searching for the most this year:
- Red-sided gartersnake (Thamnophis sirtalis infernalis)
- Peninsular banded gecko (Coleonyx switaki)
- Cope's leopard lizard (Gambelia copeii)
- Flat-tailed horned lizard (Phrynosoma mcallii)
- Sandstone night lizard (Xantusia gracilis)
All of these have proven to be very difficult for me to locate, but I have seen a couple of them so far. Along the way, I've found and photographed a wide diversity of other, more common herps. I haven't shared many of my photos since the end of February, so this post ended up being extra long. I've tried to put everything in chronological order.
Hope you appreciate at least a few of the photos!
March
Imperial County desert trip with my close friend Dave P. and our four kids…
Early-season search for Cope's leopard lizard…
Legless lizard
Western skink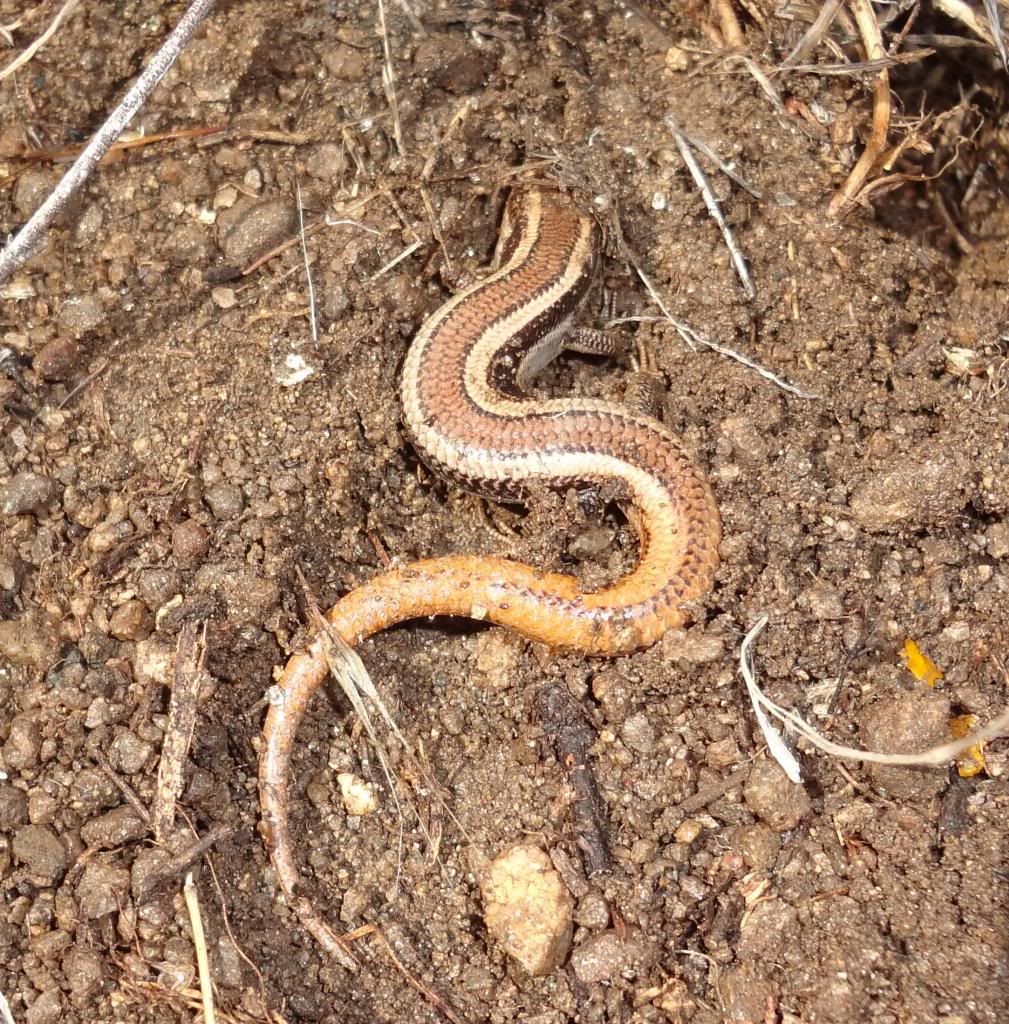 Ring-necked snake
Searching for red-sided garters in northern SD County…
Legless lizard
This small gophersnake was the first snake I found on the crawl this year
Nice-looking fence lizard
Herping my favorite coastal canyon…
I found this California glossy snake under a large piece of bark I laid out last Fall
It was buried in the sand and I only found it after I grabbed for a Gilbert's skink that bolted into a small hole. The glossy was only about 8" from the hole, and I accidentally uncovered it while sifting for the skink.
Here's a different Gilbert's skink that I found a little later on that day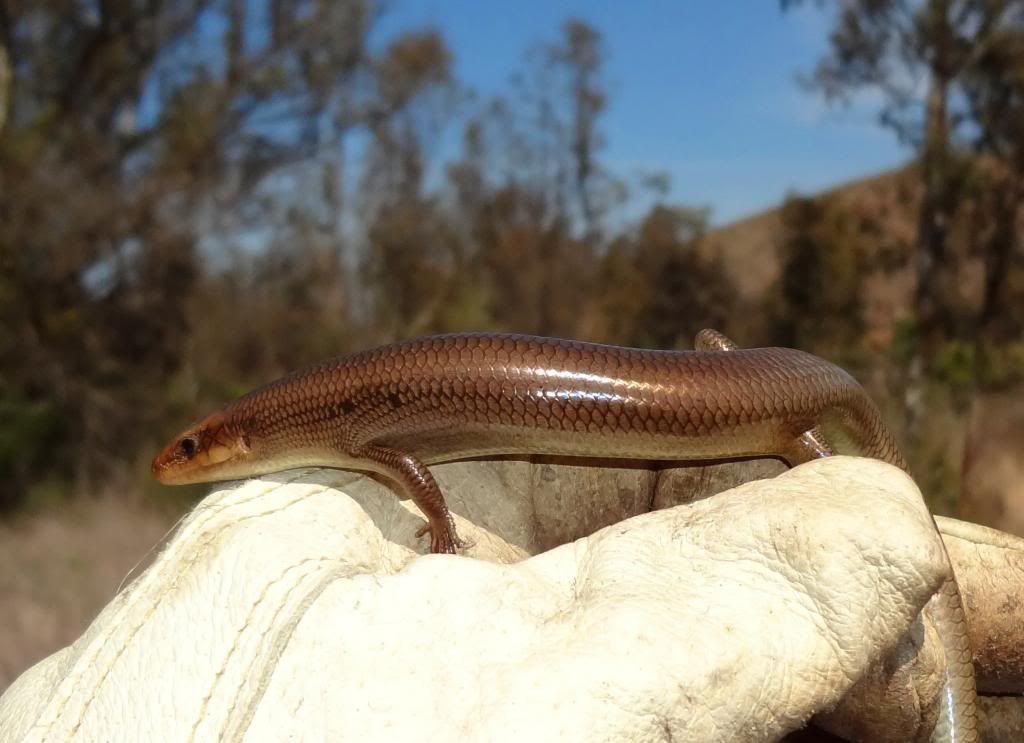 Herping southern SD with Will F. and both of our families…
Brady's still learning how to properly hold a snake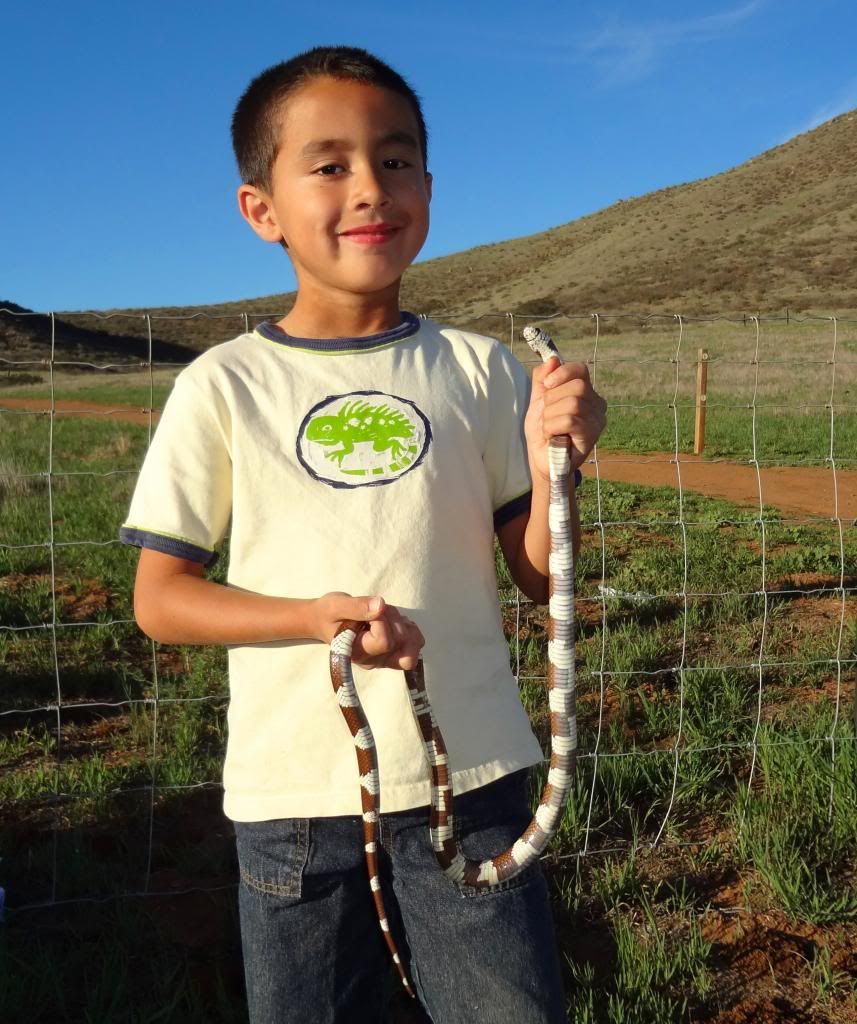 Here's the king posed on a rock
Alligator lizard in the grass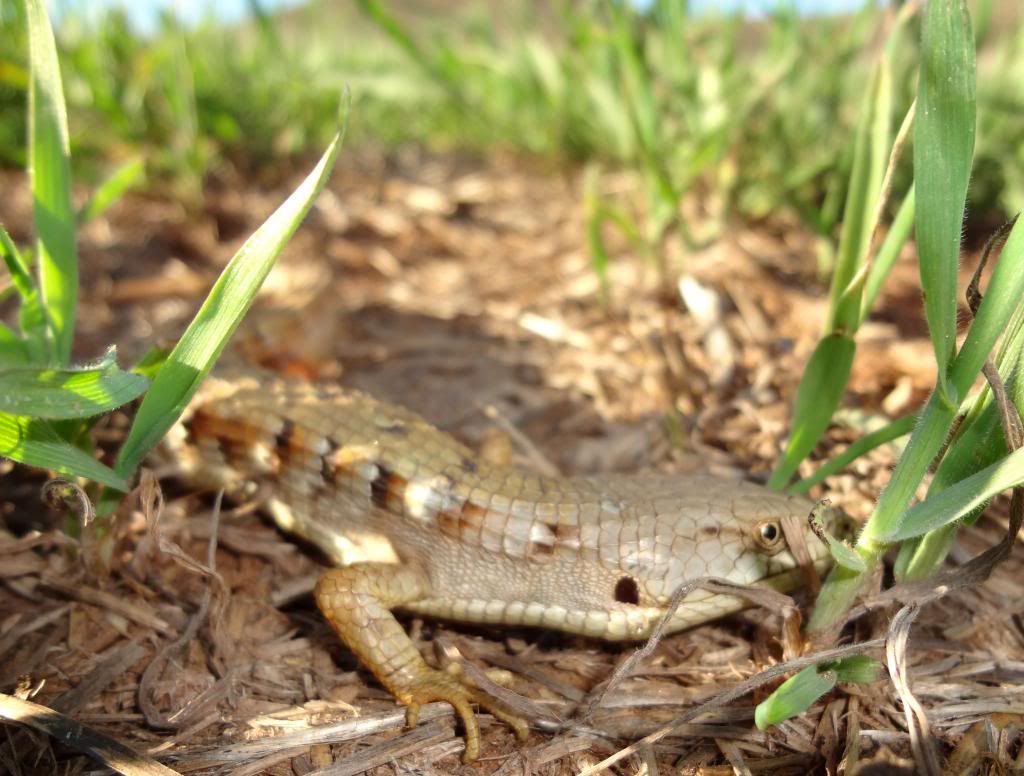 A black-headed snake
Road side red diamond rattlesnake
Herping southern SD County with Nate S. (Nature Nate) and Will F. (Fieldnotes)…
Habitat shot of our first stop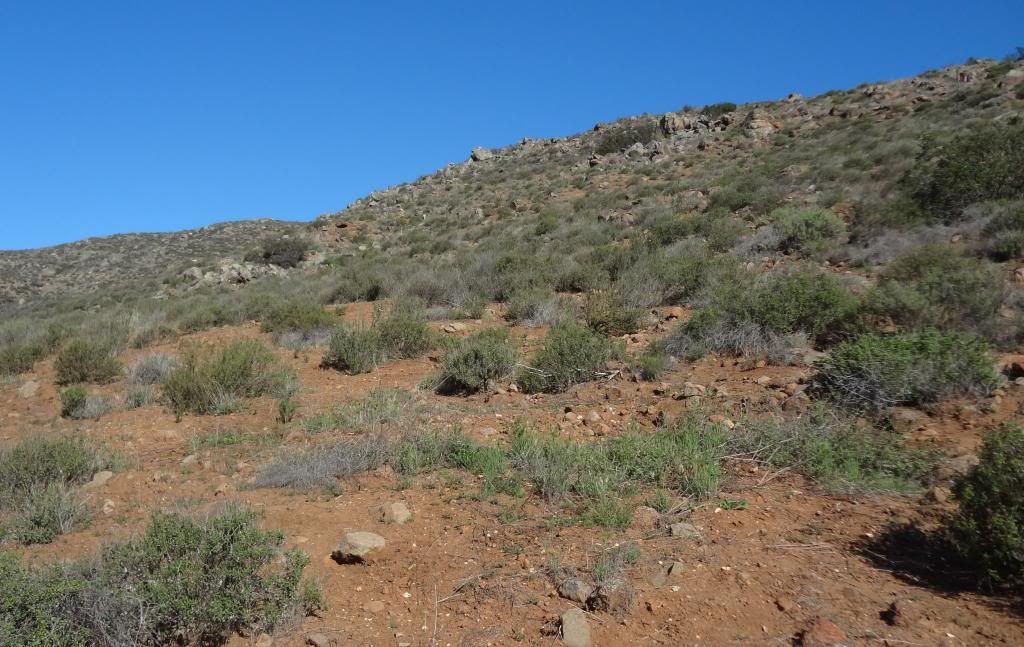 This SD banded gecko was one of our main targets
My best-ever photo of an orange-throated whiptail!
We found a legless lizard and a gopher snake at our second locale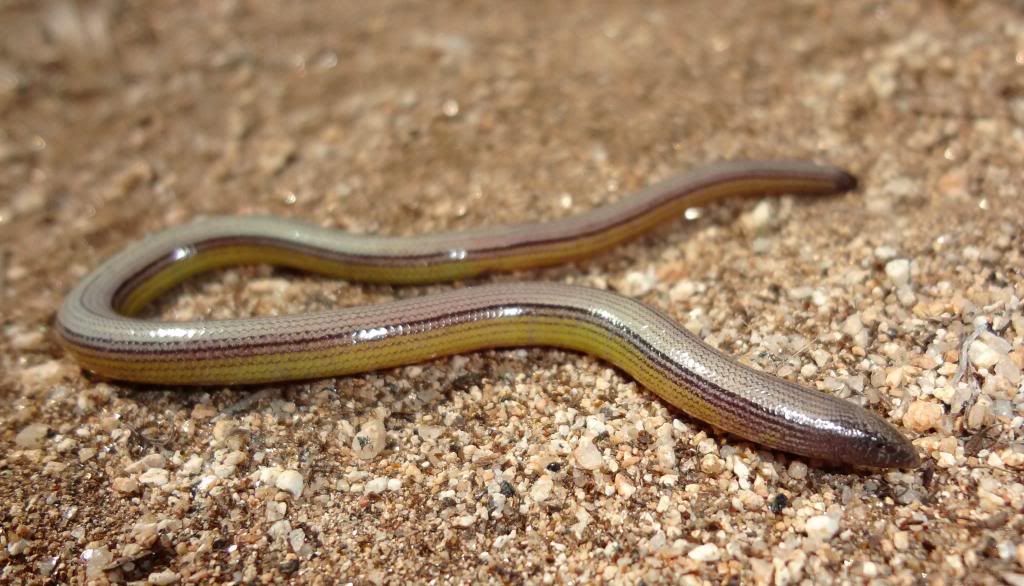 Will and I camped overnight in the desert, while Nate had to return home in the PM.
The next few photos show the habitat where Will and I searched in the morning, without much luck
A quick day trip to the mountains…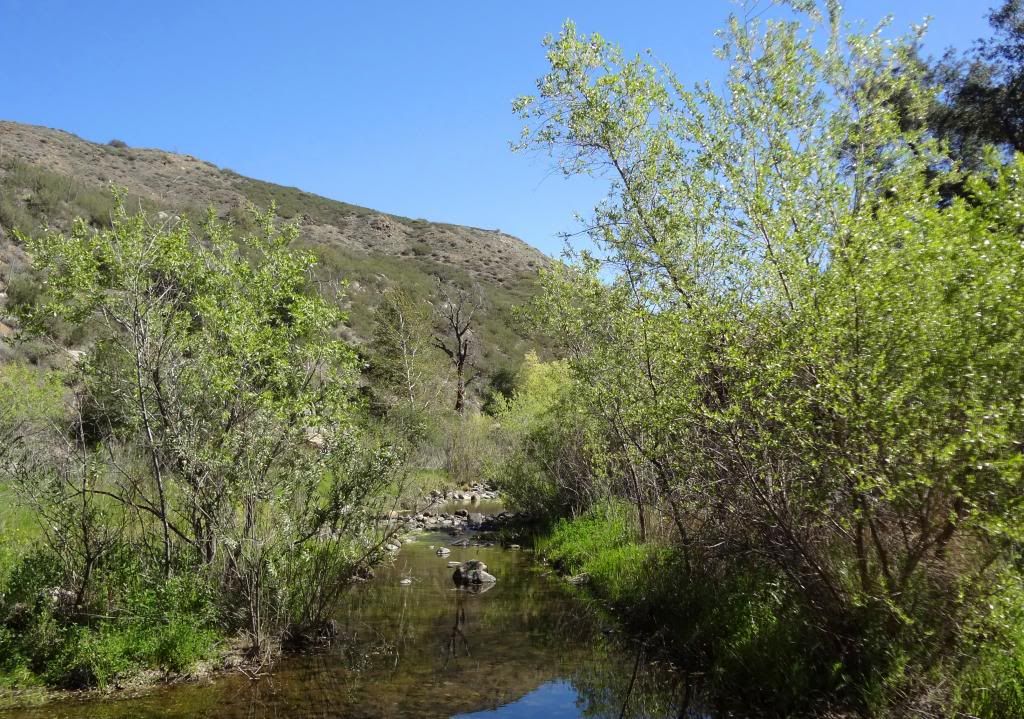 Pair of black-headed snakes
Then a third one only yards away
Plus a striped racer
Clearing the stables…
I moved these two small helleri out into the hills and away from the horses
This one was already at a safe distance, so no need to bother it
An afternoon down in " SeedRow"…
Spadefoot tadpole
Small kingsnake
Coiling nightsnake
Long drive through the County…
This little migrant had just crossed the border from Mexico
My first of many road-cruised shovel-nosed snakes this year
A desert banded gecko
Intergrade Sonoran/San Diego gophersnake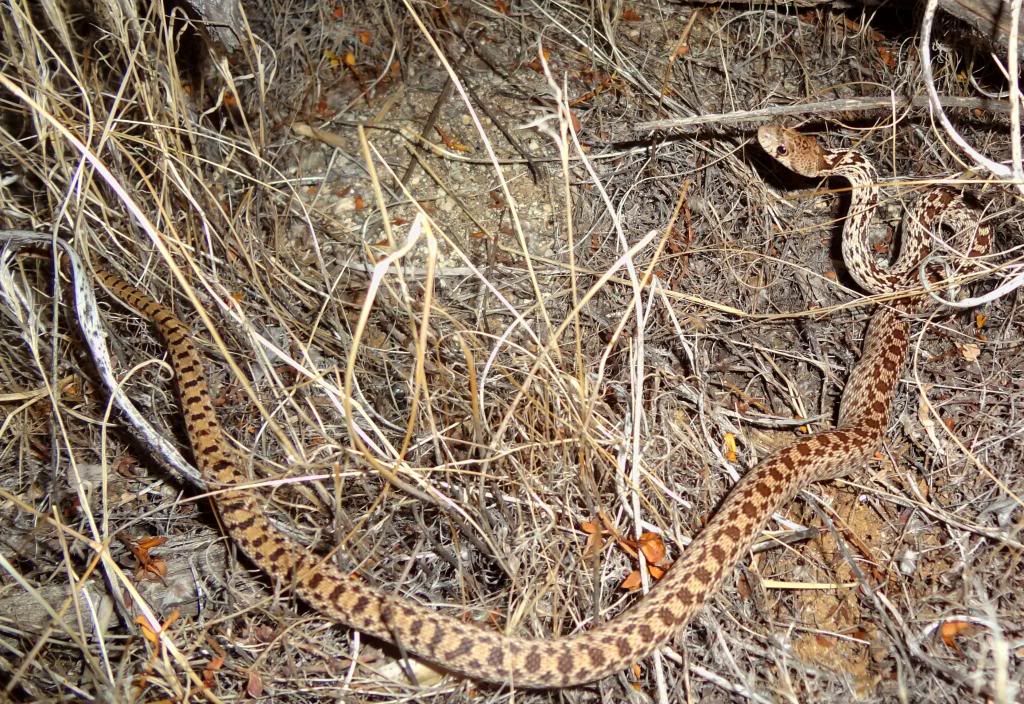 Back at my favorite coastal canyon again…
Alligator lizard closeup
Red diamond rattler as found crawling through a bush and over a rock
It took a few years, but I finally found a rosy boa here!
Exploring the mountains in northern SD County…
Baja CA treefrog swimming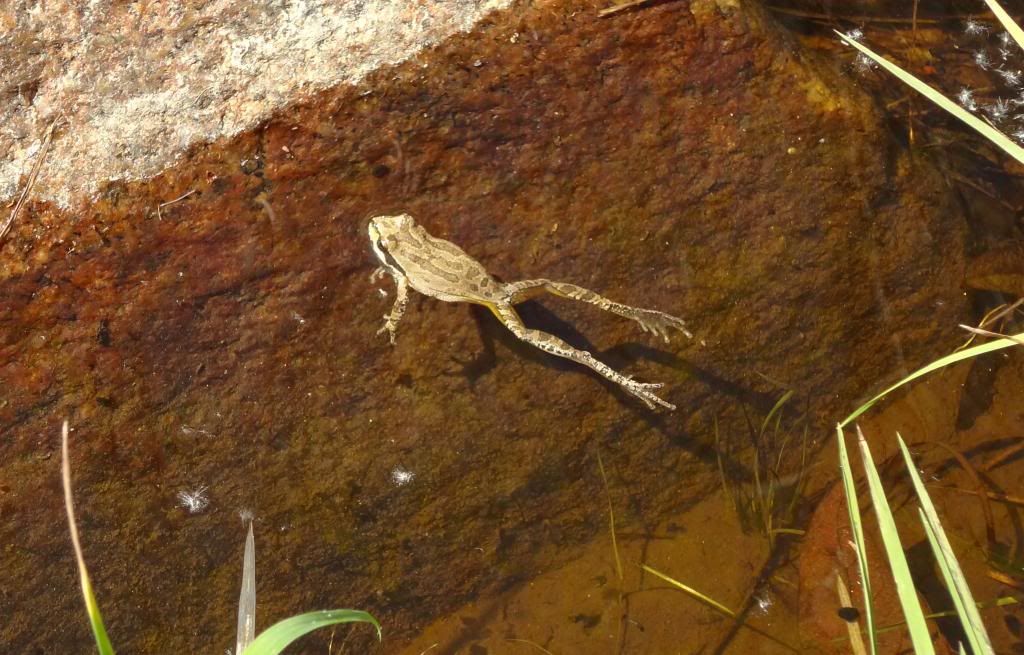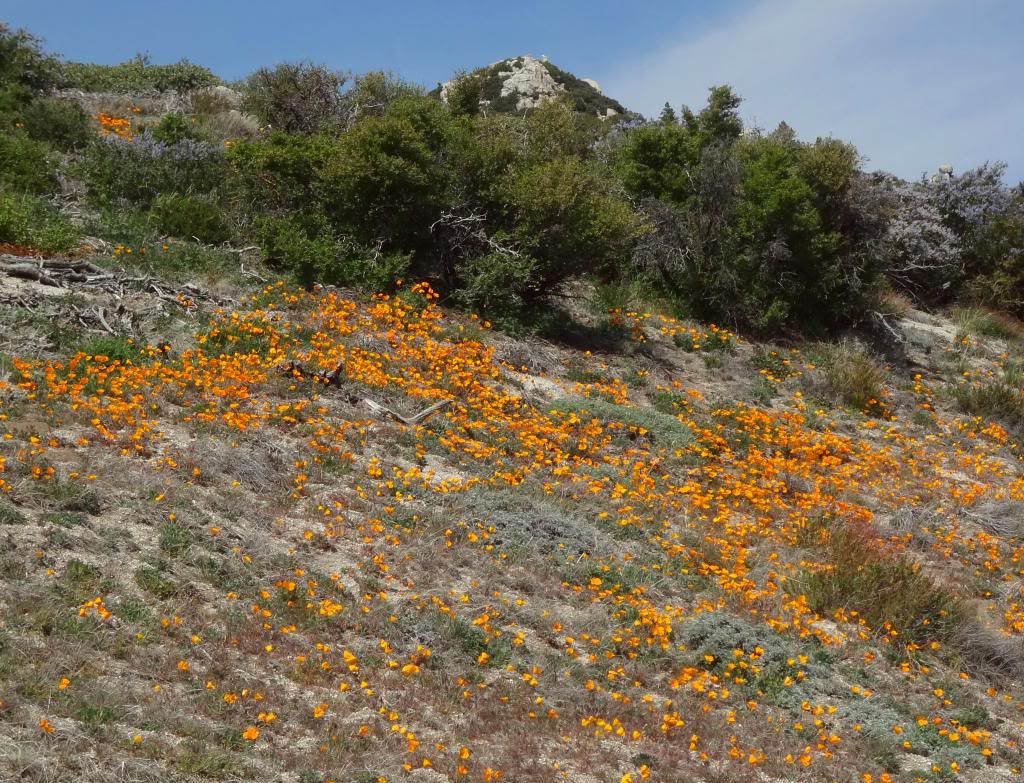 Sagebrush lizard
Nice, big 'gator lizard, as found
April
Berdoo Boys Birthday Bash – San Diego edition…
Jim B. (Hellihooks) and Josh C. (GeckoGuy) get together every year on their shared birthday for a full day of herping. My b-day is only two days prior to theirs, so I offered to show them around and help them look for their lifer San Diego mountain kingsnakes and large-blotched ensatinas.
Here's Josh and Jim with the first mountain king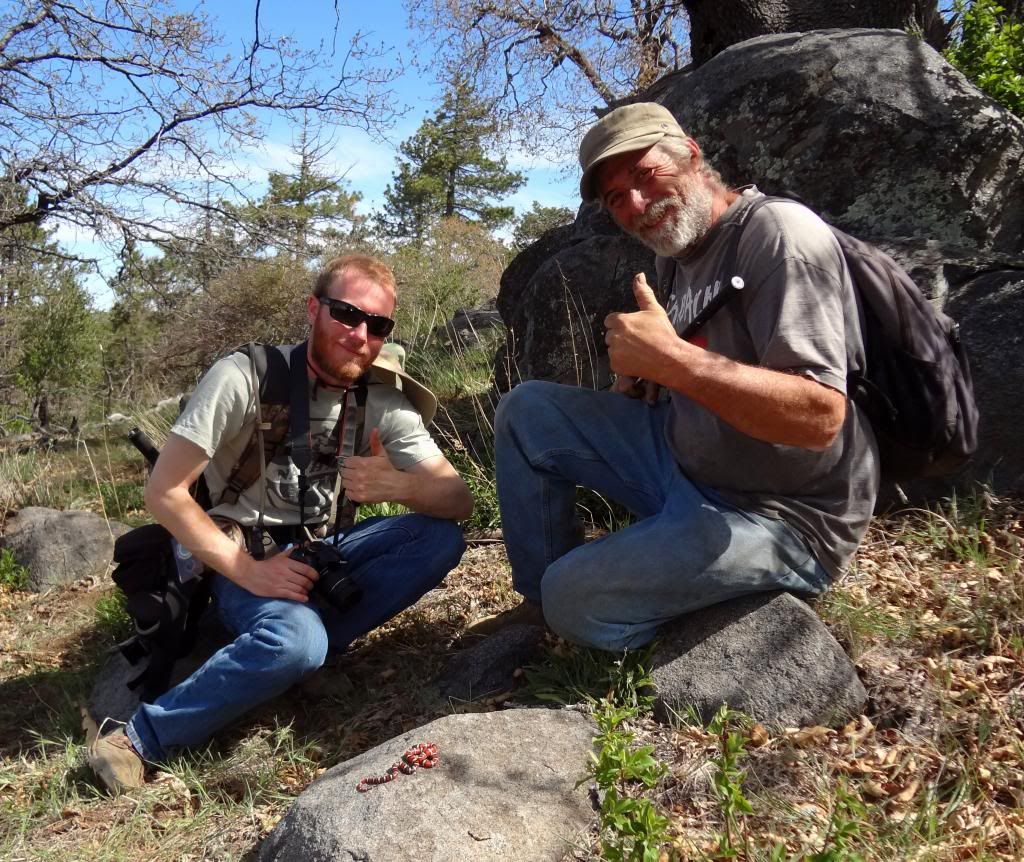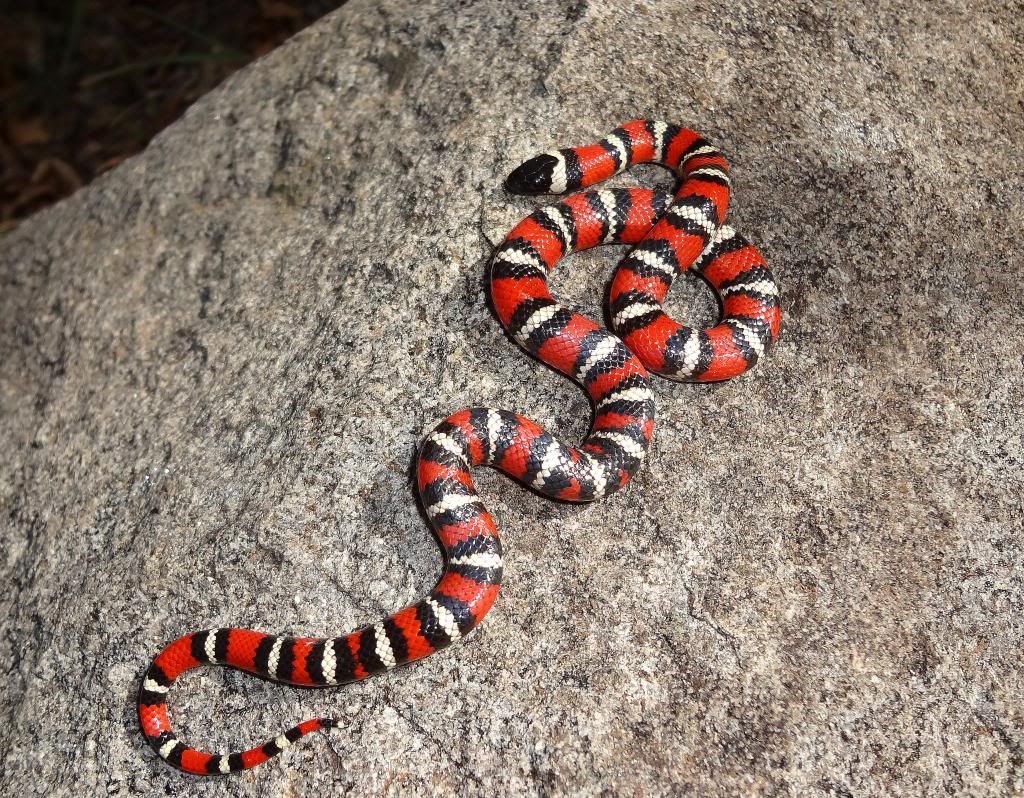 We found a bunch of western skinks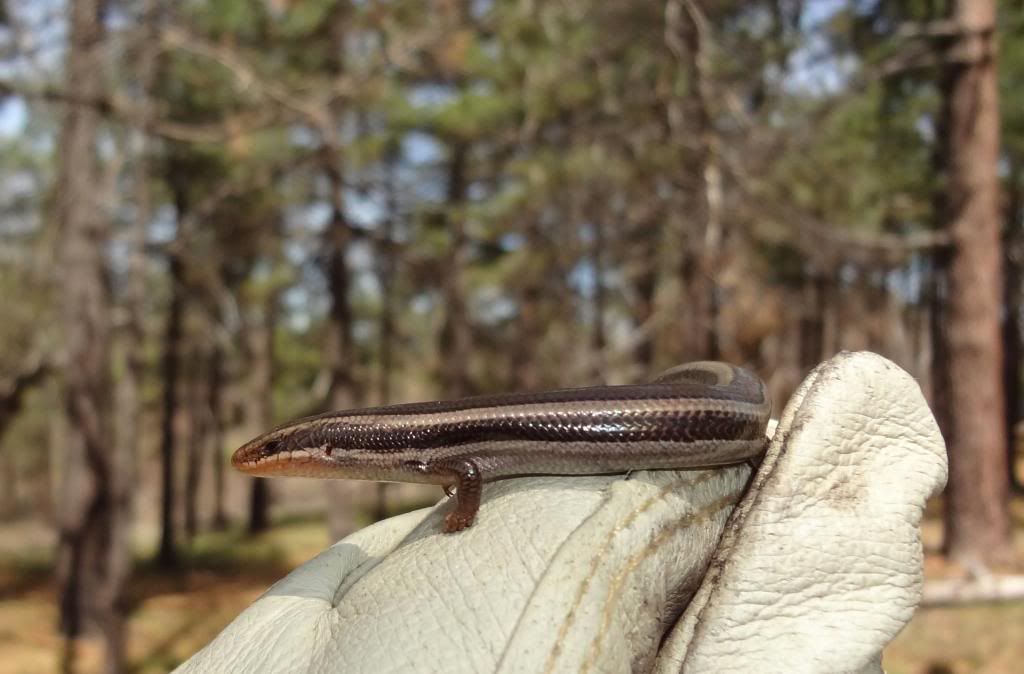 Our second mtn. king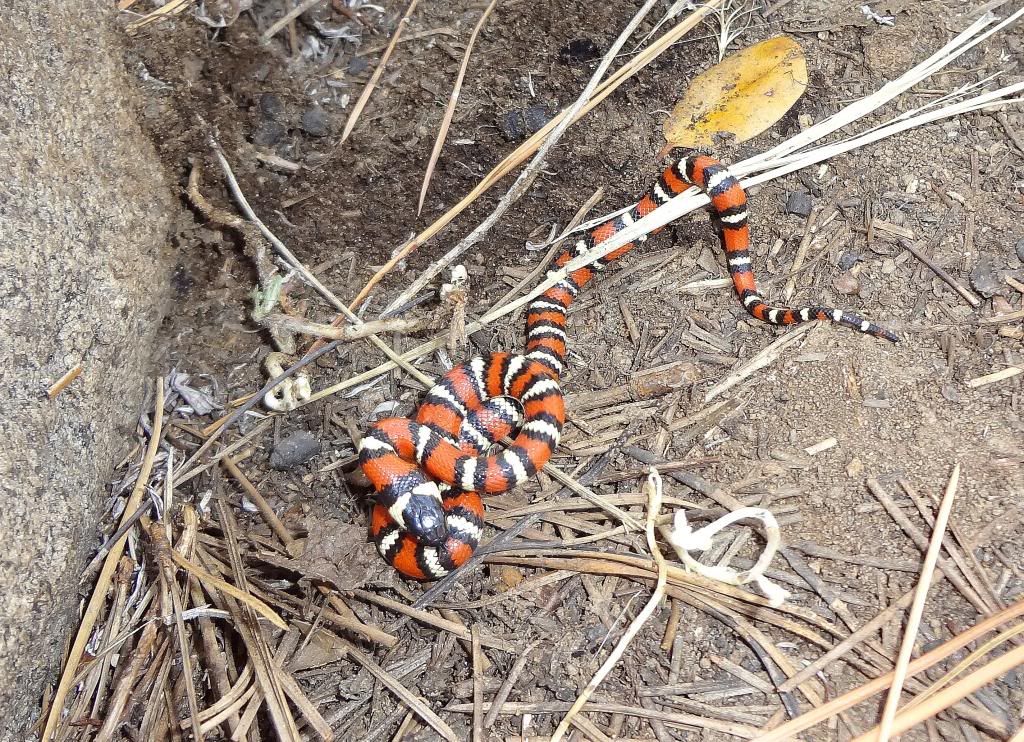 Josh with his double-flipped lifer zonatas!
This one was the most attractive and had a cool head pattern
Just a boring gopher snake
The largest of two large-blotched ensatinas found on the day
Two tough guys and a nice dude
All three of us ended up finding at least one mountain king, but only Josh and I found ensatinas. We'll get your large-blotched next time Jim!
A day in the mountains with the boys…
Trevor enjoying the stream
Two-striped garter snake spotted by Brady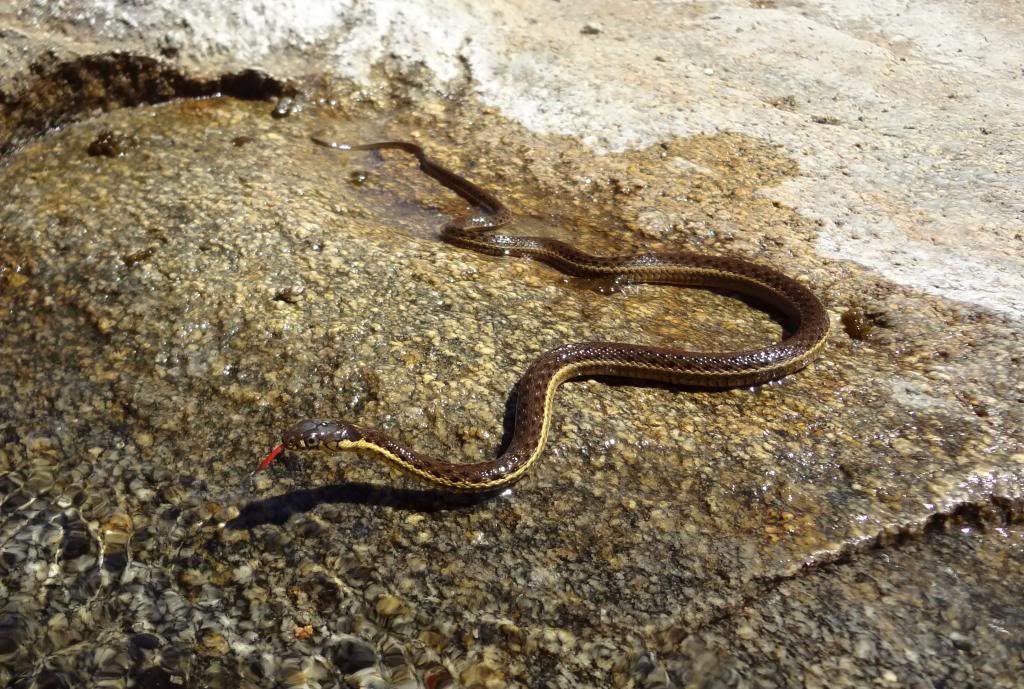 Decent-looking gopher snake
Family camping trip to Anza-Borrego Desert State Park…
I led a group of kids and some parents on a road-cruising adventure through the flats outside the Park both nights we were there.
Here's what we saw on Friday night:
Desert banded gecko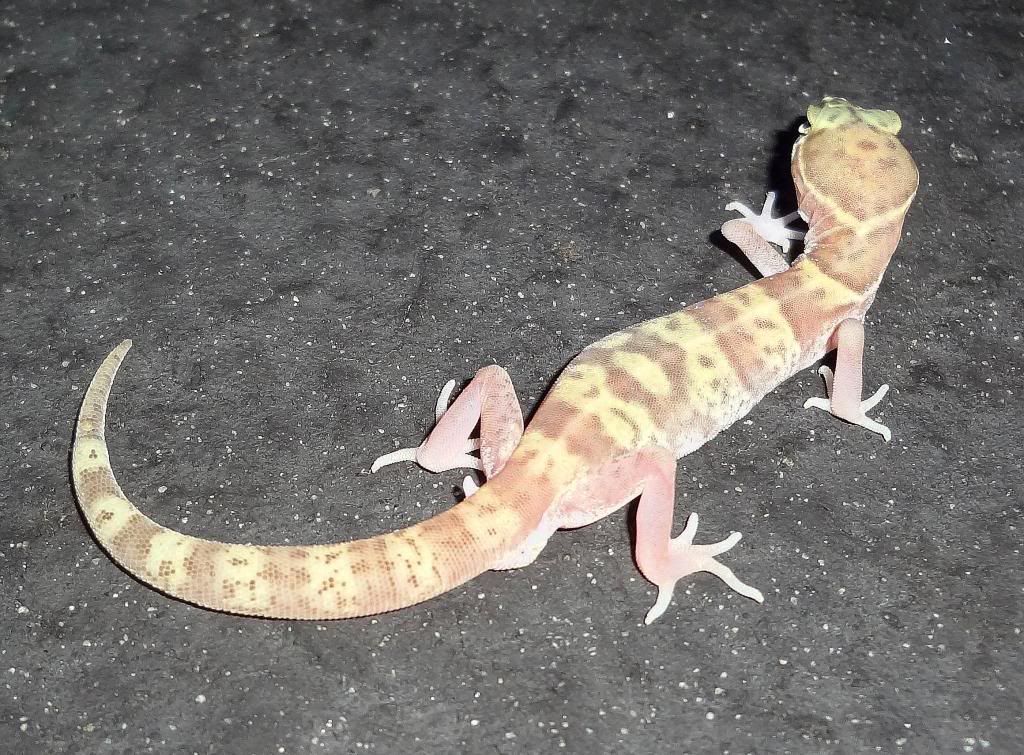 Shovel-nosed snake
The kids were really excited about finding this desert iguana that was trying to sleep on the road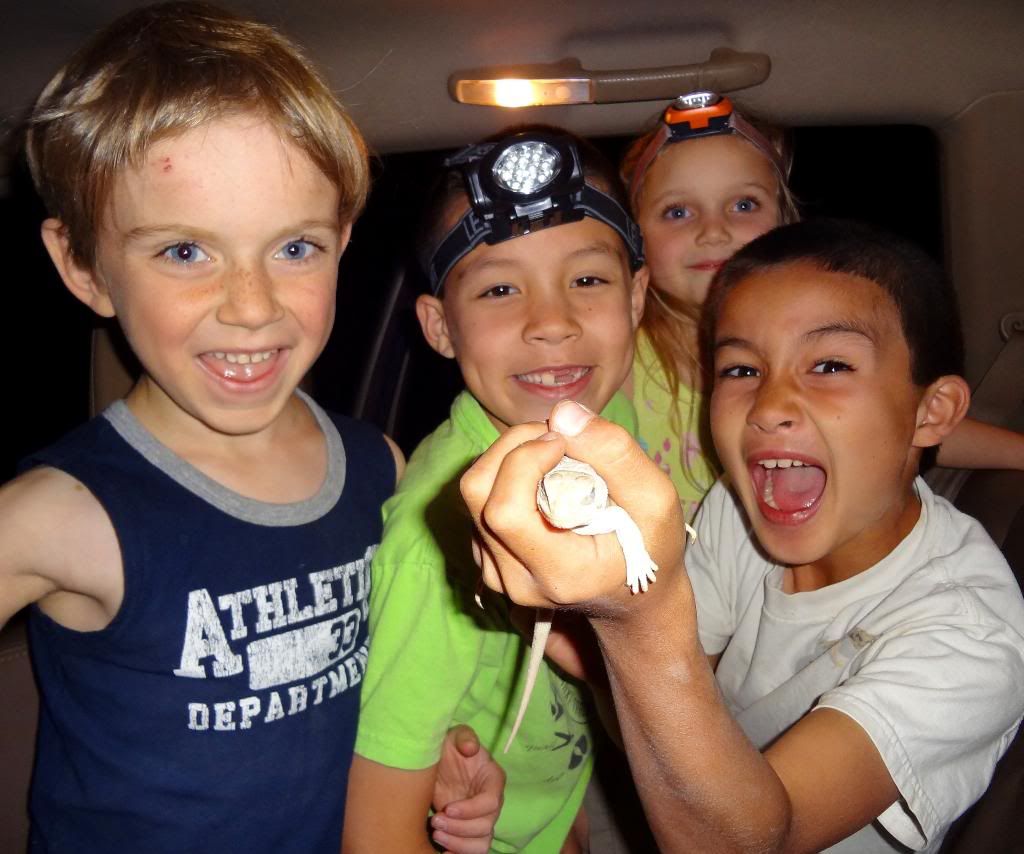 Saturday AM hike up the canyon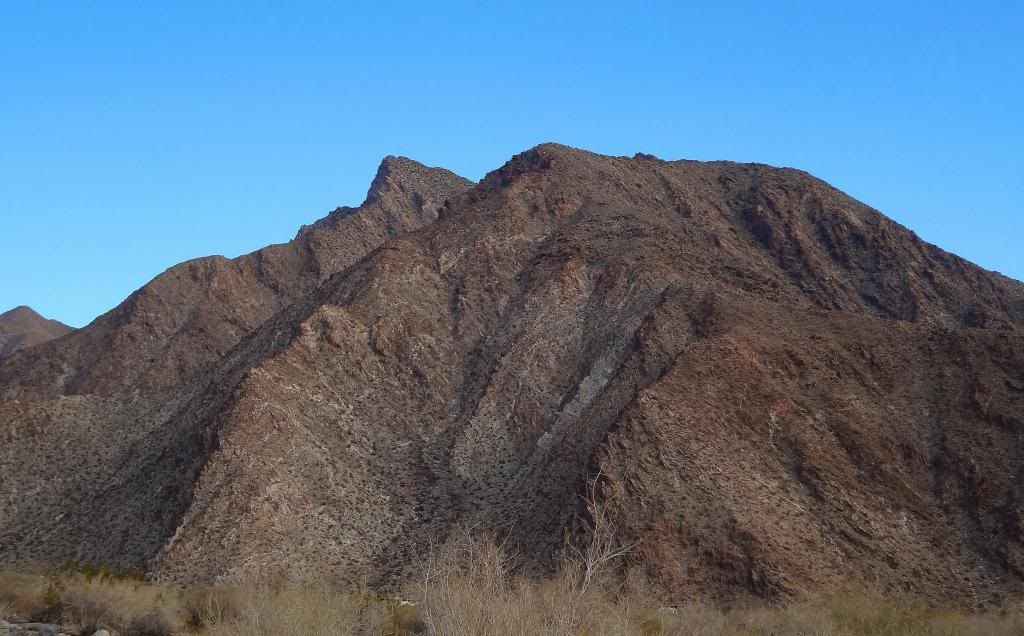 Brady approaching the palm oasis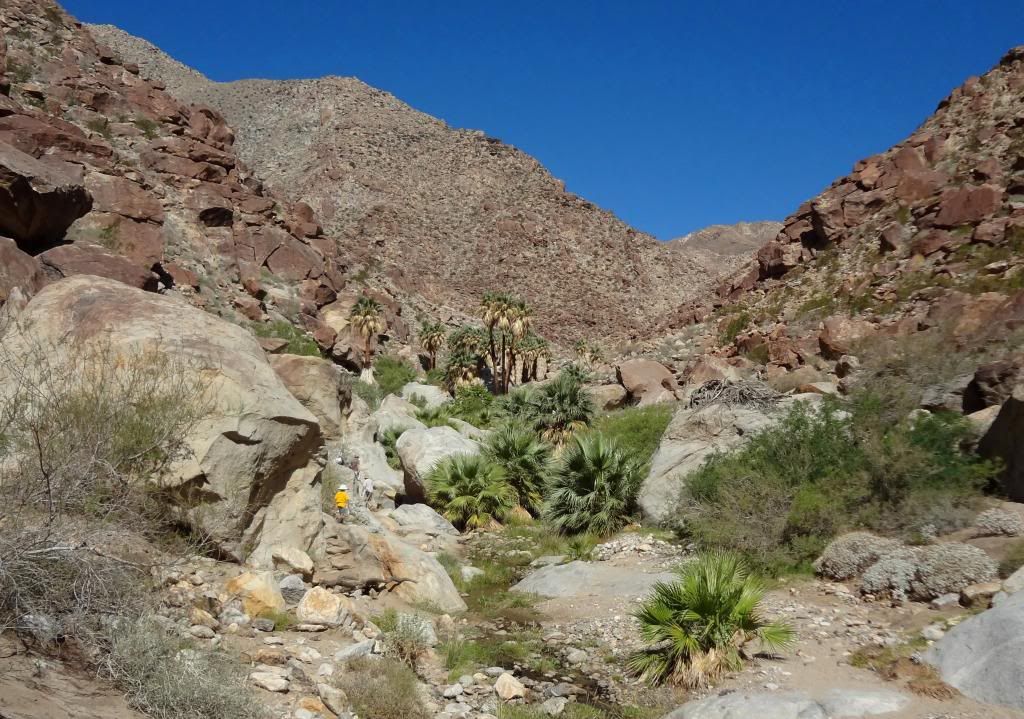 Side-blotched lizards were out in relatively low numbers
Found my SD County lifer red-spotted toad!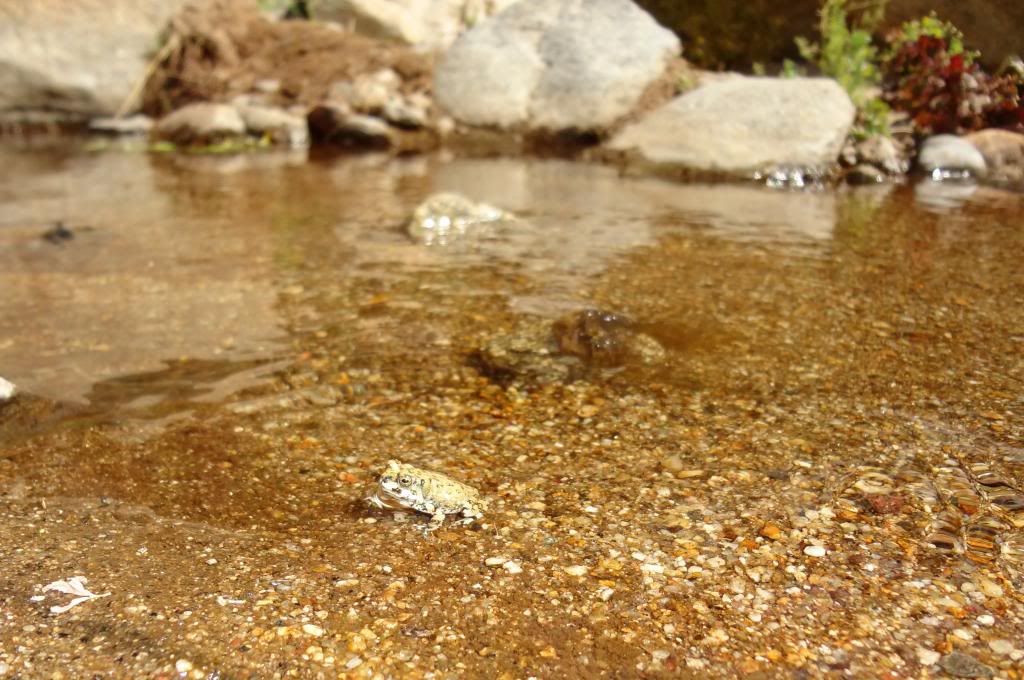 This is what I grew up calling a small-scaled tree lizard
Now they're known as black-tailed brush lizards
We saw plenty of CA treefrogs, and tadpoles
Here I am pointing out a big lizard to lil' Jesse
Photo taken by Jesse G.
It was this chunky male chuckwalla
We saw a few banded rock lizards too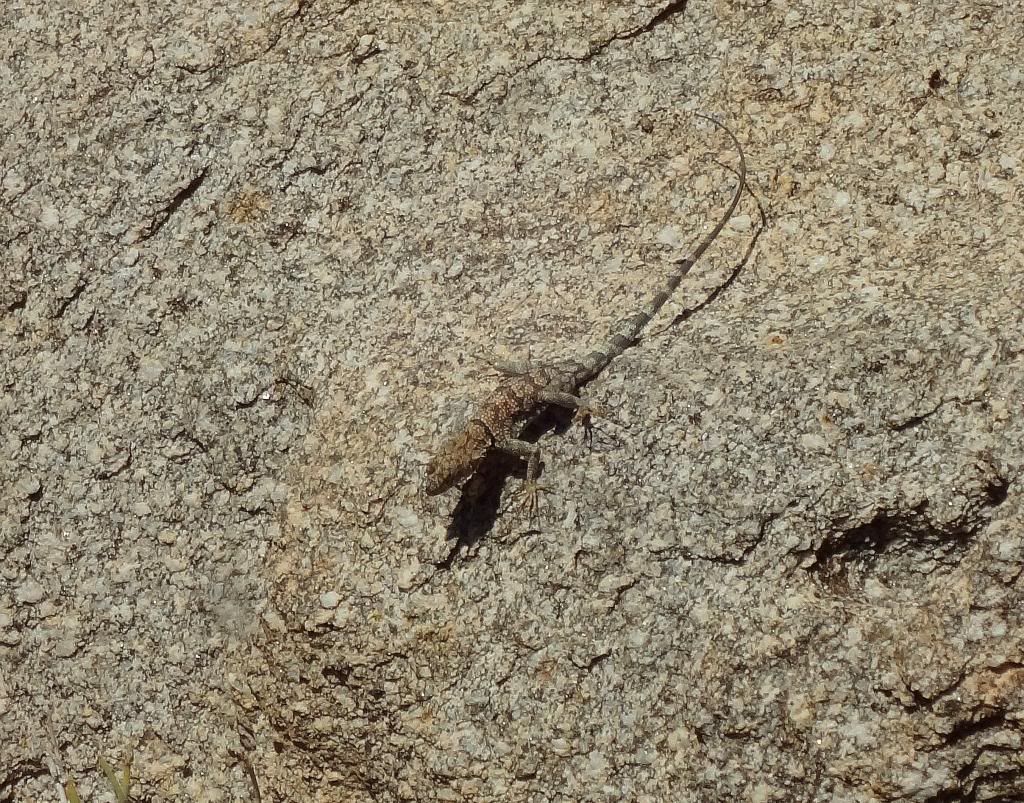 The kids had a great time in the oasis
Watching this group of five bighorn sheep slowly cross the canyon was the highlight of our trip!
Here's a great pic of the borrego taken by Jesse G.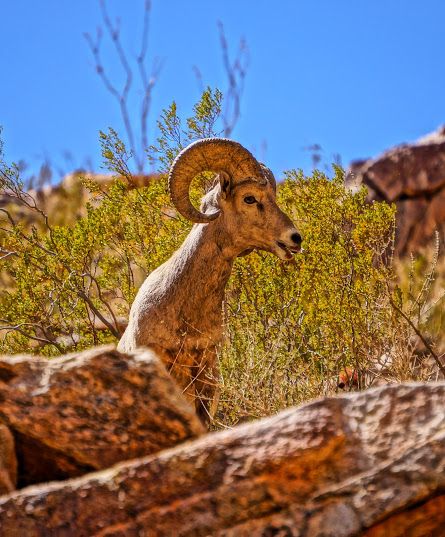 Road-cruising Sat. night:
First herp was this small sidewinder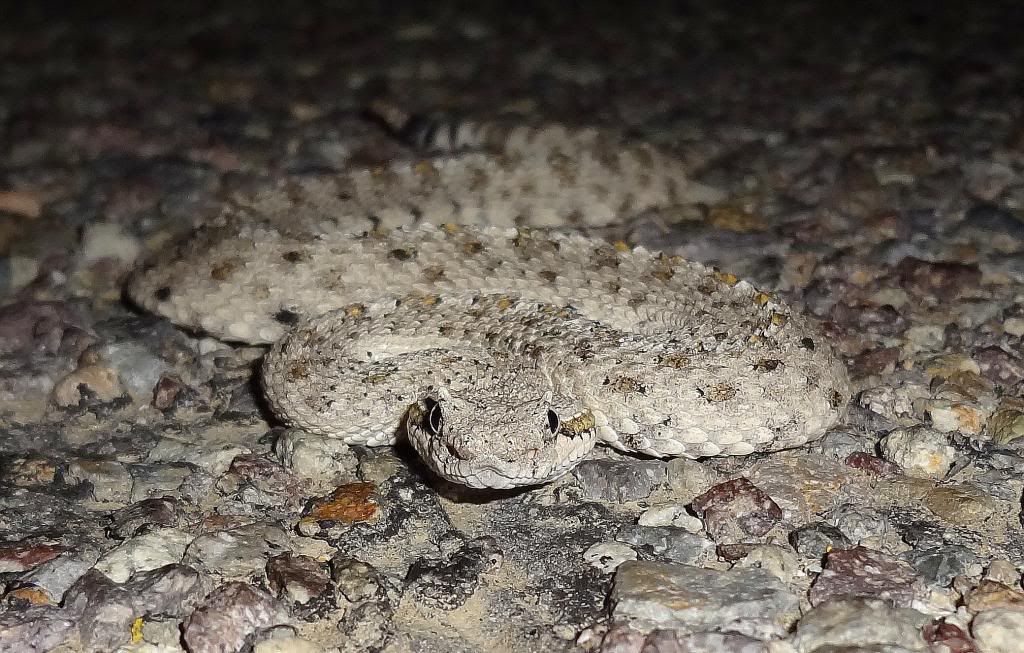 Then we found a cool black and white shovel-nosed snake
Nimish checking out a small shovel-nosed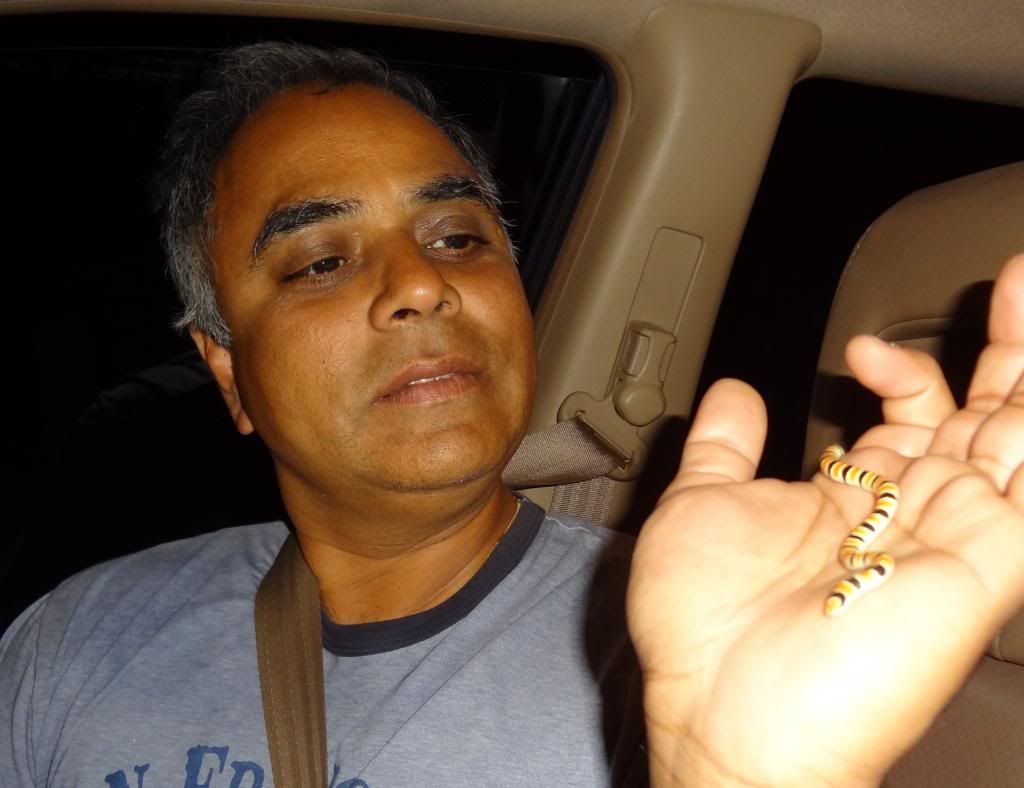 On Sunday AM, we didn't encounter many interesting herps, just a cool patch of coyote melon
Pretty good camping trip overall, but perhaps not quite as fun as last year's.
Some miscellaneous herps found around the middle of April…
Nice rosy from the edge of the desert
Coastal patch-nosed snake
Excellent striper!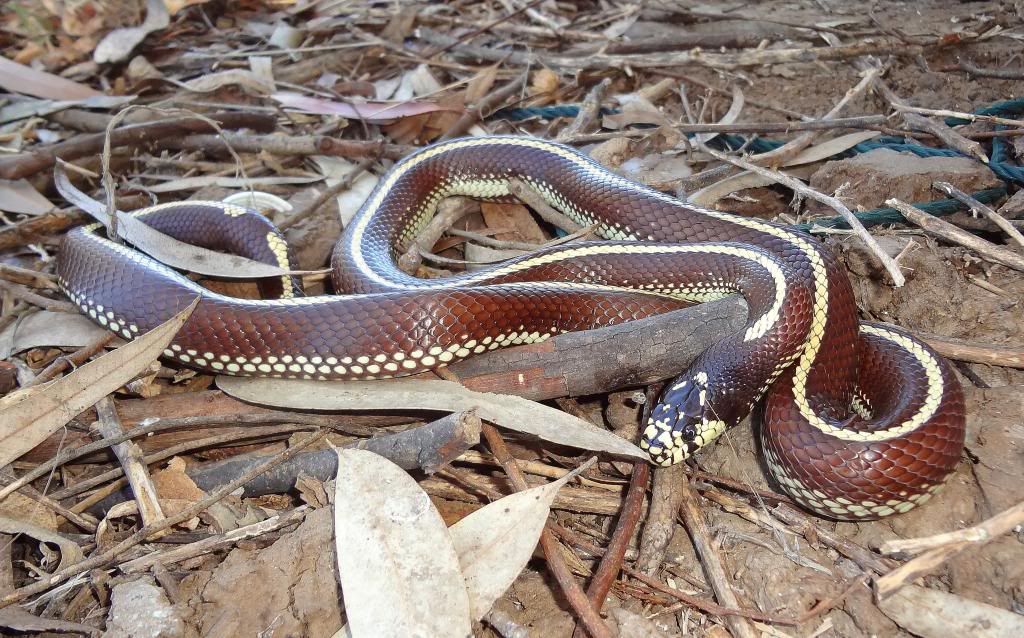 Red diamond rattler, as found in an area I visited for the first time this year
Red racer discovered at night under a board
Toad cruise on a rainy night…
arroyo
spade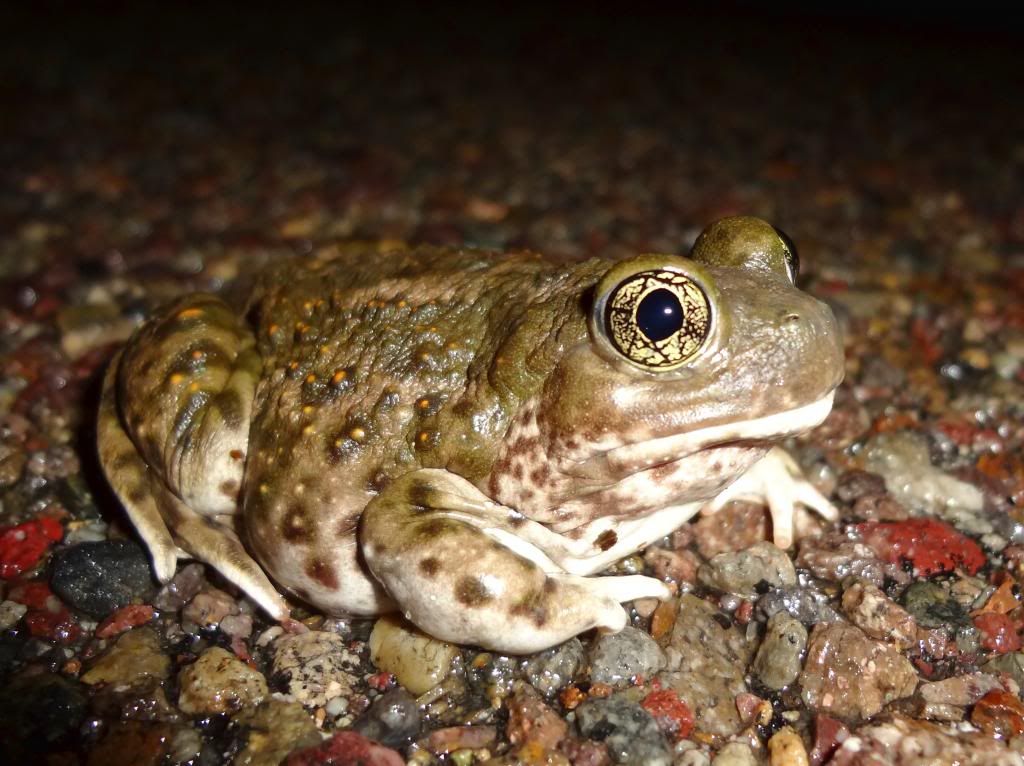 arroyo
spade
arroyo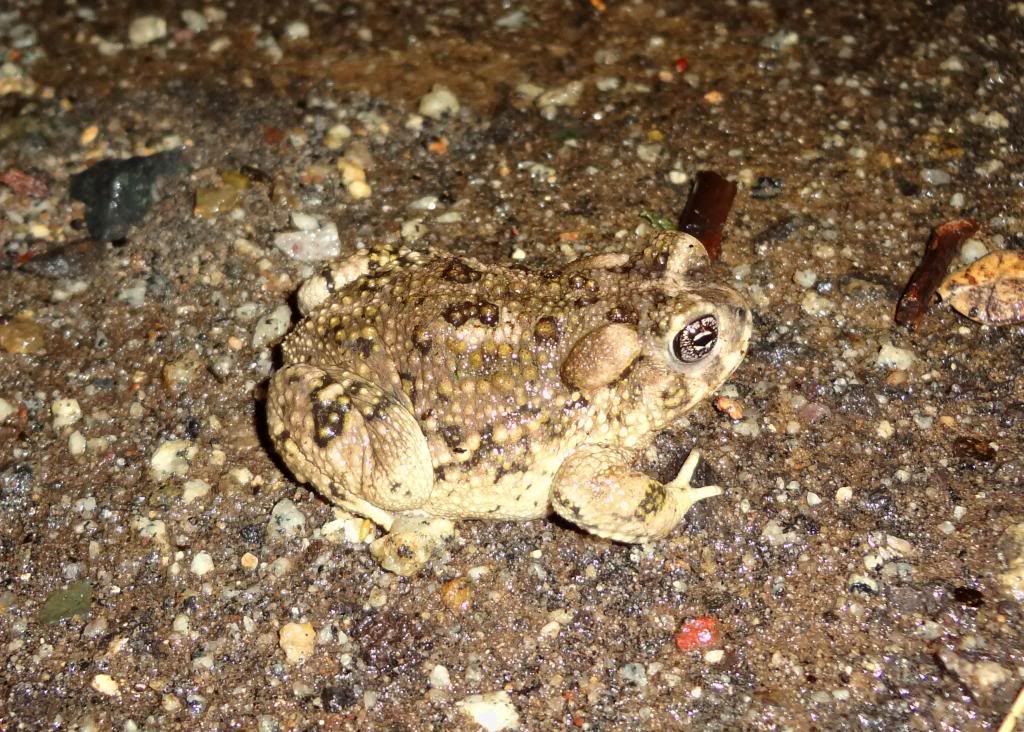 Herping with Matti and Santra from Finland…
I had a great time showing FinnishSerpent (Matti M.) and his cool girlfriend (Santra) around SD a few times during their two week vacation. They were happy to see any of our local herps, and overall we did pretty well. They photographed all four species of rattlesnakes found in San Diego!
Here are some of the photos I took during our time in the field together…
On our first outing, we found a Cal. king, a drowned tiger whiptail, and a speckled rattler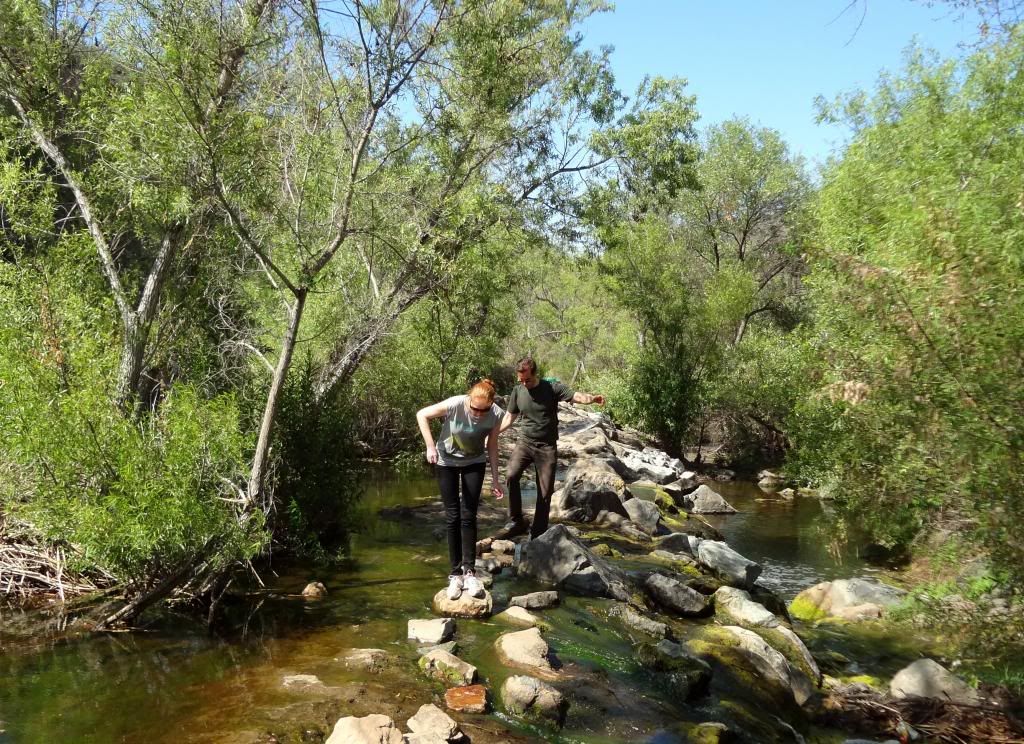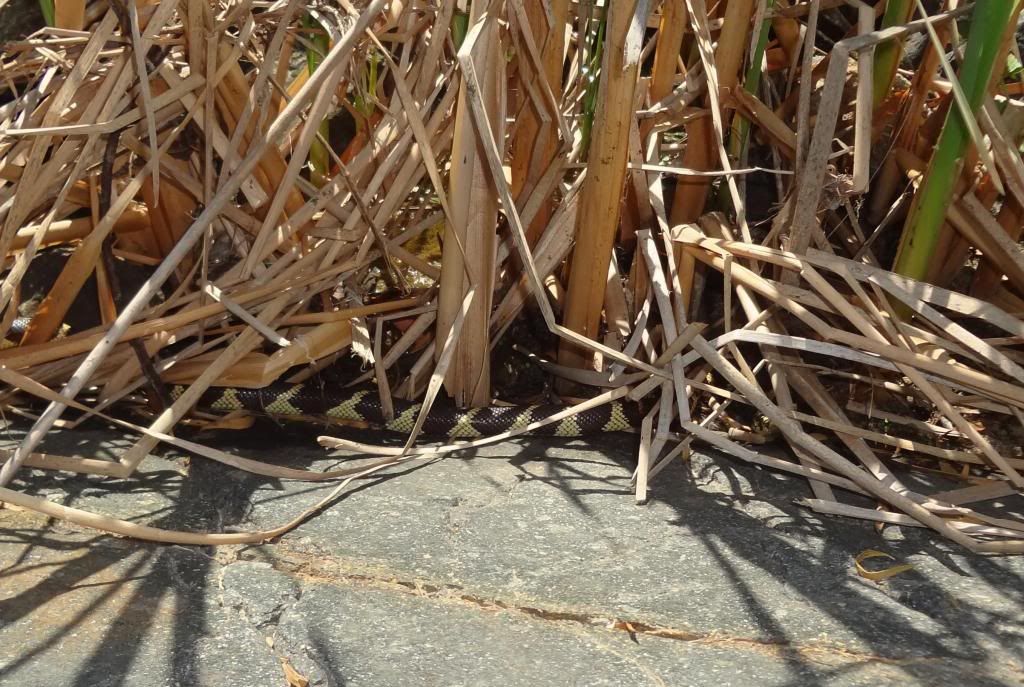 Santra noticed this dead whiptail floating down the Flume
Here's the speck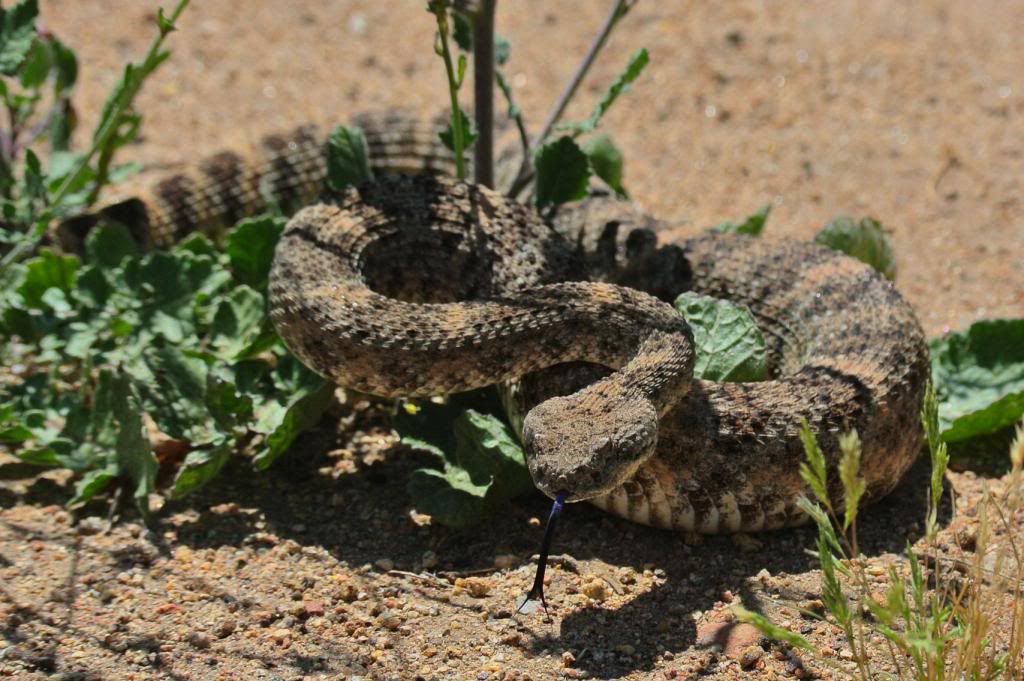 A few days later, we took a long road-cruise through the desert hoping to photograph a wild rosy boa, but only found a variety of more common herps…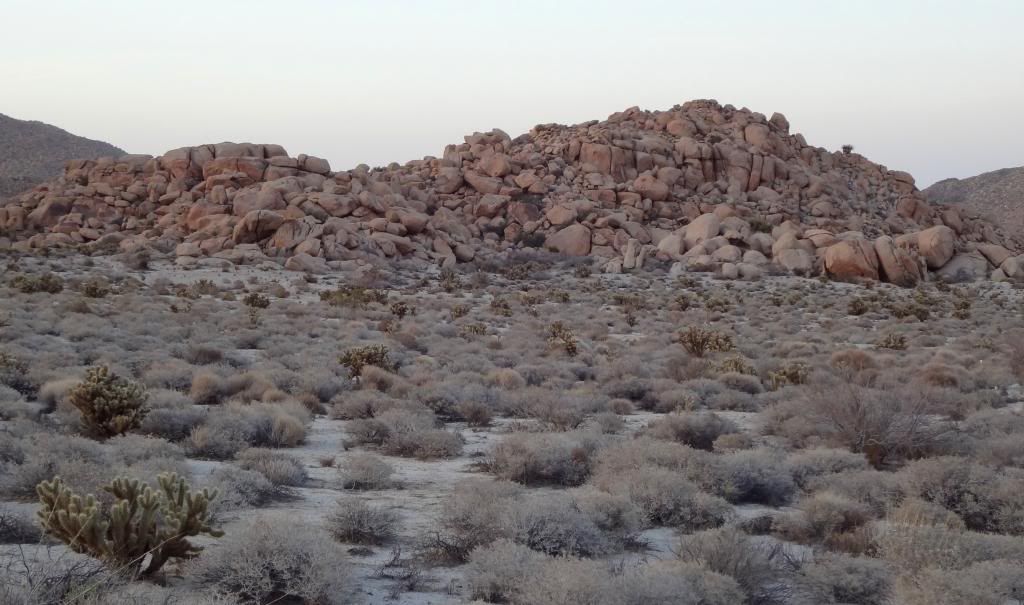 Adult sidewinder
Shovel-nosed
Juvie sidewinder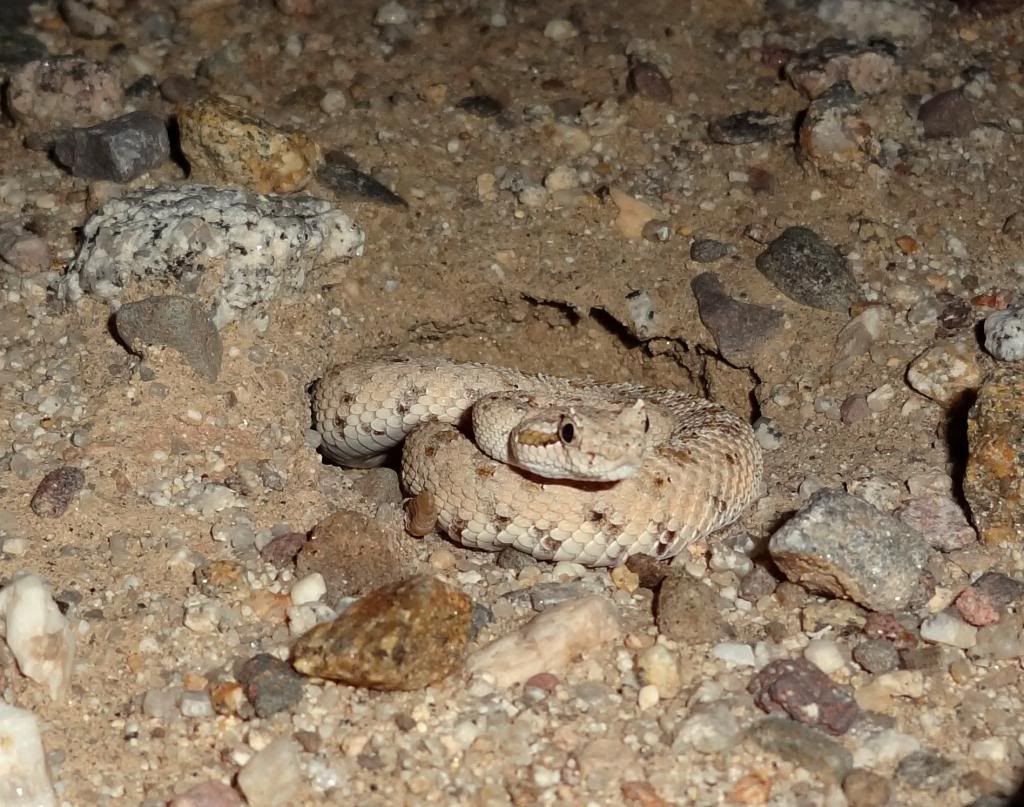 Another shovel-nosed snake
Banded gecko
My buddy Todd came along for the ride and had some fun too.
Here's Todd taking a pic of Matti holding a leaf-nosed snake near Ocotillo
We made our way up to a spot that had numerous red-spotted toads hopping around.
This one had cool camouflage
Our last snake of the night was a nice little desert glossy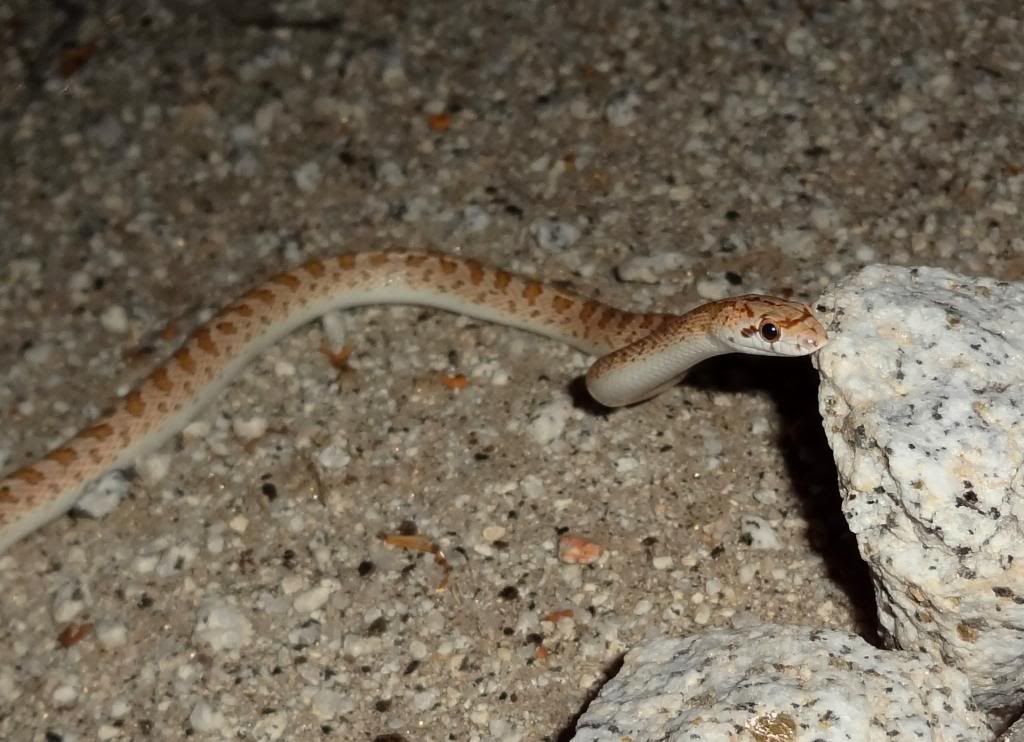 Lake Hodges BioBlitz – end of April…
Friday
This excellent red diamond was spotted by Jeff Lemm on the shoreline
When I came down to see the ruber, I noticed this gravid two-striper only a few yards away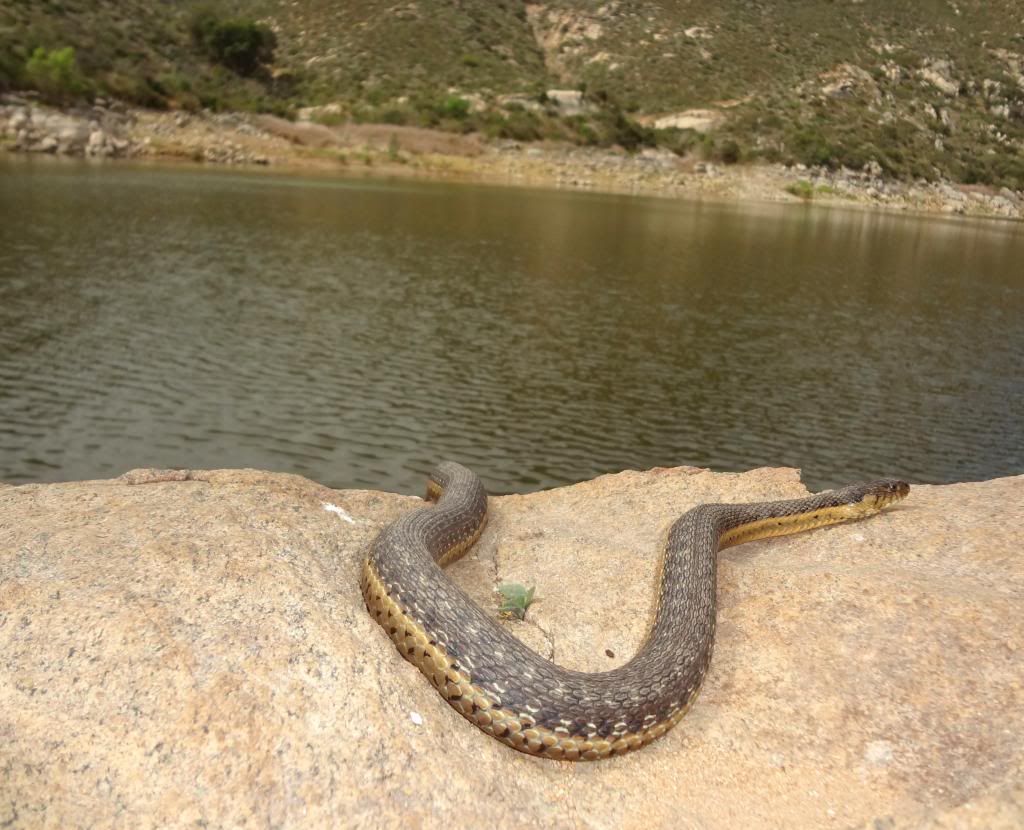 This was the best-looking of the two Southern Pacific rattlers we saw that day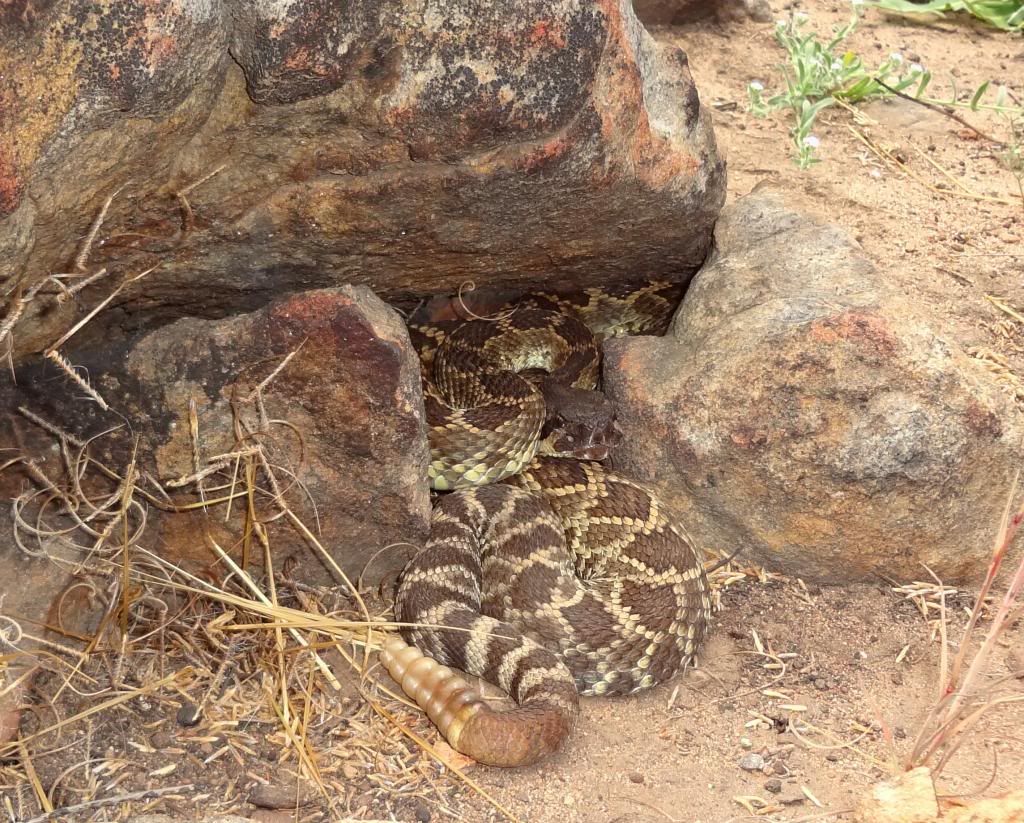 Saturday
4 foot gopher snake, as found
Frank S. and Laura P. with the gopher snake and Laura's lifer red diamond!
Laura spotted the red diamond coiled under the bush only a few yards behind us as we were photoing the gopher snake.
Here's one of a pair of thread snakes I found together under a rock way up on a steep slope
One last red diamond, as found coiled on prickly pear cactus
May
Overnight trip to the desert…
Desert night snake I found while night hiking – a first for me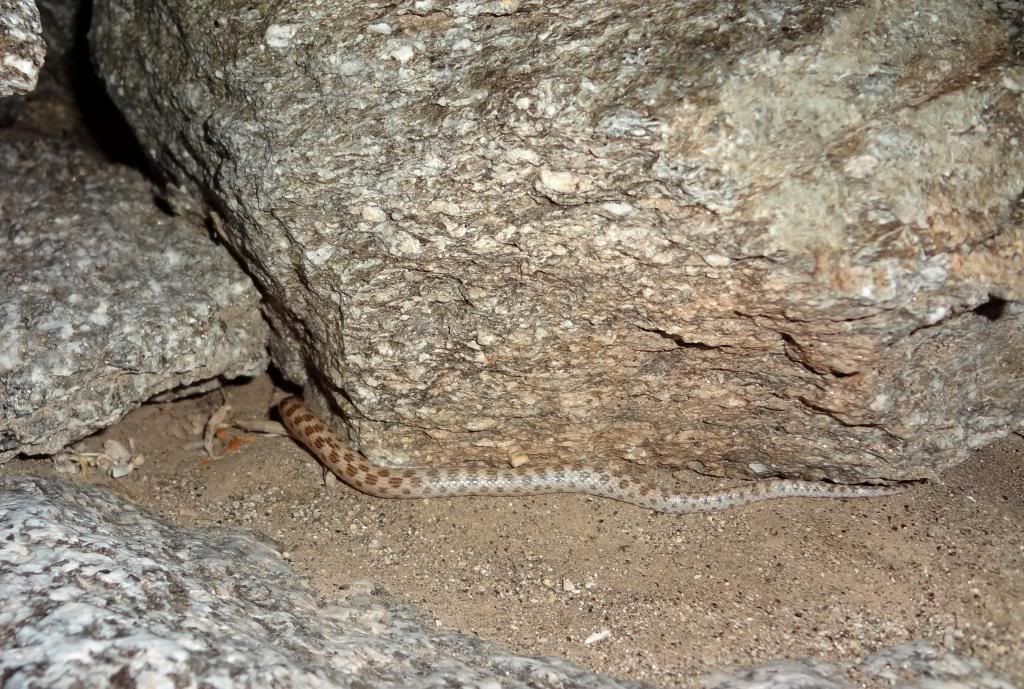 The first leaf-toed gecko I found this year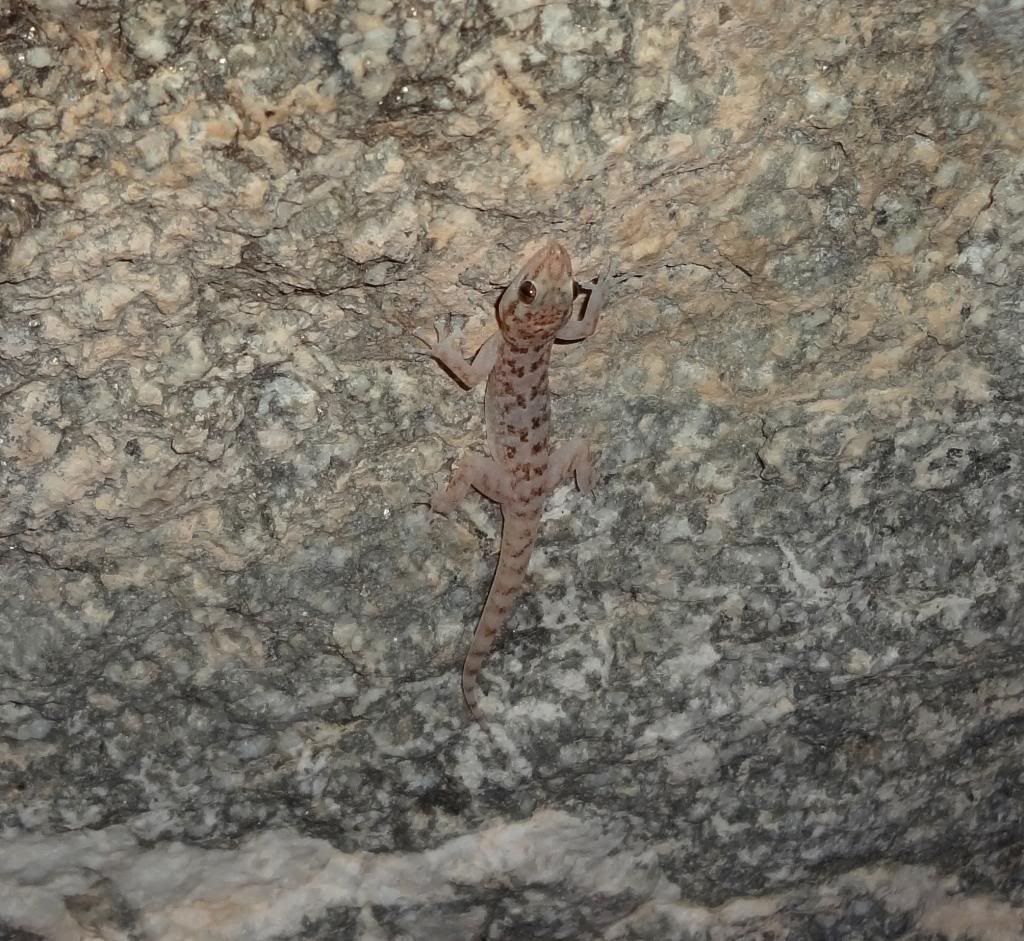 In the early morning I looked for flat-tailed horned lizards, but ended up following these sidewinder tracks
They led me right to this cratered 'winder
Later in the morning, I explored a new canyon that I thought might reach into sandstone night lizard habitat
Turns out I was wrong.
In the middle of May, I took a three-day trip into the Mojave National Preserve and back. I had high hopes of recording a Gila monster, a regal ring-necked snake, or a Sonoran lyre snake. Unfortunately, the weather didn't cooperate and I didn't find many herps. At least I got some decent scenery shots though…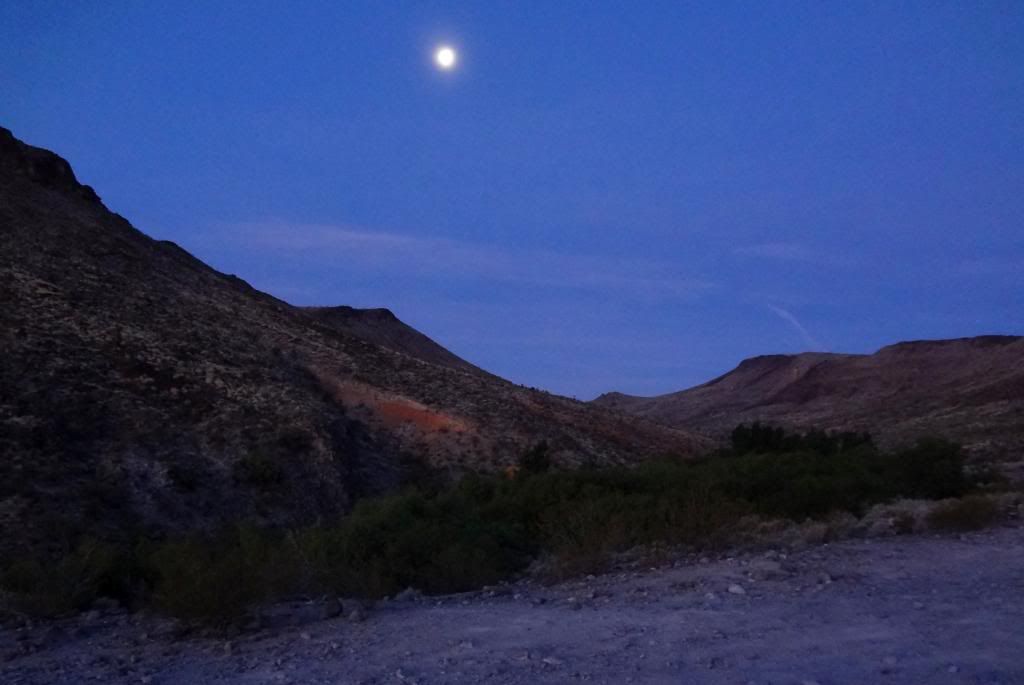 This desert banded gecko was the only herp seen during a long night hike at a remote riparian canyon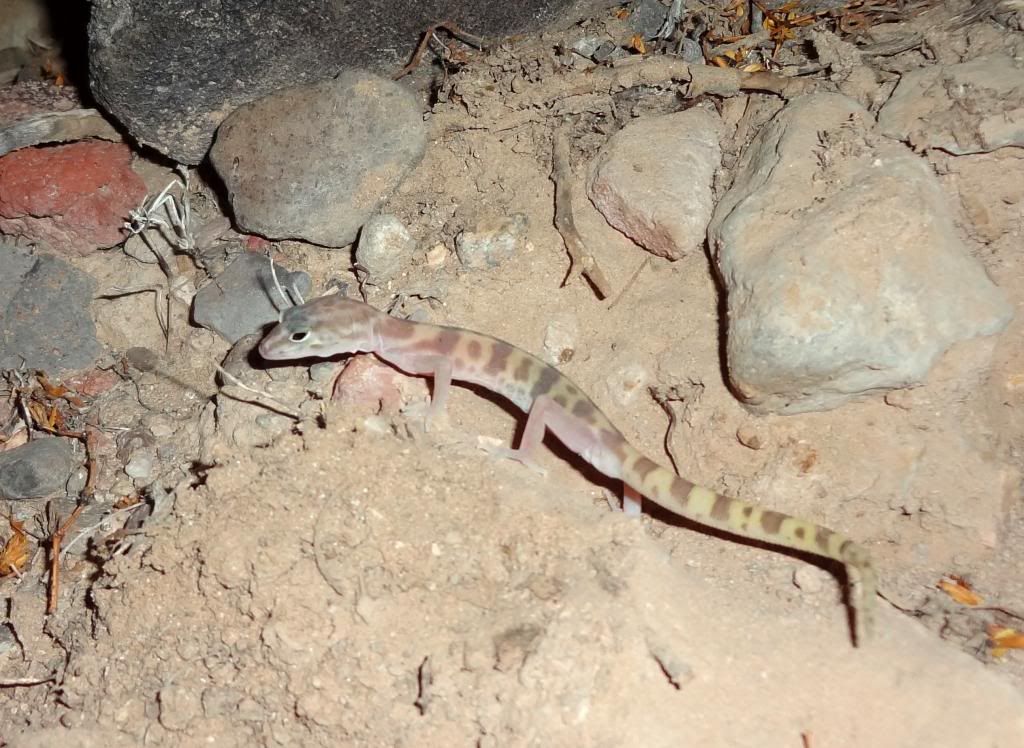 The next morning I found some common lizards and a bunch of red-spotted toads
Then I hit the road and went further north into Nevada for a night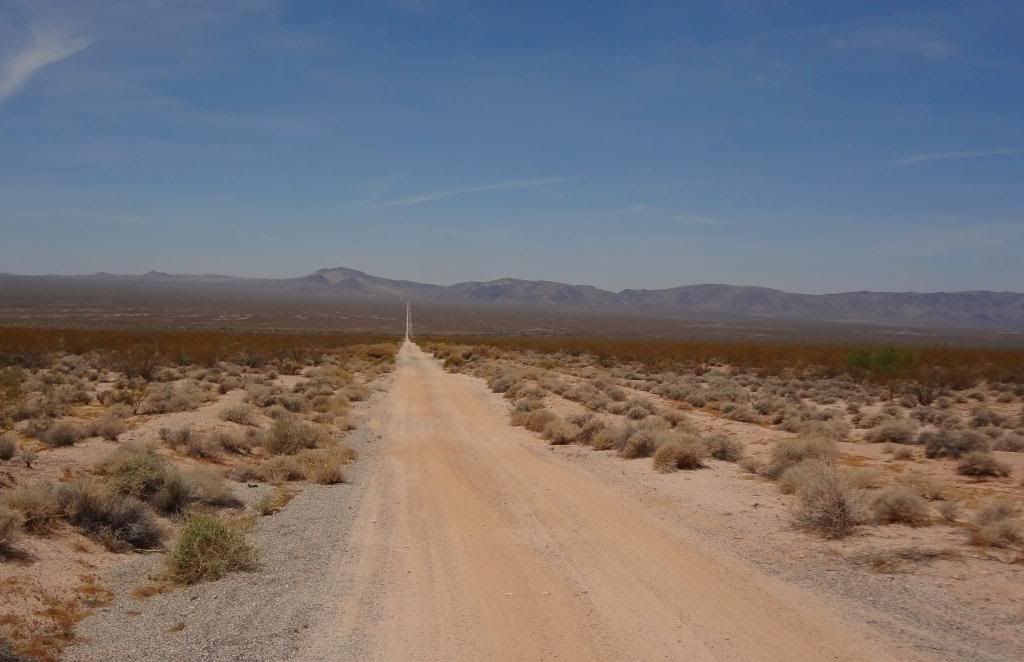 Can you see the falcon over the lake?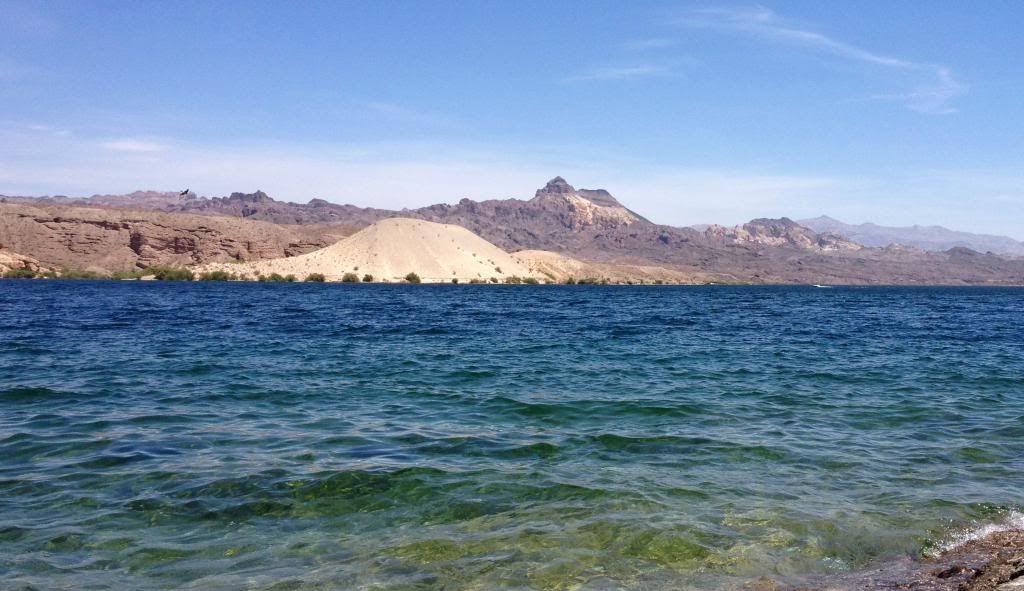 My luck wasn't much better in NV. All I found were a few sideblotchies, a DOR speck, and a small snake that got off the road before I could ID it (seemed like a ground snake or shovel-nosed).
On the return leg of my trip I stopped at a few well-known locales and eventually found some cool reptiles.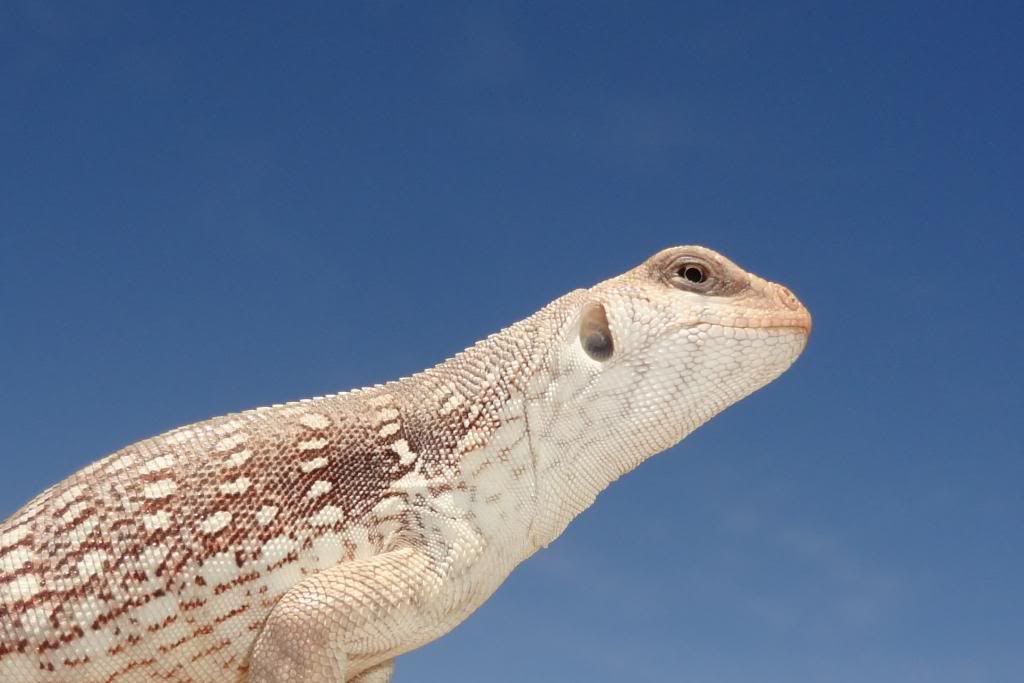 Red diamond
My first rosy boa from this popular road
Long-nosed snake
Later on in May the conditions improved dramatically and herps were moving all over the County.
On a rather cool, humid night, I took a drive to the desert and back…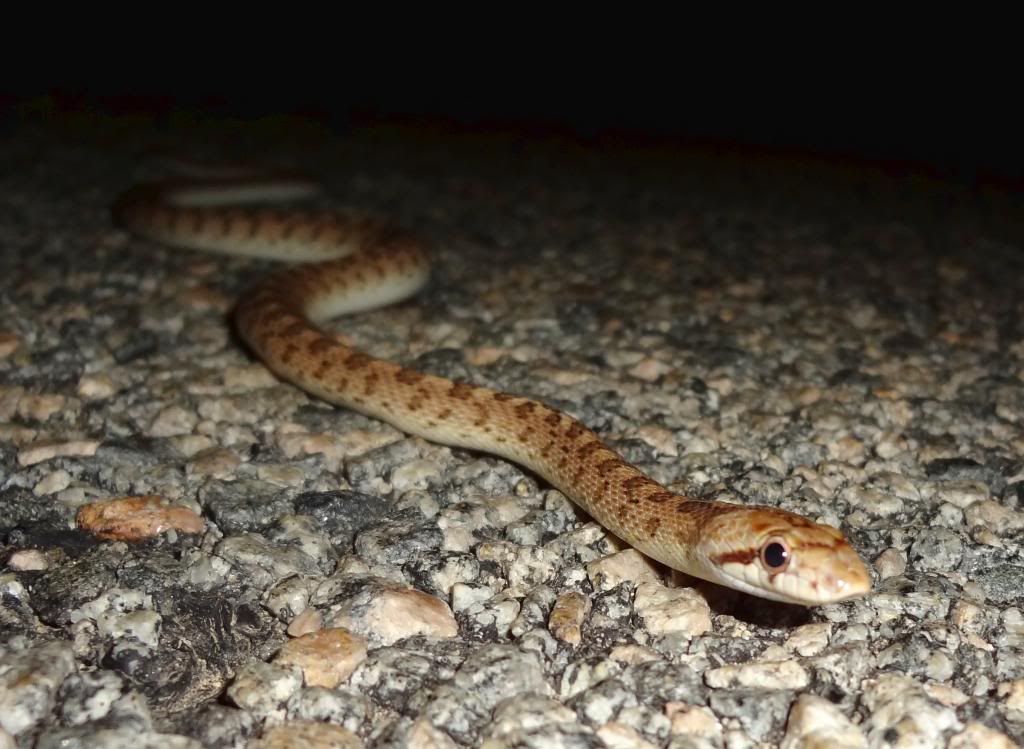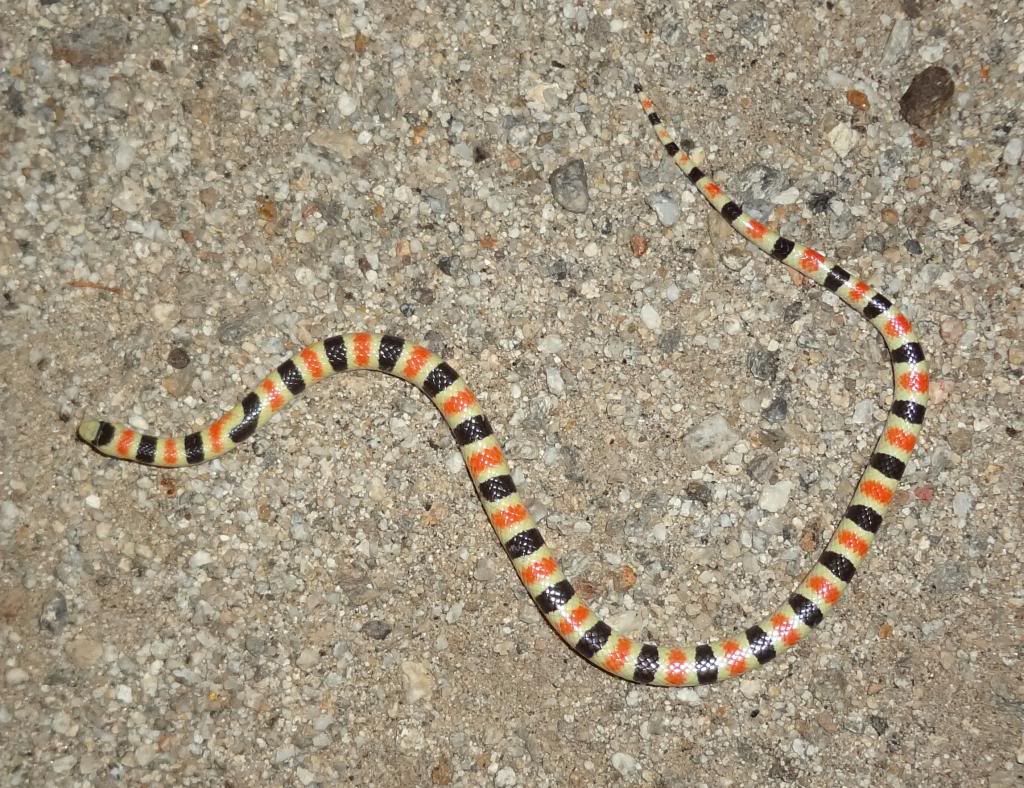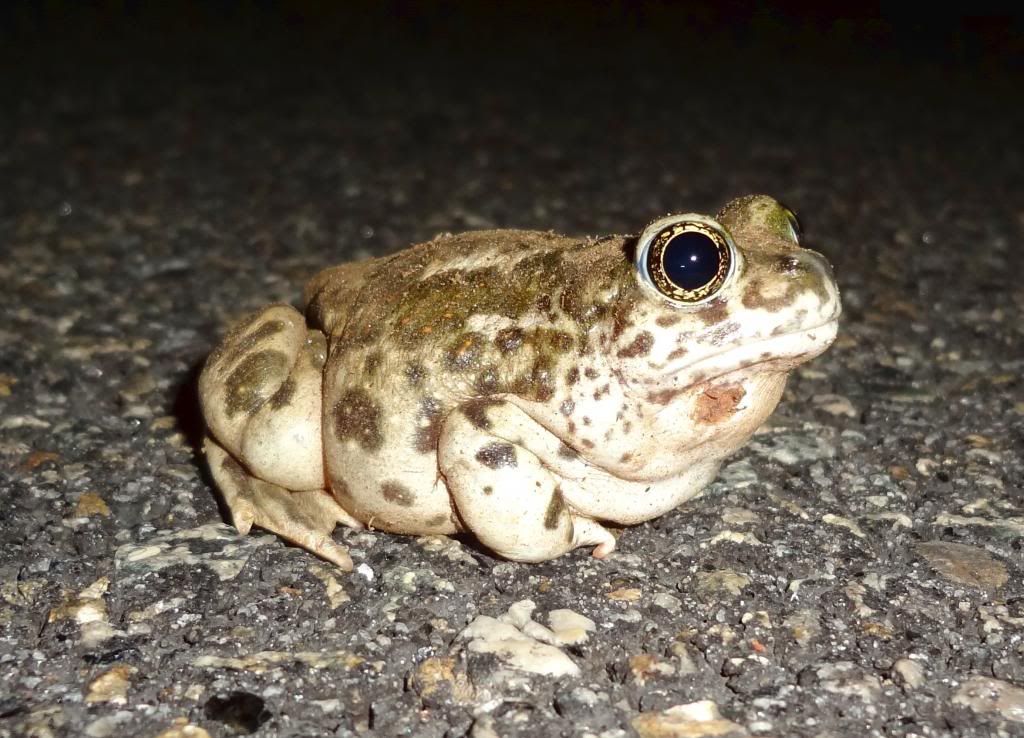 Two days later I went back to the desert and had a great night…
Started out promising when I flipped this legless lizard in the evening
My 9th Anniella of the year!
A little while later, I came across a young couple stranded in the middle of nowhere. Despite a good effort, I couldn't tow their pickup out of a sandy gully. So I gave them a ride down the mountain into town where they contacted a recovery truck. On the ride down, we stopped for this sweet desert-phase California kingsnake.
They forgot about their predicament for a couple minutes and were stoked to see such a cool creature.
After dropping them off at Jilbertos, I hit the road again and started seeing a lot of desert banded geckos.
Then I finally found my lifer Peninsular banded gecko!!
Now that's some good karma!
I certainly had a lot of fun this Spring, and I still have a bunch more good finds and photos to share from Summer. You can check out Part 2 here:
http://www.fieldherpforum.com/forum/vie ... =2&t=20111
Take it easy,
Jeff