Eighteen years ago almost to the day, I was born in the Rio Grande Valley of South Texas. For as much of the time since as my memory stretches, I have loved snakes. My dad, who had been known as the local "snake man" when growing up, fueled my interest - but I quickly became a much more book-smart, if not experienced, herp fanatic. Thus, I started calling myself "the real snake man," a name that (obviously) became my username on the Field Herp Forum (which I have been reading, and occasionally posting on, since about 2006). Still, for all my fanaticism about serpents, I saw very few. As a kid I had nowhere to search unless my parents were up to taking me, and though the occasional trip turned up a great lifer, I knew I could do better with more trips and more hours in the field or in the car cruising.
And thus begins my tale of this summer. I determined that before I went to Caltech to pursue engineering in the fall, I would see the snakes that had long eluded me, even if I had to spend long hours to find a single snake per trip, which thankfully has only happened once or twice. My summer isn't over yet, either. I have a few more weeks to look around, and I intend to make the most of them. But, I also don't want to be posting once I'm up in California, so I'm beginning now. So hopefully you will enjoy the first episode in my series, concerning my search for the rare and beautiful Cat-eyed Snake,
Leptodeira septentrionalis
.
The Cat-eyed Snake is one of four species of snake that range along the Gulf of Mexico from South Texas to the Yucatan Peninsula, and from there to Central America. The range of the cat-eyed snake also reaches along the Pacific Coast of southwestern Mexico, and even into South America. Thus, it fits in the category of what I like to call the "Neotropical" species of the US, along with
Drymarchon melanurus
,
Drymobius margaritiferus
, and
Coniophanes imperialis
(all of which will be discussed in future posts). Based on their range, one would assume that they would be the kind of snake restricted to jungle-like forests with plenty of water; thus, the only presumably suitable habitat in South Texas would be along the Rio Grande, which holds a small amount of mature ebony and sabal palm forests containing scattered resacas. However, this formula appears to hold true only in the Southmost area of Cameron County, where specimens have been found in and around the Sabal Palm Sanctuary and the Southmost Preserve (on apparently rare occasions). Cat-eyed Snakes are not known from any other point near the river in Texas, and instead appear to be most at home in the brush country from eastern Starr County, through Hidalgo County, to western Willacy County, and in isolated spots inland from the coast in Kenedy and Kleberg counties. The only truly productive brush country for this species, however, is that which contains either man-made or natural ponds. The reason for this likely has something to do with amphibian prey, though the Texas populations probably eat extensive amounts of lizards as well, given the rarity of rain which would excite the activity of anurans. They are small, rear-fanged, nocturnal snakes, both beautiful and quite rare - and I've always wanted to find one.
On June 12th, I had spent the morning with my grandfather at the Sabal Palm Sanctuary in search of Speckled Racers (
Drymobius margaritiferus
). I was fortunate enough to see two, but I'd had no luck with photography. When we got home, I got a message from Blake Tyler, whom I had been introduced to via Facebook by Seth Patterson, an employee of the Sabal Palm Sanctuary and a brilliant photographer. I had never met Blake in person, but he had told me that if he went road-cruising, he would invite me along. Well, his message was an invitation to go road-cruising that night, from about 6pm to 3am. After working hard to get everything OK'd by my parents who were understandably wary of my being out all night on remote highways with a stranger, I joined Blake for a long cruise in Jim Hogg, northern Starr, and western Hidalgo counties.
We started off the night by seeing this Texas Horned Lizard (
Phrynosoma cornutum
) before dark. I love these things.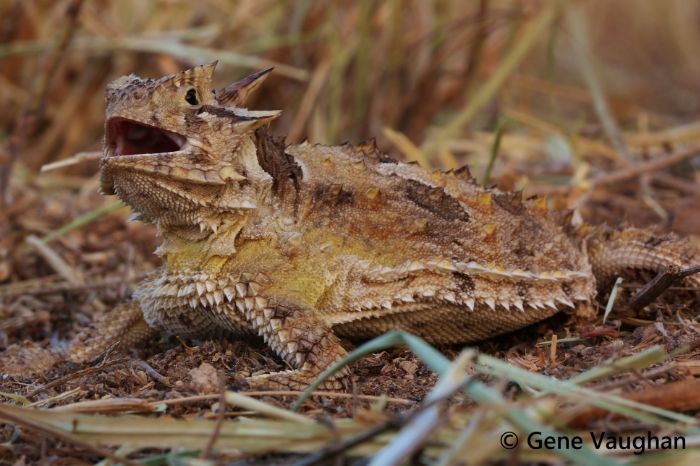 The first live snake we saw was a Great Plains Ratsnake (
Pantherophis emoryi
), the first I had seen in several years. It was hauling across the street and Blake had messed up his ankle, but even so he had hobbled over to it and scooped it up before I even had a good look at it. The photography session was frustrating (especially with manual focus being pretty much my only option), but the snake was in a pretty good mood. I was happy with my shots.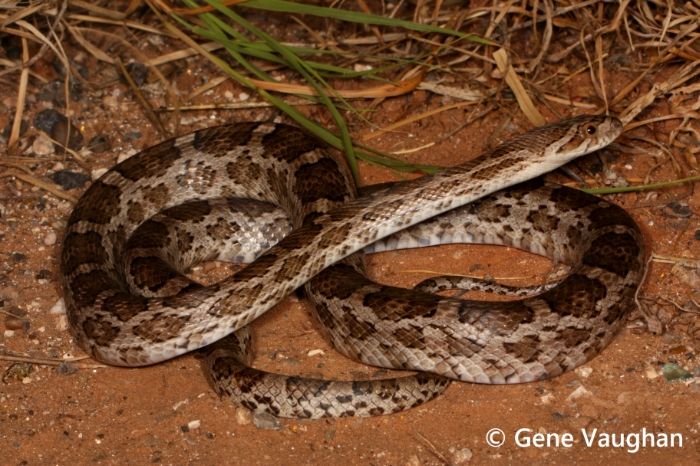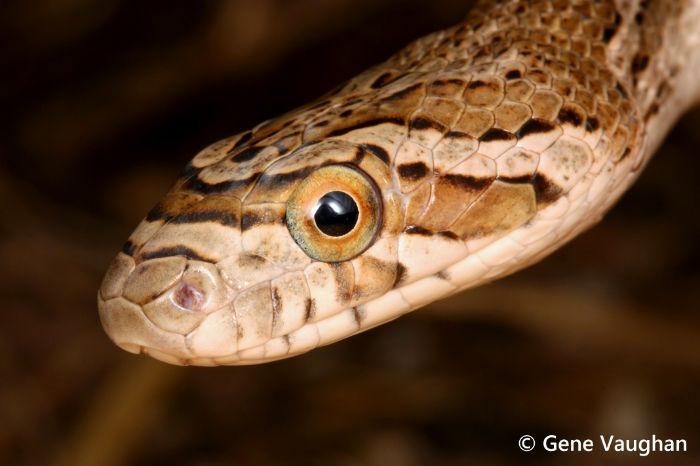 A while later we were stopped by a policeman wondering what we were doing in this area this late at night (remember, this is the border country). After he finished wondering what was wrong with the two guys searching for snakes in the middle of the night, he started walking away - and Blake saw a small snake slithering across the road. I bolted to go pick it up, and caught my lifer Plains Black-headed Snake (
Tantilla planiceps
) while the officer shouted "What is he
doing
?!" My photos of that incessantly moving, tiny snake were abysmal, however, and I won't show them here. The remainder of the night was pretty slow. We were on our way in at about 1:30am, when Blake pulled up to a spot in western Hidalgo County where he had seen the same Cat-eyed Snake twice last year. His hypothesis was that rain was a key factor in finding them, and there had been no rain lately. In fact, we had dealt with a full moon all night. With the odds apparently stacked against us, we began poking around. Several minutes later we were standing side-by-side, quite ready to give up the search. The spot was empty tonight. Almost on a whim, I turned around... and my head lamp illuminated this small snake coiled in a picturesque manner on the frond of an agave plant.
In situ
: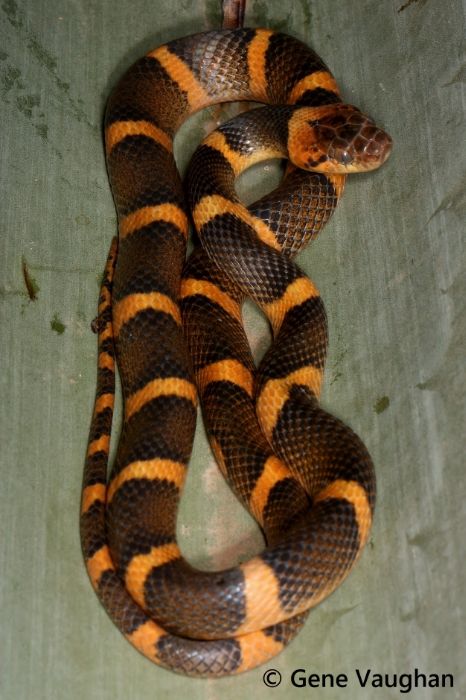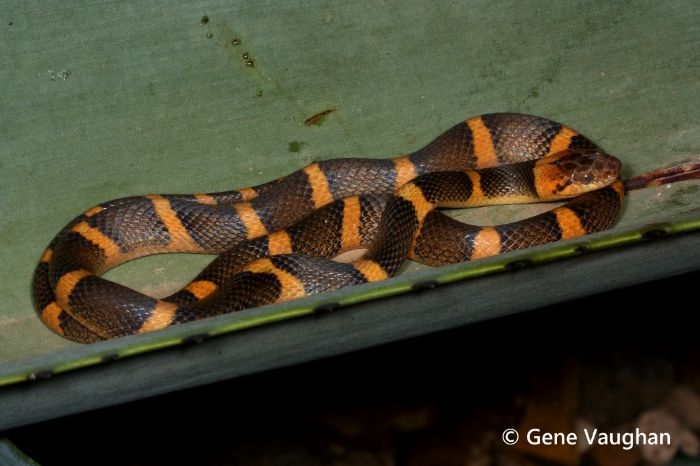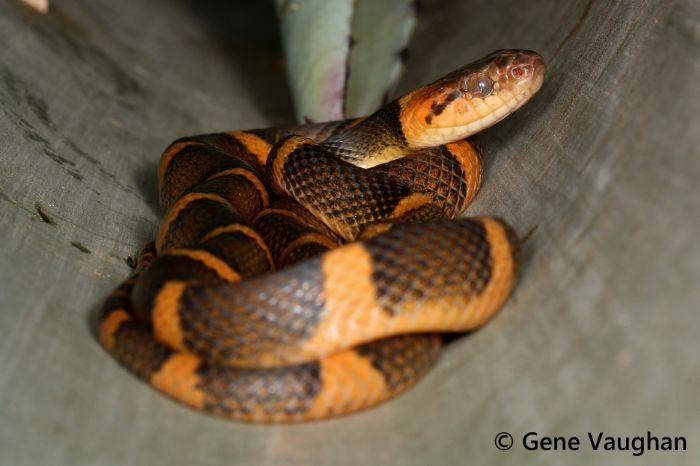 We couldn't believe our luck! Some people spend years searching for Cat-eyed Snakes in South Texas, and I had found one on my VERY FIRST TRY. I was elated, and the only negative about the situation was that the snake, as brightly-colored as it was, was in shed (which is really only obvious in the head shot).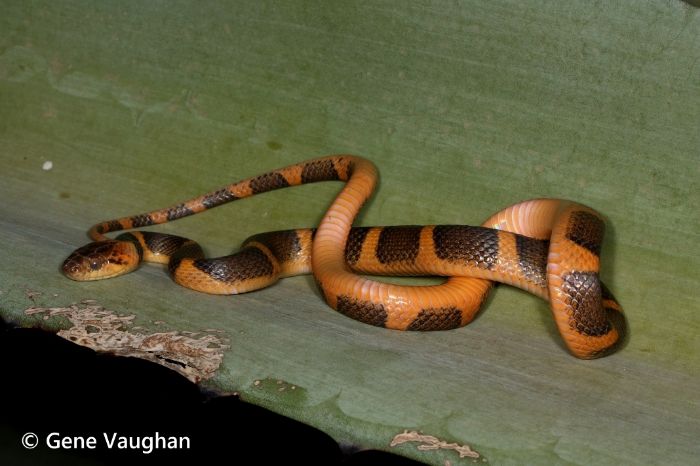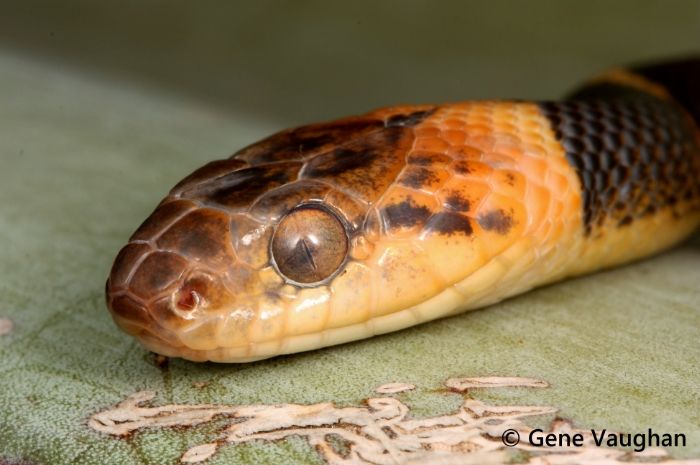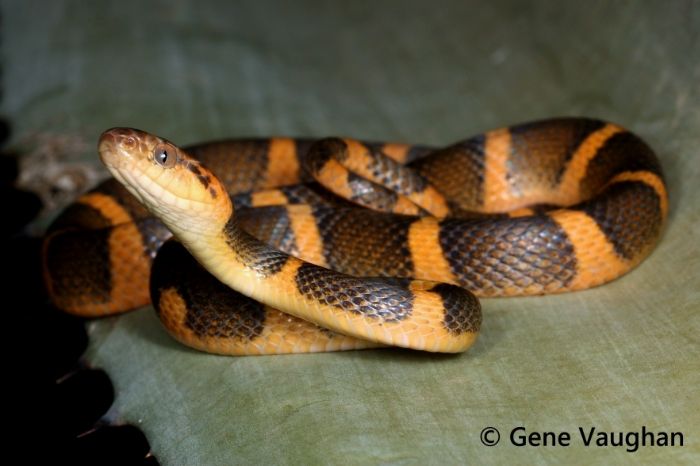 I got home at 3:15am and woke my parents to tell them I was alive. My mom, very groggy for obvious reasons, said, "Did you find the one you wanted to see?" I had.
Two weeks later, Blake and I went out road-cruising again, this time with John Martin. Mr. Martin is one of the founders of the Valley Land Fund, an organization which seeks to preserve land in South Texas. His property north of Edinburg is home to a population of Cat-eyed Snakes, and we planned on looking for some when we went back to his house after the cruise. But first, he had a surprise waiting for us when we arrived. The night before, he had gone road-cruising alone and caught a Mexican Milk Snake (
Lampropeltis gentilis
/
annulata
/who knows?), a species which I had never seen. The snake loved to move, but Blake was able to pose it for me for a few decent photos.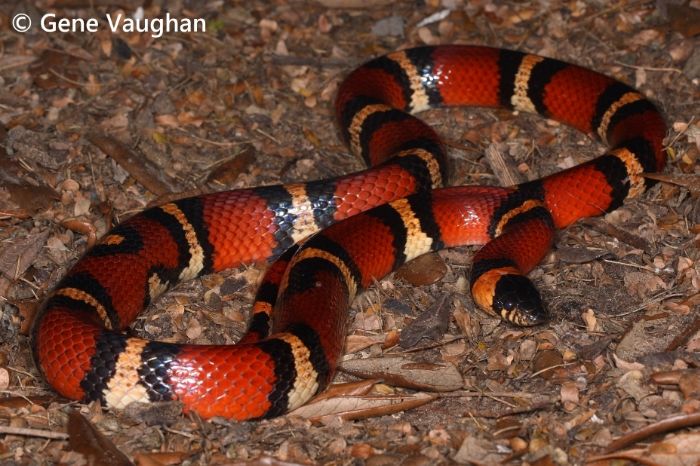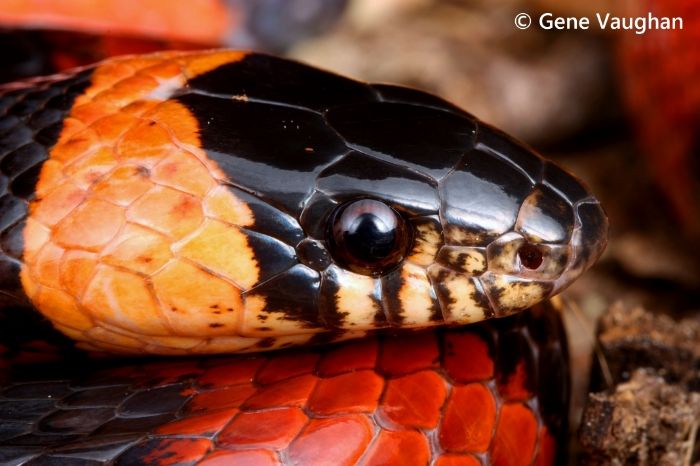 The cruising was slow. We saw two DOR glossy snakes (
Arizona elegans arenicola
), one DOR checkered garter snake (
Thamnophis marcianus marcianus
), and one small, furious AOR western diamondback rattlesnake (
Crotalus atrox
).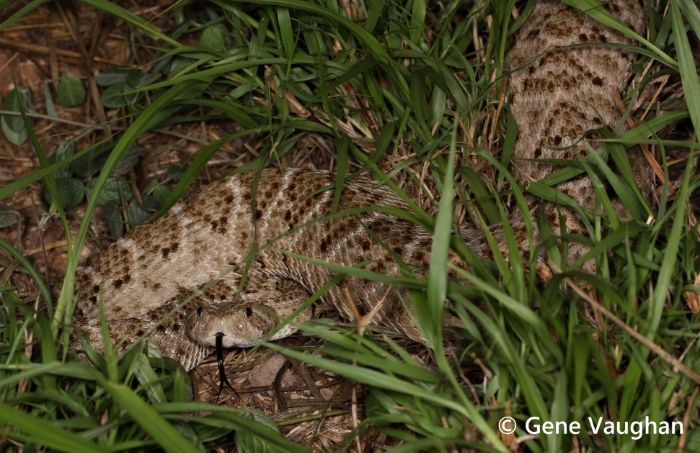 We then stopped at the same western Hidalgo County locality where we had seen the last Cat-eyed snake, and no sooner had I hopped out of the car than I saw, this time on the ground, YET ANOTHER CAT-EYED SNAKE. This one was not in shed, and it was absolutely beautiful. Later, we looked for
Leptodeira
at the Martins' house and saw nothing. But it didn't matter. I was now two for two on cat-eyed snake searches.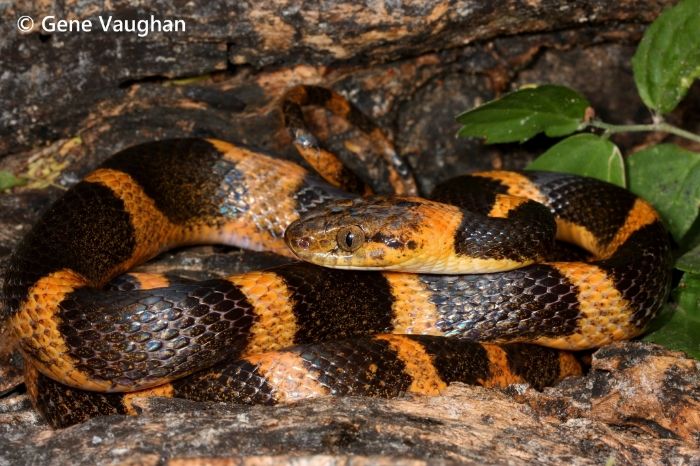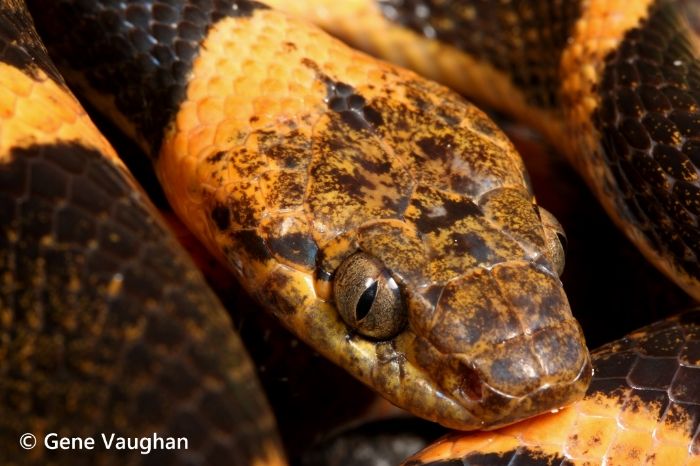 I haven't seen any since, but that's really alright with me. I was happy and very fortunate to have seen the two specimens I spotted, and I owe a lot to the people who helped me (Seth Patterson, Blake Tyler, and John Martin). Without them, I doubt I would have seen any. Anyway, I hope you had a good time reading the first installment and checking out the eye candy. I'll get to work on Part 2 pretty soon.
-Gene