The Greater Green Snake,
Cyclophiops major
, is one of the most common diurnal snakes in Taiwan. Although they're pretty, I usually don't bother with them anymore, having shown them here twice already this summer (
here
and
here
). But as was the case here, once in a while a really large individual comes along and inspires me to try some creative photography. (That doesn't mean the photos are good. It just means that I try out various and possibly new ways of photographing a snake). Along the road where I take my daily morning walk, the place shown here is my favorite spot to photograph snakes: it provides sunlit as well as shady spots; I can sit on one side of the ditch and use the other as a table; I can easily re-catch snakes that flee onto the road or into the ditch, and there's sunlight from 0900 to 1400 hours. This time, though, it was high noon, and my limited amateur photography skills were challenged to the max by the hard contrast of dark forest shade and the interspersed dapples of harsh sunlight (
see Footnote 1
).
If I may
quote myself
(yes, I'm lazy): "As I understand, these animals are the Asian analog of the North American Smooth Snakes and Rough Snakes - diurnal invertebrate eaters that dazzle humans with their docility. Actually, I've been bitten by this species before, but I guess every town has its crazies". This individual was as sweet-natured as they come, and it took me only half an hour to calm it down enough to work without the hat. Snakesoftaiwan.com has more: "This mild-tempered diurnal snake inhabits humid forests and agricultural areas. It preys on earthworms and insect larvae and leads a semi-arboreal lifestyle, sleeping in trees and shrubs at night. Females produce 4-13 eggs of approximately 3 x 1.5 cm per clutch in spring and early summer. Hatchlings measure about 26 cm in total length."
The site continues: "The harmless, invertebrate-eating Greater Green Snake is frequently mistaken for the Chinese Tree Viper (
Viridovipera s. stejnegeri
) and subsequently killed. However, while both snakes are green, the differences are quite obvious at a closer glance: the Chinese Tree Viper (or Bamboo Viper, as it is commonly referred to) has a triangular head, red eyes, a white stripe along both sides of the body, and a reddish-brown tail. The Greater Green Snake has an oval head, black eyes, no stripes, and a green tail. Its scales are also much shinier than the matte, dull coloring of the Bamboo Viper." The confusion is worsened by the similar-sounding Taiwanese names for these two serpents. At the sight of a green snake, most locals will think "viper" and react accordingly. Yesterday was no exception: the hikers passing by my ditch either yelled at me "THAT'S A VENOMOUS SNAKE! CAREFUL!" or didn't say anything, but moved over to the far side of the road.

FOOTNOTE 1: Having very bright and very dark bits in the same frame is the nightmare of every amateur shutterbug. You either blow out the highlights, or you plunge the dark spots into absolute darkness. How do all y'all deal with this? (Please discuss
in this Image Lab thread
- thanks!)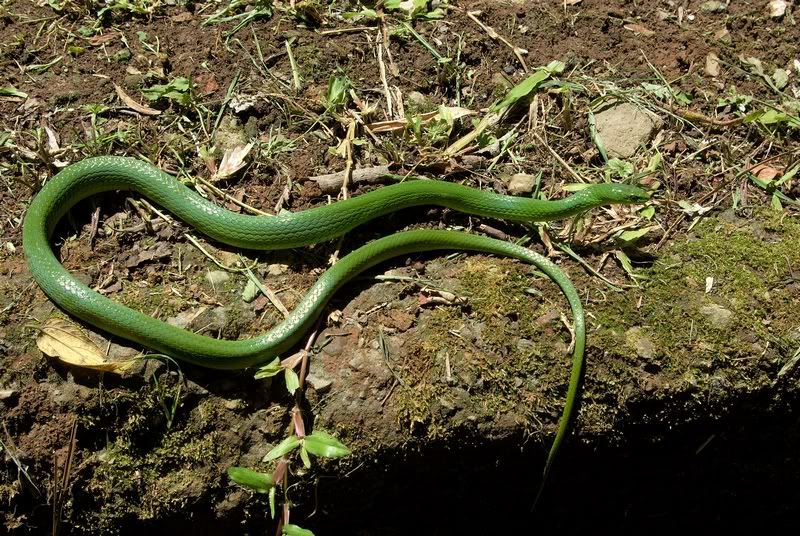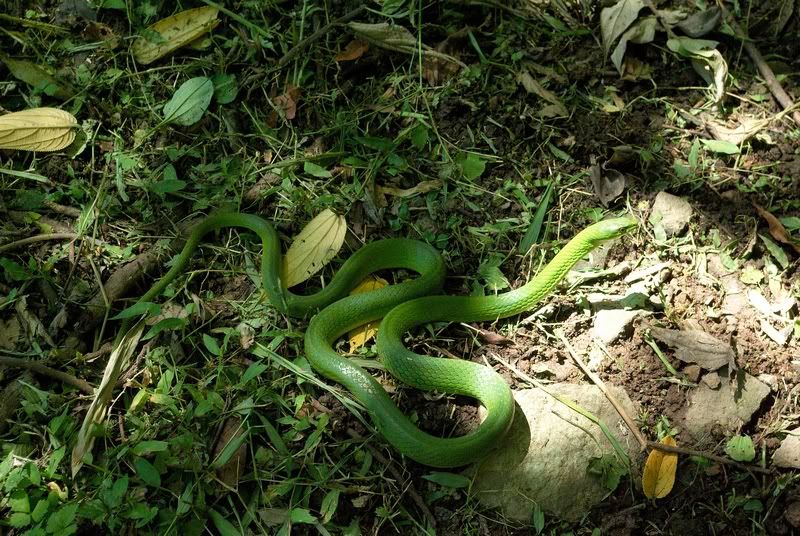 And now for a few attempts at post-Grismerism (well, actually more like "Where's Waldo?").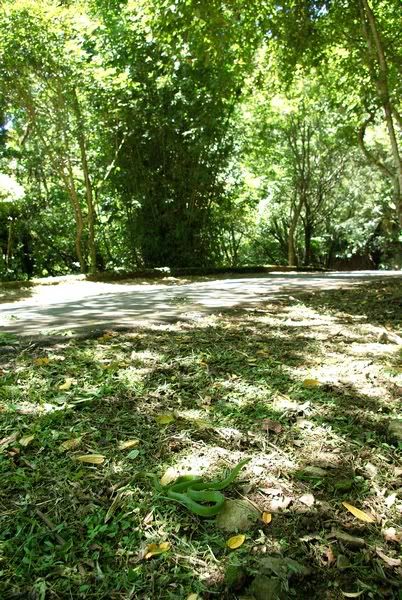 ...and one for the art lovers