We began 2014 with our traditional New Year's Day herping trip. In years past, Jan 1st weather has ranged from warm and sunny to cool and cloudy, but the hillsides have always been green. Not this year. Some of the chapparal appeared not just dry, but dead. No herps were encountered.
Several weeks later it was still terribly dry, and a long day produced a single Red Diamond in what is normally a productive area.
When we finally got a little rain, we started to find some animals, with an unusually high number tucked away under rocks or staying in cracks, presumably trying to preserve their precious moisture.
A little more rain resulted in more activity…
We of course didn't forget to "hydrate" ourselves.
As the spring continued to wear on, flowers struggled to make an appearance, as we struggled to find herps.
Our coastal boardlines showed some life….
….although many of the snakes were quick to dive down when exposed.
We call wild kings with this appearance "blue-eyed blondes", although that term has a different meaning in herpetoculture circles.
We enjoy exploring and finding new areas to herp, but such adventures are often unproductive. Since it was a lousy year anyway, we stepped up the exploring a notch, figuring we could at least find some spots for 2015. Hmmm, I think there might be snakes here…
Turns out we didn't have to wait until 2015 after all.
Southern Pacific rattlesnakes have a nasty habit of lying in partial shade on the perimeter of rock outcrops, and even large ones can be difficult to see.
Fire season in SoCal typically coincides with the dryness and Santa Ana winds of the fall, but we encountered this fire in the spring. We were able to drive by right before the road was closed, but were kicked out of our destination a little later by the Forest Service.
Back to the coast…
Here's Jeff and his eldest son Matty admiring a unicolor rosy boa.
That's the gaze of a future boa nut.
You looking at me, punk??
A foul taste for a foul creature
I've got a little group of Western Fence lizards in my backyard, and one has developed the curious habit of surveying the world by looking through my glass wall.
Boys will be boys…
One of the highlights of 2014 for me was getting the chance to photograph both our local taxa of patchnose snakes (the coast form is darker than the desert). Typically I find them DOR, or only get a glimpse as they speed away.
Southern Pacific rattlesnakes ain't my favorite, but I've got to admit the neonates can be attractive.
After I finished photographing this large gopher snake, I scooted it back into the brush away from the road. As I watched it crawl away, it went right by another large individual that I wouldn't have seen otherwise (presumably a male that had been following the female).
Hmmm…I think there might be snakes here too.
Here's a lighter desert-phase Red Diamond.
In April we took a family camping trip to the high desert. Shortly after our arrival, we had just started a quick nature loop near camp when my wife said "uh, there's a snake over there…"
This beautiful speckled rattlesnake was definitely on a mission, and didn't seem annoyed as we followed with camera in-hand.
I would have liked to continue to follow it (perhaps it was a male that would lead us to a female), but it was too early in the trip to test my wife's patience, so we bid this marvelous creature farewell.
The next morning we began what turned into a magical hike. It was warm, but high clouds obscured the sun and kept the humidity levels high. The animals loved it.
I've seen one or two of these over the years, but this is among the most handsome.
As I stepped around a corner on the trail, I startled a speckled rattlesnake.
We saw a large impressive male chuckwalla on a rock, and I as slowly approached with my camera, my wife ran up the trail to use an old trick to catch a lizard's attention.
And here's the result:
Soon after I heard my brother hollering behind me - he had just seen a rattlesnake, and when he jumped back, yet another rattled at him! I ran back and photographed the first one. We could still hear the other, but it was too deep in the rocks to see.
The Great Basin collared lizards in the area are just incredibly beautiful.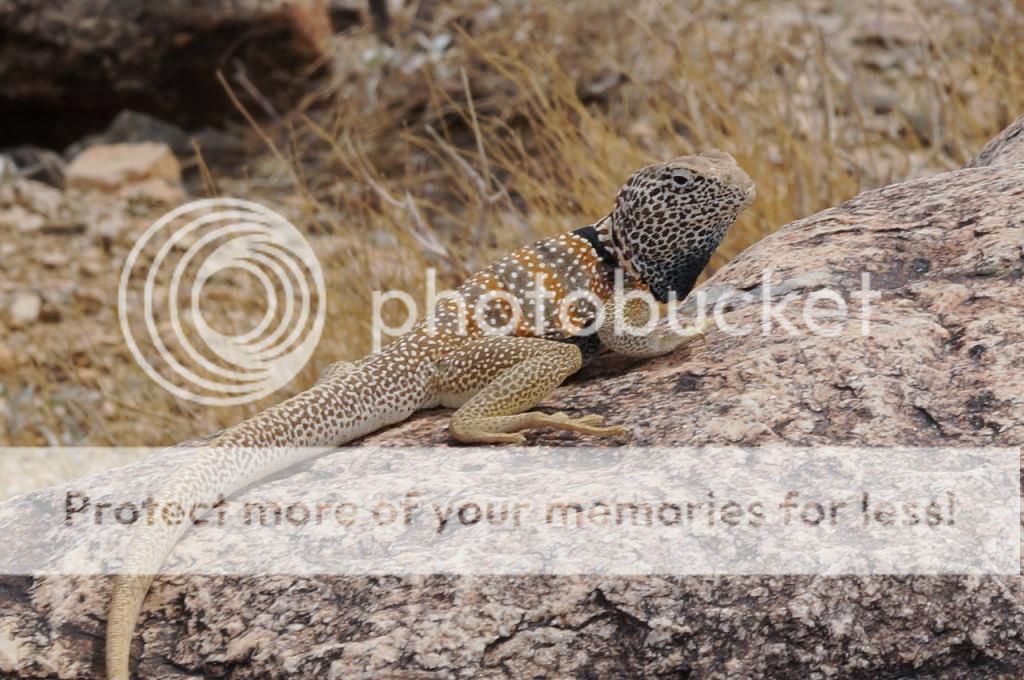 I got sorta close to this zebra-tail…
…but got my typical shot with this whiptail as it paddled away. I see some fantastic pictures of whiptails on this forum - I don't know how you folks do it.
We also saw a coachwhip, many other chuckwallas, and even some CA treefrogs before the hike was over.
As we drove back from the hike, I was really surprised to find this DOR, as I didn't think Mojaves occurred in the area.
The next day we tried a hike in an area where I hoped to see desert tortoises, but settled for splendid scenery instead.
Alright, away from the high desert, and on to the low desert…
I saw this lovely lyresnake crawling along a bank, so followed it for a bit, camera in hand.
Suddenly a black object arose from nowhere, and the lyresnake jumped back. It's safe to say that all three creatures involved were surprised by the encounter.
Those eyes are saying, Get Me Out of Here!
Glossy snakes can show lots of variation, even within a few miles of each other. The darker one is from a more rocky area, the lighter, more sandy.
And the shovelnose snakes show even more variation.
As leafnosed snakes go, I thought this one was fairly attractive.
We participated in the herp portion of San Diego's Zoo bioblitz in Escondido. They picked what should have been a good date for the survey, but it was cold and rainy (of all things) as the event began.
Despite the weather, the group did manage to find a respectable amount of herps.
The helleri above was found close to the staging area, so Bill ran back and asked if any of the buggers, birders, or botanists would like to see a rattlesnake. That's our motto – build respect for reptiles and amphibians, one new herper at a time (or several in this case!).
Ah, springtime has arrived in the mountains!
You never know what you'll see next.
We experienced strong Santa Ana winds in May, several months ahead of schedule. One morning I looked out my office window to see this:
The flames looked to be heading our way, so we closed up shop and went home while we still could. When I arrived, there was a new plume of smoke, but in the other direction. This fire (the Cocos fire) burned for several days and destroyed many structures.
The Marines from Camp Pendleton joined in the fight against the fires, and waited for their turn to fill their water buckets in an open area behind my house.
Here's one of the choppers, bucket now filled, heading off to the Cocos fire. Note the feet dangling out the open door. These guys did an incredible job.
Alright, back to herping and exploring – late last year we had found a new road to cruise, and it was time to give it a try.
Hmmmm….I think there are snakes here!
We spent a weekend with Bill's family in Arizona, and my wife got a chance to feed the chickens….
….and collect eggs for breakfast.
What she didn't count on was finding this in the henhouse!
You don't have to ask me twice.
Back to good 'ol CA, where there's still some time left in the season for cruising.
We met with a group of students from Florida who had come all this way to find….Southern Pacific rattlesnakes (among other species). We were happy to help!
It had been dry all year, and by now it was hot too, but I thought I could squeeze in another mountain trip. I started with a bit of fishing, and then planned to hike several miles and explore some montane habitat.
I was a fair distance from my truck when I saw what at first looked like a puffy white cloud. I quickly hiked over a ridge to get a better look.
This is the first time I've ever feel threatened by a fire on a hike, and it was a very intimidating thing. I high-tailed it back down, and took a shot of the ridge where I was a few minutes earlier.
As I drove away, I watched the fire explode behind me. And it's STILL not fire season here.
For all the dryness earlier in the year, this summer we've had an unusual amount of tropical moisture, and I recently enjoyed some CA monsoon herping, finding several Western toads, and a large adult Arroyo toad.
In my never-ending quest to find happy cows (read: please my wife), we found this one in Arizona. I saw the big horns and thought, it's going to charge us! But then Bill pointed out my udder failure at gender identification.
So I found these CA cows instead. They just LOVED me, and started to head over and say hello. I have no idea what they wanted – I grew up on the beach, not the farm!
Alright dear reader, you've made it to the sunset! Here's to a wetter, and less smoky, 2015.