My brother Brian spent 2.5 months doing an REU project studying litter frogs and other herp diversity in different types of forest at La Selva Biological station in Costa Rica. He had 2 weeks off at the end, and this happened to coincide with a vacation on my part. I couldn't pass up the opportunity to get to Costa Rica for the first time, especially to spend some time with my kid brother, a budding herper of a few years now, who is becoming damn good in the field, despite how much crap I give him.
I flew into San Jose on Sat morning, met him at the airport and off we headed on our adventure. We had a loose itinerary, and had planned on some wiggle room. Various plans fell through, for better or worse, and I think we both learned many lessons in traveling in a 3rd world country. After getting lost numerous times in San Jose, we finally got out of the city and on the road. Our first destination was a lovely B&B south of San Jose in the mountains. We really should have skipped this, if only due to location, but the possibility for montane species such as godmans vipers, palm vipers and black milksnakes lured us in. The property owners were extremely helpful, pointed out all the haunts of the various serpents they had seen in the past 1-2 weeks. We enjoyed wonderful food, great conversation and some nice hikes. Unfortunately, we only had scenery, birds and a lone frog to enjoy.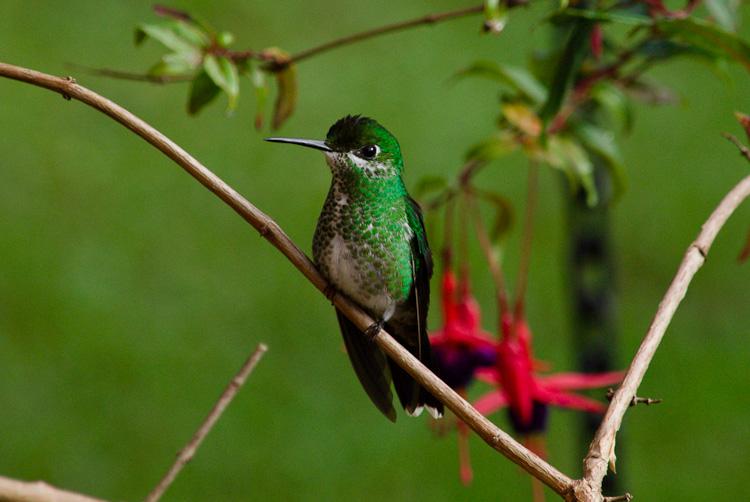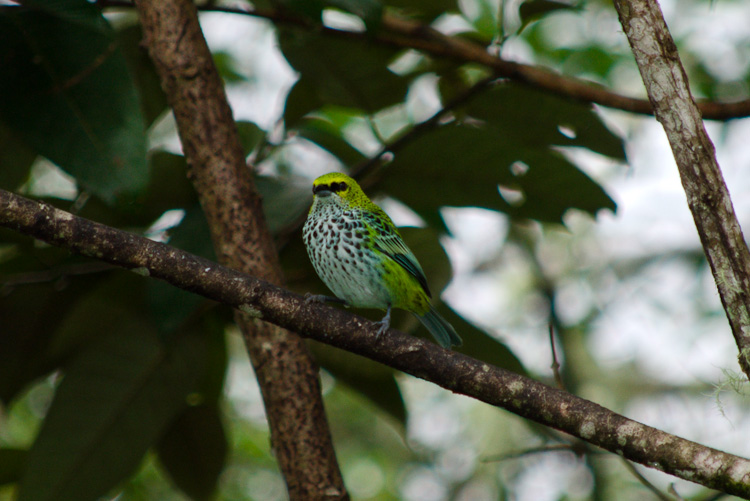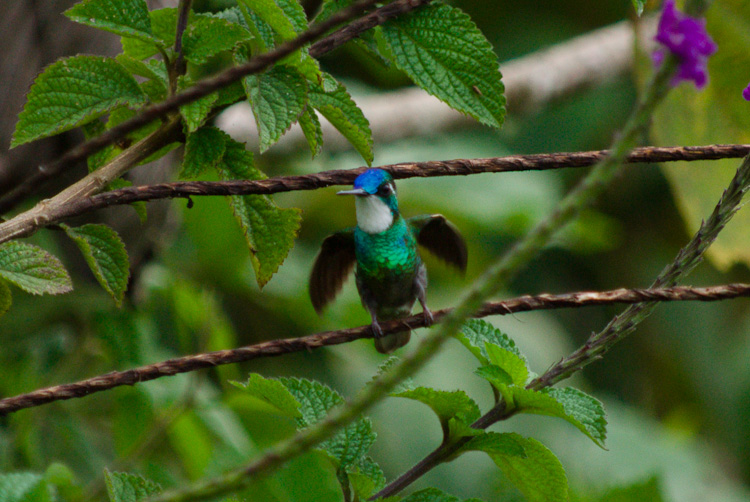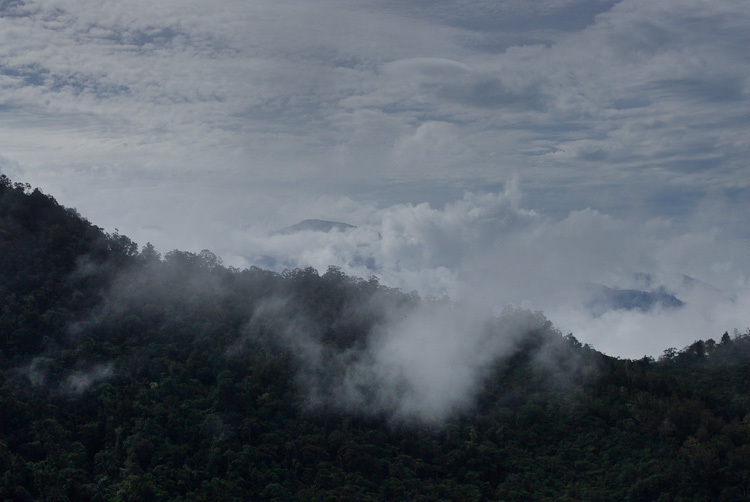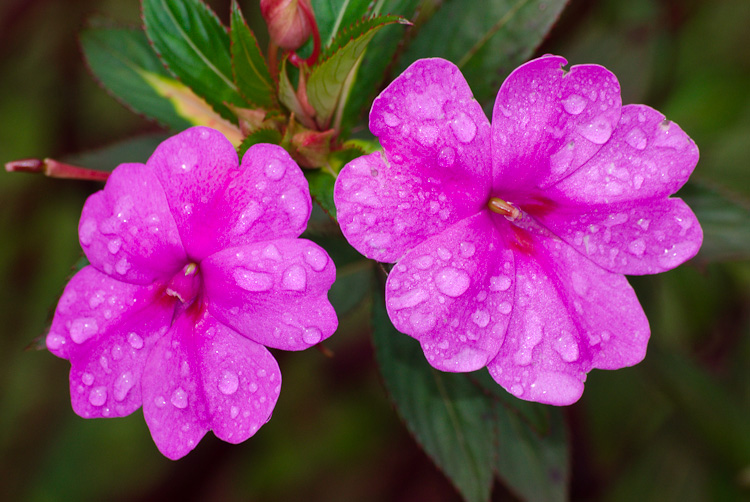 I have a fond spot in my heart for Akita's, and enjoyed Kuma immensely.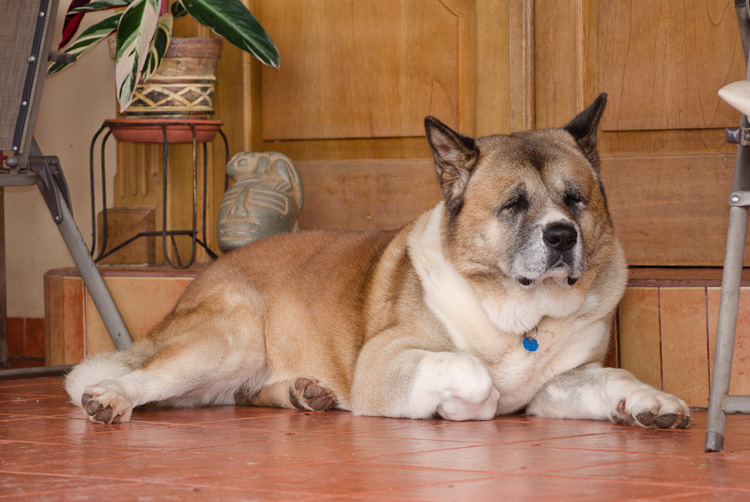 And our lone frog,
Craugastor crassiditus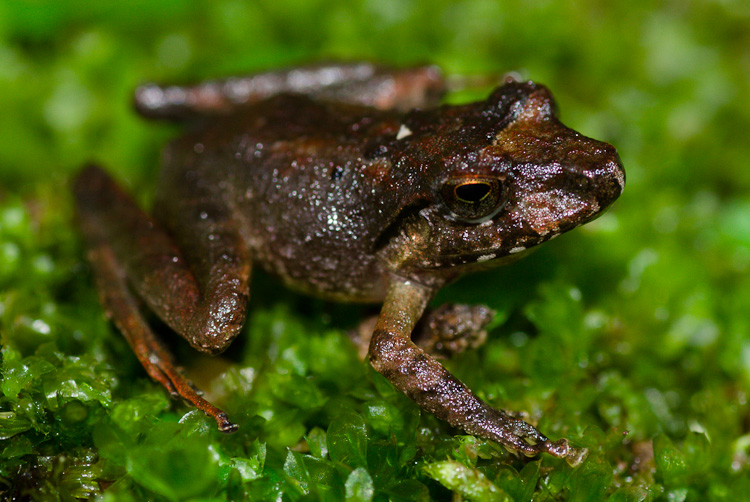 Let the fun begin... Alas, our trip continued to creep along at a slow start. We were planning on heading to a completely different region of the country, and totally miscalculated how long it would take us to get there. We were told a major bridge was out, and 2 alternate routes were recommended. Both sounded pretty terrible. In the end, we decided to try a ferry... (don't ever take the ferry!).
Along the way, we turned up a DOR,
Drymobius margaritiferus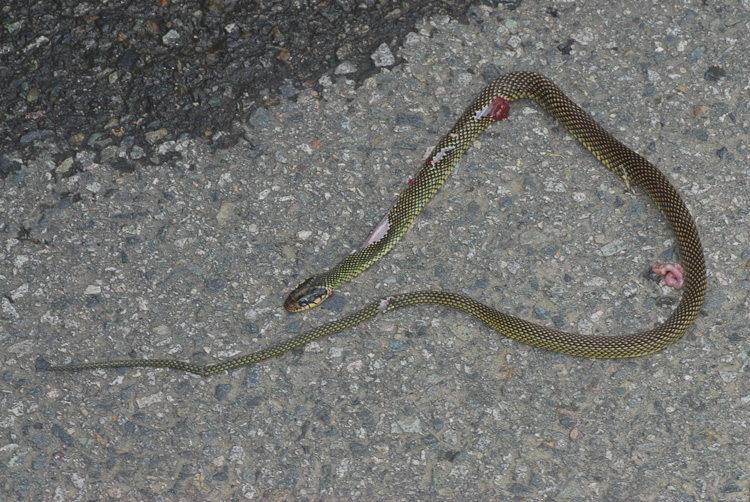 Brian had never seen a croc before, and we were anxious to get to a popular spot. Unfortunately, I failed to notice the speed limit go from 80kph to 60 kph and got nailed going 85kph. About $550 later we were furiously on our way again. DO NOT SPEED IN COSTA RICA.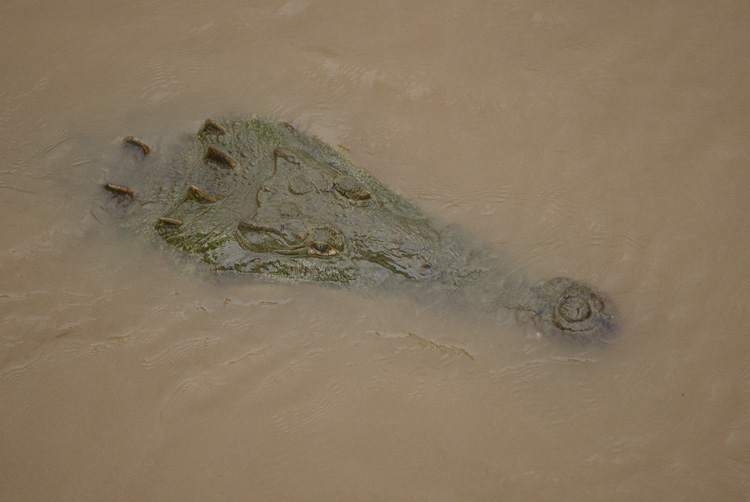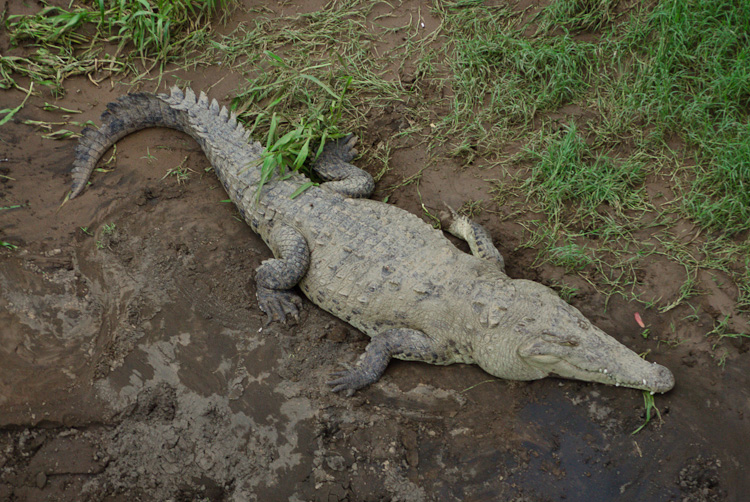 The rest of the day went from bad to worse. We caught the ferry, got lost many times on small back roads, ended up traversing washed out bridges in the middle of the night, saw few to no herps, and lost many hours. Our 6-8 hr drive was sitting around 12 or 13 hours and we still were a few hours from our destination for the night when we finally started to get back on pavement and near a decent sized city. We pulled over at the first motel we saw, sadly hit the sack, and vowed to have a better day tomorrow...
A couple
Smilisca baudini
showed up prior to us turning in, as well as an
Incilus coccifer
.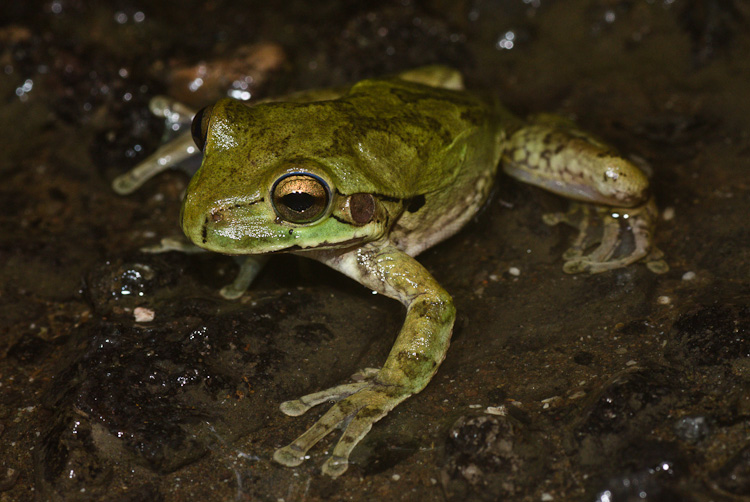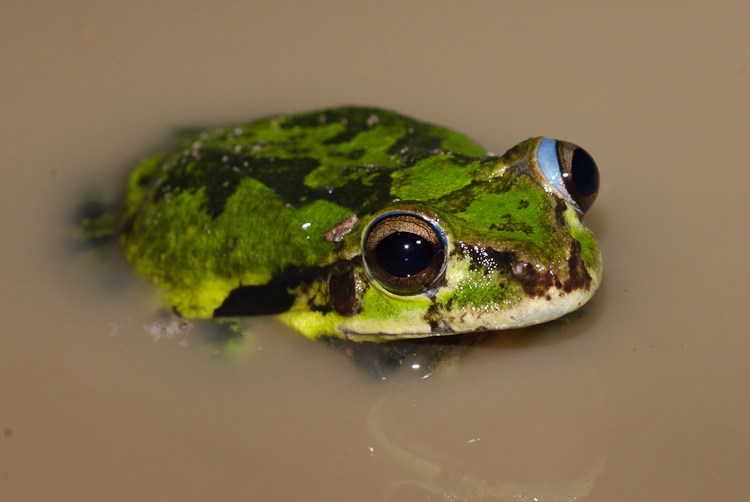 Two tough days down, and spirits are running low. Did we make a huge mistake? Our we wasting our time and money? Or do we need to just get out of the car (we want to believe me) and hit the trails?
Dead set on getting started on the right foot and getting this trip turned around, Brian and I awoke at our impromptu hotel early and hit the road. We would not waste another day. We spotted a DOR boa on the side of the road, grabbed some quick voucher pics and moved on. We arrived at one of our destinations an hour or so later, and we set out to hike with the day in front of us.
Right off the bat, I turned up the ubiquitous cane toad,
Chaunas marinus
.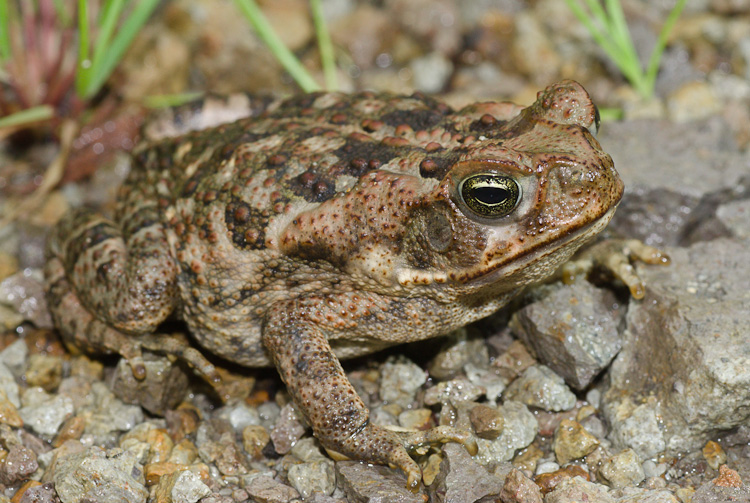 We would be exploring a drier part of the country for the next couple of days. The habitat looked very different from the rest of the trip.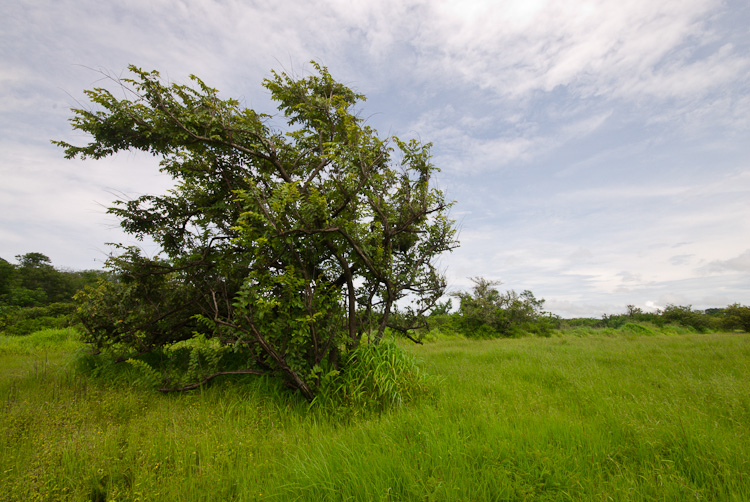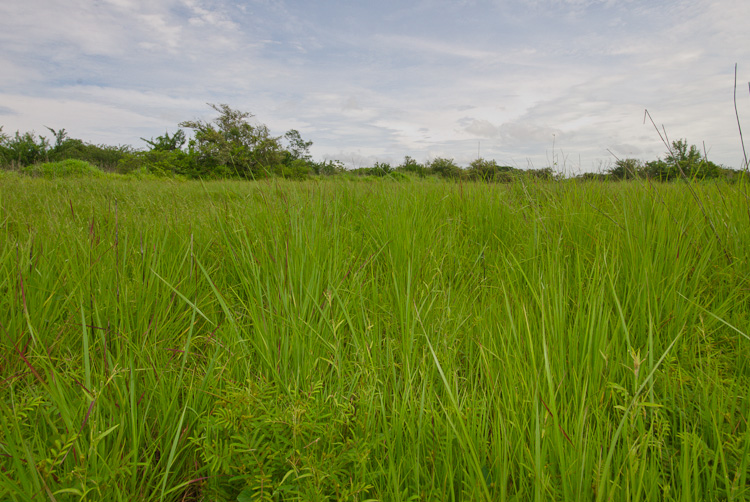 We explored for a few hours but weren't about to turn up too much. We found a number of Leptodactylus poecilichilus clustered around areas with water.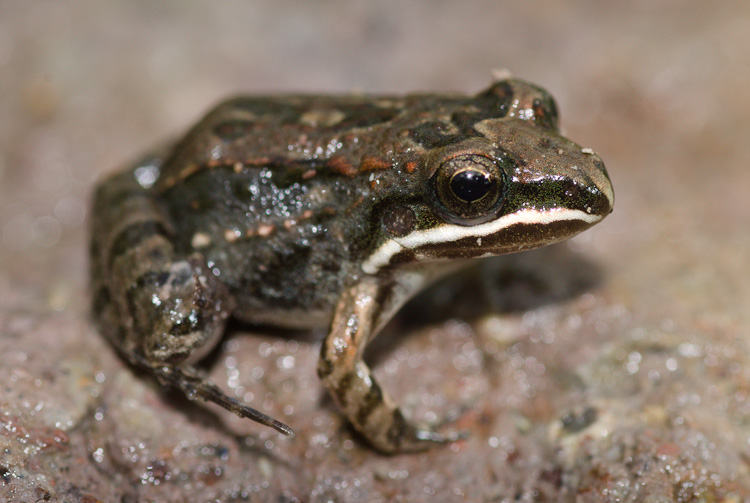 As well as Incilius valliceps.
Unfortunately, about this time, early afternoon, clouds rolled in the heavens opened over us. We made the few km hike back to the car in the rain without turning up anything else. We decided to take advantage of the rain to get situated with our lodging for the night. We were going to stay at the Palo Verde research station, but the nice hosts at the first bed and breakfast recommended a couple that owned a farm, had some cottages and reported they had rattlesnakes on the farm! Being one of our primary targets, we decided to check it out. We pulled into the farm mid afternoon, and it was nice and sunny here. We were able to get a nice clean room for $45 a night, extra for meals. The meals were home cooked, and were by far the best food we had all trip. The farm was situated on a river, with its own native crocodiles, and the owner even had a couple of the rattlesnakes he had caught on his property the last few years. Herper heaven...
We checked in and quickly hit the trails. Within a few minutes, we noticed projectiles being thrown our way. Looking up in the large trees over the property, we spotted large numbers of howler monkeys and spider monkeys.
Basilicus vittatus from the farm.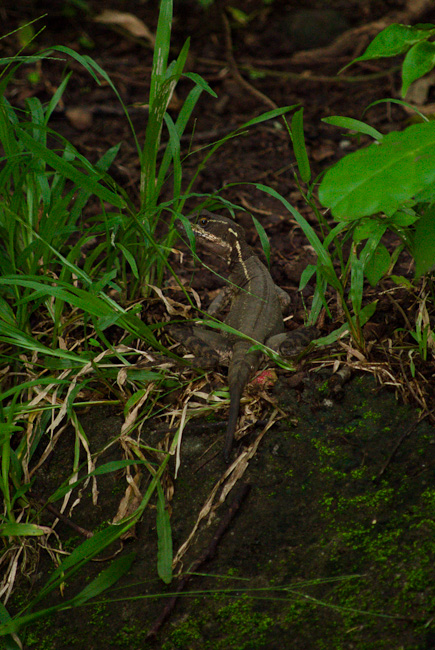 Howlers.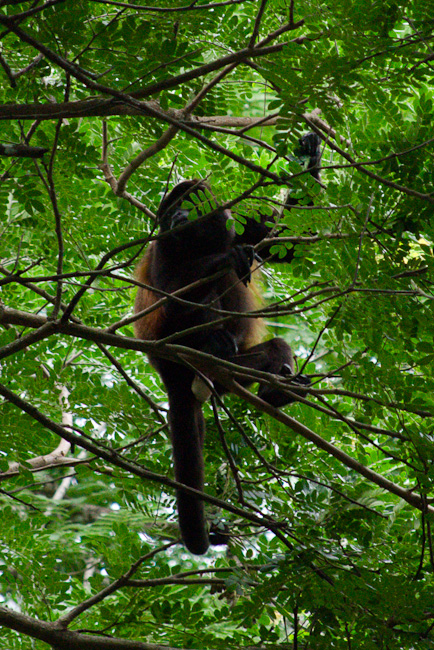 A much darker Incilius valliceps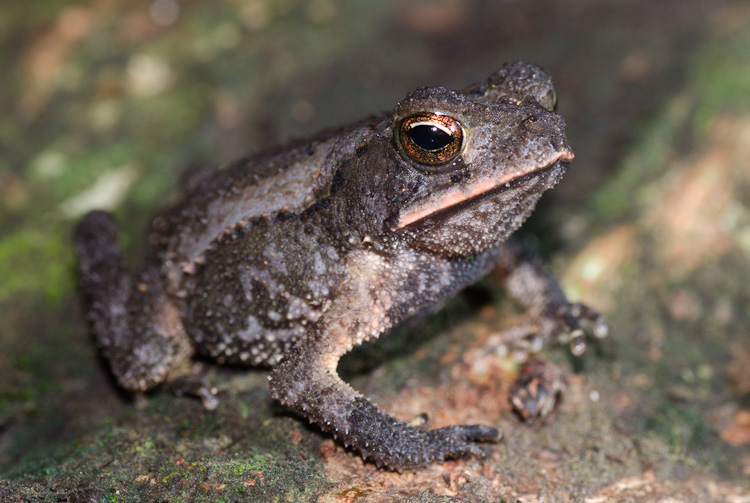 Boatbilled Herons along the river.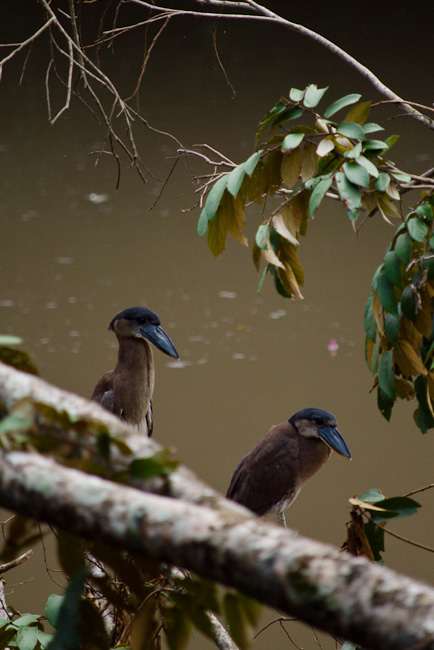 Unfortunately, the river water was high and we never did lay eyes on one of the resident crocs.
We were enjoying one of the trails over the farm, basically through floodplain, then farm pasture and secondary growth forest when the trail ran into a barbed wire fence. We could see the sign posts on the other side of the fence, but all the fences so far had a form of gate. Not this one. We were complaining about having to go under through the mud, or try to climb over, when Brian spotted a turtle right at our feet. I am sure we would have missed it had there been a gate...
Rhinoclemmys pulcherrima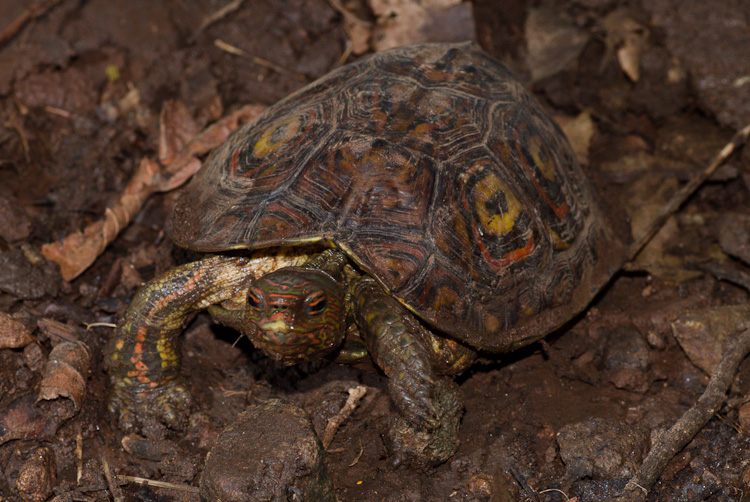 Otherwise, we enjoyed nice vistas and the local troupe of spider monkeys prior to a delicious dinner.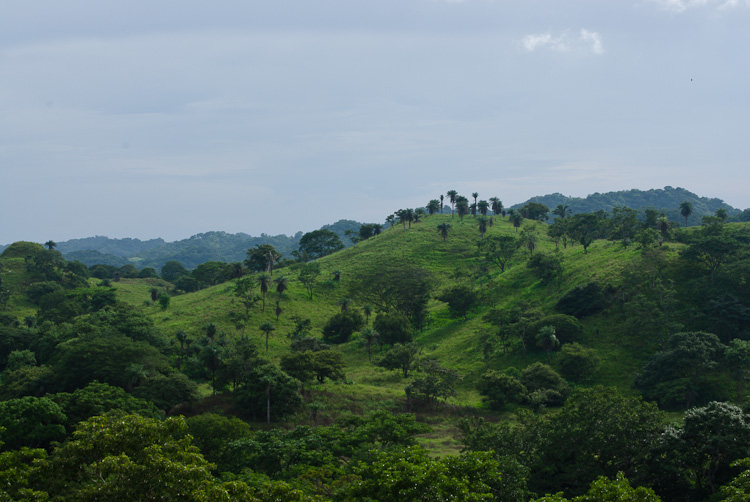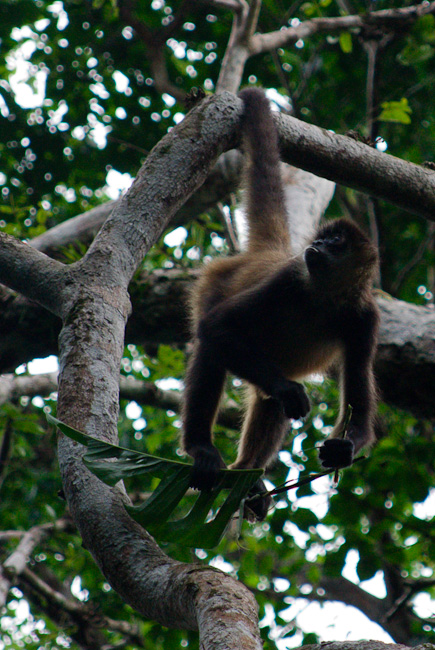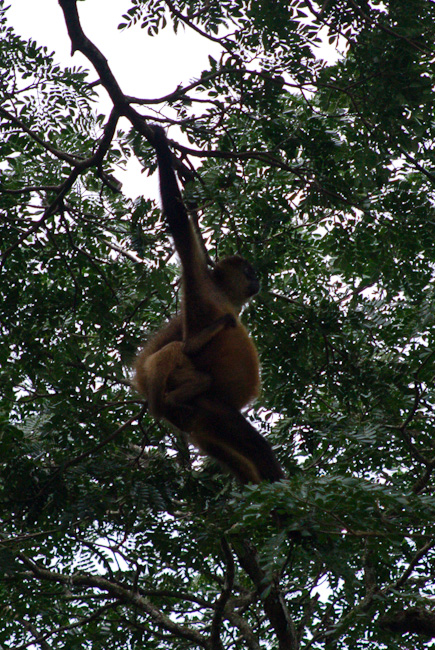 We enjoyed our meal greatly and quickly headed out for some road cruising. This was a tough night. Snakes were moving, but we were destined to only find them flattened.
Imantodes cenchoa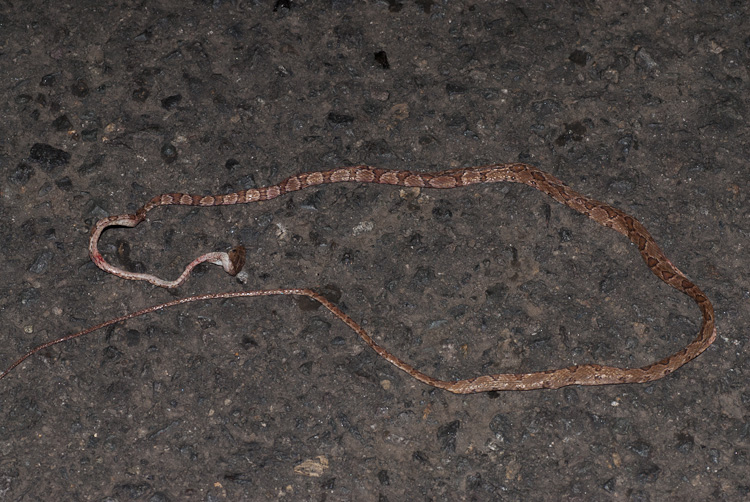 Porthidium ophryomegas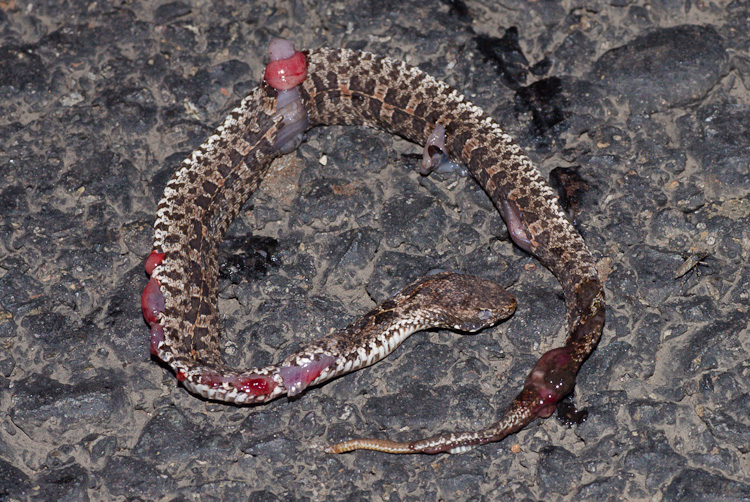 Ninea sebae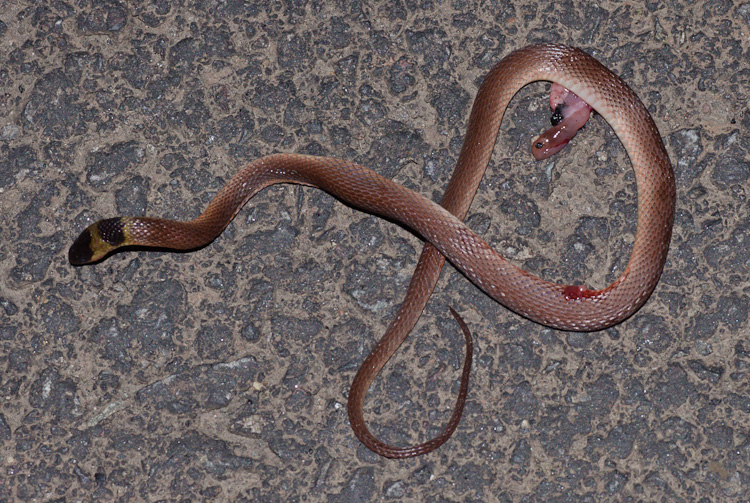 Leptodactylus labialis that I stupidly opted not to photograph better...?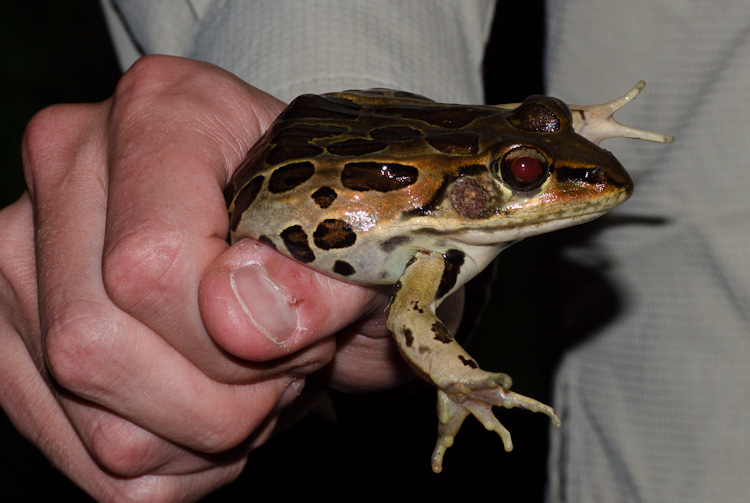 And the heartbreaker, still squirming Micrurus nigrocinctus
Things slowed down, and we continued to cruise for a few more hours. Another DOR porthidium, and a DOR boa and I started to work my way home. Brian was dead asleep in the passenger seat when right by the turn off to the motel, I noticed a very alive coral booking it across the road. I straddled the snake, yelled coral, and Brian was surprisingly out the door with tongs lickity split. It was a large one, and refused to be corralled on the road. We tried the tongs as a last resort, as well as forceps. It was almost too big for forceps and too small for tongs. You can see where this is going... As Brian was booking it to the car, he made the mistake of taking the route near the edge of the road. The snake squirmed loose and vanished in seconds off the road. There was a very heated and furious exchange of words as our first live snake in 3 days, and one of our main targets was lost quickly, and all the pent up emotion and frustration of the past few days quickly boiled over. To make matters worse, I noticed this pancake on the walk back to the car...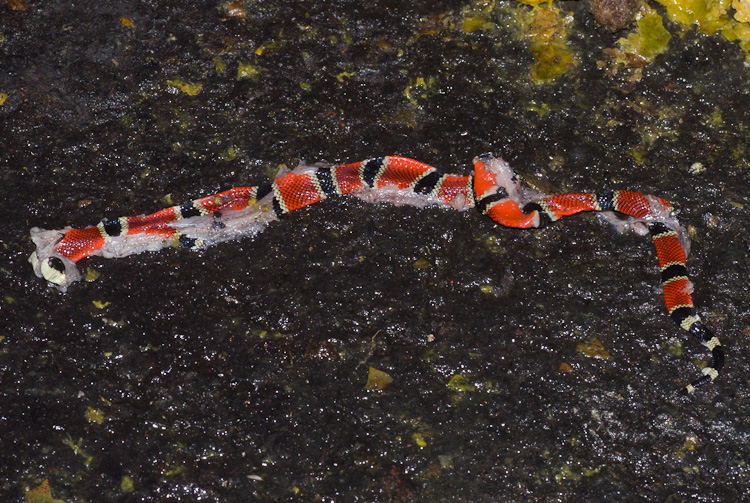 With a third or fourth wind now caught, we cruised a few more hours near the hotel, where a recent drizzle had wet the road. While not super productive, we were bummed to find DOR Leptodeira annulata and Gymnopus multiplicata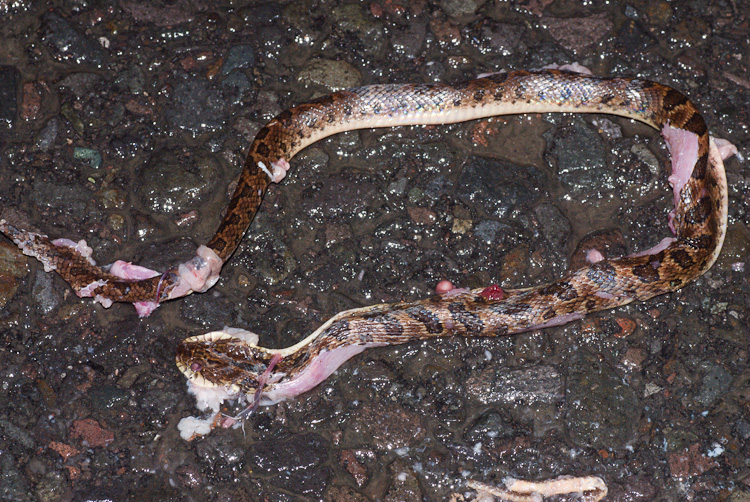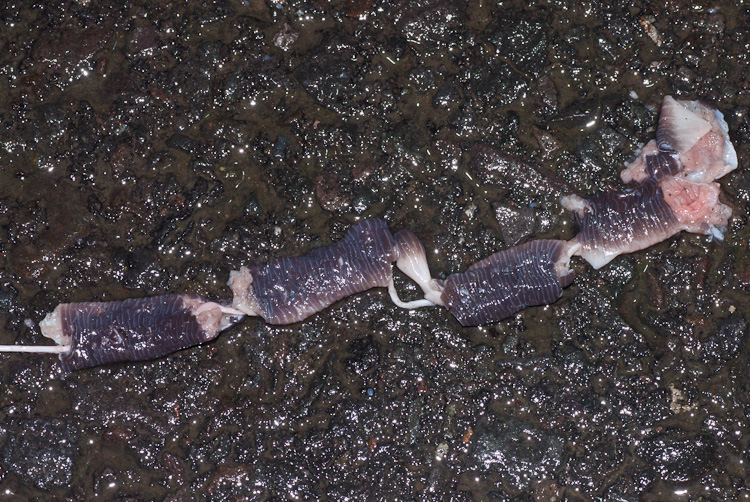 We finally turned in, feeling good about evidence of animals moving, but still bummed about the lack of live specimens to show for it. Luckily, tomorrow is always another day...
We had planned to move to a different area, but we woke up today and decided to stay another night. The room was cheap, and the road cruising was just tantalizing enough to get us to come back for more. The friendly monkeys thanked us with showers of excrement.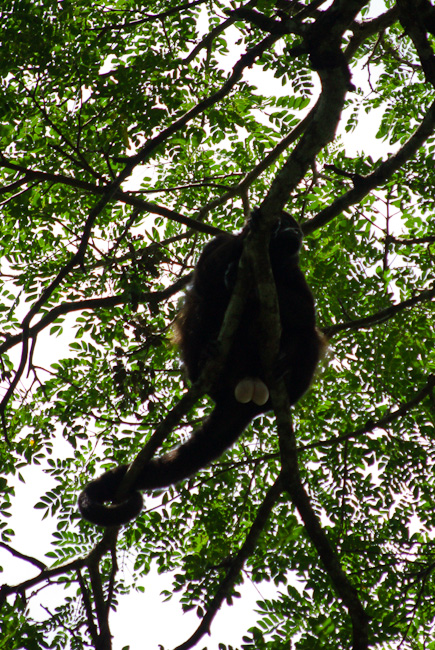 We went on a different hike on the property, but only were able to get pictures of a lizard we had seen around yesterday but never photographed.
Sceloperus variabilis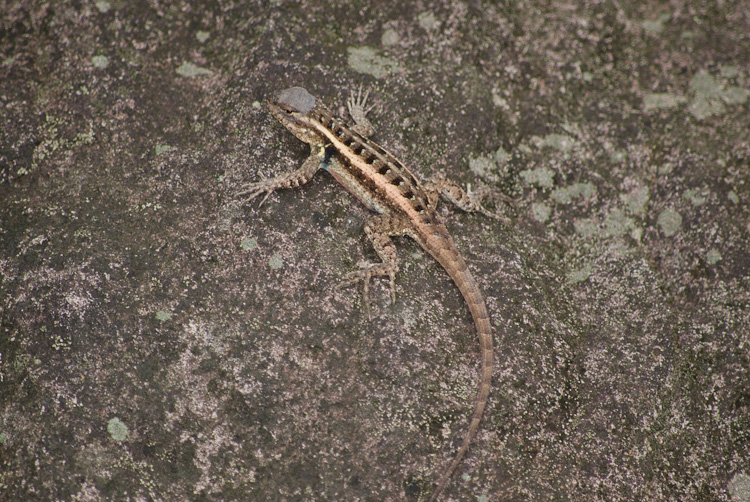 It began to get a little stormy, so we used the pouring rain as an opportunity to head into town, pay the ticket, grab some supplies. We were really in herping mode, and were very surprised to see this large stick in the road just outside of the lodge.
Oxybelis fulgidus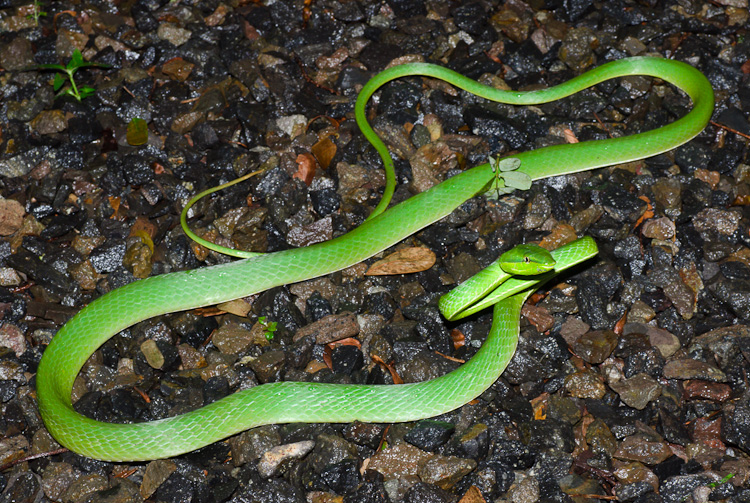 It started booking away very quickly so we had to settle for a few crappy road shots after grabbing it and some posed tree pictures.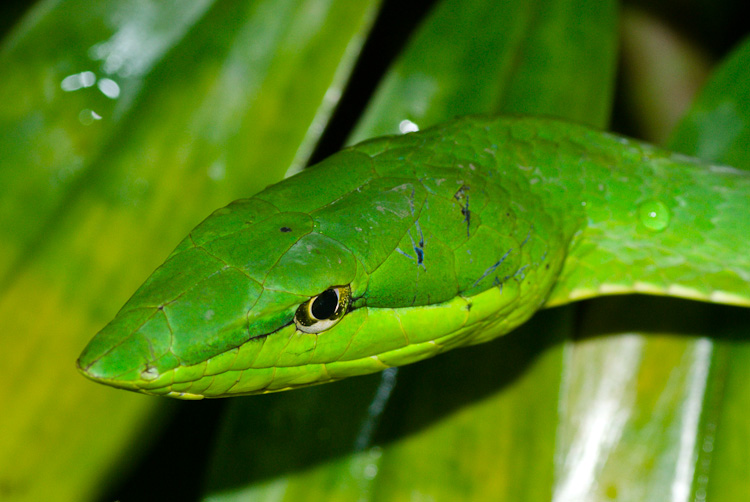 It really started to pour now, so we spent the next hour fighting with the bank. We then used a lull in the rain to check out the beach, and of course had it to ourselves. The body surfing was great, even if the nearby lightning wasn't.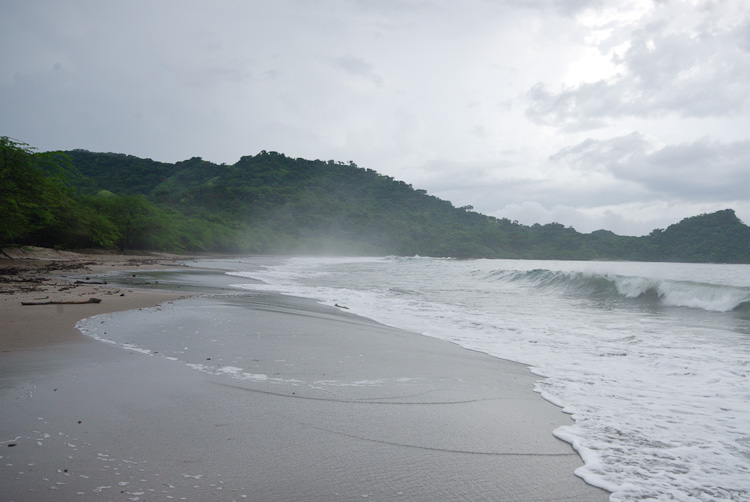 We checked some mangroves near the beaches for crocs, but struck out.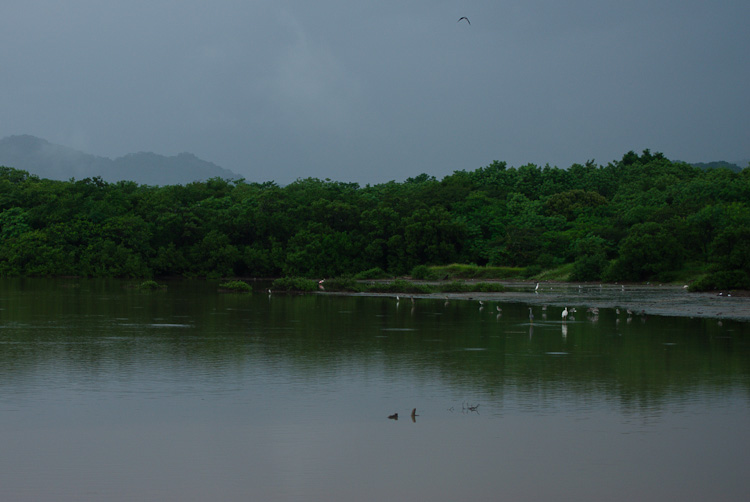 It was getting late in the afternoon and so we headed back in town to grab a quick bite to eat. The meals at our lodge were out of this world, but they liked to eat at 7pm, family style. The conversation was excellent, but it was getting dark around 530 and we couldn't justify all the missed roadcruising time. A quick snack and we were heading to the areas we wanted to cruise again. Our first border patrol stop loomed ahead, and we started to prepare our passports from the glove box. Imagine our surprise when my passport had mysteriously disappeared...
Brian was furious. We spent 10 minutes tearing through the car in a fit of rage, with the friendly policia rummaging through our bags, quite frustrated at the stupid gringos. I last had it at the bank, and although it was closed now, he sent us back to our hotel for the night with plans to visit the bank in the morning. We were pissed... On the way back, I stopped at a place we gassed up and grabbed cokes, and we decided to tear the car apart again. Brian had checked the glove box a few times already, but when I went to check it again, he brought up the concern of what if the passport fell into the dash from the glovebox. There was a crack at the top when the box was opened, and I was able to squeeze a few fingers in there... Would you believe I could feel the damn passport! I was able to carefully extract it, and with large sighs of relief we headed back to the check point. The policia laughed at our story, waved us on our way, and left us alone for the night.
Right off the bat, a new turtle was spotted on the wet roads.
Kinosternun scorpiodes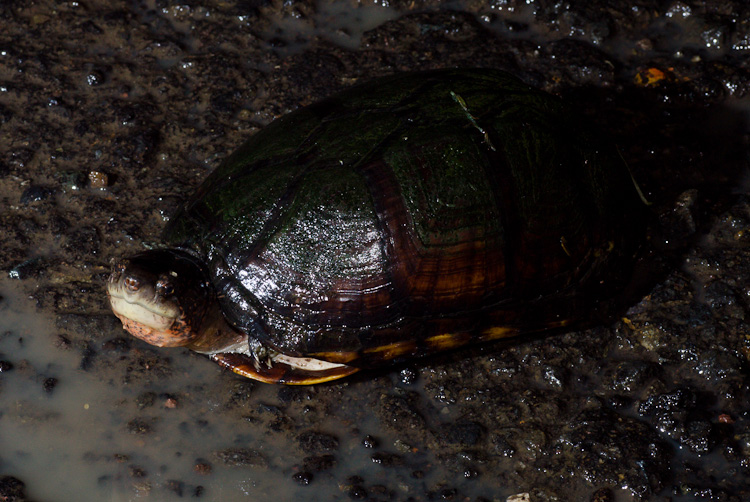 The frogs were out tonight.
Smilisca sordida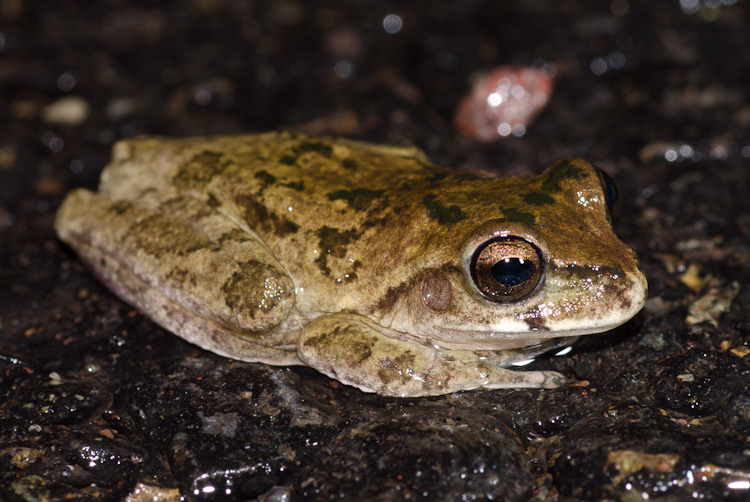 We had seen 3 or 4 flattened DOR hognose vipers the night before, and a few of them were only noticed after we stopped for a frog or a different object (sticks, etc). Brian was a little frustrated and didn't think we were seeing these little guys from the car. I had faith, and was explaining I felt a live Porthidium would be fairly obvious, no matter how small, and I thought it would have a pretty distinct posture on the road, nose up. Seconds after finishing that statement, I spotted a classic viper pose on the road, nose to the sky, and stated "just like that Porthidium there"! He was too excited to be pissed about me giving him a hard time after that.
Unfortunately, it was just a young juvie
asper
. We wavered on the ID on and off during the trip and settled on Porthidium, but were corrected once we returned home.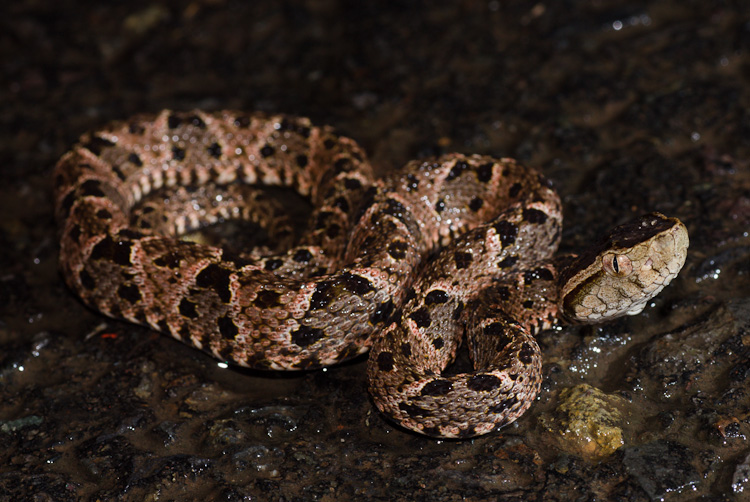 The DORs started coming hard after that. Sibon, Leptodiera, and a large Trimorphodon were all noted.
Lots of
Scinax staufferi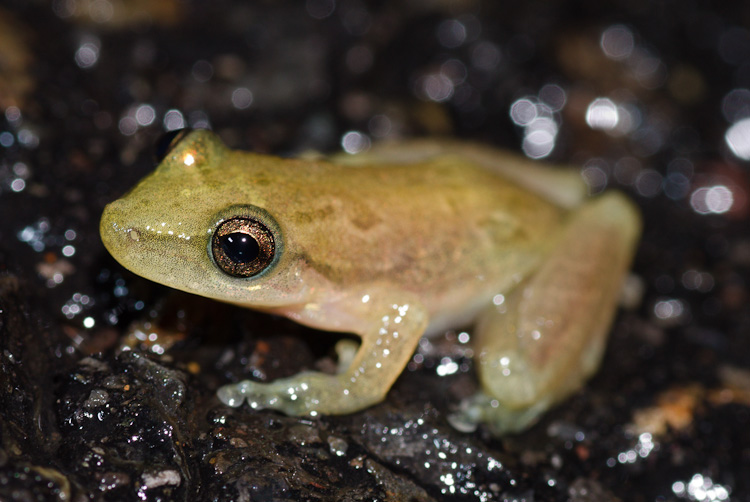 Leptodactylus forreri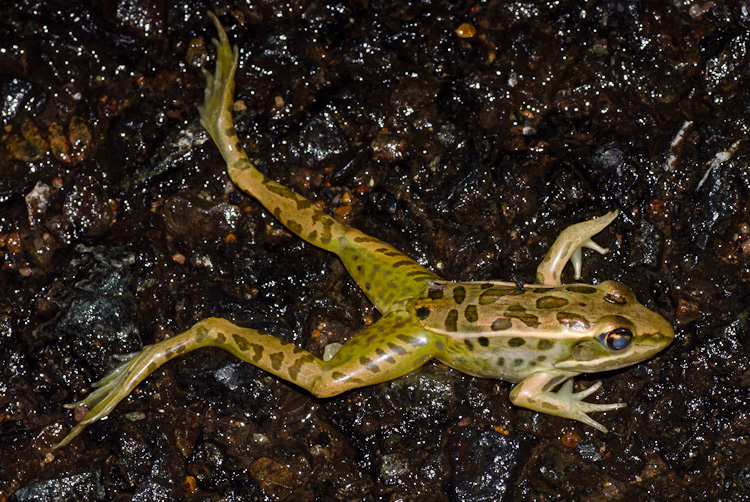 A few roads later we were investigating sticks on the road when Brian started paying closer attention to some nearby frog calls. They turned out to be calling from the roadside ditch.
Engystomops pustulolus
(only crappy pic I could get of them calling)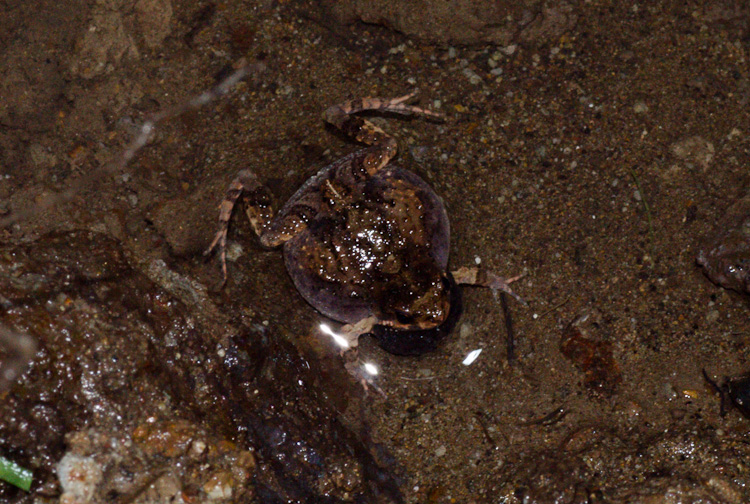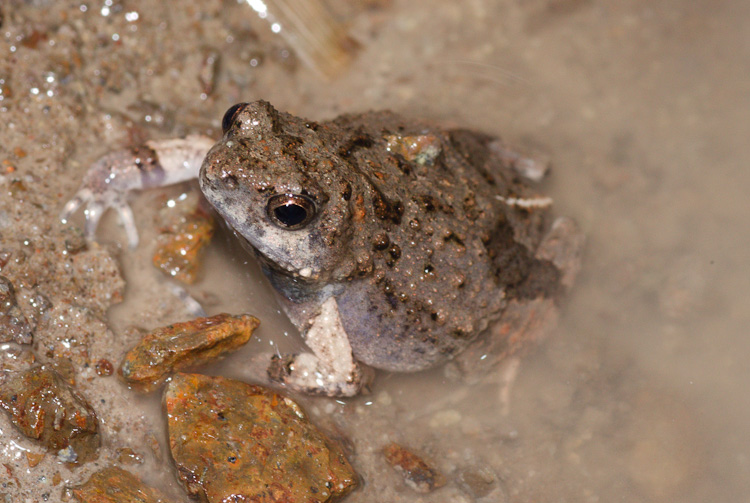 There was a much larger, prettier DOR
porthidium
.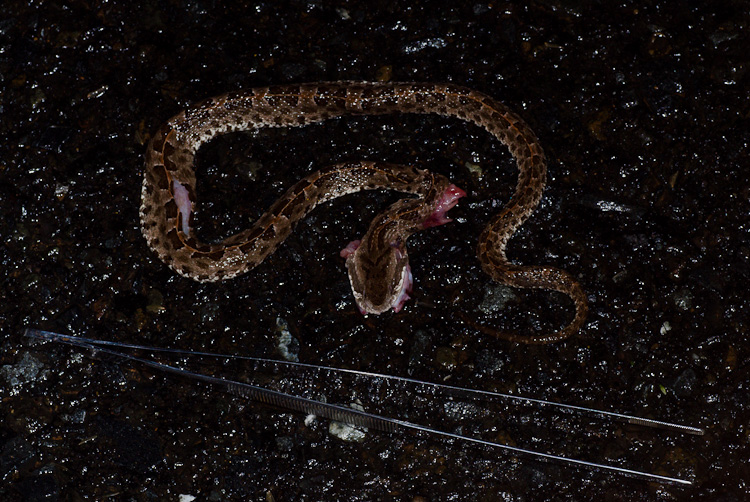 But things started to slow down. A few more hours of cruising yielded a couple more DORs and this little
Ninea sebae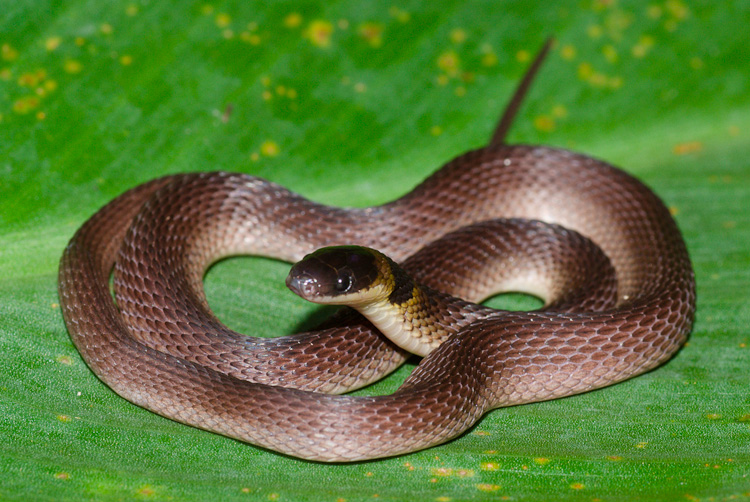 We had were starting to tire of the DOR parade, and excited to get into actual rainforest. We woke up early, photographed one of our hosts cascabels as a consolation, and spent the next day making the long drive over to the Atlantic slope. It poured the whole way over, and was another DORfest. We were crushed to see most of these animals dead.
Crotalus simus
Chironius grandisquamis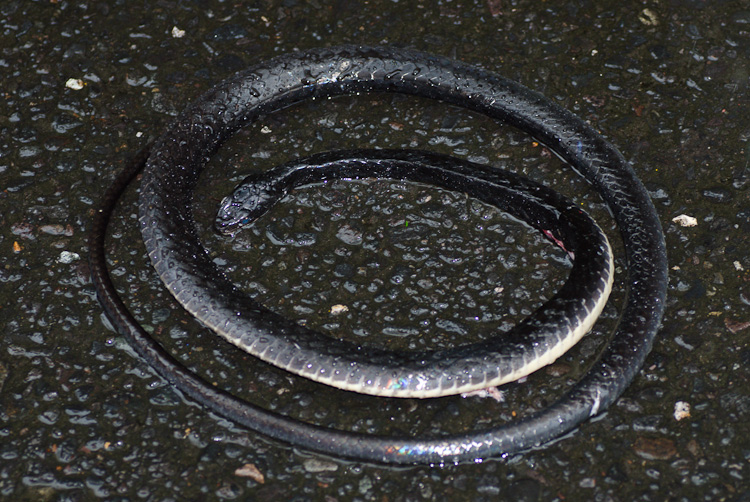 And who gets fricking eyelashes (pretty ones to boot) DOR?
Botriechis schlegelii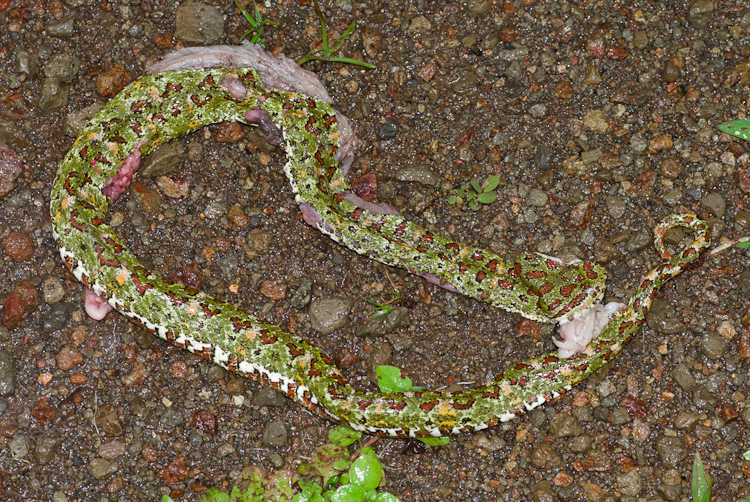 The roads made it a slow going.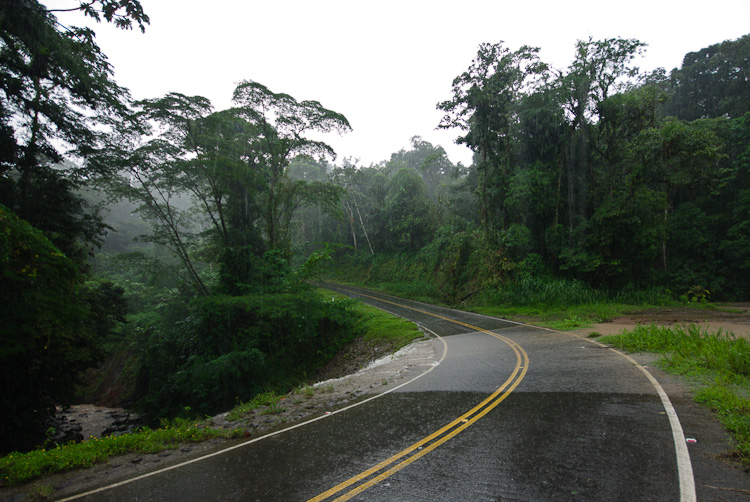 We finally arrived at La Selva right before dinner. This ended up being our home for the next 4 nights. We had some other plans but things got changed last minute a few times due to getting stuck in the field longer than planned, running low on cash (feeling that speeding ticket...) and other commitments. In the end, I was tired of the driving and ready to just hit the trails hard. The animals really started to come now, and I will save you any more DOR shots from here on out...
I guess this place can be pretty hopping certain times of the year, and early reservations are a must. Most people had departed for the summer and we mostly had the lodging to ourselves and a few others. The lodging was clean, even if the food was pretty basic. Did I mention it all pretty much sits in primary forest? That you can't beat.
Within a few minutes, we had spotted our first herp, an
Oophaga pumilio
. I regret that despite this being the most common herp encountered at La Selva, I never photographed another. Upon returning home, I realized I never got the eye focus just right...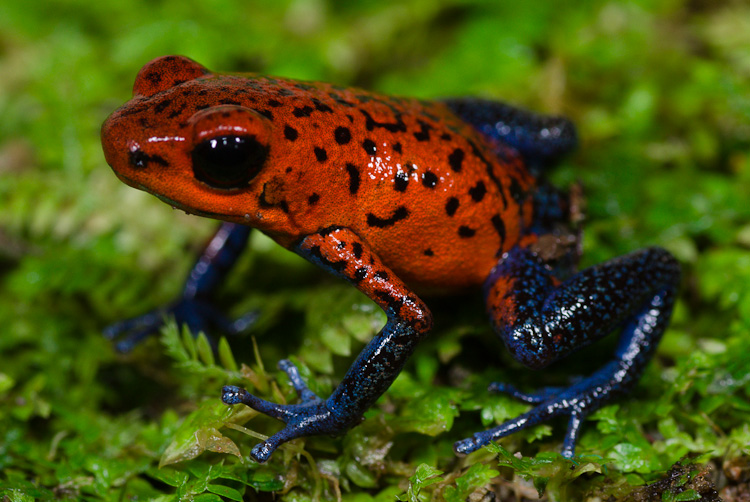 While I was photographing that, Brian managed to stir up a
Gonatodes albogularis
.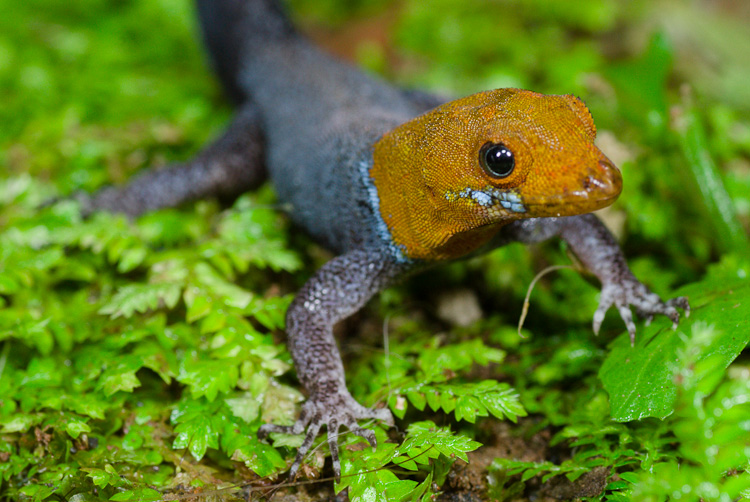 We quickly unpacked a bit, dressed for a hike and headed to the mess hall for a quick meal - beans and rice with "lizard sauce". It was delicious the first night...
Once out on the trails, there was a slight drizzle. We didn't think this would be the last drops of rain for a few days. We headed to the swamp, and despite the rest of the country being flooded and wet so far, Brian was bummed to report the swamps were mostly now dry. Luckily, a few animals were still out and about.
Norops limifrons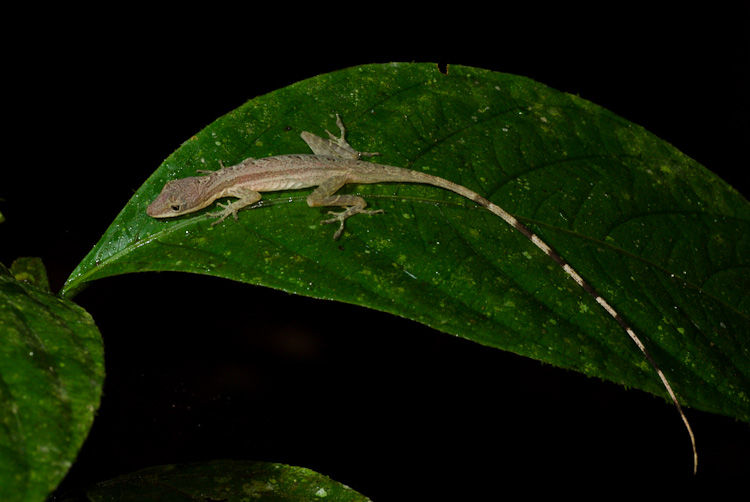 Diasporis diastema
, another common frog I never bothered to photograph again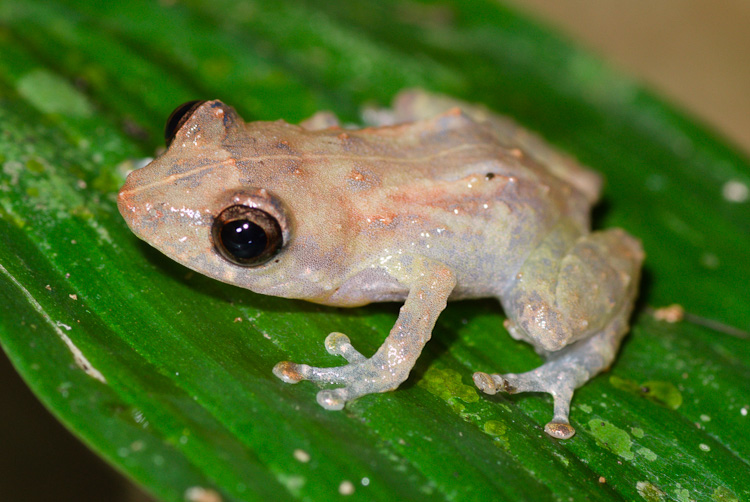 Dendropsophus phlebodes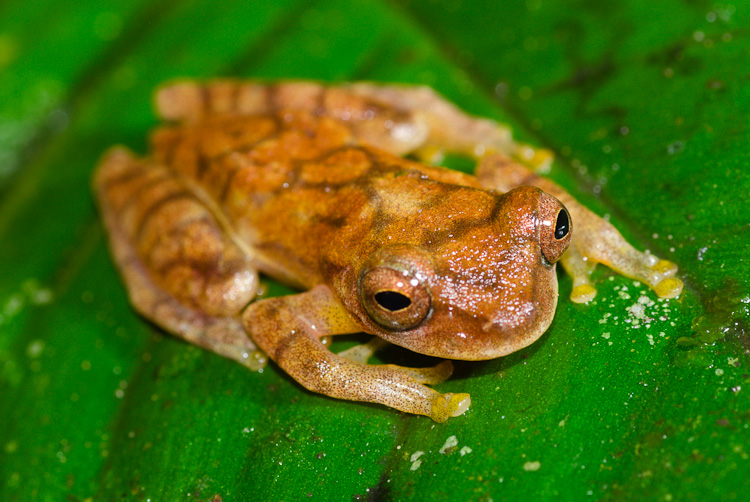 Leptodactylus pendactylus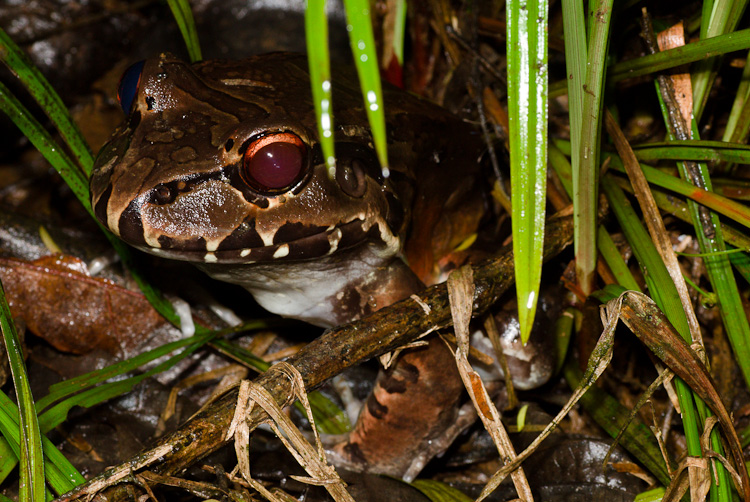 Craugastor bransfordii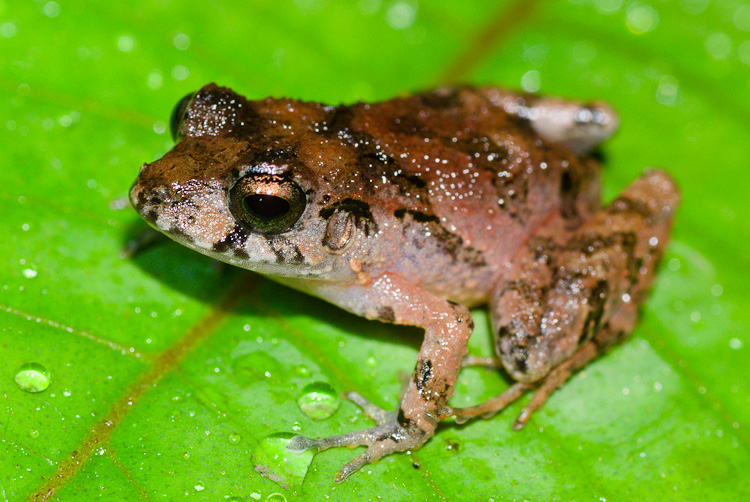 Brian was aghast to later see I photographed this frog on a leaf. He did most of his research on litter frogs, the "drab" little frogs hopping around on the ground. They now definitely have a fond spot in his heart and he defends them very passionately. I was impressed by the knowledge he had picked up on these guys in his time down here. In my defense, he just handed me a "bransfordii" and took off to catch more stuff. It was a few minutes into my first night, and I photographed the frog on the nearest leaf not knowing any better...
Imantodes inornatus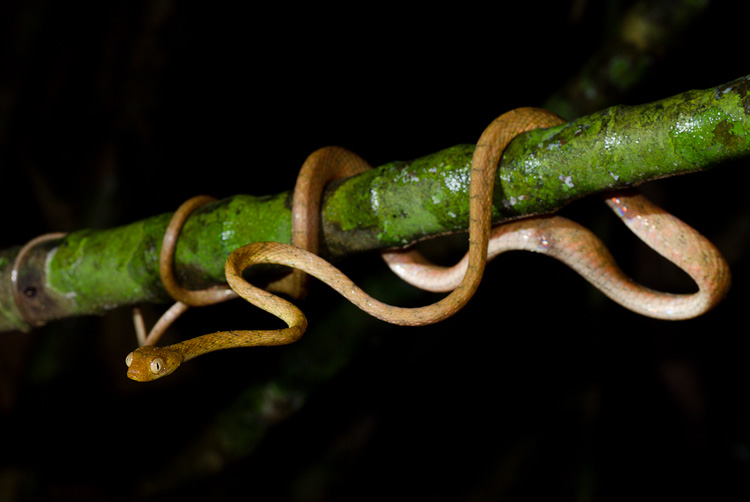 Scinax elaeochroa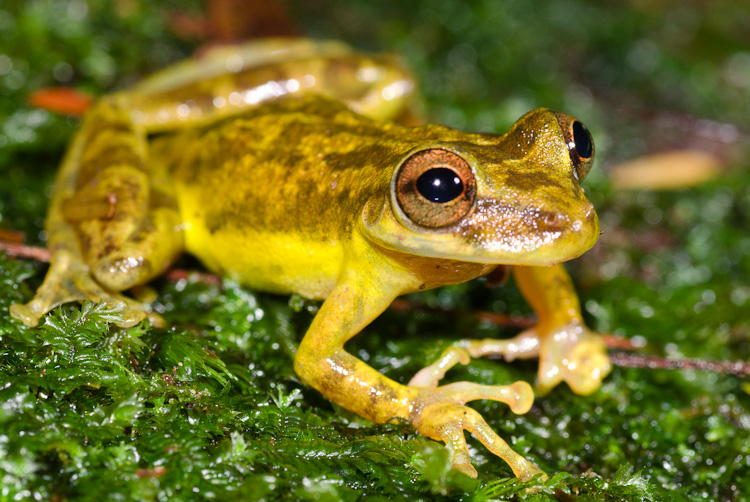 We headed out of the swamp and started to hit a few trails. The frogs kept coming.
Craugastor fitzingeri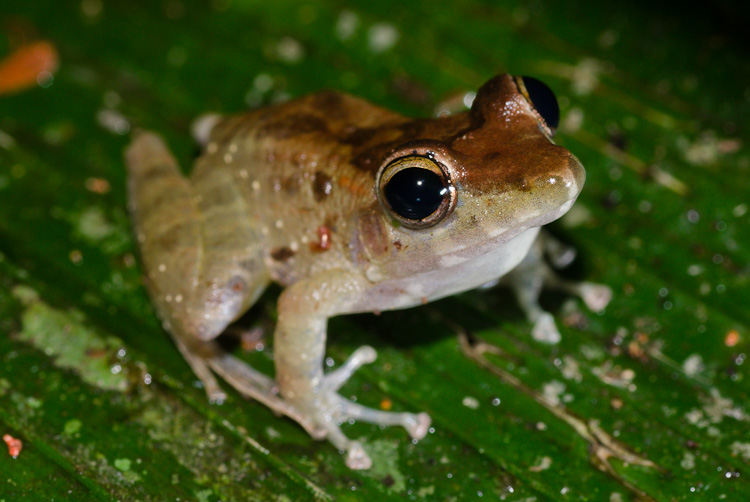 And one of my favorites of the trip,
Hypsiboas rufitellus
.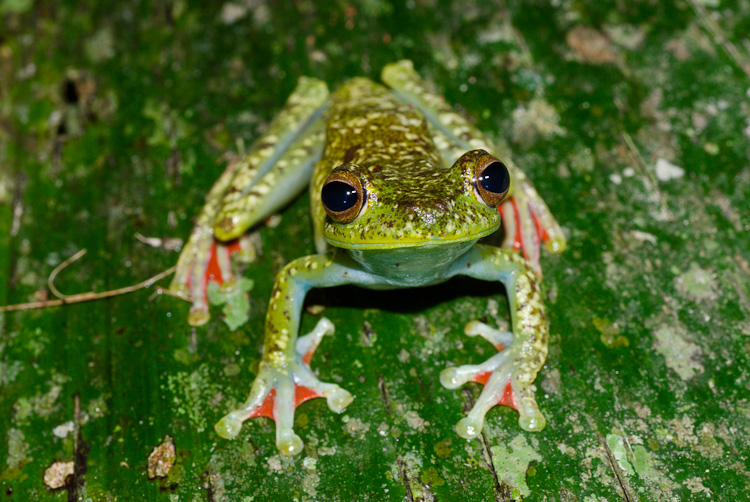 The frog changed colors a bit during the session.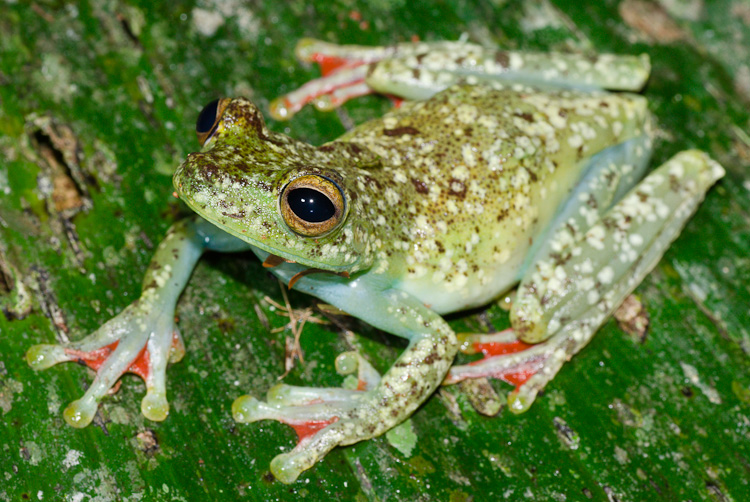 Pristimantis ridens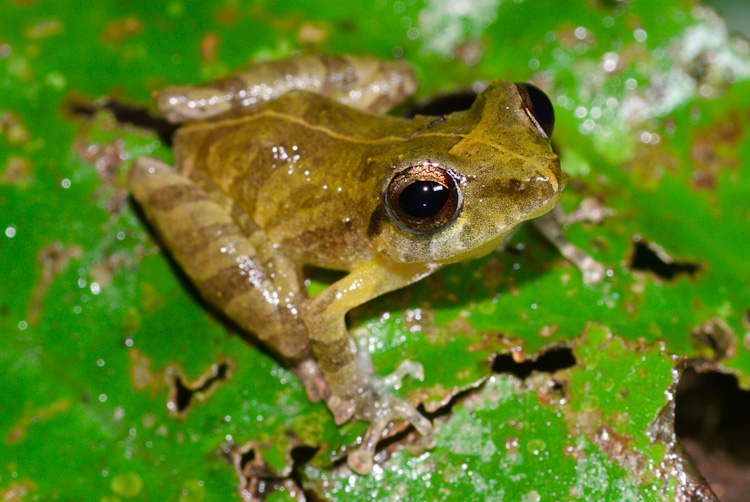 Craugastor mimus
- another leaf litter frog, although this one was found on a low lying leaf. I again wish I had bothered with better pictures as we did not see another.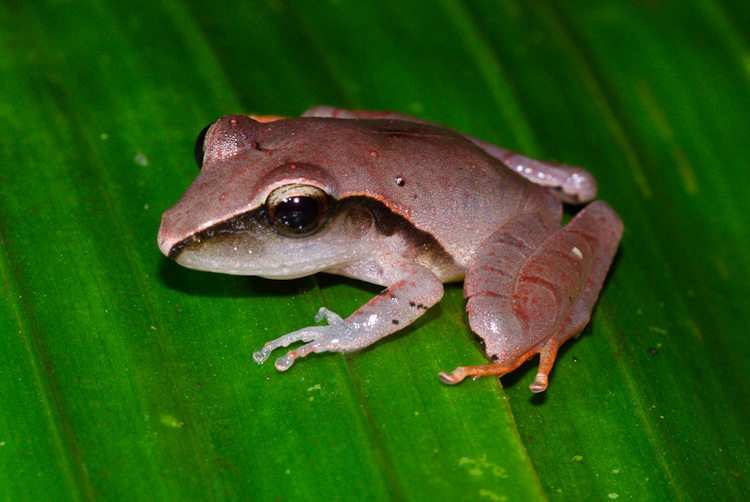 We ended our night around 1 or 2 in the morning. We added a bunch of new species (for me at least) already having been here only a few hours. I was very excited for what the next few days would hold.
After a quick breakfast around 7 am, we hit the trails again. Right off the bat, numerous ground anoles were seen scurrying around in the leaf litter.
Norops humilis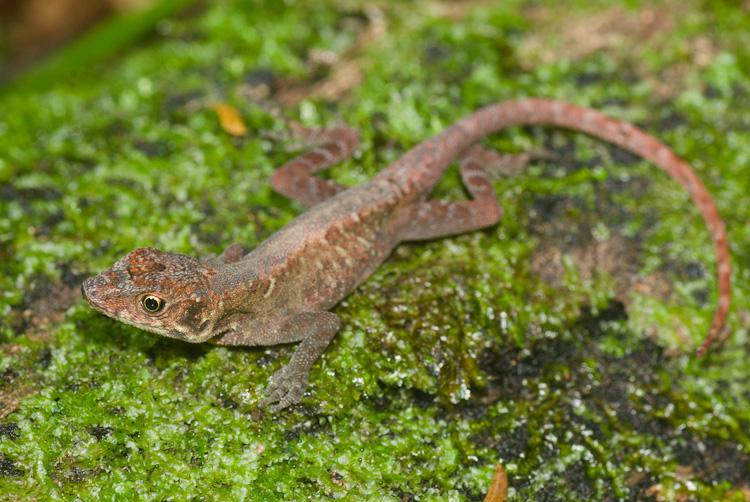 We headed to an area that has been managed to study successional changes in the forest after logging. There were some logs to roll and we noticed lots of skinks wandering around as well. We managed to bring one to hand together.
Mabuya unimarginata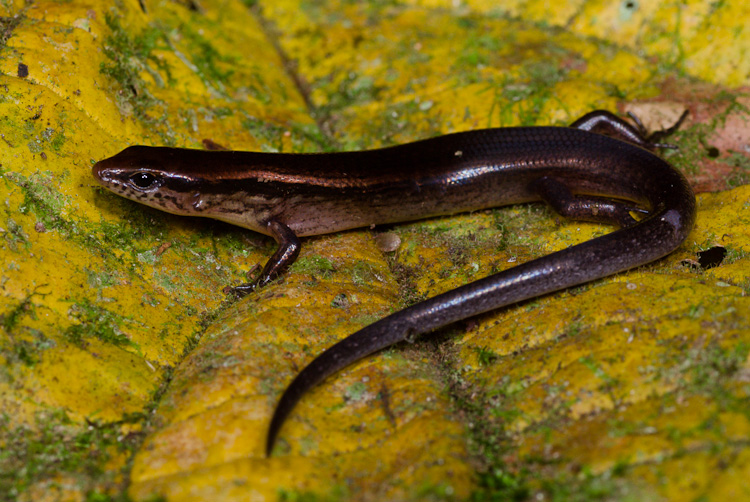 As we left the plots, we were soon back in primary forest.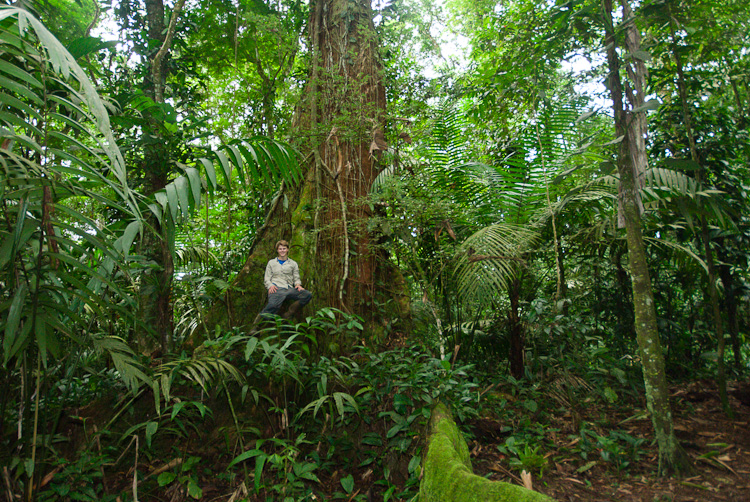 A couple large buttresses later and we spotted this
Bothrops asper
sitting head looking up in the bottom of a hollow tree - waiting for bats?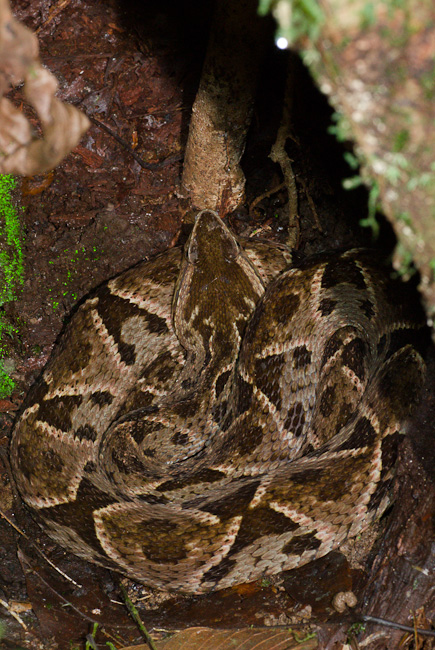 His tree.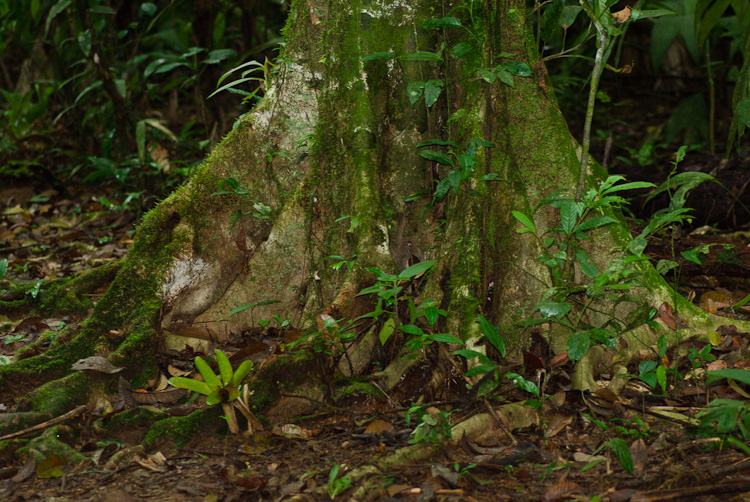 The leaf litter frogs again dominated the area.
Craugastor megacephalus
, one of my favorites.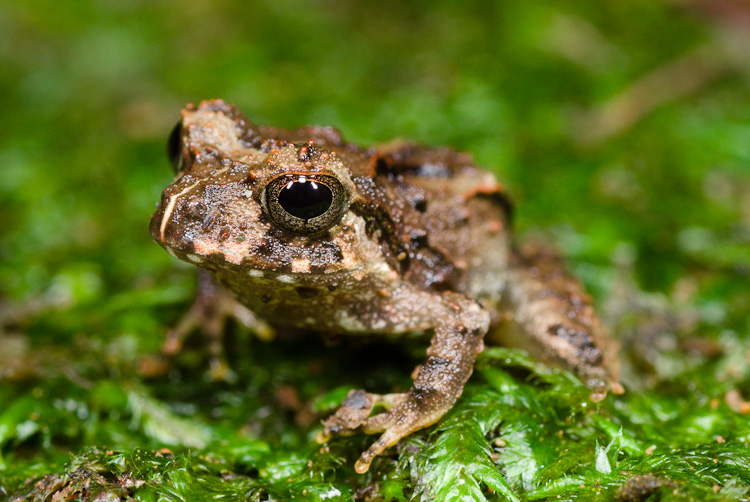 Rhaebo haematicus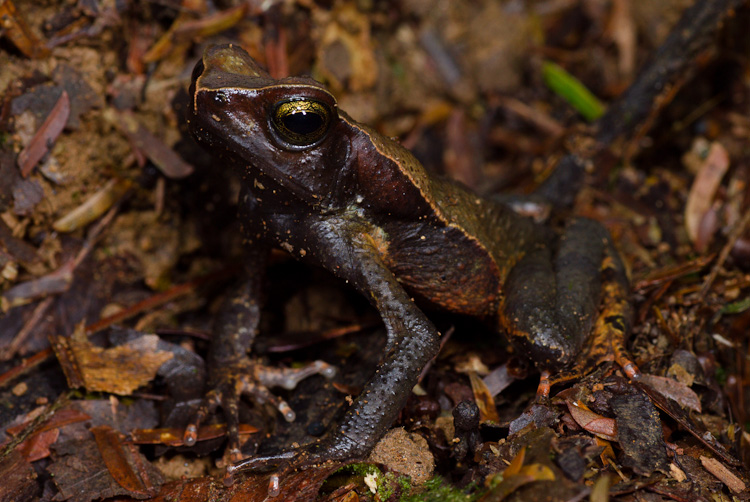 I had been spending much of my time investigating various downed fronds, logs, leaf litter, etc. Brian was giving me a hard time about "wasting my time flipping". I was pleased then to flip this, a new species for both of us.
Lepidoblepharis xanthostigma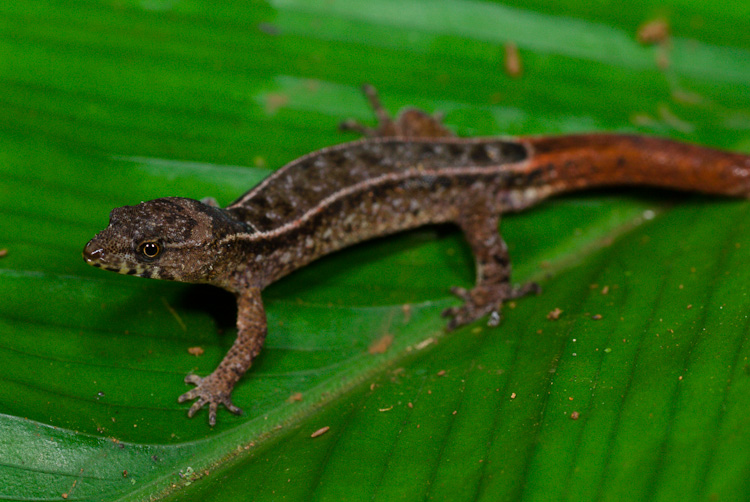 I took the opportunity to give him a hard time about it, and then really layed into him when I flipped some branches and turned up this.
Oxyrhopis petolarius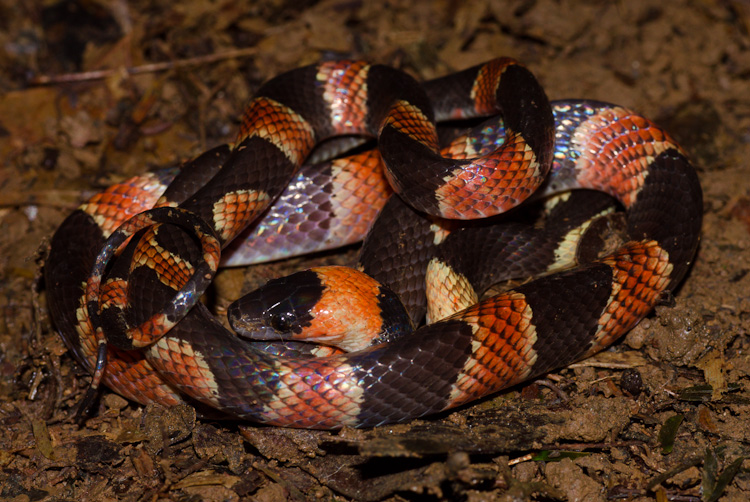 Needless to say, he started flipping a bit more.
I haven't mentioned it yet, but for the past few days my Nikon D200 had started acting up. I would put in a new battery, and it would give "low battery" warnings, refuse to focus, take pictures, etc. I would pop the battery out, pop it back in, and it would work for a few minutes or so. Repeat process, etc. It happened ofter just when you had seconds to capture the right pose - bam, low batttery. By this point I was started to get annoyed and worried my camera wasn't going to make the trip. On this hike (we left at 7am, got back around 1 or 2 pm) all 3 of my batteries either died legitmately or stopped working due to "low battery" although seemingly they were recently charged and full. I payed for it by missing out on photographing another young Bothrops coiled right off the path.
Norops oxylophus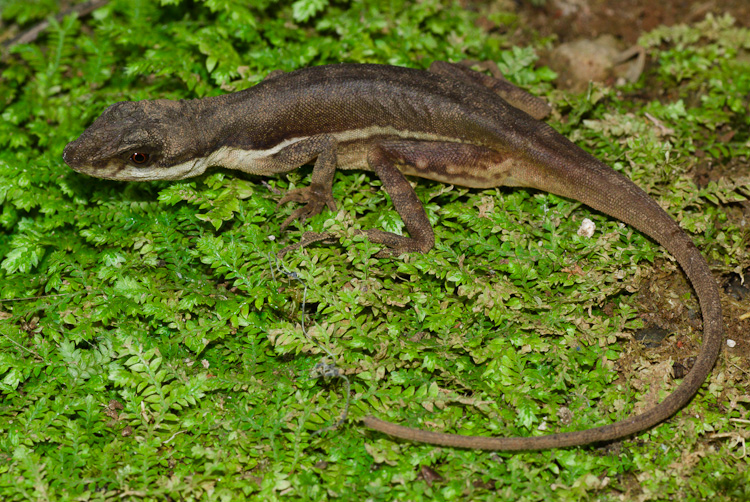 And an unID young norops.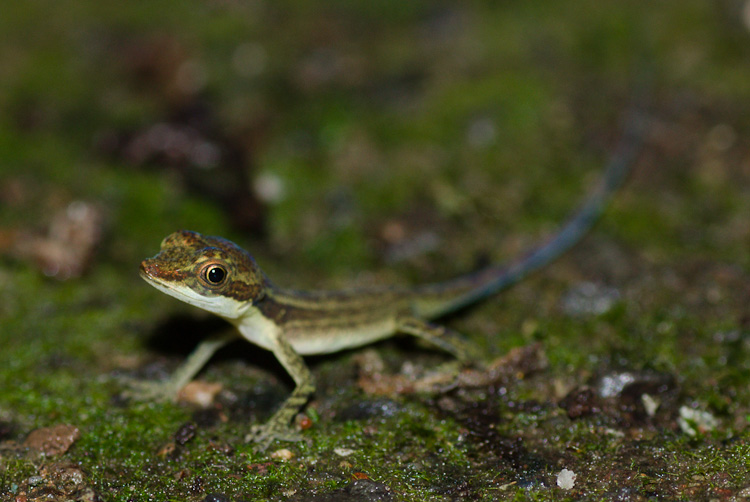 We had missed lunch(ended up a daily theme), and we were getting pretty tired, hungry and low on water. We got back, charged batteries, rested, had a snack and waited for dinner around 530. This became our daily afternoon routine. We wolfed down our beans and rice, and hit the trails at dusk for another night.
One of the first finds of the night, was a large
Lithobates vaillanti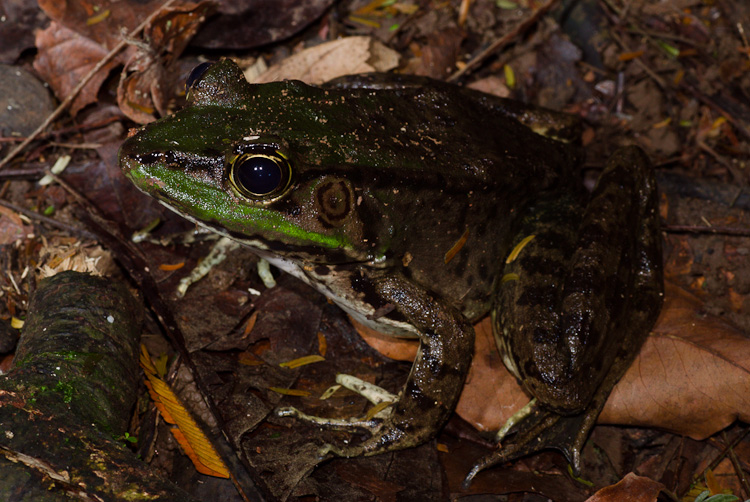 Craugastor
sp (fitzingeri?)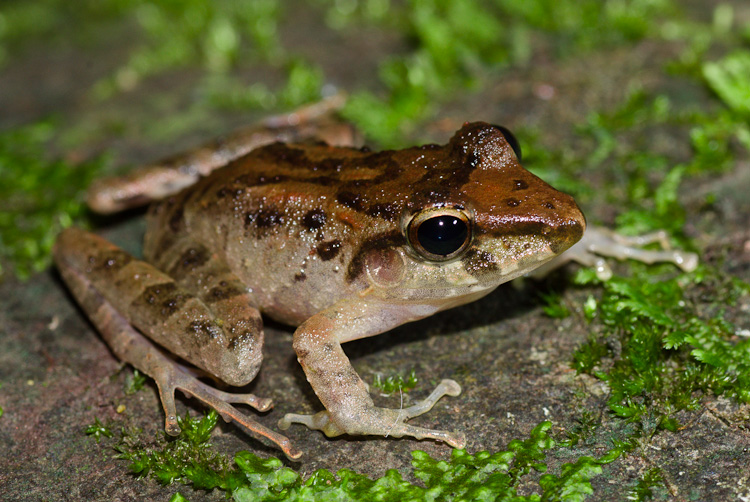 Brian had seen 2 or 3 of these fascinating lizards during the previous 2 months. Over our 4 days we ended up finding over 10 more, either out at night or flipping them under cover during the day.
Lepidophyma flavimaculatum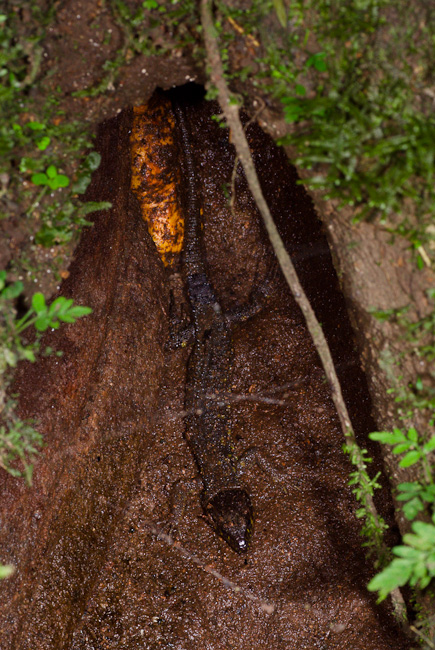 Another
Hypsiboas rufitellus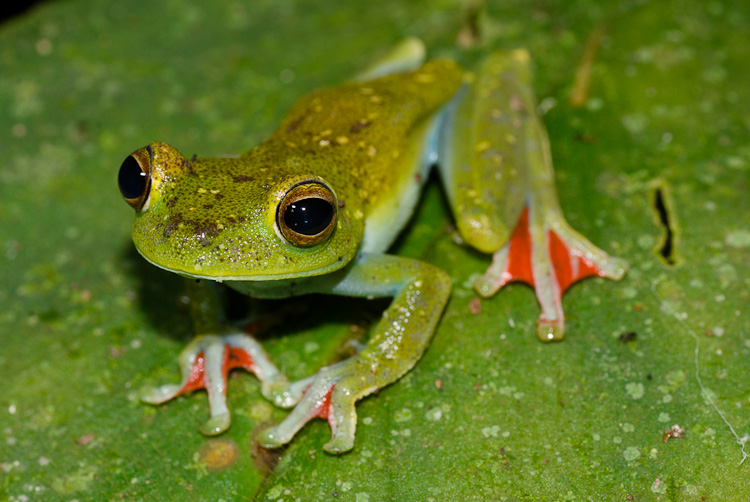 Smilisca phaetoa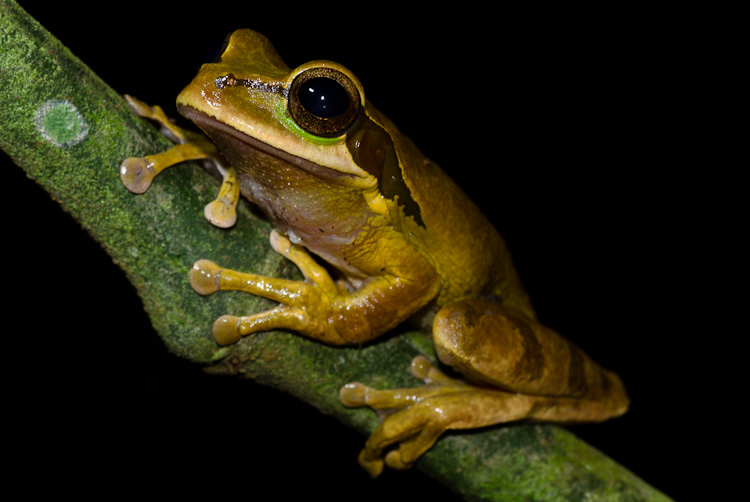 Awesome (IDs?)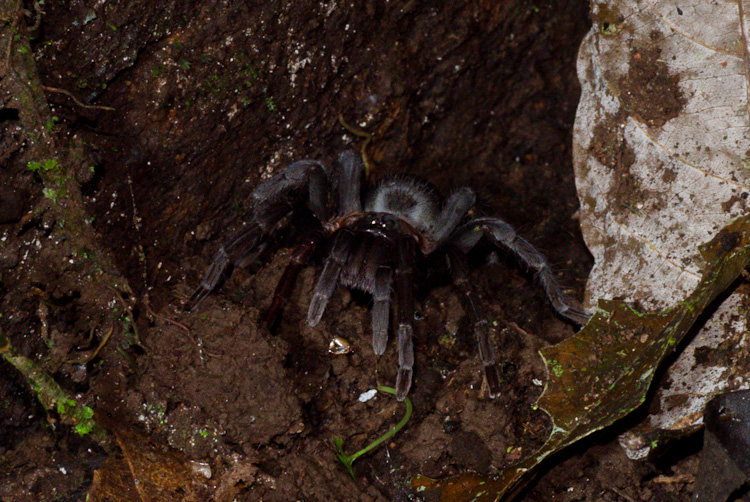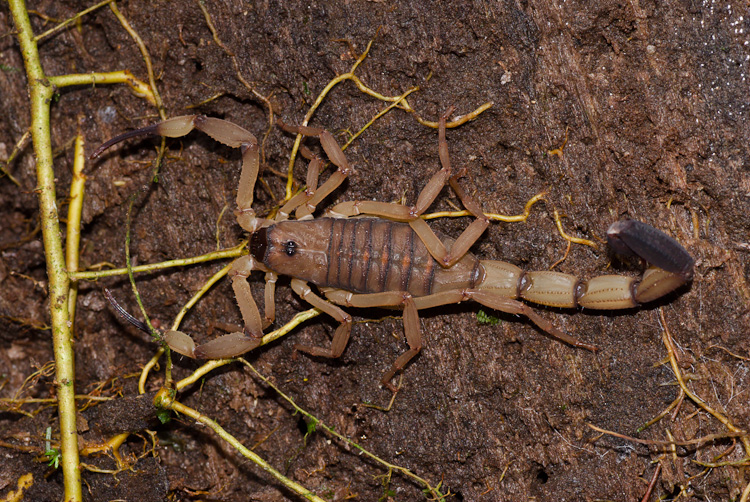 Lepidophyma flavimaculatum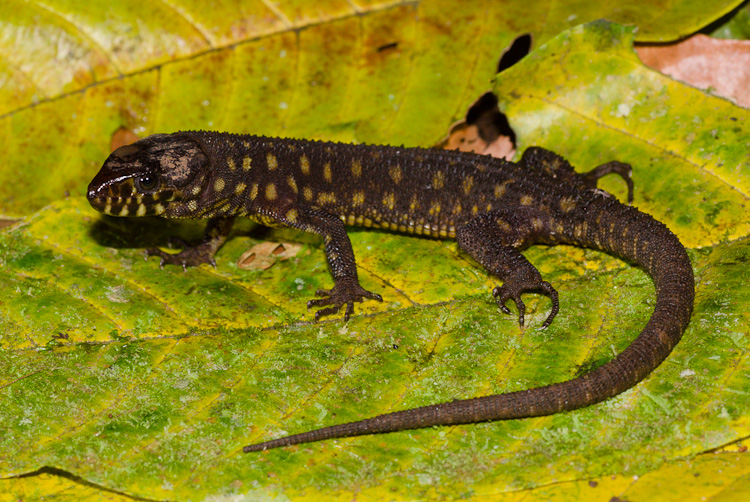 Brian FLIPPED (gasp) this
Gastrophryne pictiventris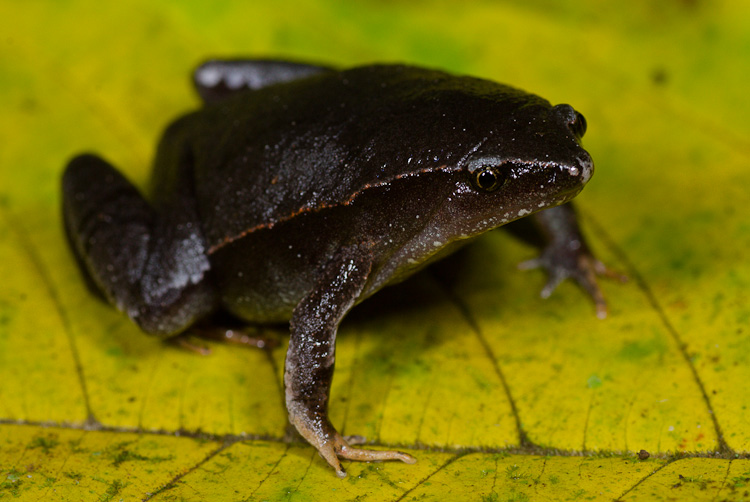 And while he was photographing it I wandered off and spotted this
Oxyrhopis petolarius
, now appropriately halloween colored crusing along a buttress.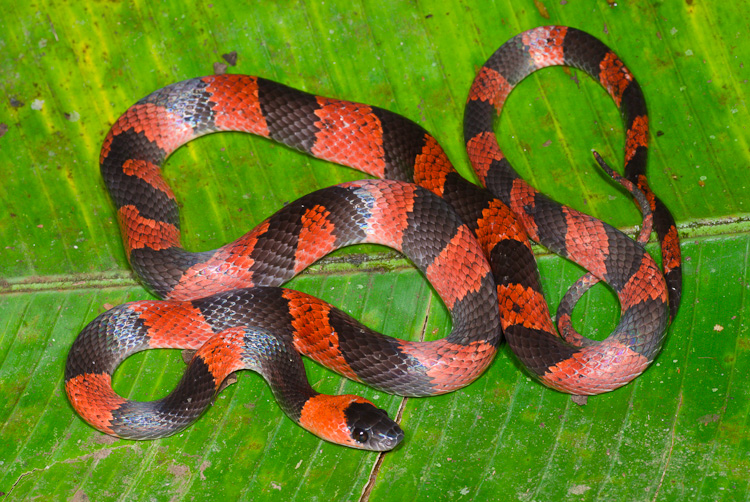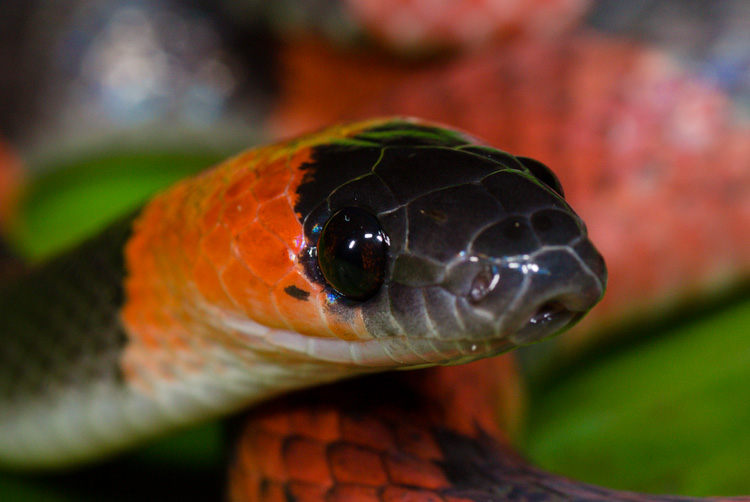 We started the long hike back, but were able to turn up a
Sibon nebulatus
before Brian bailed on me due to fatigue around 12. I think some of the draw of night hikes had left him after 2 months.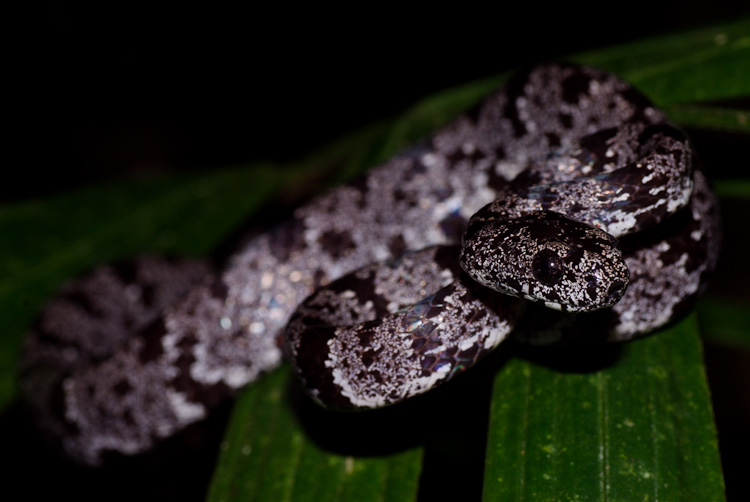 I turned up a
Caimen crocodilus
and a
Sibon annulatus
before I stumbled in for the night.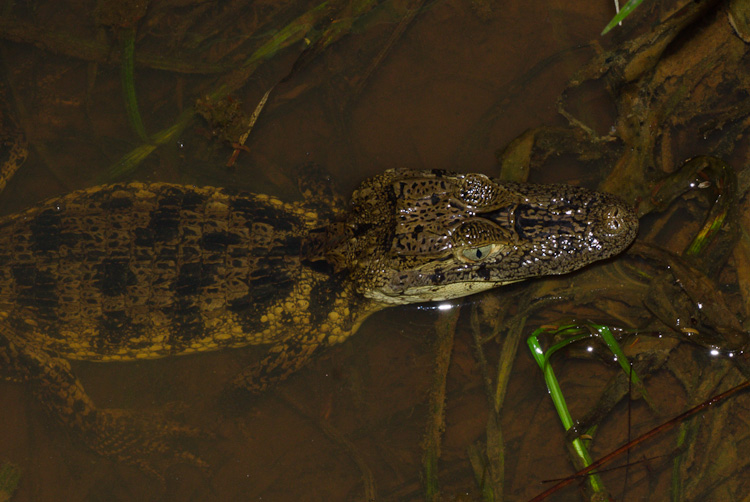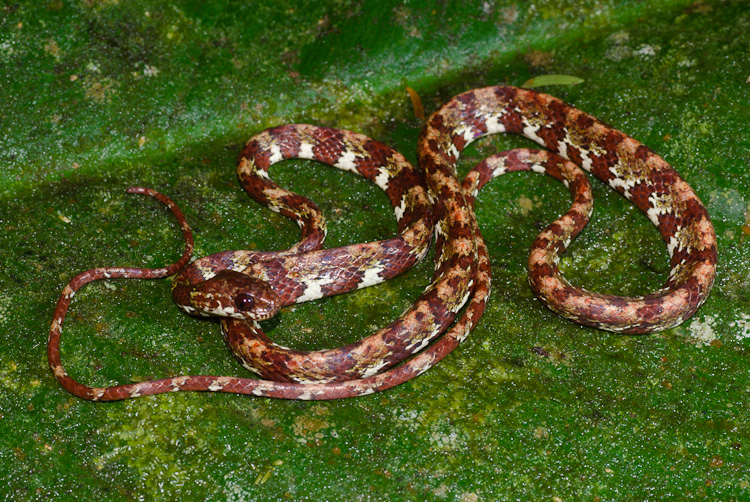 We were up and at em early again to make breakfast and hit the trails. We set out first to check out a nearby swamp we had spotted a few mud turtles at but were never able to get pics of. One of them happened to be easily within reach today.
Kinosternon leucostomum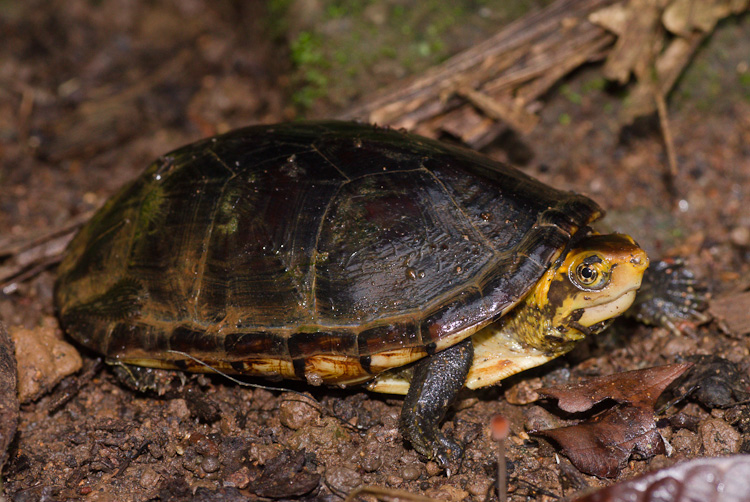 We hiked a few new trails for a while without much luck. I was rustling through some downed branches and leaves and noticed a small frog hopping the in the litter that was different from any we had seen so far.
It happened to be the least common of La Selva's dart frogs,
Phyllobates lugubris
.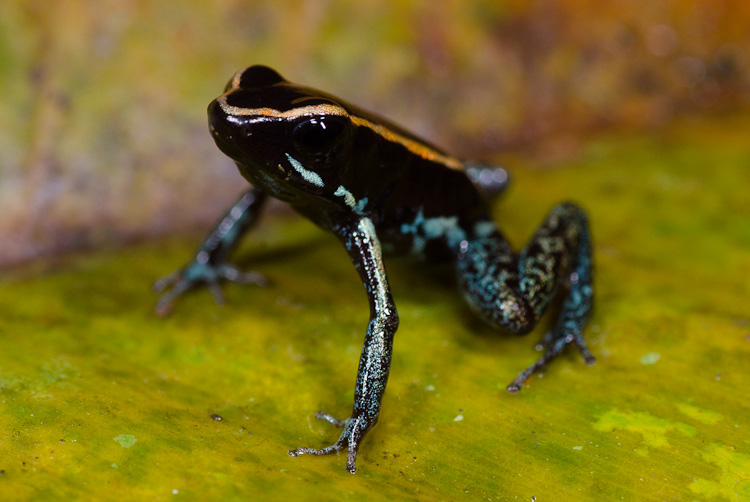 There were other small groups of people out and about the grounds of La Selva the last few days. Many of the summer and seasonal researchers had departed but there was a group of entomologists that we had chatted with here and there. They had seen a few snakes recently, primarily the local
Porthidium
I was hoping for. Brian had seen almost as many of them as he had of the
aspers
the last 2 months and ensured me one would turn up. Usually they were a bit more common a few miles out at his primary research site but I was hopeful. Anyway, we had chatted them up for a while early on in the hike, but while we were photographing the above dart frog, they returned. They had hiked a good 20 minutes or so out of their way to find us on the intricate trail system. Luckily, we had been photographing the frog for a little while and hadn't moved onto another trail. They had brought us a present - a small snake that turned up while they were sifted through leaf litter for insects. It turned out to be a neat little critter, even if it was a
Ninia
.
Ninia maculata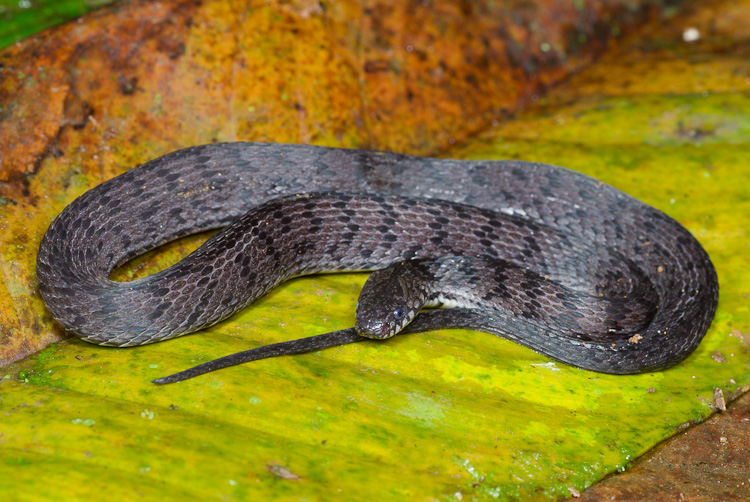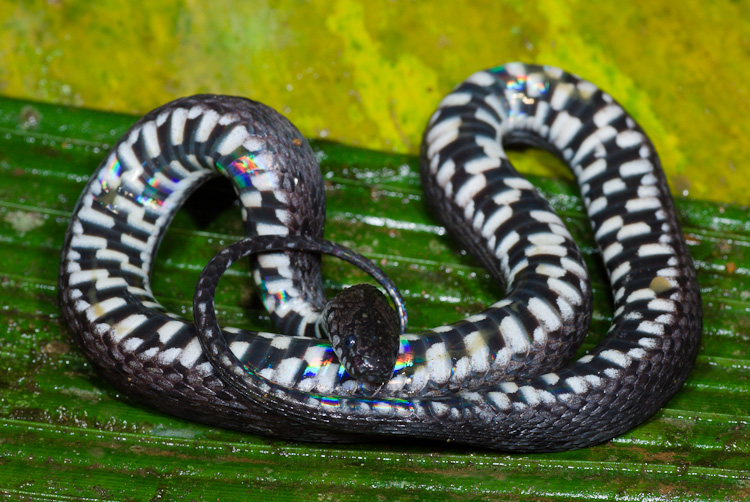 We found a likely looking glass frog spot.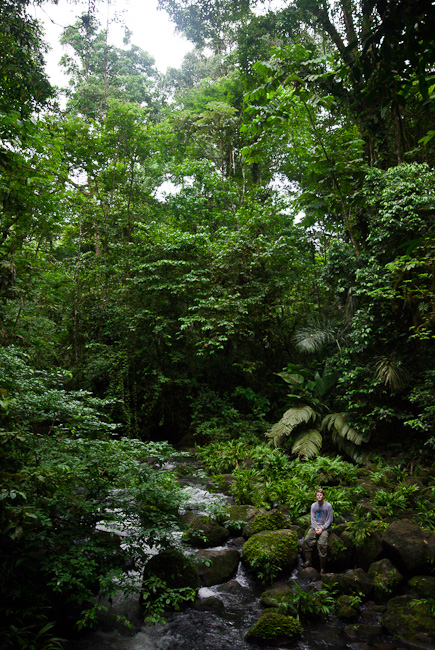 And noticed some
Norops limifrons
predatory behavior.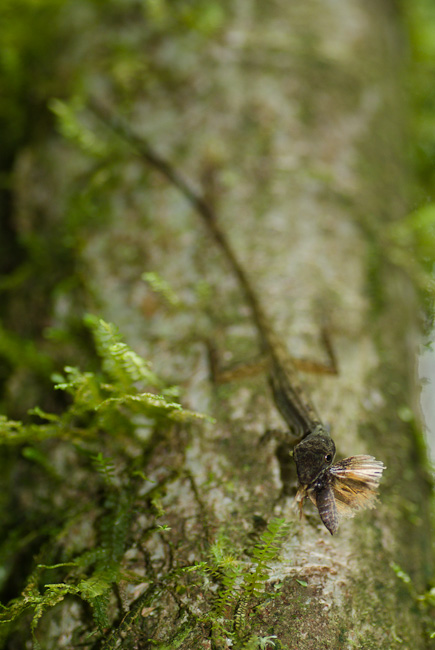 The sun popped out and on cue so did the
Ameiva festivus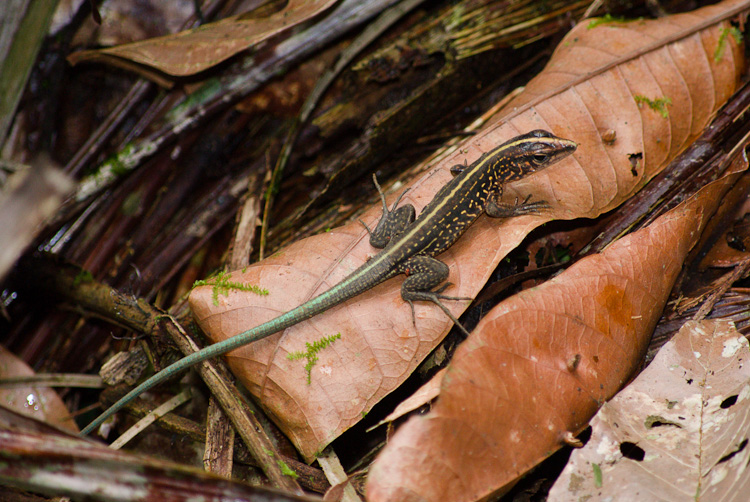 We got back to the main compound for our usual afternoon routine. Brian pointed out this large iguana hanging around and I couldn't resist shooting him a bit.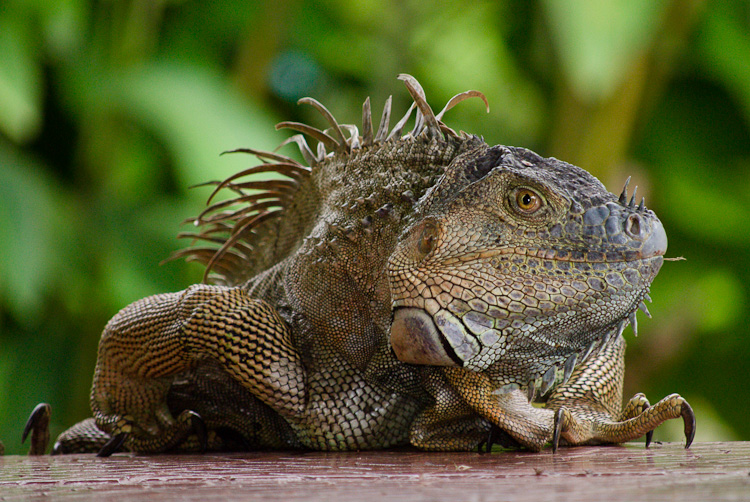 This was to be our last morning at La Selva. I was feeling bummed about not seeing some other stuff, primarily the last dart frog. I couldn't take it easy, despite my fatigue. I rented one of the mountain bikes to ride out a ways to where the dart frogs are a bit more common. I hiked around for a couple hours and stuck out. I had to pull out the gear and shoot a
Craugastor bransfordii
on the ground to make up for my previous slight though.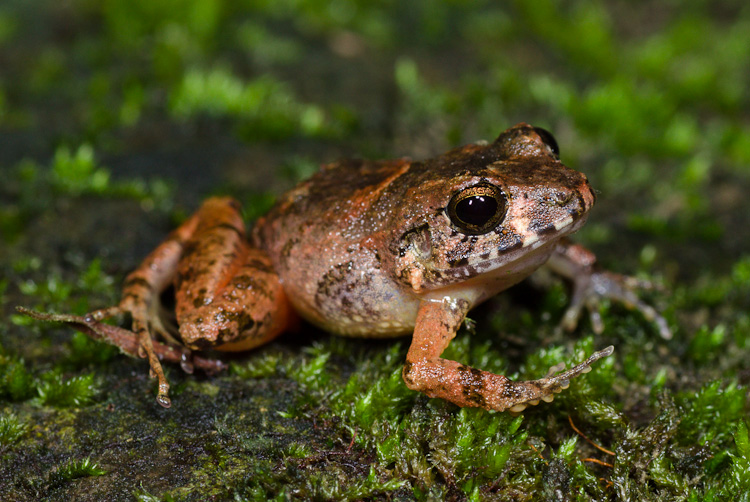 We headed out for our night hike feeling very drained.
Craugastor sp
. (fitzingeri?)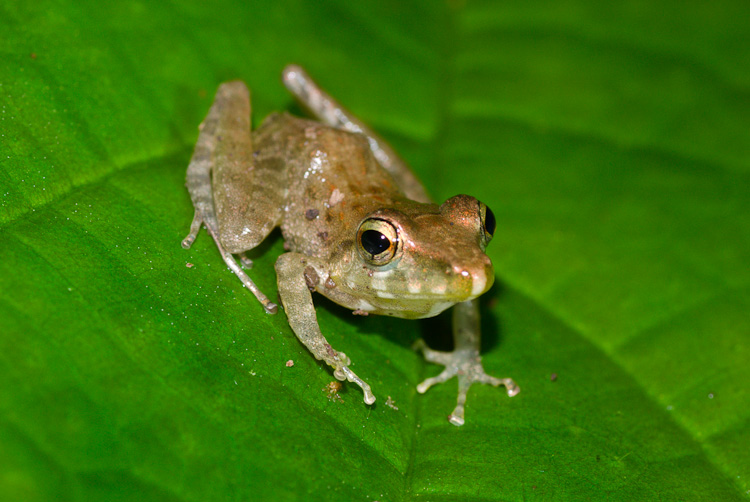 We spent much of the time checking trails where eyelash vipers are reportedly more common. No luck there of course, but we spotted some new things for me.
Sibon longifrenis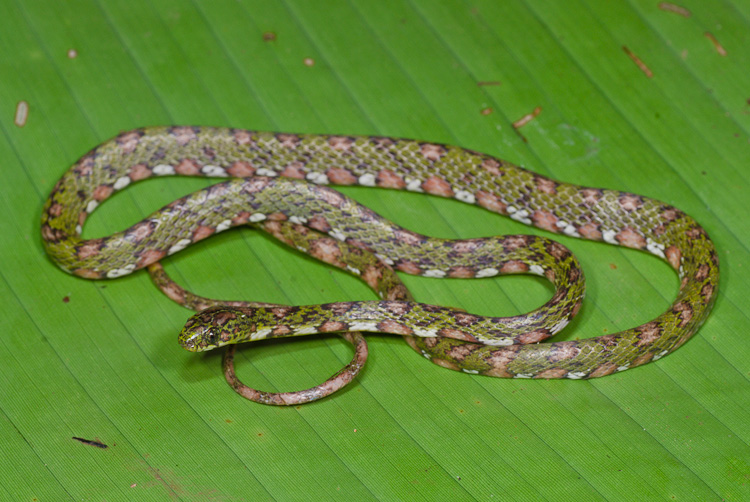 And finally, on my 7th night in Costa Rica, I saw my first red eye (have you noticed the lack of rain at night?).
Agalychis saltator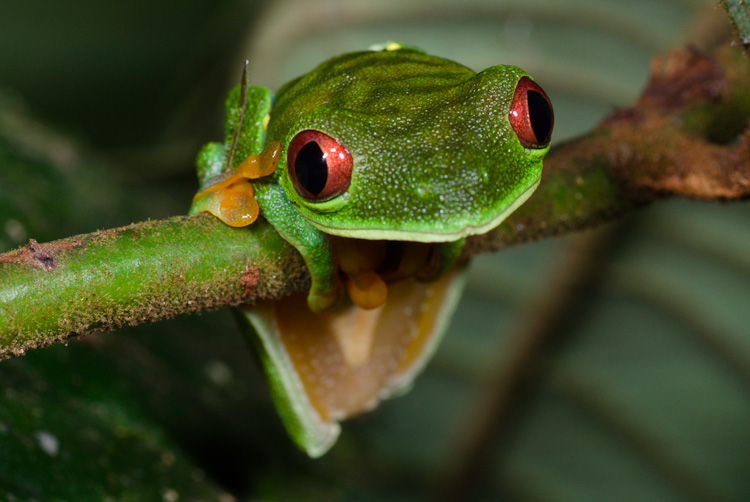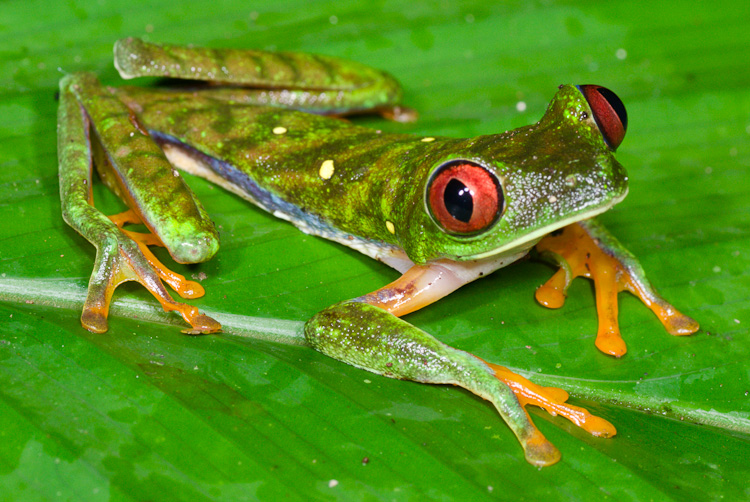 Norops lemurinis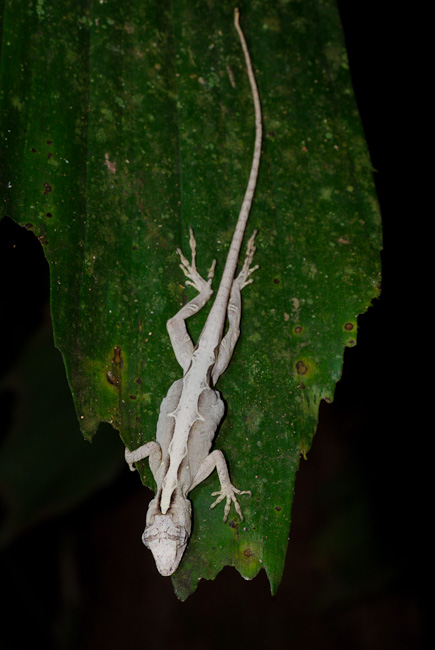 It was a bit of a slower night. We saw many of the things we had already seen, including a couple other
Sibon
. Wile working our way back, I noticed a decent sized snake moving in the trees in one of the swamps. Imagine our surprise to find a young
Pseustes
active at night.
Pseustes poecilonotus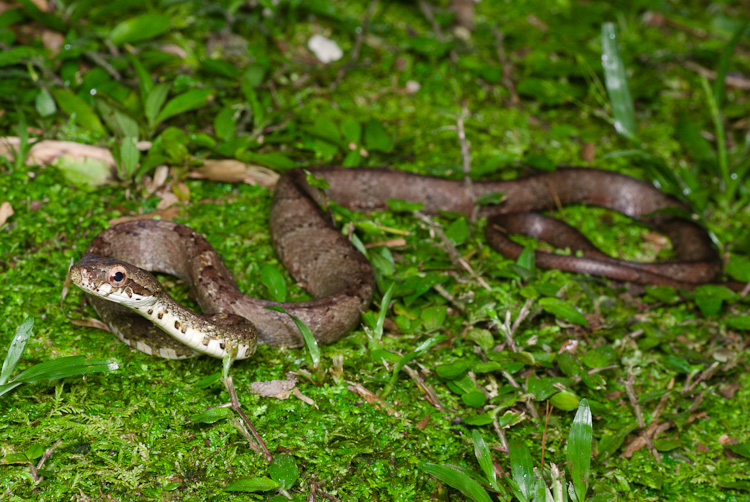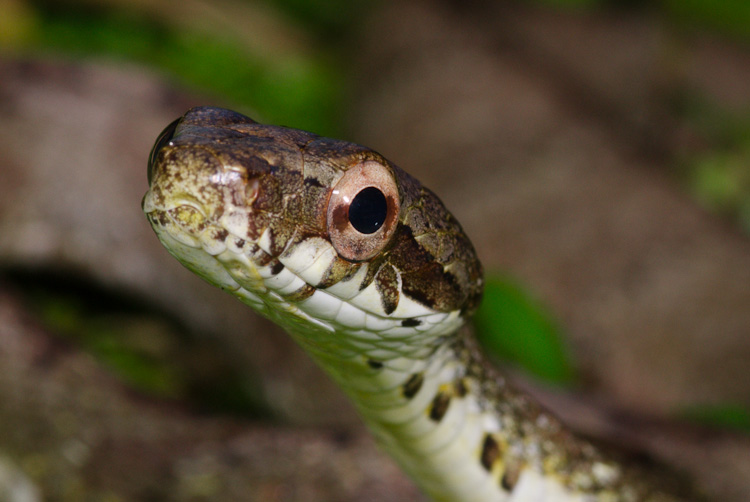 We got up early with plans to depart La Selva. Our other plans ended up falling through as well so we decided to just stay for our fourth and last night knowing there was plenty more to discover. Brian had to get back here tomorrow anyway for his last week in the country and to work a little more on his project. We decided to forgo further travel disasters and just keep things simple. We changed tactics a bit, renting bikes and riding the 30 minutes out to Brian's study site where
Porthidium
seemed to be everywhere.
On the way, I got my last dart frog.
Dendrobates auratus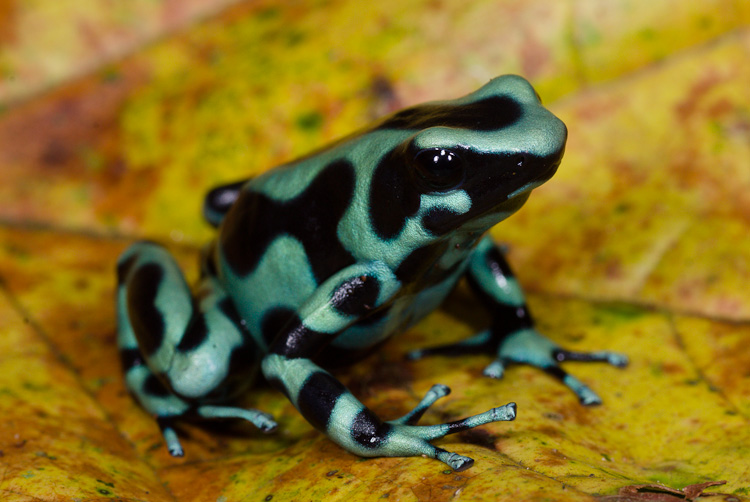 The paved trail ended and we had to hoof it a ways on foot as well. We turned up this neat turtle on the trail.
Rhinoclemmys annulata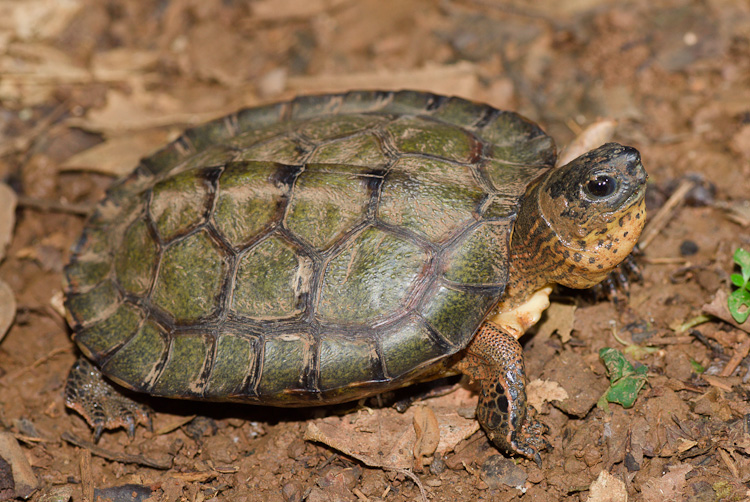 We didn't get the snakes we wanted, but being in a different area provided plenty of opportunities to photograph new frogs that were more common in these sections.
Pristimantis cerasinus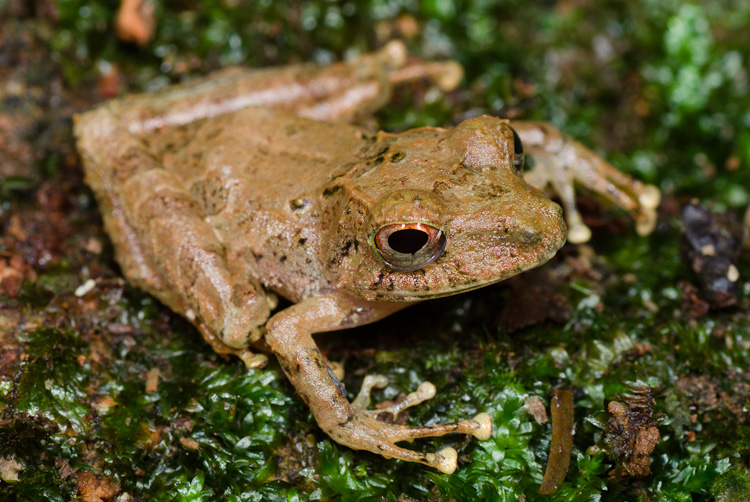 Craugastor noblei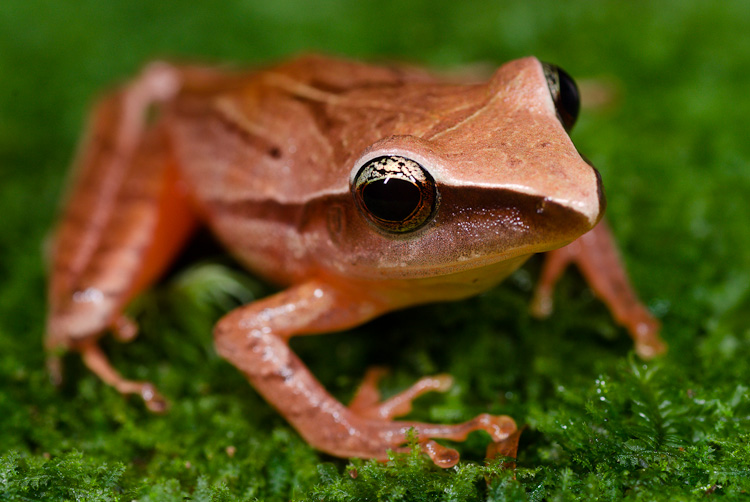 Craugastor talamancae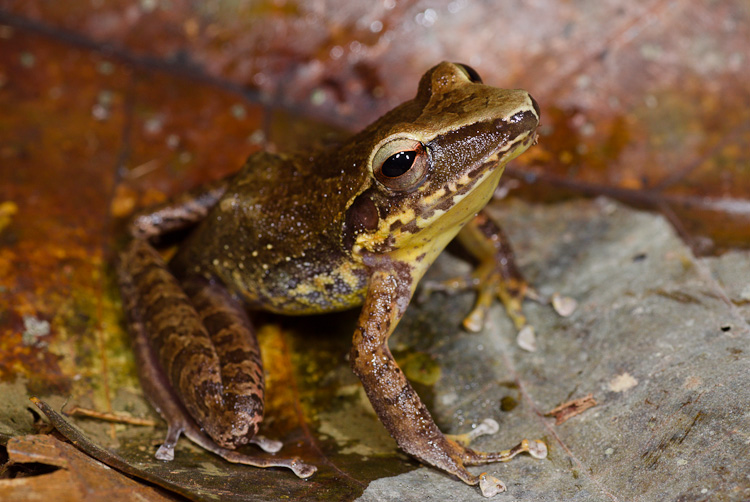 We were heading back to our bikes along a different trail, chatting and enjoying the trail when we noticed a green twig bolt from the trail 10 yards in front of us. It took to the trees in a stand of green palms and vanished. It was definitely a
Leptophis
but we weren't able to ID it to a species. During our prolonged search, we turned up a new toad.
Incilius melanochlorus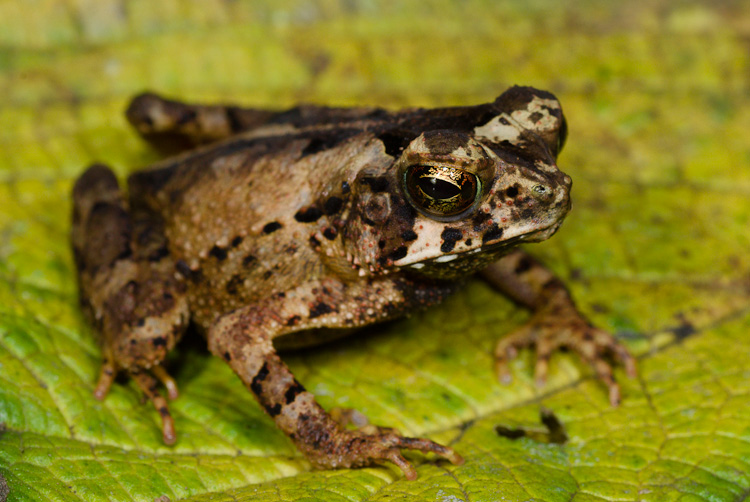 We got back for our afternoon routine, pulled of the boots and decided to relax a bit. I wanted to photograph a few of the sites around La Selva so we slowly wandered over to a nearby trail. Again on the trail was a green stick, but we didn't let it catch us sleeping this time.
Leptophis depressirostris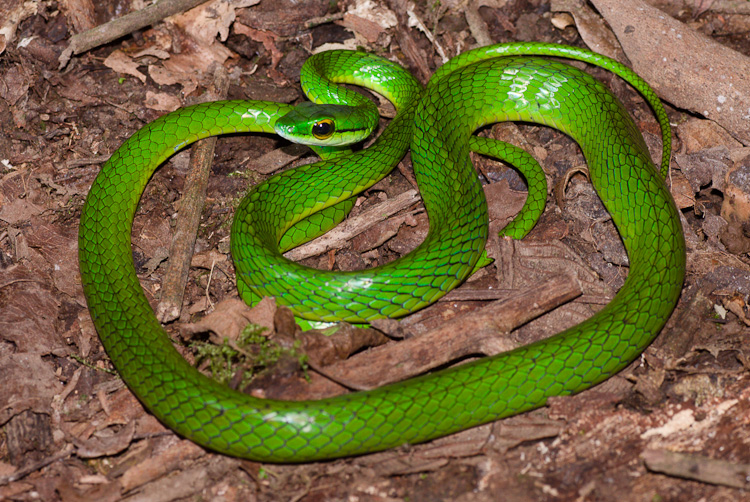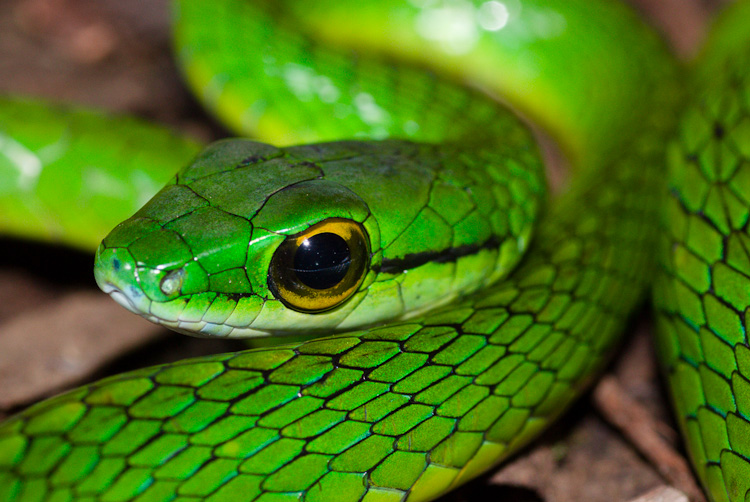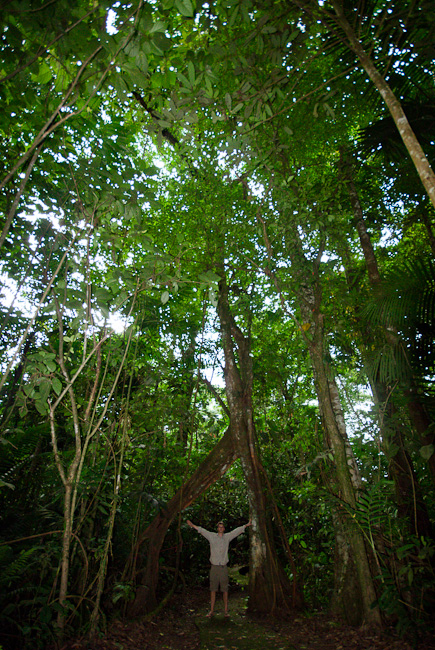 We were relaxing before my last La Selva dinner, and I started to hear a few raindrops. This would have been our fourth night here, and we had a slight drizzle the first night, but not another rain drop since. Well the heavens opened on us this afternoon. I started to get pretty excited about it, Brian started to get a little grumpy, complaining about getting wet, wearing a poncho, etc. I managed to get him to snap out of it quickly, and we wolfed dinner down and headed out in the rain. It was really pouring and I was hoping it would bring down some more
Agalychnis
and Brian's holy grail,
Cruziohyla
, which he had been pining over all week.
Soon after setting out, Brian called me over with a smug grin and told me to find the animal. I knew it had to be something that wasn't at risk for escaping so I scanned the ground for coiled vipers.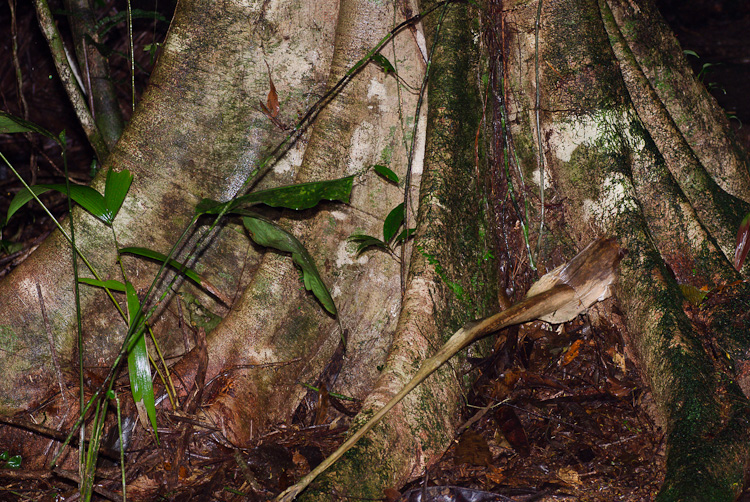 Score! (I needed help...)
Porthidium nasutum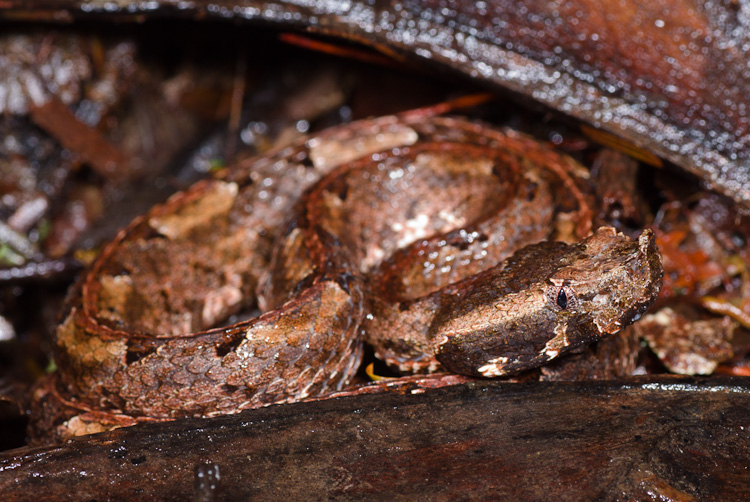 It was only a few minutes later when Brian started screaming. I turned around to check out his side of the trail and immediately noticed this beast sitting on a branch.
Cruziohyla calcarifer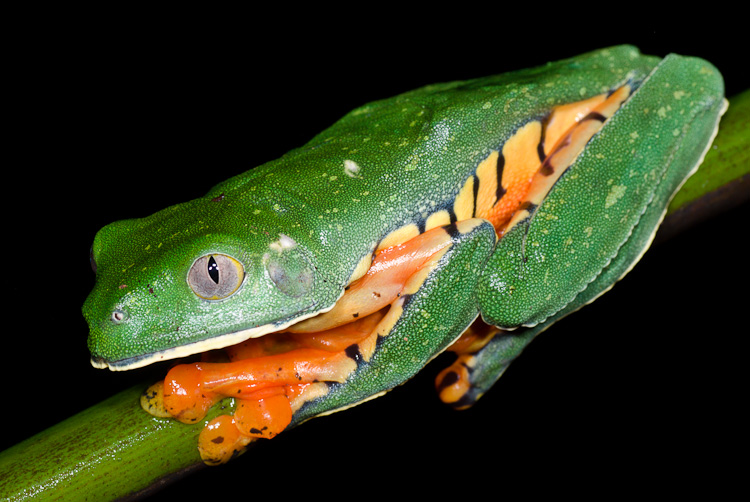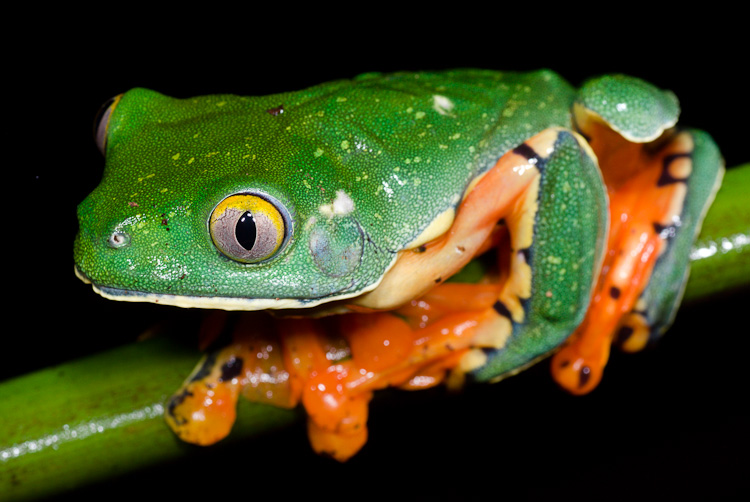 Lots of high fives around after that. It really started to pour now, but I soon spotted another new frog for me on my side of the trail.
Dendropsophus ebrecattus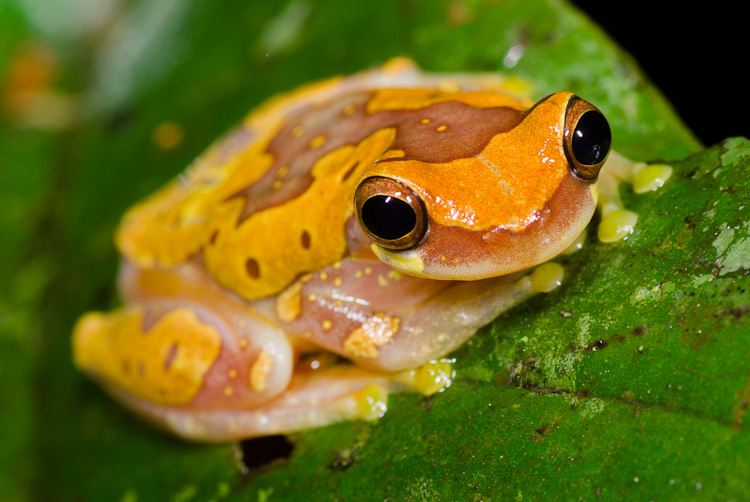 My camera took about 3 minutes of hard rain for the frog, and then evidently died. I didn't know actually, but a few minutes later we spotted the lizard I had been hoping for all trip.
Corytophanes cristattus
, taken with Brian's camera. Mine would turn on, focus, fire all my flashes and then just record a black screen of death. I tried multiple fixes in the field, without help.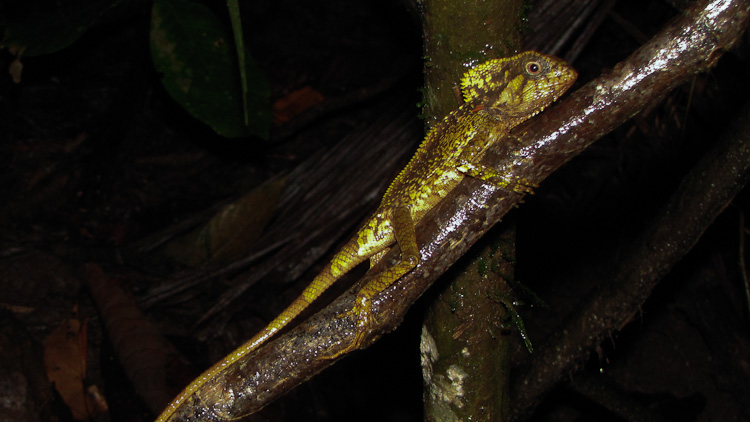 It was ok though. It had been a good night. We enjoyed our hike back, the rain now stopped, without much else spotted. We hit a swamp that had been very good to us, and I finally saw my other red eye.
Agalychis callidryas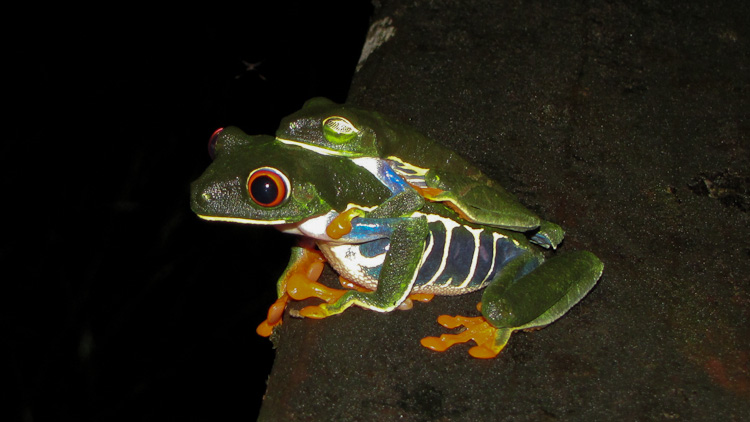 Which ended my trip. We turned in around 1, and planned to get up at 630 for breakfast. There was a quick car key scare in the morning, which delayed my departure. I was super worried about being able to make the drive to the airport within my allotted time and getting the car back, through security, etc. It was nothing to worry about though, and the drive to San Jose was for once easy and went as planned.
My one hour layover in Fort Lauderdale was a mess unfortuntely. I had to get through customs, and back through security (how did the airline let me book it?), but they actually held the door open so I could get on the plane.
I gave Brian a hard time throughout the trip, but it's mainly me just teasing my kid brother. Without him the trip wouldn't have happened (I would have gone to AZ) or been nearly as enjoyable. We invited the middle brother along, but he declined because we weren't going to be "doing anything fun, like ziplining and rafting". I think we had a fracking blast and I can't wait to get back. I learned some valuable travel lessons in the country and know I have just started to scratch the surface of its herp diversity.
To finish the saga of the camera... I set it out for a few days under a fan when I got back. When I finally powered it on again, it worked fine. I will ride it through the season and then try and send it in for a cleaning and repair this winter.
Thanks for sticking with me.