Hello,
This year's spring I was working in Spain as a field technician catching lizards. During this time, I got to travel around the Iberian peninsula for four months from April through July which allowed me to see the majority of the herpetofauna, together with some great guys and gals that were not only good field companions but also became great friends. I must add that I never herped outside of the Netherlands in Europe, so nearly all the species seen were new. A remarkable experience.
Late March found me in Évora, Portugal for some preparatory paperwork. Portugal's bureaucracy can be a pain in the ass, supposedly, though we experienced nothing of that which gave us some time to herp.
The first herps came in a city park.
Tarentola mauretanica
(Moorish Wall Gecko), ubiquitous throughout southern Iberia
Blanus mariae
(Iberian Worm Lizard), my first experience with amphisbaenids. Does anyone know if the ones around Évora are actually
B. mariae
, the newly described species, instead of
B. cinereus
?
Adult male
Podarcis virescens
, recently split from the
P. hispanica
complex
The first full herping day was very fruitful. Under the first few rocks we found the first ladder snakes (
Rhinechis scalaris
), including the only juvenile I got to see in my time there. The ontogenetic change these snakes experience is remarkable, as you will see with adults in this post later.
Natrix maura
(Viperine Snake)
Only two Portuguese fire salamanders (
Salamandra s. gallaica
) were seen, including this monstrous female flipped under a board far away from any visible water. This subspecies is characterized by the horseshoe markings and, more obviously, the red patches that can be few or very numerous.
Riparian habitat in cork-oak dominated forests of Évora
Two species were only observed once in the four months, namely the Iberian Midwife Toad (
Alytes cisternasii
) and False Smooth Snake (Macroprotodon cucullatus).
Bufo spinosus
(Iberian Toad)
Hemorrhois hippocrepis
(Horseshoe Whip Snake)
Off to our field station in the Sierra de Guadarrama, just north of Madrid.
Probably Spain's most common lizard, already acquiring his breeding colors at the start of April.
Psammodromus algirus
(Large Psammodromus)
Adult male
Malpolon monspessalanus
(Montpellier Snakes)
Our first trip took us to Doñana National Park.
Pelobates cultipres
(Iberian Spadefoot Toad)
I like to think that this snake wasn't there when I walked by the spot. Viper Man Tim Leerschool spotted this phenomenal animal, the infrequently observed Lataste's viper (
Vipera latastei gaditana
) from the southern coast.
Sierra de Grazalema
Probably
Podarcis liolepis
(Catalonian Wall Lizard) from the edge of their range
Coronella austriaca
(Smooth Snake)
Coronella girondica
(Southern Smooth Snake)
We struck gold one afternoon while looking for lizards around a castle. Five Lataste's viper (
Vipera l. latastei
) were found, some clearly just out of hibernation.
One emerging, with another one not seen in the photograph right next to it basking with a single coil in the grass.
Still dirty from the cemetery walls
Adult male
Adult female
Timon lepidus
(Ocellated Lizard), the largest lizard in Iberia
The southern slopes of Moncayo
Alytes obstetricans pertinax
(Midwife Toad)
Anguis fragilis
(Slow Worm) probably reaches a distribution limit in the riparian valleys of these slopes.
Adult ladder snake from near the field station
Fat female Lataste's viper
Smooth snakes (adult female pictured) occur in isolated mountain populations in central Spain. They're common in the Sierra de Gaudarrama.
Salamandra salamandra "almanzoris"
(Fire Salamander), probably not a valid subspecies.
Bufo calamita
(Natterjack)
Salamandra salamandra
, more than ready to leave the water but still with external gills
Humid northern slope of the Sierra de Guadarrama
Cuenca wine country
Adult
Chalcides striatus
(Western Three-toed Skink), note the vestigial limbs
Sierra de Cazorla
These mountains are home to the endemic
Algyroides marchi
(Spanish Alygroides); pictured below is a two-tailed female.
Exceptional European Coachwhip (
Malpolon monspessalanus
) found in the process of shedding
Capra pyrenaica victoriae
(Western Spanish Ibex) from the slopes of La Peña de Francia
Chamaeleo chamaeleon
(Mediterranean Chameleons) from the southern coast. These chameleons are examples of historical introductions (several thousands of years ago).
Sleeping adult male
Agitated same adult male
The
Podarcis vaucheri
(Andalusian Wall Lizards) from Sierra de Grazalema are much smaller and more vibrantly colored than their coastal conspecifics.
Highly desired subspecies of the fire salamander (
Salamandra s. longirostris
); we were happy with a juvenile.
Exact same story with
Pelodytes ibericus
(Iberian Parsley Frog). Spain experienced a very dry year, explaining the lacking amphibian diversity in this post.
Juvenile Horseshoe Whip Snake found in a completely paved city, away from any vegetation or natural habitat. When I saw it on the pavement it tried to escape back into its crack under a door. We saw this species on one or two more occasions within city walls.
Carmona
Mauremys leprosa
(Spanish Terrapin)
Podarcis guadarramae guadarramae
(Guadarrama Wall Lizards), adult male and female
We found some gravid fire salamanders around a high elevation Guadarrama stream on a warm, humid night. A few nights later the stream was filled with larvae, although unfortunately we didn't see any larval deposition.
I thought this individual was very interesting, with the brown patches near the head and slight horseshoe shape markings; perhaps influence of
"gallaica
.
Chalcides bedriagai
(Bedriaga's Skink)
Mediterranean forest
Birds are a herper's friends, especially when they lead you to this.
Montpellier Coachwhip consuming a blackbird.
Size reference
Cazorla, another very successful trip
Algyroides marchi
, adult male
Silver ladder snake
Golden ladder snake
Natrix natrix astretophora
(Spanish Grass Snake)
My absolute favorite Iberian herps, the Betic midwife toads (
Alytes dickhilleni
)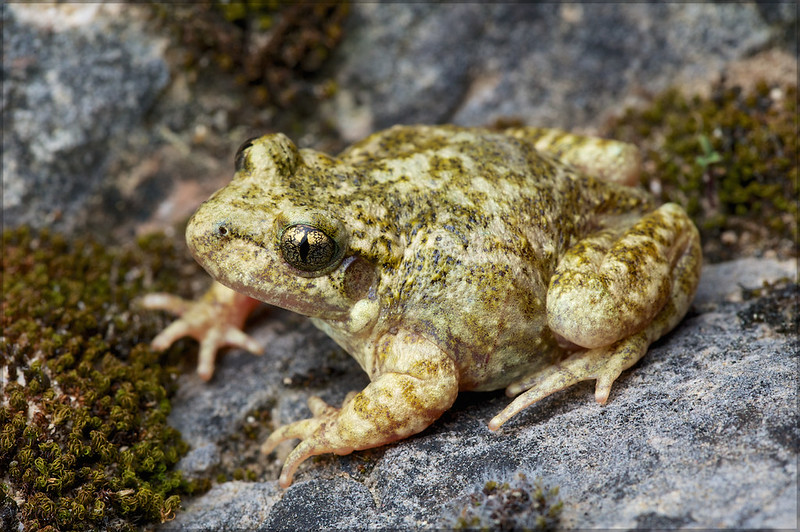 Only juveniles of this subspecies found, as well (
S. s. morenica
)
These mountains are loaded with ocellated lizards
Gravid female
Podarcis hispanica sensu stricto
(Spanish Wall Lizard)
Podarcis muralis
(Common Wall Lizard), back in the Sierra de Guadarramma
Chalcides bedriagai
(Bedriaga's Skink)
View from La Peña de Francia
This small mountain range is home to an isolated population of Ibex and the Critically Endangered
Iberolacerta martinezricai
(La Peña de Francia Rock Lizard). This genus is largely tied to high elevation mountains (in central Iberia, at least), and this species is no exception. It only occurs on La Peña de Francia and surrounding peaks, where it appears to be less abundant than other species of the genus. Considering this species is tied to a high elevation niche, it might be under threat of a changing climate, which could make its small distribution less suitable for the lizards.
Wouter B. called this Iberian spadefoot toad as he jumped into a hole in the ground. It had probably hurt its face trying to get out. The second of only two individuals of this species that I would observe.
One of my favorite lizards from the peninsula are the fringe-toed lizards (
Acanthodactylus erythrurus
). These lizards are tied to dry, hot, open habitats with sandy soils that they use for burrows. They become active later in the day (around 11:00), when most other lizards have already had their peak of activity, because most of their "basking" takes place underground in the burrows.
Dark adult male
Adult female
Juvenile, displaying characteristic red tail
View from the mountains
Post-partum
Vipera latastei
with Sierra de Gredos in the backgrounnd
Triturus pygmaeus
(Southern Marbled Newts), both
in situ
Pretty picture
Hyla molleri
(Tree Frog)
Bufo calamita
(Natterjack)
Grasslands of northern Extremadura
Belén Plain, home to
Otis tarda
(Great Bustards). The left-most dot on the building is
Athene noctua
(Little Owl).
Salto del Gitano, Monfragüe National Park, perhaps the best place for raptors in the Iberian Peninsula
Hundreds of
Gyps fulvus
(Griffon Vultures) breed on Salto del Gitano
View on a different day
The park is also home to several pairs of
Aquila adalberti
(Spanish Imperial Eagles), one of the most endangered raptors of Europe.
On a bird note, a
Sturnus unicolor
(Spotless Starling) being proessed
Chalcides striatus
(Western Three-toed Skink)
Iberolacerta cyreni
(Cyren's Rock Lizards) reach their activity peak later in the year due to their high elevation habitat.
Adult male
Adult female,
in situ
Juvenile, displaying characteristic blue tail
Particularly attractive
Podarcis vaucheri
Psammodromus hispanicus
(Spanish Psammodromus), one of my favorite but also the most frustrating Iberian lizard to catch
Sierra de Guadarrama
Rana iberica
(Iberian Frog), highly localized in this mountain range
Brilliant
Lacerta schreiberi
(Iberian Emerald Lizard)
Aberrant tree frog from higher elevation
Another trip down south warned us for chamaleons.
Sierra de Cazorla, again
Eresus
species
Adult male
Podarcis hispanica sensu stricto
Adult male
Algyroides marchi
Vulpes vulpes
(Red Fox)
The ladder snakes really remind me of American rat snakes. They climb trees (this particular one fled into the nearest pine upon release), are quick to defend themselves, are commonly flipped, and even their musk smells the same, to name just a few things.
Mauremys leprosa
Attractive adult male
Podarcis virescens
More Betic midwife toads! Again only two individuals found, as we missed their entire reproductive season (which might not even have happened in the time we visited).
I finally took the chance to photograph this attractive and ubiquitous
Pelophylax perezi
(Perez's Green Frog).
Psammodromus hispanicus
Butterflies and chameleon crab spiders (species?)
Beautiful adult male
Iberolacerta cyreni
Our first trip to the Pyrenees was very successful, when we herped mostly in this valley.
Here we found wonderful amphibian diversity.
Rana pyrenaica
(Pyrenean Frogs)
Calotriton asper
(Pyrenean Brook Newts), juvenile
Adult
Alytes obstetricans obstetricans
(Common Midwife Toads)
The above two were found near this stream.
That night we were even more successful with lots of common toad, midwife toad, and palmate newt (
Lissotriton helveticus
) breeding activity.
Toad ball
Note the larvae inside the eggs. Males carry several egg strings from the females around for several weeks before depositing the developed larvae in water.
Female depositing an egg
Bonus fire salamanders (
S. s. fastuosa
) of my favorite subspecies
Extra bonus grass snake (
Natrix natrix astretophora
)
Papilio machaon
(Old World Swallowtails)
Vipera aspis
(Asp Vipers)
Another highlight of this trip was three
Hierophis viridiflavus
(Western Whip Snakes) from the Spanish side of the Pyrenees. That makes
Zamenis
the only Iberian snake we missed.
Brilliant
Natrix natrix astretophora
from the high Sierra de Guadarrama
Juvenile
Lacerta schreiberi
Adult female
Vipera seoanei
(Galician Viper) from Galicia
Unique are the stream-dwelling
Chioglossa lusitanica
(Gold-striped Salamanders) from the northwestern part of the peninsula. Unfortunately this was the only one I saw.
The highest reaches of the Sierra de Guadarrama are quite alpine in nature but boast a surprising diversity of amphibians, including an alpine population of tree frogs. As a side note, midwife toads used to be one of the most abundant amphibians here, but were nearly wiped out by chytrid over a decade ago.
Hyla molleri
Amphibian ponds
Lots of fire salamanders
Bufo calamita
(Natterjack Toadpoles)
Bufo bufo
(Common Toad) and
B. calamita
(Natterjack) sharing the same refuge
Iberolacerta cyreni
seem to be most common at the highest of the high elevations, particularly near the peak of the mountain range, Peñalara Peak (in the background of the next two pictures).
Adult male
Adult female
Northern slopes of Moncayo, home to (one of?) the most southern beech forest(s) in Spain.
Smooth Snake
Going the other way to Serra da Estrela in Portugal
Silver
Iberolacerta monticola
(Iberian Rock Lizard)
Iberian frogs are a lot more common here, especially when the sun is shining.
Surrounded by clouds
Triturus marmoratus
(Marbled Newt)
Exceptional example of a different subspecies of Cyren's rock lizard (
I. c. castilliana
) from Sierra de Gredos
Some more adult male fringe-toed lizards
Adult male
Podarcis bocagei
(Bocage's Wall Lizards)
The Iberian rock lizards look quite different in the lowlands of Galicia.
In situ
adult female Galician viper from the same spot and showing the same colors as the first.
Lacerta schreiberi
Back to the Pyrenees.
Podarcis liolepis
(Catalonian Wall Lizard)
Mating
Calotriton asper
A few more
Rana pyrenaica
were also found
Adult male
Lacerta bilineata
(Western Emerald Lizard)
Eggs from the edge of their range in Moncayo
The last day of work was a good one in the Pyrenees. Habitat for the next two species.
Subadult female
Vipera aspis
The southern subspecies of the viviparous lizard (
Zootoca vivipara louislantzi
) isn't so viviparous. This female was found with another near several clutches of eggs.
S. s. fastuosa
Huge melanistic female
Vipera seoanei
(Baskian Viper) I flipped under a rock.
Wouter got the next one.
Tim got the next three.
Parting view
And to finish this long post, two photos from that last afternoon that both belong in my Top 5 of this whole experience.
Thanks for looking.
Matthijs Hollanders