Part 1 (Peninsular Malaysia):
http://www.fieldherpforum.com/forum/vie ... +1#p231768
Sleepless, but overwhelmed with excitement, I still tried to shut my eyes on the plane, but neither of the other lads had been to Borneo before, so they stayed wide awake to try and capture photos of Peninsular Malaysia under the dawn sunrise with my camera. The result was a cloud enveloped, crimson overview of the central mountain range which we'd very recently been herping, although it all seemed quite surreal at that point. Even with the wing of the plain in view, it's simply magnificent.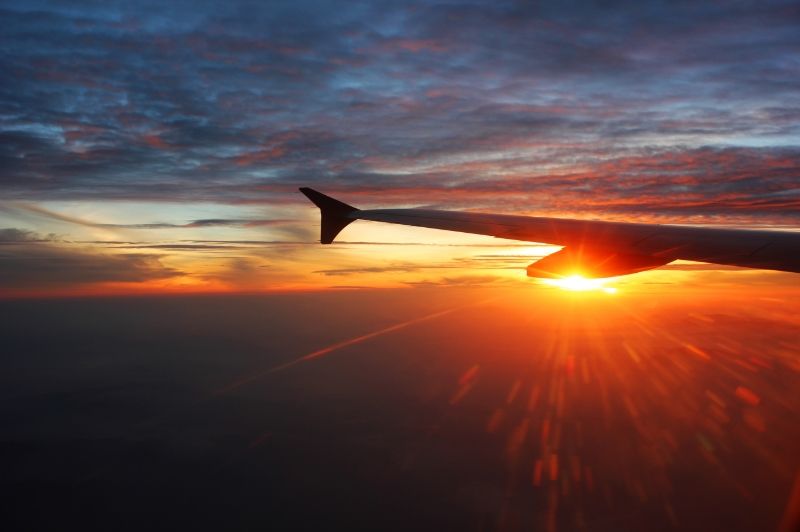 Upon arrival, we considered taking a bus into town and resting up, visit the National Parks office, book a room at Bako NP and get on our way tomorrow, but that really isn't our style. Instead, we jumped in the nearest Taxi, and told him to head straight to Kampung Bako Pier!
(Rich's Photo - if you can't tell by him holding the GoPro)
After bidding our driver farewell, we got a boat together with some other tourists and got well on our way. Bako National Park is on a peninsular cut off by the mangrove forests of the Kuching estuary, which means the HQ and accommodation can only be reached by boat. This never fails to fill you with excitement as it passes the strange rocky outcrops and mudflat shores of the far reaches of the park.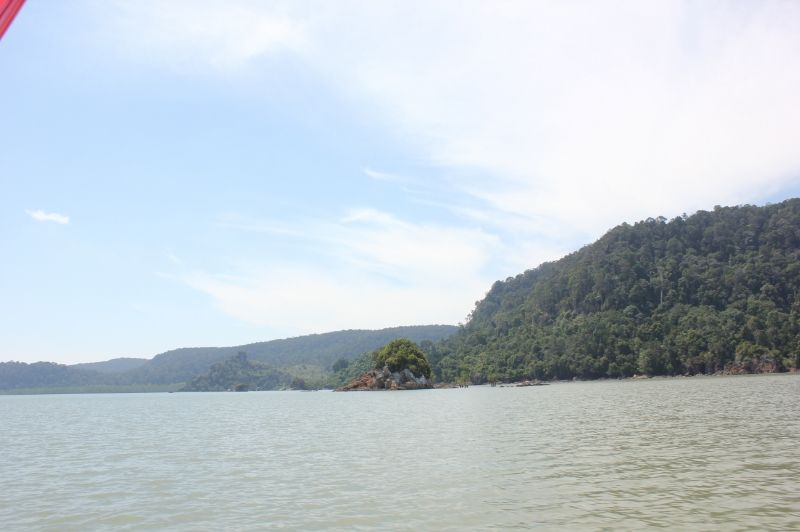 The downside of Bako? It's constantly being roasted on the fires of hell. By that I mean its just unbearably hot! None of us had really adjusted to the hot weather yet, but the result of it being bone dry in the area for over a week prior to our arrival is what made it simply ridiculous. Upon sorting out a lodge for ourselves, we tried to get a few hours sleep, but I don't think one of us could manage two hours without having to take a shower. This became routine during our time at Bako, I think the daily routine went something like this; shower, laze around, shower, sleep, shower, shower, shower, herp, shower, sleep, repeat.
Anyway, we awoke in time for dinner, waiting for the sun to relinquish us of the hellfire, and set out.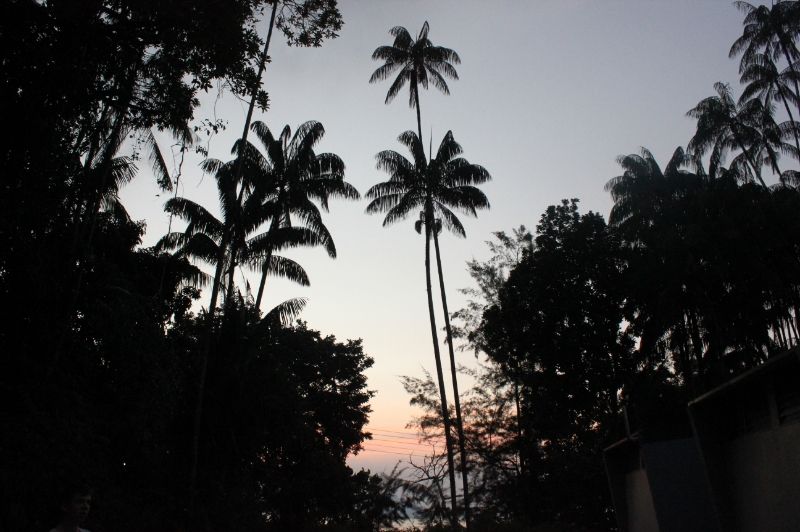 The last time I visited, in April 2013, the boardwalk trail was literally some flimsy wood above a watery swamp, this time, it was some flimsy wood lying above some dirt and leaf litter.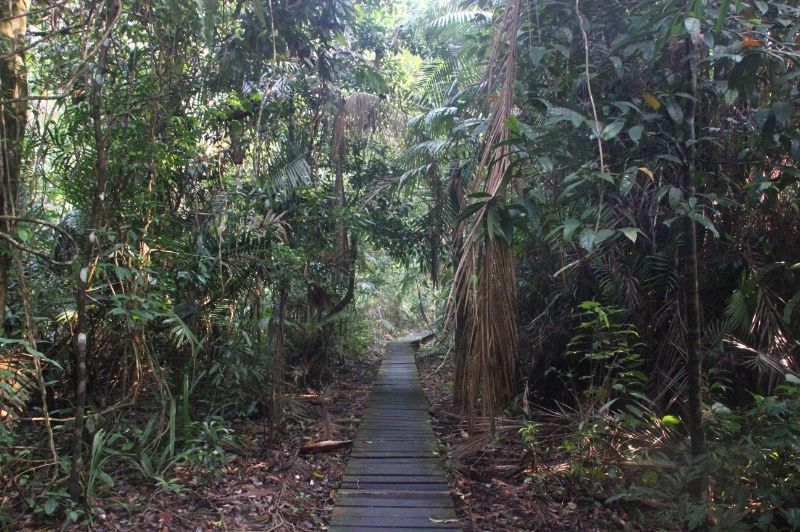 Hence, I recalled the idea from Kuala Nerang which we also relied on for the rest of our time in Borneo. Leave the trail, find water, and stay with it. There wasn't much water in lowland Bako, so when we did encounter the small pools which remained, there was a lot of activity. For example, in the first pool we encountered, there wasn't one, but two Spiny Hill Turtles (Heosemys spinosa) lurking in the leaves! Turtles, Tortoises and Terrapins are a luxury encounter, so sighting four of these IUCN 'Vulnerable' categorised fellows in one evening was simply fantastic, and all thanks to the lack of rain. Unfortunately, we found no actually spiny juveniles, so this smaller adult is the closest I can provide.
Cnmaspis kendalli: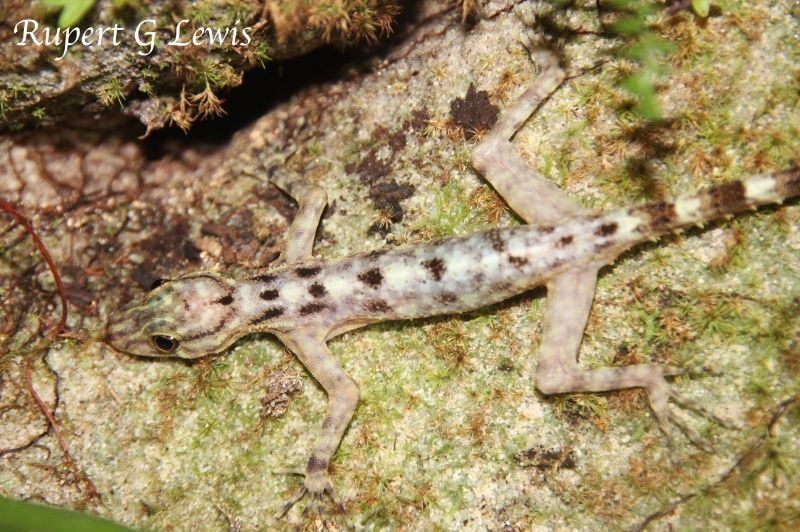 I think this water skink is Tropidophorus brookei:
These were cool encounters, but by far our highlight of the evening was when Rich spotted a small snake half concealed in some leaf litter. Moritz quickly identified it as some kind of Calamaria and made a swift grab before it could slip away into the dense forest floor. Since Evan and University Science Malaysia had been kind enough to give us some equipment to take DNA samples, finding fossorials had become even more of a result. We weren't quite sure of the species, so we took some comprehensive photos and held it until the following morning, where we found it out to be the Bicolored Reed Snake (Calamaria Bicolor):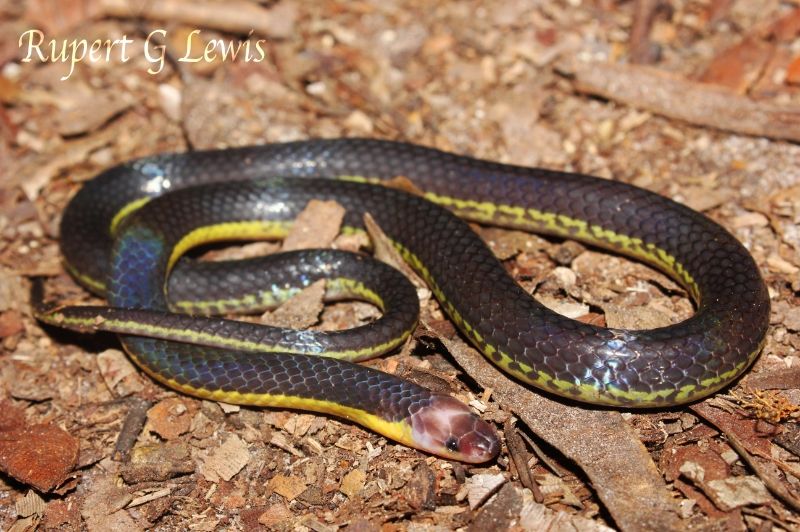 At about 30cm, this specimen was large for the genus, and a species I had never seen before. Furthermore, it was a species that had never had its DNA sequenced, so we were very happy that we took a scale clipping.
We had wrapped up our night after encountering the Calamaria, and I wanted to be well rested for a morning walk. However, not long after I set out, the heat began to beat me up and it wasn't long at all before I tapped out and returned for breakfast. After my recollection of the hardships of sweat drenched clothes and dire need of several showers, we decided to take it easy. We sat around discussing ideas about my project mentioned in part 1, ate the cheap, good canteen food, and waited until it got dark.
Moritz's photo of Bako' shore: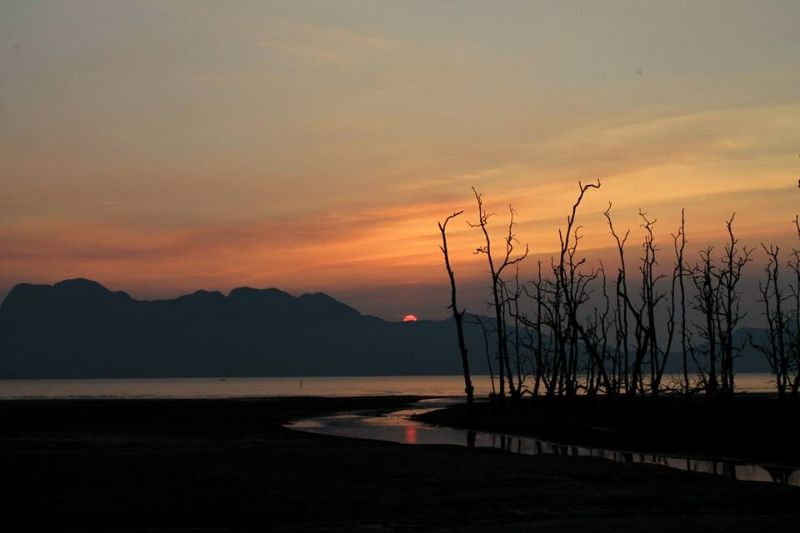 Moritz spotted a second Calamaria not long into our walk, but it quickly slipped away and no amount of frantic or calm searching could turn it up again. Those guys swim through leaf litter and I was up to my ankles in it, so no luck there. Later on, however, Rich and I encountered this hefty beast of a viper perched upon a branch, which more than made up for the earlier mishap!
Bornean Keeled Pit-Viper (Tripidolaemus subannulatus):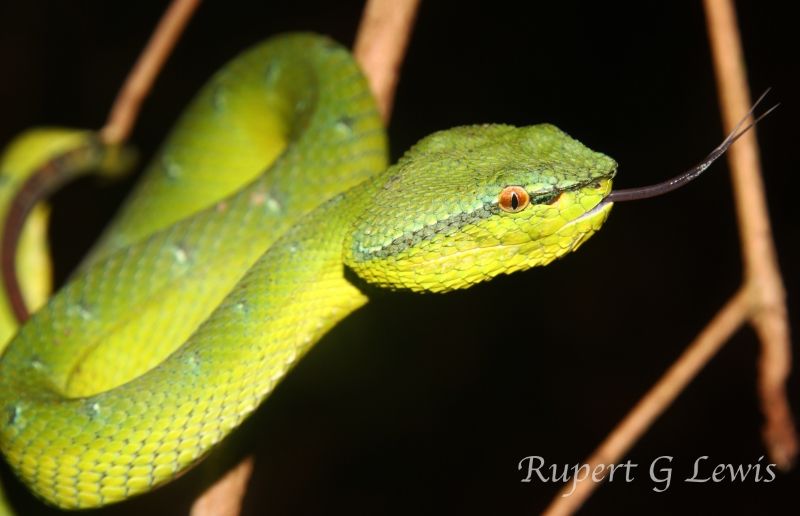 This was and still is the only adult male of this species I'd ever encountered, so this furious chap was memorable for more than just his strikes!
One more cool find, Cyrtodactylus consobrinus. We saw quite a few of these magnificent and massive geckos during our duration in Borneo, yet this was the only one I managed to get a photo of. I'll blame that on it simply being too hot to make gecko grabs.
We were pretty content with our yield of finds at Bako, plus we had proof we'd been to the iconic park, so we got the hell out of there.
Moritz had the card of the Taxi driver who'd taken us to the park, so we gave him a quick bell and he took us back to the airport to hire a car. Remember though, this was our crew, so not without drama, as when Rich put his credit card into a random ATM at the airport, it blinks up with 'Error' and swallows his card. At first we weren't really sure what to make of this, and I might have laughed. However, when the card didn't come back and the bank staff said there was no way of getting it back, I wasn't so happy. Oh, I almost forgot, my own credit card didn't seem to be working at that time either, so we had hit some serious financial difficulties and it looked like we'd be relying on Moritz to bail us out. Furthermore, the licensed maintenance guy for the ATM apparently couldn't get to the airport until 5pm, so it also appeared that we'd be sitting around for a while for nothing, because apparently if he got the card out he wouldn't be allowed to give it back. We were on the verge of saying 'forget it' and moving on, but Rich had some kind of hope in the maintenance guy, and as it turned out, this hope was not misplaced. In fact, this was one of the prime examples of the fantastic Asiatic attitudes to everything! When the guy dismantled the machine and got the card out, he put his finger to his lips, and slipped the card into Rich's pocket. Next thing we knew, we were in our cheap little car and well on the way to Gunung Gading National Park!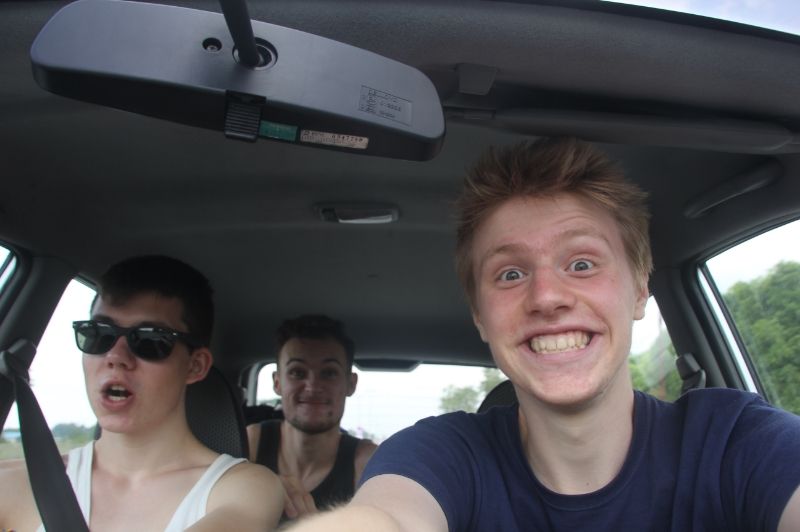 Due to the previous technicalities at the airport, we weren't on track for an early arrival and ended up arriving at 7pm to the National Park which closes at 5pm, but we all knew the drill in Asia so encountered no problems whatsoever when trying to negotiate a room, the guy even remembered me from when I was there over a year ago. Funnily enough, this man showed me the same picture of a Dendrelaphis kopsteini (as he proudly announced) which I'd identified for him the back then. He also showed us a plant right by the park entrance where there sat a tiny Tropidolaemus subannulatus they had found prior to our arrival - talk bout a warm welcome!
(in-situ)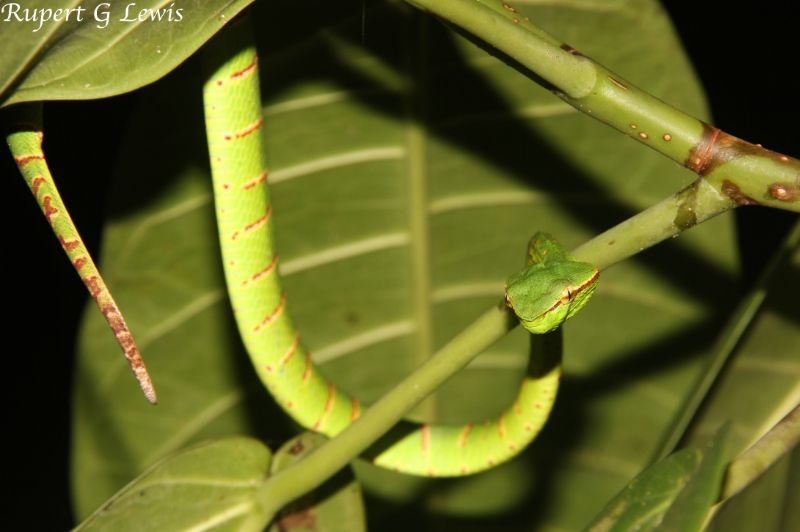 Now, Gading was an interesting part of the trip. The park is wonderful, with waterfalls, wifi(!!!!!), and a massive biodiversity of reptiles and amphibians, however, its very difficult to find snakes. I already knew this, and that's why the focus of coming here was to tick off some of the iconic lizards and frogs, with the likelihood of finding snake or two along the way. This time though, another attraction made it brilliant... football! It had just been world cup season, so everyone had the fever and we spotted, while getting dinner in the evening, a large group of malays having a game of football over in a nearby field. Rich urged us into going over and asking to play, which they more than happily allowed and we spent the next couple hours making a name for ourselves amongst a bunch of players aged from about 8 to 40 years old - it was a blast to say the least! And so it became routine, every late afternoon we'd head down to the town of Lundu and indulge in some exhausting yet wonderful football under the shadow of the mountain, I even bought myself a Sarawak State football shirt for the memories.
(Moritz's photo)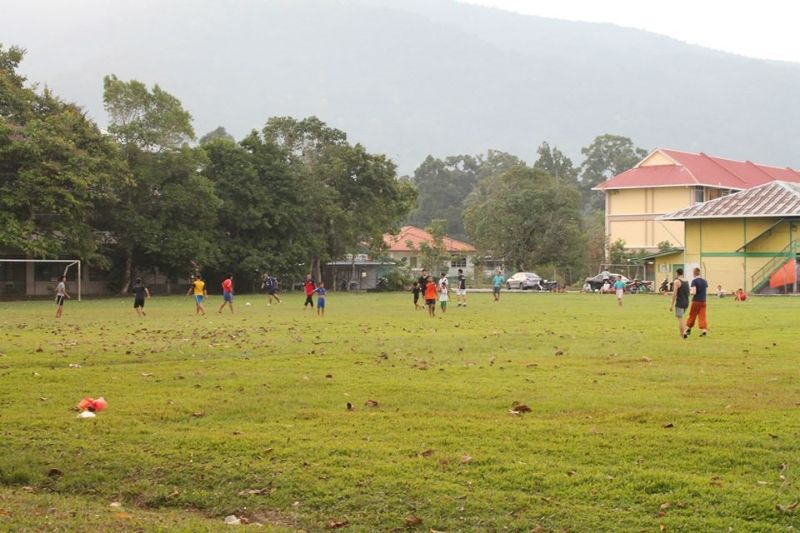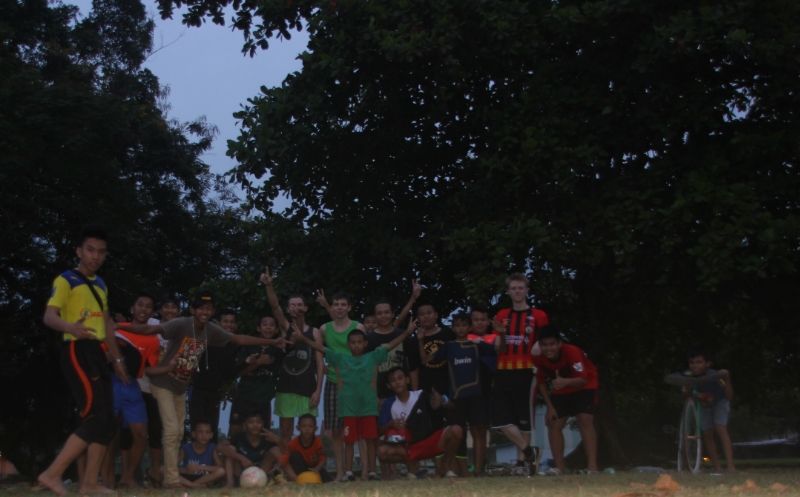 So, when the football wrapped up as it got dark, the herping got underway. We found a lot of cool stuff but since I'm not planning on making this post incredibly long I'll just showcase the most significant finds.
We saw a lot of frogs although not as many as I had last time due to the lack of rain. One of the prettiest to encounter were these Hylarana picturata: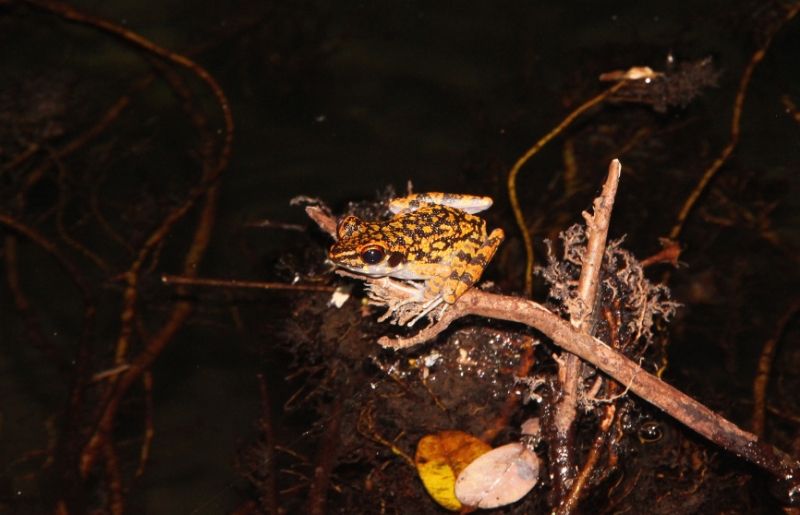 When Rich and I were walking a dried stream bed by night, I heard movement in some leaf litter and a short while of scrutiny later I rustled up this beauty - one of the target frogs for the trip. Nyctixalus pictus: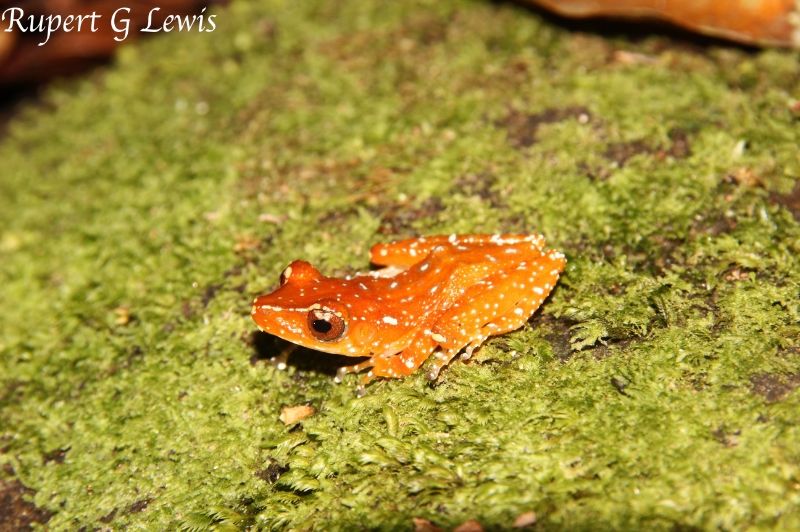 We encountered a few species of Gonocephalus but none beat this fantastic species I'd never seen before, Gonocephalus doriae:
We were also lucky enough to encounter one of these fantastic Cat Geckos, our target reptile for our stay at Gunung Gading! Aeluroscalabotes felinus:
Snakes were hard to come by as expected, although Moritz sighted this juvie female Tropidolaemus subannutus that quite hilariously had a weaver ant attached to it. The weaver had bitten onto the snake and died, proof that these things never let go once they bite, a prior suspicion of mine. This was our third Tropidolaemus in a row, at least it kept our trend of one snake per day up.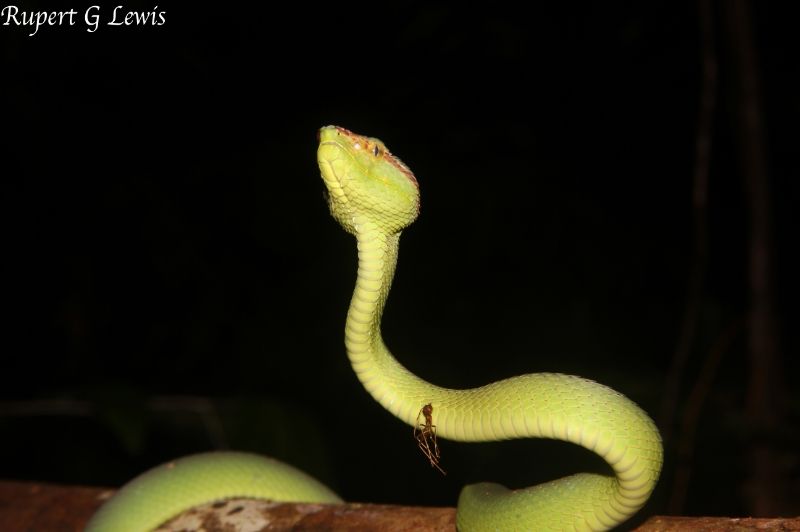 Our conclusive find for Gunung Gading was not rare, either, although I was surprised by how much of an impact this snake had on the guys. In hindsight, this is possibly because it bit Moritz on the neck. I know what you're thinking, 'how did it possibly bite him on the neck?', well, I'm not entirely sure either, but it did and it was hilarious. Malayan Racer (Coelognathus flavolineata):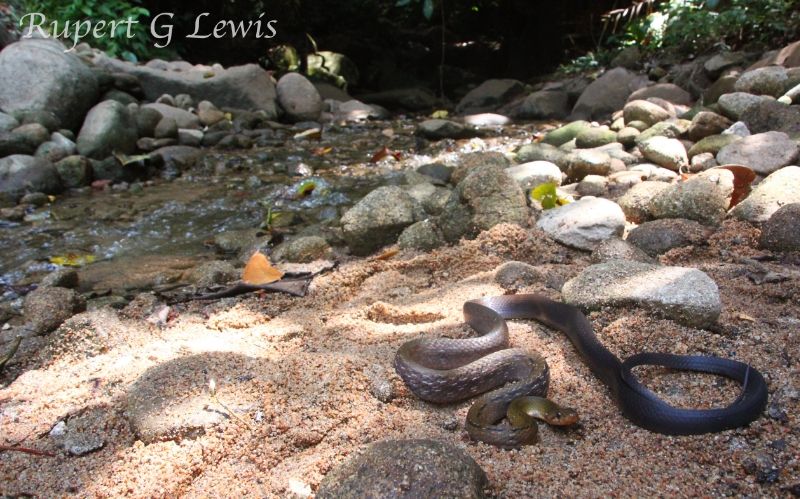 At first glance this large adult doesn't look particularly remarkable, but on closer inspection...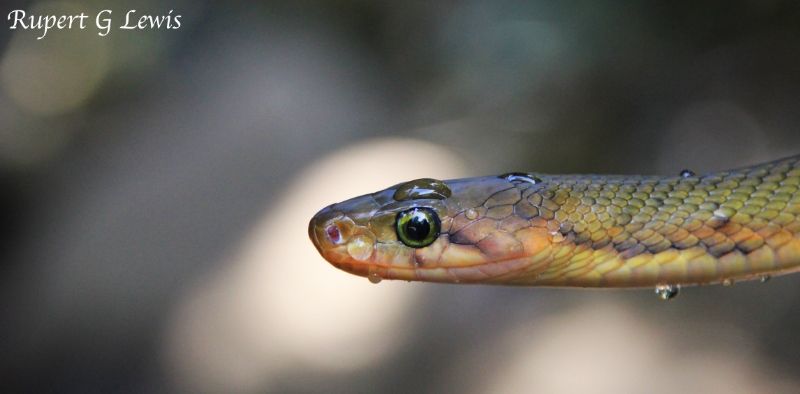 Rich and I looking extremely proud to have found a snake which wasn't Tropidolaemus subannulatus...
Anyway, that concluded our time at the spa-like area known as Gunung Gading/Lundu, so off we went to Kubah National Park. This involved more driving without a map or SatNav. Actually, we did have a map, but since there is so much discreet military activity in Sarawak, the maps are terrible on purpose and pretty much useless. However, there are hardly any actual roads in Borneo, and the predominantly flat land makes mountains like that of Kubah highly visible from anywhere, so we just drove on any road which seemed to head in the direction of the hill which meant we would always arrive there with ease.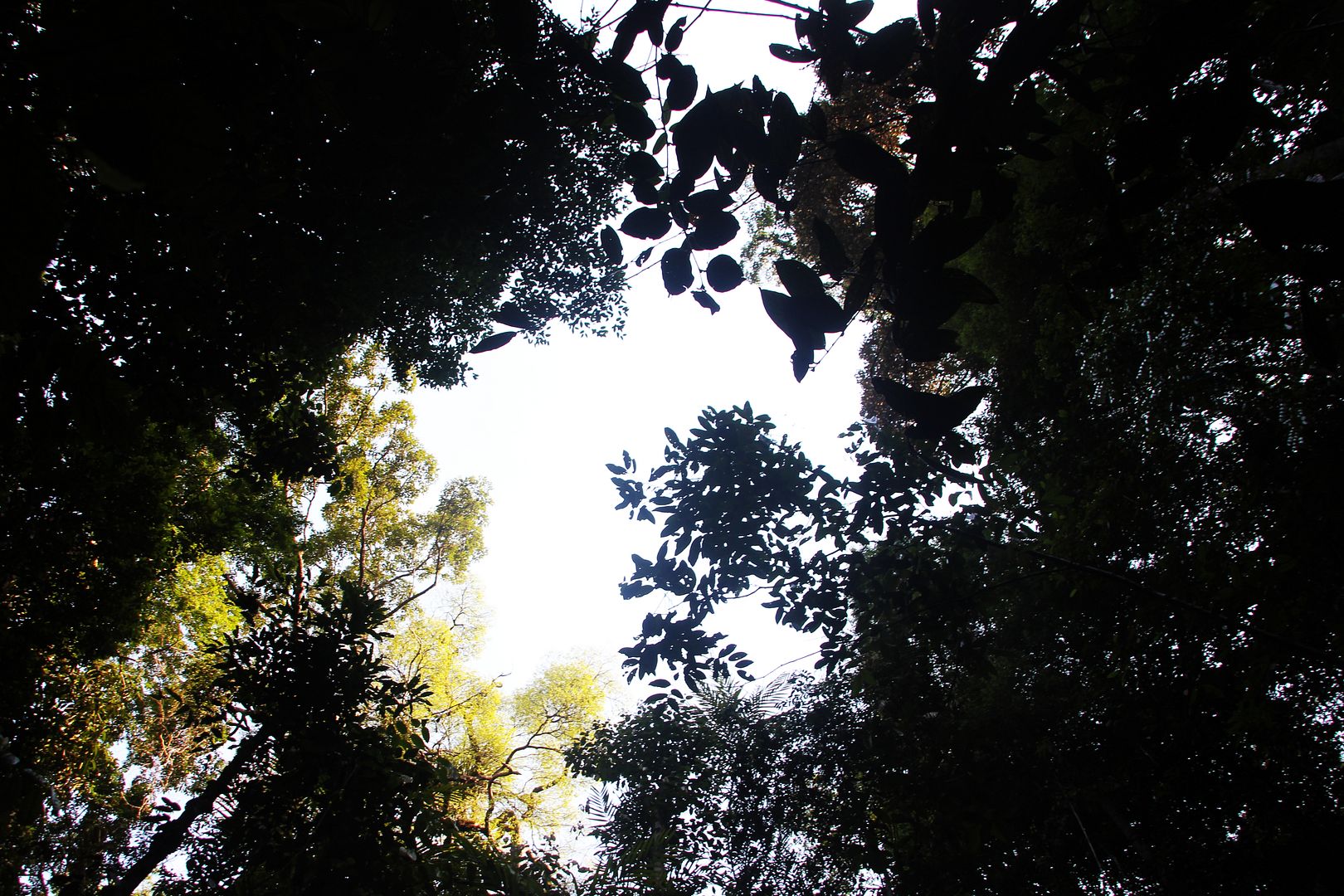 Kubah National Park is considerably different to the others in the region because it has a road leading from the bottom almost to the summit, which is out of bounds due to it being a communications building. Guests can access this road with cars, although the first time we took the car up we seriously underestimated how steep it would be on the way down and once we reached the bottom, we were shocked to find that our brakes had stopped working completely. Hence, we decided to spend the rest of the evening walking.
This didn't turn out to be a bad idea. Moritz had retired for the evening since he'd stubbed his toe playing football, but Rich and I trekked up the summit road until we encountered streams at which point we would follow the trend of the trip and diverge onto the banks and hunt around.
Along one particular stream (well, I say stream but it was more like a rocky bed with small pools of water every now and again) Rich and I were walking about 5 meters apart from each other, me being up ahead. After a short while, Rich unenthusiastically called me back to 'check out this frog.' which I even less enthusiastically obliged to. After we both crouched down for a good look and declared that this amphibian was in fact not a frog but a toad, Rich and I simultaneously looked upwards while standing up and to our upmost surprise we were greeted by the sight of the venter of a huge viper! I guessed since we'd seen so many already that it would be a large female Tropidolaemus subannulatus, but as we took a few steps back to get a proper look, I honestly couldn't believe my eyes. I'd been babbling about the enigmatic rarity and intense beauty of this particular species for the most part of the trip already, and I hailed it as the 'holy grail' of Thai-Malay Pit-Viper species, so you can imagine what effects seeing such a massive and vibrant specimen sitting before my eyes in all its glory had on us. We literally started jumping about, shouting obscenities, hugging each other but at a complete loss for actual words. I think I managed "D-do you f*cking realise what we just found!?" and Rich got out "is that a f*cking sumatranus!?"... it was.
Sumatran Pit Viper (Trimeresurus sumatranus) - in situ: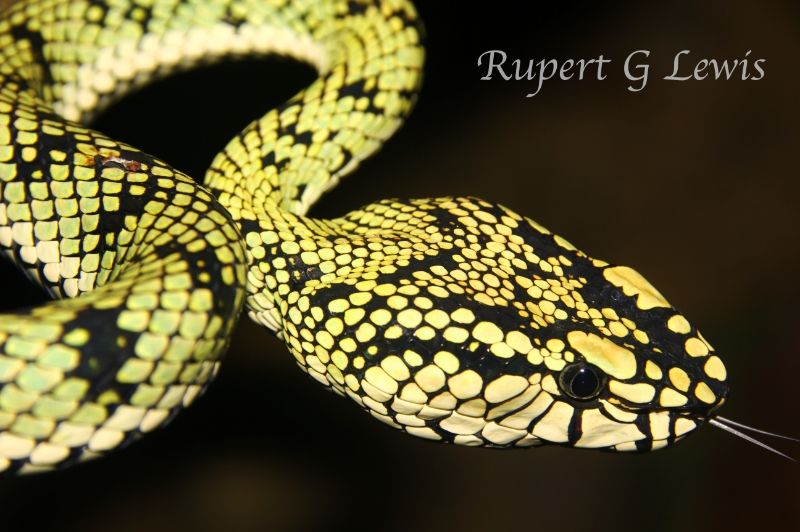 Now, personally, I would have been far more happy taking several photos of the snake in-situ and then moving on to leave it alone because this snake just seemed far too regal to disturb - almost sacred. Rich and I both felt that to catch it would be somewhat disrespectful the snake that blessed us with its presence. However, I was the only person packing a zoom lens so Rich was unable to get any good shots whatsoever, and so we discussed that this is a once in a lifetime opportunity to see this species, especially such an impressive specimen. Plus, we were sure our meddling won't scar the snake for life, at most it will be like a bad dream. So we opted to get it down from the branches for a better photo op.
Now, I've been banging on about how impressive this snake was, so let me give you an idea of what I'm talking about...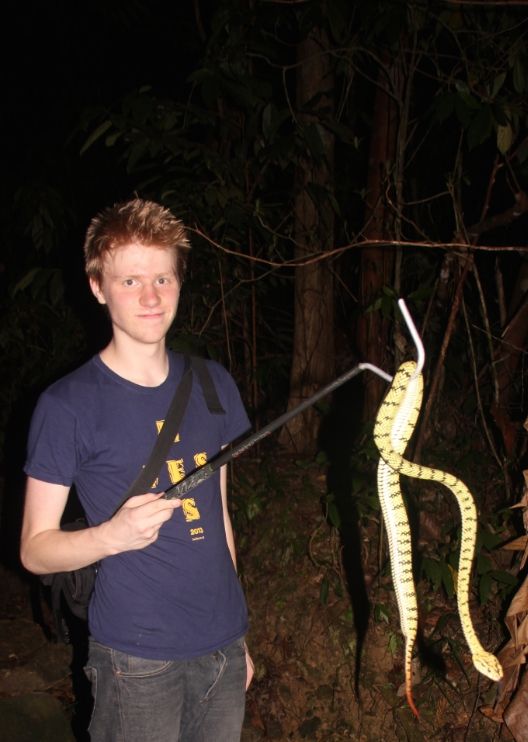 It was well over a meter in length, and for an arboreal viper and this species that is absolutely massive. On top of this, the snake was as, if not more, pissed off at being disturbed that we thought it would be. And I'm saying this from the bottom of my heart that I don't think I've ever been so intimidated by a snake. Once we sat it down on an elevated root, it took up defensive posture and would shoot out a far reaching, lightning fast strike if either Rich or I moved in the slightest. Furthermore, every time it shot out at one of us we got an all to clear look at the fangs this monster was packing. Apparently the Malayan Pit-Viper has the largest fangs of any Asian viper, but I'm sure this sumatranus could have given most Calloselasma specimens a run for their money in that department. One shot Rich and I coordinated together captured what I'm talking about perfectly: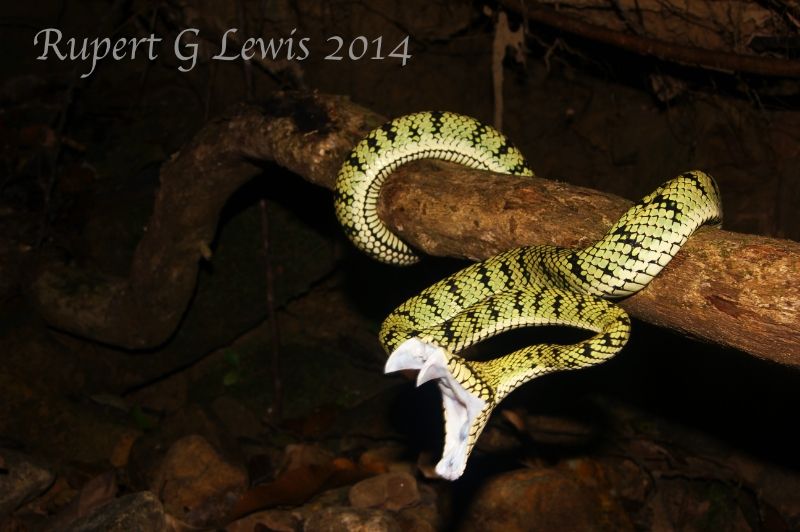 Once I took the above photo I was done - I literally did not take another picture of the snake and so we released the snake back into the trees with very mixed emotions, although the predominant one was certainly raw excitement. Thus, we swaggered back to our humble forest abode thinking that this trip could not get any better, little did we know what the following day would bring,
Our first full day at Kubah started like any other would have. We slept in late, indulged in several bowls each of cornflakes, and headed out for an afternoon stroll through the forest.
Kubah forest varies significantly, one area we walked through was predominantly made up of these thinner trees.
We took photos of insects and each other, but other than gliding lizards herps weren't particularly present on this outing.
However, come that evening, all three of us set off up the road on foot. This time, we didn't get as far as the T. sumatranus stream since I proudly discovered a discreet little stream tucked away down a gully in the forest. This is a shot I took of it the next day and, when reviewing how good it looks, I think would have been absolutely ridiculous not to have found a snake there.
Anyway, this is how it went down: There was no direct route to the stream, so we had to find a way through the dense vegetation to reach it. Moritz still had a plastic bag wrapped around his bad foot, so he opted to stay up on the road and hunt around there while Rich and I ventured off into the unknown. Once we reached the bank, we knew we were onto something, and it wasn't more than a minute before my ears pricked up at the telltale sound of something without legs sliding through the leaf litter. I stopped and whirled around just in time to see a small snake slip into the leaf litter, at which point our honed snake catching skills came into play. After a seamless and very brief communication between the two of us, Rich dropped down and used his arms to create a circular artificial barrier around the patch which the snake went under, at which point I carefully but swiftly turned up one leaf at a time until I uncovered the snake. I couldn't identify this juvenile precisely in the moment, but I recognised it as a keelback too small to inflict any damage despite what species it may be so I held it in my palm for us to admire. Moritz wasn't far away, so Rich gave him a shout that we'd got a snake and he returned with "Really?". It was moments after this when a sound behind me almost made me jump out of my skin. It was certainly a snake, but it was definitely a lot larger than the keel back I had heard a minute before. Again, I spun around and to my utter disbelief it was to see an absolutely massive Bornean Blue Coral Snake (Black Coral Snake) hauling tail up the bank of the stream. Again, Rich and I subliminally communicated with each other resulting in me chucking my handheld torch to Rich and lunging out to grab the swiftly moving snake. However, I also had the keel back in my other palm. And so I found myself juggling two snakes at once, one being an extra active and extremely venomous elapid, but after moving into a better position I swapped the little natricine for a snake hook and began to properly detain the furious snake at my feet. I honestly could not wrap my head around what we had just accomplished, but Rich managed to shout up the bank to Moritz that we had "two snakes!!!", at which point the forest floor began to tremble, the leaves began falling rapidly from the trees, then a light appeared, followed soon by a panting noise, and finally Wallitz himself burst from the bushes onto the scene, the bad foot no longer a problem! With Moritz's help, we bagged up both snakes and returned to the road to take in what we had accomplished, at which point I decided to take this photo which I think sums up the mood pretty well.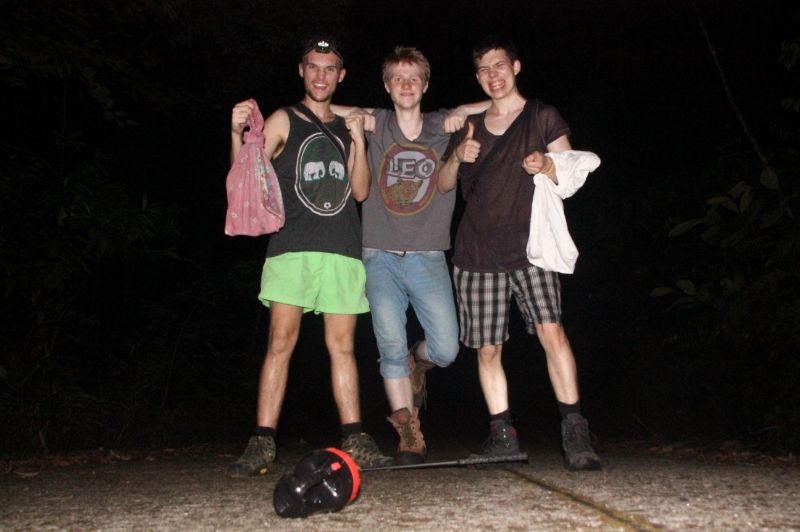 Anyway, after some debate between the three of us I was outvoted on the matter so we decided to keep the snakes until the morning to photograph. Thus, we all eagerly went to bed in hopes of getting an early start. Well, I wish it had gone like that. In reality, we got back to the residence only to find that the key for our dorm had completely disappeared, and no amount of searching could turn it back up again. No worries, at least we had the snakes! Well, I wish it had been like that too. Shortly after catching the two snakes, we had returned to our room and put them somewhere safe to keep until the morning before heading back out again, so the snakes were locked inside the room and we were locked out... perfect. Luckily, the place we were staying had chairs, benches, and pillows in the communal area, and they even had curtains which I ingeniously dismantled and used as covers. Plus, we had a bottle of whiskey in the fridge... Things could have been a lot worse, I'll say that!
Rich and I are both clearly showing our appreciation for Moritz's key keeping skills: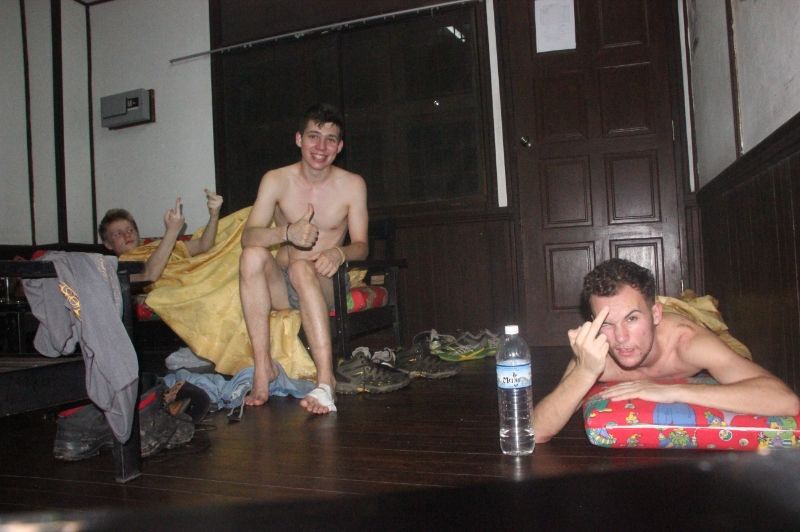 It was all just banter though, and it didn't matter that we all got minimal sleep because when we got another key from the staff we found two amazing snakes waiting for us in our room, and so we set out to the exact spot where we found them for some serious photography sessions!
Saving the best for last, we took the Keelback out first, which I ID'd that morning as a Rhabdophis conspicillata, a nice species which I'd never seen before.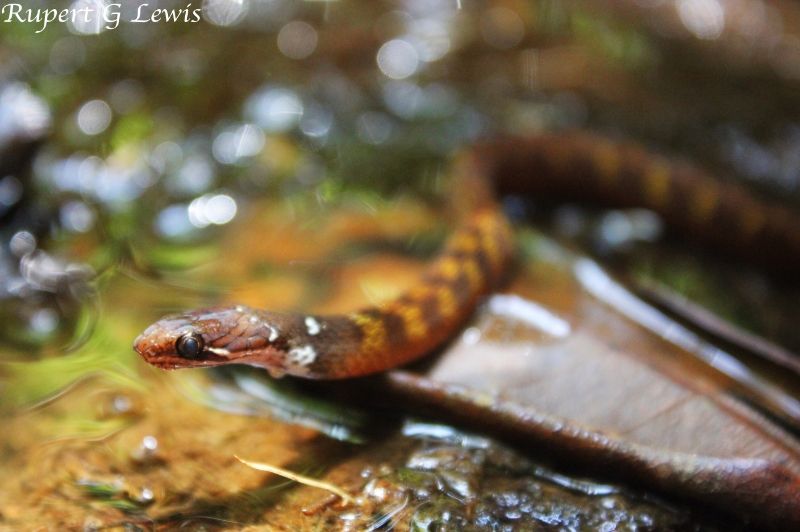 At first, we tried photographing it on the bank of the stream but the snake would simply not sit still for a second, however, once we let it slip into one of the shallow pools of the stream, it instantly became relaxed and tranquil, allowing us a nice photo opportunity amongst the brilliantly coloured leaves, strewn in and on the stream.
After a few photos, we let the Keelback swim off and geared up for the real deal. Once it was out of the snake bag (pillowcase), contrary to the C. b. flaviceps from Bkt Fraser, it went on a madness, biting literally everything its face touched. However, once it touched the water, it seemed to completely forget about us and started pleasantly drinking, but soon enough it stopped and went back to the frenzy it was on before. In the end, perseverance payed off and we got it to sit perfectly amongst the exact leaves in which we had found it. Amazing experience.
Bornean Blue Coral Snake (Calliophis bivirgata tetrataenia):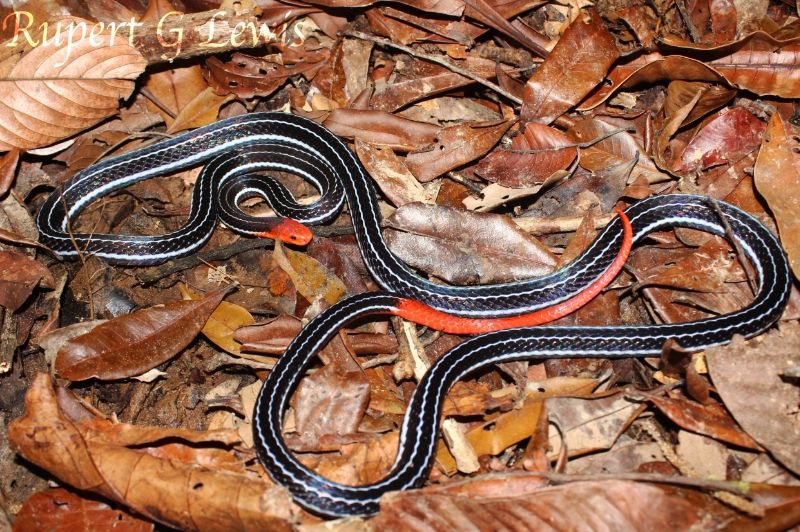 Since I'd only seen flash photography of this snake by night online, I had nicknamed it the Black Coral Snake. On seeing the snake in person though, I was surprised by how blue it actually is, especially in the daylight. This picture captures it as decent as I could manage: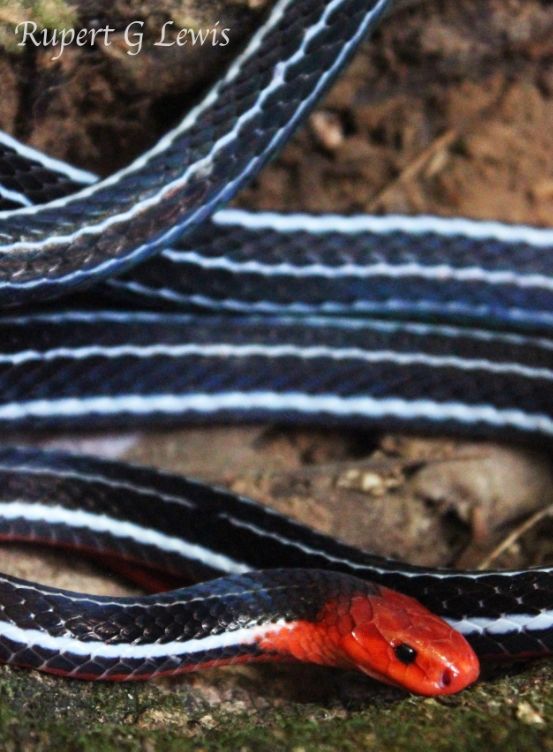 Moritz admiring the beast as it takes a sip from the shallow water where we photographed the Keelback. Mesmerising serpent...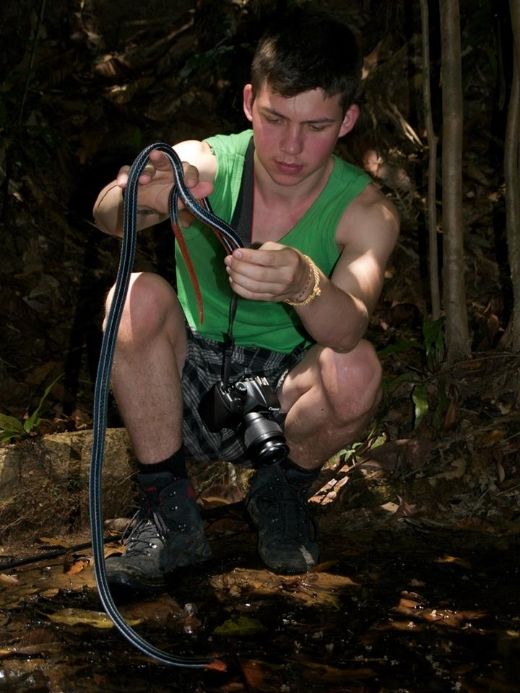 After taking glory shots of each other, we let the snake slip underneath a fallen tree and attempted to emerge back onto the road. In the process of doing so, Moritz managed to find our lodge keys amongst the leaves, so we didn't even have to pay the lost key cost when leaving!
A couple months prior to the trip, I'd spoken to Hans about staying at his place for the remaining days of our time in Borneo, but when I contacted him it turned out that his work was so hectic that he simply had no time for visitors. This was unfortunate, but we understood his situation so we re-hired the car and decide to stay in Kuching and take driving trips out in the evening to some spots I'd picked up from Hans the year before. The days weren't particularly distinct from each other so I'll just provide a selection of photos and stories from the 4 nights we had in the area.
View from our Kuching accommodation, those are some very loud club/bars you see in the foreground which Rich and I indulged in after herping one evening.
Our first find was possibly our finest of the few nights we had around Kuching, and definitely the largest snake of the trip. We had been on the road for hours and seen nothing, and Rich was already asleep in the back of the car. I'd whacked on some Jose Gonzalez not long ago and was beginning to drop off myself, so much so that I even let Moritz take the car down a side road which seemed too habited to yield any special snakes, yet when we saw this snake emerge from the grass directly in front of a house, I knew we'd made the right decision.
Melanistic morph of the Dog-Toothed Cat Snake (Boiga cynodon):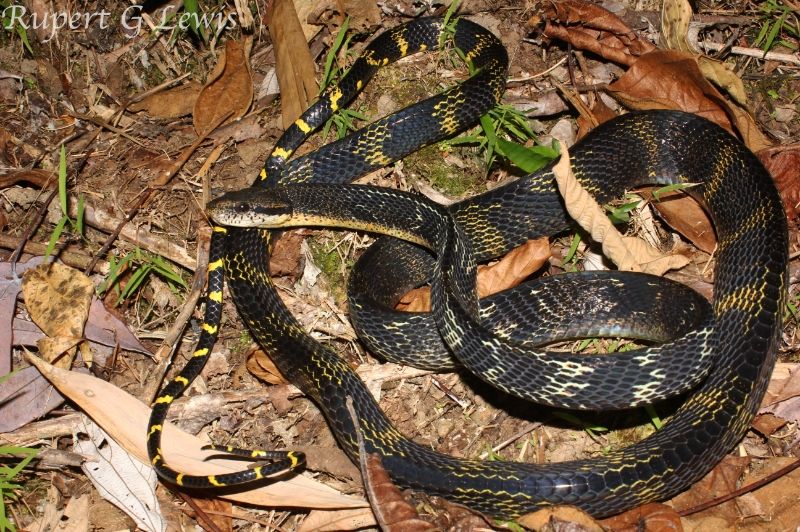 Like the usual B. cynodon, it was intimidating but actually quite adorable in nature - cooperating well for our photos. This one was especially intimidating though, as it was an absolute monster (still not as large as the one I found in Bako NP, Borneo, on my last visit). We released it away from human habitations. ca. 2.5m+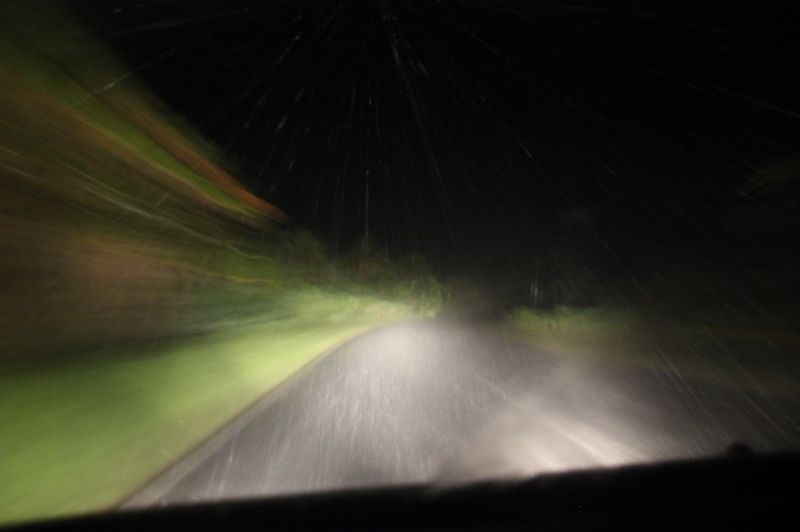 Banded Wolf Snake (Lycodon subcintus):
One afternoon we payed a visit to the Borneo Heights Golf and Country Club at the top of Gunung Penrissen; it was decorated exactly how you'd expect a colonial revival style golfing retreat would be, live horses and all.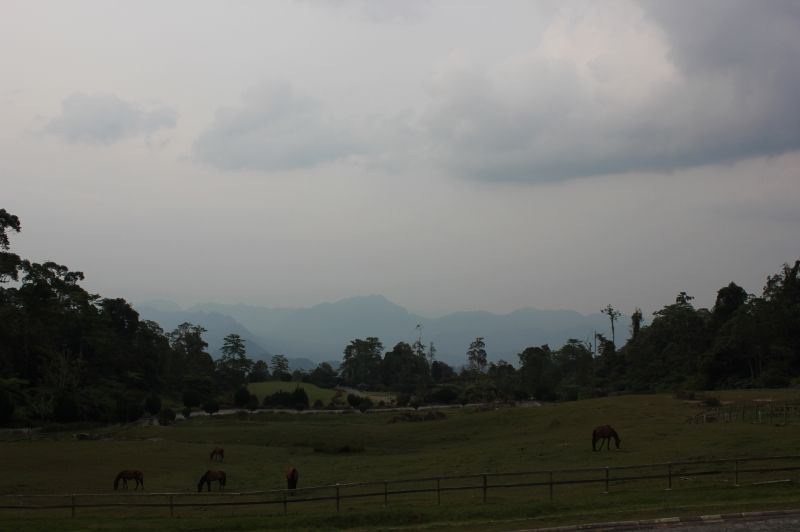 However, there were jungle waterfalls and trails in the area, and that was what we were there for. So, after mucking about on around the resort and eating lavishly at the restaurant for dinner, we set out.
(View from Malaysia over Kalimantan, Indonesia)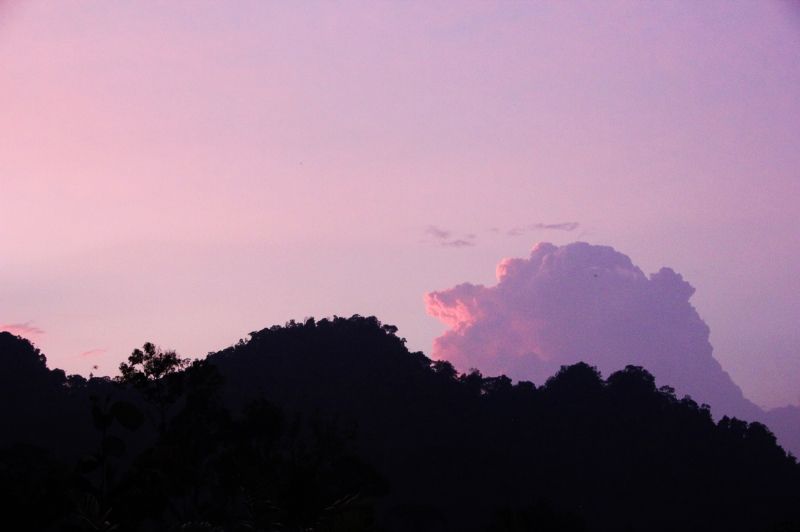 We encountered some cool creatures on the higher elevation trails, one being this Cat Gecko (Aleuroscalabotes felinus) - in-situ: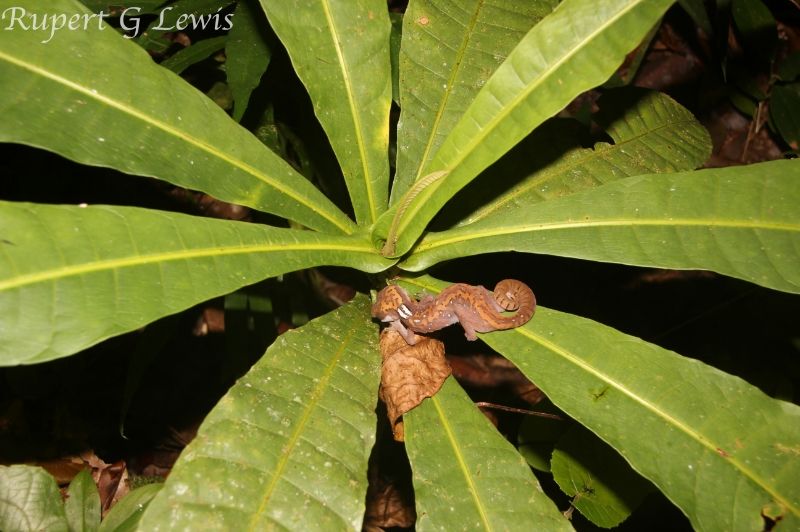 In-situ Quad:
Now this was personally my favourite (definitely the most fascinating) invertebrate of the entire trip. We first came across it hanging upside down above the trail, but when we got it down it completely changed its form and I was honestly mind blown at the defensive mechanism.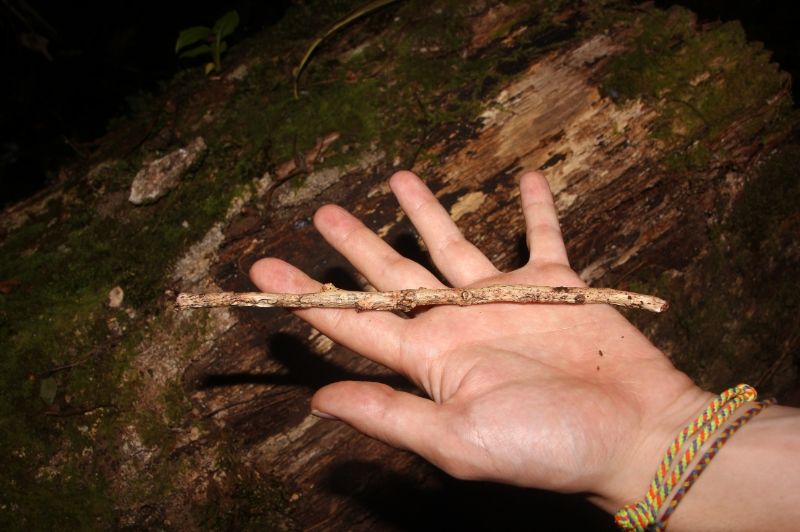 Nobody would think for a second that I'm not holding a stick in my hand, and I even began to doubt myself after a minute of close scrutiny, let alone if it was on the soil or some bark.
Since I was convinced this was the stick insect I'd caught moments ago, I decided to place it down and wait it out, but it seemed like no time spent sitting around, attracting annoying flies to my personal space, would see this twig unveil its true identity. In the end, I gave up, but upon walking back the same way later in the night, I checked the same area and located it on a nearby plant!
Gliding Gecko (Ptychozoon sp.):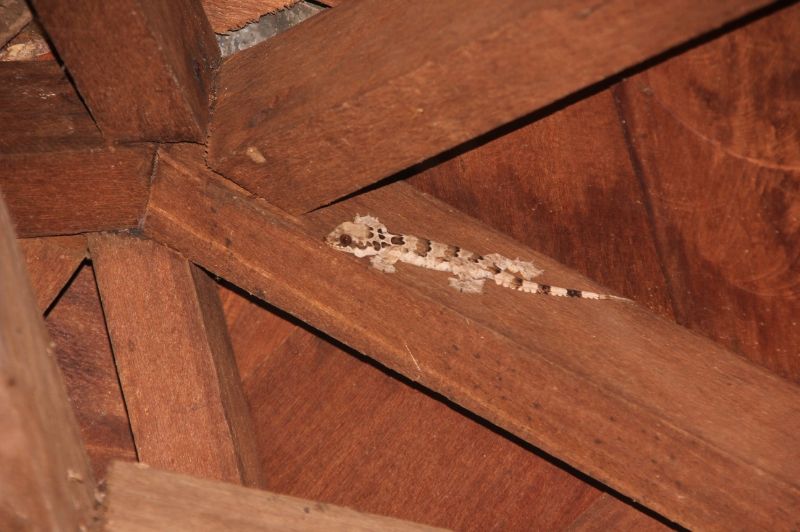 We weren't lucky enough to find any snakes on the hilltop trails, but when the party investigated a waterfall further down the mountain we had a bit more luck.
When I was checking out the large pool at the base of the waterfall, I climbed up a large boulder and looked down upon the pool from about 3 meters up. I was pleasantly surprised when I spotted a snake resting on some fallen branches protruding from the water.
(in-situ)
Once I called the guys over, we set about trying the get the snake which I knew could, at any time, leap into the water and be gone. Moritz offered to swim in from the deep side of the pool, while Rich decided he would wade in towards the snake from the shallow side, while I took the torches and filmed the sequence from above. This worked pretty well because although the boys got soaked, we did catch the snake seamlessly.
Triangle Keelback (Xenochrophis trianguliguerus) - pretty snake, also the first snake to bite me on the entire trip: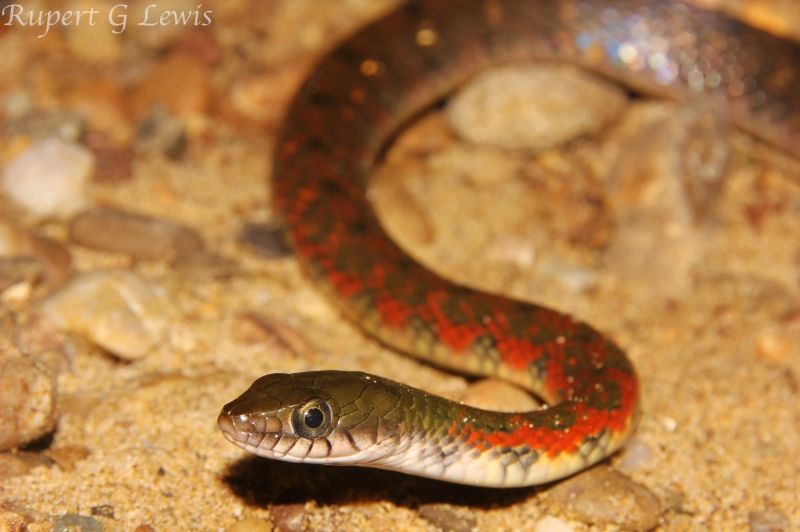 There were quite a few other cool herps around this waterfall, like this Green Crested Lizard (Bronchocela cristatella) - sleeping in-situ: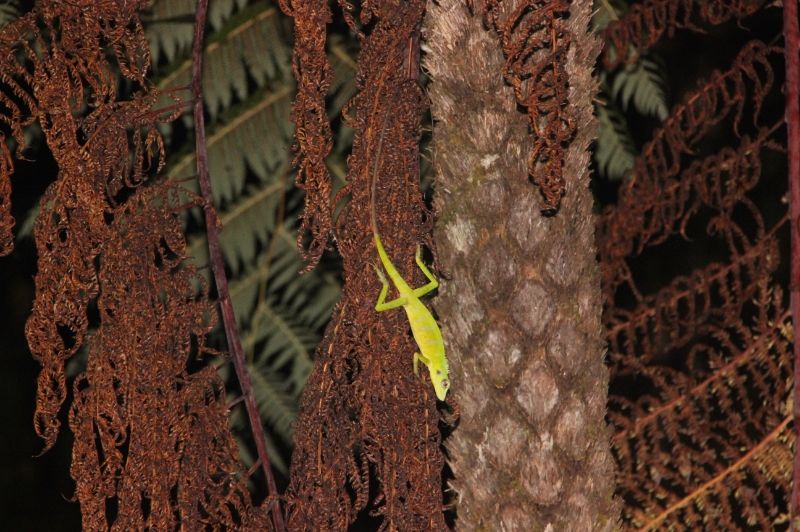 These astonishingly large File-Eared Treefrogs (Polypedates otilophus) - in-situ: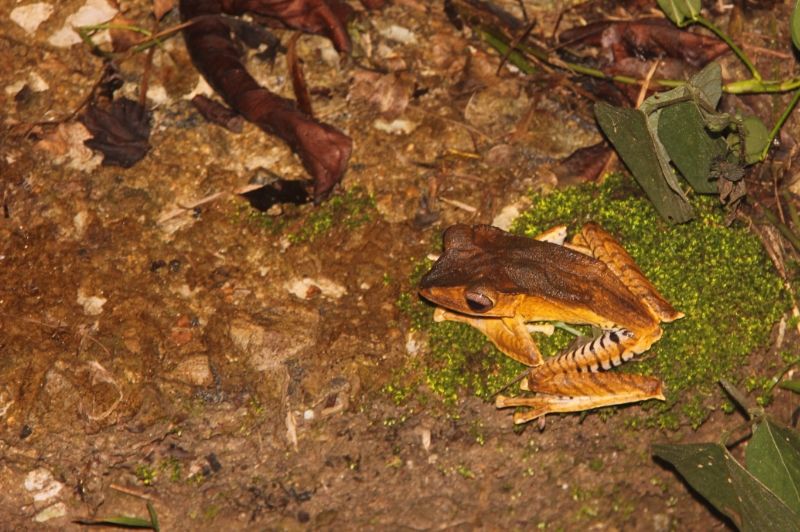 Philautus/Polypedates/Rhacorphorus species? (in-situ):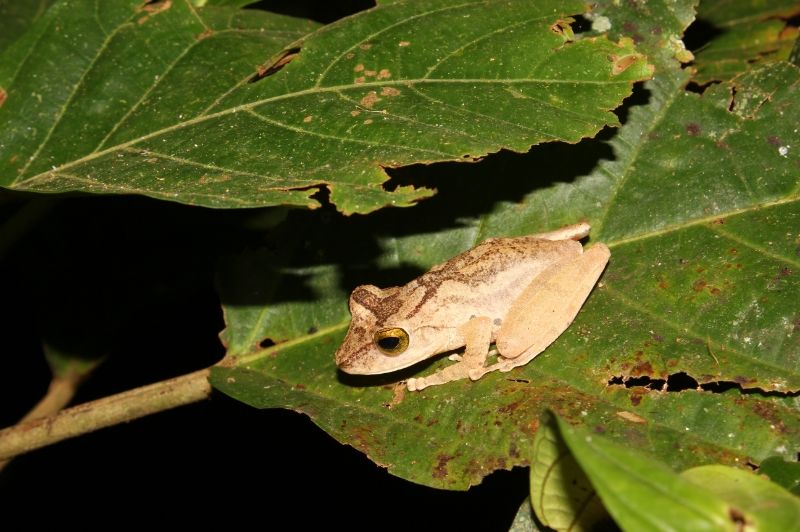 Ingerophrynus sp. I think (in-situ):
Cyrtodactylus consobrinus, turns out I'd forgotten that we'd photographed this one when I spoke of them earlier.
Unknown skink, Spenomorphus sp. perhaps? Although it was a bit large for the genus.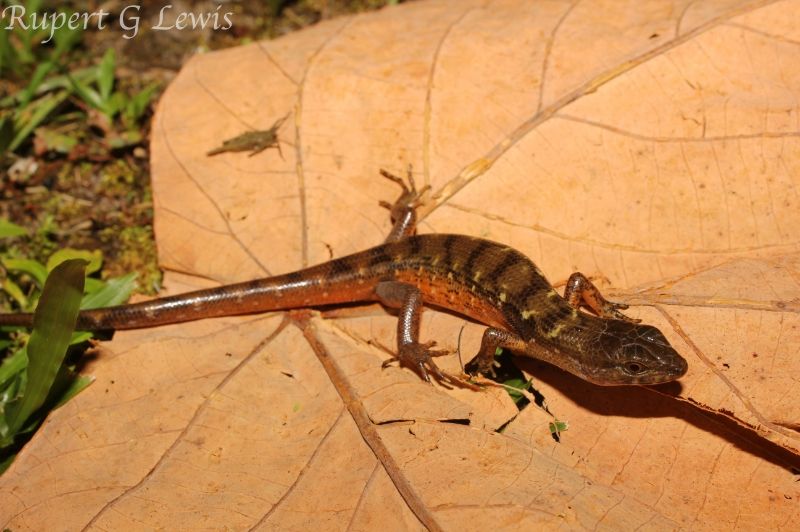 And our conclusive find for Borneo, Ahaetulla prasina (in-situ).
This snake had different ventral stripes to any A. prasina I'd checked before, so we took a DNA sample of this one. Also the markings on the body were a little more like A. mycterizans, although that species doesn't occur in Borneo - maybe they're due to it being a younger specimen?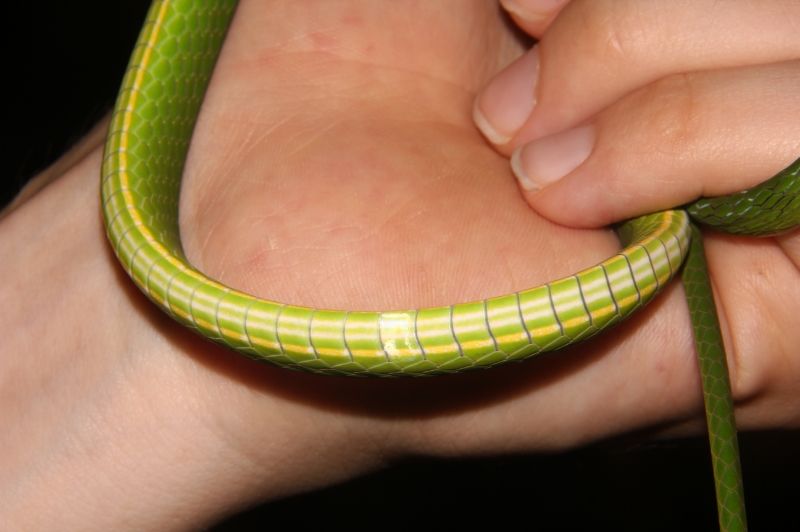 And that just about wraps up our time in Borneo, which included long nights of driving to little avail and in turn lots of bickering. On the other hand, long nights of walking in the forest allowed us to bond properly and in Borneo you are never far from a fantastic creature, be it a snake or not. It was a fantastic experience and we certainly saw some amazing animals, which I guess is the key point of the trip so... success!
(Eerie blue neon cross over a small, mist eneveloped village in the Bornean outback, something we dreamily passed by several times in the course of dreary road cruising hours)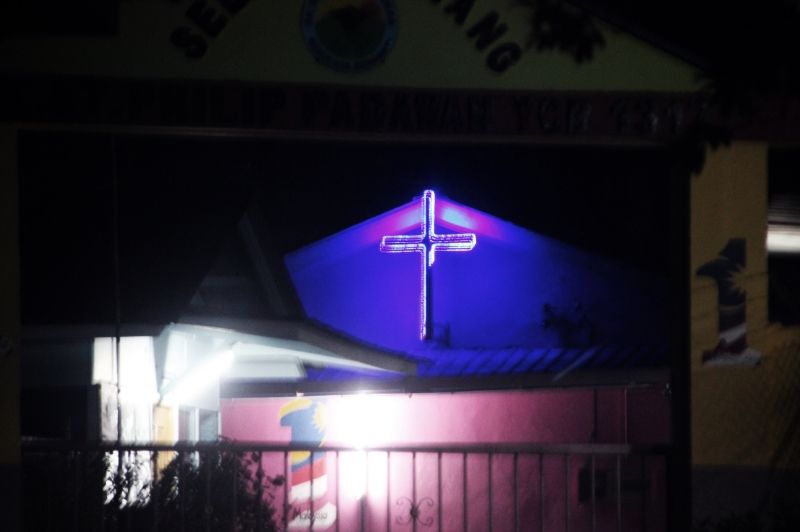 Soon, a little more Pen' M'sia and incredible Thailand!