As I prepared to compose this end-of-year summary, I initially thought I didn't have that exciting of a year from a herping perspective. However, looking back at the photographs, I think I did alright, at least by my own standards.
Not doing any traveling the first few months, I had a slow start to the year. I guess you might say my first herp encounter was this cake my kid made me.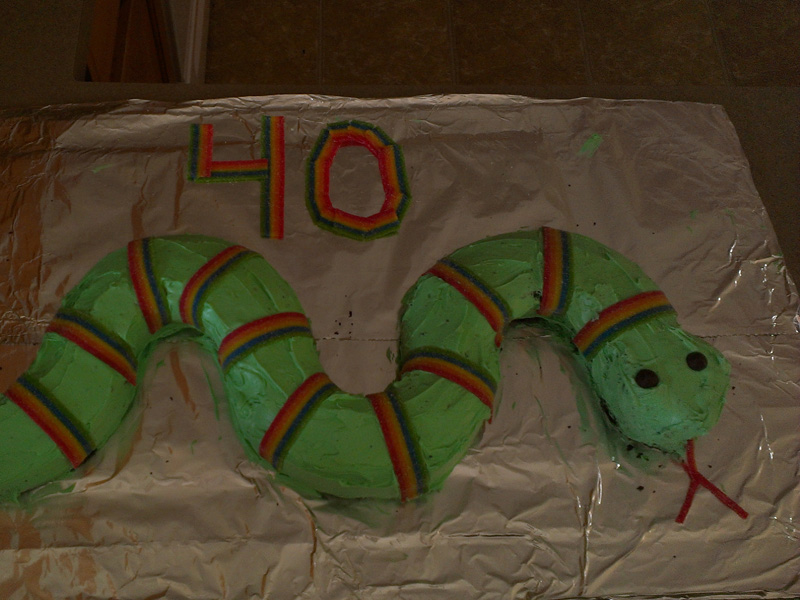 In April, Dan Krull and I went looking for salamanders on a rainy night. Here's one of them, a smallmouth salamander (
Ambystoma texanum
).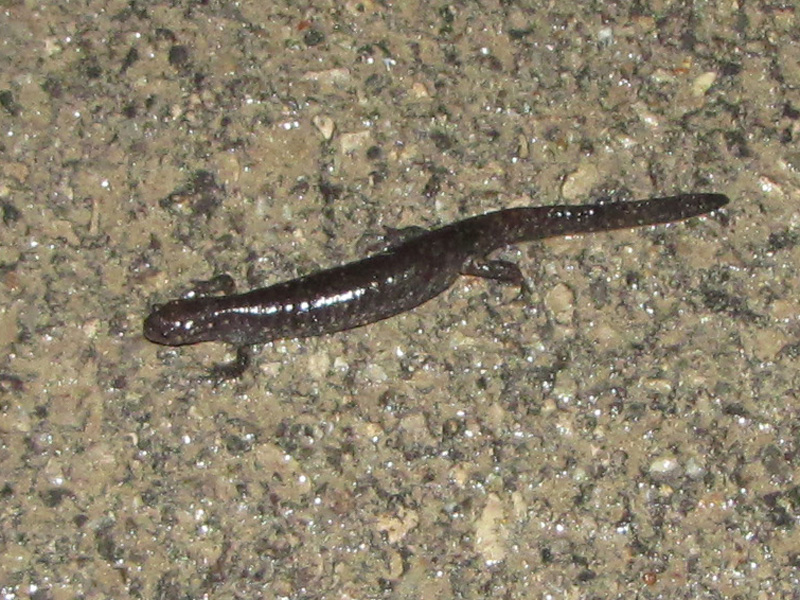 We bought a canoe in 2013 and take it out now and then to paddle around some of the local lakes. We tried a new lake in northeastern Kansas this spring and got way up into the skinny water where motorboats can't go. Seeing some slight (and slow) commotion in the far reaches, upon closer inspection we found this pair of common snapping turtles (
Chelydra serpentina
) engaged in some sweet, sweet lovin'.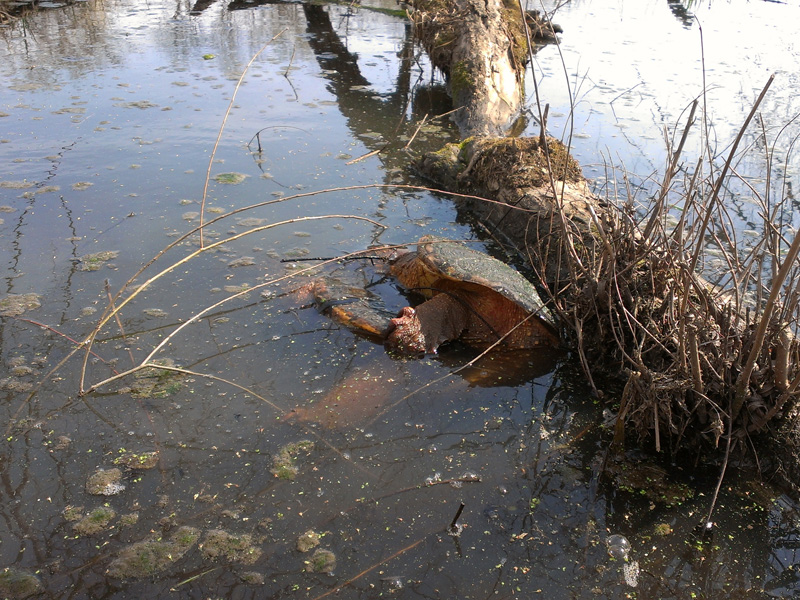 In mid April, I went to southern Kansas with the Kansas Herpetological Society for their annual spring field trip (different locale each year). While I didn't personally find a whole lot, I spent a lot of time walking around the grasslands chatting with Chad Whitney. On the way back to the rally point, I walked up this nice massasauga (
Sistrurus catenatus
).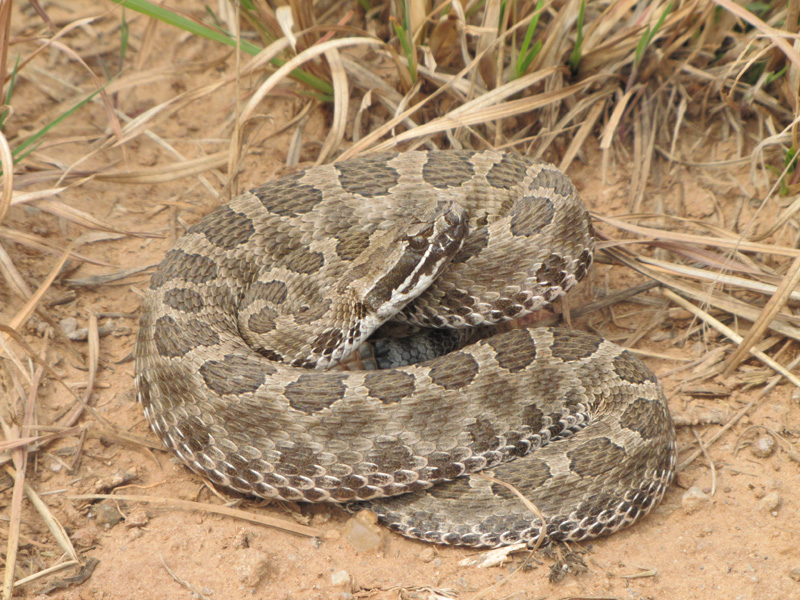 The following weekend was our annual Fort Leavenworth Herp Survey in northeast Kansas. I led a group of kids to a couple of our sites, and the very first cover object we flipped, a piece of tin, housed both of the snakes in the next photo: a western ratsnake (
Pantherophis/Scotophis obsoletus
) and a juvenile prairie kingsnake (
Lampropeltis calligaster
). I was very happy to find the prairie king, as it's only the second I've found here (the last one was 2011), it was on the opposite side of the 5,000-acre installation, and it indicates there is a reproducing population.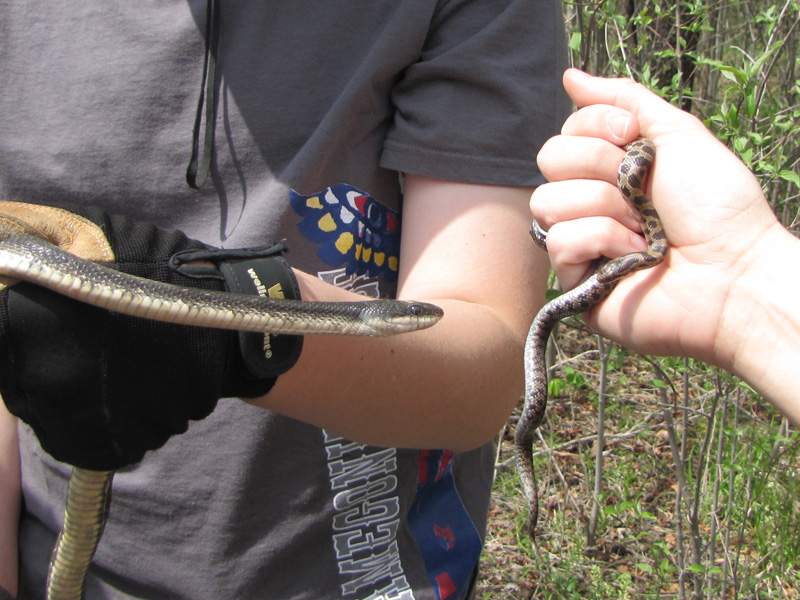 After this exciting find, I told the kids, "It can only go downhill from here," and it did. I don't know if our group found anything else the rest of the afternoon. However, Dan Krull's group, whom I sent to one of the more "reliable" sites, did alright and found, among other things, this nice milksnake (
Lampropeltis triangulum
). Picture L-R are Blake Molone (visiting from Oklahoma), Lewis Messner, and Dan.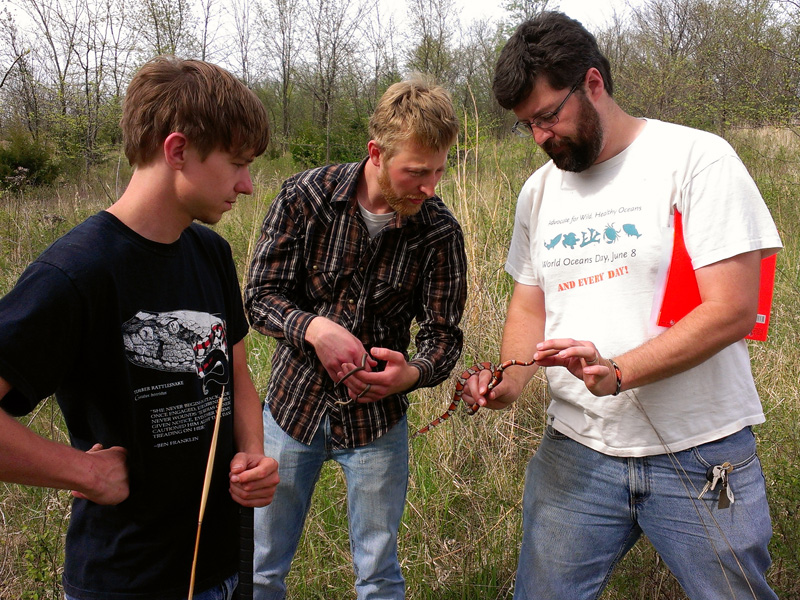 The day after the survey, I revisited one of the sites and found this American Toad (
Anaxyrus americanus
) calling in a drainage ditch. I like the way the warts show up on his back in this photo.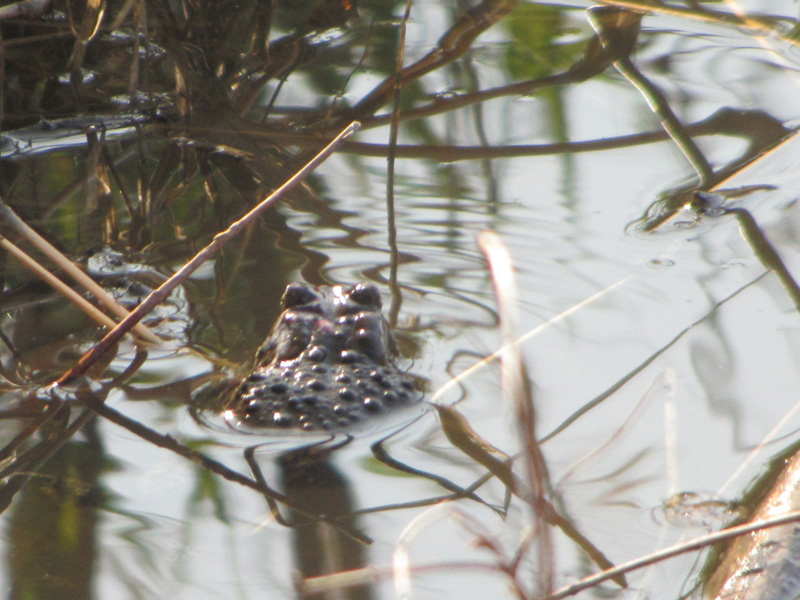 In May, I again helped out with the annual Fort Riley herp survey in north central Kansas. They have a lot more land than my nearest military facility, with around 100,000 acres. They survey a different portion of the installation each year. This year I got to see a little more of their open, Flint Hills type scenery. Here is the group I was with, doing what we do.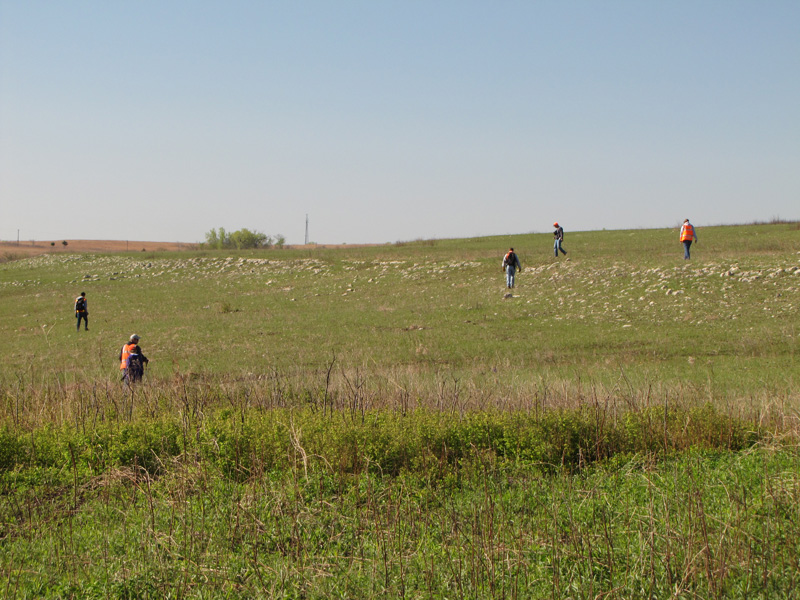 It was a cold start to the morning, with air temperatures of 42 degrees Fahrenheit. Because of this, the collared lizards (
Crotaphytus collaris
) weren't quite as colorful as I'd hoped, but I think this cute couple was a cool find—presumably a mated pair, under a rock.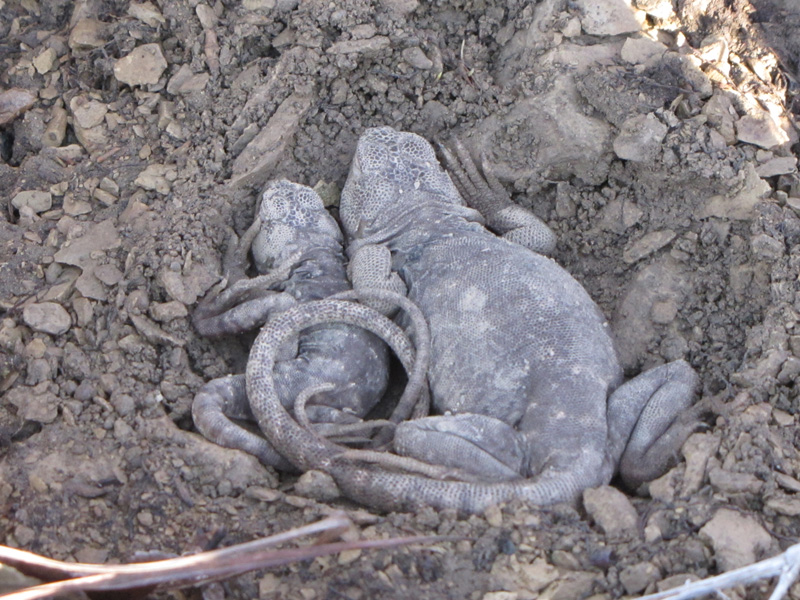 Eventually it warmed up a bit and I found this western legless lizard (
Ophisaurus attenuatus
), with intact tail (which is why I'm only grasping it at the very front of its body).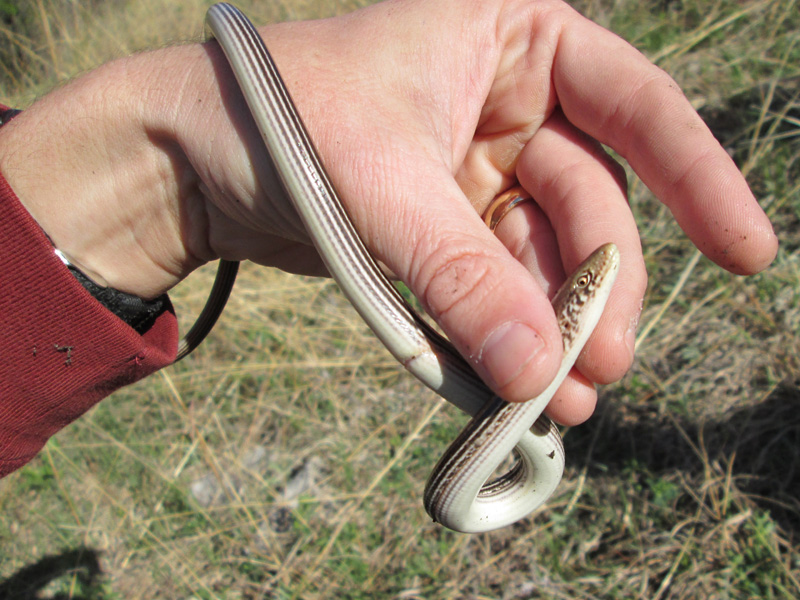 The Flint Hills have an embarrassment of natural cover to flip. I'm always amazed at how many snakes you can find under a rock the size of a piece of notebook paper (I think I've counted 17 ringnecks under one such rock).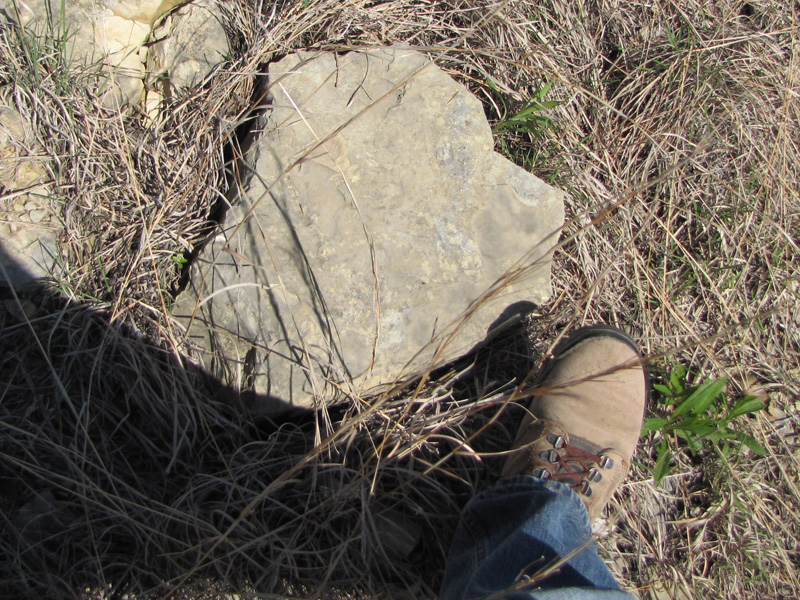 While this particular rock was slightly bigger, it held more variety, with two ringnecks (
Diadophis punctatus
) and a juvenile milksnake (
Lampropeltis triangulum
)—about the prettiest one I've ever seen 'round these parts.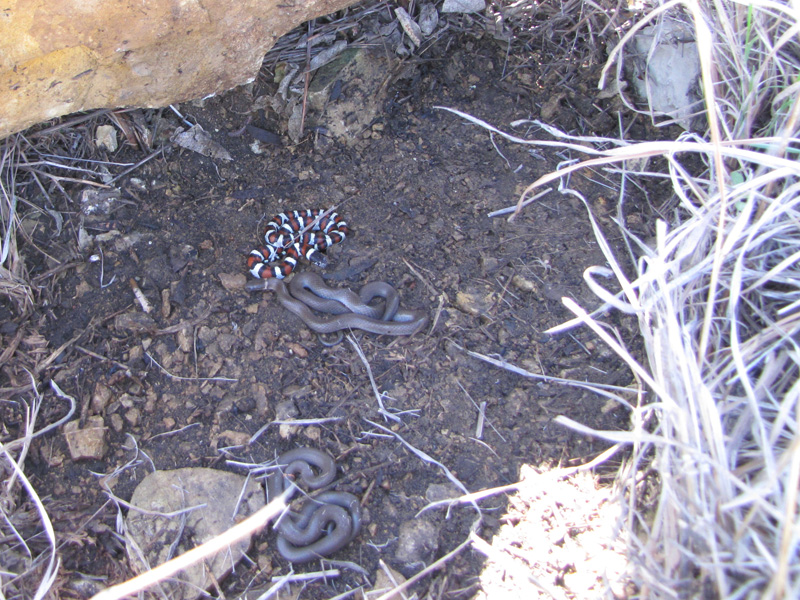 "Totes adorbs," as the kids say these days.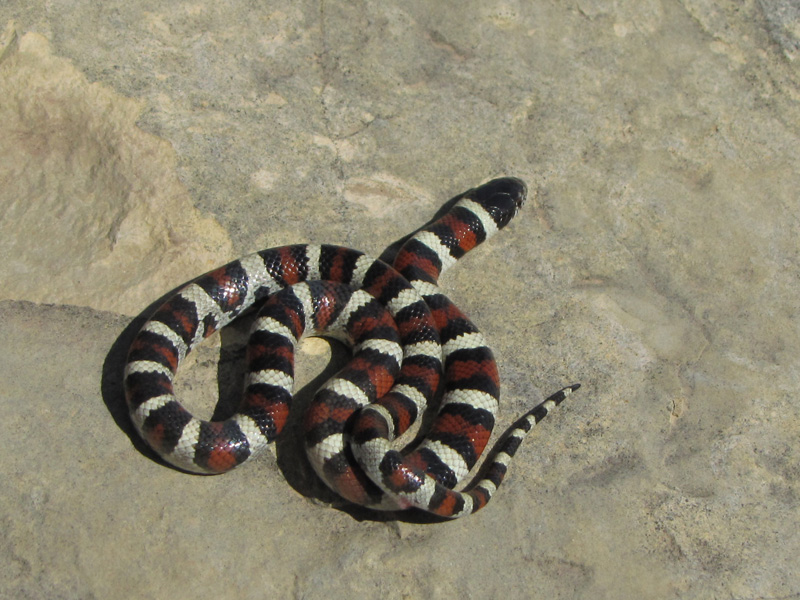 A couple of days later, I took my kid to catch some bullfrog tadpoles (
Lithobates catesbeianus
) to attempt to rear to adulthood. This drainage ditch, when not flooded, has many which are easily observed, but harder to catch. We eventually succeeded in acquiring two.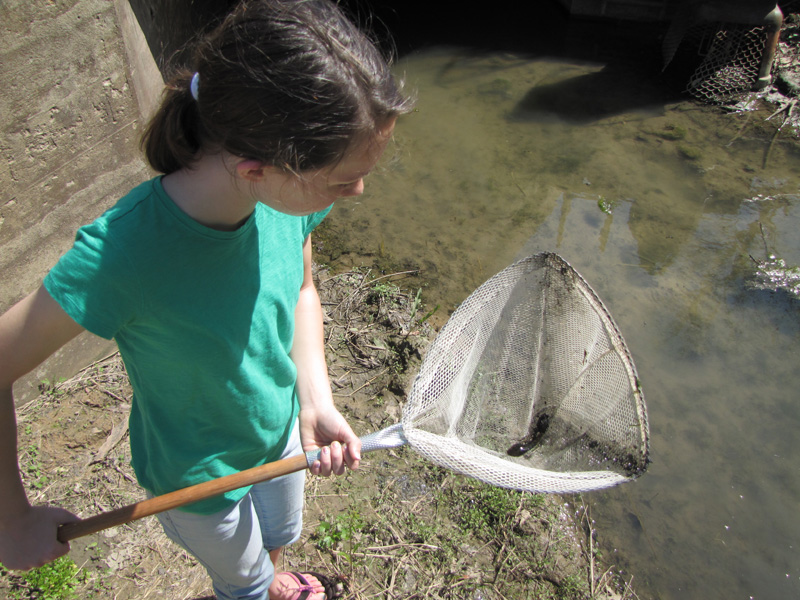 While they seemed to do fine for a couple of weeks, they mysteriously "up and died," as we say in the South.

Later in May, we went canoeing at another lake in eastern Kansas and came upon some more sweet, sweet lovin'—this time by a pair of northern water snakes (
Nerodia sipedon
). The male looks a little embarrassed at getting caught in the act.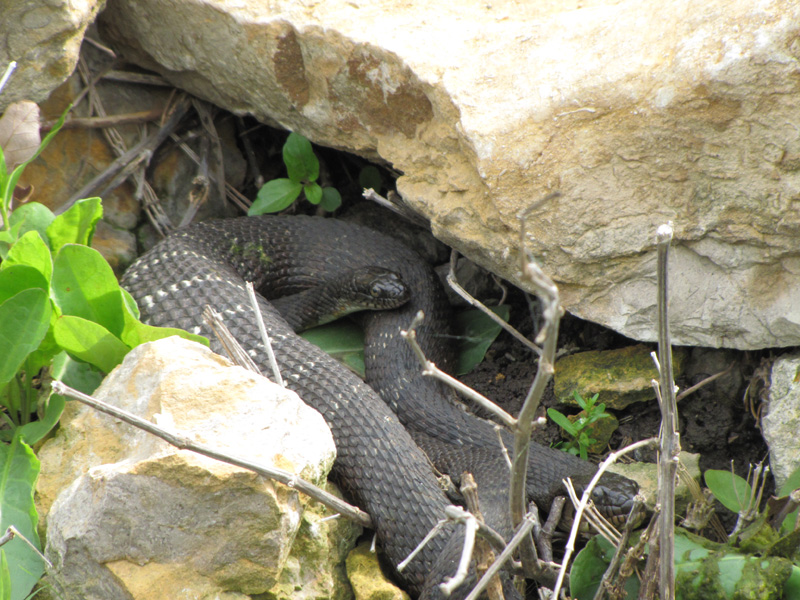 At the end of May/beginning of June, I attended the third annual Snake Days in Sanderson, Texas. I was very excited this year because I got my dad to come with me. He had never accompanied me on any herping adventures so this was a great "bonding" experience. Here he is photographing a Texas horned lizard (
Phrynosoma cornutum
), dutifully wearing his required reflective vest.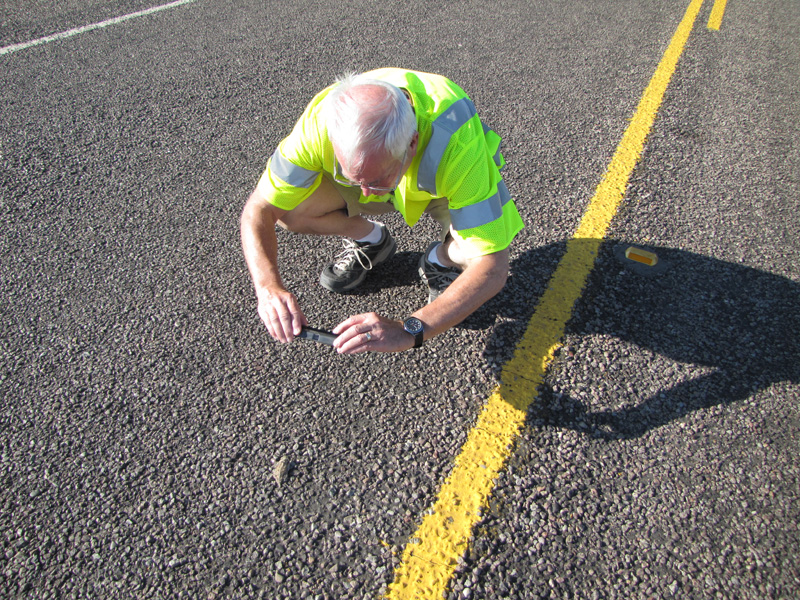 My dad was happy to see it, as he hadn't seen one since childhood. They're a lot more commonly encountered in west Texas than elsewhere in the state or in our native Oklahoma these days.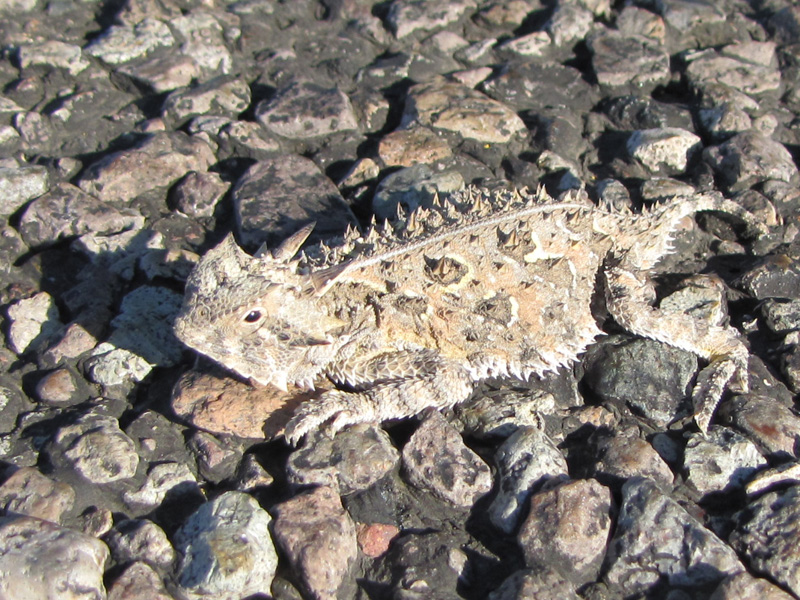 At night during Snake Days, I took my dad and "west Texas novices" out road cruising. We didn't find much at night, but this Mohave rattlesnake (
Crotalus scutulatus
) was a nice encounter. It wasn't too excitable either.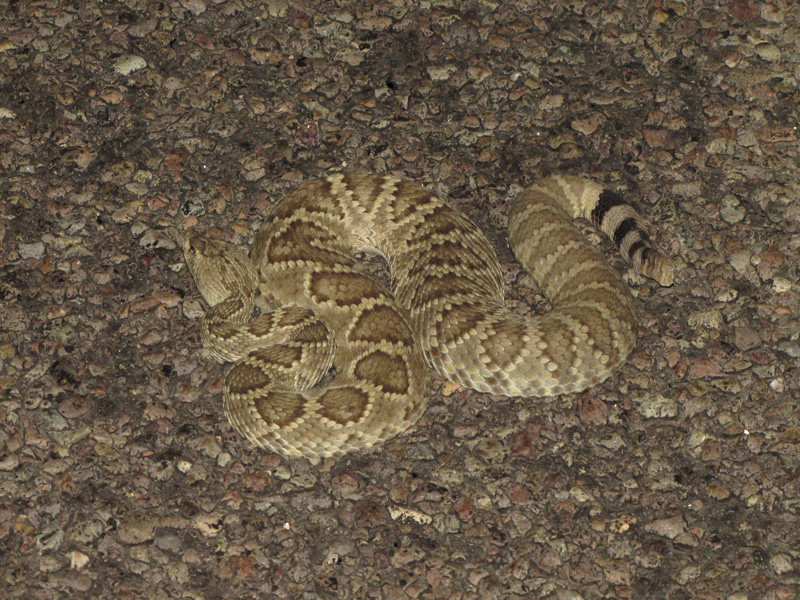 We also came across this longnose snake (
Rhinocheilus lecontei
). No, I didn't scoop it off the road (illegal in Texas); it was in the grass off the pavement. We had a TPWD official with us in my car who can attest!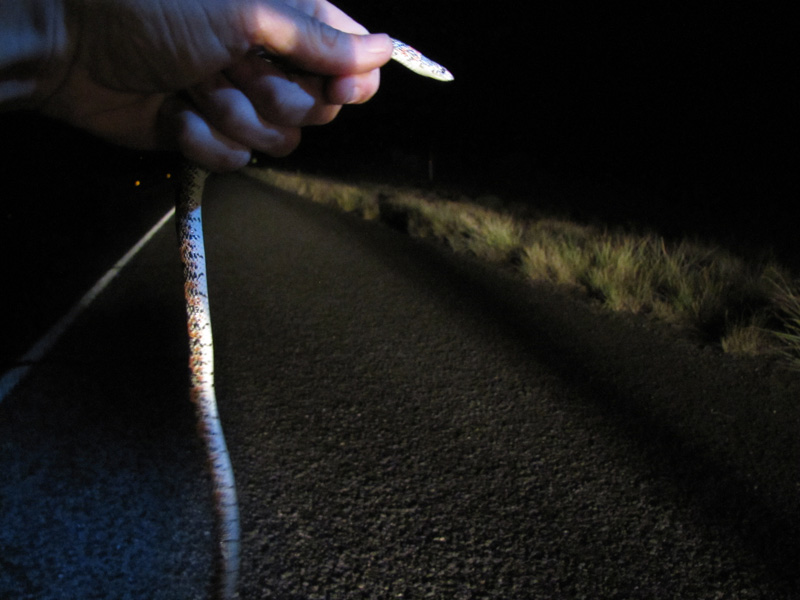 Most people tend to focus on snakes during Snake Days (go figure), but I try to document everything I find. Here's a Texas toad,
Anaxyrus speciosus
.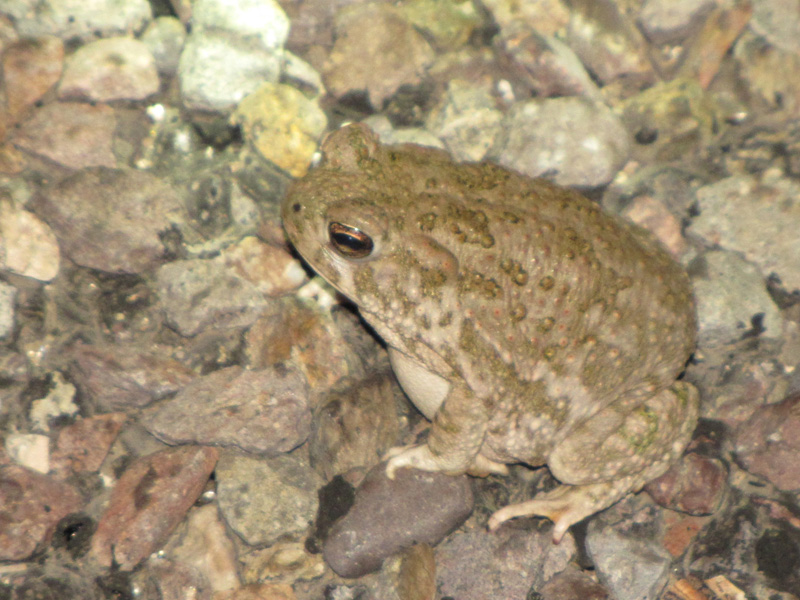 A daytime excursion yielded this earless lizard,
Holbrookia maculata
.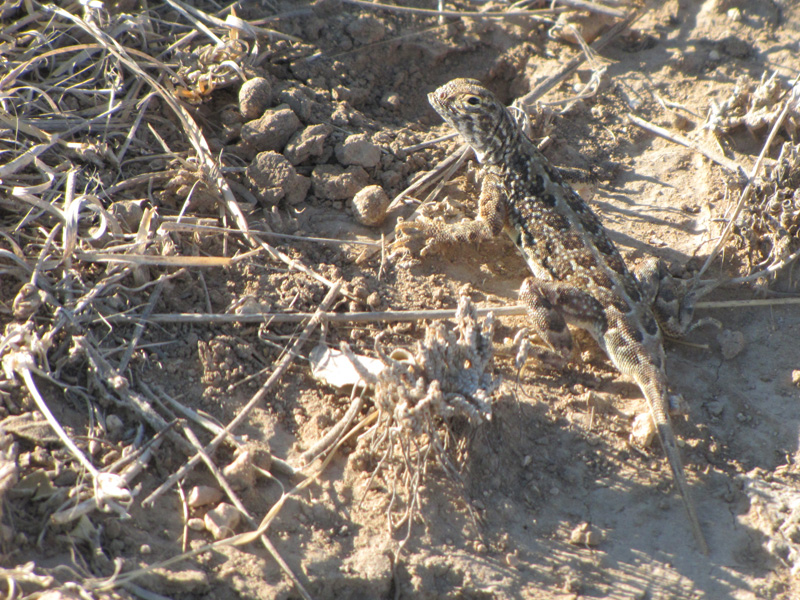 I created a message board for the event to share weather conditions, ride share information, and what people were finding. Here's the tally at the end of the official event.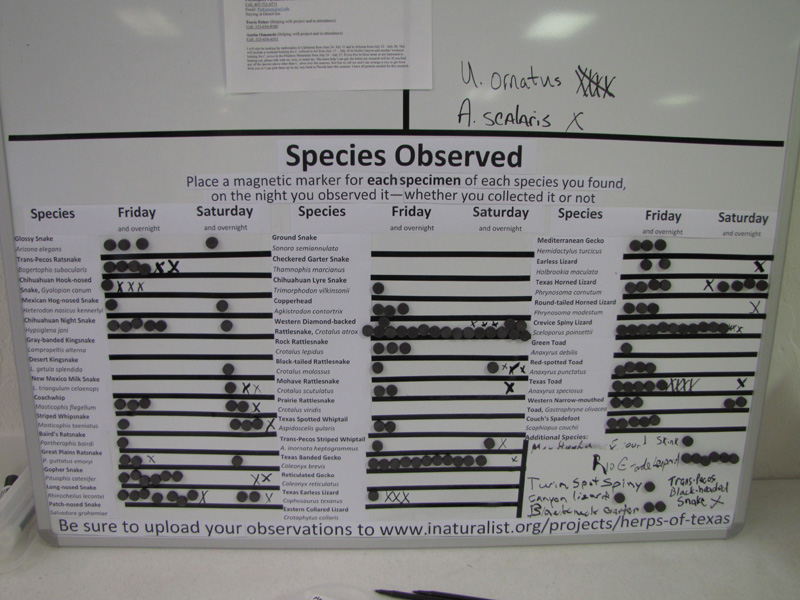 On the way home, we found this cute baby painted turtle (
Chrysemys picta
) crossing the road in northeastern Kansas.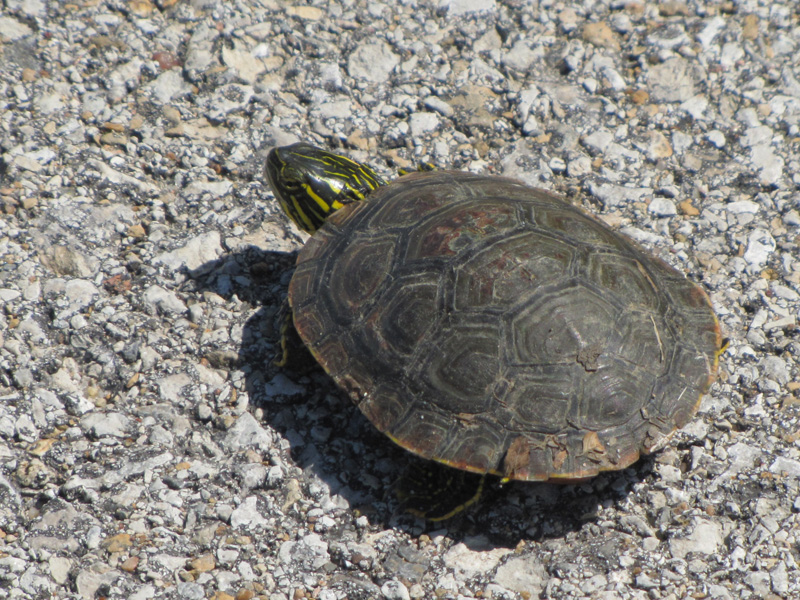 Belly: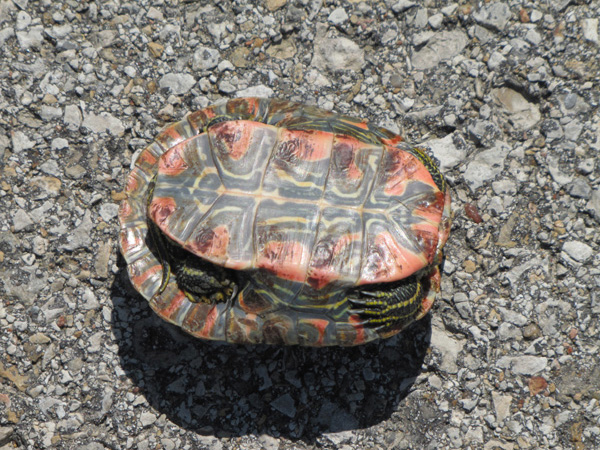 The last half of June found me back in Texas for a work-related class. This time I was in San Angelo, which was receiving an uncharacteristically high amount of rain at the time. They need it, but I think it put a damper (ha!) on some of my herping. I did come across this Great Plains narrowmouth toadlet (
Gastrophryne olivacea
) thanks to an ephemeral pond.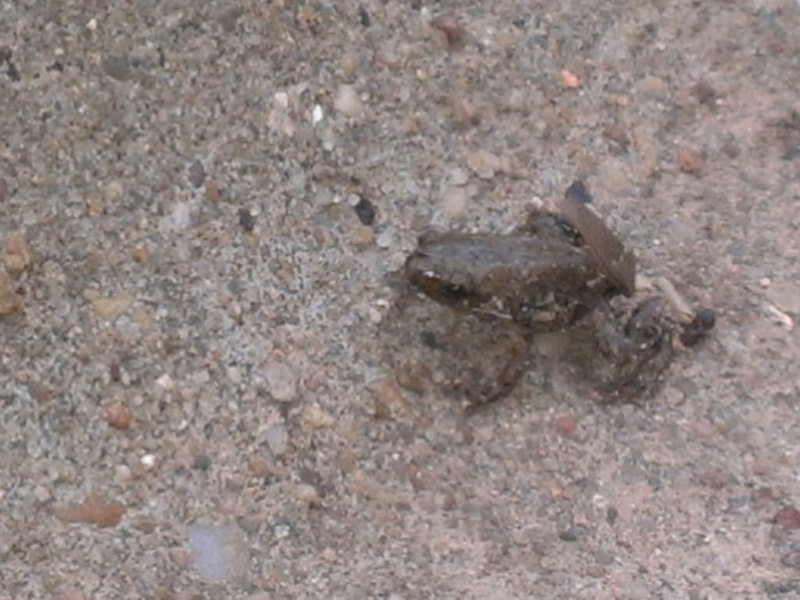 The trip also gave me the opportunity to meet up with Mike Price a few times for some herping. Though we didn't find a whole lot, I was excited to finally personally find a live blacktail rattlesnake (
Crotalus molossus
, or
C. ornatus
if you prefer). It was a crazy find, as it was a juvenile coiled atop a road cut, well above eye level. I'm amazed I could even see it, what with my increasingly poor eyesight.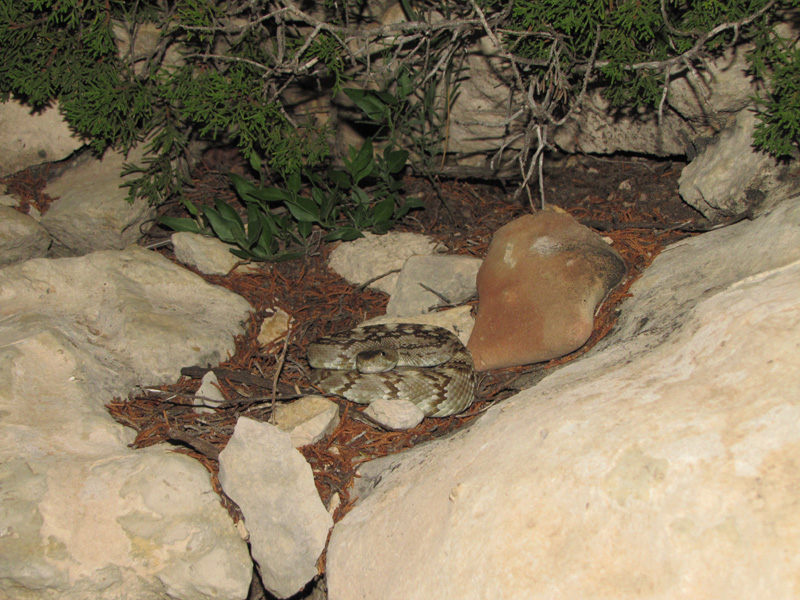 We also found this purty Couch's spadefoot,
Scaphiopus couchi
.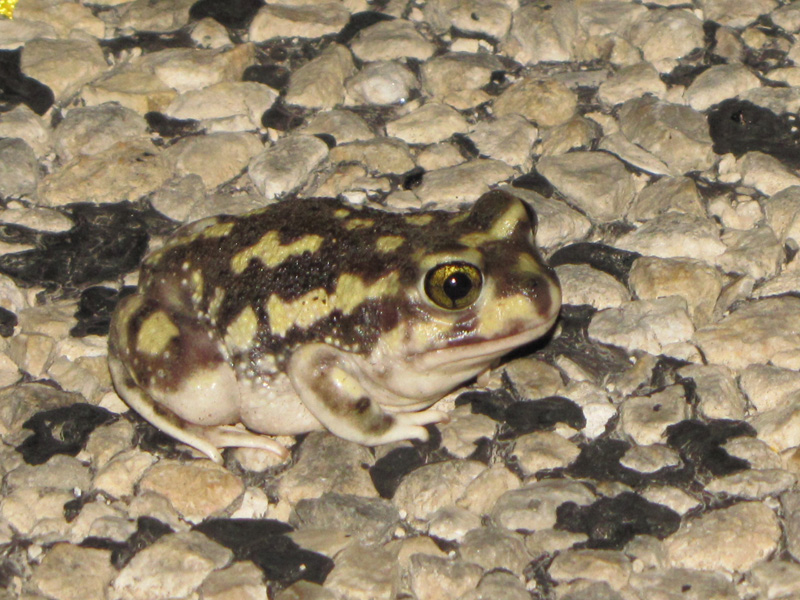 Making my way back home, I stopped in Austin to look for Texas alligator lizards, but came up empty-handed in that regard, finding only numerous toadlets and a Texas spiny lizard,
Sceloporus olivaceus
.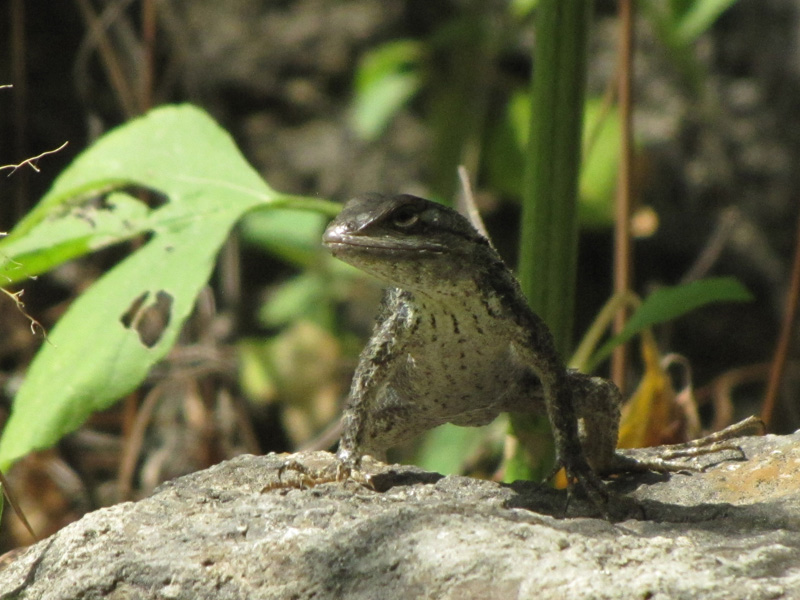 Stopping again further north, I found several of these—Texas spotted whiptail,
Aspidoscelis gularis
.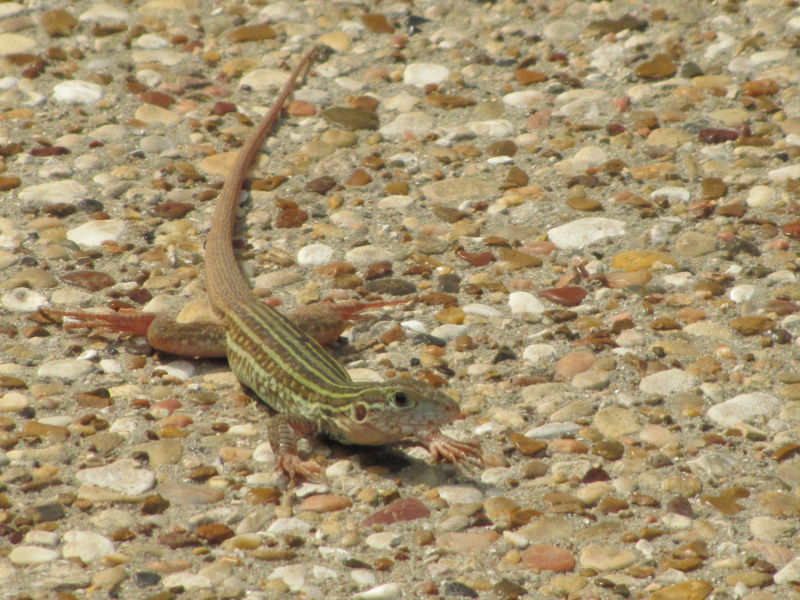 I spent the night at my folks' house in Oklahoma and found a bunch of large Woodhouse's toads,
Anaxyrus woodhouseii
.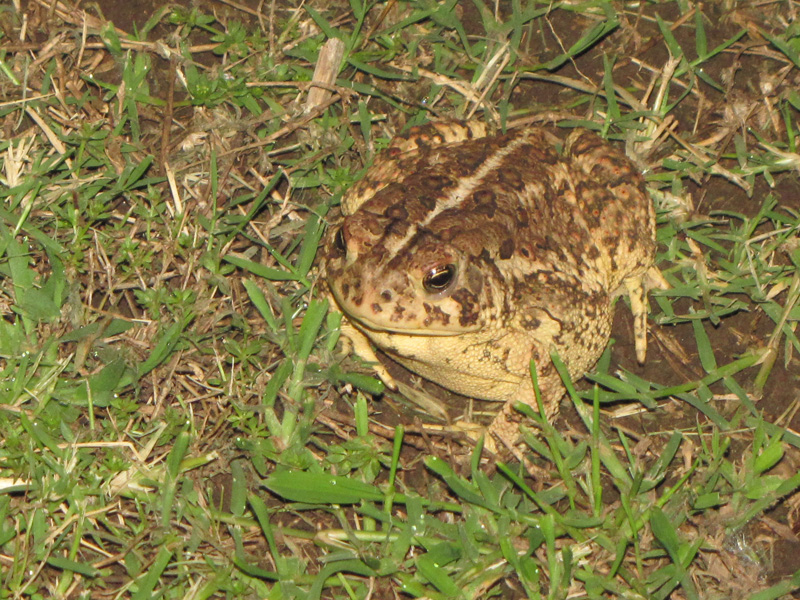 In July I chaperoned a church youth group canoe trip to central Missouri, and while I wasn't expecting to devote much time to herping, I did come across this map turtle (
Graptemys geographica
. It's a little blurry because I was so far away—they tend to be skittish.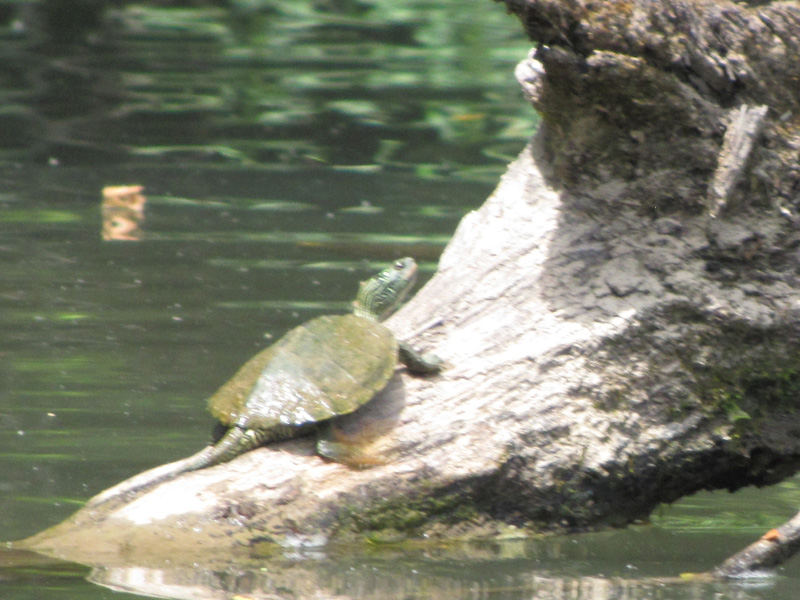 In August, I put on an educational display for newly-arrived families in our area, and grabbed a ringneck from under one of my boards to show them the most commonly-encountered snake they might see. When I went to put it back, I didn't bring a camera (just my phone), because I figured at most I'd see more ringnecks. However, when I lifted the board, I found these two copperheads (
Agkistrodon contortrix
). Harry Greene tells me they were probably two gravid females. In hindsight, I wish I would've revisited the board later to see if the babies were around.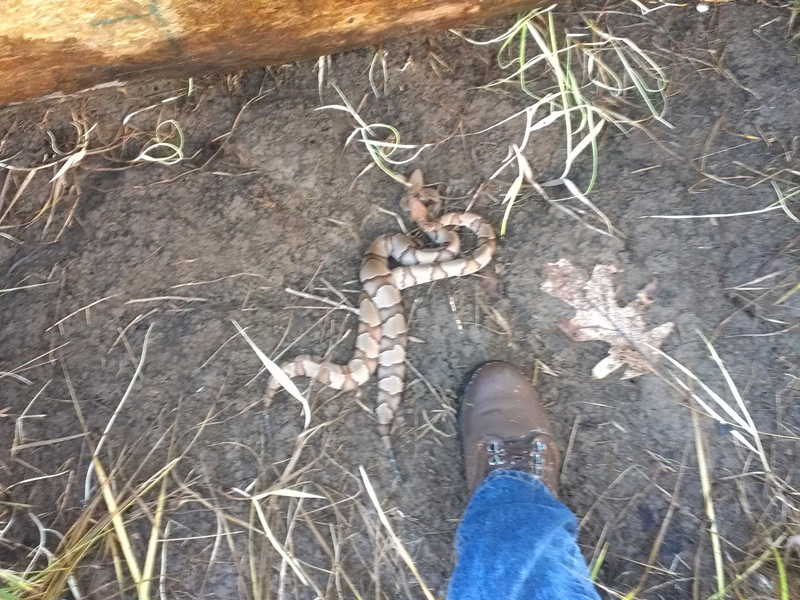 Over Labor Day weekend, we met my parents in Branson, Missouri. At the cabins where we stayed, we found several of these prairie lizards (
Sceloporus consobrinus
) inhabiting a retaining wall.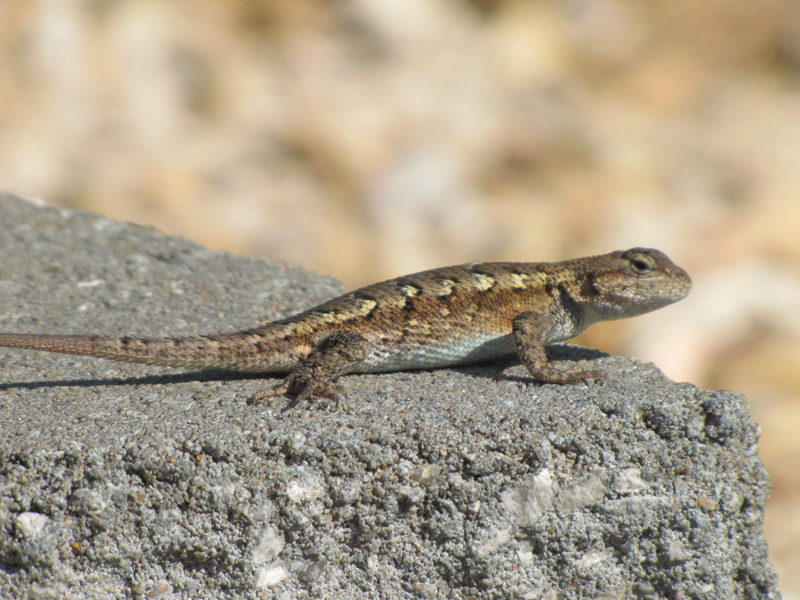 Along a gravel trail I also found this young five-lined skink (
Plestiodon fasciatus
).
I didn't really get out again until October, when I made what may be my last visit to Snake Road in Illinois (unless I can get JustinM or someone to meet me there in the spring? I've never been in the spring). It was a little cooler on the particular weekend I was able to travel, and I was only able to be there a few hours (I was primarily in Saint Louis attending to other matters), so the only snake I found was this juvenile ratsnake (
Pantherophis/Scotophis obsoletus
). I guess that's why it's called "Snake Road," not "Snakes Road."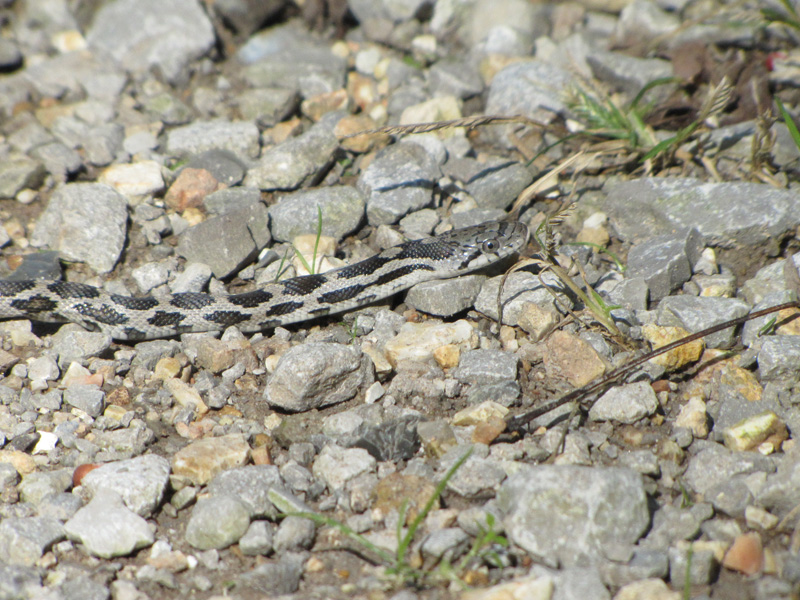 But there's more there than just snakes. Here's a marbled salamander,
Ambystoma opacum
.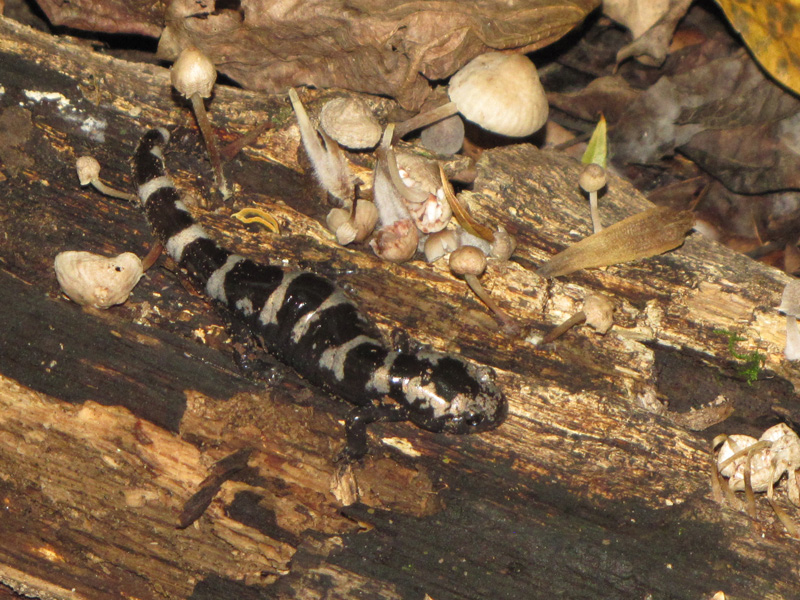 I count six cave salamanders,
Eurycea lucifuga
, in this photo. No big deal, just chillaxin' in the grotto.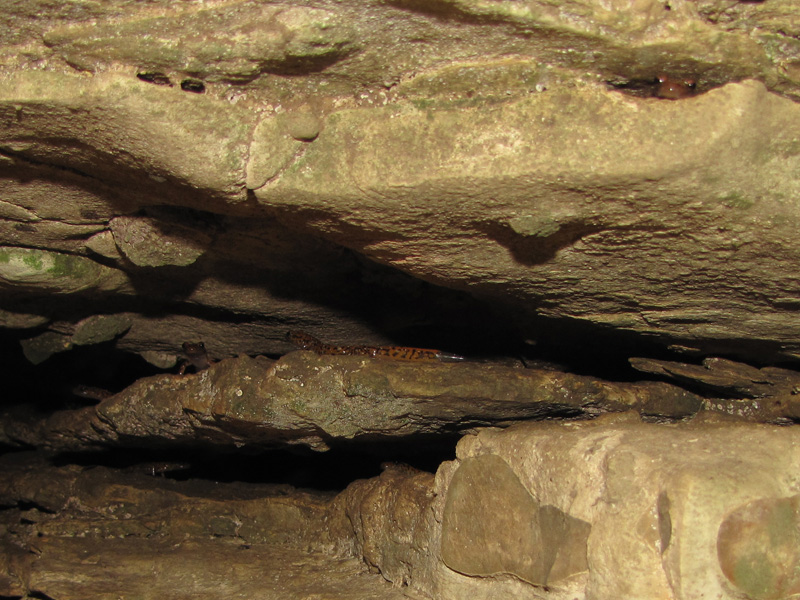 I didn't want to leave without seeing a green tree frog (
Hyla cinerea
), and I finally found one at the last minute. Whew!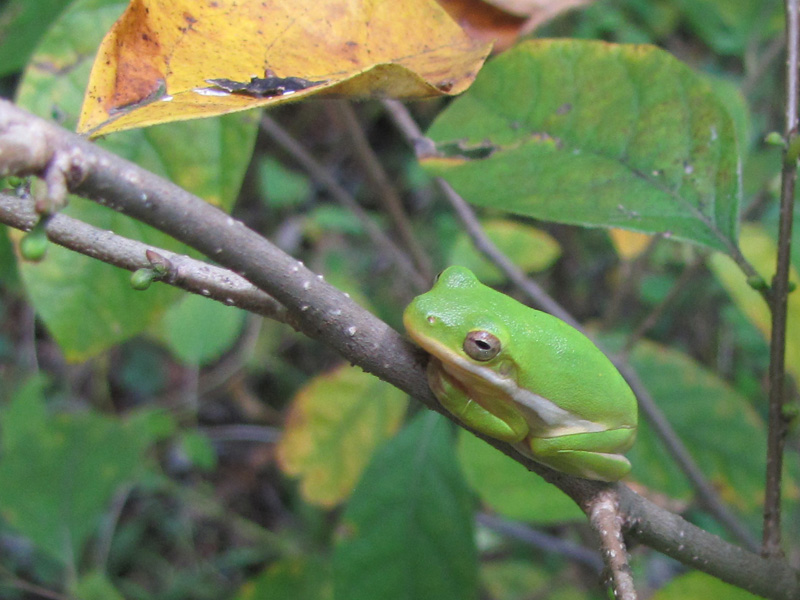 We visited the Kansas City Zoo on a nice day later in October, and from the sky chairs we saw these red-eared sliders (
Trachemys scripta
), which aren't really part of any formal exhibit. See the one in the upper right with his back legs stretched out, soaking up the sunshine and generally loving life? Here's to feeling that good all the time.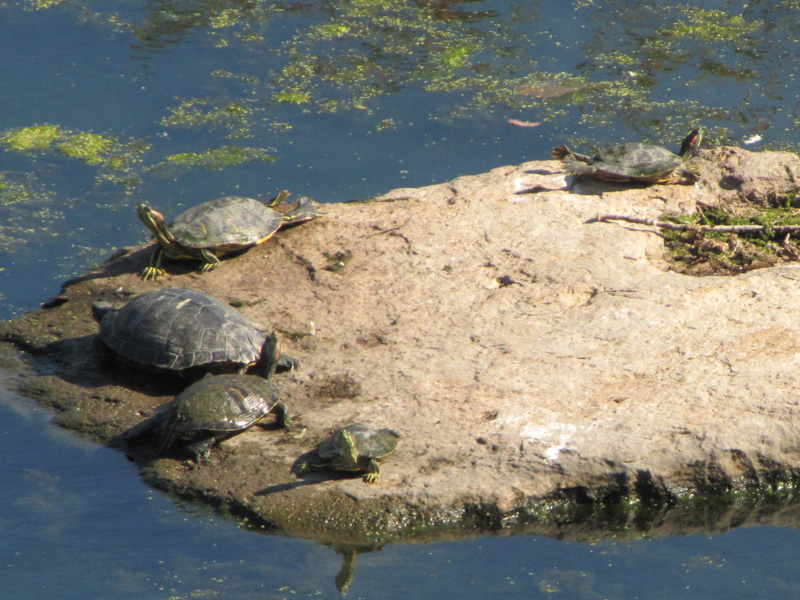 Over Thanksgiving, I visited the Museum of Osteology in Oklahoma City—very cool place. They have quite a nice assortment of reptiles and amphibians on display. Here's a collared lizard (
Crotaphytus collaris
).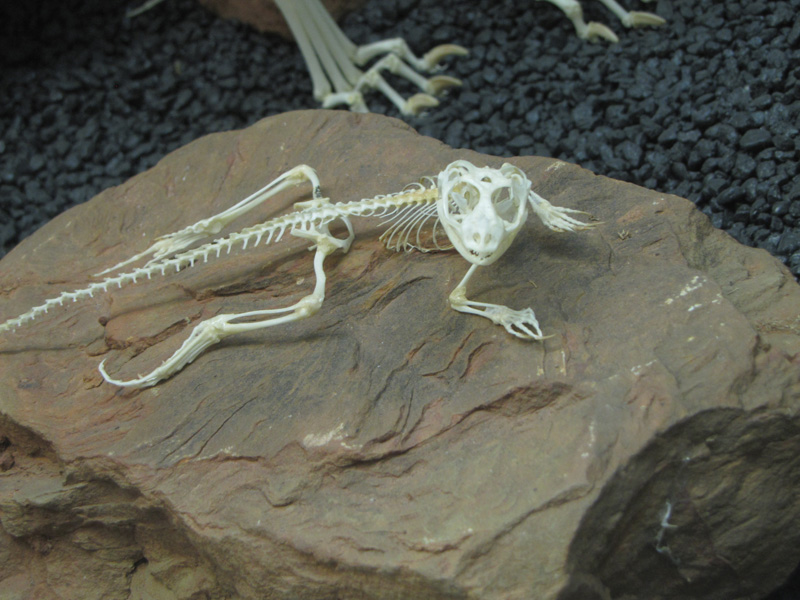 I thought my herpin' was finished with a DOR brown snake found in early November, but on December 20th I took this year's Eagle Scout candidate out to the Fort Leavenworth survey sites to replace some of the boards which were deteriorating, so they'd be ready to go (and hopefully productive) come spring. Lifting one board, we found this apparent nest of reptile eggs, which presumably hatched a few months ago. Any ideas as to what species? They were a little over an inch in diameter, and more round than elongated.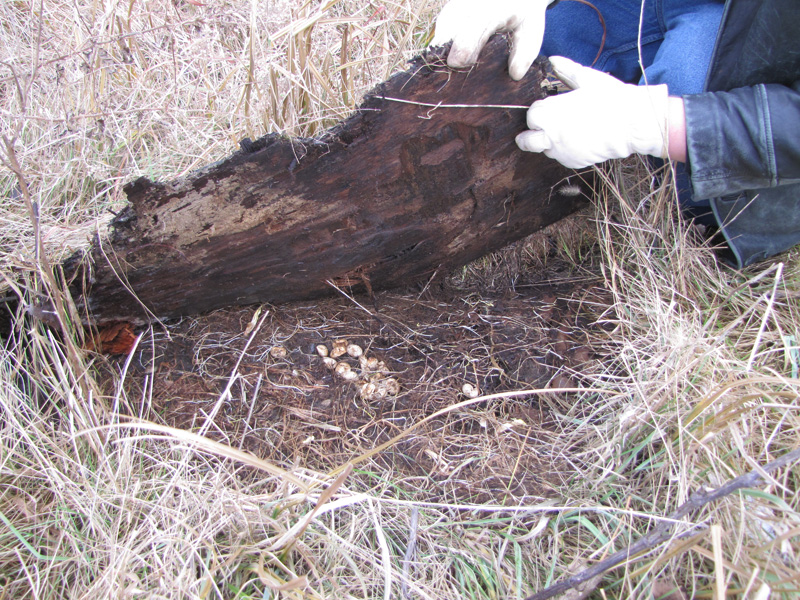 Closer shot: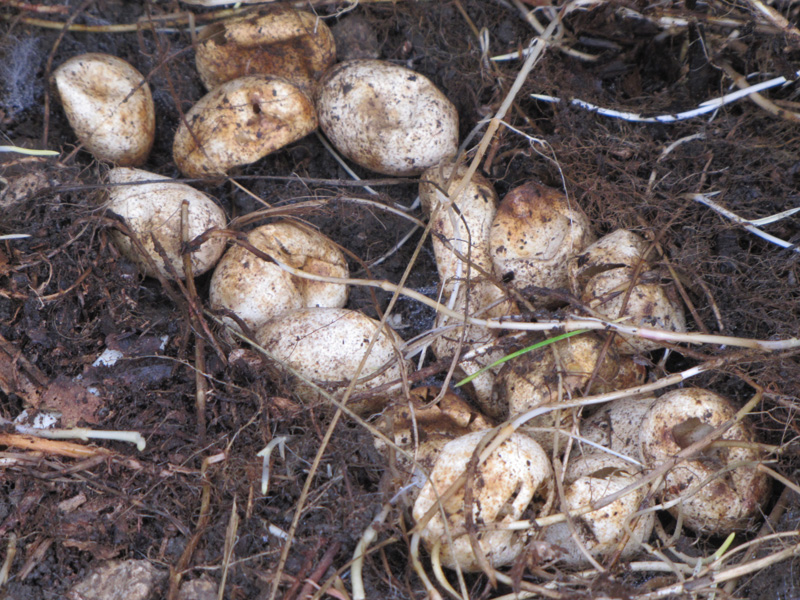 Thanks for looking and "Herpy 2015!"
Chris