Yesterday I went back to my garden to flip some boards. I haven't really checked them since spring, and lots of rain has moved through the state, rain associated with a frontal system, so I was hoping something might turn up. And it did!
Eastern Glass Lizard #1, just a voucher shot of it on the board.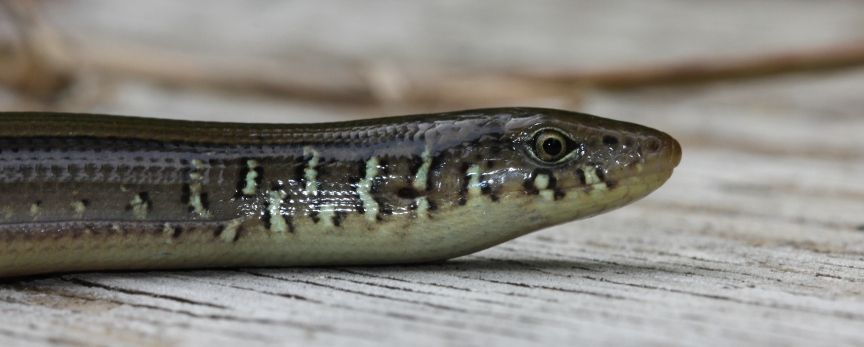 So after seeing that, plus the rain having moved through and the now clear skies, I figured tonight would be a good night to head out. So I called up my buddy and away we went. Sure enough, the first thing encountered was another glass lizard.
#2 - Just a voucher shot of it on the side of the road.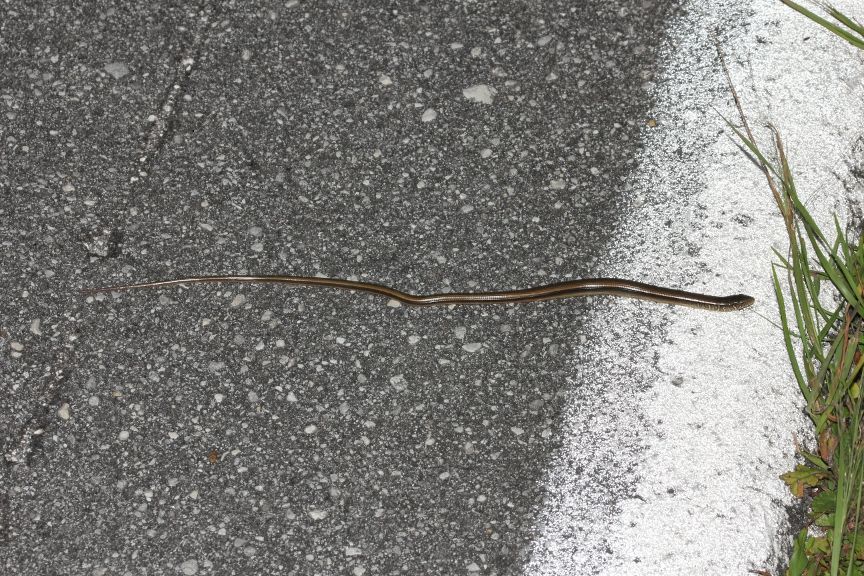 Then while cruising a long my buddy starts doing the "I saw a snake but I can't hit the brakes because I'm not the one driving" dance. I slammed on the breaks, and jumped out of the car and rand behind it to where the snake should have been. And like a fart in the wind the snake was gone. I had seen it too, just after my friend saw it, and I think it was a Florida watersnake. Walking back up to the car, we both notice a brown and tan stick on the road in front of the car, and it seemed to be moving a bit. So we dove after it.
Glass Lizard #3
I'm pretty excited, and he is too. More glass lizards than snakes? What is going on?!?!
Before I could get the car up to 25mph in the left lane is a tiny dark squiggle. This is not a glass lizard.
Southern Ringer - With this much stuff moving, I place it into a tupperware for later pictures and keep going.
What is that on the road ahead? Its sure looks like it.
Glass Lizard #4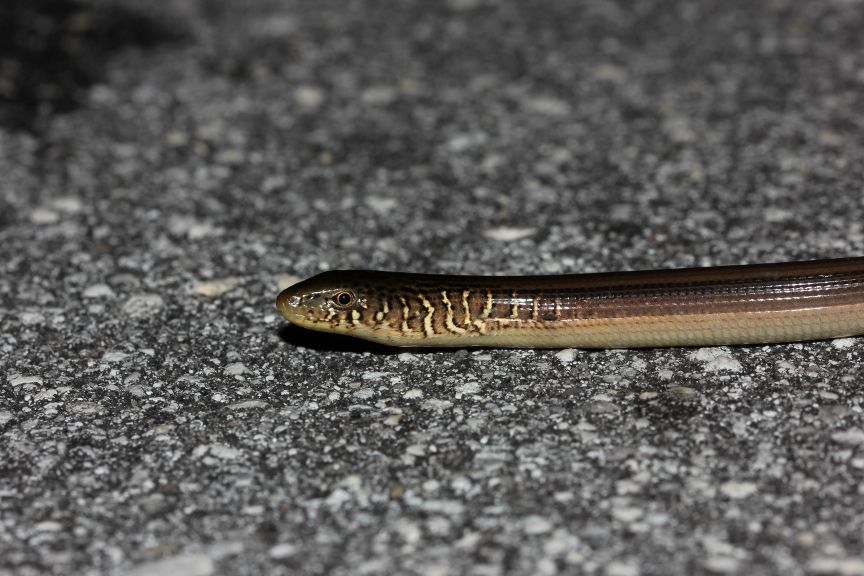 Where are all of the snakes tonight? 4 glass lizards and a ringer so far seems like an unusual night of movement. Or having found 3 glass lizards in a row- strike that. Seconds after contemplating the oddness of tonight we came across our 5th glass lizard for the day!!!
#5 - Tiny little one, with a stubby tail. If the white line is 4", then the lizard is about 7"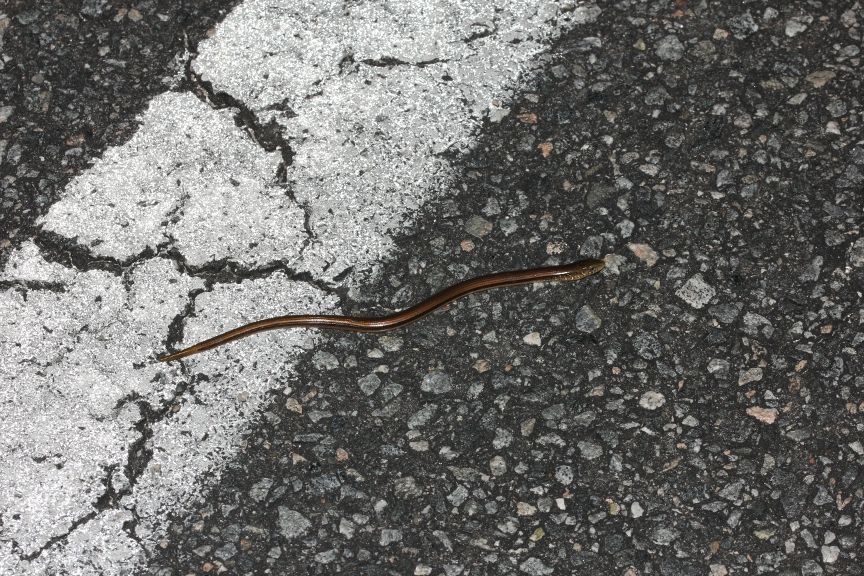 The night was growing darker, the moon was still low in the sky. Venus and Jupiter were eerily close together. Finally we cruise something of size.
2'-3' Corn Snake
Having missed the first watersnake we saw, we also stopped for this guy.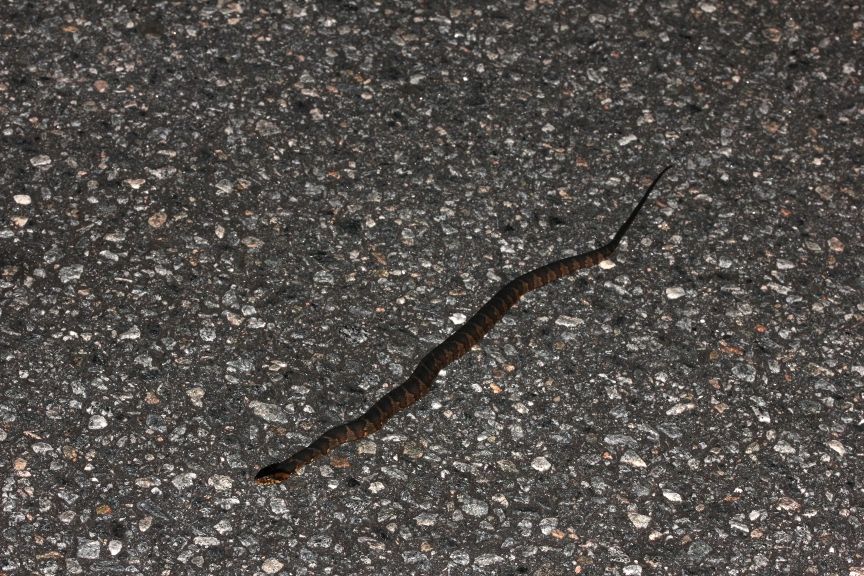 Probably an hour passed and we had seen nothing new. The moon was high and bright, and figuring the movement was over we started to head home. After having just crossed a bridge we both looked at each other knowing we had just gone by something. So we did a U-turn and took a look. Curled up by the corner of the bridge was this young cottonmouth. It looked alright at first, but then we noticed one eye was cloudy or damaged and what looks like blood was coming out of its nose. I took this picture showing the good side. I'm not sure what was wrong with it. It slithered off, albeit in a wierd manner.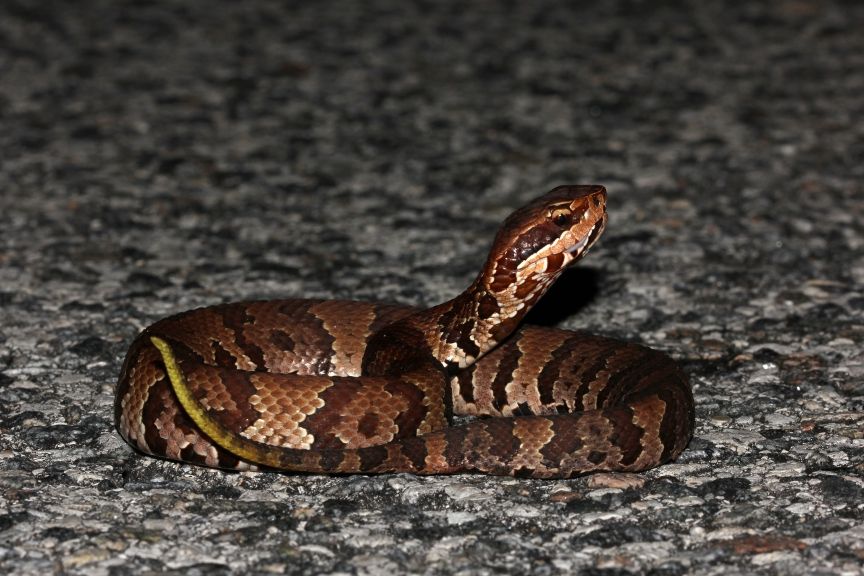 And then about 5 minutes later, next to a retention pond we cruised up this tiny water snake.
And now for those glamour shots of the ringer.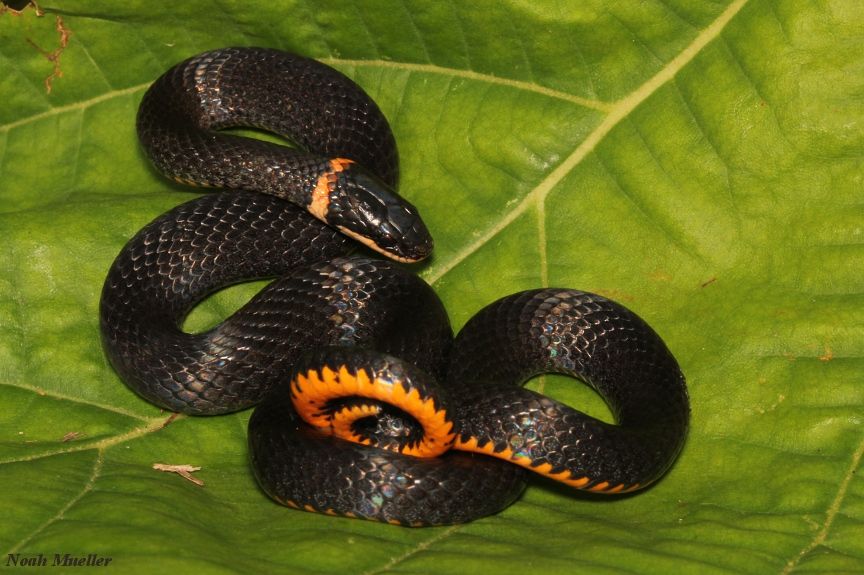 I hope you enjoyed!