First stop, get situated at the Hotel Villa del Palmar. Hiking around the hotel produced far fewer reptiles than what the habitat looks to support (produced for me that is) -
Side-blotched Lizards
,
Granite Spiny
,
Desert Iguana
,
Baja California Spiny Lizard
,
Black-tailed Brush
,
Zebra-tailed
, one-juvenile
Central Baja California Banded Rock Lizard
, and after a hurricane
Couch's Spadefoot
in chorus.
]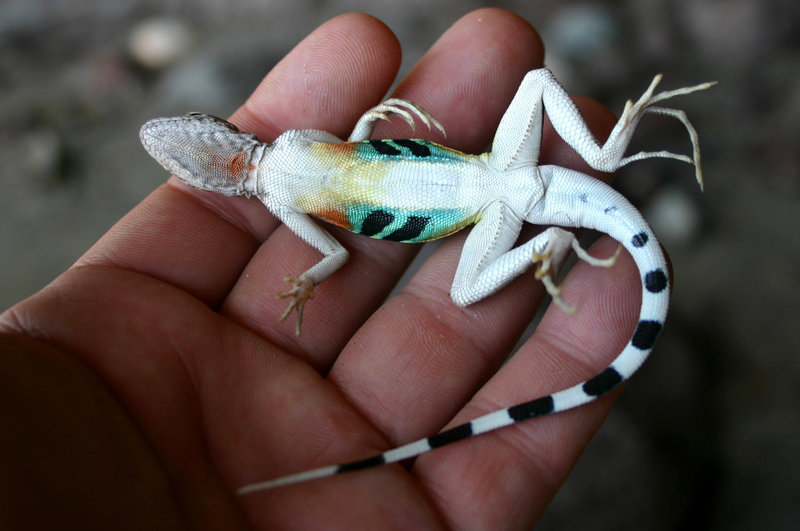 Carmen 'island' Zebra-tailed Lizard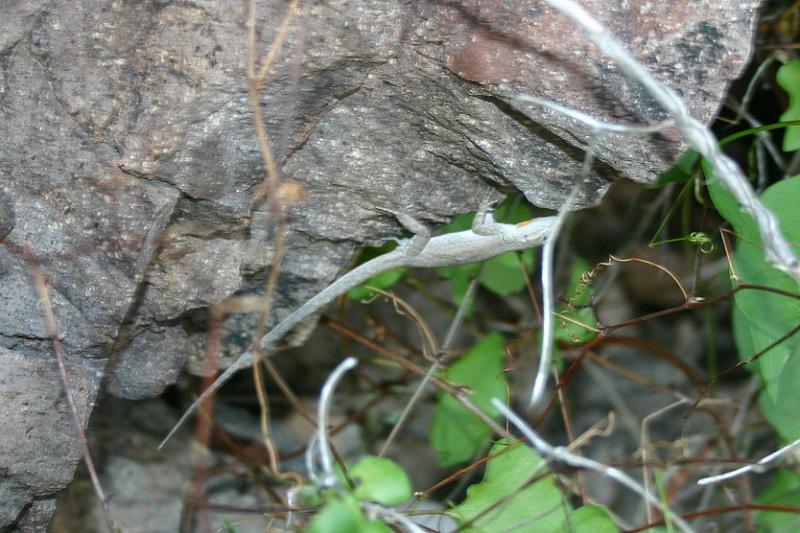 Black-tailed Brush Lizard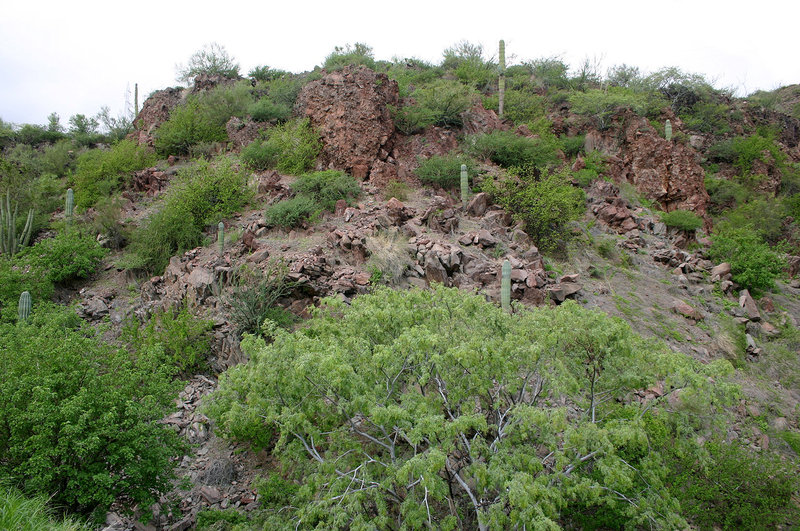 Outrageously long road delays, at times over an hour, gave me some times to briskly walk around. But with the family waiting in the hot car and a lengthy-line of stuck drivers watching, i couldn't put in any real effort, so only
Orange-throated Whiptails
and a Baja subspecies of the
Tiger Whiptail
were spotted.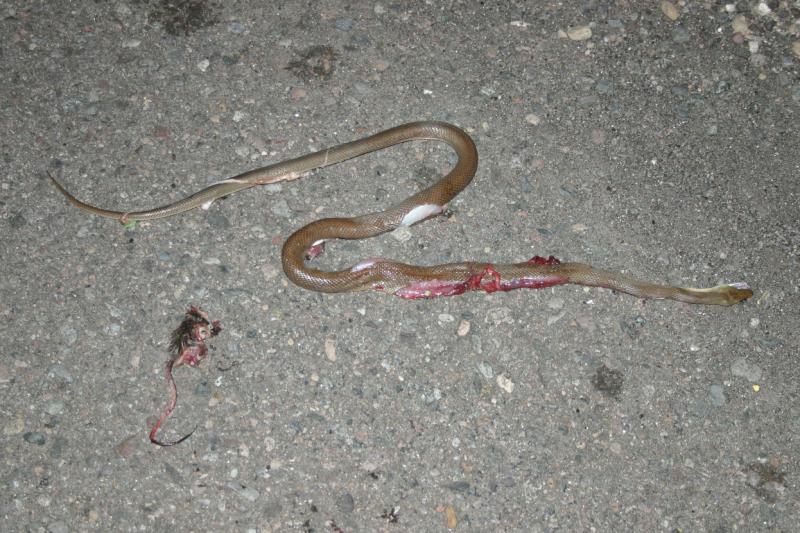 The first night of road cruising produced only road-kills - 2
Baja California Rattlers
, 2 massive
Red Diamond Rattlers
, 1
Baja California Lyre Snake
, and 3
Baja Rat Snakes
one of which had its rat-meal thrust from its stomach. [See a complete list of what was found by exploring the Herp Data Base and search Flaxington/Mexico
http://www.naherp.com/search.php?r_owne ... ounty=3538
]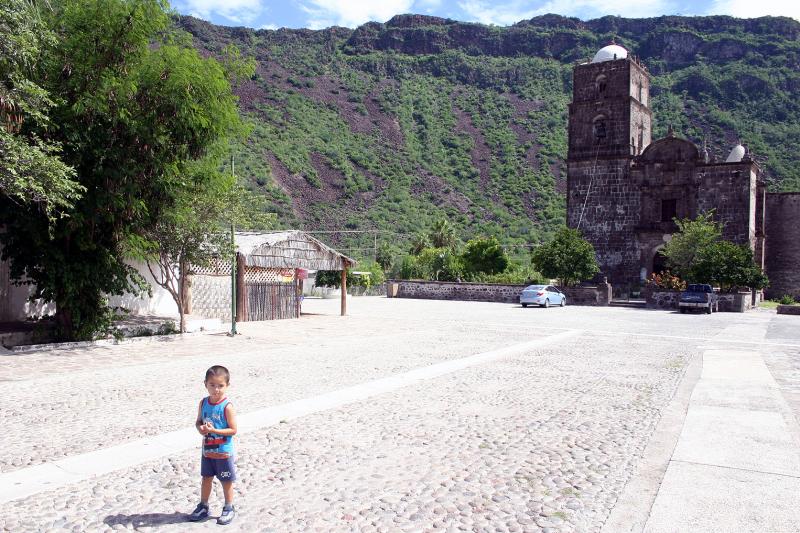 A day-drive through a popular canyon stirred the imagination, one could only dream of all the herps that could be found in this canyon.. it looked awesome for night-driving!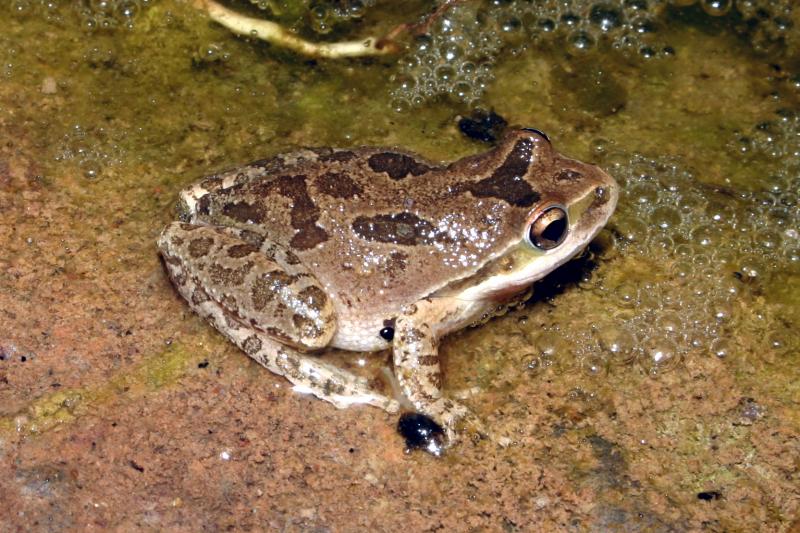 The rightfully named Baja California Chorus Frog, one of countless seen and heard - Pseudacris h. curta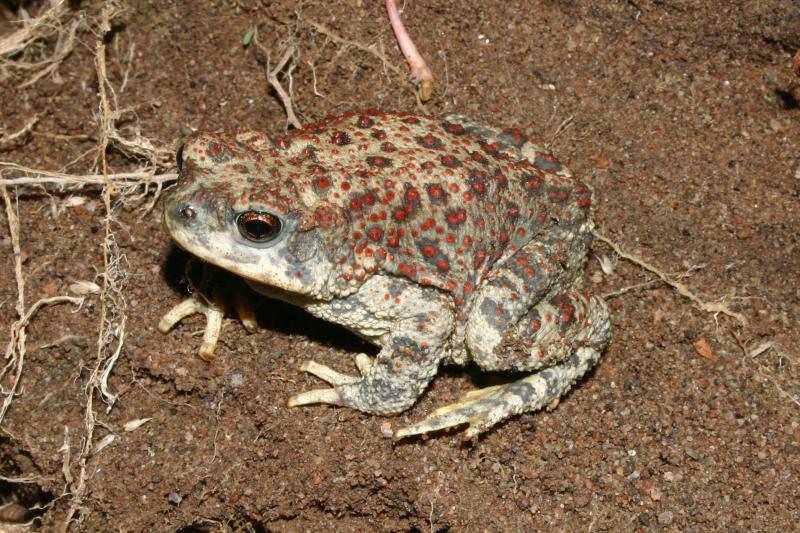 Red-spotted Toads were everywhere! At times appearing in what seemed to be dry, barren desert.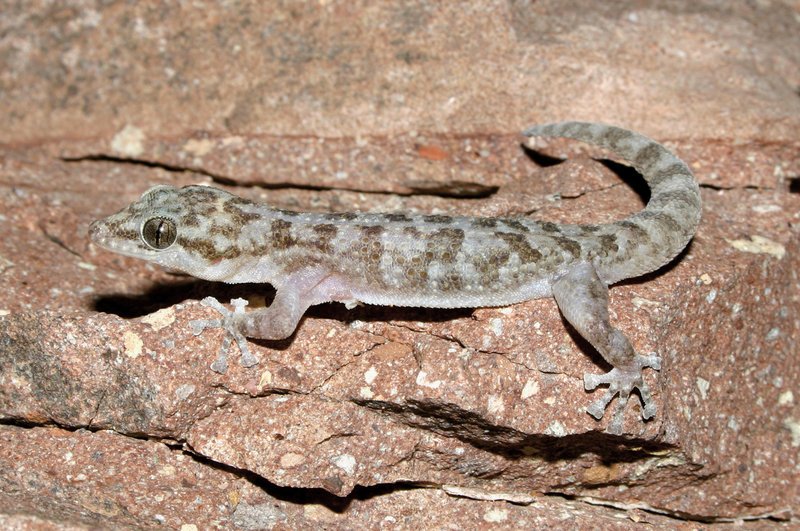 Leaf-toed Gecko moved off the road.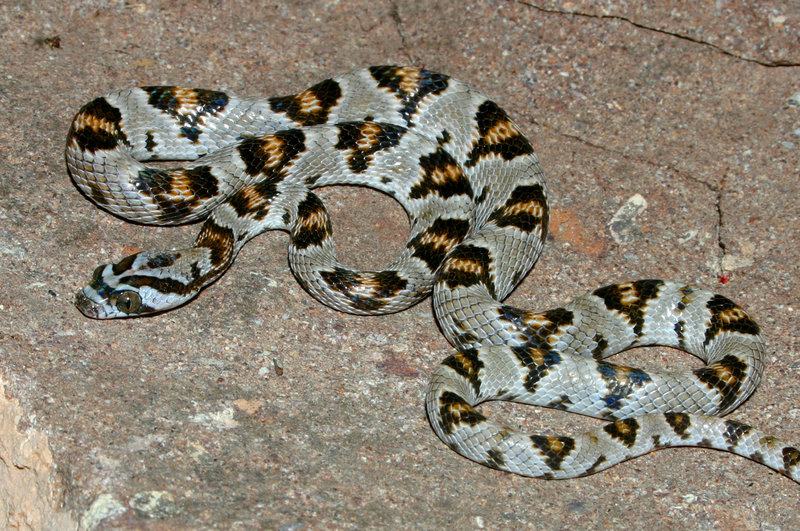 Then came the most brilliantly pattern Lyre that I have ever seen.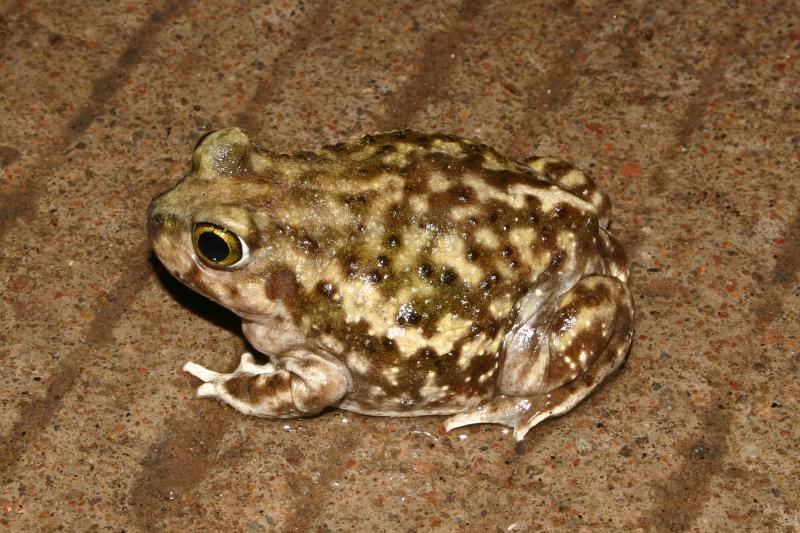 Couch's Spadefoots were also found, but could be considered uncommon when compared to the abundant Red-spotted Toad.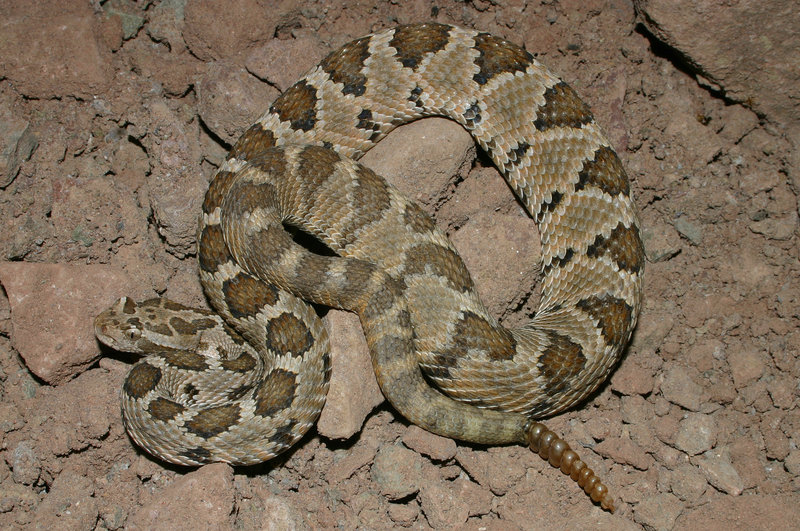 Later, after i tired of road cruising, i started walking roadcuts, and just like
"on cue"
this Baja California Rattler came slithering down a cliff. A first for me, and a pretty cool snake. Didn't seem very aggressive at all, matter fact it was so friendly, it was "
Medusa
-like" with its peaceful attitude. It almost turned me into the
Croc-hunter
, but then I reationalizeed that i'm very far from a functioning hospital. So, i'd better not.
Then back to the Hotel for some R&R
Hurricane Odile was about to strike Loreto and as everyone seem to be fleeing north, including what seemed every diesel truck in Cabo San Lucas, I drove south to see what might be crawling in the pouring, windy rain. Snakes were active right before the storm, but it was no surprise that most were dead due to the sheer number of vehicles fleeing from Cabo and southern Baja. (1-DOR
Mexican Rosy Boa
, 1-AOR
San Lucan Gopher Snake
, and this beast a
San Lucan Speckled Rattler
. This thing looks rather weird, with its small-eyes. I read recently that they are genetically distinct from
pyrrhus.
Hurrican Odile struck Loreto that night and lasted well into the next day. Completely wipping out Cabo San Lucas to the south, and crippling Loreto, especially its sea ports. Some roads were completely washed out, including that awesome canyon-road I drove a couple nights prior. Worse of all, the herp activity was devastated, virtually nothing was crawling for THREE nights following the storm. All this time, I still haven't found my target species alive, the Baja California Rat.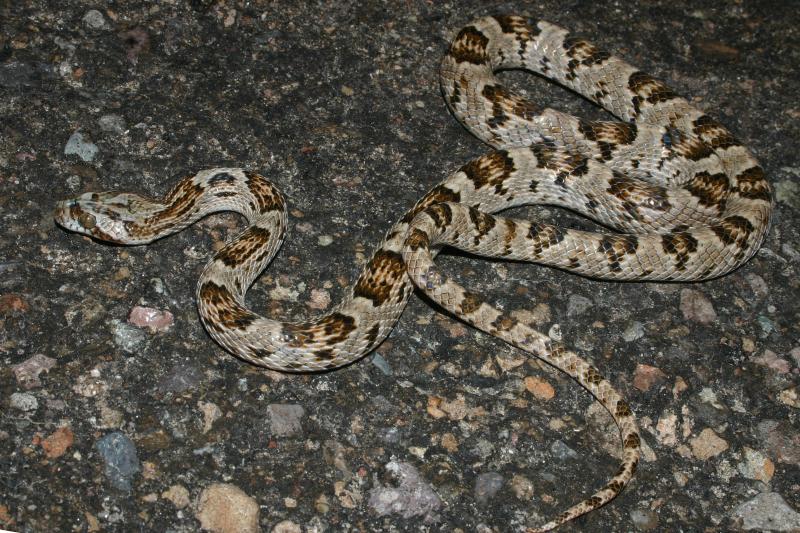 For several nights, I had the roads to myself because Hurricane Odile wipped out long-distant truck travel by destroying roads north of Cabo. So, it was a real bummer not to see any snakes, especially since i had the road to myself and they would likely be alive. It was not until the 4th night after the storm that the first snake appeared, a Lyre Snake. And by this time, the roads to the South were being repaired and traffic was again picking up on the Highway. The Lyre Snake was followed by a Speckled Rattler...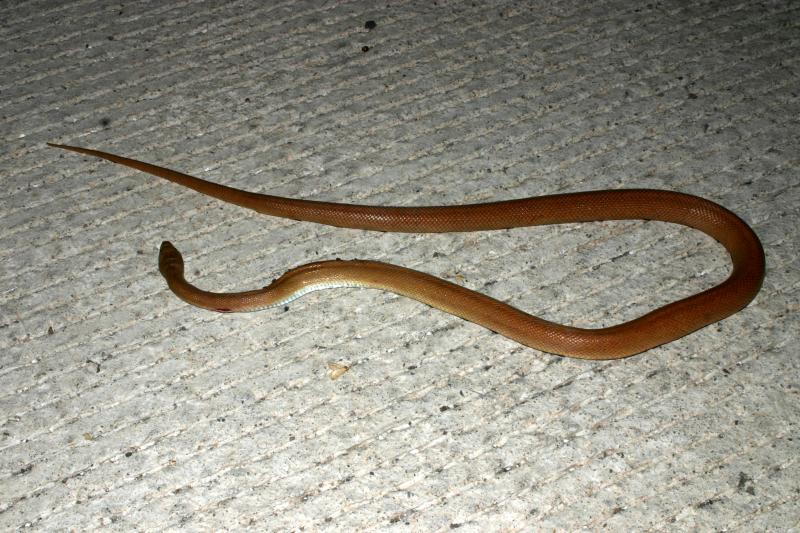 ...another DOR Bogertophis, and...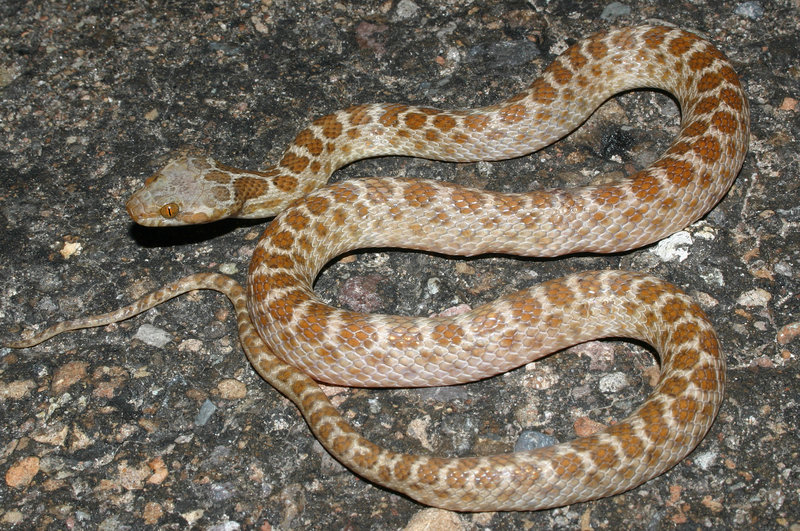 ...this cool-looking snake, a Baja California Night Snake with its bulbous eyes.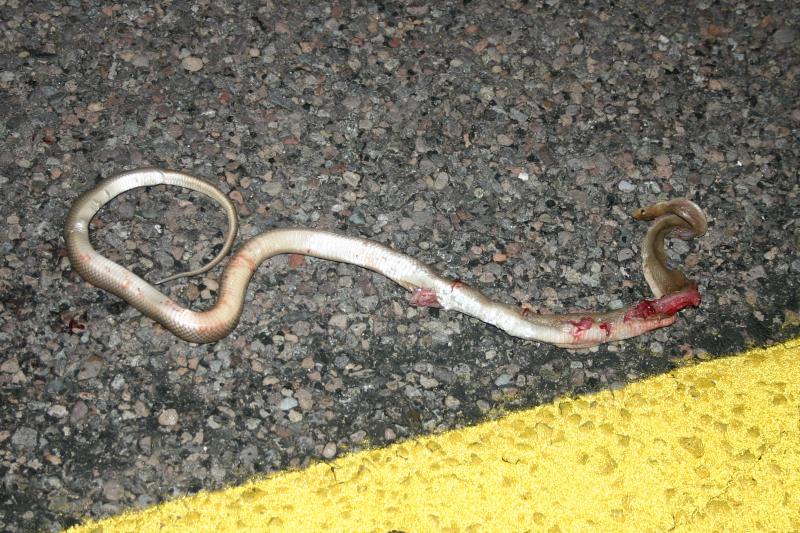 Its my final night to road cruise and i still had not found a live Rat Snake. So, at this point in my search im stopping for nothing but a Bogertophis.
Yet, im still gathering the occasional photo vouchers
and quickly snapping shots of live snakes before tossing them from the dangerous road. Sadly, DOR Rats snakes were a reoccurring sight, they were obviously common here, but i just hadn't come across a live one yet.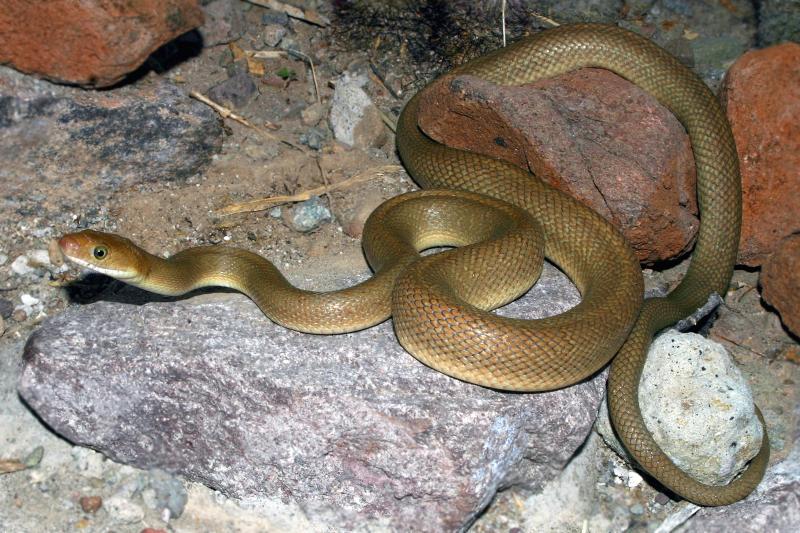 As the night came to an end, I accepted failure as my destiny. There! On the last kilometer of paved road, before reaching the dirt road back to my hotel a huge Bogertophis! Boy are they fast, but you know what is faster, a herper racing out a car to snatch a snake from the road before a speeding truck smashes it. Exciting to say the least.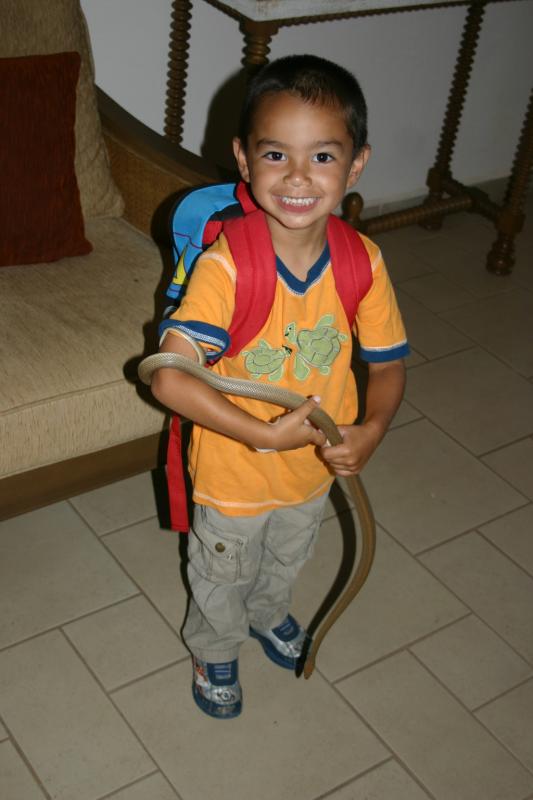 The snake was temporarily detained, and released at the site of capture the following morning as my family and I made our way to the Loreto Airport and back home.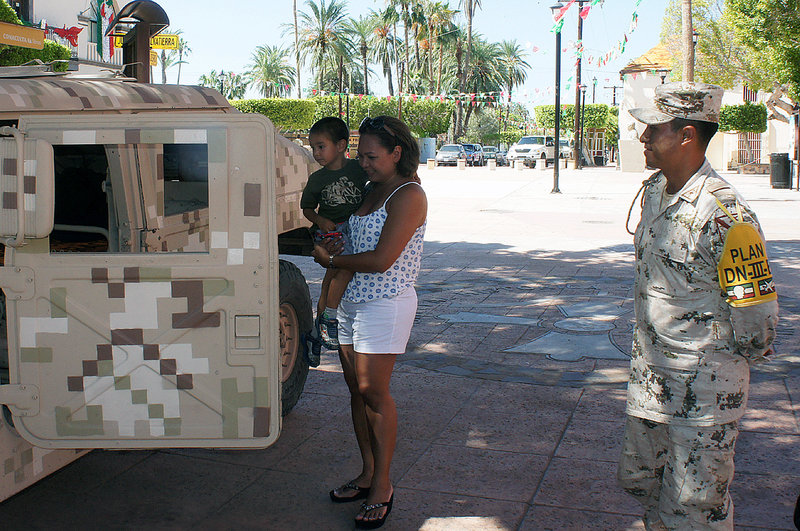 My Target species was Bogertophis, and considering it took the entire trip to find... all the other species are insidental, I never did get to change targets to a second species, which would have been Chilomeniscus. But that's okay, because ultimately it was a great trip, Hurricane Odile and all, and now I look forward to a returning adventure. But this time, i'm heading to Santa Catalina Island, the land of the rattle-less rattlesnake.
Visit the HERP DATA base to view more habitat shots and see a complete list of the herps spotted while visiting Loreto, Baja California Sur.
http://www.naherp.com/search.php?r_owne ... ounty=3538