Hey guys,
Since I suddenly have free time I can finally post my photos from late spring. We were very fortunate, and were able to take quite a few trips this spring, and also had great sucess in Kentucky. Enjoy!
I'll begin with some cool finds from Lexington its self. My good friend Kevin has been going to a local lake for a long time to catch snapping turtles and sliders during the summer. However, when we went in spring, we not only found sliders, but also common musk turtles: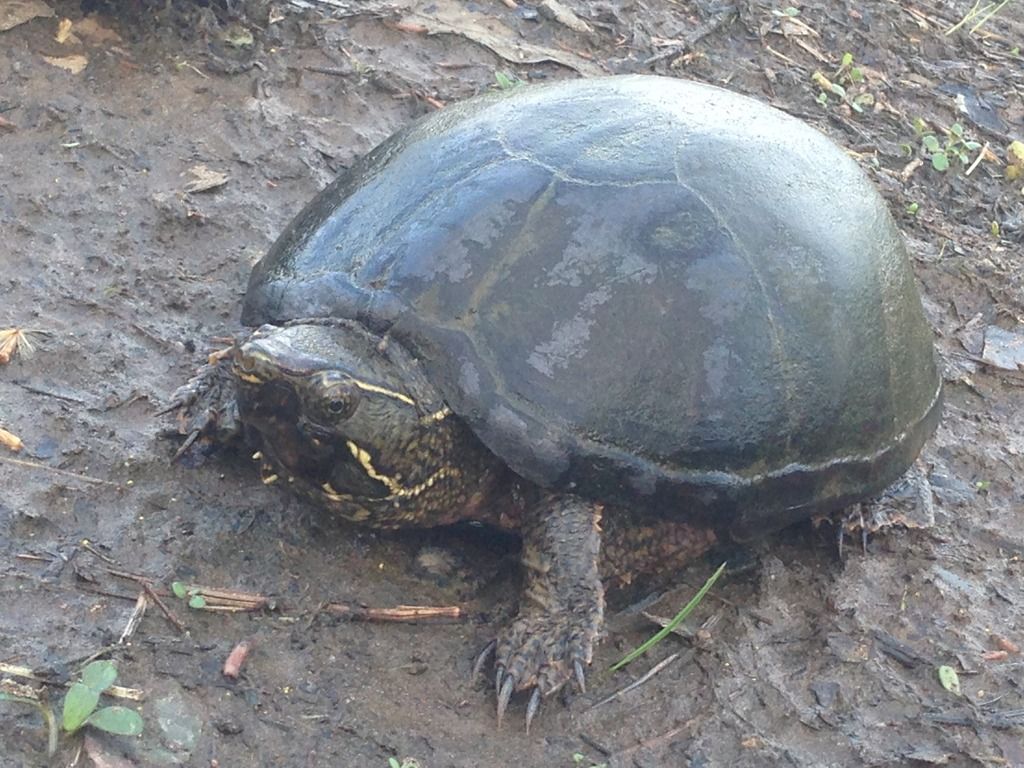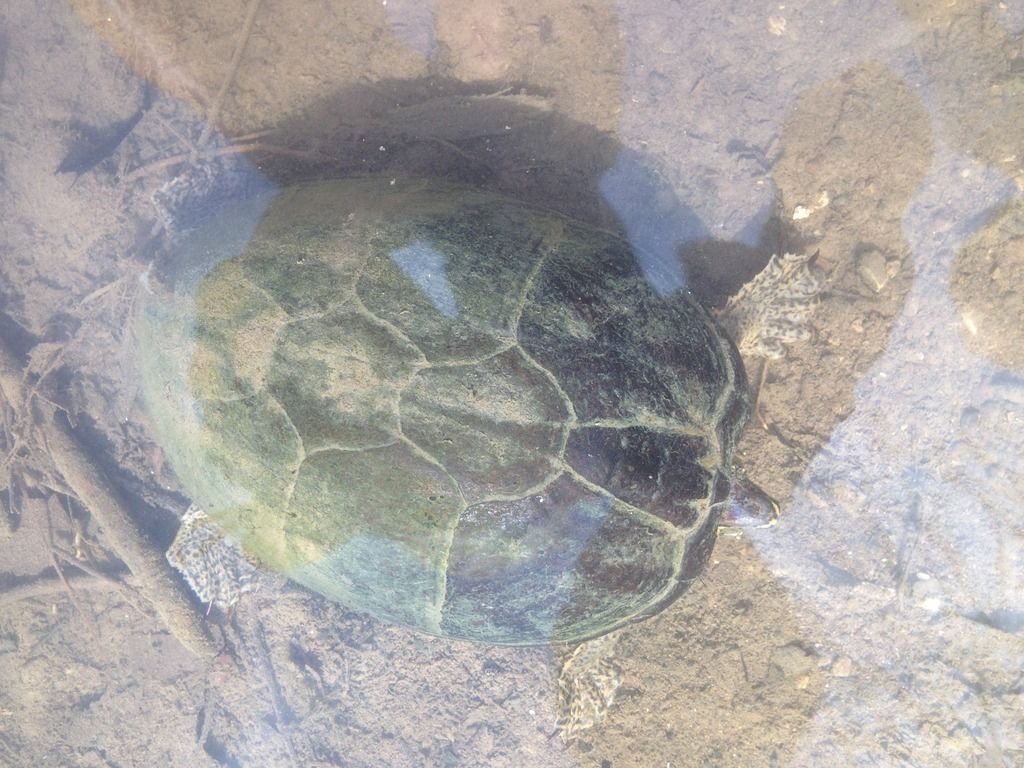 A slider from the lake: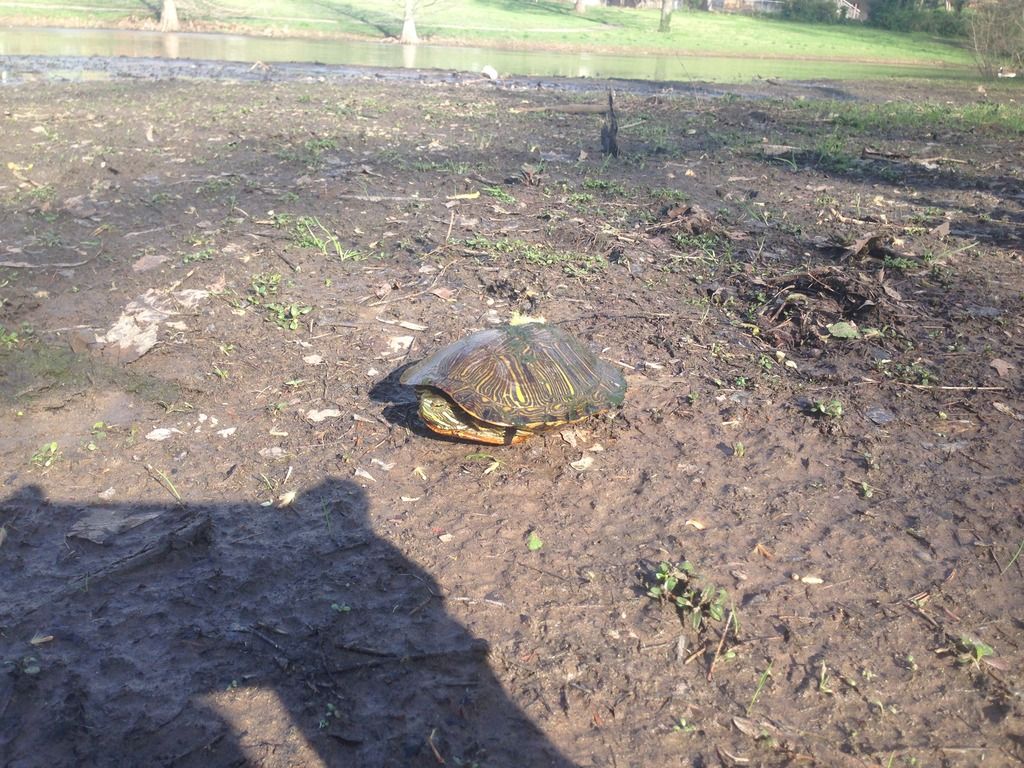 Habitat: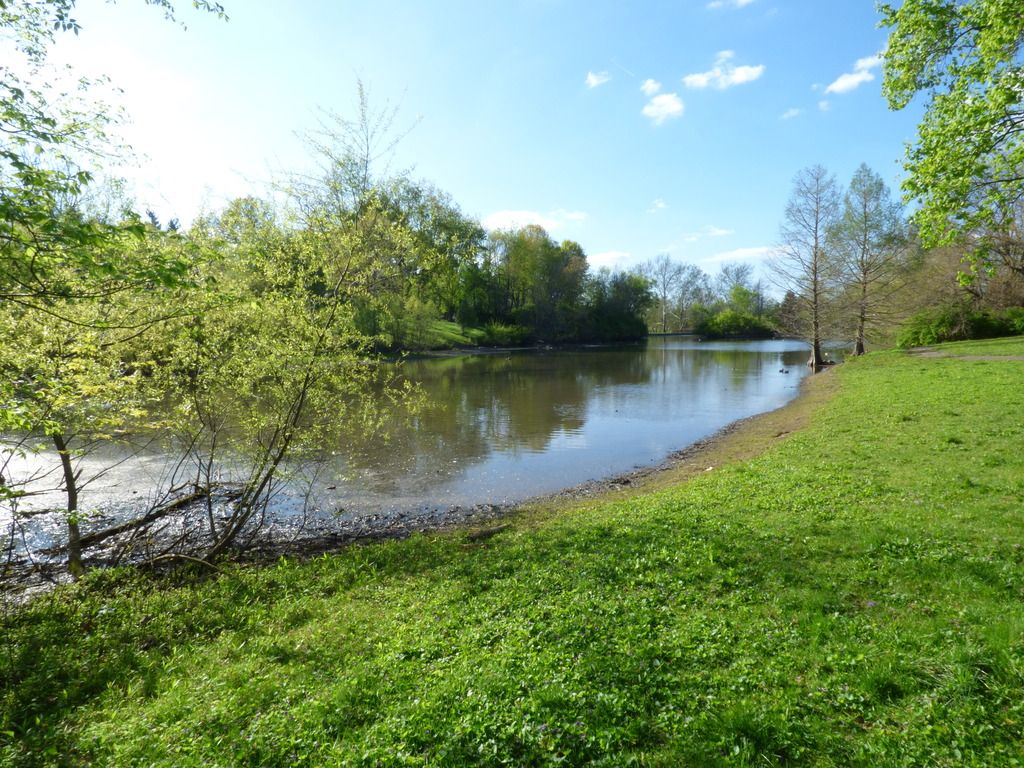 In addition to the lake, we began to regularly herp some creeks in our neighborhood. For many years, I had seen queen snakes sunning at an old bridge less than a block from my house, starting in early March, but unfortunately this year they did not come out.
This motivated us to begin herping throughout the creeks nearby, to see if the queen snakes had suddenly disappeared. Although initially we did not find any, we came up with some other finds, including this cave salamander: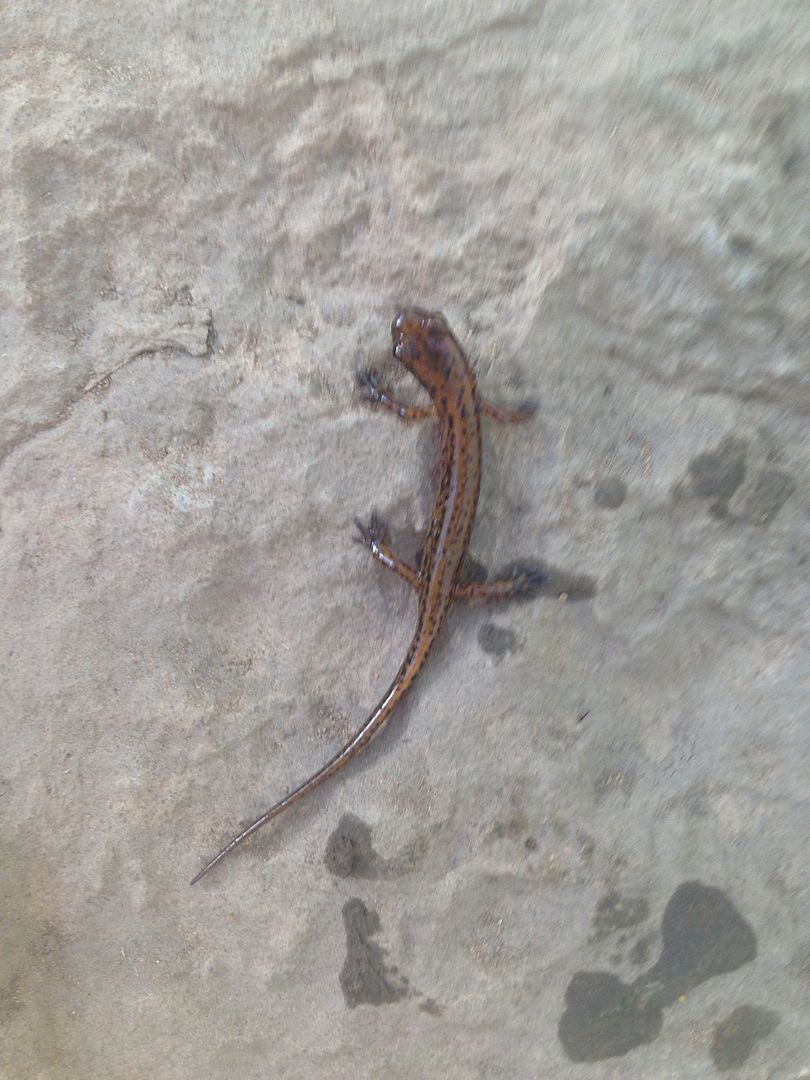 Our first very diverse and productive herping excursion was to an eastern Kentucky creek, where Kevin has been herping for at least 10 years. The previous november, we had seen a red salamander there, and we were hoping for similar sucess. Although no red salamanders, the spot greatly exceeded our expectations!
We parked at the base of an open, rocky hillside. At the base of the hill, fence lizards were common: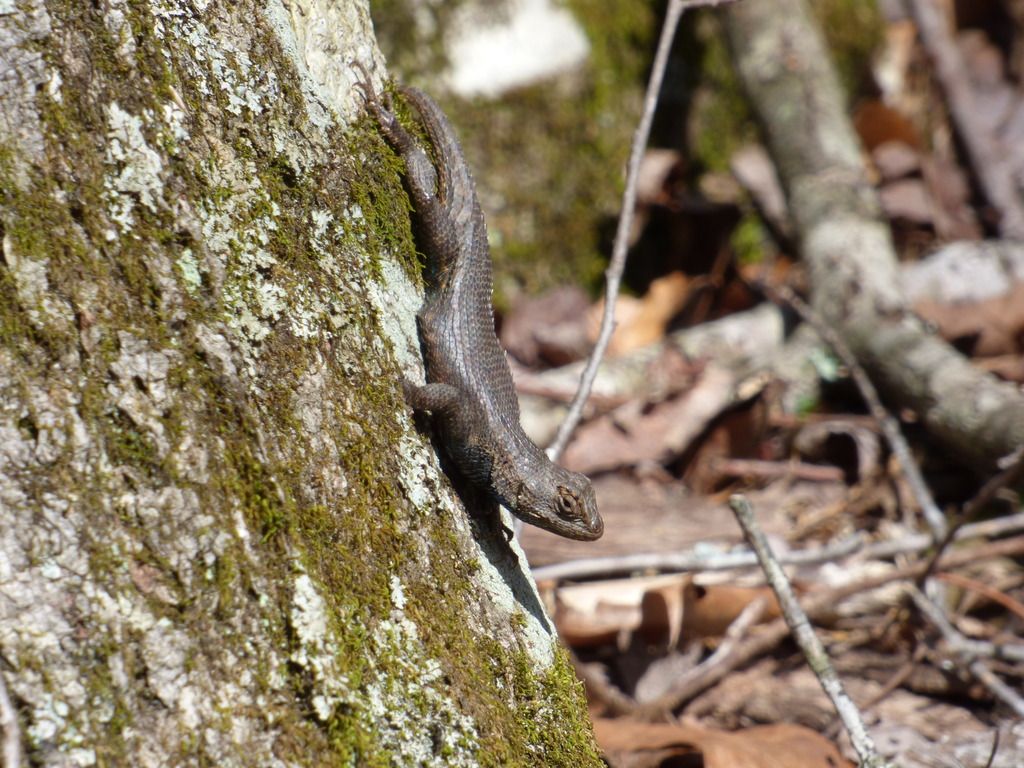 The hillside (this photo does not show the abundance of rocks):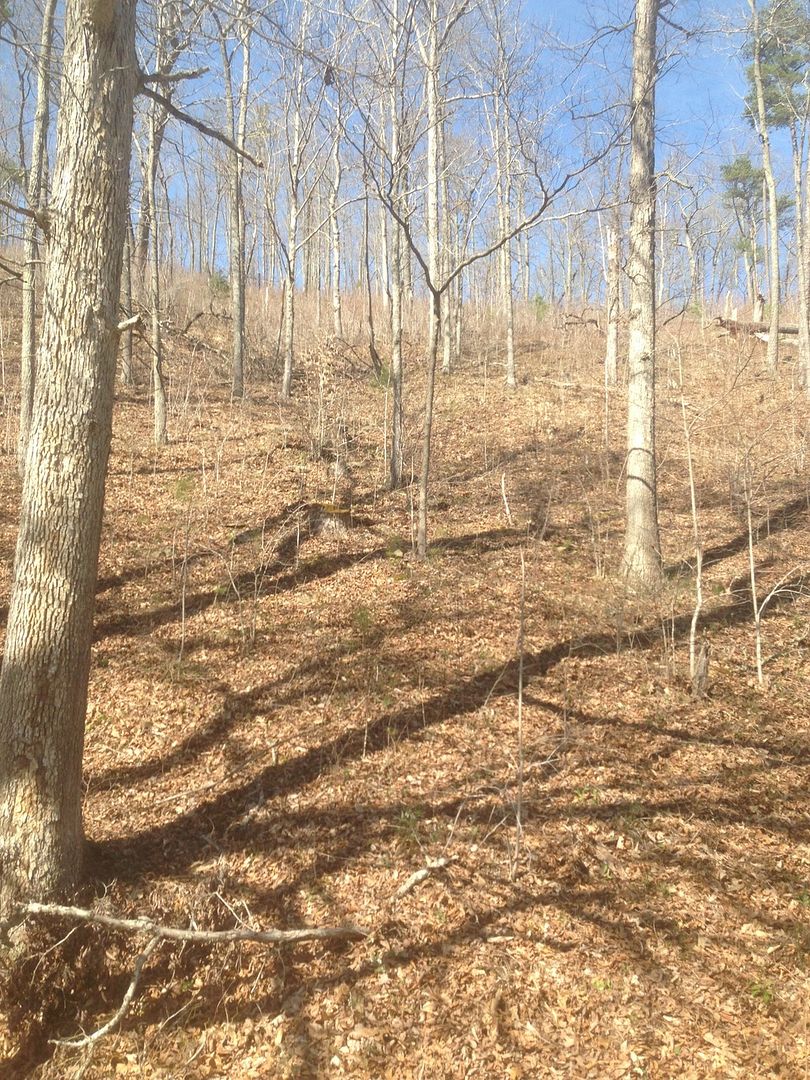 Up untill this year, Kevin had focused on salamanders, and as a result, he had not yet seen a worm snake, a relatively common species in our area. Despite cool temperatures, the rocks were heating up in the sun, and looking at the hillside above us, we though we might as well try to get him his lifer. Pretty soon we had found two ringneck snakes: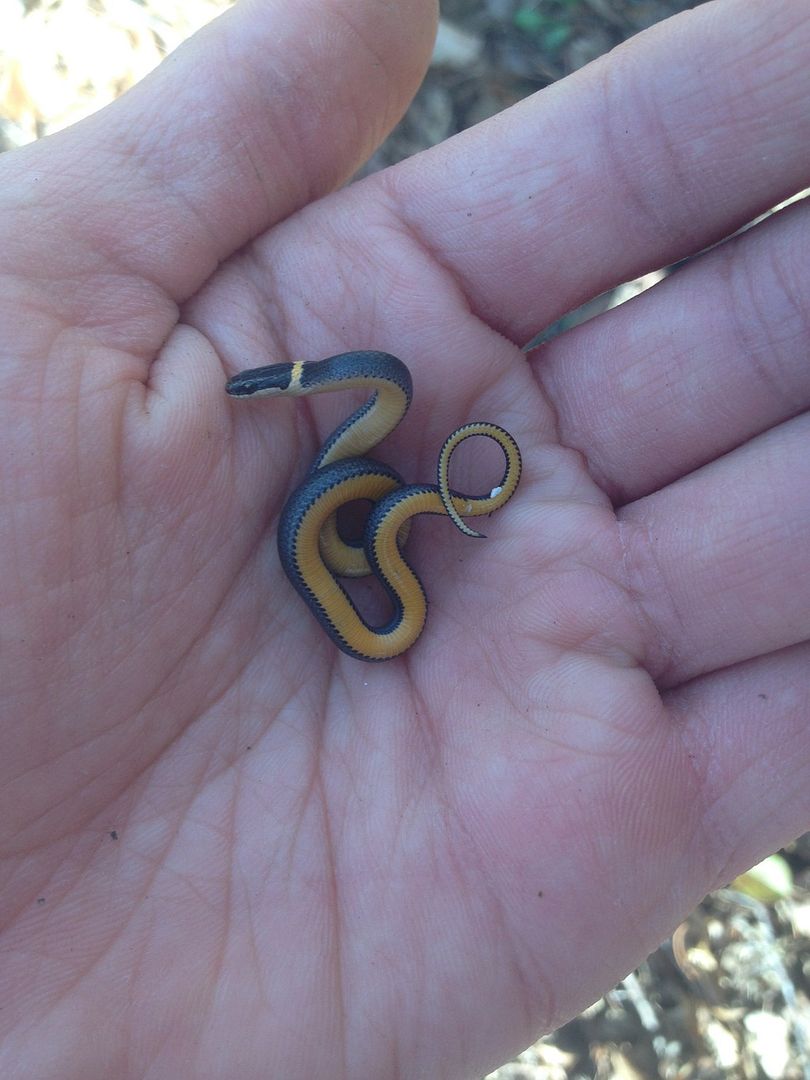 However, when I flipped one large rock on the hillside, I was completely taken by surprise, when I saw this: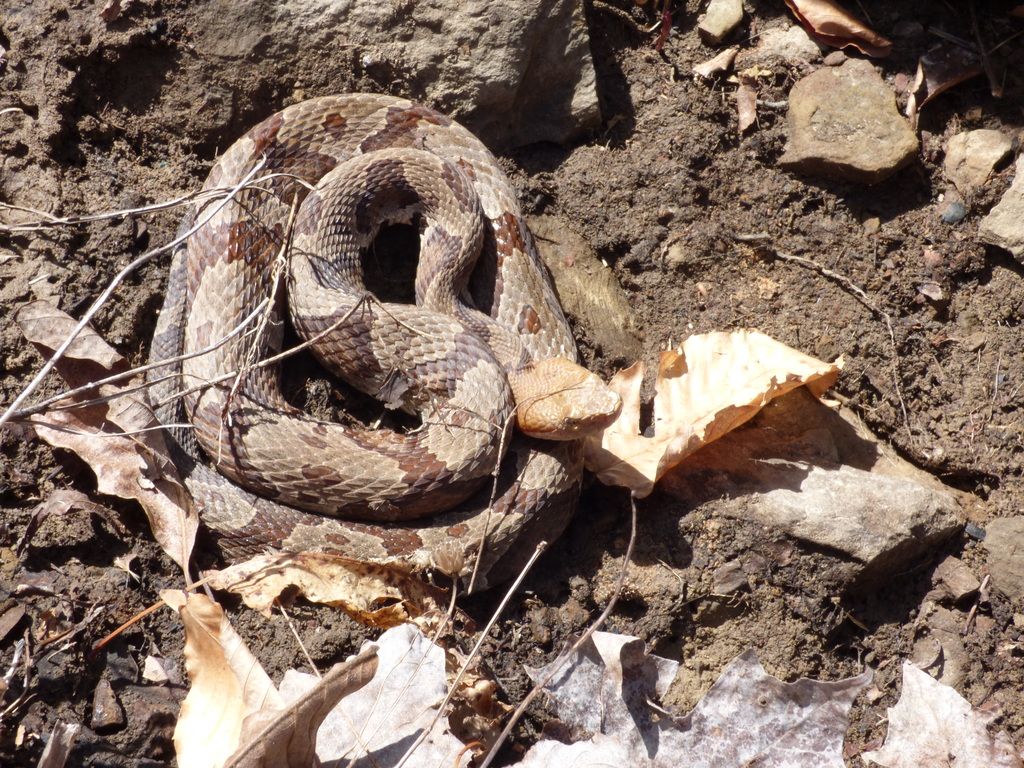 A copperhead - we hadn't even considered that they would be out yet! This is the first copperhead I've ever flipped up; quite a shock at first.
With the day already a sucess not ten minutes in, we moved on to the stream. The stream runs through a deep but wide valley, and flows over wide, flat layers of shale. In some places, gravel banks provided many rocks to flip: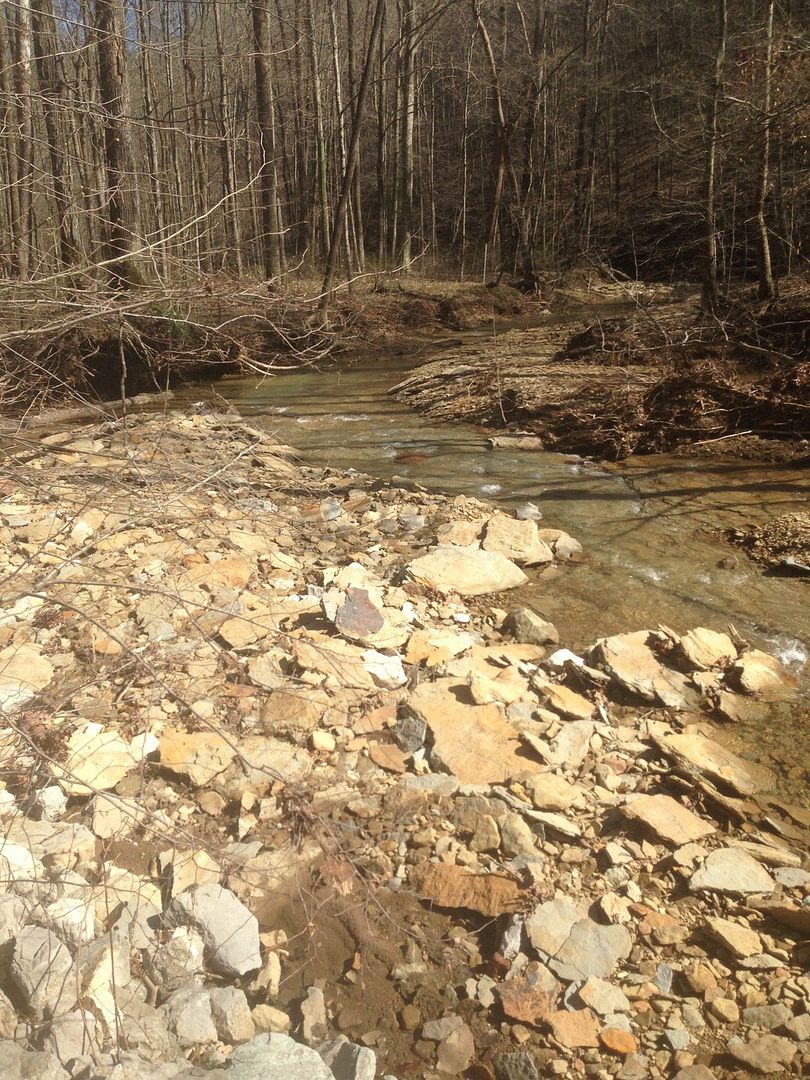 Two-lined salamanders proved to be very common (we ended up with about 60):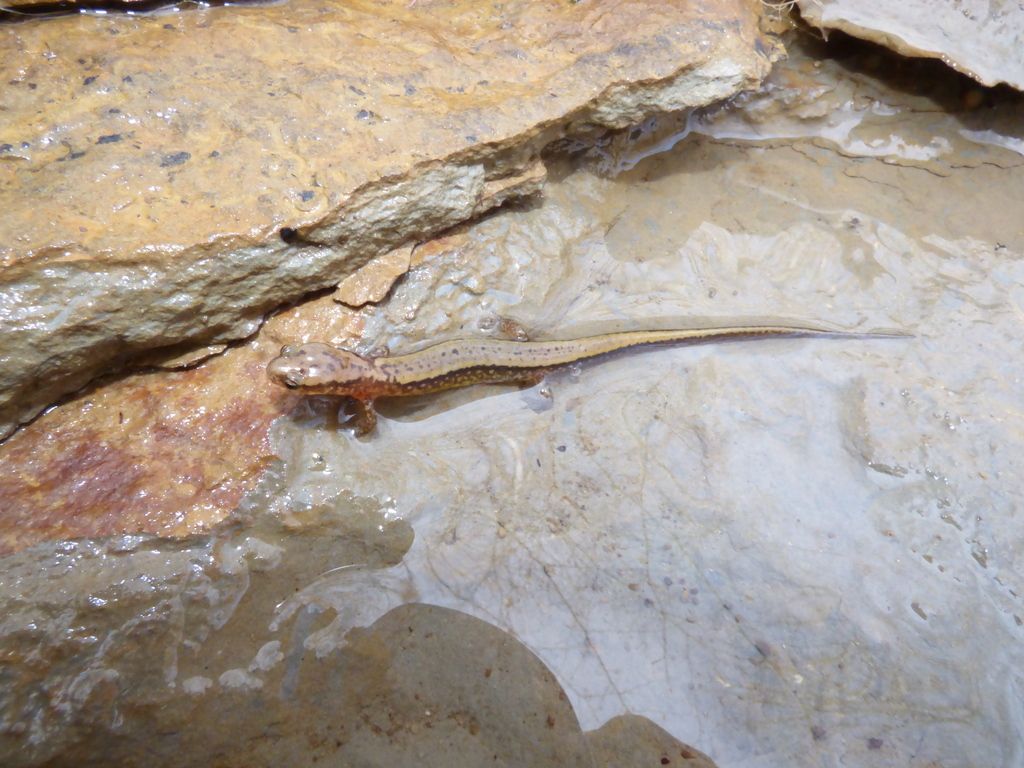 Green frogs were also fairly common along the stream: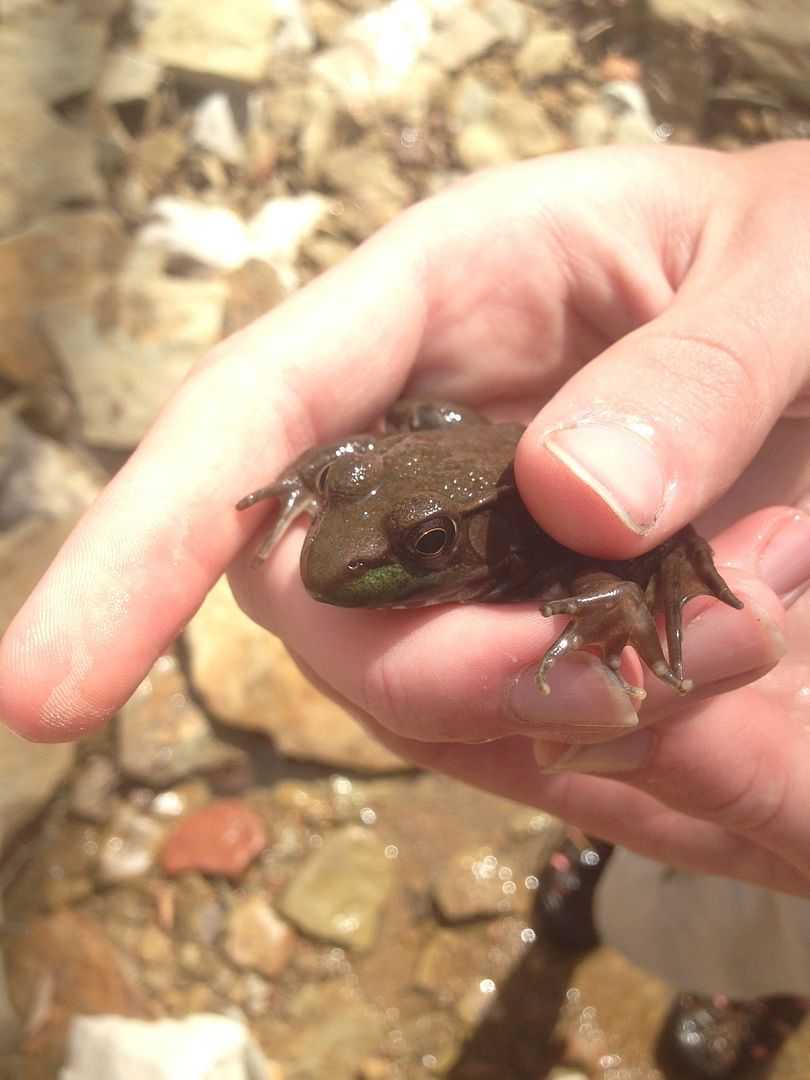 After about half an hour, we came to a spot where a shale shelf had cracked, leaving a large slab of shale next to the stream. Underneath it, Kevin and I found this: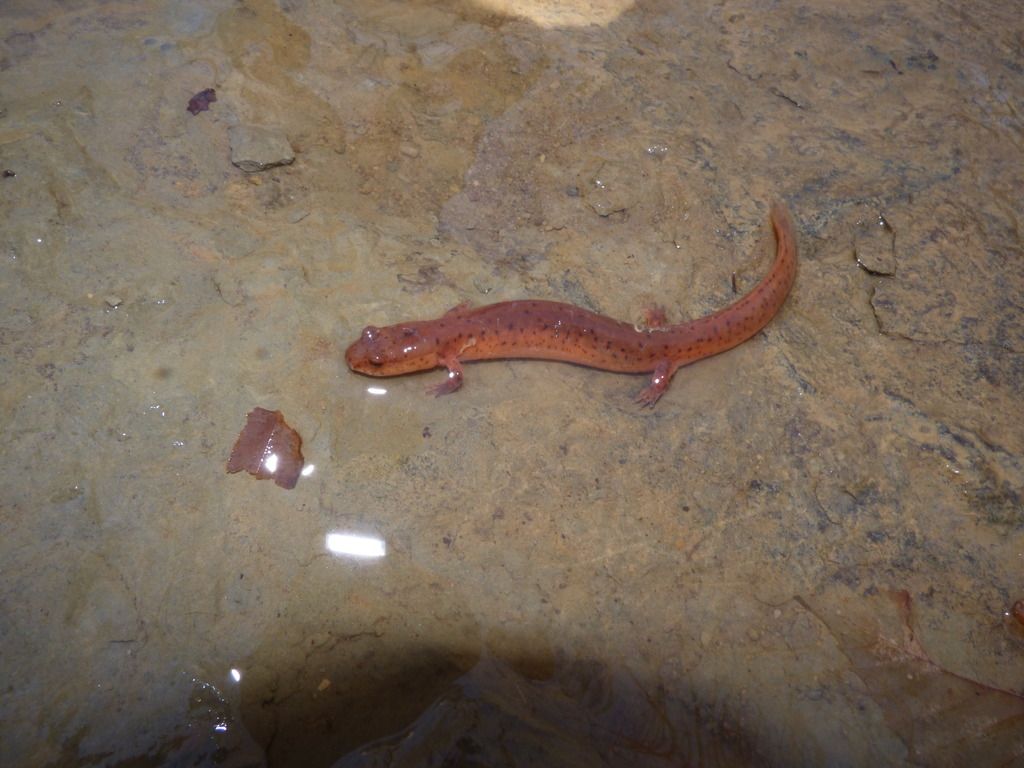 A spring salamander! We thought this would be the salamander find of the day, but pretty soon my dad found another, and later I found a third.
Our next notable find was this two-lined salamander guarding eggs: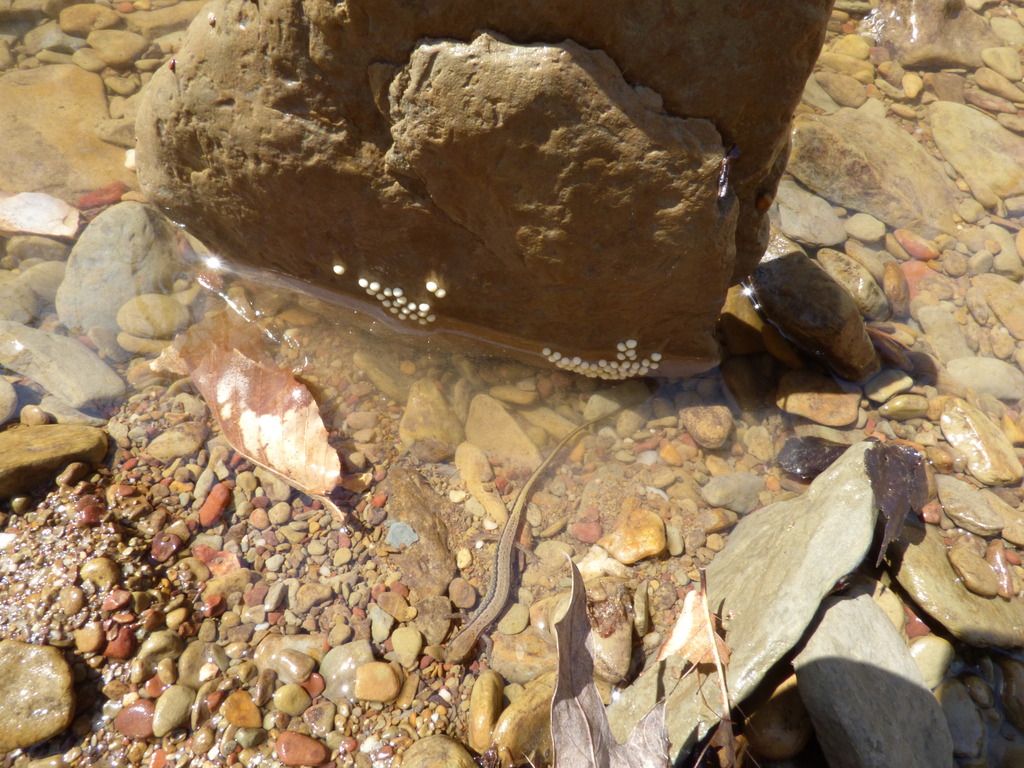 As the stream neared the base of the hillside at the edge of the valley, we began finding a few northern dusky salamanders:
Soon we came to a small tributary stream, cutting a thin valley into the hillside. The past november, this stream had yielded a nice longtail salamander, so we decided to head up it for a bit. On this visit, the stream had a good amount of water in it (last november it was dry in spots), and we soon began finding seal salamanders. Eventually, my dad flipped a large flat rock in the water to see a big, dark salamander wriggle away - a black mountain dusky salamander. Fortunately, we were able to catch it to get some photos (which did not turn out very well for me):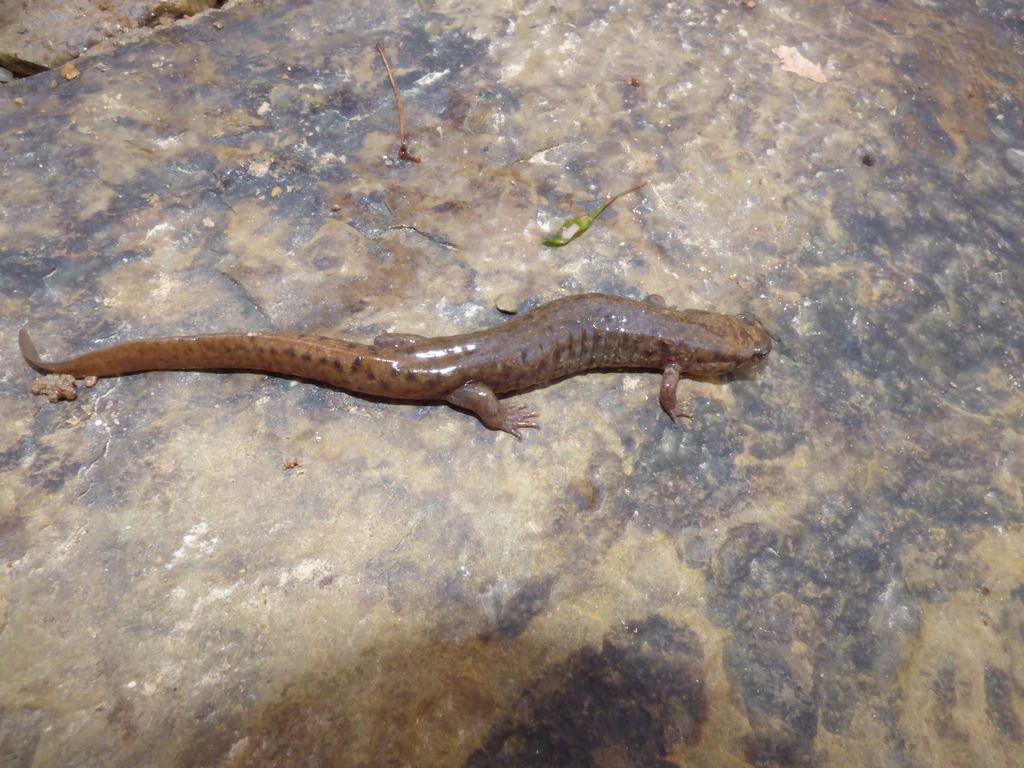 The black mountain dusky with a similar-sized seal salamander: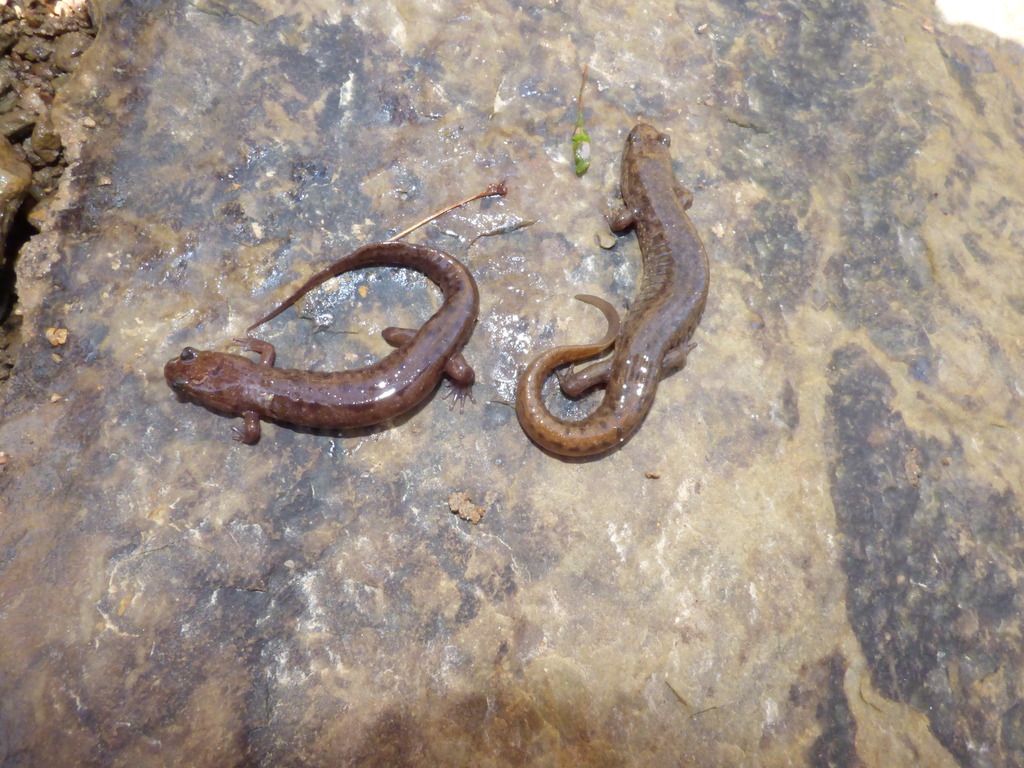 After that, we decided to head back to the stream. From there, we continued to find more of the same species - two-lined salamanders, northern dusky salamanders, and green frogs. We also found this nice pickerel frog: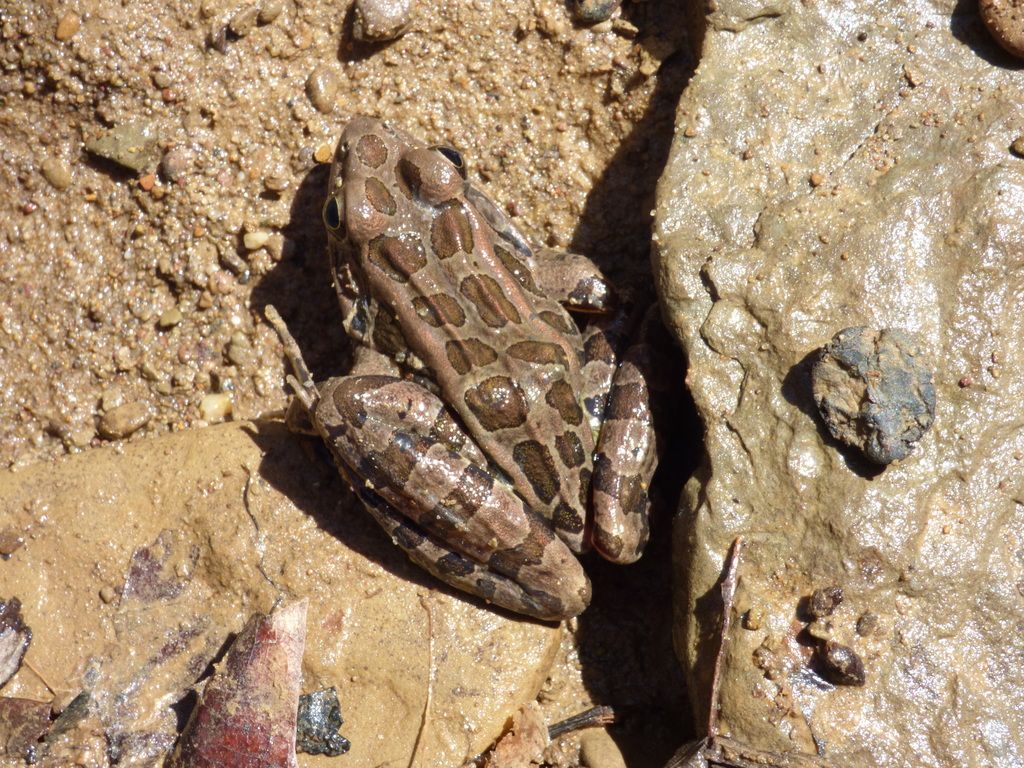 We came to another nice tributary - this time flowing out of a somewhat steep valley forested with hemlocks. Although we decided to save the tributary its self for another time, just downstream of the tributary we found another black mountain dusky salamander, and several red salamander larvae: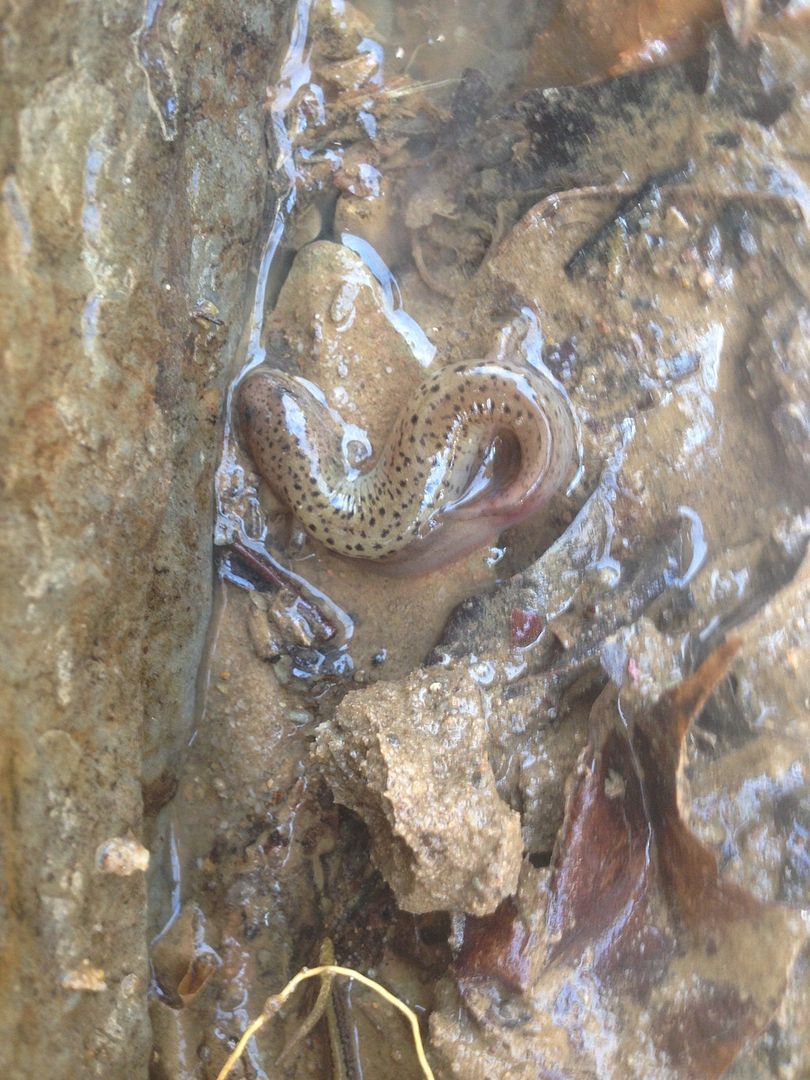 Under a rock outside of the riparian zone, I found this ravine salamander: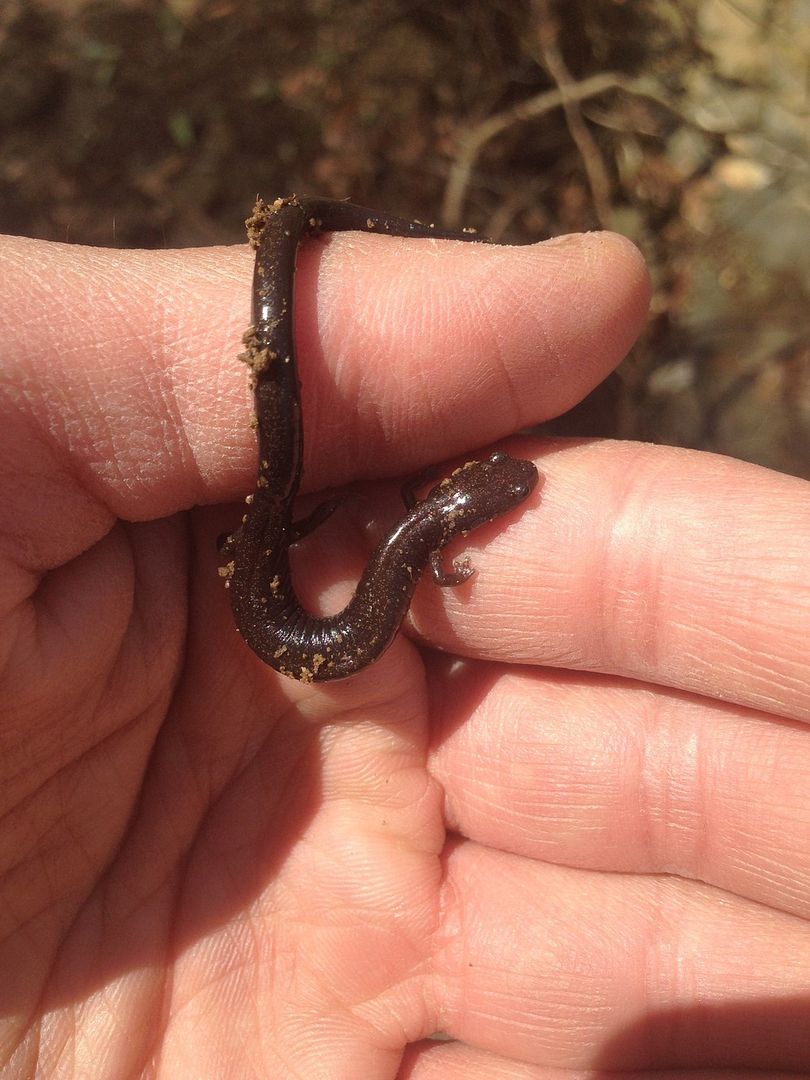 Close to the bottom of the stream valley, there is a field containing a large beaver pond. Kevin had seen a painted turtle here a long time ago, a species we do not often see, so we approached quietly, hoping to see another. We stopped at the edge of the field, and I zoomed in on the pond with my camera, and saw this: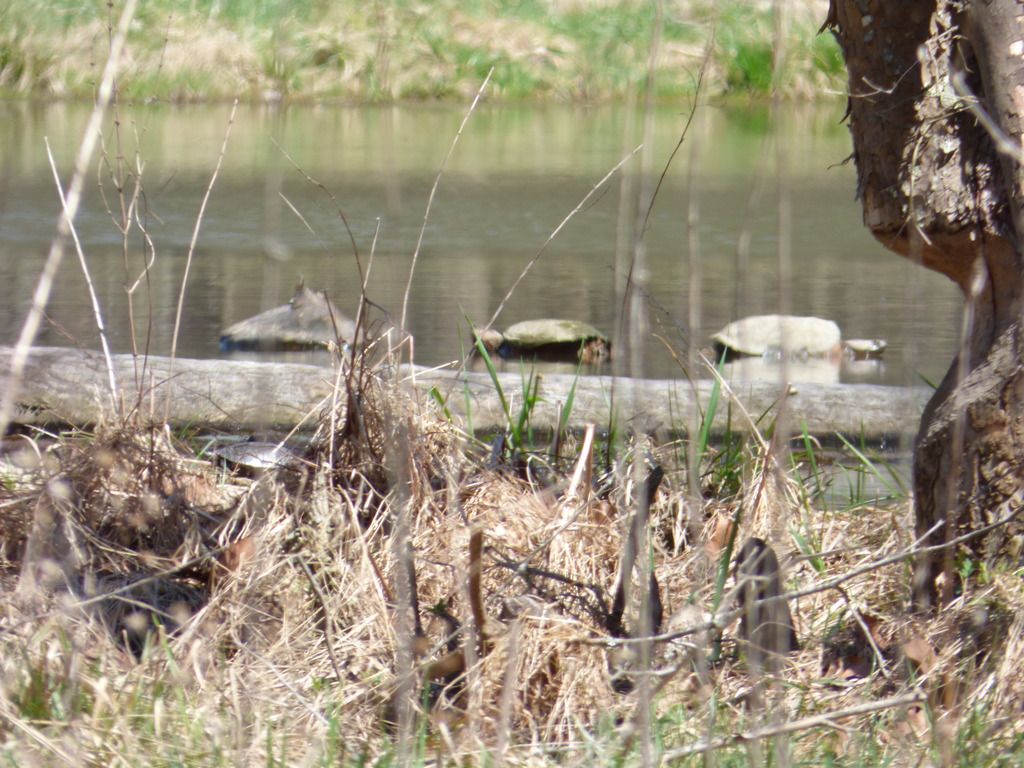 Two snappers and a painted turtle! We again began to approach quietly, but apparently not quietly enough - all three turtles immediately disappeared. However, we nonetheless continued to the pond, hoping perhaps to find one swimming in the shallows. As we expected, the pond was full of newts: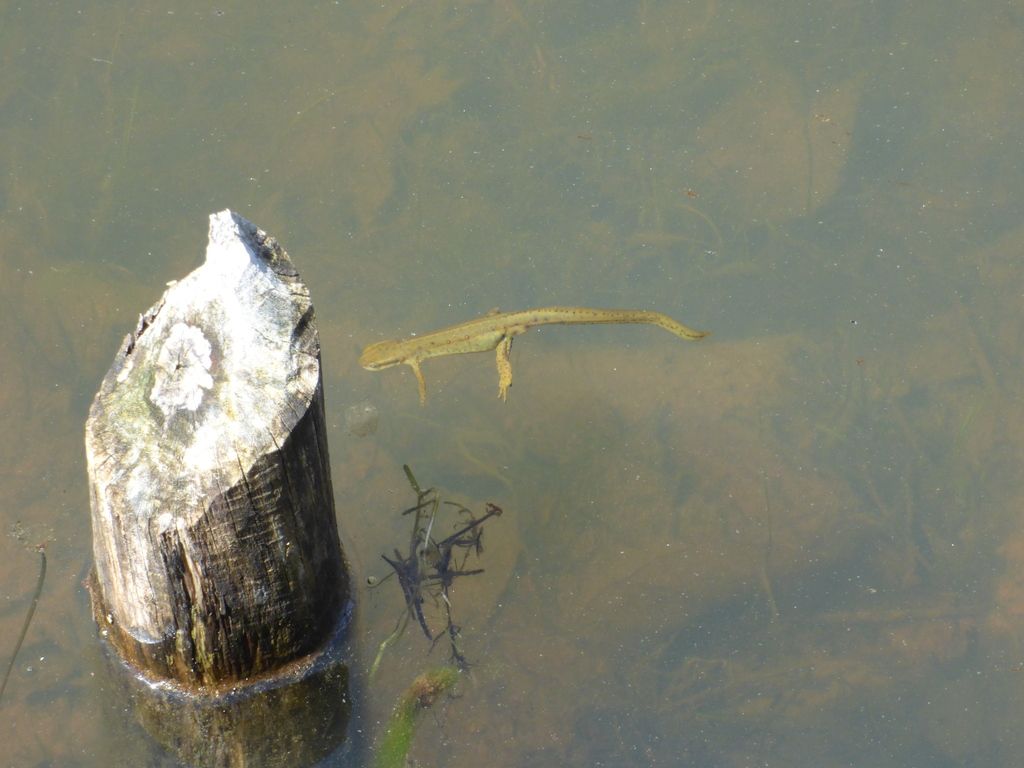 And green frogs: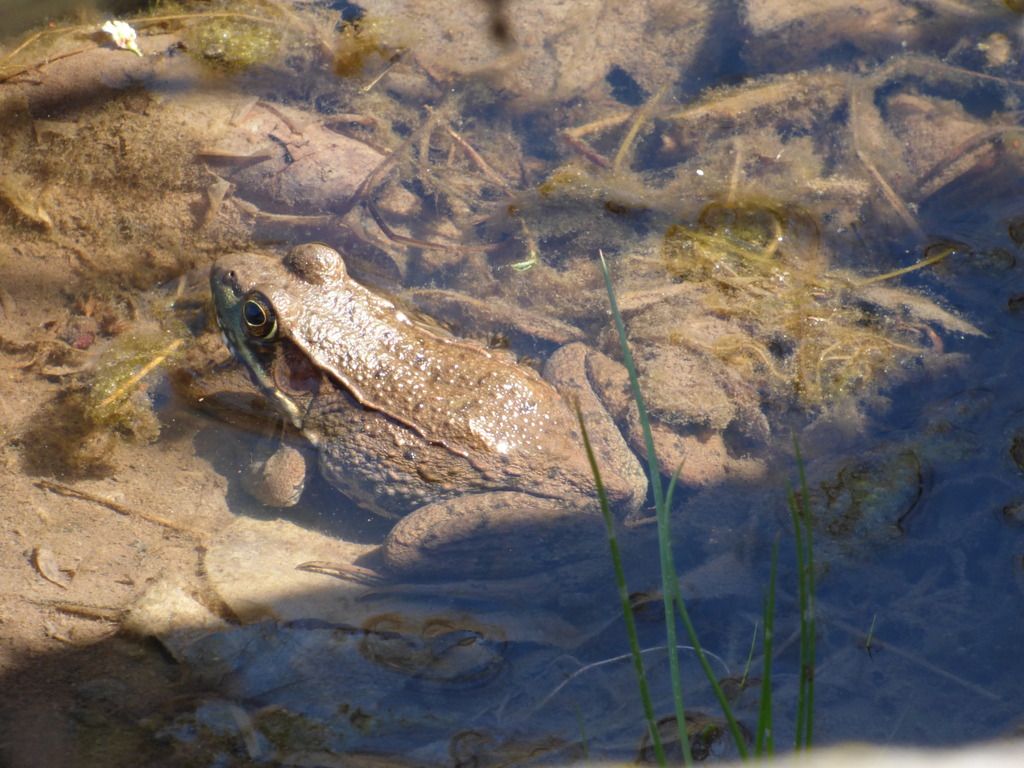 While I was busy photographing the newts and frogs, Kevin had begun walking around the margin of the pond. When he was only about a quarter of the way around it, he spotted this baby painted turtle: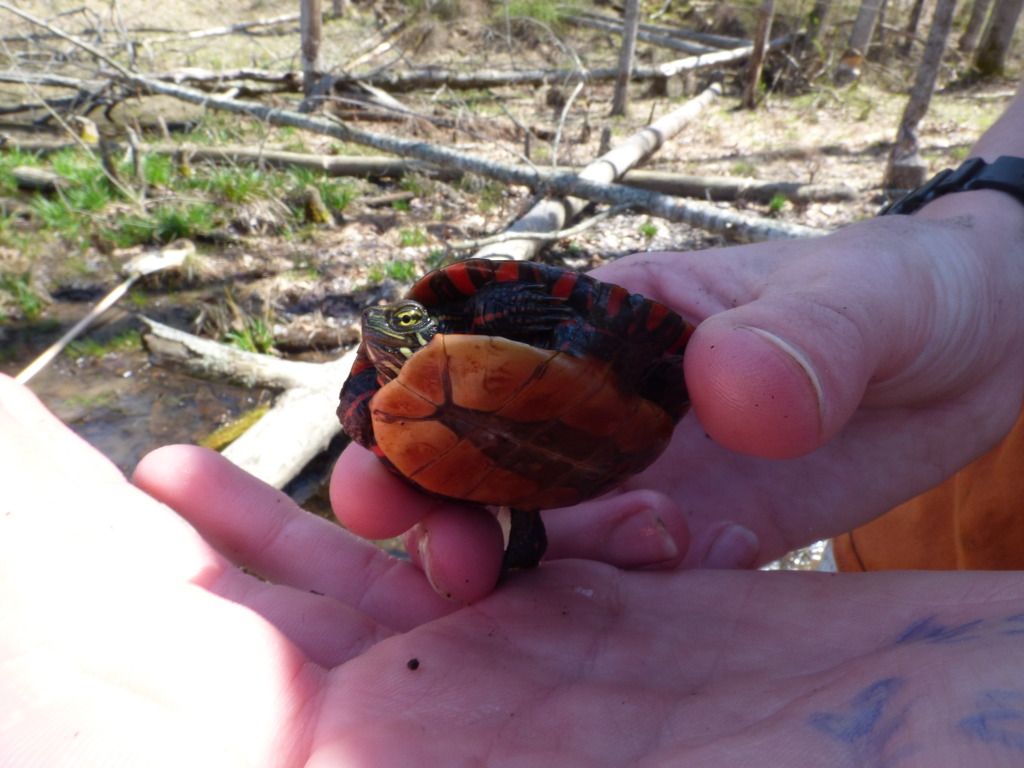 Sucess again! We continued around the pond, and found a large water snake sunning on the beaver lodge (which escaped), and many more newts and green frogs. Then we headed back, this time following an old dirt road along the base of the hillside opposite to the creek. Here, under a small rock, my dad did end up getting Kevin his lifer worm snake: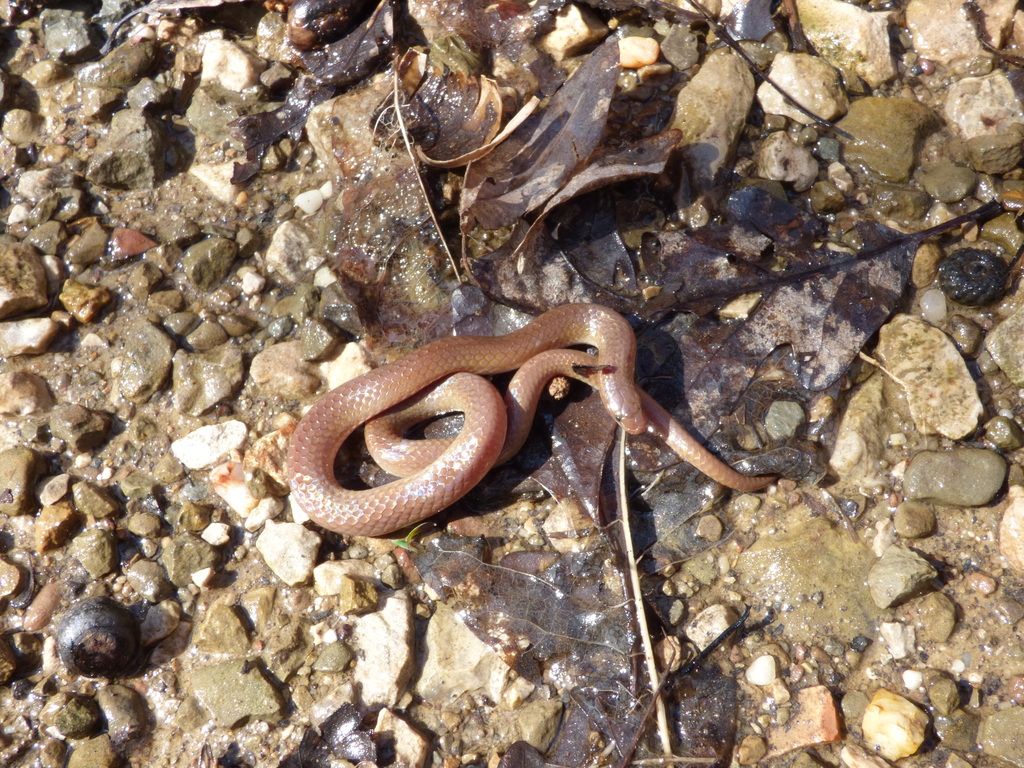 And I found one more salamander species for the day, a cumberland plateau salamander: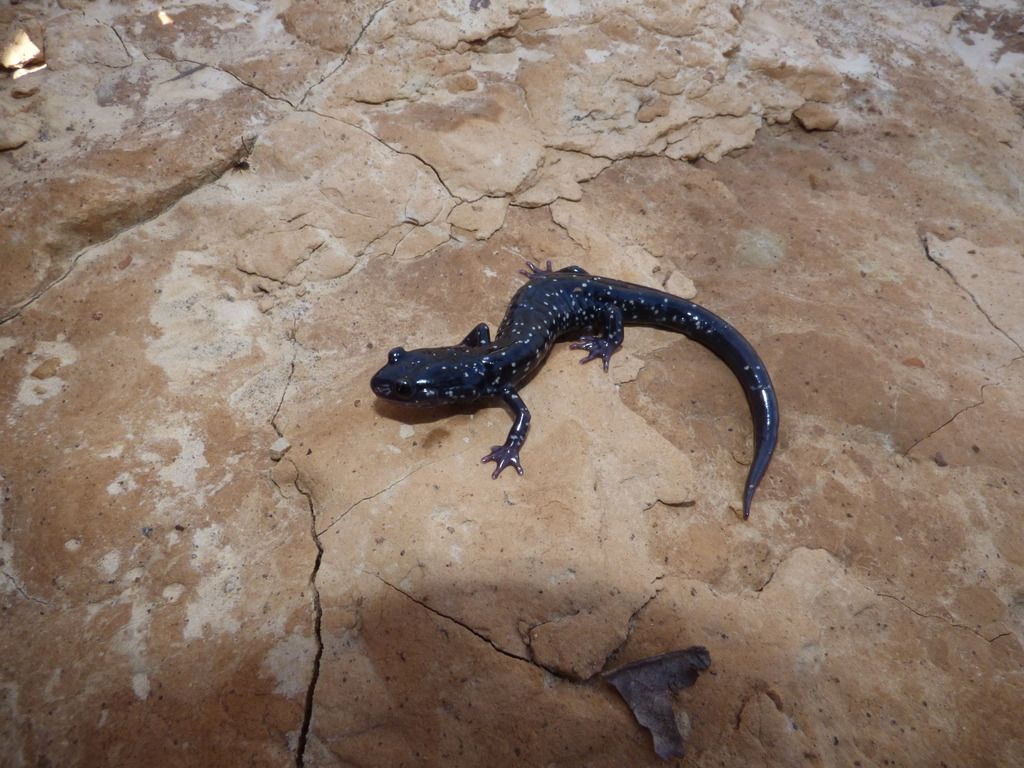 In the many road ruts along the road, we found several different types of egg masses, whose identities I am uncertain about at best.
Spotted salamander?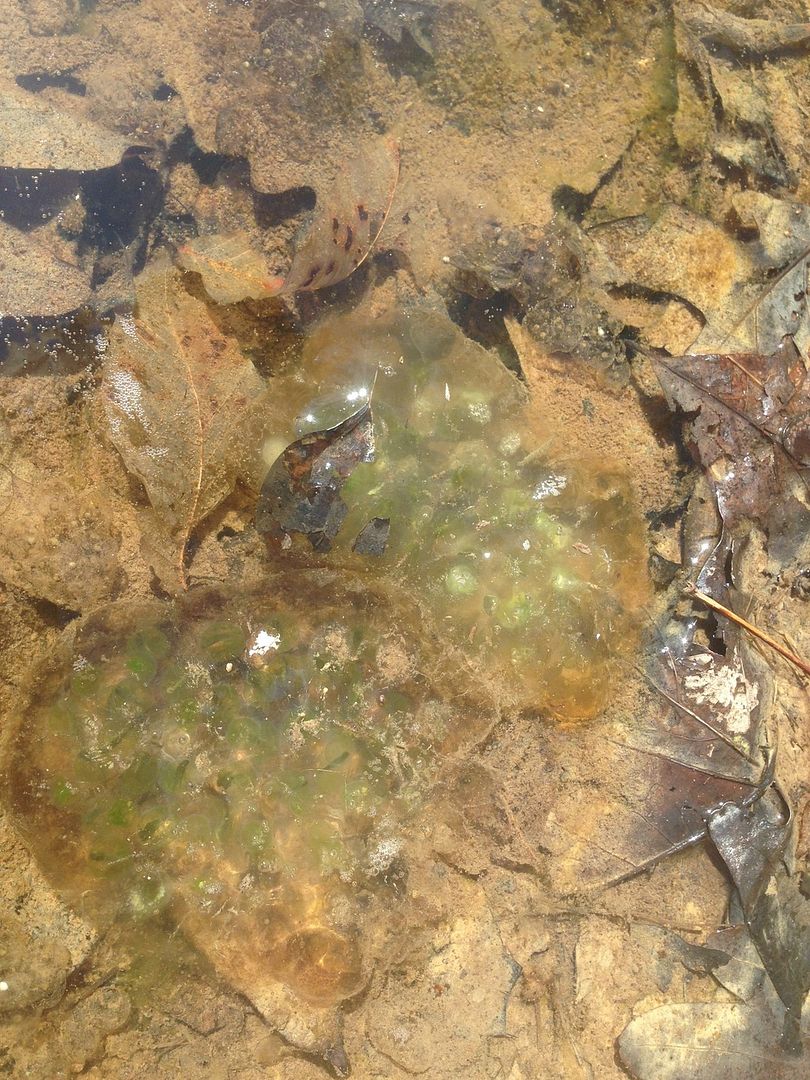 Mountain chorus frog?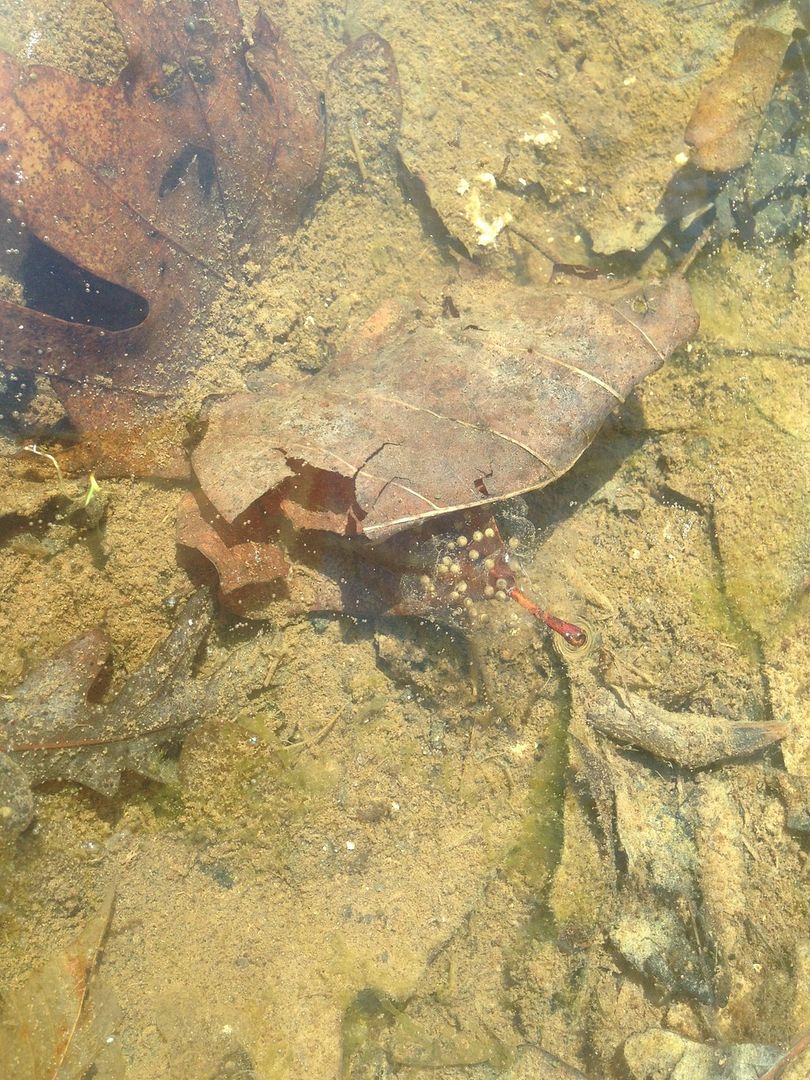 American toad?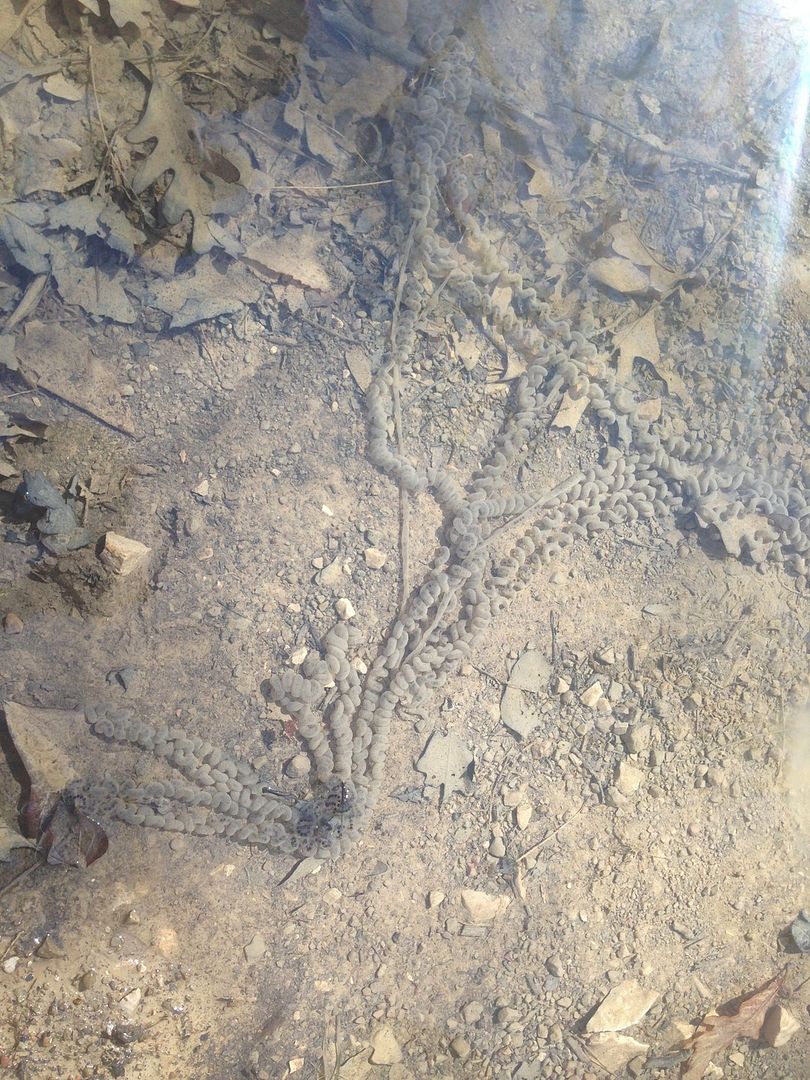 Green frogs inhabited these ruts, as well as a few newts, which were happily feasting on the egg masses.
During the next week, after school, we went briefly to a nearby stream in the pallisades. Although we do not often herp this stream, we have found a number of longtail salamanders here, and a mud salamander metamorph, making it a cool spot. On this day we were hoping to find red salamanders on the hillsides bordering the creek, given the recent heavy rains. As it turned out, the rains actually foiled our plans - what was once the stream valley became this: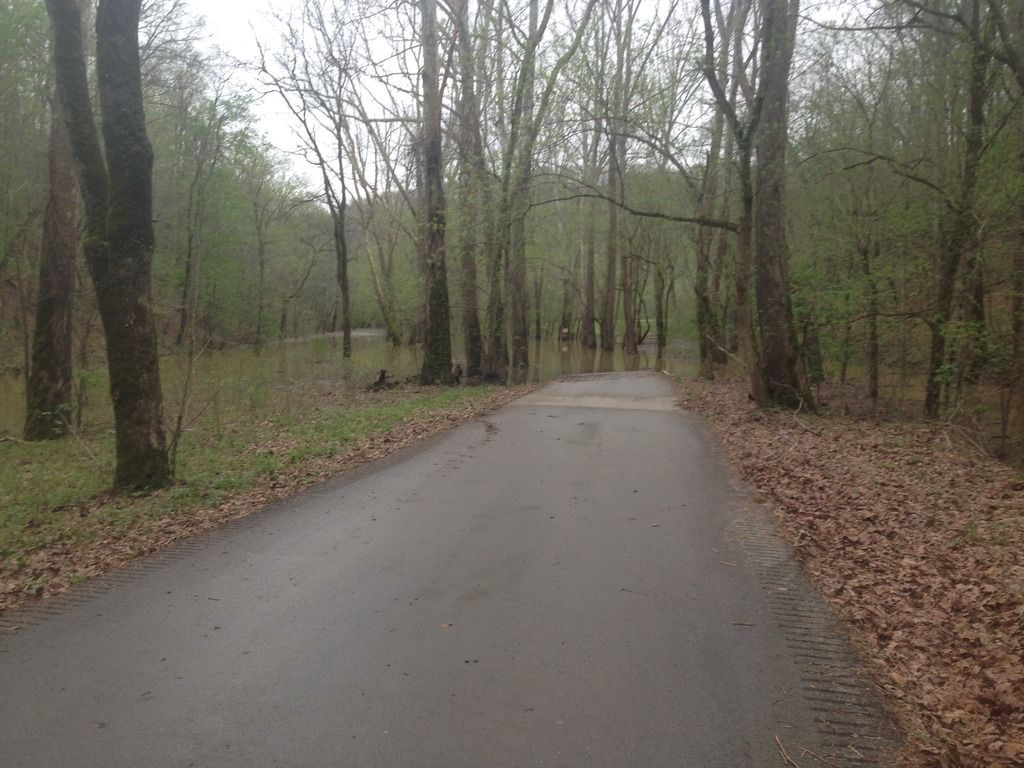 The sign you see just above water level is usually where we park to get down into the stream! Given the circumstances, we decided to head further up the valley, and herp the hillsides above the stream. We quickly began finding cave, two-lined, and ravine salamanders. In a pile of leaf litter washed down from the hillside, I found this eastern zigzag salamander: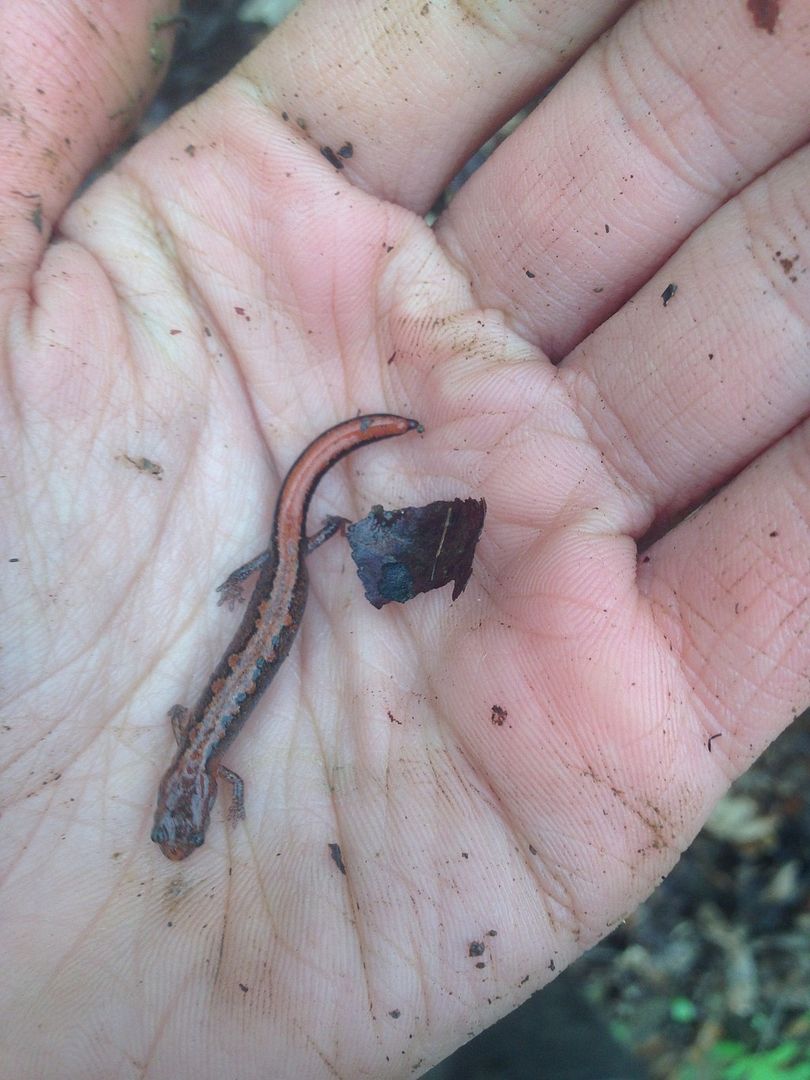 And Kevin noticed this red eft among the leaf litter, an interesting find considering we have never found newts anywhere nearby: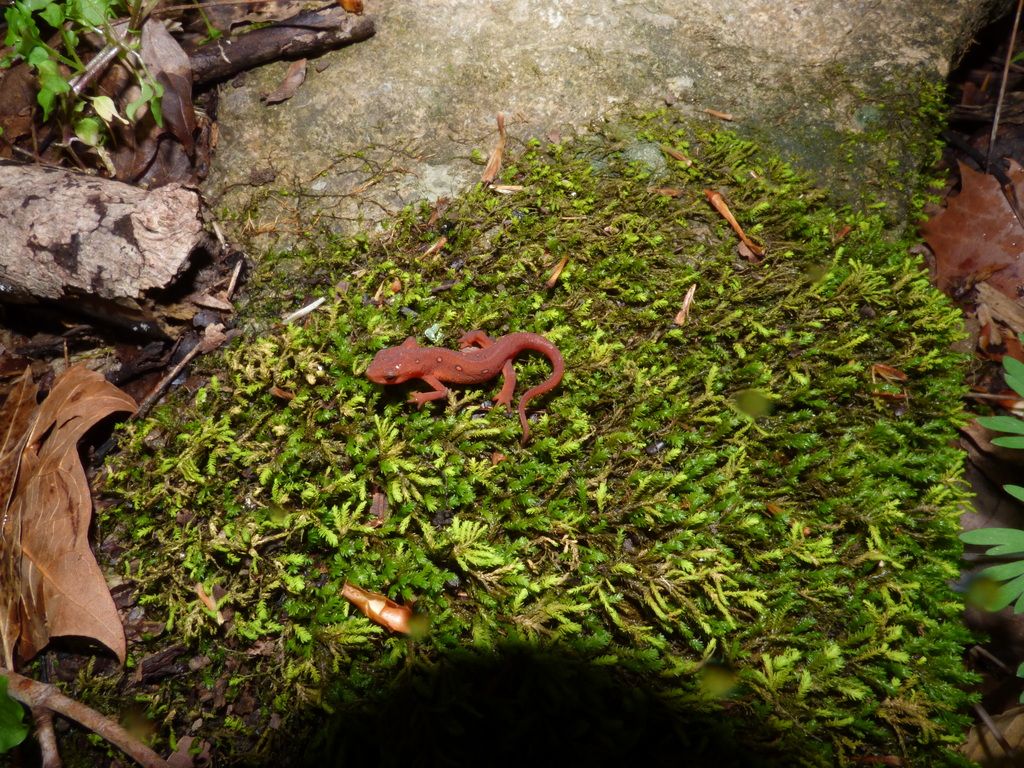 Back in Lexington, at the local lake where we look for turtles, Kevin found a large snapping turtle, the first we had seen there this year: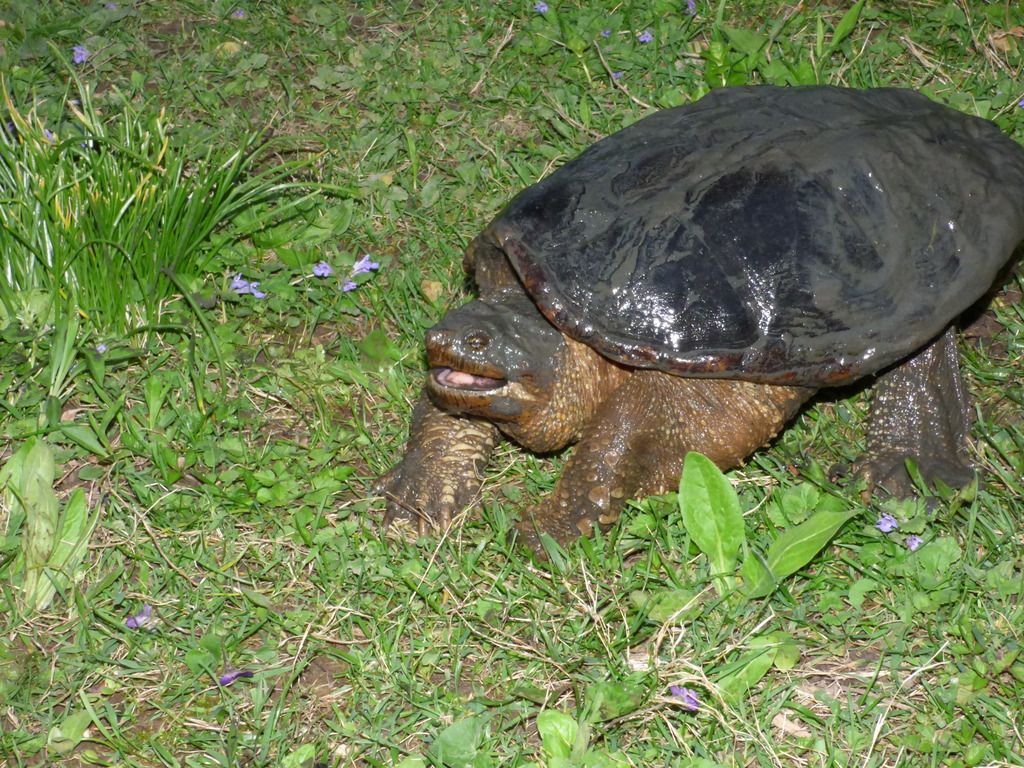 And I continued to see the usual garter and water snakes at the creek down the street from my house: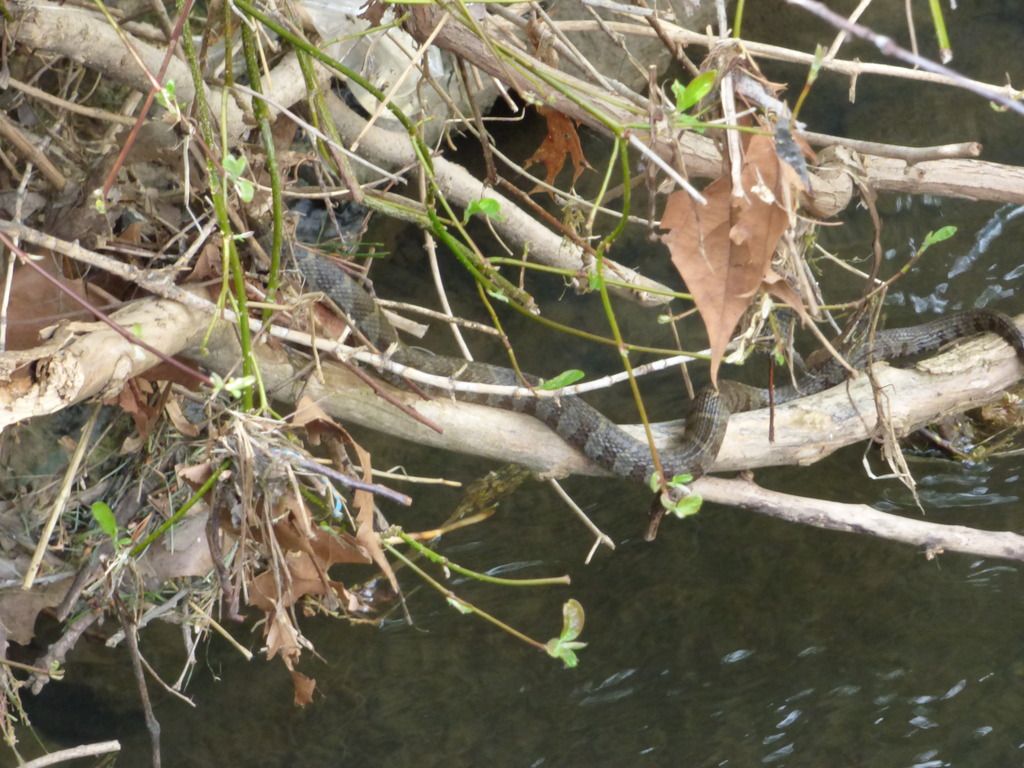 Our next big herping event was Herpetology Weekend in the Red River Gorge. On Friday night, we drove over to Natural Bridge State Park, and after the talks, we went to a local cave to look for spring salamanders. Although no springs were found, we did see several cave and slimy salamanders: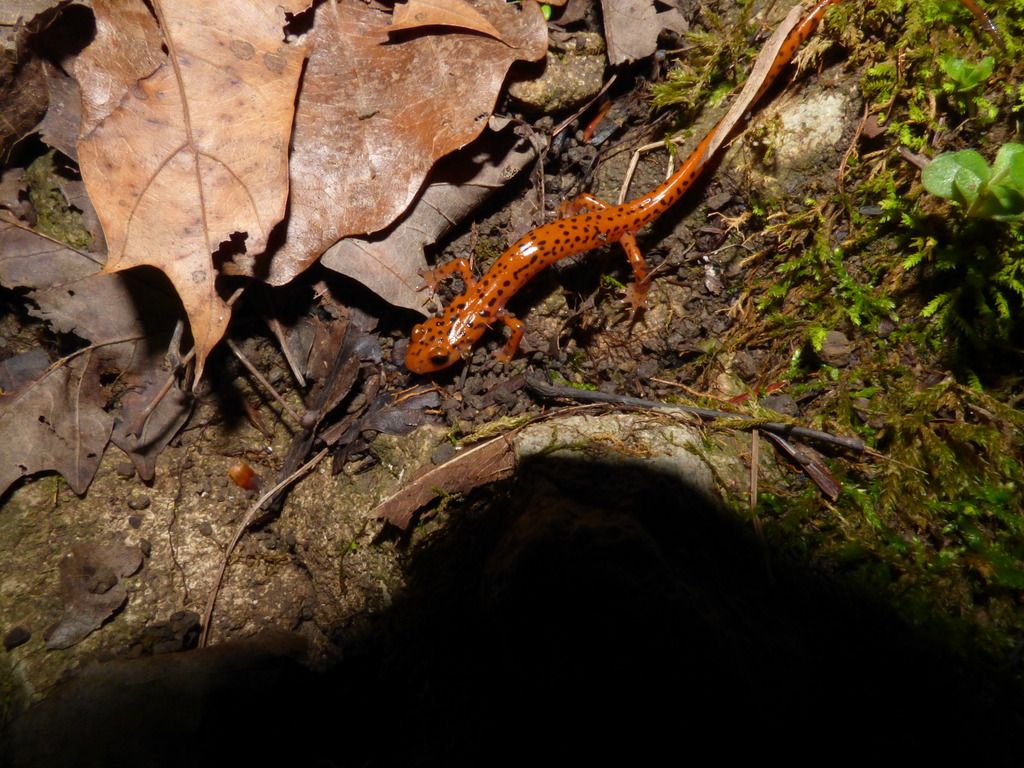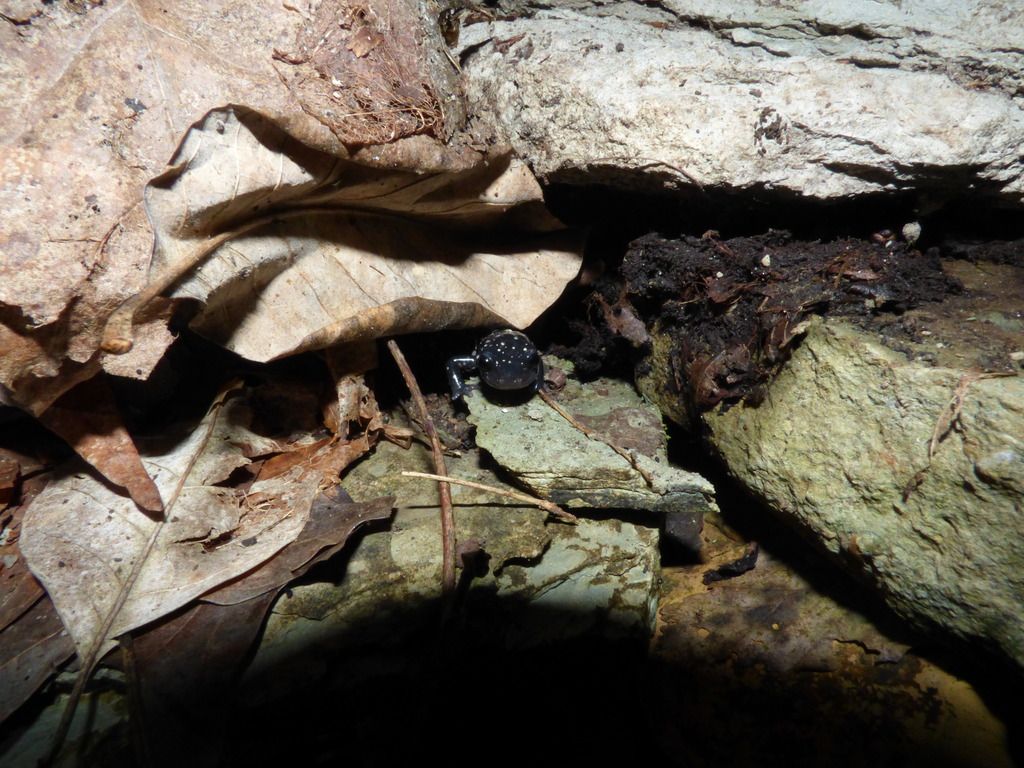 Right behind our hotel, cope's gray treefrogs and mountain chorus frogs were calling, so we decided to check it out. Although the gray treefrogs remained elusive, we managed to find about four chorus frogs, mostly spotted by Kevin:
We even got to see a mating pair: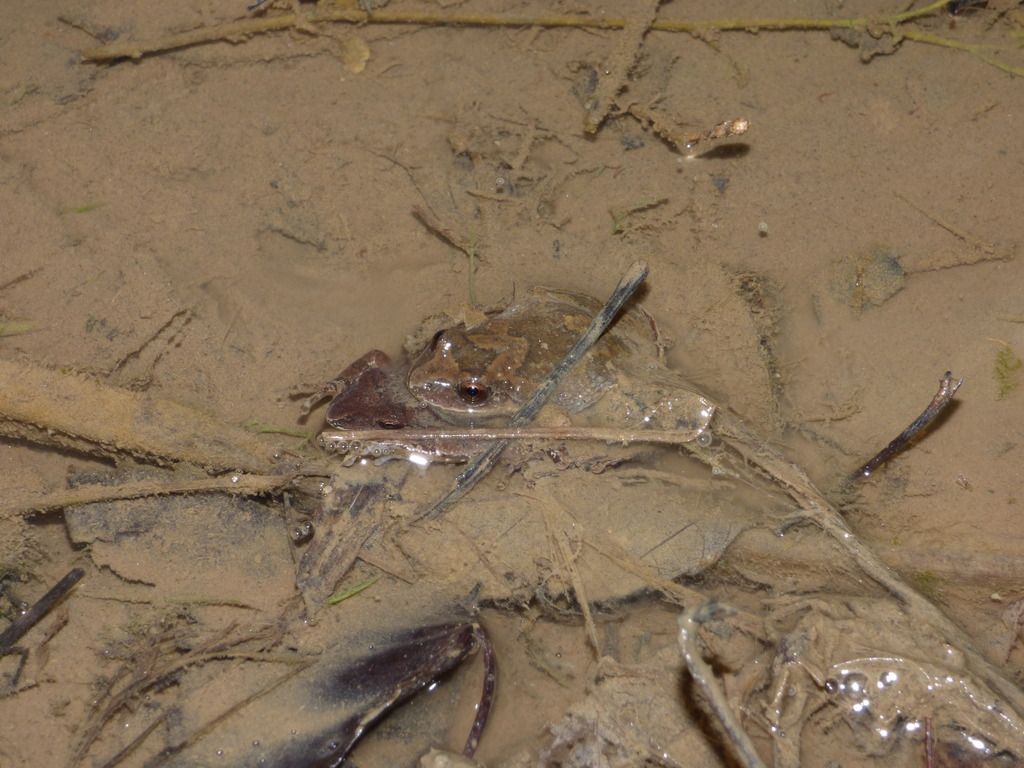 This cool luna moth also showed up: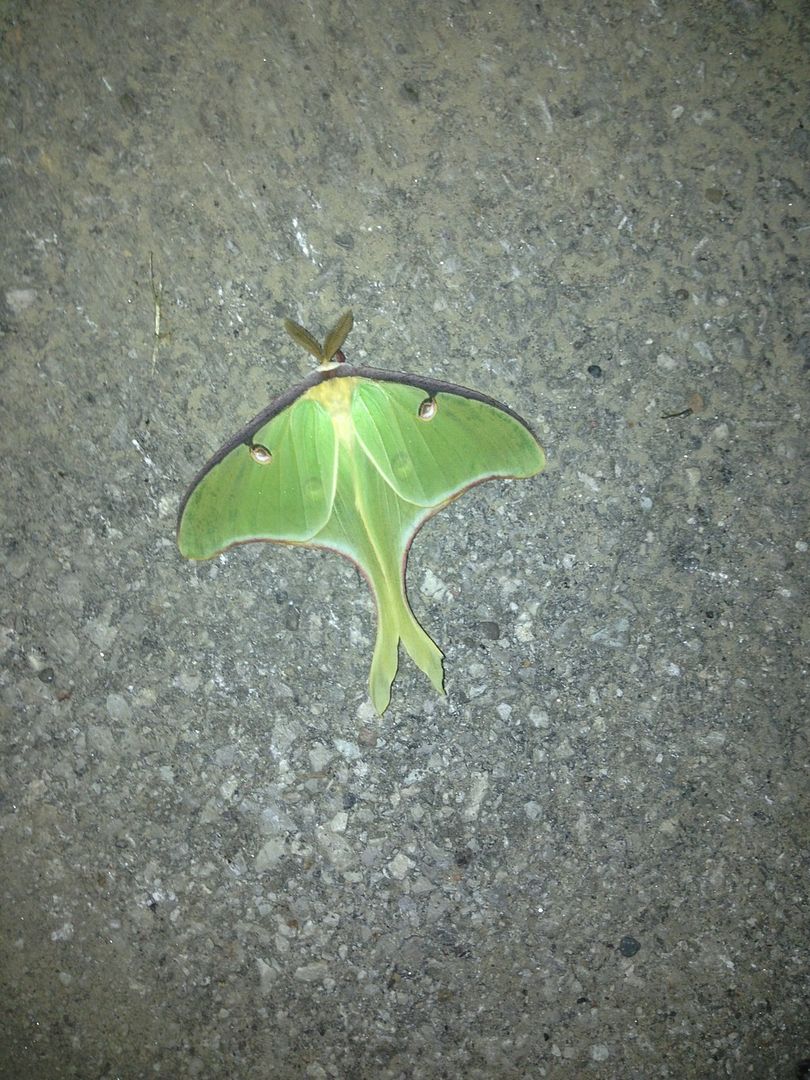 The next morning, we chose to go on a guided trip to a private farm, where the owner has built many vernal wetlands, and layed out tin along field margins. We began by finding newts, larvae, and tadpoles in the ponds. At one point we came to a pile of cut pine logs, with the bark still on them, where skinks had been found in the past. Me and a couple others began lifting the bark on the pine logs, and found 2 brown snakes: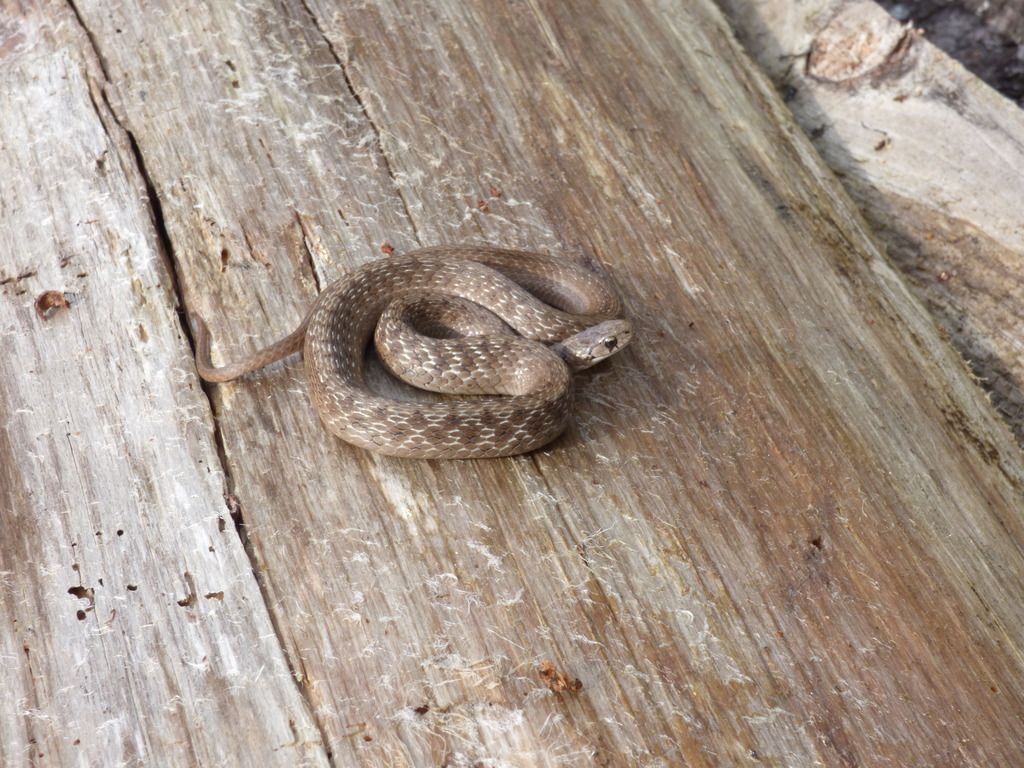 and a ringneck: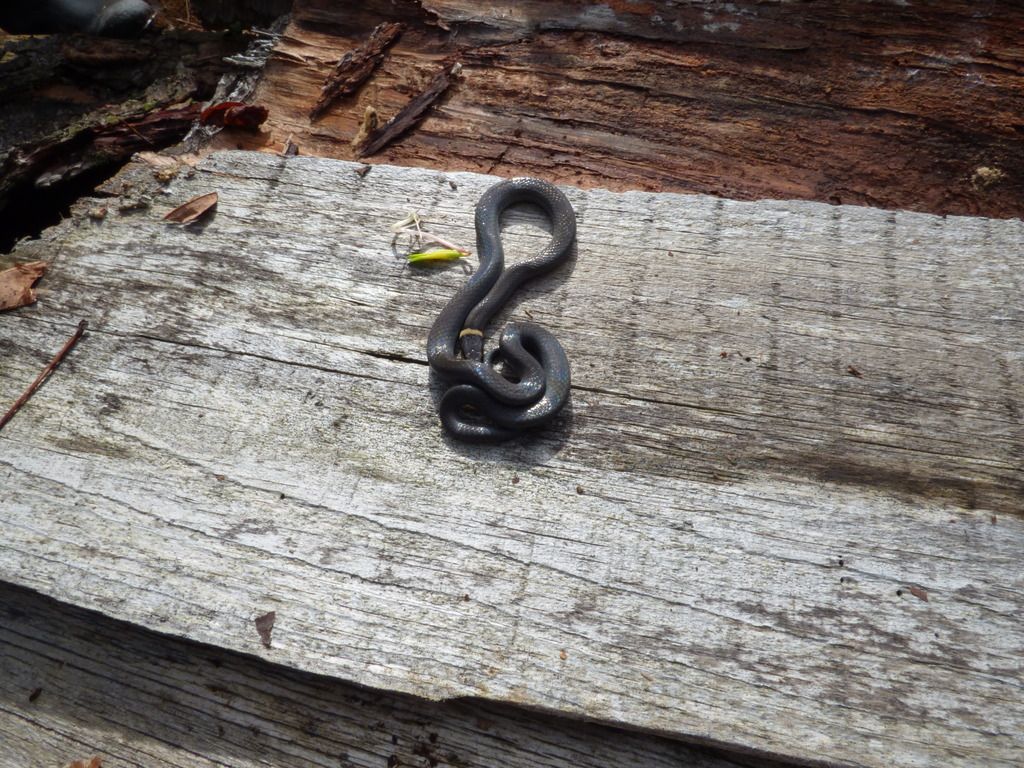 As well as a couple of skinks which escaped. Meanwhile, the rest of the group had found a couple of nice kingsnakes under tin: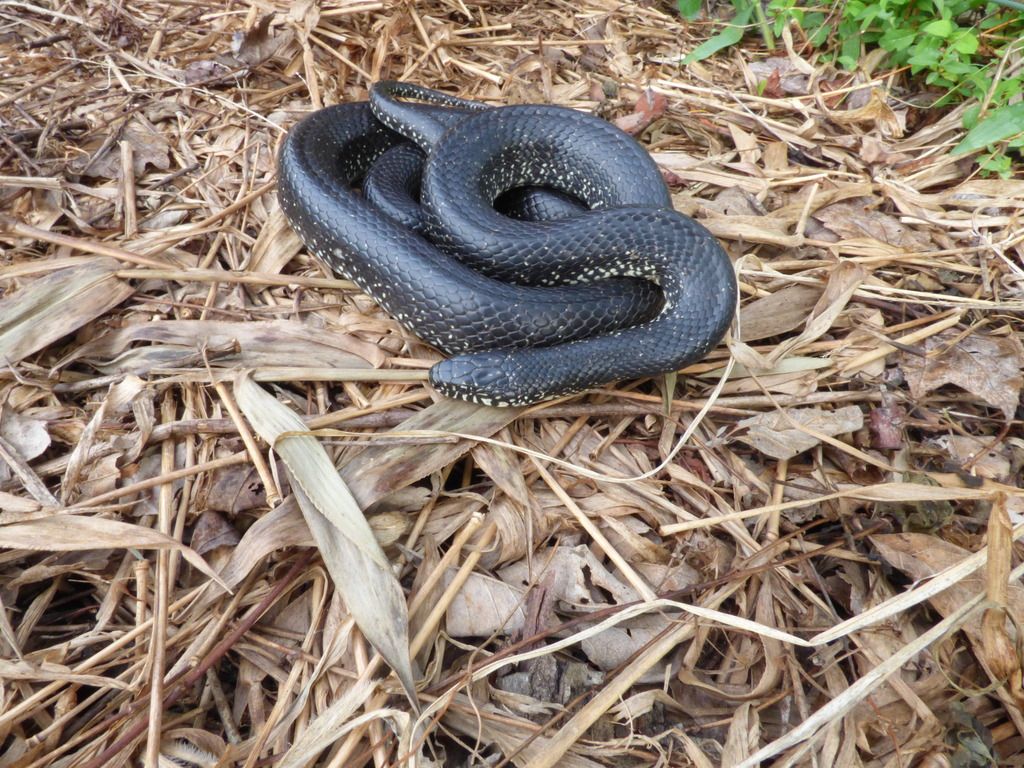 and two racers. My dad with a racer: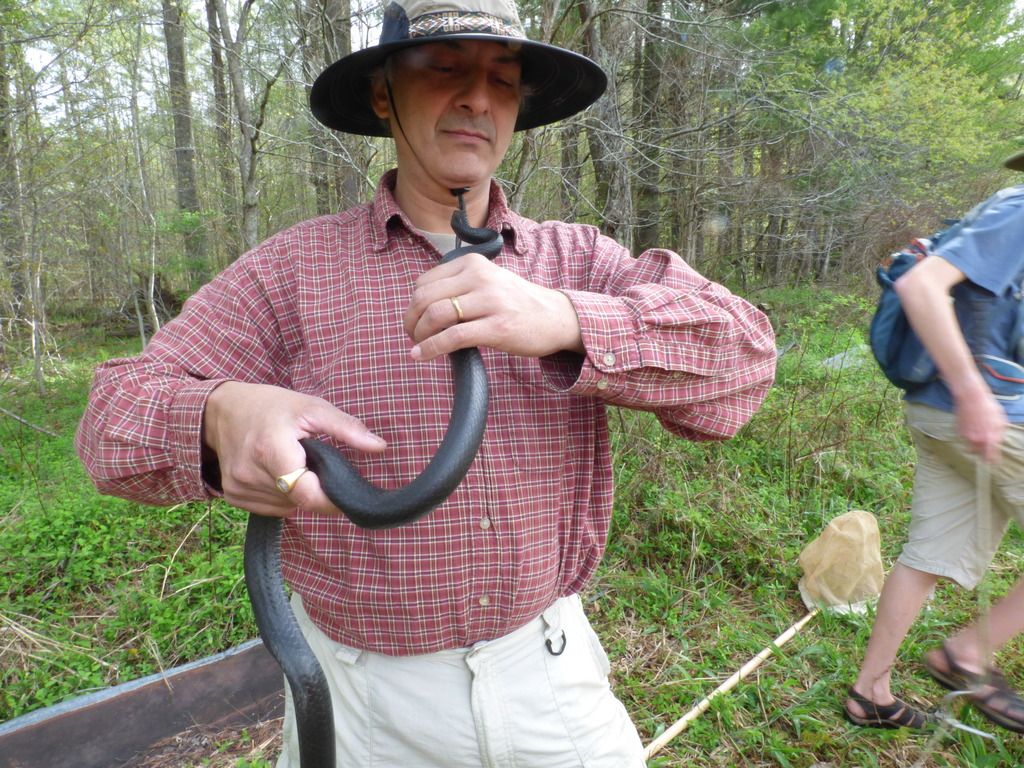 Later on, at the enterance to a valley at the base of a steep hillside, a copperhead was found under tin: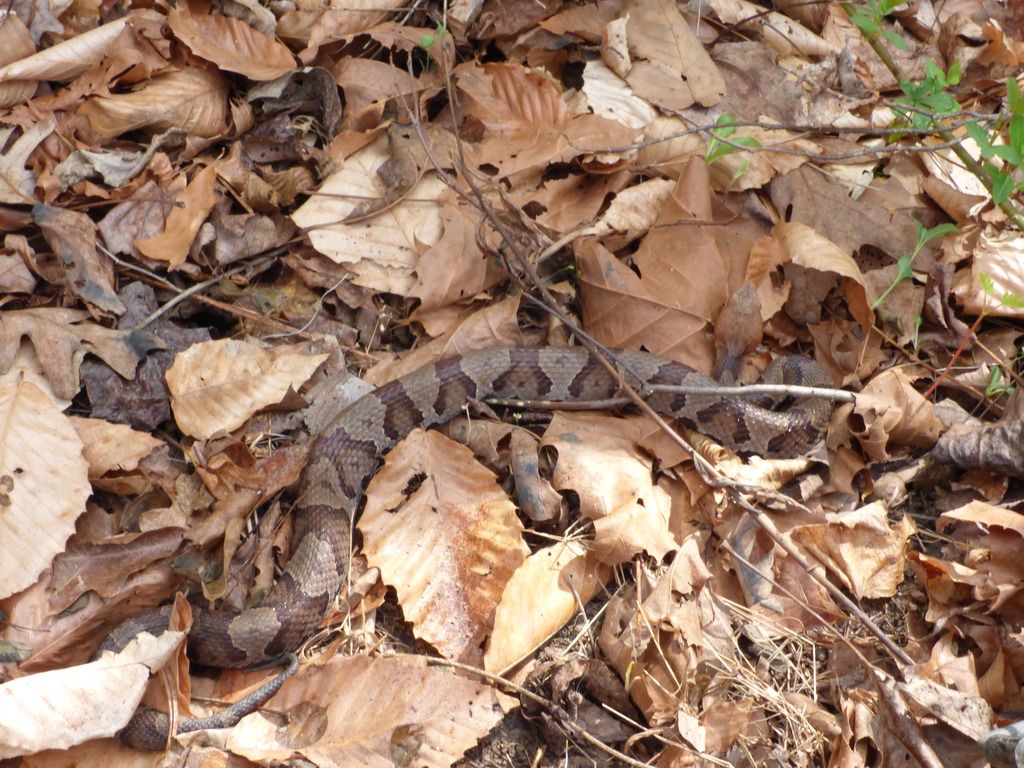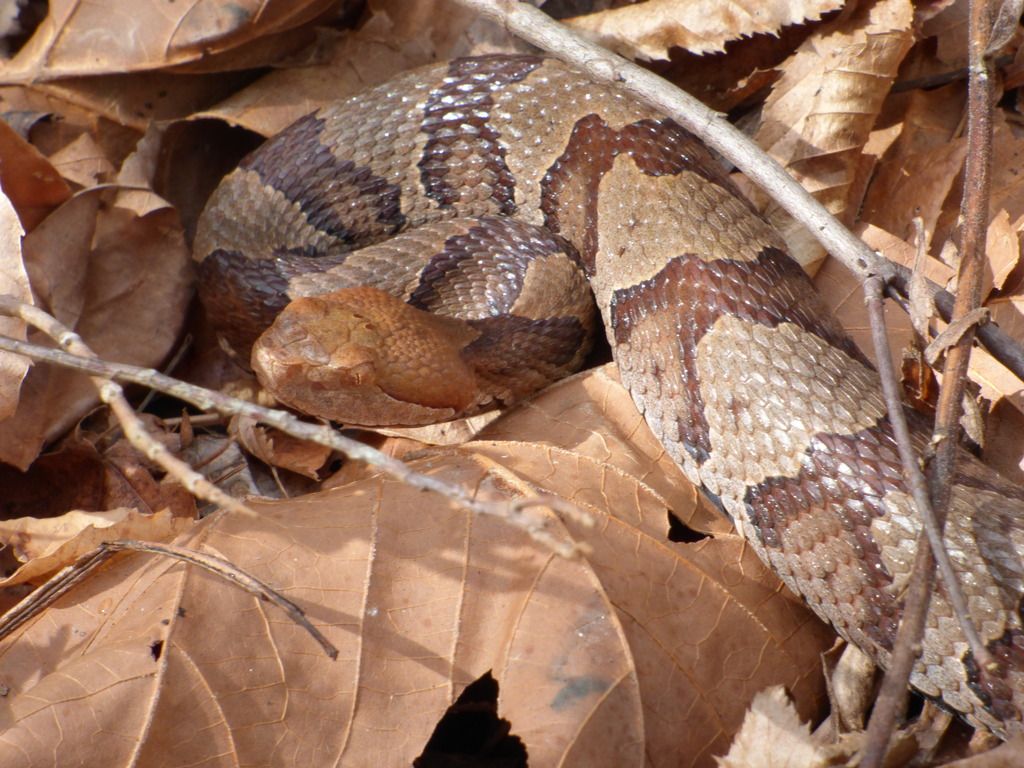 We moved on, finding a few seal and two-lined salamanders in the stream, and more larvae, newts, and tadpoles in the ponds. We also found a few green frogs and american toads, and this fowler's toad: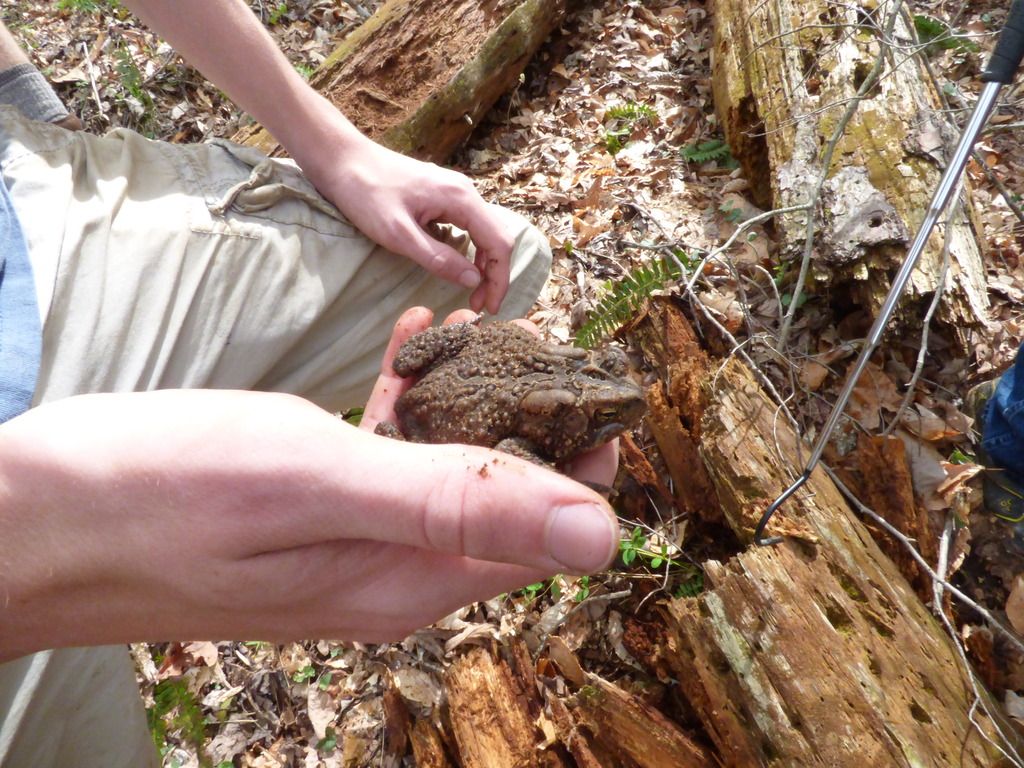 Also found were several box turtles in the fields: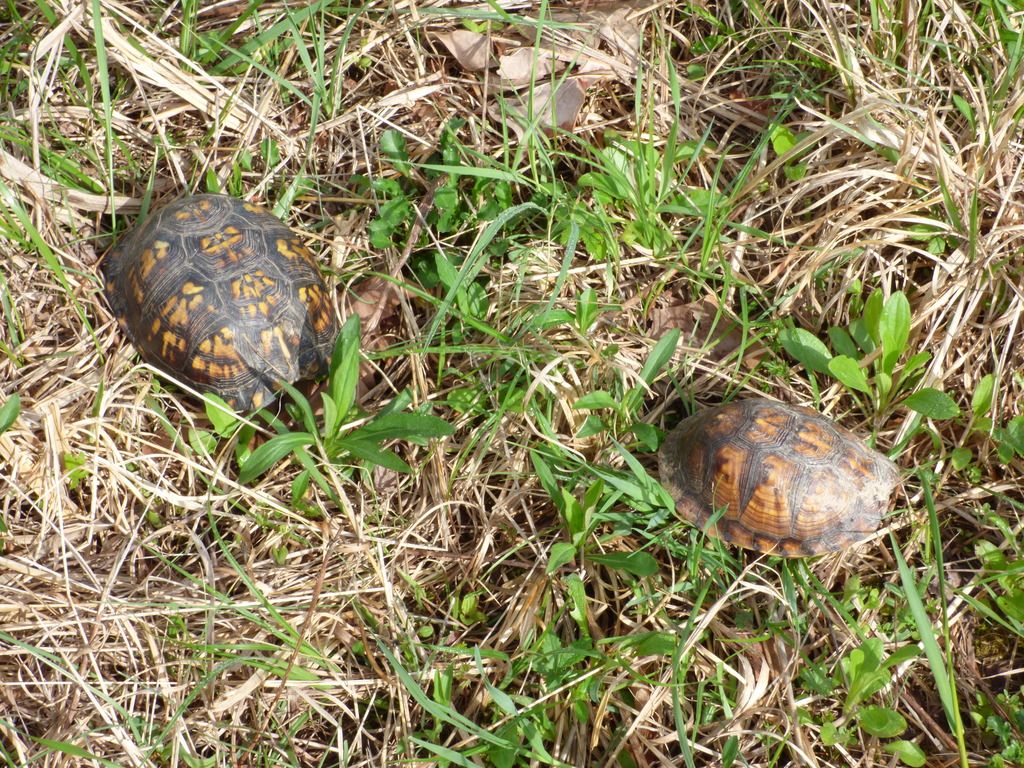 On our way back to Natural Bridge State Park for lunch, we decided to stop at an abandoned home to see if there was anything to flip. Although we did not find any cover, I was amazed to find this painted turtle hanging out in the garage: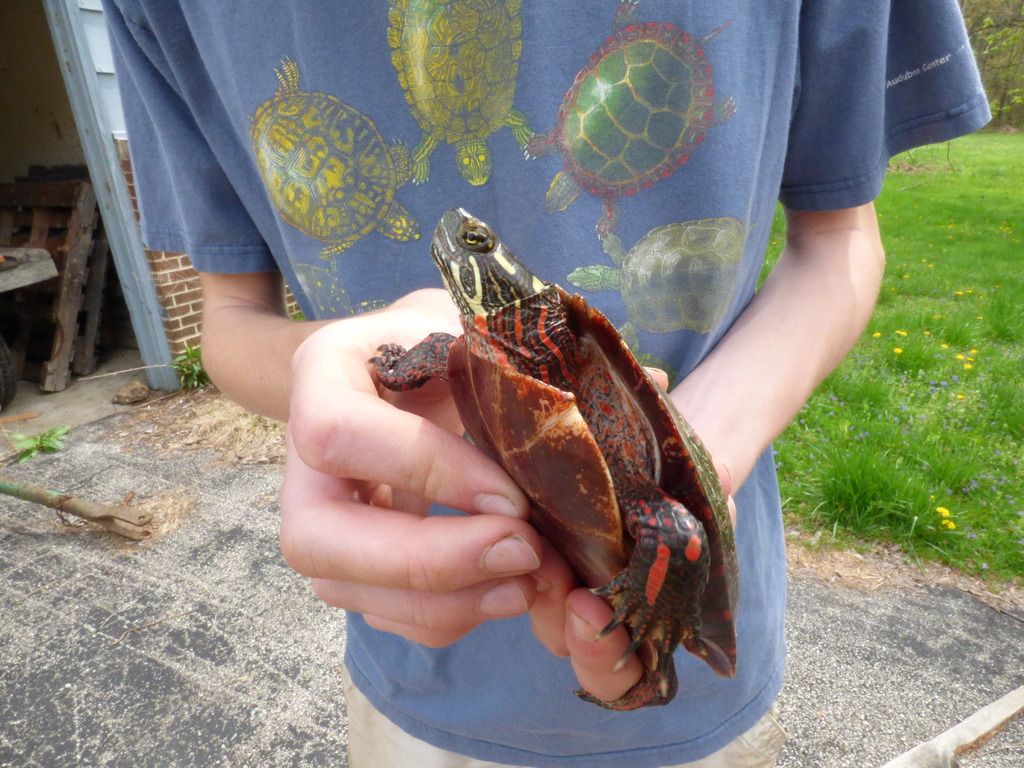 As we drove back, we also found a box turtle and a young snapping turtle crossing the road, which we rescued.
While eating lunch on the balcony of the lodge, we noticed what looked to be many pancakes sitting on the shore of the lake below us. We quickly realized that these were not pancakes at all (of course), but softshell turtles: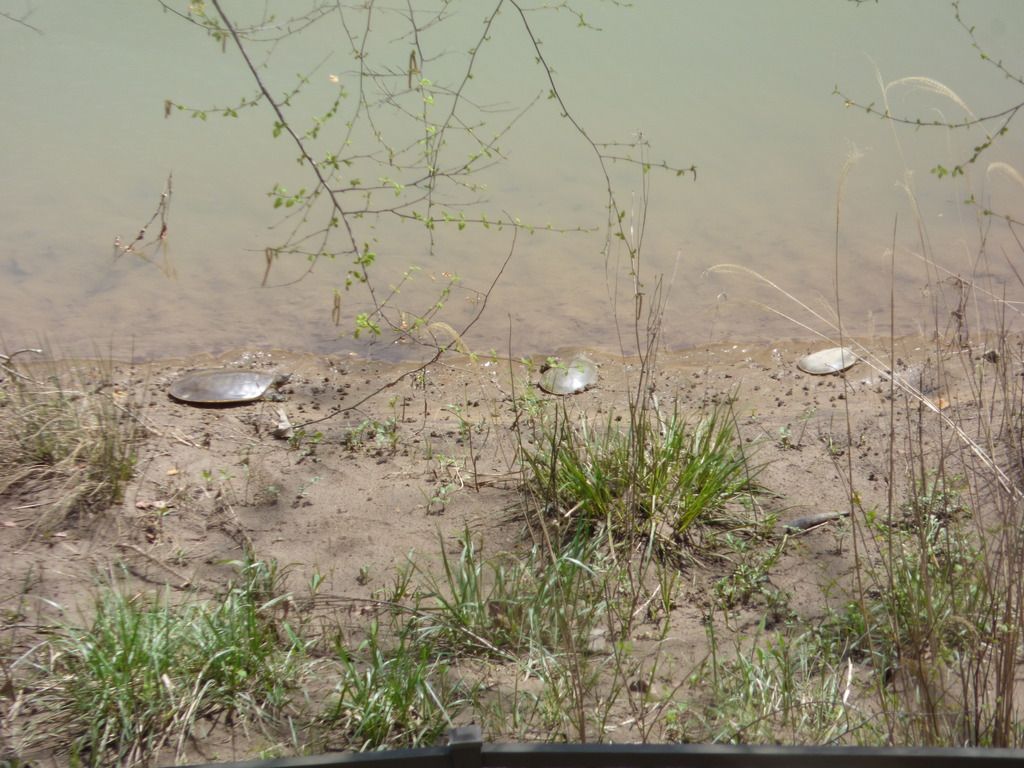 Kevin decided that he would try to catch one. Surprisingly, he did, in fact he almost caught 2:
In the afternoon we went on a guided trip to an area with steep rocky hillsides, and small streams cutting valleys into them. In the first small stream, we found many seal and two-lined salamanders, including this thick-looking breeding male: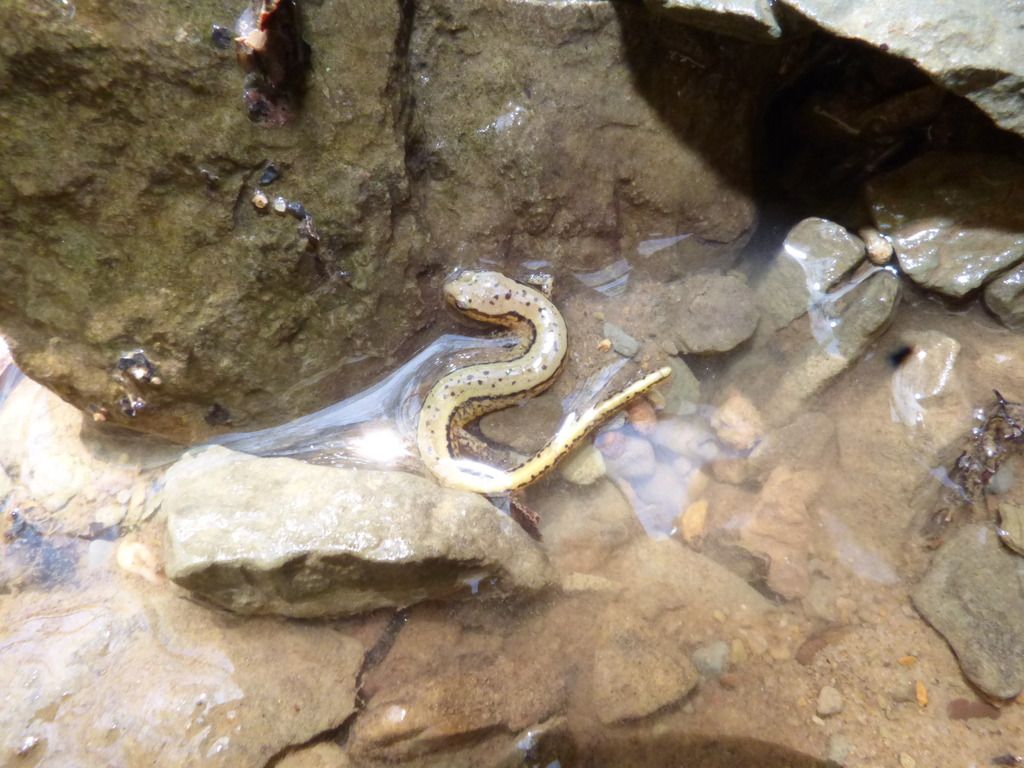 The second stream we stopped at had a somewhat wider valley, and even a small vernal pool. Around the vernal pool, we (by "we", I mean the group) found several four-toed salamander egg clumps, a cope's gray treefrog which escaped into the hollow of a tree, and this nice longtail salamander:
Along the creek, we again found many two-lined and seal salamanders. In the surrounding woods, we found an american toad, and a couple of slimy salamanders: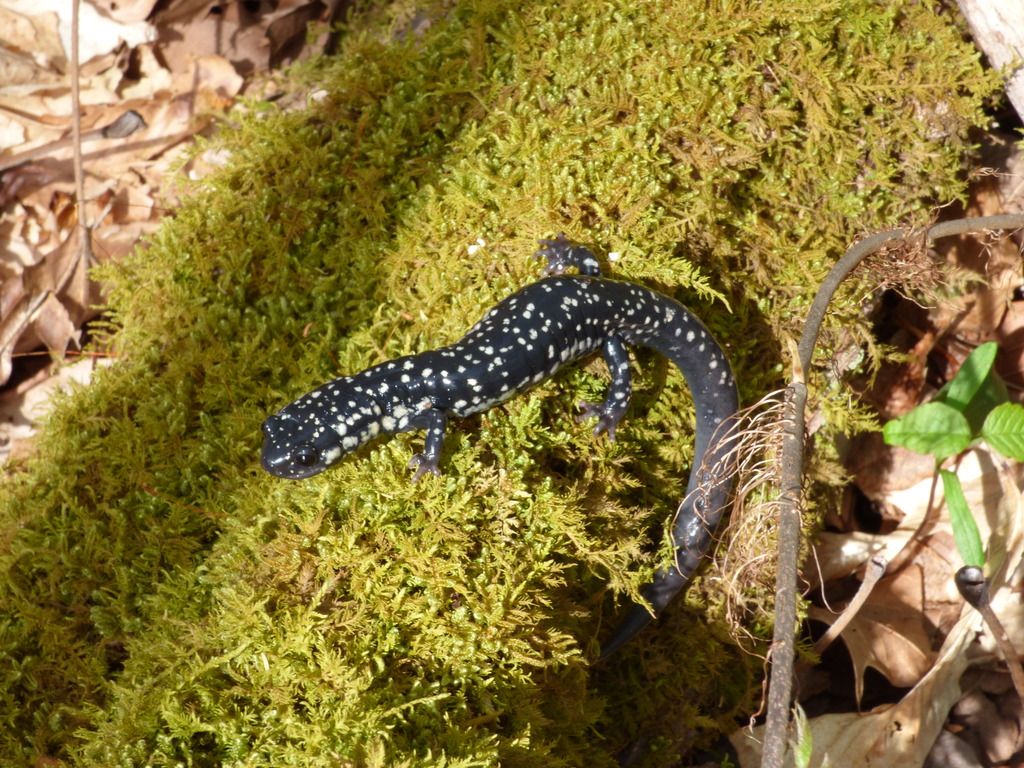 We stopped at a couple of nice road cuts along the way, which yielded ringneck and worm snakes: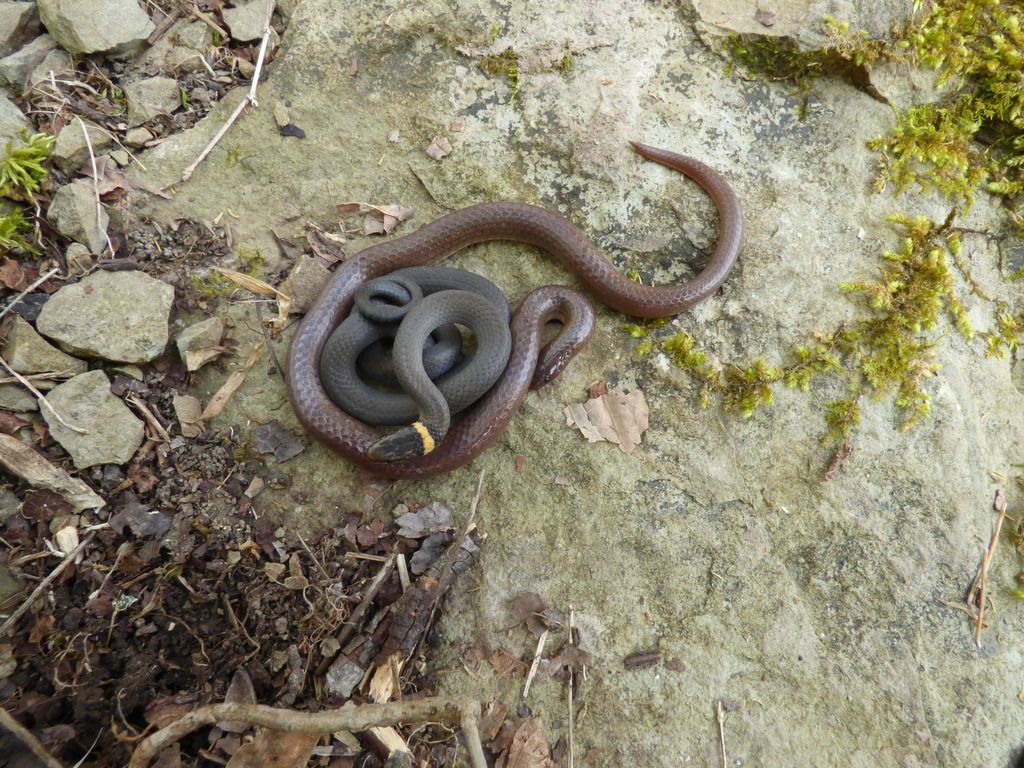 The last stop was what I consider the best stream. At one time, this spot was known to have all four species of dusky salamander in the Cumberland Plateau region. However, a flood, combined with tampering by road crews had changed the habitat here, and mountain dusky salamanders had not been verified with certainty here since (black mountain dusky salamanders had also become rare). However, on this visit, in a small tributary tumbling down the steep hillside above the stream, my dad managed to find a mountain dusky salamander!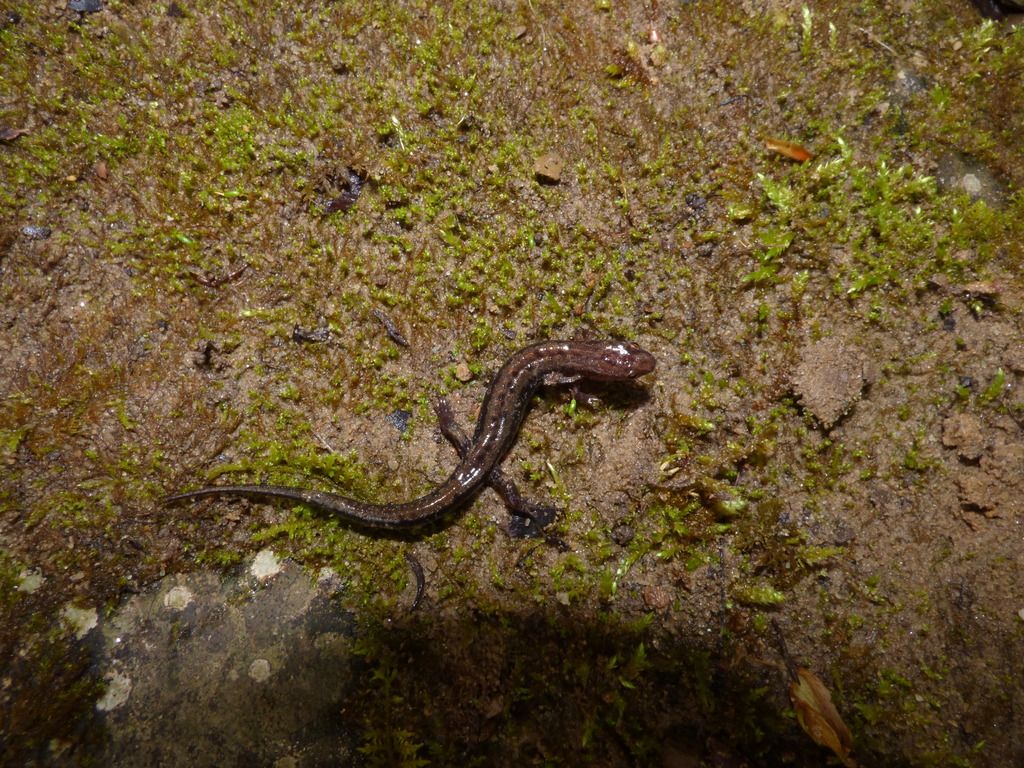 For me this was the find of the day. The state herpetologist tells me that there are only three places in the Red River Gorge that he knows of where mountain dusky salamanders occur, and this was the first one I'd seen in the area.
Mountain dusky salamander habitat: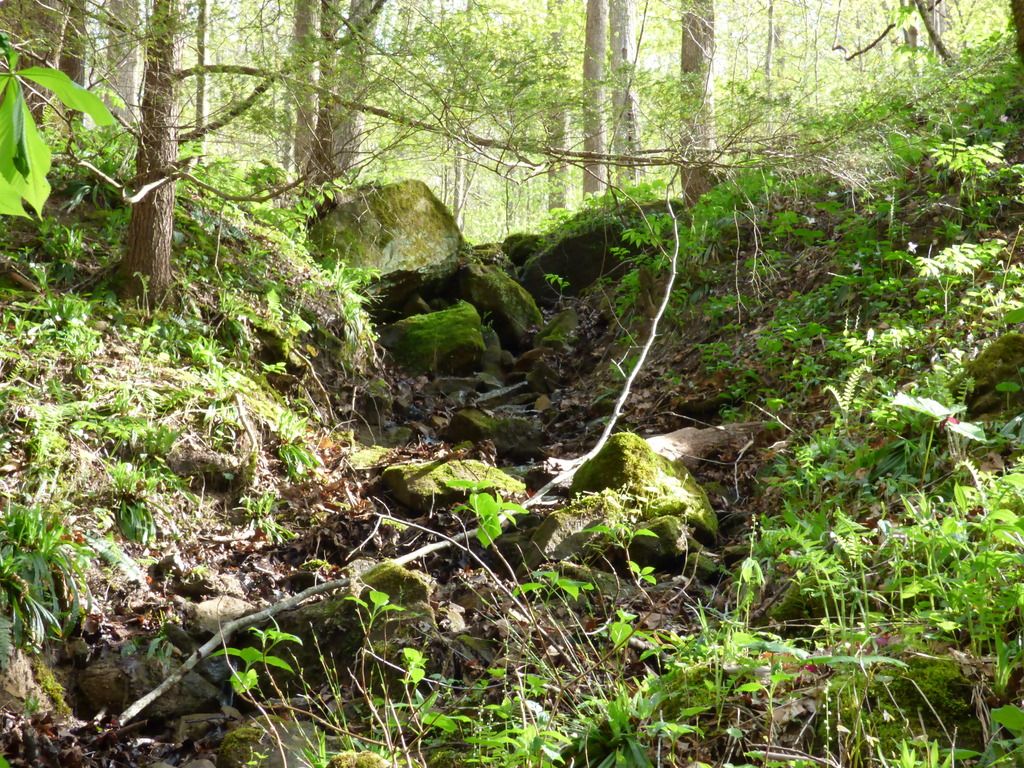 Meanwhile, the rest of the group had found many seal and two-lined salamanders, and even two more potential mountain dusky salamanders. My mom and I split from the group and headed up the hillside, where we found another longtail salamander, and a tiny juvenile ravine salamander: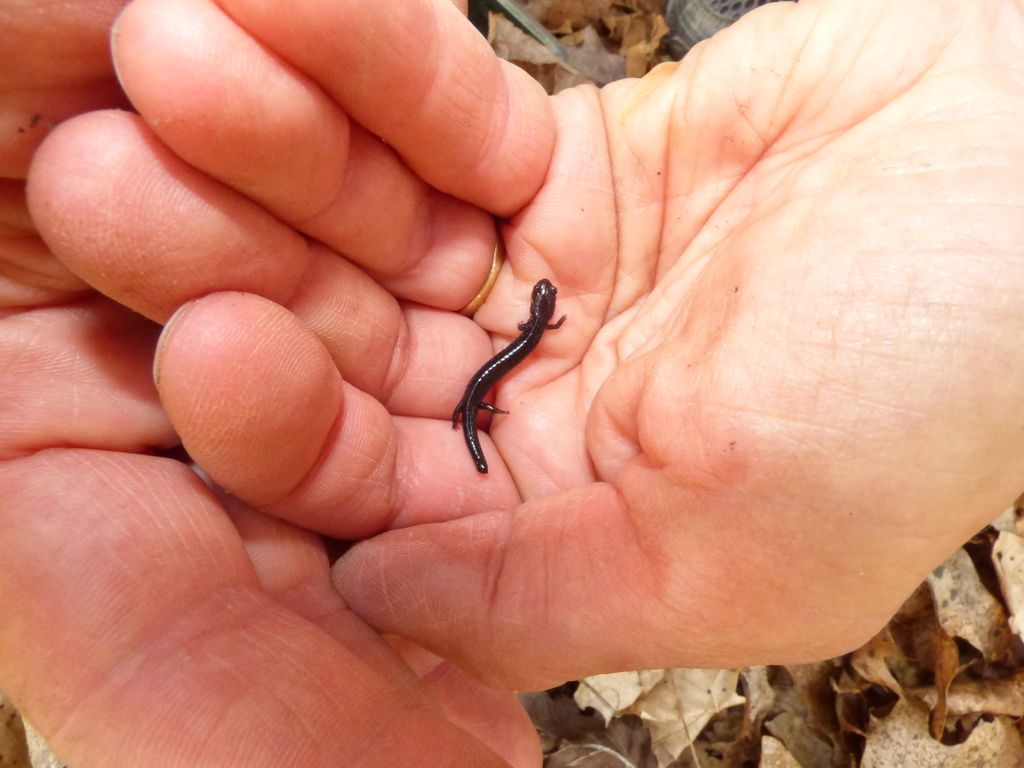 After that, everyone headed back to Natural Bridge for the afternoon. However, Nigel had wanted to go looking for green salamanders that afternoon, and we had convinced him to come on that guided trip with us on the condition that we would take him to our favorite green salamander spot afterwards. So we drove over to the spot, a hillside almost at the top of a ridge, with many sandstone overhangs and cliff faces containing many crevices home to the green salamanders. Sure enough, we were able to find one of these awesome little guys: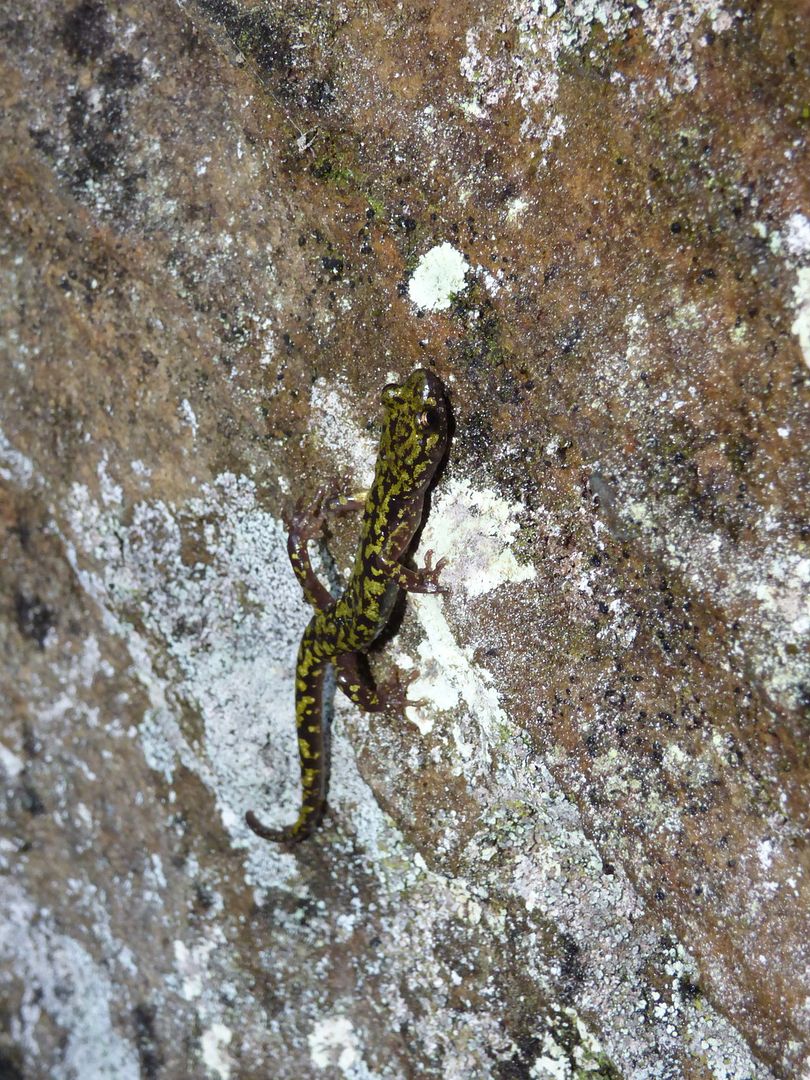 That night, we went road cruising with Nigel. After a heart-breaking DOR hognose snake, we decided to stop at a ditch where we heard more cope's gray treefrogs and mountain chorus frogs calling. In not too long we were able to find one of each.
Cope's gray treefrog: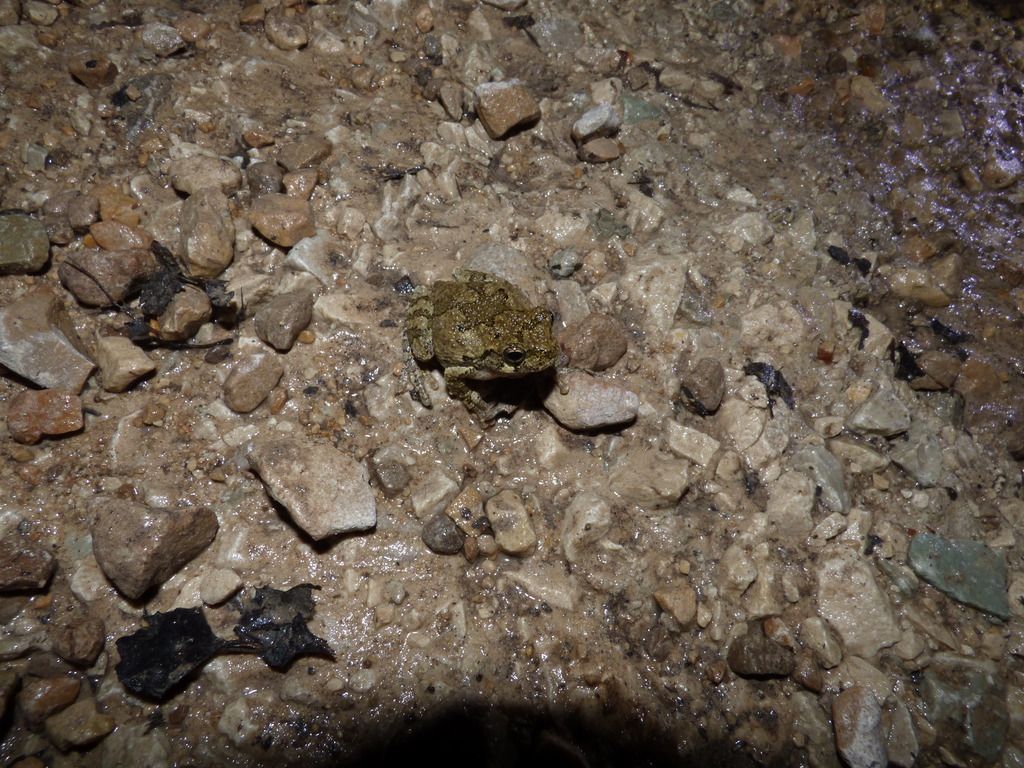 Mountain chorus frog: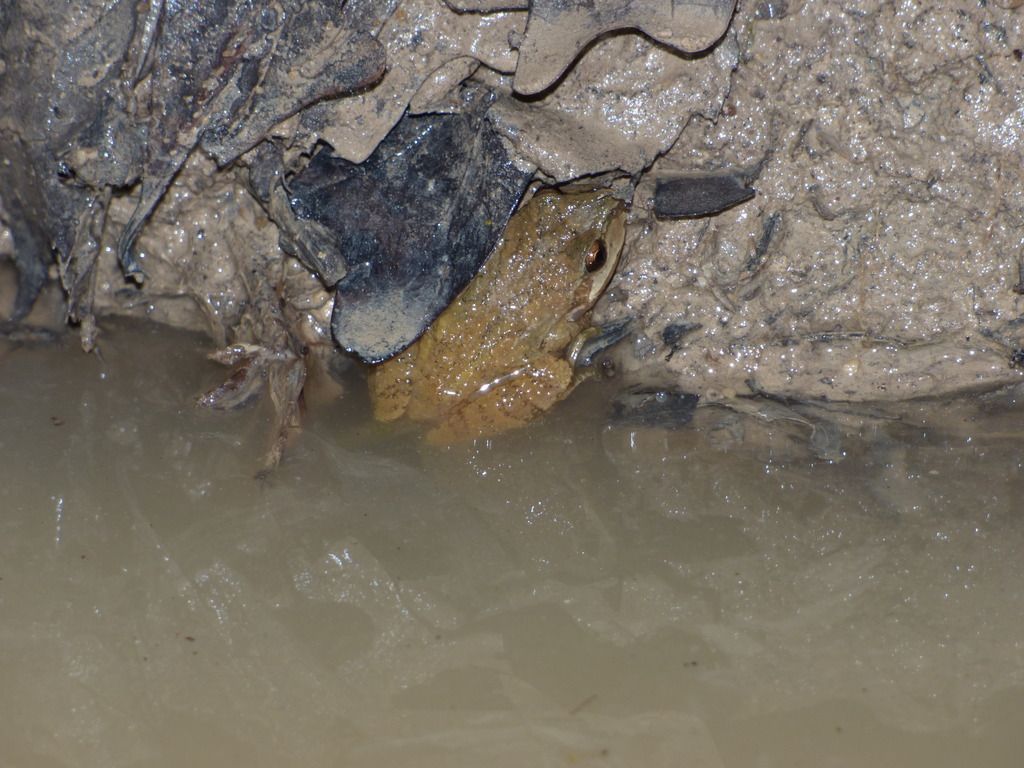 On our way back to our hotel, we stopped at another ditch. This ditch lies directly below a tall shale road cut, and as a result the ditch is filled with gravelly mud and large rocks. In fact, very little aquatic vegitation is present here at all. However, amazingly, this nonetheless seems to be the most amphibian-diverse ditch we have found in the area - we have found american toads, mountain chorus frogs, spring peepers, green frogs, newts, and even two-lined salamanders in it! On this occasion, we found several newts, a two-lined salamander, and a couple of green frogs (all of which we did not photograph), as well as many calling spring peepers: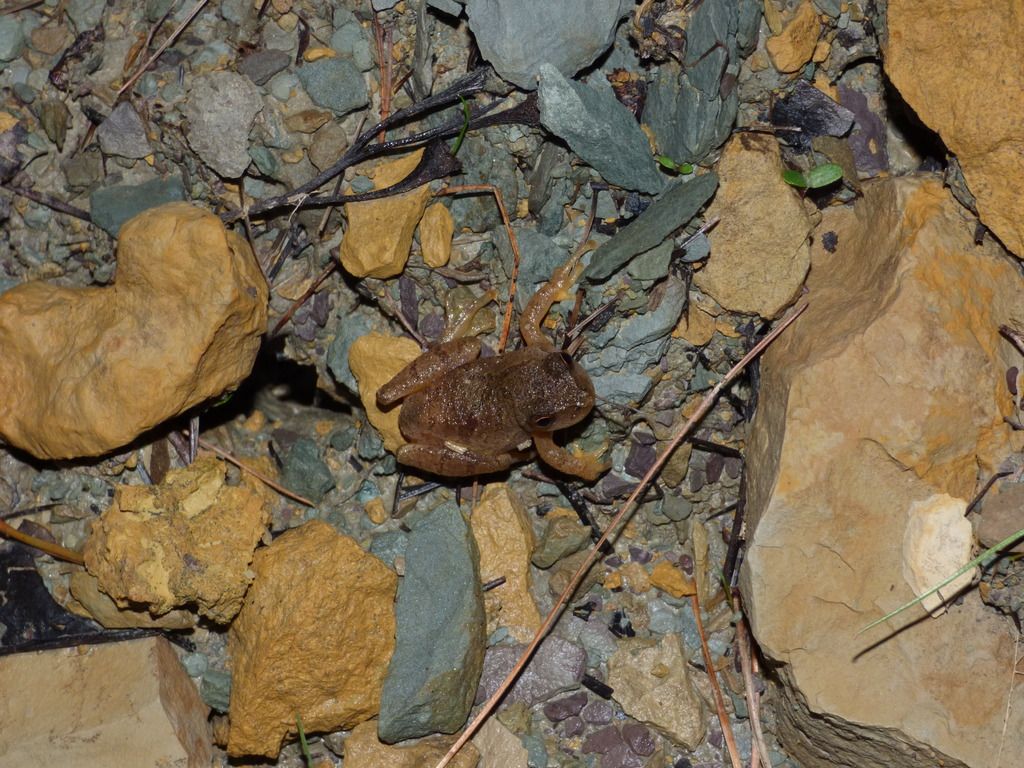 And a couple of calling american toads: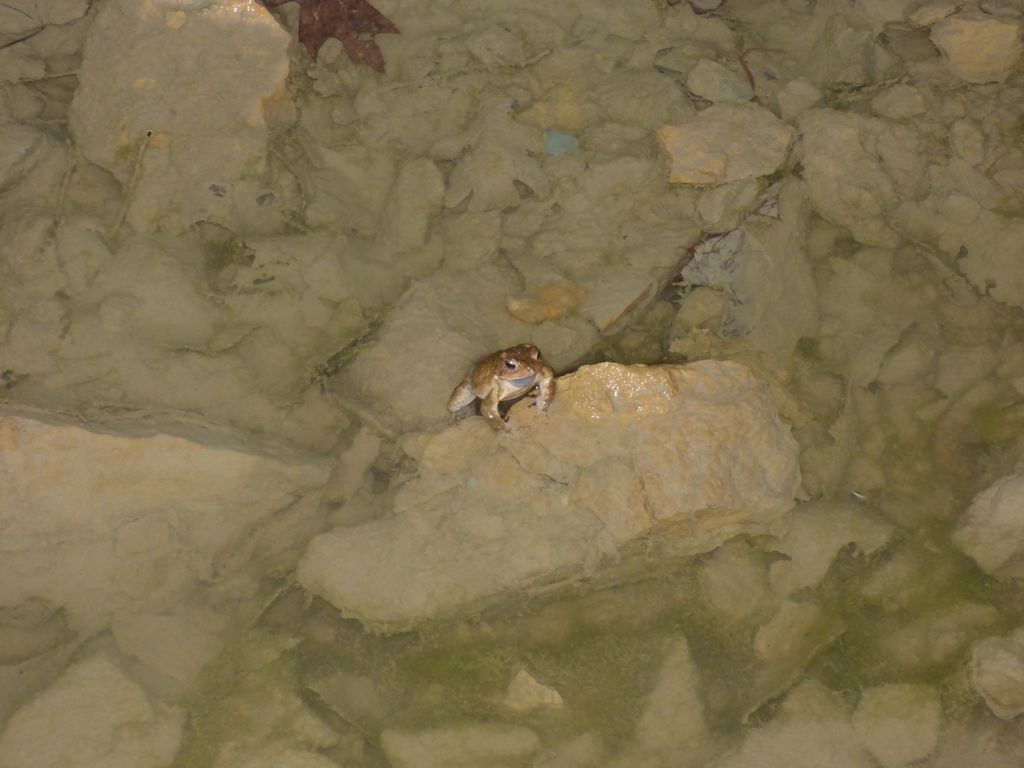 The next day, we decided to stay in the Red River Gorge area, and try to find a couple of species we had missed the previous day. It had rained through most of the night and continued to rain throughout the morning, so we decided to search for red salamanders first. As we were leaving the hotel, we found these two luna moths seeking shelter from the rain under the eaves: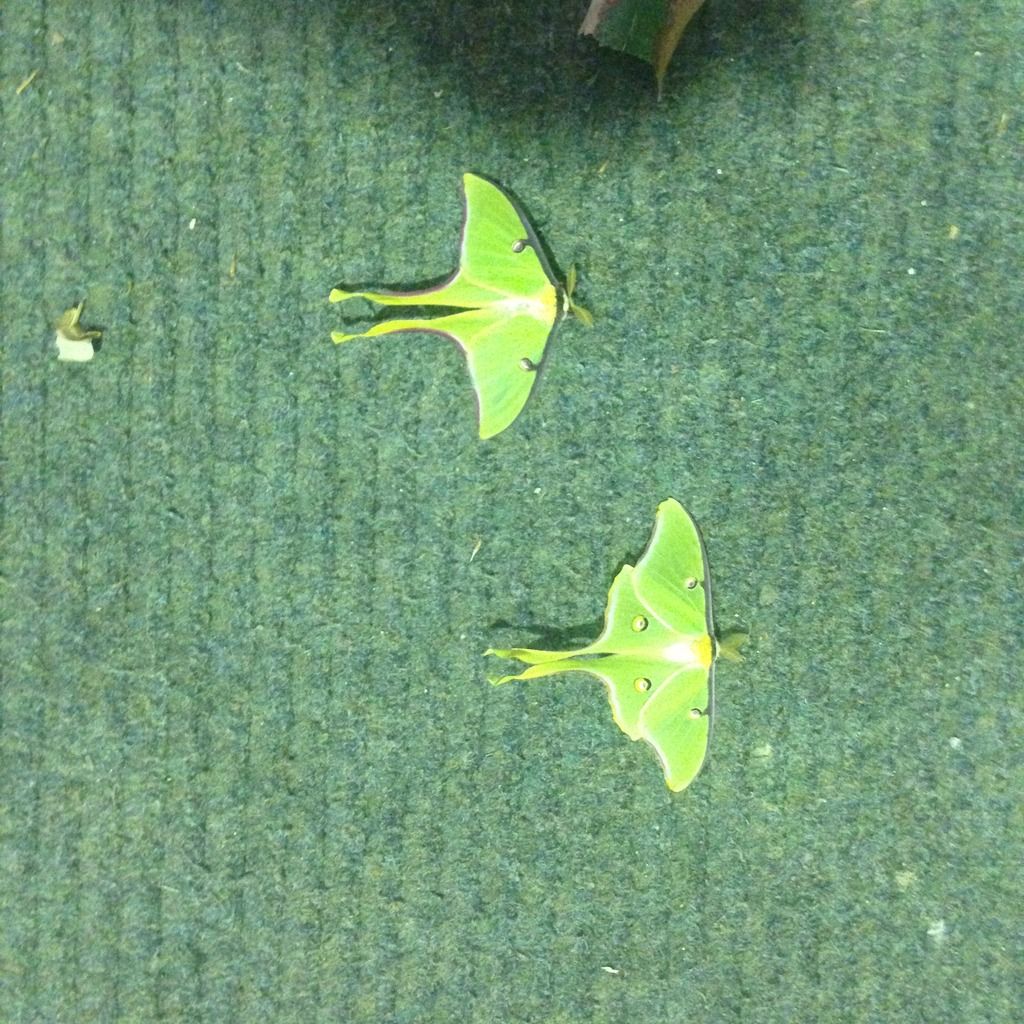 We headed off to a mixed, ridge-top forest, a spot where we can almost always find red salamanders after a good rain. We began by flipping a large log to find an american toad: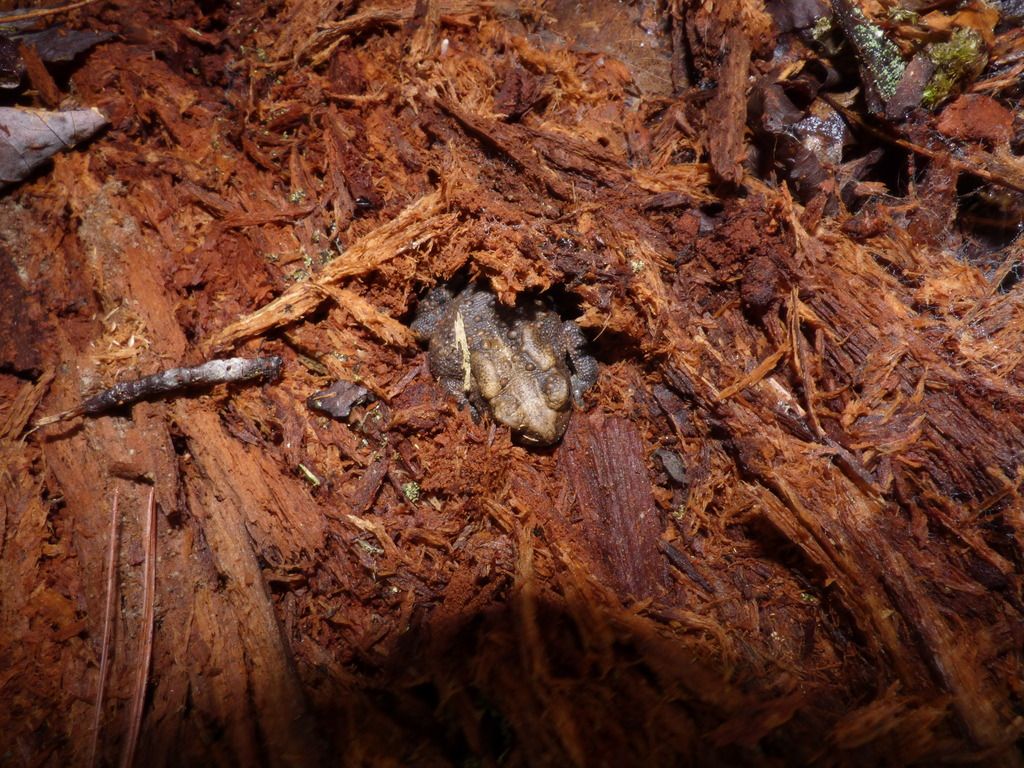 And this enourmous ringneck snake: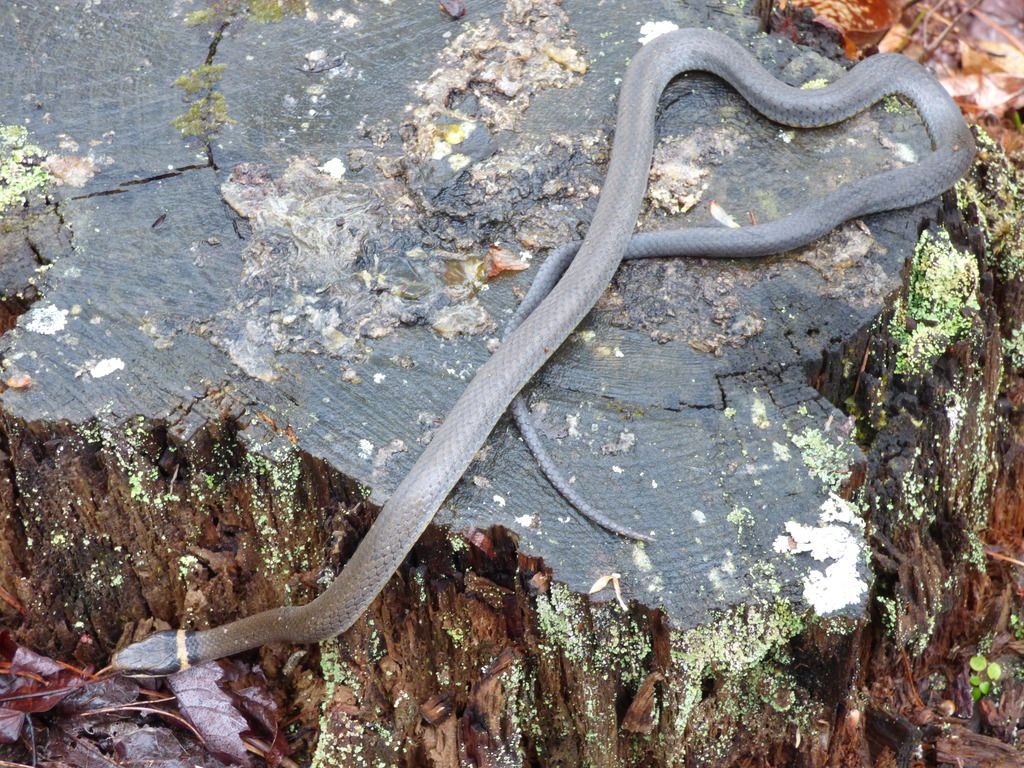 After that, it was not long before my dad flipped a log to find this: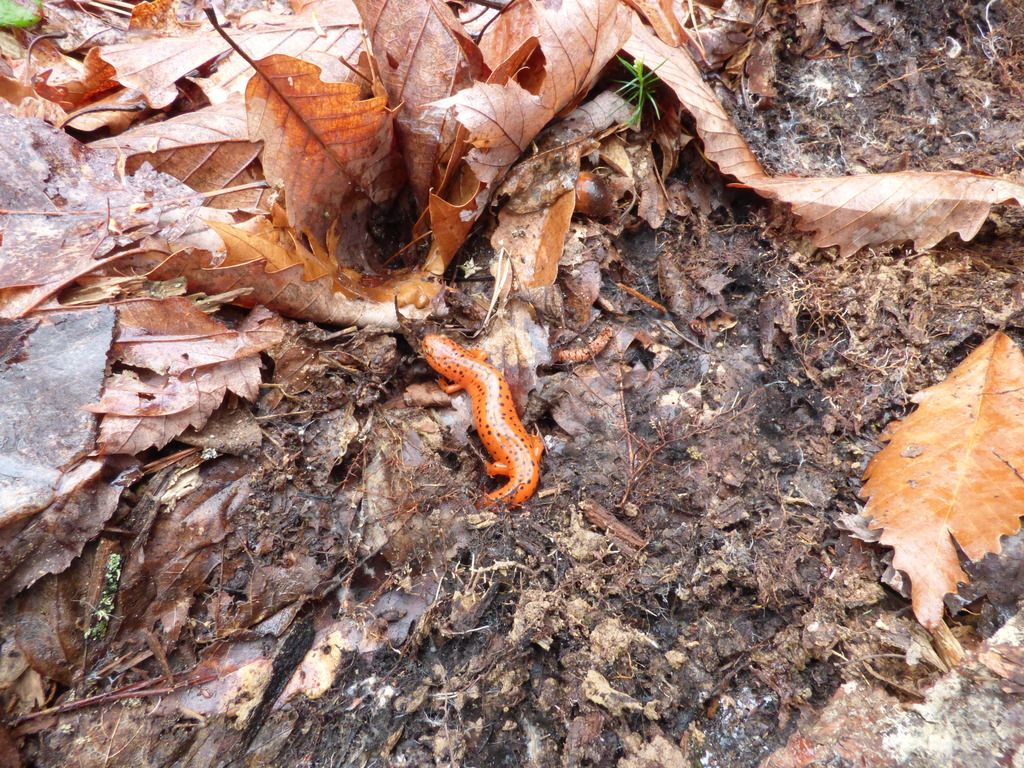 With red salamanders accomplished, we headed over to a ridge-top vernal pond to see if we could find four-toed salamanders guarding eggs, or ambystomids brought closer to the surface by the rain. When we got to the pond, Kevin and my dad began flipping logs in the surrounding woods, while I gently peeled back moss on the banks of the pond. I was able to find a four-toed salamander guarding eggs after a little while:
Meanwhile, my dad found this much prettier red salamander under a log: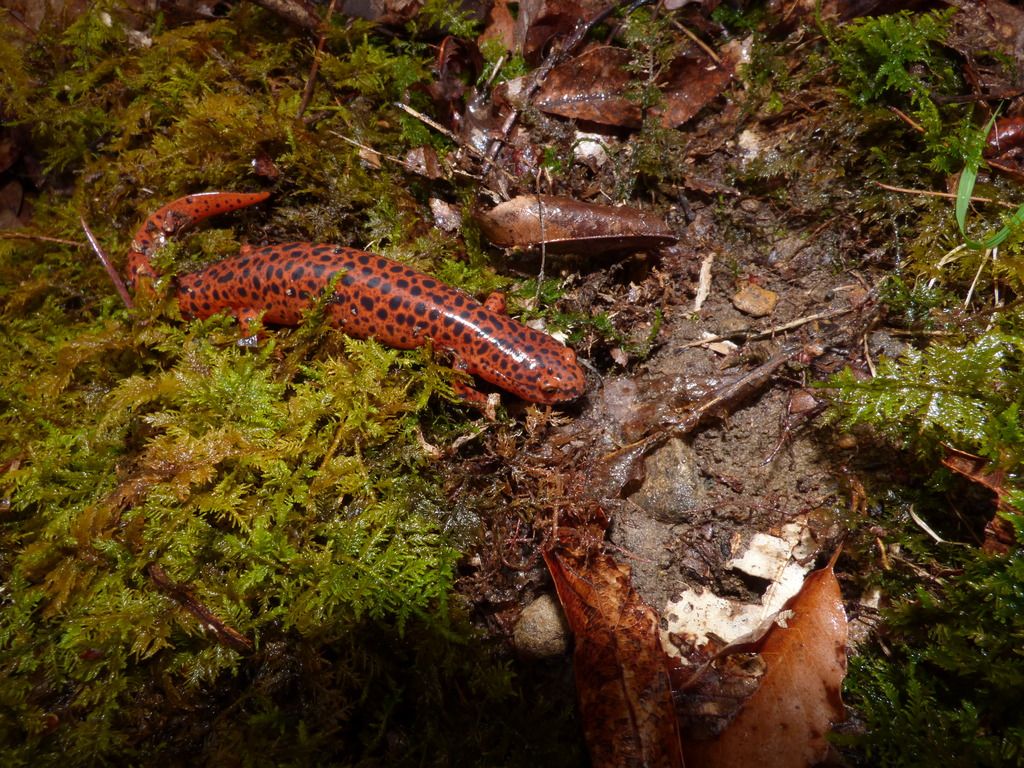 And as we walked back through the woods to the car, I spotted this cute young four-toed salamander among the leaf litter when I bent down to flip a log: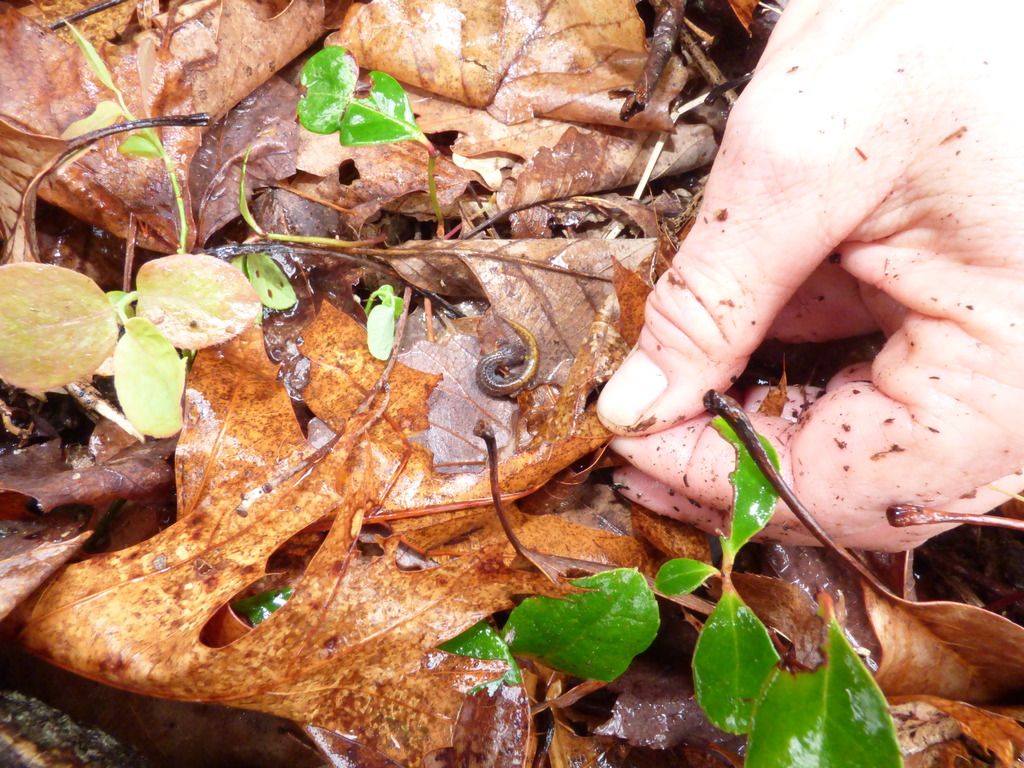 We moved on to another ridge-top wetland, still hoping for ambystomids. The pond its self was full of newts, and we observed a pair mating:
In the woods, although we failed to find any ambystomids, we did find a couple of slimy salamanders: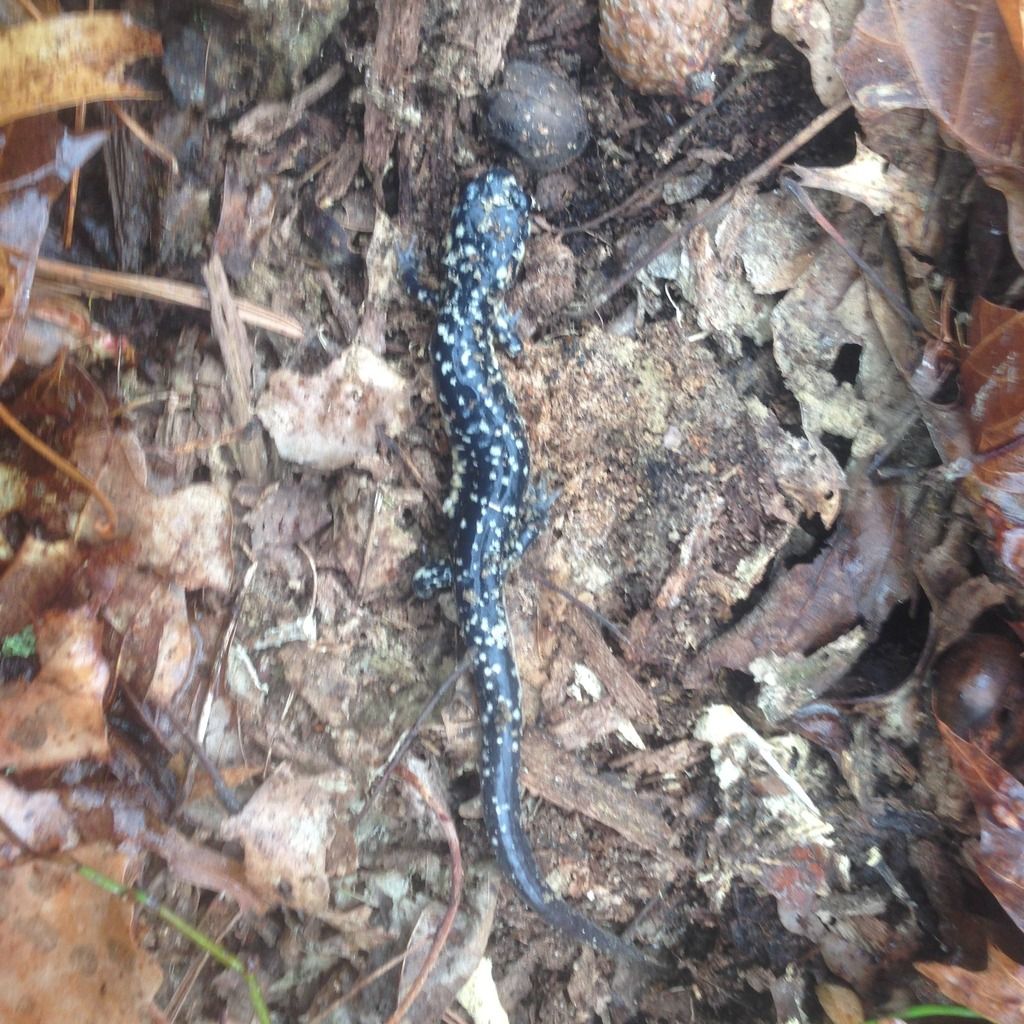 And a ravine salamander, a bit of a surprise for me:
And after that it was time to head back to Lexington. What a great herp weekend it was this year!
The very next weekend, we headed off to Snake Road and other areas of Southern Illinois. Although we were hoping most for mud snakes, there is always tons of other cool stuff to see in the area - mole salamanders, bird-voiced treefrogs, smooth earths snakes, rough green snakes, timbers, mississippi green waters, etc.
On Saturday, we began by going to the cave salamander spot south of Snake Road. Although we have seen many cave salamanders, we have often found spotted salamanders in the surrounding woods, making this a spot we like. We began by flipping up a small longtail salamander, which scurried under an adjacent log, where we found this much larger, beautiful longtail (which looks nothing like the longtails in any other area I've been to):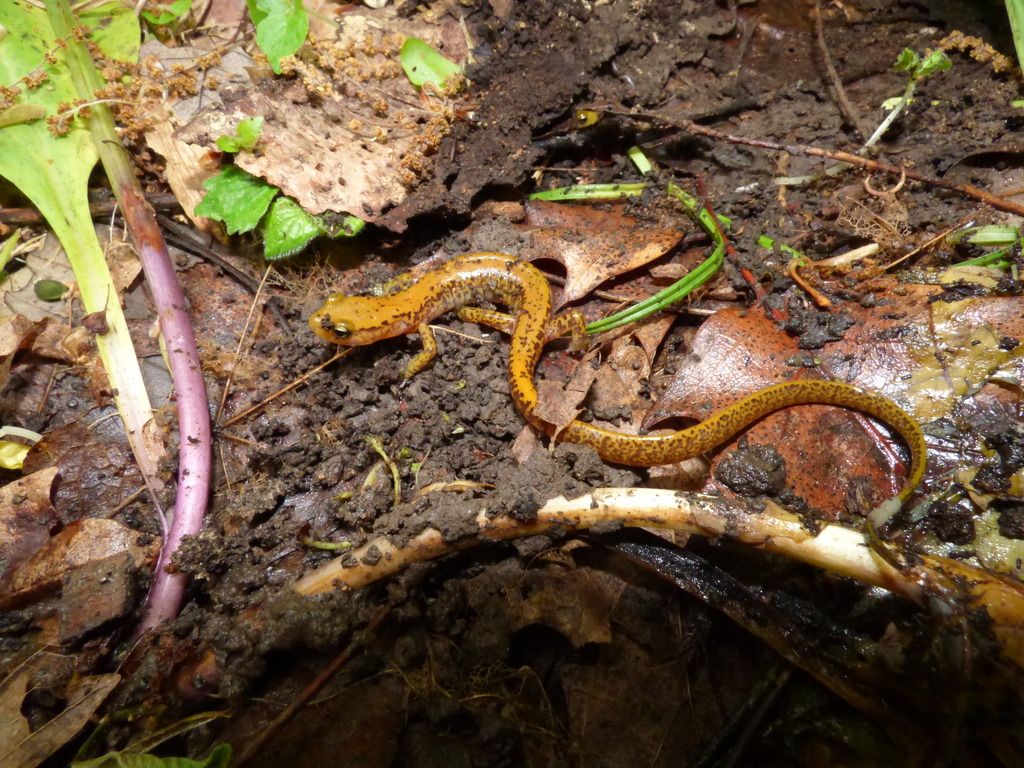 And then we realized that the small one we first found was poking his head out from under the debris in the above photo.
As we continued along, we found some other common salamanders. Central newt eft: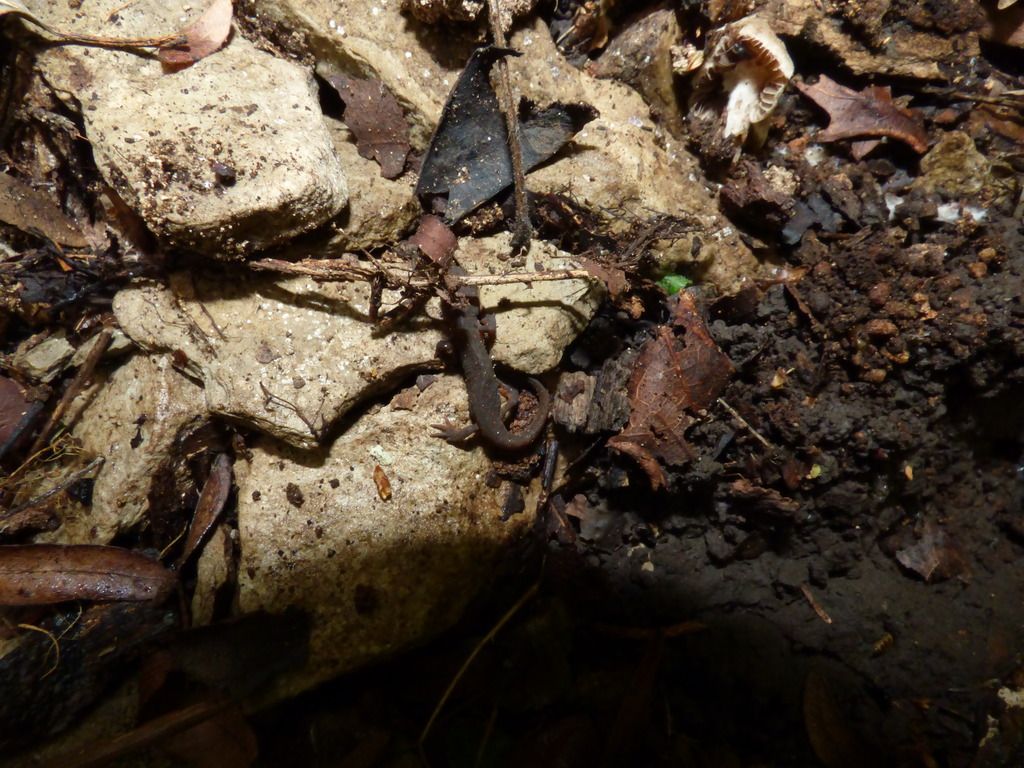 Zigzag salamander: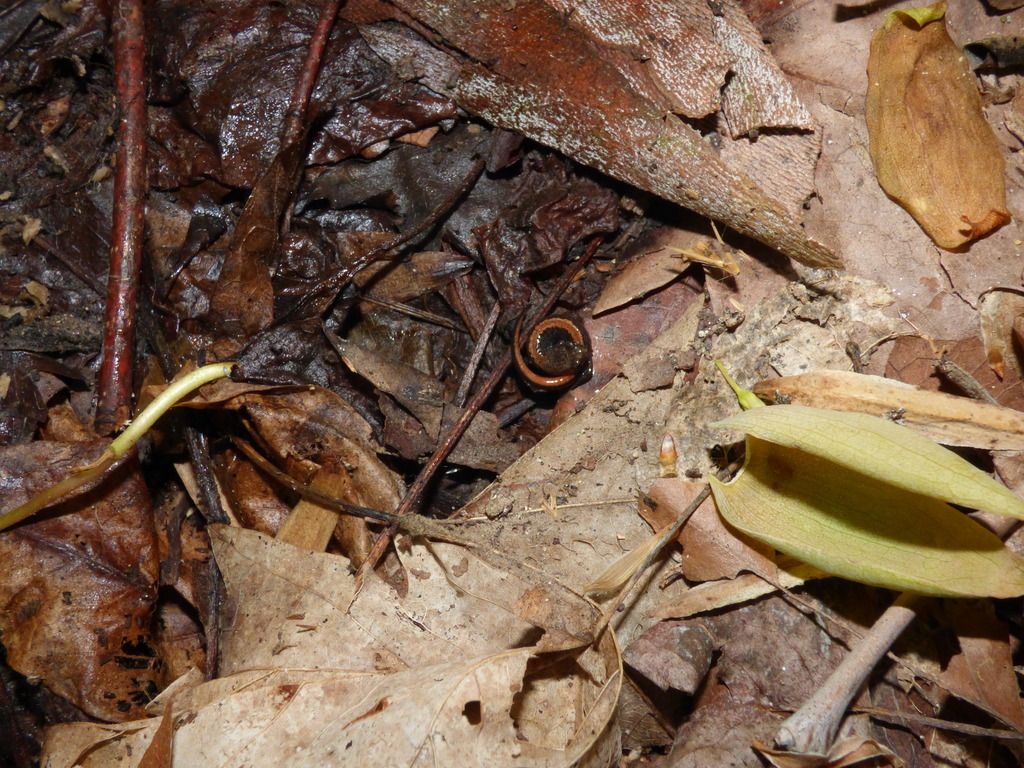 Cave salamander (which I did not take the time to photograph well):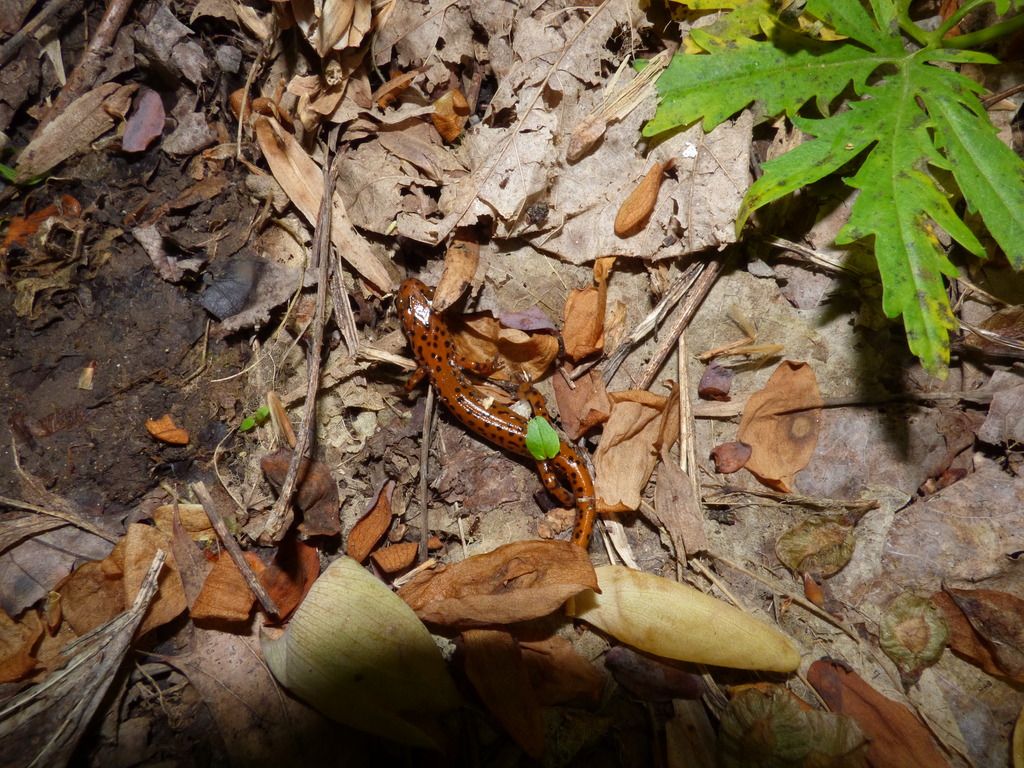 We also saw some interesting frogs. First was this spring peeper:
Next came two beautiful young bird-voiced treefrogs: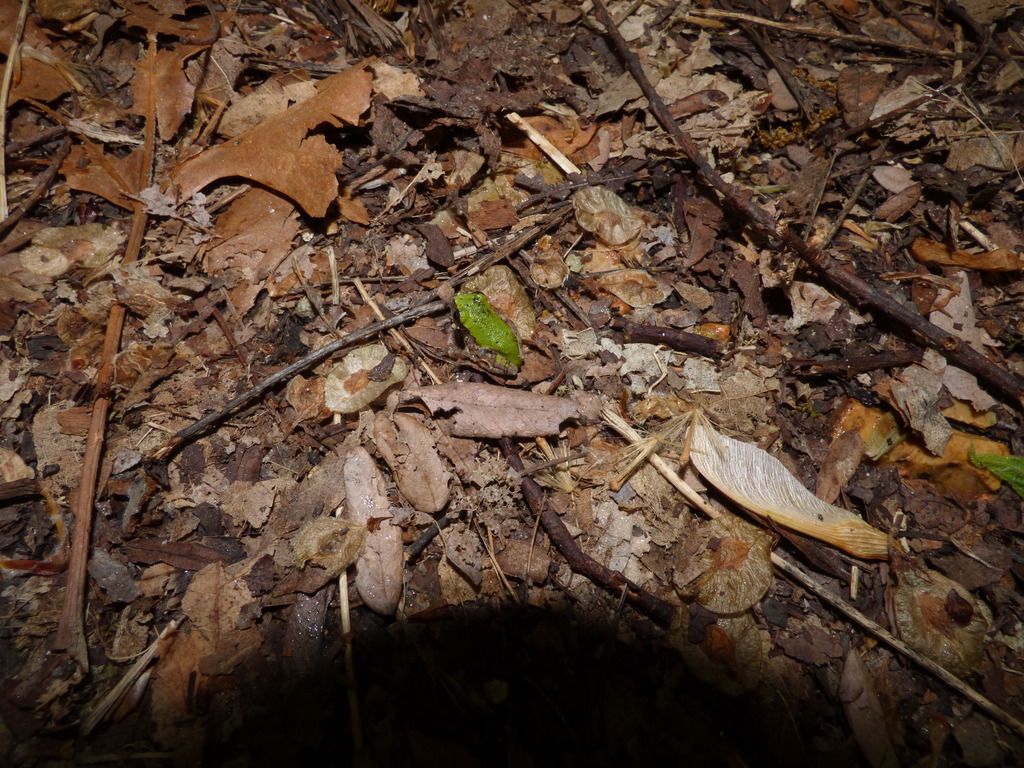 At the spot its self, a small cave enterance of sorts, we found quite a few cave salamanders as expected. In the small stream flowing out of the "grotto", southern leopard frogs are abundant: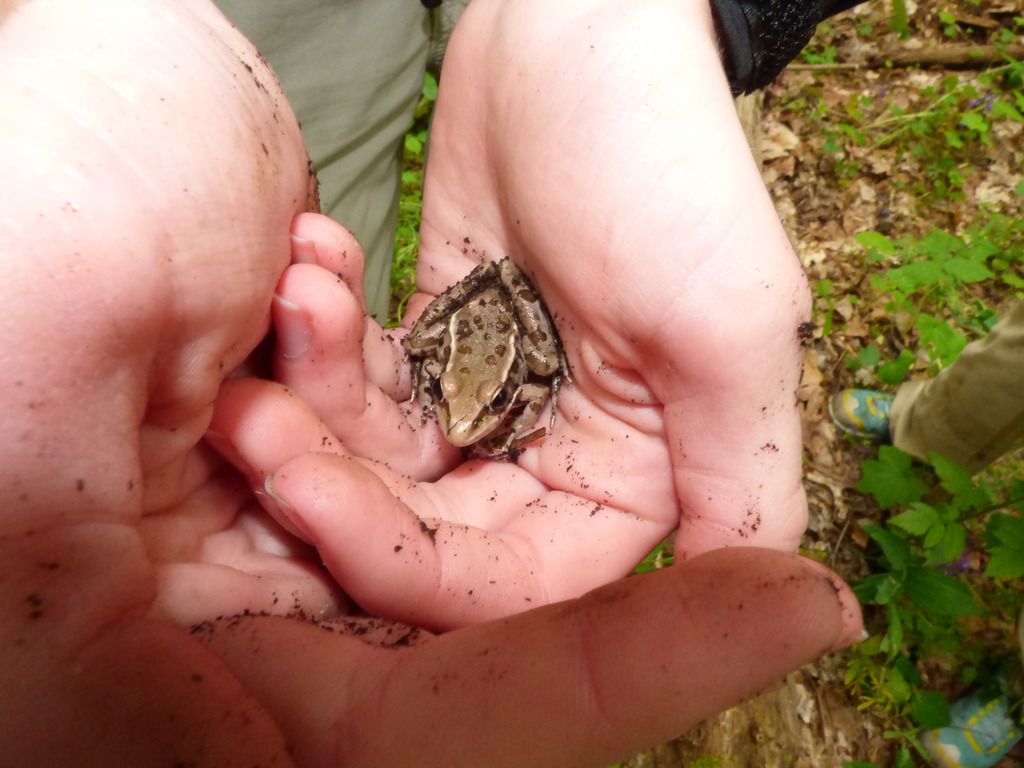 On our way back, we passed a college herpetology group. Their leader seemed to be very good at spotting herps - he noticed this cope's gray treefrog high up in a young tree: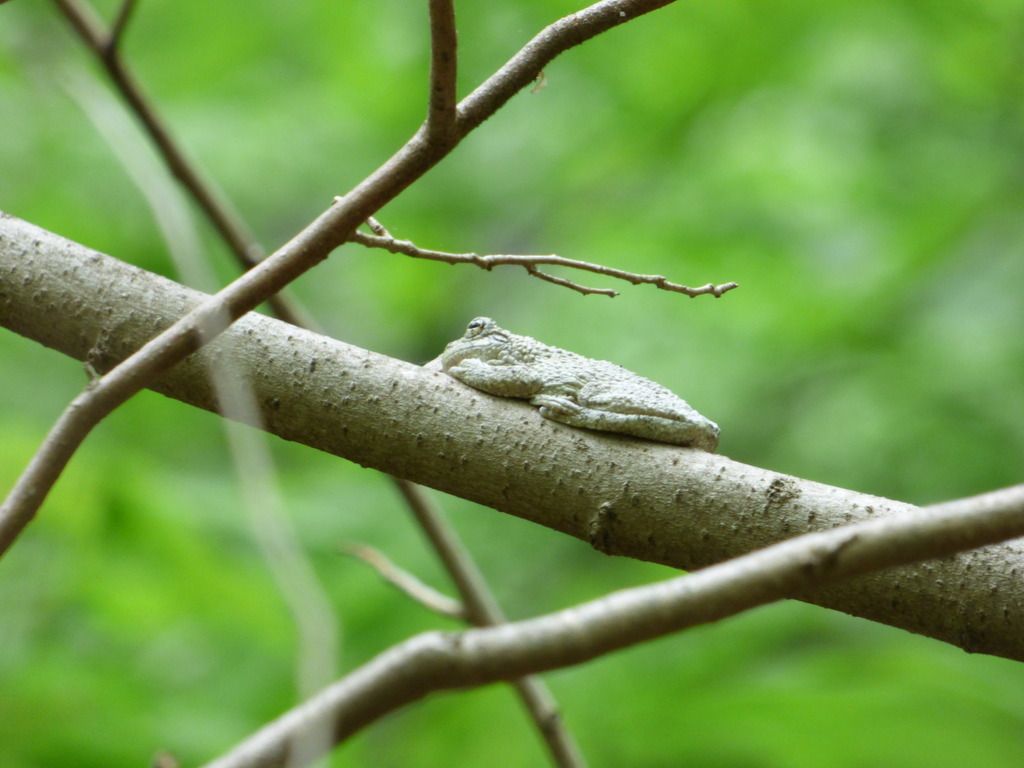 And this baby cottonmouth coiled up beneath a small plant (the plant was held aside during photography):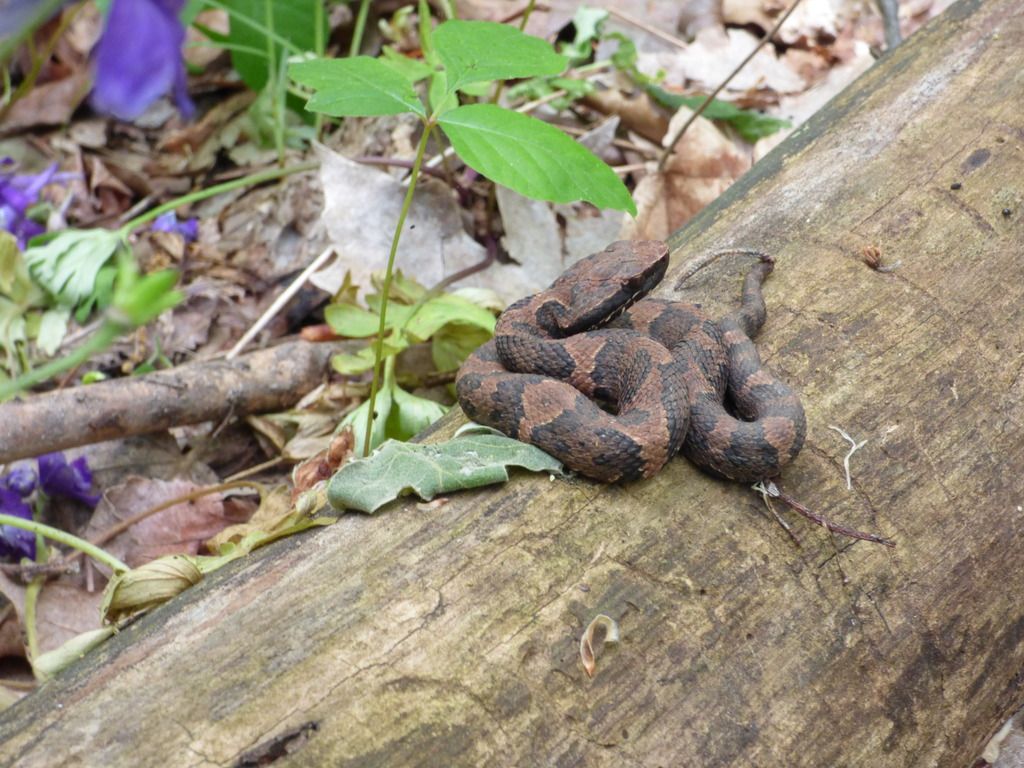 We began along the main road. Our first find was a racer which escaped. Next, I found this ringneck snake beneath fallen bark: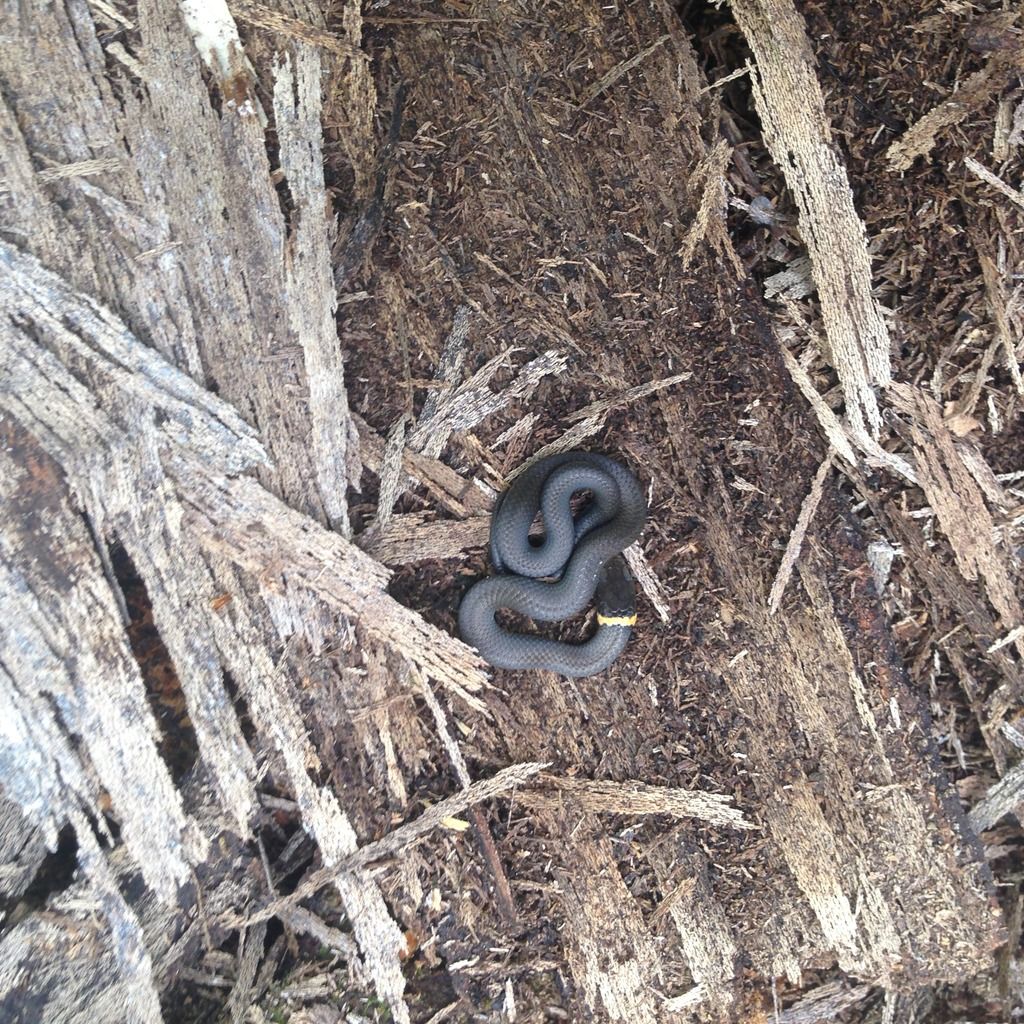 Further along, Kevin found a nice western ribbon snake: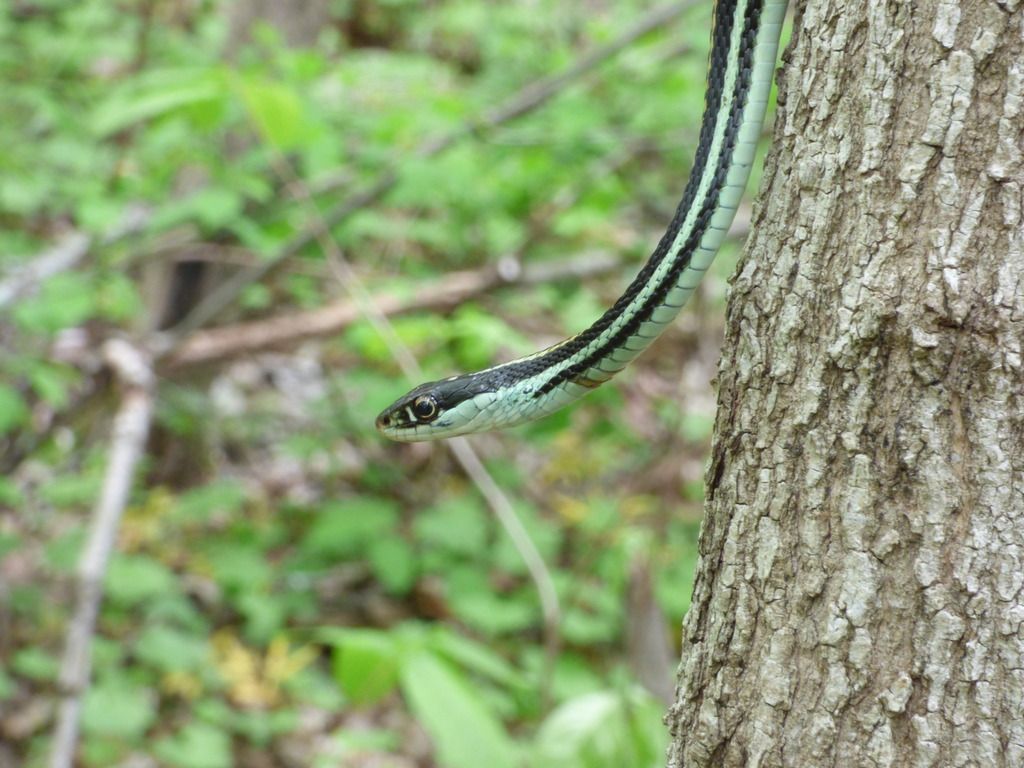 And my dad found two slimy salamanders: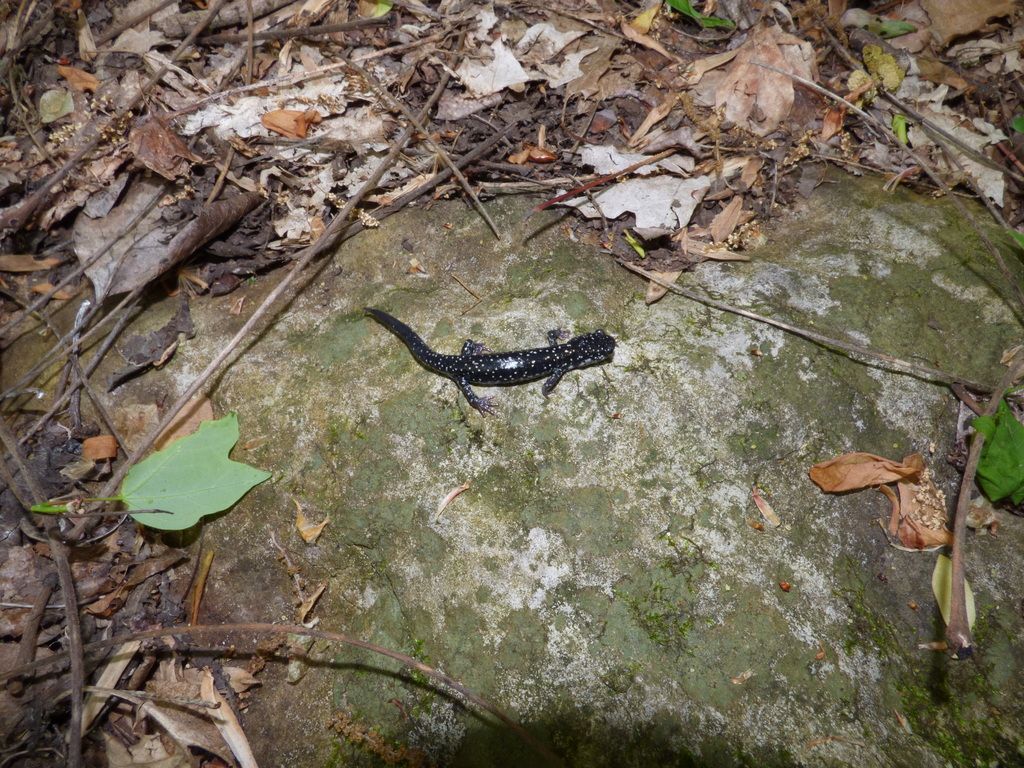 We saw this five-lined skink sunning on a log: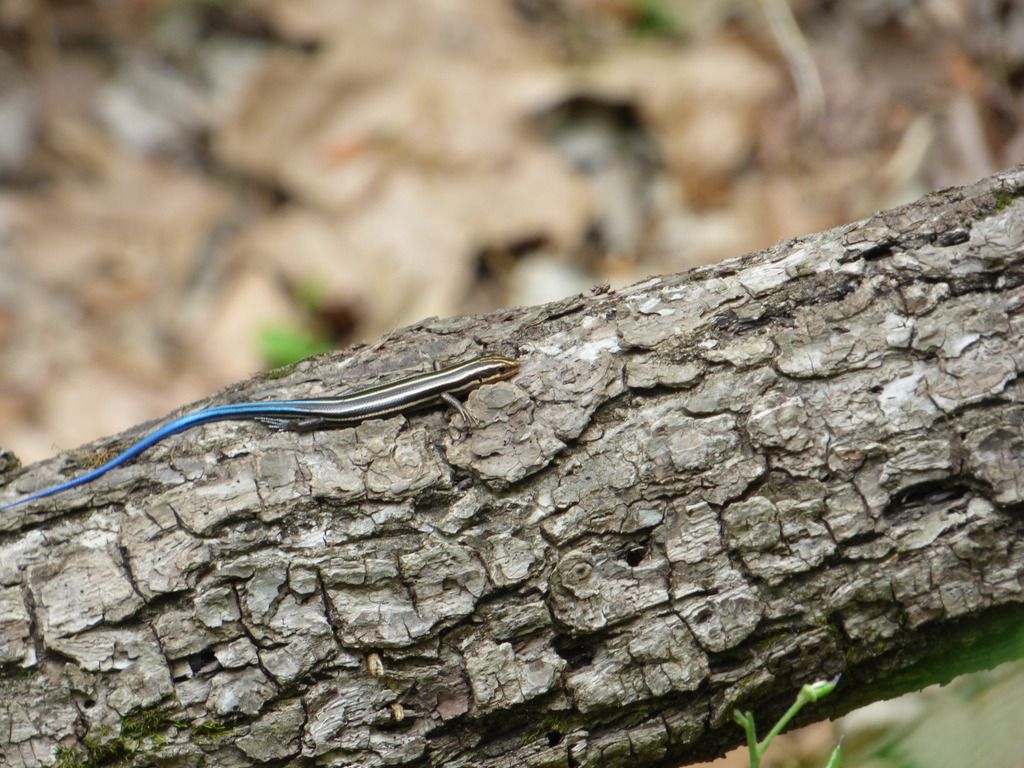 Later on, we found this second ribbon snake: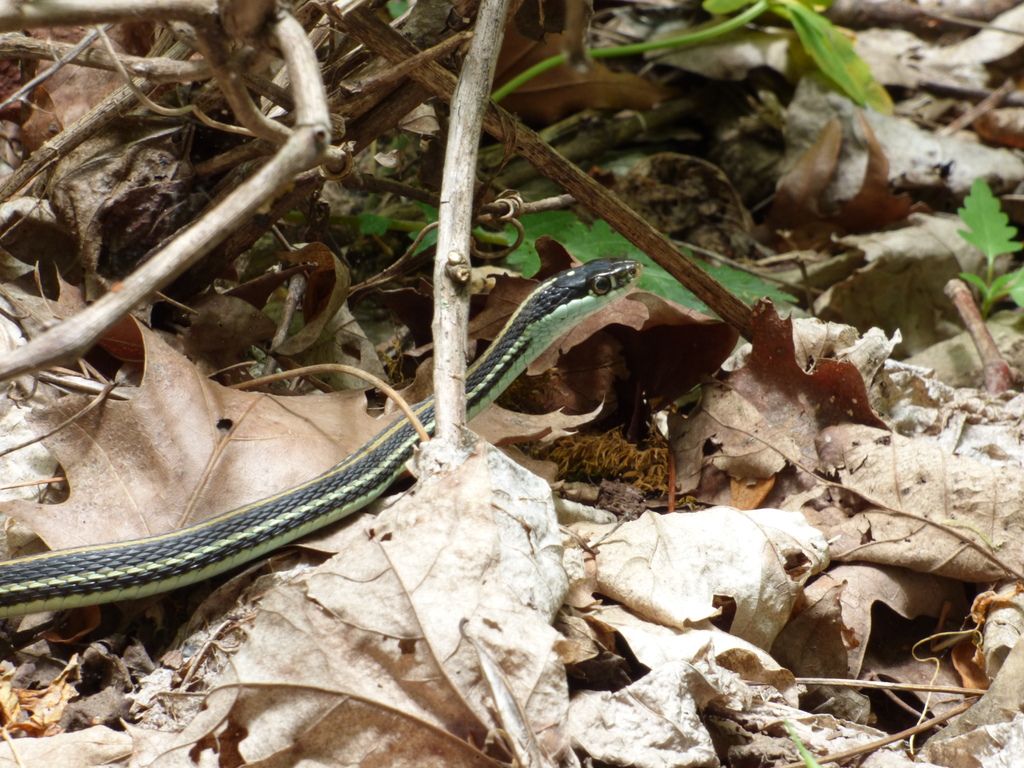 We stopped at a patch of open water to look at turtles. I believe there are both sliders and painted turtles in this photo, correct me if I'm wrong:
When we stopped to looked at the turtles, a group just behind us called out - they had found a rough green snake: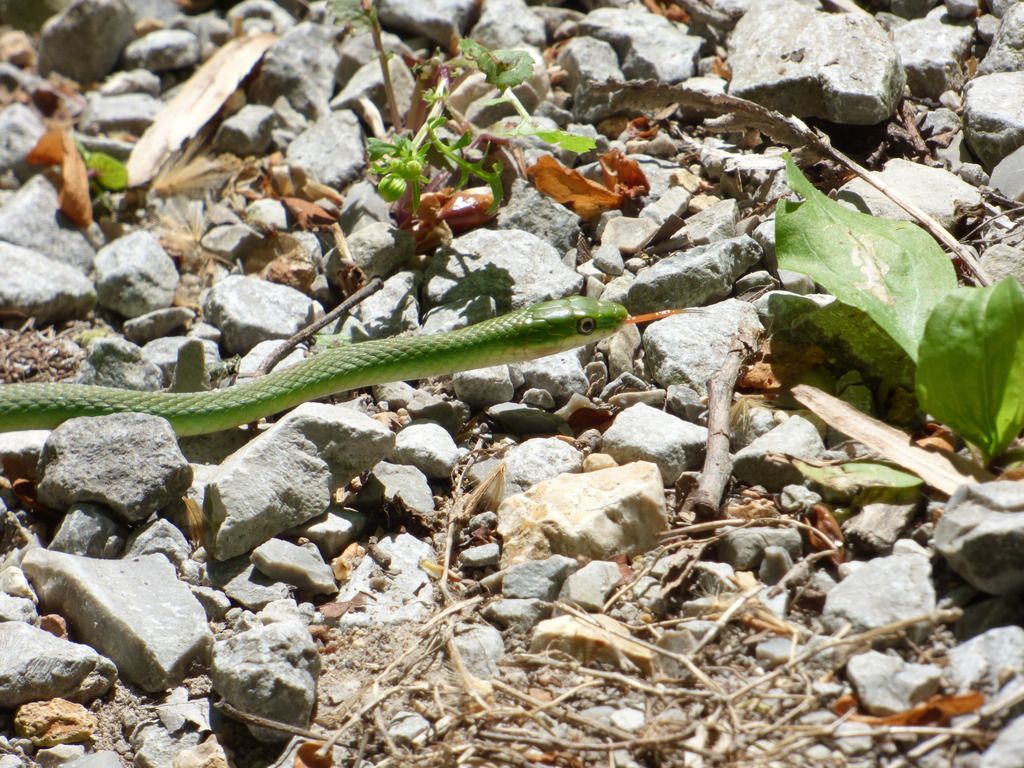 All along the way, we were also seeing common herps, such as efts, southern leopard frogs, cricket frogs, and cave salamanders, and zigzag salamanders. Here is another failed attempt to get a good zigzag photo: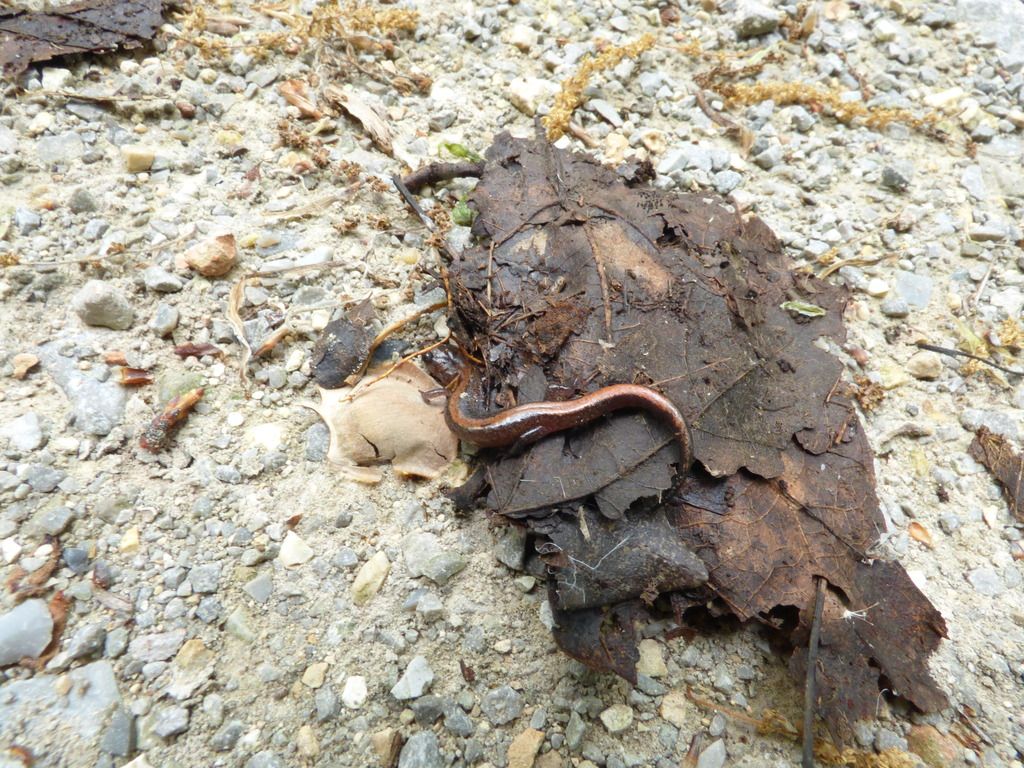 We also saw two plains leopard frogs, not a common find for us, but I failed to get photos.
At one point, I noticed an old tree with many peices of bark around it. I approached the tree to flip the bark, walked around the far side of the tree, and saw this stretched out on the ground: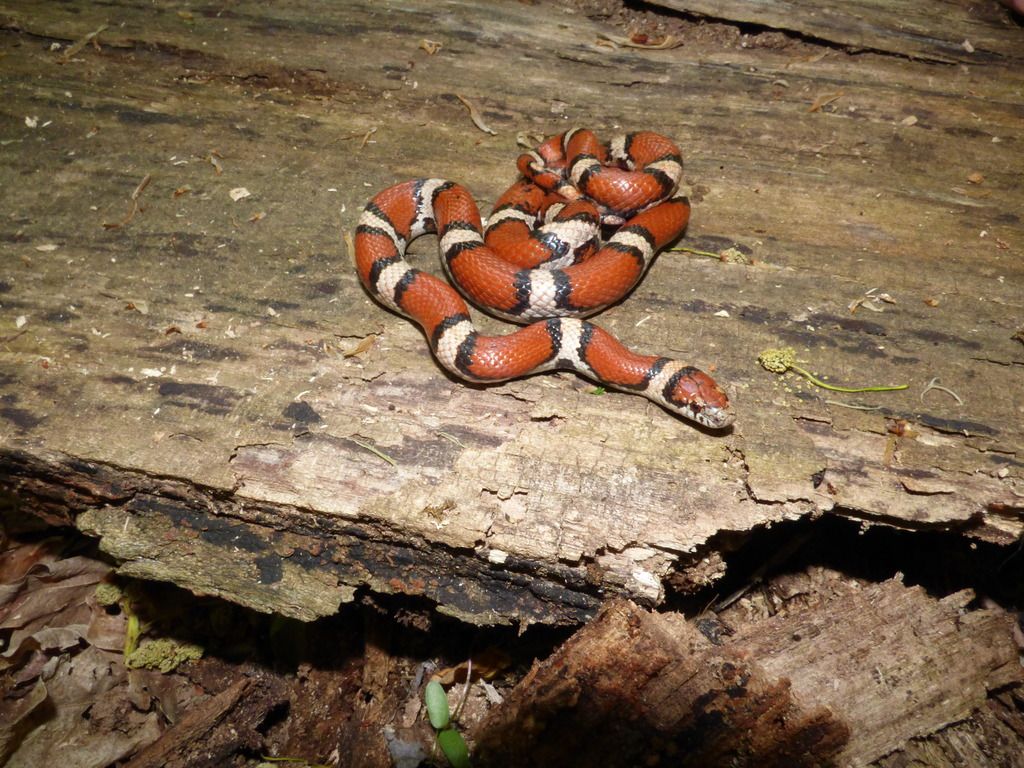 My first ever red milk snake! Milk snakes are perhaps my favorite snake (that or tantilla species), and this was certainly a stunning individual!
Later on, we saw two racers coiled up together in a tree. However, they did not stay still for long: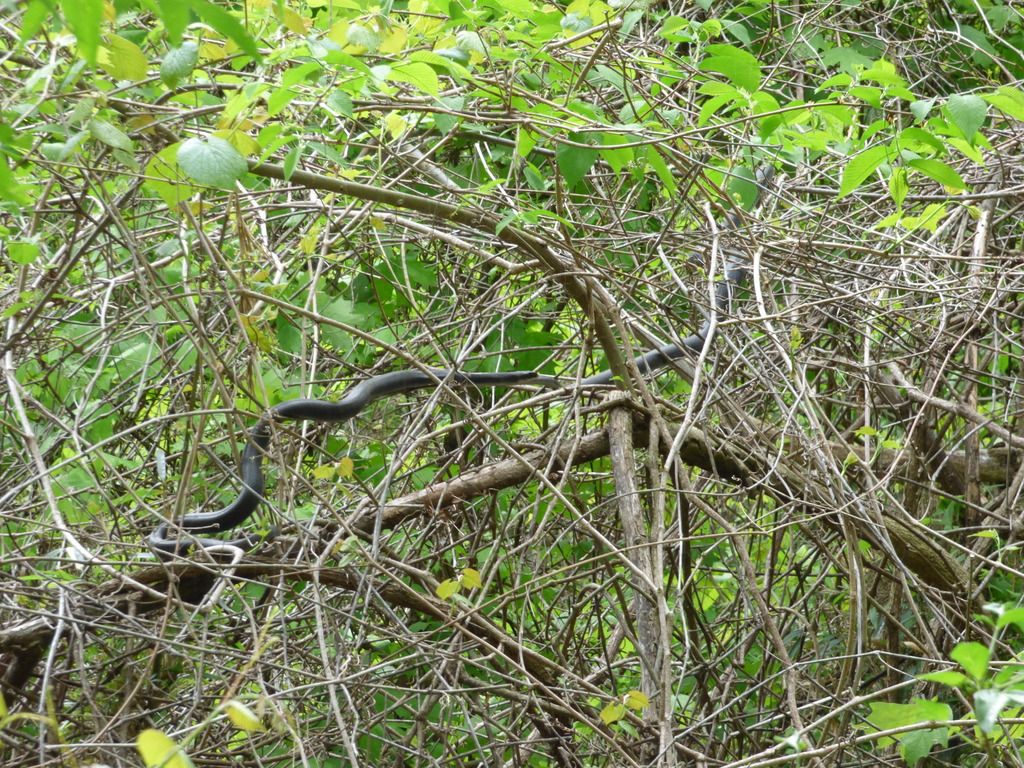 And soon afterwards, we came upon yet another racer!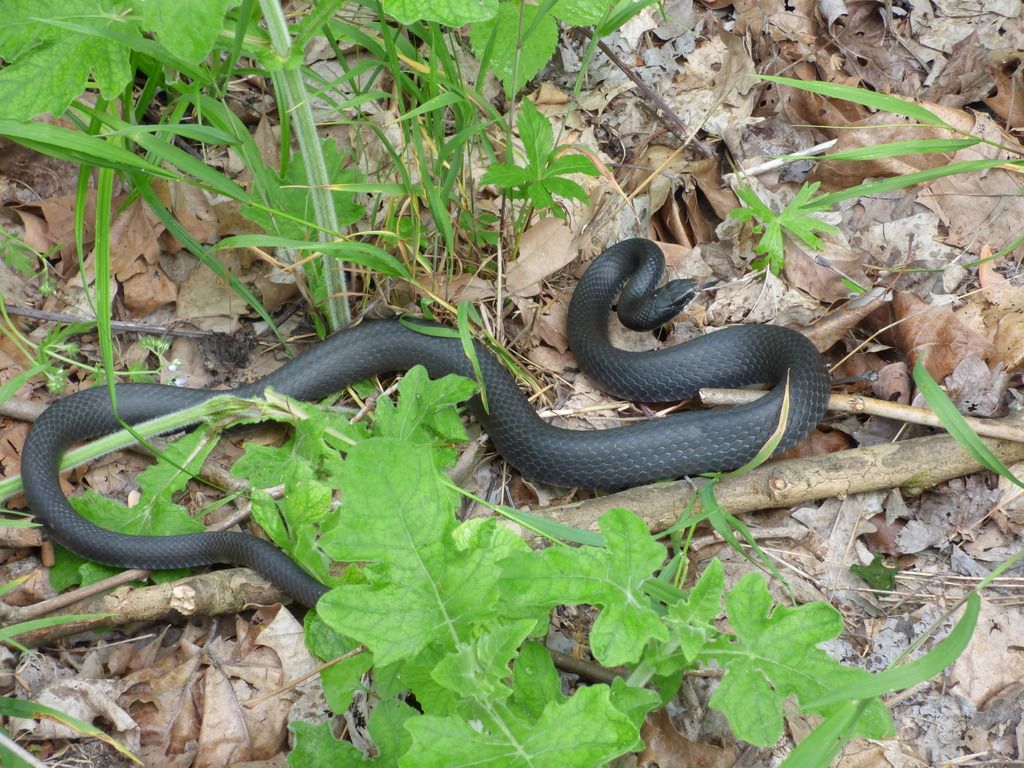 I think we ended the day with five or six racers - very interesting, considering I had never seen more than one in a day at Snake Road.
Our last find at the road was this very pretty little red-bellied snake, a species we don't often get to see:
Next, we headed to a spot in a hilly area not from Snake Road. This spot contains a small glade on a ridge, and is home to a very special small snake...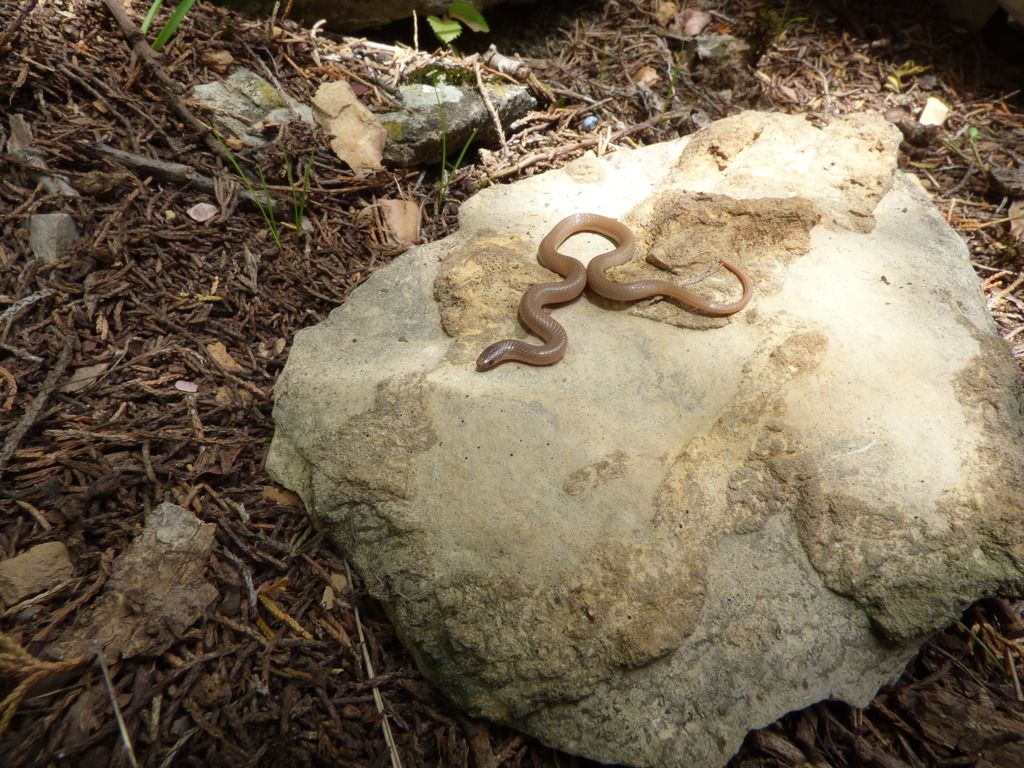 The flathead snake - another one of my favorite snakes! Although found mainly in the Ozarks and in Texas, this species lives in a small area of Illinois, in the hills along the Mississippi River. Also found at this site were many fence lizards, a ringneck snake, and another racer.
We got back to Snake Road just in time for some night herping. Although we tried to find sirens in some ditches nearby, we were unsuccessful. However, we did see some toads out on the roads.
Fowler's toad: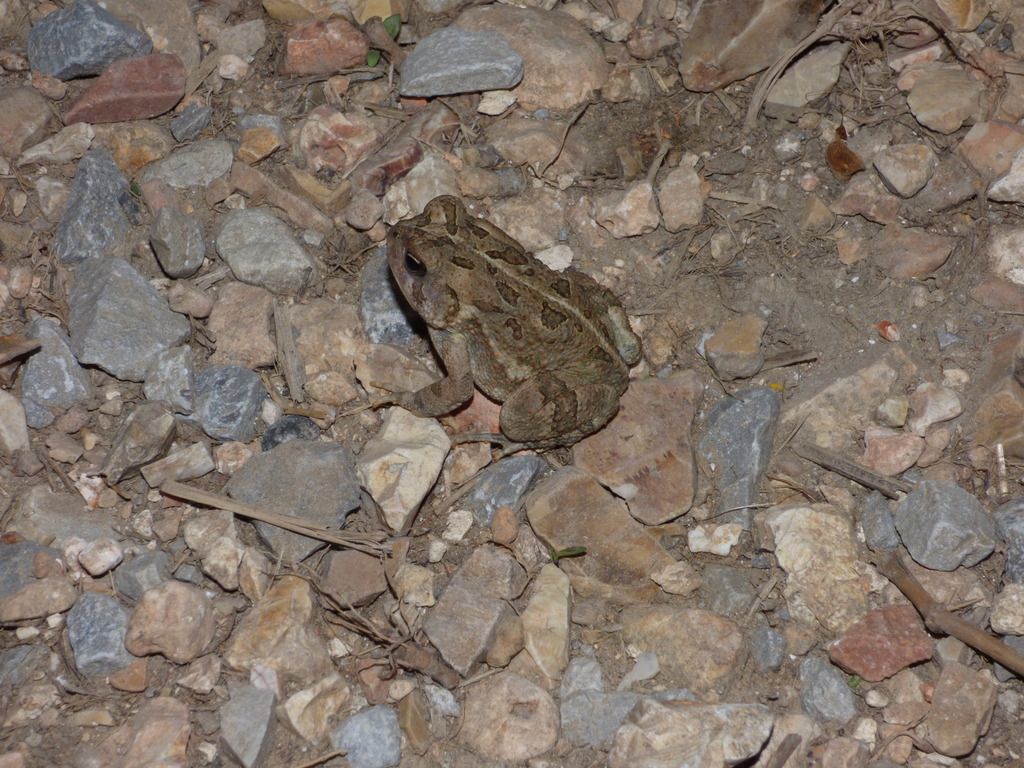 Dwarf american toad: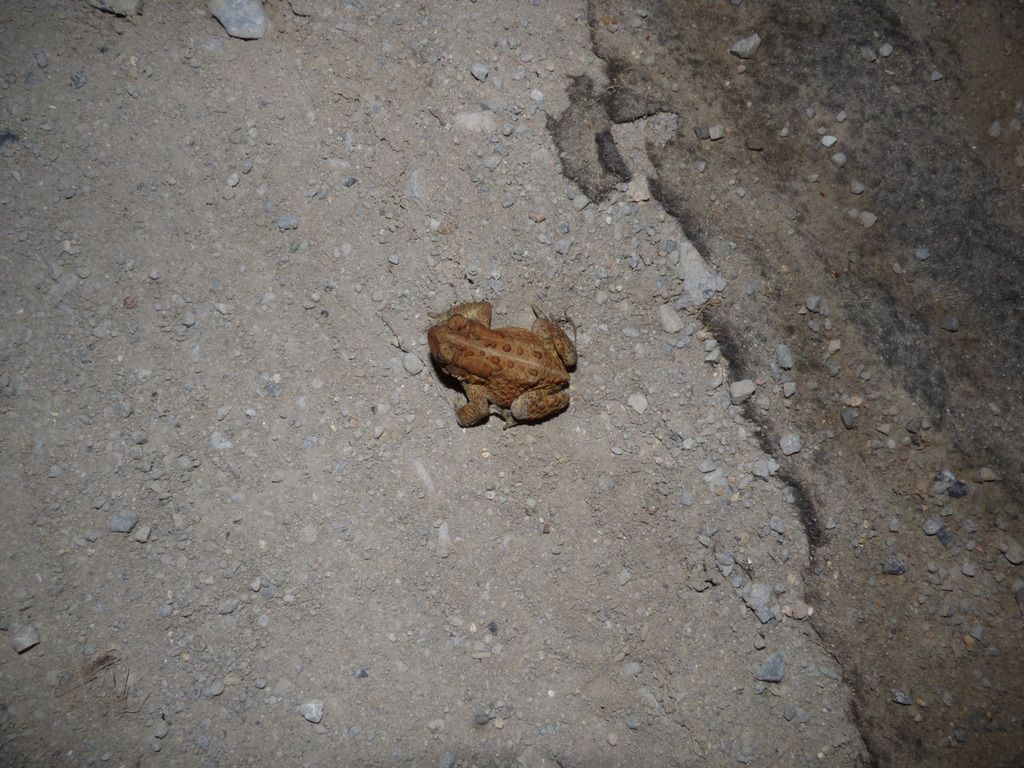 It is a lot of fun to hear the frog choruses in spring time at Snake Road. On this particular night we heard five species simultaneously - fowler's toads, american toads, cope's gray treefrogs, southern loepard frogs, and spring peepers.
The next day, we headed for the swamps. Our first stop was a moist, floodplain forest adjacent to a cypress-tupelo swamp. There we immediately began finding marbled salamanders.
A very pretty one found by Kevin: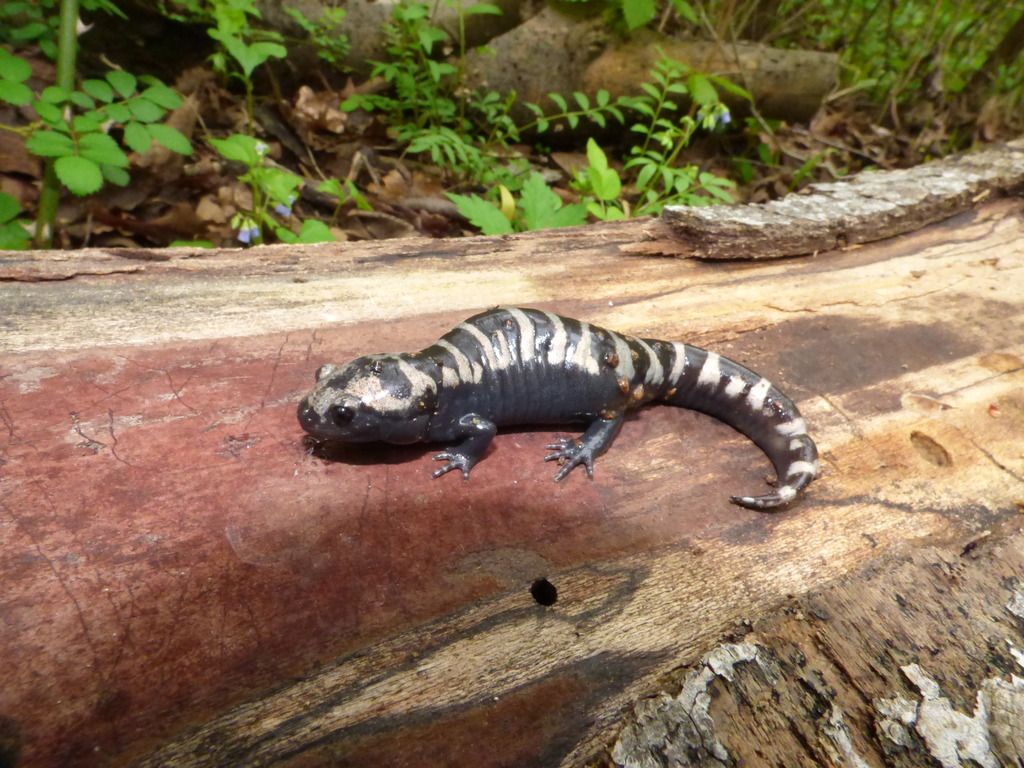 One found by my dad, which he claims was really the prettiest (jokingly):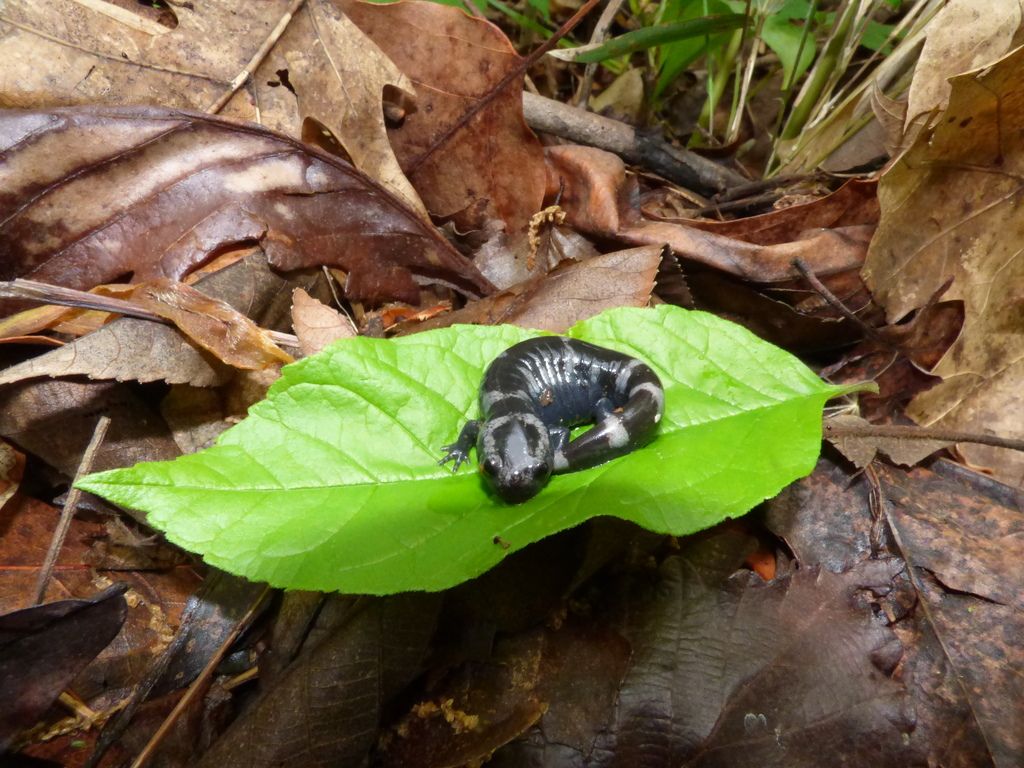 Southern leopard frogs were also very common here: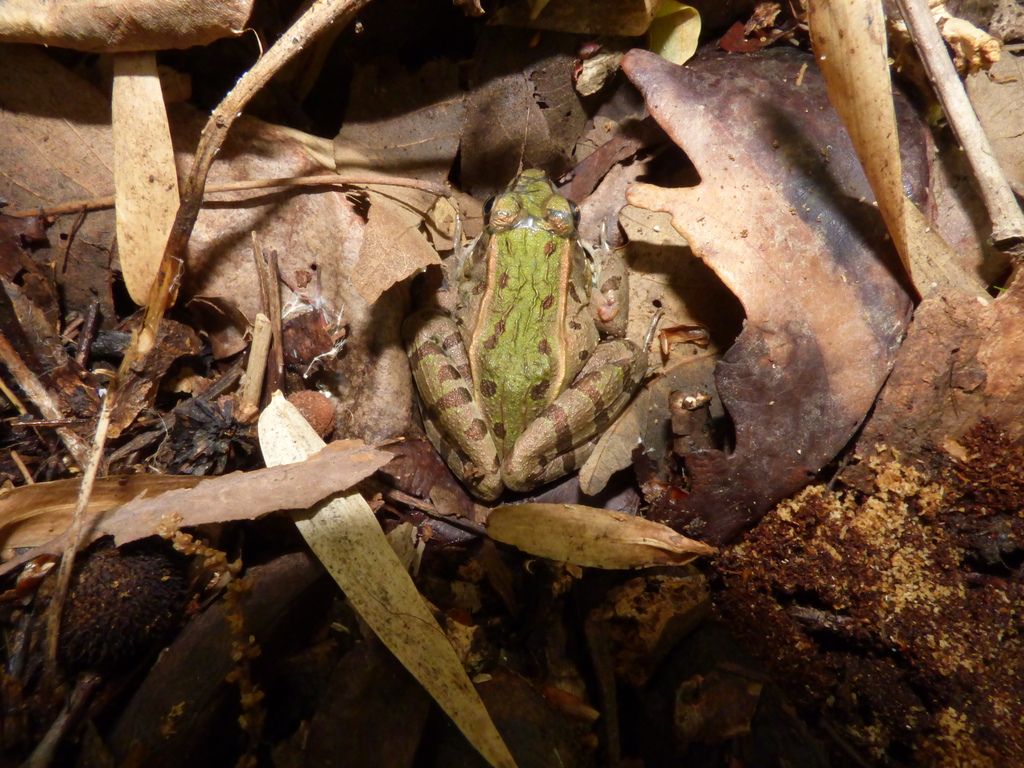 However, our main target, the mole salamander, seemed to elude us. We have failed to find mole salamanders many a time - in Alabama, Tenessee, North Carolina, Georgia, and several times in Southern Illinois. On this occasion, Kevin and I had even created a song about how we couldn't find mole salamanders (a parody of CCR's song Proud Mary). However, as luck would have it, just as we were preparing to move on to another spot, I flipped a log to find this: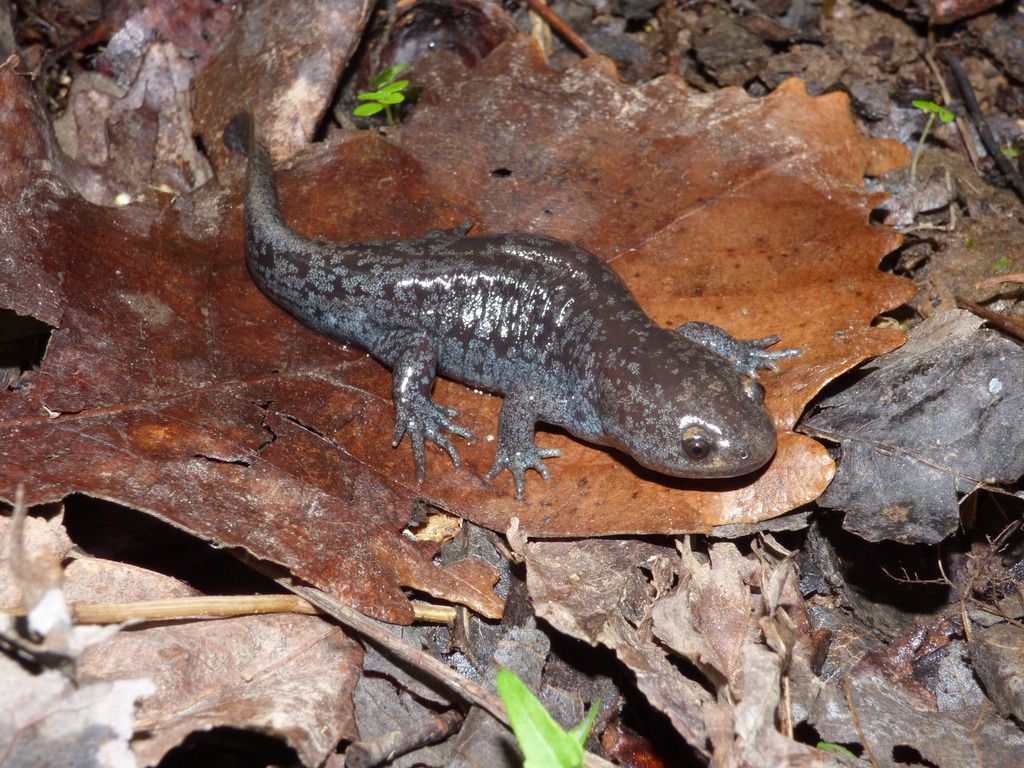 At last, a mole salamander!
Next, we herped a set of well-known railway tracks running through the swamp. Close to our starting point, there is a mattress lying on the ground in a moist area. I believe that mattresses are highly attractive to ambystomids (as cover), and this particular mattress had yielded a nice marbled salamander on our last visit. On this visit, as if to prove my point, it had three smallmouth salamanders beneath it: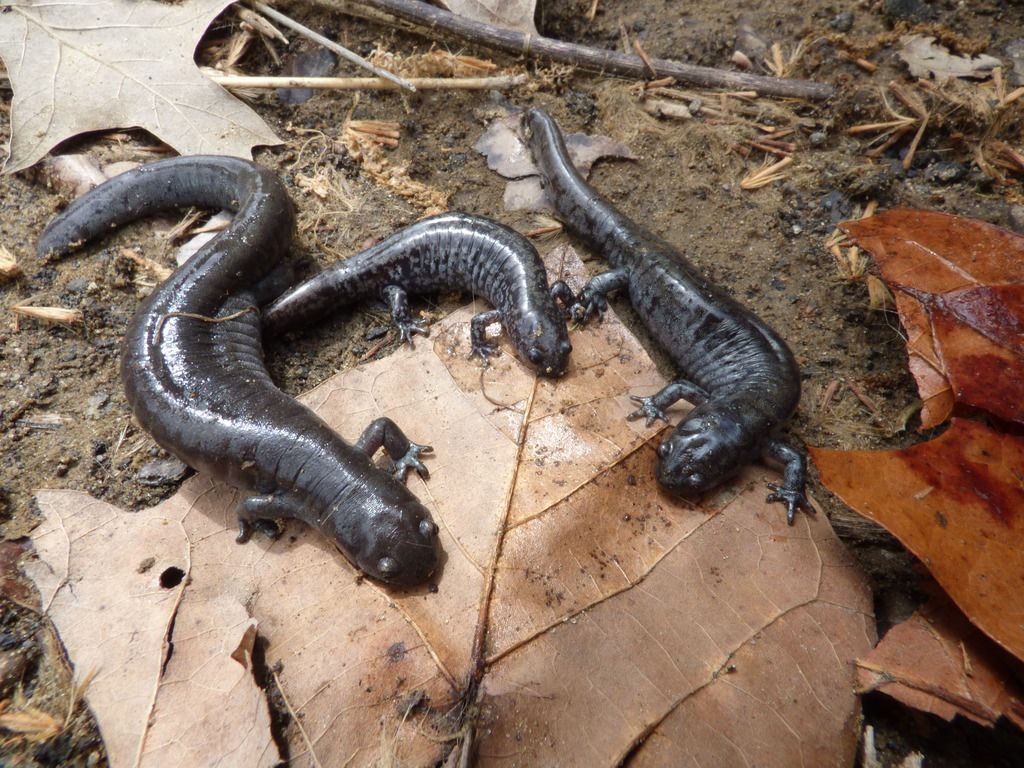 Although it was a cool morning, the sun was shining, and we had quite a bit of sucess with reptiles.
One of many fence lizards: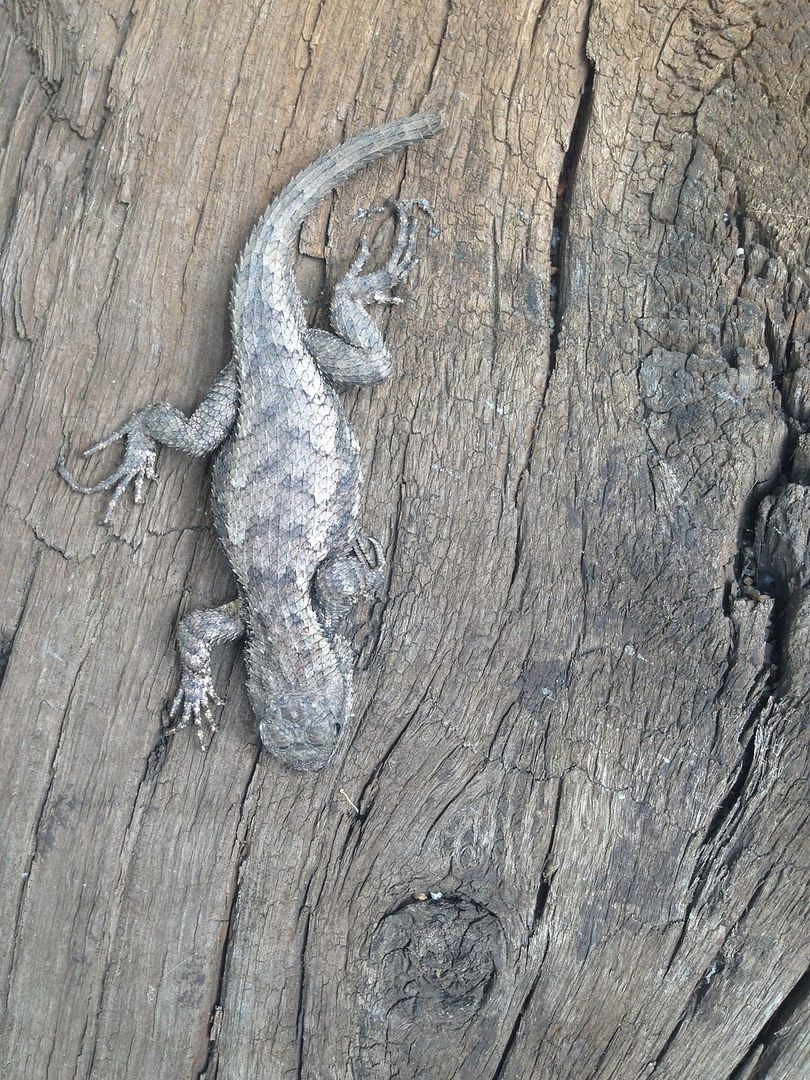 The first of five or six cottonmouths, spotted by Kevin: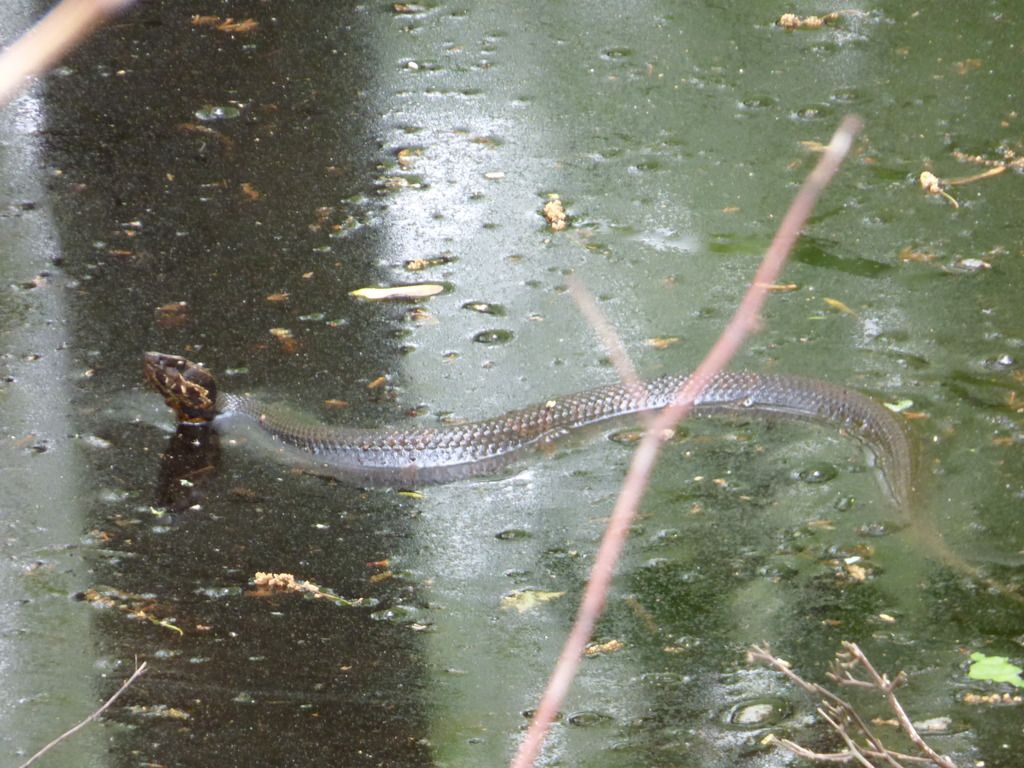 A broadhead skink (one of about three), caught by a college herpetology class which happened to be there as well (they found most of the herps we saw that morning):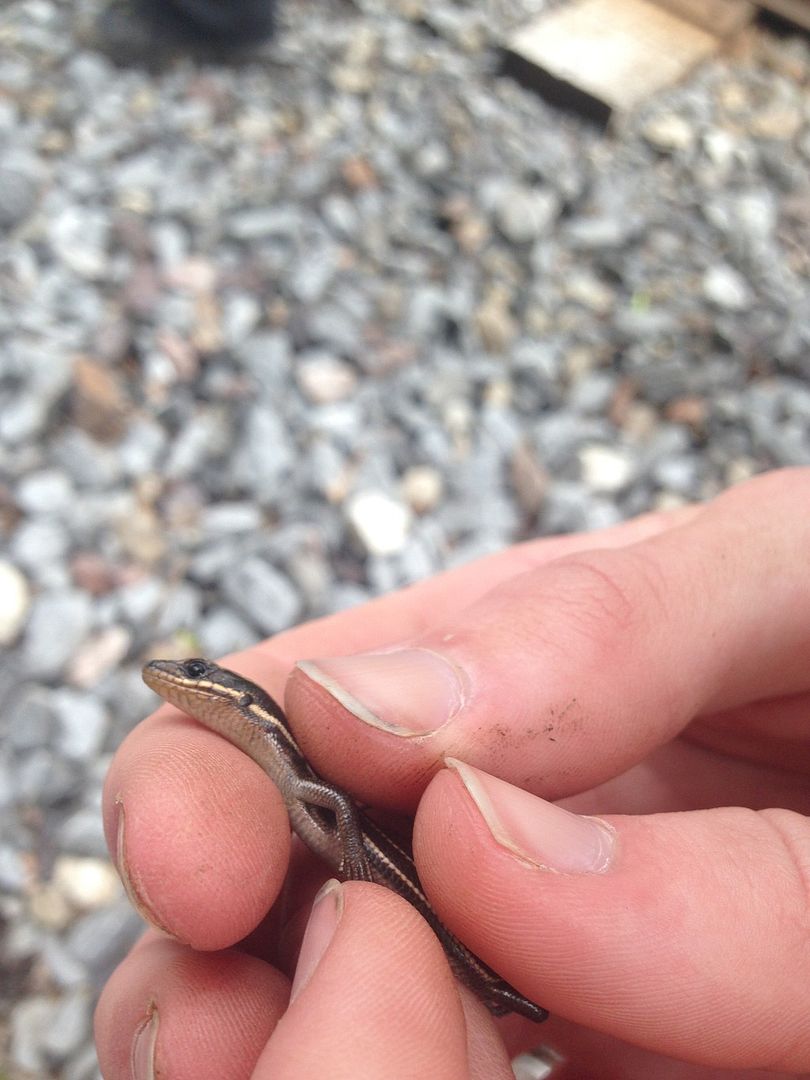 One of two or three worm snakes: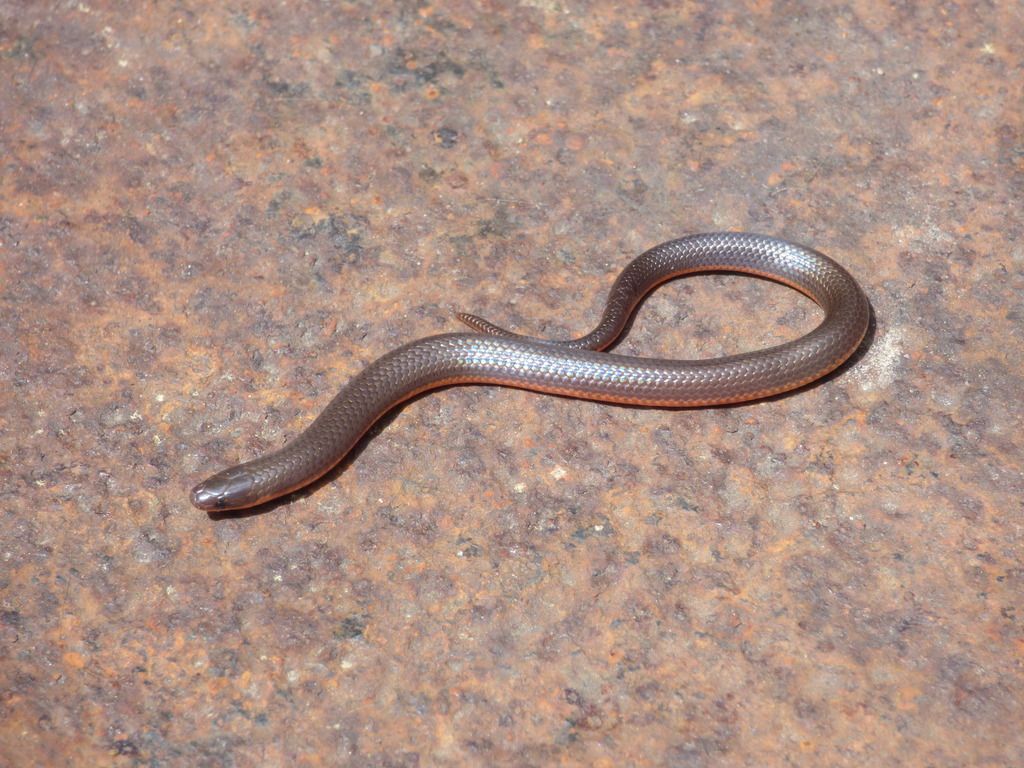 Another cottonmouth: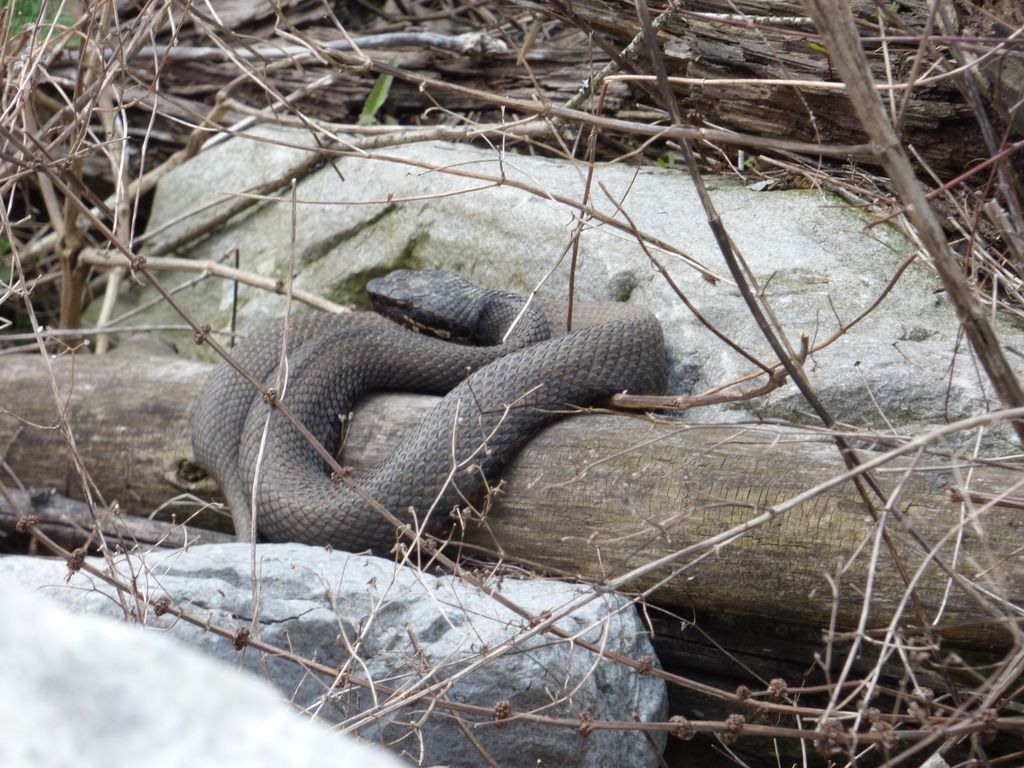 One of three ringneck snakes, again found by the college group:
An eastern ribbon snake. On this morning, we had the chance to observe a pair courting, including this individual: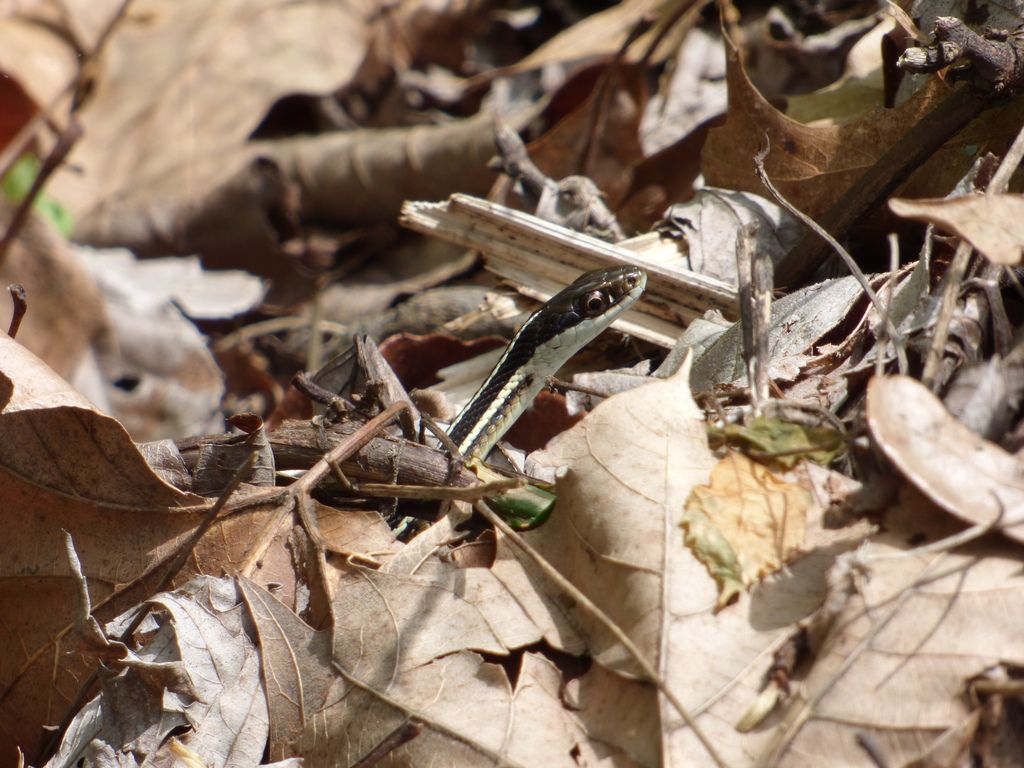 Two five-lined skinks (about 5 were seen in total):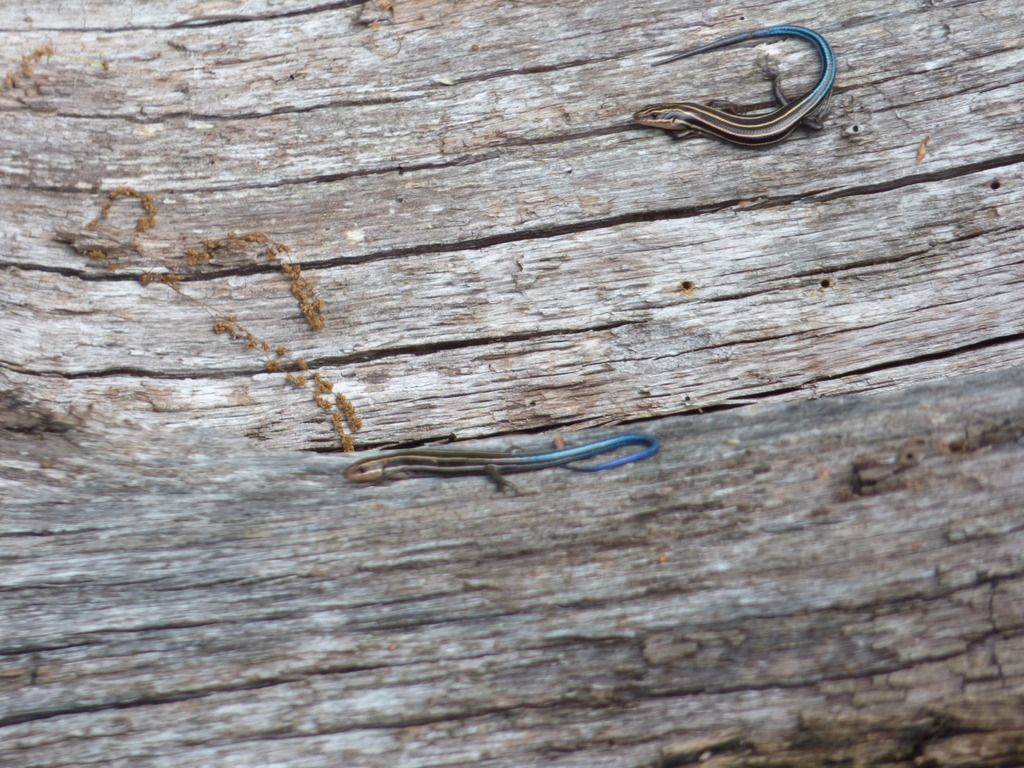 A box turtle found crossing the tracks: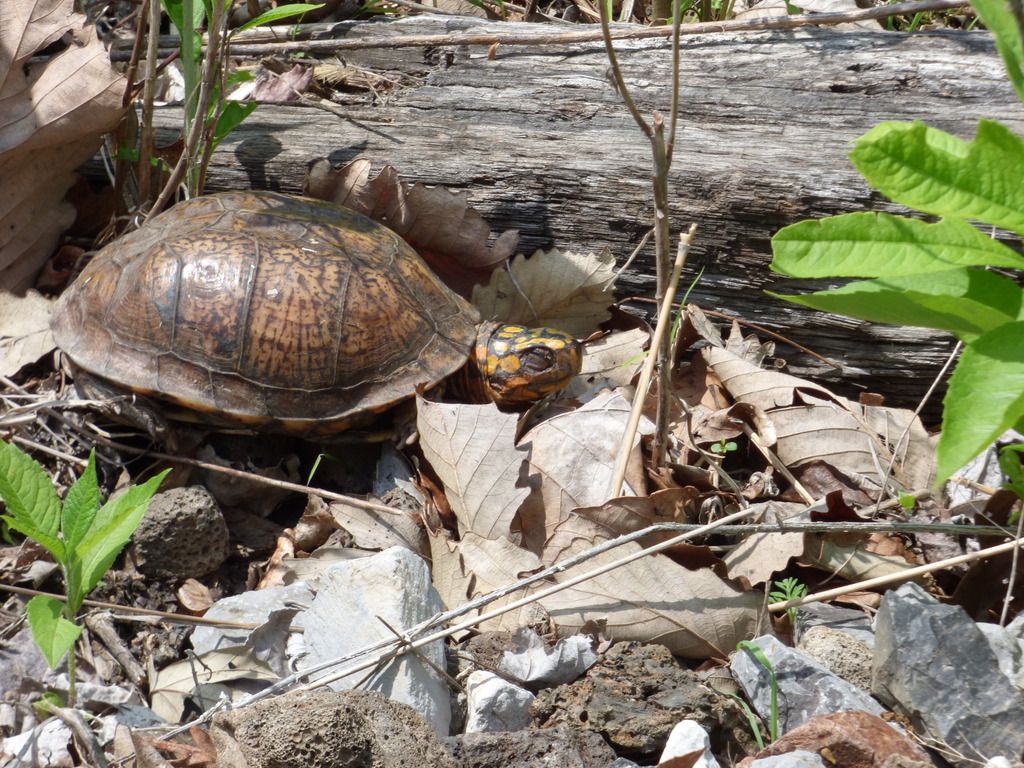 Of course we continued to see salamanders under logs and discarded ties along the tracks, including a couple more marbled and smallmouth salamanders. Several efts were seen: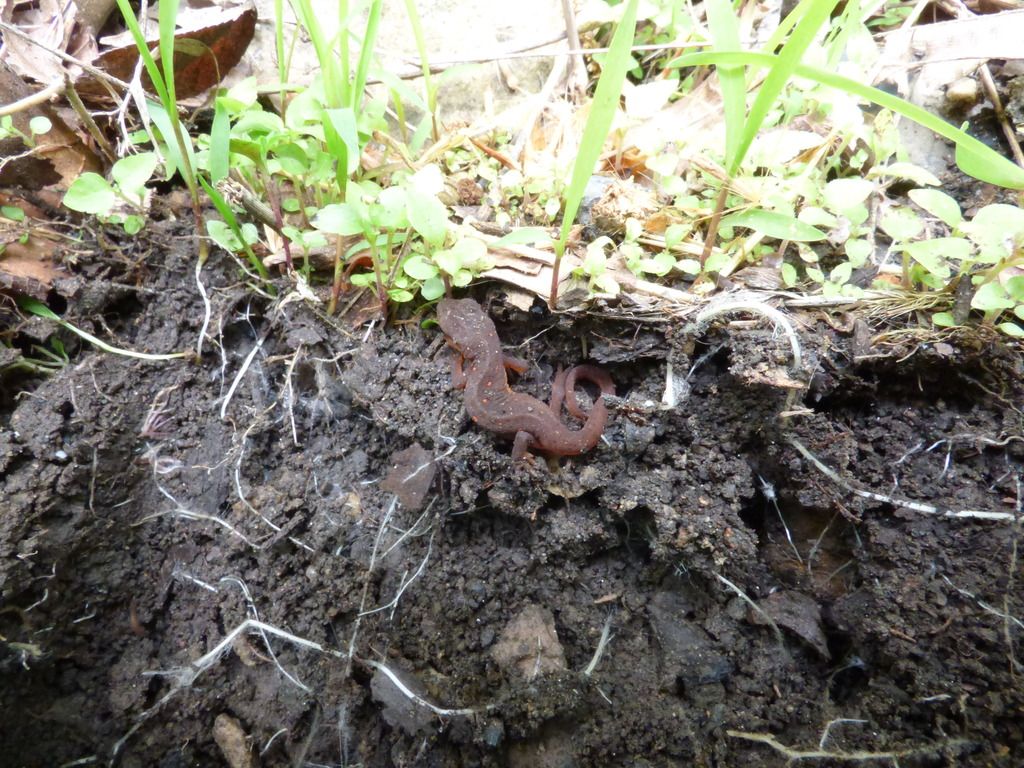 And a slimy salamander was found by the college group: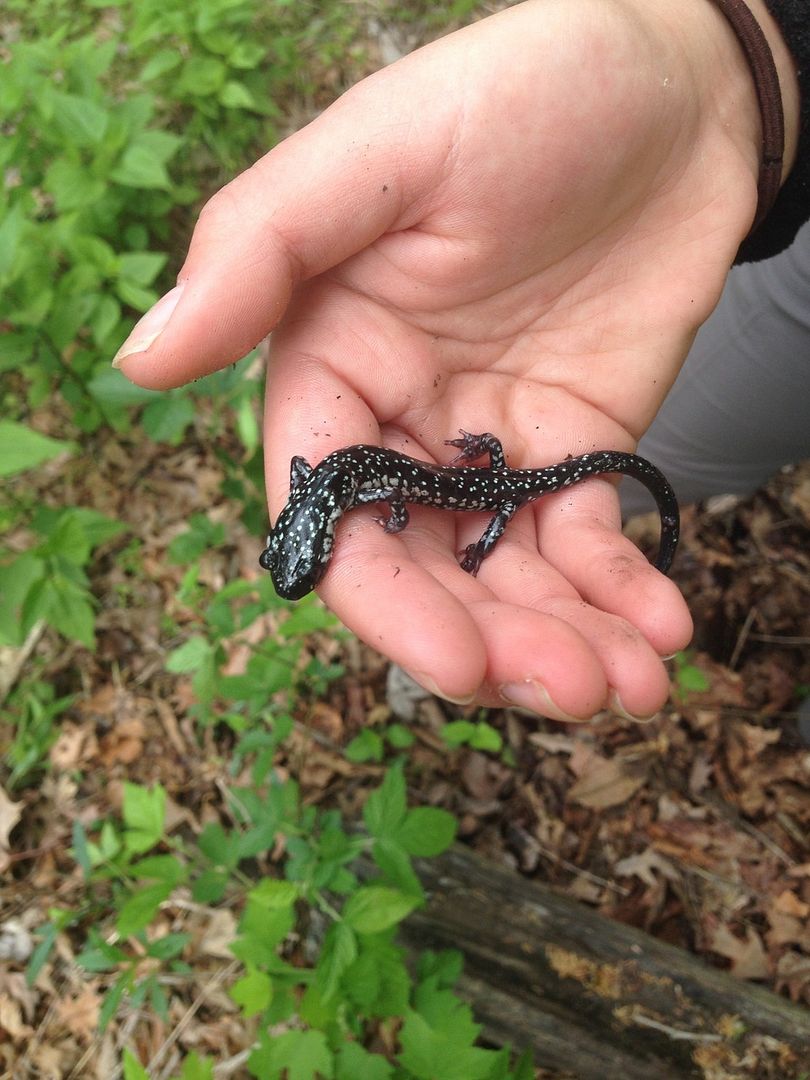 And that ended our trip to Southern Illinois.
Back in Lexington, one beautiful afternoon, I was being a boring person and studying for my AP tests, when Kevin called and told me to bike over to the local lake immediately. It sounded like he had found something great, so I biked over, and indeed, he had found our first softshell turtle in Lexington!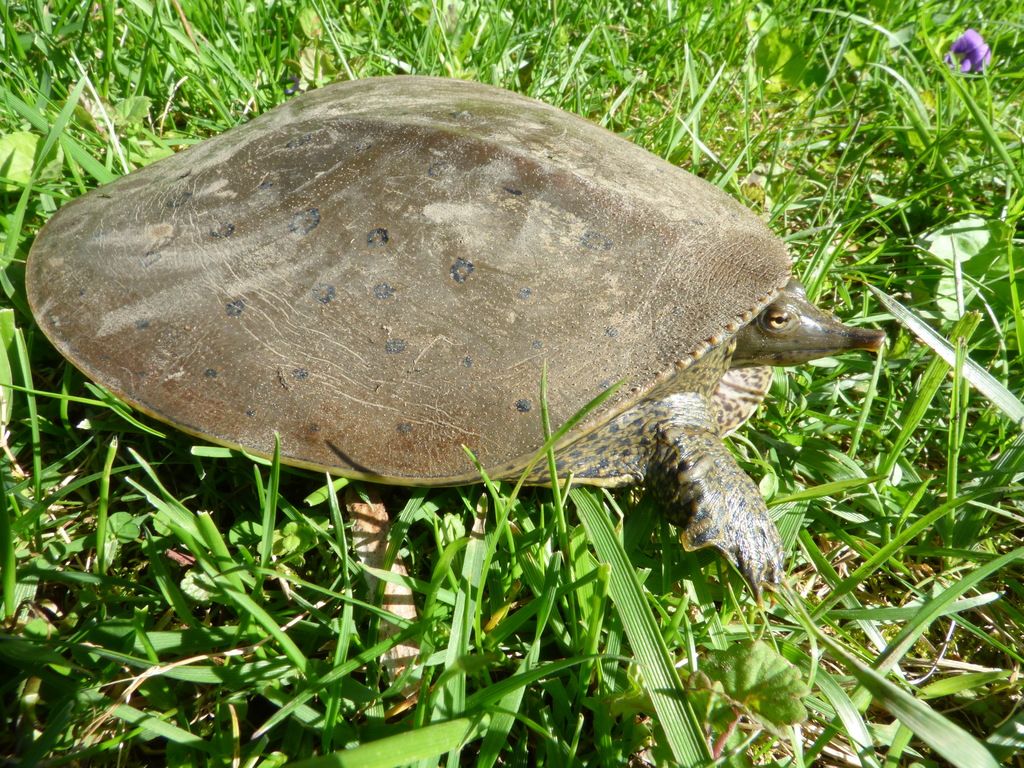 While we were there, Kevin caught some more turtles, including a couple sliders and a musk turtle. Here are the three species caught that day: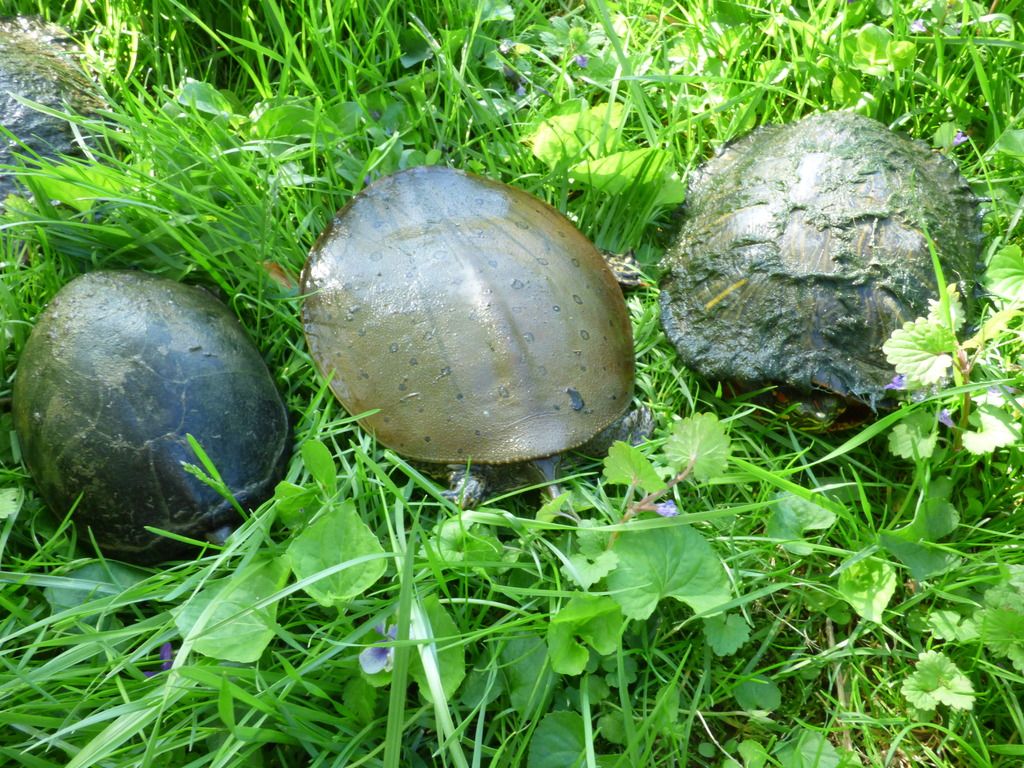 Kevin in action: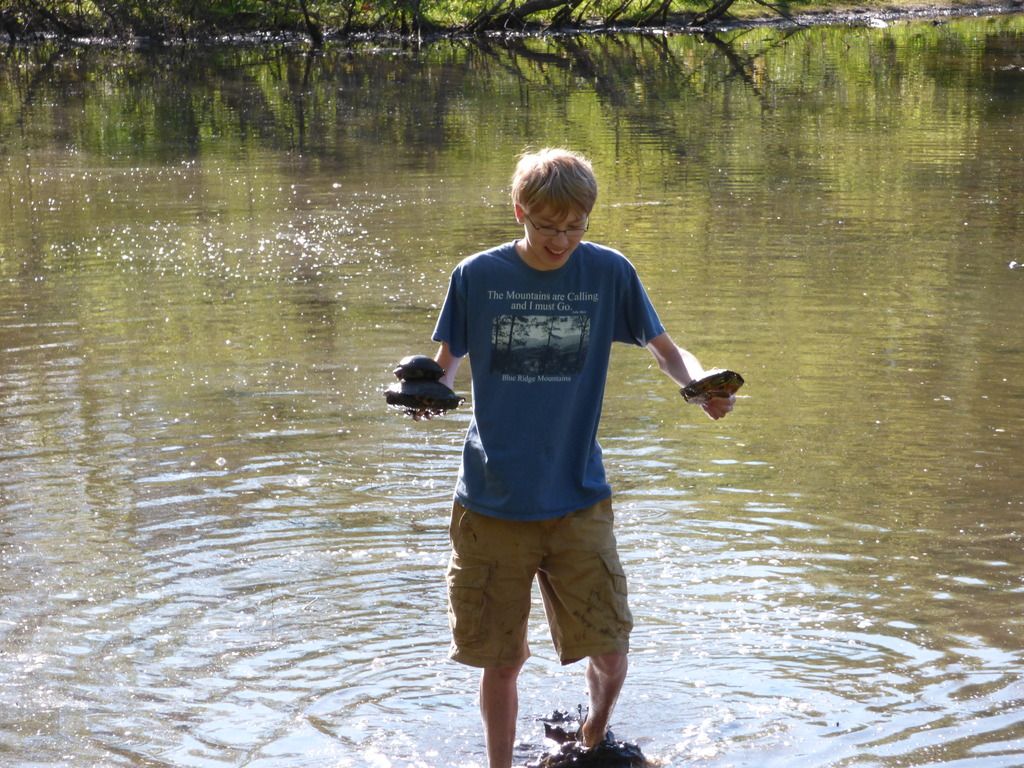 The next weekend, my parents and I went up to the Canadian shore of Lake Erie to do some birding with my grandparents and my aunt. On Friday night, we drove 6 hours up to southern Ontario, then woke up at 5 the next morning to go birdwatching. We arrived at the park at about 6, in time to see this beautiful sunrise over Lake Erie: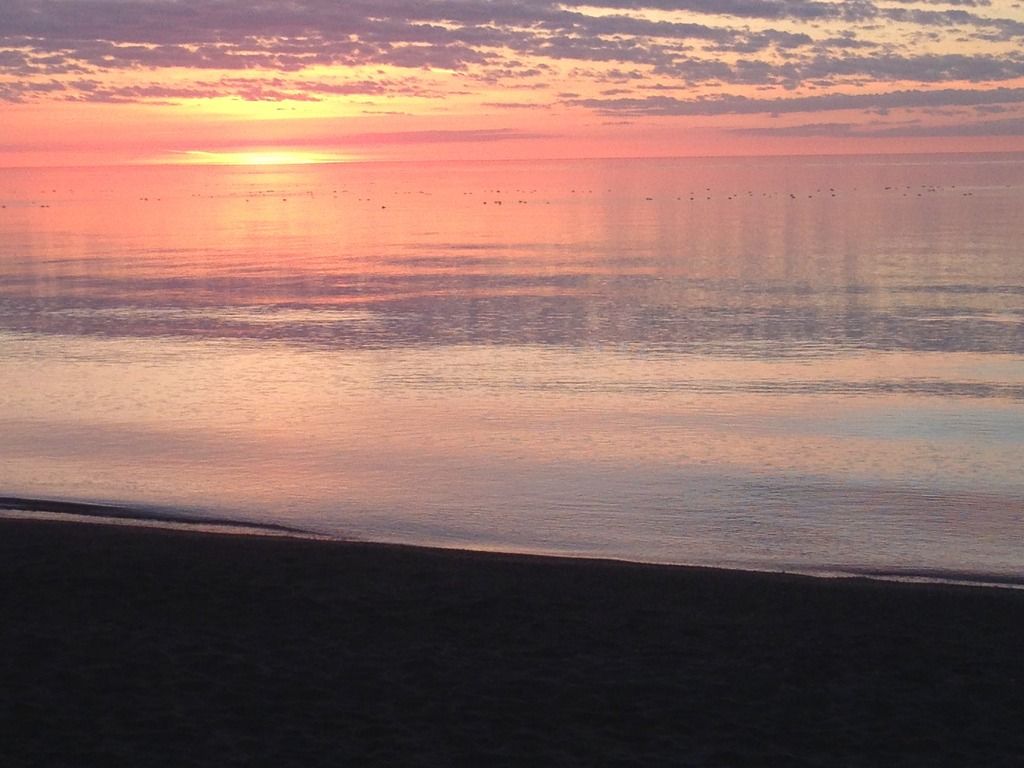 Despite the main focus being birding, we managed to see a few herps. A nice garter snake (one of about ten):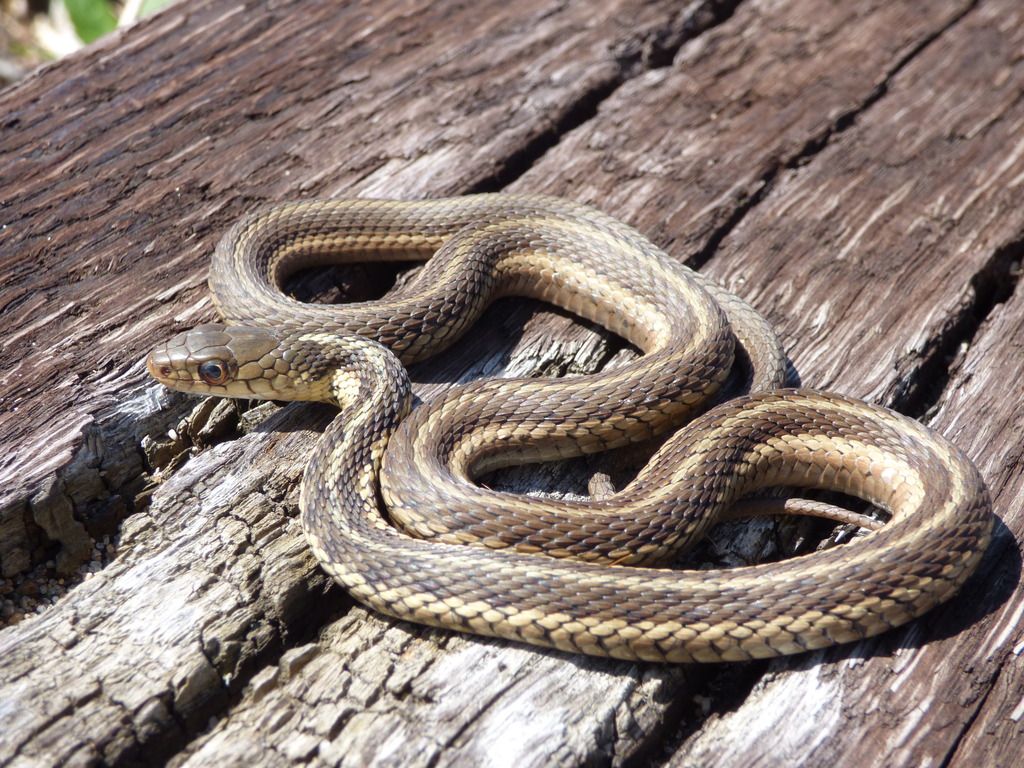 In the woods, we also found some five-lined skinks and a brown snake, but I got no photos. However, the most herp-productive area of the park was the marsh. Painted turtles were extremely common here (we saw 80 in a day):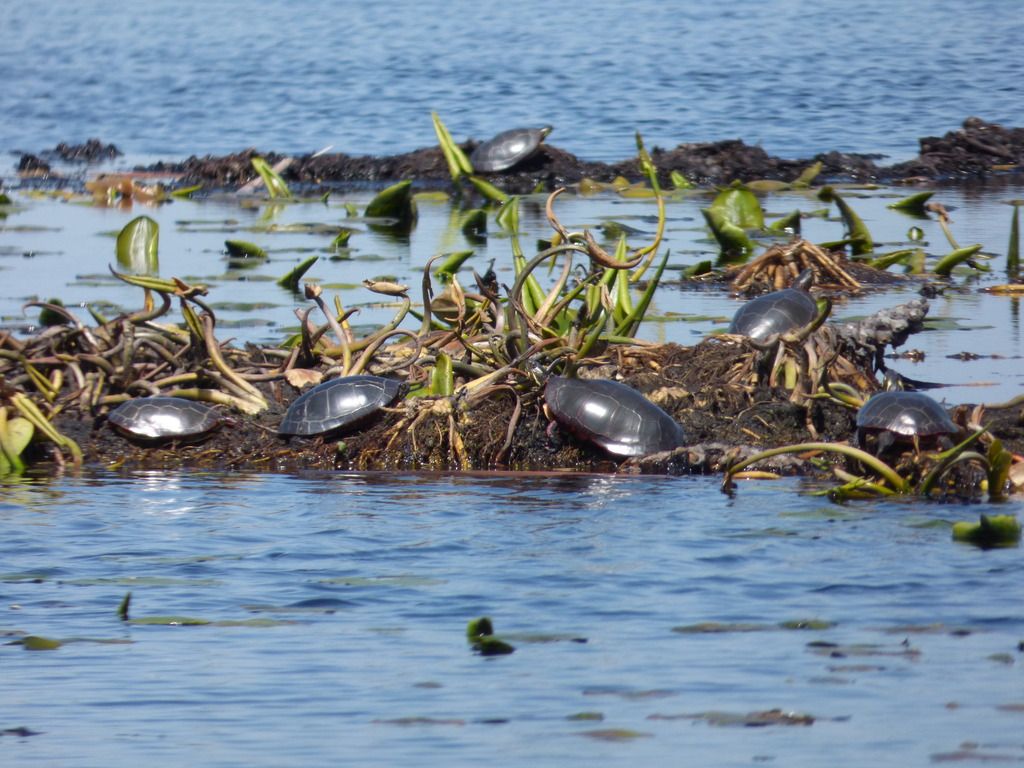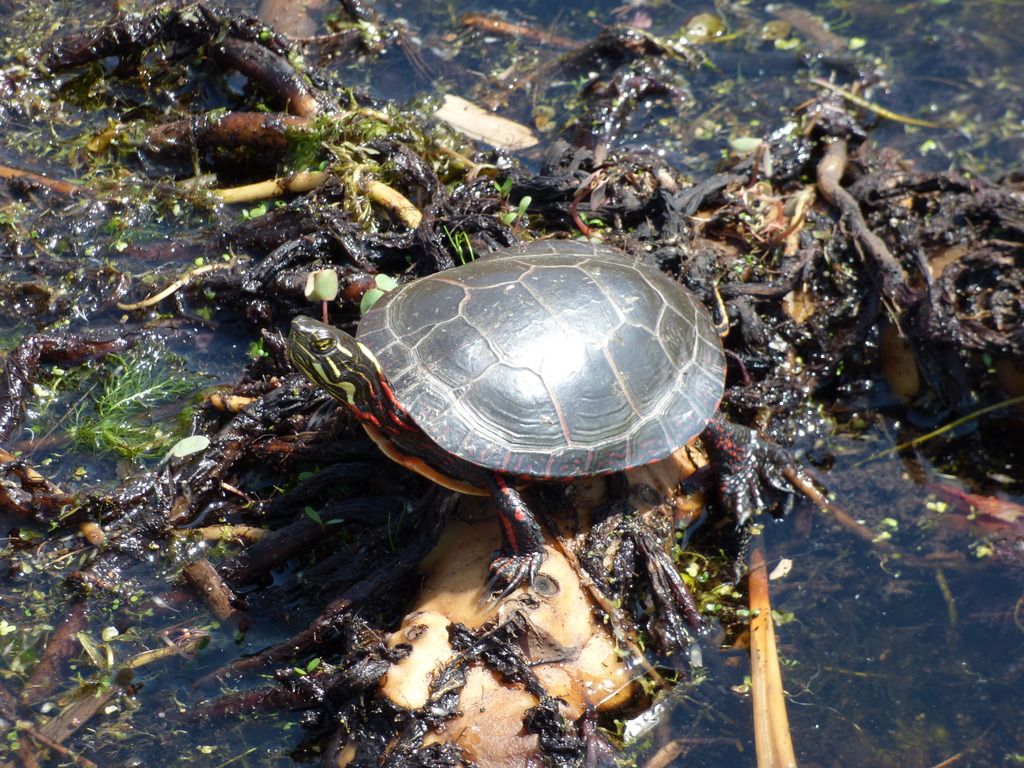 We saw a couple of american toads out in the marsh, presumably there to breed: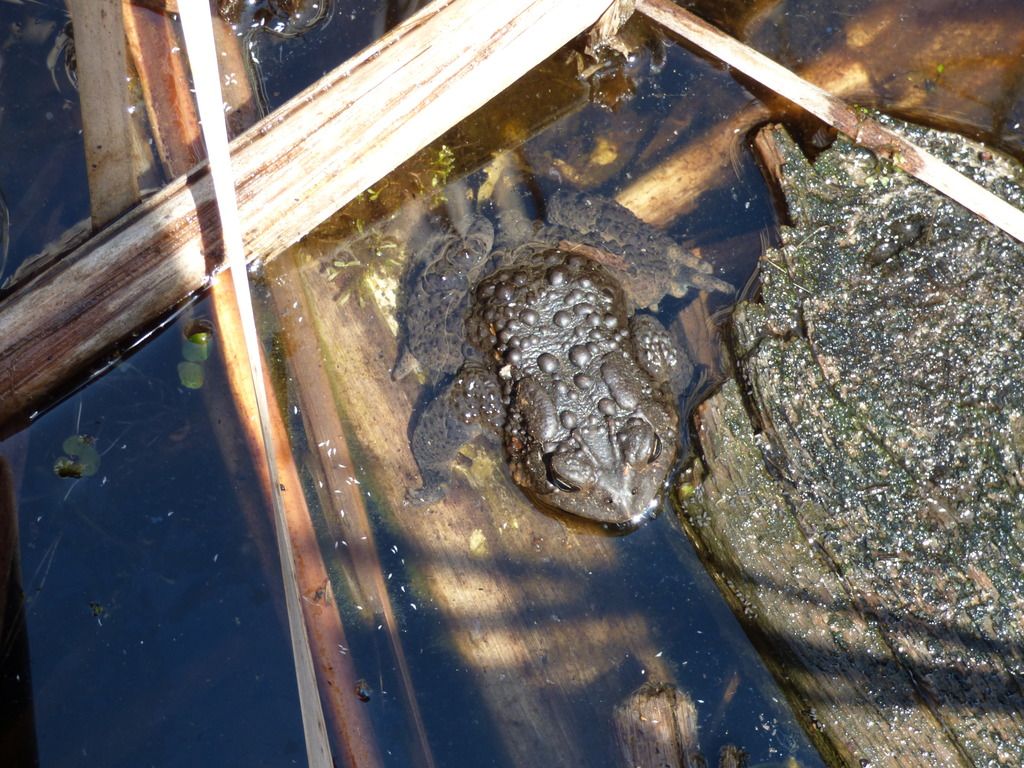 Western chorus frogs were also heard calling among the reeds, although none were seen.
A couple of snapping turtles were seen sunning in the marsh: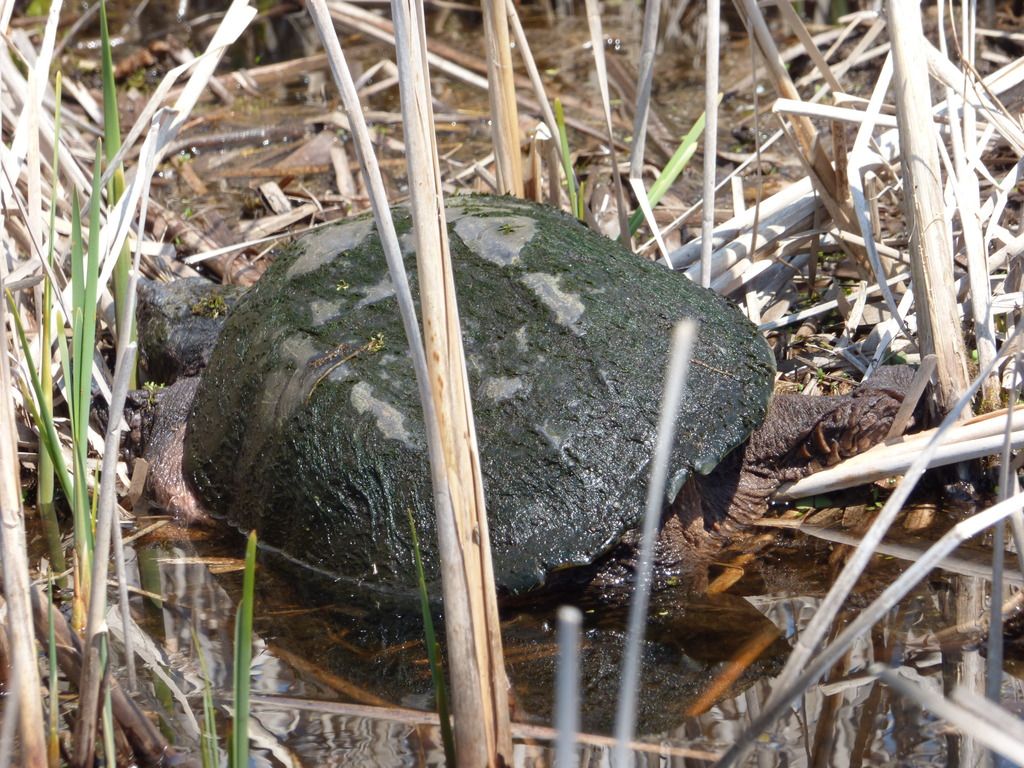 Although map turtles are quite common in Kentucky, they seem to be very uncommon in this part of Ontario. Only one was seen throughout the weekend: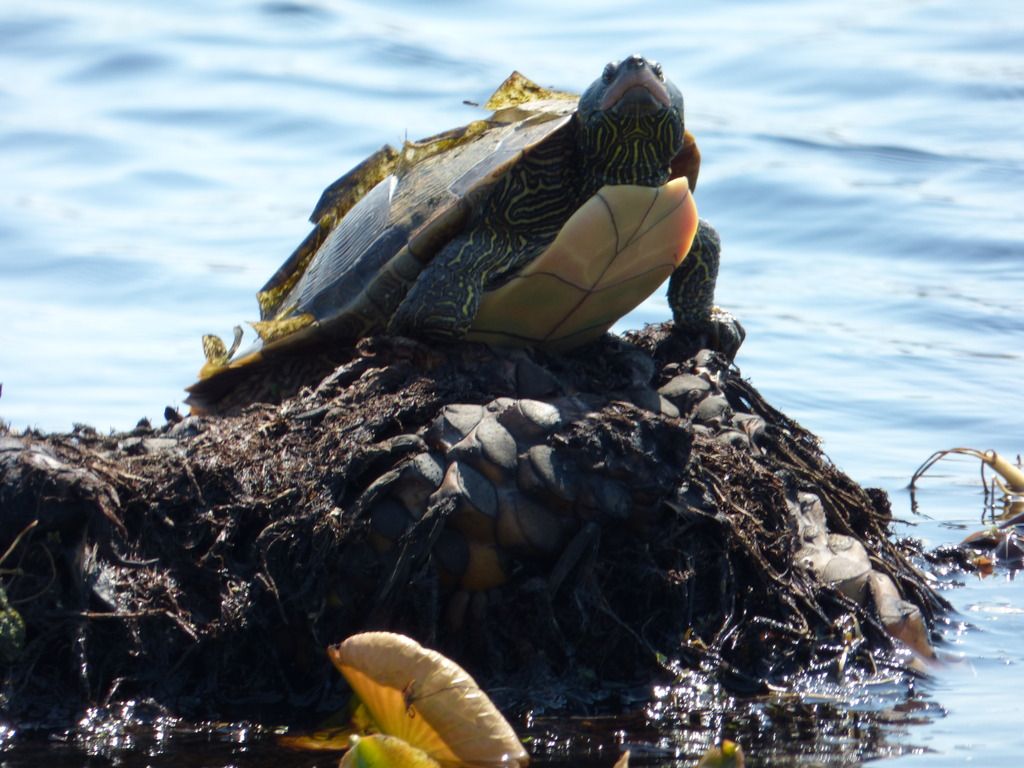 The find of the weekend for me was this very nice, large blanding's turtle: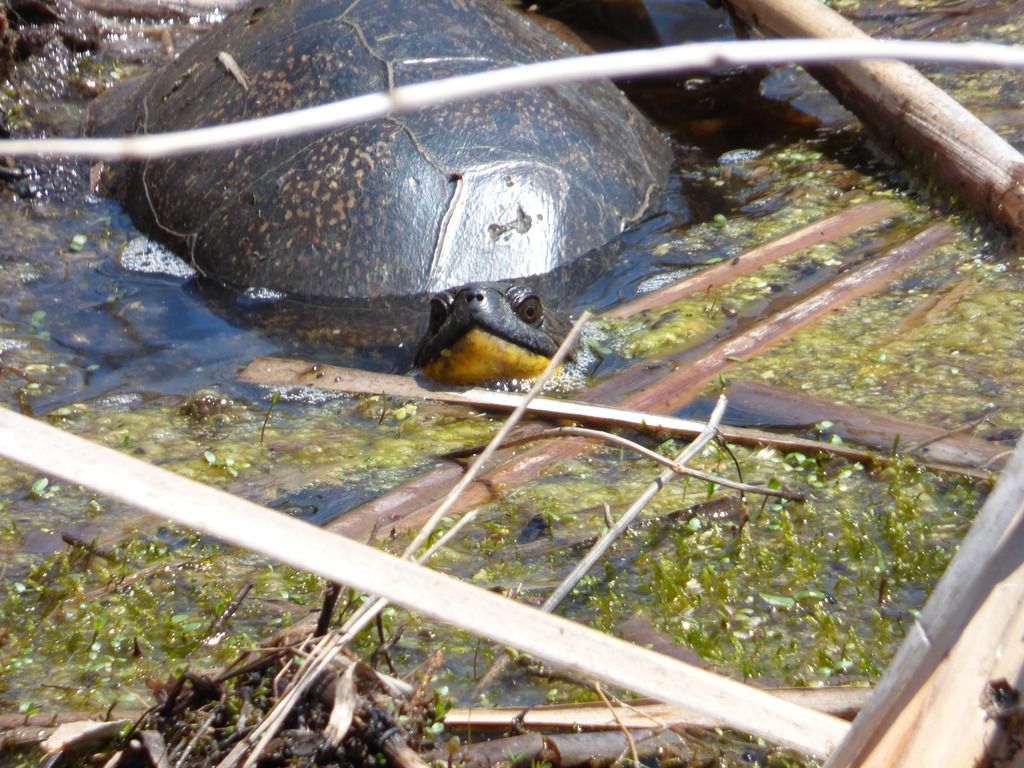 Back in Lexington, cute hatchling red-eared sliders began showing up in the local lake: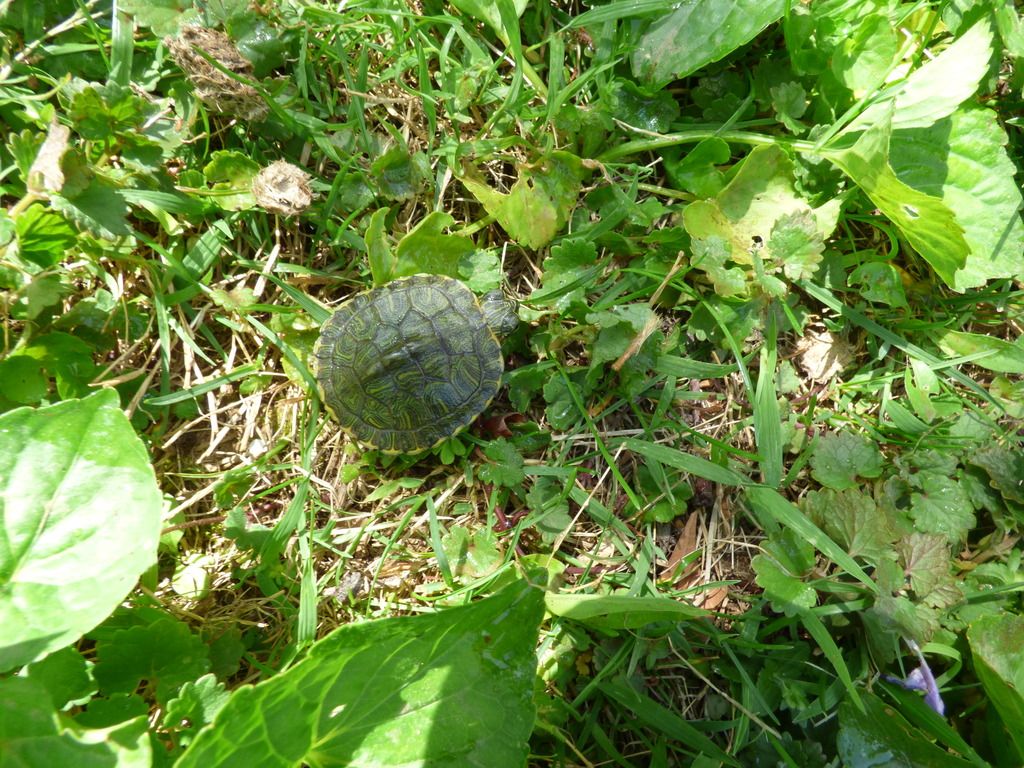 As did some very large bull frogs: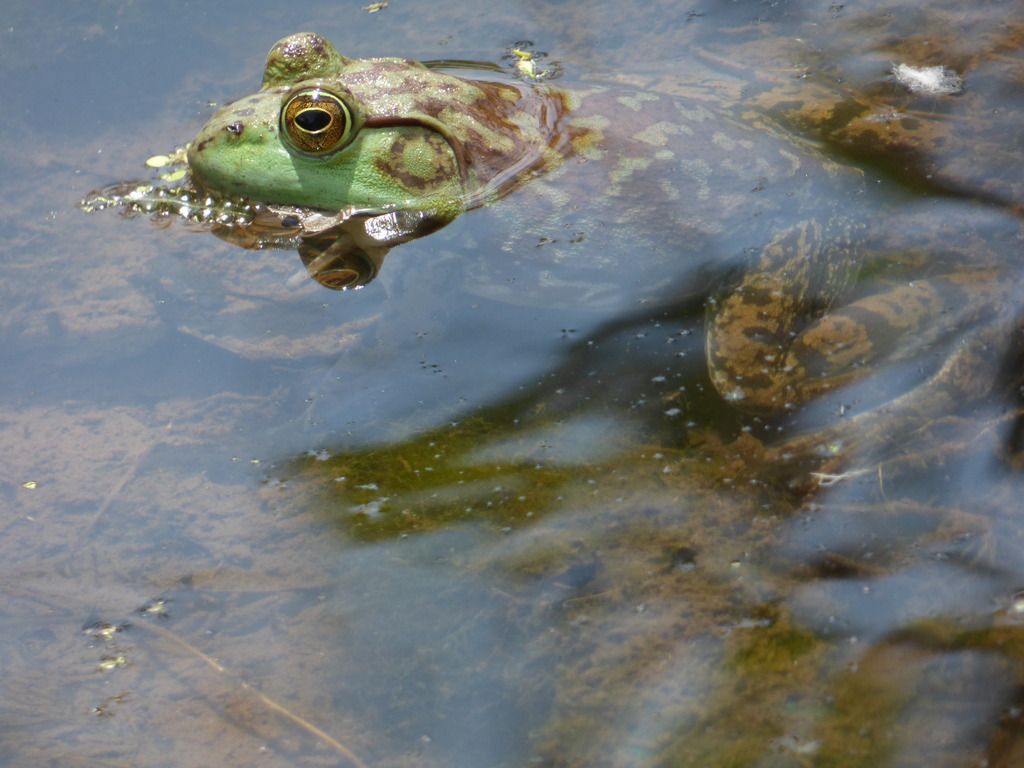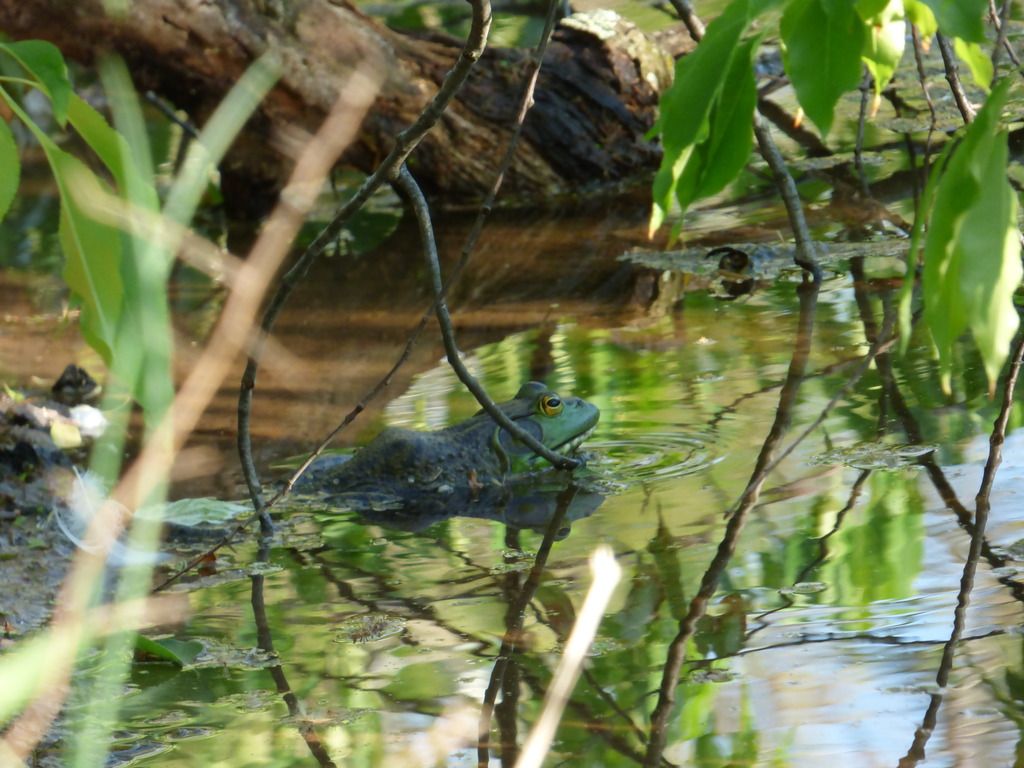 Meanwhile, musk turtles disappeared, explaining how Kevin had not seen them there before during his summer visits.
In a small rocky pool below the outflow of the lake, we began to see the same two water snakes repeatedly: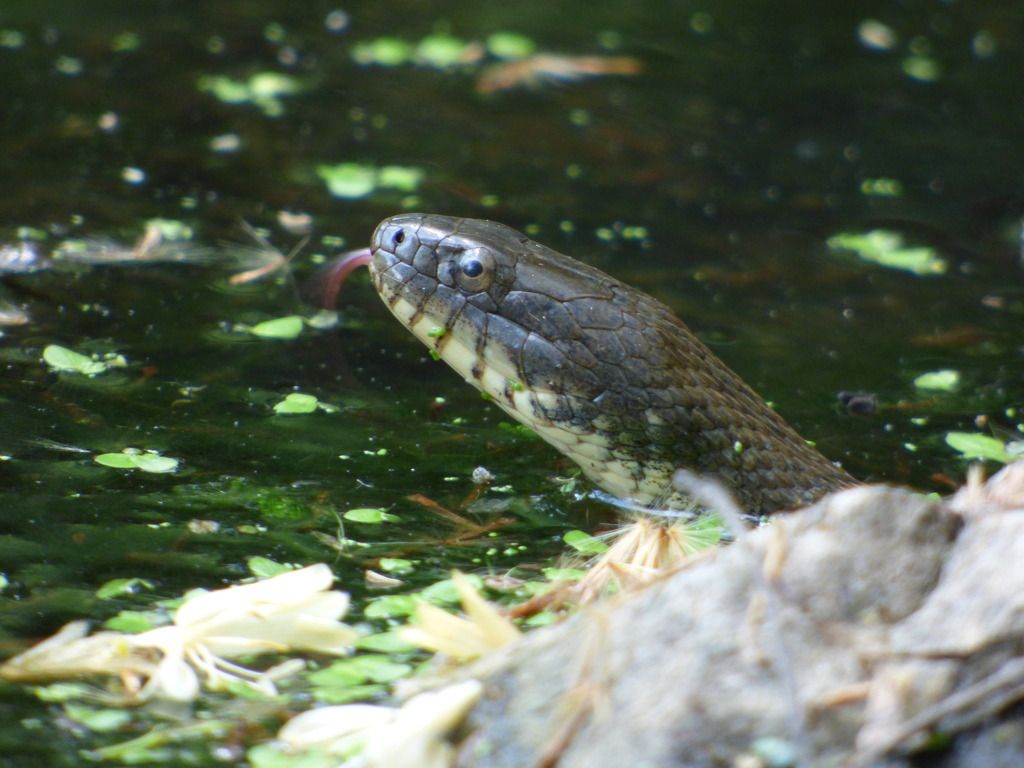 By this point, we were desperate to find queen snakes. We had searched nearly all of the rocky streams in our neighborhood, but had only found two queen snakes. However, as a result of our searches, we managed to find cave salamanders in many places we had not known them to exist: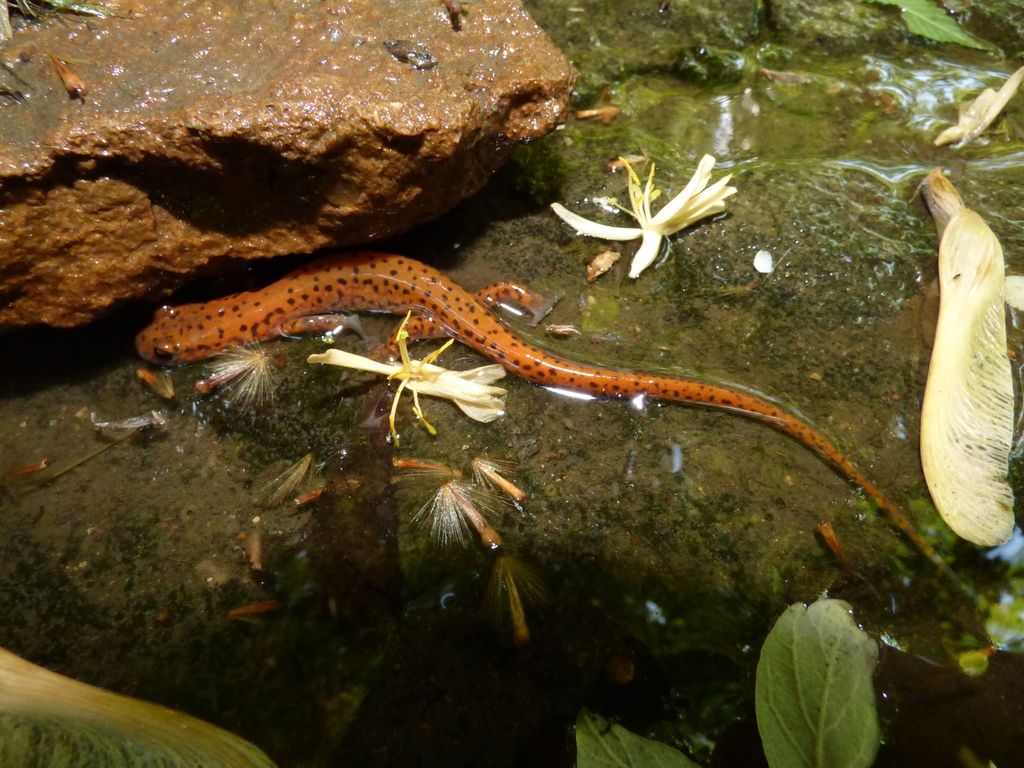 One day, we decided to try a small stream with almost no rock in it at all. To my surprise, Kevin found three queen snakes during our search there (one under the only good-sized rock in the entire stream, two randomly swimming around)!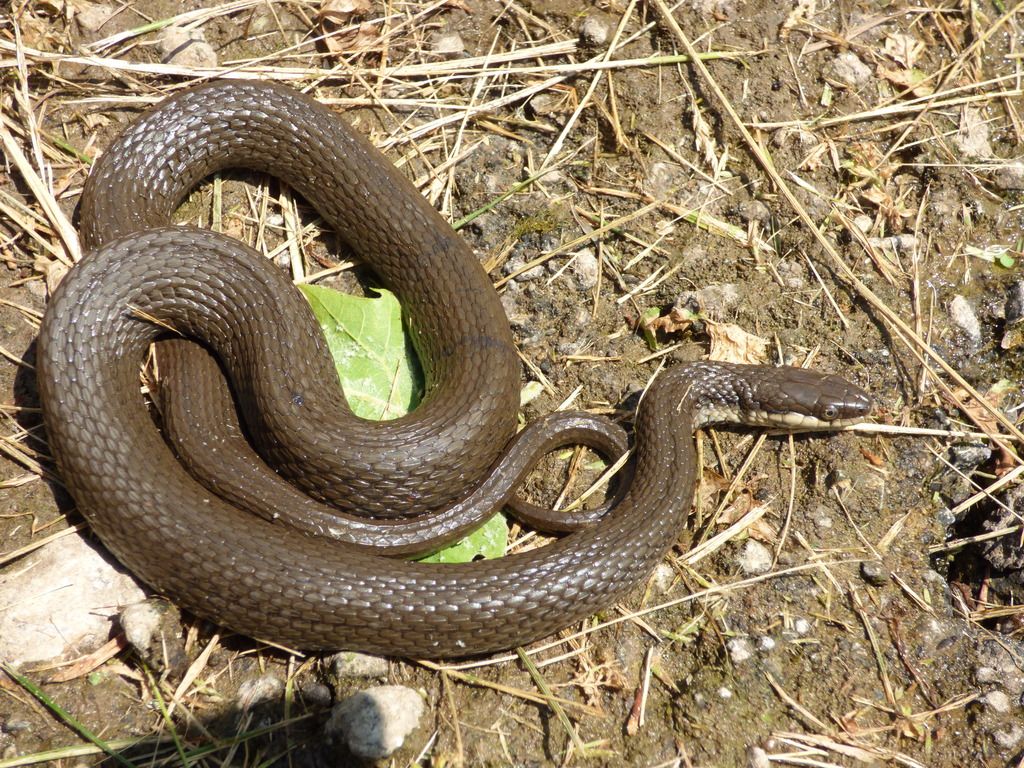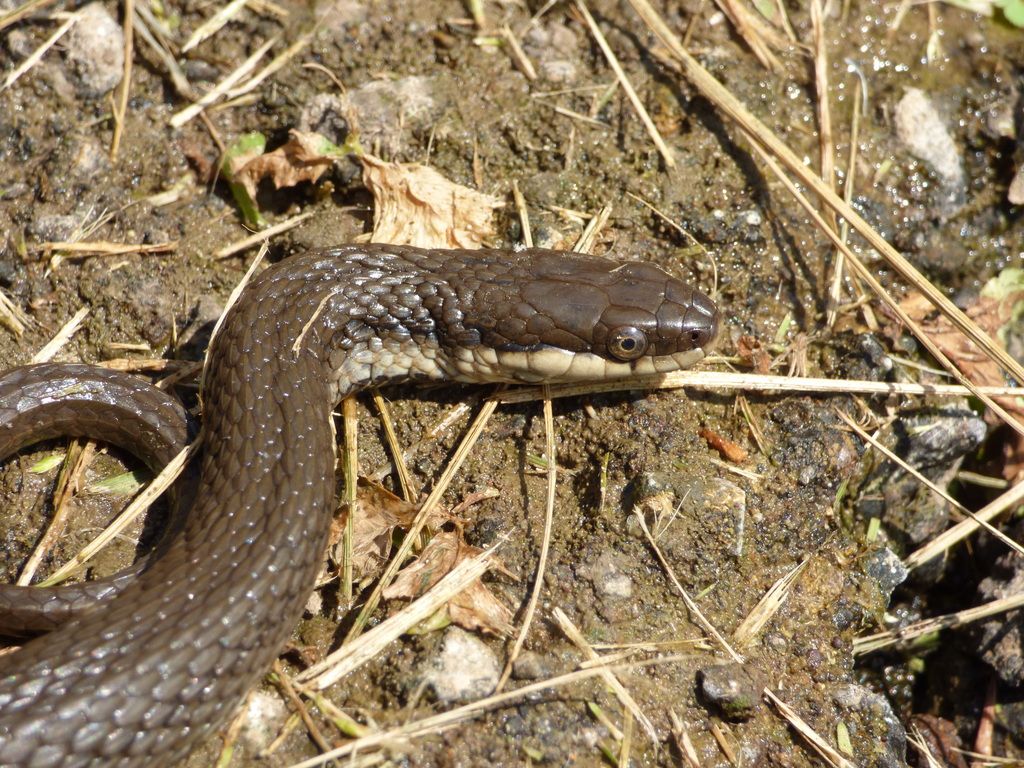 We have visited that stream many times since that day, and have found queen snakes on nearly every visit. We believe that this abundance of queen snakes is due to the high water quality of the stream - according to Kevin's dad, who volunteers for an association dedicated to preserving our neighborhood's watershed, this stream has by far the highest water quality of any stream in the watershed (which takes up about a third of the city).
We continued to visit the local lake, always finding sliders: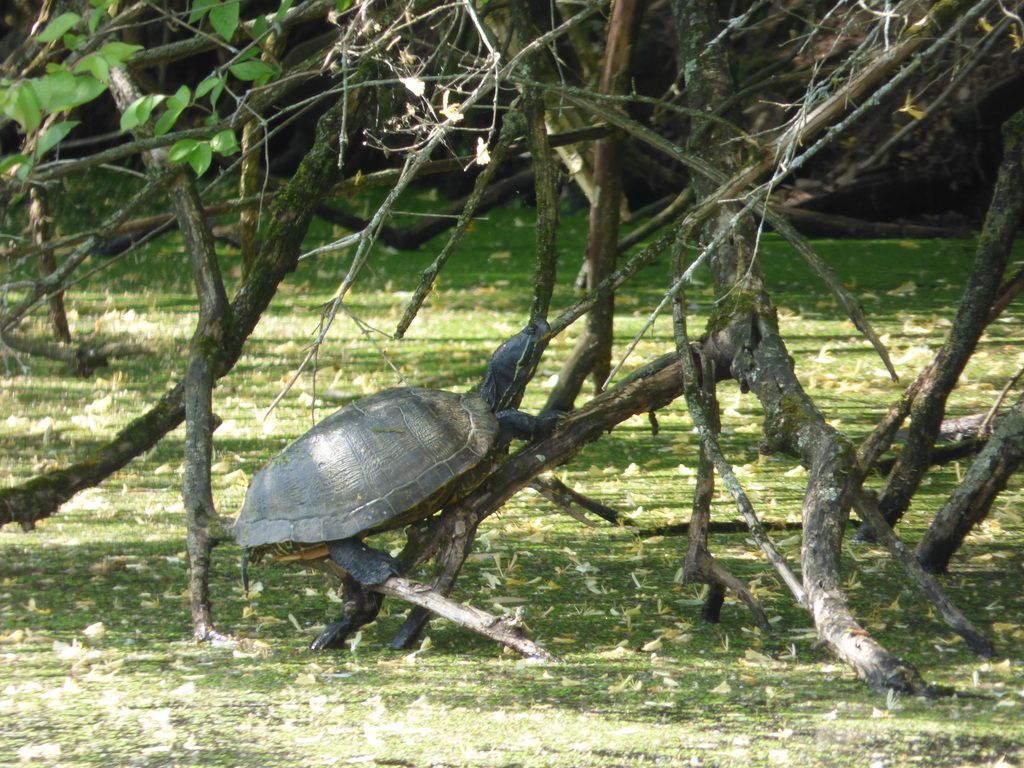 and sometimes also finding snapping turtles: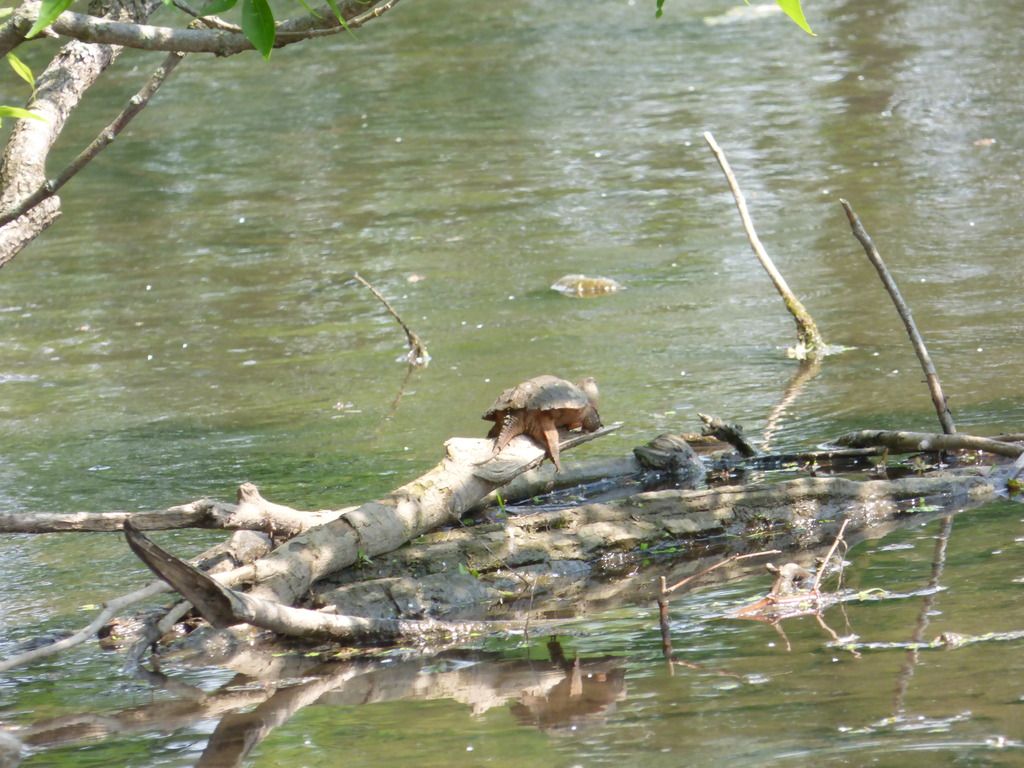 One time we even found a map turtle: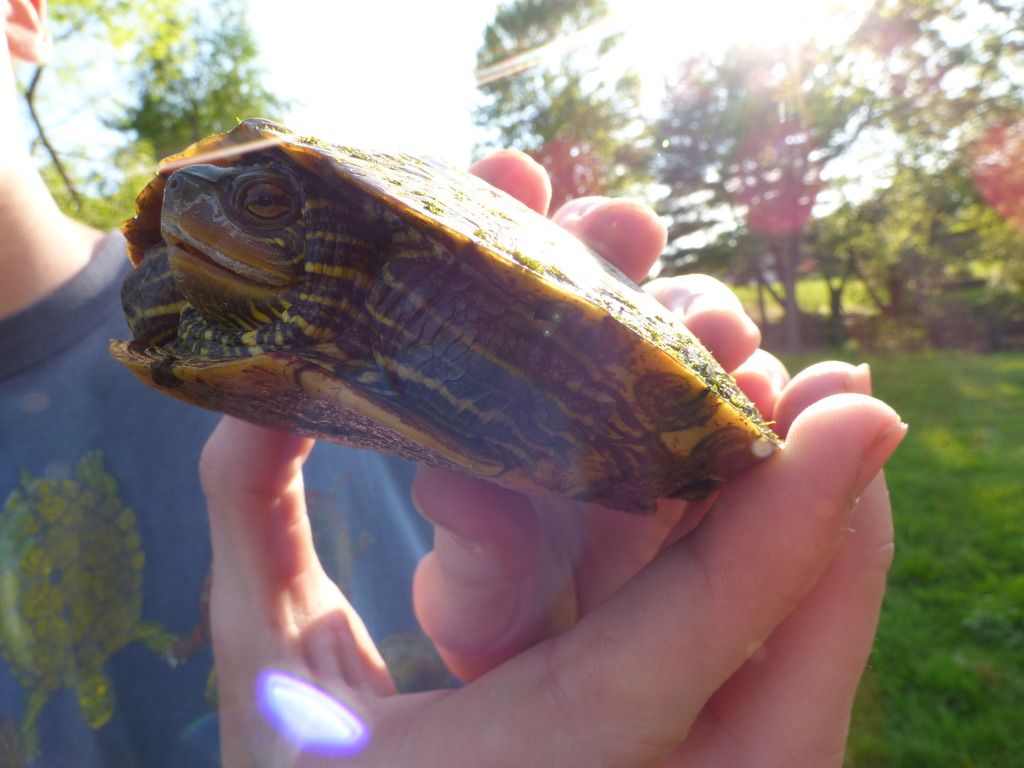 Later, Kevin went alone and found a box turtle in a small patch of woods adjacent to the lake. This means that we have now seen every native turtle except the painted turtle in the lake, as well as water and garter snakes, bull frogs, and green frogs. Pretty darn good for a small lake in the middle of the city!
Birds are also abundant around the lake. Here is a green heron from the lake: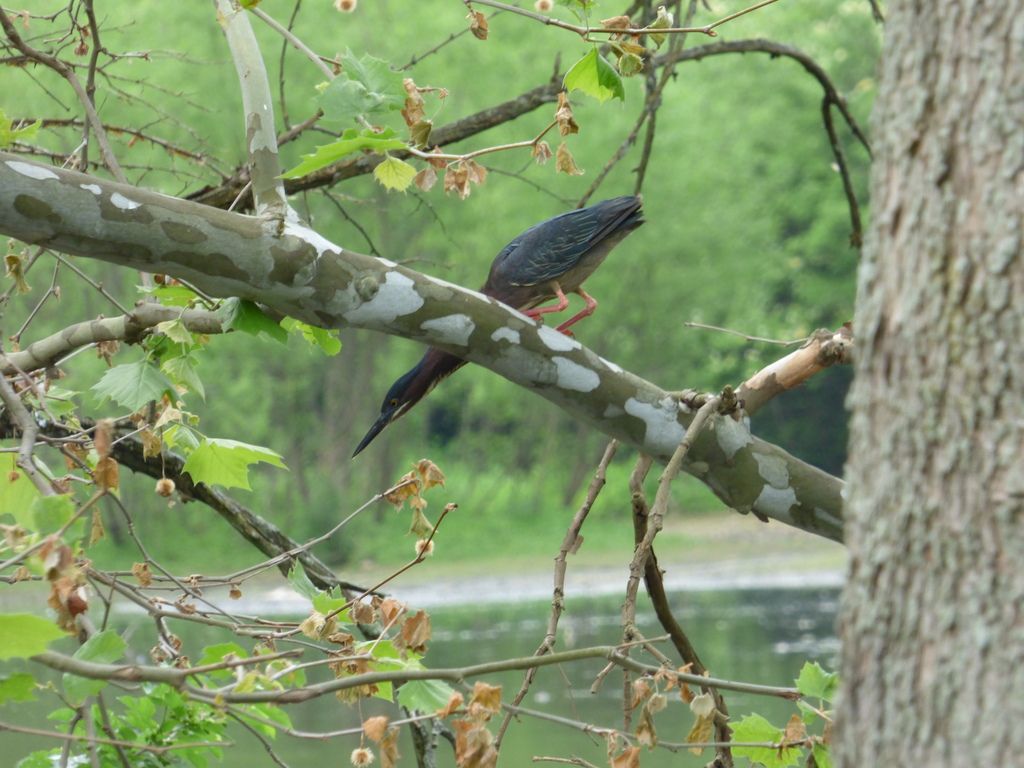 A sandpiper: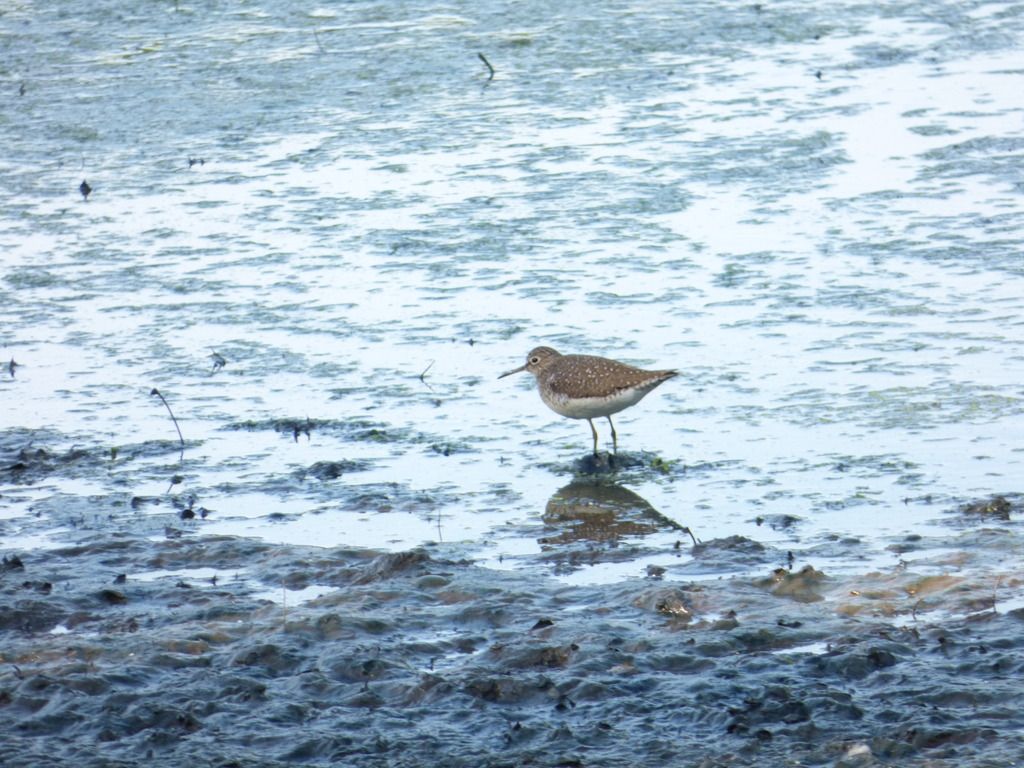 One rainy night, Kevin's dad agreed to take us road cruising in the Kentucky River Pallisades. We were hoping to find some treefrogs, and perhaps some cool salamanders. We first cruised in some flat farmland along the Kentucky River. There we found several green frogs, a pickerel frog, tons of american toads, and a couple of cope's gray treefrogs: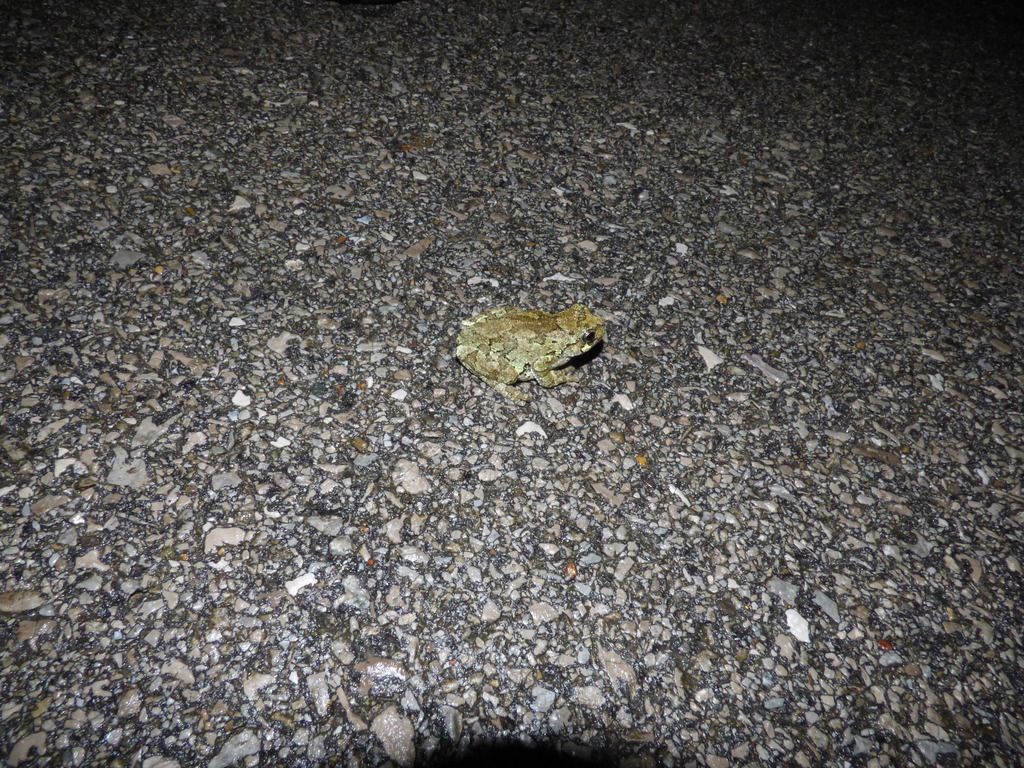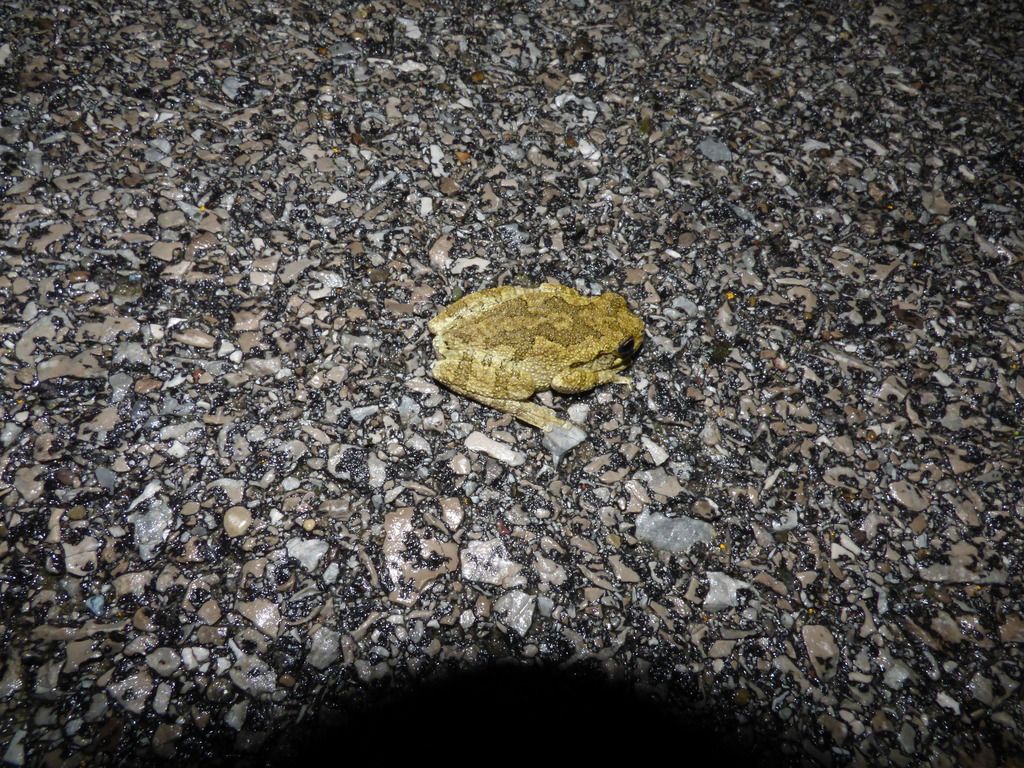 Next we moved on to some stream valleys. We were not having much luck road cruising - in about half an hour we only managed to find one two-lined salamander, so we decided to get out and walk a creek. There we quickly found another two-lined salamander out and about. Then we came to a small, mossy spring trickling down the hillside, and decided to check it out. There, we found two spring salamanders, the highlight of the night. Although I stupidly left my camera in the car, Kevin got some photos: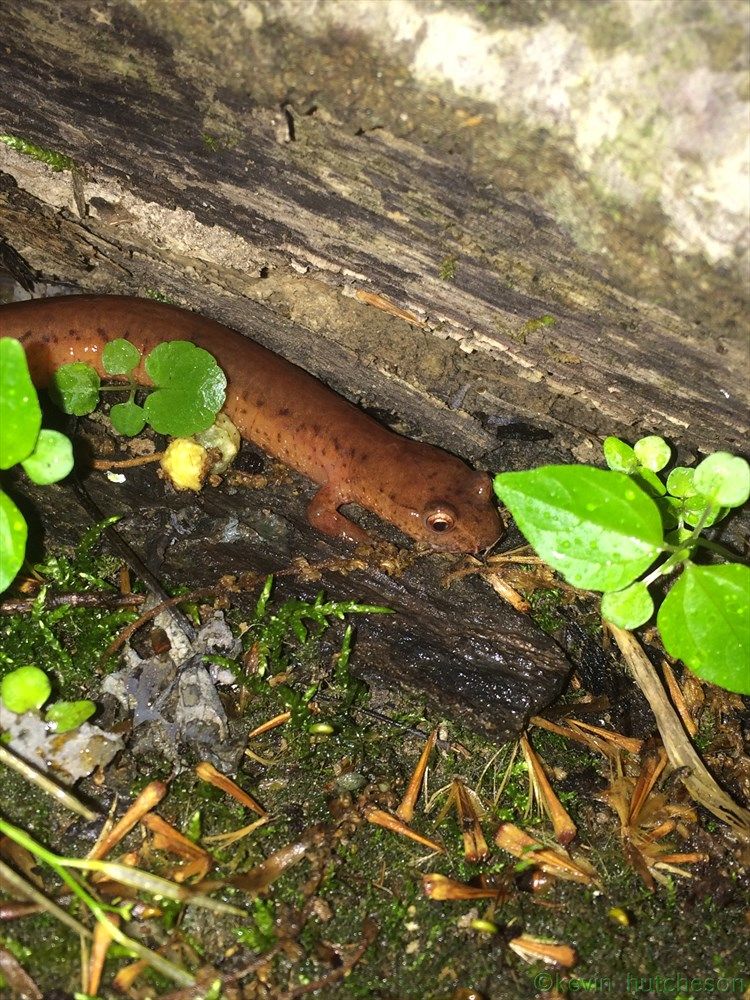 The next weekend, we went to an area of Eastern Kentucky which we like to herp for a day. We began by visiting a tin site set up by Nigel Smith, which seems to be a pretty reliable spot for kingsnakes. When we arrived temperatures were in the low sixties and it was cloudy. We began with a nice box turtle: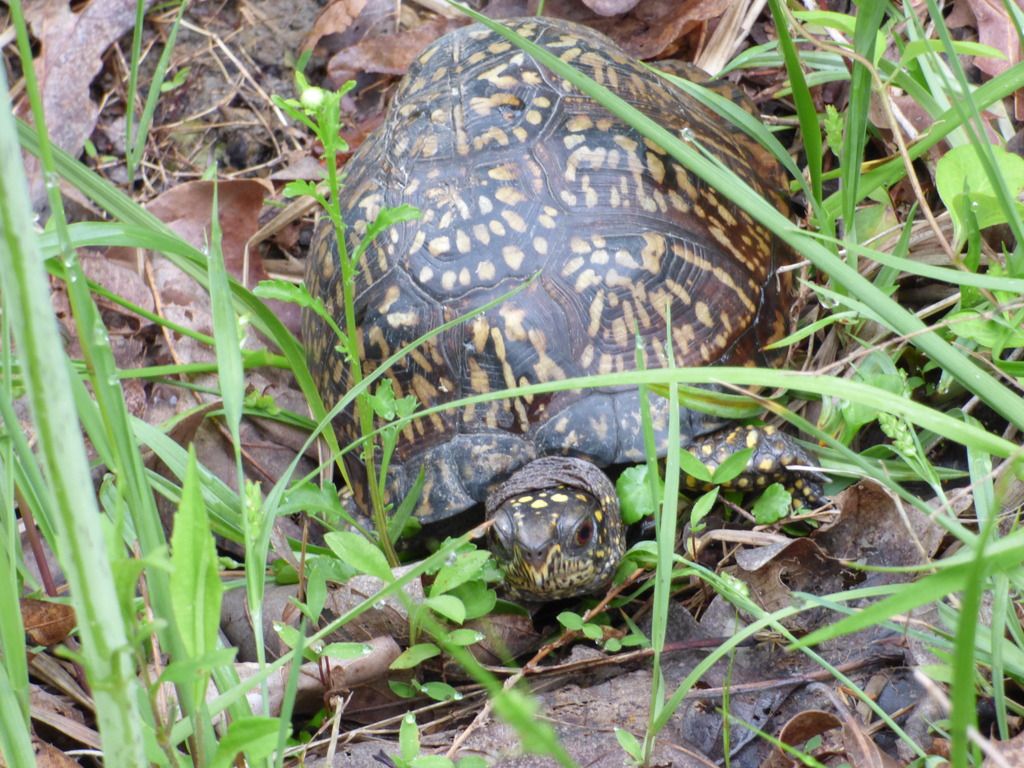 We flipped a couple of sheets of tin, and found this kingsnake pretty quickly: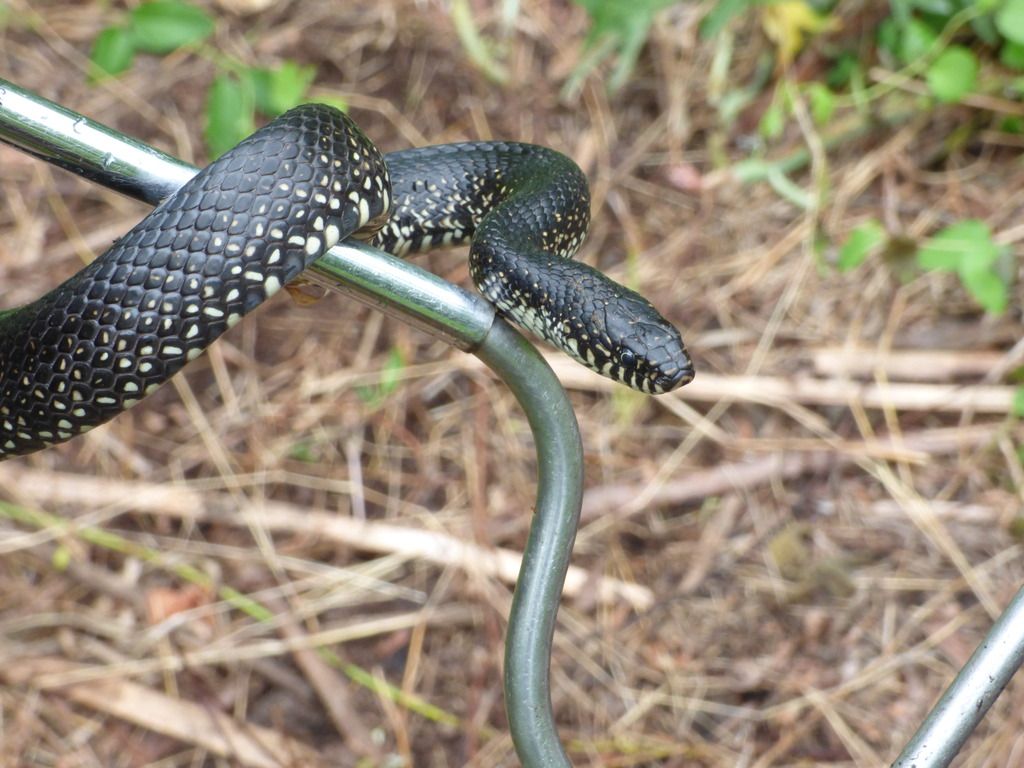 The tin felt cold to the touch, so we decided to head to a nearby mountain for a while, where we were told there were red-bellied snakes, then come back once the tin had warmed up a little. This ended up being a big mistake - we ended up staying at the mountain until it was almost 2 PM, and by then the tin was smoking hot, and nothing was under it. However, we did find some stuff along the crest of the mountain.
A large garter snake: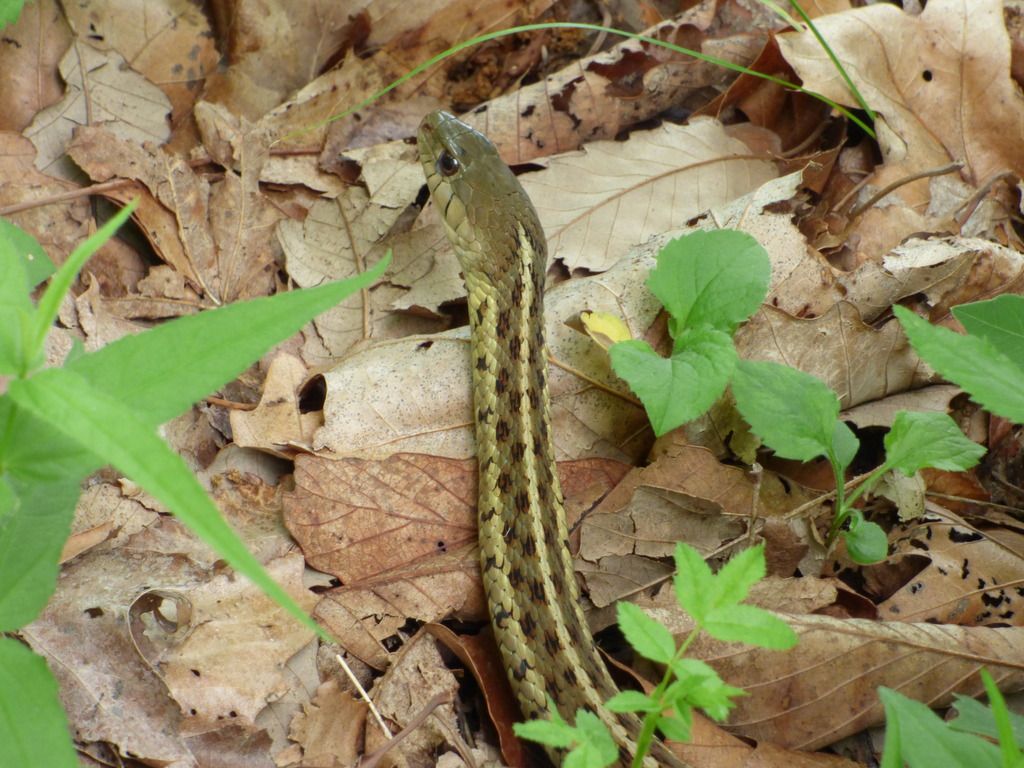 A male five-lined skink: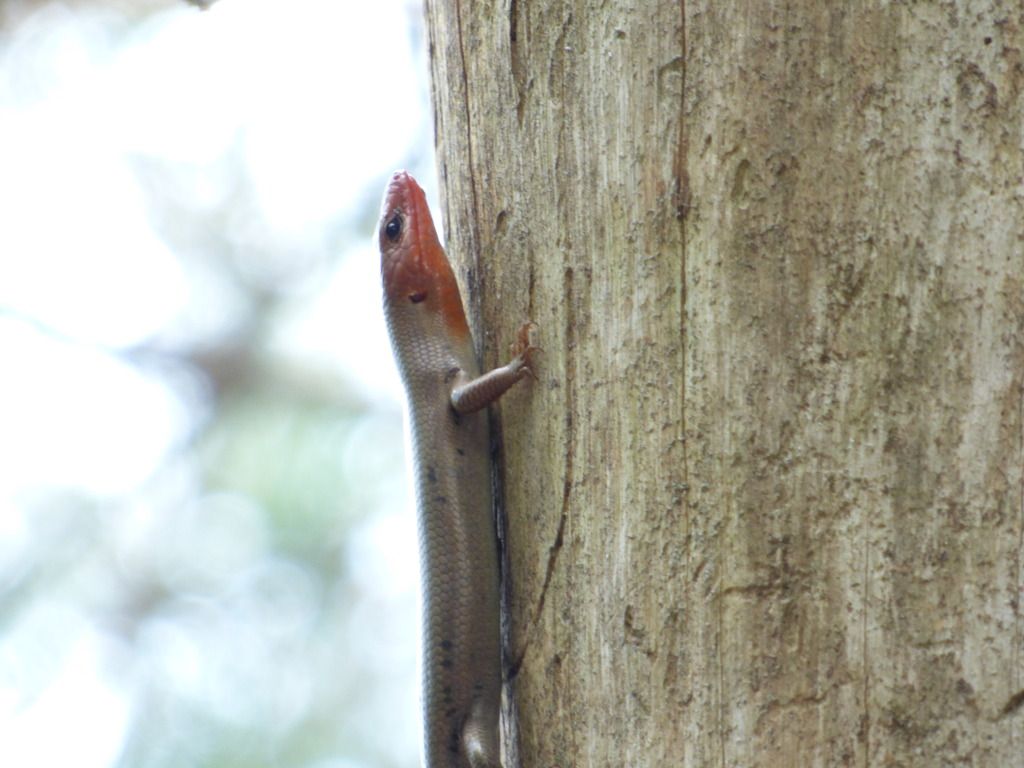 One of many ground skinks: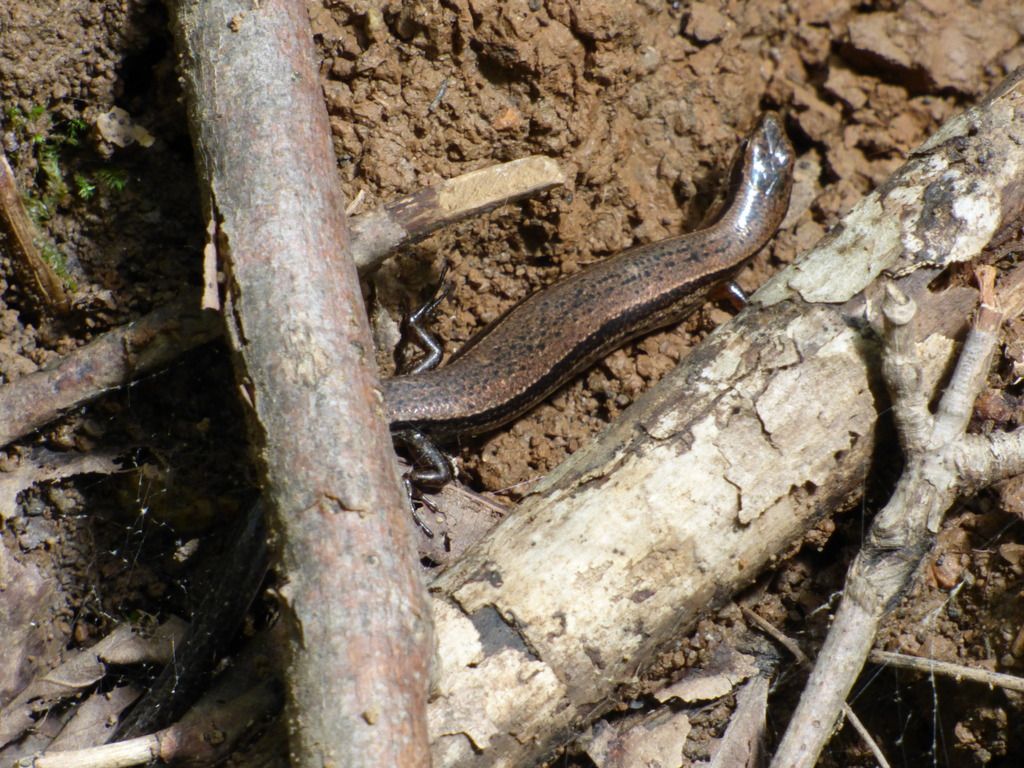 At the foot of the mountain, there was a dirt road with a tiny ditch beside it. Although it was clear that there had been water in it at one point, there was no water now, despite it being May. Based on this, we though that no amphibians could possibly breed in it, but we were proven wrong when I flipped a huge log beside the ditch to find this spotted salamander: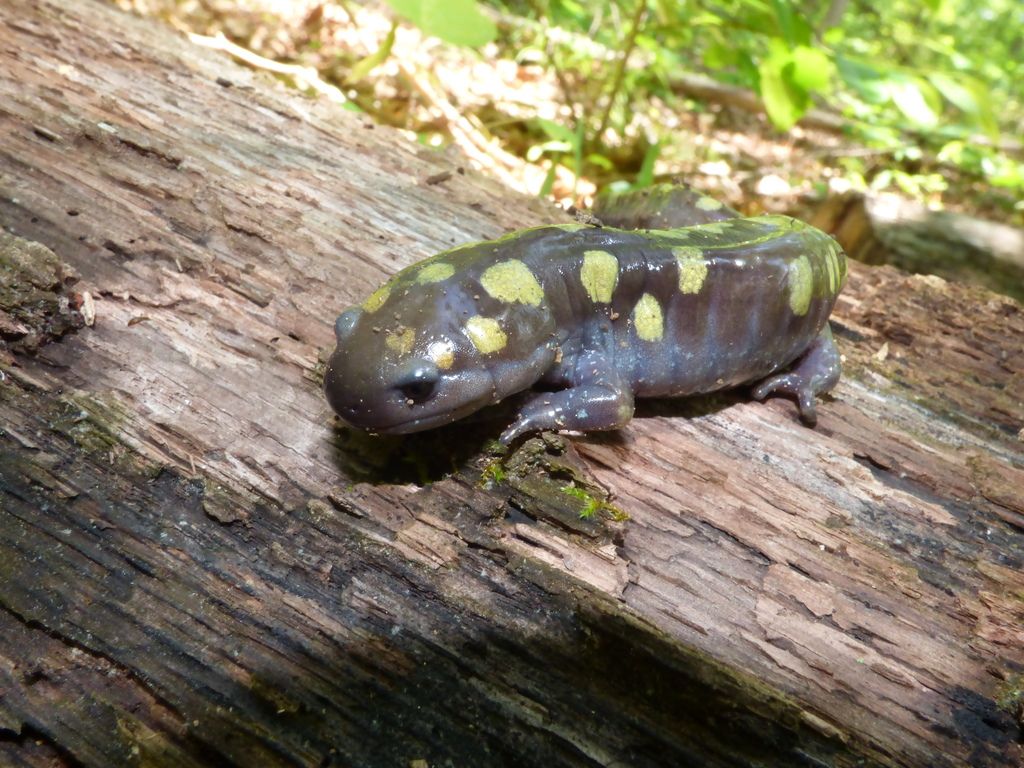 Next, given the heat, we moved on to a nice salamander spot in the area. This spot is a deep valley containing cool, moist deciduous forest and a small stream draining down from a small waterfall: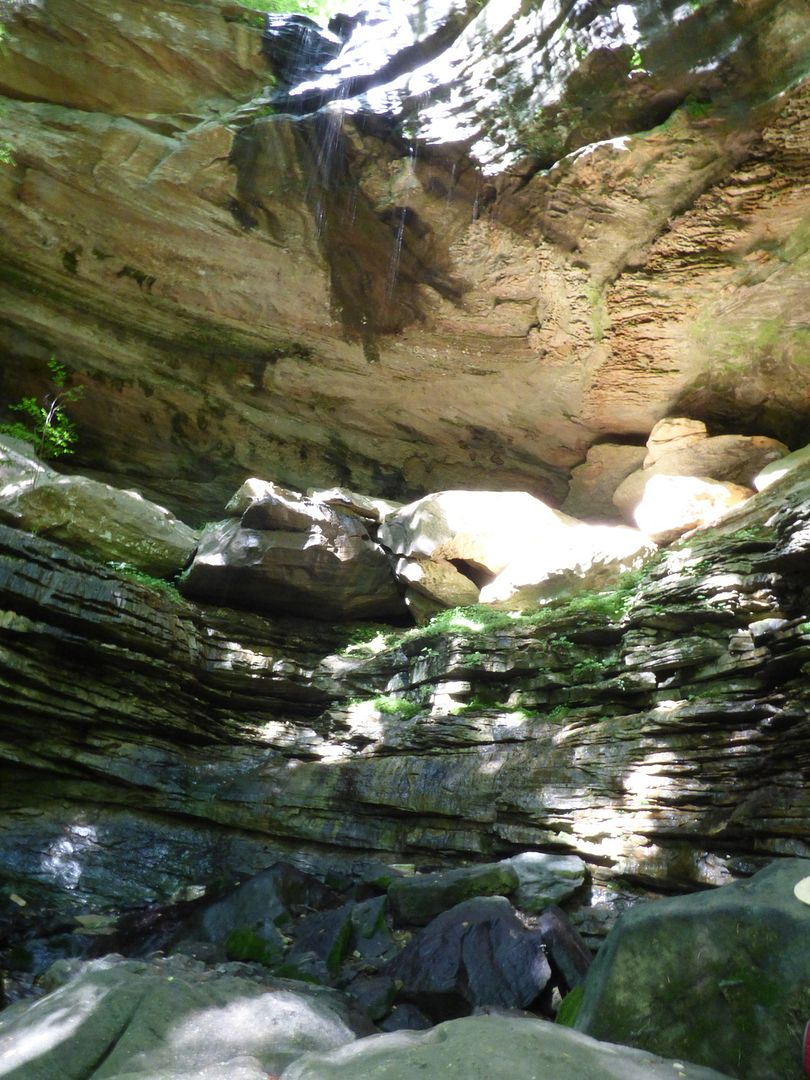 This site is especially diverse due to its geology. The streambed cuts through shale layers, creating many small, flat rocks to flip. However, the cliffs which the waterfall spills over are composed of sandstone layers on top of limestone layers. The water from the falls has created a small cave in the limestone (habitat for cave, longtail, and slimy salamanders), and the sandstone layers are home to green salamanders. Seal salamanders are absolutely everywhere at the base of the falls (especially in the wet rock crevices):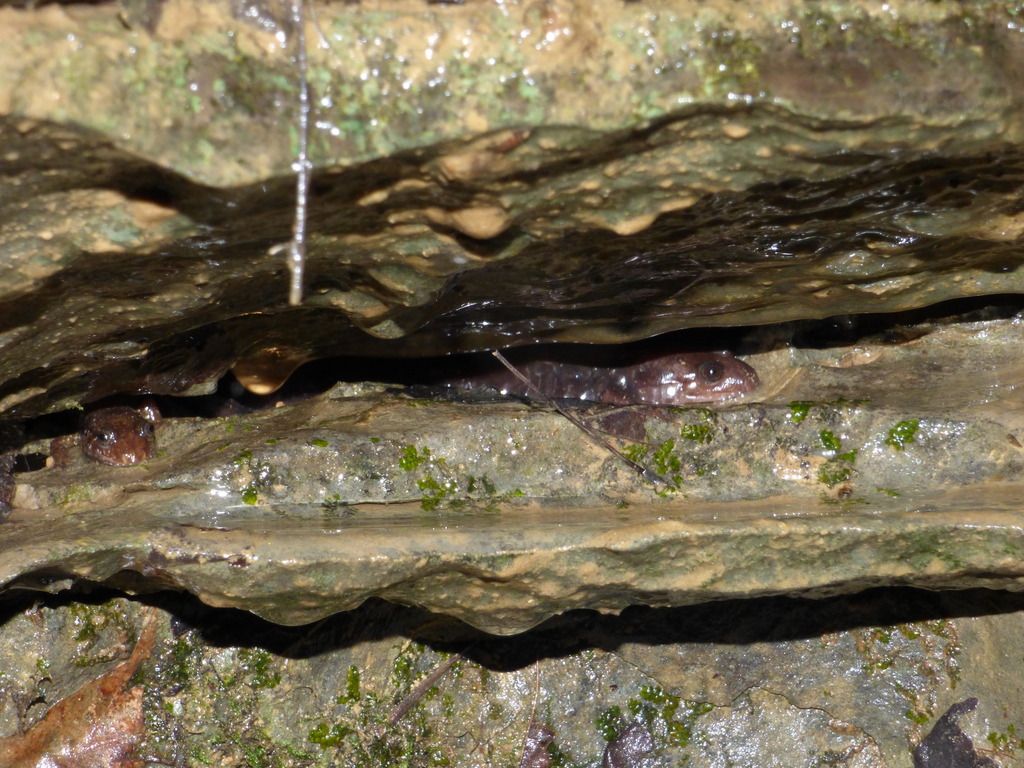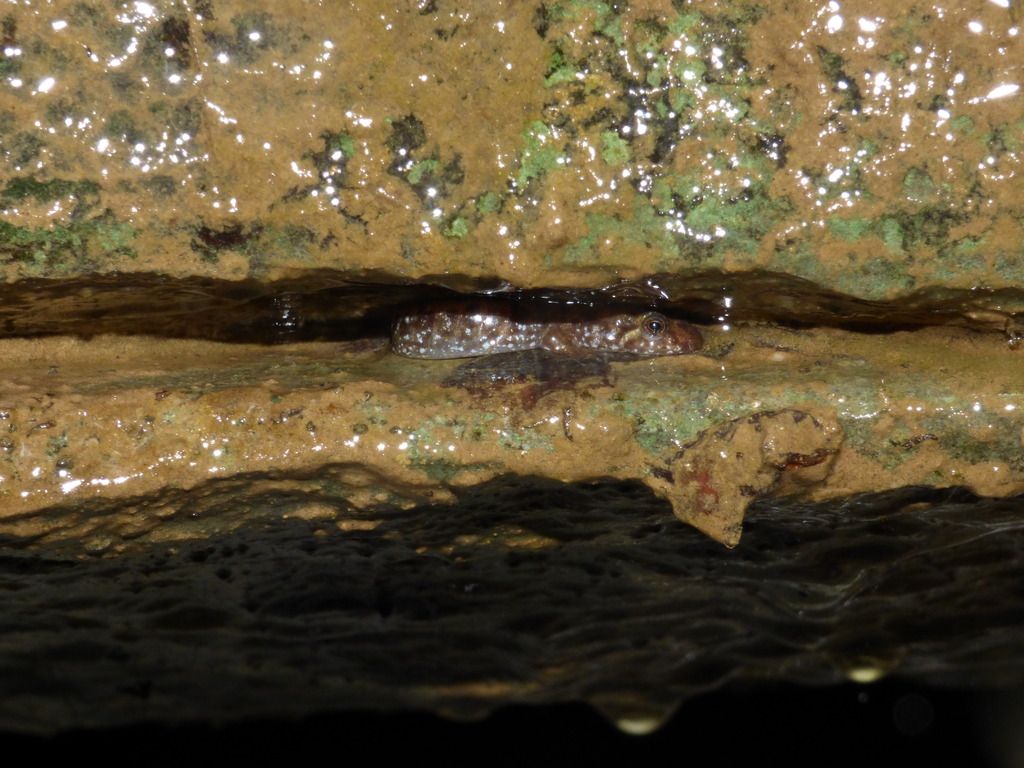 On this visit, we also found a spring salamander in the crevices at the base of the falls, the first time we had found one at this site:
We quickly found a green salamander in a sandstone boulder along the cliff line: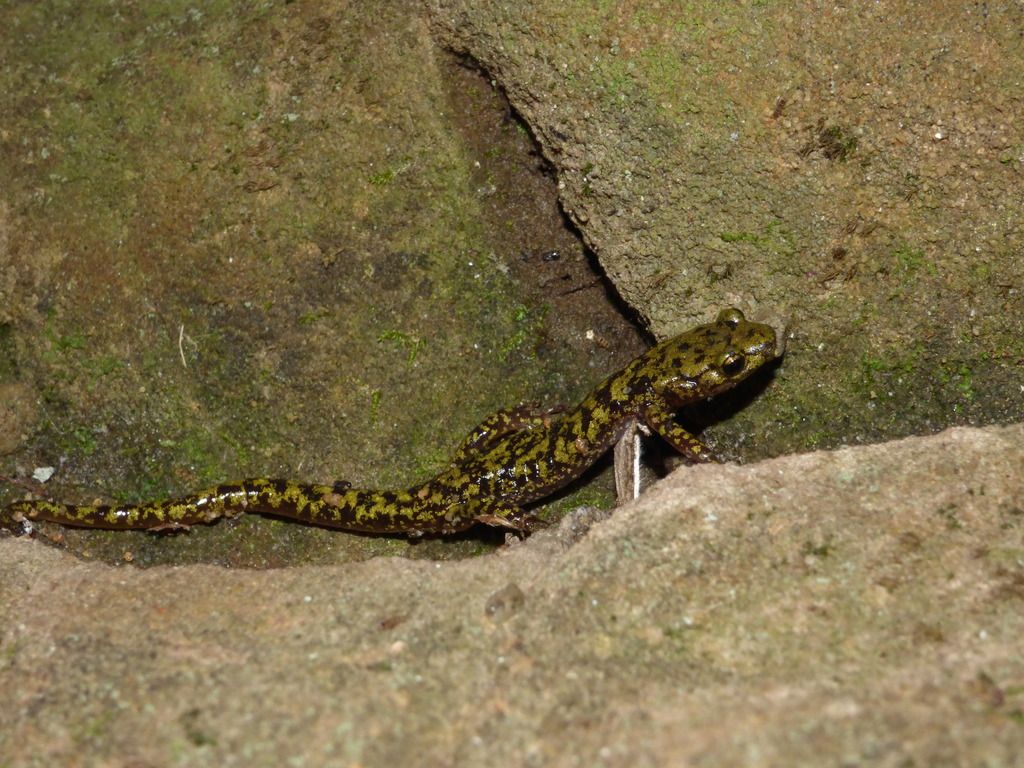 In the cave enterance, we found a couple of cave salamanders: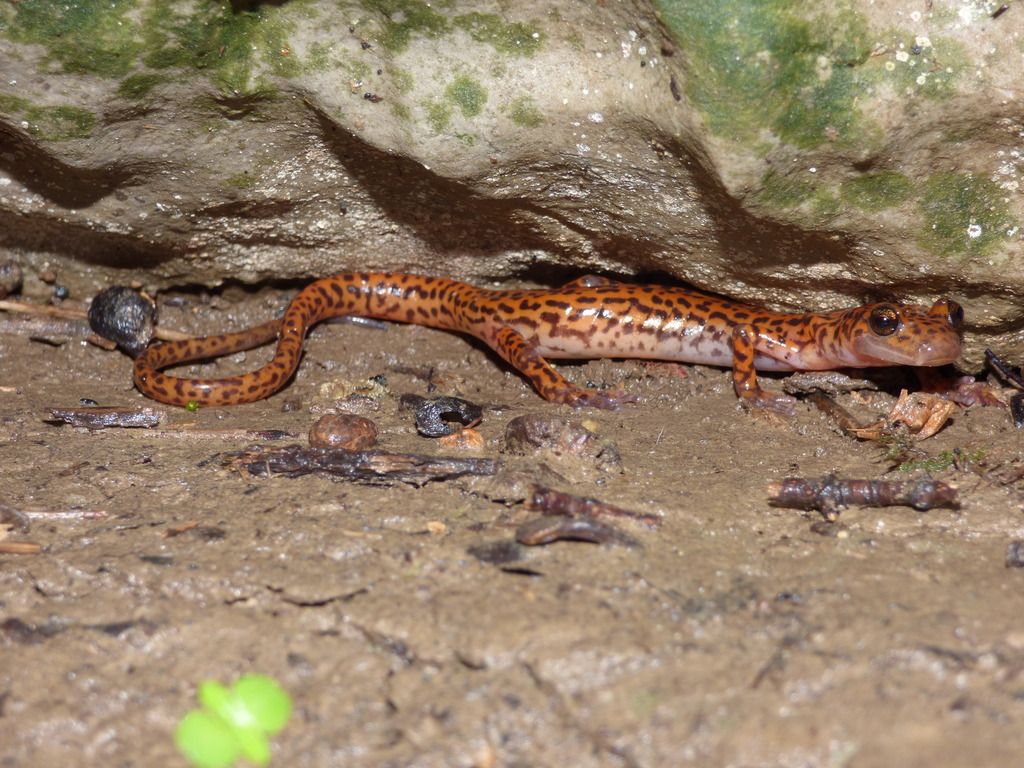 We also found two nice longtail salamanders, but we were unable to catch them.
Under a log in the woods, we found a large slimy salamander: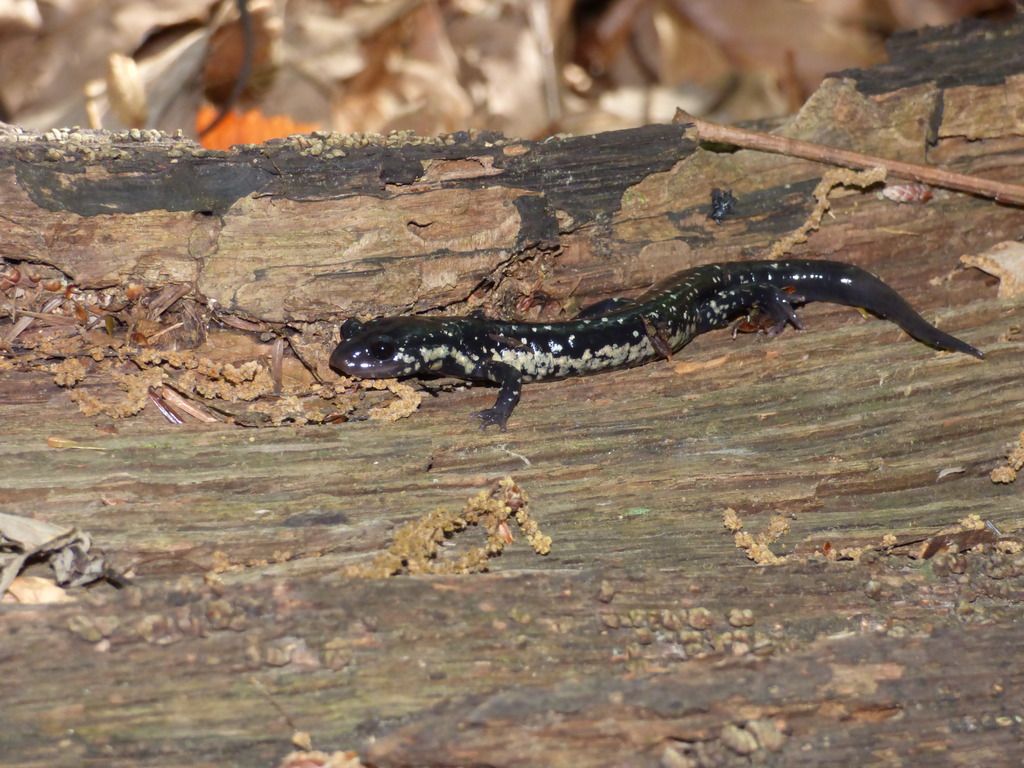 The stream is home to three species of dusky salamanders, longtail and two-lined salamanders, and red salamanders. On this visit, we found all three duskies.
One of about 4 northern duskies: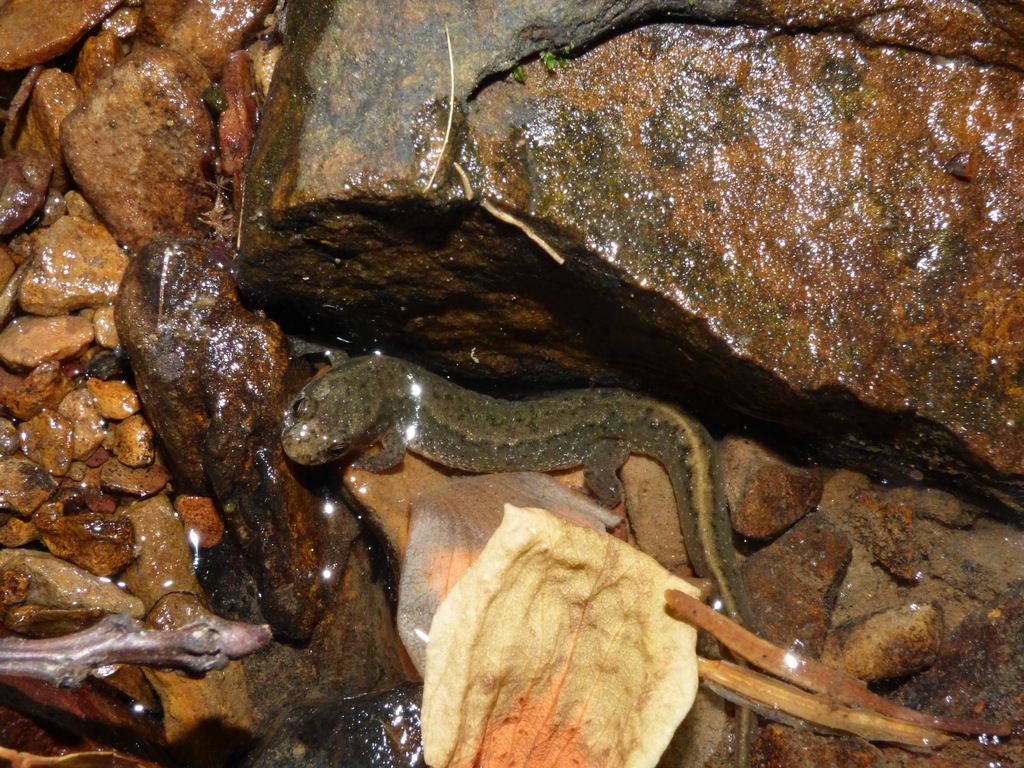 One of five black mountain dusky salamanders: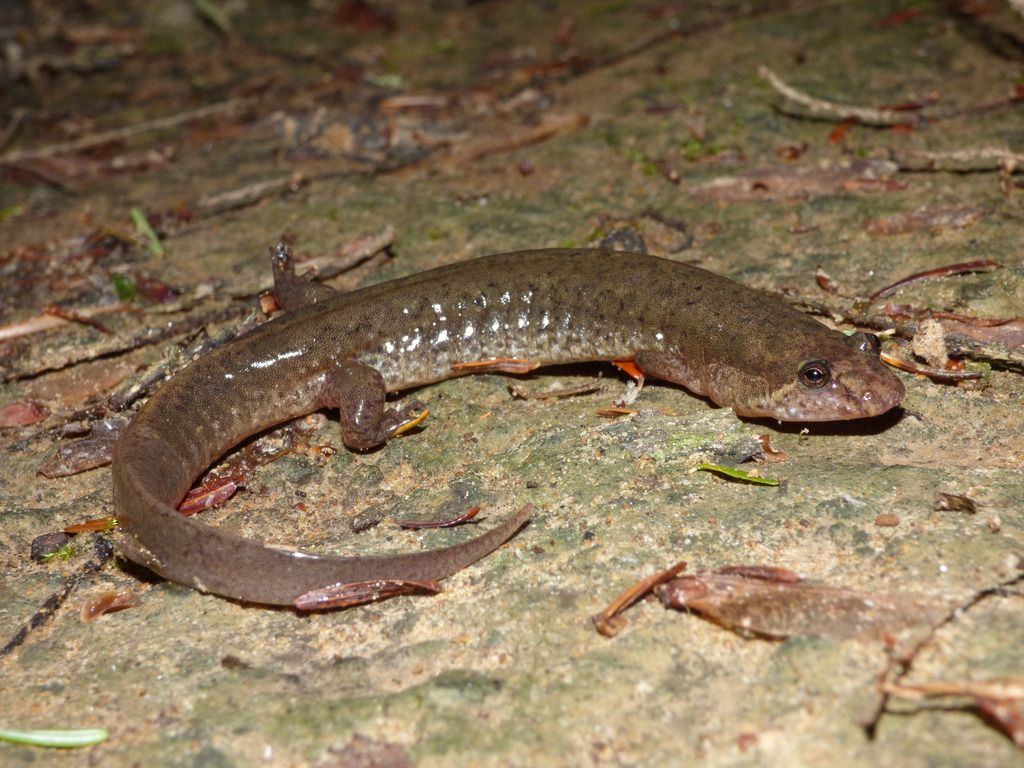 And of course tons of seals. Although this time we did not find any longtail salamanders in the stream, we did find several two-lined salamanders: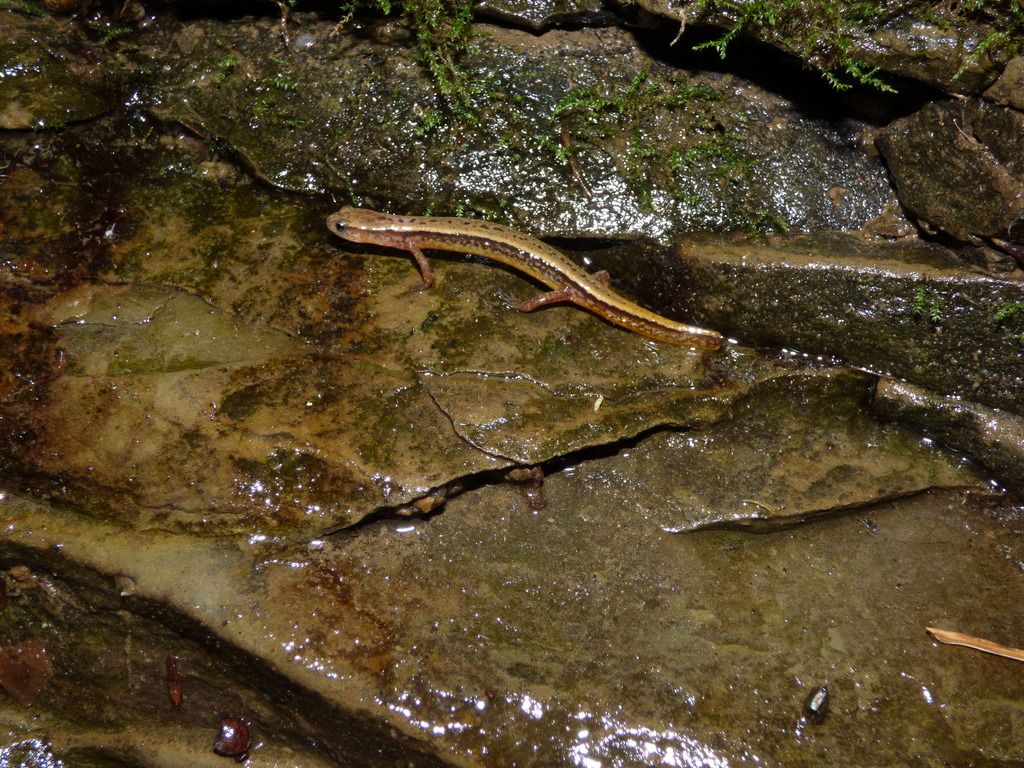 And two recently metamorphosed red salamanders. These guys had just lost their gills, and had not yet gained a red color:
We also found ringneck and juvenile water snakes along the stream. We find many of these here typically during the summer - perhaps they are there to eat the many salamanders.
The next weekend, we went to a local preserve in the Kentucky River Pallisades of the Bluegrass region. Normally this preserve is closed to the public, but a herping event was being held here, so we had the opportunity to go. First the group checked the few sheets of tin they have layed out on a field margin. This yielded a nice milk snake: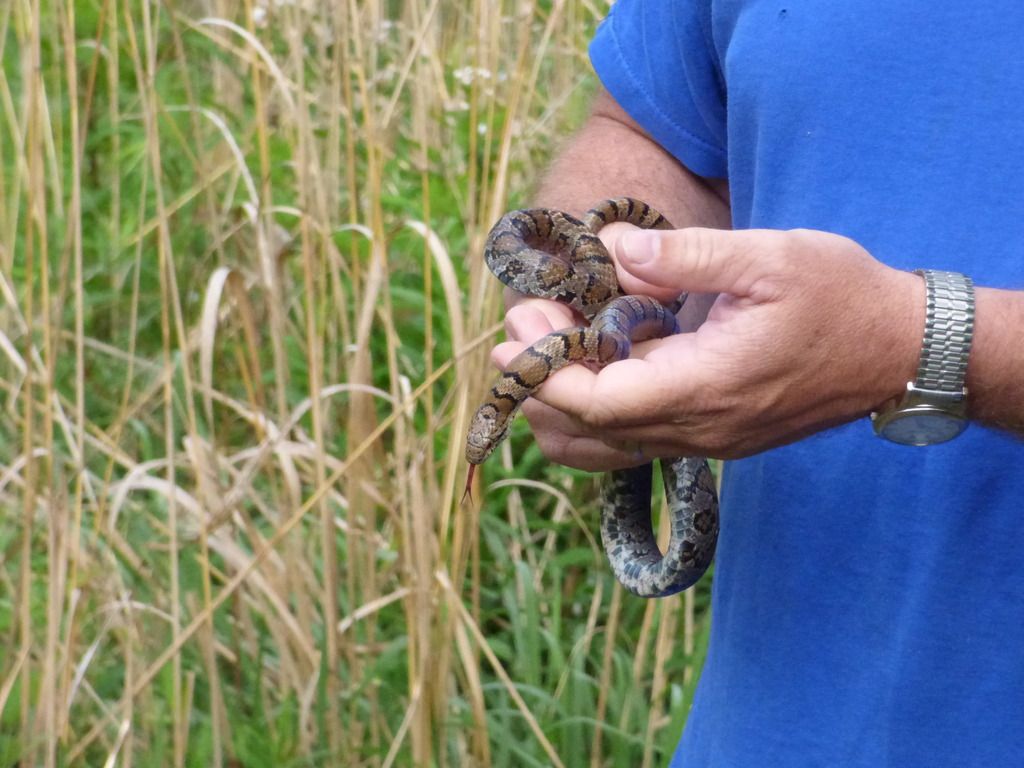 And a young adult racer: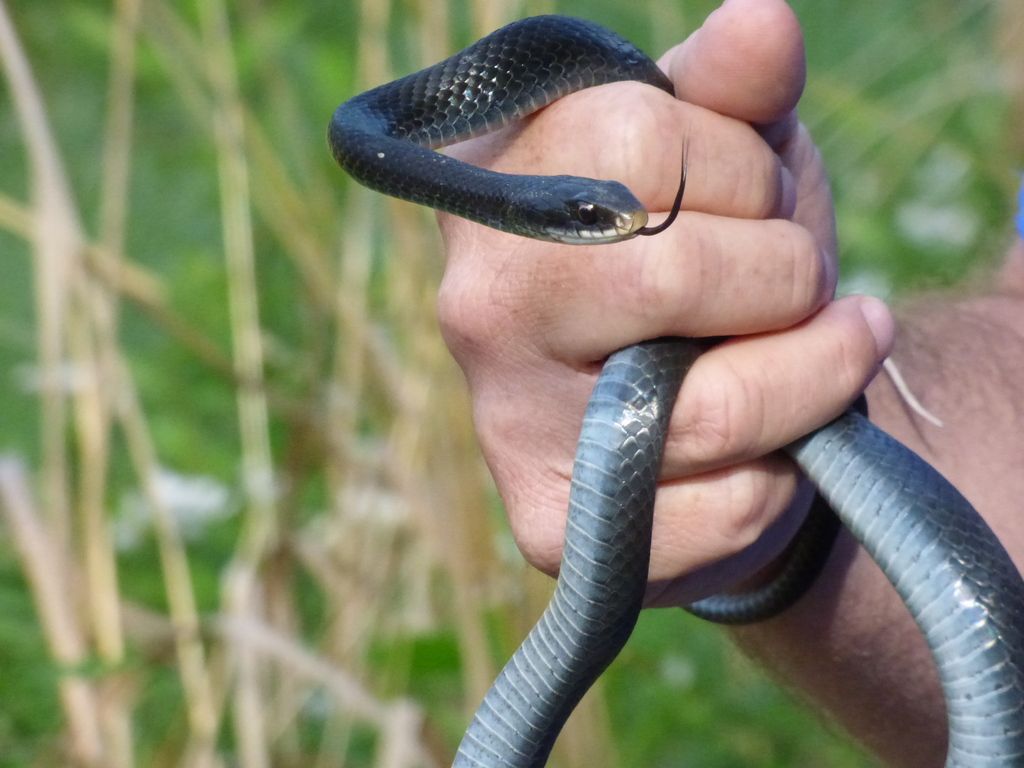 Next we went to what may be the most pristine stream in the bluegrass region. This is a truly beautiful place, and it is rarely visited by people: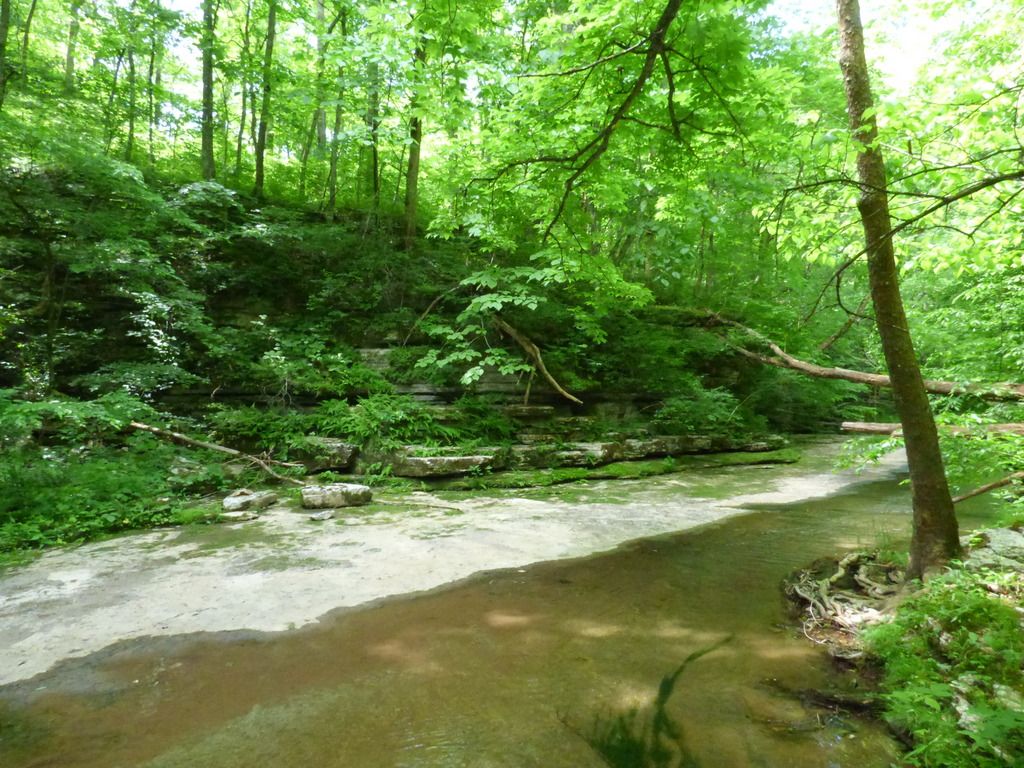 We quickly found many cave salamanders, and two-lined salamanders: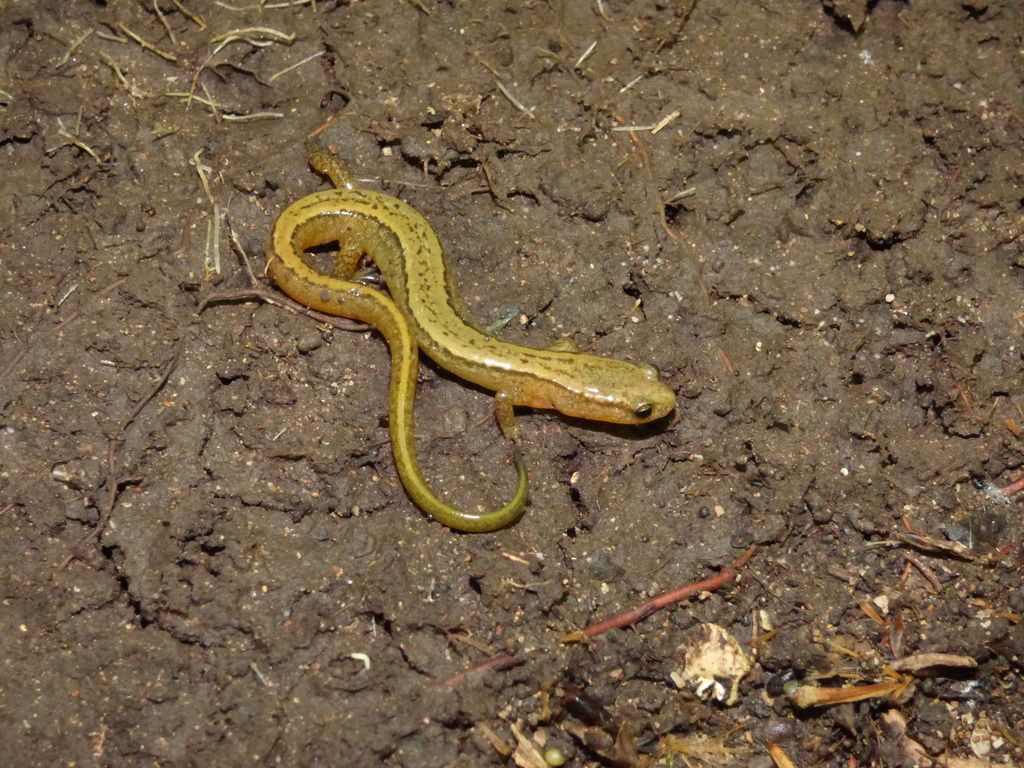 In one small waterfall along the stream, we found three longtail salamanders: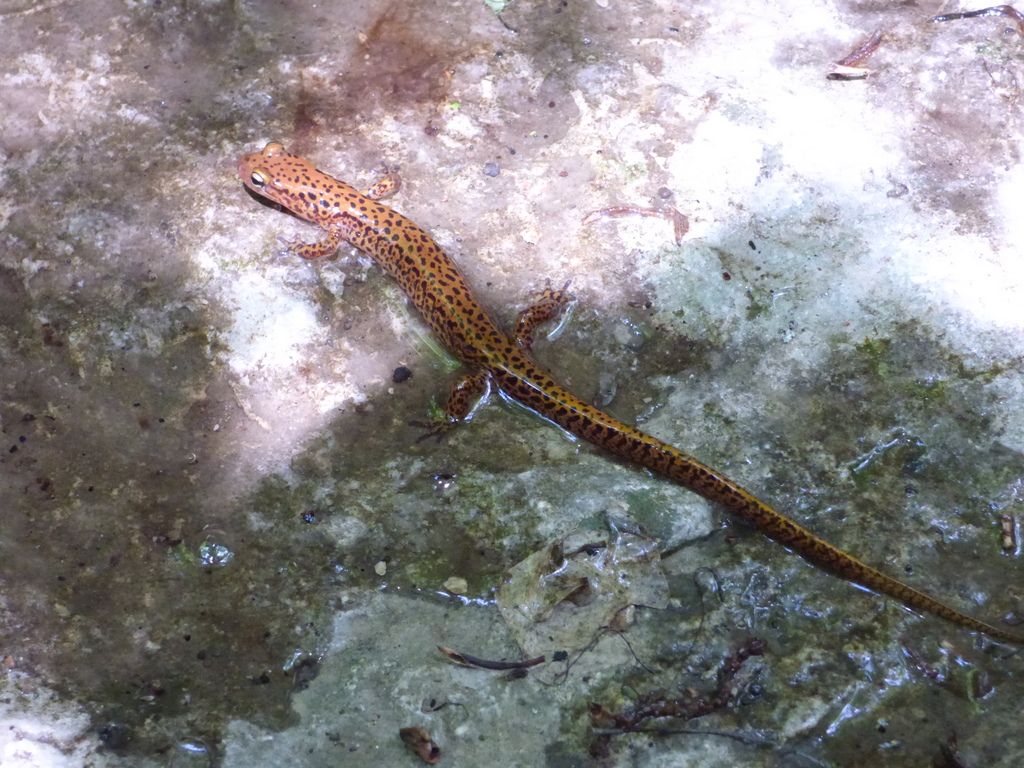 And at the edge of the riparian zone, my mom flipped up this young adult red salamander, the third I had ever seen in the Bluegrass region: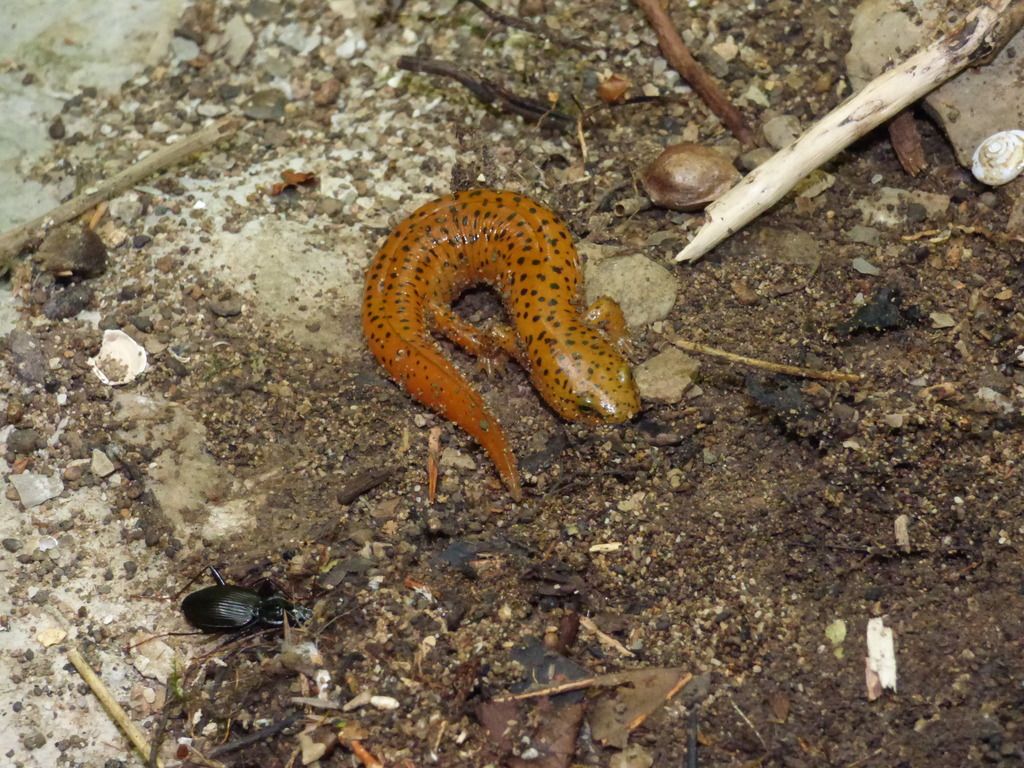 Also found was a ravine salamander in the woods adjacent to the stream.
The herp event ended at about mid-day, so we decided to head to a nearby spot we like to herp. We usually visit this spot in winter, as it is a very good spot for streamside salamanders and spring salamanders, but it also offers cool herps in May. We started by going to a field bordered by forests, where ten sheets of tin have been layed out. Despite the tin being smoking hot, beneath it we managed to find a garter snake, and this opaque milk snake: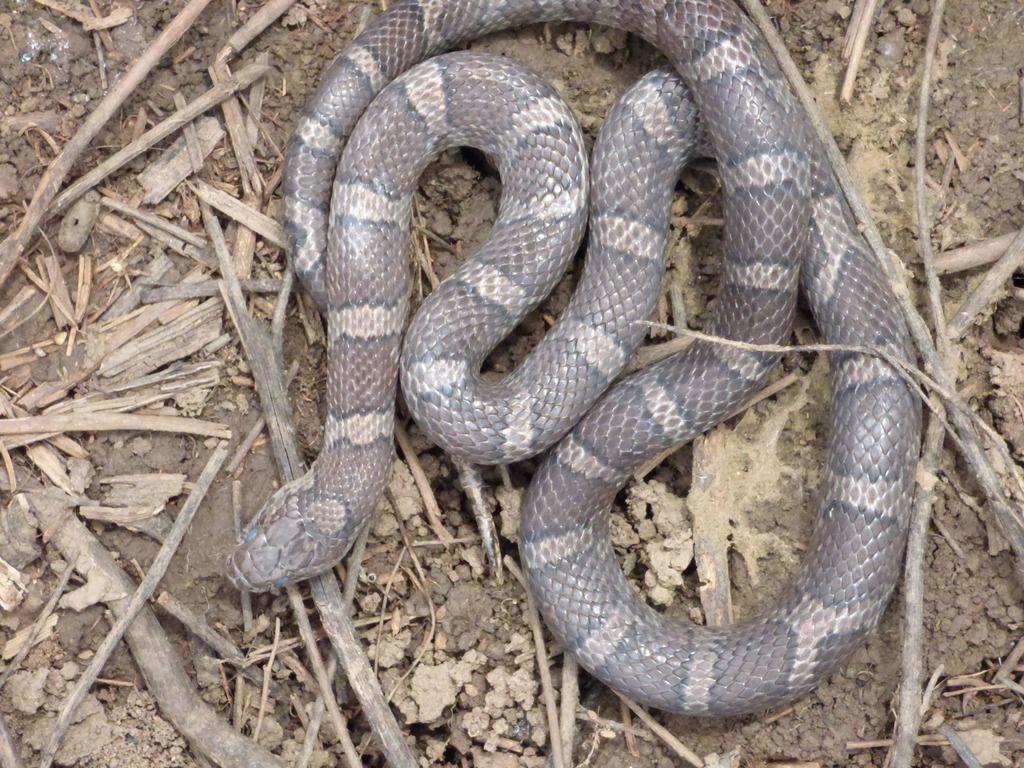 In the neighboring dry woods, under a railroad tie deeply embedded in the ground, we found this big, fat streamside salamander in a burrow: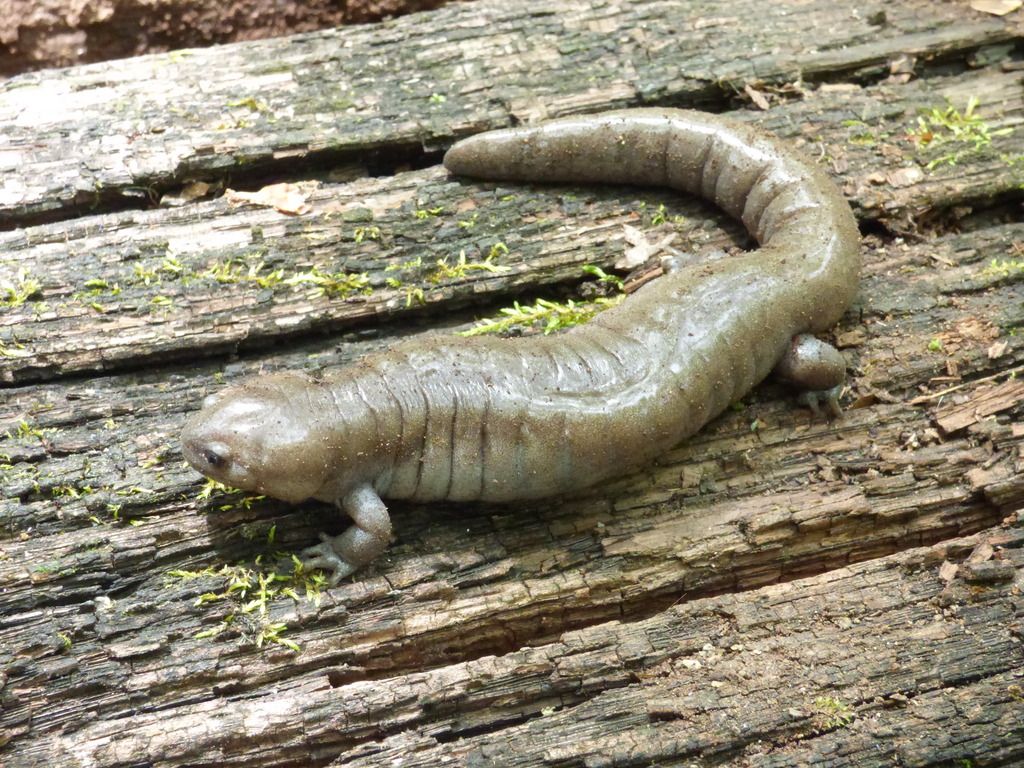 Next, we headed down to the lower part of the stream, where it cuts a miniature "canyon" of sorts through the limestone, on its way to the Kentucky River: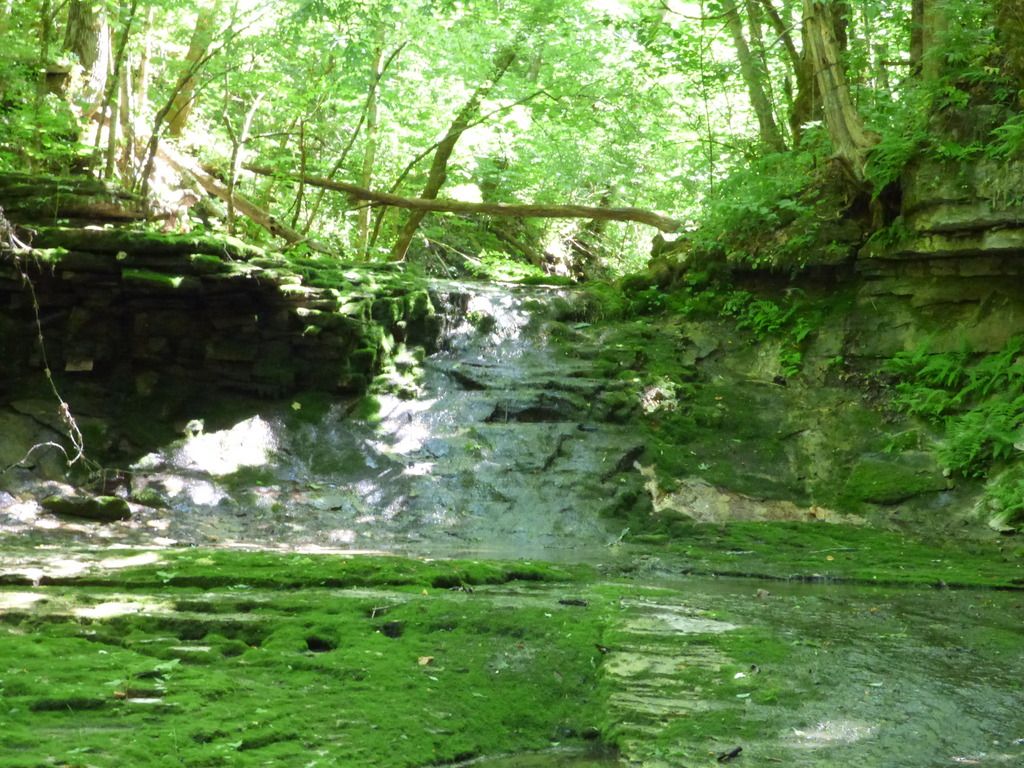 We began by finding quite a few cave and two-lined salamanders, and Kevin's dad found a nice spring salamander along the creek as well. In a crevice, I found a nice zigzag salamander, but it backed away before we could take any pictures. In one of the many small waterfalls along the creek, Kevin spotted two northern dusky salamanders in crevices, the first I had seen in this area: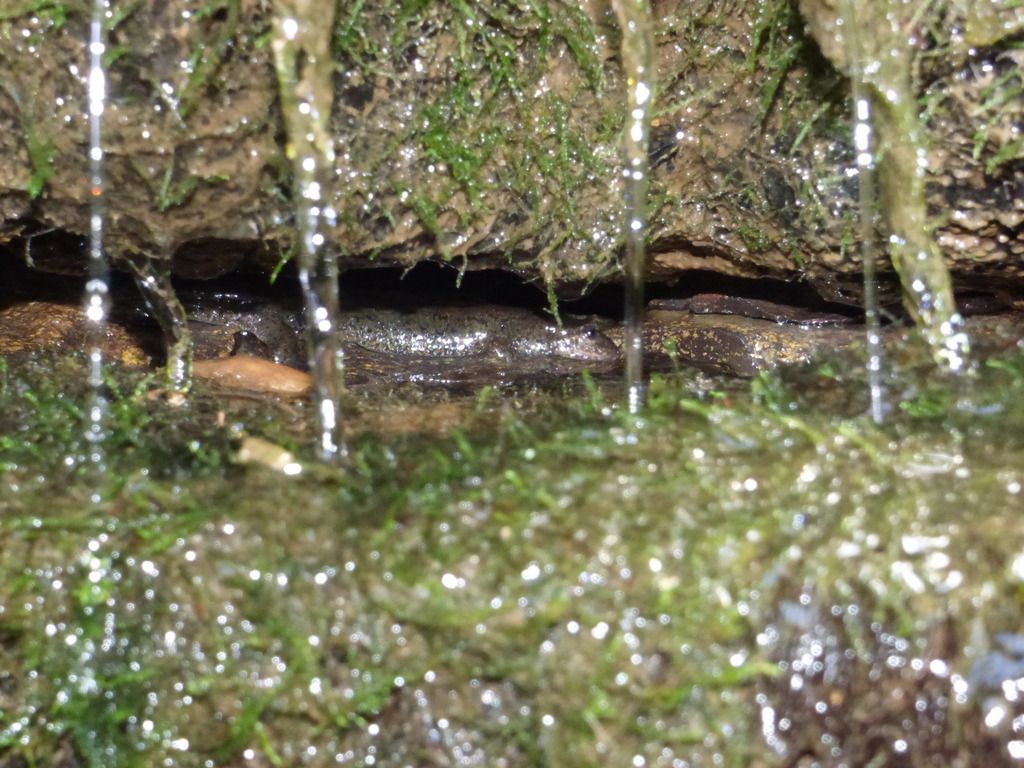 And that concluded our day. In addition to a couple of nice snakes, we had seen 9 species of salamanders that day, the most we have ever seen in a day in the Bluegrass region.
Our final herping outing of spring was to a beautiful, but not at all well-known area of Eastern Kentucky, two hours from Lexington. We began the day by stopping at a nice road cut along the way, where we had seen a racer, a milk snake, and a couple of ringneck and worm snakes the previous summer. We went for almost 15 minutes without finding anything, and we were just considering moving on when Kevin and I flipped a large rock to find this copperhead: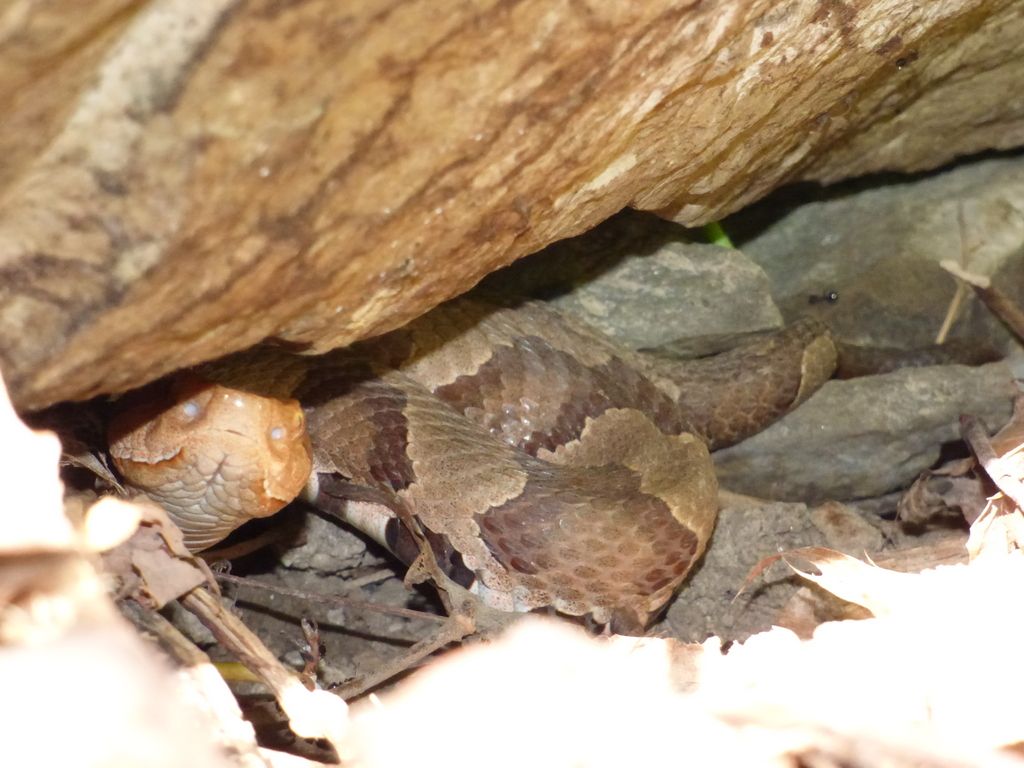 Next came two battered old worm snakes under small rocks: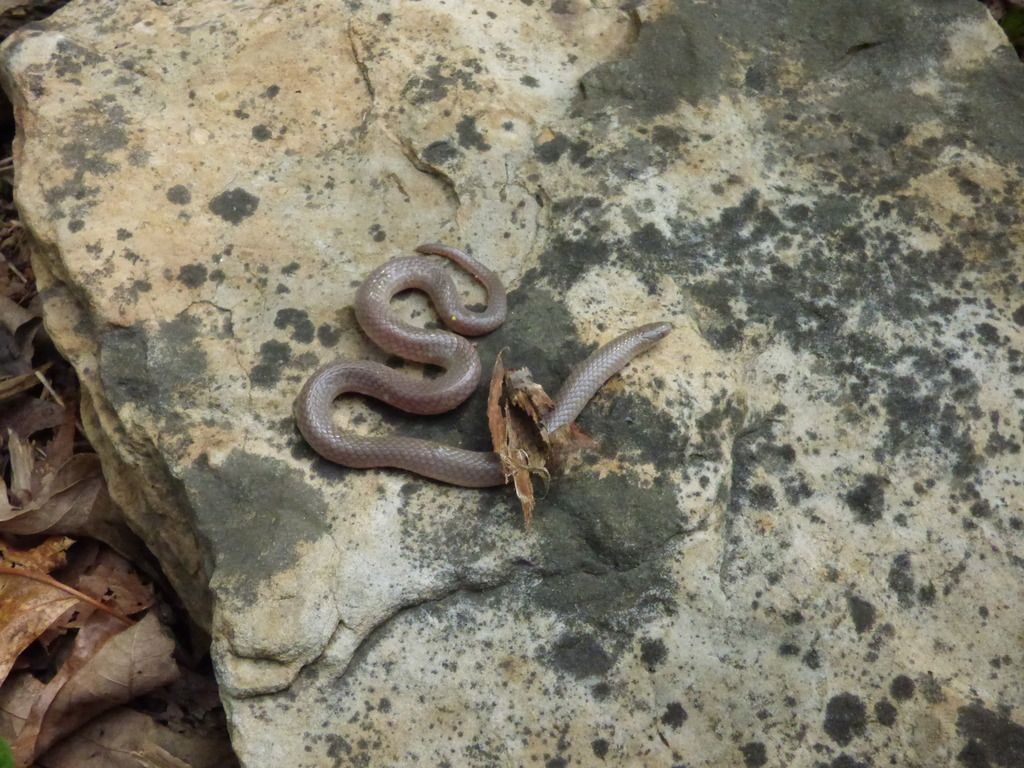 And finally, under a huge rock Kevin and I lifted, we found two beautiful milk snakes: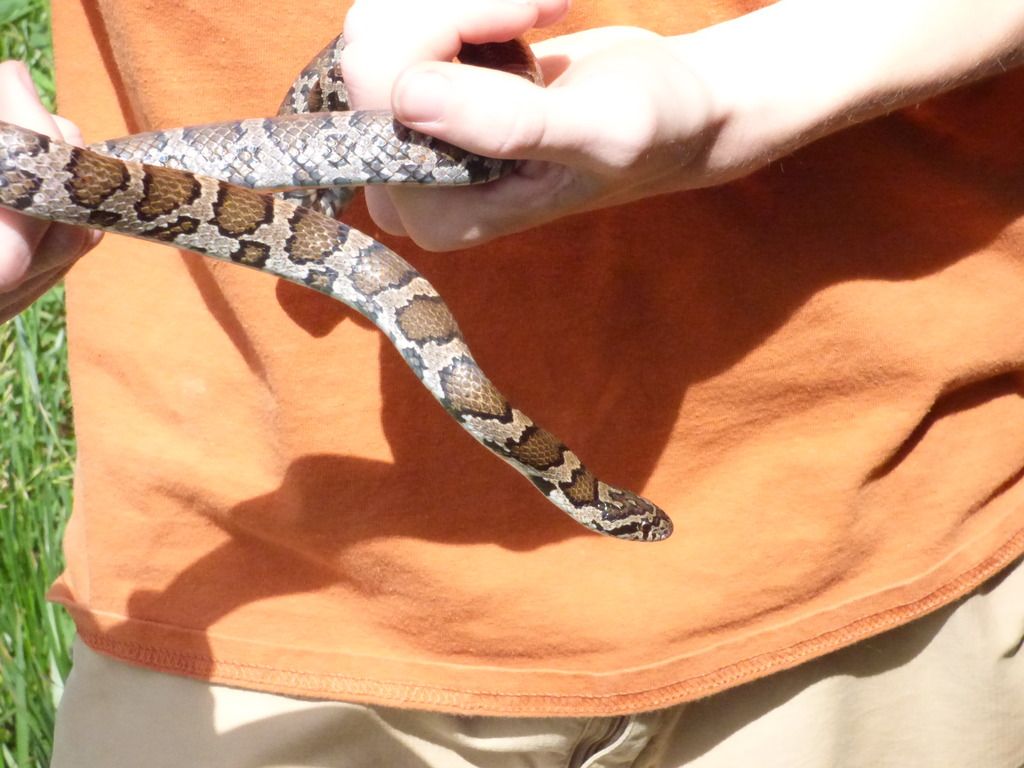 This one had a very interesting orange and black smudge-like pattern on its tail: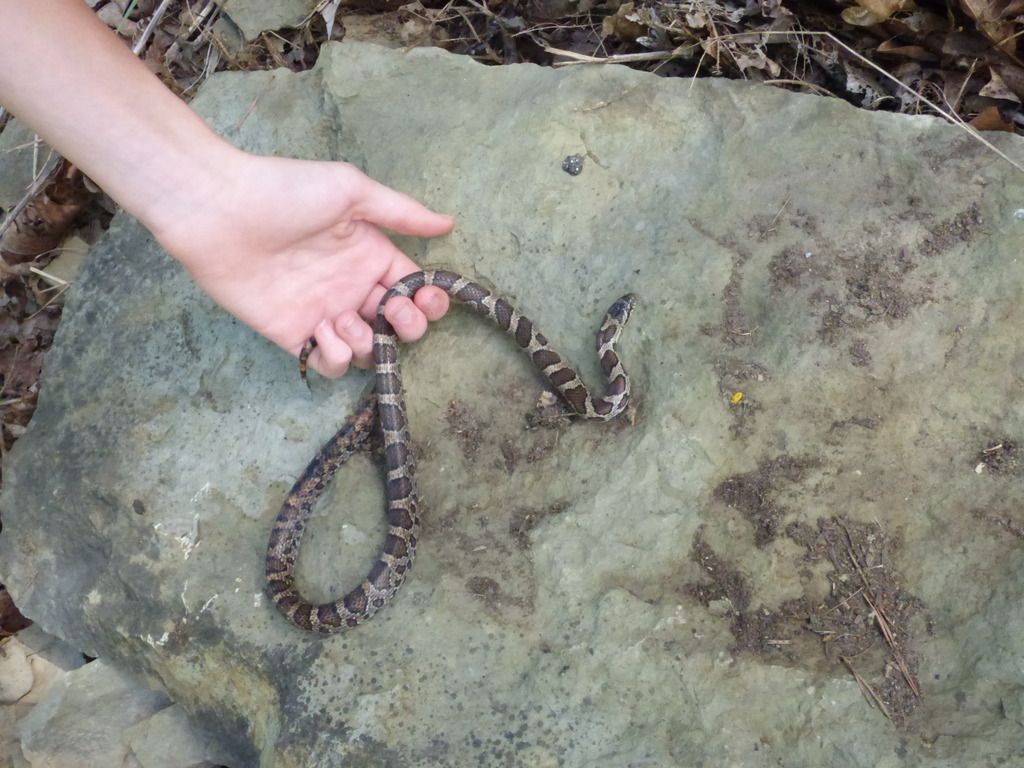 Then we moved on the the main location. This incredibly beautiful place consists of a roughly 160-foot-deep, narrow gorge (you can see from one side of it to the other), containing a wide, roughly 3 foot deep, rock-and-sand-bottomed stream. Surrounding the stream is thick hemlock-and-rhododendron forest, and small tributaries enter the main stream from arms of the gorge. This spot is perfect for a hot day, becuase it is usually 5 to 10 degrees cooler in the gorge, also making it perfect for salamanders, particularly our target species, the mountain dusky salamander (fairly rare in EKY).
We began by heading downstream in search of a suitable small tributary to herp. The main stream had occasional rock banks, where we found many very pretty longtail salamanders: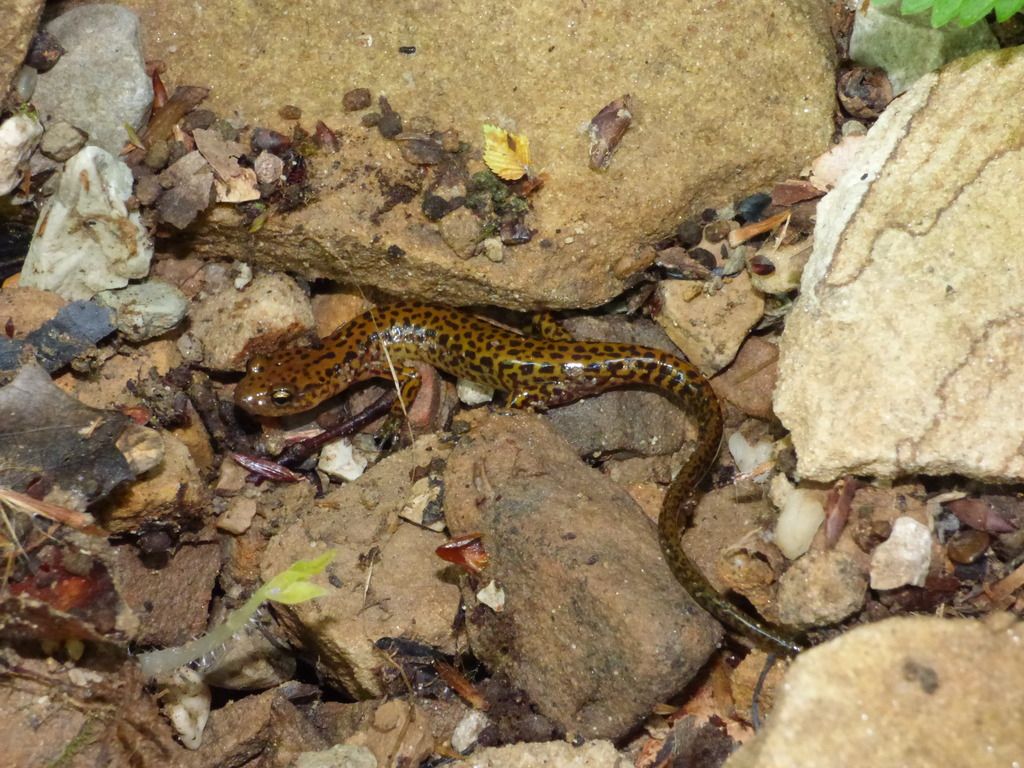 The photo doesn't do it justice. Several pickerel frogs were also found: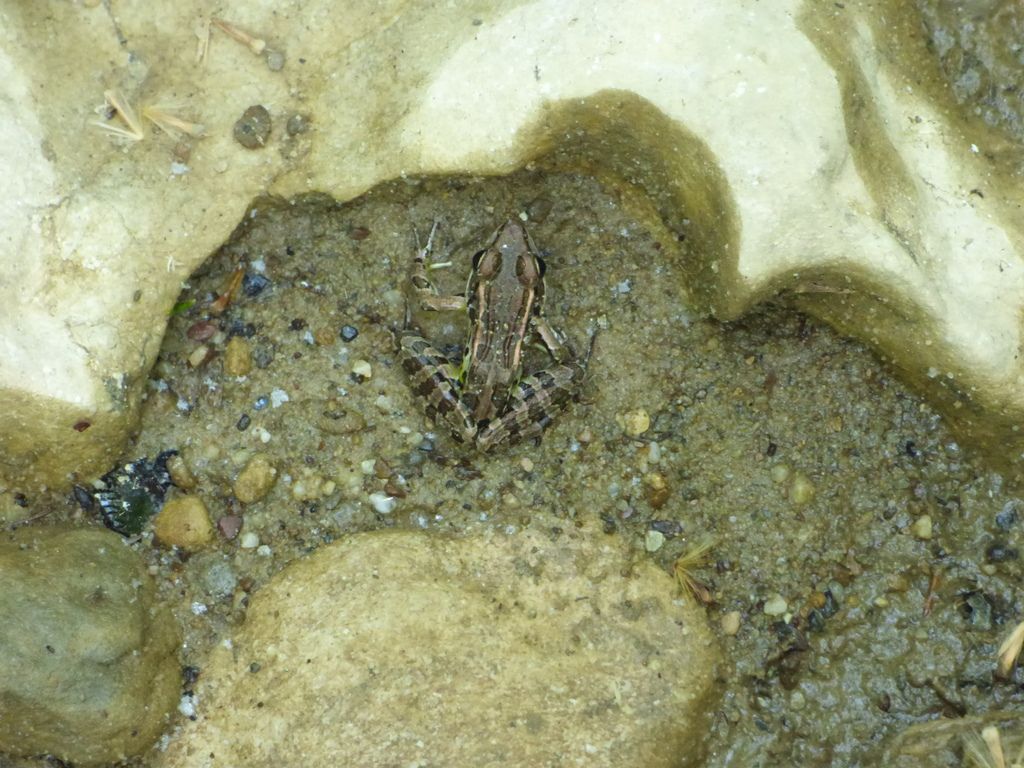 We also saw two large water snakes, but we were unable to get photos.
At one spot, we found an old logging road which cut through the thick rhododendron. We took the opportunity to look for some terristrial salamanders. We quickly found several nice red efts: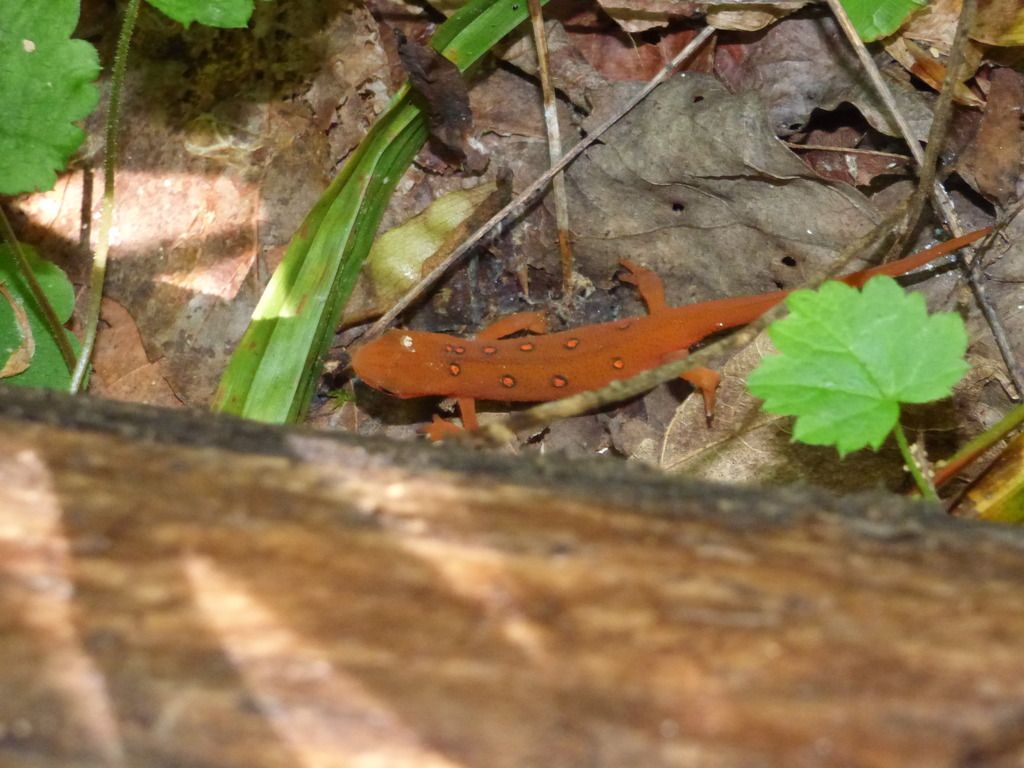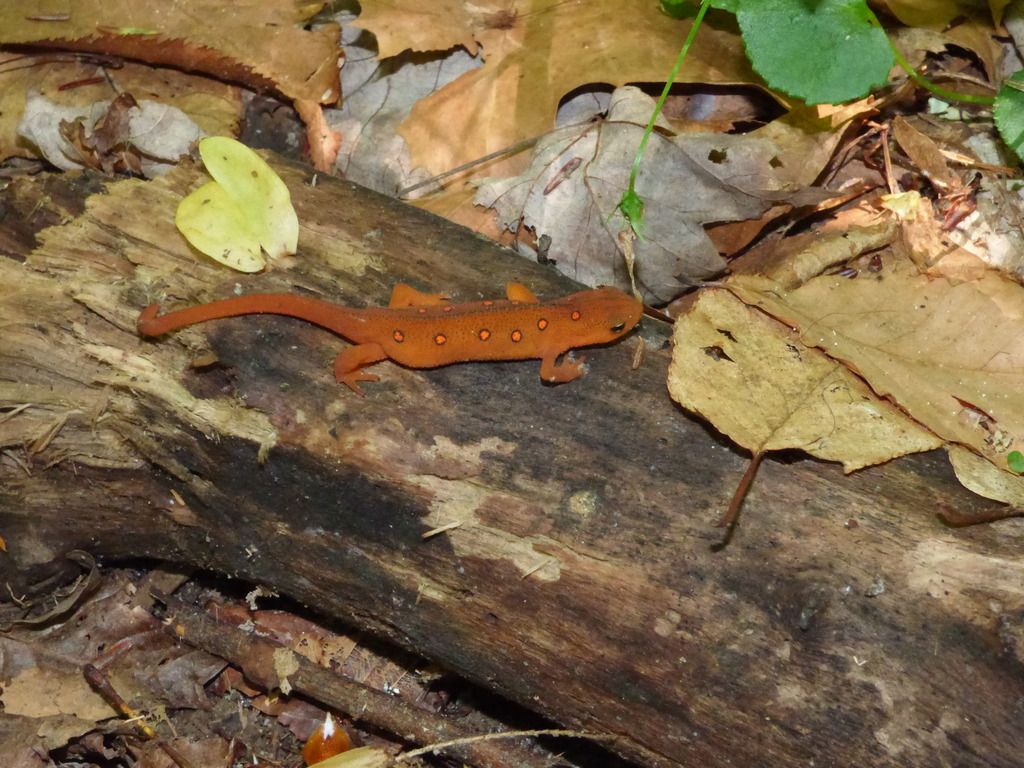 And one slimy salamander: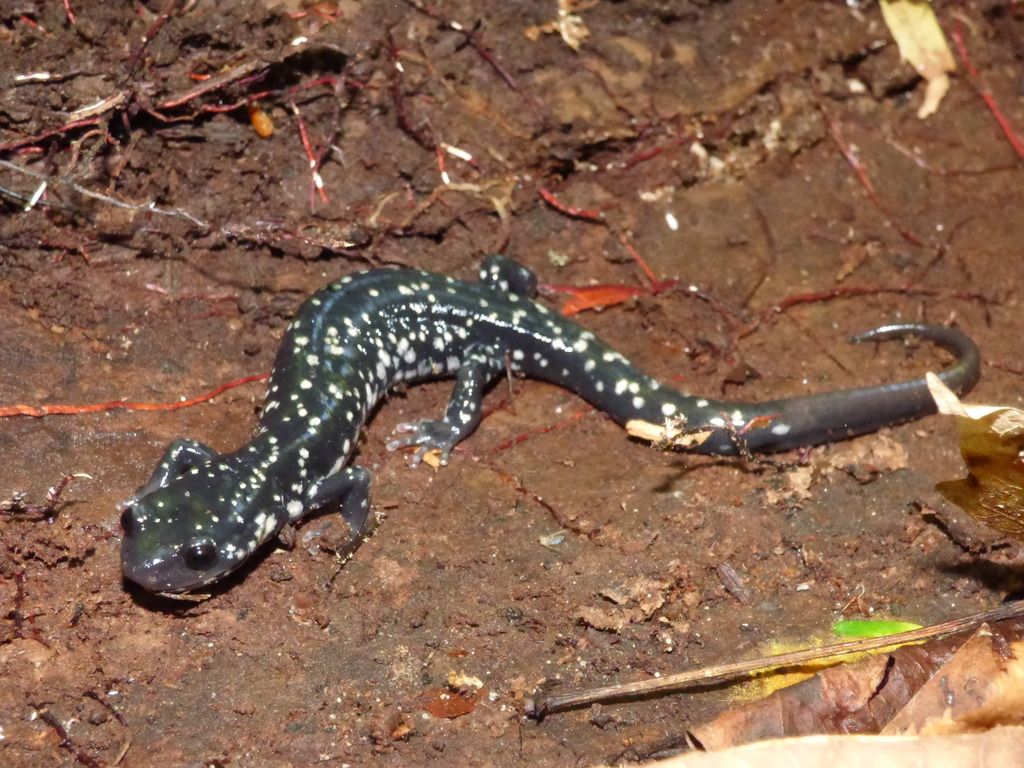 Soon enough we found a nice stream. At the mouth of the stream, we found several large red salamander larvae, but no adults. In a large sandstone boulder, we also found a couple of green salamanders: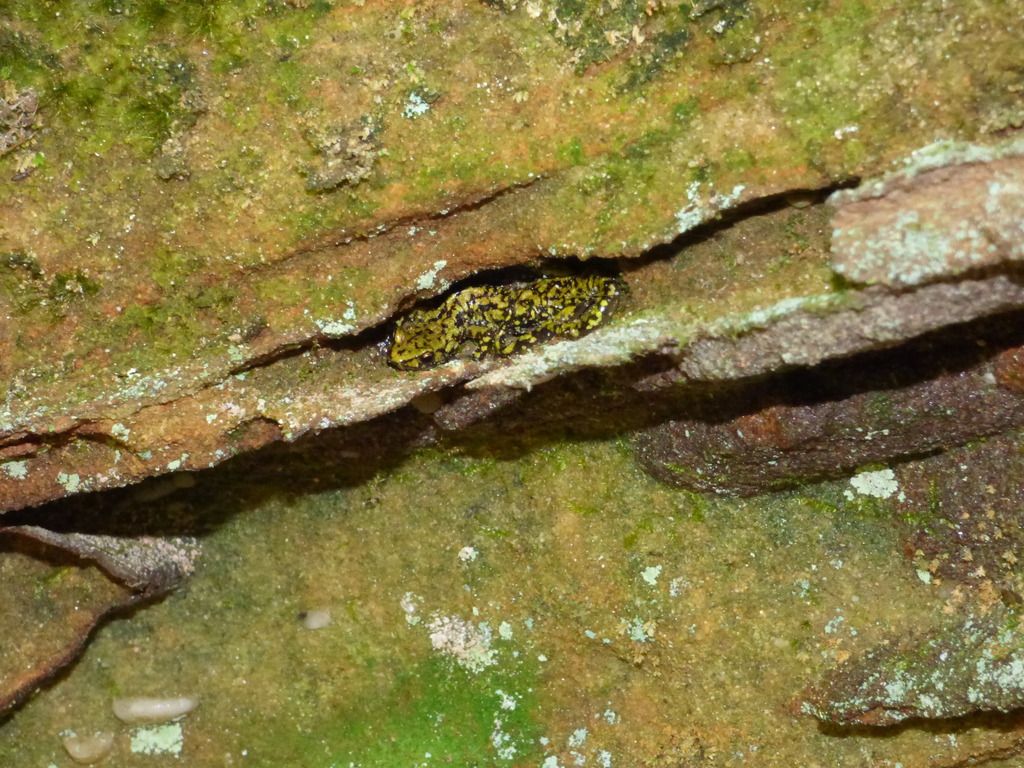 Despite how many green salamanders I've seen, they remain my favorite animal ever!
Further up the stream, we came to a nice wet rock face: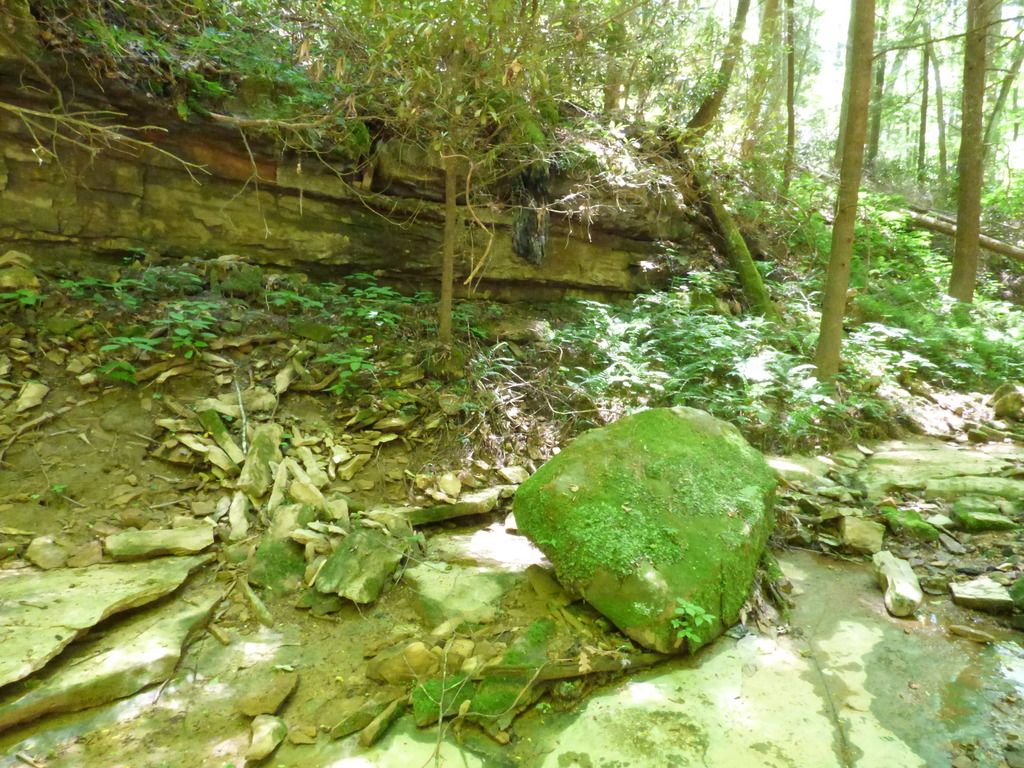 Here we began to find our target species, the mountain dusky salamander. These guys are quite variable: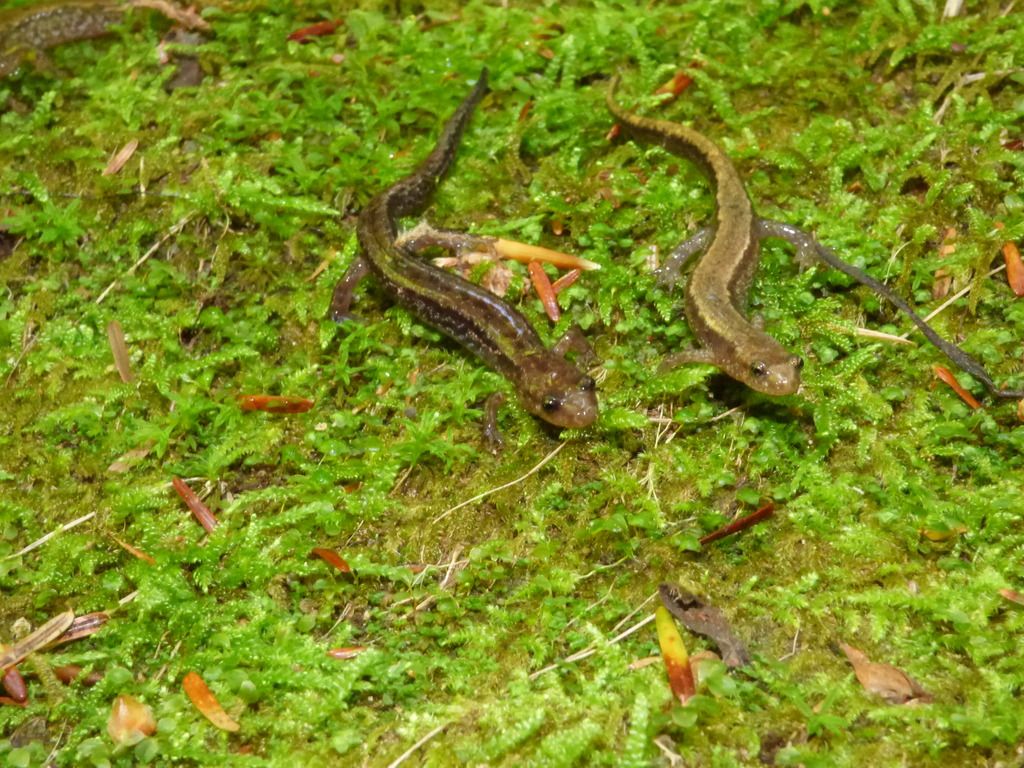 We also found a single northern dusky salamander, here it is with the above two mountain duskies: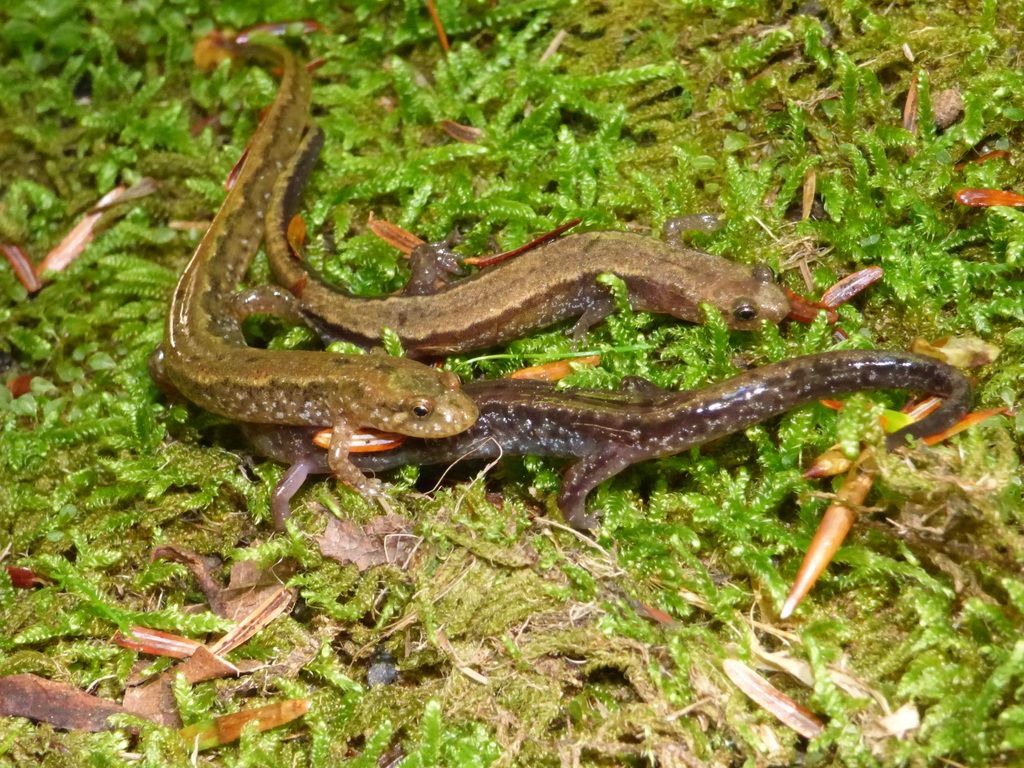 Bruce also found a spring salamander, a nice find for this late in the year: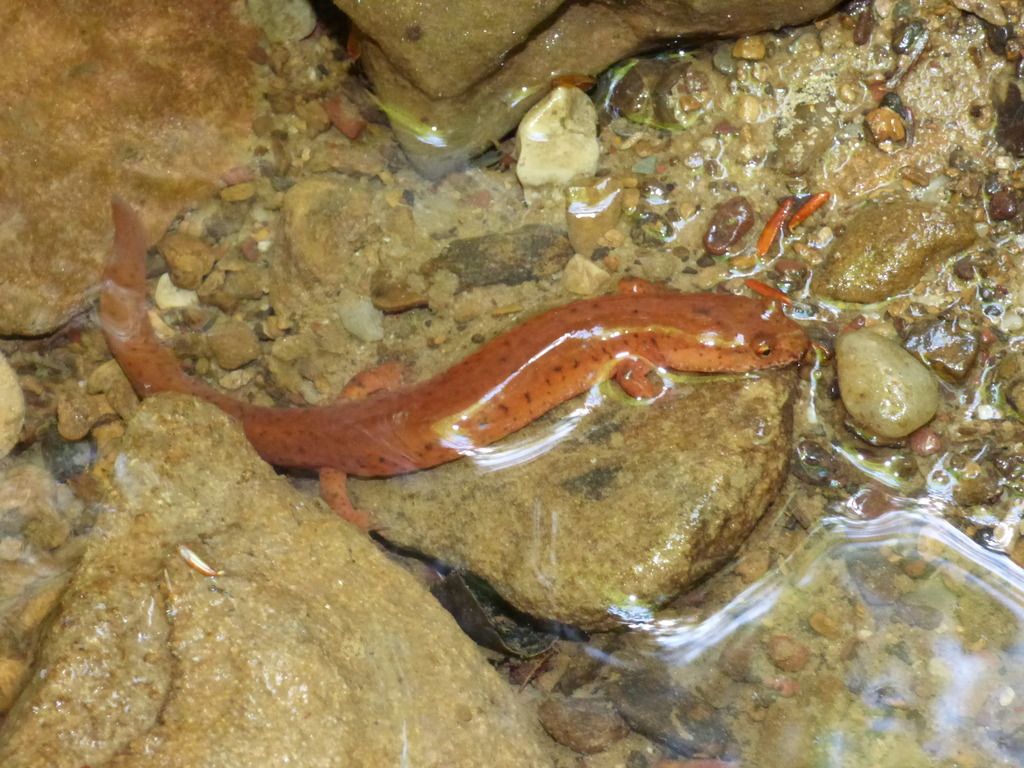 A couple of two-lined salamanders were also found here: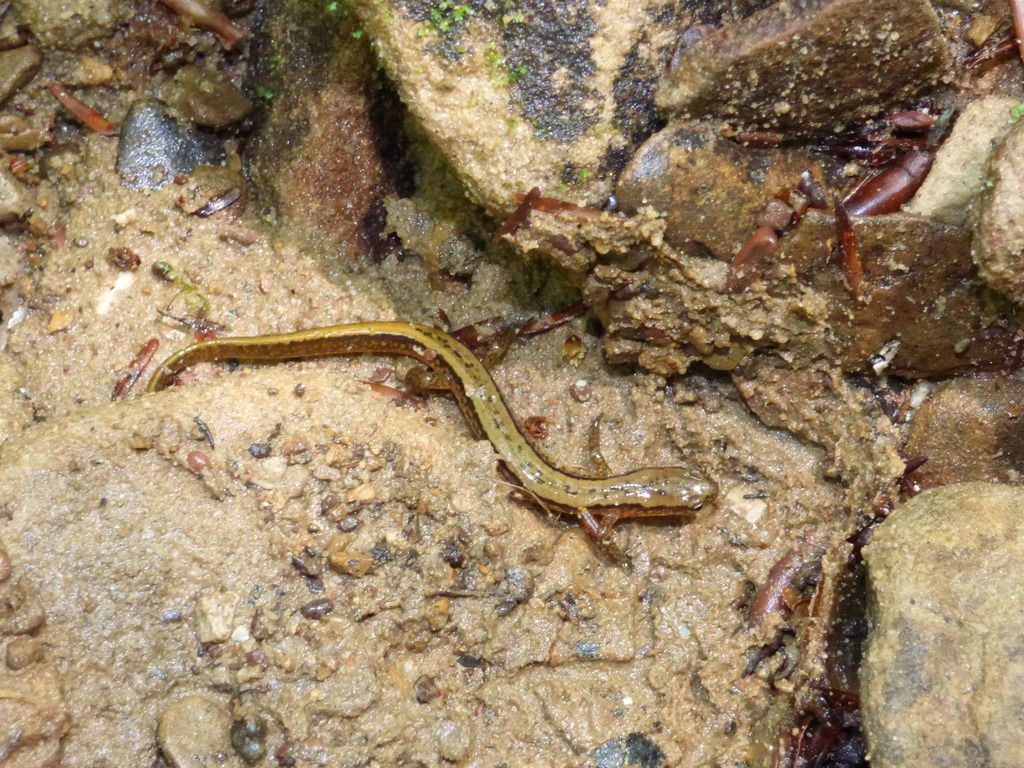 With so many salamanders to look at and photograph, we decided to stop there for a while, and eat lunch. Afterwards, we moved up the valley, finding more longtail, two-lined, and mountain dusky salamanders, including this teeny tiny hatchling: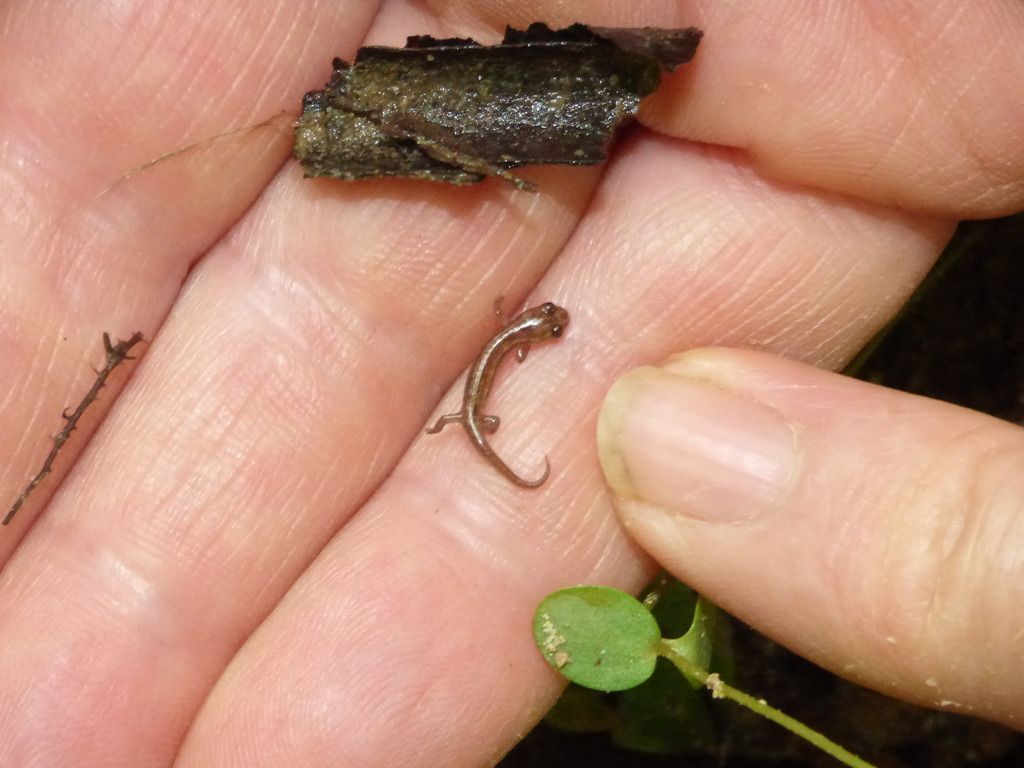 Mountain duskies are unique in that their larval stage is extremely short, allowing them to live further from water than the other dusky salamanders.
Soon we came to a point where giant, house-sized sandstone boulders had fallen into and clogged the valley. We went around these boulders and up the hillside, where we found this lovely waterfall: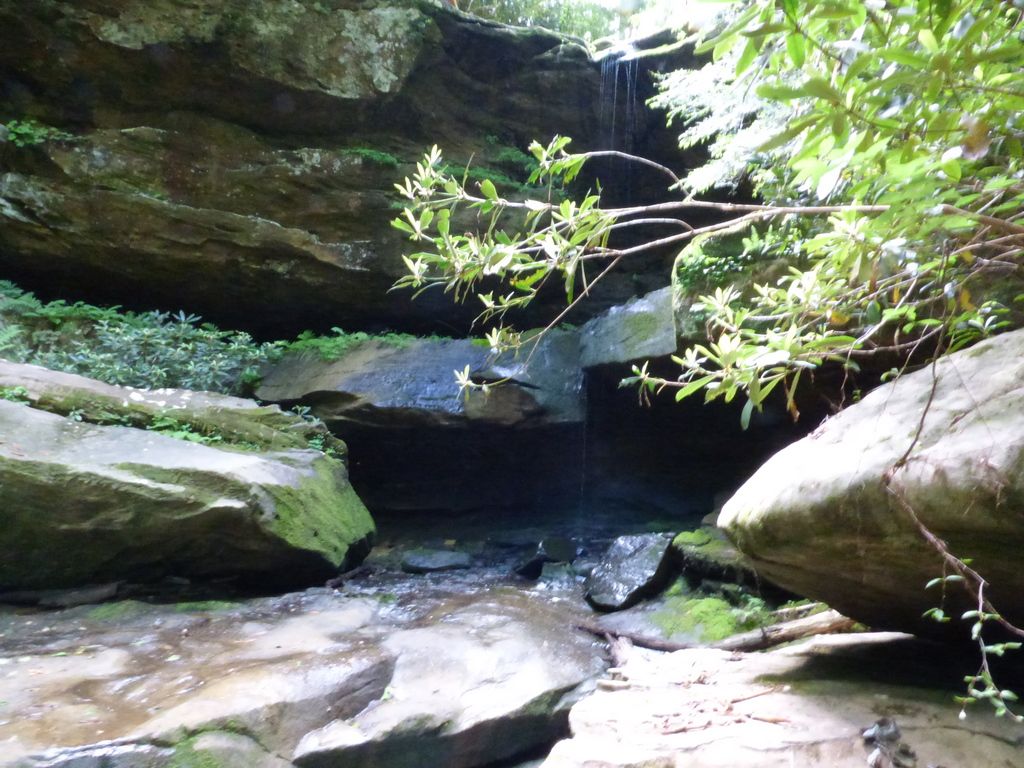 Here we found many seal salamanders, usually the most common salamander in eastern Kentucky: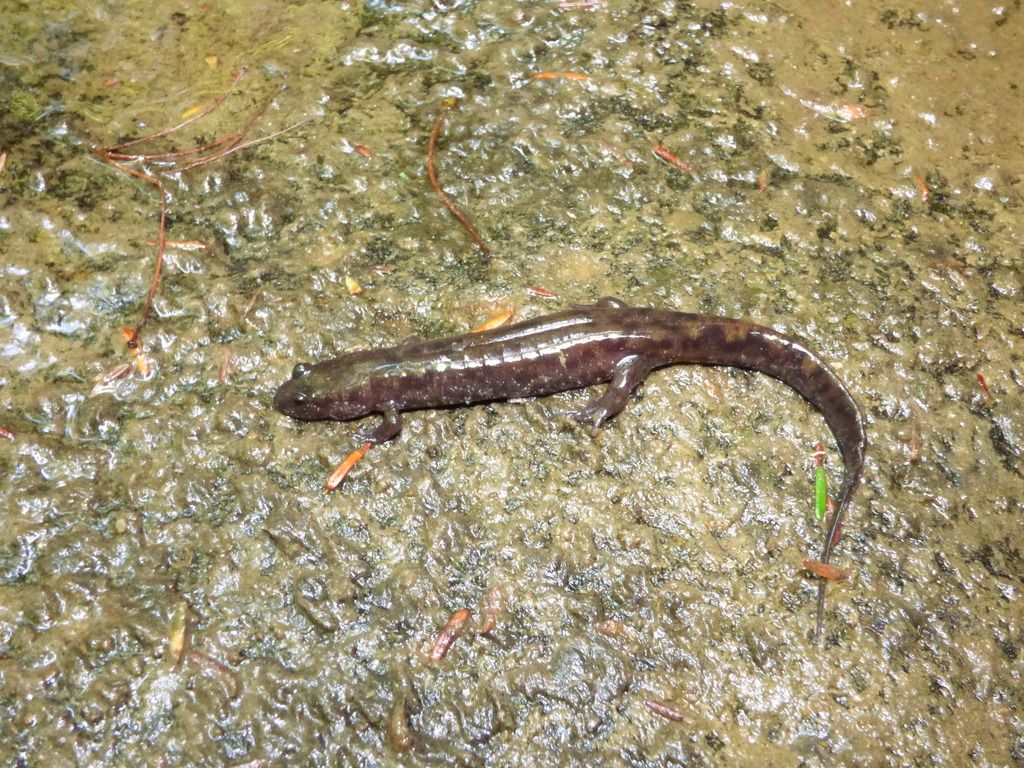 A view into the canopy of hemlocks and rhododendron: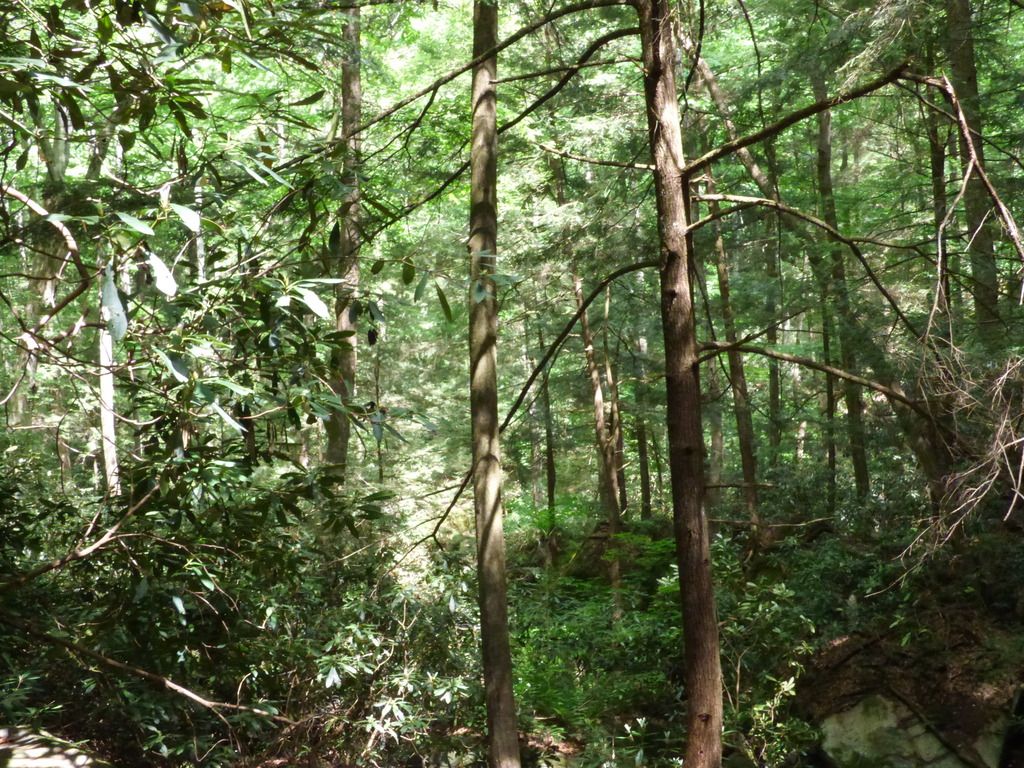 Next we headed back to the main stream. On our way, we passed the spot where we had spent fifteen minutes to eat and take photos earlier. However, despite it being not half an hour later, stretched out on the very rock we had sat on earlier was the biggest herping surprise of the year for us: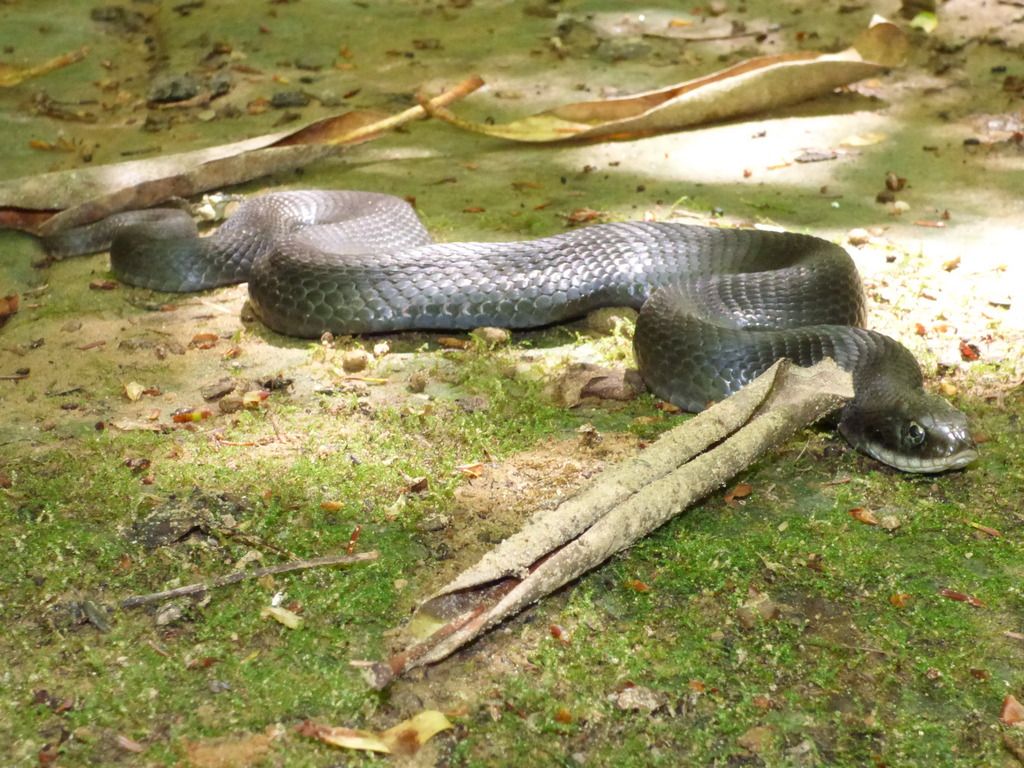 A hognose snake! We were extremely excited - this was only my second hognose in Kentucky and Kevin had never seen one (I believe). We also wondered (and are still wondering) what the heck it was doing deep in a cool, moist gorge, where we had yet to see a single toad. However, we weren't complaining!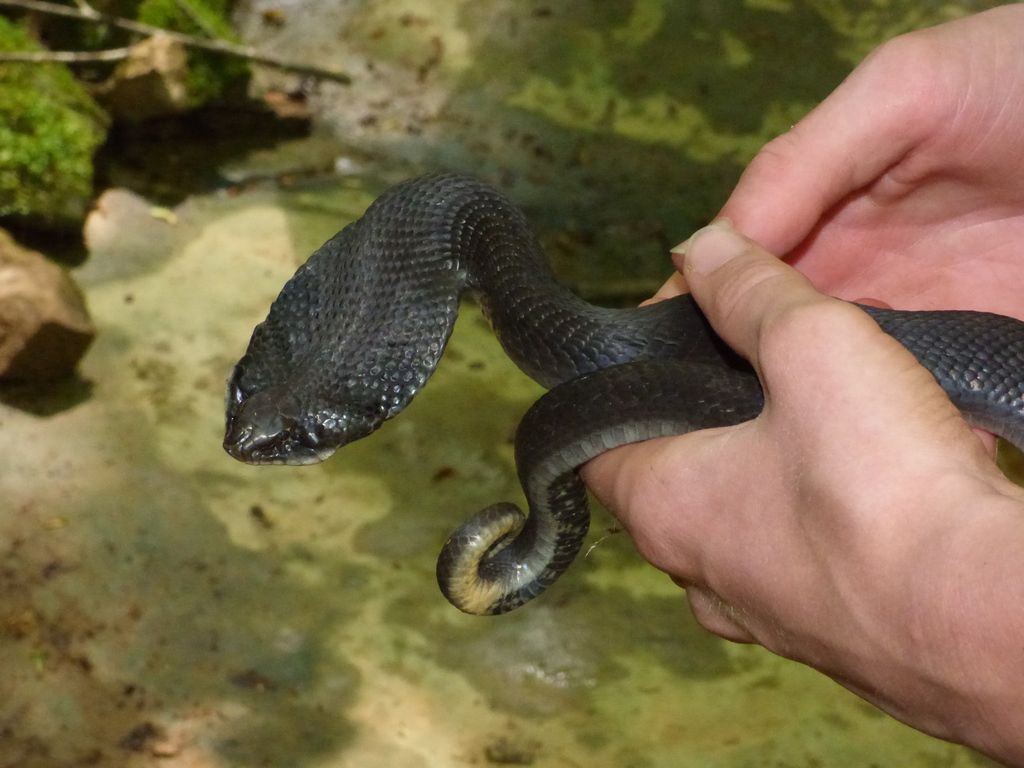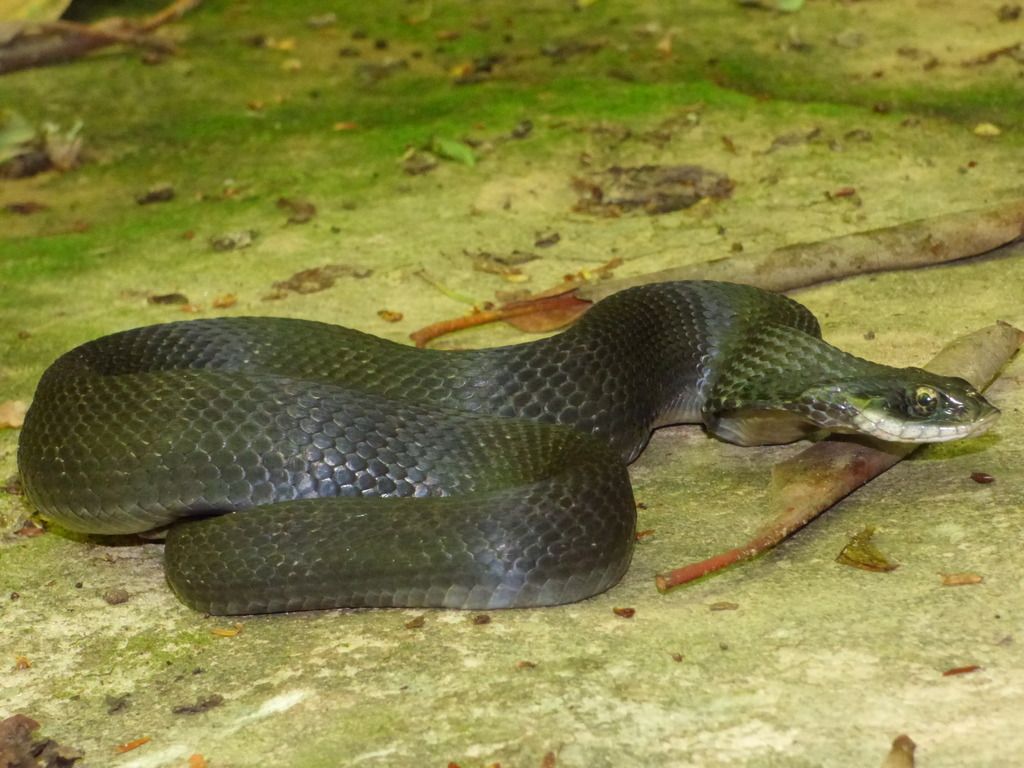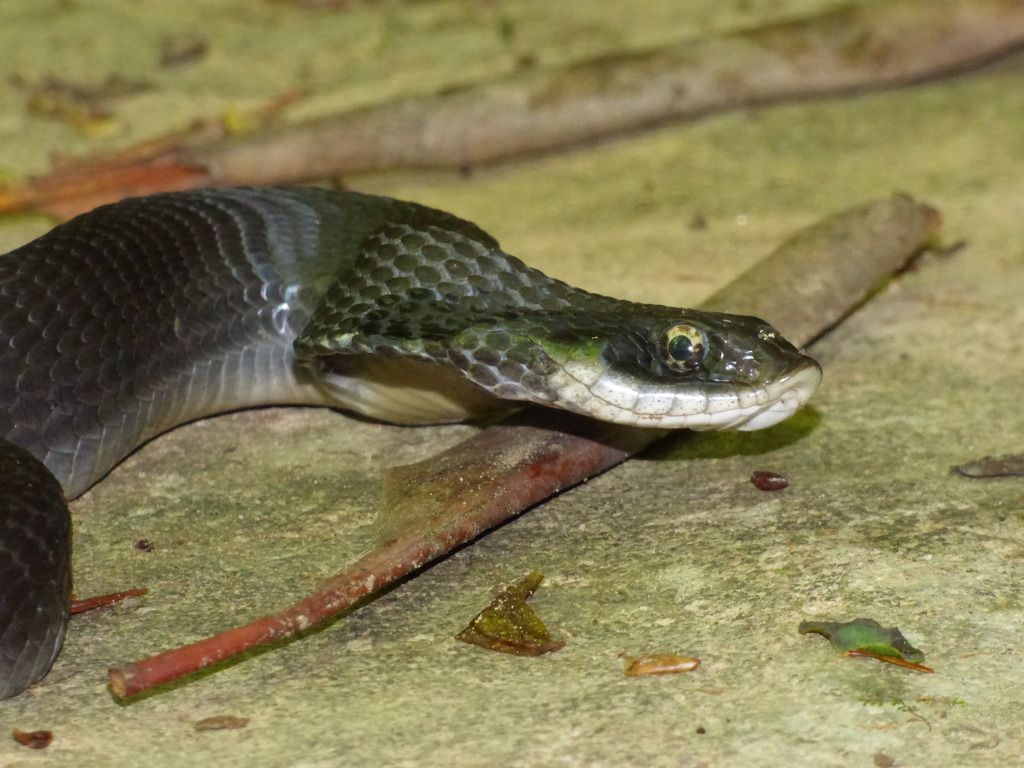 With our day made, we continued on down the gorge and explored a couple of other tributaries, finding more longtail, two-lined, seal, and mountain dusky salamanders. We were somewhat concerned at the lack of black mountain dusky salamanders; we had been told that they were declining here for no obvious reason. Or perhaps it was simply because I have been cursed to never see all 4 dusky salamander species in eastern Kentucky in a day. However, our day had already been phenomenal, and soon it was time to head back to Lexington. The next weekend, school ended and summer began, and soon we were off on our epic blue ridge herp trip. We had an amazing spring, and I hope everyone else did too!
Species seen this spring (including January-March):
narrow-mouthed toad
southern toad
american toad
fowler's toad
southern cricket frog
blanchard's cricket frog
spring peeper
mountain chorus frog
green treefrog
squirrel treefrog
barking treefrog
cope's gray treefrog
bird-voiced treefrog
green frog
bull frog
pig frog
pickerel frog
southern leopard frog
plains leopard frog
carpenter frog
two-toed amphiuma
lesser siren
mole salamander
marbled salamander
smallmouth salamander
spotted salamander
jefferson's salamander
silvery salamander
streamside salamander
red-spotted newt
northern dusky salamander
spotted dusky salamander
southern dusky salamander
black mountain dusky salamander
seal salamander
southern redback salamander
southern ravine salamander
eastern zigzag salamander
northern slimy salamander
southeastern slimy salamander
ocmulgee slimy salamander
cumberland plateau salamander
four-toed salamander
green salamander
spring salamander
red salamander
mud salamander
southern two-lined salamander
blue ridge two-lined salamander
longtail salamander
three-lined salamander
cave salamander
dwarf salamander
chamberlain's dwarf salamander
common snapping turtle
common musk turtle
spiny softshell turtle
eastern box turtle
common map turtle
red-eared slider
florida cooter
florida red-bellied turtle
painted turtle
blanding's turtle
gopher tortoise
green anole
fence lizard
ground skink
five-lined skink
broadhead skink
eastern glass lizard?
banded water snake
northern water snake
queen snake
striped crayfish snake
brown snake
red-bellied snake
eastern garter snake
eastern ribbon snake
western ribbon snake
eastern hognose snake
ringneck snake
worm snake
flathead snake
racer
rough green snake
corn snake
king snake
milk snake
copperhead
cottonmouth
-Ananth