The oak forest that formed the backyard of my grandparents' home in Monterey was a wonderland. Seated in the sloping hillside were scores of large, flat rocks set decades earlier to complement the rock house. As an 11-year-old, the 40+ slender salamanders I found in two days of flipping those rocks would have been more than enough to keep me happy. So getting seven Arboreal Salamanders alongside the slenders made me overjoyed.
Over twenty years later, my uncle told my wife that you always knew where Jonathan had been because the rocks weren't seated quite perfectly anymore.
I promise I've gotten better!
I took the best-looking of the Arboreals back home with me to Oregon. The nearly 7" monster made for an awesome pet. I kept it in a semi-aquatic 5-gallon terrarium that it shared with a Northwestern Salamander and several Pacific Chorus Frogs. The Arboreal Salamander loved the sides of its terrarium, climbing up the glass walls with ease like a gecko. Having only experienced ground-bound salis, the fact that this thing could cling to vertical glass was remarkable. It chowed on crickets and waxworms and kept me happy for several years.
Salamanders that live in trees
. The whole idea is ridiculous, and yet here they are. That's why I love the climbing salamanders. Now that I finally have gotten around to finding every named form on the West Coast, I wanted to do a rundown on this very cool family.
Arboreal Salamander (Aneides lugubris)
That first experience with the
Aneides
family was with a unique representative. While other west coast species are restricted to the wet and mild zone that stretches from Santa Cruz to northern Oregon, the Arboreal Salamander ranges through arid SoCal into Baja California. I found a healthy adult under a log next to a canyon stream in the Santa Ana Mountains, just a stone's throw from the San Diego County line.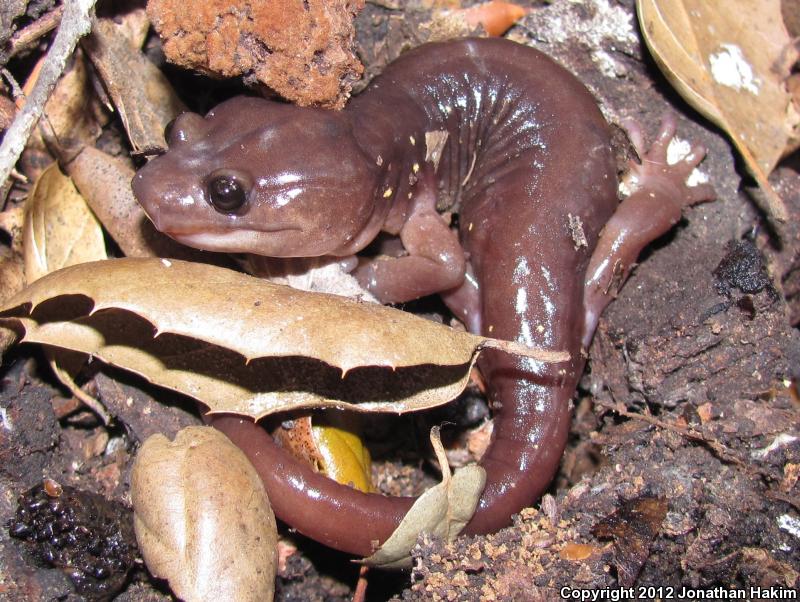 Arboreals are the largest and most morphologically/genetically distinct species on the West Coast. They're also the most impressive prize in a Southern California salamander assemblage that is otherwise restricted to ensatina, newts, and slenders. In the arid southern portion of their range, they are mainly found in canyon streams in mountain regions. I've spotted them in several such streams in the San Gabriels.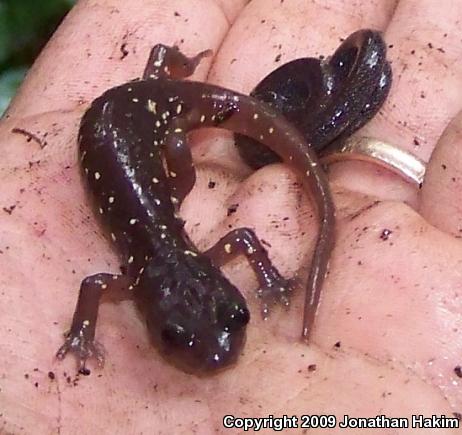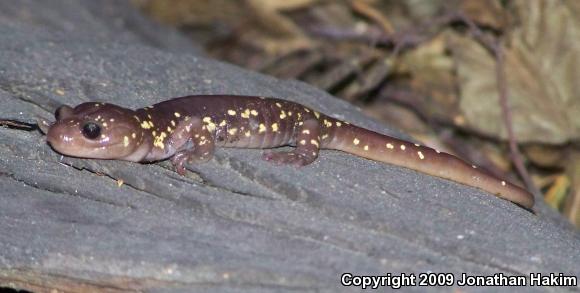 habitat shots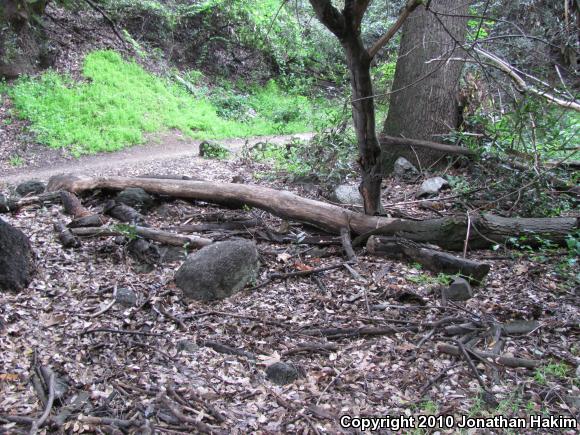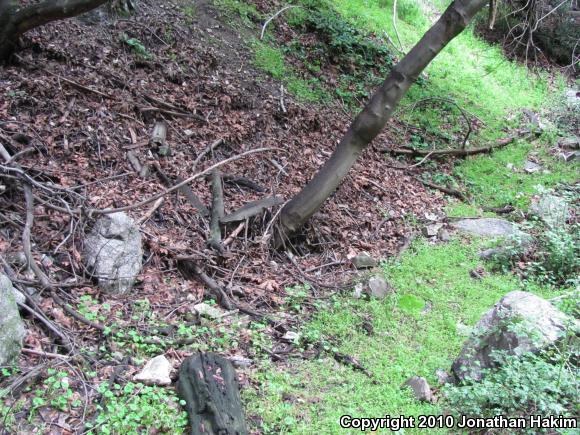 All of my Arboreal sightings have come from flipping, which has kept me from seeing their remarkable arboreal behavior in the wild. There are records of individuals found up to 60' high in trees. In
Amphibians and Reptiles of California
, Will Flaxington reports seeing them climbing on trees during rainy nights, and made a remarkable observation of several
Aneides lugubris
climbing up a moss-covered cliff in a waterfall spray zone at 6,500 feet (an elevation record for the species).
As you get out of southern California and into the moister portions of the California coast, you can begin to find arboreal salis beyond canyons, most often frequenting oak and sycamore patches on hillsides. Besides that childhood experience in oak forest in Monterey, I've found the species in an oak-lined meadow in Sonoma County, in chaparral in San Mateo County, and not far from the edge of an exposed cliff right at Marin Point.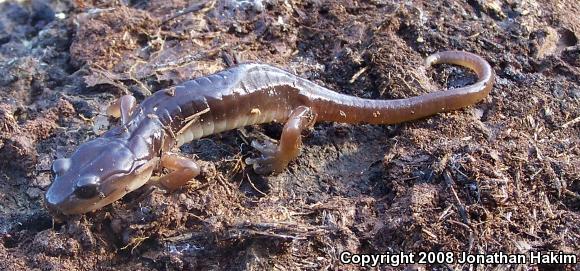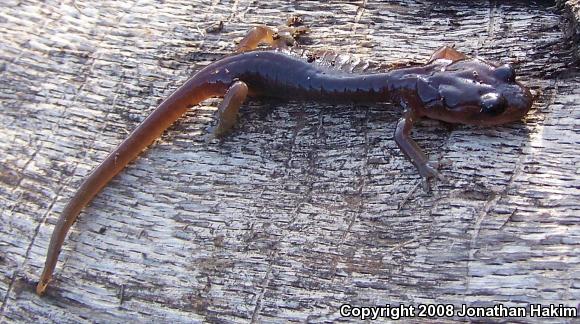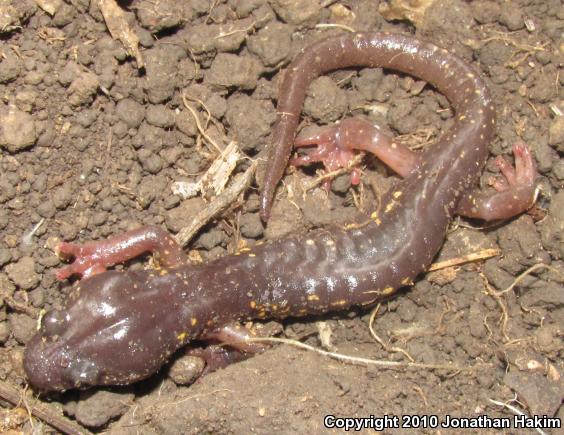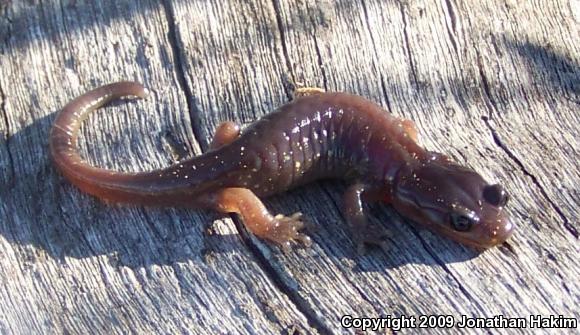 habitat shots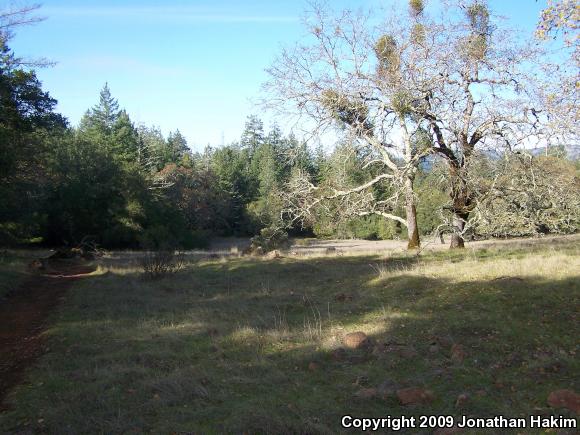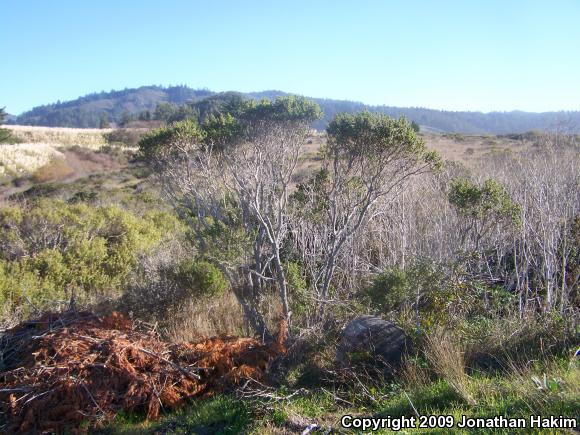 this little Marin County sub-adult squeaked repeatedly even before I picked it up. Listen to the squeaks by clicking the below link:
http://www.californiaherps.com/sounds/a ... nke109.mp3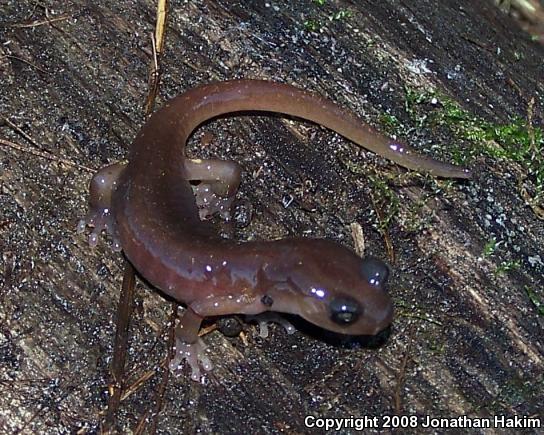 Jackson Shedd reports one climbing a building in downtown San Francisco, and Will Flaxington has found them under driftwood on sand dunes in the Monterey Bay (where the speckling seems to be especially spectacular). Gary Nafis points out in
California Herps
that several of the islands they utilize in central California are barren, rocky habitat.
Further north the habitat utilization changes again, and in Mendocino County I found one in the midst of a fine redwood forest, sharing habitat with its cousin the Wandering Salamander (
Aneides vagrans
). It was under a cut log just a few feet from where a Wandering Salamander was later found.

The species ranges as far north as central Humboldt County. A disjunct population is known from the central Sierra Nevada foothills.
Santa Cruz Black Salamander (Aneides niger?)
Santa Cruz may be the most interesting salamander hotspot in California. The intricities of geography and geology have caused this region to stay wetter in the right times and the right ways than the habitats to the direct north and south, which has resulted in remarkable caudate diversity. Santa Cruz is the southernmost extent of
Dicamptodon
range and holds a unique population of blind cave-dwelling giant salamanders, is the southernmost coastal extent of the
Batrachoseps attenuatus
range, is the southernmost extent of
Ambystoma macrodactylum
range and holds a unique, endangered subspecies of Long-toed Salamander that is disjunct from other populations by more than 300 miles, and is the southernmost extent of Black Salamander range, also forming a unique and disjunct form, the Santa Cruz Black Salamander.
My experiences with this salamander were due to the good graces of Jim Maughn, Derek Holt, and Owen Holt. During a quick shot I had to herp that area, Jim guided me to an interesting quarry habitat in Santa Cruz County, where a population has held on despite rather human-disturbed surroundings. We found several of the beautiful juvis under rocks at the edge of rock faces.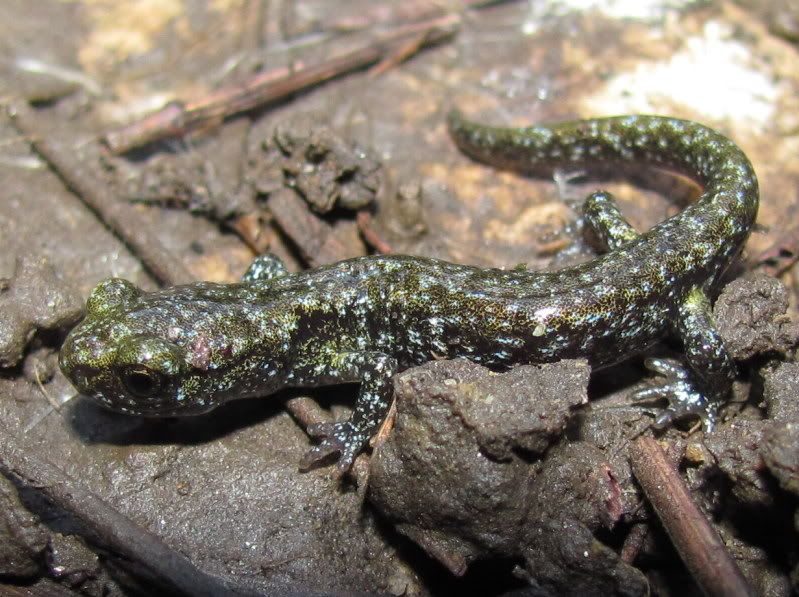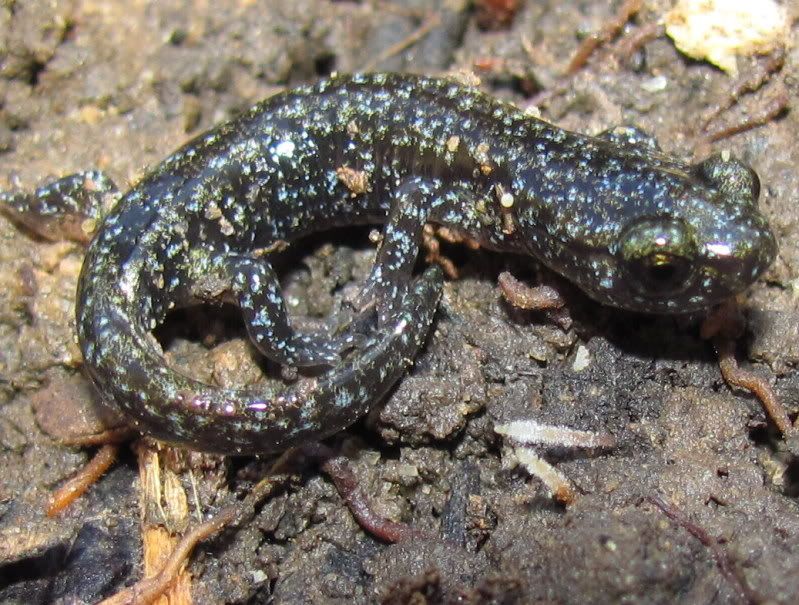 The next day Derek and Owen took me to a stream in Santa Clara County that could have been a dead ringer for Arboreal Salamander habitat in the San Gabriel Mountains. Among plenty of slenders, ensatinas, and California Giants, we found more juvi Santa Cruz Blacks.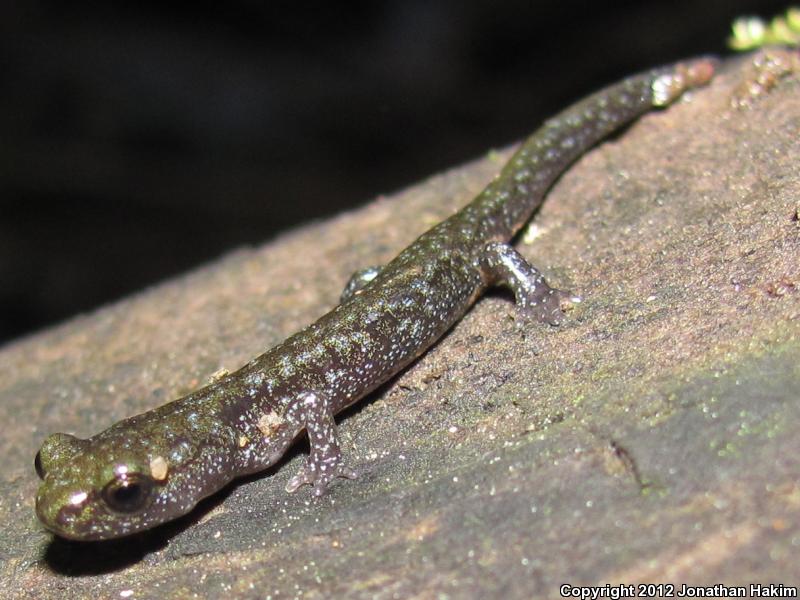 habitat shot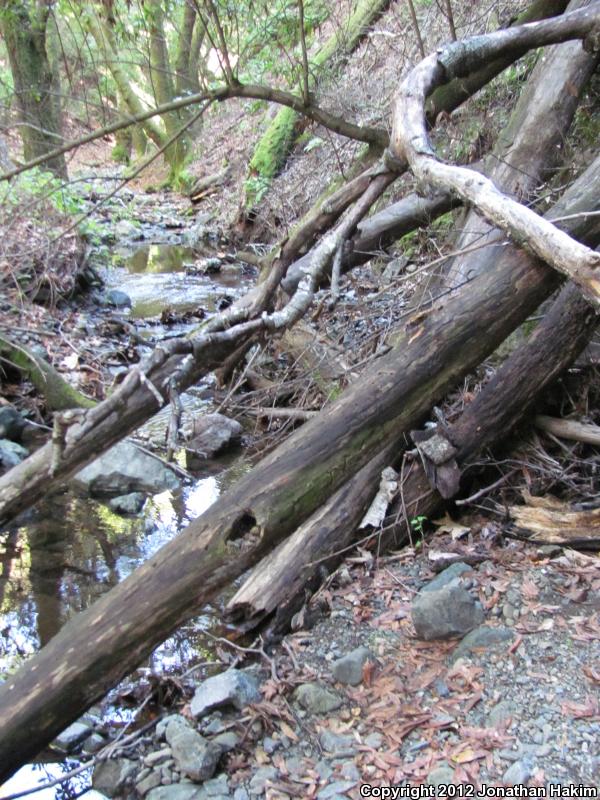 Owen came up with the big find of the day, a gorgeous adult Santa Cruz Black. This subspecies is unique in its lack of markings in the adult stage.
habitat shot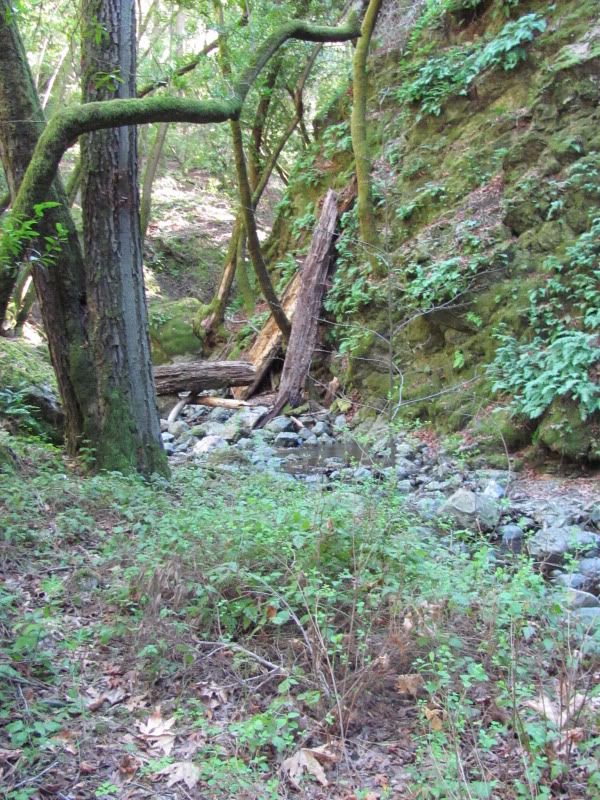 The Santa Cruz Black Salamander's range is limited to Santa Cruz, Santa Clara, and San Mateo counties. From there it's about a hundred mile range gap well north of the San Francisco Bay before you encounter the next form of Black Salamander. While some consider the Santa Cruz form a subspecies of the Speckled Black Salamander (
Aneides flavipunctus niger
), others consider it a distinct species, and Rissler and Apodaca's 2007 paper suggested that it deserves species status (confirmed by Reilly & Wake, 2014). It is protected from take in California due to its relatively limited range.
Speckled Black Salamander (Aneides flavipunctatus)
Speckled Black Salamanders range from Sonoma County in central California up into the Siskiyou Mountains in southern Oregon (though the northern populations may be a distinct species). They exhibit remarkable habitat variation, being found in meadows, forest, canyon streams, and talus slopes. Though I don't have any proof, I suspect that they tend towards somewhat more open habitat than any of the other West Coast
Aneides
, and they certainly are less fond of climbing trees. One interesting FHF observation (which was lost in the crash) suggested that their habitat changes along a gradient as one moves up the coast and/or inland, showing a much greater tendency towards talus slopes and rocky areas as one gets further north. It could be that at higher latitudes they prefer the warmth that unshaded rocky areas can offer.
My only experience with the species came closer to the southern end of the range, in an inland park in Mendocino County. This simple half-forested, half-open area provided perfect habitat for the species. A number of juveniles were found in a dry streambed that funneled down into a larger permanent stream.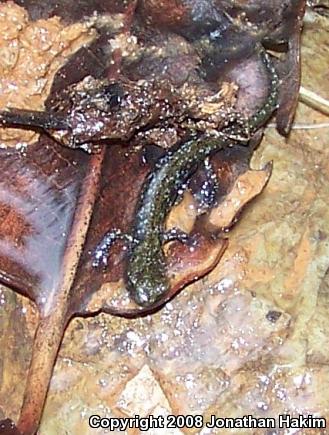 And my first adult was found alongside a California Slender Salmander under a log nearby. A remarkably large number of my ground-flipped
Aneides
have shared their cover with
Batrachoseps
.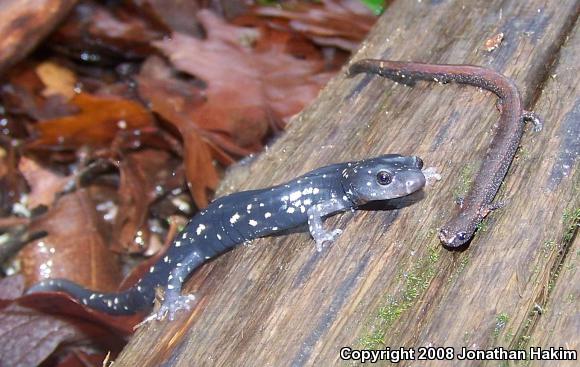 Slightly further uphill, the fallen bark next to old stumps provided perfect resting places for more adults.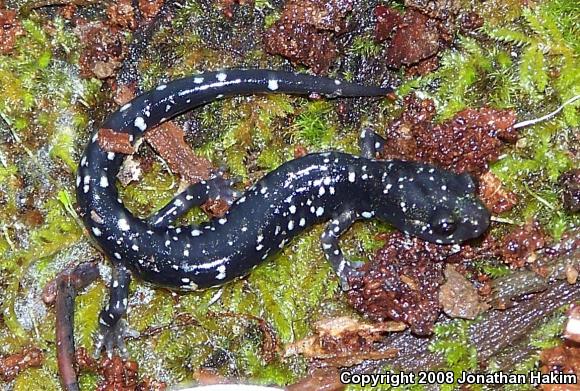 habitat shot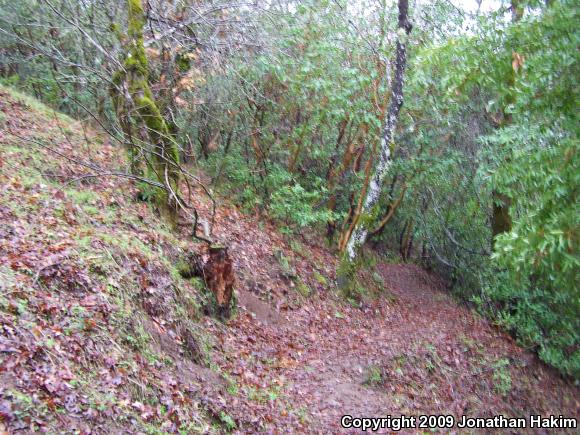 Rissler and Apodaca consider the non-Shasta Black Salamander populations north of mid-Humbodlt County (including the Oregon populations) to be a seperate "Northwest" lineage deserving of species status. Reilly & Wake confirmed this finding in 2014 and found that the two lineages were separated along a tectonic plate boundary, with the species boundary related to the uplift of the plate. Every survey and personal search I am aware of has found the salamanders to be low in density and difficult to locate in this most northernly inland extent of their range. The species is only known from 17 sites in Oregon, over a 700 sq. mi. area in the Applegate watershed of Jackson County, and is considered imperiled in the state (Conservation Assessment for the Black Salamander in Oregon, Deanna H. Olson, 2008).
This salamander and its other "Black" cousins are the least arboreal of the climbing salamanders. All of the observations I have heard of the species have been restricted to the ground, often in talus or streambed habitat where tree-based life would seem a bit out-of-character, and the really cool anecdotal tree-climbing observations I've heard of
Aneides
have always involving either Arboreal Salamanders, Wandering Salamanders, or Clouded Salamanders. Still, it is an
Aneides
, and while arboreal observations have not been recorded, I would be surprised if they don't get up into the trees from time to time.
Shasta Black Salamander (Aneides iëcanus?)
During my most recent trip to America, my wife and I made use of a train and multiple carpools to make our way up through some NorCal habitat that I had never gotten the chance to herp before. One of my big goals was the Shasta Black Salamander. Matt Dagrosa, my third carpool provider of the trip, pointed to a spot on the map and said, "that looks like a good place to find some stuff". So we went there.
When Matt, Rose, and I got to the unscouted territory, we were able to zero in on a few possibilities on the map and quickly set off on a hike. This first hike was through a shady mountain stream. Though the trip had been plagued with dry heat and there had not been a salamander in sight, this well-forested Shasta County stream remained cool and moist. We reached a small tributary that came off the hillside, and the moistness of the rocks looked like perfect salamander habitat. Matt hit the little tributary and soon found a larval giant, while I checked under the moistened, moss-covered nearby rocks...and found my first Shasta Black Salamander, a pretty little juvenile.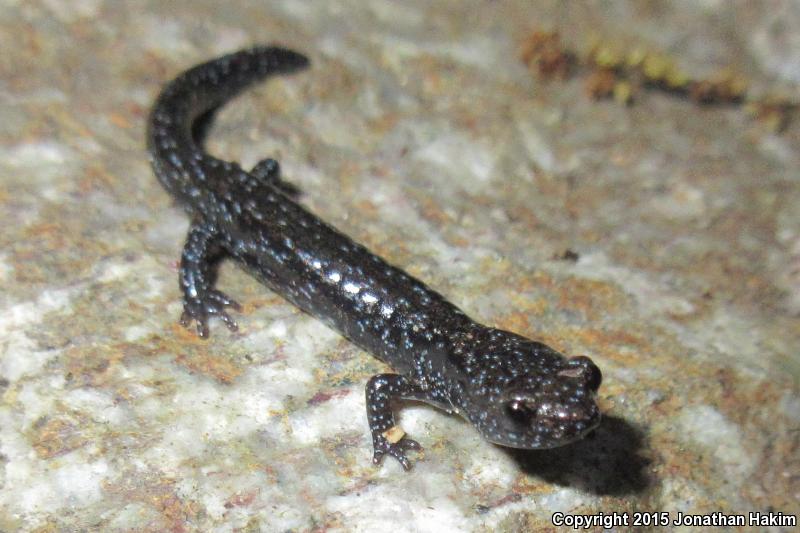 More juveniles found in a different locality on the same trail.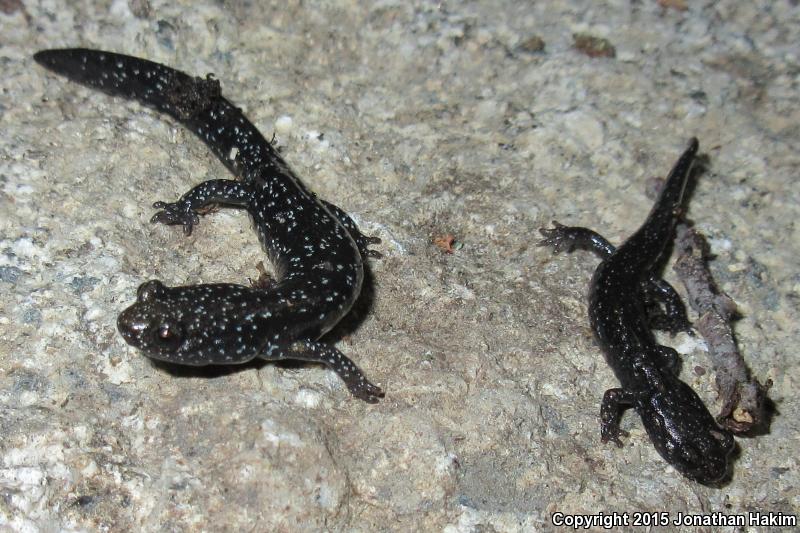 habitat shot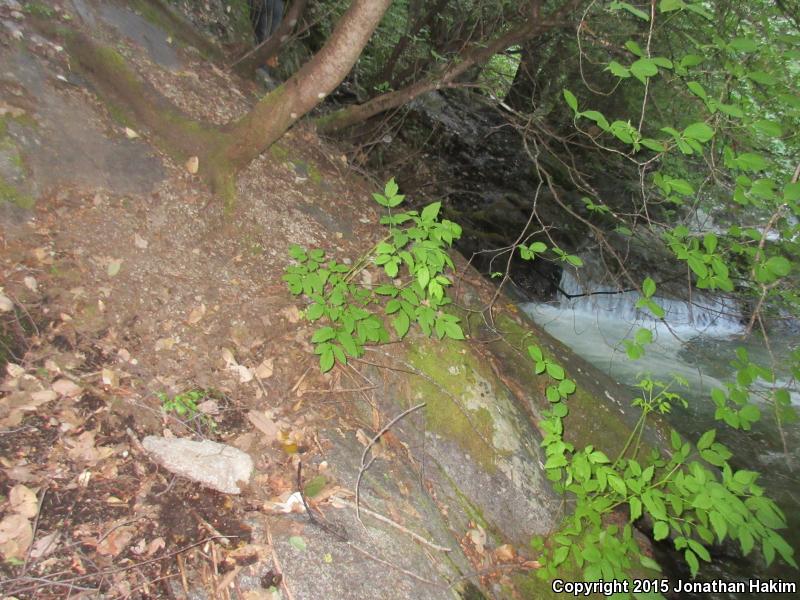 Just across the trail from the first find, some skinny logs were stopping erosion. I pointed at one and told Matt to lift it while I got in position. Under the log, on top of a second log, was a huge, beautiful adult black sali. My camera couldn't capture how beautiful it was in person: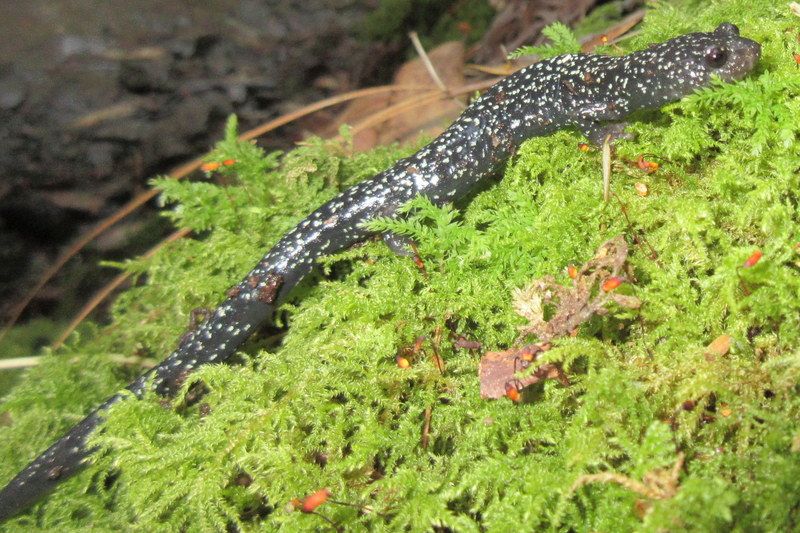 In real life, the combination of the black background and the brilliant white speckling somehow gave it a gorgeous green hue. Heather (NW Chapter) said that the salamander looked like Van Gogh's
Starry Night
, and I think that's a pretty good description.
The Shasta Black Salamander was recognized by Rissler and Apodaca (2007) as a form distinct from the Speckled Black Salamander, but it has not been formerly declared to be a seperate species, though the name "
iëcanus
" has been floated for species status. Its range is limited to a chunk of the northern Sierra Nevadas in Shasta County.
Wandering Salamander (Aneides vagrans)
Next to the as-yet-unrecognized Shasta Black Salamander, the Wandering Salamander is the newest species in the
Aneides
complex to gain full species status, having been split off from the very similar-looking Clouded Salamander by Wake and Jackman in 1998. This species is a denizen of the incredible coastal redwood forests from Mendocino County to Del Norte County on the northern California coast (though they can also be found in Douglas fir, cedar, alder, and oak). With the huge, tall, and often rotten redwoods providing the perfect playground, the stories of arboreal escapades are legendary in this species. Spickler et al. records one found at a height of 303 feet, making them the highest-climbing herp in all of North America (possibly the world?). They found colonies of the species living at impressive heights in the redwoods, generations of salamanders passing by without ever touching the ground. It truly is a remarkable lifestyle.
My only encounters with the species came in nice old-growth redwood forest in coastal Mendocino County. This young juvenile was found under loose bark on a small significantly leaning tree, about 4' off the ground and 10' from the tree's base.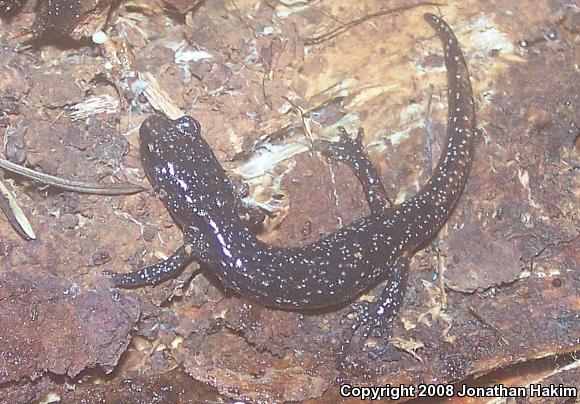 Later, this adult was found under the bark of a small cut log, when I rolled over the log and the bark on the ground separated from the core. Its locale was only a few feet from where I found the Arboreal Salamander mentioned earlier.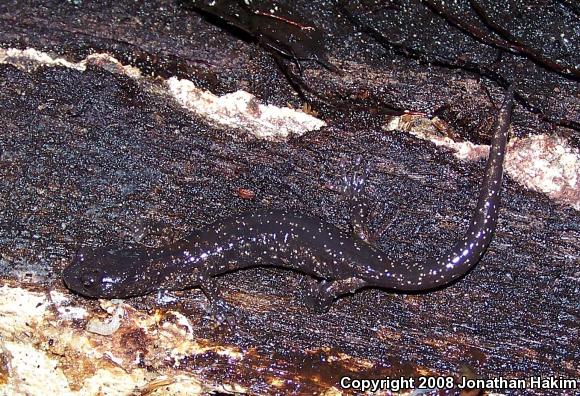 Probably the strangest story of salamander introduction is the case of Wandering Salamanders on Vancouver Island, British Columbia, a full 500 miles north of their native NorCal range. For some time there was an ongoing debate about whether Vancouver Island's thriving
Aneides
population, more than 200 miles distant from any other known
Aneides
, was natural in origin or a recent introduction. However, in my opinion Jackman 1998 brought this debate to a definitive close with the following findings.
1) The salamanders on Vancouver Island are genetically matched not to Oregon's Clouded Salamanders, but to the Wandering Salamanders of northern California's Humboldt County, much further away.
2) There are no records of the salamanders being seen on the island before 1906, despite the fact that they are not uncommon and the island had been heavily populated for quite a long time before that.
3) From 1842 through the early 1900s, Vancouver Island was the center of a massive tanning industry. The bark of tan oak was shipped in from Humboldt County at a rate as high as 500 tons a year. As Wandering Salamanders live their entire life within the bark of trees, it is easy to see how many of the salamanders could have been transplanted to the island. While even a single colony of salamanders would adequately explain the introduction event, I think it's likely that large numbers of salamander-bearing bark piles were brought over the course of decades, and the Vancouver Island Wandering Salamander population probably has multiple independent sources which have mixed and interbred in the decades since.
4) The finishing touch of the argument is that the genetic signature of the Vancouver Island salamanders matches Wandering Salamanders from a particular region of Humboldt County far more closely than other NorCal Wandering Salamander populations match each other! There appears to be little-to-no genetic diversity in the Vancouver Island population, likely due to the recentness of the introduction and expansion, even though the overall range there is now nearly as large as the species's California range. This evidence suggests that the original population may have originated from somewhere in the vicinity of Willow Creek, Humboldt County.
Even as an introduced population, the survival of the species so far north of its known range is fascinating, considering that the genus was for some reason unable to spread into Washington from Oregon (though Wandering Salamanders have now been found on one part of the mainland adjacent to Vancouver Island). AFAIK it is the only example of an introduced salamander population on the West Coast other than the Eastern Tiger Salamanders and a small population of Garden Slender Salamanders in the northern Central Valley.
Clouded Salamander (Aneides ferrous)
As a kid I would read Stebbins's "Field Guide to Reptiles and Amphibians of the Western United States" as if it were a novel, hitting every species description from front to back (in the 1966 edition!). However, there were certain species accounts that I tended to hit more often than others, and the Clouded Salamander was one of the biggest ones. A salamander that can be found over 100 feet high in Douglas Fir trees? A species unlike any other in northern Oregon? A species found right in my backyard that I somehow had never seen myself? The Clouded Salamander intrigued me to no end, and I very much wanted to find one. Unfortunately, I almost never got into Clouded Salamander habitat, and so my childhood hopes remained fruitless.
The Clouded Salamander picks up in Del Norte County right where the Wandering Salamander leaves off (the species are sympatric at the boundary but show only minor evidence of historic hybridization), and ranges north to the Columbia River that forms the Oregon/Washington border. Why they never made it across the river is a bit of a mystery. The river was not a substantial barrier in the pre-dam days, the flooding cycles would have made it easy for logs and salamanders to be carried into the river and then across to the other side, and eleven species of salamander on the Oregon side of the river are also found on the Washington side. Even species such as the Columbia Torrent Salamander, Cascade Torrent Salamander, Dunn's Salamander, and Larch Mountain Salamander, which have somewhat limited ranges on the Washington side, do manage to make it into parts of Washington...so why that habitat remained unsuitable for Clouded Salamanders is odd. However, the Clouded Salamander is not alone in this regard, as Oregon Slender Salamanders are also found up to the edge of the Columbia without making it across to the Washington side (though their more limited range, limited mobility, and specific habitat requirements make that range boundary a bit less surprising.)
My first encounter with the species finally came in 2013 while on a bear-hunting trip with my father. We were hunting so far south in Oregon that it was easiest to pass through a bit of California to get there, and I convinced him to stay for a couple hours of herping Del Norte County the night before we went after much larger prey. Upon arriving at our spot, I immediately saw a quarry I wanted to check out. The rocks of the quarry only yielded a couple Northwestern Garter Snakes and a Northern Alligator Lizard, with some Northern Pacific Chorus Frogs in a puddle nearby. But there were a few huge fallen redwood trees lying in a corner of the quarry, and under their substantial bark were two fantastic salamanders.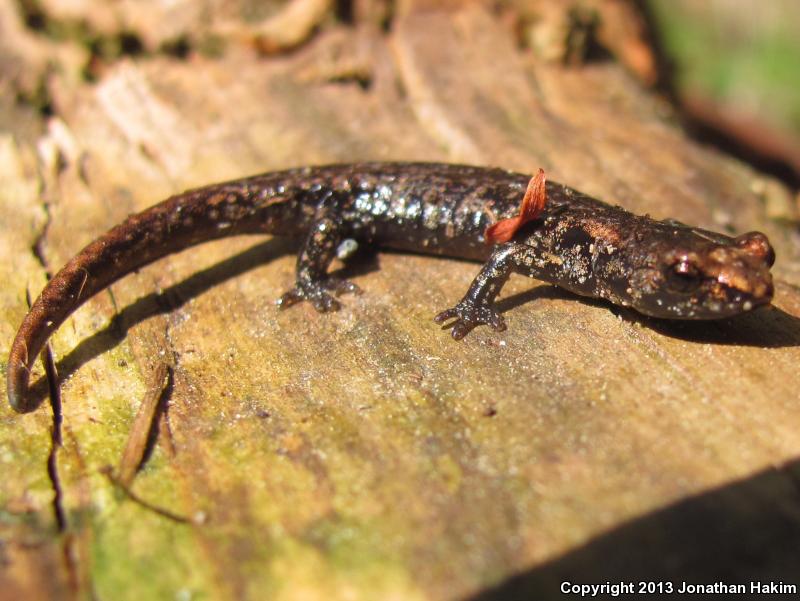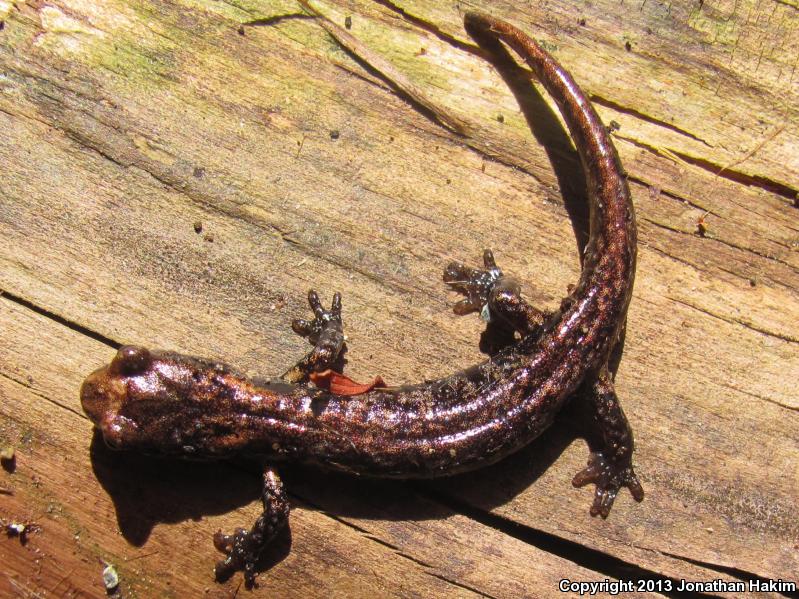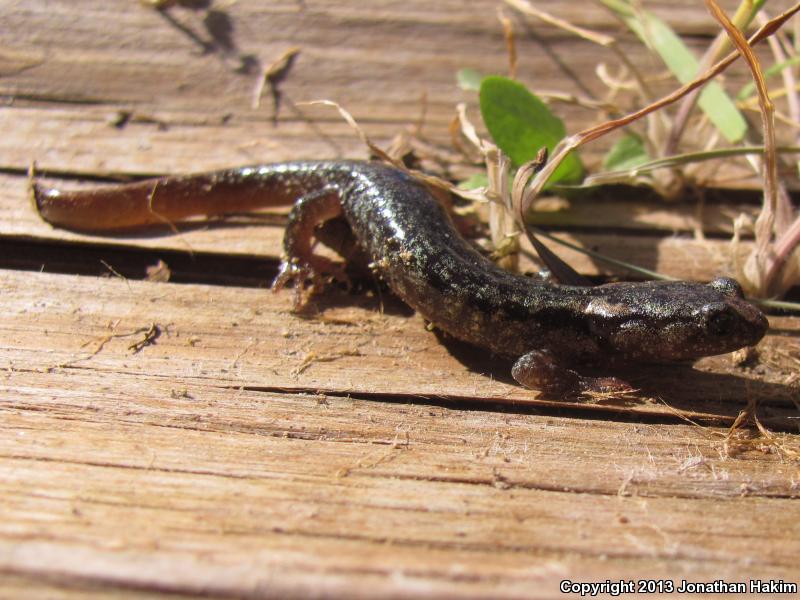 The agility and dexterity of this genus is remarkable, as the long limbs and skilled toes make their way across huge trunks.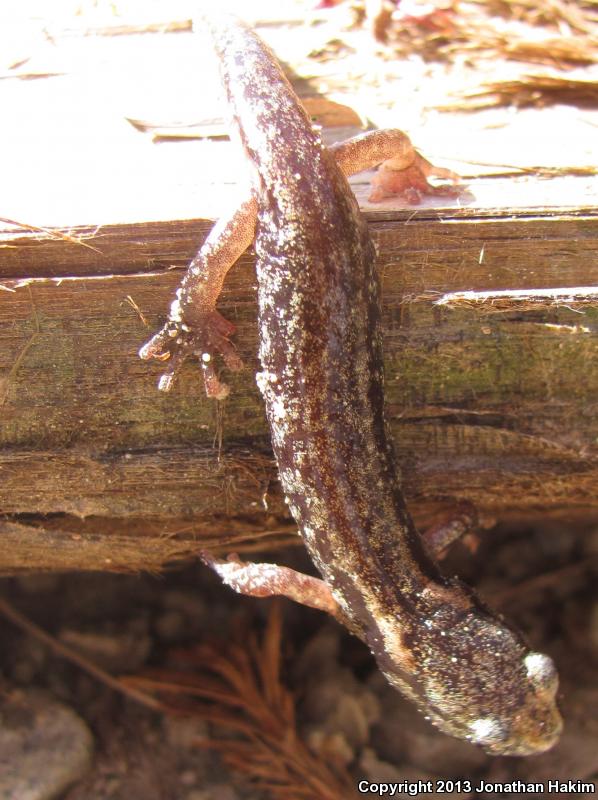 habitat shot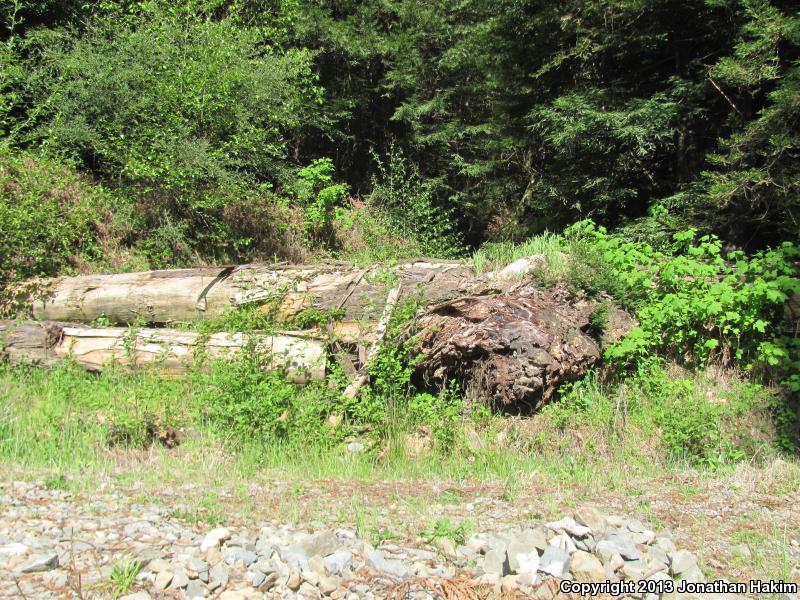 My second sighting of the species came just a month later, but on the other extreme of their range. While in northern Multnomah County only a few miles from the Columbia River, I was walking down a very wet forest trail when I came across a large Douglas Fir log that had been cut where it had fallen across the trail. The end of the log was almost at chest level, and under the bark right next to the cut was my first Clouded Salamander in Oregon.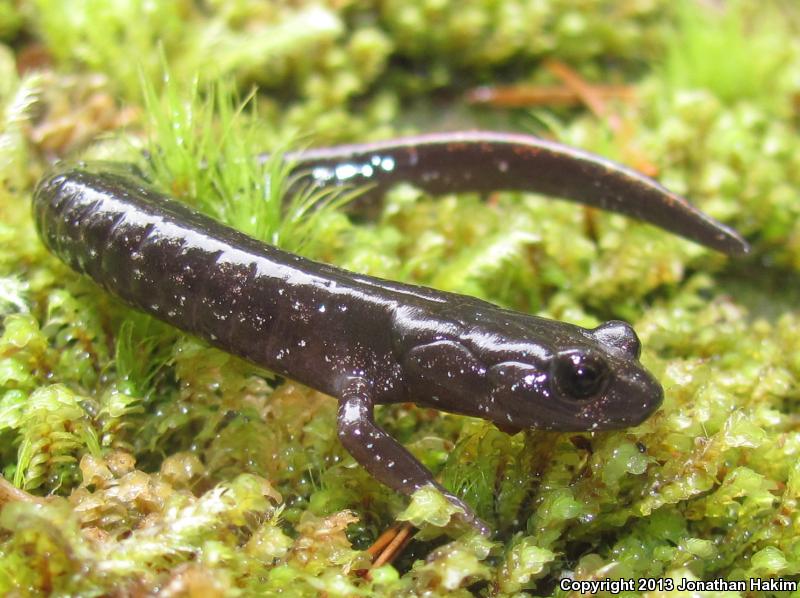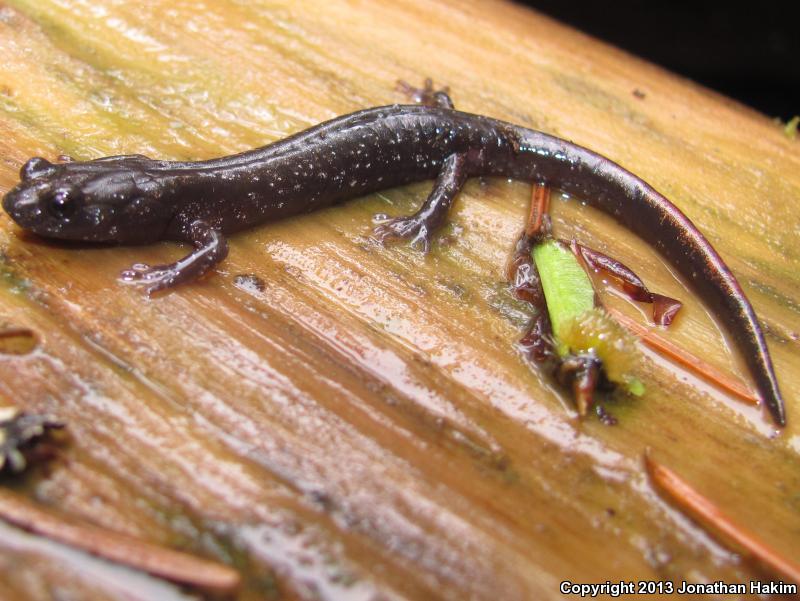 habitat shot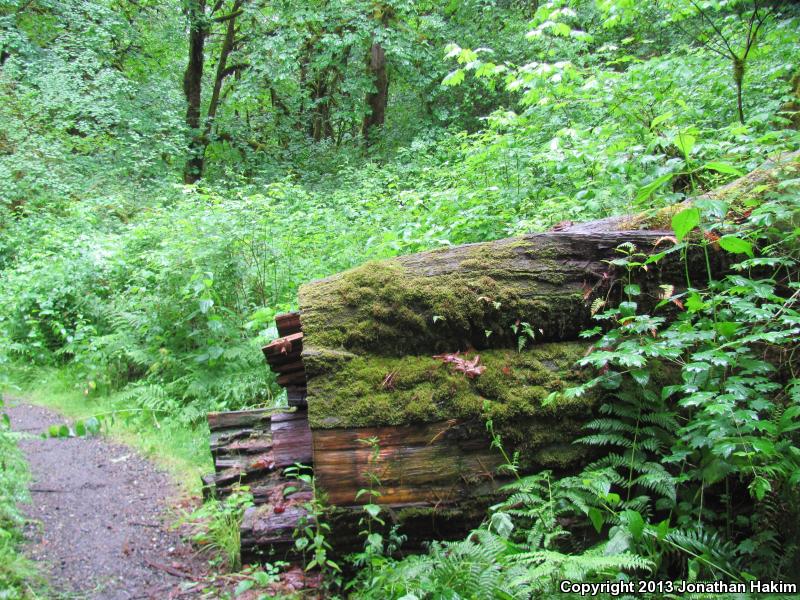 As those two sightings indicate, Clouded Salamanders like to be where the trees are big. Matt Dagrosa, who spends more time in Oregon's coastal old-growth forest than anyone I know, finds them fairly regularly in ancient old-growth patches. They can occur in deep forest, but are most often found in clearings on the forest edge and in rocky talus that forms openings in the canopy. The Cascades are a barrier which they do not range very far into, although they are common in the Coast Range. The species is also absent from the northwest corner of Oregon. They are the smallest of the west coast
Aneides
, rarely reaching 5" in total length.
A chance encounter with Robert Storm's 1948 Ph.D. thesis on the herpetofauna of Benton County led me to some remarkable observations on the historic frequency of this species. Dr. Storm notes "This is the most easily found of the plethodont salamanders, and occurs in relatively large numbers within restricted areas of the proper habitat." In fact, he found over 200 specimens of the species within Benton county over the two-year course of the study. I don't know anyone who would consider Clouded Salamanders to be "the most easily found" plethodont in western Oregon today, especially in comparison with the extremely common
Plethodon vehiculum
,
Plethodon dunni
, and
Ensatina eschscholtzii
. Is the difference explained by unique aspects of Benton County, Storm's habitat-destructive search methods, or an actual change in salamander populations brought about by the extreme reduction in available old growth habitat between the 1st half of this century and the 1st half of the previous one? He found virtually all of his salamanders in large old decaying fir stumps and logs at the edge of Douglas Fir forest. It is worth noting that even Storm found the species to sometimes be absent from what appeared to be ideal habitat, while they were prevalent in seemingly identical habitat elsewhere. An account of his finds, which should never be replicated by amateur herpers today, provide some interesting revelations.
"
When one tears into such a log, the heart wood is found to be decayed to the point where it can be torn out easily with the proper instrument, but yet is firm enough to retain its shape without crumbling. This inner wood will be found to be riddled with cracks and tunnels, and will support a tremendously varied invertebrate fauna. It is supposed that certain of the invertebrates produce the tunnels in the wood, but there is some evidence (see under food habits) that the Aneides may at least enlarge these. Whatever animal produces them, these tunnels are utilized by the salamanders to reach even the innermost sections of the logs. From one of these logs, on March 19, 1942, at least 25 Aneides of all sizes were collected in less than an hour. This log measured approximately 4 feet in diameter by 12 feet in length, and only a small proportion of it was torn away. In another log (approximately 4 feet by 28 feet), in this same locality, 21 Aneides, and 2 clusters of the eggs of this species were taken on July 7, 1946. To collect these, only about 10 feet of the length of the log was torn into along its southern exposure.
"
On one hand, I know of no one who employs these search techniques to find Clouded Salamanders today. On the other hand, I know of few places in Oregon where nicely decaying 4' diameter Douglas Fir logs can still be found with any sort of abundance. Other logs of only 2' in diameter were found by Storm to produce reasonable numbers of salamanders, so I am in no way suggesting that the species is imperialed in any way within its range. However, the smaller a log is, the shorter it will last as habitat, and so only regions with regularly occurring rotting fir logs which are large enough to last several years as semi-permanent habitat can be expected to be prime habitat for this species.
Other Aneides
Considering the West Coast diversity and relative mobility of the genus, it is remarkable that there are only two other known members in the world – the rock-crevice specialist Green Salamander of the Appalachian Mountains and the remarkable high-elevation Sacramento Mountain Salamander of New Mexico. I've never been to either region and have nothing to share on those species other than what is easily found online.
If you got this far in the account, you were very thirsty for a perspective on this really cool group of salamanders. Thanks for taking a look.