Preparations
With limited time and money on my hands for herpetological travels I'm always on the lookout for a good deal on fitting dates. Never having been to the Iberian peninsula, oddly enough, this year I had Spain and Portugal in my sights. Towards the end of the season, it's nice with a little something to last through the long hard withdrawal of winter so I found a cheap flight for Madrid and arranged a short four day trip to the mountains of central Spain at the beginning of October. After the airline changed my flight schedule by seven hours cutting out my evening amphibian session and following a subsequent short delay of same flight I finally arrived at my hotel west north west of Madrid at the foot of the mountains a little past 2 o'clock at night. Following a short night's sleep and breakfast at the hotel I was ready for the morning's search just north of town.
Day 1 – A Decent Beginning
I was out in the habitat – dry oak scrubland with scattered rocks, ruins, and a few small, nearly dried out water holes at the bottoms of deep quarries – a little early. The sun was out, but the animals weren't yet. My first find was a small moorish gecko under a rock. Quite surprisingly, this would prove the only one of the trip. Under the rock next to it was the first small scorpion.
Habitat nw of Madrid
Others than herpers make use of the habitat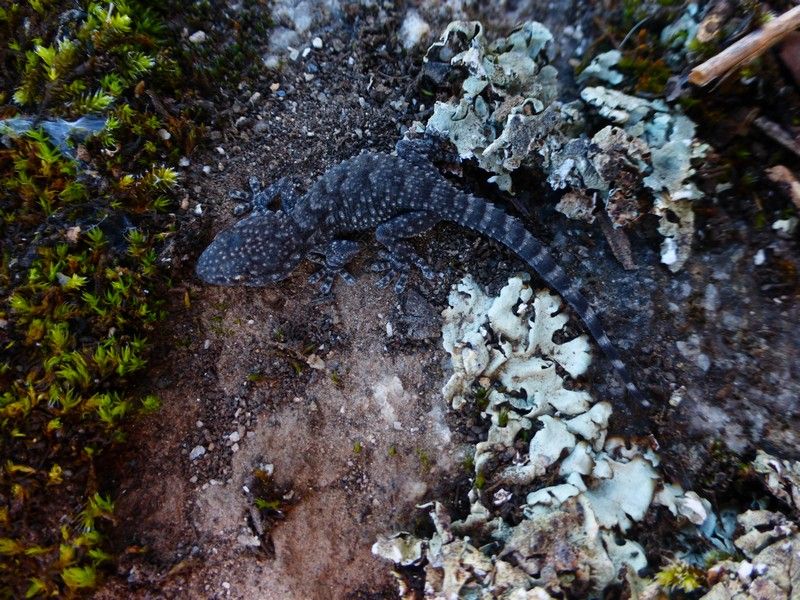 Tarentola mauritanica
A litttle later a largish western Montpellier snake fled from its basking spot in front of a bush just as I stepped on to the rock above it. Montpellier snakes are a bit of a white whale to me. I had seen both the western and eastern species but never managed a photo as they are extremely alert, fast, and always seem to hang out in the immediate vicinity of dense, thorny bushes and large rocks with deep cracks. Thus, I was cursing my luck once again but decided to wait it out. It took a while but eventually it peered out from under the bushes again. I took a couple of crappy photos, my camera not really equipped for this type of shots and, losing patience, tried to edge closer. Predictably, the snake fled once again.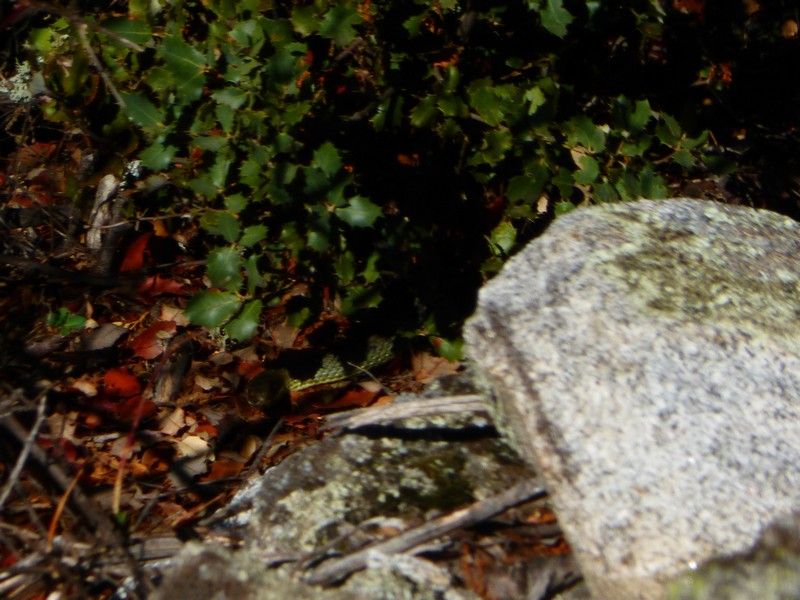 Malpolon monspessulanus
I walked a small round before coming back from another, better angle, hoping it would be out again. It wasn't but at least I flipped a natterjack toad en route.
Epidalea calamita
Shortly afterwards, the lizards started coming out. On the sides of one of the deep pits, an apparent abandoned quarry, I found a juvenile large psammodromus and an adult
Podarcis guadarramae
, one of the rather recently described species of the hispanicus complex.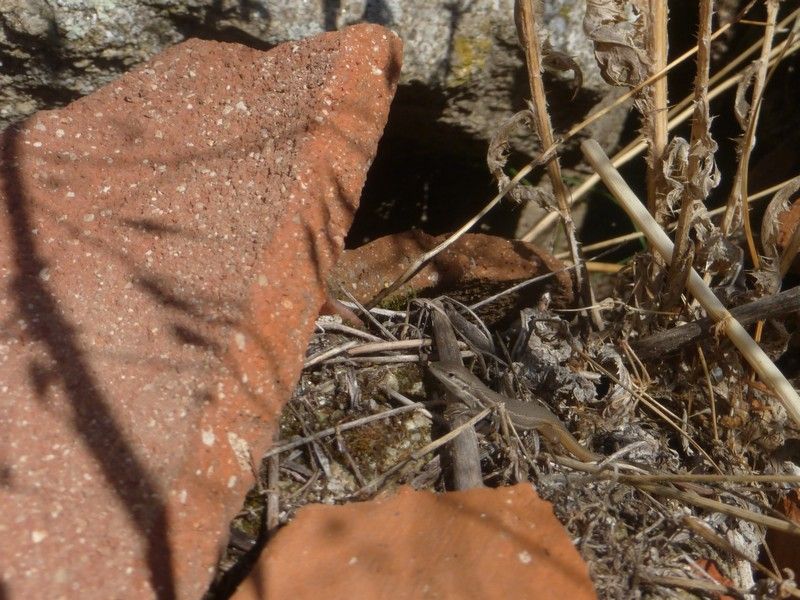 Psammodromus algirus, juvenile
Searching a little more, an adult Psammodromus escaped my lens, and a promising looking ruin offered up only two shed skins – probably Malpolon again.
With several more stops planned I decided to move on, despite not finding my main quarry,
Blanus cinereus
. I have never seen an amphisbaenid and they intrigue me. Widely regarded as somewhat of a "trash" find they should be abundant and easy to find at lower elevations so I still felt confident I could get one on my final day when I planned to come back down from the mountains.
My next stop was a short one. Headed up into the mountains of the Sierra de Guadarrama I made short detour to a meadow where I had been told of a couple of flipable boards. They didn't pay off.
Higher up my next stop was along a creek at about 1850 masl. There should be plenty of species there but I found only common wall lizards. The habitat was nice, though.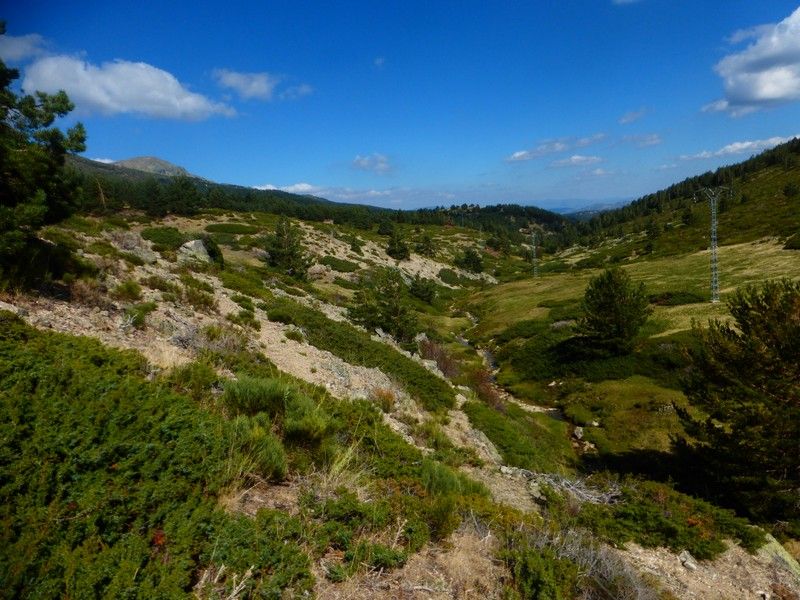 Sierra de guadarrama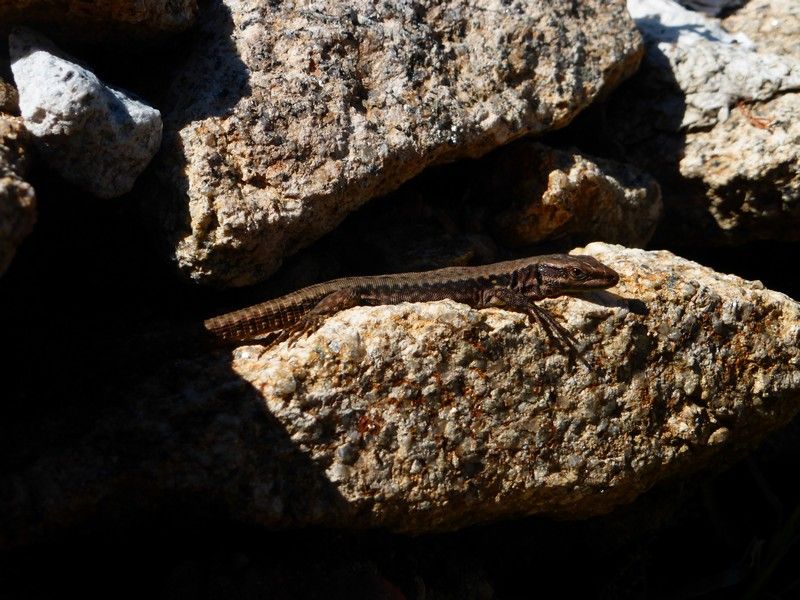 Podarcis muralis, male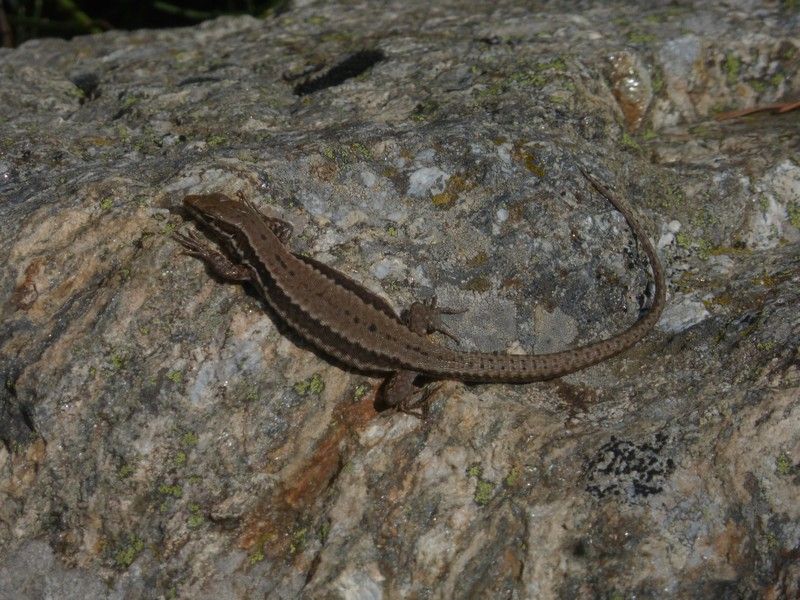 Podarcis muralis, female
I drove on a little further and stopped for a hike. Starting in the forest at about 1830 masl I would head up the mountainside to the meadows and ponds where I would search for amphibians and lizards. As I reached the first lake I was disappointed to see that the surroundings of the lake were closed of as a protected area so I decided to move on to the next set of ponds. The trail had split up some way back, another branch heading towards the ponds and I really wasn't in a mood to go back. Furthermore, it was already late in the afternoon so I didn't have much time, I thought I'd seen another trail from the lake to the ponds on some map and on the map I had with me the terrain didn't look too difficult so I decided to take the shortcut across the ridge. I've often ended up regretting such decisions but this time it proved a good one.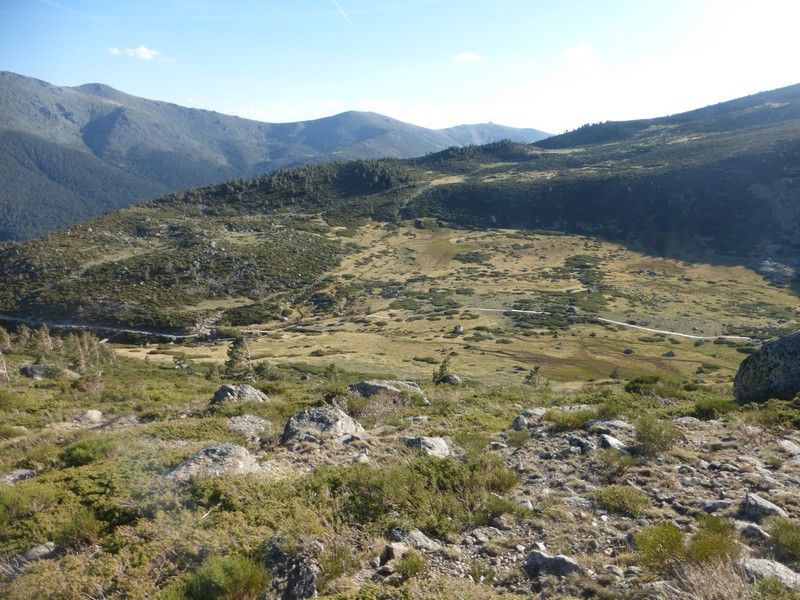 Sierra de Guadarrama
I soon found myself in a very promising looking alpine meadow dotted with small ponds and cut across by small trickles flowing down the mountainside. In the first, highest, little pond, at around 2200 masl, I found an alpine newt. Since all amphibians were strictly hands off at this location at least some of my photos are of quite questionable quality.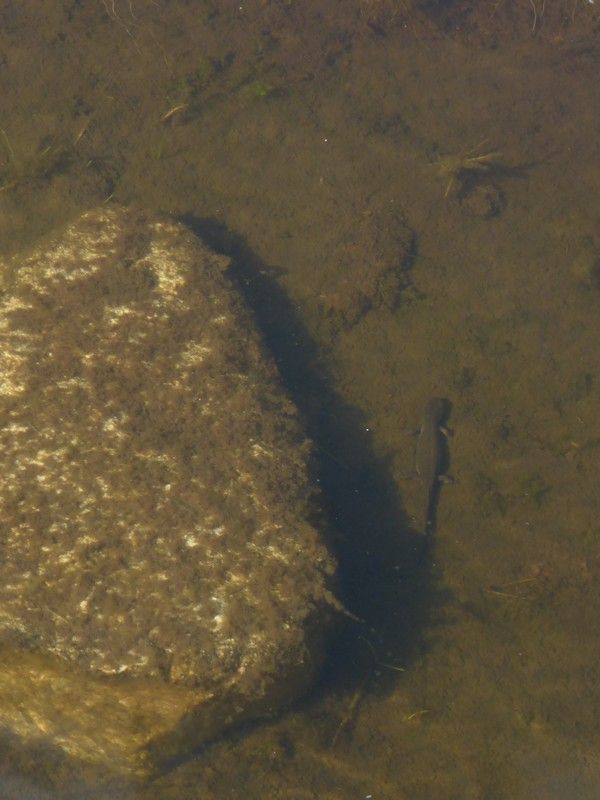 Ichthyosaura alpestris
The next ponds, a little lower down, brought more alpine newts, adults and larvae alike, as well larvae of marbled newt and plenty of Iberian water frogs. The latter would prove extremely common, found in numbers in all ponds, streams and lakes at all altitudes and at all locations.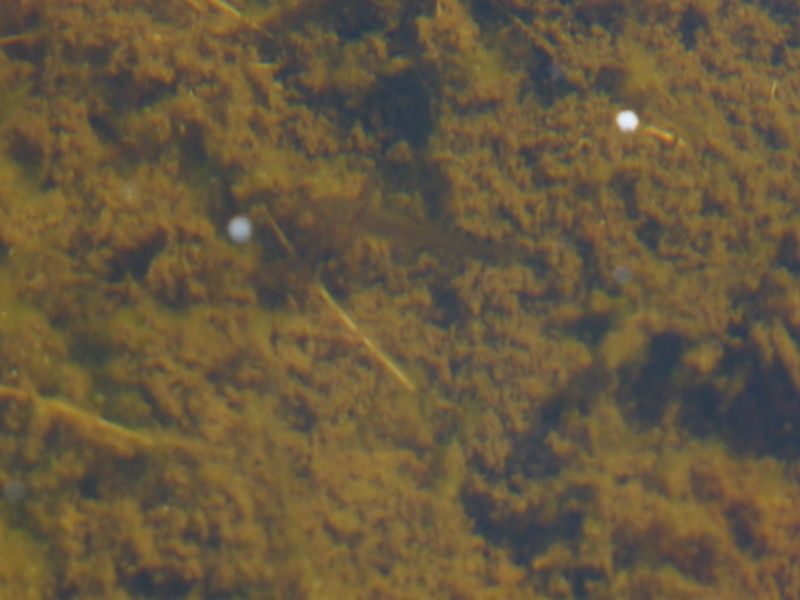 Triturus marmoratus
Another pond, another species, this time the Iberian frog. These would also prove very common, though restricted to high altitudes. I never saw them below appr. 1900 masl.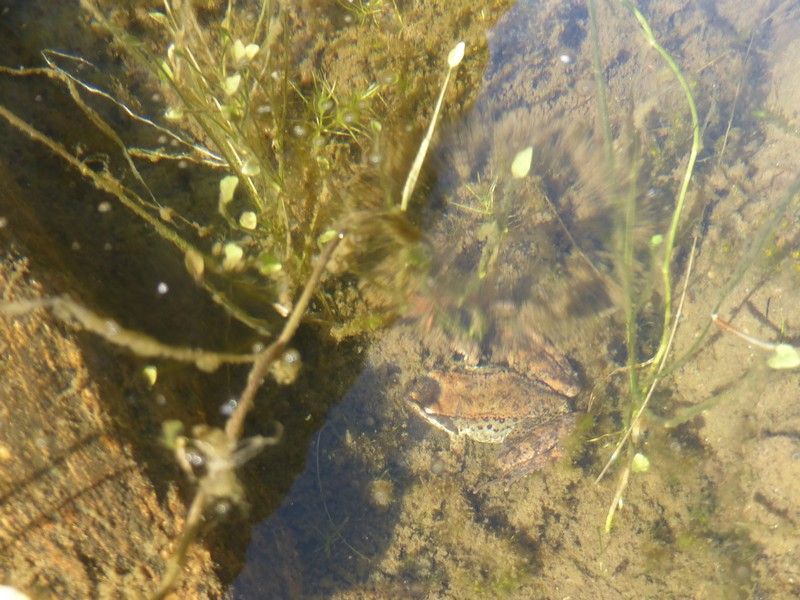 Rana iberica
In the tiny pools in the small stream I found several larvae of fire salamander as well as unidentified bufid tadpoles. Hunting these in one of the pools I found a Mediterranean water shrew,
Neomys anomalus
, a fascinating little aquatic predator.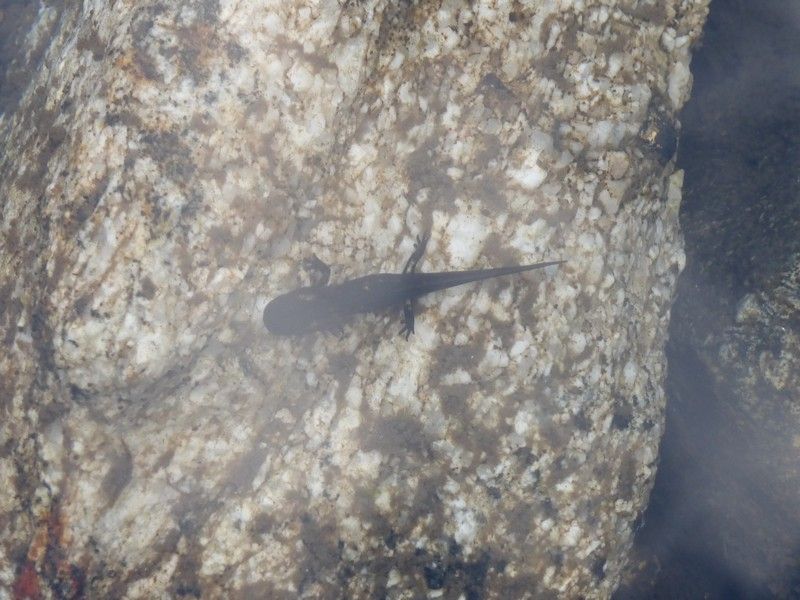 Salamandra salamandra
When I made it back out to the trail, I discovered that this entire area where I had just enjoyed a taste of the amphibian diversity of the mountains (I would love to go back in spring...) was, like the area around the lake before, protected and closed to the public, the belated knowledge another benefit of my shortcut.
I now followed the trail up to the ridge on the other side of the peak and found on my way my first juvenile
Iberolacerta cyreni
. This endangered endemic of the higher altitudes of the Sistema Central is not uncommon above 1600 m. I only managed a picture of a blue tail as the lizard fled into a crack.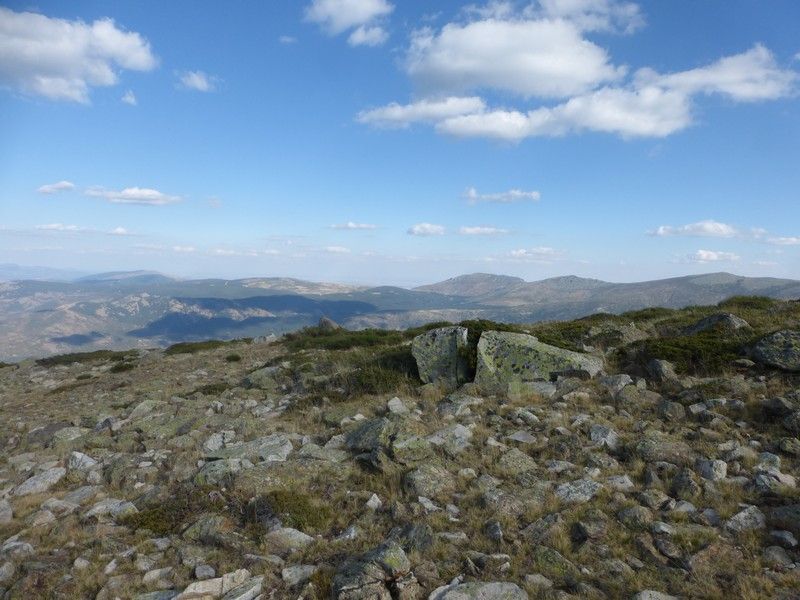 Sierra de Guadarrama
Griffon vultures soaring overhead, I then encountered a herd of surprisingly tame Spanish ibex. After this encounter I headed back down again – this time following the trail all the way – to be sure to get down before sunset.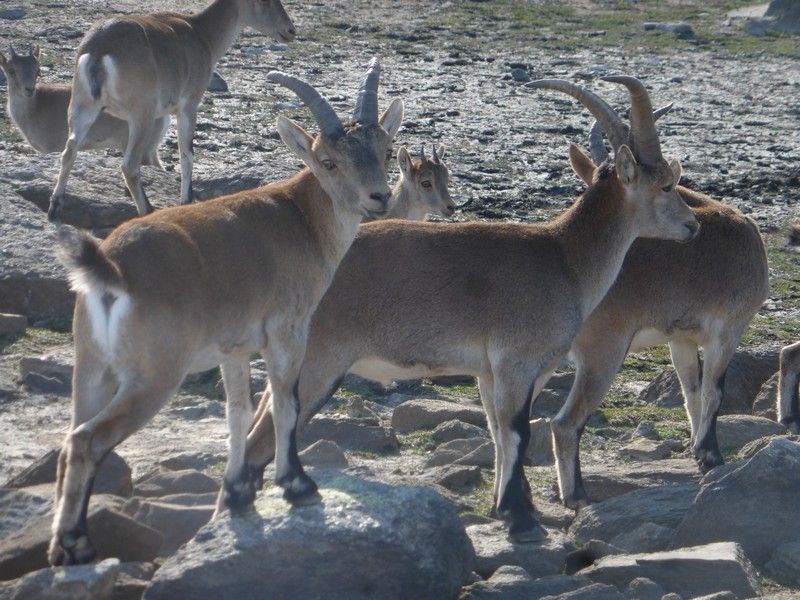 Capra pyrenaica
I drove on to my lodgings for the next two nights on the north side of the Sierra de Gredos, passing a single large dor snake along the way. Speed and traffic not permitting a stop I could only guess as to the species, size alone suggesting either western Montpellier snake or ladder snake,
Rhinechis scalaris
. At the B&B I enjoyed a late dinner and had a nice talk with my host, who just happened to be a biologist with plenty of tips for my searches the next couple of days.
Day 2 – Questionable Decisions, Poor Time Management
After breakfast I headed to the central part of the Sierra de Gredos with a short stop to look for amphibians at some ponds in a meadow that my host had told me about. The ponds were all but dried up and I found only Iberian water frogs and larvae of marbled newt.
As the day before in the lowlands, I arrived at my destination early. It was quite cold, the sun just beginning to creep above the crest on the eastern side of the valley. My original plan had been to search first near the parking lot primarily for Lataste's viper (though a couple of other species were also on the list) before going on a hike to for teh endemic subspecies
Salamandra salamandra almanzoris
. Restless, I decided instead to hike first and look for vipers when I came back down rather than wait an hour for it to heat up.
Lycosa tarantula
This proved a rather poor decision. I had a nice hike in beautiful weather, but despite searching at streams and lakes in known Salamandra habitat I found no salamanders, only Iberian frogs, Iberian water frogs,
Iberolacerta cyreni
and dead
Bufo bufo gredosicola
,
Bufo spinosus
, or whatever you want to call them. I found plenty of the lizards, mostly juveniles but also a couple of nice colourful adult males and a single adult female. Sadly, the adults in particular were quite wary, so I only got one very poor picture of the single individual I flipped.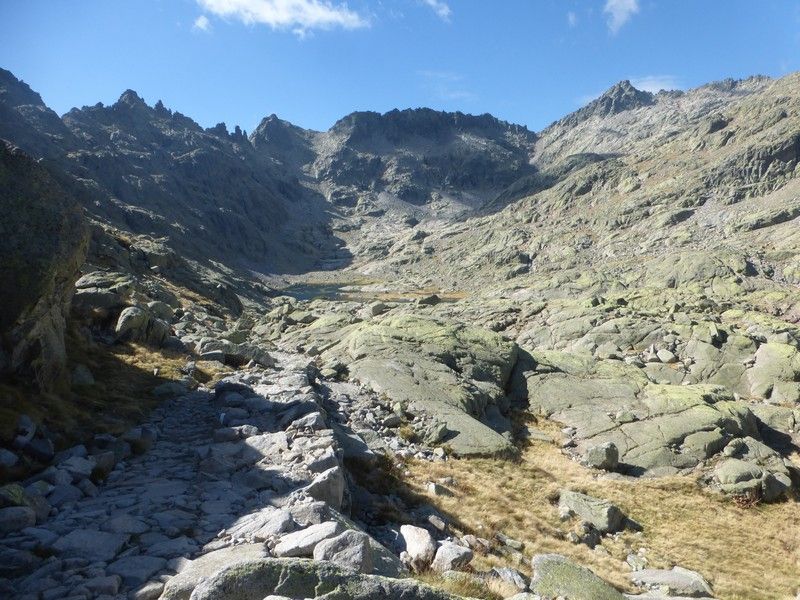 Sierra de Gredos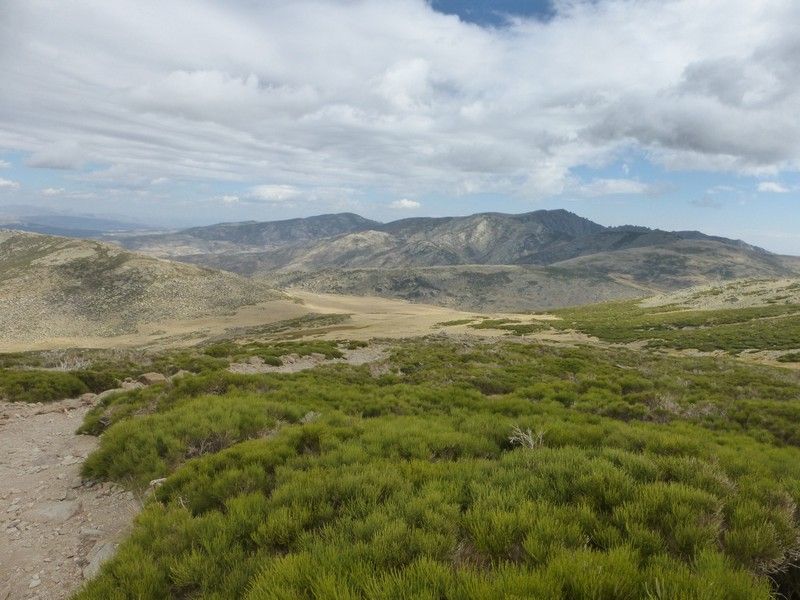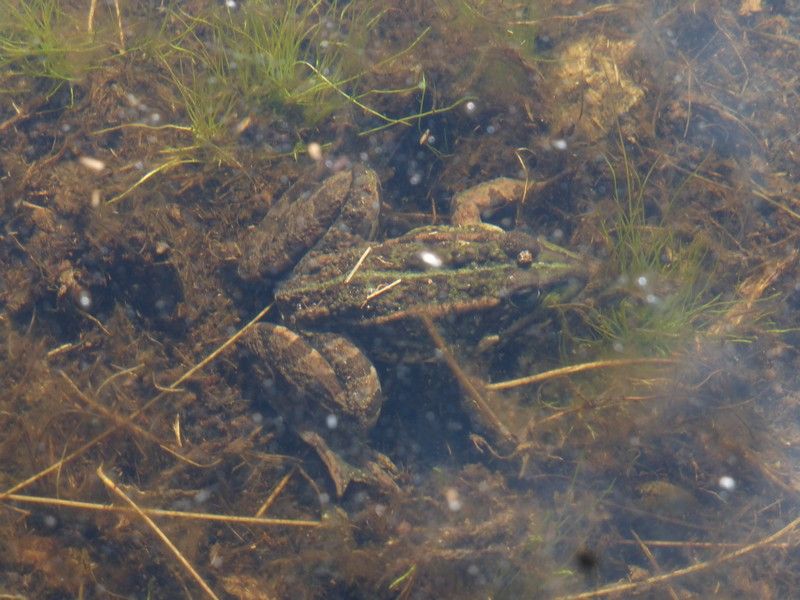 Pelophylax perezi
Rana iberica, metamorph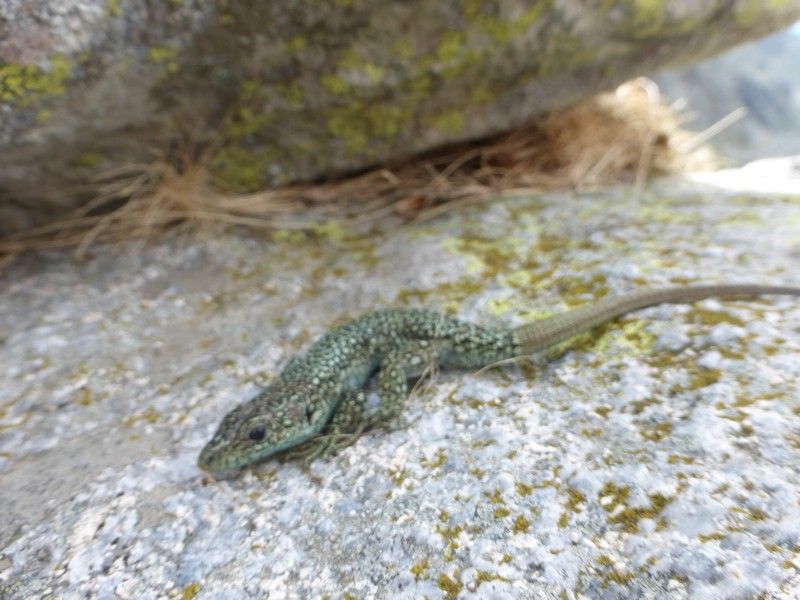 Iberolacerta cyreni, male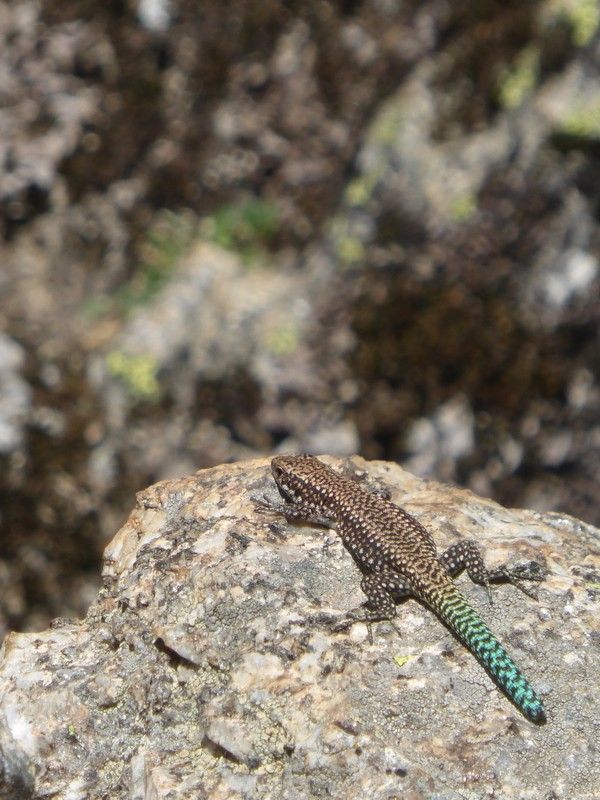 Iberolacerta cyreni, juvenile
On my way back down, the clouds closed in. I hurried back, almost running most of the way to beat the clouds but in vain. Back at the viper spot it was overcast and rather cold, far from the ideal conditions I had wasted while hiking. I gave it a go nonetheless, searching up and down the steep mountainsides for a couple of hours until I was too exhausted, the weather too poor.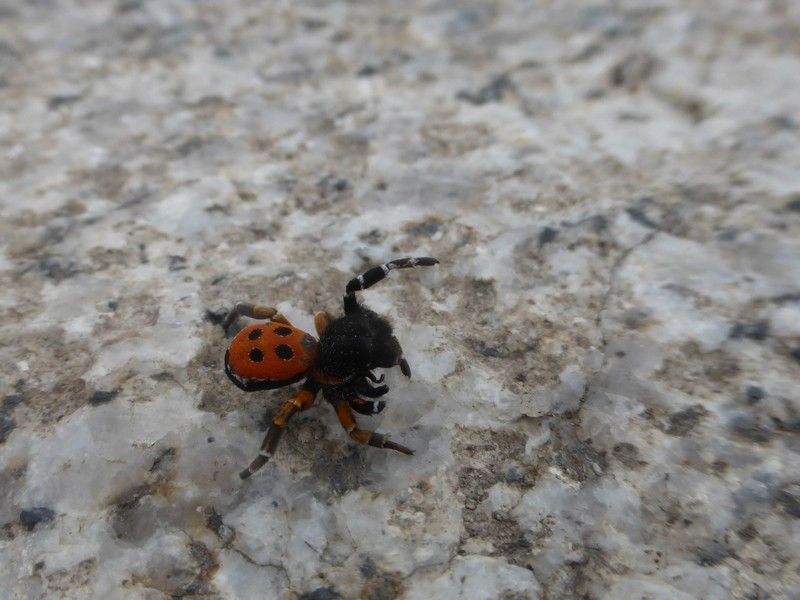 Eresus sp.
I found very little, a single lizard where I would certainly have found dozens an hour or two earlier, a small, dead, desiccated juvenile snake under a rock, that I was only positively able to ID as a Lataste's viper from my photo later that evening, and finally a gray snake crawling through the grass along the base of a bluff.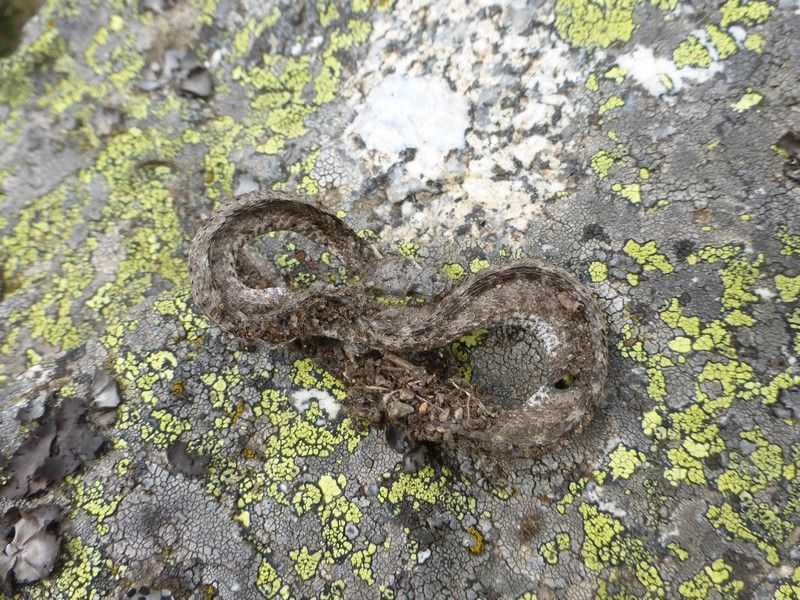 Vipera latastei, juvenile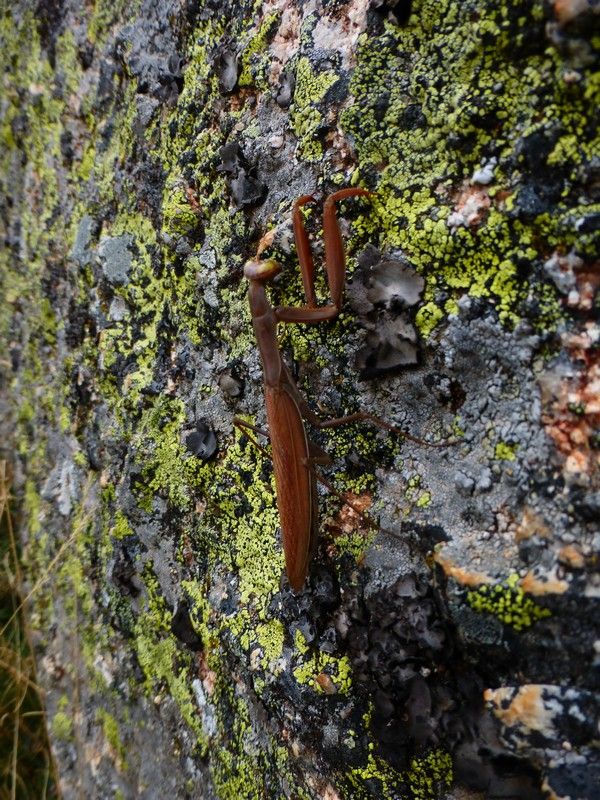 Mantis religiosa
Alas, it was no viper. At first glance I thought it a smooth snake and was about to just snap a quick in situ and let it be on its way but after a split second I thought, it could be a southern smooth snake, better get a hold of it just to be sure. I'm glad I did because it was indeed my lifer southern smooth snake, slightly surprising as this is not usually found active by day and it is generally more of a lowland species
Coronella girondica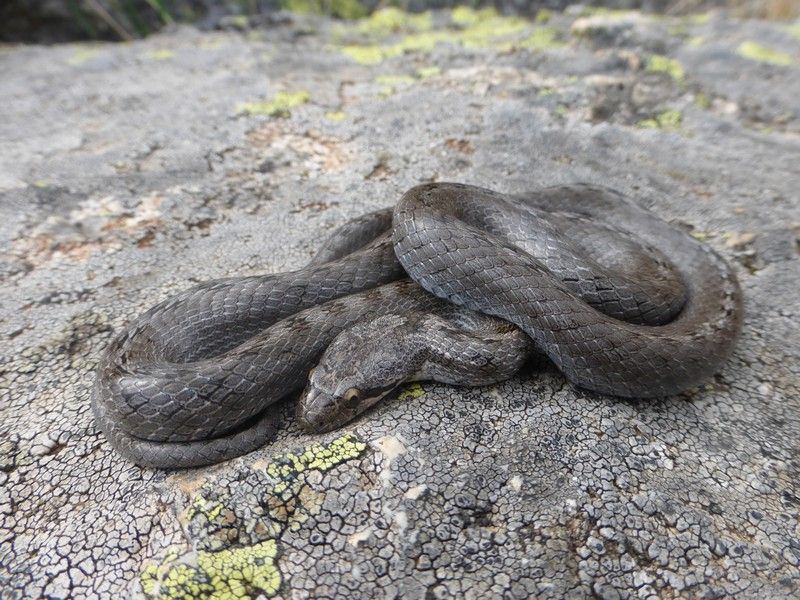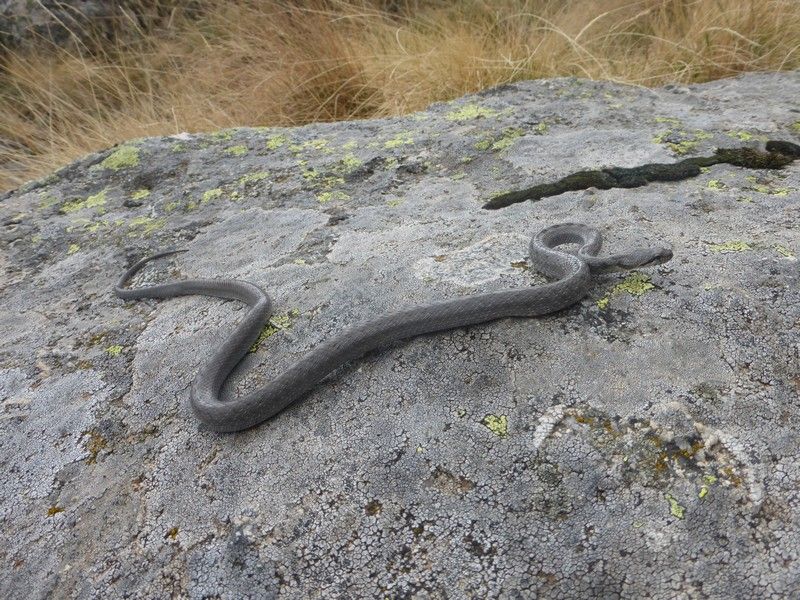 On my way back I made a couple of stops in the weaning light, found nothing new.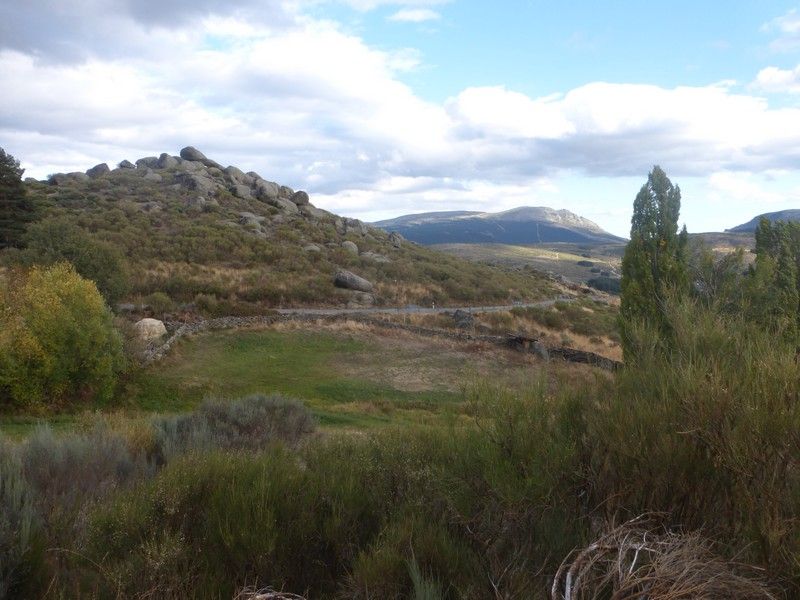 Sierra de Gredos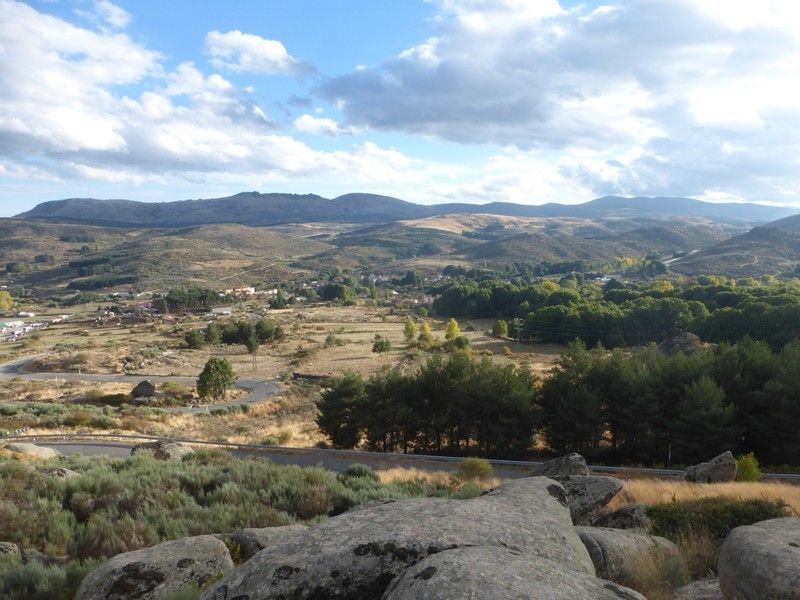 Day 3 – Chasing the Sun
After feeling I had wasted much of the previous day hiking when herping conditions were best I was set on herping hard but the day began cold, gray, overcast and dreary. Frustrated by missing a good shot at latastei this was now more than ever a target species for me. However, as it was not reptile weather I decided to start by searching for amphibians in the same general area as the day before but further down in the valley where there might still be a little more water. There was, but finds were the same, Iberian water frogs and marbled newt larvae.
I had planned to stay at lower elevations all day but it looked as if there was a hole in the cloud cover above the mountains so I decided to drive back up where I had searched the day before. When I got up there it was cold, windy and gray. Directly overhead the sky was a clear blue but there was a single cloud immediately in front of the sun. It looked as if this would soon blow away but instead new clouds just kept blowing in from behind the ridge blocking out the sun while the sky all around remained clear.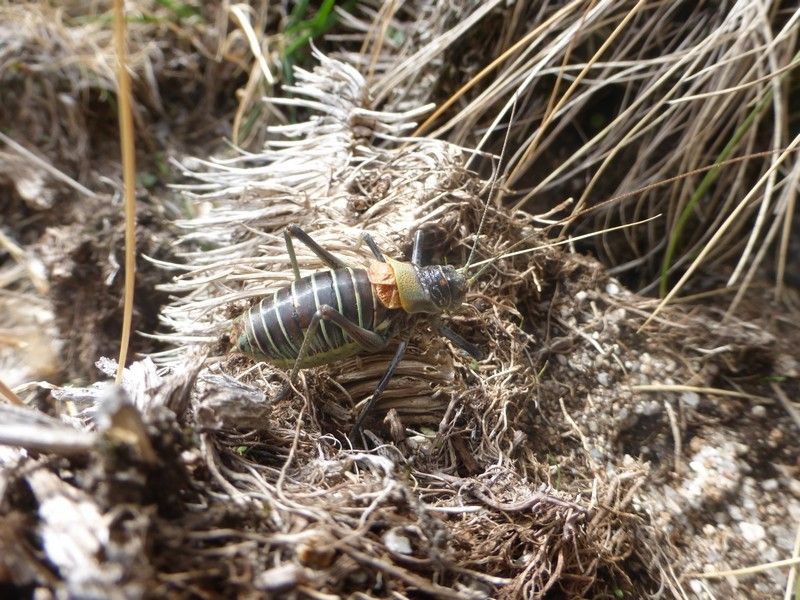 Ephippiger ephippiger
After about an hour and a half of this seeing nothing but a single Iberolacerta and with no improvement in sight I gave up. By now I could see patches of sun on the valley floor below and I decided to chase them. Hence I stopped the car as soon as I found a likely looking sunny hillside. After 5 minutes of searching I found a juvenile smooth snake out on the crawl. A little later I turned up a shed skin of probably the same species.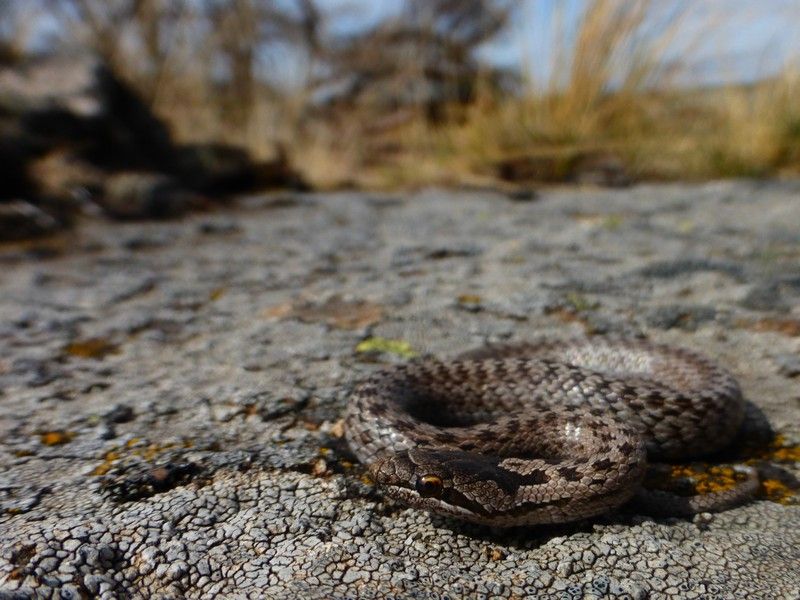 Coronella austriaca
I addition to the snake I also found a few
Podarcis guadarramae
scurrying about on the larger rock outcroppings.
Soon the clouds started closing in again and I drove on to the next sunny patch, this time on the outskirts of a small town. I found plenty more Podarcis, juveniles, adult males and females alike, and suddenly a Iberian treefrog, jumped by, another new species for me.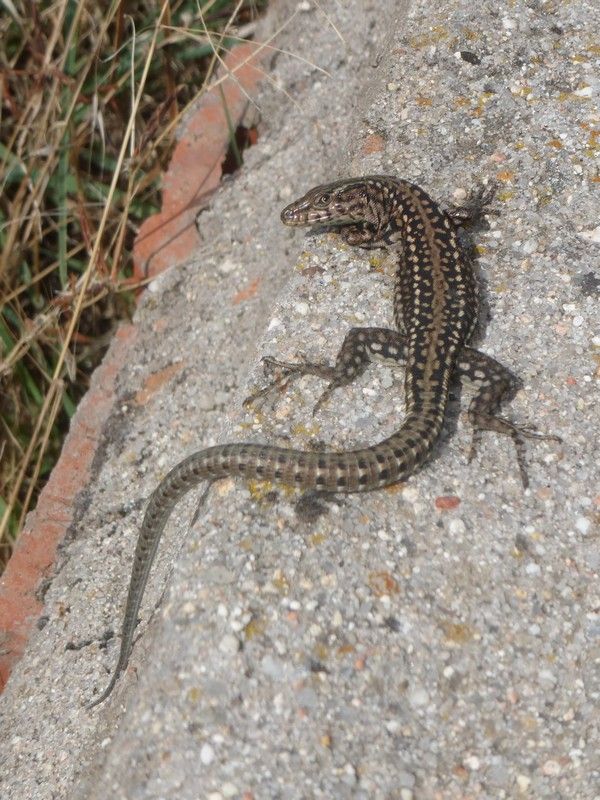 Podarcis guadarramae, male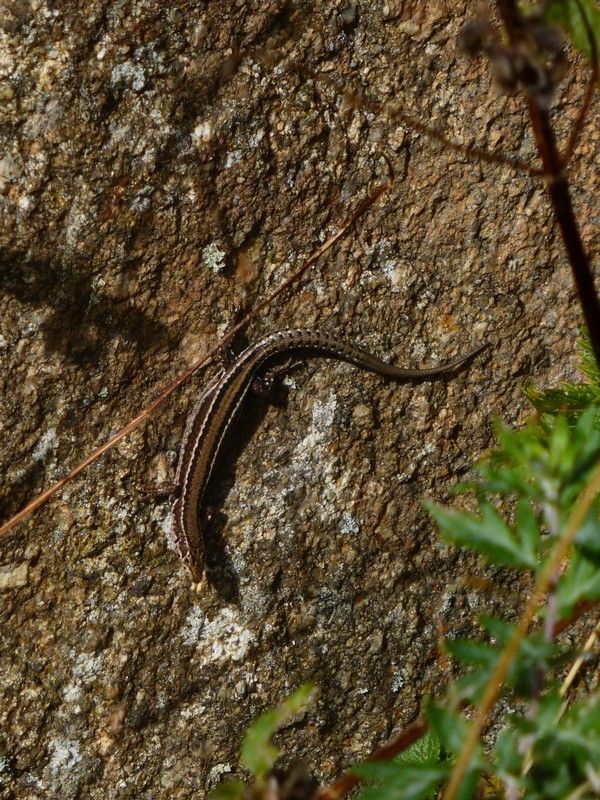 Podarcis guadarramae, female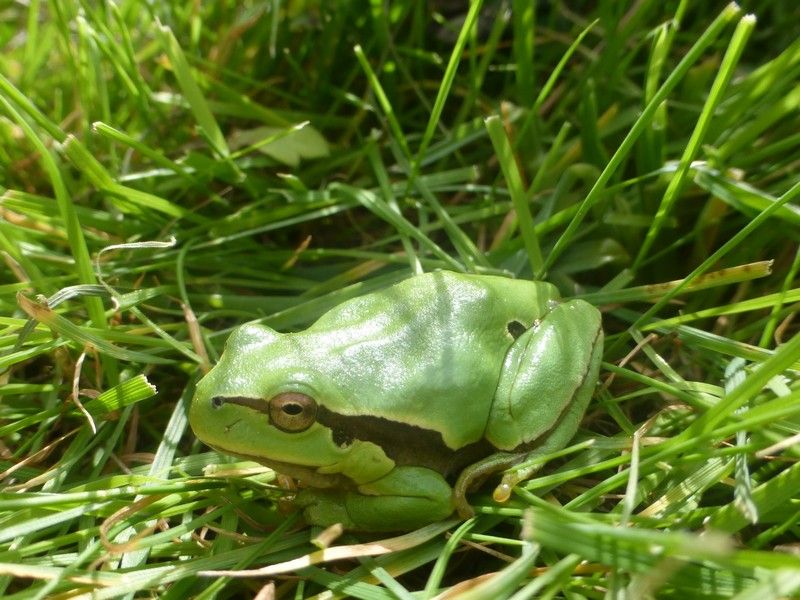 Hyla molleri
As I was searching along a hedge, I was very pleased to only almost step into this hole.
The following day I would also uncover a hornet's nest turning a rock. In fact, my fingers touched the nest as I grabbed the rock. I replaced it gently...
The sun was now spreading across the valley and I decided to move on to more interesting habitats. I found a spot on the edge of a small river where I soon spotted the first guadarramae, followed by a beautiful Schreiber's green lizard that retreated into a crack. Peering into the crack I found a shed snake skin. Obviously keeled scaled it was wedged in between the rocks and I couldn't retrieve enough of it to make an ID, could have been
Natrix maura
,
Natrix natrix
or my target viper.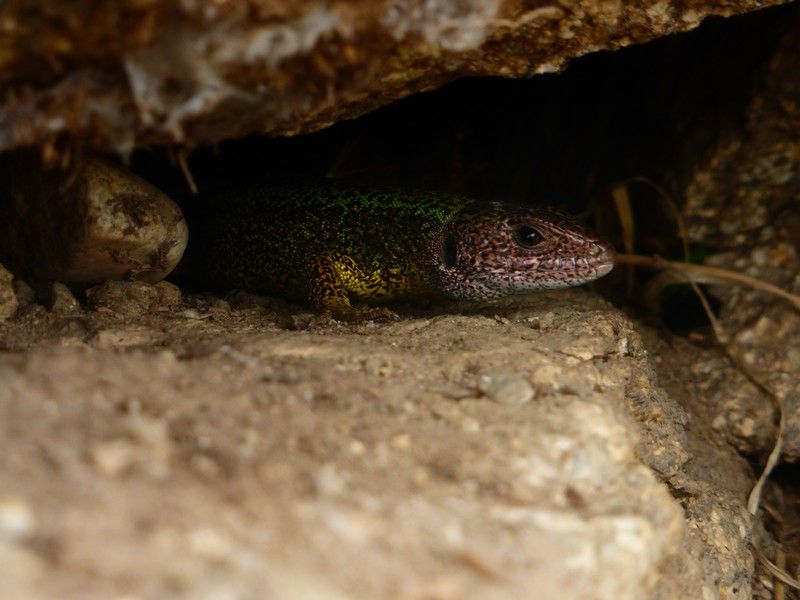 Lacerta schreiberi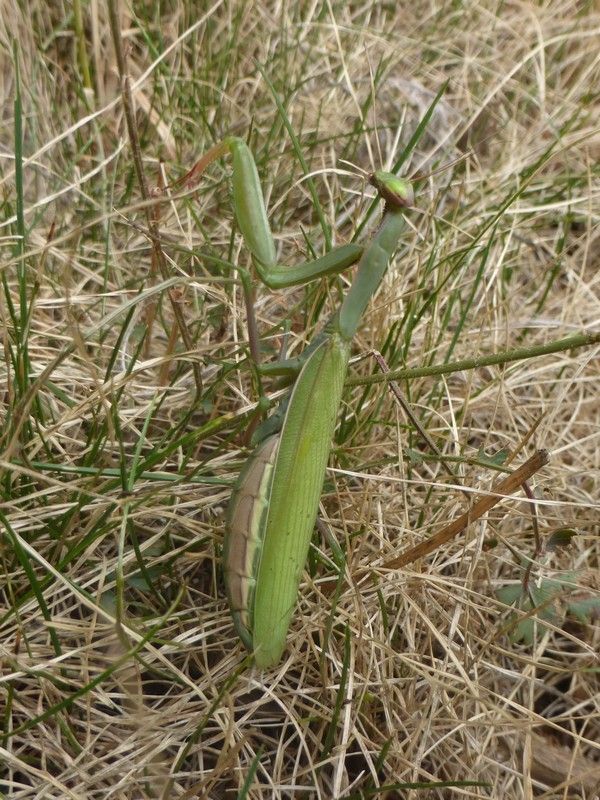 Mantis religiosa, different color phase
After finding a few water frogs at the bank I came back up to the wall where the Schreiber's was now back out. I got a few shots and moved on, still searching for the elusive viper, now running low on daylight hours.
A little further downstream I found a nice, rocky southwest facing hillside, as good a bet for my viper as anywhere in the immediate vicinity. Along the base of a vertical rock face ran a crack that looked interesting. I was startled to find a strange looking snake moving along it. The pattern and colours looked rather more like that of horseshoe racer than any other Spanish snake I could think of, yet they shouldn't be around there and it didn't look quite right for that either. Upon closer inspection it turned out to be a somewhat unusually patterned viperine snake.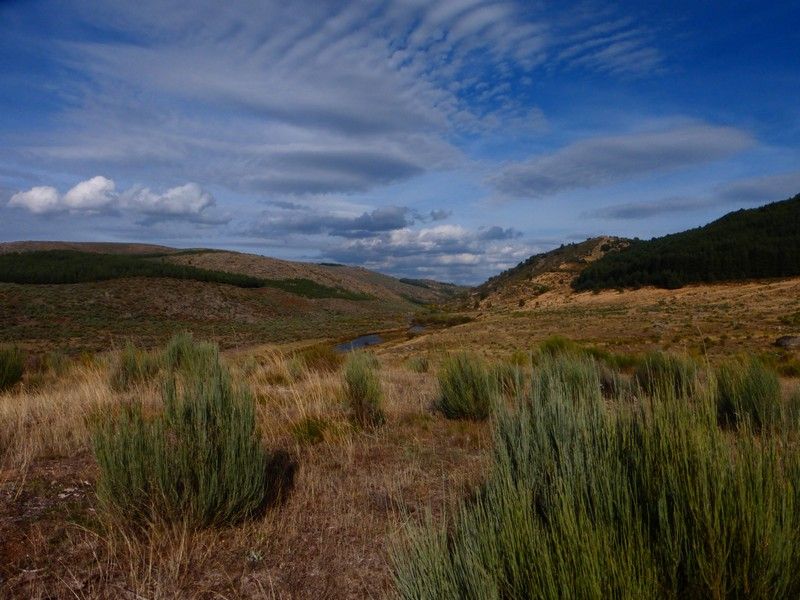 Foothills of the Sierra de Gredos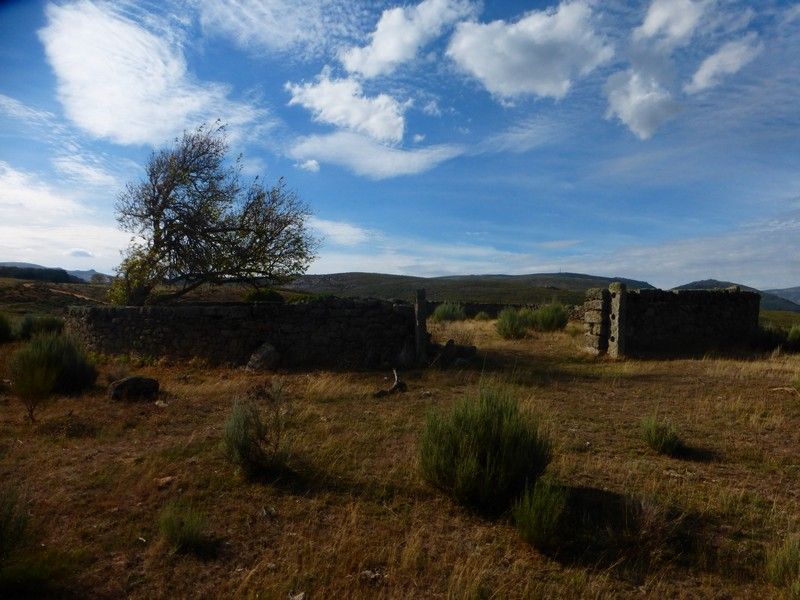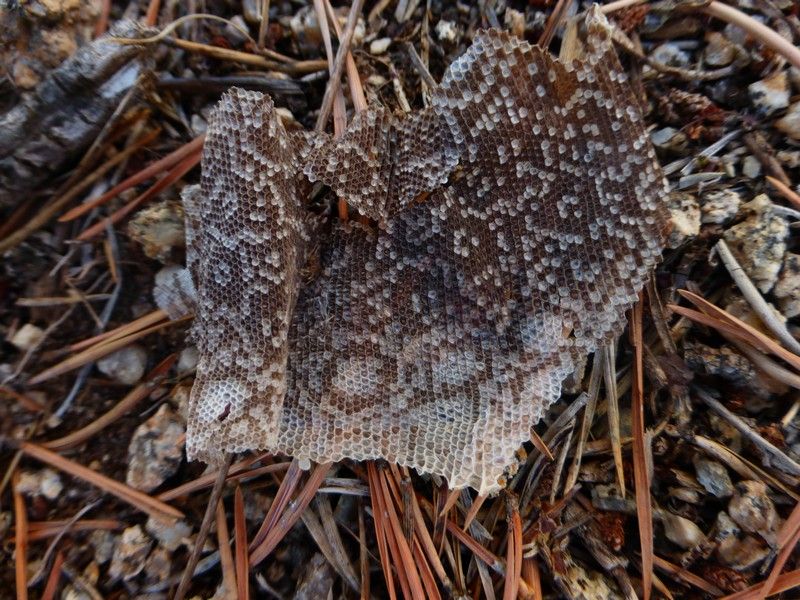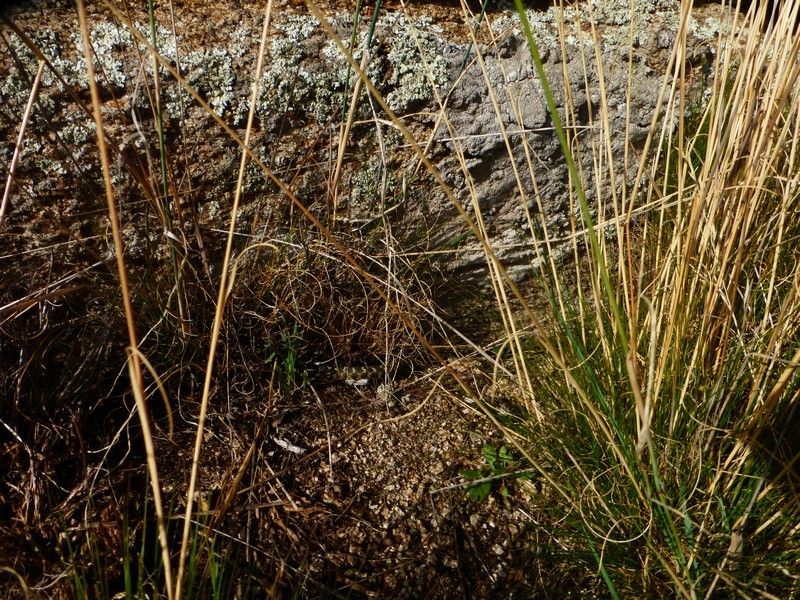 Natrix maura, unusual pattern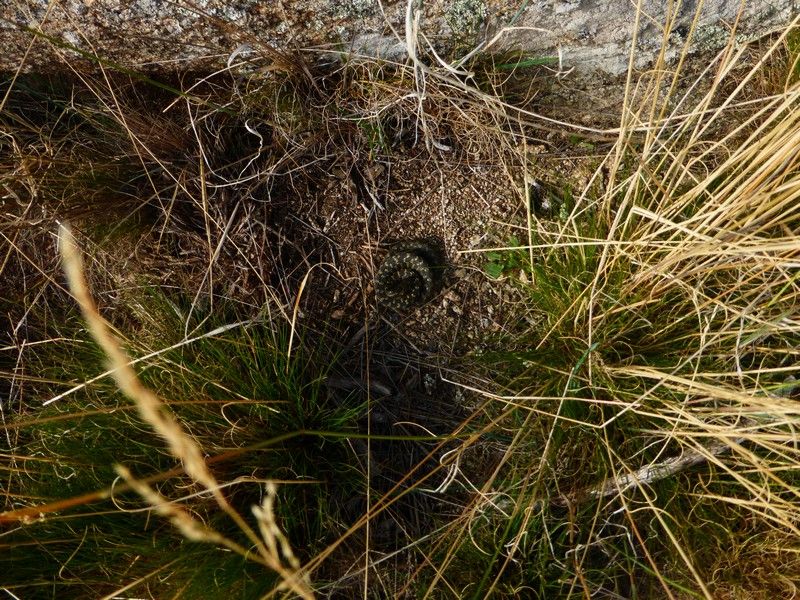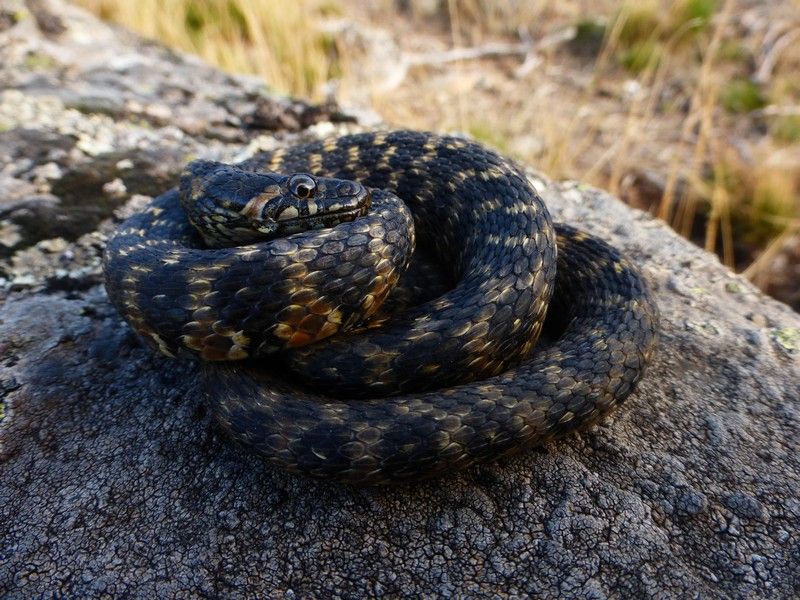 I had been a little disappointed not to have found any of these hunting down by the river where I had done a fair amount of searching both of the past two days, now it turned out they were already up here at an obvious den. Immediately after releasing the first snake I found a second, more typically patterned adult, soon after a juvenile.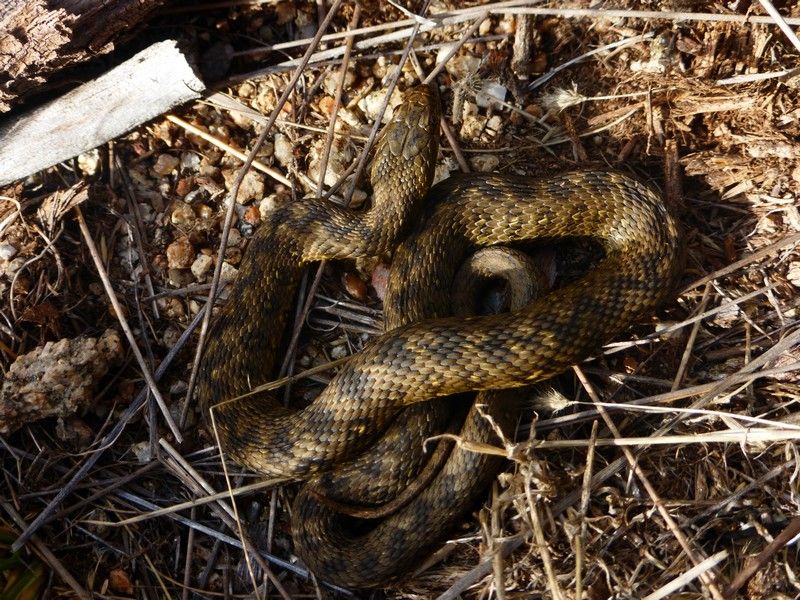 Natrix maura, typical specimen
Natrix maura, juvenile
I still hadn't found my viper, hoped to turn one up at the den alongside the Natrix, but no, so I kept on searching. On the other side of the rock I now saw a large and impressive male ocellated lizard posing atop a rock. Of course, as I got my camera into shooting position it went back under. When I came back in the last light of day the lizard was out again though not posing as nicely as before. I got off a few poord shots before it went back down again as I tried to move closer.
Timon lepidus
As the sun dipped under the horizon I had a sandwich for dinner at the restaurant across the road and headed back towards Madrid. My plans had been to stop along the way to search for amphibians but it was late, cold and dry and I was tired so I headed straight for a goodnight beer in the bar served in true Spanish fashion with a few chips and a couple of sardines.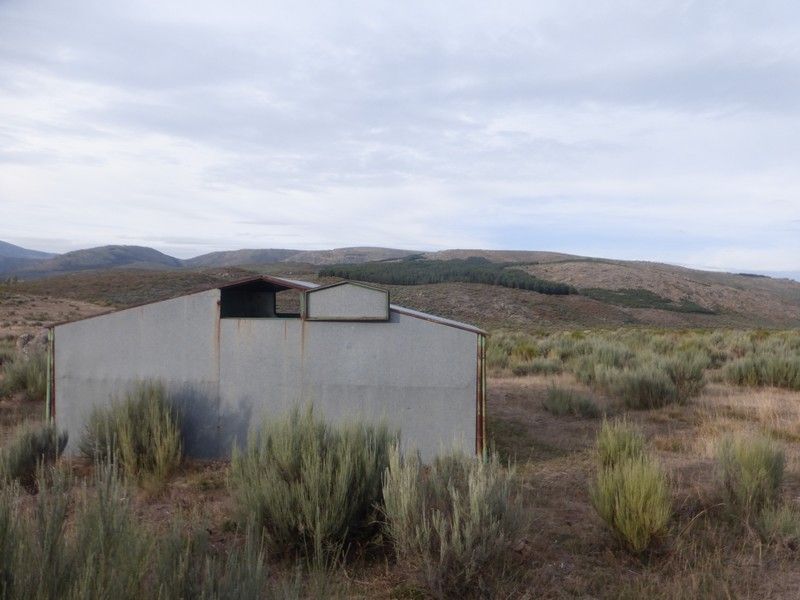 Day 4 – Gray Rain
I had arranged to meet with Gabri from Madrid for one last shot at latastei in the mountains before I had to head for the airport. Unfortunately, when I got up it was raining and the cloud cover was thick and brooding as far as the eye could see. The forecast offered no relief either – at least not in time for me and my flight schedule - so we cancelled our plans, Gabri stayed in Madrid and I went looking for amphibians.
First I drove to the same spot I had visited the first morning. Where previously I had spent my time searching the dry land for reptiles now I would search around the water holes for amphibians. Despite the weather I would probably also be flipping a few rocks in a desperate last gasp effort for Blanus.
Middle of nowhere, could Spain be more Spanish?
As I approached the spot a small hole opened in the clouds and the sun shone exactly on my spot. Everything surrounding was cast in gloom. A couple of guadarramae came out basking, I flushed out a rabbit, a fox was nosing about and flipping to my hearts delight I found a couple of scorpions, some large centipedes, even a couple of water frogs and, yes, two shed Blanus skins, but it was not to be. My timing, it seemed, was off. The clouds closed again overhead, covering the sky like a huge, sombre blanket and I resorted to checking around the remaining puddles of water where under a soggy old mattress I found a little jewel – a small southern marbled newt.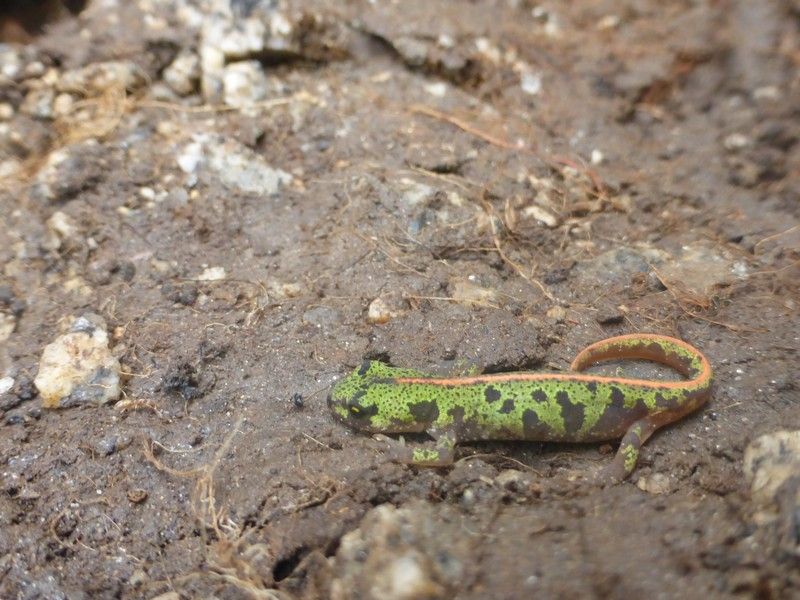 Triturus pygmaeus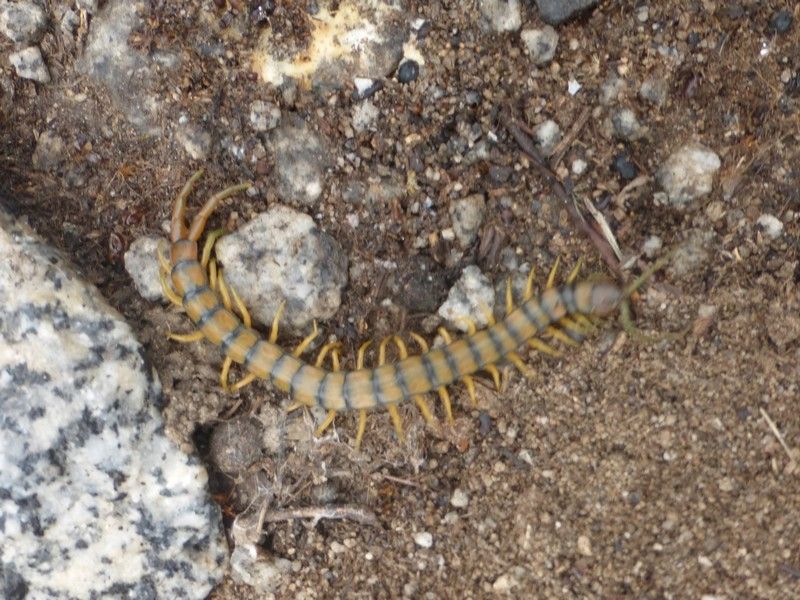 Scolopendra cingulata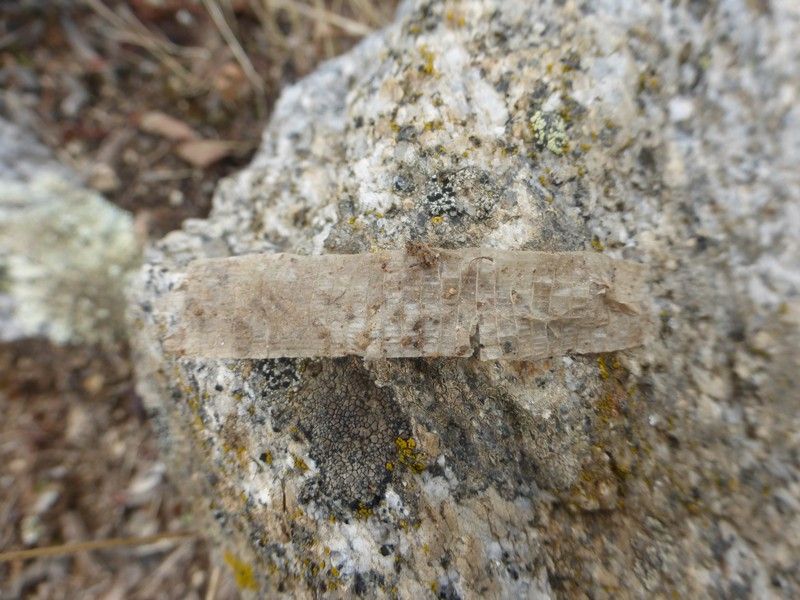 Blanus cinereus, scrap of shed skin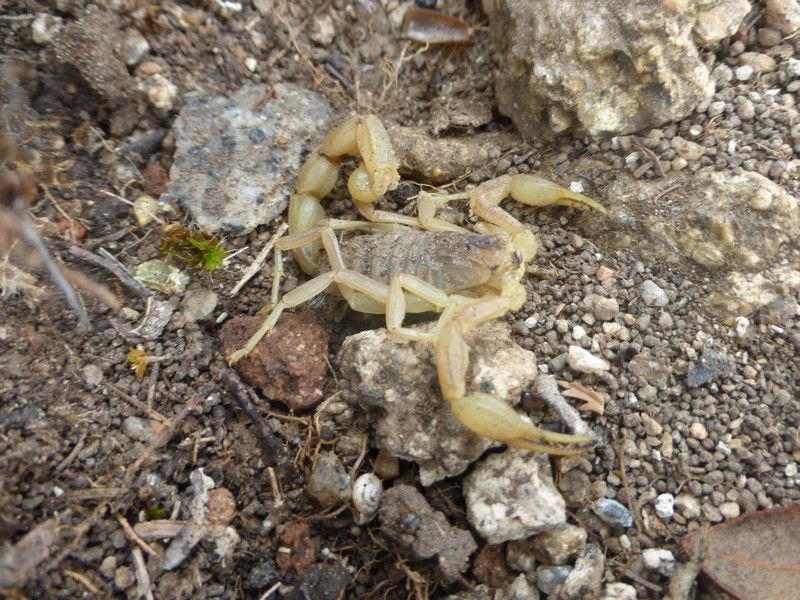 Buthus occidentalis
Eventually, I headed onwards to my final destination, an amphibian reserve north west of Madrid. As I entered the reserve in this dreary weather I flipped the first rock I saw and found – much to my surprise – a juvenile ocellated lizard.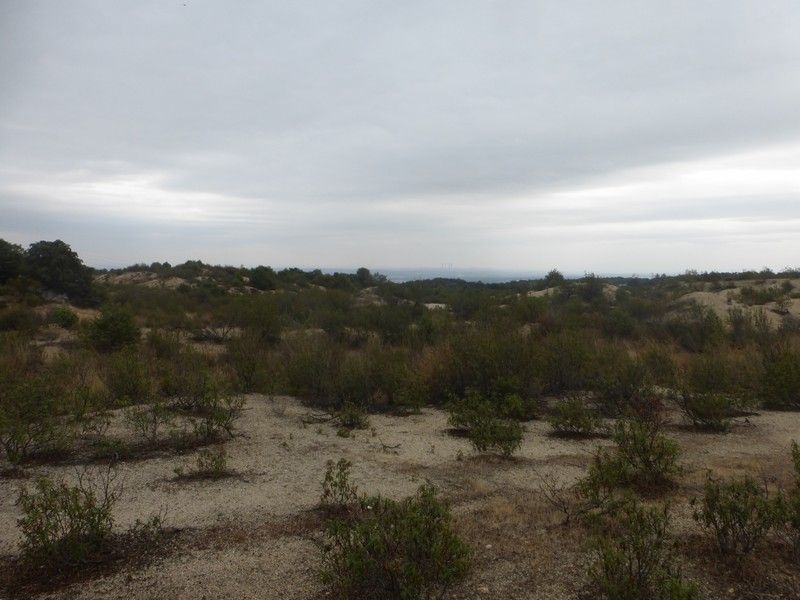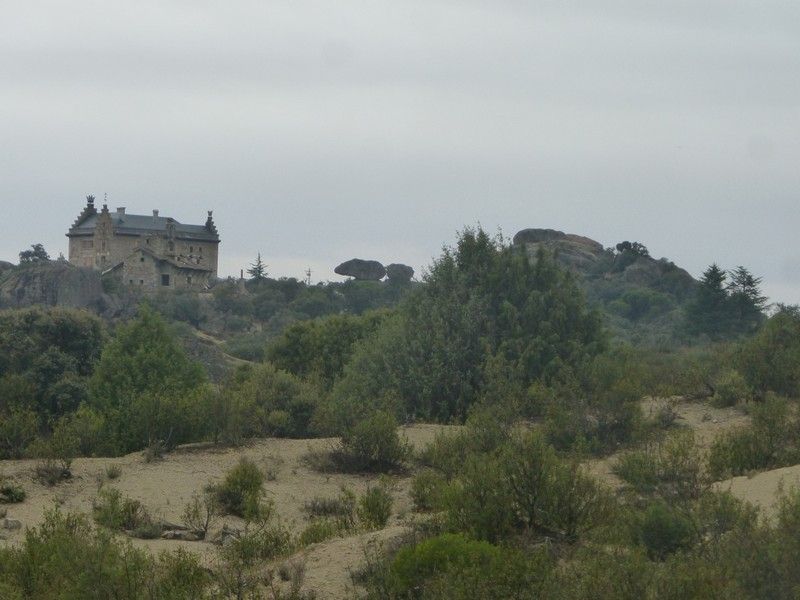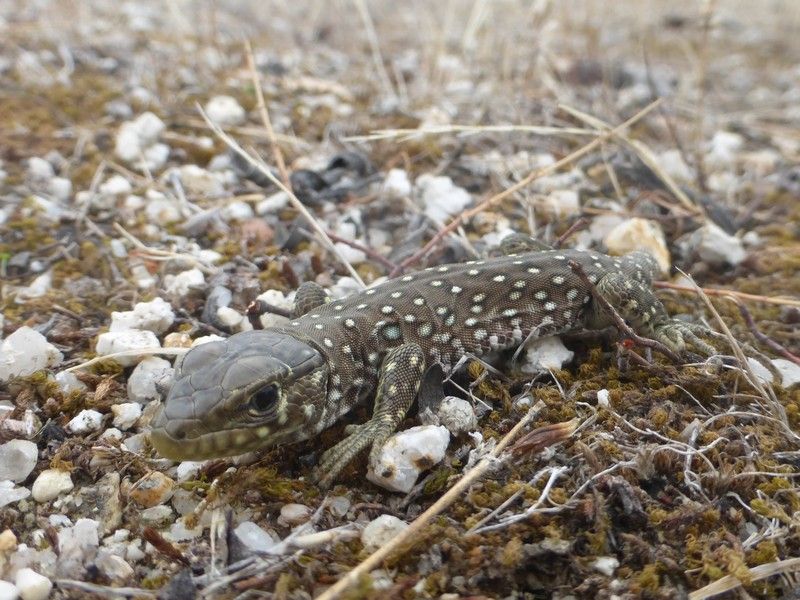 Timon lepidus, juvenile
Elated I carried on with my search but nearly all water had dried up. There was only one remaining small water hole, not particularly interesting looking and packed with Pelophylax. I went on flipping rocks in the dried up ponds and managed to uncover a few more small green jewels.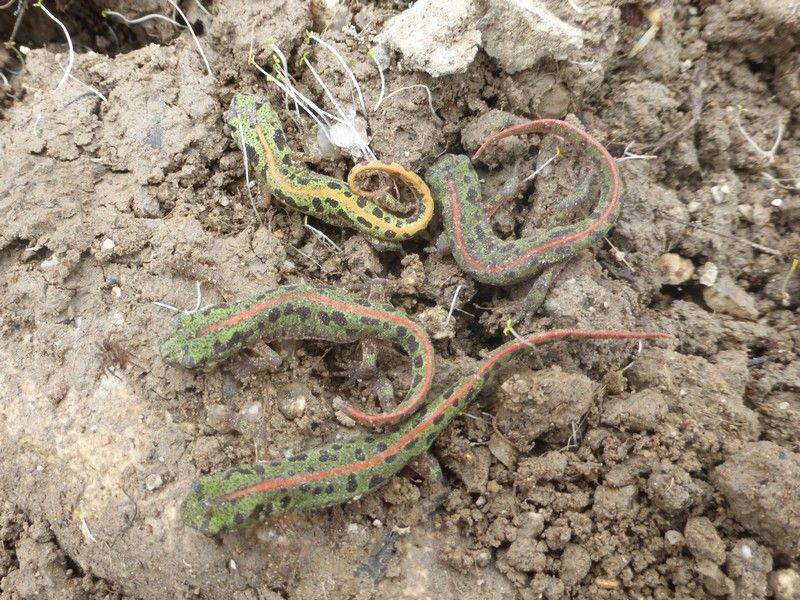 Triturus pygmaeus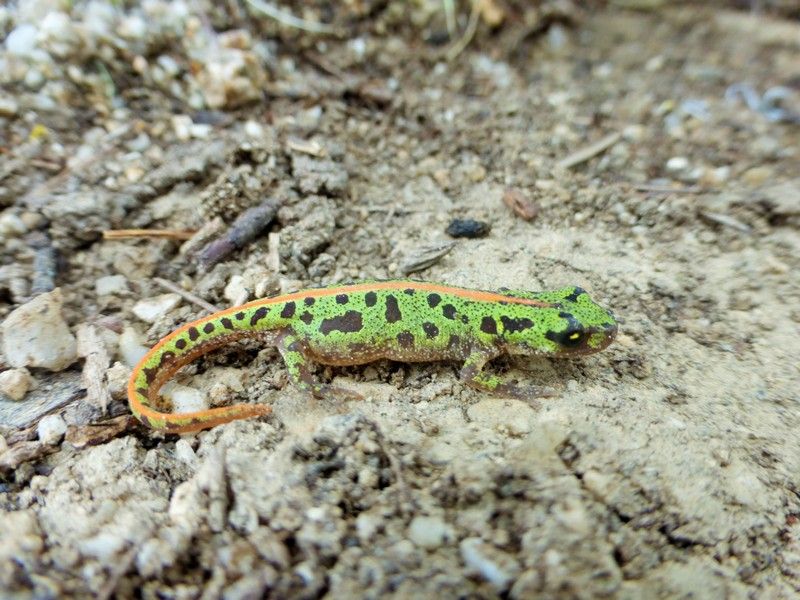 In the end I ran out of time, headed back to the car and the airport after a nice trip, happy, even if ever so slightly disappointed with my finds, may have to return in spring for the rest