I've done posts on the west coast
slenders
,
torrents
, and
climbing salamanders
, three salamander families I've taken a special interest in over the years. Sometime after I've finally gotten out to northern Idaho (as well as tracked down those secretive Cascades/Siskyou species), I'm going to do posts on Dicamptodon and Plethodon too. But I just realized - I forgot about newts!
Because, um, I don't care very much about newts.
They're cute, love them when I see them...and that's about it.
But, because they're there, and I've seen our three coastal species, I thought I might as well do a newt post.
I really haven't had any energy to research them though, unlike those other families. So if you want to learn real information, go to
Sam Sweet's fantastic post on the California Newt
!
Starting way down in SoCal, at the San Diego/Riverside county borders, you can find the
California Newt (Taricha torosa)
in the canyons of the Santa Ana Mountains. They appear to be strictly a mountain canyon, stream-breeding species in SoCal.
Great eyebrows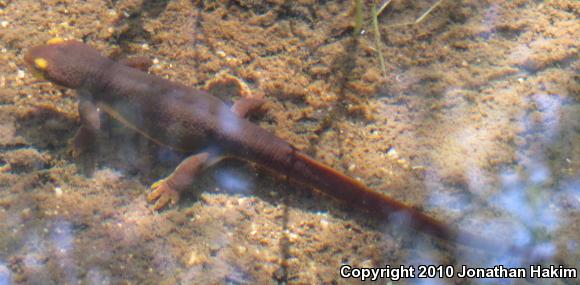 habitat shot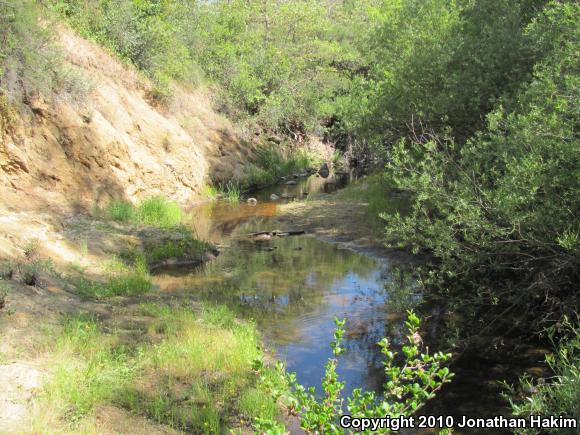 Slightly further south in San Diego County there is a population with warty skin that used to be considered
T.t. klauberi
, the Warty Newt, but it turned out they were just diseased. Still, it's a disjunct, genetically different population, and might be revived as a subspecies someday.
Getting up into LA County, newts are the most reliable salamanders to find in canyon streams outside of slenders. And we take whatever sallys we can get down there! As Sam writes, populations are in trouble due to crayfish, drought, development, and road mortality.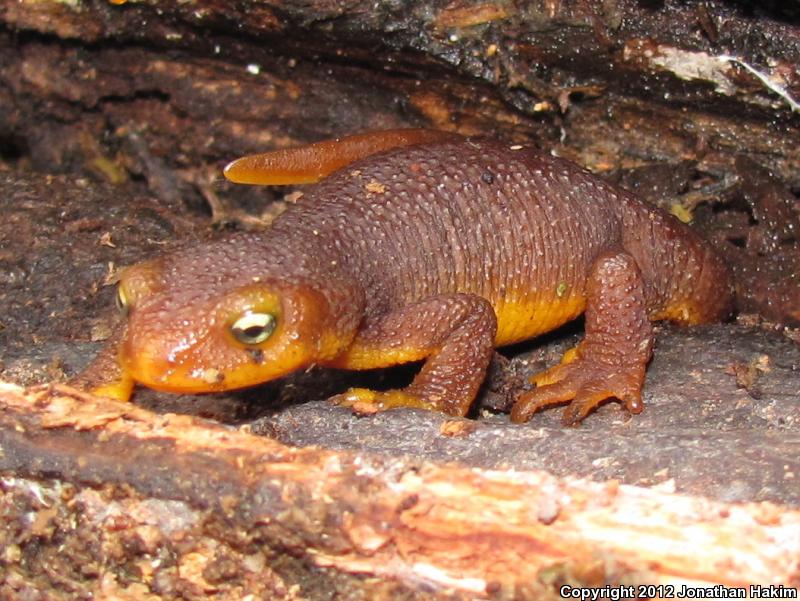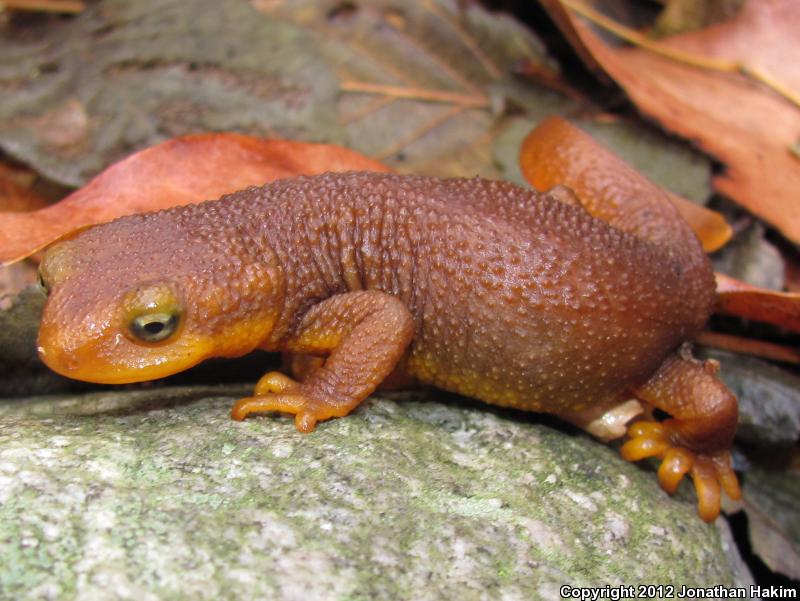 habitat shot of these nice canyon bottoms. Five points if you can identify the other bottom in the photo.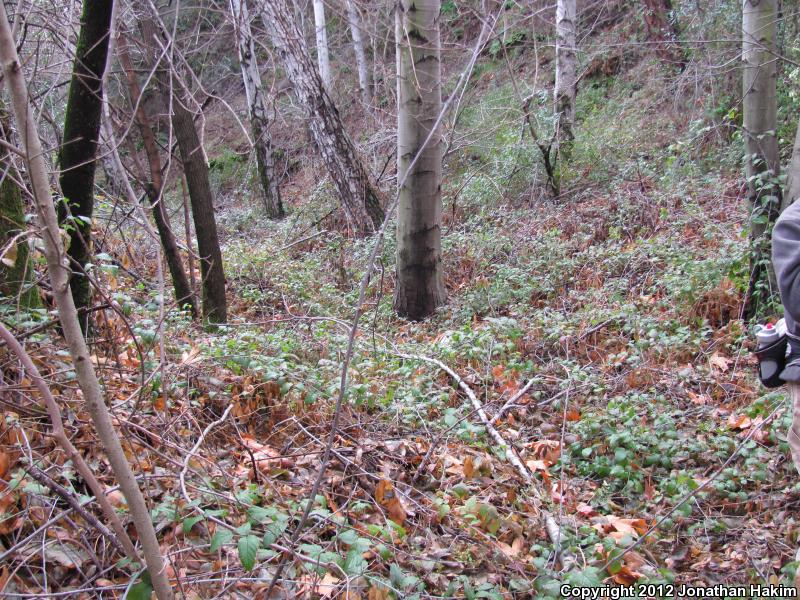 There's a completely disjunct population of newts running through the Tehachapis and Sierra Nevadas. Somehow, the ones at the bottom are California Newts (far disjunct from other populations) and the rest are a separate species, the
Sierra Newt
, with a wide hybrid zone in the middle. Whatever.
These representatives of the "California Newt" from the Tehachapis are remarkably red in color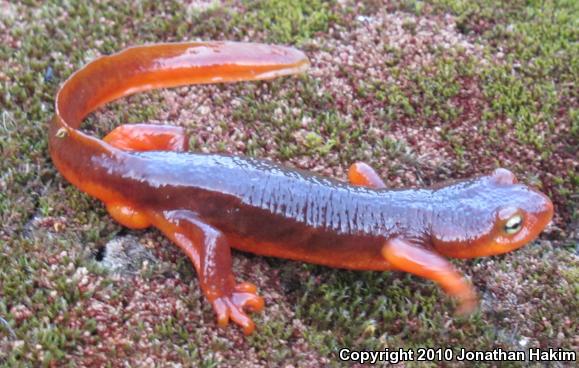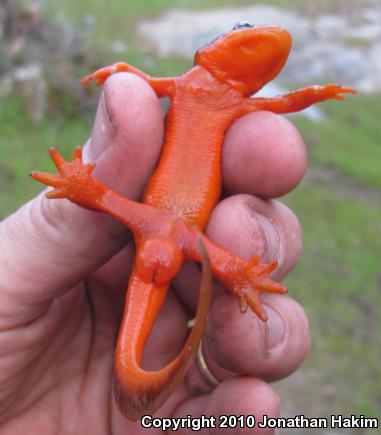 Habitat shot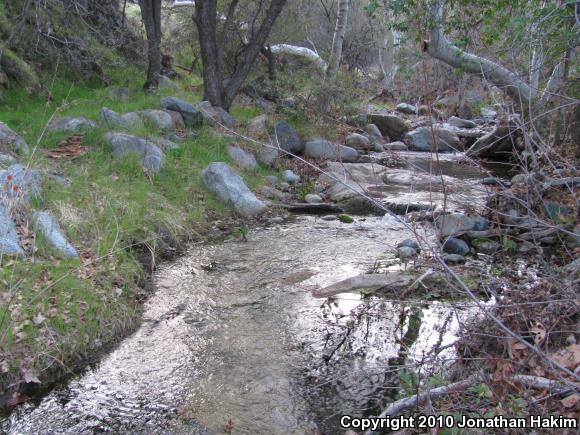 Back to the coast, you can find them in pockets in Monterey County. This is the furthest south that pond-breeding populations can be found, though they are rare and most populations in this area are still stream-breeders. These were breeding in a fantastic spot in the Big Sur River.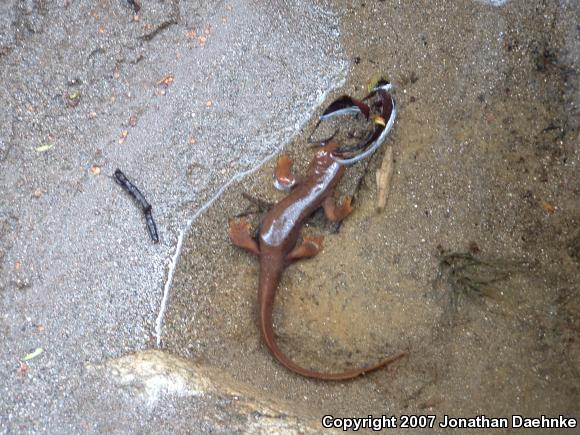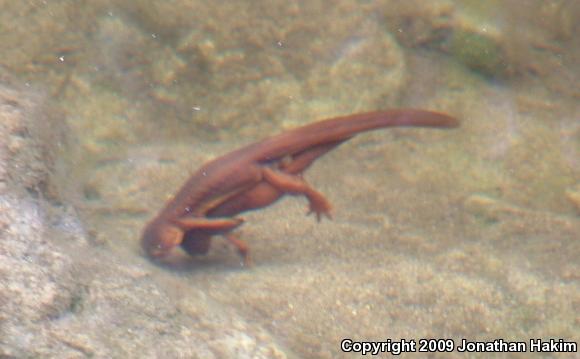 My southernmost pond breeders were in Santa Cruz County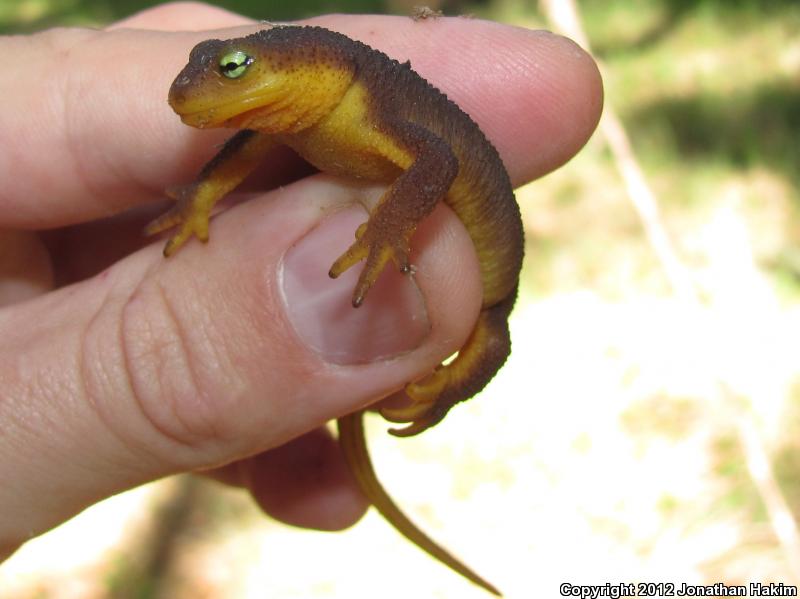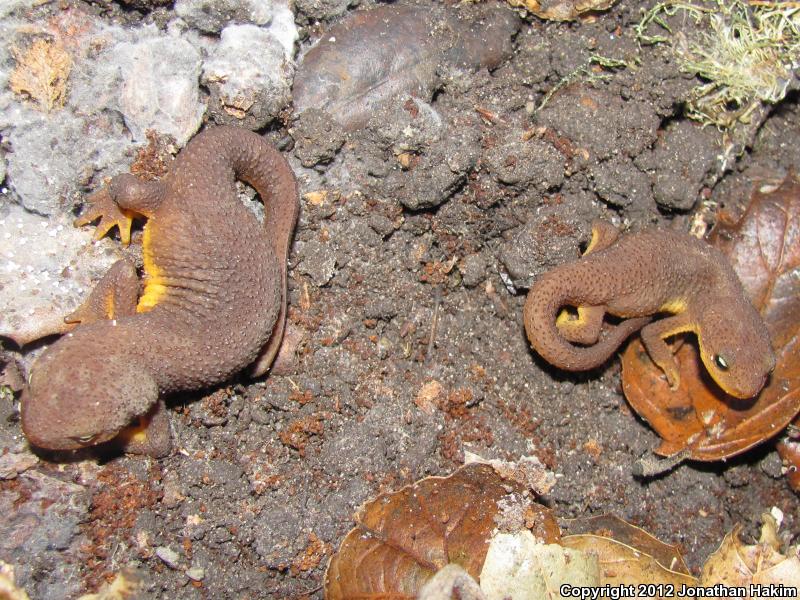 habitat shot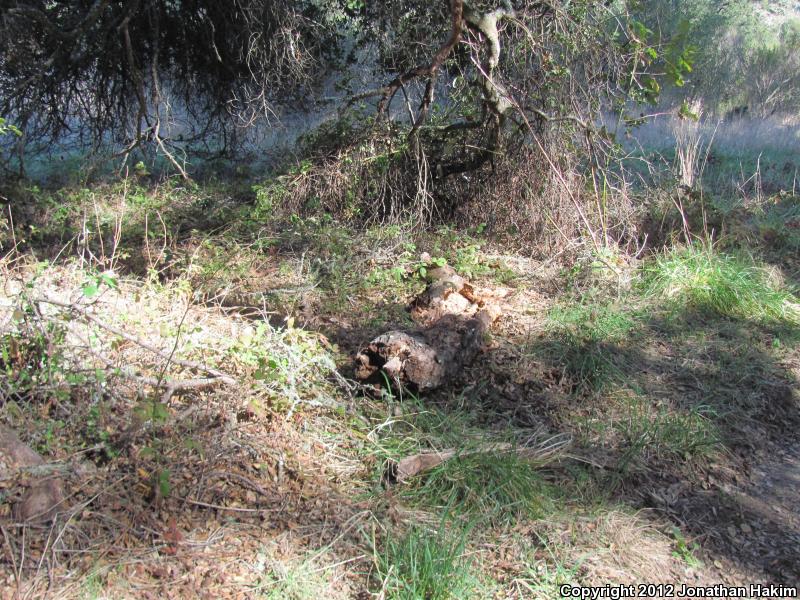 But there are still plenty of stream-breeders around. This one from Santa Clara County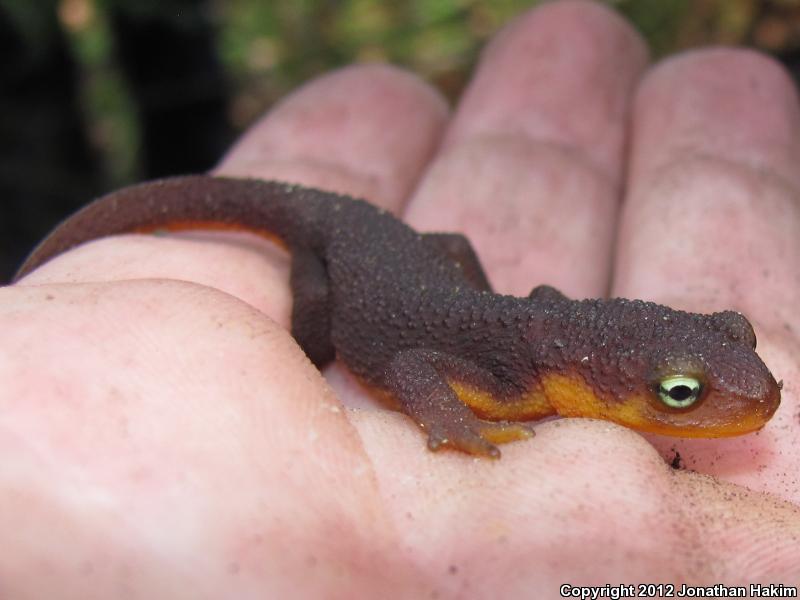 habitat shot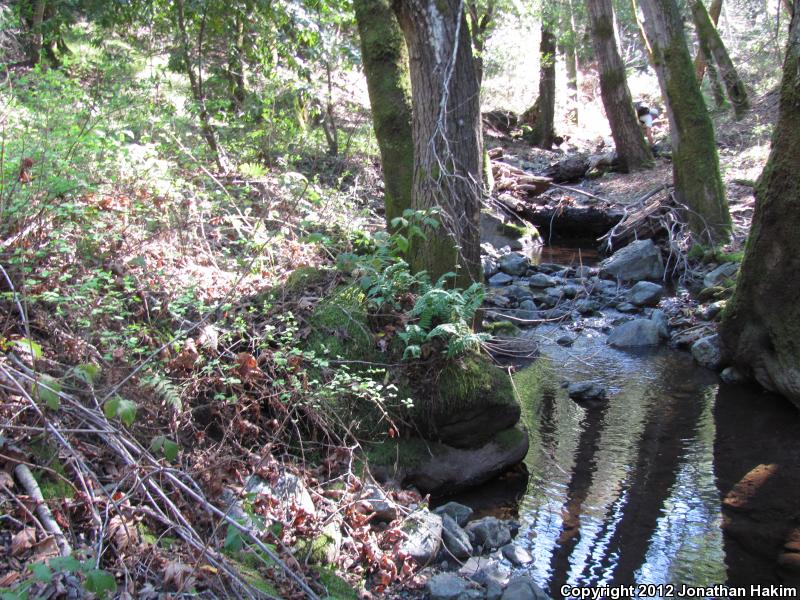 Also in Santa Clara County, a pond-breeder in habitat stunningly different from the stream-breeders.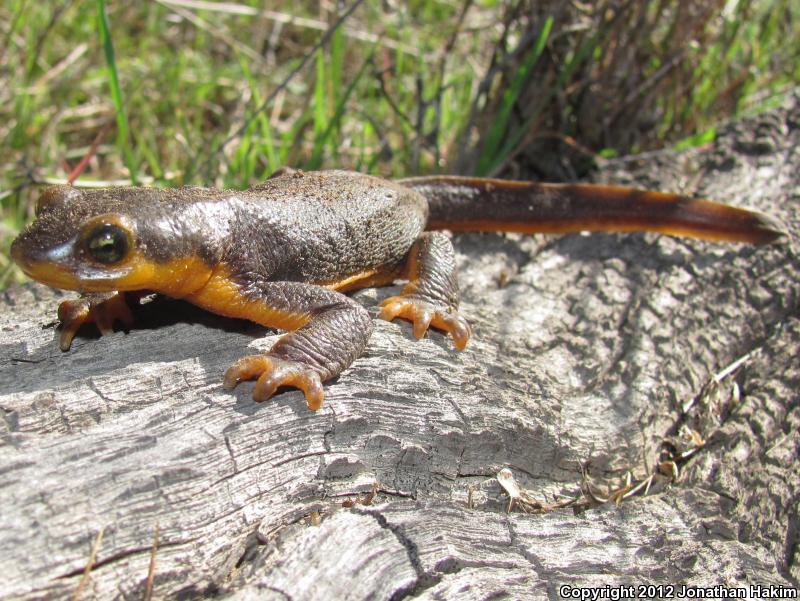 habitat shot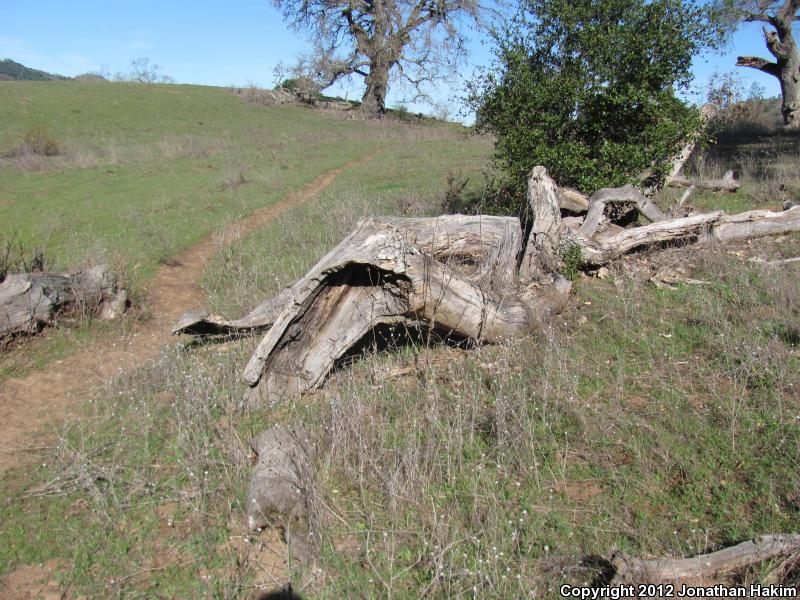 But from Santa Cruz/Santa Clara counties going north, you know what you can also find?
Rough-skinned Newts (Taricha granulosa)
! The can be distinguished by the continuation of dark dorsal coloration below the eyes, and perhaps rougher skin. These newts were found in a stream in San Mateo County, which I believe has California Newts as well.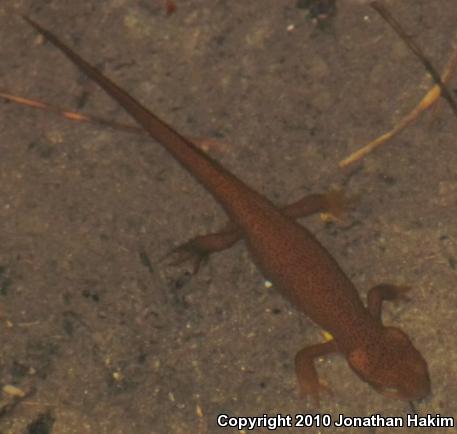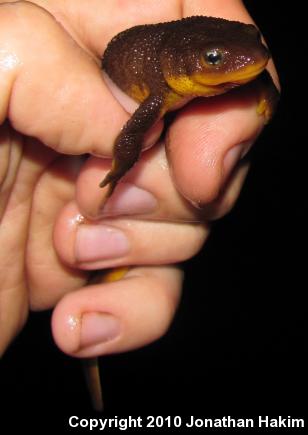 habitat shot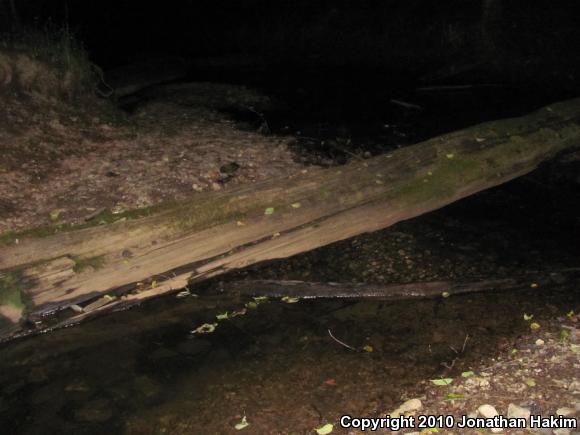 Then you get up to Sonoma County, and all three coastal species are around! This stream in Mendocino County had both Red-bellied Newts and California Newts.
As a light rain fell in December in a small stream in oak habitat, the
Red-bellied Newts (Taricha rivularis)
were moving out of the water and heading upland in big numbers.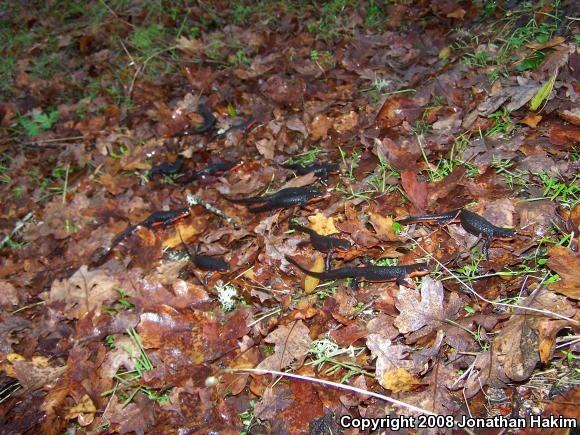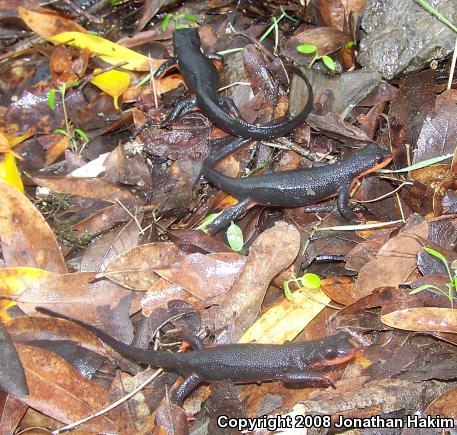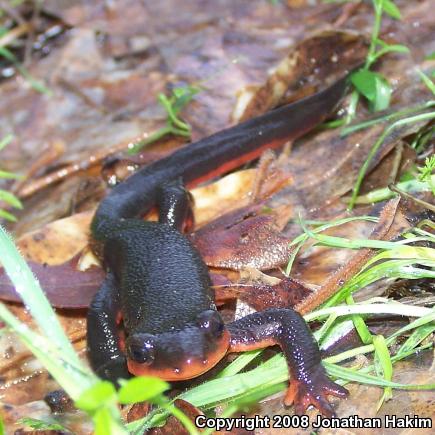 There was a sole California Newt hiding among them.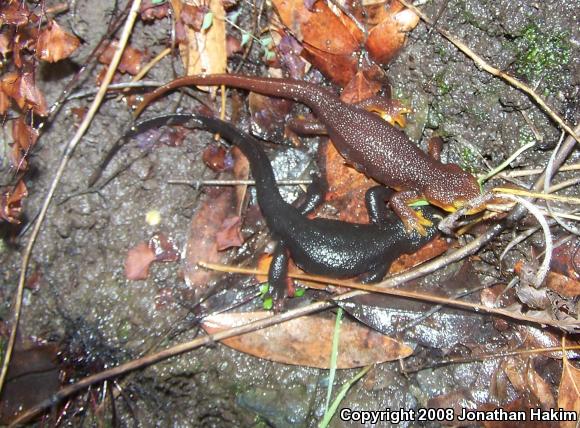 In redwood habitat only a little ways away, I ran into this Rough-skinned Newt the next day. All three species in two days within 100 miles.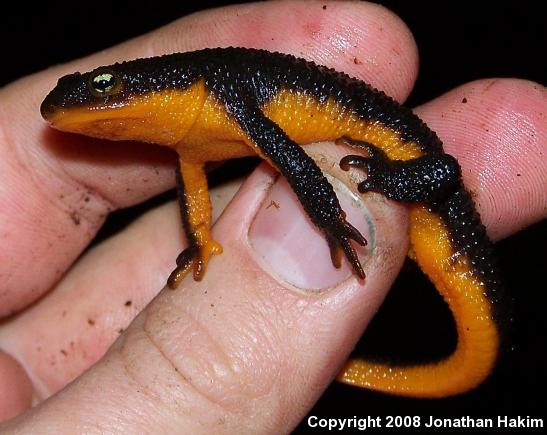 Both California Newts and Red-bellies drop out of the picture before you get up to the border counties. So here in Curry County just on the Oregon side of the border, this gorgeous stream only held Rough-skinned Newts. There were more than a hundred in the pools here in late April.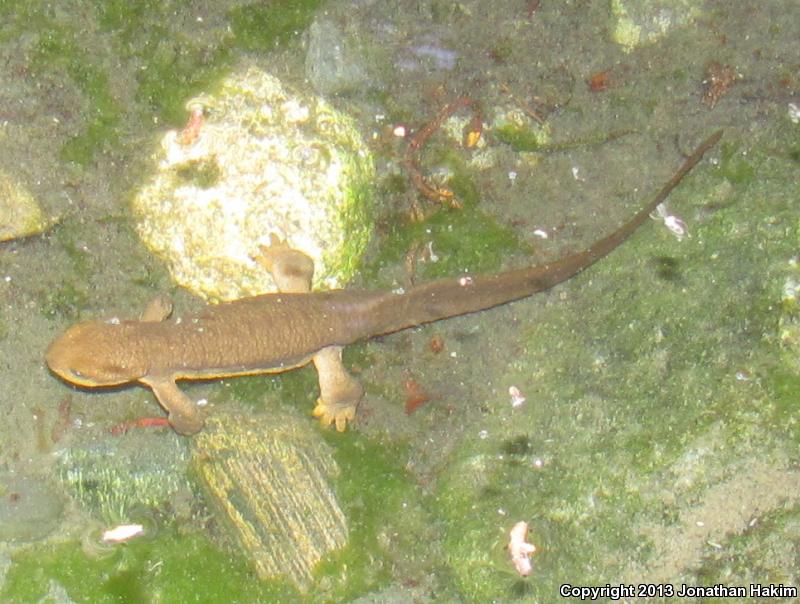 One of my favorite habitat shots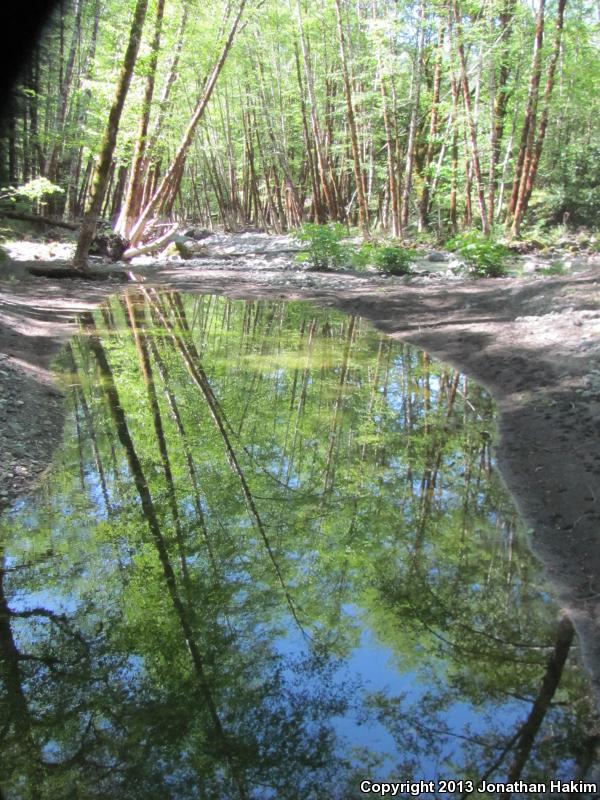 Over in Crater Lake, the "Crater Lake Newt" used to be considered a distinct subspecies, but it isn't recognized anymore. I haven't seen that population, but I did find another lake population at over 5,000 feet in the Cascades in Lake County. This is close to their eastern range boundary.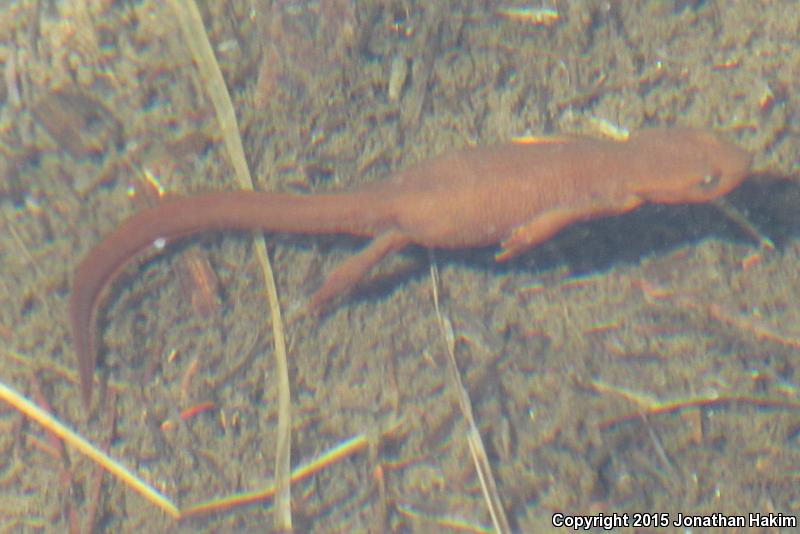 habitat shot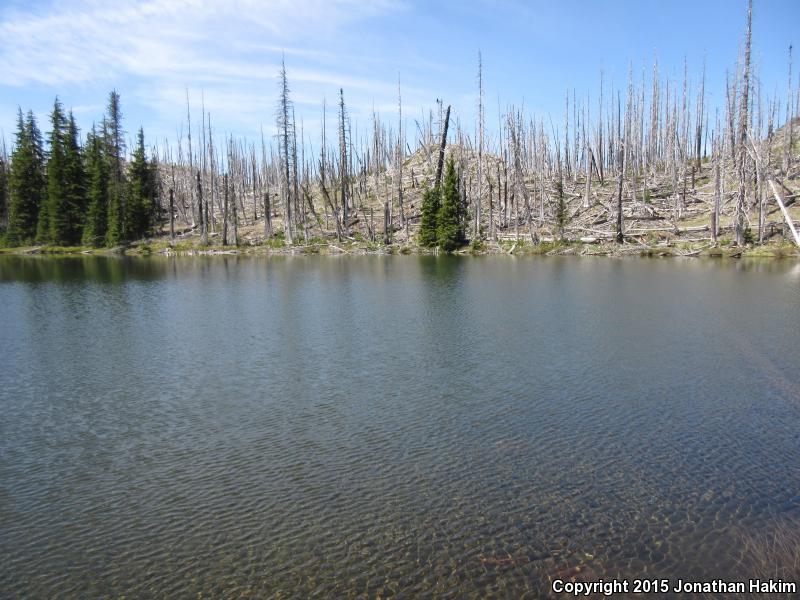 They keep following the Cascades up...in the Columbia Gorge in Multnomah County when you're finding every other kind of stream salamander in the world, the newts take you by surprise, but they're there too.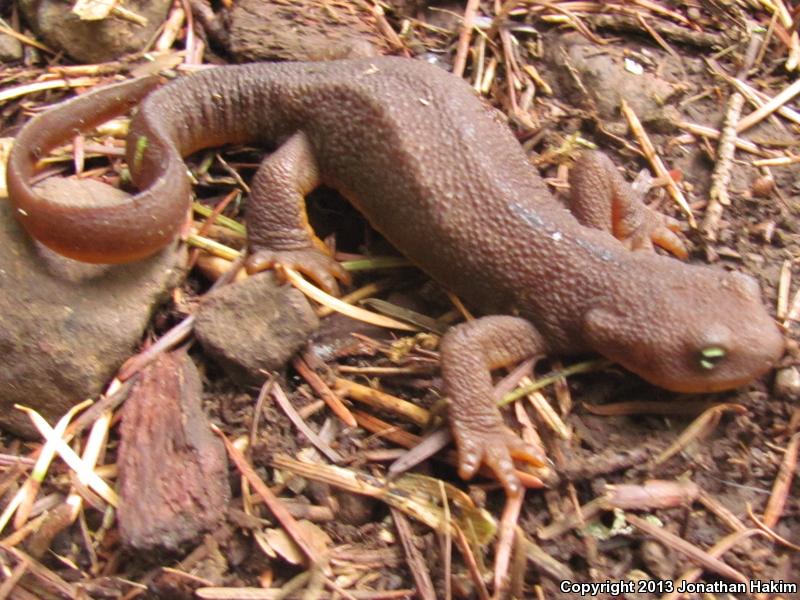 habitat shot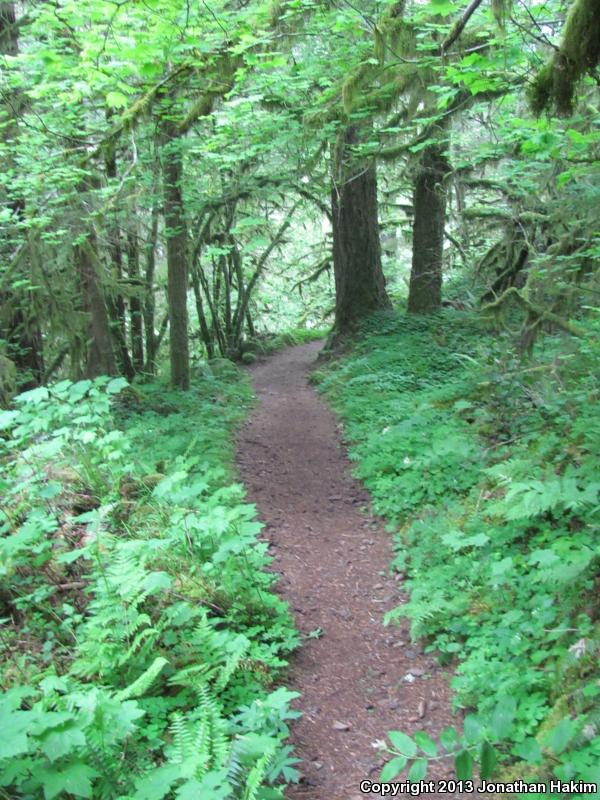 They follow the Coast Range up as well. Here's one from the eastern edge of the coast range in Washington County.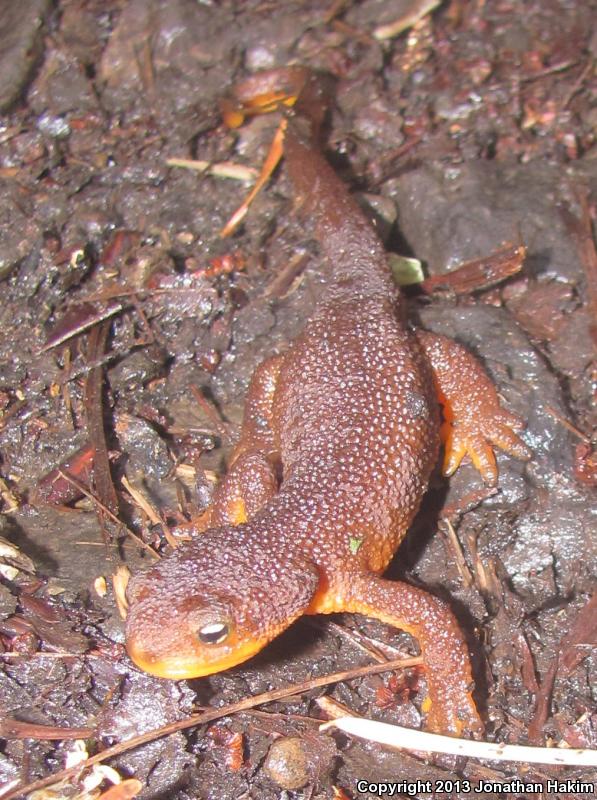 habitat shot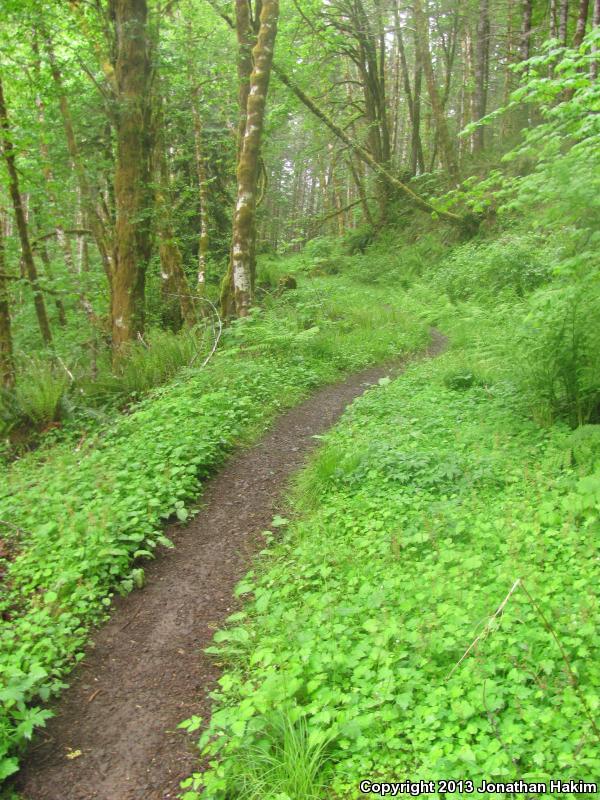 The newts are in the valley in-between too, of course. This juvi died crossing a bike path in really flat wetland habitat in Lane County.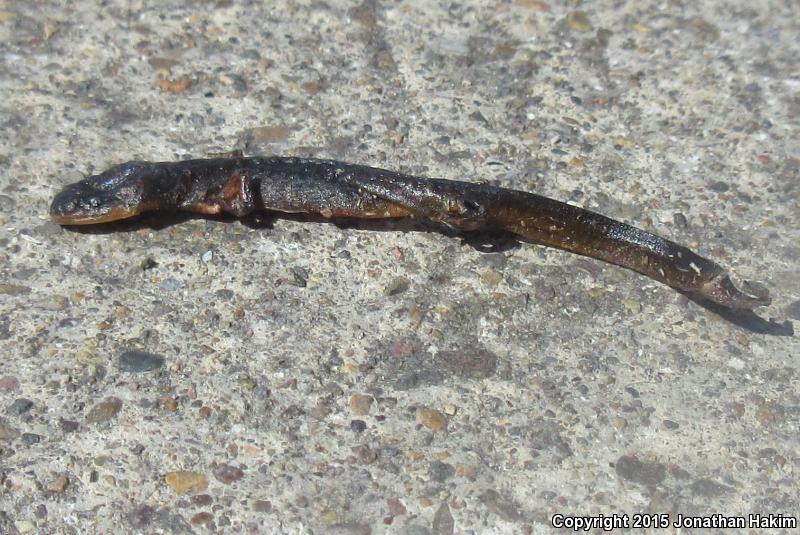 habitat shot
Here are a couple in a nice pond in the middle of agricultural habitat in Polk County.
And here are some from the Columbia River basin in Columbia County, within sight of Washington.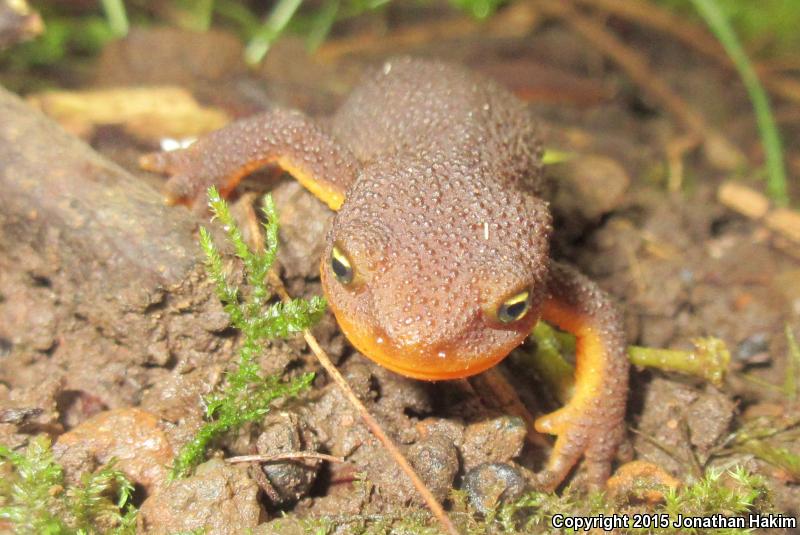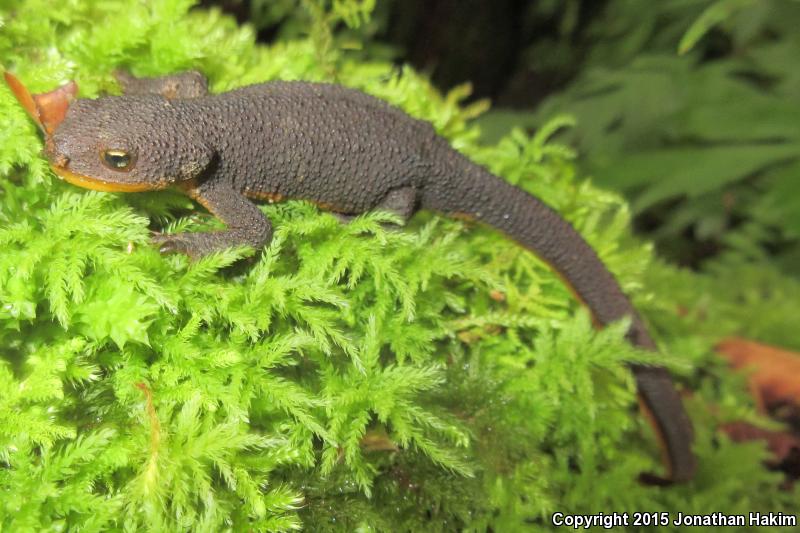 habitat - moving between the hills and the floodplain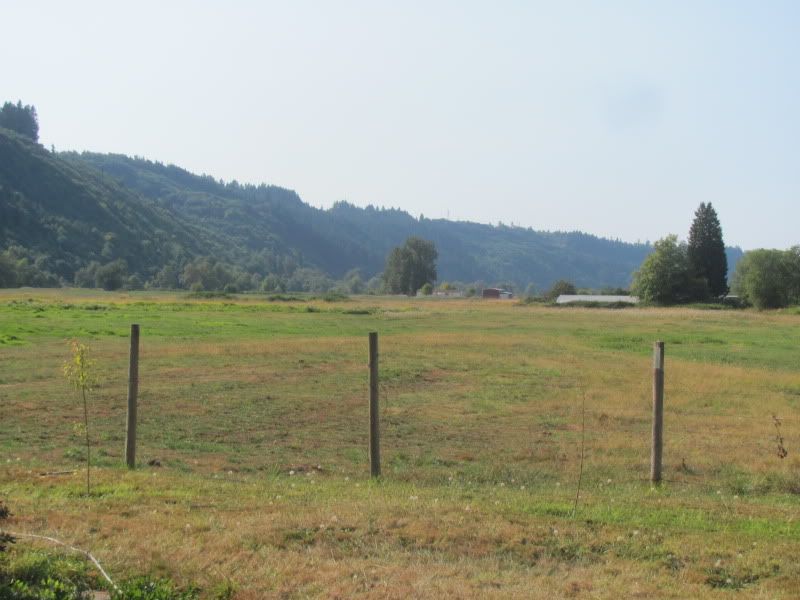 Of course there are newts in Washington and BC too...but I don't have their pictures.
Thanks for taking a look!