Hey there Everyone,
Here are some photos from our recent group outing to the southern Sierra Nevada mountains in and around Kennedy Meadows…
Myself and my two sons, Trevor and Brady, left home at 11 AM on Thursday and made it to the east side of the southern Sierras around 3 PM.
We stopped at the bottom of the mountains to have a snack and take a quick look around.
The view up Nine Mile Canyon on Thurs. afternoon
After setting up camp and getting some supplies at the Kennedy Meadows General Store, we crossed paths with Richard Hoyer on the road and made plans to cruise together later that night. Richard had already found a rubber boa under a rock earlier in the day.
On the way back to camp, we found a large San Diego alligator lizard basking
Richard, the boys, and I cruised around for about an hour and a half, only seeing a handful of rodents. On the last stretch of road before returning to the campground, we finally made an interesting find – a rattlesnake eating a mouse right in the middle of the pavement…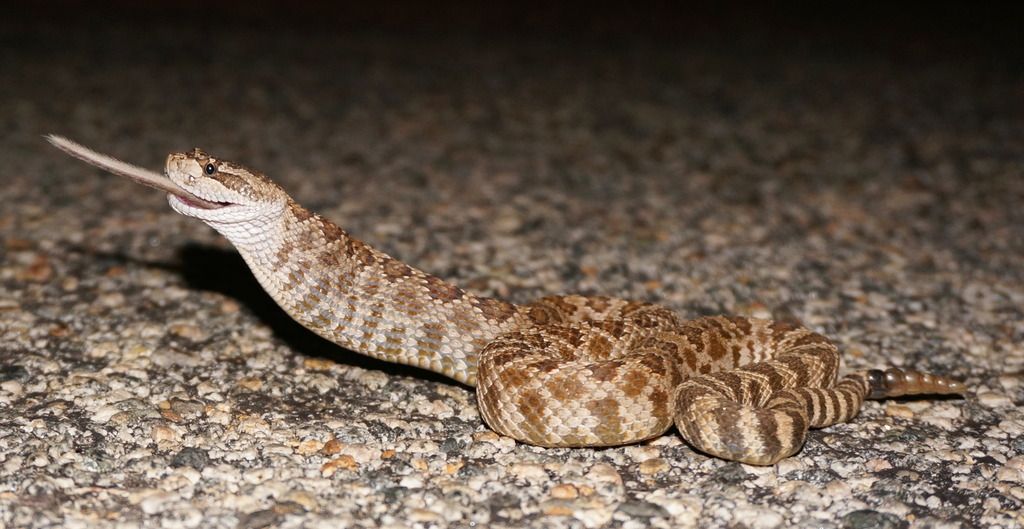 Chris P. and his daughter Jenna arrived late on Thurs. night.
On Friday morning we herped near the campground. There were plenty of sagebrush lizards in the camp and pretty much everywhere else.
Chris noosed a big tiger whiptail right in our campsite, then we went down to the stream where Trevor spotted this small Sierra gartersnake
Around mid-day Friday, Chris and I took a drive down 9 Mile to get into cell phone range.
We made a stop along the way where Chris caught a big yellow backed spiny lizard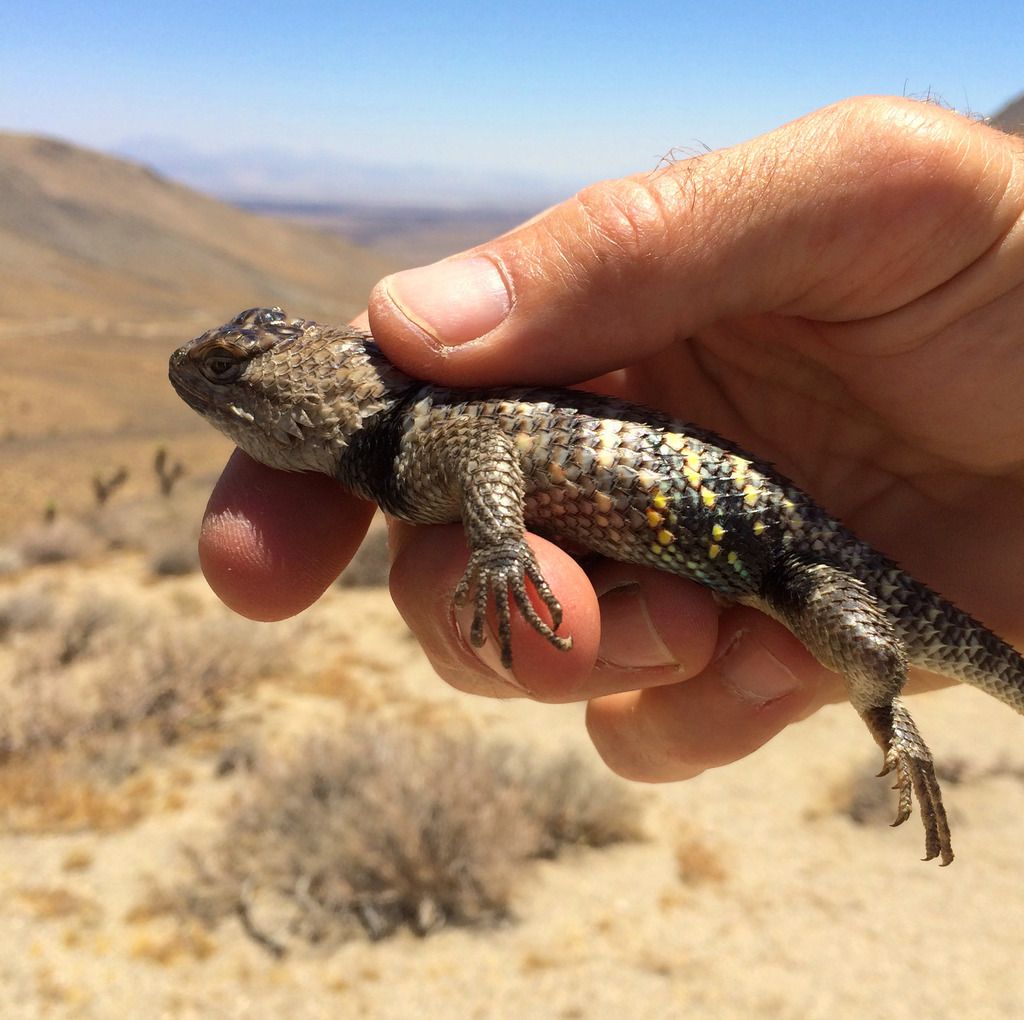 The rest of the day Friday was a disaster for me and my boys. I took them up the mountain to the west so they could coast their bikes for miles downhill back to Kennedy Meadows. Well, they were having fun coasting down the mountain, until they crashed into each other and took a terrible wipeout. Both boys hit the pavement hard and got seriously scraped up. Brady took it especially hard and had a deep cut on his chin. Thankfully their helmets protected their heads.
After getting them cleaned up and assessing their wounds, it was apparent that Brady needed treatment for his chin. I drove them down to the Ridgecrest Hospital where they received good care. Brady got his chin glued back together, and both boys got a lot of bandages. We made it back to camp around 11 PM.
Meanwhile, a number of other NAFHA guys arrived and had a pretty good night road-cruising 9 Mile.
On Saturday morning we decided to delay our Chapter Meeting until 1 PM, and instead cruise the Kennedy Meadows area to see what we could find before it got too hot. Also, we were pleasantly surprised to meet Cary and Isaiah F. from Ridgecrest. They saw the FHF post about the Meeting and decided to show up and introduce themselves.
Sat. morning between 9am-12 noon turned out to be pretty good – especially for leopard lizards. Gravid female leopard lizards were basking all along the roadsides, with a few males spotted as well. Everyone was finding them. Chris noosed one for better photos. Matt G. also found an awesome golden yellow coast horned lizard in the same area where we were photoing leopard lizards. Closer to noon, Cary and Isaiah found a desert striped whipsnake on the road as well.
Leopard lizard
Horned lizard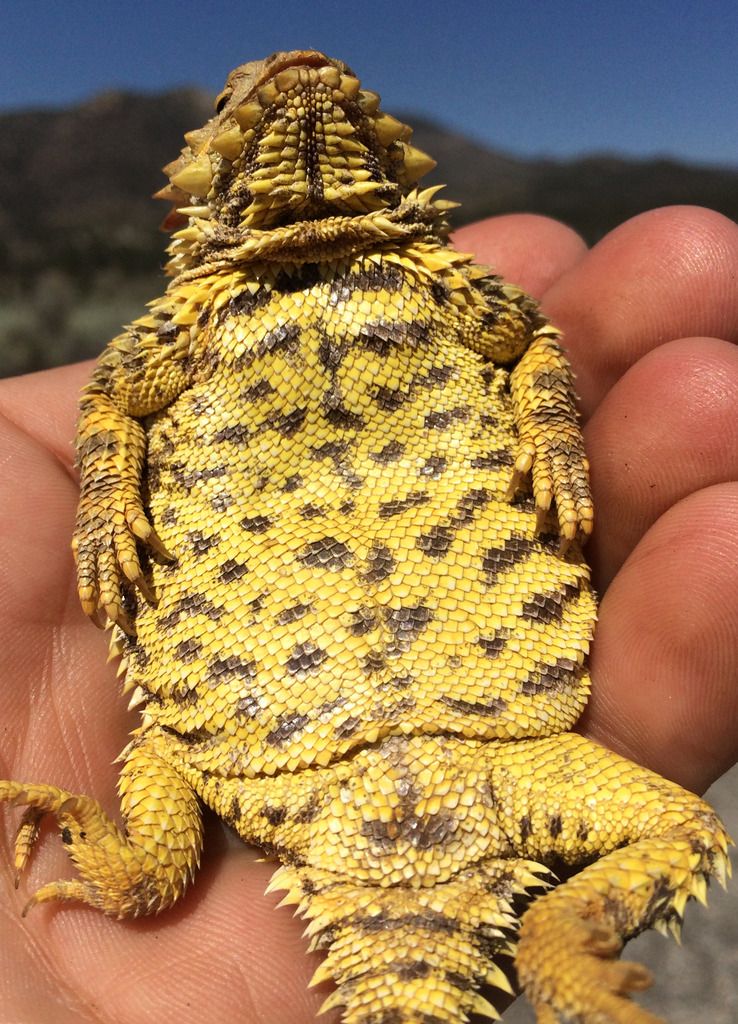 (handled under authority of a SCP)
Desert striped whipsnake
The group met up at Fish Creek camp, where it was cooler, and had a long discussion of NAFHA issues.
In the afternoon, my boys and I tried fishing for a little while, but the fish weren't biting,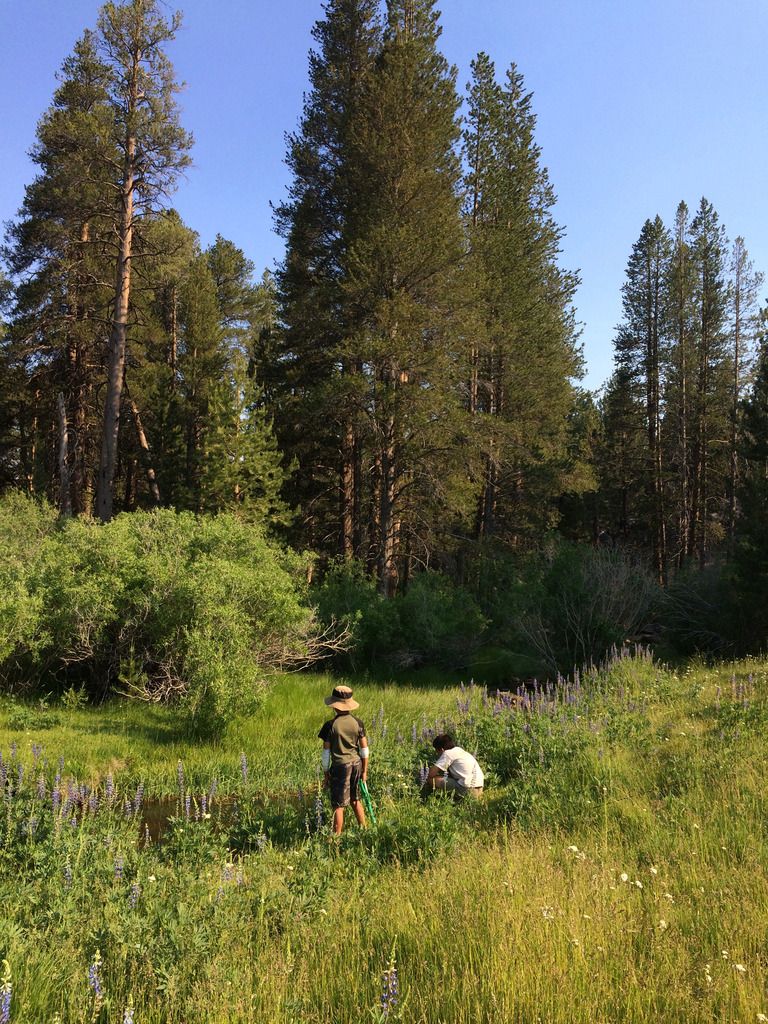 Then we went up in elevation to the west and searched around a bit. The only interesting herp we found was this western toad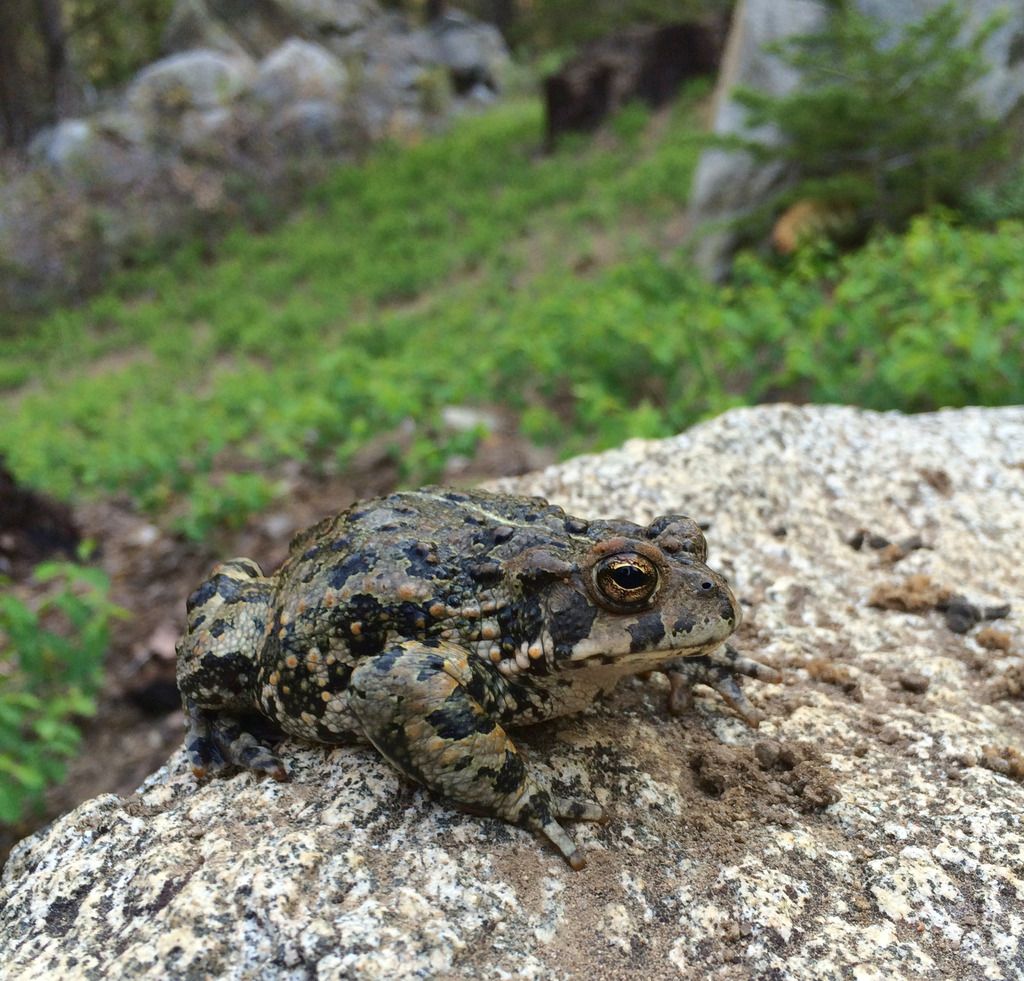 After dinner on Saturday, we road-cruised for a while and found a long-nosed snake plus a glossy..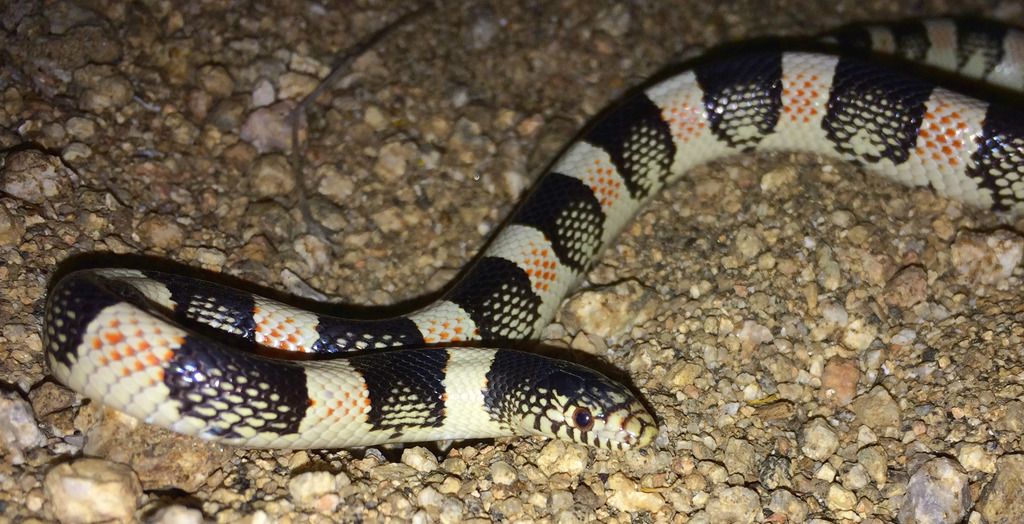 On Sunday morning we said Goodbye to Richard Hoyer and agreed to come back again next year in May when the ground is still moist.
Leopard lizards were out in force again on Sunday morning, giving Jenna her chance to noose her first Gambelia
Here's a comparison of a gravid female and the nice, large male that Jenna noosed nearby
South Fork of the Kern River at Kennedy Meadows
Brady and I drank a couple beers at the General Store at lunch time
[/url]
After lunch on Sunday, Chris P., Jenna, Mark B., and me and my boys all went up higher in elevation to see if we could find some moisture.
After a while of searching around, we found a dripping roadcut where Jenna spotted a Sierran treefrog in a moist crack
Jenna also spotted this Sierra alligator lizard on the roadcut
We searched around the small creek below the roadcut, but didn't find any more frogs or tadpoles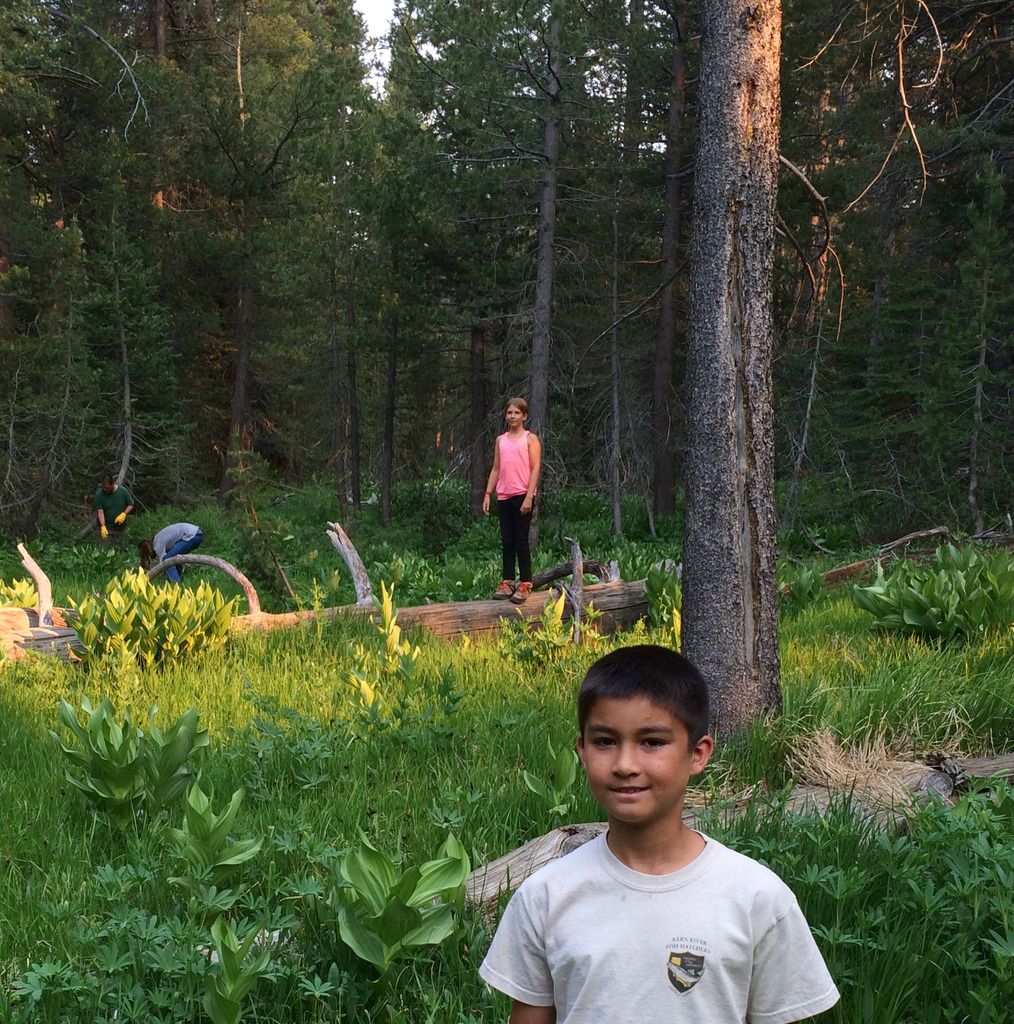 At a different spot, Chris P. found a big, fat slender salamander under a log. I didn't get any pics of it though.
Afterwards, Chris and Jenna headed back to San Diego, while me and the boys, and Mark B., went back to camp at Kennedy Meadows. Mark road-cruised 9 Mile that night, but I stayed around camp with the boys.
On Monday morning, we found a bunch more leopard lizards. This time, Trevor was able to noose his first Gambelia
Then we went to the General Store for a bit before driving back home to SD.
Overall, it was a decent trip for me and the boys. The bike crash, the bugs, and the hot, dry weather were the main detractions. Hopefully we'll have better luck next May.
Jeff